Dall-E Mini, the AI-powered text-to-image generator has taken over the internet. With its ability to render nearly anything your meme-loving heart desires, anyone can make their dreams come true.
DALL-E 2, a portmanteau of Salvador Dali, the surrealist and Wall-E, the Pixar robot, was created by OpenAI and is not widely available; it creates far cleaner imagery and was recently used to launch Cosmpolitan's first AI-generated cover. The art world has been one of the first industries to truly embrace AI.
The open-sourced miniature version is what's responsible for the memes. Programmer Boris Dayma wants to make AI more accessible; he built the Dall-E Mini program as part of a competition held by Google and an AI community called Hugging Face.
And with great technology, comes great memes. Typing a short phrase into Dall-E Mini will manifest 9 different amalgamations, theoretically shaping into reality the strange images you've conjured. Its popularity leads to too much traffic, often resulting in an error that can be fixed by refreshing the page or trying again later.
If you want to be a part of the creation of AI-powered engines, it all starts with code. CodeAcademy explains that Dall-E Mini is a seq2seq model, "typically used in natural language processing (NLP) for things like translation and conversational modeling." CodeAcademy's Text Generation course will teach you how to utilize seq2seq, but they also offer opportunities to learn 14+ coding languages at your own pace.
You can choose the Machine Learning Specialist career path if you want to become a Data Scientist who develops these types of programs, but you can also choose courses by language, subject (what is cybersecurity?) or even skill - build a website with HTML, CSS, and more.
CodeAcademy offers many classes for free as well as a free trial; it's an invaluable resource for giving people of all experience levels the fundamentals they need to build the world they want to see.
As for Dall-E Mini, while some have opted to create beauty, most have opted for memes. Here are some of the internet's favorites:
There's no looking back now, not once you've seen Pugachu; artificial intelligence is here to stay.
ISSUES
The Food Gap is a Perfect Indictment of The Way We Treat Poverty
The food gap isn't going anywhere.
In the United States, there is a positive correlation between income and one's ability to eat a nutritious diet. It's been stated again and again; eating healthy, well-balanced meals is expensive, a luxury for the rich. While the population as a whole is eating clean-er than they were twenty years ago, the disparity between the kinds of groceries poor and rich people eat is widening. It's not only affording quality food that's the problem, however. In certain low-income areas, it's impossible to even access healthy groceries, leading to creation of food deserts.
The food desert phenomena was originally addressed by the USDA, when in 2010, they reported that 18 million Americans were living in areas that lack access to fresh fruit and vegetables. The suburbs are full of options, but for the urban and rural poor, grocery stores can be few and far between. The definition of a food desert is simple. If an urban community is more than one mile from a supermarket or if a rural community is more than ten, then the members of that community are living in a food desert.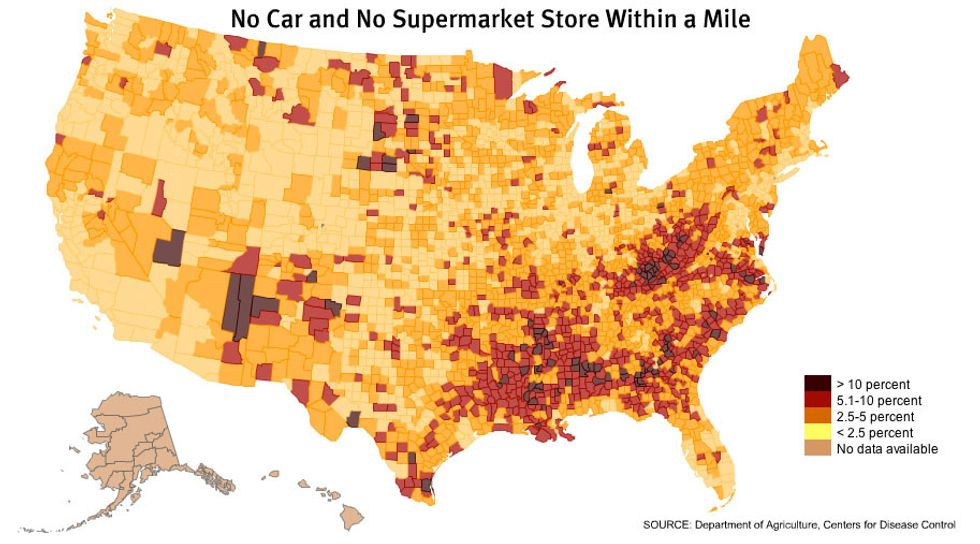 A food desert map
One way to combat this, at least in major cities, is urban farming. Urban farming is a growing trend, and while some people grow crops in their homes as a means of becoming self-sufficient, the most exciting development is vertical farming. Vertical farming, or warehouse farming, is the practice of using LED lights and nutrient-rich water to grow crops indoors. These farms, located mostly in urban areas, are designed to help alleviate some of the shipping costs associated with fresh produce. That said, these farms are still in the development stage, and as a result, their produce is very expensive. Bowery Farms charges $3.99 for a five-ounce package of leafy greens and while this may seem like a bargain to Manhattanites, most people don't have the money to buy spinach for $12 a pound. While vertical farms are a start, they're far from being a cureall. In fact, food deserts themselves may not, as many believe, be at the root of the food gap.

In a recent study conducted by economists at NYU, Stanford, and the University of Chicago, researchers determined that increasing access to supermarkets "reduces nutritional inequality by only 9%, while the remaining 91% is driven by differences in demand." This runs counter to the supply-side argument, that people just need healthy options and they'll make the choice to buy those foods. On top of this, contrary to popular belief, eating a healthy diet isn't all that much more expensive than eating a junk food diet.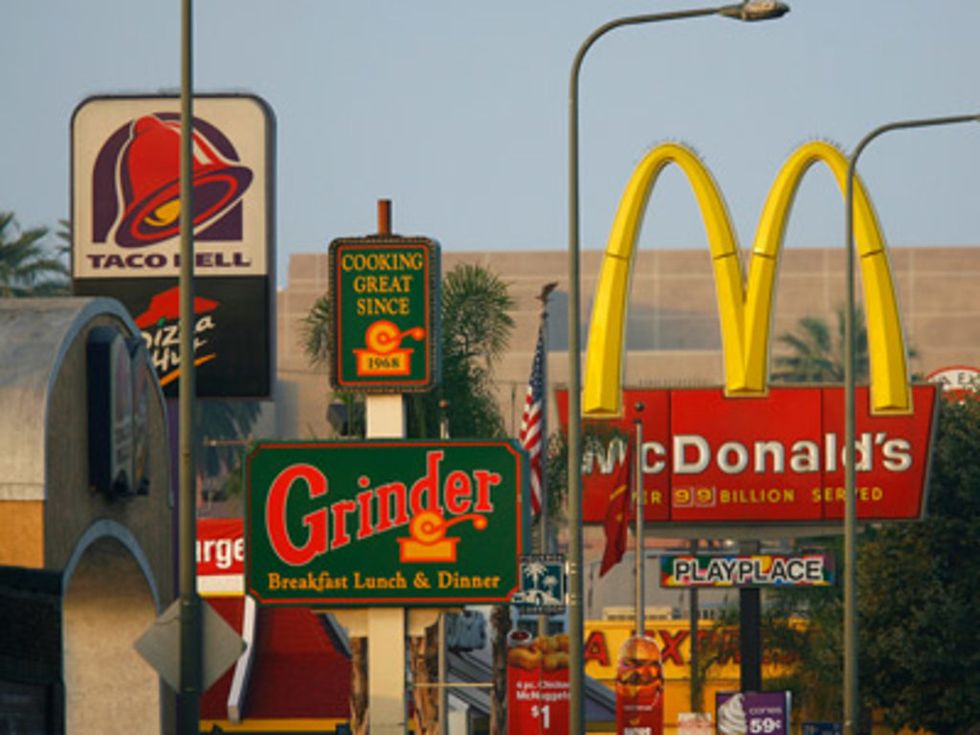 For many, fast food is the most available option.
The authors of the study suggest that we invest in educating lower-income people about nutrition, but in an article with The Atlantic Richard Florida expressed concerns with this approach. Florida points out, correctly, that all of our food has nutritional labeling and that information on healthy eating is widely available online. According to Florida, what affluent people have that the lower classes don't, is "more time and resources to devote to their health and well-being." While Florida makes some good initial points regarding the food gap, his position slowly devolves into seemingly random speculation in which he posits that lower-income people dislike avocado toast and kale because they "smack of urban elitism." His position, in the end, is one of hopelessness in which he blames food inequality on the "deeper fault line" of classism in America. In other words, this sucks and we can't do anything about it.
Unfortunately, people suffering from the effects of food inequality can't really afford to take as cavalier an attitude. Poor diets correlate to higher chances of diabetes, cancer, obesity, and heart disease. For many on the wrong side of this issue, it's literally life and death. If class is at the heart of the problem, then the key to fixing it is reducing poverty. While social welfare programs like
universal basic income
seem light years away, and
food stamps
clearly aren't enough, there's one American charity whose work has set the bar pretty high. They're called
GiveDirectly
, and they help poverty-stricken regions in Africa by
giving people money
, no strings attached. It isn't a crazy amount, just enough to help, but the results have been astounding, and the people being helped by GiveDirectly have been investing their money and using it to buy much needed medical supplies. If we were to implement a similar system, giving money to our most impoverished citizens, we might actually see an improvement in the food gap. Contrary to Florida's belief, the poor aren't opposed to eating kale because it's a symbol of snobbery. They don't buy kale because they associate it with wealth. They're just have an acute understanding of their position on the social ladder. Our obsession with
earning
money is meretricious, and ultimately destructive. The food gap is a perfect indicator of how we conflate our identities with our bank accounts, and the deep shame associated with being poor in America. The fact of the matter is, eating healthy doesn't cost more; it just looks like it does.