We've all been there. You were gifted a dumb present that you'll never in a million-zillion years ever use and you're too polite to tell anyone any differently. It sits at the bottom of your drawer for months, then years. And when you finally feel like enough time has passed, you can throw it out in good conscience.
A return is almost always out of the question. Plus, gift givers don't often include a return receipt, and we all know we wouldn't dare ask for one. I'd rather admit to a crime than confess I don't like a gift - how insulting to the gifter's sense of aesthetics.
And-hey, I have limited drawer space. Who can keep these unwanted gifts for six months when there isn't any space for them? I hate clutter, and unwanted gifts are just that.
This year, I am making an effort to swiftly remove any unwanted gifts from my house without hurting anyone's feelings…and potentially benefiting others. As the old saying goes, one man's trash is another man's treasure. And thank goodness for that.
From the The Guardian:
"According to research published this week by the consumer body, one in four people (24%) received an unwanted or unsuitable gift for the Christmas of 2021. Meanwhile, a separate study by the personal finance comparison site Finder said £1.2bn was wasted on unwanted Christmas gifts each year."
Come to terms with the fact that you will never use that gift and follow these quick tips to offload those unwanted gifts:
Donate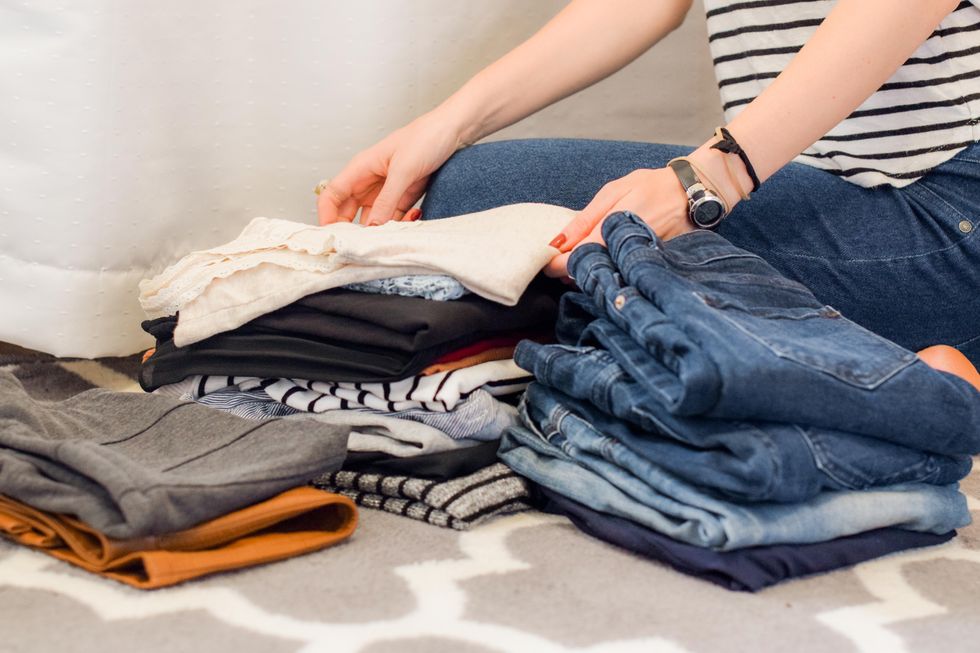 Sarah Brown via Unsplash
The most obvious choice for those unwanted pairs of mud-green sweat socks and that same fluffy robe you get every year from your Aunt Judy is to donate them. Just round up everything you don't want and Google the donation center closest to you.
This is also a fantastic excuse to purge your closet of that pile of stuff you've been meaning to get rid of. A few bags of give-away-clothes will get your spring cleaning out of the way early.
Sell Them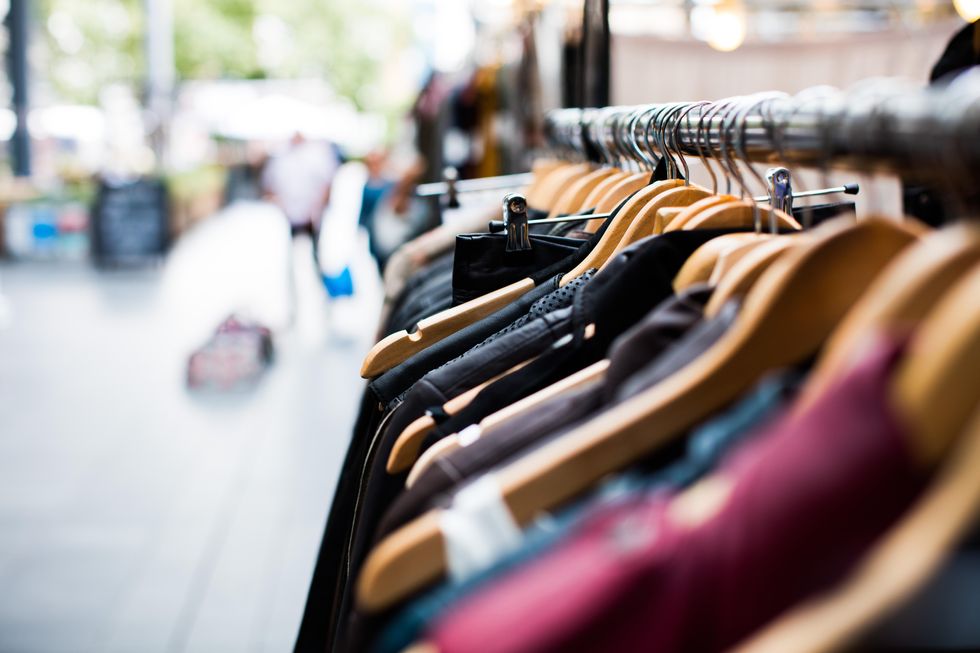 Artificial Photography via Unsplash
Resale websites are all the rage right now. If you got a pair of pants that don't fit or a sweater that isn't your style, resell them on a website dedicated to just that. Sites like Poshmark, Mercari, and DePop are known for selling those trendy pieces of clothing you barely used.
Thrifting has never been hotter. Hop on the trend while people are constantly perusing sites for the hottest deal. Then reward yourself for being so virtuous, by dropping the cash on some fabulous things you'll actually wear!
Re-Gift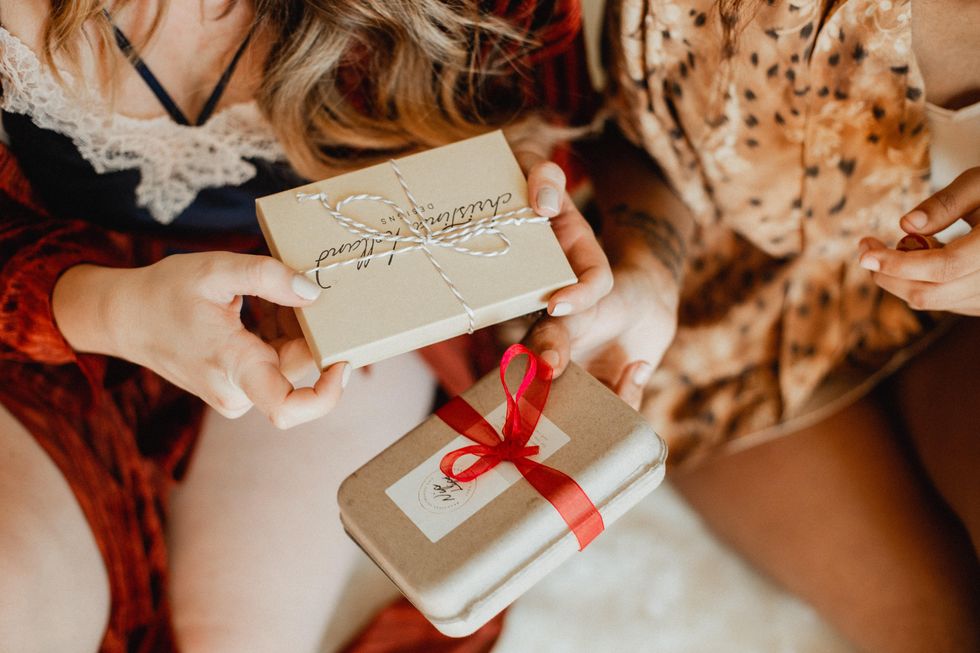 Jackie S via Unsplash
If you got something that you think one of your friends or family can benefit from, why not give it to them? There's no shame in revealing that it was a gift and you don't want it anymore…as long as you aren't re-gifting to the person who gave it to you!
Or, keep the gifts to re-gift at a later date. You never know when you're going to need a last minute gift. You'll thank yourself later.
Attempt a Return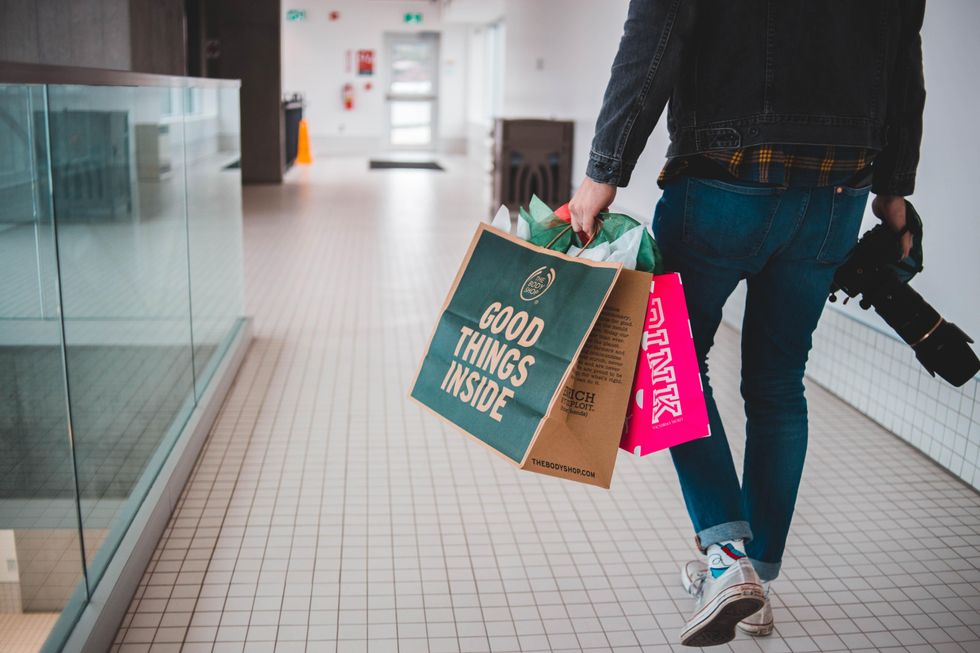 Erik McLean via Unsplash
If your item still has a tag, you can make a valiant effort to return to the store. If you can make your case, many stores won't want to fight you on it. They may be forgiving and grant you store credit at the very least.
Keep reading...
Show less
Food labels boasting "organic" ingredients don't guarantee protection from unwholesome ingredients, preservatives, or manufacturing processes.
With food blogs and news outlets continually reporting conflicting information about the safety of GMOs, organic and raw foods, and even infected lettuce, it's all to easy to become confused as to what's healthful and what's harmful. While some food producers find it within their best interest to provide healthier options, many companies unwilling to change their product methods have resorted to changing their marketing. As a result, misleading labels regarding "organic" foods are meant to confuse consumers.
To be clear, truly organic foods in the U.S. have been certified as such by the U.S. Department of Agriculture. Their requirements are as follows:
Produced without excluded methods, (e.g., genetic engineering, ionizing radiation, or sewage sludge).
Produced using allowed substances.
Overseen by a USDA National Organic Program-authorized certifying agent, following all USDA organic regulations.
Thus, any food can technically be "organic," from produce and milk to deli meats and seasoning. However, the limitations of the definition lead some companies to advertise their products as "organic" while still using unwholesome ingredients, preservatives, or manufacturing processes.
Here are five tips to decode organic labeling jargon:
1. "All natural" doesn't mean it's organic
In truth, many products are technically "natural," due to government regulations that forbid food producers from adding hormones or steroids to many animals. In terms of poultry and their eggs, for instance, "natural" only means that the birds are are not given hormones or steroids. In contrast, "organic" poultry denotes that birds are raised with more space than in traditional poultry farms, they only consume on organic (vegetarian) food, and no animal byproducts are allowed.
Thus, "organic" eggs are from uncaged birds who haven't been fed any chemicals. It's important to note that even an "organic" certification doesn't guarantee that the animals were raised in cruelty-free environments. Even "organic" birds are raised on factory farms, and they're still subject to beak cutting and forced molting through starvation.
2. There are different degrees of "organic"
If a label says it's "made with organic ingredients," then the product is composed of 70% organic ingredients. The remaining, non-organic ingredients may still be closely monitored (for example, GMOs aren't allowed), but they don't qualify for certification. Likewise, an "organic" label still gives leeway, as only 95% of the ingredients must be organic to qualify. In reality, only a label that says "100% Organic" can guarantee that a food product is comprised of completely organic ingredients.
3. Are there still nitrites?
Sodium nitrite is a preservative often used in meats. You can sometimes recognize the use of nitrites in deli meat that has a distinctly pink coloration. However, some studies suggest that too many nitrites can damage cells or cause cancer. As The New York Times reports, "Some products that claim to be 'natural' or 'organic' may say they are processed without nitrites or nitrates, and the label may say the item has 'no artificial preservatives' or is 'uncured.' But nutritionists warn that food manufacturers may still add vegetable powders or juices such as celery juice or beetroot juice that contain naturally occurring nitrates, which are converted to nitrites either in the food itself or when they interact with bacteria in our bodies."
4. Look for other certifications
The healthiest animal products come from the healthiest animals. As such, look for certifications from animal wellness groups. For example, Animal Welfare Approved is a credible label considered to be "the gold standard." The United Egg Producers' label certifies egg-laying hens have been treated well, and the Fair-Trade label indicates that workers' rights were seen to during the production process.
5. Larger companies are more likely to be organic
Unfortunately, some companies will not only label their products misleadingly, but forge the Organic certification. Larger companies cannot commit such fraud without quickly being noticed, but smaller companies, like those that earn less than $5,000 a year, are often too insignificant to be noticed. As The Washington Post describes, "The official USDA certificates guaranteeing that a product is organic are relatively easy to forge. And because the organic rules are designed for larger-scale commercial operations, mom-and-pop farmstands may be exempt from inspections if they yield no more than $5,000 a year in sales. So, whether food really meets organic standards is more a matter of trusting purveyors than trusting the organic label."
Mark Kastel is co-founder of the organic watchdog group The Cornucopia Institute. He notes, "There's a higher authority on these issues than the USDA. And that's the consumer." Demand is everything; the more consumers choose "organic" and hold companies accountable for inaccurate labeling, the tighter regulations can become.
Meg Hanson is a Brooklyn-based writer, teacher, and jaywalker. Find Meg at her website and on Twitter @megsoyung.
Better meat options exist.
Every year, humans eat 70 billion animals around the globe, and 9 billion of them are killed in the U.S.
According to a recent article in The Guardian, the most significant way to lower your impact on the environment is cut out meat and dairy from your diet: "The new analysis shows that while meat and dairy provide just 18% of calories and 37% of protein, it uses the vast majority – 83% – of farmland and produces 60% of agriculture's greenhouse gas emissions."
This presents environmentally-conscious animal eaters with a stark choice: Give up eating animals, or give up on your beliefs. But there is a middle ground, which involves choosing options that have, if not a zero-impact, perhaps a lower one. Here is a list of choices, going from best to worst.
Chicken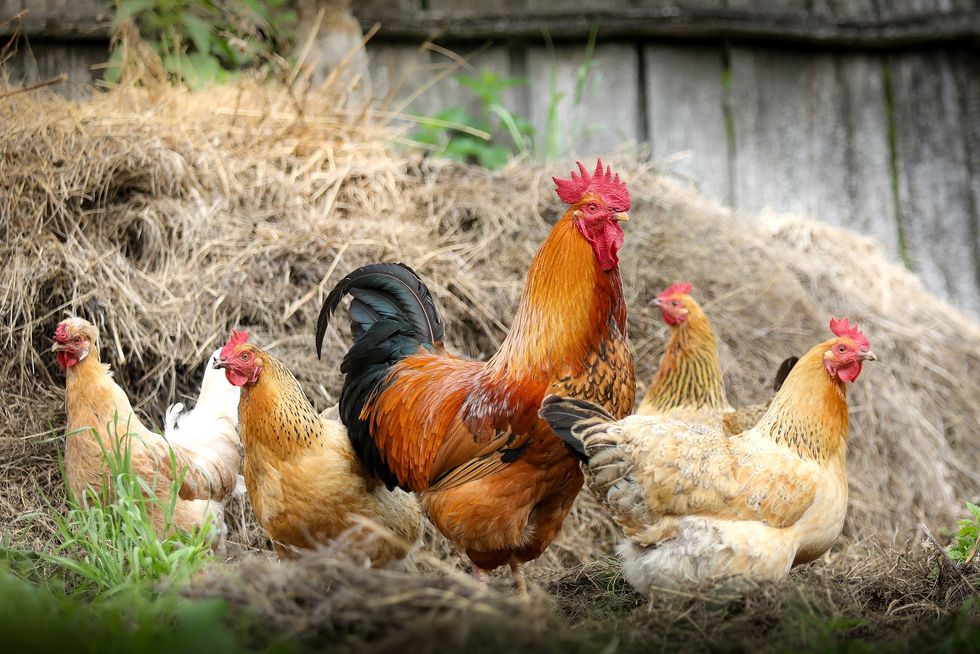 For those who aren't ready to give up meat but want a more environmentally-friendly option, switching to chicken is one of the best choices. Slate explains that chickens produce a much lower amount of carbon dioxide than cows. Cows generate about four times more greenhouse gases than chickens. In addition, chickens only create two to four pounds of manure per pound of weight, which is less than the 35 to 65 pounds cows make per pound of beef, according to Slate. Experts recommend looking for free-range chickens raised without antibiotics.

Pork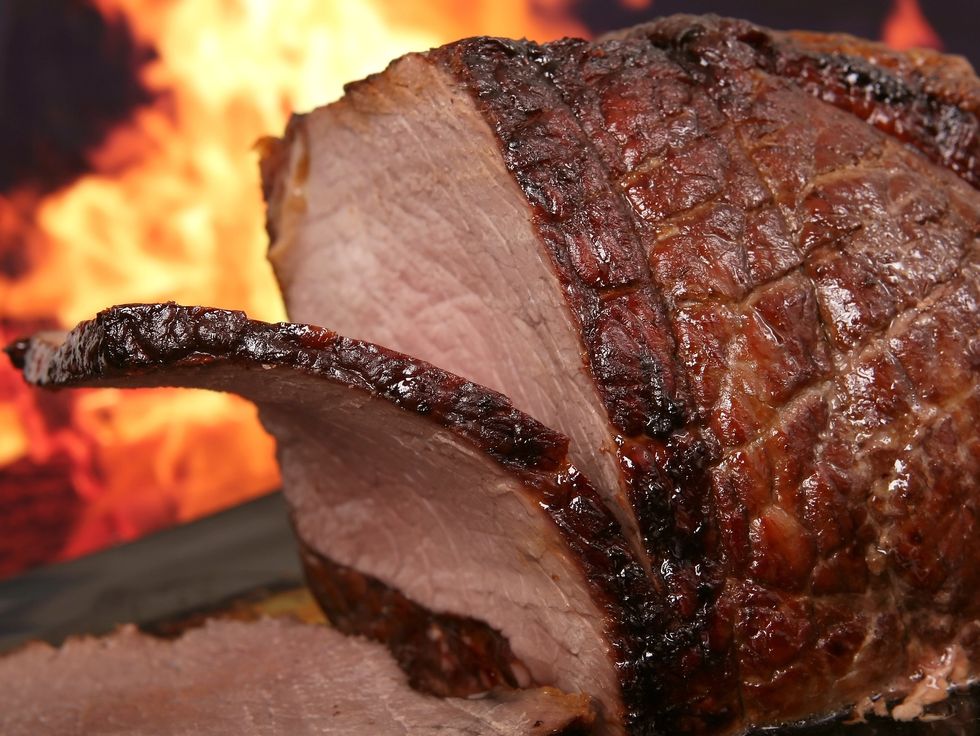 Pork is a better environmental choice than beef because pigs produce about 50% less carbon dioxide than cows, according to the BBC. Pigs are also omnivores (they'll eat anything), and this is actually better for the environment than cows that require grass or grains. A hog can help reduce food waste by consuming vegetable scraps and other food that would have been discarded. Another positive is that pigs need less feed overall compared to cows.

Mussels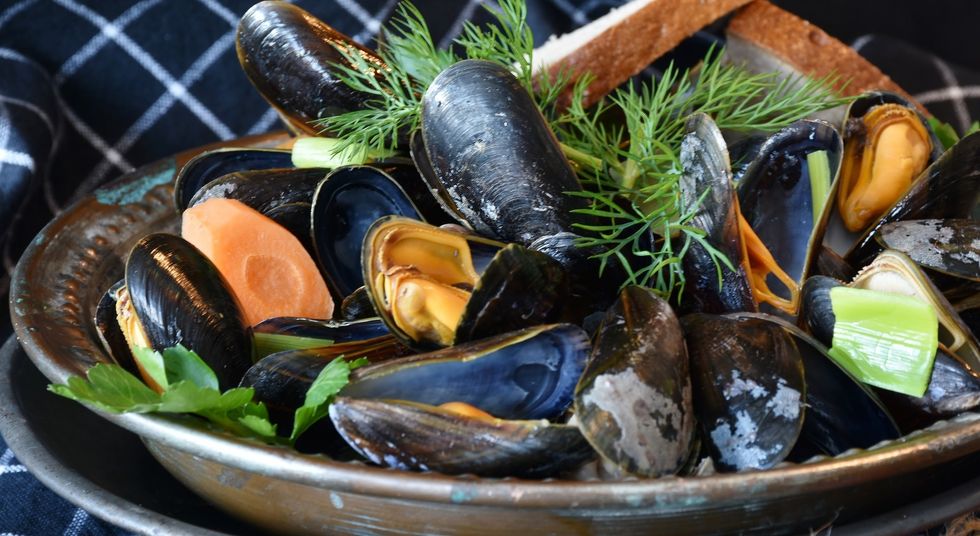 Technically, mussels aren't meat because they're categorized as seafood. However, they're an option for people who don't want to go vegan and still want a good source of protein. The BBC explains that mussels actually capture carbon dioxide, so they're an environmentally-responsible alternative and a better choice than farm-raised fish. They don't need to eat other food sources to grow because they filter nutrients from the water, so their impact is lower. Moreover, they don't contribute to pollution.
Meat-Buying Tips
Shoppers who are worried about the environmental impact of their meat purchases should consider the following tips. First, try to reduce the number of days per week that you eat meat. You can switch to meatless Mondays or make the weekends meat-free. Another option is to use meat alternatives like tofu more often when you cook. Look for free-range and organic meat products. Some other label names to watch for include cage-free or barn-roaming.
There are meat options that are more environmentally-friendly. Consider making chicken, pork, and mussels more frequently for dinner.
Stay away from these lunch containers and packing items.
Once you've conquered the temptation of eating out for lunch every day, packing your own food seems like the perfect alternative. However, if you're packing certain items, then that brown bag lunch could be doing more harm than good. Before you start stuffing a lunchbox with cut vegetables and sandwiches, consider the following packing items you should avoid.
1. Plastic Containers for Microwaving
No one wants to eat cold soup or a frozen burrito for lunch, but microwaving food in plastic containers that you bring from home may expose you to chemicals such as bisphenol-A (BPA) or phthalates. Harvard Health recommends checking that the plastic containers have microwave-safe labels, which means they have been tested not to leak chemicals into your food. In addition, don't use old or scratched plastic containers because they may expose you to chemicals. Instead, consider switching to glass or ceramic items that are safe for microwaves.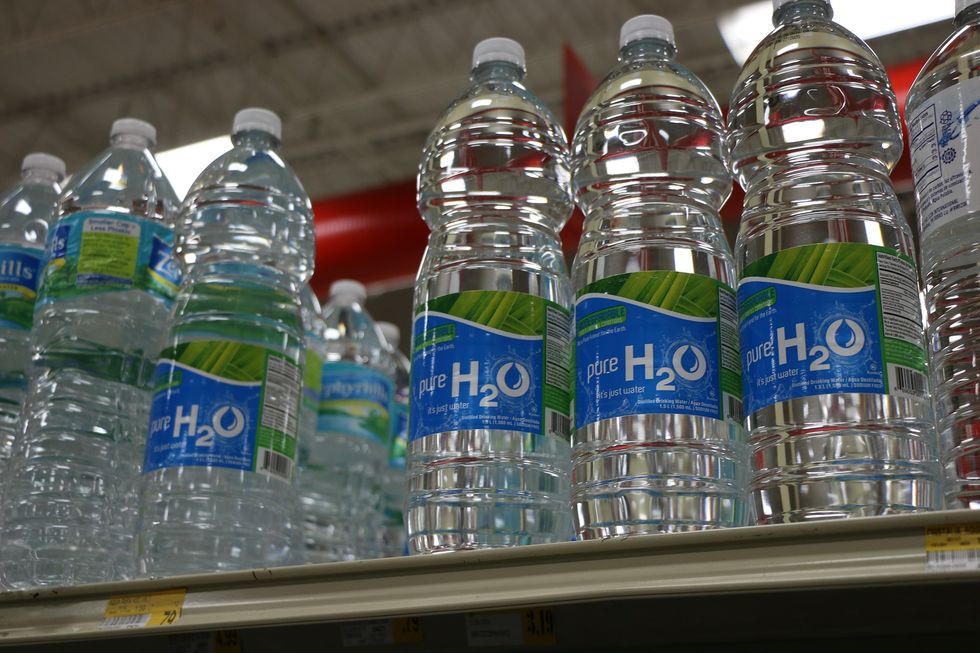 Plastic water bottles
2. Plastic Water Bottles
You may think that BPA-free plastic water bottles are safe, but one study found that almost all plastic products release chemicals. Even the BPA-free items may be dangerous. When researchers took a variety of plastic products and put them through common-use stresses such as ultraviolet radiation from the sun or microwaving, they leaked chemicals. If you care about your health, switch to stainless steel, glass, or ceramic water bottles.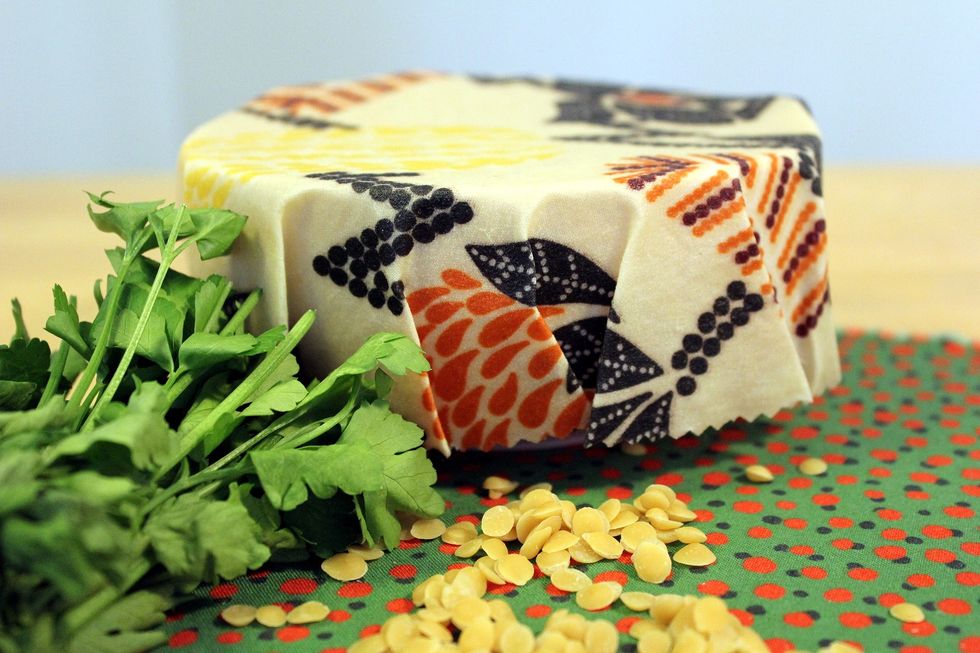 An alternative to plastic cling wrap made from beeswax
3. Plastic Cling Wrap
Whether you wrap a sandwich in it or use it to cover a bowl meant for the microwave, plastic cling wrap can seem like a convenient solution. However, you may be paying for it with your health. If the plastic cling wrap comes in contact with hot food while it's in the microwave, it can actually melt a little. This means you'll be eating some plastic along with the soup. Consider eliminating the plastic wrap completely. Some alternatives include paper towels, wax paper, beeswax wraps, and cotton bowl covers. If you must use a microwave, then choose silicone lids or white paper towels to cover the food.
4. Dangerous Lunchboxes
If you're worried about packing a healthy lunch, don't forget to check the lunchbox. One study tested 40 children's lunch boxes and found 35 percent of them contained lead. Many adults also use these boxes to pack their food for work, so it's crucial to check for recalls and verify that the lunchbox you're using is safe. Make sure it says lead-free on the labels. Also, consider using a stainless steel lunchbox since it won't leak chemicals.
5. Single-Use Food Items
From cups of applesauce to plastic packets of ketchup, single-use food items sometimes make their way into packed lunches. Not only are they creating unnecessary waste, they're usually made from plastic. Some ways to eliminate single-use food items from your lunch include buying larger items and only bringing a small amount with you in a container, or rethinking how you eat and pack food. For instance, consider layering a salad in a mason jar, so the sauce is on top, and you don't need to bring a single-use packet of ranch dressing.
The next time you're packing a healthy lunch, think about the entire lunchbox. Consider all the items you're using, such as the containers, so you can limit chemicals and plastic. It will be healthier for you and for the planet.
Keep reading...
Show less
The food gap isn't going anywhere.
In the United States, there is a positive correlation between income and one's ability to eat a nutritious diet. It's been stated again and again; eating healthy, well-balanced meals is expensive, a luxury for the rich. While the population as a whole is eating clean-er than they were twenty years ago, the disparity between the kinds of groceries poor and rich people eat is widening. It's not only affording quality food that's the problem, however. In certain low-income areas, it's impossible to even access healthy groceries, leading to creation of food deserts.
The food desert phenomena was originally addressed by the USDA, when in 2010, they reported that 18 million Americans were living in areas that lack access to fresh fruit and vegetables. The suburbs are full of options, but for the urban and rural poor, grocery stores can be few and far between. The definition of a food desert is simple. If an urban community is more than one mile from a supermarket or if a rural community is more than ten, then the members of that community are living in a food desert.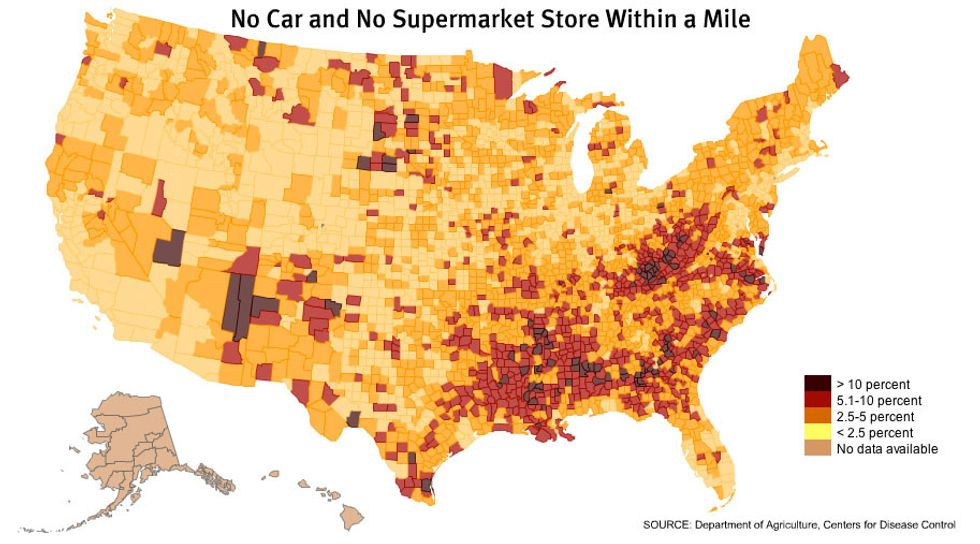 A food desert map
One way to combat this, at least in major cities, is urban farming. Urban farming is a growing trend, and while some people grow crops in their homes as a means of becoming self-sufficient, the most exciting development is vertical farming. Vertical farming, or warehouse farming, is the practice of using LED lights and nutrient-rich water to grow crops indoors. These farms, located mostly in urban areas, are designed to help alleviate some of the shipping costs associated with fresh produce. That said, these farms are still in the development stage, and as a result, their produce is very expensive. Bowery Farms charges $3.99 for a five-ounce package of leafy greens and while this may seem like a bargain to Manhattanites, most people don't have the money to buy spinach for $12 a pound. While vertical farms are a start, they're far from being a cureall. In fact, food deserts themselves may not, as many believe, be at the root of the food gap.

In a recent study conducted by economists at NYU, Stanford, and the University of Chicago, researchers determined that increasing access to supermarkets "reduces nutritional inequality by only 9%, while the remaining 91% is driven by differences in demand." This runs counter to the supply-side argument, that people just need healthy options and they'll make the choice to buy those foods. On top of this, contrary to popular belief, eating a healthy diet isn't all that much more expensive than eating a junk food diet.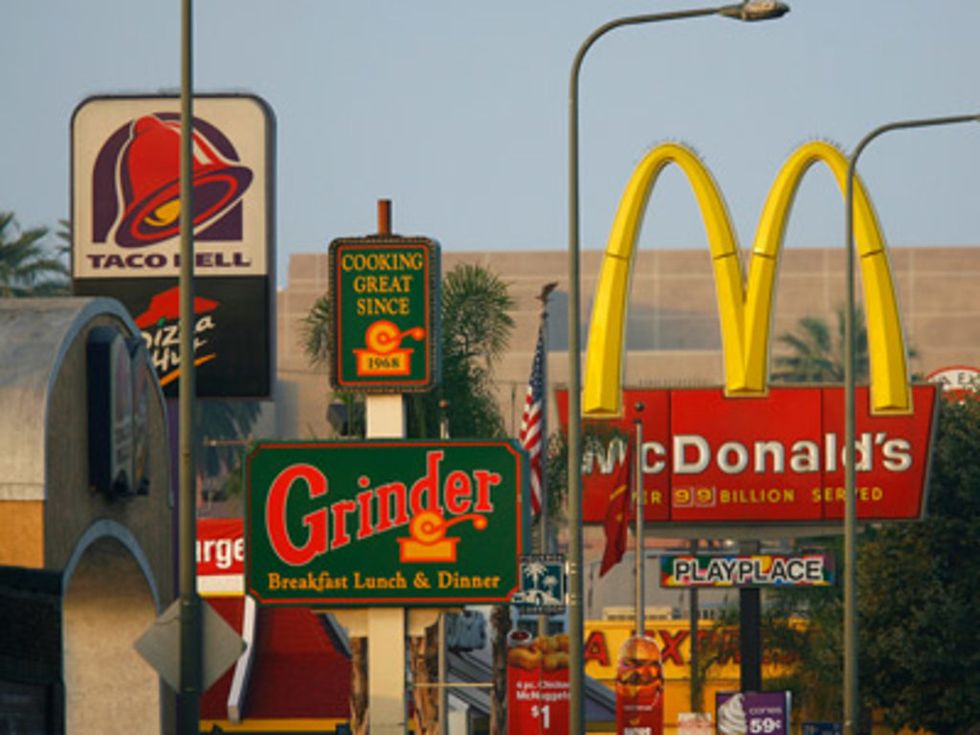 For many, fast food is the most available option.
The authors of the study suggest that we invest in educating lower-income people about nutrition, but in an article with The Atlantic Richard Florida expressed concerns with this approach. Florida points out, correctly, that all of our food has nutritional labeling and that information on healthy eating is widely available online. According to Florida, what affluent people have that the lower classes don't, is "more time and resources to devote to their health and well-being." While Florida makes some good initial points regarding the food gap, his position slowly devolves into seemingly random speculation in which he posits that lower-income people dislike avocado toast and kale because they "smack of urban elitism." His position, in the end, is one of hopelessness in which he blames food inequality on the "deeper fault line" of classism in America. In other words, this sucks and we can't do anything about it.
Unfortunately, people suffering from the effects of food inequality can't really afford to take as cavalier an attitude. Poor diets correlate to higher chances of diabetes, cancer, obesity, and heart disease. For many on the wrong side of this issue, it's literally life and death. If class is at the heart of the problem, then the key to fixing it is reducing poverty. While social welfare programs like
universal basic income
seem light years away, and
food stamps
clearly aren't enough, there's one American charity whose work has set the bar pretty high. They're called
GiveDirectly
, and they help poverty-stricken regions in Africa by
giving people money
, no strings attached. It isn't a crazy amount, just enough to help, but the results have been astounding, and the people being helped by GiveDirectly have been investing their money and using it to buy much needed medical supplies. If we were to implement a similar system, giving money to our most impoverished citizens, we might actually see an improvement in the food gap. Contrary to Florida's belief, the poor aren't opposed to eating kale because it's a symbol of snobbery. They don't buy kale because they associate it with wealth. They're just have an acute understanding of their position on the social ladder. Our obsession with
earning
money is meretricious, and ultimately destructive. The food gap is a perfect indicator of how we conflate our identities with our bank accounts, and the deep shame associated with being poor in America. The fact of the matter is, eating healthy doesn't cost more; it just looks like it does.
Keep reading...
Show less
There's a vast cost discrepancy between organic food and "regular" food, but is it that much better for you?
With sale of organic food on the rise, the ongoing debate has become more polarized than ever - is organic food really that much better for your body, and the environment? Do the benefits justify the price tag? Let's start by determining what makes food 'organic' and why it costs more.

Organic farms are generally smaller and not designed or equipped to produce en masse, the way their conventional competitors can. This means while they cannot offer the price drops resultant of mass production, they do provide higher quality care for crops and livestock. Many organic farmers also practice crop rotation - after harvesting a successful cash crop farmers will plant a different crop to help replenish all of the nutrients in the soil. This because otherwise the soil will be more quickly deprived of its nutrient content. Large conventional farms have the land resources to grow cash crops year long. Without the use of chemical additives and growth hormones, crops and livestock take longer to mature Without the use of pesticides,more crop damage occurs resulting in less output. Also Obtaining the official 'organic' certification requires farmers and their farms undergo arduous and expensive procedures. There are many farms that grow food organically however they do not bear the official government 'organic' stamp.

A 2012 study conducted by Stanford University analyzed a wealth of data, seeking to determine if food bearing the 'organic' label provided more or less nutritional value. While they discovered that organic foods didn't necessarily provide more health value, crops and livestock farmed organically were shown to retain less pesticide traces and less antibiotic resistant bacteria.

It would seem the true reason for the difference in price is good old capitalism. Supply and demand. Because there's less organically farmed food available on the market and it takes longer to produce and is in produced in lower quantities, and because demand continues to rise, so does the price.

So is it really worth it? Probably not. The extra money you pay for organic food isn't because it's that much better for you. You're really paying for the 'organic' stamp from the USDA, and the increased cost of organic farming.
For those interested in the environmental, ethical, and even taste benefits of organic food, your best bet is to shop your local farmers markets. Many local farmers don't necessarily go through the hoops required to obtain the USDA 'organic' stamp, but they practice organic farming and do not use additives, hormones, or heavy pesticides.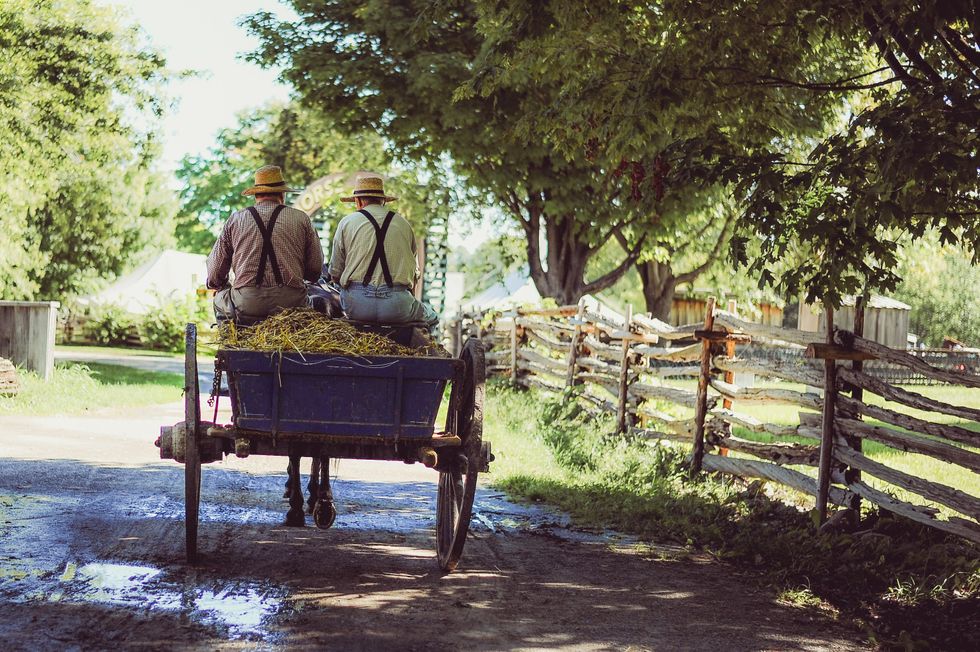 Keep reading...
Show less
The cost of higher education has been steadily increasing over the past four decades and that's not changing
Universities and other advanced schools of learning seem to be raising their prices at an alarming rate. Higher education costs have ballooned over 538% since 1985. To put this in perspective, healthcare has increased more than 286% and the consumer price index has gone up 121%. That means education costs are over four times what they were thirty years ago.
No wonder people are complaining. But with these price increases come a greater quality and a better educational experience than what was to be had twenty or thirty years ago. Whether college is a better overall experience than before is individual and subjective.
However, campuses are making improvements. They are getting bigger, more diverse and more academically expansive. Let's take a look at some of the positive changes you will be getting for your extra money.
High tech coursework
There were computers and technology thirty years ago, but nothing like today. You can visit a lecture in person or watch from a distant location online. You can watch it at a later time which suits your schedule. Online classrooms foster better communication with students and teachers.
Entire projects can be done online without the need for paper products. Teaching can be done in different and more effective ways. Technology has offered better ways to read, write and compute. Business, trades and manufacturing have embraced technology and are ever changing. Universities offer exposure and application of these technologies to their coursework and future profession.
Better food service
On campus dining has gotten more elegant and healthier. There are better choices and fresher produce. Canned and fried foods aren't as prevalent as they once were. It's common to have a fully stocked salad bar at every meal. Universities cater to those with special dietary needs.
Culturally diverse cuisine can be enjoyed right on campus. Wider menu choices are a norm. You can still choose to be unhealthy, but you have many more options than before. Satellite cafeterias serve those on the outer edges of campus. Some are even open to and frequented by the public. Gone are the cliché tales of miserable dorm food. These improvements cost more money.
Upgraded housing
Many universities or surrounding areas offer student housing which is on or close to campus. You get quick access to classrooms, school facilities, and sporting events in just a short walk. It's so much more fun when you can enjoy college living with your peers and not have to drive all over to get to your classes. Facilities have improved and now offer a higher standard of living.
Living communally can mean increased safety. Students don't have to risk driving through traffic to get to classes. Students live among each other and not the general public. They can look out for each other and be better aware of unwelcome intruders.
Yes, these improvements are part of why costs have risen. But these upgrades are investments to ensure that present and future students will have a beautiful place where they love to live. Better dormitories, expanded libraries and refurbished athletic centers attract and retain students.
Increased diversity
Campuses offer a more diverse student body and faculty than before. Your college experience will be much richer with exposure to fellow students and academics from different cultural and racial backgrounds. Learning together with people who don't look like you or sound like you encourages cooperation, collaboration and innovation.
Research shows diversity in education produces higher academic achievement and promotes better relationships between different cultures. A diverse, well-educated public is better for business, international relations, and national security. Plus, it's fun getting to know different cultures and different experiences. You will inevitably become more worldly, more open-minded, and more sensitive to other cultures.
Better support services
Campuses now offer a wider range of support services. Students can get help with financial aid and student loans. Tutoring services for students challenged by their new coursework can be obtained through the schools. Counseling services, job placement assistance, even assistance with finding housing can be facilitated by the university. It's no longer uncommon for a campus to have its own health clinic or urgent care facility.
There are more people in our country than there were thirty years ago. It stands to reason that with more people come more students and a greater need for higher education. With this demand comes an increase in the need to renovate and expand academic facilities and programs.
This is always going to result in increased costs. The cost of college is definitely inflated more than it necessarily needs to be. However, the increase in and of itself is to be expected with time. If you are old enough to have children attending college, you will notice that their college experience will be much more diverse and multi-faceted. So is that worth the increased costs?
Whether you agree or disagree doesn't mean you are going to like shelling out all that money every year, or that news of an increase is going to make you cheer for better quality. They say you get what you pay for. Do you think college is worth the money? Let us know in the comments!
Keep reading...
Show less
It's important to make your workplace a healthy, mentally stimulating environment for yourself.
Some people are lucky enough to work in jobs that keep them fit year-round, like Pilates instructors and Olympic athletes. The rest of us deal with prolonged sitting, donut days and weekly birthday celebrations, and then work on recovering in the after hours. But don't let those 8-hour days sabotage your efforts. Follow these tips to help keep you on the healthy track while at work.

Plan meals and snacks in advance
Men and women who plan their meals are much less likely to be obese than those who don't, according to a 2017 International Journal of Behavioral Nutrition and Physical Activitystudy. The same study also found that people who planned their meals enjoyed better variety and improved diet quality. Depending on your goals and eating habits, improving the quality of your meals may help you lose weight.
Another benefit to meal planning is that it leaves uncertainty off the table. When you know when and what you're going to eat, you're less likely to much on junk food.
Meal planning includes breakfast too. When you've eaten a healthy, fiber-filled breakfast, you'll be satiated for longer and will be less likely to hit the vending machine before lunch.
Eat more Lipotropic foods
While you're planning those work-day meals, consider adding more lipotropic foods to the mix. Lipotropic foods contain organic compounds that break down fat stores, prevent excess fat storage and help cleanse the liver of toxic build-up.
Major lipotropic nutrients include methionine, choline, inositol, betaine and vitamin B12.
Consider packing lunches with the following lipotropic-rich foods:
Vegetables
Broccoli
Eggplant
Spinach
Beets
Beans & nuts
Brazil nuts
Almonds
Flax seeds
Soy beans
Animal proteins
Grains
Quinoa
Oatmeal
Barley
Brown Rice
Hydrate well
Although it can be difficult to track how much water you're drinking at work, you must stay hydrated throughout the day. Dehydration can cause you to be drowsy and sluggish, which aren't desirable conditions at work.
Water has many health benefits, including its ability to help flush out toxins, maintain regularity and improve your complexion.
Try getting between six and eight glasses of water every day and up your intake of fresh, juicy fruits. These offer another great way to help keep you hydrated.
Make a habit of washing your hands
Throughout the work day, we encounter many people and surfaces that carry germs. Germs cause infection and this is how we get sick. To keep yourself healthy, wash your hands periodically throughout the day with soap for a minimum of 10 seconds at a time. Research done by Rutgers University shows that this is the most effective way to remove germs.
How often you wash your hands is up to you, but you should be washing after every time you use the bathroom and before you eat. If you have a cold, wash your hands more often to avoid spreading germs around the office.
Limit caffeine
Caffeine will give you a boost of energy to help start your day, but it can also lead to a mid-afternoon crash when the effect wears off. If you're drinking too much coffee, it can aggravate the nervous system and cause the adrenal gland to release cortisol. This is similar to being in a constant state of stress, and that's not good for your health. Work can be stressful enough. Limit the caffeine to one to two cups of coffee or tea per day to avoid negative consequences.
Continue your healthy habits while at work, and it'll be easier to maintain them at home. A healthy lifestyle includes a balanced diet, regular exercise and good habits. Try to keep these things going regardless of where you are and you'll be on the right track.
Keep reading...
Show less