Pogues frontman Shane McGowan was an ancient 65 when he died on November 30. Television producer Norman Lear was a youthful 101 when he left this realm on December 5. No doubt his zest for life kept him going for so long – and his zest for controversy.
Norman Lear's work was an integral part of American life in the second half of the 20th Century. Television programs like Maude, Sanford and Son, and The Jeffersons dragged television out of the 1950s and into the real world. As Variety states: "Lear's shows were the first to address the serious political, cultural and social flashpoints of the day – racism, abortion, feminism, homosexuality, the Vietnam war – by working pointed new wrinkles into the standard domestic comedy formula. No subject was taboo: Two 1977 episodes of All in the Family revolved around the attempted rape of lead character Archie Bunker's wife Edith."
All in the Family, which ran on CBS from 1971 to 1979, typified the clash of generations. Middle-aged bigot Archie Bunker – played by Carrol O'Connor – was a right-wing King Lear in Queens, raging at the radical changes in society. Archie didn't let ignorance get in the way of his opinions; once he argued that people who lived in communes were communists. The thing is, the old dog was actually capable of learning new tricks. Archie never evolved into any kind of saint. But over the nine seasons "Family" aired, experience taught Archie the benefits of listening to (and respecting) viewpoints far different from his own.
All in the Family was the jewel in Lear's crown, but don't forget the highly popular shows One Day at a Time (which featured Bonnie Franklin as a divorcee raising two daughters in the Midwest) and Mary Hartman, Mary Hartman (with Louise Lasser as the titular figure in a parody of soap opera conventions). Good or bad, Lear's work was never indifferent.
More recently, you may have heard about Lear's lively activism. His TV shows were themselves arguments for free and unfettered speech, and Lear supported a slate of liberal causes. In 1981 he founded People for the American Way. The organization's website describes the ways that PFAW has "engaged cultural and community leaders and individual activists in campaigns promoting freedom of expression, civic engagement, fair courts, and legal and lived equality for LGBTQ people."
Lear's life was a long and fulfilling one. In 1978 he was given the first of two Peabody Awards, the most prestigious award in television. "To Norman Lear," it reads, "...for giving us comedy with a social conscience. He uses humor to give us a better understanding of social issues. He lets us laugh at our own shortcomings and prejudices, and while doing this, maintains the highest entertainment standards."
A pioneer, a gadfly of the state, a mensch. To paraphrase a lyric from All in the Family's theme song, "Mister, we could use a guy like Norman Lear again."
The Senator tweeted an awkward sports analogy about the Florida election recounts.
Like a dorky but enthusiastic Dad trying to connect with a teenage son he doesn't understand, Marco Rubio made an epicly bad sports analogy in a tweet about the vote recount in Florida.
Imagine if NFL team was trailing 24-22 but in final seconds hits a 3 pt kick to win. Then AFTER game lawyers for lo… https://t.co/4wV58OLrxo

— Marco Rubio (@Marco Rubio) 1542160106.0
He was consequently mocked by twitter users for calling a field goal "a three point kick," earning a number of responses that questioned the Senator's sports knowledge and the logic of the intended metaphor.

@marcorubio When you're Marco Rubio and you want to make a sports metaphor but don't know how to sport. https://t.co/kMWFbabB4K

— Marc Lombardi (@Marc Lombardi) 1542164444.0
Every announcer needs to use "3-point kick" this weekend. https://t.co/4vLoO17VHg

— Medium Happy (@Medium Happy) 1542165859.0
When your analogy is so god awful that "3 point kick" is the most coherent part. 3. Point. Kick. 🙄 https://t.co/qZWVqnRN2T

— Taylor Garrison (@Taylor Garrison) 1542166671.0
People are hung up on him calling it a "3-point kick" but what kind of score is 24-22? Did this team get 3 touchdow… https://t.co/TWkHwdQL3Q

— Jesse Pantuosco (@Jesse Pantuosco) 1542166340.0
In response, Rubio whined about the ridicule, somehow managing to go even further into the hole of lameness he dug for himself, essentially saying, "Haha no guys seriously I know about sport I love sport let's toss the ole pigskin haha go Dolphins!"

I am being roasted for '3 pt kick' tweet about election? Why? You think everyone who follows politics knows what a… https://t.co/48YjCd7MRM

— Marco Rubio (@Marco Rubio) 1542217743.0
Of course, this is not the first time Rubio has embarrassed himself in the realm of sports. How can any of us forget the iconic moment in his 2016 presidential campaign when he nailed a child in the face with a football?

Maybe if you stop trying so hard be athletic, Marco, you won't need to be so disciplined about hydration.
Marco Rubio Pauses Speech for Water Breakwww.youtube.com
Brooke Ivey Johnson is a Brooklyn based writer, playwright, and human woman. To read more of her work visit her blog or follow her twitter @BrookeIJohnson.
According to experts, Cape Town may only be the beginning.
In preparations for what officials have called Day Zero, the city of Cape Town has issued restrictions on its citizens water use; Day Zero representing the day when the city is completely out of clean water. While Day Zero was originally pegged for April of this year, it has since been pushed back to 2019, leaving many wondering whether or not it was just a ploy by the Cape Town government to curb its citizens' water use. Either way, one thing is certain, Cape Town is facing a severe water shortage, and is one of the world's first major cities to fear losing its access to water outright. If Day Zero does occur, the South African government will be forced to turn off every tap in the city and distribute water at various checkpoints.
While there are certain companies and government agencies trying to figure out a solution– ranging from desalination to harvesting icebergs in Antarctica–the idea that a city with a population of almost four million could run out of water is terrifying. To compound things further, NASA recently conducted scans of the Earth and determined that there are dozens of areas at risk of becoming the next Cape Town.
Cape Town's water shortage is nothing short of catastrophe in the making, but some of the places that NASA is pointing out have much higher population densities. The study, which uses gravitational satellite data, pinpointed northern India, northeastern China, and most of the Middle East as having the potential for a water crisis in the near future. Gravitational satellites are different in that they don't take pictures, but rather measure the gravitational pull of the Earth, which can be affected by the presence of water. Using these satellites, NASA calculated the rate of water depletion from 2002-2016 and based their predictions off that data. Currently, more than 1.2 billion people lack access to clean water, but with these findings, it's possible that 500 million more may be at risk. Many experts are calling for cities around the world to start preparing for the eventuality of severe water shortages.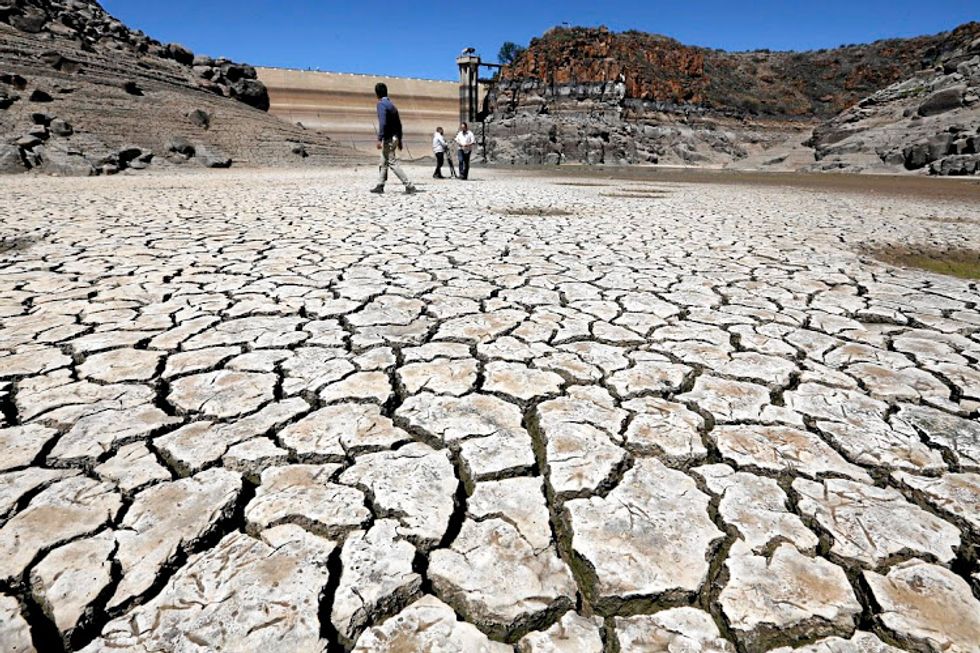 The Gamka Dam in Beufort WestThe Sunday Times
Outside of California and the southwestern United States, Americans have it pretty easy regarding water shortages. The global water crisis will hit us in a far different way than it will hit the third world. Of course, the economic implications will be far reaching, and anywhere facing economic tensions will naturally see an increase in violence, but the real issue facing the Western world won't be war. It'll be the mass migration necessitated by the violence and financial strife the water shortage will cause. People will be fleeing their homes and lining up along borders all over the world. Countries like Greece, Turkey, and Azerbaijan will have to deal with fleeing refugees at an unprecedented level, and barring a major shift in the way Europeans view immigration, these massive migrations could put an extreme amount of stress on governments to heavily secure their borders.
If the xenophobic rhetoric currently coming from both American and European leadership has a chance to manifest itself into policy, future migrants could face some of the worst human rights violations in modern history. When sterile terms like "instability" and "civil unrest" start appearing in the news, it's important to understand what they actually mean. The standoff between the Israeli military and the Palestinians in Gaza, while completely unrelated to the water shortage, paints a pretty good picture of what border clashes could look like in the near future.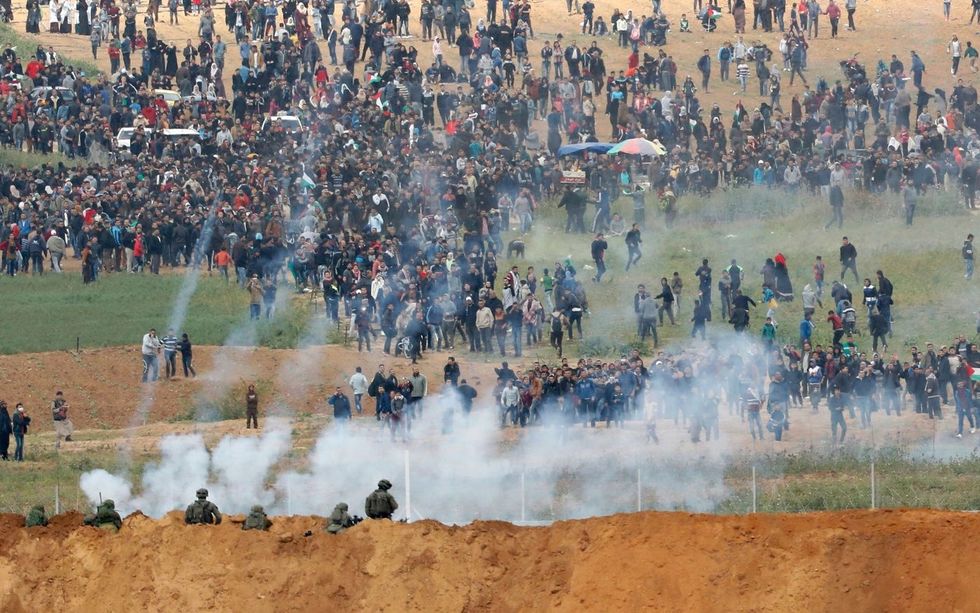 Israelis open fire on Palestinians at the Gaza border
The question is quickly devolving from what we can do to prevent the water crisis to how we're going to survive it. We can't afford to ignore water scarcity in the same way in which we largely ignored climate change (which in turn exacerbated this crisis). Desalination is extremely expensive and while it has the potential to provide us with more drinkable water, it may not be the most reliable method. One interesting fact about the way we use our water is that 70% of the freshwater we use isn't for drinking, but rather for agriculture. Some scholars posit that by optimizing the way we irrigate our farms, more water could be conserved. Others point to population control as the solution, citing that worldwide demand for water will soon outstrip the supply.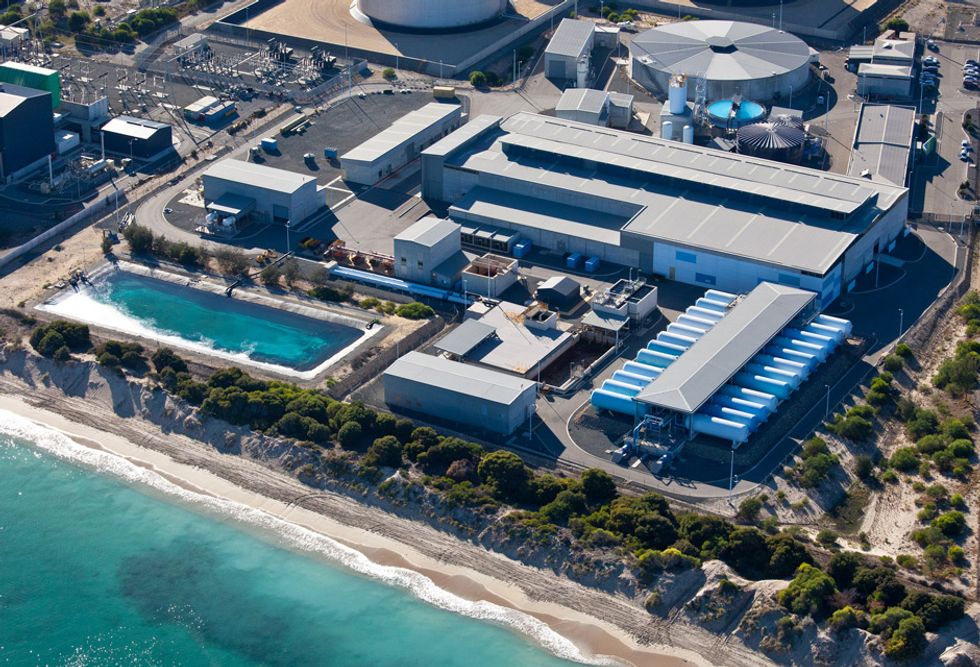 A desalination plant in Perth, Australia
Both options seem untenable. The most realistic solution is to find a way to perform desalination in a less energy-intensive way. Perhaps Saudi Arabia's solar-powered plants will provide a the world with a sustainable model for creating clean water. Whatever the fix, we're at the point now where a single country's contributions are unlikely to shift the balance. It'll take a concerted worldwide effort to effectively combat the coming water crisis. Assuming this happens, and countries all over the world start implementing new and innovative desalination processes, the question will then become whether or not it's too little too late.
It's important to make your workplace a healthy, mentally stimulating environment for yourself.
Some people are lucky enough to work in jobs that keep them fit year-round, like Pilates instructors and Olympic athletes. The rest of us deal with prolonged sitting, donut days and weekly birthday celebrations, and then work on recovering in the after hours. But don't let those 8-hour days sabotage your efforts. Follow these tips to help keep you on the healthy track while at work.

Plan meals and snacks in advance
Men and women who plan their meals are much less likely to be obese than those who don't, according to a 2017 International Journal of Behavioral Nutrition and Physical Activitystudy. The same study also found that people who planned their meals enjoyed better variety and improved diet quality. Depending on your goals and eating habits, improving the quality of your meals may help you lose weight.
Another benefit to meal planning is that it leaves uncertainty off the table. When you know when and what you're going to eat, you're less likely to much on junk food.
Meal planning includes breakfast too. When you've eaten a healthy, fiber-filled breakfast, you'll be satiated for longer and will be less likely to hit the vending machine before lunch.
Eat more Lipotropic foods
While you're planning those work-day meals, consider adding more lipotropic foods to the mix. Lipotropic foods contain organic compounds that break down fat stores, prevent excess fat storage and help cleanse the liver of toxic build-up.
Major lipotropic nutrients include methionine, choline, inositol, betaine and vitamin B12.
Consider packing lunches with the following lipotropic-rich foods:
Vegetables
Broccoli
Eggplant
Spinach
Beets
Beans & nuts
Brazil nuts
Almonds
Flax seeds
Soy beans
Animal proteins
Grains
Quinoa
Oatmeal
Barley
Brown Rice
Hydrate well
Although it can be difficult to track how much water you're drinking at work, you must stay hydrated throughout the day. Dehydration can cause you to be drowsy and sluggish, which aren't desirable conditions at work.
Water has many health benefits, including its ability to help flush out toxins, maintain regularity and improve your complexion.
Try getting between six and eight glasses of water every day and up your intake of fresh, juicy fruits. These offer another great way to help keep you hydrated.
Make a habit of washing your hands
Throughout the work day, we encounter many people and surfaces that carry germs. Germs cause infection and this is how we get sick. To keep yourself healthy, wash your hands periodically throughout the day with soap for a minimum of 10 seconds at a time. Research done by Rutgers University shows that this is the most effective way to remove germs.
How often you wash your hands is up to you, but you should be washing after every time you use the bathroom and before you eat. If you have a cold, wash your hands more often to avoid spreading germs around the office.
Limit caffeine
Caffeine will give you a boost of energy to help start your day, but it can also lead to a mid-afternoon crash when the effect wears off. If you're drinking too much coffee, it can aggravate the nervous system and cause the adrenal gland to release cortisol. This is similar to being in a constant state of stress, and that's not good for your health. Work can be stressful enough. Limit the caffeine to one to two cups of coffee or tea per day to avoid negative consequences.
Continue your healthy habits while at work, and it'll be easier to maintain them at home. A healthy lifestyle includes a balanced diet, regular exercise and good habits. Try to keep these things going regardless of where you are and you'll be on the right track.
We may forget that water is not an infinite source on the planet so what happens when we run out?
While seventy percent of the Earth is covered in water, only about two percent of it is drinkable. On top of this, most freshwater is inaccessible, either frozen in glacial ice or buried deep beneath the Earth's surface. According to several sources, there are currently one billion people in developing nations who lack access to clean drinking water and by 2025, up to two thirds of the world's population could living under water stressed conditions. When looking at the increasing scarcity of usable water, rising populations, and today's volatile political climate,many experts have come to the conclusion that we are on the verge of widespread conflict and many are saying that the next major war will be fought over water.

The preliminary effects of the coming crisis are already being felt all over the world. Economic powerhouses like China are suffering from pollution in their rivers and as evidenced by the Flint water crisis, even the US isn't completely immune to clean water shortages. In the US, most of our problems are due to outdated and slowly crumbling infrastructure and while this is nothing to sneeze at, access to water in the US can be fixed by replacing old pipes for the time being. Whether this is done through public works or private investment is political semantics. Right now, Third World countries are the ones who truly suffer. About 2,300 people die per day from diseases contracted through unclean water and with very little support, these countries don't have the tools necessary to mitigate the effects of prolonged drought. Desertification and global warming are also contributing to water scarcity in a big way, the latter causing about 20% of our water scarcity issues today.
While the situation is dire, we aren't doomed yet and there are several conservation measures being kicked around by the world's top environmental scientists. One solution that has been gaining popularity in recent years is desalination. Israel has successfully used desalination to supply its population with fresh water with 55% of its water coming from the ocean. In the US and many countries in Europe, large scale desalination projects are being funded for a vast array of what-if scenarios.
The problem is, desalination isn't very energy efficient. Desalination requires an enormous amount of energy and although the technology is improving, desalination plants have the potential to become major contributors to global warming in the coming years. On top of this, there are unforeseeable effects on sea life and desalination has the potential to disrupt the fragile balance of the ocean's ecosystem. Significant changes in the ocean's ecosystem means significant changes to the way we fish and subsequently, the way we eat. Since there haven't been many studies on the long-term effects of desalination, it's difficult to say how damaging it is but there does seem to be some cause for alarm with regard to its immediate effect on sea life. Fish, plankton and other organisms are often killed during water intake and processing and at the moment, it's probably safer to look for other methods to fix the world's water issues.
When the well is running dry, it's sometimes better to examine its structural integrity before digging a brand new one. Agriculture accounts for 80% of America's water use. Rather than focusing on desalination, many water activists are looking to fix inefficiencies in the way we farm food. Leaking irrigation systems and the cultivation of non-local crops are wasteful practices that are squandering huge amounts of water. How much? Up to 60% of water used in farming is wasted because of irrigation issues alone. Rather than rushing to invest all of our time and resources into desalination, it might be time that we reexamine the way in which we grow food. In Volgograd, farmers have been using experimental drip irrigation with extremely effective results both in regard to maintaining healthy soil and proper water utilization. The water scarcity issue may have to get a whole lot worse before people start paying attention to it but it's important to recognize the farmers and scientists who are currently making a contribution. The Water Project and other charitable organizations are also doing their part for water conservation.
If the future looks tumultuous, it's because it is, but with the implementation of more eco-friendly farming methods and the use of desalination as a last resort, there is less of a reason to panic than one might think.