"A tree is best measured when it is down," the poet Carl Sandburg once observed, "and so it is with people." The recent death of Harry Belafonte at the age of 96 has prompted many assessments of what this pioneering singer-actor-activist accomplished in a long and fruitful life.
Belafonte's career as a ground-breaking entertainer brought him substantial wealth and fame; according to Playbill magazine, "By 1959, he was the highest paid Black entertainer in the industry, appearing in raucously successful engagements in Las Vegas, New York, and Los Angeles." He scored on Broadway, winning a 1954 Tony for Best Featured Actor in a Musical – John Murray Anderson's Almanac. Belafonte was the first Black person to win the prestigious award. A 1960 television special, "Tonight with Belafonte," brought him an Emmy for Outstanding Performance in a Variety or Musical Program or Series, making him the first Black person to win that award. He found equal success in the recording studio, bringing Calypso music to the masses via such hits as "Day-O (The Banana Boat Song)" and "Jamaica Farewell."
Harry Belafonte - Day-O (The Banana Boat Song) (Live)www.youtube.com
Belafonte's blockbuster stardom is all the more remarkable for happening in a world plagued by virulent systemic racism. Though he never stopped performing, by the early 1960s he'd shifted his energies to the nascent Civil Right movement. He was a friend and adviser to the Reverend Doctor Martin Luther King, Jr. and, as the New York Times stated, Belafonte "put up much of the seed money to help start the Student Nonviolent Coordinating Committee and was one of the principal fund-raisers for that organization and Dr. King's Southern Christian Leadership Conference."
The Southern Poverty Law Center notes that "he helped launch one of Mississippi's first voter registration drives and provided funding for the Freedom Riders. His activism extended beyond the U.S. as he fought against apartheid alongside Nelson Mandela and Miriam Makeba, campaigned for Mandela's release from prison, and advocated for famine relief in Africa." And in 1987, he received an appointment to UNICEF as a goodwill ambassador.
Over a career spanning more than seventy years, Belafonte brought joy to millions of people. He also did something that is, perhaps, even greater: he fostered the hope that a better world for all could be created. And, by his example, demonstrated how we might go about bringing that world into existence.
Everything you need to know about the Trump administration's latest controversy.
The Hatch Act is in the news this week due to uproar about potential violations at the Republican National Convention.
The accusations involve three critical RNC moments: Secretary of State Pompeo's speech from Jerusalem, Trump and Melania using the White House as a backdrop, and the inclusion of a naturalization ceremony conducted by acting Homeland Security Secretary, Chad Wolf. However, most Americans have never heard of the Hatch Act, and Trump's Chief of Staff believes that "Nobody outside of the Beltway really cares." So what actually is the Hatch Act, did the Trump administration violate it, and should we care?
What Is the Hatch Act?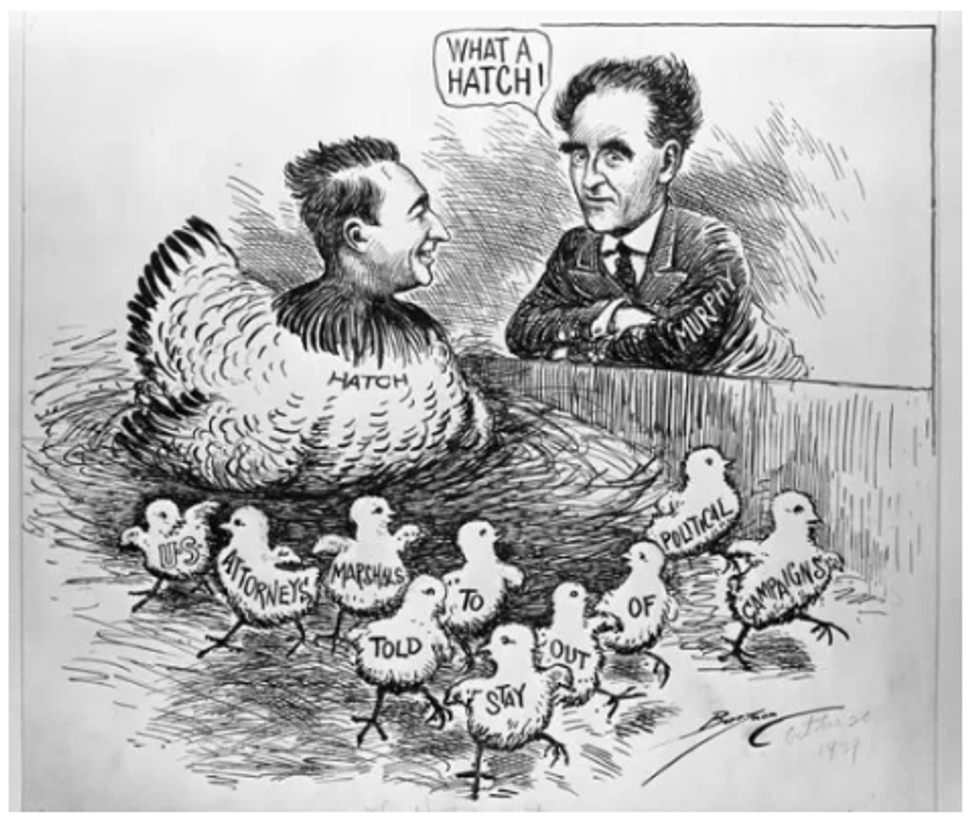 By ART CHANCE
The Hatch Act of 1939, "An Act to Prevent Pernicious Political Activities," limits certain political activities of federal employees, as well as some state, D.C., and local government employees who work in connection with federally funded programs. Specifically, those in the executive branch, with the exception of the President and Vice President, must abstain from taking "any active part" in political campaigns while on duty. They may not use their official titles or positions while engaged in political activity or participate in any activity directed at the success or failure of a political party, candidate for partisan political office, or partisan political group while on duty, in any federal room or building, or wearing a uniform or official insignia.

Summarily, the Hatch Act was created to ensure that government resources don't subsidize re-election campaigns, that government aides aren't pressured into campaigning for their superiors, and that government officials don't use the influence of their position to affect election outcomes. It ensures that campaigning and governing remain separate activities.
The Trump administration has a history of violating the Hatch Act. The Office of Special Council, which is responsible for evaluating Hatch Act complaints, has issued members of the Trump administration 13 official citations, and 12 more investigations are underway, not including the potential violations during the Republican National Convention. This is despite the fact that Henry Kerner, the head of the Office of Special Council, is a Trump appointee and model conservative.
The most notable offender is Kellyanne Conway, counselor to the president, who has been accused of violating the Hatch Act over 60 times by Citizens for Responsibility and Ethics in Washington (CREW). She's violated the Hatch Act so many times that even the Trump-friendly OSC recommended she be fired, referring to her actions as "egregious, notorious and ongoing." Her response to the recommendation? "blah blah blah...let me know when the jail sentence starts."
Conway is not the only one.The New York Times reported that Trump officials "privately scoff" at the Hatch Act and "take pride" in violating it, and the Daily Beast reported that staffers flaunt violations because they "love the anger it produces." In contrast, during Obama's eight years as president, only two cabinet officials received official citations, and both publicly apologized for their misconduct.
So now that we understand what the Hatch Act is, let's talk about the specific violations that took place during the RNC.
Secretary of State Mike Pompeo's Speech
Watch Mike Pompeo's Full Speech At The 2020 RNC | NBC Newswww.youtube.com
Secretary of State Mike Pompeo delivered his Republican National Convention speech from a rooftop in Israel. Pompeo filmed the speech on an official overseas trip, but the State Department said he delivered it "in his personal capacity." He never mentioned his position as Secretary of State, but he did speak to foreign policy in general and Trump's "America First" vision.
Does it break tradition? Yes, Secretary of State Mike Pompeo is the first acting Secretary of State in living memory to give a speech at a partisan convention. Other cabinet members have made speeches to national conventions in the past, but the Secretary of State's role in foreign policy has deemed their participation inappropriate. As Susan Hennessey and Scott R. Anderson wrote in a Washington Post op-ed, "Diplomats are supposed to represent all Americans to the rest of the world, and limiting their political activities ensures that they are able to serve this role effectively."
So does Pompeo's speech break department policy? Yes, According to a 2019 memorandum from the department's Legal Adviser, "Senate-confirmed Presidential appointees may not even attend a political party convention or convention-related event." The memorandum explains that the State Department specifically has a "long-standing policy of limiting participation in partisan campaigns by its political appointees in recognition of the need for the U.S. Government to speak with one voice on foreign policy matters."
Does it violate the Hatch Act? Maybe. The State Department has stated that he delivered the speech "in his personal capacity," which, under the Hatch Act, he is allowed to do. However, because the speech was delivered from Israel on a diplomatic visit, it can be argued that he was on duty, and it is impossible to separate him from his official capacity; therefore, he was violating the Hatch Act.
The Use of the White House Grounds for Campaign Speeches
Melania Trump delivers speech at 2020 RNCwww.youtube.com
Melania Trump delivered her speech on the second night of the convention from an unconventional location: the White House Rose Garden. And as his grand finale, Donald Trump delivered his speech accepting his nomination from the south lawn of the White House. Trump has stated that the choice to do the speeches from the White House is simply a matter of convenience since it would be "easiest from the standpoint of security." However, many officials have criticized this action for being a Hatch Act violation waiting to happen.

Does it break tradition? Yes, use of the White House grounds as a platform for a re-election speech is highly unusual and represents a blurred line between taxpayer-supported government activity and political campaigning. The "Rose Garden strategy," a term used by political strategists for an incumbent president's use of official events to gain publicity in an election year, is fairly common. But, using the official events to get media attention is not the same as literally using the Rose Garden for televised campaign events.
Does it violate the Hatch Act? Maybe. The President himself is exempt from the Hatch Act. But any other White House employees assisting in the setup/preparation for RNC speeches are in violation. The OSC has stated that federal employees attending the event are not in violation because the Rose Garden and the South Lawn are not considered part of the White House.
Use of Naturalization Ceremony Footage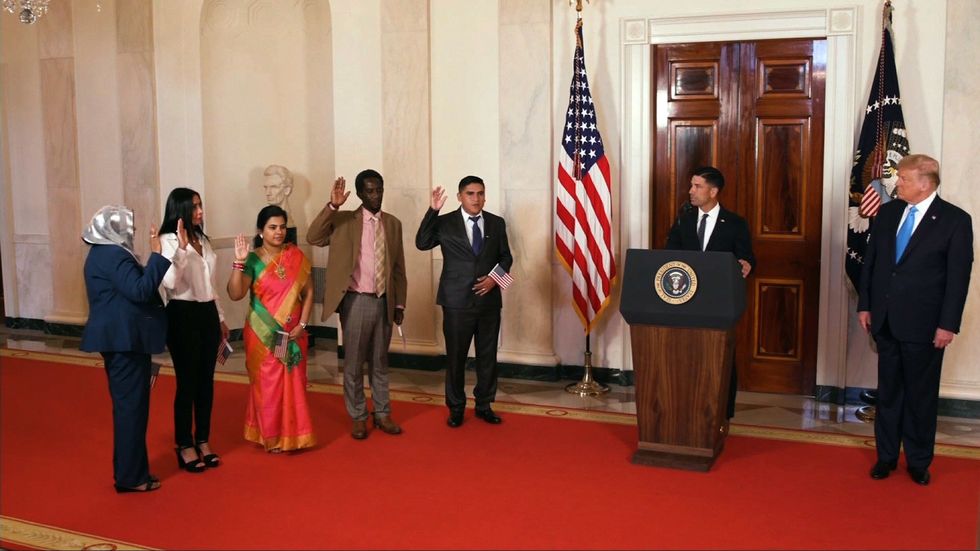 Naturalization Ceremony shown at RNC
During the second night of the Republican National Convention, Donald Trump presided over a pre-recorded naturalization ceremony for five new American citizens. The ceremony was performed by acting Secretary of Homeland Security, Chad Wolf, and was filmed inside the White House. The video began with Trump striding up to the lectern while "Hail to the Chief" played in the background.

Does it break tradition? Yes. Using a legally binding ceremony as part of a partisan campaign event has never been done before.
Does it violate the Hatch Act? Probably. Acting Secretary of Homeland Security, Chad Wolf, was acting in his official capacity, clearly on-duty, performing a legally binding ceremony in the White House. Because this was used during a political convention in support of the re-election of Donald Trump, it is a seemingly clear violation of the Hatch Act. White House officials have defended the action in a statement, "The White House publicized the content of the event on a public website this afternoon and the campaign decided to use the publicly available content for campaign purposes." The argument seems to be that because the original intent of the ceremony was not to use it for the campaign, it was not a violation.
All three of the questionable actions mentioned above effectively blur the line between the Executive Branch's role in governing and their role in getting Trump reelected. Even though it is unclear whether these actions were technically violations of the Hatch Act, they certainly violate the spirit of the act. Free and fair elections are the foundational principle of Democracy, but Trump and his administration don't seem to care about the rules in place to keep things fair. Americans deserve a federal government that works for everyone, not one that can't seem to tell the difference between campaigning and governing.
For more well-researched, unbiased information on today's biggest issues, follow Alexandra's Instagram account The Factivists.
The president attended the annual anti-abortion event in Washington, D.C.
Today, Donald Trump became the first-ever president to attend the March for Life.
The March for Life—not to be confused with the very different March for our Lives—is an annual gathering with an ultimate mission to end abortion in the United States. At the national march in Washington, D.C. this morning, Trump expressed that he was honored to be the first president in attendance.
Trump delivered his speech in a very characteristic manner, claiming the venue had maxed capacity, bragging about his contributions to the anti-abortion movement, and describing himself and his presidency with hyperbolic statements: "Unborn children have never had a stronger defender in the White House," he assured the crowd.
"When it comes to abortion...Democrats have embraced the most radical and extreme positions," Trump added.
March for Life's official website says they "celebrate life from the moment of conception to the moment of natural death, and every moment in between," a sentiment underlined in Trump's speech. "We are fighting for those who have no voice," he added. "[The women at the march] just make it your life's mission to spread God's grace." But of course, Trump's words and his actions haven't always aligned: just last November, the Associated Press reported that nearly 70,000 migrant children were held in U.S. government custody over the past year. While Trump may care about the fate of unborn children (or at least pretend to to gain the support of evangelical christians) he has made it extremely clear how little he cares about living children.
#MarchForLife https://t.co/5Yg09dOoJd

— Donald J. Trump (@Donald J. Trump) 1579889480.0
The sordid history of Trump's NatSec advisor.
Picture the most gung-ho Warhawk in modern history, a man who's made a career out of calling for military invasions of foreign countries, forced regime changes, ends to peace treaties.
Do you imagine a hardened war veteran with military accolades who's seen the cost of war and knows its price? Or a nationalist who's fine throwing human life away from the safety of his armchair, despite doing everything in his power to avoid going off to war himself as a youth? If you picture the latter, you've got Trump's former national security advisor John Bolton.
John Bolton did serve in the National Guard and Army Reserve. But he did so in order to avoid being drafted for the Vietnam War, essentially biding his time stateside out of fear of real battle. "I confess I had no desire to die in a Southeast Asian rice paddy. I considered the war in Vietnam already lost," wrote John Bolton in his 25th college reunion book.
Speaking from a position of privilege might be Bolton's greatest asset, though. Those who have seen war generally speak about it in more tempered measures, while Bolton reached his position through pushing extremes.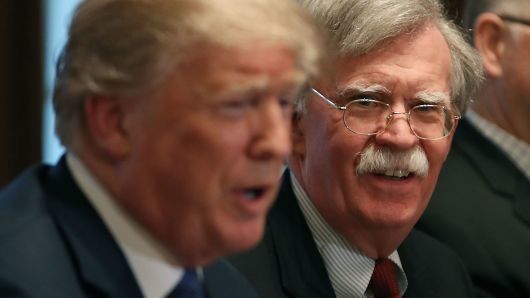 fm.cnbc.com
Throughout his long career, Bolton has worked under multiple right-wing administrations, from Reagan to W. Bush to Trump. During this time, he's advocated again and again for war, pushing for a U.S. invasion of Iraq dating back to shortly after the first Gulf War, calling for the "end of North Korea," and advocating to terminate the Iran Nuclear Deal. He has also expressed strong nationalistic views against the concept of the United Nations, stating, "There is no United Nations. There is an international community that occasionally can be led by the only real power left in the world, and that's the United States, when it suits our interests and when we can get others to go along."
John Bolton's greatest supporters tend to be similarly-minded radicals like Dick Cheney and Donald Trump, while his detractors tend to be anyone more moderate. Even fellow Republicans denounce Bolton. Condoleezza Rice resisted Cheney's efforts to make Bolton her deputy when she was secretary of state, instead passing him off as a UN ambassador. During the nomination hearing for that job, conservative Republican intelligence official Carl Ford described him as a "kiss-up, kick-down sort of guy" who "abuses his authority with little people." Even George W. Bush would later say he regretted Bolton's appointment, allegedly saying he didn't "consider Bolton credible."
And yet Bolton was named the national security advisor to Donald Trump, a fellow draft dodger with a known disregard for human life. To Trump, it didn't matter that Bolton was reviled by the international community. It didn't matter that Bolton was considered radical, largely disrespected even within his own party. For Trump, Bolton was the right man for the job. It remains to be seen whether he will do a better job as a witness.
It turns out national emergencies are very subjective.
The Trump administration has laid bare many of the failings of our government.
All three government branches are privy to partisanship. Our checks and balances may not necessarily work as intended. But most alarmingly, American presidential power might be far less defined than most people realized.
Historically, dictatorial regimes have utilized "national emergencies" as excuses to consolidate and reinforce power. We've seen this playbook employed by Erdogan in Turkey and by Duterte in the Philippines. But could this happen in America? The answer is murky. In fact, national emergencies are murky territory in general, the main problem being that most of the terminology involved is broad and ill-defined.
In a video posted by The Atlantic, Elizabeth Goitein, co-director of the Liberty and National Security Program at the Brennan Center for Justice, explains, "There's no legal definition of emergency, no requirement that congress ratify the decision, and no judicial review." In other words, the decision to declare a national emergency are almost entirely up to a president's personal discretion. Normally, we assume that our elected officials have the best interest of the people in mind, and would not declare a national emergency for personal or partisan political gain. But considering Donald Trump's noted praise of dictators like Erdogan, coupled with his extreme penchant for partisanship, we can no longer simply rely on the president's best judgment.
The question then becomes, "If the president declares a national emergency now, what powers can he abuse?"
1. The Power to Take Over Wire Communication
as01.epimg.net
During a national emergency, the president has the power to shut down or take over radio stations. Assuming there's a threat of war (which, again, can be determined at the president's own discretion), that power expands to any and all wire communications. This executive power was last used during WWII, before most people utilized daily wire communication in any meaningful way beyond the occasional phone call.

Today, given the vagueness and broad applications of "wire communications," declaring a national emergency could allow the president to control Internet traffic in the US. This could include shutting down websites he didn't like, blocking emails to and from dissidents, and altering search results to only display pre-approved propaganda. Doing so would be akin to removing free speech from the Internet, and during a national emergency that would be completely within the president's power.
2. Sanctioning American Citizens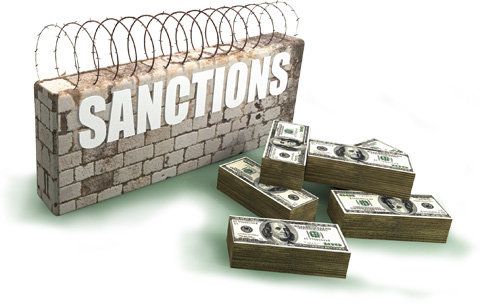 static1.squarespace.com
Imagine going to work, only to discover you've been fired because you can no longer legally be employed. You go back to your apartment and find out you're being evicted. So you go to the bank to take out cash for a hotel, but your funds are frozen. Turns out you're on a list of US citizens suspected of providing support to foreign threats. That's the potential reality of the International Emergency Economic Powers Act (IEEPA).

This act allows the president to declare a national emergency to "deal with any unusual extraordinary threat" that "has its source in whole or substantial part outside the United States." It gives the president the power to freeze assets and block transactions where a foreign nation or foreign national might have a vested interest. George W. Bush used this after 9/11 to sanction those being investigated (sometimes wrongly) of helping terrorists. Were a president to declare "illegal immigrants" a national emergency, the implications could be disastrous.
3. Deploying the Military Within the US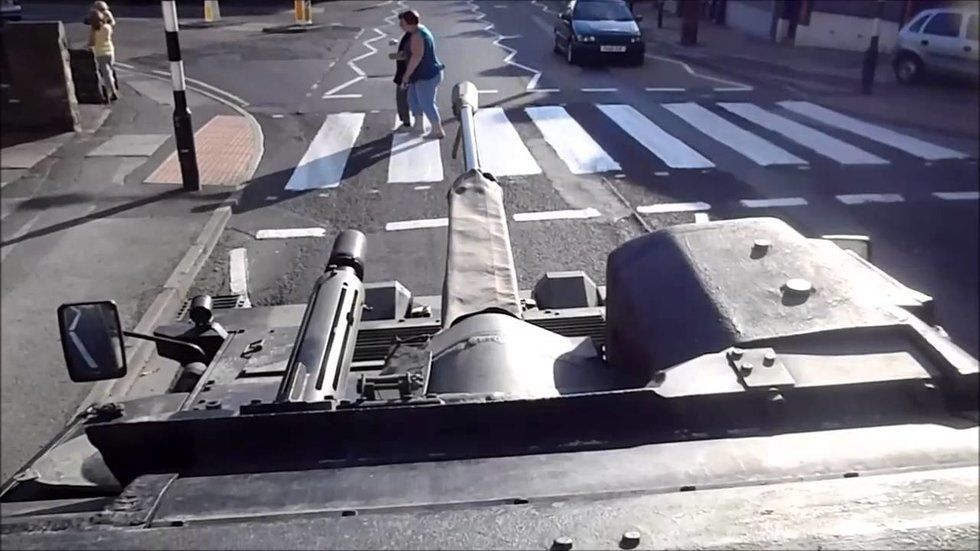 i.ytimg.com
The idea of armed soldiers marching down your city street to hunt down civilians might sound like something out of a dystopian novel. But during a national emergency, it could be an American reality. The Insurrection Act states that during a national emergency, the president can deploy military troops inside the US to suppress any "unlawful combinations" or "conspiracies" that "obstructs or hinders the execution of the law." The problem, again, is that the terms are so vaguely defined.

President Eisenhower once used this law to enforce desegregation in schools. But a president with different sentiments could just as easily use it against protestors or undocumented migrants. For instance, if Trump were to decide Black Lives Matter constituted an "unlawful combination" during a state of emergency, sending the army to suppress them would be fully within his power. Alternatively, a sanctuary city harboring illegal immigrants might be interpreted as a "conspiracy" and therefore subject to military rule.
In many ways, the limits of an American president's power during a national emergency have not been tested. On one hand, theoretical checks and balances do exist which could allow Congress to end a national emergency that was being abused. On the other hand, this would require a majority that a largely partisan Senate would likely not have. There also might be opportunities for the courts to block various moves made during a national emergency but, again, the legality here is largely untested.
Ultimately, as citizens, we must keep a watchful eye on our president's actions should he declare a national emergency. And if things go south, we must keep this in mind the next time we vote. After all, when one person who is supposed to represent all of us holds so much power, we must make sure it is a person of strong enough character and mental capability to understand the repercussions of his or her actions.