"A tree is best measured when it is down," the poet Carl Sandburg once observed, "and so it is with people." The recent death of Harry Belafonte at the age of 96 has prompted many assessments of what this pioneering singer-actor-activist accomplished in a long and fruitful life.
Belafonte's career as a ground-breaking entertainer brought him substantial wealth and fame; according to Playbill magazine, "By 1959, he was the highest paid Black entertainer in the industry, appearing in raucously successful engagements in Las Vegas, New York, and Los Angeles." He scored on Broadway, winning a 1954 Tony for Best Featured Actor in a Musical – John Murray Anderson's Almanac. Belafonte was the first Black person to win the prestigious award. A 1960 television special, "Tonight with Belafonte," brought him an Emmy for Outstanding Performance in a Variety or Musical Program or Series, making him the first Black person to win that award. He found equal success in the recording studio, bringing Calypso music to the masses via such hits as "Day-O (The Banana Boat Song)" and "Jamaica Farewell."
Harry Belafonte - Day-O (The Banana Boat Song) (Live)www.youtube.com
Belafonte's blockbuster stardom is all the more remarkable for happening in a world plagued by virulent systemic racism. Though he never stopped performing, by the early 1960s he'd shifted his energies to the nascent Civil Right movement. He was a friend and adviser to the Reverend Doctor Martin Luther King, Jr. and, as the New York Times stated, Belafonte "put up much of the seed money to help start the Student Nonviolent Coordinating Committee and was one of the principal fund-raisers for that organization and Dr. King's Southern Christian Leadership Conference."
The Southern Poverty Law Center notes that "he helped launch one of Mississippi's first voter registration drives and provided funding for the Freedom Riders. His activism extended beyond the U.S. as he fought against apartheid alongside Nelson Mandela and Miriam Makeba, campaigned for Mandela's release from prison, and advocated for famine relief in Africa." And in 1987, he received an appointment to UNICEF as a goodwill ambassador.
Over a career spanning more than seventy years, Belafonte brought joy to millions of people. He also did something that is, perhaps, even greater: he fostered the hope that a better world for all could be created. And, by his example, demonstrated how we might go about bringing that world into existence.
When Noah Kahan played at Radio City Music Hall in August, he encouraged everyone in the room to go to therapy. He went into an anecdote about how his mother recognized that he was a "weird kid" by age 8 and sent him straight to the shrink. Some kids might have taken offense, but he's eternally grateful. Therapy helped Kahan overcome feelings like depression and anxiety and evolve into the performer we know and love.
But his actions go beyond his words with The Busyhead Project, a charity he created with his team with one goal: raise one million dollars for organizations specializing in mental health awareness and resources. Named after his 2019 debut, Busyhead, the Project has shown us all the ways Kahan is willing to help others. SPOILER ALERT: he's well over that goal.
Starting in May 2023, Noah Kahan used his Stick Season Tour, digital campaigns, and donors to support mental health organizations such as Teenline, JACK.org, JED Foundation, and Here Tomorrow. You can buy charity packages for his upcoming We'll All Be Here Forever arena tour — which includes a sold-out show at Madison Square Garden — which donates a portion of the sales to a mental health organization.
In order to normalize talking about mental health, Kahan has been transparent about his own struggles. In a TIME op-ed, Kahan wrote:
"As I've been touring the country supporting my record Stick Season, many people have told me my music saved their lives—that I gave them the strength to carry on. Though flattered and honored, I am inclined to disagree.
The strength it takes to get through difficult moments and complicated challenges, mental and physical, comes from within. Any person brave enough to share that they have made it through a struggle deserves every ounce of credit for making it to the other side. As the artist Grandson often says: 'You did this yourself.'"
Kahan has had a breakthrough year with his Stick Season (We'll All Be Here Forever) deluxe album breaking records, collaborating with mega-names in the industry like Hozier, Post Malone, Kacey Musgraves, and more, and completing not one, but two tours for the album.
However, despite the success, Kahan remains unrelentingly humble- offering self-deprecating jokes and staying active on his social media accounts to connect with fans. It's part of his charm, but also a comforting reminder that we're all dealing with our own demons deep down. And that not even the famous are immune to mental health problems.
While music can be a healing agent in its own right, there's no doubt that therapy can benefit pretty much everyone. Having someone unbiased in your life to talk to, even about the mundane aspects of life, can give you an outlet to discover yourself. And when trouble arises, you have the coping skills to get through them.
Kahan tells TIME,
"It's a stark reminder of the truth that I have had to come to terms with: there is no perfect ending or conclusion in my journey with my mental health. These problems will likely be with me forever. The difference is now I know I can treat them with therapy, meditation, and medication. I can talk about them with friends and family. I can write them down, and I can make them smaller.
Dedicating my craft to opening up about my mental health has provided me with an arsenal to live a meaningful life, and to not be defined by the chemicals in my brain."
When the flooding in Vermont happened, Kahan directed The Busyhead Project's efforts towards providing relief to victims. He released exclusive merchandise and performed a show, earning over $150,000 in donations for life-saving measures.
To date, Kahan has raised $1.9 million to aid mental health organizations and provide necessary resources. You can learn more about The Busyhead Project and Noah Kahan's work on his website.
Studies find that millennials have the highest incidence of mental health problems.
October 10th marks the World Health Organization's (WHO) official observation of World Mental Health Day, with this year's theme focusing on "Young People and Mental Health in a Changing World."
In a prelude to this week's commemoration, Lady Gaga and the WHO director-general Tedros Adhanom co-wrote an op-ed on suicide, stigma, and mental health services for The Guardian. "By the time you finish reading this," they warn, "at least six people will have killed themselves around the world."
Gaga and Adhanom opine that "despite the universality of the issue, we struggle to talk about it openly or to offer adequate care or resources." Indeed, a shameful legacy of social stigma has shadowed mental health sufferers, allowing society to "ostracize, blame, and condemn" them due to a historical lack of tools and understanding. The piece outlines the WHO's hopes that countries around the world will encourage their citizens to openly discuss psychological issues and open channels for non-judgmental communication and mental healthcare. With Lady Gaga penning a condemnation of the world community that gives less than 1% of global aid to mental health, we can appreciate a public figure using her platform to highlight a crucial social issue — but it's another diagnosis without a cure.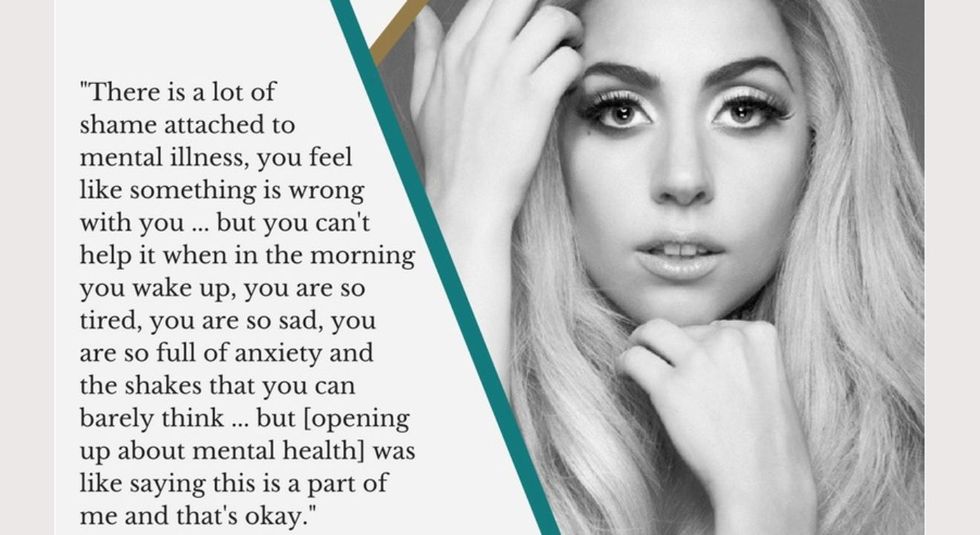 Entity Mag
Millennials, in particular, are very accustomed to discussing their struggles with mental illness, more so than any generation prior. With Selena Gomez recently entering treatment after an "emotional breakdown," Kanye West announcing he's off medication, and Demi Lovato publicly struggling with long-term "emotional and physical issues," there's a greater issue in the headlines than just the cost of a high-profile life. At least every celebrity blurb about a high profile figure battling mental illness opens another discussion about mental health.
Yet the core of the problem eludes us. While having those conversations makes progress towards destigmatizing psychological issues, various studies of the last year suggest that we still don't know how to have those conversations, and we might not be fully equipped to handle them when we do.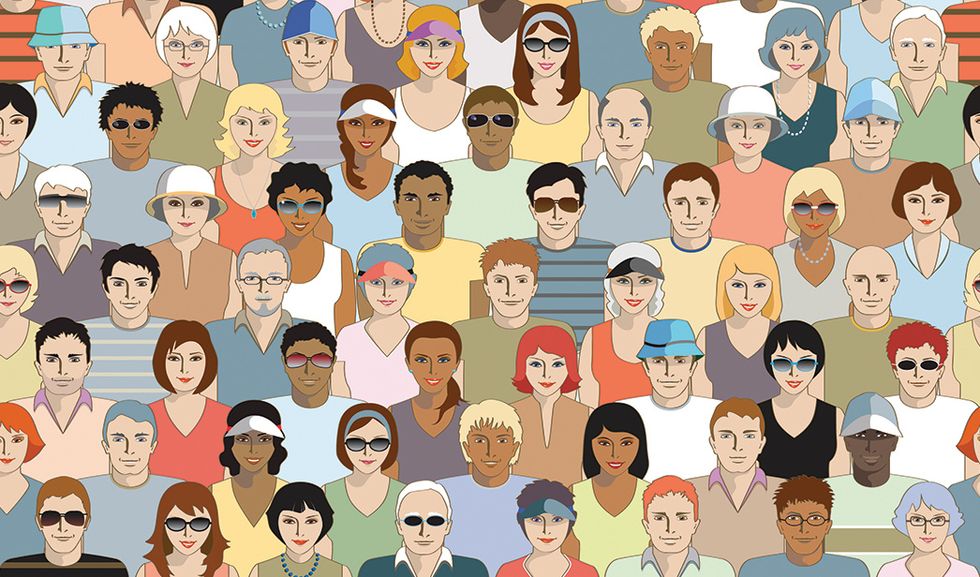 CMO
An assortment of studies in the past year have prefaced the WHO's focus on young people to highlight that millenials are the "most anxious generation" when compared to their predecessors dating back to the baby boomers (born 1945-64). While it's easy to malign millennials for their culture of abundance, youth centrism, and self-styling on social media, science has been weighing in that these privileges come at a cost. According to the American Psychological Association (APA), 12% of millennials have received a medical diagnosis of an anxiety disorder. Gaga and Adhanom cite in The Guardian, "One in four of us will have to deal with a mental health condition at some point in our lives," but they highlight, "Our young people are particularly vulnerable, with suicide being the second leading cause of death globally among 15-29 year olds and half of all mental illness beginning by the age of 14."

Statistics point to possible causes including lower employment rates, larger student loan debts, and decreased home ownership among millennials. However, other studies on the qualitative stressors on young people note epidemic detriment from "multidimensional perfectionism." Many millennials are the first to come of age under the unprecedented pressures of social media "to measure up to an ever-growing number of criteria," aiming for unrealistic perfection in work, school, romance, the arts, and an illustrious online persona. Of course "striving to reach impossible standards increases the risk of anxiety, depression, an eating disorder, and even suicidal ideation."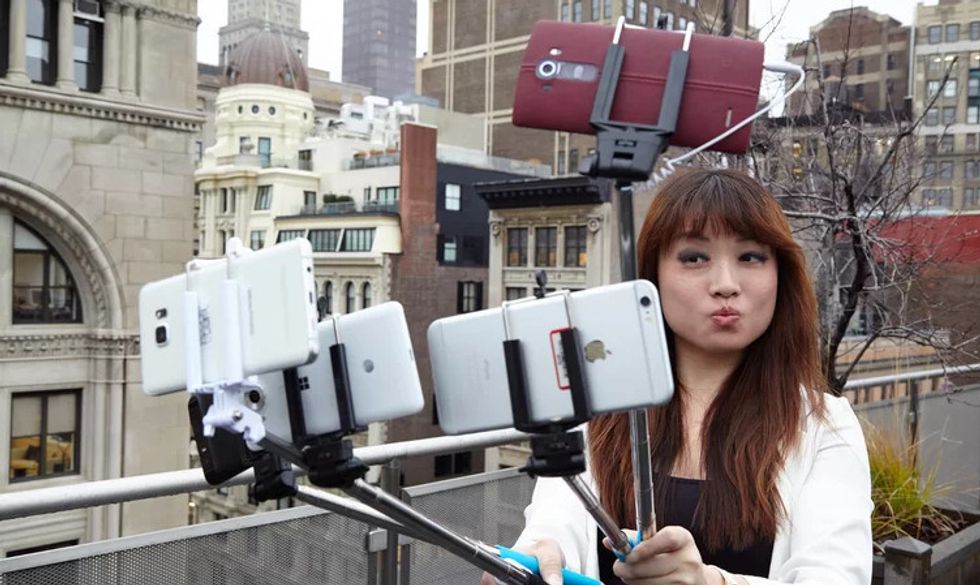 Curious Mind Magazine
While open dialogue about psychological issues is the first step to addressing them, we still risk being distracted by the celebrity gossip, the tragic suicide, or the newest controversial study that prompts us. How well we manage those conversations towards productive insights into stress management and coping strategies is the aim of our openness and turning point in improving world mental health. Rather than rumination (which can turn into commiseration) about mental health problems, there is the enduring truth that, "Stress is inevitable. You can either crumble and fall prey to it or ride it out," as neuropsychiatrist Dr. Era Dutta underscores in his work specializing in millennials' mental health.

Lady Gaga and Adhanom rally in their essay, "We can all be a part of a new movement – including people who have faced mental illness themselves – to call on governments and industry to put mental health at the top of their agendas." But we as individuals self-direct our conversations and manage our expectations — we know the diagnosis is too much silence, now how do we handle the cure?
Meg Hanson is a Brooklyn-based writer, teacher, and jaywalker. Find Meg at her website and on Twitter @megsoyung.