Animal Crossing New Horizons is sure to push the series' socialist ideology to an even wider audience.
Animal Crossing isn't a game people play for a few hours or days and then set aside; it's a game that people spend months or even years on, tweaking flower beds, rearranging furniture, and doing everything in their power to get Bitty to move out of town.
But when so many people dedicate so much time to a game that essentially boils down to a "living-in-a-town" simulator, it begs the question: What do people get from Animal Crossing that they don't get in the real world?
In the world of Animal Crossing, everyone just kind of exists. The society is clearly not lacking for basic living essentials. Everyone has food and clothes and the means to create more of it whenever necessary. When you want fruit, you go get fruit from a tree. When you want fish, you catch it in the river. Everyone has a shovel for digging, a rod for fishing, and an axe for chopping trees. The world's bounty is at the characters' fingertips, and they realize that for a community to function, they must all strive together for the communal good. Animal Crossing offers more than just simple video game escapism; it's a blueprint for a functional socialist utopia.
Most townsfolk spend their days just like the main character does: hanging out, tending to their flowers, and talking to their neighbors. With their most basic needs presumably taken care of through the efforts of the larger community, they are free to pursue their interests and creative endeavors. Some, like Goose the jock chicken, provide communal services like offering fitness advice to help keep everyone in great shape. Others, like Bob the lazy cat, are fundamentally incapable of working hard, and that's okay, too. Everyone is free to spend their time as they wish.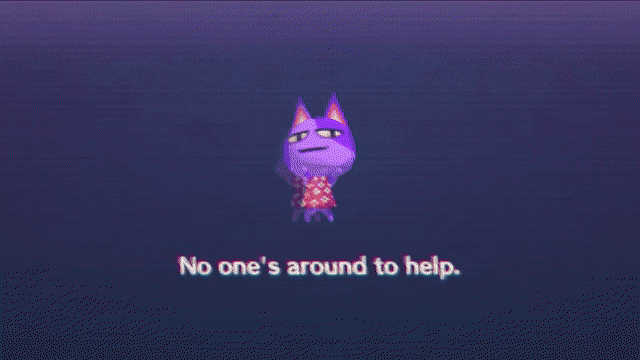 Bobgyfcat
Of course, the system allows those with extra motivation to work for monetary gain. If the Able sisters want to run a textile business, more power to them. If Kapp'n wants to charge villagers for the opportunity to go out on his boat, he's more than welcome to. Just because bartering is the primary exchange method in society doesn't mean coin can't exist to handle transactions that go above and beyond the essentials. The community doesn't need to share everything––just the basics to allow every villager food, clothes, and a roof over their heads.

Government exists within Animal Crossing, too, but it works towards the greater good of the community. For instance, there's a police station, but its primary directive is to operate the lost and found. As far as we've seen, Copper the police dog holds no punitive power. Similarly, the town has "laws," such as zoning restrictions for where you can build your house, but they're almost entirely practical, designed to prevent your home from abutting the local parade grounds or opening your door into the river. The Animal Crossing political bodies truly function by and for the animals they govern.
But what discussion of Animal Crossing politics could truly be complete without analyzing Tom Nook, the real estating/shopkeeping/money lending tanuki who serves as the player character's primary benefactor in every game? Isn't Tom Nook the very definition of capitalist greed, trapping the player in an endless cycle of debt and home improvements? Well, not really. Tom Nook has no power, whatsoever. There's no government backing him, no corporatist structure for him to thrive off.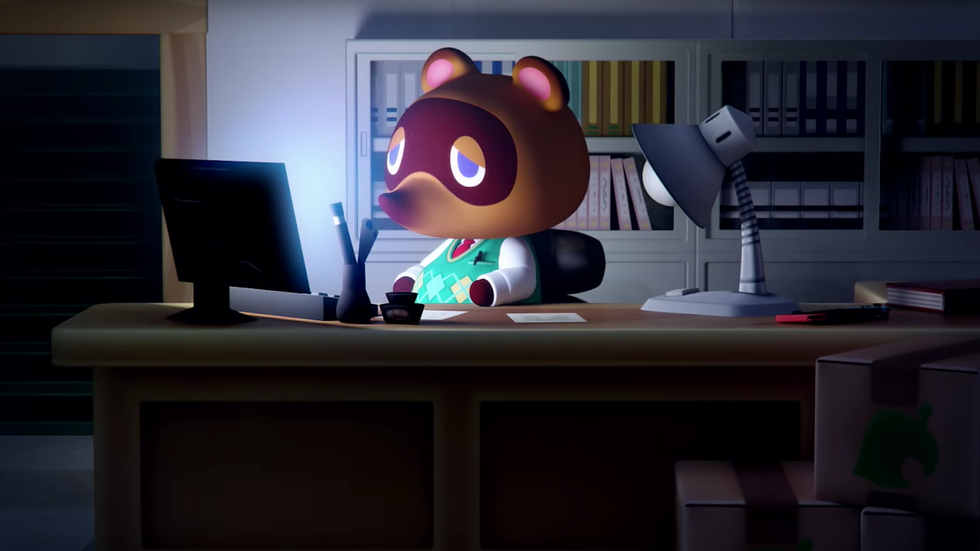 Tom NookNintendo
Tom Nook gives you a house, upfront, for nothing. Sure, he asks you to pay him back, but he can't enforce those debts outside of refusing to build you a bigger house until you do. There's no time frame for his loan and no interest. In other words, Tom Nook literally just lends you money for nonessential home improvements, and he takes 100% of the risk on his own shoulders knowing full well that you might never pay him back. He's the wealthiest animal in the entire community, and he spends all his time and resources donating those funds in exchange for little-to-no personal gain. If anything, Tom Nook is a shining beacon of the core socialist structure of Animal Crossing's society.
In essence, Animal Crossing paints a picture of a friendly, functional society wherein different species co-exist peacefully with their every basic need provided for in full. The government is run by and for the community, ensuring that the needs of the townsfolk are properly met without ever overstepping or interfering with their private lives. From there, animals have the freedom to pursue their interests, provide communal services, or consolidate wealth. Those who do consolidate wealth tend to invest much of that profit back into the community. It's a system that works and everyone is happy—except Bitty, because she sucks and needs to move.
In the real world, we're stuck in a capitalist nightmare, riddled with government-enforced debt, corrupt politicians, and corporations as people. White supremacism is on the rise. In Animal Crossing, we never need to worry about having fresh food, clean water, or a roof over our heads. A duck and a wolf can be next-door neighbors and everything is totally fine. Both of these options are possible in real life, too (at least if we substitute the duck and wolf for people from different walks of life). Which do you prefer?
What would Democratic Socialism mean for the economy?
Democratic Socialism, a subset of the democrat party, has been thrust into the spotlight recently with the shocking victory of Alexandria Ocasio-Cortez over a 10-term incumbent. Ocasio-Cortez often referred to in the media as AOC, is a self identified Democratic Socialist, as was 2016 presidential hopeful Bernie Sanders. Despite this newfound prominence, the political affiliation is still widely misunderstood, often confused with communism or European style socialism. So what exactly is Democratic Socialism? And how would a Democratic Socialist platform affect your life?
According to the biggest socialist organization in the US, the Democratic Socialists of America (DSA), "Democratic socialists believe that both the economy and society should be run democratically—to meet public needs, not to make profits for a few. To achieve a more just society, many structures of our government and economy must be radically transformed through greater economic and social democracy so that ordinary Americans can participate in the many decisions that affect our lives." This polished and condensed definition sounds good, but it's difficult to grasp what it actually means in practice. To help you understand, we've broken down the four pillars of Democratic Socialism to explore how their implementation in the American government could affect your life.

Workers Control Means of Production/The Importance of Unions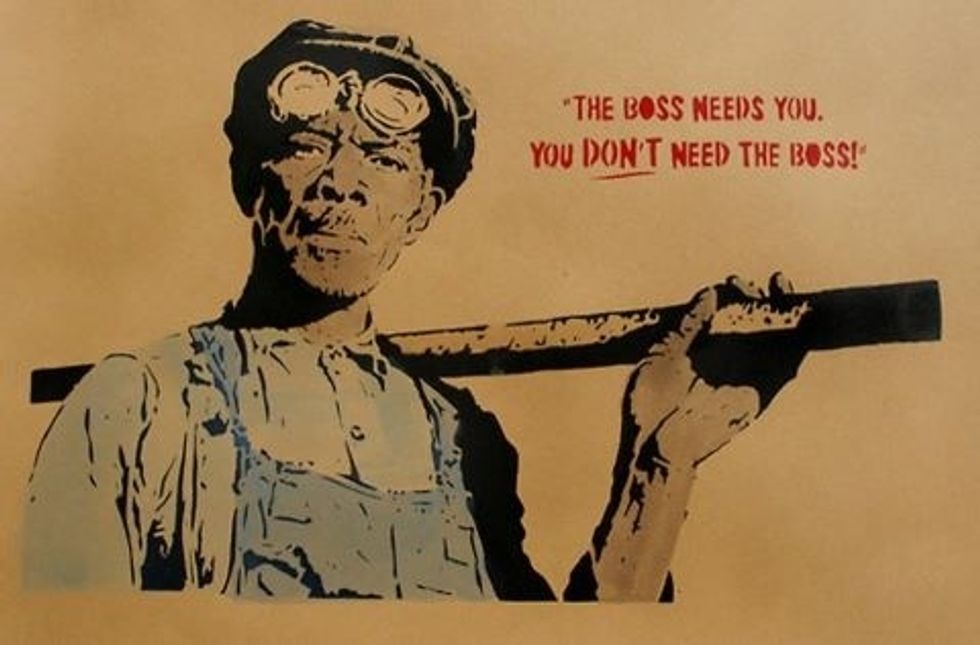 Perhaps most central to Democratic Socialism is the belief that American industry should be controlled by the workers who run it and the consumers who gain from it. Generally, they believe in a decentralized economy, though they think some indispensable portions of industry, like energy and steel, should be government controlled. As the DSA puts it, "We believe that social and economic decisions should be made by those whom they most affect."

In practice, this decentralization would likely mean the fruition of things like workers cooperatives and publicly owned ventures. Essentially, this economic model would mean that it would be much more difficult for a few people to get obscenely wealthy while those on the bottom of the economic ladder remain impoverished. Instead, everyone would have fairly equal opportunity to profit off the success of a business, creating a more widespread sense of ownership over the success of the economy, therefore stabilizing it. Unions are an important part of this pillar, as Democratic Socialists believe unions are essential in order to hold companies accountable to their workers and to empower workers to challenge capitalism as a concept.
Capitalism Promotes Greed and Must be Regulated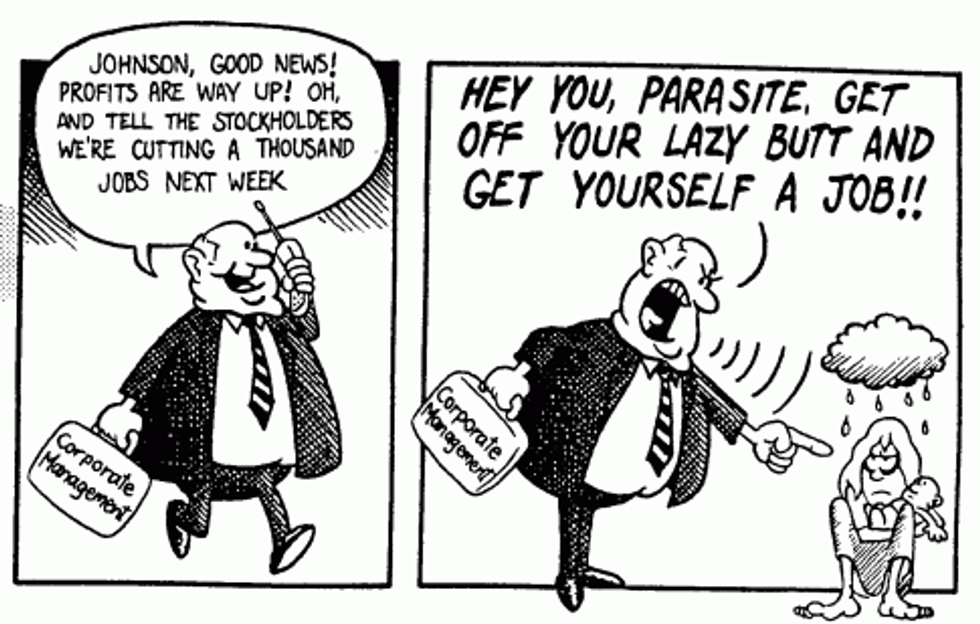 Democratic Socialists believe that capitalism has the inherent tendency to keep the rich rich and the poor poor and that capitalist corporations will always act in the interest of maximum profit at the expense of all else. Therefore, private corporations must be regulated by the government in order to ensure that they look out for the wellbeing of workers and lower rung employees. With this kind of philosophy implemented, there would likely be a strengthening of labor laws, a higher minimum wage, expanded parental leave, the prevention of foreign outsourcing to low wage countries, and the prevention of environmentally harmful activities.

A Minimum Quality of Life for All Citizens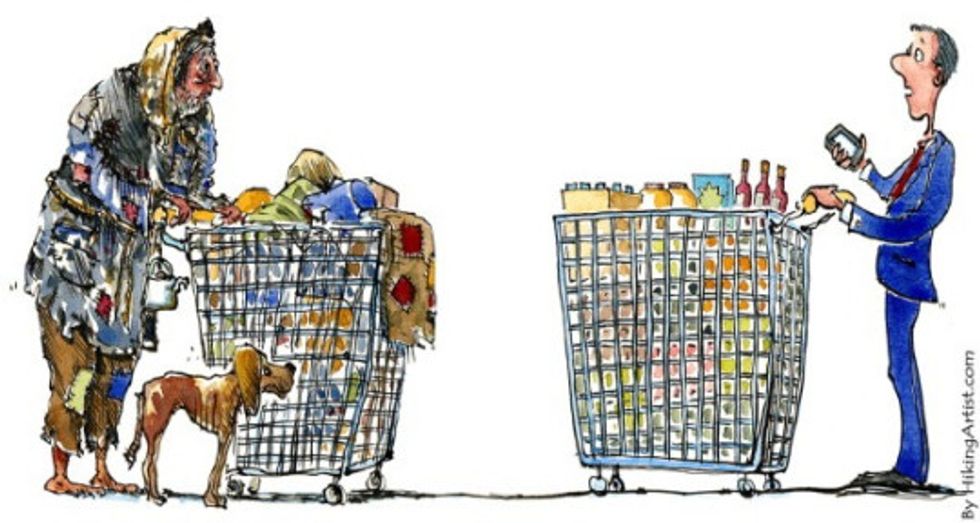 This is perhaps the simplest pillar of Democratic Socialism though likely would prove to be the most difficult to fulfill. Essentially, Democratic Socialists believe that all human beings have the right to sustenance, housing, clean water, healthcare, education, and child care, and that the government should ensure these things are accessible to all US citizens. This would likely mean significantly more spending on social welfare programs and expansion of government housing, which would inevitably require higher taxes. Of course, with the implementation of the other pillars of Democratic Socialism, more people would have a better chance of reaching this minimum quality of life even without an expansion of welfare programs.

Importantly, healthcare is an essential part of this equation in the eyes of Democratic Socialists. They don't merely believe in "medicare for all" health care system, but also that medical facilities should be publicly run and doctors publicly employed.
Grass Roots Means of Achieving Power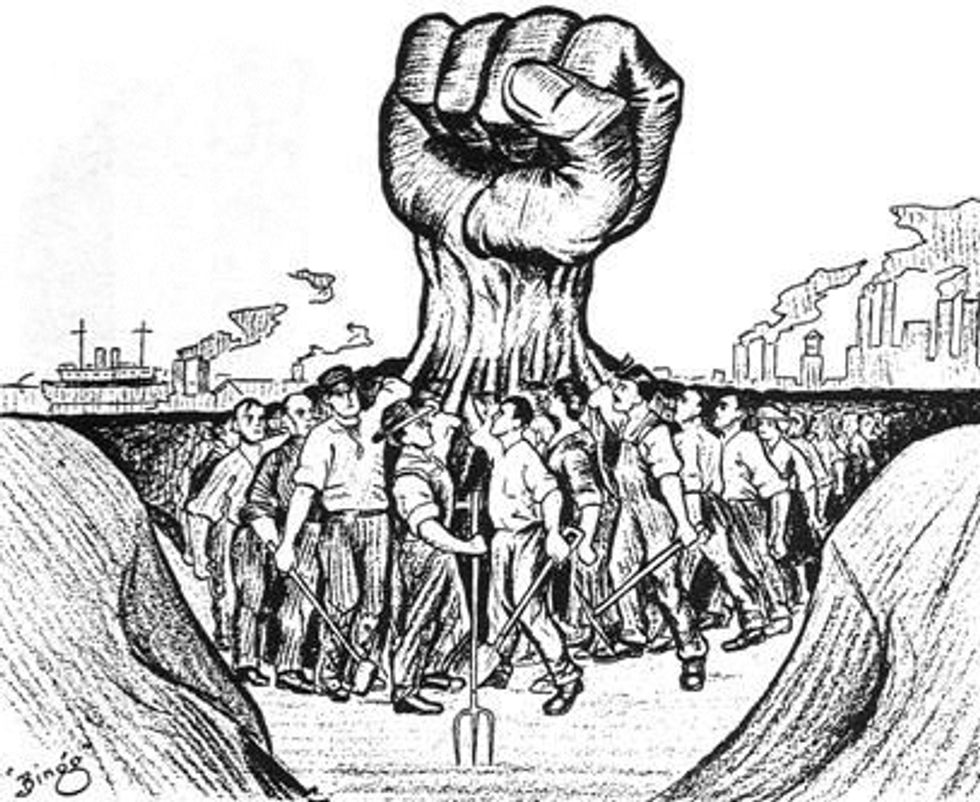 As mentioned before, the welfare of the community is important to Democratic Socialists, meaning that the election of the individual is also seen as having the tendency to play into the patterns of the centralization of power. A traditional Democratic Socialist would likely reject the concept of election altogether, instead opting for grass roots organization and mass mobilization. But as shown by AOC and all the other Democratic Socialist candidates elected this year, most who ascribe to these beliefs recognize that it's necessary to participate in the democracy in order to insight change, but still maintain that true change and empowerment comes from the mass mobilization of the people.
Alexandria Ocasio-Cortez is the new Democratic candidate for New York's 14th congressional district.
On June 26th, 28-year-old Alexandria Ocasio-Cortez defeated longtime incumbent Joe Crowley in the Democratic primary for New York's 14th congressional district. Crowley raised millions from his corporate donors. Ocasio-Cortez ran a grassroots campaign; her average donation was just $22. This wasn't supposed to happen. Crowley was a shoe in. He'd ran unopposed for over a decade. More shocking than her victory however, were the platforms on which Ocasio-Cortez ran her campaign. A vocal supporter of democratic socialism, she's determined to raise the minimum wage to $15/hr, ensure free higher education for all, and to secure medicare for all citizens. Predictably, Republicans have responded to the "Socialist threat" Ocasio-Cortez represents by spewing vitriol, but what's more interesting is the way the entrenched powers within the Democratic Party have responded to her.
There's a growing feeling on the left, particularly in younger circles, that many longtime Democratic senators and congressmen are Republican in everything but name. Corporate donors fund Democratic campaigns. The DNC has lost touch with the working class, which is supposed to be their core constituency. And, Democrats hide behind their socially liberal views, never addressing the underlying economic realities of the minority groups they claim to support. Considering the torrent of political sound bites we've heard over the past two and a half years, it's easy to forget this one, in which Nancy Pelosi (minority leader in the House of Representatives) responds to a question about the Democratic Party potentially shifting left on economic issues with "sorry, but we're capitalists." I think it's one of the most politically revealing clips CNN has ever published, the implication being that Democrats aren't even open to hearing an argument that doesn't comport with their worldview.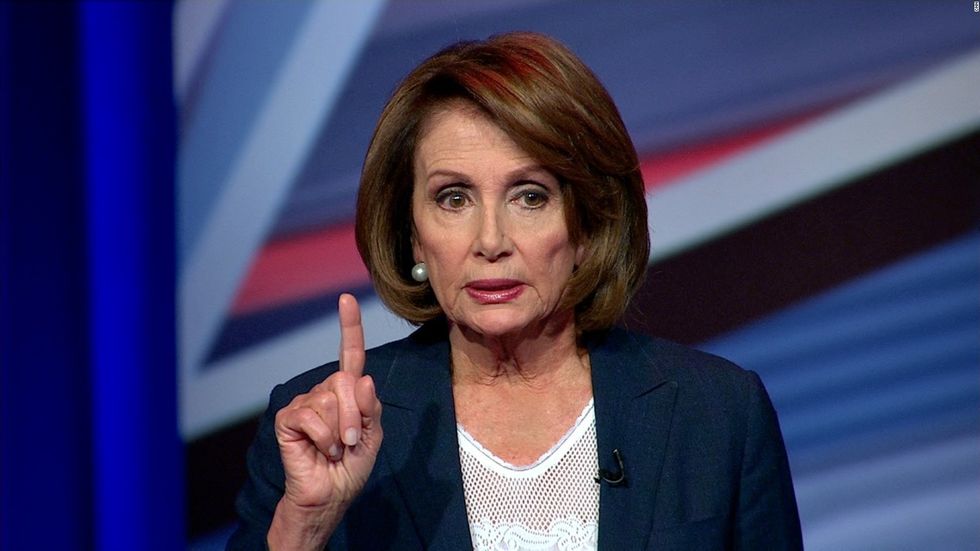 Sorry, we're capitalist.
The problem for the Democrats is, Bernie Sanders' 2016 campaign breathed new life into the Socialist movement, and Ocasio-Cortez, while this years' most notable winner, is far from the only Socialist running for public office. Julia Salazar is running for the New York State Senate, Sara Innamorato is running for the Pennsylvania House of Representatives, and there are plenty of other candidates aiming to move the Democratic party leftwards. Interestingly, the fledgling Democratic Socialist movement has taken a strategy out of the Republican playbook and is hyper-focused on local and state elections. While it's easy to be cynical and assume the DSA (Democratic Socialists of America) is only doing this because they don't have the juice to participate on the national stage, it's worth pointing out that Democrats tend to get clobbered in state elections, and that the DSA's strategy is a welcomed change of pace.

But will these progressives be able to work within the Democratic party, or will they split it in two? If the prevailing media sentiments are to be believed, then the answer is the latter. In the wake of Ocasio-Cortez's victory, there's been a wave of think pieces by many a prominent essayist asserting that if the Democratic Party veers too far left, it risks losing to Trump again in 2020. After Ocasio-Cortez's win, Illinois Senator Tammy Duckworth said "I think that you can't win the White House without the Midwest, and I don't think you can go too far to the left and still win the Midwest," adding that the Democrats' 2020 presidential candidate has to speak to the "industrial Midwest." Ocasio-Cortez fired back with some snark–like many 28-year-olds she's very good on Twitter– but to focus on the acrimonious exchange between the two politicians, risks overlooking Duckworth's original point. Why shouldn't the "industrial Midwest" want universal healthcare or a higher minimum wage? Bernie Sanders won large chunks of the midwest when he was campaigning against Hillary on the exact same platforms. Duckworth's ill-conceived attack on Ocasio-Cortez echoes an uncomfortable belief that's been fermenting just beneath the surface of the Democratic party for some time. That is, that working class voters are too stupid to act in their own self interest.
Ocasio-Cortez's victory could very well create a schism within the Democratic party. Her views, and the views of those like her aren't particularly compatible with those of establishment Democrats. That said, when Bernie lost in the primary, he endorsed Hillary Clinton. Most of the hand wringing about the Democrats not having a unified front for 2020 is nonsense. It assumes two things, both erroneous. One, that diversity of ideas is a negative within a political party. Two, that Socialist supporters lack the capacity to choose between the lesser of two evils. You'd be hard pressed to find a Democratic Socialist who if forced to choose between a Democratic mainstay like Joe Biden or another four years of Trump wouldn't pick the former every time.
While the American political class has been reeling from the shock of Trump's election, Socialists have managed to carve out a niche for themselves. It remains to be seen whether or not they can get anything done within the Democratic party, but any move leftward will be a welcomed change of pace. For the first time in since 2016, there seems to be a glimmer of hope in American politics.
Keep reading...
Show less