"President Kennedy never foresaw that the chickens would come home to roost so soon...Being an old farm boy myself, chickens coming home to roost never did make me sad; they always made me glad." -Malcolm X.
The attack on Capitol Hill was another example of how President Donald Trump has emboldened white supremacy. His term in office has given racism and fascism a bigger platform and an official advocate. He proved that, at his command, MAGA fanatics will assemble to do his bidding.
As the world watched the descent of democracy, many were appalled at the visual. This was an attempted coup two weeks before the inauguration of Joe Biden and Kamala Harris. News outlets and politicians questioned how we, as a country, got to this point. But for Black Americans, this has always been our country.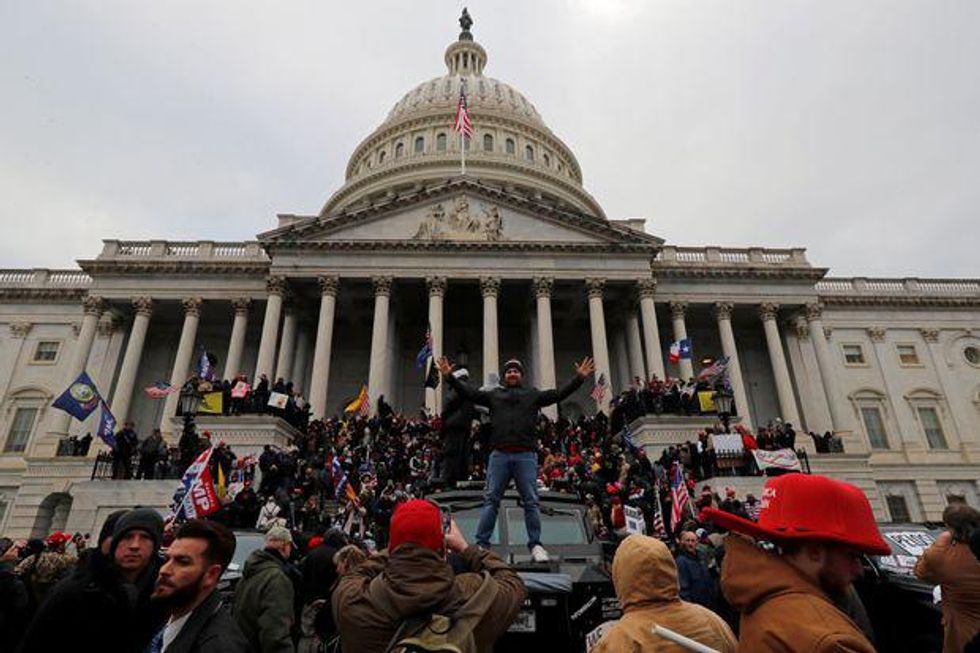 Terrorists takeover Capitol Hill
The violence witnessed on Capitol Hill was a scene all too familiar for Black people. The difference was that we weren't the direct targets. Trump's base has antagonized and threatened violence against Black people while law enforcement abuses its power when interacting with us. The confrontation between the two entities responsible for our oppression was unexpected, but not surprising.

Many Trump supporters and members of law enforcement are cut from the same cloth. In fact, many members of law enforcement voted for him. Their belief in excessive force under the guise of law and order gives them what they feel is the right to harm anyone who goes against their authority. They are loyal to a flawed system and a man that keeps them in power and not to the country and its citizens seeking progress and peace.
Throughout this presidency, both sides have pledged their allegiance to each other. MAGA supporters have backed the Blue Lives Matter movement. Police officers have demonstrated leniency when dealing with unruly Trump disciples at rallies and protests. Both believe they are the good guys trying to make things great again.
[shorcode-Newsletter-Embed]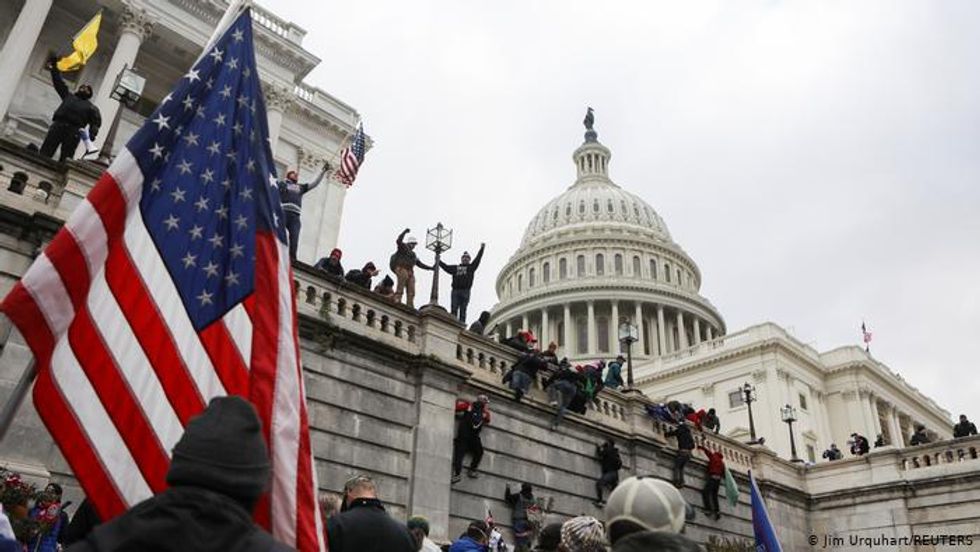 Trump supporters scaling the Capitol Building
Black people have had to do battle with both. We've had to listen to the various lies spewed about the Black Lives Matter movement from supporters of the president while fighting police brutality daily. The assault on Blackness was a cause that unified them. Black people have warned the world of the dangers these factions were capable of for years. Those claims fell on deaf ears, until yesterday when they turned on one another.

For many Black Americans, yesterday was the manifestation of this country's inability to address domestic terrorism. Peaceful protests and resistance against police brutality are viewed in the same light as the insurrection. The anarchy and mayhem that GOP pundits accuse BLM of inciting was a direct order from their leader.
Their ignorance and arrogance gave them the courage to lay siege to a government building. But if angry Black protesters attempted the same actions, many lives would've been lost.
The same reason why the police routinely kill Black people is the same reason why the police are routinely unprepar… https://t.co/Rc3yWRZ2PA

— Ibram X. Kendi (@Ibram X. Kendi) 1609964271.0
Suddenly, Trump supporters view themselves as oppressed. Their reign over the country is coming to a not so graceful end. Rather than humbly accepting defeat, they want to dismantle the establishment. The same establishment that helped empower them over the last four years.

Somehow this attack was yet another revelation for white Americans. Before Trump's election, the idea of police officers displaying a lack of regard for the lives of Black people was inconceivable to white Americans. The thought of parts of our government upholding systemic racism was unfathomable.
Last night, after a year of reckoning with the racism built into America's system, white Americans were forced to once again look at the enormous part white privilege plays in policing. But for Black people, it was simply a clear visual of America's decision on November 8, 2016, coming home to roost.
Keep reading...
Show less
Students want police funding redistributed to nurses and counselors.
Since the killing of George Floyd, a massive wave of anti-police and pro-Black lives protests have erupted in America and across the world.
Many of these protests focus on the fact that police actually don't tend to keep Americans safer. Specifically, they pose threats to Black Americans, and this problem pervades every aspect of society, from courtrooms to prisons to schools.
Over the past few months, students (Black and brown students, in particular) have zeroed in on an effort to remove police from schools. Across the nation, student protestors have taken the fate of their schools and peers into their own hands, launching increasingly intense protests in efforts to remove police from their educational institutions.
A Legacy of Violence: The Problems with Policing in Schools
The roots of these protests stretch deep. The first police officers to appear in schools were part of a program pioneered in the 1950s that saw "school resource officers" (SROs) hired.
"Called a lliving symbol of law and orderl by some at the time, the presence of police in schools represented a larger, national tide of clarion calls to solder steel fangs onto America's criminal justice system," writes Alexander Zhang for Slate. But immediately there was pushback. "Students, some critics worried, might be coerced into self-incrimination and service as informants on their friends and families," Zhang continues.
Still, as late as 1975, only one percent of schools employed police officers. By the late 1990s, after the War on Drugs and other racist efforts targeted specifically poor, black and Latinx communities, the majority of urban schools began to employ cops—and today two thirds of students attend school with police, and NYC alone employs more police officers than counselors.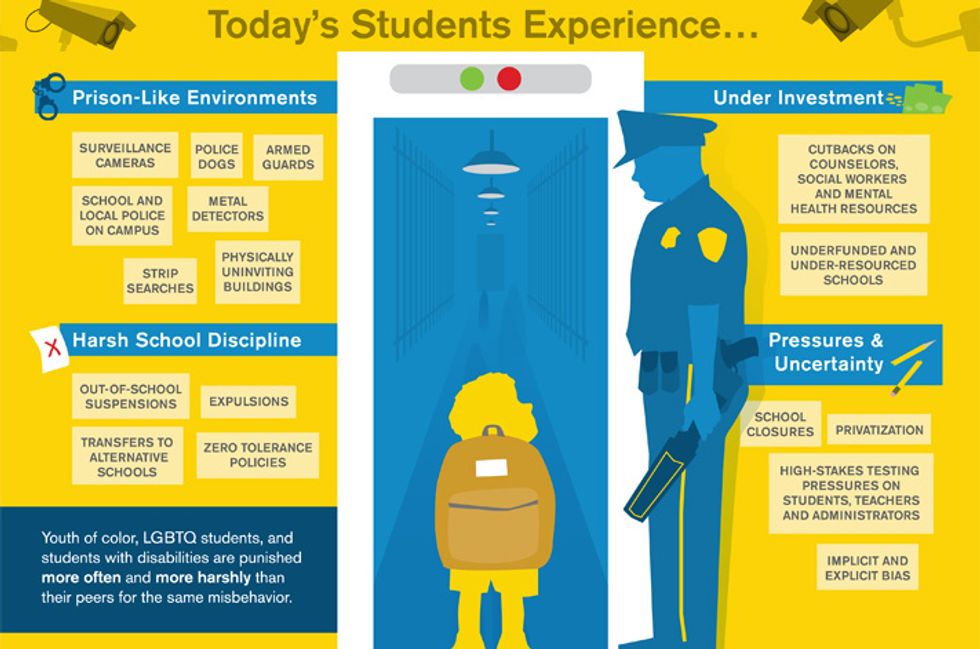 Empathy EducatesPolice in schools
The modern movement to defund and remove police from schools has been in progress for years, and many dedicated student activists have spent countless hours fighting for safer police-free schools.

"It's millions of dollars spent on police," said Denilson Garibo, a senior at Oakland High School. "We're having assistant principals being cut [from] our schools. Our teachers are not getting enough money for what they do. Why are we prioritizing school police over our education?" Garibo has been fighting police for over two years, attending school board meetings and speaking about the dangers that police officers pose to Black students.
It's not hard to see where these student protestors' anger comes from. Police—an often violent, undertrained force endowed with weapons and the power to lock people up—and underserved schools full of vulnerable, impressionable kids make an inherently ugly mix.
"When you have police in schools, you have a culture clash," said Judith Browne Dianis, executive director of the Advancement Project National Office. "And that culture clash is that their job is to protect people but also they enforce the criminal code, and they were enforcing criminal code on regular teen behavior."
The School-to-Prison Pipeline: A System Targeting Students of Color
The data reveals that these crackdowns disproportionately affect communities of color, making police in schools a racial justice issue.
"During the 2015-2016 school year, Black students accounted for 15% of total enrollment but 31% of students referred to law enforcement or arrested," a report by the Civil Rights Data Collection the U.S. Department of Education's Office for Civil Rights found.
Black students are, in essence, arrested at double the rate of their white counterparts. Why? Schools that have larger Black and Latinx populations are more likely to have larger police presences, automatically raising these students' chances of being arrested. "Students of color are also more likely to be enrolled in a school with an officer. While 42% of U.S. high schools in the 2013-2014 school year had officers, 51% of high schools with large Black and Latino populations had them," writes Astrid Galvan for wgme.com.
Schools comprised of largely poor, Black, and Latino populations are more likely to be plagued by the school-to-prison pipeline, a structure that filters students to prisons just like some schools filter (typically whiter, wealthier) students towards colleges.
This pipeline exists in part thanks to the disproportionately large police presences in schools that are part of underserved communities, and the dearth of community resources available to these schools.
The school-to-prison pipeline is "part of a national trend that criminalizes rather than educates students — and one that disproportionately targets black students — as "tough-on-crime" policy has resulted in millions of mostly black and brown people winding up behind bars," notes Mariame Kaba in Teen Vogue, adding that "nationally, since 1990, spending on prisons has increased three times as quickly as spending on education."
Police employed in schools are likely to target undocumented children and families, to arrest children for petty crimes that wealthier, whiter children are far more likely to get away with, and to criminalize people based on racist ideas baked into the framework of policing since its inception.
Policing Schools: Why Are There Cops In Schools? www.youtube.com
"The presence of police in schools, I believe, is fueled by a dehumanization of children of color, which suggests that there needs to be a constant surveillance of these children in schools," writes author Monique Morris.

The data is there every step of the way to support all this. According to NPR, "Data show that schools with cops are more likely to refer children to law enforcement, including for non-serious violent behaviors. In 43 states and the District of Columbia, Black students are more likely to be arrested than other students while at school, according to an analysis by the Education Week Research Center."
These studies stand for themselves, but they don't actually reveal the truly harmful and traumatizing effects that police in schools can have on individual students of color. Over the past few years, police have been filmed performing atrocious acts of violence towards students, revealing a deeper pattern and implying a much longer and more terrifying history of police committing crimes against the students they're assigned to protect.
In the fall of 2019, an officer was caught handcuffing a sobbing 6-year-old girl. In another school, an officer was filmed shoving an 11-year-old student against a wall. Both students were Black.
This is not a new phenomenon. In 2015, a video of a police officer throwing a 16-year-old Black girl across a room sparked outrage. The student who filmed the video received a misdemeanor charge and a suspension.
So if there are so many issues with police in schools, why are they there at all?
"There isn't much evidence indicating that police officers in schools make schools safer," says Dominique Parris of the research organization Child Trends. "What they do do is increase the likelihood that Black and brown children are going to be involved in the legal system early and often."
In America, there is a pervasive cultural myth—often most prevalent among white, powerful groups—that teaches us to associate police with safety. Police presence increased in schools in the wake of early school shootings in the 1990s, but a 2018 Washington Post analysis of over 200 incidents of gun violence found that police were only successfully able to intervene twice in armed shooter situations.
On the other hand, restorative justice programs that focus on relationships between students and the people there to protect them are far more likely to stop shootings and to reduce violence in general. Behavioral assistance programs based on relationships between students and counselors help prevent students from lashing out and can also help students identify unstable or potentially dangerous peers.
Visions of a Police-Free Future
Slowly, protests are working. The Minneapolis Public School board voted this year to end its contract with the Minneapolis Police Department after a number of protests. Still, other schools have resisted students' efforts to remove police officers.
Protestors don't plan on giving up, and they don't plan on being satisfied with only removing cops. Protestors who want the police out of schools don't simply want the police gone—and they know removing the police is not a solution to every problem.
Instead, protestors want the funds used to pay salaries of cops redistributed, specifically towards counselors, nurses, and other resources that might actually help students succeed rather than relegating them to prisons.
These programs are appealing alternatives to funneling students off to deeply traumatizing and damaging prison systems, which can haunt people well into adulthood, destroying families in the process. Protestors are asking schools to imagine a world in which funds used to police and punish students could be used to provide educational programs, health and wellness resources, psychological health, and social work avenues.
They're asking, in short, for schools to do what they're supposed to do: help students learn.
New Yorkers have been hearing constant explosions throughout the night. Is it a conspiracy?
If you live in a large metropolitan area like New York City, Black Lives Matter protests likely aren't the only things you hear making noise in the streets.
In the past couple of weeks, as Black Lives Matter supporters march in memory of George Floyd and countless other Black people killed by police, the sounds of fireworks can be heard virtually every weekend. More than just your average Fourth of July shindig, these explosions often trail into the wee hours of the morning.
According to Gothamist, there were 6,385 total "311" complaints about fireworks in New York City from June 1 to June 19—up from 27 during the same time period last year. "This is not the simple firecrackers and little small toy-type rockets, but it was very elaborate," Brooklyn Borough President Eric Adams told Gothamist. "That in itself is raising a high level of concern with me... When you see the large displays along Brooklyn and in Manhattan, Upper Manhattan, you're seeing extremely sophisticated type fireworks displays that can be extremely dangerous in the hands of the wrong people."
Anything more powerful than a sparkler is illegal in New York, but that hasn't stopped regular folks from buying the type of fireworks you'd see in a professional display. But who is buying these fireworks, and what are they trying to accomplish? There are some wild theories.
NYPD, FDNY appear to let illegal fireworks show play out, video shows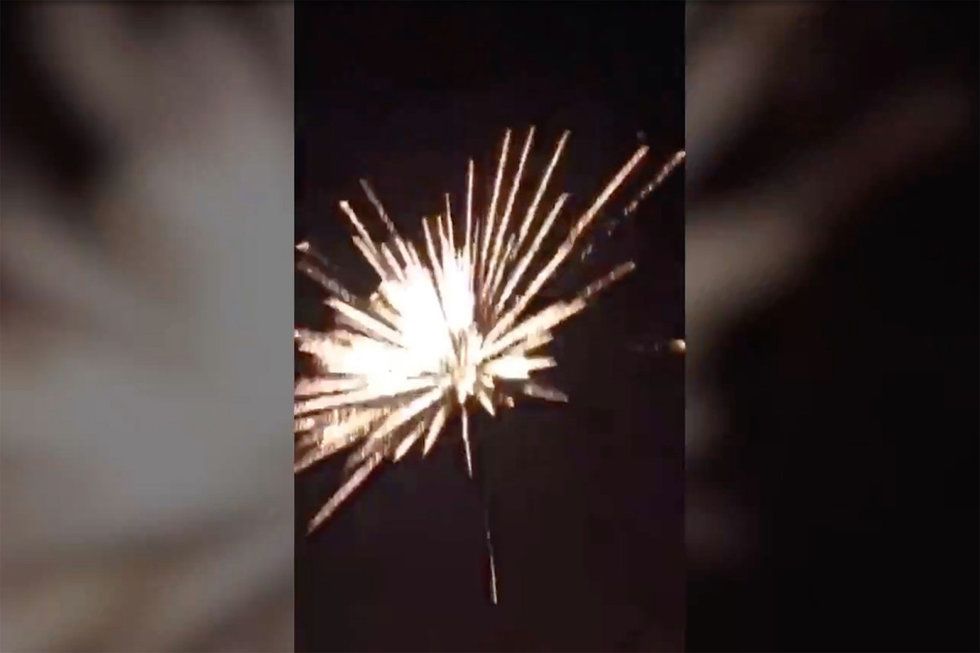 NYPD, FDNY appear to let illegal fireworks show play out, video shows nypost.com
As author Robert Jones, Jr. pointed out in a lengthy Twitter thread, antics by "bored Black and brown kids" tends to be the general assumption made by most mainstream media. "My neighbors and I believe that this is part of a coordinated attack on Black and Brown communities by government forces; an attack meant to disorient and destabilize the #BlackLivesMatter movement," Jones wrote.

One goal Jones proposed was that white people were the ones setting off the constant fireworks in an attempt to "stoke tensions between Black and Brown peoples." Many have voiced their frustrations online about the sheer volume of the fireworks they hear, and a shared annoyance is growing.
Another motive Jones proposed was that the fireworks are being used as a desensitization method to acclimate citizens to the sounds of the blasts—which often sound like gunshots. "When they start using their real artillery on us we won't know the difference," Jones wrote. "It's meant to sound like a war zone because a war zone is what it's about to become."

Police don't seem too concerned. The New York Post shared a video this week of fireworks being set off behind an NYPD precinct in Crown Heights, Brooklyn. No officers appear to deter them. A similar video in Harlem, Manhattan also shows a flock of police cars—none of which seem to mind the explosions.
Another video shows what appears to be Brooklyn firefighters setting off fireworks:

Video shows FDNY firefighters light off illegal fireworks in Brooklyn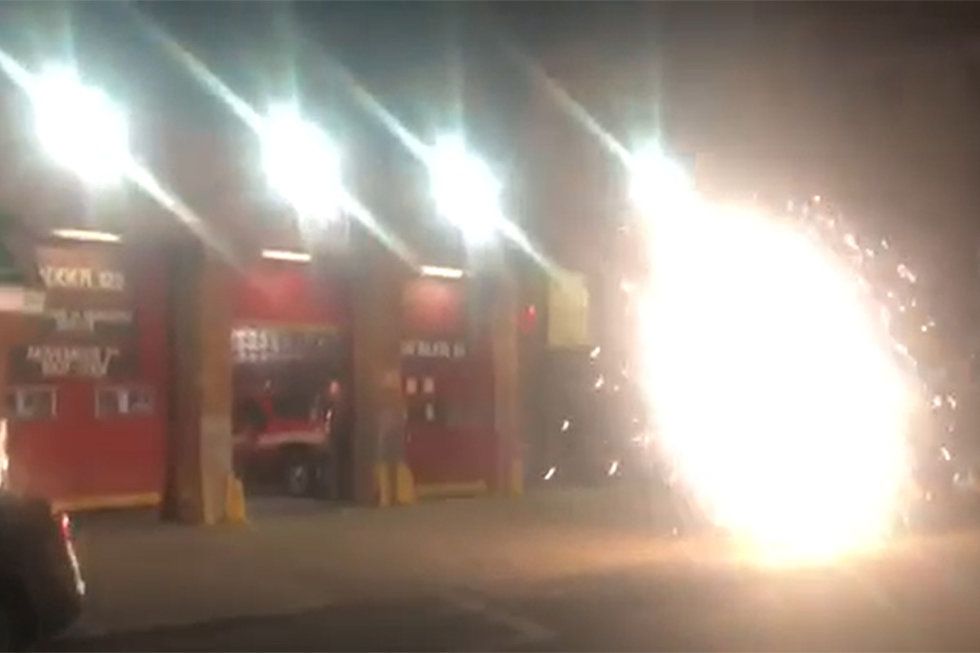 Video shows FDNY firefighters light off illegal fireworks in Brooklyn nypost.com
Today, New York City Mayor Bill de Blasio announced he was forming a task force to combat the illegal fireworks. "Illegal fireworks are both dangerous and a public nuisance," he said. "We're cracking down on this activity at the source to ensure the safety of all New Yorkers and the ability of our neighbors to get some sleep."
But if over 6,000 complaints have been made about fireworks to seemingly no avail, it seems a task force won't merit much of an improvement.
Many seem to agree with the theory that inconspicuous government officials have been offering fireworks to Black children, newly on summer vacation and hungry for ways to ease their quarantine boredom. As with many issues going on in America, these constant fireworks will probably be just another way for the government to further discriminate against marginalized groups.
At least we can always rely on memes to spread the good word.
Keep reading...
Show less
NYPD officers falsely claimed that their Shake Shack milkshakes had been poisoned.
According to a statement that has since been deleted, three NYPD officers were hospitalized after an ill-fated trip to Shake Shack.
The officers claimed that the officers drank milkshakes that had been poisoned with bleach. According to CNN, the statement read that the officers "discovered that a toxic substance, believed to be bleach, had been placed in their beverages" on Monday. But here's a question: What if the cops were just lactose intolerant?
Investigators believed that residual cleaning solution from the milkshake machine might've made its way into the officers' drinks. "When NYC police officers cannot even take a meal without coming under attack, it is clear that the environment in which we work has deteriorated to a critical level," Patrick Lynch, President of the New York Police Benevolent Association, wrote in the statement.
Shake Shack responded on Twitter, saying they were "horrified by the reports of police officers injured." But—spoiler alert—no criminality was found by the burger joint's employees, according to a tweet by NYPD Chief Rodney Harrison.
We are horrified by the reports of police officers injured at our 200 Broadway Shack in Manhattan. We are working w… https://t.co/t8DWEtc5z8

— SHAKE SHACK (@SHAKE SHACK) 1592279377.0
After a thorough investigation by the NYPD's Manhattan South investigators, it has been determined that there was n… https://t.co/aZJZUIR0RD

— Chief Rodney Harrison (@Chief Rodney Harrison) 1592294531.0
This is hardly the first time police have made food-tampering claims that have been proven false. Last July, a corrections officer with the Marion County Sheriff's Office in Indiana filed a complaint against a McDonald's employee he believed had taken a bite of his sandwich because he was a law enforcement officer; as it turns out, the officer had forgotten it was him who took the bite himself.
Last December, a Starbucks employee was fired after allegedly printing the name "Pig" on an Oklahoma officer's drink order. However, Twitter users pointed out that the label on the cup was that of a mobile order, indicating that "Pig" would've been the name the customer enters themself.
tale as old as time...🎶 https://t.co/EXz6esjx4A

— Endless 😱 Bummer (@Endless 😱 Bummer) 1592296381.0
Considering law enforcement has been especially scrutinized lately following the murder of George Floyd by Minneapolis police, now is not the smartest time for a milkshake hijinx. If I were a police officer, I would simply read the room and mind my own business. I would also quit my job.
Keep reading...
Show less
Studies have suggested that Rekognition less accurately recognized dark-skinned faces.
Amazon announced this week that they would be implementing a one-year moratorium on police use of Rekognition, a facial recognition software.
Launched in 2016, Rekognition has been sold to a number of government agencies, including various police departments and ICE. In 2017, it started being used by law enforcement for help identifying suspects.
But studies have shown that Rekognition is less accurate in recognizing dark-skinned faces, and the software has come under fire for propagating racism that's already relevant in the police force.

Black people are already mistaken for suspects at alarming rates, and the use of Rekognition in law enforcement poses extreme dangers for them. In a statement on their blog, Amazon stated that they've advocated for stronger regulations on facial recognition technology, however the company has sold Rekognition to various police departments in the past.
Read their statement below.
"We're implementing a one-year moratorium on police use of Amazon's facial recognition technology. We will continue to allow organizations like Thorn, the International Center for Missing and Exploited Children, and Marinus Analytics to use Amazon Rekognition to help rescue human trafficking victims and reunite missing children with their families.
We've advocated that governments should put in place stronger regulations to govern the ethical use of facial recognition technology, and in recent days, Congress appears ready to take on this challenge. We hope this one-year moratorium might give Congress enough time to implement appropriate rules, and we stand ready to help if requested."
Here are three crucial ways the digital age complicates your protections under the Fourth Amendment.
When the Fourth Amendment codified citizens' protections against government spying in 1791, Americans couldn't say, "Alexa: turn off the lights." With technology pervasively conducting our daily errands, the amendment against illegal search and seizure is not equipped to protect digital users. In fact, David Cole, a law professor of constitutional law and national security at Georgetown University, critiques, "In the modern digital age, it means very, very little."
To be clear, the totality of the Fourth Amendment reads: "The right of the people to be secure in their persons, houses, papers, and effects, against unreasonable searches and seizures, shall not be violated, and no Warrants shall issue, but upon probable cause, supported by Oath or affirmation, and particularly describing the place to be searched, and the persons or things to be seized."
Here are three crucial ways the digital age complicates your protections under the Fourth Amendment:
1. Law enforcement doesn't always require a search warrant to enter your home
When police want to mine your private information on suspicion that you've committed a crime, they have to meet the familiar requirement of "probable cause." Traditionally, they must convince a judge that there is a sound reason to search and/or bug your property for surveillance. True to the wording of the law, your protected personal belongings include your physical body, "houses, papers, and effects."
However, "probable cause" includes the "plain view" clause, wherein authorities have the right to enter your home if they see evidence, contraband, or suspicious materials in your home. In the age of social media, a picture, check-in, or status you post could very well justify law enforcement entering your home without a warrant. The ruling in Katz v. United States stands as the most notable example that qualifies the Fourth Amendment as only applying to situations in which "an individual has a reasonable expectation of privacy." When you're sharing the details of your life on social media sites, you waive much of that expectation.
2. Your personal information is no longer "private" from the government once shared on social media
A series of rulings in the 1960s and 1970s began to add exceptions to the "probable cause" requirement. Namely, the government does not need a search warrant to obtain any personal information that you've already shared with somebody else. Hence, the government can obtain any private information given to credit card companies, banks, or phone companies, because you've technically de-privatized the information by using those services.
Of course the same applies to any and all social media accounts. All the government needs is a subpoena, which experts say is "trivially easy to issue."
3. Your location can be tracked by the government
While it may seem obvious to be wary of broadcasting your location at any given time, some personal devices and social media sites automatically tag and record your location. Your whereabouts cease to be a topic of government surveillance when you share the information willingly (which you do by using digital services). As Justice Alito noted when presiding over the United States v. Jones, social media tools "will . . . shape the average person's expectations about the privacy of his or her daily movements." Traditional protections simply don't apply to what you publicize yourself.