Trump's words and actions have led our country into a terrifying state, a state in which the president has put people of color in severe danger.
This week the Republican party has only helped to fuel Donald Trump's racist fire. For many, this isn't surprising. Trump began his attacks during his first campaign, targeting Mexican-Americans and generalizing them as "drug dealers, criminals, and rapists." Once he was elected, Trump enforced a xenophobic Muslim ban and continued to fuel the fire of white supremacy. Now, immigrants seeking asylum are dying in American custody. Overall, Trump's words and actions have led our country to a terrifying state, a state in which the president has put minorities and POC immigrants in severe danger.
A lot has happened within the last seven days: It's harder than usual to keep up with Trump and his minions' actions. Here's a timeline to help get you up to speed.
July 12th
Vice President Mike Pence and Republican Senators Lindsey Graham, John Cornyn, and Mike Lee visited a detention center in McAllen, Texas. The government officials observed around 400 men crammed in cages with no mats, no pillows, and barely room to sit down. The four men did not speak to any of the 400 immigrants and stayed in the detention center for only 90 seconds.
Vice President Mike Pence Visits Texas Migrant Detention Center | TODAY www.youtube.com
July 14th

Only two days later, President Donald Trump took to Twitter to advise "progressive" congresswomen that, instead of participating in American politics, they should "go back and help fix the totally broken and crime infested places from which they came." The tweets were sent in the midst of ICE raids occurring across the nation. The tweets' purpose was clear: Create hysteria targeting people of color in hopes of eradicating the immigrant population.
....and viciously telling the people of the United States, the greatest and most powerful Nation on earth, how our… https://t.co/xPRSZHNNAd

— Donald J. Trump (@Donald J. Trump)1563107272.0
July 15th

A day after Trump's tweets, Senator Lindsey Graham, who once called the President a "race-baiting, xenophobic, religious bigot," defended him, proclaiming, "AOC and this crowd are a bunch of communists… they're Anti-Semitic. They're anti-America."
Lindsey Graham's Fox News MELTDOWN www.youtube.com
July 16th

On Tuesday, the House voted to condemn the President for his racist rhetoric. A President of the United States has not been formally rebuked a president in over a century. While the House voted in favor of the symbolic motion, the numbers included 240 Democrats in favor and 187 Republicans against. It's noteworthy that only four Republicans voted in favor of condemning the president's racist tweets.
That same night, Louisiana Senator John Kennedy referred to Rep. Alexandria Ocasio-Cortez (New York), Ayanna Pressley (Massachusetts), Ilhan Omar (Minnesota), and Rashida Tlaib (Michigan) as the "four horsewomen of the apocalypse."
John Kennedy Blasts The Squad www.youtube.com
July 17th

On Wednesday, during President Trump's rally in North Carolina, he again attacked the group of freshmen congresswomen, explicitly targeting the Minnesotan representative, a Muslim, and Somalian refugee, Ilhan Omar. His supporters began chanting, "Send her back." The president stood silently for a mighty thirteen-second pause, head held high, as he proudly looked upon his supporters.
'Send her back': Trump batters Ilhan Omar on campaign trail www.youtube.com
July 18th

The morning after, two of Twitter's top trending hashtags were #IStandWithPresTrump and #IStandWithIlhan. A few hours later, a few GOP members finally spoke out about the chants. Senator Marco Rubio called the targeting of Representative Omar "grotesque." A few other Republican Congressmen also spoke out on Twitter:
I deeply disagree with the extreme left & have been disgusted by their tone. I woke up today equally disgusted - ch… https://t.co/hlIxUraFva

— Adam Kinzinger (@Adam Kinzinger)1563455793.0
Though it was brief, I struggled with the "send her back" chant tonight referencing Rep. Omar. Her history, words… https://t.co/uHL8TNlr4k

— Rep. Mark Walker (@Rep. Mark Walker)1563418882.0
Trump later said he was "not happy" with the chants. When asked why he didn't stop the crowd, he answered, "I think I did—I started speaking very quickly."
Trump disavows supporters chant of 'Send her back!' at rally www.youtube.com
The same day, John McCain was also trending on Twitter. Former Representative of Florida, David Jolly, tweeted about how he missed the moment when John McCain cut off a woman claiming Barack Obama was an "Arab."
Missing this moment this morning. https://t.co/XPMmIH4PjF

— David Jolly (@David Jolly)1563453537.0
Senator Chuck Schumer also referred to the moment while addressing his colleagues.
Chuck Schumer: "The only way Pres. Trump will stop is when Republicans on the other side have the honor, the decenc… https://t.co/oR8NdLMPru

— Kyle Griffin (@Kyle Griffin)1563469210.0
Finally, to end this appalling timeline on a high note, here's a video of Minnesotan Representative Ilhan Omar returning home to the Twin Cities. Watch as she's celebrated below:
Congresswoman Omar just arrived back in the Twin Cities. https://t.co/ZiFqWnDJgQ

— Tom Hauser (@Tom Hauser)1563486133.0
Dennis Hof won his bid for Nevada Assembly District 36 last night, despite having died three weeks ago.
Midterm elections are often considered a referendum on a sitting administration's progress—a collective report card graded by the people. Early numbers from this year's elections suggest a substantial and possibly record increase in voter turnout, which has been historically low in non-presidential voting years. It's not surprising, given the turbulent political climate, that candidates from both parties continued to campaign at full speed up until the final hours. Yet despite an election cycle that saw blatantly racist attack ads, felony accusations, and threats of violence, the one surefire road to victory has been apparent for years: death.
Outlandish as it may seem, at least nine dead people have been elected to public office since 1962—six in the last 20 years alone. The latest, Dennis Hof, whose body was discovered last month after the legal brothel owner had celebrated at a campaign-and-birthday party, claimed victory in Nevada last night. Prior to his death, the 72-year-old had been celebrating with friends Heidi Fleiss, Ron Jeremy, and Joe Arpaio.
Ballots Beyond the Grave: Deceased People Who Have Won Elections
Rep. Clement Miller (CA, 1962; airplane accident)

Reps. Nick Begich (AK) and Hale Boggs (LA, 1972; airplane accident)

Gov. Mel Carnahan (MO, 2000; plane crash)

Rep. Patsy Mink (HI, 2002; viral pneumonia)

Sen. James Rhoades (PENN, 2008; car accident)

Sen. Jenny Oropeza (CA, 2010; cancer)

Sen. Mario Gallegos (TX, 2012; liver disease)

Dennis Hof (NV, 2018; cause of death not yet reported)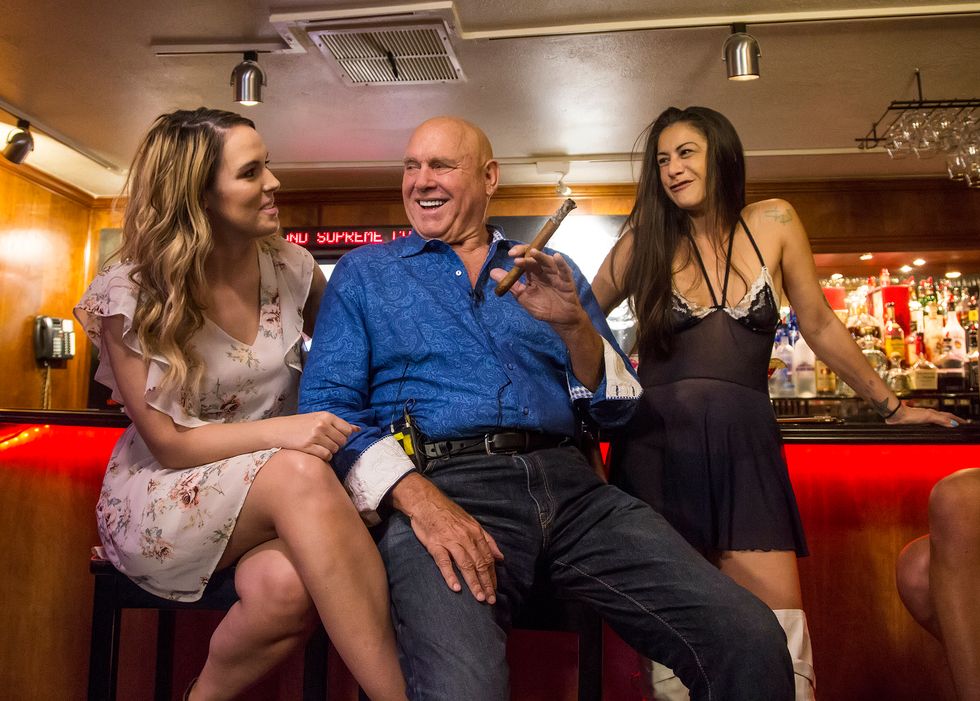 The Nevada Independent
Hof ran for office as a self-proclaimed "Trump Republican" and stated that the president's 2016 win ignited his own desire for a career in politics. Similarities between the two run deep. Hof gained fame as a reality star on the long-running HBO documentary series Cathouse, which captured life at the Moonlite Bunny Ranch, one of several legal brothels owned and operated by Hof. In 2015, he published a memoir titled "The Art of the Pimp," a clear homage to Trump's "The Art of the Deal." In it, Hof included a psychological profile by psychotherapist Dr. Sheenah Hankin, which categorizes Hof as a narcissist who abused the sex workers he employed.
Among the issues he championed were immigration reform, a repeal of Nevada's 2015 Commerce Tax, and a campus carry law that would allow concealed-carry permit holders to bring their weapons onto Nevada college and university campuses. He was endorsed by Roger Stone and Grover Norquist. In the 2018 primary elections, Hof beat incumbent James Oscarson by a mere 432 votes. Because he died within 60 days of the upcoming election, Hof remained on the ballot, though signs were posted at polling sites notifying voters of his death.
It seems as though these issues matter more than electing a living person to citizens of the 36th Assembly District. In fact, a 2013 study by Vanderbilt University found that, in lower-level elections, voters are most likely to elect the candidate with the highest name recognition.
The 36th Assembly District, which spans Clark, Lincoln, and Nye counties, has long been a GOP stronghold. Hof defeated Democrat Lesia Romanov, a first-time (living, breathing) candidate and lifetime educator who works as assistant principal of an elementary school for at-risk children. Romanov was impelled to run for office by a desire for common-sense gun reform following the mass shooting in Parkland, Florida. Yet, too many of her constituents, upon discovering she was running against Hof, she became a de facto advocate for women, including "survivors of sex trafficking and exploited and abused brothel workers," according to NBC News. Romanov was among many women running for office in hopes of making Nevada's legislature the first to hold a female majority in the country.
As The Washington Post reported in 2014, there hasn't been an election with a dead person on the ballot in which the dead person lost. It's hard to determine what's more damning for American democracy: that voters are so divided that they're more likely to vote for a dead person than cross party lines or that they've been voting that way for years. At the same time, one might argue that giving Hof's seat to a living Republican (as appointed by county officials, according to state law) is a better outcome than if it'd gone to Hof himself, considering his history of sexual abuse allegations. The most preposterous indictment of the American political system is that although deceased candidates have been elected before, now the electorate could seemingly ask itself—in all seriousness—whether a dead serial abuser makes a better candidate than a living one. And no one seems to know the answer.