Dall-E Mini, the AI-powered text-to-image generator has taken over the internet. With its ability to render nearly anything your meme-loving heart desires, anyone can make their dreams come true.
DALL-E 2, a portmanteau of Salvador Dali, the surrealist and Wall-E, the Pixar robot, was created by OpenAI and is not widely available; it creates far cleaner imagery and was recently used to launch Cosmpolitan's first AI-generated cover. The art world has been one of the first industries to truly embrace AI.
The open-sourced miniature version is what's responsible for the memes. Programmer Boris Dayma wants to make AI more accessible; he built the Dall-E Mini program as part of a competition held by Google and an AI community called Hugging Face.
And with great technology, comes great memes. Typing a short phrase into Dall-E Mini will manifest 9 different amalgamations, theoretically shaping into reality the strange images you've conjured. Its popularity leads to too much traffic, often resulting in an error that can be fixed by refreshing the page or trying again later.
If you want to be a part of the creation of AI-powered engines, it all starts with code. CodeAcademy explains that Dall-E Mini is a seq2seq model, "typically used in natural language processing (NLP) for things like translation and conversational modeling." CodeAcademy's Text Generation course will teach you how to utilize seq2seq, but they also offer opportunities to learn 14+ coding languages at your own pace.
You can choose the Machine Learning Specialist career path if you want to become a Data Scientist who develops these types of programs, but you can also choose courses by language, subject (what is cybersecurity?) or even skill - build a website with HTML, CSS, and more.
CodeAcademy offers many classes for free as well as a free trial; it's an invaluable resource for giving people of all experience levels the fundamentals they need to build the world they want to see.
As for Dall-E Mini, while some have opted to create beauty, most have opted for memes. Here are some of the internet's favorites:
There's no looking back now, not once you've seen Pugachu; artificial intelligence is here to stay.
Biden's new website is...nice.
It's been said many times: Leaving Trump behind feels like emerging from an abusive relationship, or perhaps renewing one's relationship with a former BFF (America) after she leaves her sh*tty man.
After all, Trump is a classic abuser. He gaslights, he lies, he cheats, and he is leaving behind an America with 200,000 people dead and more dying every day. He never admits his mistakes, creating a vicious cycle wherein he does something atrocious, gets a tan, and then shows up smiling with flowers (or in his case, a last-minute attempt to curry favor with the Black community by befriending several aging rappers).
Many Americans are still under his spell, and there's not much a lot of us can do about it. People in abusive relationships are often in denial about what's happening to them, and they often won't leave until they decide to. Shaming someone in an abusive relationship is rarely an effective way to get them out of it, as they've likely already been shamed many times.
Concerned friends and family can get into as many Facebook arguments with Trumpets as we want, but until they decide they deserve better and it's time to leave, there's really not too much we can do for them. All we can do is offer a safe place where they can run to, should they choose to escape. (Of course, we must remember that many Trumpers can be abusive as well).
Anyway, all this is to say that now we're finally kicking Trump out. America, we have decided to free ourselves. And we have the next few months to prepare for a new man to move in: Joseph Robinette Biden Jr.
Settling for Joe, Dreaming of Bernie
I know I'm not alone in saying that Joe Biden isn't my dream man. For a long time, I was hoping that Bernie Sanders would sweep me off my feet on an elderly white horse, a joint billowing from his hand. He would take me to the hospital where I would finally get my wisdom teeth removed for free thanks to Medicare For All, and then we would go to Jeff Bezos's house, demand a few billion dollars (just hand it over, Jeff, it'll save you a lot of time in court), and make a couple large donations to community organizers.
But alas, that was always a fantasy—and much like my childhood fantasy of dating Joe Jonas during his Camp Rock years, some things are simply not meant to be.
Now we have Joe Biden. I still don't know all that much about the man, relatively speaking, but I know he's not nearly as dangerous as Donald Trump. When I heard he was the nominee, I thought that if anything, he might just be a do-nothing type of politician who would have to be bullied by mass movements into taking any sort of action at all.
But at least, I hoped, he would clean up some of the mess Trump made during one of his many fits of rage. At least there would be no more 5 AM tweet storms. At least his gang of weird friends from Fox News would stop stealing from my fridge and destroying America's stature in the rest of the world's eyes.
But upon seeing Joe Biden's new website, I'm feeling something strange and unfamiliar. It's not quite butterflies, but it's close—perhaps the faint buzzing of the fly that ended Mike Pence.
The website looks...nice. It's been so long since a political platform showed up wearing a suit and holding flowers instead of brandishing a gun at me and threatening to demolish gay rights.

COVID-19
Scrolling through, I actually agree with most of what the website says. I mean, first of all, there's the COVID-19 plan. A COVID plan. A plan! It's not an Elizabeth Warren-level plan, sure, but it's still an actual plan with steps.

Trump had no plan. If anything, his plan was to keep golfing as he let COVID-19 keep raging across the country. States across the nation probably would've shut down again, over and over again each winter for years, because not every state is willing to just...let everyone catch COVID-19. This disease would have continued for another four years to forever. The death toll, the overcrowded hospitals…The nightmare would have gone on, and on, and on.

It's unclear as to whether Joe Biden will effectively stop COVID-19, but dammit, it's nice to know there is a plan–one that's comprised of actual words, to boot.
It's also incredibly relieving to hear someone say they will "ensure public health decisions are informed by public health professionals." This is like if you were dating some guy who's willing to let you lie on the couch bleeding out because he didn't feel like driving you to the ER, but then Joe Biden popped in and said the Uber is on its way. (Yeah, we can't quite expect affordable ambulances with a Biden healthcare plan, but I'll take what I can get).
Biden has promised to set up a Pandemic Testing Board and a U.S. Public Health Jobs Corps to mobilize community contract tracing. He's going to use the Defense Production Act. He's going to call on Congress to pass an emergency relief package and a "restart package" that helps businesses cover COVID-19 related costs. He's going to build infrastructure to prevent future pandemic threats. He's going to fund schools and small businesses.
And, incredibly, Biden's COVID-19 plan involves science. (How beautiful it is to hear that word: "science"...used correctly…)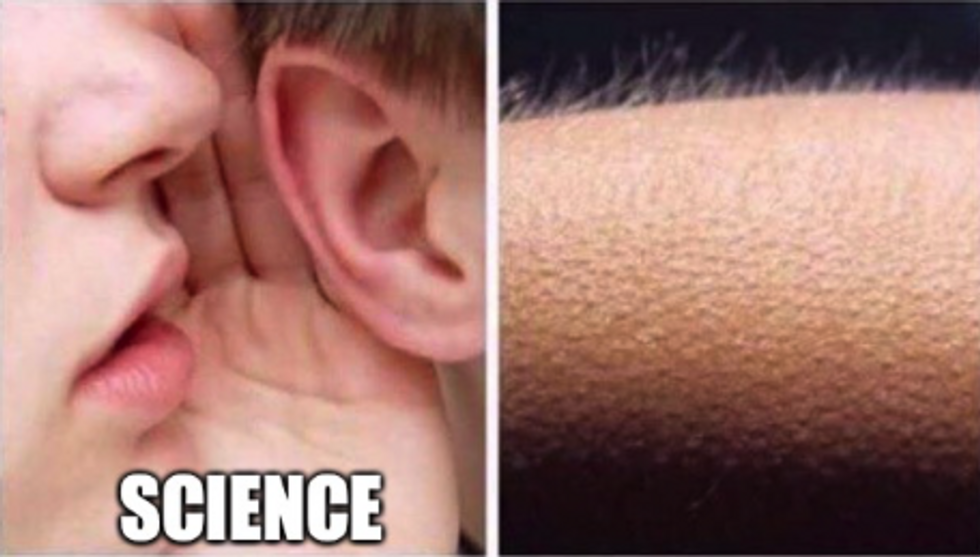 Climate Change
I've always had a type, and that type is musicians and/or climate activists. I didn't think Joe Biden was either, but his climate plan is music to my ears.
Biden knows climate change is an existential threat. He knows that the "current COVID-19 pandemic reminds us how profoundly the energy and environmental policy decisions of the past have failed communities" and "at this moment of profound crisis, we have the opportunity to build a more resilient, sustainable economy—one that will put the United States on an irreversible path to achieve net-zero emissions, economy-wide, by no later than 2050."
An irreversible path to net-zero emissions. Rejoining the Paris Climate Accord—and vamping them up. Creating millions of green jobs. Environmental Justice. Talk. Clean. Energy. To. Me.
True, these are fairly logical, necessary steps to that must be taken if we are to combat climate change, the paramount existential threat of our time, and it will take even more radical action to prevent irreparable destruction. It's sad that we have to celebrate someone doing the bare minimum, using basic logic, and practicing public decency, but here we are.
Maybe I've just gotten so used to preparing for hurricanes and wildfires and being treated like sh*t that I've lowered my expectations to subterranean bunker-levels. And maybe I am too naive.
It's probably naive to believe any of this will be possible or that any real change will happen with Biden. But given that the ex-president mostly communicated through all-caps rage-tweets, this is a nice change.
Economic Recovery
Biden also has an economic recovery plan. "The pandemic has also laid bare some unacceptable truths. Even before COVID-19, too many families were struggling to make ends meet and too many parents were worried about the economic future for their children," writes whoever wrote the copy for Biden's website.
"Laid bare": That's the phrase that every single one of my favorite journalists has used to describe the effects of COVID-19. Biden steals phrases from reputable journalists rather than from cracked-out Floridian moguls paying for rooms at Mar-A-Lago in order to gain favors from the president.
Wow, my expectations are really, really, really low. I mean, goddammit, the ex-president has failed at countless business ventures and has been bailed out time and time again. He's like Pete Davidson in this recent SNL sketch, who claims he's working on a "start-up" only for you to later find out that his "angel investor" is ghosting him.
Visiting Grandma - SNL www.youtube.com
Trump is a criminal who didn't even pay his taxes. He's literally Keith from this other SNL sketch (a not-so-subtle metaphor for Trump), and America is Ego Nwodim, somehow considering actually taking him back (until the cops show up).

Take Me Back - SNL www.youtube.com
Biden's economic plan promises to "provide state, local, and tribal governments with the aid they need so educators, firefighters, and other essential workers aren't being laid off." The plan also promises to "mobilize American talent and heart to build a 21st century caregiving and education workforce." He included carework and education—traditionally undervalued and under-recognized forms of essential work—in his economic plan.

Hopefully, with Jill Biden at the helm rather than Betsy DeVos, America's education and caregiving systems will improve so that more people of all genders have equal opportunities to ascend to the highest office in the land.
At the very, very least, there will be a dog back in the White House.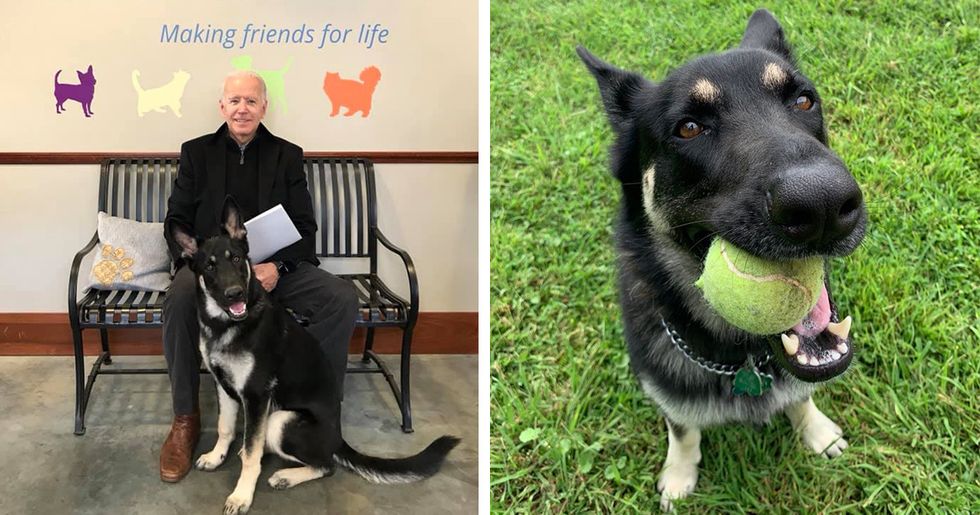 Joe Biden and his shelter dog, Champmymodernmet.com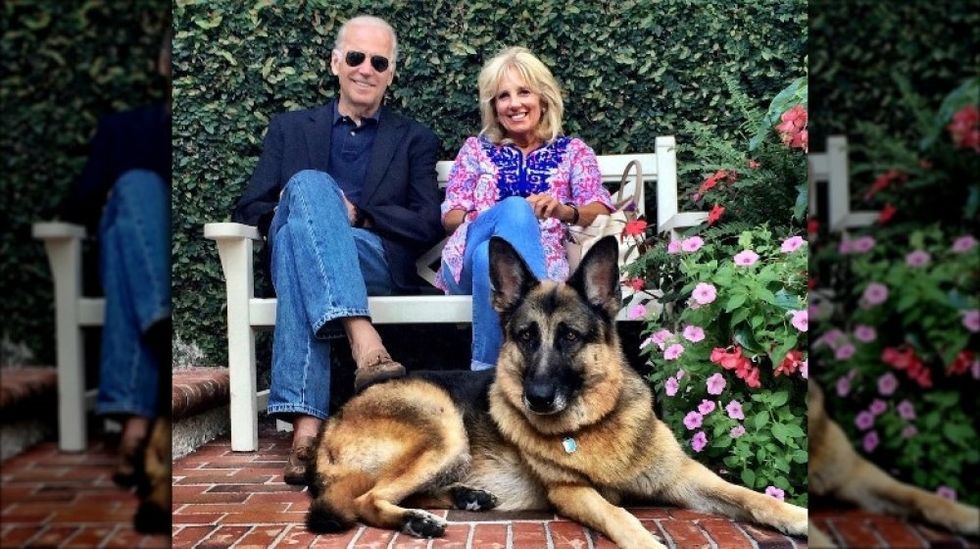 Joe and Jill Biden with their German Shepard, MajorFashion Model Secret
Racial Equality
Biden also has a plan to "mobilize across the board to advance racial equity in America." That's right: No more creepy, covert-but-kind-of-overt white supremacy implicit in the presidential platform.
Now, we have Kamala Harris, a Black and South Asian woman, as our VP! Sure, she might have a background in criminal prosecution, and representation doesn't equal reparations, but you know...it's still way, way better than that really disturbing "stand back and stand by" stuff we dealt with for four years.
There's an entire section on racial equality. There's a plan for police reform. We're doing the bare minimum rather than regressing at an exponential pace.
Let's not forget that racism is deeply ingrained in the fabric of America, and white people overwhelmingly voted for Trump. Also, this kind of change has been promised before, and we have been let down many times. There's a lot of work to do.
We aren't out of the woods yet—far from it. But for this one glowing weekend, the dense pines cleared and we saw a sky full of shooting stars. It didn't actually help anyone pay for their kids' food or clear their astronomical healthcare bills; but it's a promise and a chance to imagine that one day, we might make it out.
America Deserves Better
Joe Biden is not the patron saint of hope, equality, and change. In all honesty, it completely makes sense that a lot of people all along the political spectrum aren't excited about him. He's not exactly the guy of our dreams. And America does deserve better.
But hopefully, Joe Biden will be there over the next few years as we bind our wounds and heal the burns from our terrible spray tans. He'll give us time to get a couple makeovers, a la Tutar in the Borat sequel. He'll help us rebuild, and hopefully next time the election rolls around, we'll have found our footing as a strong, powerful nation that doesn't need a man at all.
Of course, many powerful villains remain. There's America's resident zombie-ghoul, Mitch McConnell, who has long been blocking Democrats' every effort to make real change. Even though the man is rotting from the inside out—perhaps his hatred has at last calcified into a visible plague?—we haven't been able to exorcise that particular demon yet. (Kentucky...we'll be ready to elect Charles Booker when you need us, but we can't help you until you help yourself).
And in truth, we will never heal until we learn to love ourselves, America. We can't rely on another old white man to fix us. We have to turn to our people, our communities, and mass movements. We have to decide what we want our future to look like, and go get it.
It's clear that it will take a lot more than a president-elect to wring out some of America's lingering, ongoing traumas. We'll need therapy, certainly, and a lot of it. Hopefully all those freshly legalized drugs will help with our collective depression.
At some point, we'll actually have to engage with the deep traumas and early childhood wounds that led us into these kinds of relationships in the first place. We have to confront the mistakes of our forefathers and foremothers, the slavery and colonization and colonialism that created the attachment issues and socio-psychological defects that drew us to men like Trump. We have to be the ones that change our lives in order to change our nation.
But that's a tall order, and we're all tired. So for now, I'm just going to keep gazing lovingly at the work of Biden's excellent web designer, who clearly knows how to pick a font and lay out an escape plan. I look forward to being mildly uninspired by Biden's administrative staff picks rather than openly horrified.
It's been a terrible time, America. For many of us, life has always been this way. But it's late-stage 2020; the status quo is no more, and anything is possible. If you told me I'd be writing a thirsty essay about Joe Biden's website in February 2020 I would have thrown my beer in your face then gone back to my awesome free concert (just kidding, I probably would've been right here on the Internet protected by net neutrality, but I digress).
Yes, I am pretty desperate right now, and I don't think I'm alone in that. But I have faith in the organizers that have been working tirelessly to get us here, and I believe if we keep fighting, organizing, and working towards change, we'll see a new world come to be.
For now, love is love, so I will continue to feel vaguely attracted to this website until climate change ends or I finally get my goddamned stimulus check.
Keep reading...
Show less
A new poll of voters names reveals some surprising results.
It should surprise no one to learn that Donald Trump has locked down the Dick vote.
President Trump and former vice president, Joe Biden, are currently polling around even among men nationwide—each receiving about 48% support, with a handful of voters still undecided. But when that category is narrowed to Dicks, a new poll from The New York Times and Siena college shows that Donald Trump takes a decisive lead, earning 64% of their support to Biden's 36%.
It would be tempting to point to Donald Trump's lifelong pattern of cruel, selfish, and inhumane approach to life as the key selling point for Dicks. And while that may well be a factor in how Dicks plan to vote, Donald Trump is an entirely different category of dick than these voters.
The Dicks that so overwhelmingly prefer him in this new poll are not defined by dickish behavior, but by their first name. Of course they may go by Rich, or Rick, or the uncut Richard—though if they don't like being called Dicks, they should really stop voting like such dicks.
The Poll
The poll asked over 17,000 respondents in 18 battleground states to provide their first names and voting preferences, resulting in a list of 102 names with more than 30 respondents.
The Origin Of The Karen Meme www.youtube.com
While that means the data on a name like Marilyn (44% for Trump, 56% for Biden) is pretty limited, with a high margin of error, the results for more popular names like John (53% for Trump, 47% for Biden) and Mary (48% for Trump, 52% for Biden) are probably pretty reflective of how people with those names are voting.
Of the 10 most popular male and female names on the list, the two with the widest margins are Richard (64% for Trump, 54% for Biden) and—shockingly—Karen (40% for Trump and 60% for Biden).

That result is particularly surprising, given the reputation that Karens have developed in recent years. synonymous with a caricature of entitled, middle-aged white women with swoopy blonde hair and who are eager to call the police on people of color over minor or non-existent offenses.
They're the women who go into stores without masks on, then shout about their civil rights when employees try to enforce mask policies. They're women like Amy Cooper, who called 911 about "an African American man threatening [her] life" when asked to put her dog on a leash by a man wielding dog treats...
That certainly sounds like the kind of person who would support a president with swoopy blond hair and who downplays the coronavirus pandemic and calls Black Lives Matter protestors terrorists. And yet Karens favor Biden by a margin of 20%.
While white women in general favored Biden by about 13% in a recent CNN/SSRS poll—compared to an approximate 2% margin for Trump over Clinton in 2016—this new poll suggests that Karens are an outlier, with a much stronger lean toward Biden.
Have we judged Karens too harshly? Are they not the entitled monsters we have memed them to be?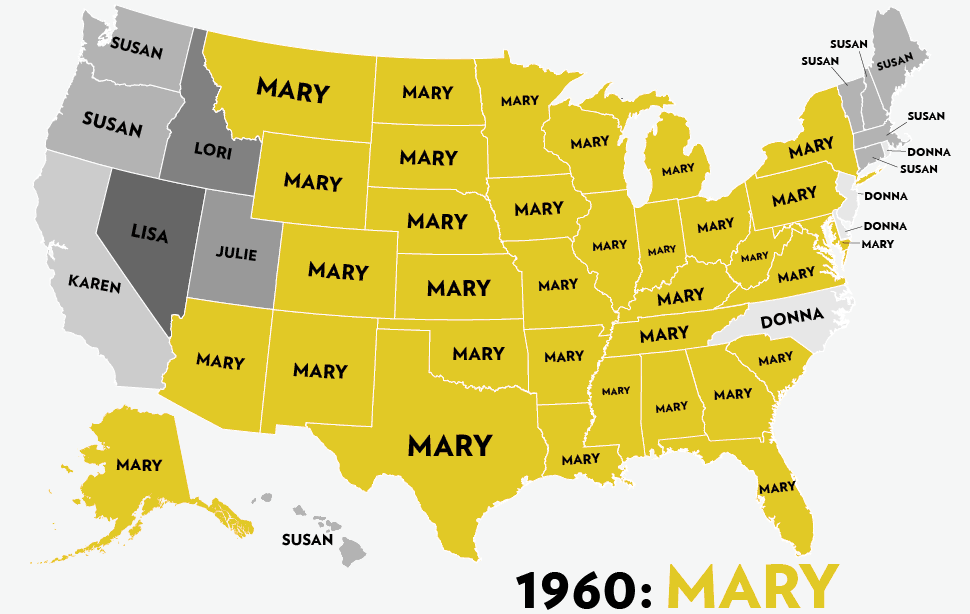 Are Karens Good Now?
The question of how Karens ended up with this reputation is closely tied to the question of how people with different names are likely to vote. While most of us don't choose our names, trends in baby names across years and regions (as well as cultural and socio-economic groups) can actually have pretty strong predictive power.
For instance, the fact that Jacobs strongly favor Joe Biden and Kamala Harris over Donald Trump and Mike Pence (35% for Trump, 65% for Biden) is hardly surprising when you consider the steep rise in popularity of that name from the 1970s to the early 2000s, and the polling for that name tracks pretty closely to polling for voters aged 18-49. As for Harpers or Masons, it's a pretty safe bet that most of them won't be voting for a few more years—and when they do, it will be for the President and VP Jake and Logan Paul.
This is also an informative way to consider the name Richard, which peaked in popularity in the 1940s. Considering Donald Trump's popularity among men over 70—who don't have to worry about the global climate collapsing in 2050—it's hardly surprising that he has a dominant lead in this group. Likewise for the Donalds polled; the fact that 78% of them preferred Trump probably has at least as much to do with demographics of a name that peaked in the 1930s as it does with Donald's oversized egos.
But the more you look at Karens, the more confusing it gets. The name Karen peaked in popularity in the 1950s and '60s, which means the average Karen is older than the average woman (even the average white woman in the US), yet Karens in The New York Times/Siena College poll buck demographic trends, favoring Biden even more than their younger cohorts.
What could this mean? Have Karens been shamed by meme culture into examining the prejudices and entitled behavior that earned them this level of infamy? Were they always more tolerant than we gave them credit for, taking the fall for the Nancys (57% for Trump, 43% for Biden) and Janets (67% for Trump, 33% for Biden) of the world? Or is the problem more complicated?
Maybe Trump is too much of a Karen himself to appeal to Karens. Trump, who loves to use the threat of police violence to control unruly minorities, may be spoiling the Karens' favorite trick. After all, in any given room only one person can talk over everyone else.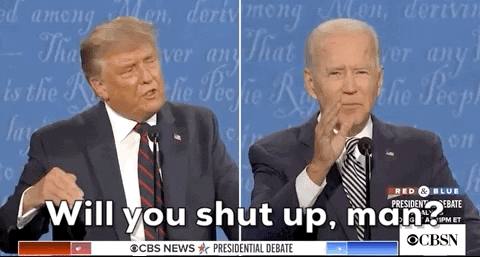 Maybe the Karens are sick of Donald Trump always being the loudest Karen in the room. Maybe they want to know that, if they ever get the chance to speak to America's manager, they'll be able to bully him into giving them a free round of appetizers—or at least a better deal on their health care...

While there are numerous possibilities, for the time being—at least until through election day and however long it takes for the votes to be counted—maybe we can all cut America's Karens some slack and apologize for misjudging them. Sorry, Karens.
Also, if you meet a Dick, keep in mind that there's about a 64% chance that he deserves a swift kick in his richard.
Keep reading...
Show less
Give us your best meme of Kamala destroying Pence at the debates: GO!
After months of deliberation, Joe Biden has picked Senator Kamala Harris as his running mate.
Harris became nationally recognized after she surged to prominence in the 2020 Democratic primary season. Notoriously, she called Biden out about racial issues during the first Democratic debate. "There was a little girl in California who was part of the second class to integrate her public school, and she bused to school every day," she said in a speech that has now become famous. "And that little girl was me."
55-year-old Harris is currently the only Black woman in the Senate. She served as California's Attorney General prior to being elected in 2016.
Harris was born in Oakland, California; her father is from Jamaica and her mother from India. She studied at Howard University and then at University of California Hastings College of the Law in San Francisco. She worked as a prosecutor in Alameda County and San Francisco before running for district attorney and then attorney general.
As a Senator, Harris was on the Intelligence Committee which interrogated Trump about Russia, and she also made waves through her interrogations of Attorney General Jeff Sessions, Attorney General William Barr and Brett Kavanaugh.
Since her 2020 presidential campaign concluded, Harris has focused on the Senate's response to the coronavirus crisis, as well as their response to systemic police brutality and racist violence. In the past, Harris worked closely with Joe Biden's late son, Beau, on challenging big banks in the wake of the housing crisis.

Biden announced the decision via email and text messages to his supporters. "You make a lot of important decisions as president. But the first one is who you select to be your Vice President," he wrote Tuesday afternoon. "I've decided that Kamala Harris is the best person to help me take this fight to Donald Trump and Mike Pence and then to lead this nation starting in January 2021. These aren't normal times. I need someone working alongside me who is smart, tough, and ready to lead. Kamala is that person."
If elected, Harris would be the first vice president to be female or a person of color. "I think that she will help bring a strong voice on issues of immigration and racial justice," said Rep. Ro Khanna, a Fremont Democrat who backed Harris' opponent Vermont Sen. Bernie Sanders in the primaries. "Given her life story, to see someone like her selected ... it will be encouraging to so many young people of different backgrounds."
Harris's mixed record as a prosecutor and her vacillation on progressive policies like Medicare for All has come under fire from many progressives' but in this scenario, even the most radical progressives seem to agree that Biden must be elected in order to oust Trump.
Immediate reactions to the Biden-Harris ticket on social media indicated how much supporters were looking forward to seeing Harris face off with Pence during the debates: The match-up seems to be made in meme-heaven.
Perhaps meme culture is the best response to the Biden-Harris ticket, as Democrats must support Biden as the only way to oust Trump–though Biden is far from ideal. "Biden is very problematic in many ways, not only in terms of his past and the role that he played in pushing toward mass incarceration, but he has indicated that he is opposed to disbanding the police, and this is definitely what we need," said civil rights activist Angela Davis.
Davis continued, "The election will not so much be about who gets to lead the country to a better future, but rather how we can support ourselves and our own ability to continue to organize and place pressure on those in power. And I don't think there's a question about which candidate would allow that process to unfold."

Trump's words and actions have led our country into a terrifying state, a state in which the president has put people of color in severe danger.
This week the Republican party has only helped to fuel Donald Trump's racist fire. For many, this isn't surprising. Trump began his attacks during his first campaign, targeting Mexican-Americans and generalizing them as "drug dealers, criminals, and rapists." Once he was elected, Trump enforced a xenophobic Muslim ban and continued to fuel the fire of white supremacy. Now, immigrants seeking asylum are dying in American custody. Overall, Trump's words and actions have led our country to a terrifying state, a state in which the president has put minorities and POC immigrants in severe danger.
A lot has happened within the last seven days: It's harder than usual to keep up with Trump and his minions' actions. Here's a timeline to help get you up to speed.
July 12th
Vice President Mike Pence and Republican Senators Lindsey Graham, John Cornyn, and Mike Lee visited a detention center in McAllen, Texas. The government officials observed around 400 men crammed in cages with no mats, no pillows, and barely room to sit down. The four men did not speak to any of the 400 immigrants and stayed in the detention center for only 90 seconds.
Vice President Mike Pence Visits Texas Migrant Detention Center | TODAY www.youtube.com
July 14th

Only two days later, President Donald Trump took to Twitter to advise "progressive" congresswomen that, instead of participating in American politics, they should "go back and help fix the totally broken and crime infested places from which they came." The tweets were sent in the midst of ICE raids occurring across the nation. The tweets' purpose was clear: Create hysteria targeting people of color in hopes of eradicating the immigrant population.
....and viciously telling the people of the United States, the greatest and most powerful Nation on earth, how our… https://t.co/xPRSZHNNAd

— Donald J. Trump (@Donald J. Trump) 1563107272.0
July 15th

A day after Trump's tweets, Senator Lindsey Graham, who once called the President a "race-baiting, xenophobic, religious bigot," defended him, proclaiming, "AOC and this crowd are a bunch of communists… they're Anti-Semitic. They're anti-America."
Lindsey Graham's Fox News MELTDOWN www.youtube.com
July 16th

On Tuesday, the House voted to condemn the President for his racist rhetoric. A President of the United States has not been formally rebuked a president in over a century. While the House voted in favor of the symbolic motion, the numbers included 240 Democrats in favor and 187 Republicans against. It's noteworthy that only four Republicans voted in favor of condemning the president's racist tweets.
That same night, Louisiana Senator John Kennedy referred to Rep. Alexandria Ocasio-Cortez (New York), Ayanna Pressley (Massachusetts), Ilhan Omar (Minnesota), and Rashida Tlaib (Michigan) as the "four horsewomen of the apocalypse."
John Kennedy Blasts The Squad www.youtube.com
July 17th

On Wednesday, during President Trump's rally in North Carolina, he again attacked the group of freshmen congresswomen, explicitly targeting the Minnesotan representative, a Muslim, and Somalian refugee, Ilhan Omar. His supporters began chanting, "Send her back." The president stood silently for a mighty thirteen-second pause, head held high, as he proudly looked upon his supporters.
'Send her back': Trump batters Ilhan Omar on campaign trail www.youtube.com
July 18th

The morning after, two of Twitter's top trending hashtags were #IStandWithPresTrump and #IStandWithIlhan. A few hours later, a few GOP members finally spoke out about the chants. Senator Marco Rubio called the targeting of Representative Omar "grotesque." A few other Republican Congressmen also spoke out on Twitter:
I deeply disagree with the extreme left & have been disgusted by their tone. I woke up today equally disgusted - ch… https://t.co/hlIxUraFva

— Adam Kinzinger (@Adam Kinzinger) 1563455793.0
Though it was brief, I struggled with the "send her back" chant tonight referencing Rep. Omar. Her history, words… https://t.co/uHL8TNlr4k

— Rep. Mark Walker (@Rep. Mark Walker) 1563418882.0
Trump later said he was "not happy" with the chants. When asked why he didn't stop the crowd, he answered, "I think I did—I started speaking very quickly."
Trump disavows supporters chant of 'Send her back!' at rally www.youtube.com
The same day, John McCain was also trending on Twitter. Former Representative of Florida, David Jolly, tweeted about how he missed the moment when John McCain cut off a woman claiming Barack Obama was an "Arab."
Missing this moment this morning. https://t.co/XPMmIH4PjF

— David Jolly (@David Jolly) 1563453537.0
Senator Chuck Schumer also referred to the moment while addressing his colleagues.
Chuck Schumer: "The only way Pres. Trump will stop is when Republicans on the other side have the honor, the decenc… https://t.co/oR8NdLMPru

— Kyle Griffin (@Kyle Griffin) 1563469210.0
Finally, to end this appalling timeline on a high note, here's a video of Minnesotan Representative Ilhan Omar returning home to the Twin Cities. Watch as she's celebrated below:
Congresswoman Omar just arrived back in the Twin Cities. https://t.co/ZiFqWnDJgQ

— Tom Hauser (@Tom Hauser) 1563486133.0
Dennis Hof won his bid for Nevada Assembly District 36 last night, despite having died three weeks ago.
Midterm elections are often considered a referendum on a sitting administration's progress—a collective report card graded by the people. Early numbers from this year's elections suggest a substantial and possibly record increase in voter turnout, which has been historically low in non-presidential voting years. It's not surprising, given the turbulent political climate, that candidates from both parties continued to campaign at full speed up until the final hours. Yet despite an election cycle that saw blatantly racist attack ads, felony accusations, and threats of violence, the one surefire road to victory has been apparent for years: death.
Outlandish as it may seem, at least nine dead people have been elected to public office since 1962—six in the last 20 years alone. The latest, Dennis Hof, whose body was discovered last month after the legal brothel owner had celebrated at a campaign-and-birthday party, claimed victory in Nevada last night. Prior to his death, the 72-year-old had been celebrating with friends Heidi Fleiss, Ron Jeremy, and Joe Arpaio.
Ballots Beyond the Grave: Deceased People Who Have Won Elections
Rep. Clement Miller (CA, 1962; airplane accident)

Reps. Nick Begich (AK) and Hale Boggs (LA, 1972; airplane accident)

Gov. Mel Carnahan (MO, 2000; plane crash)

Rep. Patsy Mink (HI, 2002; viral pneumonia)

Sen. James Rhoades (PENN, 2008; car accident)

Sen. Jenny Oropeza (CA, 2010; cancer)

Sen. Mario Gallegos (TX, 2012; liver disease)

Dennis Hof (NV, 2018; cause of death not yet reported)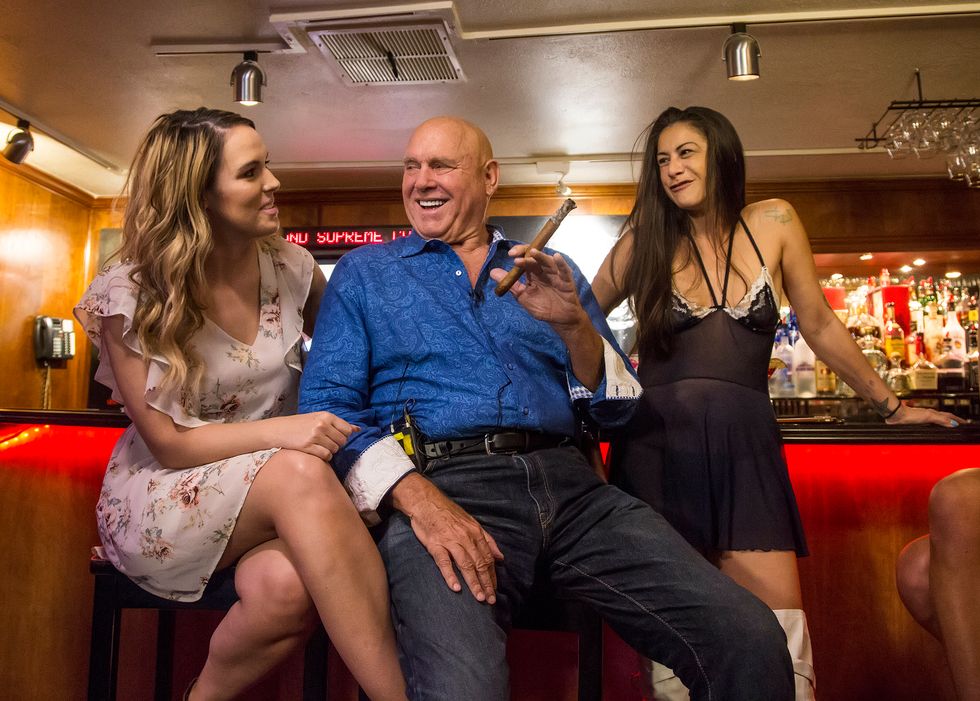 The Nevada Independent
Hof ran for office as a self-proclaimed "Trump Republican" and stated that the president's 2016 win ignited his own desire for a career in politics. Similarities between the two run deep. Hof gained fame as a reality star on the long-running HBO documentary series Cathouse, which captured life at the Moonlite Bunny Ranch, one of several legal brothels owned and operated by Hof. In 2015, he published a memoir titled "The Art of the Pimp," a clear homage to Trump's "The Art of the Deal." In it, Hof included a psychological profile by psychotherapist Dr. Sheenah Hankin, which categorizes Hof as a narcissist who abused the sex workers he employed.
Among the issues he championed were immigration reform, a repeal of Nevada's 2015 Commerce Tax, and a campus carry law that would allow concealed-carry permit holders to bring their weapons onto Nevada college and university campuses. He was endorsed by Roger Stone and Grover Norquist. In the 2018 primary elections, Hof beat incumbent James Oscarson by a mere 432 votes. Because he died within 60 days of the upcoming election, Hof remained on the ballot, though signs were posted at polling sites notifying voters of his death.
It seems as though these issues matter more than electing a living person to citizens of the 36th Assembly District. In fact, a 2013 study by Vanderbilt University found that, in lower-level elections, voters are most likely to elect the candidate with the highest name recognition.
The 36th Assembly District, which spans Clark, Lincoln, and Nye counties, has long been a GOP stronghold. Hof defeated Democrat Lesia Romanov, a first-time (living, breathing) candidate and lifetime educator who works as assistant principal of an elementary school for at-risk children. Romanov was impelled to run for office by a desire for common-sense gun reform following the mass shooting in Parkland, Florida. Yet, too many of her constituents, upon discovering she was running against Hof, she became a de facto advocate for women, including "survivors of sex trafficking and exploited and abused brothel workers," according to NBC News. Romanov was among many women running for office in hopes of making Nevada's legislature the first to hold a female majority in the country.
As The Washington Post reported in 2014, there hasn't been an election with a dead person on the ballot in which the dead person lost. It's hard to determine what's more damning for American democracy: that voters are so divided that they're more likely to vote for a dead person than cross party lines or that they've been voting that way for years. At the same time, one might argue that giving Hof's seat to a living Republican (as appointed by county officials, according to state law) is a better outcome than if it'd gone to Hof himself, considering his history of sexual abuse allegations. The most preposterous indictment of the American political system is that although deceased candidates have been elected before, now the electorate could seemingly ask itself—in all seriousness—whether a dead serial abuser makes a better candidate than a living one. And no one seems to know the answer.