"A tree is best measured when it is down," the poet Carl Sandburg once observed, "and so it is with people." The recent death of Harry Belafonte at the age of 96 has prompted many assessments of what this pioneering singer-actor-activist accomplished in a long and fruitful life.
Belafonte's career as a ground-breaking entertainer brought him substantial wealth and fame; according to Playbill magazine, "By 1959, he was the highest paid Black entertainer in the industry, appearing in raucously successful engagements in Las Vegas, New York, and Los Angeles." He scored on Broadway, winning a 1954 Tony for Best Featured Actor in a Musical – John Murray Anderson's Almanac. Belafonte was the first Black person to win the prestigious award. A 1960 television special, "Tonight with Belafonte," brought him an Emmy for Outstanding Performance in a Variety or Musical Program or Series, making him the first Black person to win that award. He found equal success in the recording studio, bringing Calypso music to the masses via such hits as "Day-O (The Banana Boat Song)" and "Jamaica Farewell."
Harry Belafonte - Day-O (The Banana Boat Song) (Live)www.youtube.com
Belafonte's blockbuster stardom is all the more remarkable for happening in a world plagued by virulent systemic racism. Though he never stopped performing, by the early 1960s he'd shifted his energies to the nascent Civil Right movement. He was a friend and adviser to the Reverend Doctor Martin Luther King, Jr. and, as the New York Times stated, Belafonte "put up much of the seed money to help start the Student Nonviolent Coordinating Committee and was one of the principal fund-raisers for that organization and Dr. King's Southern Christian Leadership Conference."
The Southern Poverty Law Center notes that "he helped launch one of Mississippi's first voter registration drives and provided funding for the Freedom Riders. His activism extended beyond the U.S. as he fought against apartheid alongside Nelson Mandela and Miriam Makeba, campaigned for Mandela's release from prison, and advocated for famine relief in Africa." And in 1987, he received an appointment to UNICEF as a goodwill ambassador.
Over a career spanning more than seventy years, Belafonte brought joy to millions of people. He also did something that is, perhaps, even greater: he fostered the hope that a better world for all could be created. And, by his example, demonstrated how we might go about bringing that world into existence.
The Nobel Prize committee has the chance to signal a better future for a prize with a fraught past.
I have almost reached the regrettable conclusion that the Negro's great stumbling block in his stride toward freedom is not the White Citizen's Counciler or the Ku Klux Klanner, but the white moderate, who is more devoted to "order" than to justice; who prefers a negative peace which is the absence of tension to a positive peace which is the presence of justice — Dr. Marin Luther King Jr. "Letter From Birmingham Jail" 1963
Nominations have been announced for the 2021 Nobel Peace Prize.
Among notable nominees are Ivanka Trump's husband Jared Kushner, politician and voting rights activist Stacey Abrams, and the Black Lives Matter movement. Depending on your political biases, you likely find at least one of those nominations offensive, though it should be noted that the list of nominees is long, and anyone can be nominated.
In this case, Black Lives Matter was nominated by Petter Eide, a member of Norway's parliament. As for Jared Kushner, he was nominated along with former Special Representative for International Negotiations Avi Berkowitz — the famed Harvard law professor, Trump sycophant, and defense attorney for O.J. Simpson and Jeffrey Epstein. Kushner and Berkowitz played central roles in brokering the Abraham Accords declaring, "Peace, Cooperation, and Constructive Diplomatic and Friendly Relations" between the US, Israel, Bahrain, and the UAE.
The Abraham Accords: The PR of the 'peace deals' | The Listening Postwww.youtube.com
At face value many Americans would no doubt see the negotiation of a peace deal as more legitimate grounds for nomination than a protest movement that sparked violent confrontation with police and counter protesters around the country in 2020. And, if we look at the history of the Peace Prize, there is a sense in which they would be right — the prize has often been awarded for superficial diplomatic theater rather than the real and often messy work of addressing injustice.

The Fraught History of the Nobel Peace Prize
In 1928, Secretary of State Frank Kellogg received the prize for getting all the world's major powers to officially, meaninglessly renounce war...shortly before Hitler took power in Germany. Another Secretary of State, Henry Kissinger, was selected by the Nobel Committee for negotiating a cease fire with Vietnam in 1973 — the same year it was revealed that he had masterminded a secret carpet bombing campaign in Cambodia, which is credited with giving rise to the genocidal Khmer Rouge.
More recently, in 2009, Barack Obama was given the Peace Prize just for being elected president — in a move Obama acknowledged as premature. And in 2020, Donald Trump's son-in-law and his buddy Avi were nominated for the award for arranging "peace" between nations that were never at war — with a substantial arms deal thrown in for good measure.
To put it bluntly, it would make nearly as much sense for Jared Kushner to win the Nobel Peace Prize as it did for a number of other recipients with dubious claims to peace work. By contrast, in 1948 the Nobel committee chose not to award anyone — rather than acknowledge Mohandas Gandhi's work in pushing for Indian independence from Britain.
Historically the committee has often erred on the side of the powerful — rewarding hollow and hypocritical displays of diplomacy over the controversy that tends to arise around grassroots struggles. So while it may be unlikely that Kushner and Berkowitz will receive the peace prize, neither would it really be surprising.
But with Black History Month kicking off, it's worth articulating not just why their diplomacy is underwhelming, but why the Black Lives Matter movement deserves recognition for advancing the global fight against injustice.
No Justice, No Peace
While extensive efforts have been made to paint the Black Lives Matter movement as violent, anti-White, and at the political fringes, in reality it is the largest and most racially diverse protest movement in American history. And considering the thousands of demonstrations that have taken place, involving many millions of individuals, the relative lack of violence from the protesters is much more worthy of note than a handful of dramatic scenes.
Compared to the January 6th Trump rally, where a crowd of around 30,000 spawned a violent insurrection — which was handled with kid gloves by the police and led to five deaths — the 15 million plus who participated in BLM marches in 2020 were remarkably peaceful. The same cannot be said for far too many of police who patrolled those marches and gave proof to the brutality that inspired them.
A compilation of videos that captures how police officers incite violence. How are they responding to protests ag… https://t.co/7rBOh3OHMP

— Simran Jeet Singh (@Simran Jeet Singh) 1590893613
And though regrettable incidents of arson and violence have undeniably taken place in connection with BLM demonstrations, the alternative was not "peace."

What is often overlooked in discussions of peace is the reality of social and political injustice as among the most prevalent forms of violence on Earth. When millions of people, targeted through no fault of their own, are systemically dehumanized — their lives and their contributions devalued and their opportunities for life, liberty and pursuit of happiness both deliberately and incidentally truncated for centuries — that is violence that destroys lives on another scale altogether.
For Black Americans that obviously means slavery and its aftermath, as well as segregation and the continued legacies of practices like redlining. But it also means a so-called "war on drugs" that treats addiction as a crime rather than an illness and disproportionately targets and locks up Black Americans, depriving too many children of their parents.
It means racist police procedures like Stop and Frisk, as well as the implicit (and often explicit) racial biases of the officers themselves. It means making it nearly impossible for people convicted of felonies within this unjust, racist system to live within the bounds of the law, depriving them — as well as millions of Black Americans who haven't been convicted of anything — of the right to participate in democracy and change the system that treats them so cruelly.
And none of this even covers the immense wealth inequality that makes life harder for almost all Americans — though, again, the harm is leveled disproportionately against Black Americans. All of these ordinary and unacceptable aspects of American life are violence — "the negative peace which is the absence of tension."
They destabilize communities, families, and individual lives. And that violence came to a head in June, following the horrific killing of George Floyd by a Minneapolis police officer over a suspected counterfeit $20 bill.
While far from the only evidence of systemic racism in America, the murder of unarmed Black men, women, and children by police and by racist vigilantes who — more often than not — are allowed to walk free, is perhaps its most blatant and disgusting expression.
And the names of the slain — Ahmaud Arbery, Breonna Taylor, Tamir Rice, Trayvon Martin, Freddie Gray, Philando Castille, too many more to mention — have become rallying cries.
With all the domestic resistance the protests met from people who insist on spitting "all lives matter!" (as if fighting for the value of Black lives implied otherwise) and "blue lives matter!" (as if the safety of police officers depends on their ability to shoot unarmed Black men, women, and children without consequence), it would be easy to lose sight of how much support the movement has received overseas. While the movement was started in America, the impact has been global.

"Injustice Anywhere Is a Threat to Justice Everywhere"
The reality of living as a dehumanized minority in a bigoted society is sadly all too common in the world. And while not everywhere is as bad in this respect as America, the recognition sparked protests of solidarity and of common cause around the world.
Like the civil rights movement of the 1960s, Black Lives Matter has continued the fight for America to live up to its promise. Because right now "the land of the free" is home to a carceral state where more people are imprisoned than anywhere else on Earth, and citizens are killed by police at a higher rate than in any comparable nation.
Because the systems that were deliberately set up to keep newly freed Black citizens oppressed following the Civil War were never truly purged — have been covertly bolstered and supplemented ever since.
That is not peace. Only a stable form of violence.
A cartoon from the 1960s My father wasn't beloved by America. In 'Letter From Birmingham Jail,' he responded to 8… https://t.co/ygwaqnWoO9

— Be A King (@Be A King) 1611017549
In 1964 the Nobel committee opted not to side with power. It was the same year the FBI sent a harassing letter to Dr. Martin Luther King Jr., urging him to commit suicide.

He was considered by FBI director J. Edgar Hoover — and many others in positions of power within the American government — to be an enemy of the state. There is even reason to believe that these forces were directly involved in his 1968 assassination.
His protest movement was disruptive to the normal order of American life that most white Americans were content to maintain. Many balked at the idea that it could be called peaceful. But the Nobel committee selected him for the honor of the Nobel Peace Prize. It was a serious signal that the world was watching how America handled peaceful dissent.
Did that make a difference in passing the voting rights act of 1965? Who can say? But the Nobel committee has a similar opportunity this year.
What Black Lives Matter has been fighting for in recent months is the "positive peace" King spoke of as "the presence of justice." With that in mind — and with some uncertainty remaining as to how a decentralized, leaderless movement of millions can receive an award — the Nobel committee should take seriously the option of selecting Black Lives Matter.
Martin Luther King Jr. Nobel Peace Prize Acceptance Speechwww.youtube.com
There are no doubt many nominees whom the committee could select for the Peace Prize — including Jared Kushner. And some who would even be worthy — including Stacey Abrams.

But the significance of acknowledging a grassroots fight for justice that was centuries in the making (in a nation which — for all its flaws — continues to shape culture around the world) is too powerful to deny.
In February we celebrate Black History Month in America.
For the entire month, we commemorate the vast contributions from Black people who have impacted society here and abroad. After all, we are responsible for countless inventions and innovations in art, science, athletics, business, and activism, contributions that often get overlooked because of our country's pervasive legacy of racism.
Black History Month may also be the only annual instance that this country comes close to acknowledging its racist heritage. The brilliance that Blackness has provided modern-day society is, unfortunately, also rooted in hatred and exclusion.

Recognizing the creations shaped by the hands of Black people means examining the oppressive infrastructures that sparked their genius. One of those infrastructures is slavery.
The mention of slavery prompts various reactions amongst white people. Some declare it to be our country's greatest shame, while others act as if it never happened. If the latter admits to its existence, it's to admonish others for "living in the past."
The celebration of Black History Month and the acknowledgment of slavery go hand in hand. Although a vast majority of Black History itself isn't a direct result of slavery, its ramifications are certainly a factor.
For instance, Martin Luther King Jr'.s vaunted legacy hinges upon his fight against racism and segregation. His peaceful marches and resounding speeches became the introduction to Black History and the Civil Rights Movement for most children in elementary schools across the country.
King is a lauded American hero for his fortitude. But his battle with a racist system is often romanticized. His reimagining sees him as a man standing up for his beliefs instead of a victim of a hateful construct who was forced to rise up against his oppressors.
The irony resides in Black people being labeled as world-changers and trailblazers in the eyes of history but only being allowed to access a small portion of it in order to apply their craft.
Similarly, Black people becoming a dominant force in sports and entertainment hasn't been without their share of obstacles. Unlike today where they have access to a worldwide audience to entertain, Black musicians and athletes' sole audiences used to be people who looked like them.
Sports pioneer Jackie Robinson made history as the first Black man to play professional baseball. His breaking of the color barrier instituted a new day in American sports, but the country's prejudicial temperament remained the same. Robison received death threats from angry white fans, players, and even owners.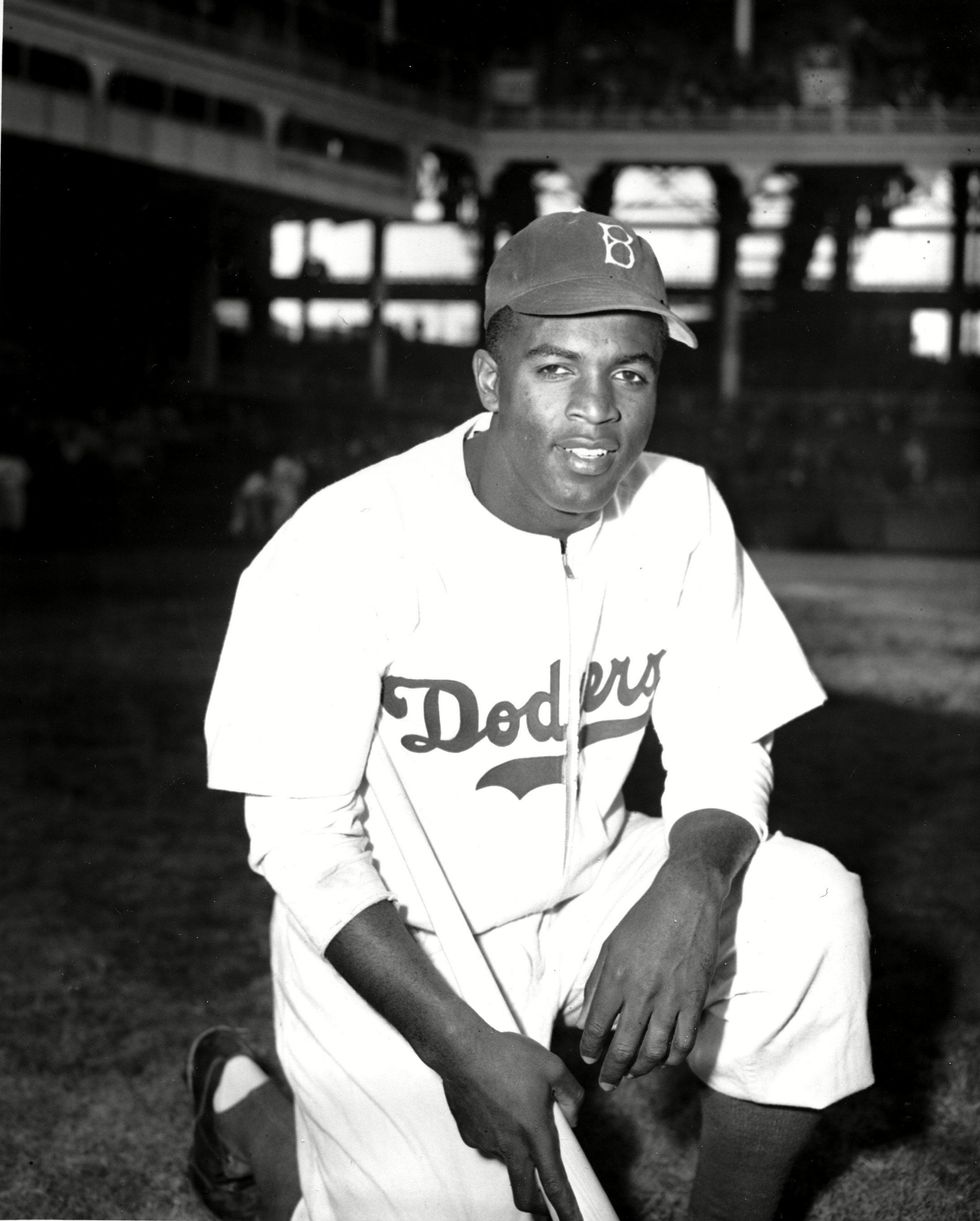 Robinson Jackie Robinson of the Brooklyn Dodgers poses at Ebbets Field in the Brooklyn borough of New York. John Rooney/AP/Shutterstock
Furthermore, musicians like Chuck Berry and Muddy Waters, who are pioneers of Rock and Roll, are credited with inspiring The Rolling Stones and Eric Clapton. But during the '50s, their sound was classified as "race music." Conversely, that same "race music" was acceptable when taken and repurposed by white artists.
They and others like them persevered in the face of adversity to open doors for Black people today. Their struggles are reminders of the resiliency of Black people that changed the world and the unnecessary roadblocks they had to overcome to do so.
The observance of Black History Month in today's racial climate in America feels insincere. When entities are dedicated to oppression the other 11 months of the year, it's hard to believe their calls for racial unity in February
We voice our grievances about the government and law enforcement's wanton negligence daily, only to hear how stuck in the past we are as a race. Yet, that same past is responsible for the evolution of civilization as we know it today. Without Black people, America would not be the culturally rich place it is today.
Still, many feel sentiments like "Black Lives Matter" are radical movements, when in actuality they are an ever-present reminder of the conditions Black people had to navigate to pull off these incredible feats.
America cannot sincerely immerse itself in the celebration of Black History Month until it confronts its history. Racism is the beating heart beneath the floorboards of privilege. But as the beating grows louder, our country continues to disregard its pulse.
Erasing the reality of our troubled history — and our divided present — is not true unity.
Back in early September of 2020, when fewer than 200,000 Americans had yet died as a result of COVID-19, reality TV "businessman" Donald Trump was somehow the president of an entire country.
And he wanted everyone to "love" that country as much — and as selectively — as he did. So when Nikole Hannah-Jones' 1619 Project with The New York Times began winning awards and being taught in classrooms, he knew he had to act.
It was bad enough with people protesting in the streets against racialized violence today, but trying to place that injustice in a context of an ongoing pattern of racialized oppression was too much. Establishing an advisory committee to promote "patriotic education," Donald Trump tasked his 1776 commission with combatting the 1619 Project's unflattering focus on chattel slavery and its continued legacy.

The 1619 Project details the legacy of slavery in Americawww.youtube.com
What Unity?

Four months later, 200,000 more Americans have died of COVID-19, and Joe Biden has been elected to replace Donald Trump. An attempted coup failed to overturn the election, and many of the same political figures who stirred up the sentiments of insurrection — and still refuse to acknowledge Biden's legitimate victory — have been calling for "unity."
Those calls were echoed in Joe Biden's inauguration speech, but there has remained a question of what kind of unity they mean. And in that context, the 1776 Commission — which Biden has pledged to disband — released a report in the lead-up to inauguration day, clarifying what kind of "unity" they mean.

It's a unity not of solidarity, empathy, and shared struggle, but of erasure, appropriation, and myth. The report's primary contention seems to be that a more critical perspective on America's history is necessarily both skewed and harmful. That perspectives like Hannah-Jones' are actively and deliberately destructive of our "united" American spirit, and lead us, somehow — inexplicably — toward tyranny.
The Founding Fathers: Context and Contradictions
The report argues that — given the context of their horrifying and disturbing time period — we should be in awe of the fact that the Founding Fathers could recognize and articulate a concept of universal rights, even if they didn't quite live by their stated principles. And that America eventually achieved a society where universal rights were properly enshrined and should have stopped trying to fix apparent injustices decades ago.
It's clear that the report is referring to the 1619 Project — and similar work centering the experiences of oppressed and ignored groups in America's history — when it talks of "deliberately destructive scholarship." According to the report, this kind of scholarship, "shatters the civic bonds that unite all Americans."
It's better to focus on stories like George Washington's virtuous decision to finally, posthumously free the dozens of human beings he kept enslaved for so many years. Like the parable of the cherry tree, it almost doesn't matter that Washington's decision to grant them their freedom was never truly carried out... almost.
It's taken for granted that looking seriously at the crimes of our nation's past — and noting the continued legacy of those crimes — is divisive. That the only way to unite is to focus narrowly on what inspires "reverence and love" for our history and to refer to that narrow focus as "viewing our history clearly and wholly." To do otherwise "silences the discourse essential to a free society by breeding division, distrust, and hatred among citizens."
It's certainly true that a close look at the enslavement of millions of Black men, women, and children in what may be history's most extensive and systematic project of dehumanization does not tend to inspire the kind of reverence Donald Trump wanted Americans to feel for their country — and for him.
Unearthing Sally Hemings' legacy at Monticellowww.youtube.com
The 1776 commission doesn't want you to ask why Washington didn't grant those people their "unalienable" freedom while he was alive. Or why other founding fathers — like Thomas Jefferson, who enslaved hundreds — didn't make even this lukewarm gesture toward emancipation.

Being offered now as a corrective to more serious scholarship, it repeatedly insists that our nation's founders — who drank more beer than water, wore powdered wigs rather than bathing, and enslaved their own children of rape — should be viewed with "reverence" and as "heroes."
According to the report, it is at once necessary to understand them in the context of a time period in which enslaved people were a foundational part of America's economic system — a system which served those founders well — and to ignore what that foundation might say about a country asserting natural rights as the reason for its very existence. Note the context. Ignore the contradictions.
Myths, Fallacies, and Hypocrites
As for its take on that historical context, the report continually perpetuates myths and fallacies that cast a positive light on America's early history. King George III, for instance, is held up as the Declaration of Independence's caricature of "a despotic king who violated the people's rights and overthrew the colonists' longstanding tradition of self-government."
In reality, England had long since adopted a constitutional monarchy in which the bulk of decisions were made by the parliament. Framing those decisions as — in the report's words — "the capricious whims of a tyrant," made for a better story.
In reality, the American colonists — particularly the wealthy merchants and plantation owners among them — resented being governed and taxed by distant politicians elected without their consent. It's a reasonable objection, though it's painful to note that the same objections can now be made by the residents of Puerto Rico and other American territories.
Puerto Ricans voted for statehood. Will it happen?www.youtube.com
If those American citizens — subject to taxation without representation — framed that relationship as tyranny, would the 1776 commission treat calls for liberty or statehood with the same reverence? Based on the report, it seems more likely that the commission would dismiss them as telling a story "of oppression and victimhood."

While it's no doubt true that America's founders were hugely influential in the history of political thought — and that the documents they wrote formed a foundation for the advancement of civil rights both at home and abroad — it would be foolish to treat their ideas and their motivations as pure. They applied their high-minded principles primarily when it served their interests to do so.
Another way to put that would be to say that they were hypocrites. But when the report talks about the blatant contradictions, words apparently speak louder than actions: "What is momentous is that a people that included slaveholders founded their nation on the proposition that 'all men are created equal.'"
We are to take it for granted that this sentiment was simply on a delay when applied to women and particularly to the people who were bought, sold, branded, bred, and worked like livestock.
An understanding of how that same dehumanization was carried forward not just in sharecropping and Jim Crow, but in Confederate memorials, the war on drugs, and predatory loans — in "welfare queens," "superpredators," and "all lives matter" — would be far less flattering.
"Equality of Opportunity" and "Shared Heritage"
Instead, the commission's report consistently conflates efforts at restorative justice with the evils they are intended to address. On the topic of affirmative action and identity politics, the report says, "This new creed creates new hierarchies as unjust as the old hierarchies of the antebellum South, making a mockery of equality with an ever-changing scale of special privileges on the basis of racial and sexual identities."
Better to ignore the ways in which historic injustices persist — the fact, for instance, that white families have nearly eight times the wealth of Black families. Whitewash those details and sell a story of meritocracy and "equality of opportunity," ignoring outcomes that fundamentally imply that Black Americans have less merit.
Better to talk about a "shared heritage." Better to ignore how the progeny of the enslaved have yet to share in the advantages left to the progeny of the wise and noble white thinkers who enslaved them.
Even when addressing the injustices of sharecropping in the reconstruction era, the report avoids the idea that vulnerable people were horribly exploited — as that sort of reasoning could likewise be applied to the dynamics of wage labor today. Instead, the report indicates that the system "enmeshed freedmen in relationships of extreme dependency," echoing conservative attacks on social programs that serve our nation's most disadvantaged.
Co-Opting MLK's Dream
Worse still, for a report released on Martin Luther King Jr. Day, is the way the commission abuses the message of the civil rights era — and King in particular.
When discussing the concept of identity politics — that oppressed groups must work together to advocate for their interests — the 1776 commission claims that this ethos"values people by characteristics like race, sex, and sexual orientation" and is thus "the opposite of King's hope that his children would 'live in a nation where they will not be judged by the color of their skin but by the content of their character.'"
Of course this is patently absurd. King and other civil rights leaders of his era plainly believed in the importance of people united by a shared struggle fighting for equality. And just as concepts like poll taxes and literacy tests were once used to disenfranchise Black voters — without explicitly mentioning race — there are aspects of our society that selectively disadvantage certain groups without expressly stating that aim.
That means over-policing of Black and Latinx neighborhoods, women receiving less pay for equal work, or school funding being inexplicably tied to property values. There is nothing about the affected groups organizing for their interests that is in conflict with King's values, nor with the principles of America's founding.
Martin Luther King Jr.: 'The Economic Problem Is the Most Serious Problem'www.youtube.com
On the contrary, that struggle is inherent in the "unalienable right" to the pursuit of happiness and enshrined in the first amendment. And pretending that oppressed groups are past the need for this kind of action or the protection it can win only sets us back. When the Supreme Court gutted the Voting Rights Act in 2013, it brought us right back to the era of poll taxes, with a surge of voter suppression that doesn't mention race, yet manages to target Black voters "with almost surgical precision."

As is so often the case, the report ignores the true history of Martin Luther King's unpopularity among white Americans of his time. They treat him in death as uncontroversially loved, appropriating his message to evoke a false contrast between the current protest movement — which is portrayed as disruptive and divisive — and the movement of the 1960s.
If you were to believe the report, the latter "presented itself, and was understood by the American people, as consistent with the principles of the founding." In reality — the movement's relationship to the principles of the founding aside — Martin Luther King was never particularly popular in America. And in the years before his assassination, one Gallup poll showed that 63% of Americans held an unfavorable view of King, compared to just 33% with a favorable view.
This was due in part to protests which rankled the same type of person offended by Colin Kaepernick and Black Lives Matter — white moderates whom king described as preferring "a negative peace which is the absence of tension to a positive peace which is the presence of justice." But it was also in response to King's harsh criticism of American activity in the Vietnam war and to his advocacy for a multiracial "Poor People's Campaign" uniting working class Americans to correct the injustices of capitalism.
King and Guthrie — This Report Erases Socialists
But of course the 1776 commission would be unlikely to acknowledge that King once described himself as "much more socialistic in my economic theory than capitalistic." They had to erase that aspect of his life in order to appropriate him for their skewed, elitist version of individual liberty.
After all, according to the report, socialism "leads down the same dangerous path of allowing the state to seize private property and redistribute wealth as the governing elite see fit." As opposed to wealth being distributed only as the billionaires see fit…
As foolish as this mischaracterization of King is, it is hardly the commission's most absurd omission. That distinction goes to the report's invocation of Woody Guthrie's classic song "This Land is Your Land," as a song for patriotic Americans to enjoy on the fourth of July.
In reality, that song was first penned as a Marxist critique of the notion of private property — in direct opposition to the narrow notion of freedom the 1776 report venerates. Woodie Guthrie — of "This machine kills fascists" fame — would not only have vehemently opposed the sort of "patriotic education" advocated by the commission, he vocally opposed Donald Trump's father for racist housing discrimination practices in a song he penned called "Old Man Trump."
This Land is Your Landwww.youtube.com
It seems there is no Left-wing activity the 1776 commission won't co-opt for their reactionary purposes. Take for example their list of "great reforms" which places "anti-Communism," and "the Pro-Life Movement" alongside abolition, women's suffrage, and the Civil Rights Movement.

Never mind the fact that anti-abortion advocacy treats a pregnant person's sovereignty as secondary to that of a fetus that doesn't even have a central nervous system. What "reforms" have ever been associated with "anti-Communism?" McCarthyism? The erosion of social safety nets?
Throwing Obstacles in the Way of a Complete Education
But of course this report is propaganda. It shouldn't really come as a surprise that a commission established by a billionaire president — who wanted to ban muslims, labelled protestors terrorists, and called undocumented immigrants rapists — is deeply biased against calls for racial and economic justice.
It makes even more sense when you learn that the chair of the commission, Larry Arnn — president of conservative Hillsdale College — once complained that state officials had come looking for "dark ones" after his school was charged with violating the Michigan DOE's standards for diversity. His co-chair, Carol Swain, once compared Black Lives Matter to the Ku Klux Klan.
This is what "patriotism" and "unity" mean to people like Trump, Arnn, and Swain. They mean stop criticizing. Stop finding fault and stop standing up for yourself — just be grateful for the status quo.
It's the kind of "unity" that divides the poor white workers against poor black workers to prevent a working class movement, and it's not remotely surprising that these people would share such a remarkably skewed, incomplete, and ahistorical perspective. That they accuse every social justice movement past the 1960s of seeking special favor and imposing anti-majoritarian bigotry — e.g. affirmative action is the real racism — is likewise to be expected.

What is nonetheless shocking is how fervently they project that fault onto the other side while co-opting and mischaracterizing Left-wing figures and movements. There is, for instance, a bitter irony in the moment when the report cites early feminist icon Elizabeth Cady Stanton as saying "to throw obstacles in the way of a complete education is like putting out the eyes."
This pays off when the report goes on to attack universities for offering anything more than the most simplistic, rose-tinted view of the founders. As with the attack on the Capitol, they want to achieve unity not by embracing a shared understanding of our complex and often deeply painful history, but by agreeing as one to deny it. By moving on.
Nation as System and Myth
They believe that a nation is a myth of pure ideals — a myth of a people unified by principles — more than it is a system that should serve its citizen's sustainable happiness. And that patriotism — rather than pushing the system to improve — means worshipping the myth as dogma.
There is a huge difference between defending and working to improve a flawed system that broadly benefits you and the people you love — in ways that you may take for granted or not even notice — and devoting yourself to a mythic sense of noble community. The latter will always have such a huge advantage in terms of the picture it paints and the passion it invites — it almost doesn't matter that it's make-believe.
But the fact that it isn't real makes it far too malleable. The most gripping myths and stories have villains, and if patriotism is built on a myth of belonging, then our national myth can easily be molded to unite patriots against the "villains" outside our borders.

This form of unity and of patriotism is undoubtedly more exciting — more fun — than the version that focuses on highlighting problems, legislating policy to fix those problems and slowly improving our bureaucracy. But we should all see by now how these myths drift too easily into the dark side of nationalism — into xenophobia, warmongering, and fascist violence.
Even as President Biden signals the end of the 1776 commission, this report will live on. Its sentiments will remain in our national conversation,, and its deception will likely be read in classrooms across the country.
With that in mind, we should come away from this text with one clear message: "Unity" with people who favor myths and lies over difficult truths is not worth pursuing.
Dr. Martin Luther King Jr.'s legacy is defined by his pursuit of equal rights for Black Americans through unity and peace.
He is canonized in American history as the patron saint of change through passive measures.
His infamous "I Have A Dream" speech was a rallying cry for this country to live up to its promises of life, liberty, and the pursuit of happiness. King urged us to be a nation that advocates for the inclusion of all of its citizens in the American Dream, no matter their race.

But Dr. King's message of non-violence and civil disobedience is often misinterpreted. For some in the Black community, it means doing absolutely nothing in the face of physical harm from white people. In the hands of many conservatives and racists, his beliefs are a gag order against racial injustice. They have distorted King's dream in an attempt to make us docile.
The marches and protests during the Civil Rights Movement were peaceful acts of civil disorder. King implored members of the movement not to engage in chaos and destruction. Unfortunately, these non-threatening gatherings became violent due to agitation from law enforcement, despite honoring King's wishes of peaceful resistance.
At the time, King's call for unity and equal rights was considered radical and unpatriotic. The FBI had him under surveillance, and he was the recipient of death threats from white extremists. King was a beacon of peace; but, his cause made him a target for hate.

The narrative surrounding King's death has been warped, as well. Revisionist history paints him as a martyr when, in reality, he was a victim of white supremacy. His assassination in 1968 was a cruel irony. He preached peace only for its antithesis to be his demise.
Today, civil unrest is at an all-time high. Innocent Black lives are taken by police almost daily, and the election of President Trump brought to light how much America hasn't changed since Jim Crow. We've applied the same tactics that King advised his followers to use, only to receive the same treatment decades later.
When highlighting the level of violence against non-aggressive demonstrations, many on the Right feel that Black people's right to protest is a justification for police brutality. In their eyes, the need to peacefully assemble to combat racism is excessive and unnecessary, as if any non-violent uprising is a threat and has to be silenced to preserve law and order.
Even Black entertainers and athletes have faced public backlash for speaking against racial inequality. NFL Quarterback Colin Kaepernick was blackballed for kneeling in protest against police brutality. Kendrick Lamar's "Alright", a song about Black people overcoming struggle, was deemed an anti-police anthem. White America demonized them and others for using their platforms to bring awareness.

Meanwhile, white nationalism doesn't face the same level of persecution that Black liberation receives. Racists and fascists that subscribe to Trumpism are considered "patriots." But Black people seeking a level playing field are labeled as treasonous. One side has resorted to rioting as a last resort. The other looked at insurrection as a first solution.
Over 50 years after his death, Dr. King's message of peaceful resistance is a patronizing jab at the Black community. His philosophy isn't a factor when barbaric bigots are looking to harm us. Instead, it's as a pseudo restraining order to thwart our attempts at seeking change and potential retaliation.
For many Americans, Dr. King was a Civil Rights Superman. Unfortunately, his stance has become the movement's kryptonite.
50 years after M.L.K. was assassinated, his legacy continues to inspire. Who are the strongest voices fighting for his vision?
In the 50 years since Dr. Martin Luther King Jr.'s death, his legacy has only gained momentum as activists and everyday citizens fight against prejudicial policies that would scale back his vision of equality, rather than realize it. The March on Washington may be most commemorated for Dr. King's speech on August 28, 1963, but the determination of the Civil Rights Movement inspired even more than the 250,000 people who demonstrated in the nation's capital that summer. Dr. King declared, "Go back to Mississippi, go back to Alabama, go back to South Carolina, go back to Georgia, go back to Louisiana, go back to the slums and ghettos of our northern cities, knowing that somehow this situation can and will be changed."
True to his legacy of equality, Dr. King's passion touched people from all walks of life, from famous actors and politicians to scholars and everyday citizens. Here are 5 people whose aspirations were inspired by MLK:
1. Ineva May-Pittman, activist and NAACP member who marched with Dr. King:
"I just felt–free. With all these people from all across the country and the world, of all ethnicities, together–no incidents or anything, and everybody was friendly toward each other...Why can't this be, you know, all the time? So we had to come back and double our determination to try to make it be. And we still workin' on it."
2. Frankye Adams-Johnson, activist and teacher who marched with Dr. King:
"I felt that somehow we had achieved whatever this freedom meant, that it had been achieved there in Washington. We had marched, we had listened to speeches, and we had been moved by the great Martin Luther King, Jr." Reflecting on the summer of 1963, she says, "I envisioned that our quality of life as an African-American people … would be better for more of us than the handful that it is. I don't want to put a damper on celebrating and commemorating. But I will just say there's still so much more we need to be fighting for."
3. Forest Whitaker, actor:
"We followed him because he was holding your hope. The hope that your life would be full and complete with equality. There are few people in history who take that position that allows people to follow and change, who represent something powerful...He did it in this country and made people walk with him towards a better life. I think it's difficult for the next generation to see the things that happened before...So you have to continually, historically remind them and try to make them aware of what Martin Luther King was doing that we are all in this together. And that hope is alive today."
4. Barack Obama, 44th President of the United States:
"Dr. King was 26 when the Montgomery bus boycott began. He started small, rallying others who believed their efforts mattered, pressing on through challenges and doubts to change our world for the better A permanent inspiration for the rest of us to keep pushing towards justice."
5. Stevie Wonder, along with 80 other iconic figures, and the youth of today:
In commemoration of Dr. King's assassination in Memphis in 1968, musician Stevie Wonder created a powerful tribute to Martin Luther King that called upon figures from Apple CEO Tim Cook and London Mayor Sadiq Khan to Serena Williams and Paul McCartney. Most powerfully, he called for all Twitter users to post their own dedication to Dr. King and how he continued to inspire today's generation. He posted, "On April 4, 1968 at 7:05 p.m. central time, Dr. King's life was cut tragically short. 50 years later a need for his dream to be fulfilled is far greater than ever. Share your dream & post your own #DreamStillLives video. Spread love...spread hope"
On April 4th, 1968 at 7:05 p.m. central time, Dr. King's life was cut tragically short. 50 years later a need for h… https://t.co/XVJ9Gis9zp

— Stevie Wonder (@Stevie Wonder) 1522886700.0
Meg Hanson is a Brooklyn-based writer, teacher, and jaywalker. Find Meg at her website and on Twitter @megsoyung.