We've all been there. You were gifted a dumb present that you'll never in a million-zillion years ever use and you're too polite to tell anyone any differently. It sits at the bottom of your drawer for months, then years. And when you finally feel like enough time has passed, you can throw it out in good conscience.
A return is almost always out of the question. Plus, gift givers don't often include a return receipt, and we all know we wouldn't dare ask for one. I'd rather admit to a crime than confess I don't like a gift - how insulting to the gifter's sense of aesthetics.
And-hey, I have limited drawer space. Who can keep these unwanted gifts for six months when there isn't any space for them? I hate clutter, and unwanted gifts are just that.
This year, I am making an effort to swiftly remove any unwanted gifts from my house without hurting anyone's feelings…and potentially benefiting others. As the old saying goes, one man's trash is another man's treasure. And thank goodness for that.
From the The Guardian:
"According to research published this week by the consumer body, one in four people (24%) received an unwanted or unsuitable gift for the Christmas of 2021. Meanwhile, a separate study by the personal finance comparison site Finder said £1.2bn was wasted on unwanted Christmas gifts each year."
Come to terms with the fact that you will never use that gift and follow these quick tips to offload those unwanted gifts:
Donate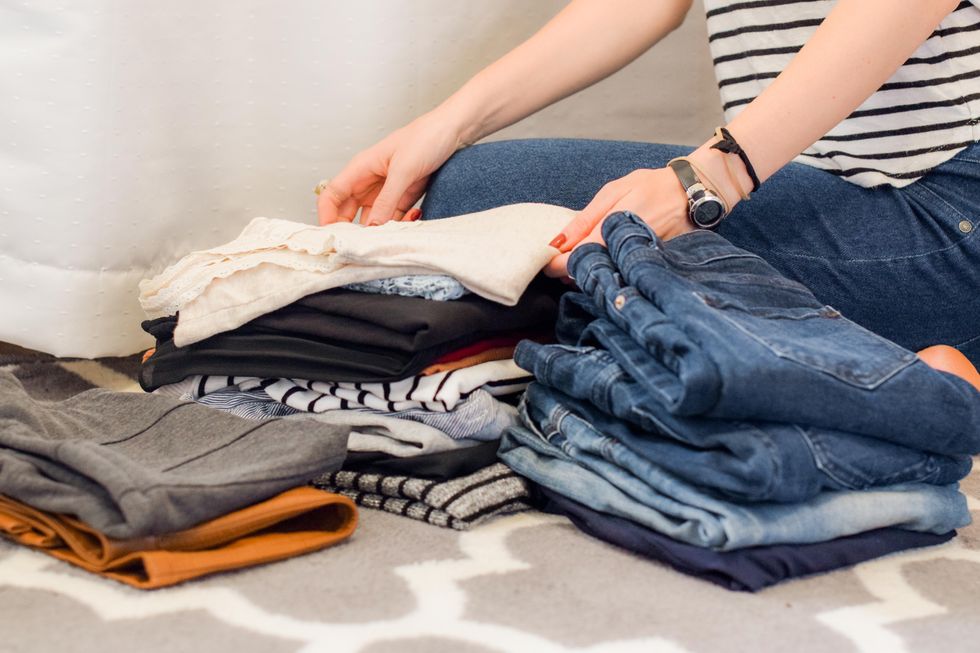 Sarah Brown via Unsplash
The most obvious choice for those unwanted pairs of mud-green sweat socks and that same fluffy robe you get every year from your Aunt Judy is to donate them. Just round up everything you don't want and Google the donation center closest to you.
This is also a fantastic excuse to purge your closet of that pile of stuff you've been meaning to get rid of. A few bags of give-away-clothes will get your spring cleaning out of the way early.
Sell Them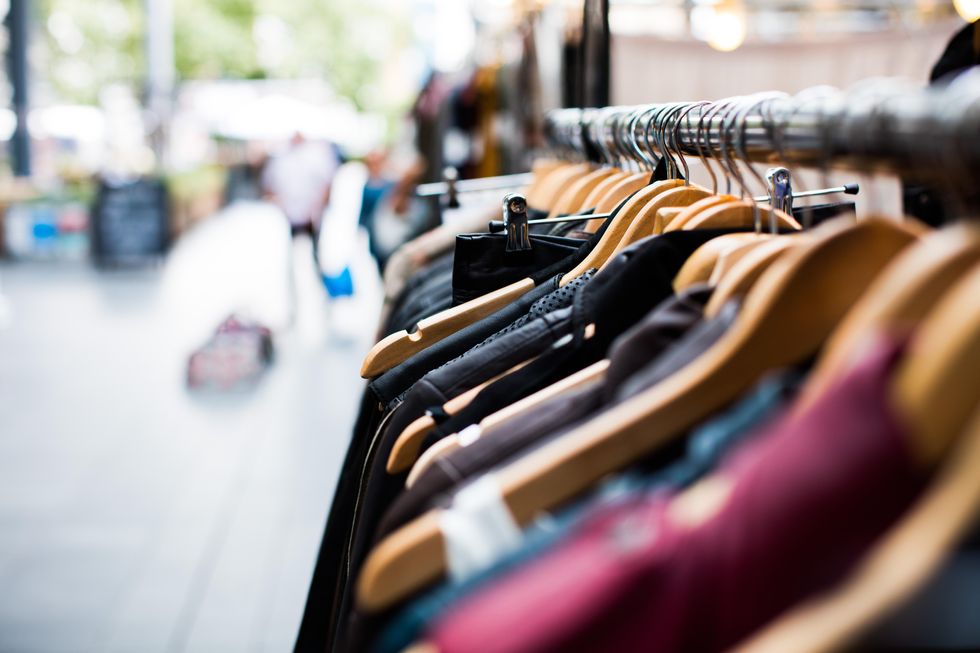 Artificial Photography via Unsplash
Resale websites are all the rage right now. If you got a pair of pants that don't fit or a sweater that isn't your style, resell them on a website dedicated to just that. Sites like Poshmark, Mercari, and DePop are known for selling those trendy pieces of clothing you barely used.
Thrifting has never been hotter. Hop on the trend while people are constantly perusing sites for the hottest deal. Then reward yourself for being so virtuous, by dropping the cash on some fabulous things you'll actually wear!
Re-Gift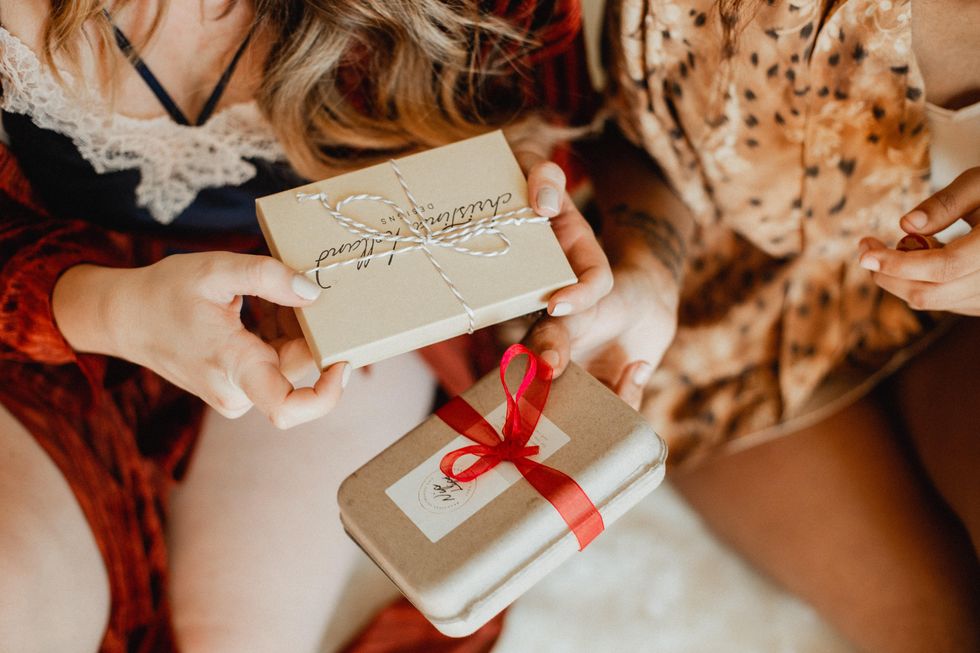 Jackie S via Unsplash
If you got something that you think one of your friends or family can benefit from, why not give it to them? There's no shame in revealing that it was a gift and you don't want it anymore…as long as you aren't re-gifting to the person who gave it to you!
Or, keep the gifts to re-gift at a later date. You never know when you're going to need a last minute gift. You'll thank yourself later.
Attempt a Return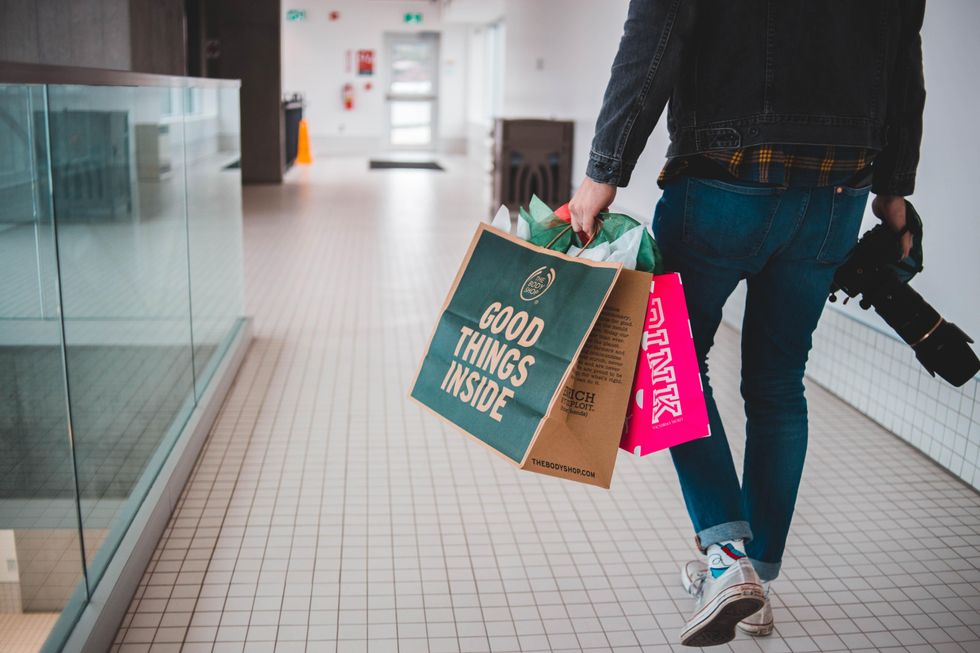 Erik McLean via Unsplash
If your item still has a tag, you can make a valiant effort to return to the store. If you can make your case, many stores won't want to fight you on it. They may be forgiving and grant you store credit at the very least.
At his point, anything could be true...
In the early hours of Friday morning, the White House announced that President Donald Trump and first lady Melania Trump had both tested positive for COVID-19.
The news came shortly after it was confirmed that top aide Hope Hicks had tested positive after weeks of travellng with the president to campaign events. As a result, Trump's reelection campaign has canceled a number of upcoming campaign events in battleground states.
The idea of a sitting president contracting a life-threatening virus around a month before the 2020 election seems like the definition of a so-called "October surprise." But honestly, Donald Trump's reckless behavior in recent weeks—holding public rallies around the country, including a crowded indoor event in Henderson Nevada—makes his diagnosis substantially less surprising.
President Donald Trump said to have minor Covid-19 symptoms: New York Times reportwww.youtube.com
Of course, during Tuesday night's debate, Joe Biden expressed concern about that exact issue, noting that the president has "been totally irresponsible in the way in which he has handled the social distancing ... basically encouraging people not to [wear face masks]" at these events.
Trump, of course, responded by mocking Joe Biden for wearing "the biggest mask I've ever seen" and insisted that—in terms of his rallies and the risk of spreading COVID—"so far we have had no problem whatsoever." Less than 24 hours later, Donald Trump was at yet another rally in Duluth, Minnesota, where unmasked people were standing shoulder to shoulder.
Leaving aside the fact that Trump's "great friend" Herman Cain tested positive for COVID-19 just nine days after attending Donald Trump's Tulsa rally without wearing a face mask—dying soon after—and the fact that the state of Oklahoma saw a massive spike of COVID cases in the weeks following the event, it should finally be impossible for Trump to claim they've had "no problem."
That said, with an incubation period of up to 14 days, it would be unlikely—if Hope Hicks and the president had contracted COVID-19 in Duluth on Wednesday—for a test to come back positive so quickly. But that was the fourth rally the campaign has held in the past two weeks. Either of them might have been exposed in Pennsylvania, Virginia, or Florida.
But all of this ignores one confounding possibility—that this whole story might be just another Trump lie.
The Case Against COVID
Donald Trump has made it a regular practice to introduce some major disruptive news any time a negative story about him is dominating the cycle. Often that includes outright lies.
For the last few days, the story of "the worst debate ever"—mainly the result of Donald Trump constantly interrupting and talking over both his opponent and the debate moderator—has been all cable news wants to talk about. Even Brian Kilmeade—among Tump's biggest fans at Fox News—has expressed some criticism of the president's performance.
'Dumpster fire': See Jake Tapper and Dana Bash's blunt reaction to debatewww.youtube.com
With the election so near, Donald Trump and his team have made it clear that no tactic is too deceptive or underhanded for them to employ if they think it will help him win. So if Trump wanted to disrupt the continued analysis of that awful debate, what are the potential advantages of faking a COVID diagnosis?
For a start, now that he is reportedly ill and faces potentially dire health consequences, any criticism of how he has mishandled the pandemic (including this article) will be easy for his defenders to characterize as cruel politicization of the president's health.
It delivers a more or less guaranteed opportunity to demonize the media—one of Donald Trump's favorite methods for energizing his base—while also ensuring more neutral/positive coverage than he has gotten in recent days. If it works well enough, it might even provide enough media cover for the senate to push through Amy Coney Barrett's controversial nomination to the Supreme Court.

It could also rewrite the debate schedule. The second debate was originally planned for October 15th and will almost certainly be postponed or canceled. Maybe president Trump only wants to have one more debate. If he has a plan to come back from the disastrous first performance with some surprising tactics in one final debate—currently scheduled for October 22nd—Joe Biden will have no third round in which to adjust and counter.
Maybe he's planning to pivot—yet again—to a more disciplined and presidential poise, so that if Biden comes looking for a similar fight, he will instead come across as the combative one. If President Trump returns to the debate stage with a subdued performance, as though he's been humbled by a brush with his own mortality, perhaps he can win back some polite suburban voters who may have been turned off by his bullying debate style—though somehow not by every other aspect of his presidency.
Another advantage of faking a COVID diagnosis would be the opportunity to promote a supposed cure. If Trump claims that he took Chloroquine—or some other unproven treatment—after his diagnosis, and thus experienced only mild symptoms, he gets another chance to tout a "cure" that will soon have this global pandemic under control and the economy back on track. Even better, he can "brag" about how mild his illness was for him—painting himself as tough and healthy and affording another opening to attack Biden's fitness.
This is roughly the approach that fascist Brazilian president Jair Bolsonaro—one of Trump's closest international allies—took when he (possibly) contracted the coronavirus back in July. He was out shaking his supporters' hands and promoting hydroxychloroquine amid conflicting reports about his diagnosis. Was it all a ruse? Is Trump following the same game plan?

On the Other Hand...
Of course, none of this is to say that President Trump definitely doesn't have COVID. It's a highly contagious virus, and his reckless behavior has put him at significant risk.
While there may be tactical benefits to faking a COVID diagnosis, there's a lot of room for downsides as well—potentially inspiring his base to reconsider the threat of the virus and the value of the kind of strict lockdown procedures that could have prevented much of the pandemic's impact in the US. If they start having those thoughts, maybe it won't make so much sense to demonize liberal politicians for shutting things down while hundreds of thousands of Americans are dying...
That scenario may seem like a stretch—Trump's base is far more likely to attribute this kind of news to a Chinese conspiracy to infect their hero than to any GOP incompetence—but the point remains that news of this magnitude shifts the political narrative in unpredictable ways. Would Trump and his campaign really take the risk of faking something like this, even with the chance that it could turn against them?
Who knows? Whatever the arguments on one side or the other, the biggest reasons to question this story—and invest in all this conspiracy theory-logic—are the same reasons we should have learned by now to doubt nearly everything: We can't trust Trump, and we can't trust 2020.
Each day, the Amazon loses over a football field of land to fire.
Right now, the wildfires in the Amazon forests are so massive they can be seen from space.
According to INPE, about a football field and a half of rainforest is being destroyed each day. Since Thursday, over 10,000 acres have been lost.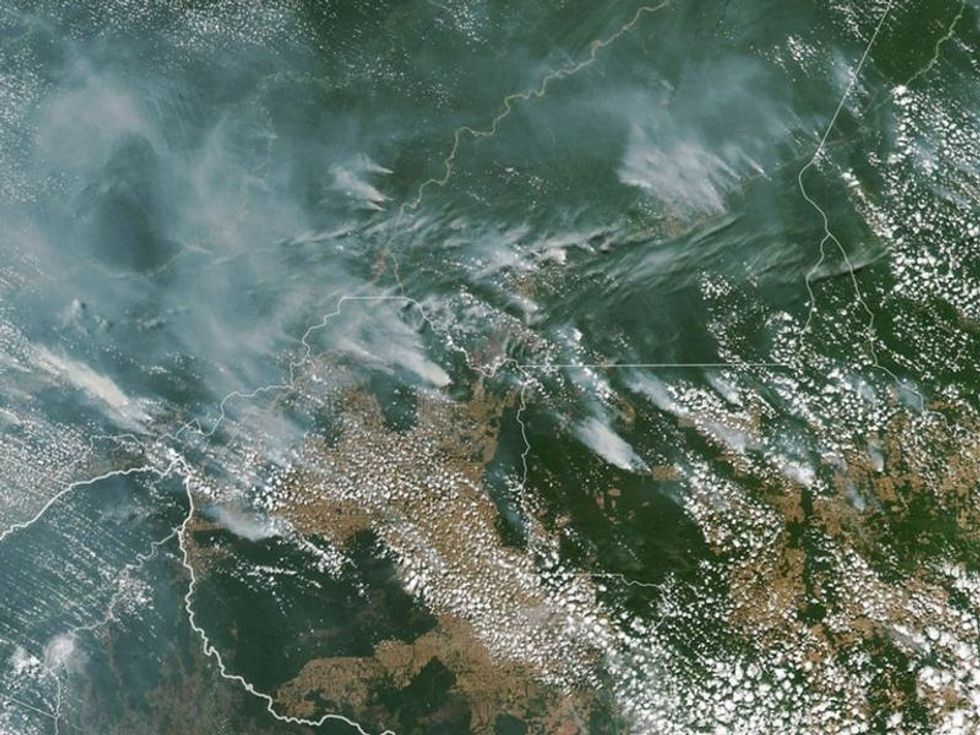 amazonwatch.org
Since January 2019, the number of forest fires in Brazil have grown by 80%. It's normal for wildfires to clear away the forest to make room for new growth, but these fires are happening at an unprecedented rate that scientists say is caused by human activity and the rising climate.

The destruction has also been exacerbated by the sentiments of Brazil's president, Jair Bolsonaro, who has been nonchalant when told that many of the fires are being caused by humans. Farmers are setting fire to the land in order to clear away indigenous forests, according to reports, and Bolsonaro has encouraged these actions with his anti-environmentalist sentiments.
In the name of development, Bolsonaro is endangering the entire world's future. The Amazon contains 40% of the world's rainforests, which are our best defense against a rising climate. Sometimes described as the planet's lungs, the Amazon rainforest provides around 20% of our world's oxygen and absorbs a quarter of the world's carbon. It also contains 10-15% of animal species, many of which are being incinerated along with ancient trees and rich biodiversity.
Indigenous peoples are on the front lines of these fires, as many of them live in or near the forests, but the loss of such a large portion of the Amazon will be damaging to the whole world.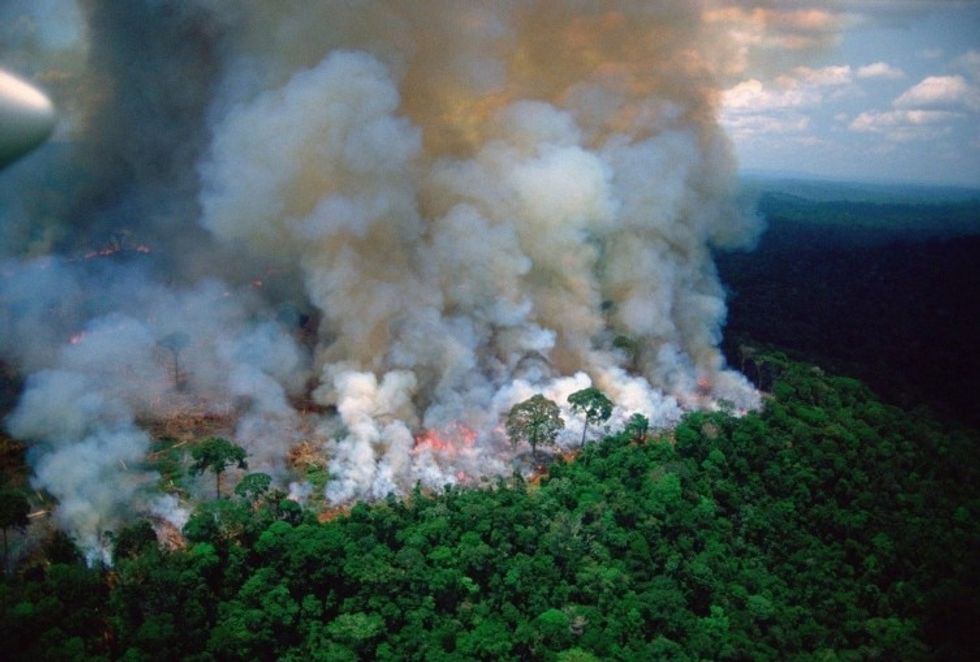 Image via India Today
Many people have asked about what they can do. Here are some actions you can take in response to the fires:

1. The main thing you can do to help out immediately with these forest fires is give money.
It's particularly important to give to organizations that work directly with indigenous people and those who know and live in the Amazon rainforest. Avoid major, corporatized organizations like the Red Cross.
Here are several organizations to give to:
*Protect and purchase rainforest land through rainforesttrust.org or the Rainforest Action
*Support indigenous communities through Amazon Watch or Survival International.
*Support arts, culture, and research about the Amazon through the Amazon Aid Foundation.
2. Unfortunately, even though donations will help, these wildfires will probably keep happening without massive political overhaul in Brazil. Contact your nation's Brazilian embassy to make your views heard. Here is a list of embassies in the US.
3. Sign this petition, being passed around by opponents of Bolsonaro and his policies.
4. Boycott beef and products made from rainforest trees. Check with the Rainforest Alliance to see whether the products you're buying are safe.
5. Switch your browser to Ecosia, which is run by an organization that plants trees based on searches—roughly one tree per 45 searches, to be exact. So far, it's planted over 65 million trees and has garnered good reviews from across the web.
6. To stop things like this from happening in the future (and to ensure that there is a future at all), you can also get involved in the fight against climate change and disaster capitalism.
Here are four ways to do that right now:
There are no quick fixes with regards to the deep-rooted problems that have caused this tragedy to happen. However, a worldwide shift in political sentiment towards environmentalism could be the start of the changes we need to see to stop this from growing even worse.
@LilNasX First, by understanding how & why it is happening (see thread). Second, by eliminating consumption of bee… https://t.co/jNasy7WyxF

— frenchie Ⓥ (@frenchie Ⓥ) 1566446935.0
This was an act of terror, and should be widely condemned.
Emyra Wajãpi was a leader of the Wajãpi indigenous community, a group located in the north of Brazil—until he was murdered this week by a group of armed miners, who stabbed him to death and threw his body into a river.
On Saturday, Wajãpi community leaders issued a cry for help to the Brazilian government, stating that they were being invaded by troops bearing rifles and weapons and requesting the assistance of the army. Though a police force was en route, they did not arrive in time, and the community was forced to flee.
The invasion comes as a shock but not a surprise. In recent months, Brazil's far-right president, Jair Bolsonaro, has explicitly encouraged loggers, miners, and farmers to invade protected areas and land occupied by indigenous communities, arguing that the Brazilian government has the right to develop and profit off of any and all of its national territories. Under Bolsonaro, deforestation in the Amazon has skyrocketed, though he has repeatedly denied the validity of studies that reveal just how much land has been lost during his reign.
"The president is responsible for this death," said Brazilian lawmaker Rodolfe Rodrigues to the The New York Times. Bolsonaro has a history of making racist comments about indigenous people and is currently telling the public that the murder did not happen.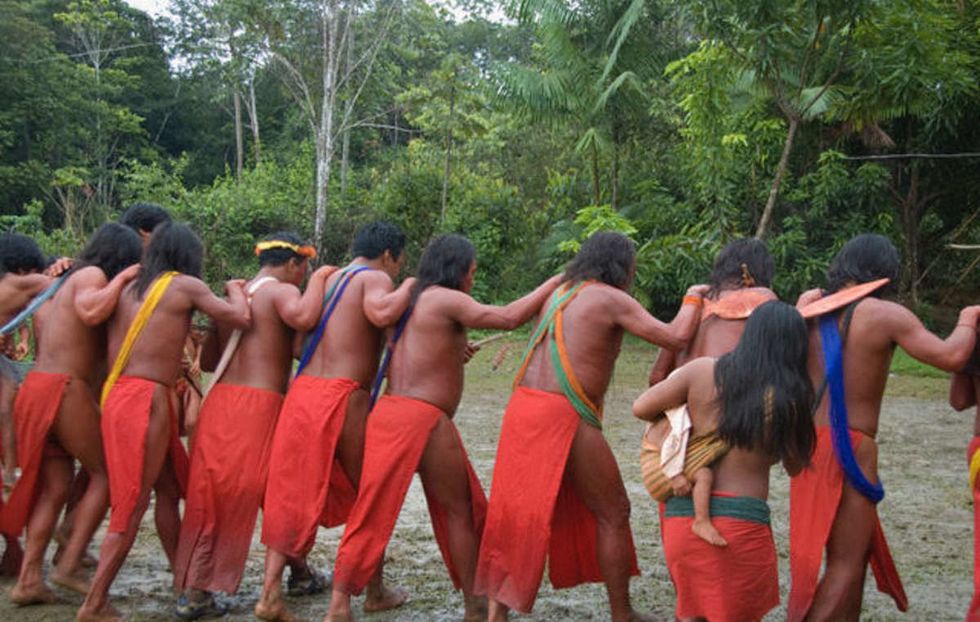 The Wajãpi people united in protest against invadersImage via survivalinternational.org
In March 2019, Bolsonaro met with U.S. President Donald Trump, and they signed a letter of intent promising the "sustainable development of the Amazon" (read: the ravaging of indigenous lands). Bolsonaro has also drafted plans that would legalize artisanal mining in protected lands, and that—to add insult to injury—would encourage indigenous communities to mine their own lands.
His priorities are crystal clear. "Brazil lives from commodities," Bolsonaro said in a recent speech. "What do we have here in addition to commodities? Do people not remember this? If the [commodities] business fails, it will be a disaster." These comments come at a time when mining and pollution present unparalleled threats to the planet's well-being and when indigenous ways of life present one of the best models of combating climate change and developing sustainable infrastructure.
The killing of Emyra Wajãpi should be viewed as a serious act of domestic terror among international communities. The U.N. human rights chief Michelle Bachelet has decried the death, calling it "a disturbing symptom of the growing problem of encroachment on indigenous land – especially forests – by miners, loggers and farmers in Brazil." World leaders should follow suit in denouncing these actions and reaffirming their commitment to conserving protected lands.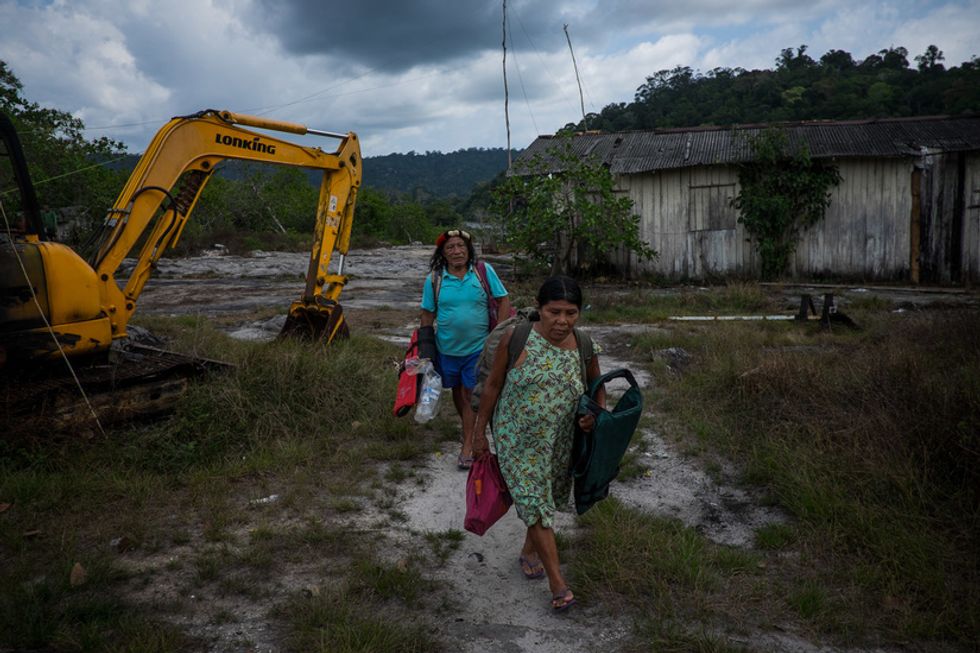 Wajãpi Indigenous TribeImage via Victor Moriyama
If they do not, a genocide could ensue. "This government is massacring our rights and our indigenous peoples," said a Wajãpi leader to NBC News. "They are already starting, killing the indigenous peoples."
Indigenous communities of the Americas have endured relentless persecution since the arrival of Europeans in the 1400s. The Wajãpi did not receive protected land until 1996, after a 21-year period of brutal military rule. In the 1970s, their community was almost completely wiped out by disease—brought by invading gold miners.
#Brazil: Effective measures should be taken to save lives & physical integrity of the #Waiãpi people. I urge Gov to… https://t.co/7VvPSCAxVg

— UN Human Rights (@UN Human Rights) 1564428776.0
Jair Bolsonaro ran on a far-right, pro-torture, pro-militarization platform.
Over the last 30 years, Brazil has transitioned from dictatorship to shaky democracy, raising hopes that the country would soon be able to economically compete with other developed countries on the world stage. With the presidential election of Jair Bolsonaro on Sunday, the progress of the world's 4th largest democracy seems to have stalled. Bolsonaro is a far-right, pro-gun, pro-torture politician who gained 55.1% of votes after a deeply divisive election cycle.

The new Brazilian president is a 63-year-old former military paratrooper who promised Brazilians he would crush corruption, crime, and a supposed communist threat if elected to the presidency. Bolsonaro was an extremely polarizing candidate who has spoken against women, gay people, Brazilians of color, and even democracy — the New York Times reports that he once said, "Let's go straight to the dictatorship," while serving as a congressman. Given the fascistic nature of his views, he struggled to find a running mate until early August.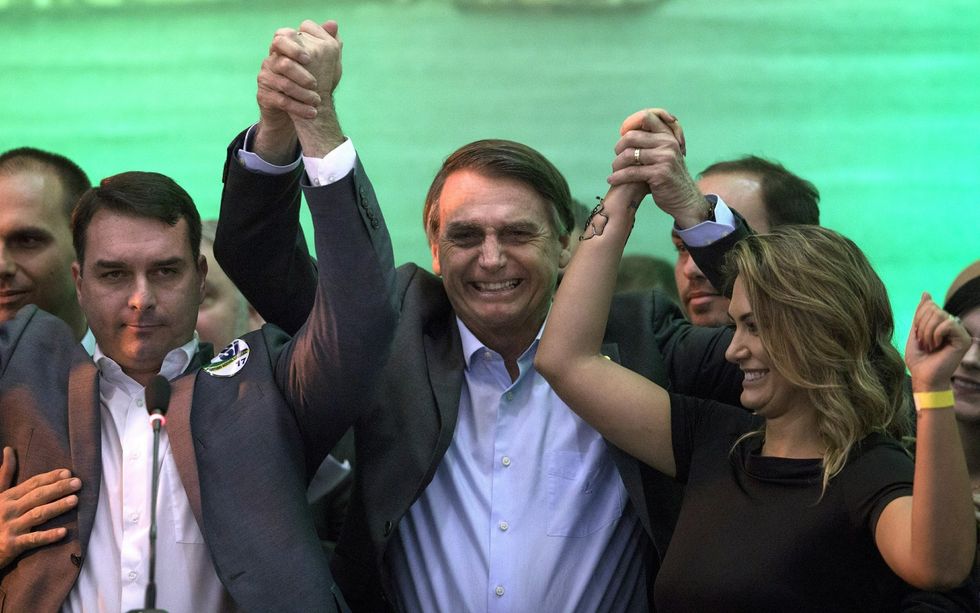 AP News
But despite early obstacles, Bolsonaro convinced much of Brazil that his extremist views hold merit. After the election results came out, Bolsonaro continued to refer to the democracy of Brazil as a communist state, saying, "We cannot continue flirting with communism … We are going to change the destiny of Brazil."

Bolsonaro's leftist opponent, Fernando Haddad, who gained 44.8% of the vote, urged Brazilians not to give up hope. "We will continue with our heads held high, with determination and with courage," he said. "We have a lifelong commitment to this country and we will not allow this country to go backwards."
But Bolsonaro has international support, as well. The White House confirmed that President Trump called Bolsonaro to congratulate him, and Trump later tweeted, saying,
Had a very good conversation with the newly elected President of Brazil, Jair Bolsonaro, who won his race by a subs… https://t.co/zq4N2zvF65

— Donald J. Trump (@Donald J. Trump) 1540816088.0
Many fear that Bolsonaro's election is a symptom of the same world-wide swing to the political right that resulted in Trump's election in the United States, as well as other shifts towards extreme conservative values like those seen in the UK during the Brexit decision. Bolsonaro's election coincides with the former progressive president's failure to stymie an uptick in Brazilian street violence over the last couple of years.
Consequently and effectively, Bolsonaro's campaign strategy was to promise militaristic strength, something that apparently spoke to a frightened Brazil. It becomes difficult not to see the similarities between the events in Brazil and America's 2016 election, wherein voters chose contextless nostalgia and fascist rhetoric over progress. The Brazilian election serves as yet another lesson for champions of democracy and progressivism: fear is a powerful tool that allows politics to default to the mob. If people don't feel safe, all thoughts of equal rights and social justice become second priority.
Brooke Ivey Johnson is a Brooklyn based writer, playwright, and human woman. To read more of her work visit her blog or follow her twitter @BrookeIJohnson.