"A tree is best measured when it is down," the poet Carl Sandburg once observed, "and so it is with people." The recent death of Harry Belafonte at the age of 96 has prompted many assessments of what this pioneering singer-actor-activist accomplished in a long and fruitful life.
Belafonte's career as a ground-breaking entertainer brought him substantial wealth and fame; according to Playbill magazine, "By 1959, he was the highest paid Black entertainer in the industry, appearing in raucously successful engagements in Las Vegas, New York, and Los Angeles." He scored on Broadway, winning a 1954 Tony for Best Featured Actor in a Musical – John Murray Anderson's Almanac. Belafonte was the first Black person to win the prestigious award. A 1960 television special, "Tonight with Belafonte," brought him an Emmy for Outstanding Performance in a Variety or Musical Program or Series, making him the first Black person to win that award. He found equal success in the recording studio, bringing Calypso music to the masses via such hits as "Day-O (The Banana Boat Song)" and "Jamaica Farewell."
Harry Belafonte - Day-O (The Banana Boat Song) (Live)www.youtube.com
Belafonte's blockbuster stardom is all the more remarkable for happening in a world plagued by virulent systemic racism. Though he never stopped performing, by the early 1960s he'd shifted his energies to the nascent Civil Right movement. He was a friend and adviser to the Reverend Doctor Martin Luther King, Jr. and, as the New York Times stated, Belafonte "put up much of the seed money to help start the Student Nonviolent Coordinating Committee and was one of the principal fund-raisers for that organization and Dr. King's Southern Christian Leadership Conference."
The Southern Poverty Law Center notes that "he helped launch one of Mississippi's first voter registration drives and provided funding for the Freedom Riders. His activism extended beyond the U.S. as he fought against apartheid alongside Nelson Mandela and Miriam Makeba, campaigned for Mandela's release from prison, and advocated for famine relief in Africa." And in 1987, he received an appointment to UNICEF as a goodwill ambassador.
Over a career spanning more than seventy years, Belafonte brought joy to millions of people. He also did something that is, perhaps, even greater: he fostered the hope that a better world for all could be created. And, by his example, demonstrated how we might go about bringing that world into existence.
We have his public explanation, but it's worth considering his underlying motivation
On Wednesday afternoon Mitt Romney announced that he would be voting to convict President Donald Trump in the Senate's impeachment trial.
Romney became the only Republican to join in the Democrats vote to convict Donald Trump for abuses of power and remove him from office—a vote that failed, 48-52, resulting in President Trump's acquittal. The move also immediately inspired mass calls to remove Romney from the senate with #RecallRomney trending across Twitter almost immediately after the announcement was made public. Romney explained his reasoning in a statement on the senate floor, saying of Trump's crimes that "Corrupting an election to keep oneself in office is perhaps the most abusive and destructive violation of one's oath of office that I can imagine." But that only tells us what he wants us to know. There remains a question of his underlying motivation, and there are four basic theories that cover the full gamut of possibilities.
Theory 1: He Did it Because He's Brave
According to this theory, Romney is essentially telling the truth. He believed Trump was guilty, and he was too principled to vote for acquittal for reasons of political expediency. Trump and his fellow Republicans would not be jumping down his throat if he had gone along with the rest of the party, but it would also have given Donald Trump a stronger case to claim that the whole impeachment was a sham. Romney's vote wasn't enough to secure a conviction, but if every Republican had voted in lockstep against conviction, then the whole enterprise would could easily have been written off by Trump and his allies as a witch hunt by the wacky Democrats, and Trump would have leapt immediately to claiming exoneration. Romney basically sacrificed himself for the cause of democracy and justice. This is the theory behind another trending hashtag #MittRomneyIsMyHero.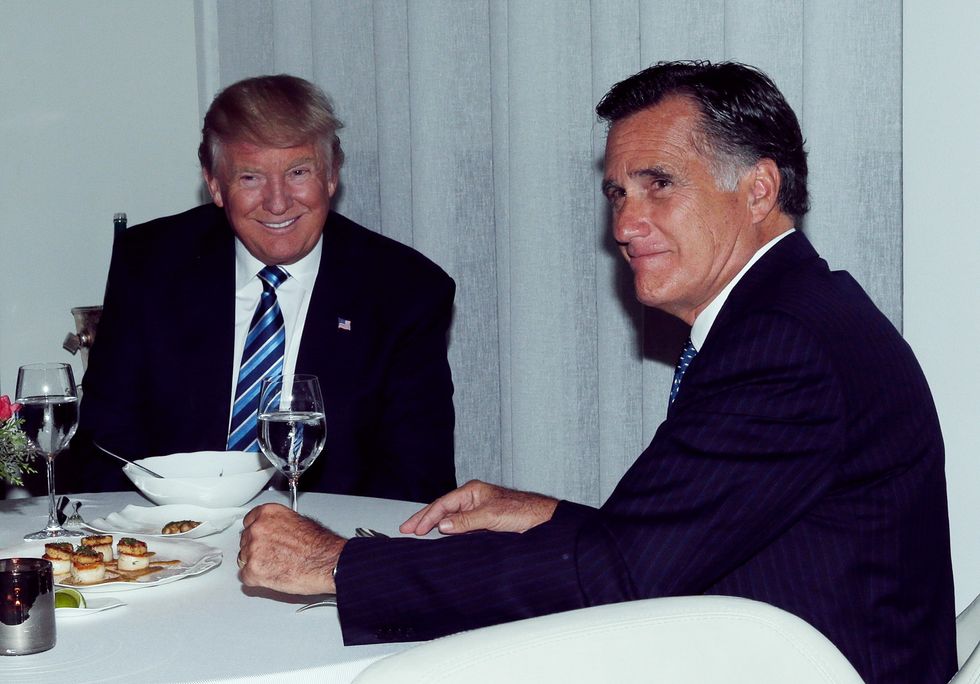 John Angelillo
Theory 2: He Did it Because He's Stupid
Did he really think a nice speech and a surprise vote was going to turn the tides? Trump and his loyalists (i.e. most of the Republican party) have no problem abandoning a former ally and throwing him under the bus. They've turned against John Bolton, Steve Bannon, Jim Mattis, Michael Cohen and countless others from Trump's inner circle. They feel no qualms about declaring a Trump-critic like Romney a traitor—which is why #RomneyIsADemocrat is also trending. But it's not as though the Democrats will actually welcome Romney to their side. They still disagree with him on basically everything. All he managed to do, according to this theory, is to isolate himself and doom his political future.
Theory 3: He Did it Because He's Jealous

Mitt Romney ran for president against Barack Obama in 2012. When he was pressured to release his tax returns he gave in, and it likely contributed to him losing the election. Donald Trump has never given in to any sense of duty, dignity, or decorum, and that's why he was elected president in 2016. Mitt Romney was a vocal critic at the time and has remained a critic because, according to a tweet from Donald Trump Jr., "Mitt Romney is forever bitter that he will never be POTUS."
Mitt Romney is forever bitter that he will never be POTUS. He was too weak to beat the Democrats then so he's joini… https://t.co/IA9GnnQ2zi

— Donald Trump Jr. (@Donald Trump Jr.) 1580931158.0
Theory 4: He Did it Because He Can

This is the theory that takes all the other theories into consideration, and adds some more logistics. Romney may be brave, stupid, and jealous, but the major reason he felt free to vote for Trump's removal is that he had no reason not to. Romney serves as Senator for the state of Utah, where the Mormon church and Mormon values still reign. Unlike many other Christian groups in America, the Church of Latter Day Saints has had a hard time getting behind a crass, philandering, biblically illiterate man. In 2016 Utah gave Evan McMullin more than 21% of the vote—the highest proportion a third-party candidate received in any state—largely on the basis of his #NeverTrump campaign. Utah is the one Republican stronghold where that tactic plays reasonably well. On top of that, Romney won't be up for reelection until 2024. He may be playing a long game, hoping that Trump will have lost popularity by then.
Regardless of your opinion, it's worth checking out Romney's statement before jumping on one of these hashtag trends.
His announcement that he will not be voting to allow witnesses in the impeachment trial has lasting implications for the country and the world.
Behold the arbiter of your future.
This is the Senator who has decided that there is no need to call witnesses in the impeachment trial of Donald Trump—a man who used his powers as president in a deliberate attempt to subvert the electoral process with the assistance of a foreign government. Lamar Alexander, a 79-year-old white man from Tennessee, has unilaterally determined that Donald Trump's crimes are not worthy of punishment from the only body with the capacity to hold him accountable. As a result, by the time you read this, Donald Trump will likely have already been acquitted and the impeachment will be over.
Alexander's claim—according to the statement released Thursday night—is that Trump's misdeeds have already been proven, and there's no need for the public spectacle of witnesses attesting to those misdeeds on national TV. He asserts that, while withholding military aide from Ukraine until they publicly announce an investigation into your political opponent may be a bad look, it doesn't rise to the "Constitution's high bar for an impeachable offense." And it is not the Senate's role "to remove the president from office and ban him from this year's ballot simply for actions that are inappropriate."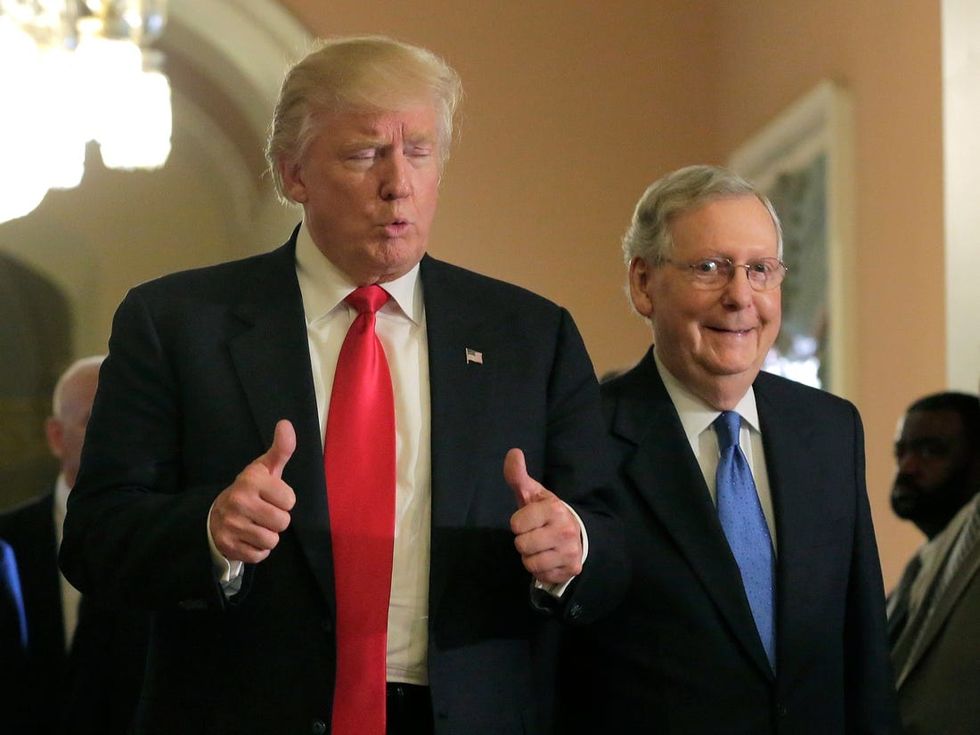 Joshua Roberts/Reuters
There is some truth to this statement, but it's a small truth that helps to conceal a much bigger lie. Granted, there are varying legal opinions on what constitutes "high crimes and misdemeanors," and there was essentially zero chance that the Senate's Republican majority was ever going to vote to remove Donald Trump from office. So why bother going through the motions of a legitimate impeachment trial—allowing new evidence and witness testimony? The answer lies in another portion of Alexander's statement: "Our founding documents provide for duly elected presidents who serve with 'the consent of the governed,' not at the pleasure of the United States Congress. Let the people decide." This, despite the fact that more than 70% of Americans wanted the impeachment trial to include witnesses.

And how should the people decide if there are facts and perspectives being deliberately withheld? That has been the explicit goal in Mitch McConnell's handling of the impeachment trial. Presumably, he knows what the Watergate hearings did to Richard Nixon's approval rating. Nixon resigned because the American people were exposed to who he truly was, and they turned against him. If not for those hearings, he would have remained popular. Likewise, according to a recent poll, 65% of Republicans consider Trump's interactions with Ukraine "normal presidential behavior." Consent is not truly consent if it is not informed.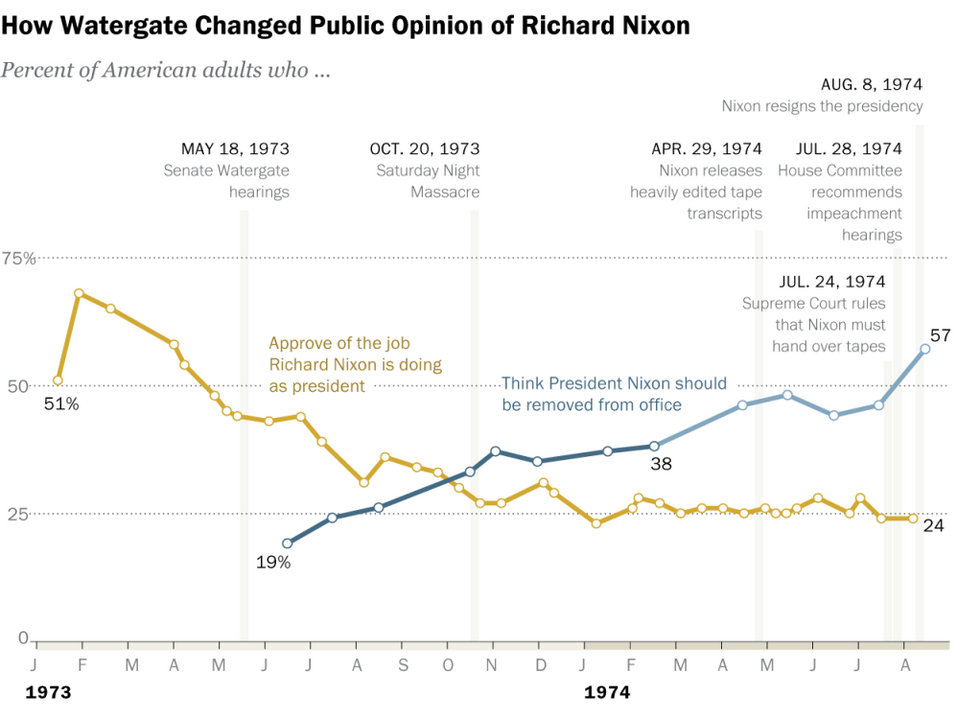 Pew Research Center
So while Lamar Alexander may be convinced that Trump acted inappropriately, without the spectacle of witness testimony, that is not the message many Americans are going to receive. They will hear that Trump has been exonerated. That impeachment was a nothing-burger and a distraction. And they probably won't read John Bolton's damning book. And Lamar Alexander knows that.

On Tuesday, Donald Trump will give his State of the Union address and will have ample opportunity to move the national conversation past his multiple deliberate attempt to interfere with the democratic process and to obstruct the various efforts to expose him—including instructions to "take out" a troublesome diplomat. Normal presidential behavior? He was trying to cheat in the election, and apparently—as long as your political party controls the majority in the senate—that's allowed.
Senator Alexander has cleared the way for the American people to carry on with normal life without truly confronting the corruption that defines Donald Trump's interactions with the world and everyone around him. He has made it increasingly likely that Donald Trump will continue to use the immense powers of the presidency to pursue personal and political ends at the expense of global stability, our democratic institutions, and a sustainable future. Lamar Alexander—along with 50 of his colleagues—will soon have effectively rubber-stamped election rigging.
But in his statement there is no indication that this choice has any significant ramifications. He is willingly obscuring the real stakes, partly out of party loyalty, and partly because his age makes those stakes abstract. He will be dead soon. Maybe not this year or the next, or even twenty years from now, but in comparison to the young membership of the Sunrise Movement—for instance—his thinking is fundamentally and frighteningly short-term.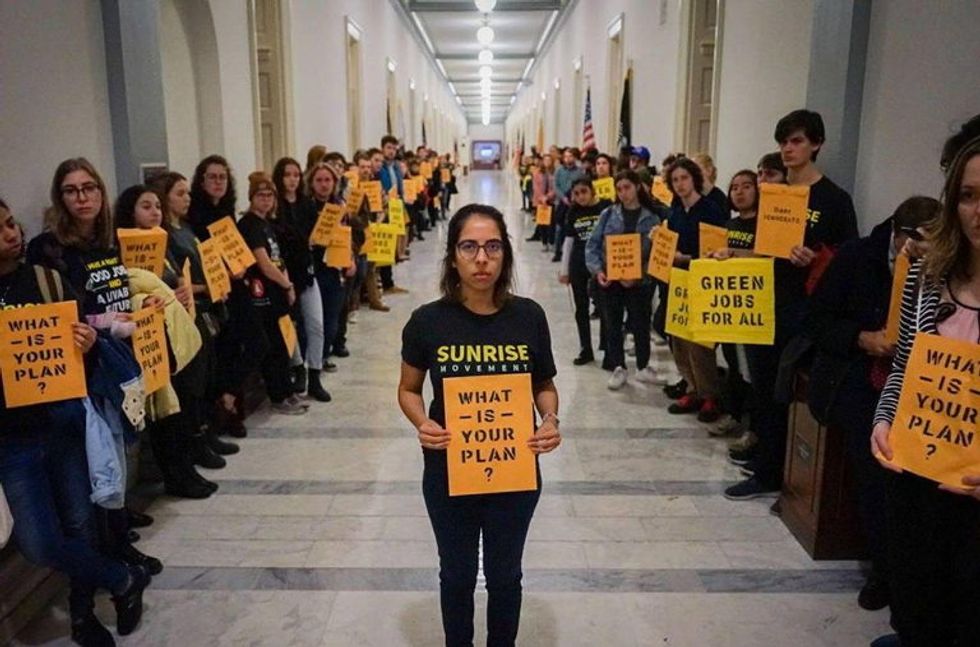 Lissy Romanow
If Donald Trump wins re-election in November, it will likely be the outcome of various efforts to leave Americans misinformed and disenfranchised and will almost certainly result in the United States fully abdicating our duty to address climate change—the "Chinese hoax"—with the urgent and intensive action it requires. And there will be many people to blame, but few who were as well-positioned to alter this horrific course of events as Senator Lamar Alexander.

So congratulations, sir. In your waning years you managed to ensure that American democracy and a livable climate are on their way out too. Way to go.
Donald Trump once again confused all of Twitter on Tuesday when he ended a Tweet with "Impeach the Pres." After seeming to all-caps brag that "MEDIAN HOUSEHOLD INCOME IS AT THE HIGHEST POINT EVER, EVER, EVER!," he claimed there are "MORE PEOPLE WORKING TODAY IN THE USA THAN AT ANY TIME IN HISTORY!" Despite these putative wins for his administration, he did not use the popular hashtag #ImpeachthePres; rather he wrote out the full sentiment, begging the question: What did he mean?

Just out: MEDIAN HOUSEHOLD INCOME IS AT THE HIGHEST POINT EVER, EVER, EVER! How about saying it this way, IN THE HI… https://t.co/eeLFQHSr3z

— Donald J. Trump (@Donald J. Trump) 1571153525.0
1. He's mocking the Left without the literacy to do so effectively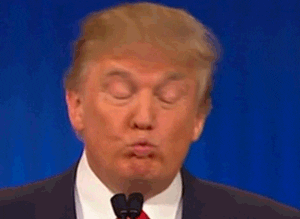 2. It's his unconscious desire to be free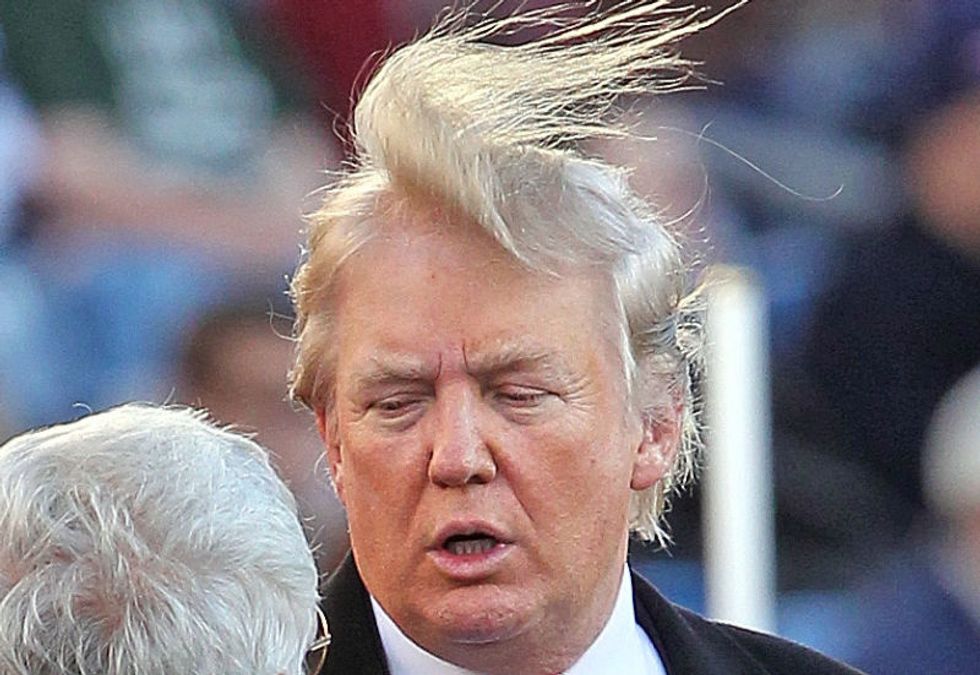 3. He believes Barack Obama is still president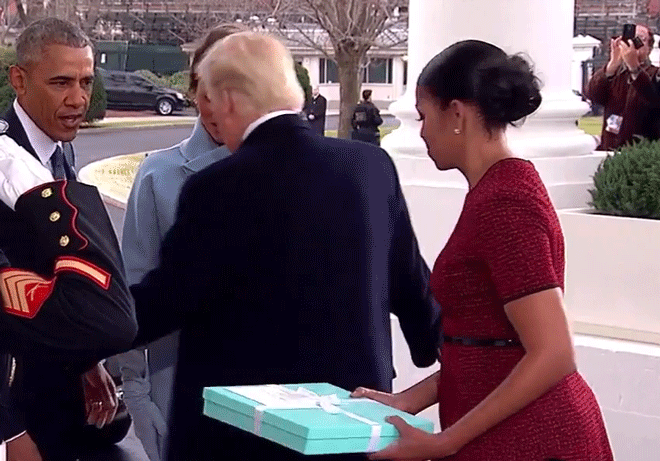 4. He meant "Impeach the Press" but his little thumbs made a typo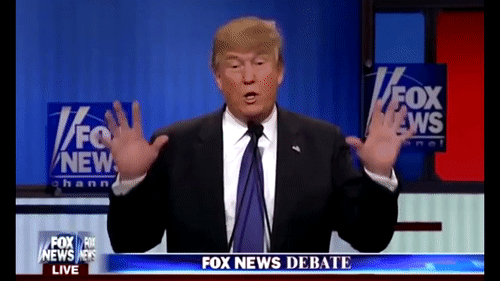 5. He means, "I'm Peach, the Pres," perhaps in response to "Orange man bad"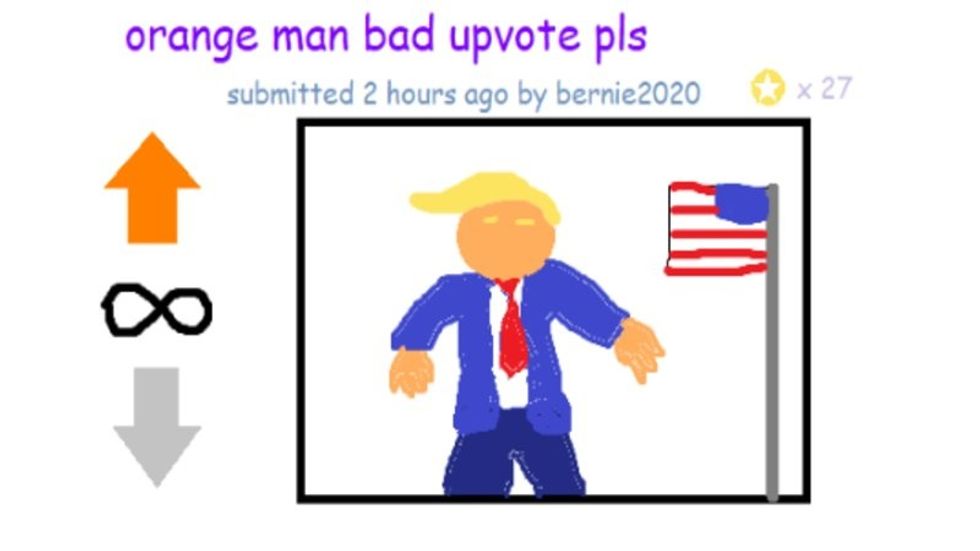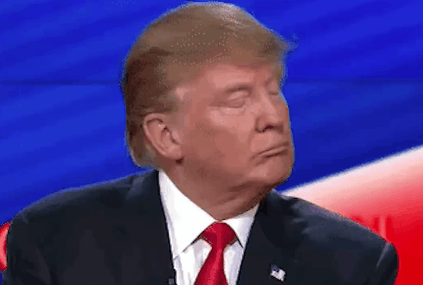 6. He wanted to end with a question mark but ran out of characters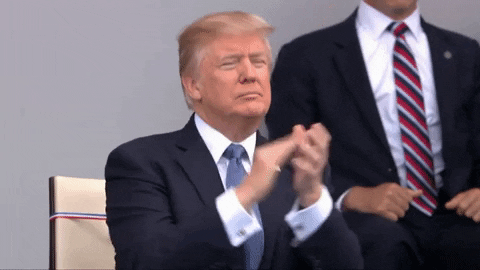 7. Seriously, maybe he just wants to go home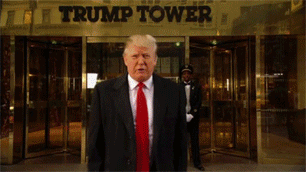 It turns out national emergencies are very subjective.
The Trump administration has laid bare many of the failings of our government.
All three government branches are privy to partisanship. Our checks and balances may not necessarily work as intended. But most alarmingly, American presidential power might be far less defined than most people realized.
Historically, dictatorial regimes have utilized "national emergencies" as excuses to consolidate and reinforce power. We've seen this playbook employed by Erdogan in Turkey and by Duterte in the Philippines. But could this happen in America? The answer is murky. In fact, national emergencies are murky territory in general, the main problem being that most of the terminology involved is broad and ill-defined.
In a video posted by The Atlantic, Elizabeth Goitein, co-director of the Liberty and National Security Program at the Brennan Center for Justice, explains, "There's no legal definition of emergency, no requirement that congress ratify the decision, and no judicial review." In other words, the decision to declare a national emergency are almost entirely up to a president's personal discretion. Normally, we assume that our elected officials have the best interest of the people in mind, and would not declare a national emergency for personal or partisan political gain. But considering Donald Trump's noted praise of dictators like Erdogan, coupled with his extreme penchant for partisanship, we can no longer simply rely on the president's best judgment.
The question then becomes, "If the president declares a national emergency now, what powers can he abuse?"
1. The Power to Take Over Wire Communication
as01.epimg.net
During a national emergency, the president has the power to shut down or take over radio stations. Assuming there's a threat of war (which, again, can be determined at the president's own discretion), that power expands to any and all wire communications. This executive power was last used during WWII, before most people utilized daily wire communication in any meaningful way beyond the occasional phone call.

Today, given the vagueness and broad applications of "wire communications," declaring a national emergency could allow the president to control Internet traffic in the US. This could include shutting down websites he didn't like, blocking emails to and from dissidents, and altering search results to only display pre-approved propaganda. Doing so would be akin to removing free speech from the Internet, and during a national emergency that would be completely within the president's power.
2. Sanctioning American Citizens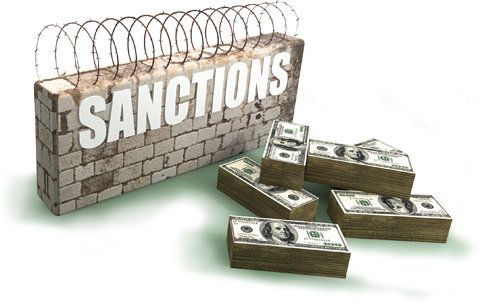 static1.squarespace.com
Imagine going to work, only to discover you've been fired because you can no longer legally be employed. You go back to your apartment and find out you're being evicted. So you go to the bank to take out cash for a hotel, but your funds are frozen. Turns out you're on a list of US citizens suspected of providing support to foreign threats. That's the potential reality of the International Emergency Economic Powers Act (IEEPA).

This act allows the president to declare a national emergency to "deal with any unusual extraordinary threat" that "has its source in whole or substantial part outside the United States." It gives the president the power to freeze assets and block transactions where a foreign nation or foreign national might have a vested interest. George W. Bush used this after 9/11 to sanction those being investigated (sometimes wrongly) of helping terrorists. Were a president to declare "illegal immigrants" a national emergency, the implications could be disastrous.
3. Deploying the Military Within the US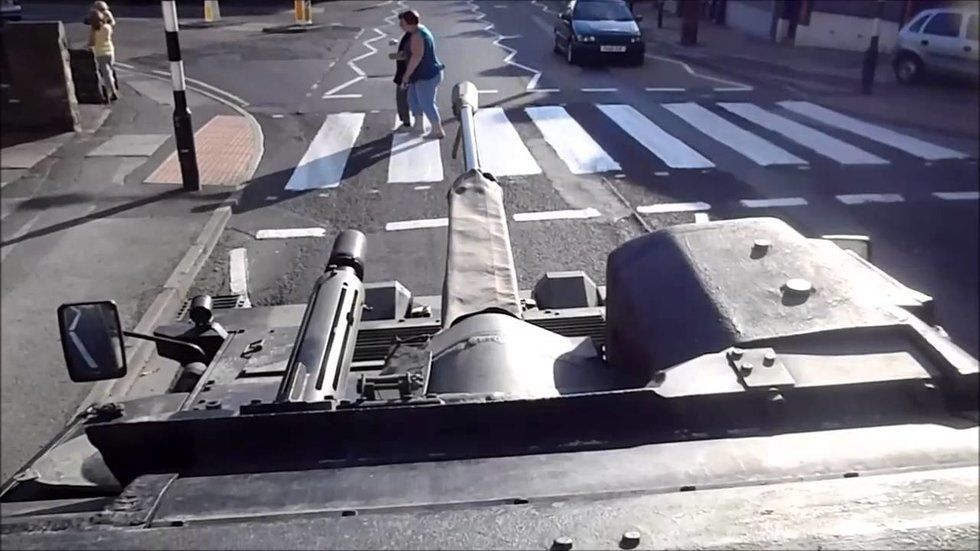 i.ytimg.com
The idea of armed soldiers marching down your city street to hunt down civilians might sound like something out of a dystopian novel. But during a national emergency, it could be an American reality. The Insurrection Act states that during a national emergency, the president can deploy military troops inside the US to suppress any "unlawful combinations" or "conspiracies" that "obstructs or hinders the execution of the law." The problem, again, is that the terms are so vaguely defined.

President Eisenhower once used this law to enforce desegregation in schools. But a president with different sentiments could just as easily use it against protestors or undocumented migrants. For instance, if Trump were to decide Black Lives Matter constituted an "unlawful combination" during a state of emergency, sending the army to suppress them would be fully within his power. Alternatively, a sanctuary city harboring illegal immigrants might be interpreted as a "conspiracy" and therefore subject to military rule.
In many ways, the limits of an American president's power during a national emergency have not been tested. On one hand, theoretical checks and balances do exist which could allow Congress to end a national emergency that was being abused. On the other hand, this would require a majority that a largely partisan Senate would likely not have. There also might be opportunities for the courts to block various moves made during a national emergency but, again, the legality here is largely untested.
Ultimately, as citizens, we must keep a watchful eye on our president's actions should he declare a national emergency. And if things go south, we must keep this in mind the next time we vote. After all, when one person who is supposed to represent all of us holds so much power, we must make sure it is a person of strong enough character and mental capability to understand the repercussions of his or her actions.