His announcement that he will not be voting to allow witnesses in the impeachment trial has lasting implications for the country and the world.
Behold the arbiter of your future.
This is the Senator who has decided that there is no need to call witnesses in the impeachment trial of Donald Trump—a man who used his powers as president in a deliberate attempt to subvert the electoral process with the assistance of a foreign government. Lamar Alexander, a 79-year-old white man from Tennessee, has unilaterally determined that Donald Trump's crimes are not worthy of punishment from the only body with the capacity to hold him accountable. As a result, by the time you read this, Donald Trump will likely have already been acquitted and the impeachment will be over.
Alexander's claim—according to the statement released Thursday night—is that Trump's misdeeds have already been proven, and there's no need for the public spectacle of witnesses attesting to those misdeeds on national TV. He asserts that, while withholding military aide from Ukraine until they publicly announce an investigation into your political opponent may be a bad look, it doesn't rise to the "Constitution's high bar for an impeachable offense." And it is not the Senate's role "to remove the president from office and ban him from this year's ballot simply for actions that are inappropriate."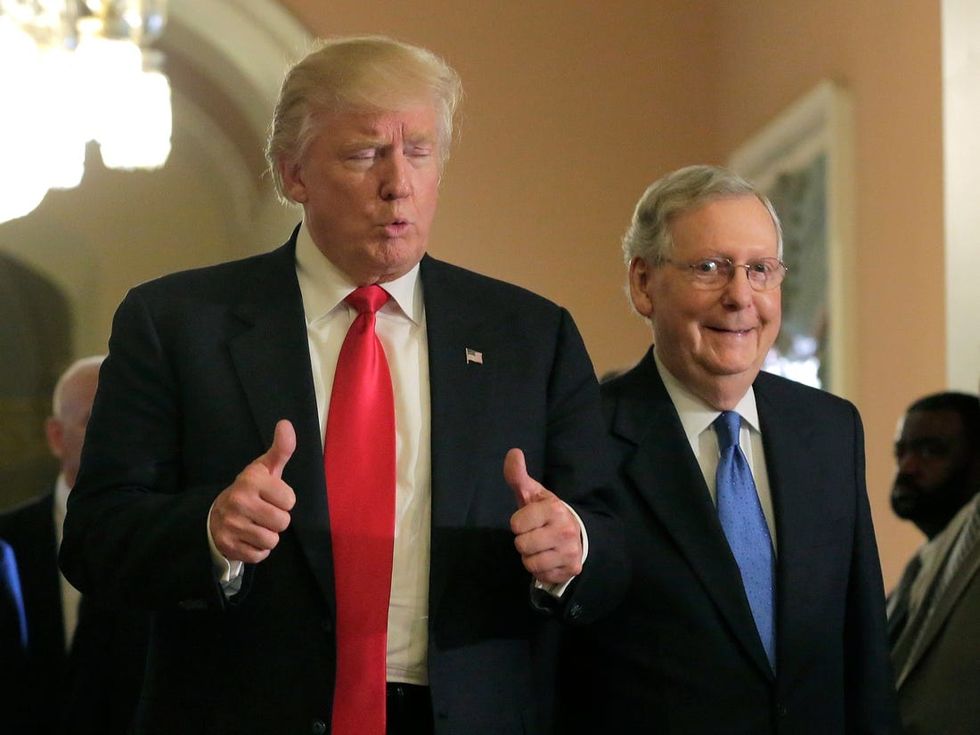 Joshua Roberts/Reuters
There is some truth to this statement, but it's a small truth that helps to conceal a much bigger lie. Granted, there are varying legal opinions on what constitutes "high crimes and misdemeanors," and there was essentially zero chance that the Senate's Republican majority was ever going to vote to remove Donald Trump from office. So why bother going through the motions of a legitimate impeachment trial—allowing new evidence and witness testimony? The answer lies in another portion of Alexander's statement: "Our founding documents provide for duly elected presidents who serve with 'the consent of the governed,' not at the pleasure of the United States Congress. Let the people decide." This, despite the fact that more than 70% of Americans wanted the impeachment trial to include witnesses.

And how should the people decide if there are facts and perspectives being deliberately withheld? That has been the explicit goal in Mitch McConnell's handling of the impeachment trial. Presumably, he knows what the Watergate hearings did to Richard Nixon's approval rating. Nixon resigned because the American people were exposed to who he truly was, and they turned against him. If not for those hearings, he would have remained popular. Likewise, according to a recent poll, 65% of Republicans consider Trump's interactions with Ukraine "normal presidential behavior." Consent is not truly consent if it is not informed.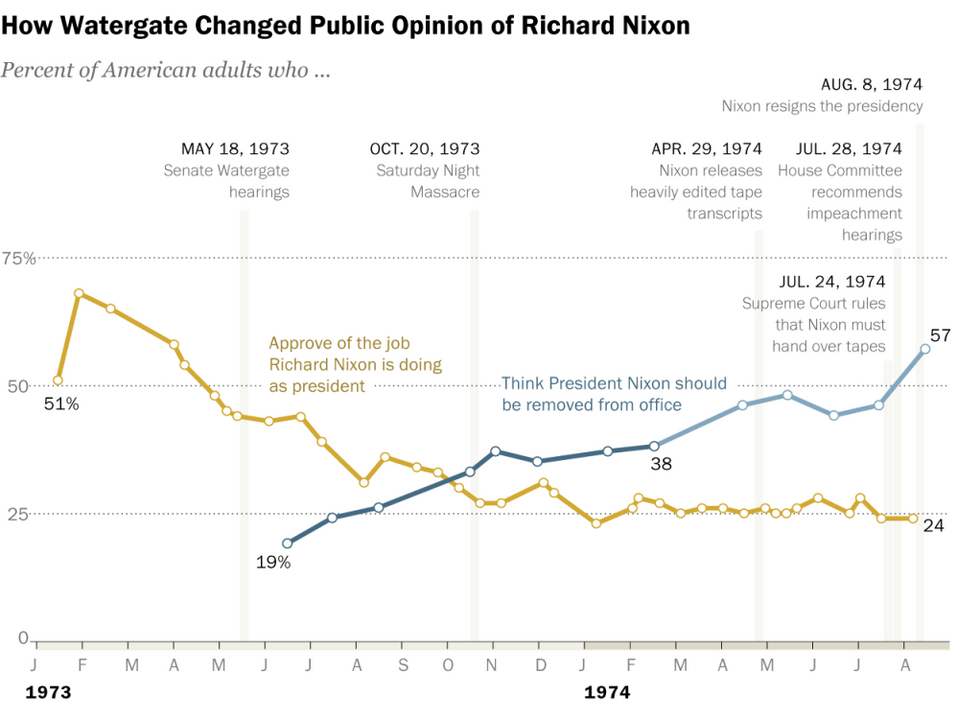 Pew Research Center
So while Lamar Alexander may be convinced that Trump acted inappropriately, without the spectacle of witness testimony, that is not the message many Americans are going to receive. They will hear that Trump has been exonerated. That impeachment was a nothing-burger and a distraction. And they probably won't read John Bolton's damning book. And Lamar Alexander knows that.

On Tuesday, Donald Trump will give his State of the Union address and will have ample opportunity to move the national conversation past his multiple deliberate attempt to interfere with the democratic process and to obstruct the various efforts to expose him—including instructions to "take out" a troublesome diplomat. Normal presidential behavior? He was trying to cheat in the election, and apparently—as long as your political party controls the majority in the senate—that's allowed.
Senator Alexander has cleared the way for the American people to carry on with normal life without truly confronting the corruption that defines Donald Trump's interactions with the world and everyone around him. He has made it increasingly likely that Donald Trump will continue to use the immense powers of the presidency to pursue personal and political ends at the expense of global stability, our democratic institutions, and a sustainable future. Lamar Alexander—along with 50 of his colleagues—will soon have effectively rubber-stamped election rigging.
But in his statement there is no indication that this choice has any significant ramifications. He is willingly obscuring the real stakes, partly out of party loyalty, and partly because his age makes those stakes abstract. He will be dead soon. Maybe not this year or the next, or even twenty years from now, but in comparison to the young membership of the Sunrise Movement—for instance—his thinking is fundamentally and frighteningly short-term.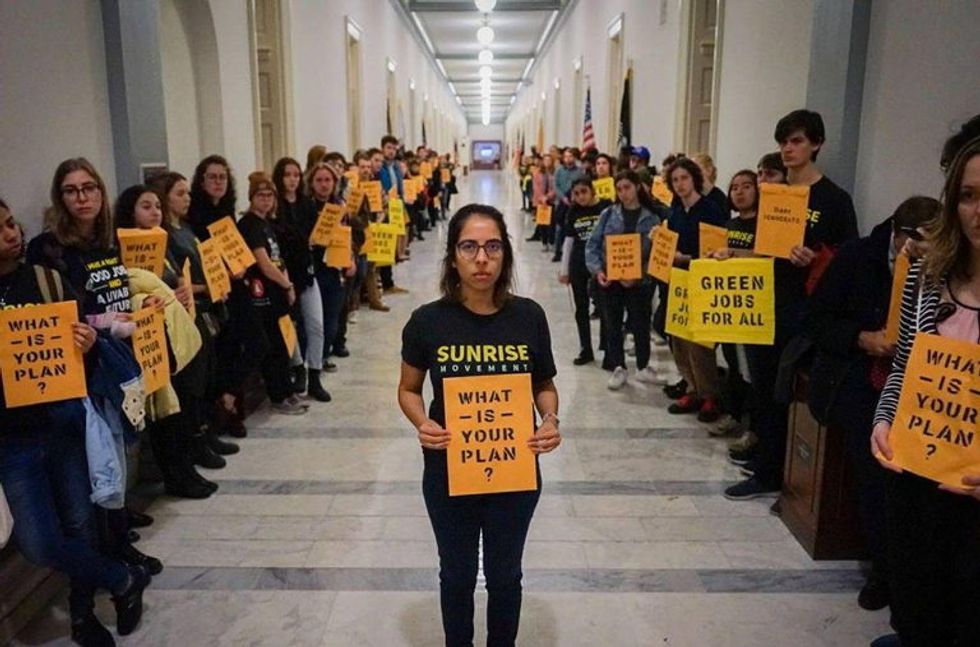 Lissy Romanow
If Donald Trump wins re-election in November, it will likely be the outcome of various efforts to leave Americans misinformed and disenfranchised and will almost certainly result in the United States fully abdicating our duty to address climate change—the "Chinese hoax"—with the urgent and intensive action it requires. And there will be many people to blame, but few who were as well-positioned to alter this horrific course of events as Senator Lamar Alexander.

So congratulations, sir. In your waning years you managed to ensure that American democracy and a livable climate are on their way out too. Way to go.
The most powerful people in the world need to go to the bathroom, too! (You won't BELIEVE the last on our list)
World leaders might seem larger than life, but even the most powerful people in society are actually just like us!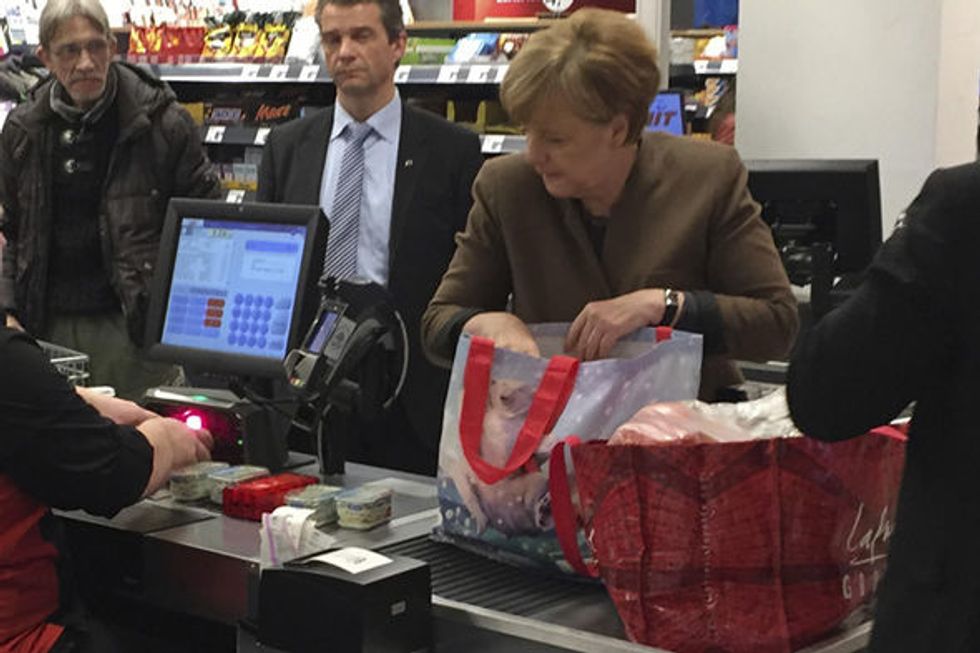 SPLASH
They Shop at the Supermarket!

German chancellor Angela Merkel digs through her bag at the supermarket checkout while flanked by security.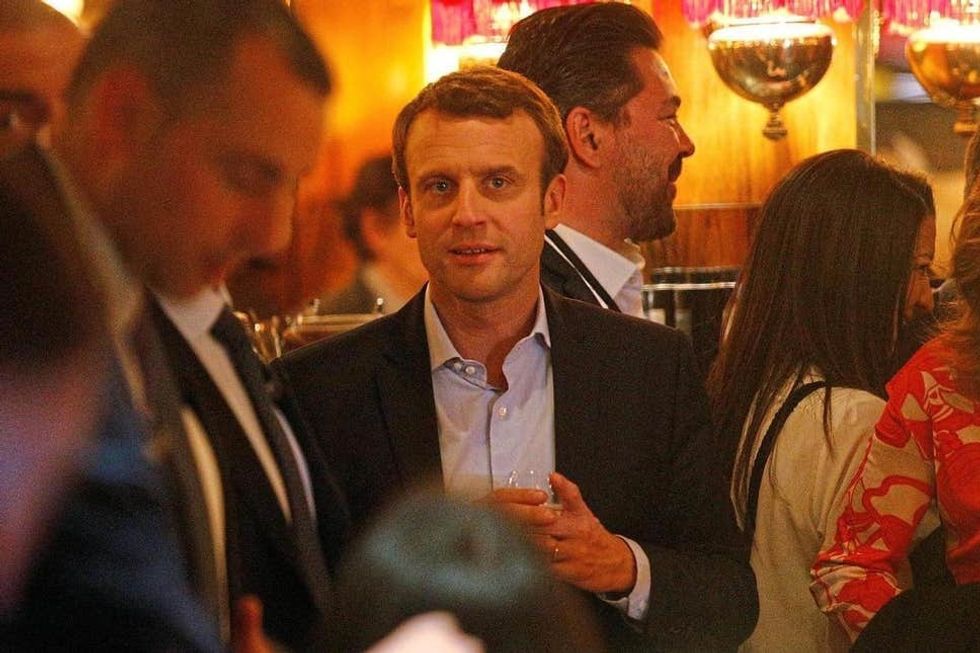 GEOFFROY VAN DER HASSELT/GETTY
They Go to Restaurants!
French president Emmanuel Macron enjoys a tasty beverage at La Rotonde.
Must See: Trudeau Caught on Camera Joking About Trump www.youtube.com
They Make Fun of Stupid People!

Canadian prime minister Justin Trudeau laughs it up with other world leaders at the expense of the most stupid guy they all know. Even weak UK prime minister Boris Johnson joins in to avoid being on the bottom of the world leader totem pole!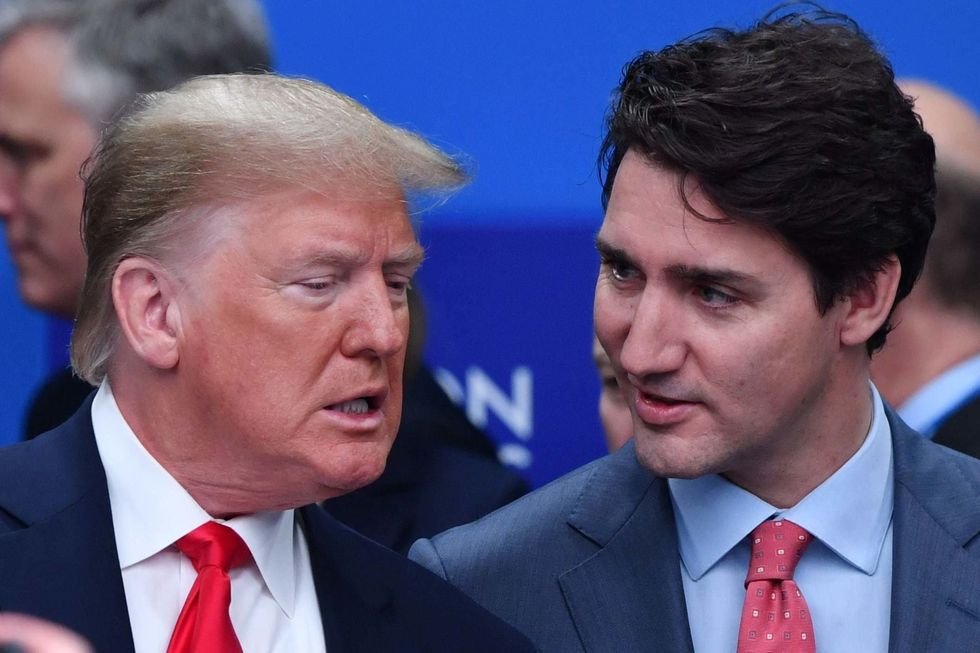 https://www.standard.co.uk/news/world/donald-trump-justin-trudeau-twofaced-nato-a4304571.html
They Don't Respect Stupid People So Much That They Openly Admit to Trash Talking Them!

Canadian prime minister Justin Trudeau gets covertly taped goofing on US president Donald Trump ("You just watched his team's jaws drop to the floor," he said in regards to Trump holding an impromptu press conference that derailed the NATO schedule). Then, after being asked about it by the media, Trudeau is pretty much just like, "Yeah, that guy's a f*cking moron." Okay, he's a little more eloquent than that: "I was happy to be part of it but it was certainly notable," Trudeau said.
President Donald Trump called Justin Trudeau 'two-faced' over comments that the Canadian prime minister appeared to… https://t.co/FwBwUbMfFQ

— Reuters (@Reuters) 1575469764.0
They Whine and Attempt to Call Their More Powerful Rivals Names When Their Feelings Get Hurt!
US president Donald Trump tries his best to insult Canadian prime minister Justin Trudeau, calling him "two-faced" in response to the surfaced video of Trudeau roasting him.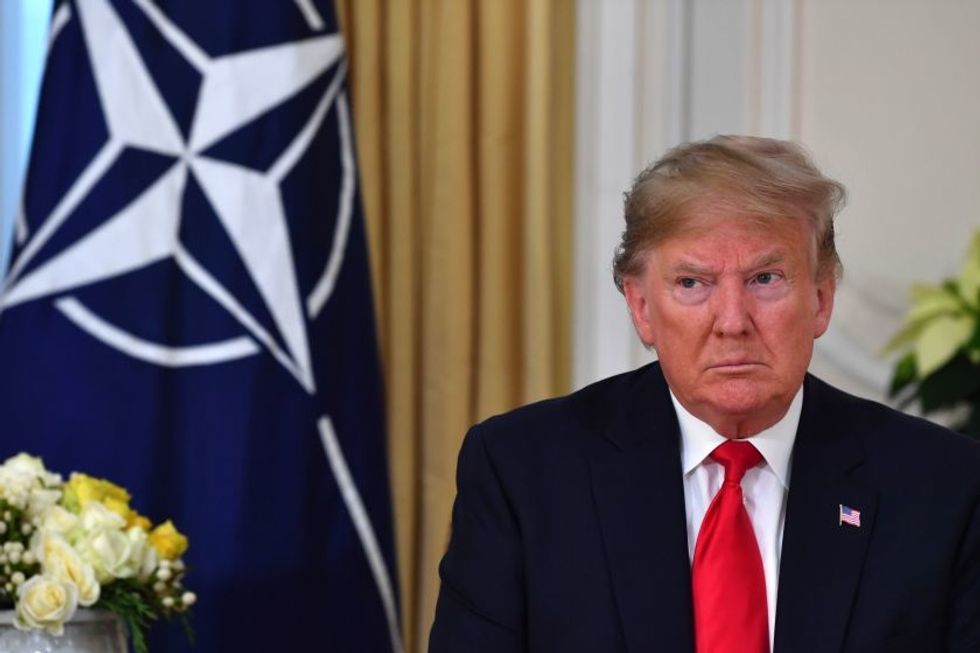 https://www.latimes.com/politics/story/2019-12-03/trump-blasts-macron-nato-unity-meeting
They Give Up and Run Back to Their Safe Spaces!

US president Donald Trump ultimately can't handle the big leagues, so after a pathetic attempt at calling Canadian prime minister Justin Trudeau names, Trump quits NATO and runs back home to his safe space in America.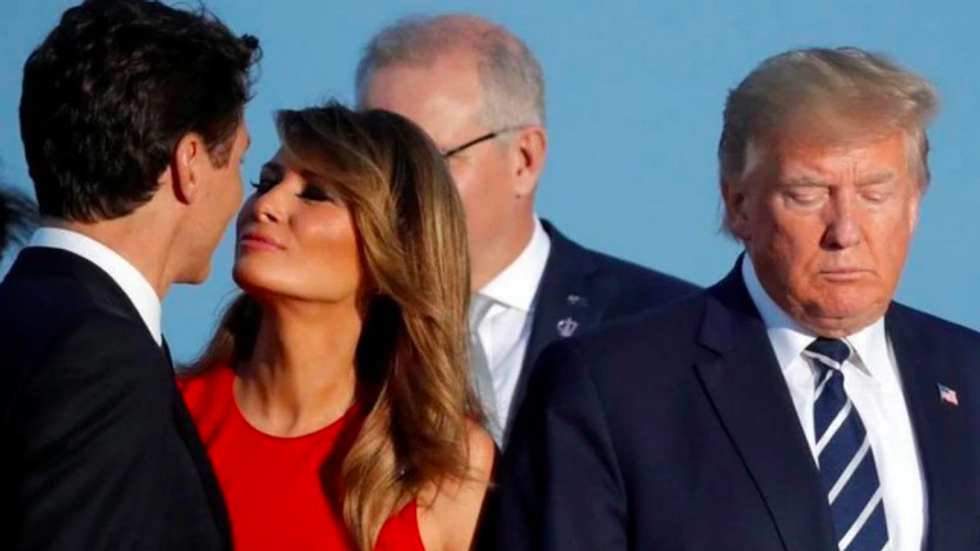 Reuters
They Ultimately Succumb to Their Stronger, More Handsome Rivals!

US President Donald Trump sulks as his wife Melania, who allegedly sleeps in a separate bedroom from him, gets extra friendly with his biggest rival, Canadian prime minister Justin Trudeau. Trump loves to prove that his supporters who constantly shout about "cucks" are, as always, projecting.
At the end of the day, maybe we're not so different from world leaders after all!
Because the Military Forcing a Resignation is True Democracy
Bernie Sanders and Alexandria Ocasio Cortez would have you believe that Evo Morales's recent resignation at the behest of the Bolivian military was a coup.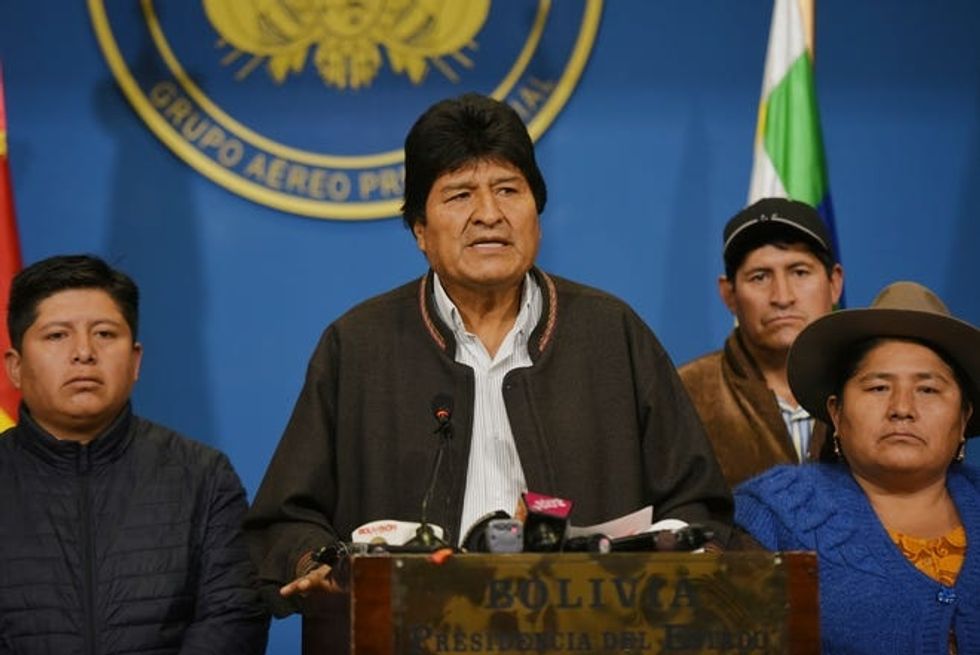 Don't be fooled! A coup is something bad that bad people do to take control of a democratically elected government, but there were actually irregularities in Bolivia's recent election, which means it's not democracy. Can you even imagine if there was ever any suggestion of electoral irregularities or cheating in the US? We would flip out. And yes, Evo Morales agreed to hold a second election, but that sounds boring, and it would take so much longer than just using the military to force him to leave so an opposition senator can declare herself president while wielding a giant bible and banishing indigenous belief systems from the palace.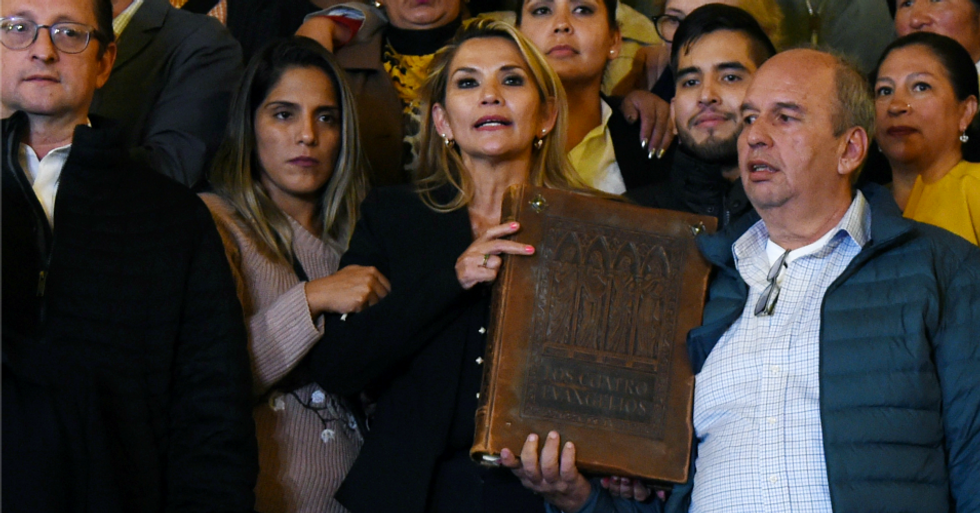 Speaking of elections, can you believe this impeachment nonsense? That's the real coup—the kind that is laid out in the constitution as an official process and is run according to rules established by the president's political allies. They've been acting as if just because this is a completely different context and process than a criminal trial, it doesn't need to follow the same rules as a courtroom. Since when? They're making this fundamentally political process into something ugly and political. Why can't these Democrat bozos just wait a year for the next election?

The Wall Street Journal knows what's up. Their opinion page has declared Evo Morales's resignation a "Democratic Breakout" and informed us that the impeachment "Subverts the Constitution." Clearly, if the Democrats were really upset with Trump's using military aid to get a foreign government to interfere with the 2020 election, they should not have investigated. They should have waited for an independent organization to point out the issues after Trump won reelection, then wait for Trump to agree to a new election before having the military kick him out of the country and allowing Dianne Feinstein to declare herself the new president. That's democracy! Investigating the President's crimes and airing his dirty laundry in front of the whole country, then having elected representatives who are accountable to their voters decide whether he should be removed from office—that's a coup.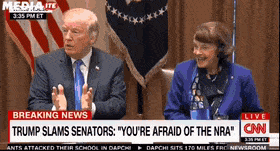 Of course, if you disagree with these sentiments, you may want to voice your opinion by calling your congressional representatives or signing a petition to have Congress acknowledge the Bolivian coup, so the US cannot support the new, unelected government. But that would be crazy.