Dall-E Mini, the AI-powered text-to-image generator has taken over the internet. With its ability to render nearly anything your meme-loving heart desires, anyone can make their dreams come true.
DALL-E 2, a portmanteau of Salvador Dali, the surrealist and Wall-E, the Pixar robot, was created by OpenAI and is not widely available; it creates far cleaner imagery and was recently used to launch Cosmpolitan's first AI-generated cover. The art world has been one of the first industries to truly embrace AI.
The open-sourced miniature version is what's responsible for the memes. Programmer Boris Dayma wants to make AI more accessible; he built the Dall-E Mini program as part of a competition held by Google and an AI community called Hugging Face.
And with great technology, comes great memes. Typing a short phrase into Dall-E Mini will manifest 9 different amalgamations, theoretically shaping into reality the strange images you've conjured. Its popularity leads to too much traffic, often resulting in an error that can be fixed by refreshing the page or trying again later.
If you want to be a part of the creation of AI-powered engines, it all starts with code. CodeAcademy explains that Dall-E Mini is a seq2seq model, "typically used in natural language processing (NLP) for things like translation and conversational modeling." CodeAcademy's Text Generation course will teach you how to utilize seq2seq, but they also offer opportunities to learn 14+ coding languages at your own pace.
You can choose the Machine Learning Specialist career path if you want to become a Data Scientist who develops these types of programs, but you can also choose courses by language, subject (what is cybersecurity?) or even skill - build a website with HTML, CSS, and more.
CodeAcademy offers many classes for free as well as a free trial; it's an invaluable resource for giving people of all experience levels the fundamentals they need to build the world they want to see.
As for Dall-E Mini, while some have opted to create beauty, most have opted for memes. Here are some of the internet's favorites:
There's no looking back now, not once you've seen Pugachu; artificial intelligence is here to stay.
ALEC puts people in for-profit jails, prevents gun laws, and stops action against climate change—all from inside locked hotel conference rooms.
In the "corporate bill mill" where corporate leaders and politicians meet, schmooze, and decide the future of the planet, evil is at work.
Georgia Senator Nan Orrick, a former ALEC (American Legislative Exchange Council) member, describes back rooms in Vegas resorts and behind-closed-doors legislative sessions where corporations not only vote on bills—they write them.
ALEC brands itself as an educational charity, she says, but hefty donations (memberships can cost $25,000 a year) fund "education efforts" for legislators, according to a local 11 Alive broadcast—educational efforts led by multi-billion dollar corporations with specific agendas.
The Investigators: ALEC - The Backroom Where Laws Are Born www.youtube.com
In the end, Orrick left ALEC because it was just a bunch of "angry white men," she said.

But these "angry white men" have arguably guided America towards the state it's currently in, making some sort of revolution inevitable.
From the Prison Industrial Complex to Stand Your Ground: ALEC's History of Oppression and Harm
ALEC was partly responsible for the massive spike in prison populations over the last few decades—a 500% increase over the last 40 years, to be exact. In 1995, ALEC's "Truth Sentencing Act" was signed in 25 states. ALEC also pushed for mandatory minimum sentences for nonviolent drug offenders. And ALEC helped privatize the bail bond industry and has worked to pass laws to create for-profit prisons, catalyzing what we now know as the Prison Industrial Complex.
Unsurprisingly, two of ALEC's major sponsors include the Corrections Corporation of America and the Geo Group (formerly Wackenhut Corrections).
"An In These Times investigation last summer revealed that ALEC arranged secret meetings between Arizona's state legislators and CCA to draft what became SB 1070, Arizona's notorious immigration law, to keep CCA prisons flush with immigrant detainees," write Mike Elk and Bob Sloan in The Nation. "ALEC has proven expertly capable of devising endless ways to help private corporations benefit from the country's massive prison population."
In Ava DuVernay's documentary 13th, which tells the story of Black oppression in America from the ratification of the 13th Amendment in 1865 until today, she dives into ALEC and how—building on momentum from the War on Drugs—it resulted in the mass criminalization of Black people, leading to a system of punishment that Michelle Alexander calls "The New Jim Crow."
13TH | FULL FEATURE | Netflix www.youtube.com
ALEC has a long track record of creating racist policies that disenfranchise vulnerable populations. For example, they were an origin point of voter ID laws that successfully prevented many voters from participating in elections. In 2011, the civil rights organization Color of Change launched an investigation into ALEC's political actions in 2011, and reported that for years, "the right wing has been trying to stop Black people, other people of color, young people, and the elderly from voting for partisan gain—and now some of America's biggest companies are helping them do it."

ALEC was also responsible for creating the "Stand Your Ground Laws," which helped George Zimmerman go home free after he shot Trayvon Martin.
Once people began connecting the dots and investigating this law across states, they realized that the bill looked almost identical from state to state—and were able to trace its origins back to ALEC.
A Foundation Built on Disregard For Human Life
Destruction is in ALEC's lifeblood. Two of ALEC's early founders were the Koch brothers, both of whom played a significant role in destroying early government action against climate change. Over recent years, ALEC has doubled down on its efforts to defend fracking and to fight against protestors and whistleblowers, passing bills that threaten to fine and imprison anyone who attempts to vandalize pipelines, and beyond.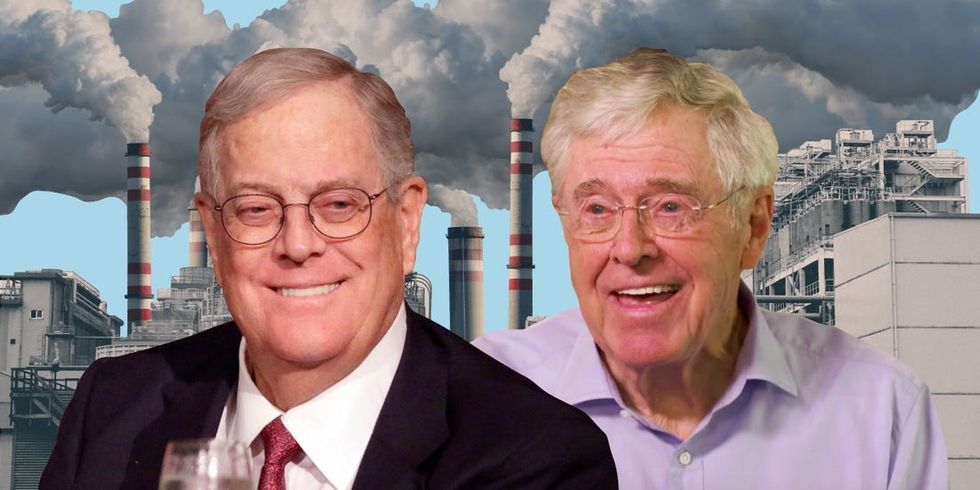 Koch Brothers
Other current corporate sponsors include the tobacco industry, the giant pharmaceutical company Pfizer, the National Rifle Association, Wal-Mart, ExxonMobil, and hundreds of other corporations. That means that these major corporations have a say in what bills are passed where.

ALEC has faced some resistance. After whistleblowers published a database called ALEC Exposed in Wikipedia, corporate sponsors began to face pressure to leave the shadowy lawmaking organization. Coca-Cola, Kraft, Intuit, the Gates Foundation, Google, and other companies pulled out. Hundreds of legislators have cut ties—but ALEC continues to meet year after year.
ALEC Is Still Alive and Well—and Was Fighting to Reopen in Mid-May
ALEC is still alive and well today, if quiet (or very good at diverting attention from it). According to the ALEC Exposed Wikipedia page, ALEC has been "Leading Right-Wing Campaign to Reopen the Economy Despite COVID-19" this May.
The suffering that some of ALEC's bills have caused is literally unimaginable–and genuinely apocalyptic in scale. The number of lives ruined from big pharma, gun violence, climate change, and mass incarceration is absolutely uncountable. Bills like the "No Sanctuary Cities for Illegal Immigrants Act," the "Consistency of Firearm Regulation" Act (which prevents local areas from restricting firearm possession), and many others have each had brutal lived consequences on people's lives—and each was created in an unjust, secretive way.
Yet ALEC still insists that it's a legal organization and that its nay-sayers are simply delusional leftists.
But if ALEC really were a legal organization, wouldn't they open their doors to the media instead of forcibly removing the reporters who try to enter at its annual policy summit?
Of course the fact that corporations are running the show nowadays isn't exactly a surprise, and ALEC is just one of the many corporate lobbyist groups that are "ghostwriting the government," as one Harvard Political Review report put it. The best of these groups are probably so secretive that no one knows exactly what they're called or where they are. Certainly, ALEC is growing alongside the times, figuring out how to further its agenda as more politicians refuse corporate donations, and who knows: It may disappear completely, reforming itself as another slick corporate group in some other identical hotel ballroom, ruining lives with the flick of a few keystrokes.
But at least the people are beginning to wise up to the fact that many of our lawmakers have pledged allegiance not to the people but to corporations.
United States of ALEC: A Follow-Up www.youtube.com
There has been a lot of recent buzz about the idea of a "wealth tax" in the United States, particularly since Rep. Alexandria Ocasio-Cortez of New York appeared on "60 Minutes" and laid out a plan that would tax the richest Americans at a rate as high as 70%, nearly doubling the current 37% top rate. Additionally, 2020 Democratic Presidental candidate and Massachusetts senator, Elizabeth Warren, is reportedly working with UC Berkeley economists Emmanuel Saez and Gabriel Zucman to design a proposal to levy a wealth tax on Americans with fortunes over $50 million. While these numbers may seem difficult to grasp, the kinds of wealth taxes democrats are proposing are not only not as extreme as they sound, but already practiced successfully in other parts of the world.
Firstly, it's important to keep in mind that America operates on a progressive tax system, meaning, as Business Insider puts it, "as a person earns more and progresses through tax brackets, their tax rate increases for each level of income." So while many people balked at the idea of a 70% flat tax rate, Ocasio-Cortez clarified "Once you get to the tippy-tops, on your 10 millionth dollar, sometimes you see tax rates as high as 60% or 70%," she said. "That doesn't mean all $10 million are taxed at an extremely high rate. But it means that as you climb up this ladder, you should be contributing more." Essentially, the rich would not suddenly be destitute under this proposed plan; they would merely have to contribute an increasing amount as their fortune grew. So it wouldn't be the entirety of their $10 million fortune that would be taxed at 70%, but their 10 millionth dollar. While under Warren's proposal, the US would adopt a progressive wealth tax that would levy a 2 percent tax on fortunes worth more than $50 million, and a 3 percent tax on fortunes worth more than $1 billion, meaning billionaires would contribute amounts that are negligible in the context of their total fortune.

This would be similar to France's wealth tax policy, which is triggered at €1.3 million, but only the first €800,000 of this amount is tax free, and taxpayers pay between 0.5% and 1.5% on anything over this each year. This tax has worked successfully in France, despite it being applied to significantly lower amounts of wealth than Elizabeth Warren is proposing. Meanwhile, in Denmark, the highest tax bracket sees about 15% taxation, and citizens report great satisfaction in terms of quality of life and government services. In summary, wealth taxes are a simple and effective way to ensure that wealth does not become too heavily monopolized by a few people, while also ensuring that the poorest people are taken care of by the state.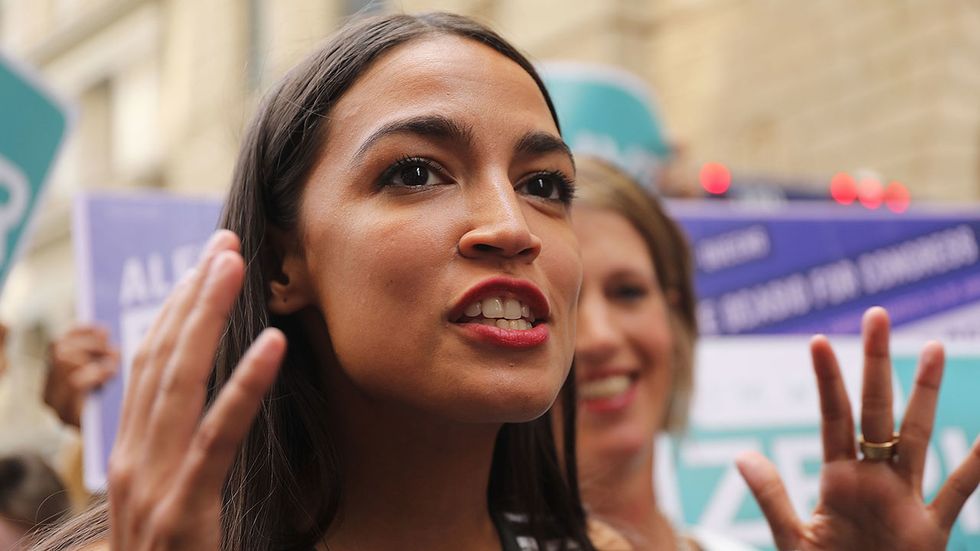 But some don't see it that way, with many on the right reacting strongly to suggestions of an American wealth tax. House Republican whip Steve Scalise called Ocasio-Cortez's idea a "leftist fantasy program," while more moderate voices didn't react quite as strongly, but still suggested that while income tax laws definitely need to be reformed, a wealth tax is not the way to do it.

But to truly understand the argument, one has to compare what a wealth tax would mean to a real life billionaire, vs. what it would mean for the country. For example, with Warren's plan, only an approximate 75,000 families would be minorly affected, but the United States would earn an additional $2.75 trillion over a 10-year period. If you take the $57 billion fortune of Mark Zuckerberg, and apply this tax idea, he would only be taxed $1.7 billion, and then close to $0 in the following years if his fortune didn't continue to accumulate. For him, $1.7 billion is a small number that would in no way affect his quality of life. But if you think of the social services that would benefit from that $1.7 billion, you would undoubtedly see widespread effects improving the lives of the poorest Americans, making it difficult to argue that an American wealth tax would do anything but help the state of the nation.
Is America finally headed towards real gun reform?
Tonight, the iconic Las Vegas strip will go dark to mark the first anniversary of the mass shooting that killed 58 people.

Fans were gathered on the Strip for the Route 91 Harvest Festival, listening to Jason Aldean close out the night's performances. Meanwhile, Stephen Paddock, equipped with semi-automatic firearms, was in a room on the 32nd floor of the Mandalay Bay hotel. At 10:05 p.m., Paddock opened fire on the crowd. For the following ten minutes, pandemonium ruled as victims fell and survivors scrambled to avoid the spray of bullets. More than 400 people were injured by Paddock's bullets, and hundreds more were hurt trying to flee the scene.
In the wake of the shooting, many legislators pledged to make strides to reform gun laws. Now, a year later, little has changed. An Associated Press review of all the firearms-related legislation that passed this year shows mixed results. In some states, gun control bills did pass, but the "year was not the national game-changer that gun-control advocates had hoped it could be," AP reports.
Many Americans are using the anniversary of the Vegas massacre to remind the public of the need for meaningful gun reform. Zach Elmore, brother of Alicia Elmore, who was a victim of the Vegas shooting, marks the anniversary by asking people to vote in November. In a letter published in the Seattle Times, Elmore says that voters can help to end gun violence "in just a few weeks by electing gun-sense candidates up and down the ballot. It's critical that we elect candidates who will stand up and take action rather than just accepting shootings on our streets, at concerts, at playgrounds and in our homes."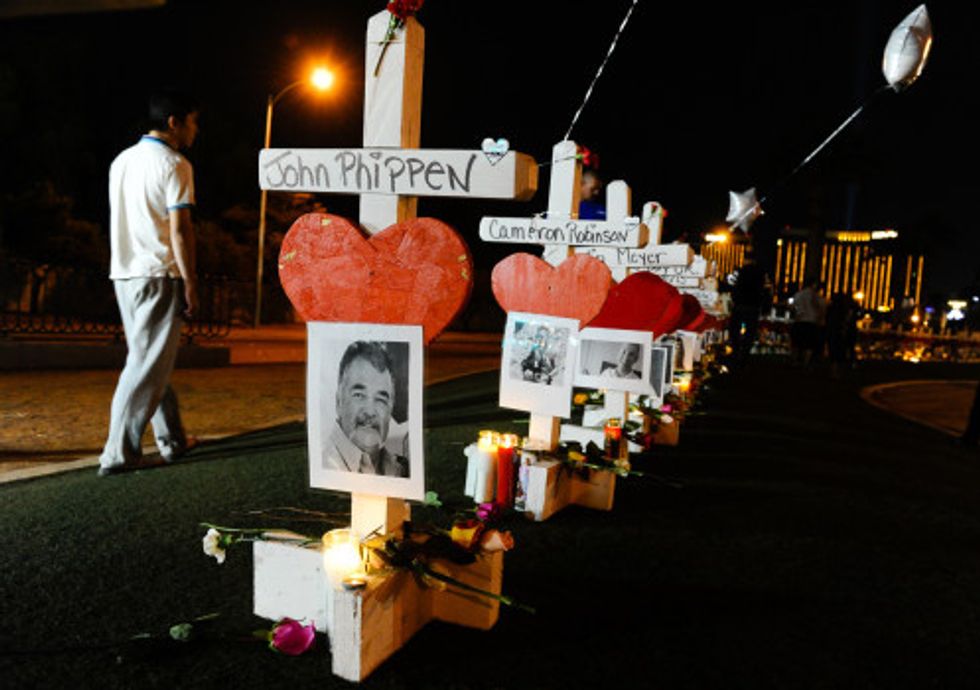 The Press-Enterprise
Elmore is not alone in his sentiment. Students and activists gathered in D.C. Sunday to remember the 58 victims of the massacre and demand national gun reform. Robert Disney, the organizing director of the Brady Campaign To Prevent Gun Violence, attended the protest and said, "I'm here because I'm sick of the way the NRA has a chokehold on Congress, I think for the first time in my lifetime, we have a chance to break the chokehold, and I am doing everything I can to help that to happen."
Law enforcement officials said that at least a dozen of the 23 firearms found in Las Vegas were semi-automatic rifles legally modified to fire like automatic weapons, using an alteration known as a bump fire stock. Nevada law allows the purchase of machine guns and silencers in compliance with federal law and regulations, so Paddock's possession of the guns used in the attack was lawful, but perhaps not for much longer.
This morning President Donald Trump said in a speech addressing the anniversary that rapid-fire devices like those used in the Las Vegas massacre will soon be "ruled out." He stated, "We are knocking out bump stocks. I've told the NRA. Bump stocks are gone."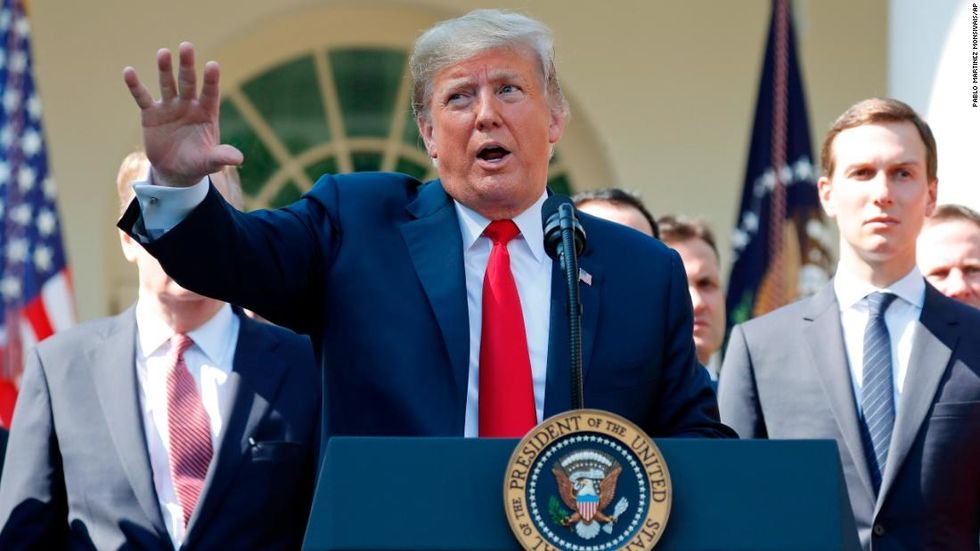 CNN
NBC News reports the Justice Department's confirmation that a proposal to ban bump stocks was sent late last week to the Office of Management and Budget for review. After a review of up to 90 days, the proposal will be published in the Federal Register and made available for public comment. The proposal would ban the manufacture, importation, and possession of bump stocks.
While reforms of this kind have been proposed and shot down multiple times since the Las Vegas massacre, this is the first that's been backed by President Trump.
---
Brooke Ivey Johnson is a Brooklyn based writer, playwright, and human woman. To read more of her work visit her blog or follow her twitter @BrookeIJohnson.
Keep reading...
Show less