We've all been there. You were gifted a dumb present that you'll never in a million-zillion years ever use and you're too polite to tell anyone any differently. It sits at the bottom of your drawer for months, then years. And when you finally feel like enough time has passed, you can throw it out in good conscience.
A return is almost always out of the question. Plus, gift givers don't often include a return receipt, and we all know we wouldn't dare ask for one. I'd rather admit to a crime than confess I don't like a gift - how insulting to the gifter's sense of aesthetics.
And-hey, I have limited drawer space. Who can keep these unwanted gifts for six months when there isn't any space for them? I hate clutter, and unwanted gifts are just that.
This year, I am making an effort to swiftly remove any unwanted gifts from my house without hurting anyone's feelings…and potentially benefiting others. As the old saying goes, one man's trash is another man's treasure. And thank goodness for that.
From the The Guardian:
"According to research published this week by the consumer body, one in four people (24%) received an unwanted or unsuitable gift for the Christmas of 2021. Meanwhile, a separate study by the personal finance comparison site Finder said £1.2bn was wasted on unwanted Christmas gifts each year."
Come to terms with the fact that you will never use that gift and follow these quick tips to offload those unwanted gifts:
Donate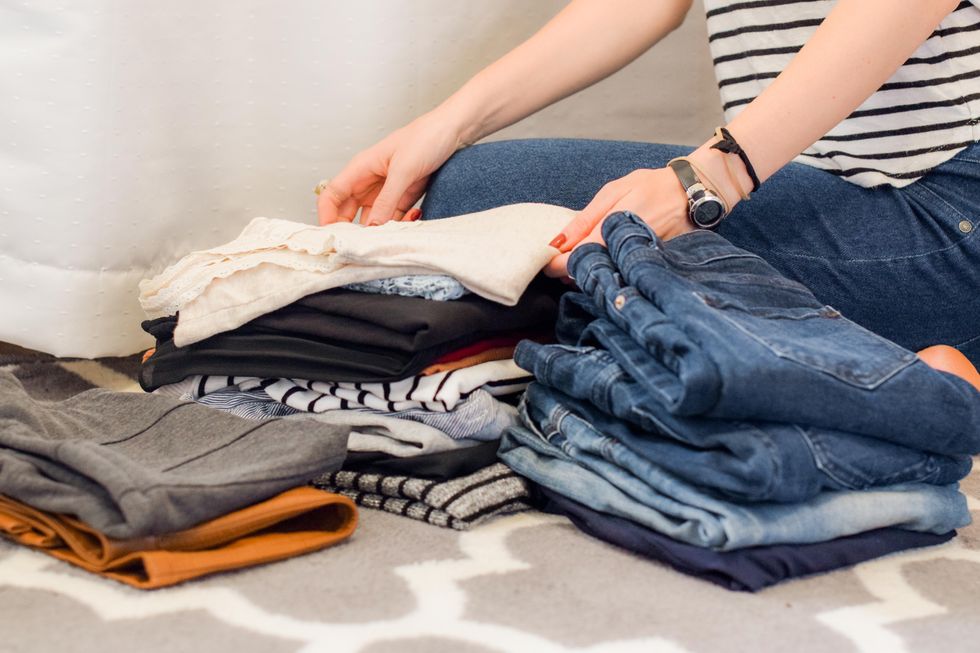 Sarah Brown via Unsplash
The most obvious choice for those unwanted pairs of mud-green sweat socks and that same fluffy robe you get every year from your Aunt Judy is to donate them. Just round up everything you don't want and Google the donation center closest to you.
This is also a fantastic excuse to purge your closet of that pile of stuff you've been meaning to get rid of. A few bags of give-away-clothes will get your spring cleaning out of the way early.
Sell Them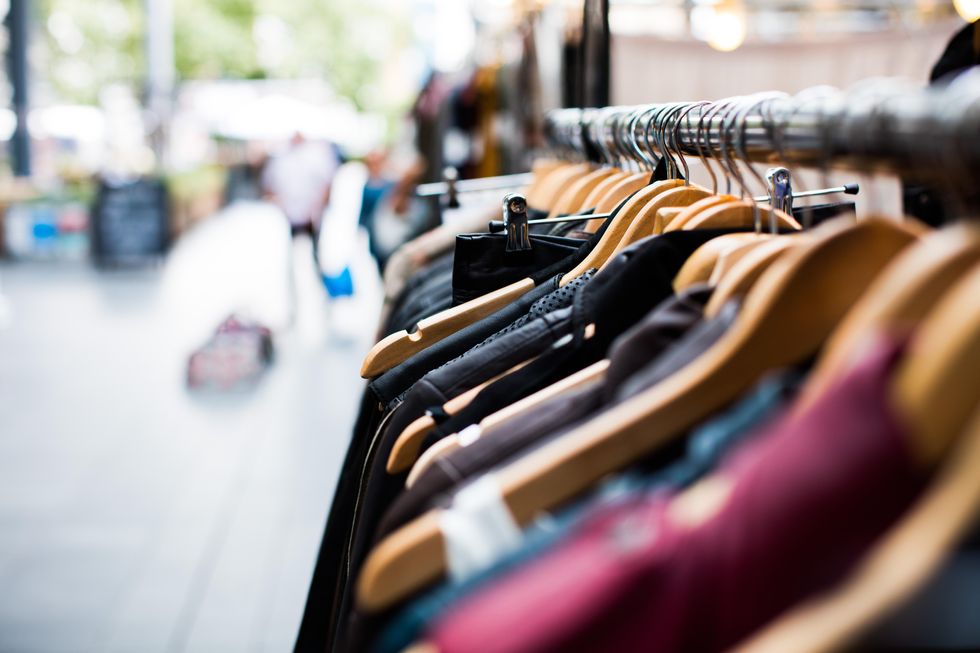 Artificial Photography via Unsplash
Resale websites are all the rage right now. If you got a pair of pants that don't fit or a sweater that isn't your style, resell them on a website dedicated to just that. Sites like Poshmark, Mercari, and DePop are known for selling those trendy pieces of clothing you barely used.
Thrifting has never been hotter. Hop on the trend while people are constantly perusing sites for the hottest deal. Then reward yourself for being so virtuous, by dropping the cash on some fabulous things you'll actually wear!
Re-Gift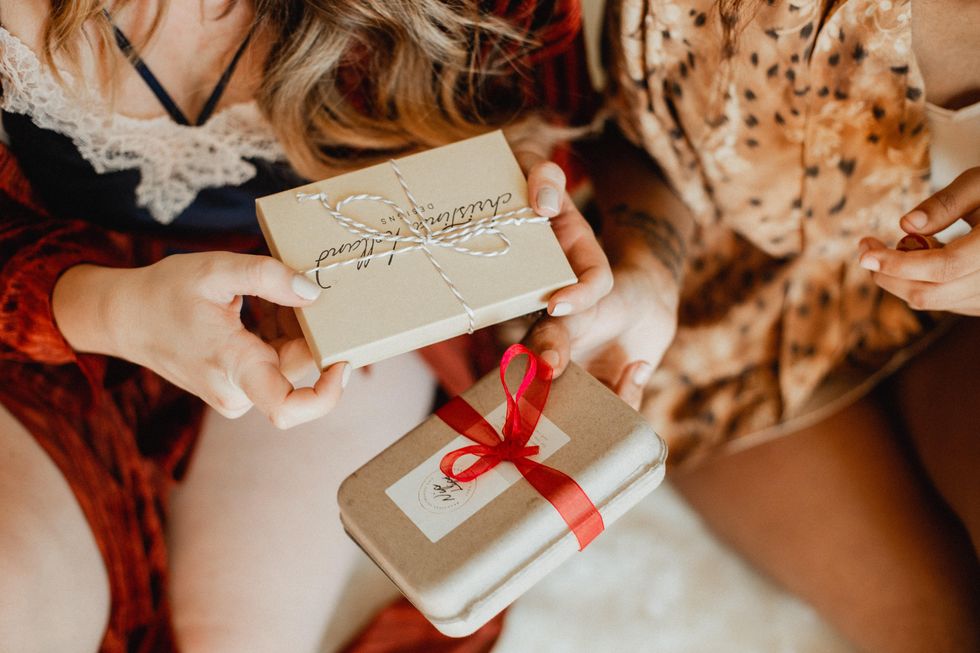 Jackie S via Unsplash
If you got something that you think one of your friends or family can benefit from, why not give it to them? There's no shame in revealing that it was a gift and you don't want it anymore…as long as you aren't re-gifting to the person who gave it to you!
Or, keep the gifts to re-gift at a later date. You never know when you're going to need a last minute gift. You'll thank yourself later.
Attempt a Return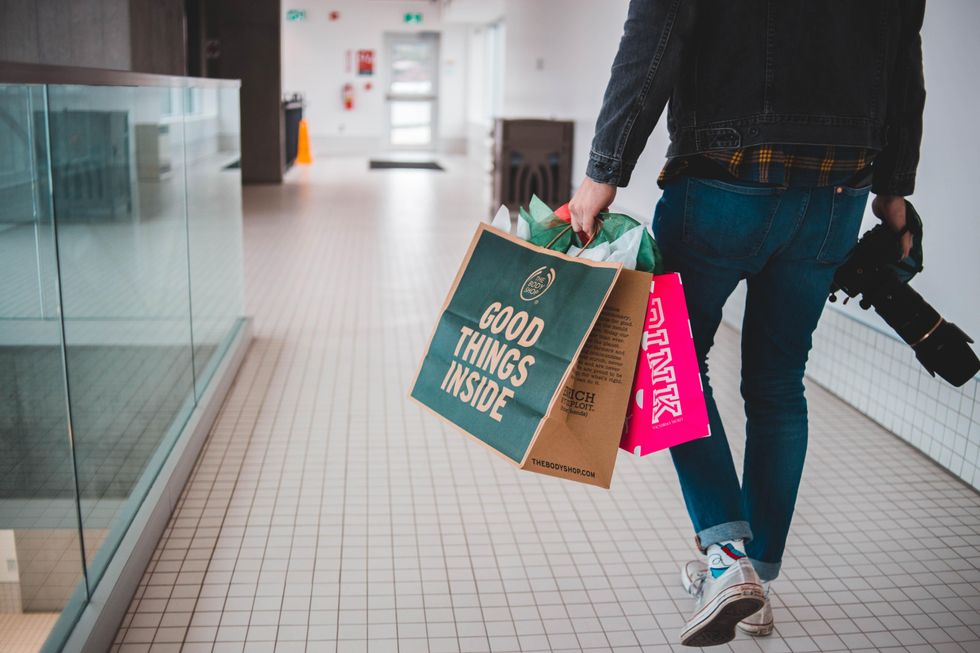 Erik McLean via Unsplash
If your item still has a tag, you can make a valiant effort to return to the store. If you can make your case, many stores won't want to fight you on it. They may be forgiving and grant you store credit at the very least.
The Justice Department is suing Walmart, alleging that the company helped fuel the opioid crisis that's been devastating America for years.

According to the Associated Press, Walmart may have unlawfully provided controlled substances to its customers, providing thousands of people with prescriptions that should not have been filled. The suit alleges that Walmart's system made it impossible for pharmacists to properly screen and vet the prescriptions they filled, ignoring warnings from pharmacists in the process.
This comes after Walmart sued the Justice Department and the DEA, arguing that hundreds of doctors who should not have been allowed to prescribe controlled substances at all were still actively registered with the DEA.
Both suits are ongoing, but one thing is clear: A lot of powerful organizations are to blame for the opioid crisis.
How the Opioid Crisis Began
The US's opioid crisis has been festering for a long time. In 1991, the first wave of the opioid crisis occurred when a sharp rise in the prescription of opioids led to multiple deaths. At this time, many pharmaceutical companies claimed the risk of addiction to opioids was very low.
In 1995, Purdue Pharma received approval for OxyContin, leading many patients to get hooked. In 2007, they paid a $634 million dollar fine for lying about the drug's addictive nature.
Prescriptions for opioids began to increase over the next few decades, tripling between 1991 and 2011. The second wave of the crisis occurred in 2010, when prescriptions to opioids became harder to obtain and more people started turning to heroin and illegal drugs. The third wave began in 2013, when drugs like fentanyl and synthetic opioids began to rise in popularity, leading to another spike in deaths.
Today, overdoses are the leading cause of death for people under 50 years old. In 2017, there were more than 70,237 deaths related to overdoses and 47,600 were related to opioids. An estimated 130 people die each day from opioid-related misuse. The opioid epidemic has claimed a total of over 400,000 lives.
Who Is to Blame?
The opioid crisis is a complicated issue that can't be neatly blamed on any one company or action. Certainly, the root of the problem lies with Big Pharma — the Purdue Pharmas and Sacklers of the world who lied about the addictive nature of their products and relentlessly sold these dangerous products. Drug company executives and opioid salesmen also have blood on their hands.
In addition, the government is to blame. Evidence continues to find that Congress was and is influenced by pharmaceutical lobbyists, and Congress has passed legislation that crippled the DEA's power.
In addition, Department of Justice-led investigations that should've burned drug corporations to the ground failed to adequately persecute the corporations. Furthermore, the FDA also failed to act when they should have; in 2001, they approved OxyContin for anyone suffering from chronic pain, despite scientists previously finding that the drug is only effective in the very short-term.
Over-prescription and doctors are to blame, as well. Many believed they were doing the right thing but prescribed far, far more than safe limits of drugs to their patients. In addition, distributors like Walmart and other pharmacies are also to blame for not taking adequate precautions.
The root of the issue, however, can't be separated from other systemic crises, like economic inequality, a broken healthcare system, and the chronic health issues that plague many Americans.
"Greed drove opioid manufacturers to oversell and overproduce the drugs, the lawsuits allege," writes Melissa Healy for the Los Angeles Times. "Greed drove companies that distribute prescription drugs to oversupply pharmacies… And greed drove pharmacies to overdispense the drugs to patients who were becoming hooked, to criminals who were diverting them to the black market, and to addicts shopping for a fix."
Arguably, greed also prevents America — one of the richest nations in the world — from offering its citizens healthcare and the ability to live safely.
How Do We Solve the Opioid Crisis?
Solving the opioid crisis won't be simple or easy.
In an immediate sense, any solution to the crisis will have to treat friends and family members of people who suffer from addiction as well as the people themselves. Treatment will have to be made broadly available, as will ongoing support.
"We need to treat opioid use disorder like we treat other chronic health disorders — managed in primary care, using specialists for exacerbations, consultations, and particularly challenging cases," says Bradley Stein of the RAND Drug Policy Research Center.
But to really solve the crisis, we'll have to take a deeper look at what's causing it. Millions of people are still suffering from chronic pain — another root of the opioid crisis — and healthcare workers will have to figure out how to treat pain without using opioids. Solutions might lie in "interventional" pain therapies or other approaches that lead to long-term relief instead of just putting a band-aid over the problem.
In addition, many people are driven to use opioids due to emotional issues or mental health issues. To treat the root causes of the opioid epidemic, we also need to treat mental health issues and treat reasons why people are suffering from such extreme emotional pain in America today.
Those solutions might lie in deepening community ties, in education, and in healing some of the economic inequality that has created so many of our issues. It might also mean making healthcare, housing, healthy food, and opportunity more affordable so people don't wind up in so much pain and distress. It might also mean reducing pollution and other issues that lead people, particularly low-income people and communities of color, to develop chronic health issues.
In short, simply cracking down on prescriptions and distributors and making Big Pharma pay up isn't the solution. It's just the beginning. The solutions of the opioid crisis are bound up with solutions to climate change and economic inequality, and until we understand the interconnectedness of it all, we'll never really treat the crisis at its source.
The venerated photographer and hundreds of others overtook the atrium of New York's Guggenheim to protest the museum's ongoing relationship with the Sackler Family, one of its largest donors. The majority of the Sacklers' wealth comes from Purdue Pharma—the primary manufacturer and distributor of OxyContin.
Visionary photographer Nan Goldin made waves in the 1960s with her raw, vivid portraits, which showed the electric underside of New York's gritty arts scene as well as the intimacies of human life and love.
Back then, her photos were protests against stereotypes; they lovingly portrayed queer culture, denounced domestic violence, and provided a window into an open kind of sexuality that was not often seen during the stultified conformity of the 1950s.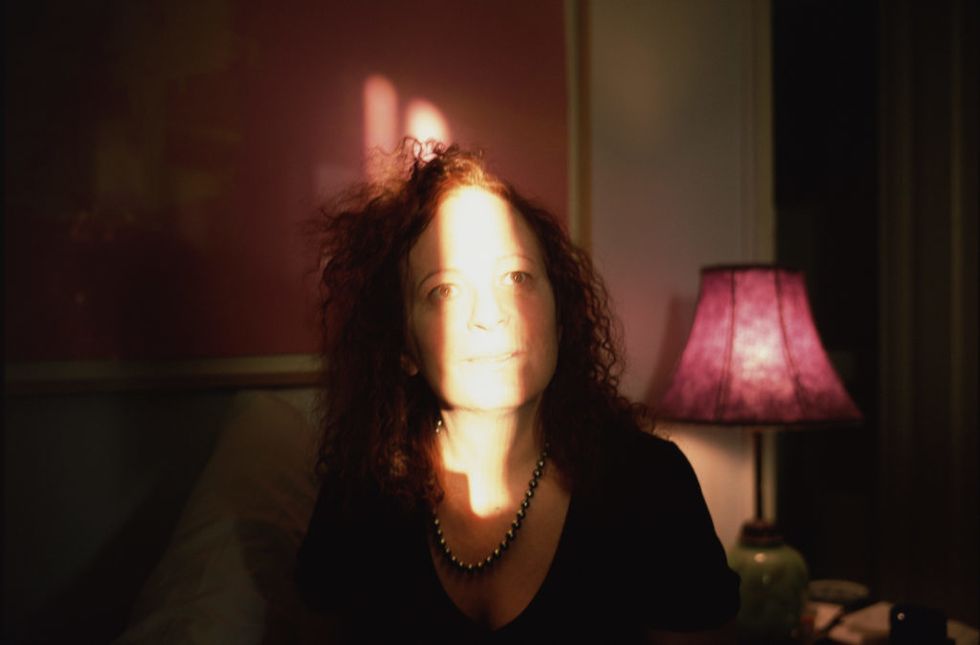 Image via Artnet News
Since then, Goldin's work has been exhibited at the MOMA and she has been recognized as one of the 20th century's most influential photographers. But in 2019, she's been occupying space in museums for a very different reason.

On Saturday night, Goldin and hundreds of others overtook the atrium of New York's Guggenheim to protest the museum's ongoing relationship with the Sackler Family, one of its largest donors. Exchanging money to support the arts certainly isn't a crime, but the majority of the Sacklers' wealth comes from their involvement with Purdue Pharma—the primary manufacturer and distributor of the extremely addictive and deadly drug OxyContin.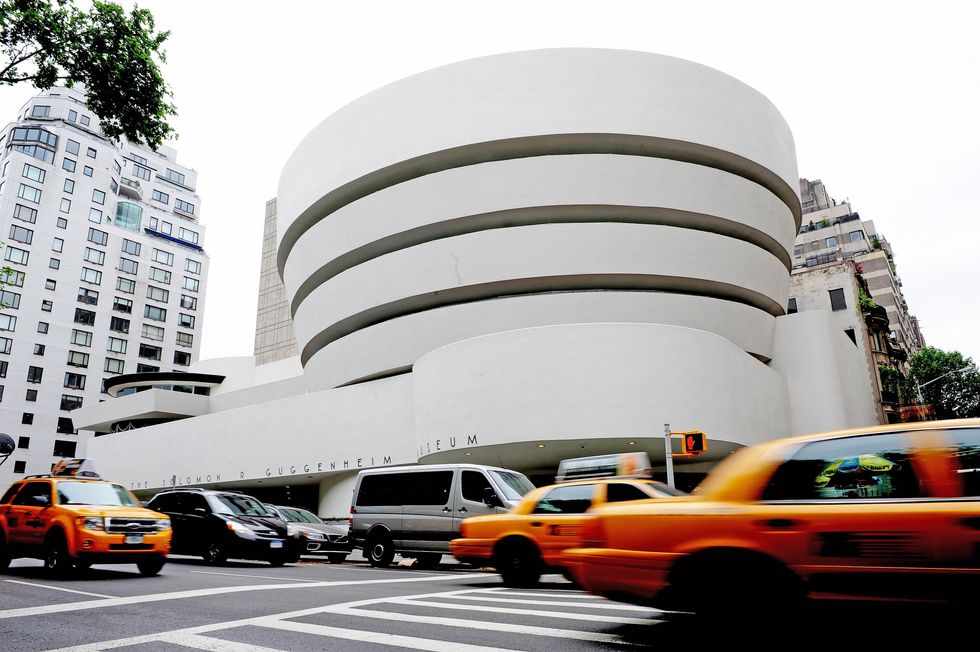 Image via the Forum
In 2013, Goldin was prescribed OxyContin for wrist surgery. "I ended up locked in my room for three years," she told the crowd that gathered in the Guggenheim on Saturday night. "I came to and I realized it was time to speak out." After a near-death experience with the drug, Goldin dedicated herself to taking down the Sackler Family, the group of billionaire pharmaceutical moguls who made tens of millions of dollars off OxyContin sales before the drug was flagged and criminalized for its addictive properties.

In 2007, Purdue Pharma admitted that OxyContin's branding was misinformative, but continued to distribute and profit off the product, allegedly paying themselves as much as $4 billion that year. Since then, waves of lawsuits have continued to dog the pharmaceutical company as they have continued to profit off opioid sales. In 2018, New York City won $500 million in damages as part of a suit against Purdue and a host of other narcotics peddlers, including the makers of Percocet and fentanyl patches.
None of the Sackler family members themselves have been individually targeted, though lawyers hope this may change as investigations ramp up, thanks to protests like Goldin's. Also, the sheer number of opiod-related deaths each day in America—over 130 per day, according to the U.S. Department of Health and Public Services—is a factor that's hard to ignore.
The Sacklers have filtered money earned through Purdue into thousands of cultural institutions, including the Guggenheim, which has its own Sackler wing. Other institutions that have benefitted from their donations include the Metropolitan Museum of Art, the Smithsonian, Harvard, and MIT. Goldin, among other activists, has been calling for the museums to stop taking Sackler money for years; her organization P. A. I. N. (Prescription Addiction Intervention Now) has staged die-ins at the Met, among other protests.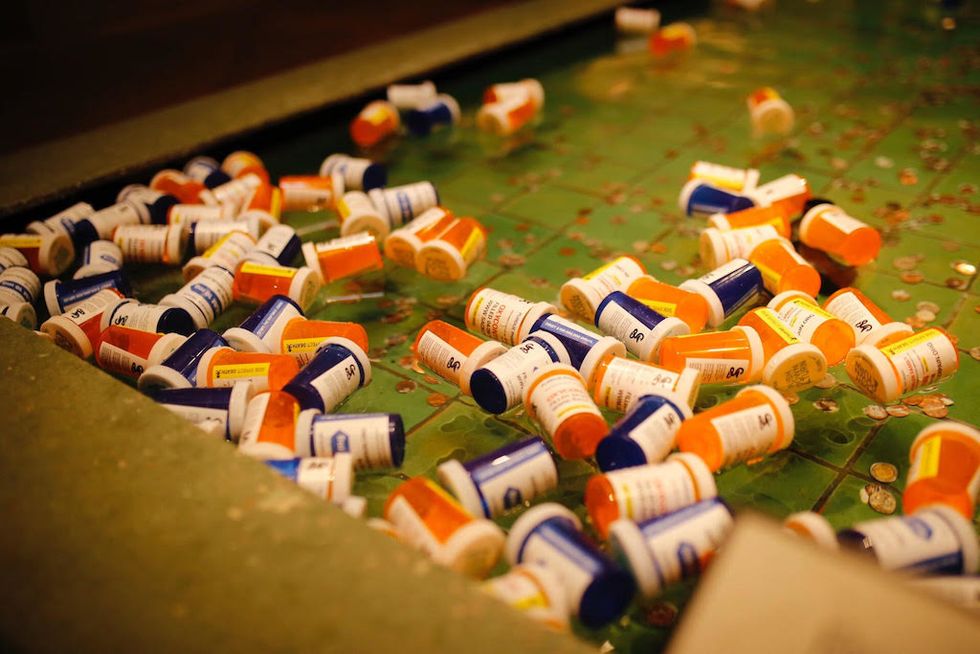 Image from a P.A.I.N. ProtestImage via ART News
That February night at the Guggenheim, protesters dropped sheets of paper resembling prescription notes from balconies high above, each printed with various Sackler quotes. One bore a phrase spoken by the late Purdue president Richard Sackler, in which he advised his employees to "hammer on abusers in every way possible," belying insidious involvement and intentional sabotage of already vulnerable populations. The quote appeared in a recent Massachusetts court filing that is accusing the Sackler family of direct, intentional involvement with the start of the opioid crisis. "It is an attractive market," an internal memo read, according to the suit. "Large unmet need for vulnerable, underserved and stigmatized patient population suffering from substance abuse, dependence and addiction."
So far, all of the aforementioned institutions have continued taking Sackler money, though the Met announced in January that it was planning on reconsidering its gift acceptance policies.
"We see museums and cultural institutions glorifying the very rich and we also see them giving them positions of power," one of the protestors, L. A. Kauffman, told ArtNews. "The Sackler family is one of many who has been able to stand outside the law because of their great wealth and we are saying: the time is up."
---
Eden Arielle Gordon is a writer and musician from New York City. Follow her on Twitter at @edenarielmusic.

It's not as scary as you think.
There have been numerous pieces written about the dark web and the dangers it could pose to your personal cyber security. It's also been used in advertisements by Experian, in which they offer "free dark web scans" to help customers find out if their "information is on the dark web." This type of language is deliberately misleading, as is the company's definition of the dark web, which basically describes it as a world full of Internet marauders hunting for your social security number. Ironically, in order to acquire the "free dark web scan," Experian itself asks its customers for their social security numbers.
In a certain light, these ads are hilarious in their deliberate misinterpretation of how the dark web works, but there's definitely something sinister about the way they prey on the wallets of the uninformed. Though it sounds dangerous, the dark web isn't the nightmarish hellscape that cyber security companies would have you believe it is. Before understanding the dark web however, one has to first understand the deep web, and by extension, the Internet as a whole.
The Internet is divided into two subsections: the surface web and the deep web. The difference between the two is simple. The surface web is readily accessible via search engines; the deep web is not. While almost every site you visit is probably part of the surface web, there are certain places on the Internet that are necessarily hidden. For example, research papers, netbanking, and medical records aren't readily accessible to anyone using Google, as the search engine doesn't index these things. Another example, is content that exists behind a paywall, like the New York Times' online newspaper. The dark web can be thought of as a small subsect of the deep web, but while the two are often conflated, they aren't the same at all. It's helpful to think of the Internet as an iceberg, with most of it existing beneath the surface. The surface web encompasses about 4% of the entire Internet while the deep web and dark web, represent 90% and 6% respectively.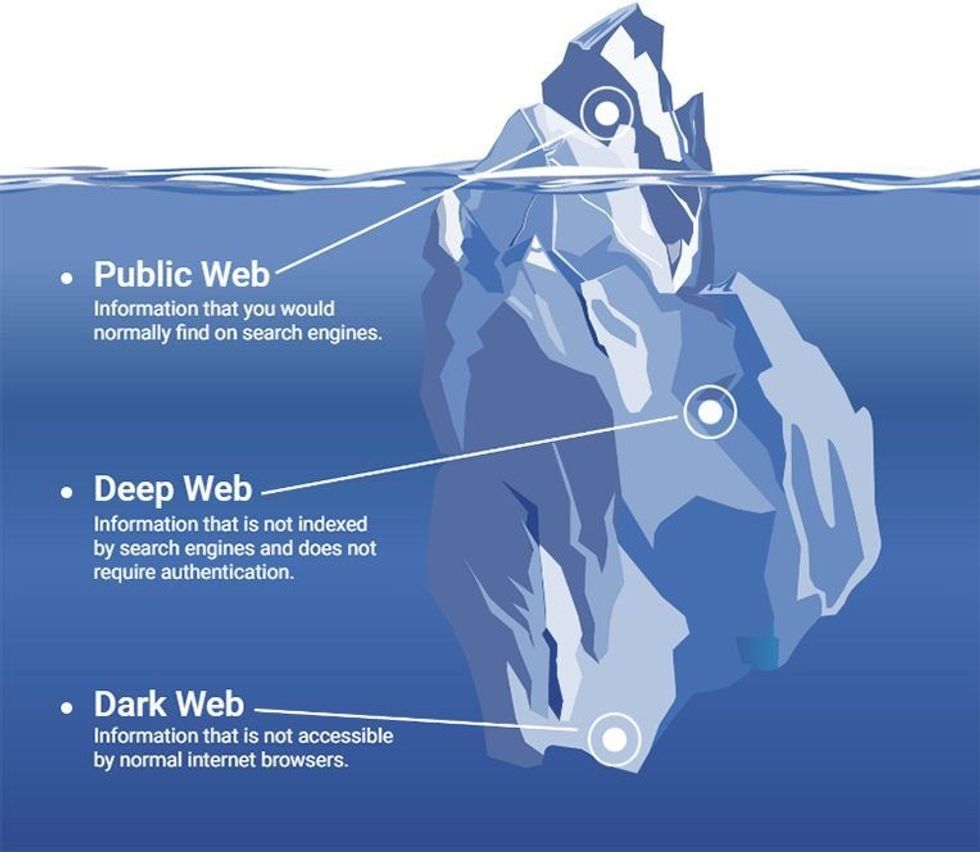 The iceberg
Unlike the deep web, the dark web is only accessible via special networks, the most popular of which being Tor. Browsers like Tor render your computer invisible while you browse, using complex encryptions to mask your computer's IP number while you browse, allowing for a truly private Internet experience. Confidentiality is at the heart of Tor's mission, and its developers goal was to create an Internet free of surveillance and tracking. Unfortunately, when they are guaranteed anonymity, many Internet users get into some pretty unsavory things.
The first time the dark web was in the news, was when the online black market the Silk Road became a major player in 2011. Until the FBI arrestedSilk Road founder Ross Ulbricht in 2013, the site was a forum dealing in illegal weapons, drugs, and child pornography, and the transactions were made via Bitcoin rather than actual cash. Bitcoin itself actually came to prominence in these illicit markets, though it's slowly falling out of favor with online black markets due to the wild fluctuations in its price over the past few years. Outside of the Silk Road and its successors, there has also been tons of publicity surrounding the hiring of hit men via the dark web, though most of these services have turned out to be scams. The most famous scam was run by a company called Besa Mafia, who would take cash from buyers, and then instead of killing the person they were hired to kill, they would report the buyers to the police and get them arrested.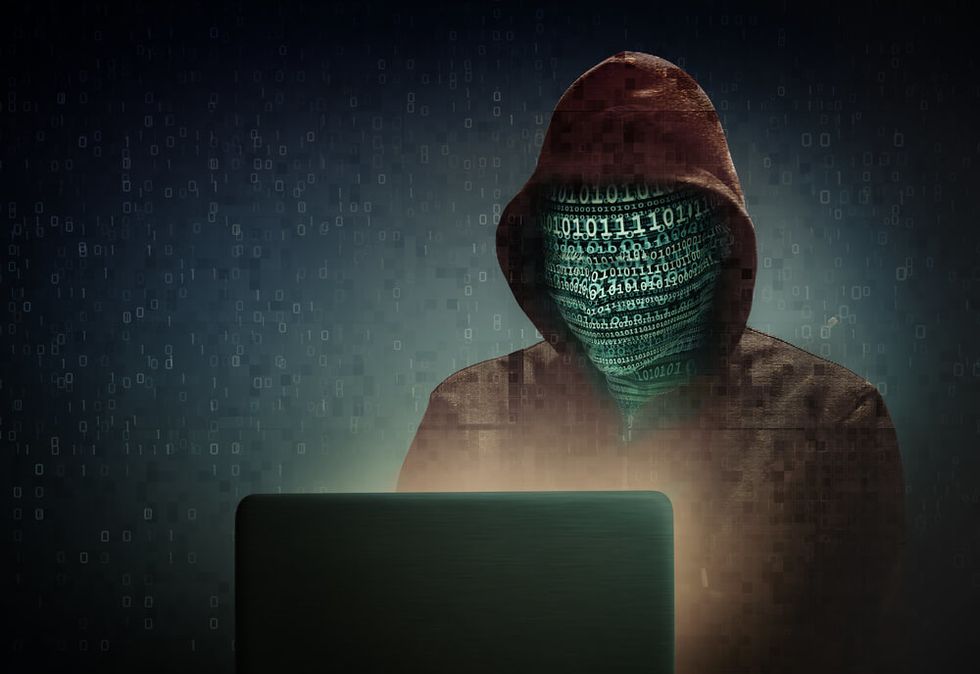 It's not quite this sinister
Realistically though, the dark web isn't nearly as scary as it's made out to be. Yes, there are hackers and illegal activity, but at the core of Tor's project, is privacy. If a hacker wanted to steal someone's social security number or if a pedophile wanted to seek out illicit porn, they wouldn't need to use the dark web to do it. In fact, the dark web only accounts for about .2% of the child porn being shared online. While it's fair to assume that most sites on the dark web are used for criminal activity, it's worth mentioning that the FBI can pretty easily arrest and track folks using the dark web. They've even contracted one of Tor's developers to help them track down cyber criminals.

The dark web's reach with regard to criminal activities has been largely exaggerated by the mainstream media, and there's no real reason to fear it. If you're someone who strongly values the privacy of your browsing habits, for whatever reason, the dark web provides a different type of Internet, one that's far more secure than your standard browser. If you don't care about your Internet privacy, that's fine too. Dark web hackers aren't going to hunt you down and steal all your information in the night, and you're no less safe on the Internet just because Tor browsers exist. There's a strange tendency in this country to conflate others' privacy and anonymity with a lack of personal security. Cyber security firms have a vested interest in keeping you scared and in the dark about how the Internet works. Don't put too much stock into it. The dark web as we know it has existed since 2002, and we're no worse for wear.