The venerated photographer and hundreds of others overtook the atrium of New York's Guggenheim to protest the museum's ongoing relationship with the Sackler Family, one of its largest donors. The majority of the Sacklers' wealth comes from Purdue Pharma—the primary manufacturer and distributor of OxyContin.
Visionary photographer Nan Goldin made waves in the 1960s with her raw, vivid portraits, which showed the electric underside of New York's gritty arts scene as well as the intimacies of human life and love.
Back then, her photos were protests against stereotypes; they lovingly portrayed queer culture, denounced domestic violence, and provided a window into an open kind of sexuality that was not often seen during the stultified conformity of the 1950s.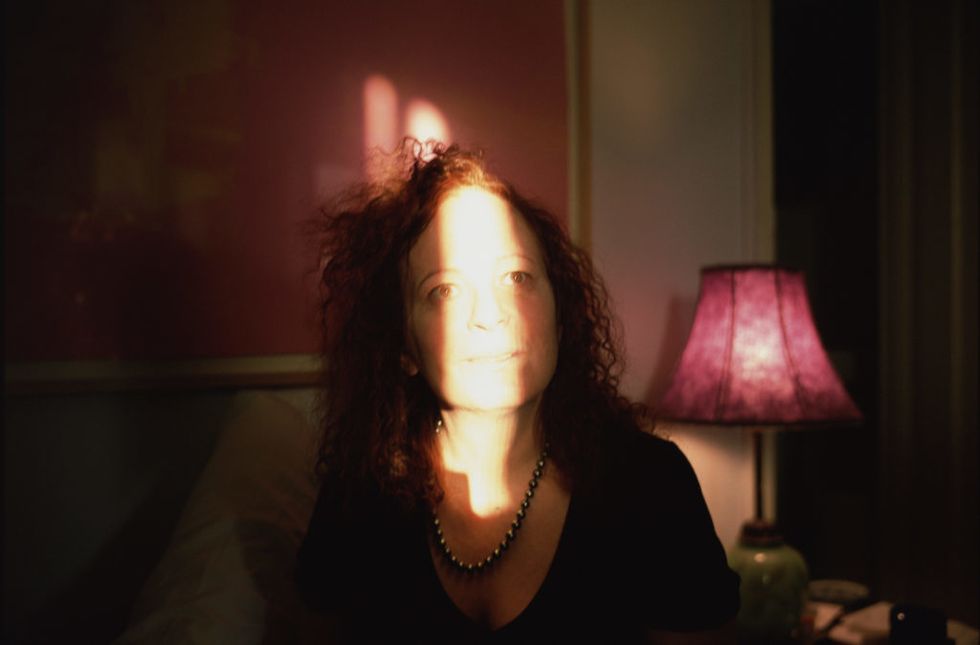 Image via Artnet News
Since then, Goldin's work has been exhibited at the MOMA and she has been recognized as one of the 20th century's most influential photographers. But in 2019, she's been occupying space in museums for a very different reason.

On Saturday night, Goldin and hundreds of others overtook the atrium of New York's Guggenheim to protest the museum's ongoing relationship with the Sackler Family, one of its largest donors. Exchanging money to support the arts certainly isn't a crime, but the majority of the Sacklers' wealth comes from their involvement with Purdue Pharma—the primary manufacturer and distributor of the extremely addictive and deadly drug OxyContin.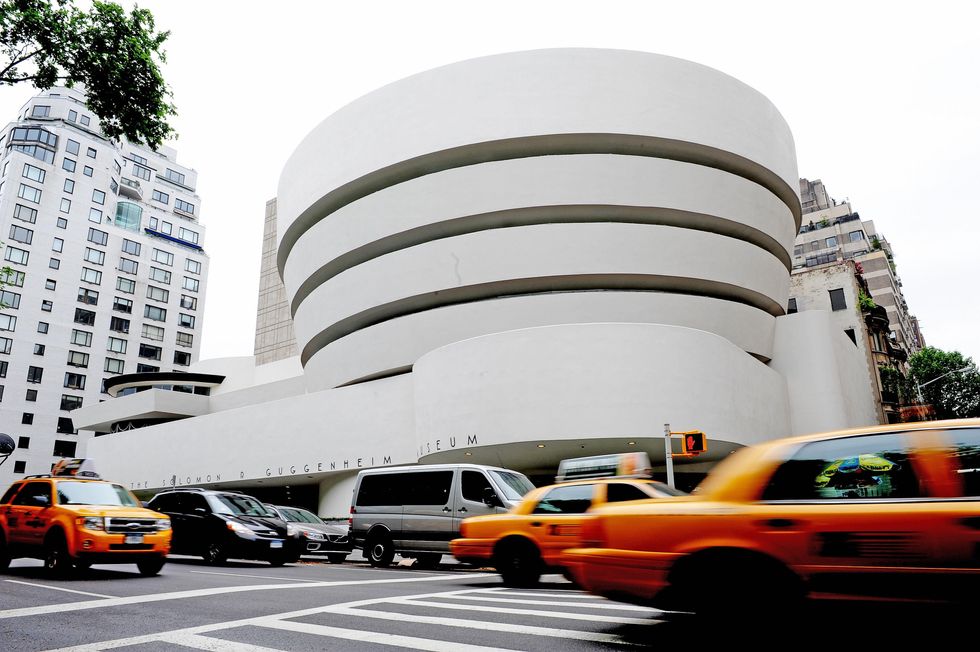 Image via the Forum
In 2013, Goldin was prescribed OxyContin for wrist surgery. "I ended up locked in my room for three years," she told the crowd that gathered in the Guggenheim on Saturday night. "I came to and I realized it was time to speak out." After a near-death experience with the drug, Goldin dedicated herself to taking down the Sackler Family, the group of billionaire pharmaceutical moguls who made tens of millions of dollars off OxyContin sales before the drug was flagged and criminalized for its addictive properties.

In 2007, Purdue Pharma admitted that OxyContin's branding was misinformative, but continued to distribute and profit off the product, allegedly paying themselves as much as $4 billion that year. Since then, waves of lawsuits have continued to dog the pharmaceutical company as they have continued to profit off opioid sales. In 2018, New York City won $500 million in damages as part of a suit against Purdue and a host of other narcotics peddlers, including the makers of Percocet and fentanyl patches.
None of the Sackler family members themselves have been individually targeted, though lawyers hope this may change as investigations ramp up, thanks to protests like Goldin's. Also, the sheer number of opiod-related deaths each day in America—over 130 per day, according to the U.S. Department of Health and Public Services—is a factor that's hard to ignore.
The Sacklers have filtered money earned through Purdue into thousands of cultural institutions, including the Guggenheim, which has its own Sackler wing. Other institutions that have benefitted from their donations include the Metropolitan Museum of Art, the Smithsonian, Harvard, and MIT. Goldin, among other activists, has been calling for the museums to stop taking Sackler money for years; her organization P. A. I. N. (Prescription Addiction Intervention Now) has staged die-ins at the Met, among other protests.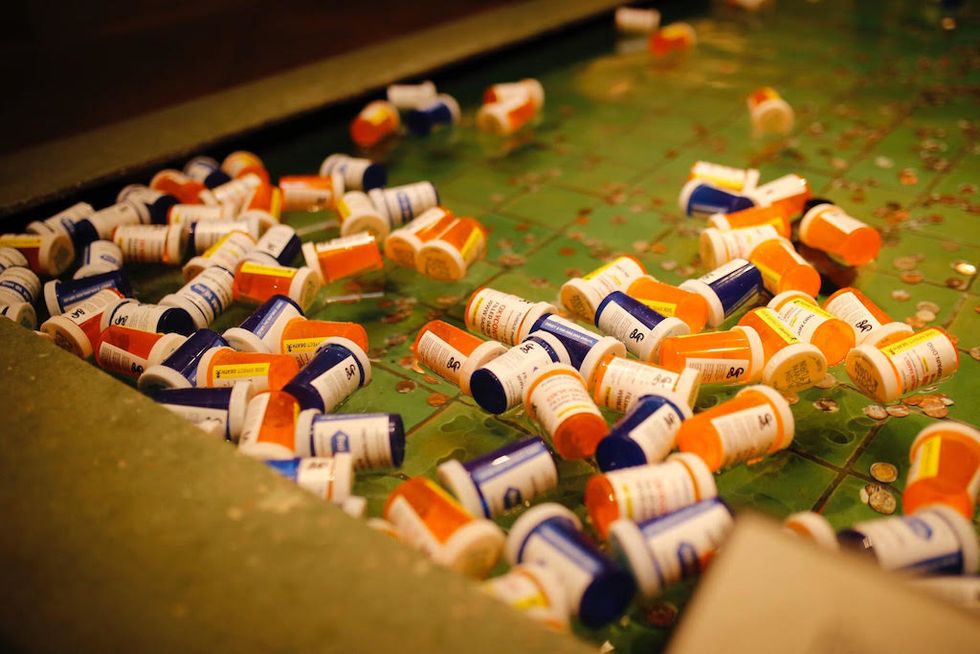 Image from a P.A.I.N. ProtestImage via ART News
That February night at the Guggenheim, protesters dropped sheets of paper resembling prescription notes from balconies high above, each printed with various Sackler quotes. One bore a phrase spoken by the late Purdue president Richard Sackler, in which he advised his employees to "hammer on abusers in every way possible," belying insidious involvement and intentional sabotage of already vulnerable populations. The quote appeared in a recent Massachusetts court filing that is accusing the Sackler family of direct, intentional involvement with the start of the opioid crisis. "It is an attractive market," an internal memo read, according to the suit. "Large unmet need for vulnerable, underserved and stigmatized patient population suffering from substance abuse, dependence and addiction."
So far, all of the aforementioned institutions have continued taking Sackler money, though the Met announced in January that it was planning on reconsidering its gift acceptance policies.
"We see museums and cultural institutions glorifying the very rich and we also see them giving them positions of power," one of the protestors, L. A. Kauffman, told ArtNews. "The Sackler family is one of many who has been able to stand outside the law because of their great wealth and we are saying: the time is up."
---
Eden Arielle Gordon is a writer and musician from New York City. Follow her on Twitter at @edenarielmusic.

It's not as scary as you think.
There have been numerous pieces written about the dark web and the dangers it could pose to your personal cyber security. It's also been used in advertisements by Experian, in which they offer "free dark web scans" to help customers find out if their "information is on the dark web." This type of language is deliberately misleading, as is the company's definition of the dark web, which basically describes it as a world full of Internet marauders hunting for your social security number. Ironically, in order to acquire the "free dark web scan," Experian itself asks its customers for their social security numbers.
In a certain light, these ads are hilarious in their deliberate misinterpretation of how the dark web works, but there's definitely something sinister about the way they prey on the wallets of the uninformed. Though it sounds dangerous, the dark web isn't the nightmarish hellscape that cyber security companies would have you believe it is. Before understanding the dark web however, one has to first understand the deep web, and by extension, the Internet as a whole.
The Internet is divided into two subsections: the surface web and the deep web. The difference between the two is simple. The surface web is readily accessible via search engines; the deep web is not. While almost every site you visit is probably part of the surface web, there are certain places on the Internet that are necessarily hidden. For example, research papers, netbanking, and medical records aren't readily accessible to anyone using Google, as the search engine doesn't index these things. Another example, is content that exists behind a paywall, like the New York Times' online newspaper. The dark web can be thought of as a small subsect of the deep web, but while the two are often conflated, they aren't the same at all. It's helpful to think of the Internet as an iceberg, with most of it existing beneath the surface. The surface web encompasses about 4% of the entire Internet while the deep web and dark web, represent 90% and 6% respectively.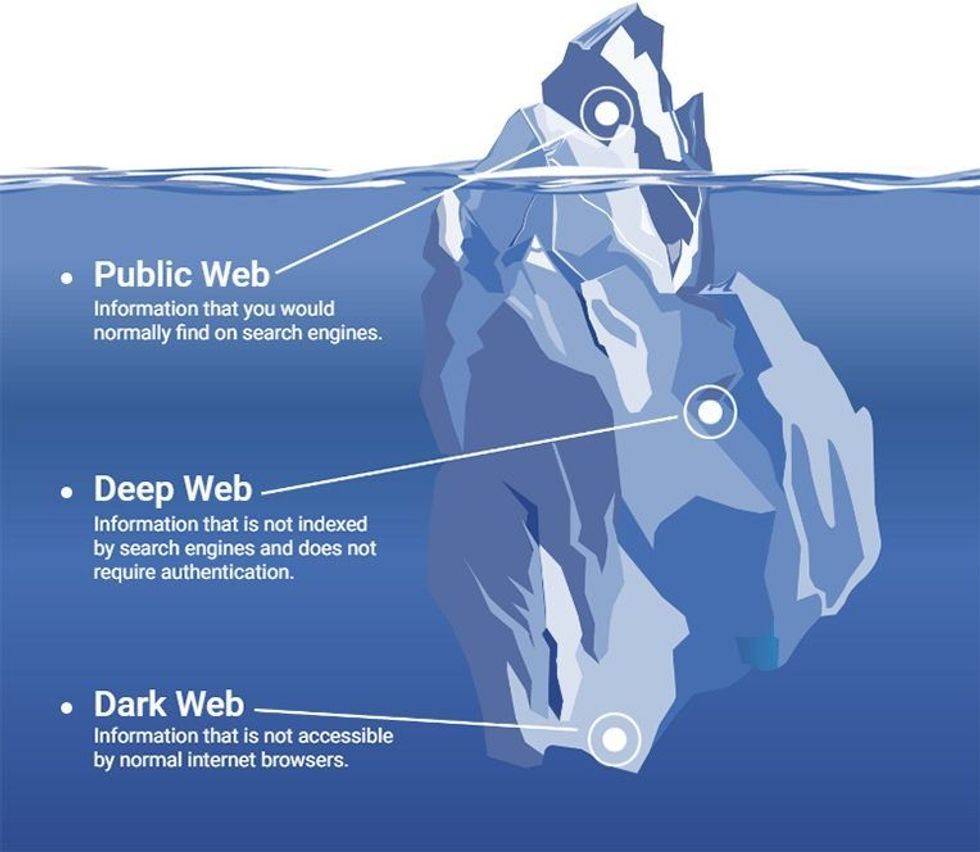 The iceberg
Unlike the deep web, the dark web is only accessible via special networks, the most popular of which being Tor. Browsers like Tor render your computer invisible while you browse, using complex encryptions to mask your computer's IP number while you browse, allowing for a truly private Internet experience. Confidentiality is at the heart of Tor's mission, and its developers goal was to create an Internet free of surveillance and tracking. Unfortunately, when they are guaranteed anonymity, many Internet users get into some pretty unsavory things.
The first time the dark web was in the news, was when the online black market the Silk Road became a major player in 2011. Until the FBI arrested Silk Road founder Ross Ulbricht in 2013, the site was a forum dealing in illegal weapons, drugs, and child pornography, and the transactions were made via Bitcoin rather than actual cash. Bitcoin itself actually came to prominence in these illicit markets, though it's slowly falling out of favor with online black markets due to the wild fluctuations in its price over the past few years. Outside of the Silk Road and its successors, there has also been tons of publicity surrounding the hiring of hit men via the dark web, though most of these services have turned out to be scams. The most famous scam was run by a company called Besa Mafia, who would take cash from buyers, and then instead of killing the person they were hired to kill, they would report the buyers to the police and get them arrested.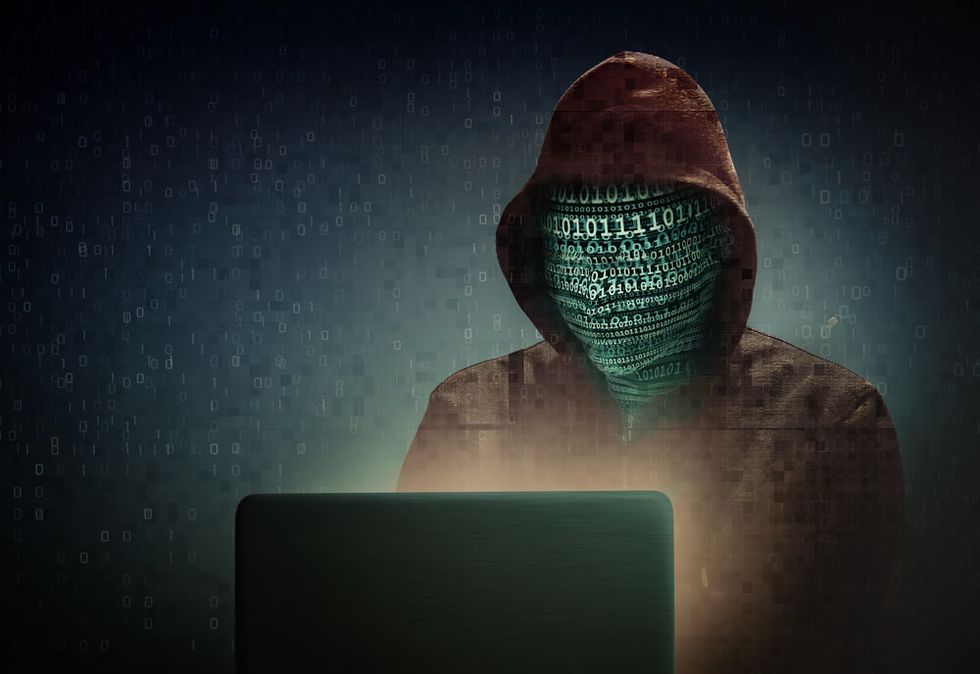 It's not quite this sinister
Realistically though, the dark web isn't nearly as scary as it's made out to be. Yes, there are hackers and illegal activity, but at the core of Tor's project, is privacy. If a hacker wanted to steal someone's social security number or if a pedophile wanted to seek out illicit porn, they wouldn't need to use the dark web to do it. In fact, the dark web only accounts for about .2% of the child porn being shared online. While it's fair to assume that most sites on the dark web are used for criminal activity, it's worth mentioning that the FBI can pretty easily arrest and track folks using the dark web. They've even contracted one of Tor's developers to help them track down cyber criminals.

The dark web's reach with regard to criminal activities has been largely exaggerated by the mainstream media, and there's no real reason to fear it. If you're someone who strongly values the privacy of your browsing habits, for whatever reason, the dark web provides a different type of Internet, one that's far more secure than your standard browser. If you don't care about your Internet privacy, that's fine too. Dark web hackers aren't going to hunt you down and steal all your information in the night, and you're no less safe on the Internet just because Tor browsers exist. There's a strange tendency in this country to conflate others' privacy and anonymity with a lack of personal security. Cyber security firms have a vested interest in keeping you scared and in the dark about how the Internet works. Don't put too much stock into it. The dark web as we know it has existed since 2002, and we're no worse for wear.