"A tree is best measured when it is down," the poet Carl Sandburg once observed, "and so it is with people." The recent death of Harry Belafonte at the age of 96 has prompted many assessments of what this pioneering singer-actor-activist accomplished in a long and fruitful life.
Belafonte's career as a ground-breaking entertainer brought him substantial wealth and fame; according to Playbill magazine, "By 1959, he was the highest paid Black entertainer in the industry, appearing in raucously successful engagements in Las Vegas, New York, and Los Angeles." He scored on Broadway, winning a 1954 Tony for Best Featured Actor in a Musical – John Murray Anderson's Almanac. Belafonte was the first Black person to win the prestigious award. A 1960 television special, "Tonight with Belafonte," brought him an Emmy for Outstanding Performance in a Variety or Musical Program or Series, making him the first Black person to win that award. He found equal success in the recording studio, bringing Calypso music to the masses via such hits as "Day-O (The Banana Boat Song)" and "Jamaica Farewell."
Harry Belafonte - Day-O (The Banana Boat Song) (Live)www.youtube.com
Belafonte's blockbuster stardom is all the more remarkable for happening in a world plagued by virulent systemic racism. Though he never stopped performing, by the early 1960s he'd shifted his energies to the nascent Civil Right movement. He was a friend and adviser to the Reverend Doctor Martin Luther King, Jr. and, as the New York Times stated, Belafonte "put up much of the seed money to help start the Student Nonviolent Coordinating Committee and was one of the principal fund-raisers for that organization and Dr. King's Southern Christian Leadership Conference."
The Southern Poverty Law Center notes that "he helped launch one of Mississippi's first voter registration drives and provided funding for the Freedom Riders. His activism extended beyond the U.S. as he fought against apartheid alongside Nelson Mandela and Miriam Makeba, campaigned for Mandela's release from prison, and advocated for famine relief in Africa." And in 1987, he received an appointment to UNICEF as a goodwill ambassador.
Over a career spanning more than seventy years, Belafonte brought joy to millions of people. He also did something that is, perhaps, even greater: he fostered the hope that a better world for all could be created. And, by his example, demonstrated how we might go about bringing that world into existence.
POLITICS
Nan Goldin Leads Guggenheim Protest Against Opiod-Pushing Sackler Family, Sparking Nationwide Pushback
The venerated photographer and hundreds of others overtook the atrium of New York's Guggenheim to protest the museum's ongoing relationship with the Sackler Family, one of its largest donors. The majority of the Sacklers' wealth comes from Purdue Pharma—the primary manufacturer and distributor of OxyContin.
Visionary photographer Nan Goldin made waves in the 1960s with her raw, vivid portraits, which showed the electric underside of New York's gritty arts scene as well as the intimacies of human life and love.
Back then, her photos were protests against stereotypes; they lovingly portrayed queer culture, denounced domestic violence, and provided a window into an open kind of sexuality that was not often seen during the stultified conformity of the 1950s.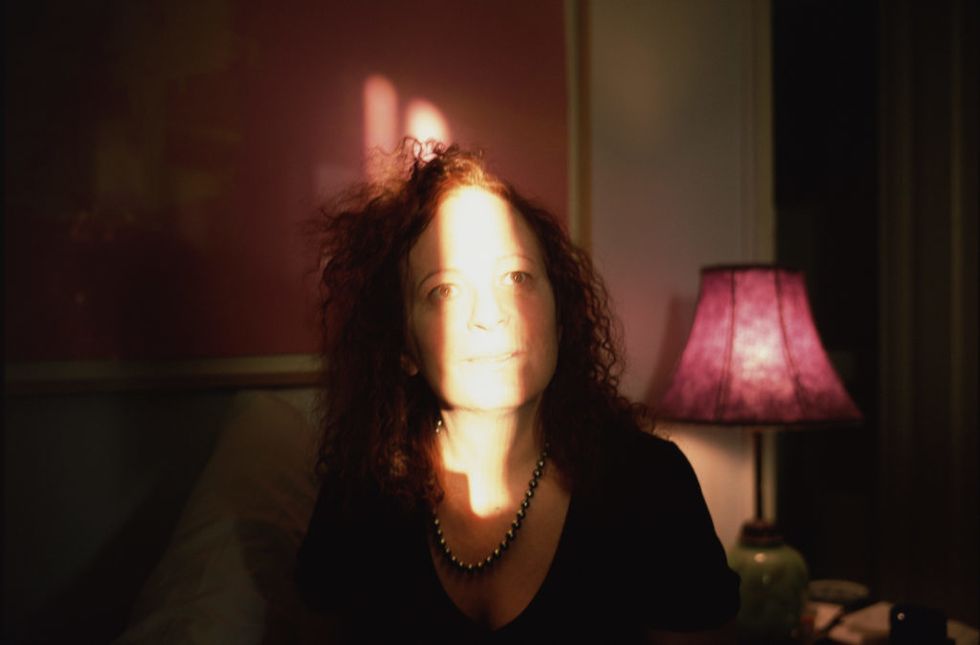 Image via Artnet News
Since then, Goldin's work has been exhibited at the MOMA and she has been recognized as one of the 20th century's most influential photographers. But in 2019, she's been occupying space in museums for a very different reason.

On Saturday night, Goldin and hundreds of others overtook the atrium of New York's Guggenheim to protest the museum's ongoing relationship with the Sackler Family, one of its largest donors. Exchanging money to support the arts certainly isn't a crime, but the majority of the Sacklers' wealth comes from their involvement with Purdue Pharma—the primary manufacturer and distributor of the extremely addictive and deadly drug OxyContin.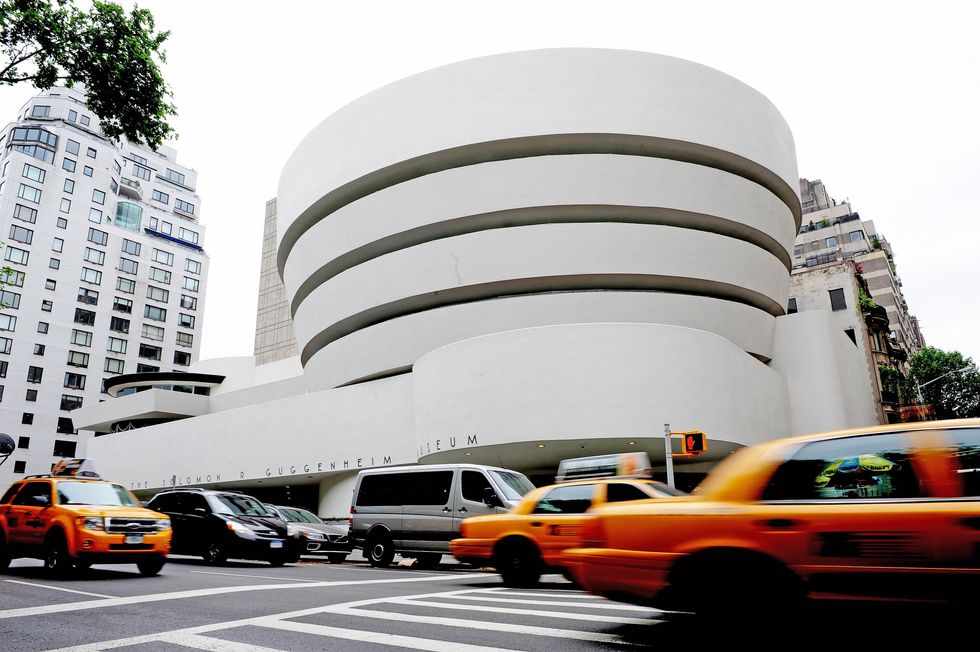 Image via the Forum
In 2013, Goldin was prescribed OxyContin for wrist surgery. "I ended up locked in my room for three years," she told the crowd that gathered in the Guggenheim on Saturday night. "I came to and I realized it was time to speak out." After a near-death experience with the drug, Goldin dedicated herself to taking down the Sackler Family, the group of billionaire pharmaceutical moguls who made tens of millions of dollars off OxyContin sales before the drug was flagged and criminalized for its addictive properties.

In 2007, Purdue Pharma admitted that OxyContin's branding was misinformative, but continued to distribute and profit off the product, allegedly paying themselves as much as $4 billion that year. Since then, waves of lawsuits have continued to dog the pharmaceutical company as they have continued to profit off opioid sales. In 2018, New York City won $500 million in damages as part of a suit against Purdue and a host of other narcotics peddlers, including the makers of Percocet and fentanyl patches.
None of the Sackler family members themselves have been individually targeted, though lawyers hope this may change as investigations ramp up, thanks to protests like Goldin's. Also, the sheer number of opiod-related deaths each day in America—over 130 per day, according to the U.S. Department of Health and Public Services—is a factor that's hard to ignore.
The Sacklers have filtered money earned through Purdue into thousands of cultural institutions, including the Guggenheim, which has its own Sackler wing. Other institutions that have benefitted from their donations include the Metropolitan Museum of Art, the Smithsonian, Harvard, and MIT. Goldin, among other activists, has been calling for the museums to stop taking Sackler money for years; her organization P. A. I. N. (Prescription Addiction Intervention Now) has staged die-ins at the Met, among other protests.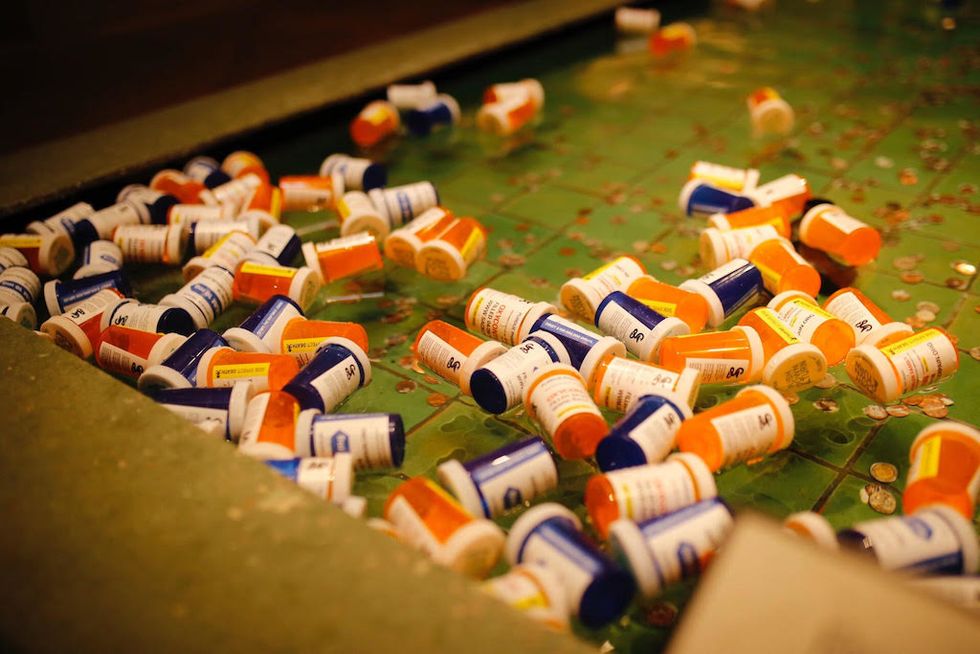 Image from a P.A.I.N. ProtestImage via ART News
That February night at the Guggenheim, protesters dropped sheets of paper resembling prescription notes from balconies high above, each printed with various Sackler quotes. One bore a phrase spoken by the late Purdue president Richard Sackler, in which he advised his employees to "hammer on abusers in every way possible," belying insidious involvement and intentional sabotage of already vulnerable populations. The quote appeared in a recent Massachusetts court filing that is accusing the Sackler family of direct, intentional involvement with the start of the opioid crisis. "It is an attractive market," an internal memo read, according to the suit. "Large unmet need for vulnerable, underserved and stigmatized patient population suffering from substance abuse, dependence and addiction."
So far, all of the aforementioned institutions have continued taking Sackler money, though the Met announced in January that it was planning on reconsidering its gift acceptance policies.
"We see museums and cultural institutions glorifying the very rich and we also see them giving them positions of power," one of the protestors, L. A. Kauffman, told ArtNews. "The Sackler family is one of many who has been able to stand outside the law because of their great wealth and we are saying: the time is up."
---
Eden Arielle Gordon is a writer and musician from New York City. Follow her on Twitter at @edenarielmusic.