Whether he knows it or not, that is the effect of his rhetoric
In recent days protestors have gathered in Michigan, Ohio, and North Carolina to call on state officials to end social distancing and shelter-at-home requirements.
It's understandable. The economy is suffering under the strain of the COVID-19 quarantine. It has decimated the stock market and resulted in an unprecedented spike in unemployment, and people want to get back to their lives. They want to reopen the country, and so does President Trump—whose ardent supporters have been among the most vocal and visible protestors. He's worried that if this situation continues on his watch, the economic damage may hurt his chances at re-election, as businesses small and large suffer losses that threaten their very survival. Leaving aside the fact that reopening too early will result in worse economic damage, there is another group that doesn't seem to concern him as much and whose survival actually depends on continuing the quarantine: People. Hundreds of thousands of people.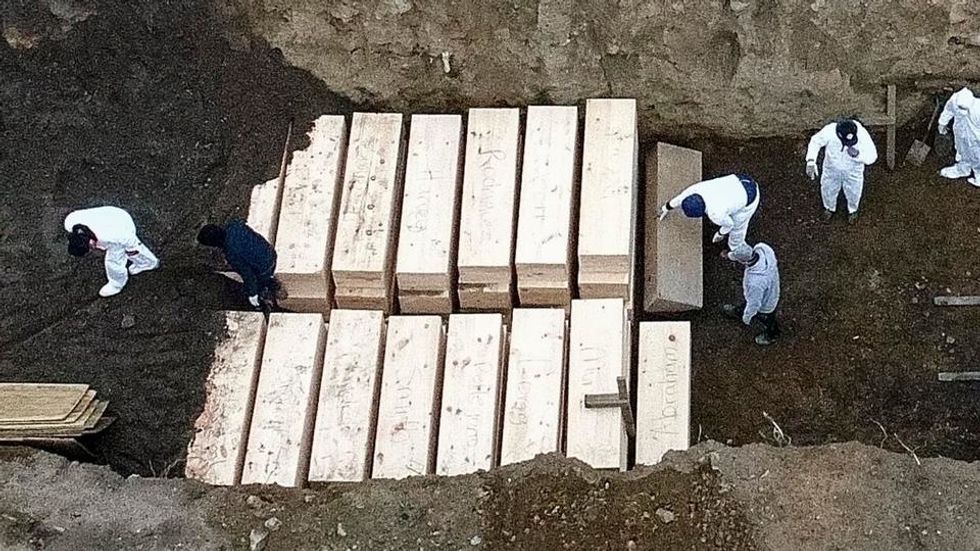 A mass grave in New York
So when Donald Trump was suggesting that "large sections of the country" could re-open for Easter, it was cause for concern. But with the impact of the pandemic still far from its terrifying peak in hotspots like New York city, it seemed likely that Donald Trump would back off his overly-optimistic stance—and he did.

That's often how things work with Donald Trump. He will make a show of how tough and no-nonsense he is with some dramatic posturing that seems to fly in the face of the experts and will then be cowed by behind-the-scenes efforts to make him see reason. Unfortunately for the country, most of his followers are not similarly attended to by an entourage of people trying desperately to steer them away from catastrophic idiocy. So now that Easter has come and gone and Donald Trump is continuing to hint that he may soon reopen the country—maybe even against the wishes of governors in individual states—chaos was bound to ensue.
While some of the protesters have remained in their cars—honking their horns and blocking the passage of at least one ambulance—others crowded together to scream their rejection of science in one proud voice and one shared cloud of breath.
For Donald Trump, the political effect of his latest hints and ambiguous comments about wanting to reopen the country and authorizing governors "to implement ... a very powerful reopening plan" while telling them, "You're going to call your own shots," is that he can have his cake and eat it too. While taking no direct measures to reopen the country amid continued medical advice to extend restrictions, he can still communicate to stir-crazy and cash-strapped supporters that he's doing everything he can for them and that maybe they should talk to their governors.

And that's just what they've been doing. In Michigan—where Operation Gridlock was so effective that even emergency vehicles couldn't get through—protestors directed their frustration at Democratic Governor Gretchen Whitmer, with chants of "Recall Whitmer" and "Lock her up." In North Carolina, at the ReopenNC protest, more than 100 angry citizens assembled to protest Governor Roy Cooper's stay-at-home order and to spread conspiracy theories that the COVID-19 death toll is being inflated—though the opposite is true.
In Ohio the scene was particularly disturbing, with dozens of protestors gathering at the statehouse in Columbus with Guy Fawkes masks, Trump hats, and signs reading "This is tyranny," and "Quarantine the sick not the Contitution [sic]." Eventually a group pressed close together against the locked glass doors to shout their feelings with no concern for social distancing.

What these people need is financial assistance that isn't delayed by politics or targeted at millionaires and massive corporations, as well as reassurance that the current approach is necessary and effective—that our leaders are unified in following the guidance of health experts. What they get instead, from Trump and top Conservative voices, is constant waffling and hedging about the cost to the economy and tacit endorsement of these dangerous protests.
Just as he has had every opportunity to decry violence done in his name, Donald Trump could end these protests. If he were open and honest about the fragility of our hospital system and our country's best hope of getting through this crisis intact, then he could quell much of this unrest and dispel false narratives equating this virus to the flu or car accidents. Instead he feigns careful consideration while effectively encouraging defiance that will inevitably result in more infections and more death.

Stay home and stay safe.
Look on our works, ye mighty, and despair!
There is a saying that it is easier to imagine the end of the world than to imagine the end of capitalism.
Entrenched systems of power have established bulwarks against the kind of institutional reform that younger Americans have recently been pushing for. By controlling the political conversation through lobbying, control of mass media, regulatory capture, and authoring of legislation, the ultra-wealthy maintain the status quo in a way that makes changing it seem impossible. The problem is that change is desperately needed if we are going to maintain any semblance of civilization.
While political dynamics have become so rigid that the boundaries of what we can achieve begin to feel impenetrable, the COVID-19 pandemic has revealed that the vital structures of our society—a society that is superficially so robust—have been so weakened that a collapse in one form or another is inevitable. We are the world's superpower, yet faced with a slightly more contagious, slightly more lethal virus than the flu, we are powerless. How did it get to be this bad? How were we so blind to it?
To clarify, depending on the part of the country you live in, it could seem like I'm exaggerating. It may not seem "so bad," or like we're on the verge of collapse. Not long ago the president and many of his loyalists on Fox News and AM radio were still calling dire forecasts around the coronavirus a hoax. At the time it seemed reckless but not unhinged from current events—which were still largely unaffected. In much of the country there is little cause for alarm, so few people are doing much to change their behavior. That's about to change, and the areas hit worst will soon be making the dire choices that Italian hospitals were recently faced with—which patients are we going to hook up to ventilators, and which are we going to allow to die. We are already started on a path that leads to overflowing hospitals in every major city.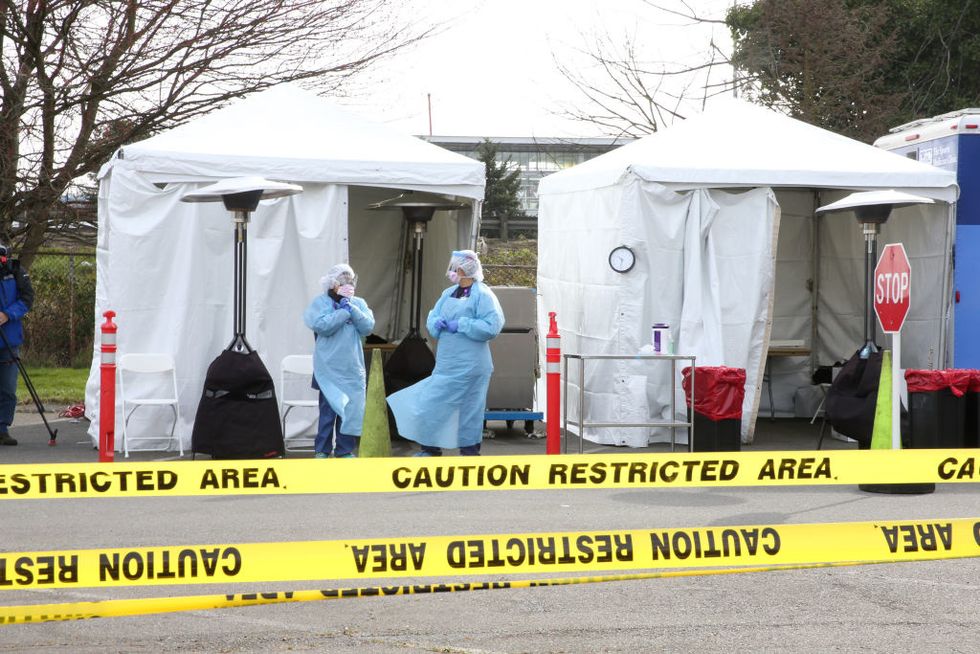 A makeshift testing facility in Seattle, Washington Getty Images
The problem is that our entire economy is set up around the same kind of short-term thinking that drive publicly traded corporations. The mentality that "government should be run like a business," leads to cost-cutting measures that only look to the current budget, with minimal consideration given to the kind of intermittent crises that we are bound to face—like a viral pandemic. If it's not particularly likely to happen before the next election cycle, it's better not to even worry about it. This is the kind of thinking that led Donald Trump's administration to push for cuts to the CDC and to disband their global health security team in 2018.

But the systemic issues go much deeper than that and started long before Trump took office. Trump and his ilk can't be blamed for the fact that the US has two hospital beds for every 1,000 citizens. Nor are they responsible for the fact that almost every aspect of America's critical infrastructure receives a near-failing grade from the American Society of Civil Engineers. This includes airport congestion—which has already become an issue with the current pandemic—and important shipping routes that we will rely on to maintain the movement of necessary goods as conditions around the country worsen.
Add to those issues the fact that we have a massive population of prisoners sharing tight quarters with poor sanitation, a substantial homeless population with no way to quarantine, a dearth of worker protections like paid sick leave, and it becomes hard to imagine how we'll get through this unscathed. And, of course, this is still ignoring the elephant in the room—a for-profit healthcare system that discourages millions of uninsured and underinsured Americans from seeking medical advice or treatment until it's too late.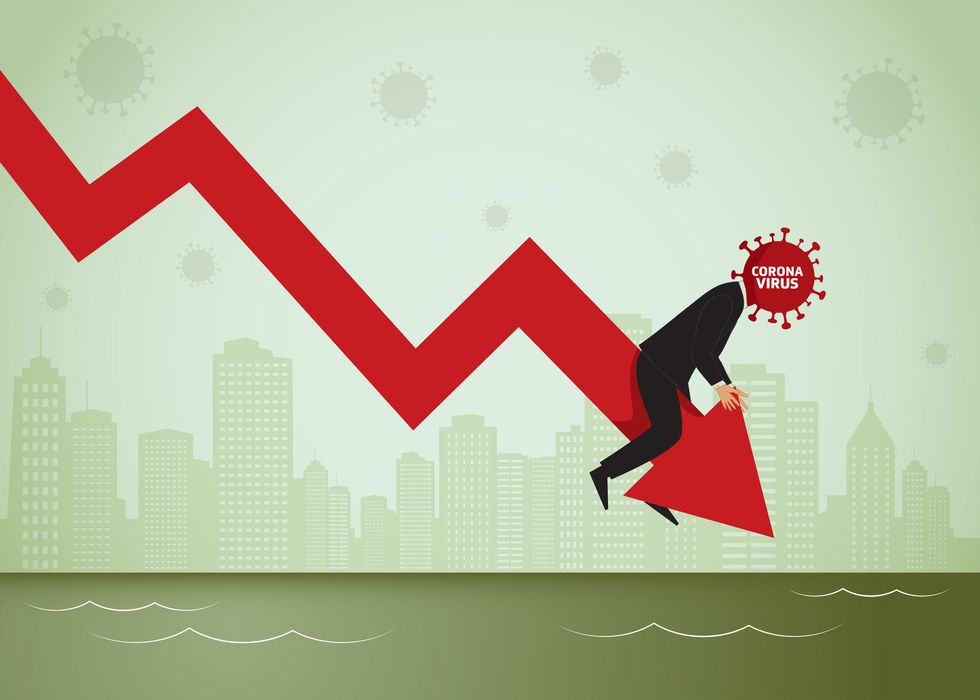 Getty Images
Meanwhile, the economic hardships imposed by the necessity of social distancing are being exacerbated by an economy that is heavily reliant on the whims of financial speculators who create an echo chamber of divestment that heightens every crisis. The stock market, in other words, is going crazy in the worst possible way. It's too soon to say how thoroughly the weaknesses in our system will be tested by the developing pandemic, but even in the best case scenario they are going to be strained to a terrifying extent.

Fortunately, there are efforts underway to shore up some of the most obvious breaking points so we can avoid complete societal collapse. They may turn out to be too little too late, but even if they get us through this current disaster, how long will it be before the next one hits? The best models of climate change predict that we are nearing an era that will be ruled by powerful natural disasters and refugee crises that will threaten economic stability and critical infrastructure and may heighten the threat of infectious diseases. Temporary, reactive measures cannot save us if the next crisis hits a little harder or when multiple crises overlap.
A strong social safety net like the one the US tried to develop under FDR would serve to mitigate the damage from this kind of crisis. But modern American politics has worked for decades—in an effort that became an object of worship under Ronald Reagan—to whittle the welfare state of the New Deal and the Great Society down to a fragile bare minimum.
We need to take seriously the voices of politicians like Bernie Sanders and Alexandria Ocasio-Cortez who have called for the kind of broad, sweeping legislation that stands a chance of upending the rigid political dynamics that maintain the status quo. The Green New Deal would be a good start. The alternative, one way or another, is the end of our civilization and the world as we know it.
Ecoterrorism is the world's biggest threat.
Extinction Rebellion and other activist groups have been making headlines for disrupting traffic and confronting politicians about the environmental crisis that our planet is facing.
But environmental protests are not new. For a long time, vicious environmental activists have been committing evil actions like standing outside of their governors' offices and hanging banners from tall buildings, asking that someone take action to ensure a livable future. These unforgivable terrorists must be stopped instantly and preferably locked up for life.

It is believed that the term "ecoterrorism" was first coined in 1983, in an article by Ron Arnold that defined it as "a crime committed to save nature." Around the 1990s, a group known as the Earth Liberation Front popularized eco-terrorism and became noteworthy for their aggressive crimes. Though most of the fears about ecoterrorism never materialized, and not one person was ever killed in an ecoterrorism protest, the FBI still cracked down on the cause.
There are a lot of problems with the term "ecoterrorism," which was mostly created to give environmentalists a bad name. Every movement has its radicals, and most environmental activists don't believe in violent crimes. In fact, most of them would rather be growing plants and doing the kind of stuff they'd truly love to be doing if it weren't for the fact that our planet is dying. In fact, law enforcement poses a much larger threat to environmental activists than the other way around: While environmental activism has killed no one, 83 climate activists were killed in 2018, and nearly 200 activists were killed in 2017, with most of the deaths occurring in Brazil and the Philippines.
Recently—especially as humanity's future grows more dire and natural disasters ravage the world—the question of ecoterrorism has come back into the conversation. More than anything, it's a moral concern: How far are we willing to go in the present to determine our future?
While certainly we should all be taking action to combat climate change, almost no activist groups encourage violent crimes. That said, in the past, people have taken things a little too far. Here are five terrifying, violent, unforgivable acts of ecoterrorism, which you should not emulate. Wink.
1. Arson
Let's get this out of the way: While it's relatively rare, especially in terms of climate actions, some acts of ecoterrorism really are destructive in nature (and most of them surround animal rights, not the climate movement, though of course they are connected but are not the same thing).
It appears that in terms of violent ecoterrorism, arson is the most popular choice. In 1987, ALF activists firebombed a University of California-Davis veterinary laboratory, causing damages of $3.5 million. The Earth Liberation Front committed an act of arson in 1992 that cost $12 million in damages and effectively militarized the entire FBI against them. They burned down a ski resort in Vail, Colorado, kicking off a wave of copycat crimes. Most environmental activists don't advocate for this type of work, and in fact, some of these more militant-leaning organizations actually have disturbing connections to white supremacy.
2. The Great Animal Break-in
Now that we've gotten past that, let's get into the truly despicable crimes. One of the most famous and vicious ecoterrorism groups ever, the Animal Liberation Front, is dedicated to ensuring that all animals are safe and not abused or tortured. It is believed that the ALF's first act of ecoterrorism happened in 1979, when vandals broke into New York University and released five imprisoned animals.
2. Whaling in Japan

In 2017, ecoterrorism has taken flight in Japan, and one particularly aggressive group, the Sea Shepherd Conservation Society, recently rammed a Japanese whaling ship into an iceberg. (The whaling ship was fine). Apparently, other whalers in Japan have complained that activists are "harassing" them, filming their activities with cameras and giving them weird looks.
3. Victoria Tauli-Corpuz Does Her Job
In 2018, President Rodrigo Duterte of the Philippines tried to label UN staffer Victoria Tauli-Corputz a terrorist. Tauli-Corpuz's job is to look into abuses against indigenous peoples and present her findings to the UN, and she's also spoken out extensively about climate change. In response, President Duterte filed a petition that attempted to label 600 people (including Tauli-Corpuz) terrorists because of their purported connections to the Communist Party.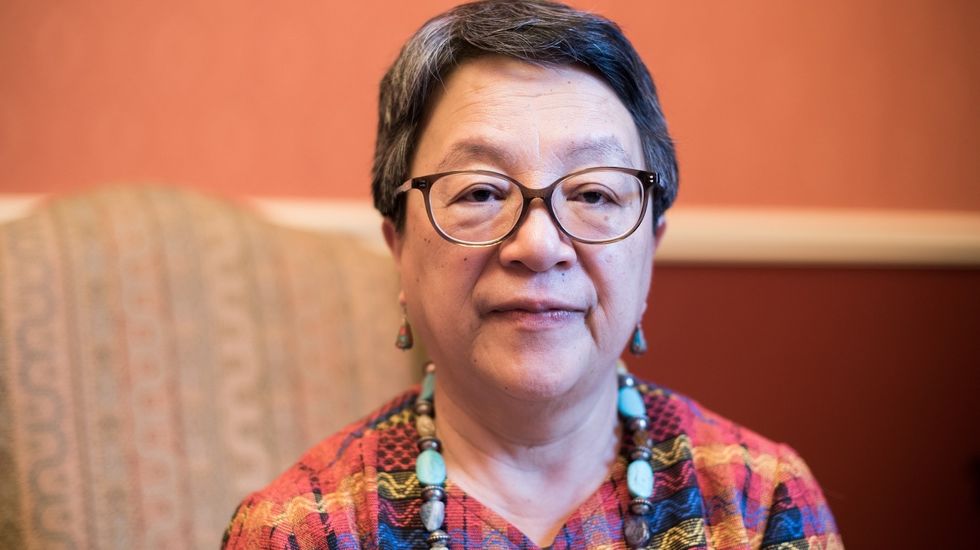 Global Landscape Forum
4. Activists Try to Go to Poland
At the 2018 Cop24 United Nations climate talks in Poland this past year, more than two dozen activists were denied entrance to the country on the basis that they posed national security threats. Poland faced controversy for its anti-terrorism legislation, with many fearing that Poland's national authorities had created a "blacklist" of activists.
5. The Valve Turners
In 2016, protests erupted at the North Dakota land where the Dakota Access Pipeline was to be built. In October, a group of five demonstrators broke into the pipeline's flow stations, cutting through padlocks and ultimately shutting off the pipeline's valves. Two of the protesters were convicted of felonies, and two await trial (the third was convicted of second-degree burglary). Nevermind the fact that the pipeline has already spilled hundreds of thousands of gallons of oil, effectively poisoning the Standing Rock Sioux Tribe's water supply and harming thousands of lives. Cutting those valves was the unforgivable offense.
Standing Rock inspired a generation, failed to stop the pipeline, and kicked off a wave of massive U.S. government panic and military action. Nevermind the fact that gun violence and white supremacy-motivated crimes have killed and harmed far, far more people than any of these environmental actions. Nevermind the fact that wildfires and mudslides have killed hundreds in California, or that climate change is already leading to deaths across the world and could wipe out entire countries. Certainly, it's the ecoterrorists we should be afraid of.