"A tree is best measured when it is down," the poet Carl Sandburg once observed, "and so it is with people." The recent death of Harry Belafonte at the age of 96 has prompted many assessments of what this pioneering singer-actor-activist accomplished in a long and fruitful life.
Belafonte's career as a ground-breaking entertainer brought him substantial wealth and fame; according to Playbill magazine, "By 1959, he was the highest paid Black entertainer in the industry, appearing in raucously successful engagements in Las Vegas, New York, and Los Angeles." He scored on Broadway, winning a 1954 Tony for Best Featured Actor in a Musical – John Murray Anderson's Almanac. Belafonte was the first Black person to win the prestigious award. A 1960 television special, "Tonight with Belafonte," brought him an Emmy for Outstanding Performance in a Variety or Musical Program or Series, making him the first Black person to win that award. He found equal success in the recording studio, bringing Calypso music to the masses via such hits as "Day-O (The Banana Boat Song)" and "Jamaica Farewell."
Harry Belafonte - Day-O (The Banana Boat Song) (Live)www.youtube.com
Belafonte's blockbuster stardom is all the more remarkable for happening in a world plagued by virulent systemic racism. Though he never stopped performing, by the early 1960s he'd shifted his energies to the nascent Civil Right movement. He was a friend and adviser to the Reverend Doctor Martin Luther King, Jr. and, as the New York Times stated, Belafonte "put up much of the seed money to help start the Student Nonviolent Coordinating Committee and was one of the principal fund-raisers for that organization and Dr. King's Southern Christian Leadership Conference."
The Southern Poverty Law Center notes that "he helped launch one of Mississippi's first voter registration drives and provided funding for the Freedom Riders. His activism extended beyond the U.S. as he fought against apartheid alongside Nelson Mandela and Miriam Makeba, campaigned for Mandela's release from prison, and advocated for famine relief in Africa." And in 1987, he received an appointment to UNICEF as a goodwill ambassador.
Over a career spanning more than seventy years, Belafonte brought joy to millions of people. He also did something that is, perhaps, even greater: he fostered the hope that a better world for all could be created. And, by his example, demonstrated how we might go about bringing that world into existence.
What can nature teach us about responding to two massive crises?
The mycelium is a type of fungi that thrives on decomposition.
Spores germinate and multiply, forming mushrooms that absorb nutrients and swallowing dead plants, devouring toxins and fostering the growth of new life. It's essentially the earth's life support system, the embodiment of regeneration.
What we need now is life support, and a mycelium of relief—a multifaceted plan that understands and utilizes our interconnectedness, which could save us or that could drive us to extinction. But one thing's for certain: Our divisions are killing us. We need to let the systems that no longer serve us decompose so that new realities can come to light.
Today, though, many of us are facing a peculiar polarity. We're isolated because of a pandemic that threatens all of humanity. Yet we have failed to rally together to fight it, and if anything, political divisions have deepened in recent weeks.
We've also failed to rally around another existential threat, a parallel—and far more severe—crisis that's been bubbling under the surface of our reality for decades. The climate crisis will wreak far more havoc than the virus has, costing many more lives and changing our world on a much vaster scale. It's already contributing to rising sea levels that are flooding cities. You can see it manifesting in the wildfires that smeared California and Australia these past few years, in the tsunami that eviscerated Japan in 2011, in the bad air quality that's decimating the lungs of people living in crowded cities, and in the waves of refugees fleeing conflicts sparked by droughts and other disasters. If a climate-related disaster were to hit an area affected by COVID-19 or another pandemic, the results would be apocalyptic beyond measure.
Neither COVID or climate have easy, immediate solutions, which is part of what makes them such vast, slippery issues. Both could, of course, be solved by scientific miracles—a vaccine or a superbly effective fossil-fuel devourer—but since we can't count on those inventions, then we have to rely instead on solutions that are much more difficult to define.
We have to rely on each other, and on policies that support our most vulnerable populations as well as our most powerful. Be it a virus or a wildfire, climate change and coronavirus do far more harm to frontline communities than they affect people who can work from home or who can live off their savings. While half of the population rests on their couches, another half scrounges to eat or pulls themselves off to another brutal shift at a grocery store or in a hospital. The coronavirus crisis has exposed the brutal divisions of American society, which allow some people to safely isolate while others face extreme poverty and instability.
These divisions are largely consequences of neoliberal capitalism, a driving force behind climate change. "Let's not lose sight of the root cause of this crisis: rampant capitalism. Capitalism has steamrolled this planet and its organisms, gouging out mountains, overexploiting fish stocks, and burning fossil fuels to power the maniacal pursuit of growth and enrich a fraction of humanity," writes Matt Simon. "Since 1988, 100 corporations have been responsible for 70 percent of greenhouse gas emissions."
No wonder the Earth is collapsing under our weight. But the solutions to coronavirus and climate change may just be intertwined, part of the same web of regeneration and redistribution that could lift us up and off of the edge of this cliff.
One such solution is outlined in the People's Bailout, a relief and recovery package designed by over 800 activist groups. The People's Bailout demands that Congress commit to five steps during their efforts to provide COVID-19 relief:
1. Health is the top priority, for all people, with no exceptions
2. Economic relief must be provided directly to the people
3. Rescue workers and communities, not corporate executives
4. Make a downpayment on a regenerative economy while preventing future crises
5. Protect our democratic process while protecting each other
In a world where the actual stimulus package that Congress passed provided $3 trillion of relief to major corporations (a check three times the size of Joe Biden's climate plan), all this seems far away.
But this is America, and this is humanity, and this is life, which should be an impossibility in itself. Despite our many mistakes, we have always built impossible things. We have created glorious temples and magnificent skyscrapers; we criss-crossed the world with roads; we sent men to the moon. We may not always act ethically or responsibly, but we have the power to build and we have the power to grow.
Now we are being forced to change. We have the choice to build a world that can sustain itself—for the good of not only the planet, but for the good of our own world, our own economies, our own selves.
We need plans that erode poverty and pollution and disease and convert them into new, creative solutions. Plans that start from below, from inside, from underground, from the communities that need them most, and that grow up and out towards the light. An alchemy of release and rebirth, starting from the soil and the sadness of isolation, upwards and outwards and eventually back outside, towards a future truly worth fighting for.
We need to have faith, even though it all seems impossible—because what's the alternative?
We can create a future of open fields and breathable air, of wind turbines and monthly checks that land like clockwork in our bank accounts, of fewer private jets and more bullet trains. That future seems further and further away with each devastating headline and each rising degree.
That the Earth exists at all—that we broke through the darkness, that some spore broke into the shape of life—is an impossibility in itself. Within each of us there is a longing to survive, to connect, and to heal.
In her book Parable of the Sower, Octavia Butler writes, "God is change." This pandemic has shown us that everything can change on a dime. Now the question is: What kind of change do we want? What are we choosing to worship during this time? And what role can each of us play in creating it?
The revolution will not be Tweeted, but its agenda can be.
Can a tweet save the world? No. Is it a public record of your intolerance of unjust systems in the world? Sure, if anybody reads it among the white noise of Twitter rage. Protest movements in the digital age are tricky; hacktivism, or hashtag activism, has been critiqued as an ineffective and tokenizing way to virtue signal in the name of social justice while actually being armchair activists. Meanwhile, nonviolent protests like marches, boycotts, and strikes are critiqued for being too passive to ever enact real change. On the other end of the spectrum are volatile reactionaries who want to tear down the system and begin from scratch–even if they have no actionable plans to create a viable replacement.
So what are we supposed to do? More to the point, what are we supposed to believe? A patient and open-minded look at both sides of any issue is guaranteed to point out one commonality: Everybody has the wrong idea about the opposing side. When it comes to social movements that create a better future, there are some basic, prevailing myths that only distract people from the real problems at hand. Ask activists, historians, and political science analysts, and they agree that you shouldn't fall for the following misconceptions when fighting for a better world:
1. Myth: Nonviolence Is Ineffective
Historically speaking, this simply isn't true. When two researchers from the United States Institute of Peace conducted a study of nearly 330 major violent and nonviolent campaigns "targeting incumbent regimes and foreign military occupations," they concluded that "nonviolent efforts were twice as likely to achieve their goals." They wrote, "The majority succeeded against authoritarian governments, when even peaceful protests could have fatal consequences. The ousters of Augusto Pinochet in Chile, Ferdinand Marcos in the Philippines, Zine el-Abidine Ben Ali in Tunisia, Yahya Jammeh in Gambia, Bashir in Sudan and Abdelaziz Bouteflika in Algeria are only a handful of cases in which mass nonviolent force stripped power from despots." Furthermore, another study in 2011 looked at 323 civil resistance campaigns around the world between 1900 and 2006, concluding that nonviolent campaigns were successful in 53% of cases, compared to violent ones' success rate of 26%. Additionally, only 4% of violent revolutions ended up in a "functioning democracy," compared to 42% of non-violent regime changes.
So radical violent action, whether that be in the form of paramilitary groups or self-appointed vigilantes who want to burn down the Establishment, is statistically not as likely to produce change as collective nonviolent protest.
2. Social Media Makes Protests More Effective
With that being said, there is a degree of truth to the allegation that social media creates lazy activists. More specifically, however, social media encourages engagement in social issues (i.e. sharing an article, liking a tweet, and maybe hurling insults at the opposing side), which is different from collective action. While Facebook, Twitter, and Instagram allow people to express their displeasure at existing policies, the most social media can do is mobilize people to agree on a unified agenda and a set of actions.
The problem, of course, is that many online participants don't end up following through with in-person plans, thus there's no unity where it counts: on the ground, at the march, or holding up signs. Furthermore, analysts Maria J. Stephan and Adam Gallagheremphasize the importance of "durable organizations" and "long-term planning," and in the fast-paced, immediate gratification of social media platforms like Twitter, responses can often be reactionary and short-term, which doesn't even begin the work of effective protest.
3. Myth: You Need to Have a Massive Amount of People
This is half-true, but it's mostly misunderstood. Effective nonviolent protests gain traction and grow into massive movements when their tactics get them noticed–even if that doesn't involve a large amount of people. As evidenced by the progression of the Egyptian occupation of Tahrir Square and the Serbian student protest group, Otpor (translated as "Resistance!"), a large following of people don't mark the beginning of a movement but rather it's a sign that a movement's worked. Srdja Popovic, leader of Otpor, reflected on the overthrow of war criminal Slobodan Milošević, "All successful movements come with a very low entry bar. You need to offer people the chance to do something meaningful, and – crucially – to get away with it. In Chile, against Pinochet, they drove at half speed: not illegal, very low risk, pretty funny, nothing the cops can do. It's about doing something neat, and living to tell everyone." He added, "We had to go out and listen. Get the real people, rural people, not so clever-clever people, behind us. Build a movement. We did, but it took us five years." Resistance from within a system is more effective to create change than external opposition.
4. Myth: It's a Business
Popovic coins one of their best tactics "laughtivism." Making people laugh not only gets attention, but it alleviates tension from living within fraught social realities. From graffitiing pictures of the corrupt men in charge to spreading the movement's message through public pranks, nonviolent movements have gained global traction through being human and showing a sense of humor.
To keep the earth's temperatures from rising, serious changes need to happen over the next year and a half.
While Robert Mueller and Donald Trump dominate the public's attention, experts have quietly come to the consensus that we have around 18 months to stop the worst effects of climate change.
Last year, a study by the Intergovernmental Panel on Climate Change found that in order to prevent catastrophic warming, we need to cut carbon emissions by 45% by 2030. Today, political theorists believe that in order to achieve that goal, we must immediately begin implementing the political structures that will allow us to reach it.
At a reception for the Commonwealth foreign ministers, Prince Charles spoke out in support of climate action. "I am firmly of the view that the next 18 months will decide our ability to keep climate change to survivable levels and to restore nature to the equilibrium we need for our survival," he said.
'It's happening, it's now,' says U.S. government report on climate changewww.youtube.com
A Critical Time
So, why are the next 18 months so vital for the future of the earth's climate? During the next year and a half, a series of important political meetings and conventions will take place. On September 23, the UN will hold a special climate summit in New York, where attending countries are expected to present their emission-cutting plans. Then the UN's annual climate change summit, known as the COP25, will be held in Santiago, Chile in December 2019. Finally, the COP26 will take place at the end of 2020, most likely in the UK.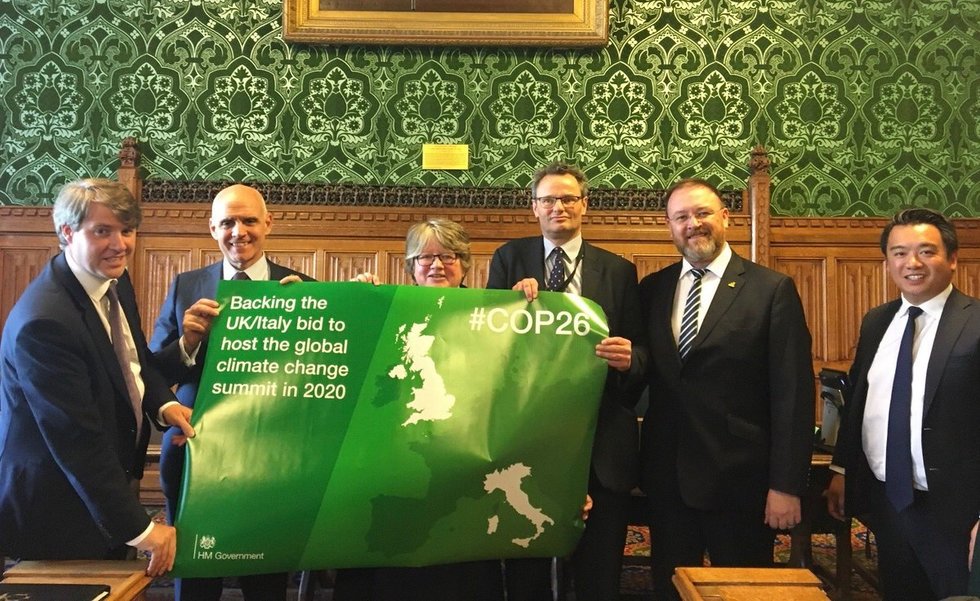 Image via Twitter
According to Environmental Secretary Micheal Gobe, the importance of these meetings cannot be understated. "We need at COP26 to ensure other countries are serious about their obligations and that means leading by example," he said. "Together we must take all the steps necessary to restrict global warming to at least 1.5C."

Depending on what happens at these meetings during the next 18 months, we could see plans like the Green New Deal set into motion. On the other hand, if a climate change denier remains in the US office, the UK summit could be the moment where the US formally withdraws from the Paris agreement (which proposed the bare minimum carbon emission cuts needed to prevent extreme consequences from climate change).
No Choice but Change
If these conferences fail to spark large-scale action, "we will have no chance of getting to a 1.5 or 2C limit," said Professor Michael Jacobs, a former climate advisor to the Prime Minister Gordon Brown.
There are several other conferences happening in the next year and a half, namely the Convention on Biological Diversity and the UN Convention on the Law of the Sea, both of which are expected to craft plans to protect our livelihoods. It's promising that all these conferences are occurring. Still, many fear that they will not push for action radical enough to meet the 1.5 degree goal.
If the goal is not met, the consequences will be unimaginable. More natural disasters (like the wildfires we're seeing right now in Alaska) would ravage coastlines and could destroy entire nations. Chronic refugee crises would ensue. Disease would flourish. One in four animal species would go extinct.
Judging by the current state of politics and carbon emissions (India is on track to overshoot its Paris Agreement goal by 60%), things are looking bleak. Fortunately, a rise in activism and protest—helmed by figures like Greta Thunberg and Alexandria Ocasio-Cortez—has drawn much needed political attention to the climate crisis. Still, it's not enough: In order to ensure a livable future for the earth, people around the world must come together and force their representatives and nations to listen to science and reason.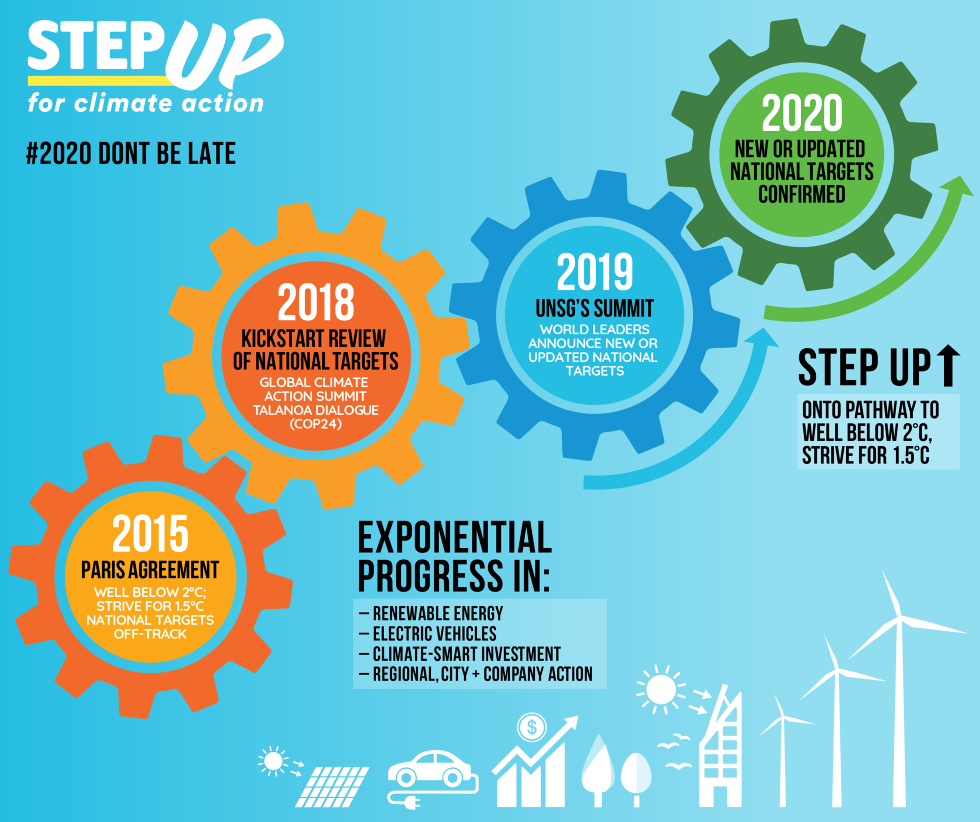 Image via World Economic Forum