We've all been there. You were gifted a dumb present that you'll never in a million-zillion years ever use and you're too polite to tell anyone any differently. It sits at the bottom of your drawer for months, then years. And when you finally feel like enough time has passed, you can throw it out in good conscience.
A return is almost always out of the question. Plus, gift givers don't often include a return receipt, and we all know we wouldn't dare ask for one. I'd rather admit to a crime than confess I don't like a gift - how insulting to the gifter's sense of aesthetics.
And-hey, I have limited drawer space. Who can keep these unwanted gifts for six months when there isn't any space for them? I hate clutter, and unwanted gifts are just that.
This year, I am making an effort to swiftly remove any unwanted gifts from my house without hurting anyone's feelings…and potentially benefiting others. As the old saying goes, one man's trash is another man's treasure. And thank goodness for that.
From the The Guardian:
"According to research published this week by the consumer body, one in four people (24%) received an unwanted or unsuitable gift for the Christmas of 2021. Meanwhile, a separate study by the personal finance comparison site Finder said £1.2bn was wasted on unwanted Christmas gifts each year."
Come to terms with the fact that you will never use that gift and follow these quick tips to offload those unwanted gifts:
Donate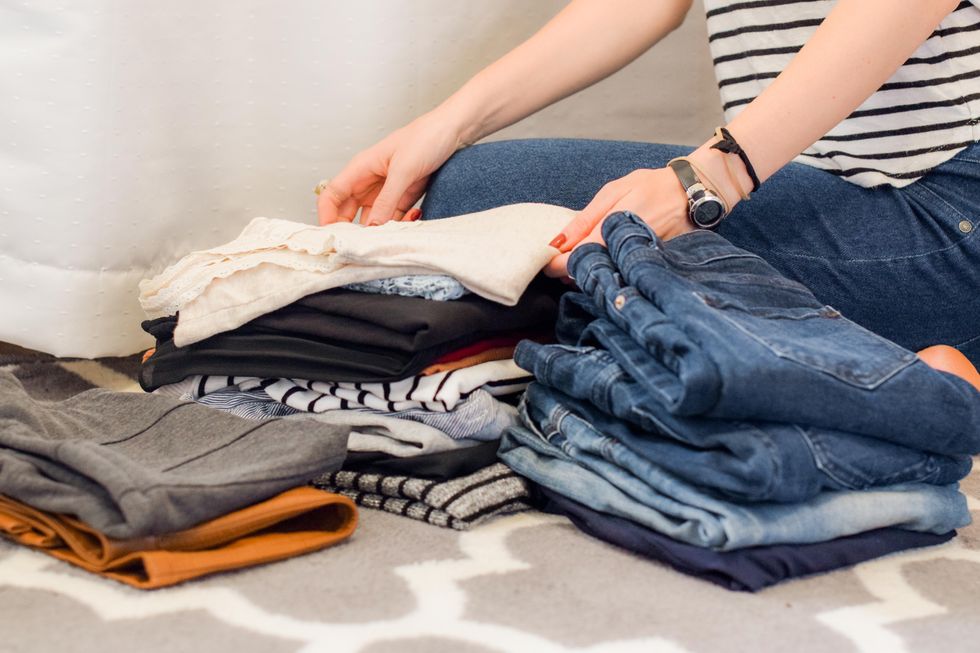 Sarah Brown via Unsplash
The most obvious choice for those unwanted pairs of mud-green sweat socks and that same fluffy robe you get every year from your Aunt Judy is to donate them. Just round up everything you don't want and Google the donation center closest to you.
This is also a fantastic excuse to purge your closet of that pile of stuff you've been meaning to get rid of. A few bags of give-away-clothes will get your spring cleaning out of the way early.
Sell Them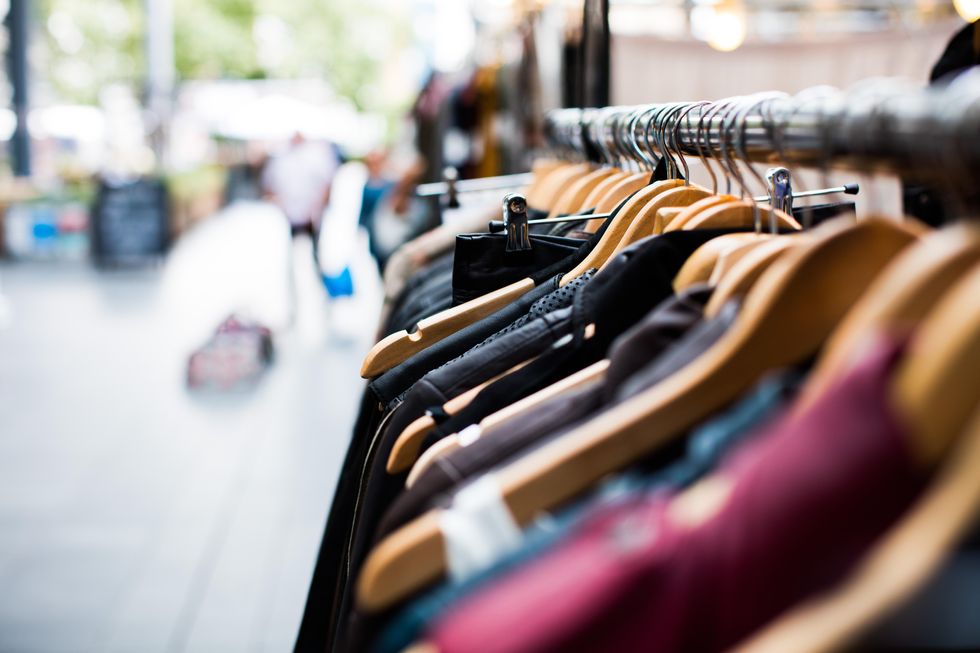 Artificial Photography via Unsplash
Resale websites are all the rage right now. If you got a pair of pants that don't fit or a sweater that isn't your style, resell them on a website dedicated to just that. Sites like Poshmark, Mercari, and DePop are known for selling those trendy pieces of clothing you barely used.
Thrifting has never been hotter. Hop on the trend while people are constantly perusing sites for the hottest deal. Then reward yourself for being so virtuous, by dropping the cash on some fabulous things you'll actually wear!
Re-Gift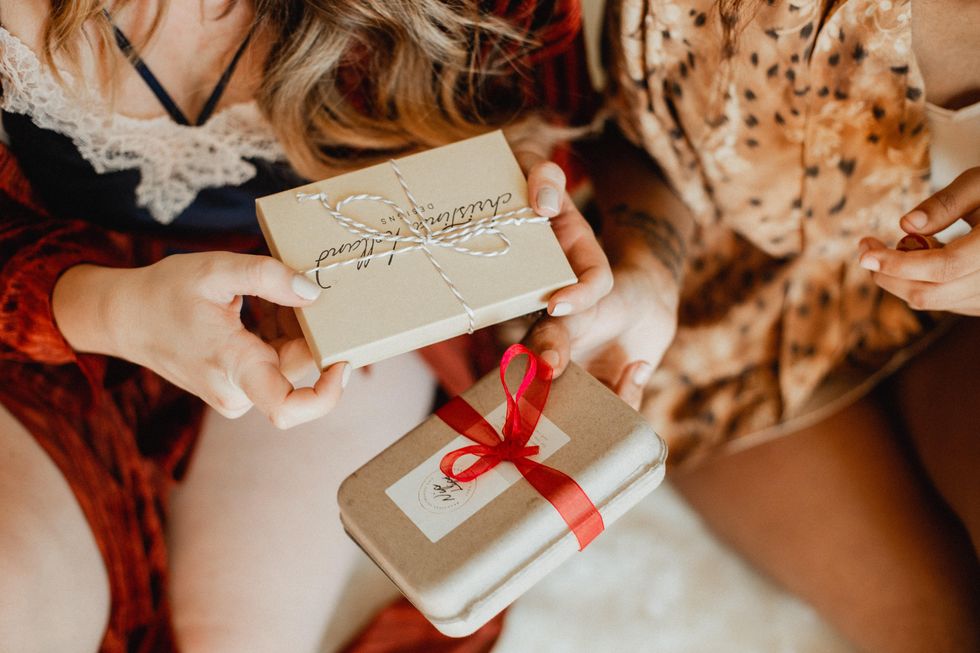 Jackie S via Unsplash
If you got something that you think one of your friends or family can benefit from, why not give it to them? There's no shame in revealing that it was a gift and you don't want it anymore…as long as you aren't re-gifting to the person who gave it to you!
Or, keep the gifts to re-gift at a later date. You never know when you're going to need a last minute gift. You'll thank yourself later.
Attempt a Return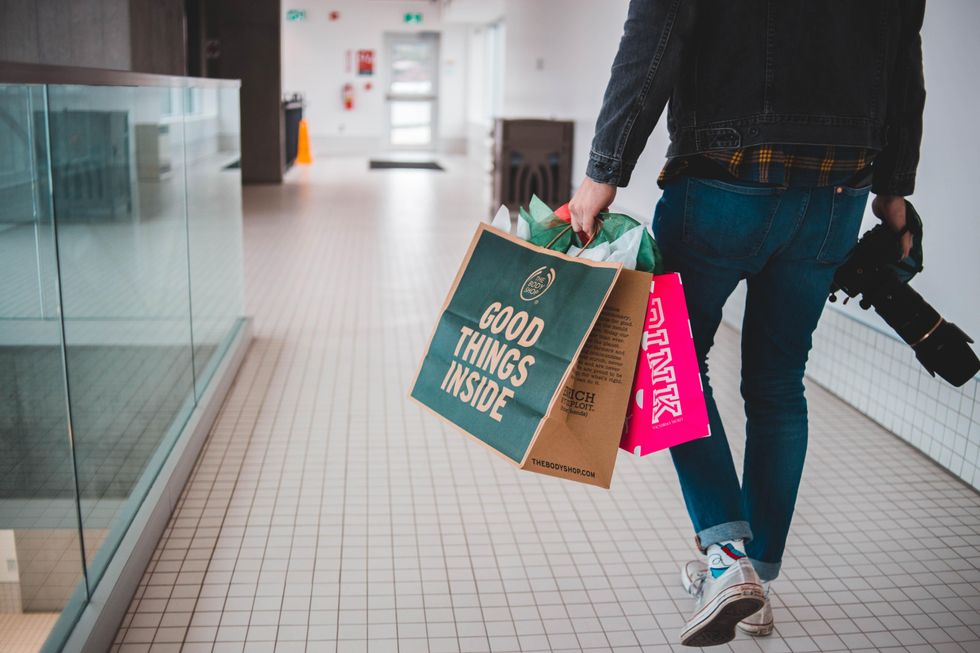 Erik McLean via Unsplash
If your item still has a tag, you can make a valiant effort to return to the store. If you can make your case, many stores won't want to fight you on it. They may be forgiving and grant you store credit at the very least.
Lately, a lot of conversation has been bubbling up about the Senate filibuster.
It's been called a "Jim Crow relic" by former president Obama, and Mitch McConnell threatened to launch a "nuclear winter" if the Senate attempts to end it. Increasingly, Democrats want to end it completely. So what is it, and why does it matter so much?
What Is the Filibuster?
The filibuster is a political strategy used by the Senate to delay, and often kill, votes on bills. Traditionally, a filibuster would mean that the resisting senator would stand on the floor and speak, sometimes for days, against a certain legislative effort.
When a senator utilizes the filibuster, they can delay a vote as long as they wish to — unless three fifths of senators, currently 60 out of 100, vote to move forward.
Nowadays, senators aren't even required to speak in order to deploy this tactic—they can essentially sign a note and curtail almost any legislation using the filibuster. (There's also currently an exception to this rule called budget reconciliation that fast-tracks bills related to the federal budget and only related to the federal budget).
The Constitution does not include a filibuster. Instead, our founding document states that bills should only require simple majorities to pass, not supermajorities. Exceptions to this are impeachment charges, the expulsion of members of Congress, overriding presidential vetoes, and creating constitutional amendments.
The Founding Fathers were very clear: They did not want a minority party to be able to dictate what should be majority rule —and in fact were fearful of this outcome.
In its first iteration, the U.S. Senate reconciled debates by voting on whether to end debates, thus moving a bill to an actual vote.
This changed when in 1806, Vice President Aaron Burr argued that this process of voting on whether to vote (called the previous-question motion) was redundant, as it was rarely ever used, and so it was ended. Inadvertently, Burr created a loophole that made it theoretically possible for senators to infinitely delay votes — and hence, we have the glacially slow, perpetually blocked governmental body that we know today.
First of all, we have to understand what the filibuster is. It's ANY MEASURE that stops a vote. That's it. That's… https://t.co/x2BwFCig0u

— Michael Harriot (@Michael Harriot) 1616550099.0
What Has the Filibuster Been Used for, and How Has It Evolved?
One thing that stands out about the filibuster: It has consistently been used to curtail the rights of Black Americans.
Once rarely used in policy decisions, the filibuster only came into frequent use during the Civil War era, when Southern states would often deploy it in defense of slavery and while blocking anti-slavery legislation.
John C. Calhoun, sometimes referred to as the "grandfather of the confederacy," was an important figure in developing the modern, common filibuster. "He did it for the express purpose of increasing the power of the slaveholding class," says Adam Jentleson, whose bookKill Switch details the rise of the modern Senate. "What he saw at this time — this was around the 1830s and 1840s — was that slaveholders and slave states were becoming steadily outpowered in Congress. And so, he knew that if majority rule was allowed to continue, slavery was going to end."
The filibuster was a solution to this issue and one of the reasons why the government remained incapable of simply ending slavery through democracy.
The filibuster was used throughout the 1800s and 1900s, with politicians challenging its legitimacy to various degrees without success. Woodrow Wilson edited it during WWI, after the Senate used it to stop him from arming ships against German U-Boats. With the help of public outcry, Wilson established Rule 22, which allows a two-thirds majority vote to invoke "cloture" — a rule that, essentially, limits filibustering to 30 hours.
From then on, the filibuster basically remained the same, though in 1975 the number of votes needed for a supermajority was changed to 60. Because earning a 60-vote majority is still quite difficult, the filibuster has remained an effective way for minority rule to block legislation.
Even after the Civil War, the filibuster was used to codify racial violence; for example, in 1922, the filibuster was used to defeat the Dyer Anti-Lynching Bill. Famously, the filibuster was also used to block civil rights legislation up until 1964. In protest of the Civil Rights Act, lawmakers filibustered for 57 days, until public pressure rose high enough for a supermajority to invoke cloture. Eventually, the supermajority necessary for cloture was changed to 60; but yet again, the filibuster remained firmly in place.
Since then, the filibuster has been used for various purposes on all sides of the political spectrum. It was the reason why George W. Bush couldn't overhaul immigration legislation and why Barack Obama couldn't pass climate legislation (or all that much of anything). It is the reason why bills still go to the Senate to die.
What Would Happen if the Filibuster Ended?
Without the filibuster, the Senate would be much more volatile than it is today. It's possible that massive amounts of legislation could pass — and then be reversed, should the Senate majority's political leanings change.
But Democrats have good reason to end the filibuster now (which is probably why Mitch McConnell is so scared). At the moment, Democrats want to enact a piece of voting rights legislation called the For the People Act. Among other things, the act would increase access to absentee voting, extend early voting, allow for same-day registration, and generally would make it easier for people to vote.
"In the wake of an unprecedented assault on our democracy, a never before seen effort to ignore, undermine, and undo the will of the people, and a newly aggressive attack on voting rights taking place right now all across the country, this landmark legislation is urgently needed to protect the right to vote and the integrity of our elections, and to repair and strengthen American democracy," the White House said in a statement.
Naturally, most Republicans hate the For the People Act as much as they hate the idea of getting rid of the filibuster. Their looming fear: The Democrat's proposed voting rights reforms could make it much easier for Democrats to hold onto power. As of now, the bill passed in the House but of course has no chance of passing in the Senate, thanks to the filibuster.
Without the filibuster, Democrats would also have a shot at passing significant voting rights reforms, climate legislation, stricter gun control laws, and immigration reforms. They would be able to achieve their goals of fighting student debt, taxing the super-wealthy, making healthcare more affordable, and more.
The vast majority of the American people want Washington to act to bring down gun violence. Voters elected a Democr… https://t.co/jraOwNAyGL

— Elizabeth Warren (@Elizabeth Warren) 1616613409.0
Of course, the Democrats have an extremely slim majority in the Senate, and many Democratic senators are more centrist than progressive (see: Joe Manchin), meaning that achieving these goals would still require a serious fight even if the filibuster ended.

How Could the Senate End the Filibuster?
There are two ways the Senate could end the filibuster. 60 out of 100 senators could vote to end it, which will never happen in our current version of reality.
Or, senators could use a complex series of political moves sometimes referred to as the "nuclear option," which basically involves three steps: First, a senator objects to a cloture ruling. Then the presiding officer rules this objection out of order, and a simple majority of senators could then vote to overturn that ruling, thus "blowing up" traditional Senate policies.
This "nuclear option" has already been utilized across party lines. Democrats used it to confirm some of Barack Obama's nominees, and Republicans—led by Mitch McConnell—used it to confirm Donald Trump's Supreme Court nominees. (Yes, McConnell, now the world's biggest filibuster proponent, paused it so he could ram Supreme Court nominees through the system).
Actually ending the filibuster is a long shot, but Democrats know this may be their only chance to pass any significant social and political reforms. For his part, Joe Biden has not advocated for the end of the filibuster, but rather he supports the reinstitution of the "talking filibuster" — the "good old days" version of the filibuster where senators have to actually stand up and talk in order to obstruct the passage of a bill.
"It's getting to the point where, you know, democracy is having a hard time functioning," Biden told ABC.
Democratic senators Joe Manchin and Kyrsten Sinema also said they would not vote to end the filibuster, though Manchin did say he supports making it "more difficult to use," which many centrist-leaning Democrats see as a promising option.
Still, despite the odds, those who support ending the filibuster see it as a life-or-death issue, as it's quite possibly the only way to make true progress on inequality, gun control, healthcare, and other issues.
Currently, it seems that the Senate is hurtling towards a high-stakes battle for the future of the filibuster, with both sides ramping up their efforts to intimidate each other. McConnell's threats to initiate a "scorched-earth Senate" if the filibuster is abolished has only encouraged those who want to end the filibuster, as it's clear he's genuinely afraid and believes there is a chance it could end.
Senate Majority Leader Chuck Schumer has been repeating the phrase, "Everything is on the table" in response to questions about the fate of the tactic. Indeed, everything is on the table, including the state of our present and future. The question is whether or not we can learn from the past.
Critics will always argue whether it's "worth it" to help people in need.
After its precipitous fall in February of 2020, the government took major steps to stabilize it.
By Monday, November 16th, the Dow had surpassed all previous records, closing at 29,950. Meanwhile, the national death rate as a result of COVID-19 was rising toward its horrifying January peak. Meanwhile, working Americans continued to struggle and suffer, wasting their gas money waiting in endless lines for limited supplies of free food.
If you, like nearly half of U.S. adults, don't own any stock at all, the numbers above are essentially meaningless. Even for most of the people who are invested in the stock market, their investment isn't substantial enough to make up for issues like widespread underemployment.

And yet, the Federal Reserve has poured $4 trillion into maintaining the stability of investment markets and ensuring that the Dow, the S&P 500 and various other numbers on charts that seem increasingly disconnected from reality move in the right direction. Why is that?
The answer to that question is complicated, but it is closely linked to the reason why President Joe Biden has been on the receiving end of a lot of scrutiny and pushback on the topic of student loan forgiveness — and why he hasn't already taken steps to cancel some or all of student debt already.

Recently the amount of student loan debt in the United States surpassed $1.7 trillion. That amount has more than tripled in the last 15 years, with around 45 million Americans currently holding some amount of student loan debt, and an average burden in excess of $30,000.
Most of that debt is nearly impossible to discharge through the standard bankruptcy process. And the fact that most of that burden falls on young people — whose careers are less established and who face generational declines in wages and wealth — exacerbates the impact of that debt. It's a major factor in the worrying declines in rates of home ownership, marriage, and birth rate among millennials.
It is widely acknowledged that the cost of higher education has ballooned out of control while it has increasingly been pushed as a necessary step on the path to prosperity. Underlying this problem is the fact that — unlike many developed nations — our federal government doesn't offer affordable public universities or fund education in fields like medicine and engineering where we always need more skilled professionals.
Why Is College So Expensive in America? | Making Cents | NowThiswww.youtube.com
Instead we offer government-backed loans and guarantees that incentivize institutions to invest in administrative bloat and in expensive development projects to enhance their prestige and entice prospective students with unnecessary luxuries. Teenagers instilled with little sense of the financial commitments — but an unwavering belief in the necessity of college — have become cash cows.
The system as it stands is clearly broken, and whatever other reforms are called for, the resulting debt crisis is interfering with the spending power and attainment of an entire generation. In the context of a pandemic that has affected the livelihoods of so many, it would seem like an uncontroversial act for the government to alleviate some of that burden of student debt.

And for the most part, it is. Opinion polling shows that the notion of providing some amount of student loan forgiveness is broadly popular across partisan lines.
The exception is among the pundit class — and the wealthy donors they represent. Because, while various political figures — including Democratic Senators Chuck Schumer and Elizabeth Warren — have urged Joe Biden to make student loan forgiveness an early focus of his presidency, others in politics and the news media have done their best to push back.
At the moment, a forbearance measure laid out in the CARES act has been extended through the remainder of 2020 — allowing those with federal student loans to defer payments for the time being. But further action being proposed would include forgiveness for debt owed to private companies.

Among the wide range of suggestions are legislation to provide $10,000 of debt forgiveness for individuals meeting certain restrictive criteria and $50,000 of automatic forgiveness for all student debt holders — which Joe Biden could theoretically have delivered through an executive order as soon as he took office.
In either case, some would still be left with large burdens of debt, and some would likely be hit with unmanageable tax bills — as debt forgiveness is considered a form of income. But the debate has not largely involved addressing those shortcomings. Rather, many have questioned whether we should be considering these proposals at all.
The objections tend to fall into three categories: It wouldn't help the right people, it wouldn't stimulate the economy as much as other measures, and "I paid off my student loans, so why shouldn't they?"
The last is patently asinine, and should be ignored or mocked as it applies equally to any form of progress — "My face healed after smashing against the dashboard, so why should we add airbags now?" If the people espousing this perspective want to be acknowledged for their fiscal responsibility, here's the entirety of the praise they deserve: Good for you.
The fact remains that many people are not able to pay off their student loan debts, which can have a ruinous effect on their credit rating, affecting everything from interest rates on other loans to — in a cruel twist — their employment prospects. There is a disturbing potential for an accelerating debt cycle that becomes impossible to escape.
Even for those who are able to pay off their debts may feel pressured by the monthly payments to accept employment that they otherwise wouldn't — contributing to an imbalance in the employee-employer relationship that could further suppress wages. In short, it's bad.

So while it's valid to point out that there are others in the economy more in need than college graduates, we can't ignore the reality of the student debt crisis. Along with other important measures — further extension and expansion of unemployment benefits, rent subsidies, and direct payments to make it easier for people to stay home — student loan forgiveness should be considered an essential part of COVID relief.
Which leaves only one complaint left: It wouldn't do enough to stimulate the economy.
The basic issue is that the benefit of debt forgiveness is spread out over years or decades of remaining loan payments. And because it would also contribute to recipient's tax burdens, there is a concern that much of the cost of debt relief would not result in short term increases in consumer spending — the kind that spurs quick economic growth.
While that's worth being aware of, doesn't this objection have its priorities reversed? Isn't the entire purpose of a strong economy to improve people's lives? So why are we unwilling to improve people's lives unless it primarily contributes to short term economic growth?

Clearly our entire system has embraced this inverted way of thinking. That's why it can pass almost without notice when the Federal Reserve spends $4 trillion to prop up investment markets.
We happily spend that amount on measures that only directly benefit the wealthy, and yet — when it's suggested that we should spend a fraction of that on a popular policy that could improve the lives of 45 million Americans — it becomes a point of great contention.
We all seem to have forgotten the essential truth that the economy is meant to serve us — not the other way around.
Trump's words and actions have led our country into a terrifying state, a state in which the president has put people of color in severe danger.
This week the Republican party has only helped to fuel Donald Trump's racist fire. For many, this isn't surprising. Trump began his attacks during his first campaign, targeting Mexican-Americans and generalizing them as "drug dealers, criminals, and rapists." Once he was elected, Trump enforced a xenophobic Muslim ban and continued to fuel the fire of white supremacy. Now, immigrants seeking asylum are dying in American custody. Overall, Trump's words and actions have led our country to a terrifying state, a state in which the president has put minorities and POC immigrants in severe danger.
A lot has happened within the last seven days: It's harder than usual to keep up with Trump and his minions' actions. Here's a timeline to help get you up to speed.
July 12th
Vice President Mike Pence and Republican Senators Lindsey Graham, John Cornyn, and Mike Lee visited a detention center in McAllen, Texas. The government officials observed around 400 men crammed in cages with no mats, no pillows, and barely room to sit down. The four men did not speak to any of the 400 immigrants and stayed in the detention center for only 90 seconds.
Vice President Mike Pence Visits Texas Migrant Detention Center | TODAYwww.youtube.com
July 14th

Only two days later, President Donald Trump took to Twitter to advise "progressive" congresswomen that, instead of participating in American politics, they should "go back and help fix the totally broken and crime infested places from which they came." The tweets were sent in the midst of ICE raids occurring across the nation. The tweets' purpose was clear: Create hysteria targeting people of color in hopes of eradicating the immigrant population.
....and viciously telling the people of the United States, the greatest and most powerful Nation on earth, how our… https://t.co/xPRSZHNNAd

— Donald J. Trump (@Donald J. Trump) 1563107272.0
July 15th

A day after Trump's tweets, Senator Lindsey Graham, who once called the President a "race-baiting, xenophobic, religious bigot," defended him, proclaiming, "AOC and this crowd are a bunch of communists… they're Anti-Semitic. They're anti-America."
Lindsey Graham's Fox News MELTDOWNwww.youtube.com
July 16th

On Tuesday, the House voted to condemn the President for his racist rhetoric. A President of the United States has not been formally rebuked a president in over a century. While the House voted in favor of the symbolic motion, the numbers included 240 Democrats in favor and 187 Republicans against. It's noteworthy that only four Republicans voted in favor of condemning the president's racist tweets.
That same night, Louisiana Senator John Kennedy referred to Rep. Alexandria Ocasio-Cortez (New York), Ayanna Pressley (Massachusetts), Ilhan Omar (Minnesota), and Rashida Tlaib (Michigan) as the "four horsewomen of the apocalypse."
John Kennedy Blasts The Squadwww.youtube.com
July 17th

On Wednesday, during President Trump's rally in North Carolina, he again attacked the group of freshmen congresswomen, explicitly targeting the Minnesotan representative, a Muslim, and Somalian refugee, Ilhan Omar. His supporters began chanting, "Send her back." The president stood silently for a mighty thirteen-second pause, head held high, as he proudly looked upon his supporters.
'Send her back': Trump batters Ilhan Omar on campaign trailwww.youtube.com
July 18th

The morning after, two of Twitter's top trending hashtags were #IStandWithPresTrump and #IStandWithIlhan. A few hours later, a few GOP members finally spoke out about the chants. Senator Marco Rubio called the targeting of Representative Omar "grotesque." A few other Republican Congressmen also spoke out on Twitter:
I deeply disagree with the extreme left & have been disgusted by their tone. I woke up today equally disgusted - ch… https://t.co/hlIxUraFva

— Adam Kinzinger (@Adam Kinzinger) 1563455793.0
Though it was brief, I struggled with the "send her back" chant tonight referencing Rep. Omar. Her history, words… https://t.co/uHL8TNlr4k

— Rep. Mark Walker (@Rep. Mark Walker) 1563418882.0
Trump later said he was "not happy" with the chants. When asked why he didn't stop the crowd, he answered, "I think I did—I started speaking very quickly."
Trump disavows supporters chant of 'Send her back!' at rallywww.youtube.com
The same day, John McCain was also trending on Twitter. Former Representative of Florida, David Jolly, tweeted about how he missed the moment when John McCain cut off a woman claiming Barack Obama was an "Arab."
Missing this moment this morning. https://t.co/XPMmIH4PjF

— David Jolly (@David Jolly) 1563453537.0
Senator Chuck Schumer also referred to the moment while addressing his colleagues.
Chuck Schumer: "The only way Pres. Trump will stop is when Republicans on the other side have the honor, the decenc… https://t.co/oR8NdLMPru

— Kyle Griffin (@Kyle Griffin) 1563469210.0
Finally, to end this appalling timeline on a high note, here's a video of Minnesotan Representative Ilhan Omar returning home to the Twin Cities. Watch as she's celebrated below:
Congresswoman Omar just arrived back in the Twin Cities. https://t.co/ZiFqWnDJgQ

— Tom Hauser (@Tom Hauser) 1563486133.0
Trump's demands for $5 billion to build a border wall stymies Congress' ability to fund government in 2019.
Just nine days ahead of the December 7 deadline, Congress has made no progress towards passing the seven appropriations bills needed to avoid government shutdown. At the center of the deadlock are President Trump's demands for $5 billion to fund his border wall. In an Oval Office interview with Politico on Tuesday, Trump affirmed he'd "totally be willing" to shut down the government if Congress doesn't allocate the funds.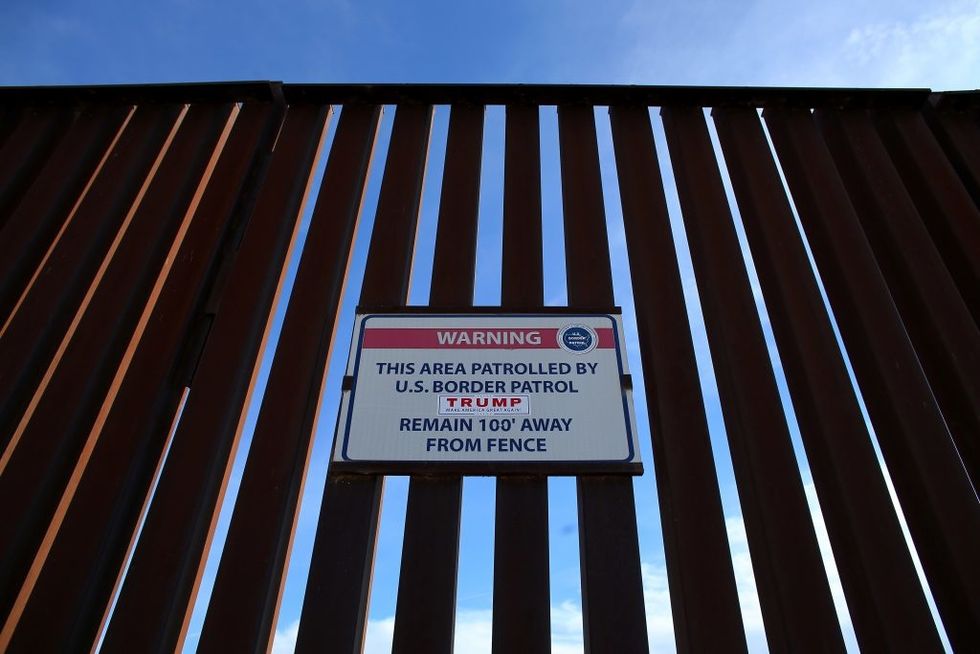 PBS
In September Democrats and Republicans agreed on a long-term funding package for the departments of Defense, Labor, Health and Human Services, and Education for 2019. However, they only reached short-term compromises for the remaining agencies, including the Department of Homeland Security, Justice Department, and the State Department. Even then, Trump was threatening to shut down the federal government if he didn't receive multi-billion dollar funding for his wall, but Republican leaders expressed doubt over his conviction.

Now, with those short-term deals expiring next Friday, Congress is more wary than ever of losing government function. Senator Joni Ernst (R-Iowa) spoke against the prospect in an interview on Sunday, "I hope that we can avoid shutting down the government. We have a lot of departments that do a lot of good for our citizens, so we need to make sure that we're funding them properly through Congress."
That's not to say Trump doesn't have Republican support, with House Majority Whip Steve Scalise (R-Louisiana) stating from the White House on Tuesday, "I'm glad that President Trump is following through on his commitment to keep this country safe. He needs $5 billion to make sure he can follow through on that promise and we need to be there for him and see that this gets done."
Resistance from Democrats is the main obstacle to appeasing Trump, with Scalise even posing the deadlock as a failure of the party's values. He asked if Democrats are "going to shut down the government because they don't want to keep America safe?"
The closest piece of compromise is the Democrats' concession of $1.6 billion in funding for border security. They've showed no sign of budging towards Trump's demands for triple that figure. Senate Democratic leader Chuck Schumer spoke for the party on Tuesday, affirming, "If there is any shutdown, it's on President Trump's back. Stick to the $1.6 billion."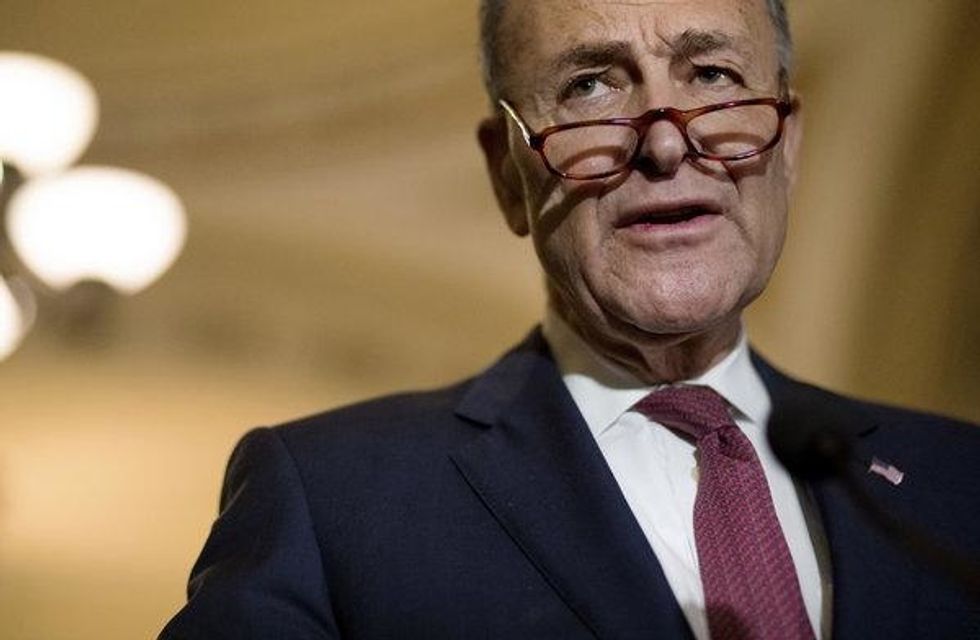 The New York Times
As for Trump, he told Politico he "was in no mood" to compromise on using federal funds to construct a border wall (despite initial and unfeasible claims it was to be funded by Mexico). He told Politico, "I will tell you, politically speaking, that issue is a total winner. People look at the border, they look at the rush to the police, they look at the rock throwers and really hurting three people, three very brave border patrol folks – I think that it's a tremendous issue, but much more importantly, is really needed. So we have to have border security."

Trump was referring to a confrontation at the border on Sunday in which he claimed three border patrol agents were "very badly hurt." While multiple migrants were harmed by tear-gas unleashed by border officials on Sunday, Trump's claim remains unsubstantiated.
Negotiations between Democrats and Republicans continue to take place this week, as a possible funding package is still in nascent planning stages. The odds of avoiding government shutdown are grim, with only nine days to draft a deal, gain sign off from House and Senate leadership, and win over a president who is "in no mood" to compromise his own agenda.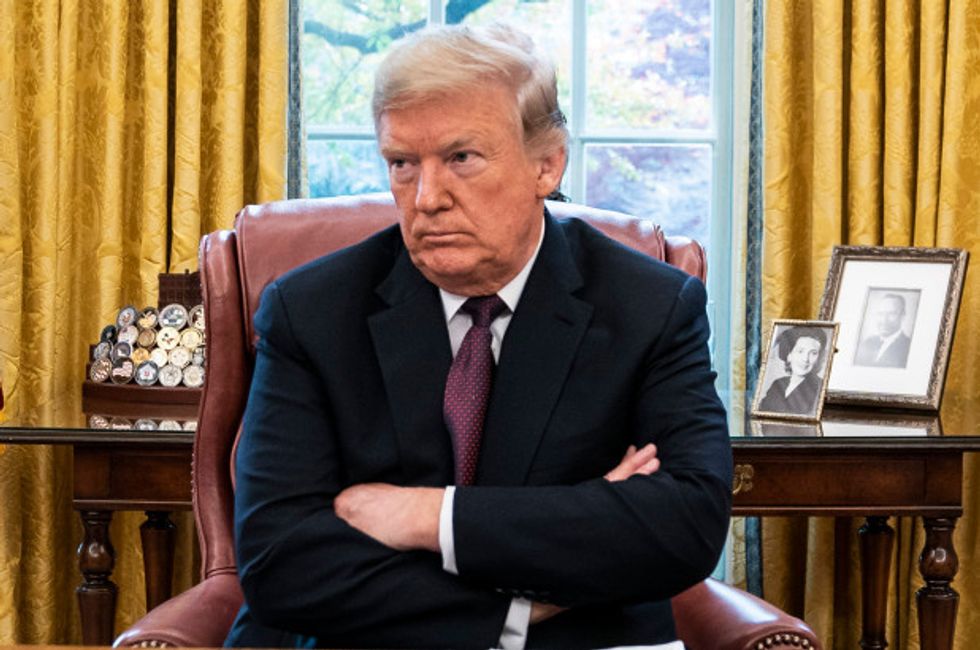 Getty Images - New York Post
Meg Hanson is a Brooklyn-based writer, teacher, and jaywalker. Find Meg at her website and on Twitter @megsoyung.