We've all been there. You were gifted a dumb present that you'll never in a million-zillion years ever use and you're too polite to tell anyone any differently. It sits at the bottom of your drawer for months, then years. And when you finally feel like enough time has passed, you can throw it out in good conscience.
A return is almost always out of the question. Plus, gift givers don't often include a return receipt, and we all know we wouldn't dare ask for one. I'd rather admit to a crime than confess I don't like a gift - how insulting to the gifter's sense of aesthetics.
And-hey, I have limited drawer space. Who can keep these unwanted gifts for six months when there isn't any space for them? I hate clutter, and unwanted gifts are just that.
This year, I am making an effort to swiftly remove any unwanted gifts from my house without hurting anyone's feelings…and potentially benefiting others. As the old saying goes, one man's trash is another man's treasure. And thank goodness for that.
From the The Guardian:
"According to research published this week by the consumer body, one in four people (24%) received an unwanted or unsuitable gift for the Christmas of 2021. Meanwhile, a separate study by the personal finance comparison site Finder said £1.2bn was wasted on unwanted Christmas gifts each year."
Come to terms with the fact that you will never use that gift and follow these quick tips to offload those unwanted gifts:
Donate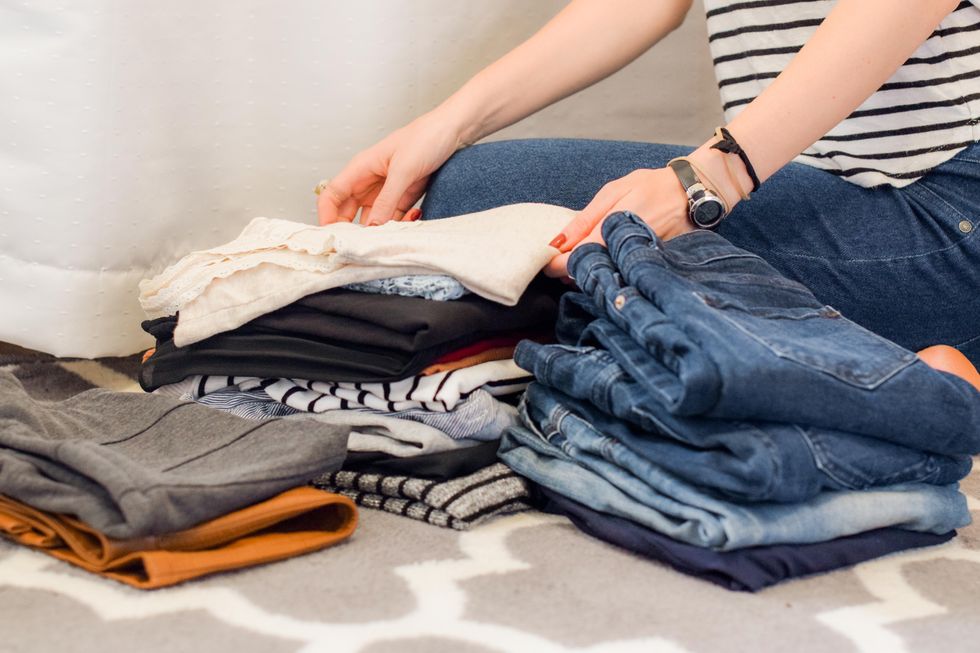 Sarah Brown via Unsplash
The most obvious choice for those unwanted pairs of mud-green sweat socks and that same fluffy robe you get every year from your Aunt Judy is to donate them. Just round up everything you don't want and Google the donation center closest to you.
This is also a fantastic excuse to purge your closet of that pile of stuff you've been meaning to get rid of. A few bags of give-away-clothes will get your spring cleaning out of the way early.
Sell Them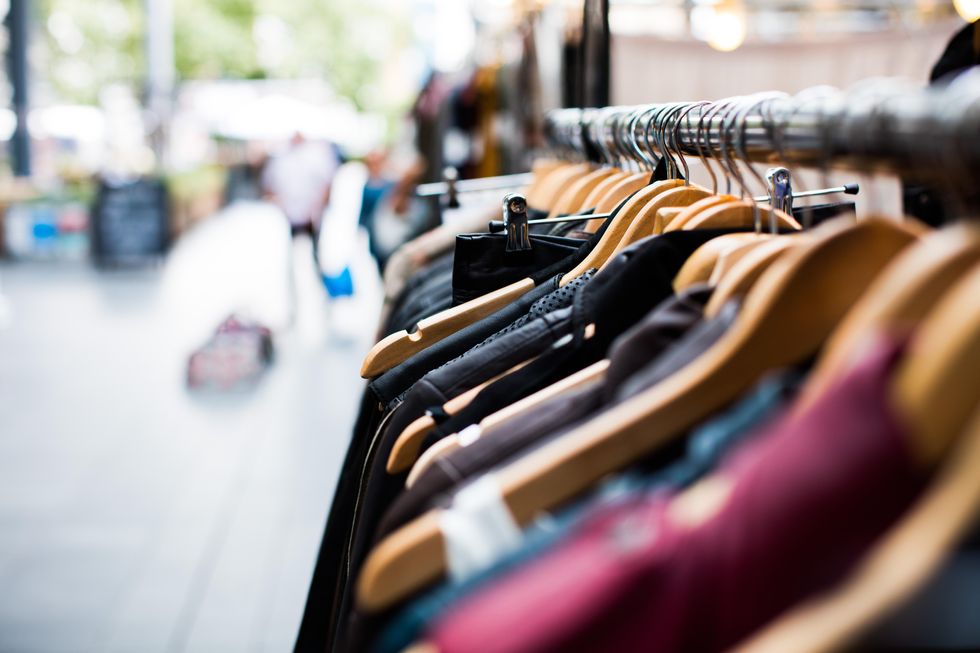 Artificial Photography via Unsplash
Resale websites are all the rage right now. If you got a pair of pants that don't fit or a sweater that isn't your style, resell them on a website dedicated to just that. Sites like Poshmark, Mercari, and DePop are known for selling those trendy pieces of clothing you barely used.
Thrifting has never been hotter. Hop on the trend while people are constantly perusing sites for the hottest deal. Then reward yourself for being so virtuous, by dropping the cash on some fabulous things you'll actually wear!
Re-Gift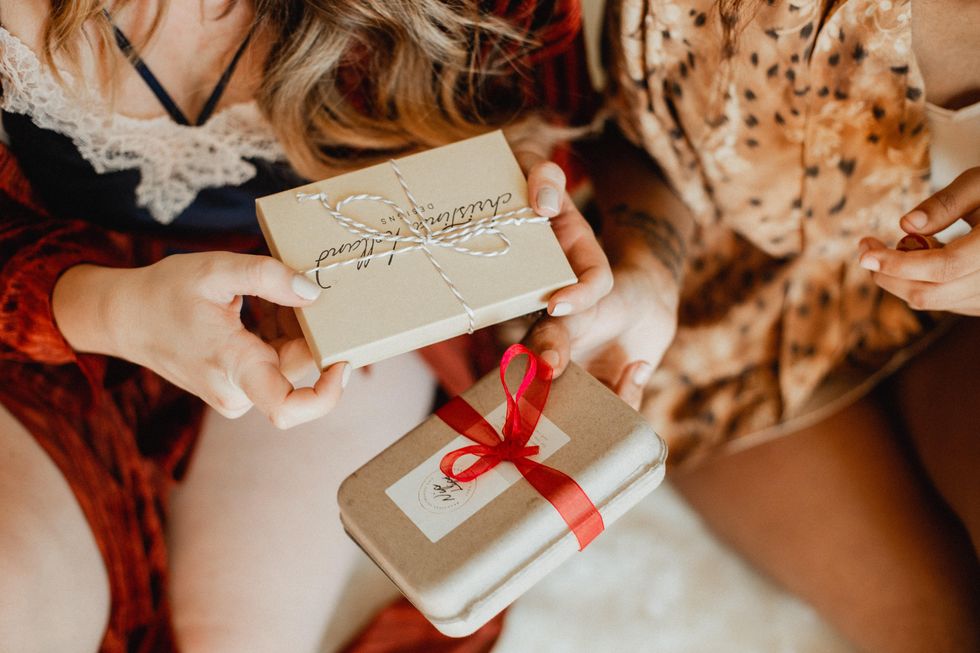 Jackie S via Unsplash
If you got something that you think one of your friends or family can benefit from, why not give it to them? There's no shame in revealing that it was a gift and you don't want it anymore…as long as you aren't re-gifting to the person who gave it to you!
Or, keep the gifts to re-gift at a later date. You never know when you're going to need a last minute gift. You'll thank yourself later.
Attempt a Return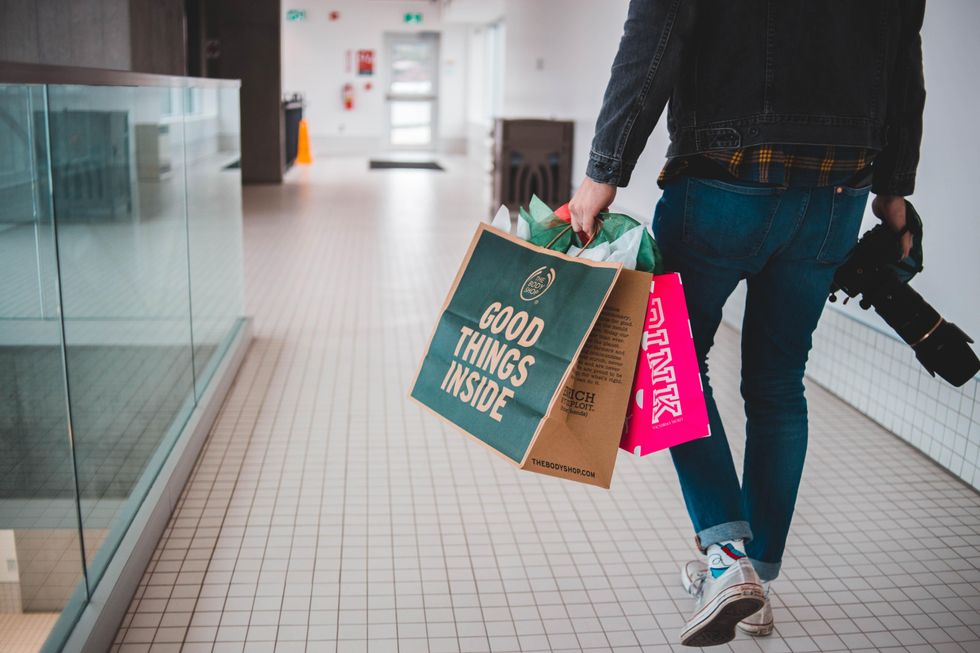 Erik McLean via Unsplash
If your item still has a tag, you can make a valiant effort to return to the store. If you can make your case, many stores won't want to fight you on it. They may be forgiving and grant you store credit at the very least.
Interspiritual minister Chelsea MacMillan talks faith and healing in a time of tremendous change.
The Visionaries Project is a subsection of The Liberty Project dedicated to highlighting the lives, passions, and work of radical activists currently working towards social justice and liberation from oppression. We aim to uplift the perspectives of diverse voices working in media and activism today—and not just the faces who make headlines, but the real people on the ground every day, working towards their visions of a better world.
Rev. Chelsea MacMillan is the founder of the Brooklyn Center for Sacred Activism, the co-host of the podcast The Rising: Spirituality for Revolution, and a dedicated activist, community organizer, and "warrior for peace and change." She recently taught a course called "Reclaiming the Apocalypse," and her wisdom is invaluable in these times of crisis, and always. We spoke about the overlaps between religion and spirituality, collective healing, mutual aid during coronavirus, climate change, and more.
Find her at her Patreon and her website.
LIBERTY PROJECT: Did you grow up spiritual, or involved in activism?
CHELSEA MACMILLAN: I grew up in a really evangelical, conservative Christian family, but I rejected it pretty early on. My parents divorced when I was like ten or eleven, and that was around the time where I realized that being a Christian doesn't mean you're a perfect person. I was just woken up to a lot of hypocrisy. I started rejecting the exclusionary attitude of the churches that we went to, and I called myself an agnostic for a while. I started to question my epistemology without realizing it, wondering why I thought the way I did.
Then I started traveling the world in a performing group, and I had a lot of really intense, magical experiences that I think were mystical experiences. I remember feeling really connected to all people and all creatures everywhere, and I felt this sense of oneness. I definitely felt spiritual, though I didn't want to put it into any form.
Then I worked on staff at a place called the Omega Institute, which is a big retreat center in the Hudson Valley. I tried out different forms of Buddhist meditation and Earth-based practices and things that were vaguely pagan or shamanic, as well as more New Agey things. But I was always really impatient with the way that spiritual communities were in terms of what was happening in the world. I couldn't really accept the idea that we were all one and that we could "be the change we wish to see" while sitting on our yoga mats. The world doesn't reflect that. Yes, it's a spiritual truth, and I've experienced that feeling of oneness and connection, but I think it doesn't do any good to just sit here and believe that. We have to realize and actualize this belief.
During one of my summers at Omega, I learned about this interfaith seminary called One Spirit. I went there and was ordained as an interspiritual minister, and it was there that I learned about sacred activism. I actually took a class with Andrew Harvey, who basically coined the term "sacred activism." He was one of the only people really talking about how activists and spiritual folks needed to come together, because there's a shadow side to both of those groups.

And I realized...this is why I came here. This is what I've been looking for my whole life. Sacred activism is the idea that activism in itself is a sacred path, because all the great spiritual teachings tell us to live our lives with compassion.
I had also been going to a lot of activist meetings and circles and thinking that the people there really needed spirituality. Everybody was so caught up in blaming and shaming. No matter what your ideology is, rigid and dogmatic ideologies are harmful. That's what I had grown up with—but now I was with the liberals, and it was the same sh*t. It wasn't loving and wasn't accepting.
Along your journey to finding the place where activism meets spirituality, are there any experiences that stand out to you as particularly formative or that you feel set you on this path?
I did have a moment recently that confirmed for me why I'm on this path. This past October, Extinction Rebellion had a global week of rebellion. We started with actions at Wall Street and threw fake blood on the bull, and we did this dramatic die-in in front of the stock exchange.
We were also doing RebelFest in Washington Square Park, which felt like an example of realizing that you don't have to perform a direct action to be disruptive. Building community is disruptive, and feeding each other for free is disruptive, and doing art together is disruptive.
That week, I also took part in the Times Square takeover with XR. We shut down an intersection with this big bright green boat, and there were 13 of us who were glued and chained to it. My comrades and I were put in the tombs, which is where they take everyone who's been arrested, and there was a woman detoxing from heroin on the floor and a pregnant woman who totally should not have been in jail. It was a really intense experience, and I remember thinking—could I go to jail for longer? Would I be willing to go to prison for this cause?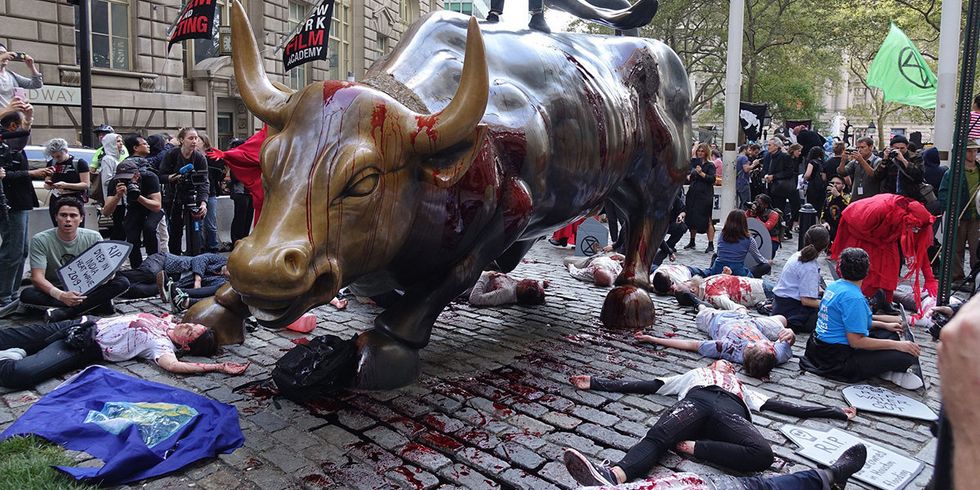 Wall Street
I was going through these ups and downs of feeling like I was losing my mind, and there was a moment where we all just were laughing at ridiculous things because...you lose all your power in there. You don't know [when] you're going to be let out; you're hungry and tired and dehydrated and dirty. And I was like… Could I do this more? Could I be here for months? Do I have it in me? I remember thinking, what am I called to do? How am I called to serve?

I thought of all the people who have inspired me like Dorothy Day and MLK and people who really followed that calling to make the world a better place. It's a spiritual calling.
I realized I do feel like I'm willing to sacrifice my life for building a more just and loving world. I was surprised to feel that in a moment of despair, but that's where I felt closest to God, spirit, or the great unknown. I felt like I was being called, and it felt very powerful.
What does your vision of a better world look like?
What excites me is thinking about the mystery, rather than coming up with the best plan for a bright new world. This requires us to be in the present and in the future and to bring the future into the present. When I think about a vision for the world, I ask questions like: How do I want it to feel? What does it look like, sound like, feel like?
I think what the future looks like is here now. I see it all the time. I see it with the current crisis, in the ways in which people have been jumping into action around creating and activating networks of mutual aid—and taking time to play with their kids, and rest and take walks in the park. I see it in places where we're really connecting with each other.
I think of a new world, or the future, as one in which we're taking care of each other, in which we're really connected. Can you imagine, if we really took care of each other? We wouldn't need housing justice. We'd already be doing it. We wouldn't let anybody not be cared for. We wouldn't have people going hungry, because we'd already be feeding each other.
It sounds a little overly simplistic to say all of that, but I think bringing things into the present and asking—what do we have that we want to grow?—actually helps us be more grateful for what we do have.
Humans have a limited capacity for understanding. We understand a lot and we're constantly innovating, and that's sort of what it means to be human—finding meaning—but we can't see the future, and we make mistakes. As soon as we have a plan for the future, it limits creativity and the emergence of something that can grow from the ways we're already connecting with each other and being with each other.
So many religions seem to boil down to this idea of compassion, and I'm definitely seeing that in responses like mutual aid. So in light of all your work, how have you been processing the current crisis? Are you seeing potential in it? I know you taught a workshop on the apocalypse—not that this is an apocalypse, but...
But we are! It's like a perfect example of the apocalypse. Apocalypse means "to lift the veil," and having this crisis is showing us how f*cked-up our medical system is and how f*cked up our whole economy is to rely on humans as capital. It's showing us how our leadership is broken, how so many people were living alone before this.
As a climate activist, we've wondered for a long time what can really change the momentum. It's so hard to make any change when there's such collective dedication towards keeping a system going, a system that is based on extraction and exploitation and corruption and domination and all of those things that are literally killing us and the planet. In XR we talk about stopping business as usual—well, here we are, and business is literally stopped.
It's my hope that it doesn't go back to normal. I don't want to go back to a world in which we're all hustling to make ends meet and we're working so hard and so long that we don't have time to connect to each other.
I do think it's showing us what's possible. All of the politicians and businesspeople have told us for a long time that it's not possible to stop the system and change it all in order to stave off the climate crisis—but we're doing it.
If the New York Times was reporting on the climate crisis as much as it's reporting on the coronavirus crisis… that could change things. If everyone was told that we have to stop using our cars and we have to stop doing this thing and taking flights and traveling for our safety and so we don't die…maybe we wouldn't have as big of a problem. The response we've been taking with coronavirus actually needs to happen with this climate crisis.
It all does seem like a wakeup call. Before this, it seemed like most of the people I know—even if they weren't plugged into the climate crisis—had the feeling that something unsustainable was going on, that something precarious was happening. And this does seem like a large planetary exhale to me.
We need to bow down and honor what's happening to us, to step back and see how enormous this shift is. It kind of takes my breath away. It's honestly the same feeling that I felt when I was sitting in jail.
It's interesting that you compare the feeling you're having in this crisis to the feeling of being in jail. Those both seem like moments of great change and shift. I keep seeing Octavia Butler's "God is change" quote everywhere and it feels like these moments could be related to that.
I love that quote. It's probably my favorite way to describe God.
I'm seeing all this in two ways: There's tragedy, but there's also growth that could be happening. It feels like if anything it's waking us up to the importance of community and the current lack of community. Even a lot of activism work doesn't seem to hone in on community or connection or rest and then there's so much burnout, and it feels like all this is kind of calling for a practice of rest and community-building.
I think it's so easy for humans to jump in and ignore all of our feelings and ignore connecting to each other, focusing on how we might fix this painful feeling, instead asking—what is this moment telling us? There's something beyond my comprehension happening right now.
It's easy for me to say that in times of crisis, people jump into action to help each other, because that's what I see in communities. But it's also true that there are people who get scared and hoard and only take care of their own.
I think every human has both responses possible in them, and this reminds me of a story that I read as part of my apocalypse research called Why the World Doesn't End by Michael Meade. He says there are three kinds of people in the world: There are the people who just only care for themselves and maybe their families, who in times of crisis will turn on their neighbor, and who are just trying to survive. Then there's a second group of people that really care about others and contribute to community and are attuned to other people's needs; but those people, under great stress, will also turn on their neighbor and contract and hoard and try to protect and defend themselves and their families.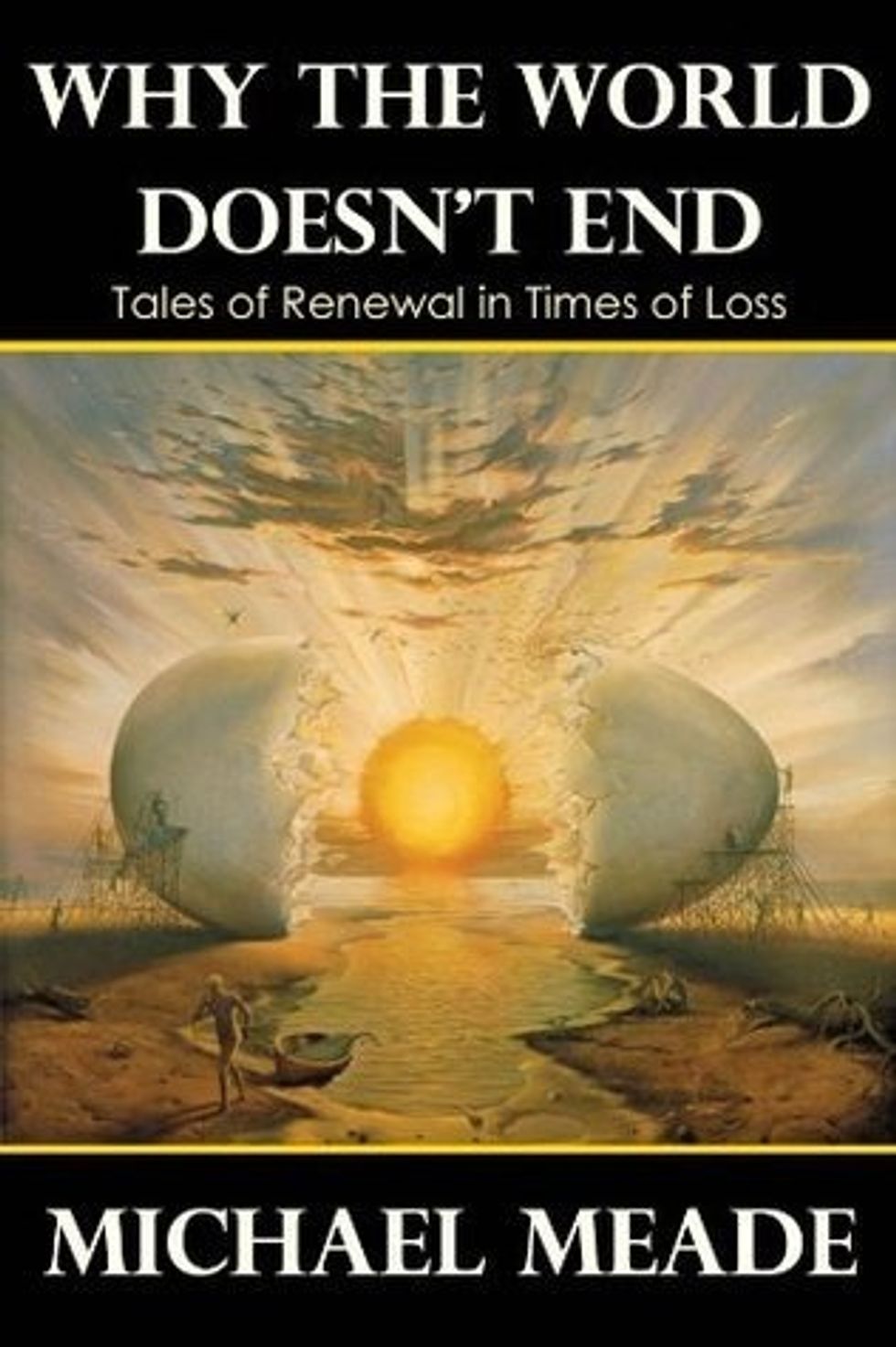 Goodreads
But then there's a third kind of person that in the midst of crisis will rise up and reach out when the impulse is to actually turn back in. I think that's what being a sacred activist is: someone who can be with the unknown and who can be with the vulnerability of reaching out in times of danger.

I think in order to be able to reach out, you have to rely on something other than yourself. You have to be able to rely on something, even if that's your community or if that's God or spirit or even the earth. You have to feel supported enough to reach out to others in a time of crisis.
I think that's been sticking with me. Who's going to be that third group of people?
Alright, I'm done on my soapbox. That's my sermon for today.
What do you suggest people dive into, if you're looking for a way to get involved at this time? I know you mentioned mutual aid.
XR has been plugging into neighborhood groups and existing networks of mutual aid. That could be taking care of your neighbors and seeing what they need or delivering meals to aging populations. Also there's something called The Leveler, a wealth redistribution tool that allows people to donate a certain amount of money to people who just lost their jobs.
But also...check in with people. Be with the feelings. XR has ramped up offerings for people to connect with each other and share their feelings and meditate. It's called "Extinction Resilience," and it'll pretty much be happening twice a week right now, and that's a great place to cultivate inner resilience.
Climate change activism has a whiteness problem and a class problem.
Climate change is inextricably linked to other systems of oppression, like neoliberal capitalism and colonization. But mainstream environmental movements have historically failed to recognize the roots of the climate crisis; and partly because of this, climate change activism has a whiteness problem and a class problem.

The movement's hypocrisy has grown harder to ignore as the climate crisis has intensified. Environmental racism has left poorer communities on the frontlines of unclean air and dangerous pipelines, while largely shutting their voices out of the decision and policy-making aspects of change.
The problem is rooted in the way environmental activism has traditionally been defined. Early environmental efforts (at least the ones that received the most funding) often focused on preservation and conservation of untouched land. These efforts existed in silos, painting the Earth as a childlike entity—as if the planet was separate and somehow lower than humans. This Earth was treated like an entity that required saving, and the saving was to be done by corporate firms and guilty consumers.
Even during these early times, many groups were actively fighting systemic oppression in conjunction with environmental activism, from Latino farmworkers protesting pesticides to Black students in Harlem fighting to oppose city garbage dumps in their communities. Still, over the next several decades, the mainstream environmental movement failed to realize that the climate crisis was not merely a matter of spoiled rivers and suffering polar bears. The climate crisis was seen as something separate from human life and separate from other social issues. Large "big green" corporations focused on promoting small changes that people could make on individual scales, as if "going green" could save us. We could all take shorter showers, take the bus instead of driving, purchase expensive organic products, and shut up—nevermind that the super wealthy have always used up far more resources and energy than their fair share.
A Crisis of Understanding
"Our economic system and our planetary system are now at war," writes Naomi Klein in This Changes Everything: Capitalism Vs. the Climate. "Or, more accurately, our economy is at war with many forms of life on earth, including human life. What the climate needs to avoid collapse is a contraction in humanity's use of resources; what our economic model demands to avoid collapse is unfettered expansion. Only one of these sets of rules can be changed, and it's not the laws of nature."
The climate movement will absolutely fail if it does not recognize the importance of its relationships with other social movements. The climate movement must stand in solidarity with organizations fighting for racial and class equity, for an end to the prison industrial complex and for reparations. It must stand in solidarity with people of color and particularly with Indigenous people, who have always been leading in the fight, and all climate movements must defer to leaders who are living on the front lines of the crisis.
If the climate movement continues to prioritize "an end to the climate crisis" over an end to capitalism, if the movement continues to languish in apocalyptic fears rather than paying attention to how climate actually affects people's lives, if the movement remains disconnected from actual life and the way that the climate crisis is already here for so many people around the globe, it will fail.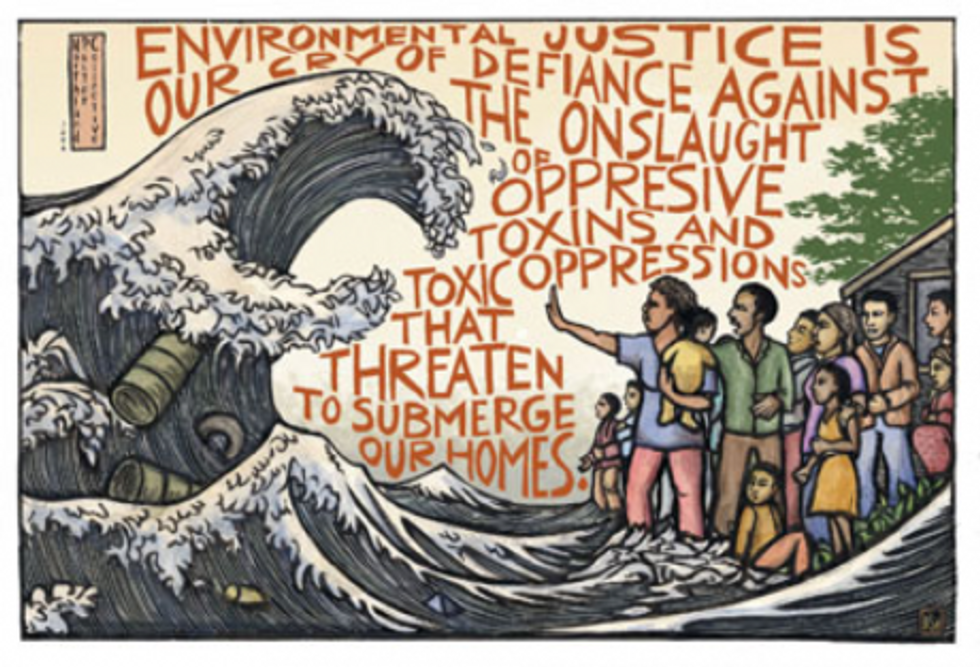 socialism.ca
Just as we humans cannot survive if we view ourselves as separate from the earth, we can't view the climate crisis as unrelated to other issues of inequality and systemic violence. We need to understand that, just as everything in nature relies on everything else—rivers flow into oceans, tree roots create an underlying network of communication that stretches through an entire forest—the movement to stop climate change is the movement to end relentless capitalism, which is also the movement to actually address the monetary inequalities that still exist because of America's legacy of colonization, slavery, and other violences.

The Future of Environmental Justice
Activist groups are waking up to this, at least theoretically. Groups like the youth organization Sunrise Movement have rallied around Alexandria Ocasio-Cortez's Green New Deal, a movement that aims to combine a massive reduction in carbon emissions with reforms that will make safe housing, affordable food, and health care available to everyone.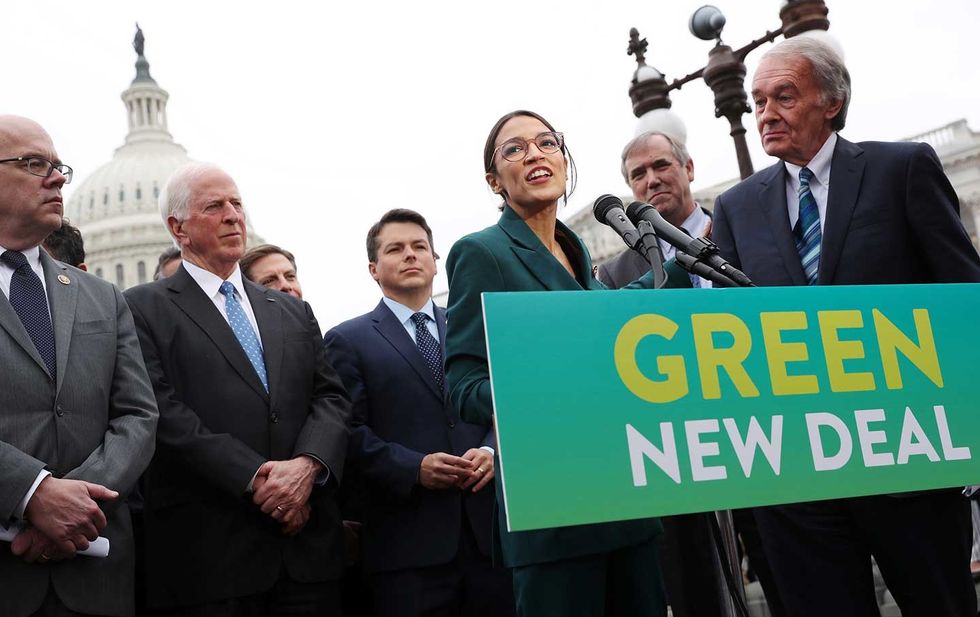 thenation
In some ways, Sunrise still suffers from the problems that have always plagued environmental groups: a pervasive level of whiteness and classism. But the movement has been discussing how to change this, initiating a hub restructure program and encouraging the development of smaller, more local groups that will facilitate local outreach. The next step is to put the voices of people who are already fighting for justice into power, people like the Indigenous climate activists who have been protecting the earth for centuries, often at great personal risk.

These are complex tasks that require deep thought and challenging conversations, but they are of the utmost importance. The environmental movement will fail unless it embraces its interconnectedness with all things–Embracing interconnectedness will only ever make us all stronger.
Climate change will inevitably result in tremendous change. If we somehow succeed in pulling the world back from the brink of climate disaster but fail to address other systems of oppression—if we merely keep the world as it is, favoring only the super-rich, allowing suffering on a massive scale despite the fact that we have the resources to address it—would the movement be a victory for anyone except those who were already winning?
To keep the earth's temperatures from rising, serious changes need to happen over the next year and a half.
While Robert Mueller and Donald Trump dominate the public's attention, experts have quietly come to the consensus that we have around 18 months to stop the worst effects of climate change.
Last year, a study by the Intergovernmental Panel on Climate Change found that in order to prevent catastrophic warming, we need to cut carbon emissions by 45% by 2030. Today, political theorists believe that in order to achieve that goal, we must immediately begin implementing the political structures that will allow us to reach it.
At a reception for the Commonwealth foreign ministers, Prince Charles spoke out in support of climate action. "I am firmly of the view that the next 18 months will decide our ability to keep climate change to survivable levels and to restore nature to the equilibrium we need for our survival," he said.
'It's happening, it's now,' says U.S. government report on climate changewww.youtube.com
A Critical Time
So, why are the next 18 months so vital for the future of the earth's climate? During the next year and a half, a series of important political meetings and conventions will take place. On September 23, the UN will hold a special climate summit in New York, where attending countries are expected to present their emission-cutting plans. Then the UN's annual climate change summit, known as the COP25, will be held in Santiago, Chile in December 2019. Finally, the COP26 will take place at the end of 2020, most likely in the UK.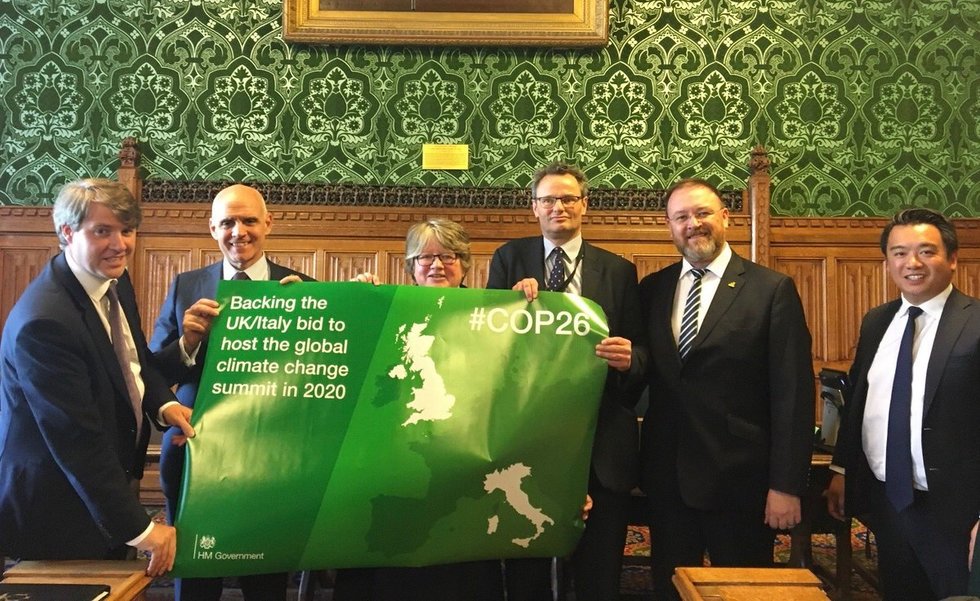 Image via Twitter
According to Environmental Secretary Micheal Gobe, the importance of these meetings cannot be understated. "We need at COP26 to ensure other countries are serious about their obligations and that means leading by example," he said. "Together we must take all the steps necessary to restrict global warming to at least 1.5C."

Depending on what happens at these meetings during the next 18 months, we could see plans like the Green New Deal set into motion. On the other hand, if a climate change denier remains in the US office, the UK summit could be the moment where the US formally withdraws from the Paris agreement (which proposed the bare minimum carbon emission cuts needed to prevent extreme consequences from climate change).
No Choice but Change
If these conferences fail to spark large-scale action, "we will have no chance of getting to a 1.5 or 2C limit," said Professor Michael Jacobs, a former climate advisor to the Prime Minister Gordon Brown.
There are several other conferences happening in the next year and a half, namely the Convention on Biological Diversity and the UN Convention on the Law of the Sea, both of which are expected to craft plans to protect our livelihoods. It's promising that all these conferences are occurring. Still, many fear that they will not push for action radical enough to meet the 1.5 degree goal.
If the goal is not met, the consequences will be unimaginable. More natural disasters (like the wildfires we're seeing right now in Alaska) would ravage coastlines and could destroy entire nations. Chronic refugee crises would ensue. Disease would flourish. One in four animal species would go extinct.
Judging by the current state of politics and carbon emissions (India is on track to overshoot its Paris Agreement goal by 60%), things are looking bleak. Fortunately, a rise in activism and protest—helmed by figures like Greta Thunberg and Alexandria Ocasio-Cortez—has drawn much needed political attention to the climate crisis. Still, it's not enough: In order to ensure a livable future for the earth, people around the world must come together and force their representatives and nations to listen to science and reason.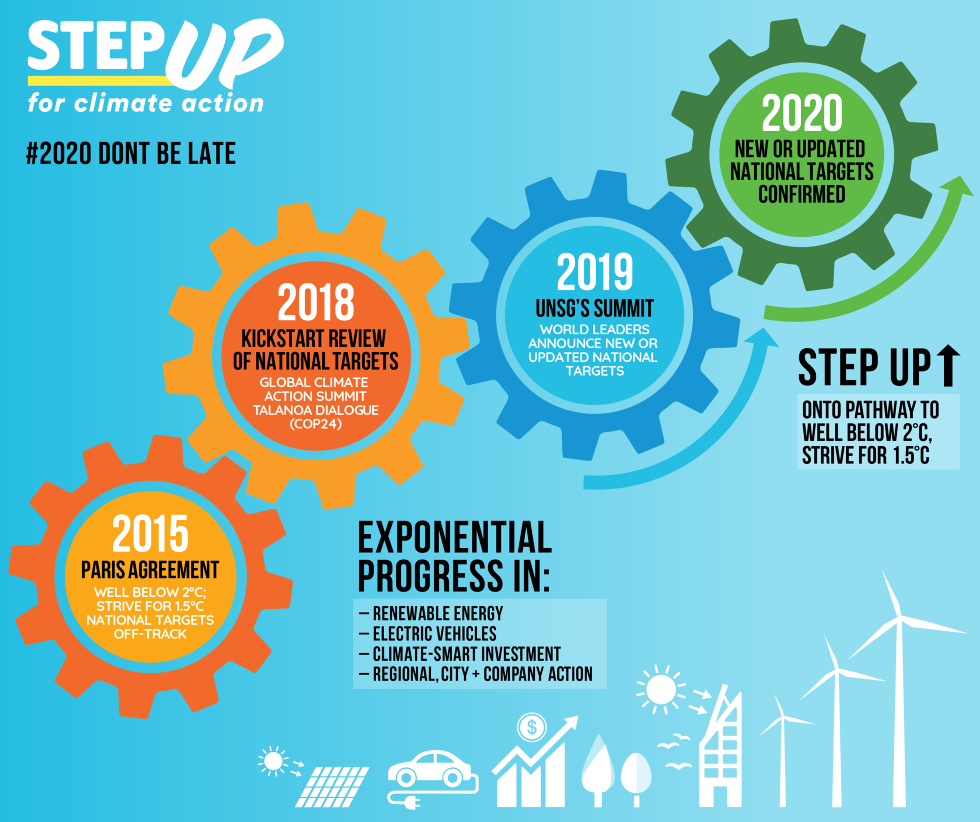 Image via World Economic Forum
In a way, we're all living in the matrix: moving around within an illusion of freedom when really our lives are dictated by technology.
40-odd years ago, there was no such thing as a cell phone, and the only computers in existence took up entire rooms. Then the World Wide Web was born.
15 years ago, the iPhone was just a seed of a dream in Steve Jobs' mind. But today, if you're reading this, you have access to countless screens and endless amounts of information; and you probably have a phone in your pocket that you can't be separated from without experiencing a cold rush of panic. Like it or not, you live in the digital age.
Everything is happening so fast these days; it's hard to find the time to seriously question how technology has altered the fabric of our realities. But here are four major ways the Internet has made our minds different from how they were before—so much so that we can never go back.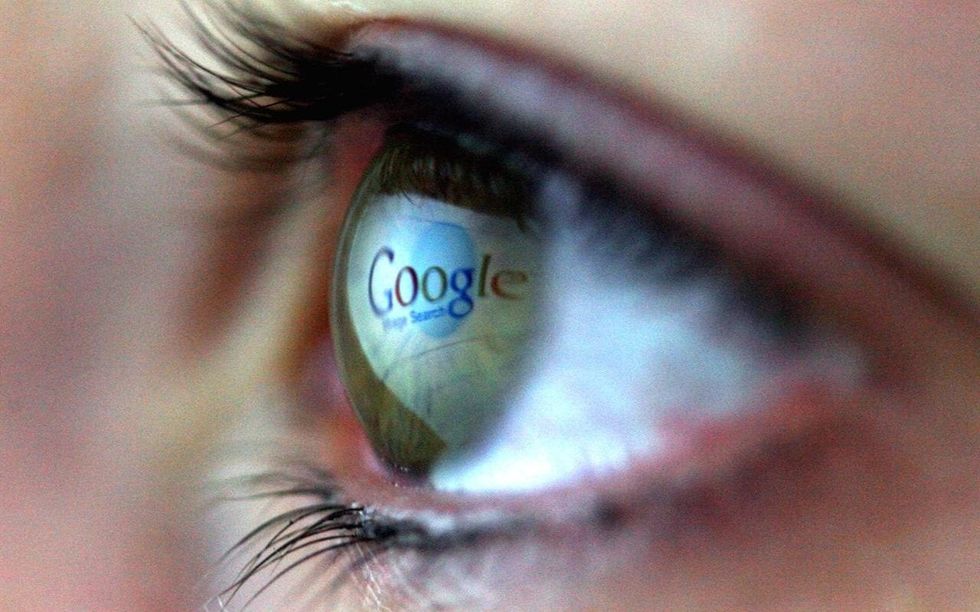 Image via The Telegraph
1. We never have to wonder about anything
Once upon a time, if you were sitting at dinner and a question came up about, say, climate change or the effects of a certain drug, you would have to either find someone who knew the answer or wait until a library opened. Then you'd have to go there and parse through the Dewey Decimal System until you found a volume that might be able to provide the answer.
Today, we all have any piece of information, no matter how small or obscure, quite literally at our fingertips. So we should be smarter than ever, right? But all this instantly accessible information is coming at a price. One study found that millennials have even worse memories than seniors; and a recent Columbia University study revealed that if people feel they will be able to look up something in the future, they'll be less likely to remember it.
In his book The Shallows: What the Internet Is Doing to Our Brains, Nicholas Carr argues that technology is making us stupider, less likely to think critically and retain the information we need. Part of this is because every time we go online, we are confronted with billions of sources vying for our attention, making it difficult to deploy the kind of focused concentration needed to synthesize and reflect on information.
Also, now that we have endless information at our fingertips, many people have proposed that we may be less curious than ever, less inclined to come up with original ideas. However, curiosity is a fluid entity, and though the Internet offers more resources than ever, that also means that more people are creating content than ever before. And new innovative technologies are cropping up every day, revealing that although the Internet might be making some of us stupider, it's also a fertile breeding ground for incredible, world-changing inventions and unprecedentedly viral content.
2. We're more interconnected—and lonelier than ever
Once upon a time, you had to call someone up to speak to them, but now you can see what any of your friends are doing at any time. Instagram and Snapchat stories make it possible to share intimate images of our lives on a wide scale with huge audiences at any time; and online algorithms make it so that whatever you post will never really be gone from the Internet, even if you delete it. We can see the daily coffee choices and midnight tearstained selfies of our favorite stars; we can hit up old friends from across the globe with a single Facebook search.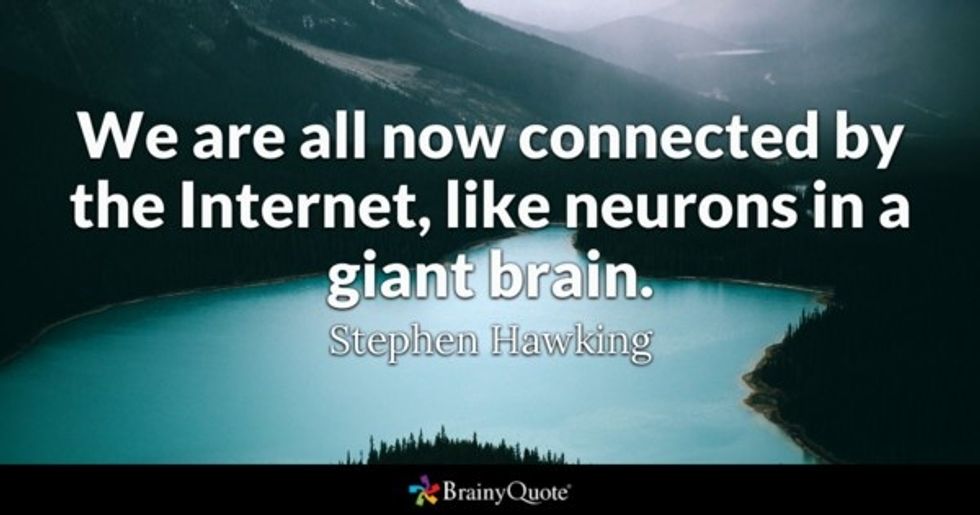 Humans have always been hard-wired for connection, desperately looking for kinship and community, and so it makes sense that the Internet has become so addictive. Every ping, alert, and notification provokes the same kind of dopamine rush that comes from an expression of love and friendship. On the other hand, cyberbullying and persistently comparing oneself to others in the virtual sphere can both have very adverse effects in the real world.

Some studies have proposed that social media increases levels of loneliness. One found that heavy Facebook, Snapchat, and Instagram use can contribute to depression in young adults. Excessive time on Facebook has also been found to be associated with poor physical health and life satisfaction. On the other hand, social media has presented an opportunity for isolated adults and senior citizens to reach out and connect; and online fan and lifestyle communities provide oases for people all over the world.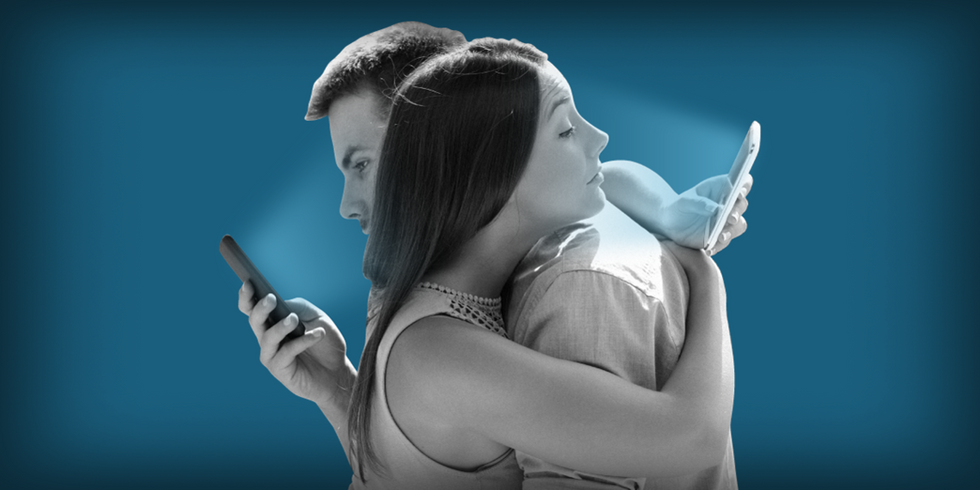 Image via Business Insider
For better or for worse, the Internet has changed the way we connect. It's also changed the way we love. 26 million matches are made every day on dating apps, and roughly 13% of people who met on dating apps married. And phones allow us to communicate with anyone at any moment of the day, creating whole new rules and expectations for relationships, making them altogether more interactive and involved than they once were. Plus, adult entertainment is fundamentally changing the way we have sex, with many studies revealing that it's lowering sex drives and creating unrealistic expectations across the board.

It's the same for work: a Fortune study found that the average white-collar worker spends three hours per day checking emails. This comes part and parcel with the gig economy, that staple of Millennial culture built on perpetual interconnectedness and 24/7 "hustle"—a phenomenon that often leads to burnout.
3. We can have more than one reality—or can hide inside our own worlds more easily than ever
The Internet has made it easier than ever to craft false personas and to embody illusory identities. We can use Photoshop to alter our appearances; we can leverage small talents to viral fame and huge monetary gains, and we can completely escape our world in exchange for online communities and ever-growing virtual and augmented reality options.
The Internet is also altering our perceptions of reality. Although people once thought that interconnected online communities would facilitate the sharing of diverse viewpoints, it has turned out that social media allows us to access echo chambers even more isolated and partisan than what we'd see in our real lives.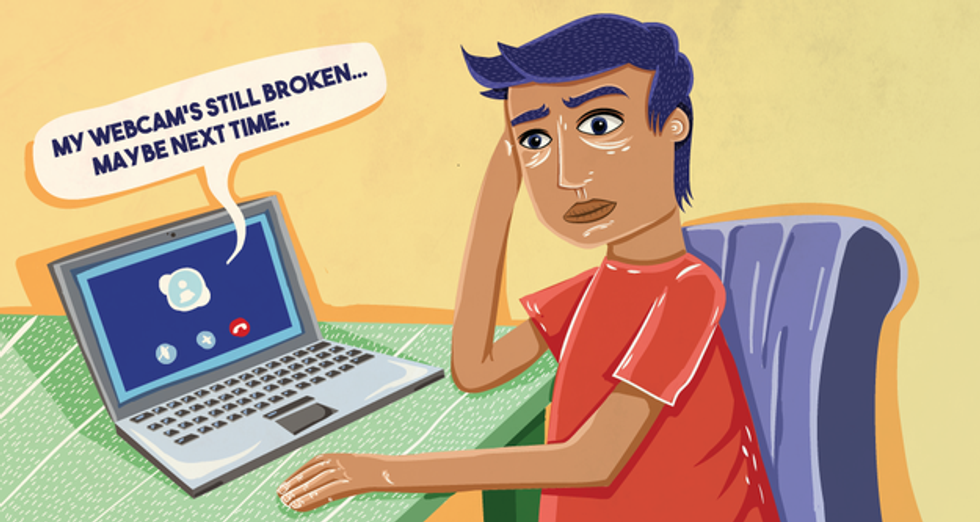 In short, we're all at risk of being catfished.
4. Many of us are completely addicted
When was the last time you went a day without checking your phone? A week? And do you think that if you needed to, you could quit? Most likely, the answer is no, so you'd better believe it: you're addicted to technology. But you're not alone. A 2017 study found that 210 million people may be addicted worldwide.
There are five primary types of Internet addictions: cybersexual addiction, net compulsions (online shopping), cyber relationships (online dating), gaming, and information seeking (surfing). In recent years, internet addiction rehab has grown in popularity. The majority of people with legitimate internet addiction problems are men in their teens to late thirties, but it's likely that we all suffer from this to some extent.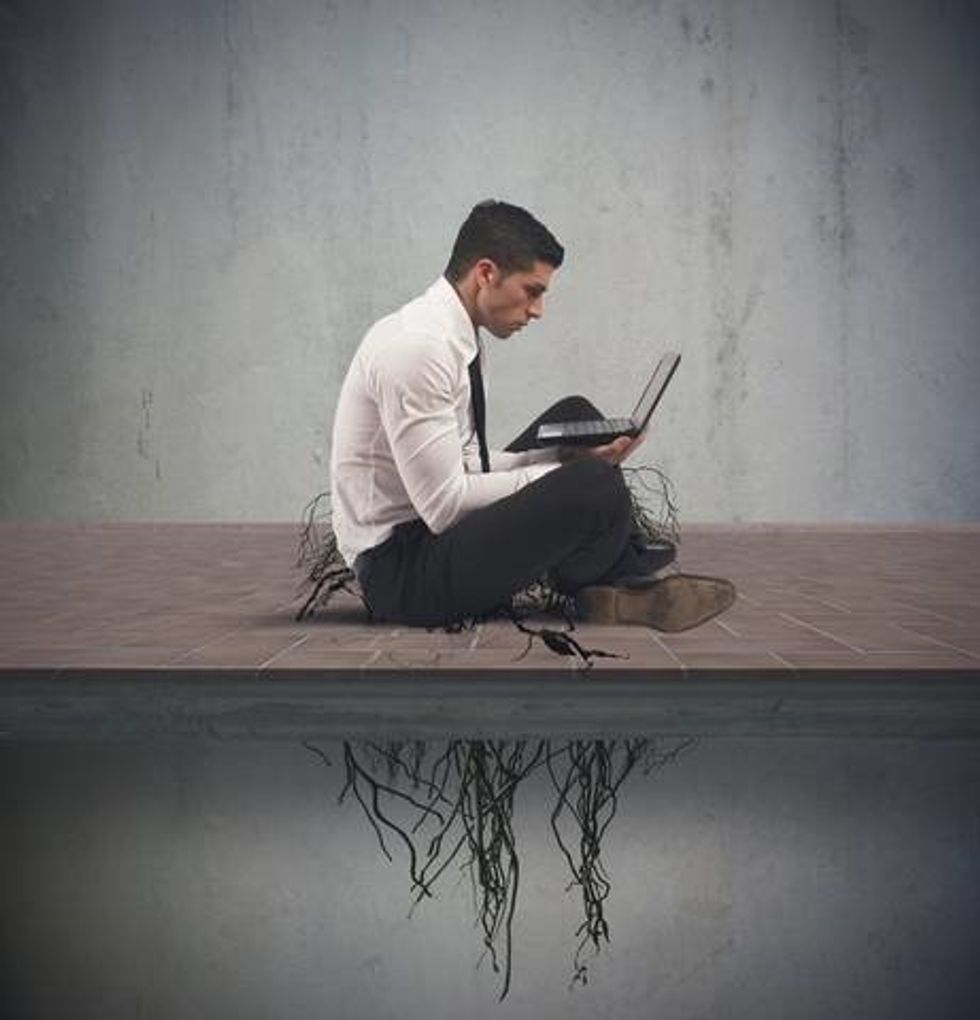 Image via the Fix
Although the Internet is changing everything about our lives, ultimately, there is no clear consensus on whether these changes are for the worse or the better. But the changes will be growing more extreme over the years. Moore's Law proposes that, essentially, overall technological processing power will double each year, indefinitely—meaning that technology will continue to advance at an unimaginable rate. If the past twenty years have given us iPhones, what will the next twenty bring? The next hundred, if we make it that far without global warming ending everything?

Only time will tell. We won't be the same—but then again, we were never meant to remain stagnant as a species. Change and chaos are the laws of the human race, and as a species, we've always been obsessed with progress.
Some theorists believe that technological progress will only end when we create an operating system more intelligent than we, in a revelatory event called the singularity. If this happens, the AI could decide to eliminate us. That's another story—but until then, the sky is the limit for innovators and consumers everywhere.
---
Eden Arielle Gordon is a writer and musician from New York City. Follow her on Twitter @edenarielmusic.

Musings: From two perspectives of tech conglomerate fines, antitrust laws, and the tech world as a whole
Lauren: The EU has given Google a $2.7 billion fine due to alleged antitrust violations. According to EU antitrust regulators, the internet giant is a monopoly. And so Google now has to prove that it has rivals that had made substantial inroads to its businesses, including specialized search categories, mobile phones, and online ad buying. This fine and punishment could also set a precedent for other tech giants. Seems like they're not as unstoppable as many have believed.

Jane: It would set a precedent in Europe. Google has been doing that here forever. But the application of antitrust laws to tech companies interesting. Amazon, Google, Apple, and etc. easily outpace other smaller companies and since they dominate the newer, harder to regulate marketplaces, there is a lack of checks and balances in place
L: The law is definitely slow to catch up in this area. It feels like the second a new law addressing internet companies or online privacy passes, things are updated into something new that needs a whole new framework of regulations. The pace of advancement in technology and regulations just don't match up. Because of this, so much of what is done online is in a legal gray area. That's why it's interesting that Europe is attacking the problem using antitrust law. Those laws are pretty old, but are working in the context of the 21st century.
It feels like the second a new law addressing internet companies or online privacy passes, things are updated into something new that needs a whole new framework of regulations
J: The concept is still the same. Make sure the market is in favor of the consumer. Limiting competition does the exact opposite. Manipulating search results when Google is the primary search engine is shady.
L: This also shows how much the digital world can affect the real one. If you can't Google a business, it might as well not exist. When you think about it, Google has immense power over our lives. So does Facebook or Amazon. These websites and companies are deeply ingrained in our daily lives and our economy.
J: Amazon is trying to be the one-stop shop for everything. They've been trying to get into the grocery business for a long time and buying Whole Foods would cement them in the industry. It could be very successful or they can run the grocery story to the ground since Amazon's model is vastly different from Whole Foods.
L: I think Amazon might use Whole Foods as a testing ground for their new grocery shopping concept Amazon Go. That will be a huge change for the industry.
J: It would definitely blur industry lines even more but Amazon has a history of doing that anyway. Bezos purchased the Washington Post a few years ago. In Whole Foods case, prices might possibly go down. But you never know. There's a lot of unknown as tech companies melded and absorb other traditional companies.