"A tree is best measured when it is down," the poet Carl Sandburg once observed, "and so it is with people." The recent death of Harry Belafonte at the age of 96 has prompted many assessments of what this pioneering singer-actor-activist accomplished in a long and fruitful life.
Belafonte's career as a ground-breaking entertainer brought him substantial wealth and fame; according to Playbill magazine, "By 1959, he was the highest paid Black entertainer in the industry, appearing in raucously successful engagements in Las Vegas, New York, and Los Angeles." He scored on Broadway, winning a 1954 Tony for Best Featured Actor in a Musical – John Murray Anderson's Almanac. Belafonte was the first Black person to win the prestigious award. A 1960 television special, "Tonight with Belafonte," brought him an Emmy for Outstanding Performance in a Variety or Musical Program or Series, making him the first Black person to win that award. He found equal success in the recording studio, bringing Calypso music to the masses via such hits as "Day-O (The Banana Boat Song)" and "Jamaica Farewell."
Harry Belafonte - Day-O (The Banana Boat Song) (Live)www.youtube.com
Belafonte's blockbuster stardom is all the more remarkable for happening in a world plagued by virulent systemic racism. Though he never stopped performing, by the early 1960s he'd shifted his energies to the nascent Civil Right movement. He was a friend and adviser to the Reverend Doctor Martin Luther King, Jr. and, as the New York Times stated, Belafonte "put up much of the seed money to help start the Student Nonviolent Coordinating Committee and was one of the principal fund-raisers for that organization and Dr. King's Southern Christian Leadership Conference."
The Southern Poverty Law Center notes that "he helped launch one of Mississippi's first voter registration drives and provided funding for the Freedom Riders. His activism extended beyond the U.S. as he fought against apartheid alongside Nelson Mandela and Miriam Makeba, campaigned for Mandela's release from prison, and advocated for famine relief in Africa." And in 1987, he received an appointment to UNICEF as a goodwill ambassador.
Over a career spanning more than seventy years, Belafonte brought joy to millions of people. He also did something that is, perhaps, even greater: he fostered the hope that a better world for all could be created. And, by his example, demonstrated how we might go about bringing that world into existence.
The Colonial Pipeline is up and running again, but the madness isn't over...
From May 7th through the evening of May 12th, America's largest supply network for gasoline, diesel, heating oil, and jet fuel was shut down.
As of Thursday morning it is back online, though it will take a while for the typical rate of delivery to resume.
Under normal circumstances, the Colonial gas pipeline network is responsible for moving more than 100 million gallons of fuel every day, transporting it from refineries in Texas all the way up to New York, with offshoots all along the eastern seaboard. That's around 45% of the fuel supply for the east coast.
But last week that network was shut down thanks to a ransomware attack from a group known as DarkSide. And, as a result, gas prices have been spiking, with the national average topping $3 a gallon for the first time in years.
Colonial Pipeline restarts operations, gas prices spike | WNTwww.youtube.com
Predictably, a sense of panic has gripped the populace, particularly in some Southern states, where long lines have been forming for the pumps. More than a thousand gas stations were fully tapped, and many others started placing limits on how much their customers could buy.

If the hackers' purpose was to cause as much chaos as possible, this would all be a rousing success. But was that really their motivation, or are they after something else entirely?
Who Is DarkSide?
The more you look into them, the less they sound like a criminal gang. Rather, the data thieves at DarkSide give off the vibes of a tech startup, with promotional materials that talk about clients, affiliates, tech support, financial evaluations, and their sterling (criminal) reputation.
The organization is based somewhere in Eastern Europe, with roots in a Russian-language hacker forum, but early rumors that they have ties to Vladimir Putin and the Kremlin seem to be baseless. They claim to be independent of political ties, and that certainly matches their tactics.
According to their public statements, they always assess their target companies carefully — making sure they'll be able to afford a steep ransom payment — before striking. They also claim to have a principled stance against targeting companies in the fields of medicine, funeral services, or education, as well as non-profits and government entities.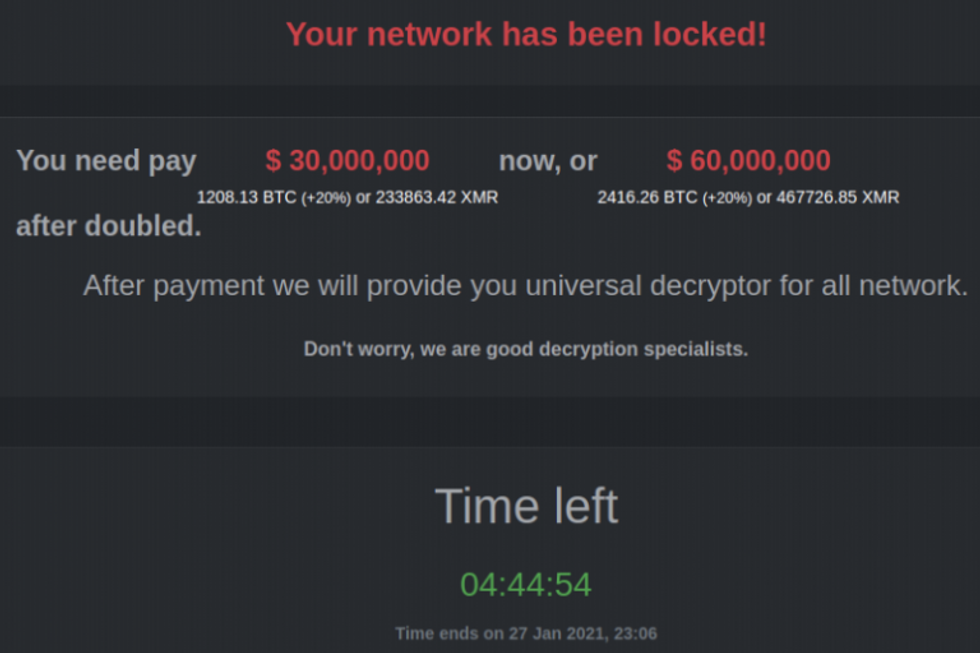 https://krebsonsecurity.com/2021/05/a-closer-look-at-the-darkside-ransomware-gang/
Whether this ethics code is truly based on a sense of morality, or if it's just a matter of avoiding the added scrutiny and bad press that would come with attacking a hospital is unclear, but it all comes across as very professional and corporate. They even "guarantee" the reliability of their service.

Since launching in August of 2020, they have advertised their services to other hackers and have grown quickly thanks to the systematized efficiency they provide. The only real difference between DarkSide and any rapidly emerging "disruptor" in the tech world is the specific service they provide.
Namely, once an "affiliate" (hacker) gains access to a company's data, DarkSide steals it, locks the company out with high-level encryption, and holds that information hostage until the company pays out. If their target is unwilling to pay a steep ransom, DarkSide starts leaking their data to a dedicated website, with notifications sent to the media, business partners, and customers.
It's a very businesslike approach that reflects a very businesslike set of priorities. As DarkSide themselves recently put it, "Our goal is to make money and not creating [sic] problems for society." They even promise to provide their target companies with information about how they were compromised, so they can patch holes in their security.
But if they're only after money, why did they target such an essential piece of America's energy infrastructure? If they don't want to create problems for society, uh...why did they?
Unforeseen Consequences
The short answer is that it was a mistake. For all the care they claim to put into their work, they overlooked certain details this time around and have caused bigger problems and invited more negative attention than they ever intended.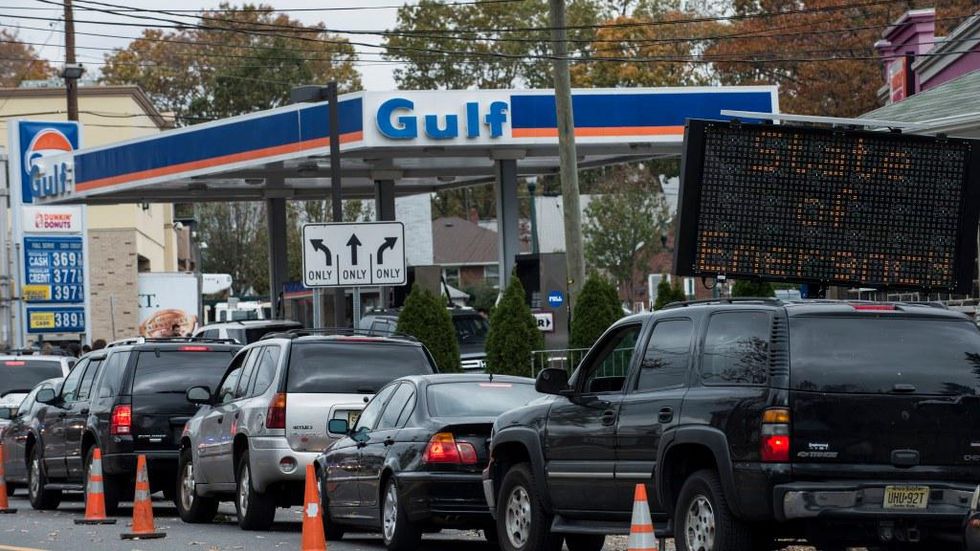 As any good corporation would in these circumstances, they have promised to do better in the future. They insist that, going forward, they will "introduce moderation, and check each company that our partners want to encrypt to avoid social consequences."

The longer answer is that America's energy infrastructure is particularly vulnerable. If DarkSide was only looking at Colonial Pipeline Company's financial bona fides, they may have missed how crucial that pipeline has become and how hacking one company's data — without even interfering with the pipeline directly — could cause so much chaos.
That wasn't always the case. Once upon a time the northeast did a lot of its own refining of oil shipped in from overseas, but the decades-long push to make America "energy-independent" has shifted consumption to local supplies of oil, and more than half of the northeast's refining capacity has been shut down.
As a result, we've been facing gas shortages just like those in the 1970s under Jimmy Carter...if you don't care to look past the surface. Even The New York Times has been throwing around "crisis in confidence" callbacks; but in truth, the similarities are practically non-existent.

Unlike the 1970s, when OPEC was deliberately strangling the oil supply, there really is no shortage of oil or even of gasoline. Oil is still being slurped up and refined into gasoline. Even the mechanics of the pipeline hadn't been affected directly by DarkSide's attack.
The only problem interfering with the pipeline — until it was resolved on Wednesday night — was that Colonial Pipeline Company's billing system had been knocked out. They couldn't get paid, so they stopped delivering to their customers.
It could still be delivered by truck, and the Biden administration even declared a state of emergency in order to relax regulations around that method of transport. And even if tanker trucks hadn't been an option — admittedly, there weren't enough drivers to meet demand — this was always understood to be a temporary situation.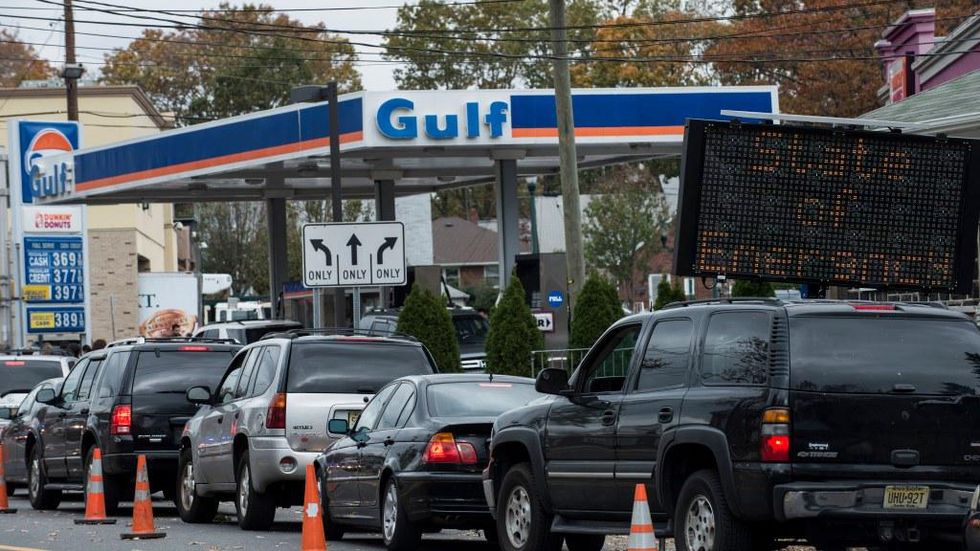 Because of the professionalism of the criminals involved, there was never a question of getting the pipeline — or the company's accounting system — up and running. It was just a question of whether it would take a few days or something in excess of a week.

It turned out that it took about five days to get the system back online, and it's expected to take several more to get it back up to 100%. In other words, a full tank of gas would probably have lasted most people through this "gas crisis" without sending gas prices skyrocketing. So what happened?
The Viral Gas Hoarders
People freaked out. Like the toilet paper debacle of 2020, what should have been a minor issue of supply chains adjusting to a new normal became a serious problem thanks to the selfish overreactions of the worst among us.
As soon as the news hit that there could be some minor shortages and a temporary price increase, the panic started. Images and videos of people filling car trunks and truck beds with plastic gas cans were outdone by the people filling plastic buckets, storage bins, and massive tote tanks.

Never mind the fact that many plastics will warp or dissolve in the presence of gasoline. These people weren't going to let a temporary shortage pass them by without panic-buying.
While perhaps the most iconic example — a video of a woman filling plastic bags with gasoline — turned out to actually be from 2019, the panic was real. And it was viral in more ways than one.
Let's say one person decides to fill an extra 20 gallons of standard gasoline containers at the pump. They take about twice as long as they usually would, and a small line of cars starts to form. Someone driving by sees that line and decides that this gas crisis thing must be real, and figures — even though they have more than half a tank — they should fill up now, before things get worse.

Next thing you know, that line of cars is spilling into the street, the gas station is starting to run low, and people are calling and texting friends and loved ones, sharing images of the gridlock on social media, encouraging others to take this "gas shortage" seriously and fill up any vehicles and containers they have. And so the virus of gas panic spreads…
A Long-Term Solution?

But now that there's light at the end of the tunnel for this temporary panic, how do we ensure that this kind of thing doesn't happen again? After all, if DarkSide had approached this with more malicious intent, it could likely have been much worse.
So how do we secure our critical energy infrastructure to prevent this kind of issue in the future? If we take it for granted that we probably can't change human nature enough to stop people from panicking and hoarding at the first sign of an issue, there are still a number of options.
For a start, we could mandate comprehensive cybersecurity for companies that provide critical services, preventing this kind of ransomware attack from happening in the first place. Or we could even nationalize pipelines so a profit motive and disrupted billing don't get in the way of delivering what people need.
But there will always be vulnerabilities in a system that relies on centralized infrastructure like pipelines. The most important solution is to wean ourselves off of fossil fuels altogether. If electric vehicles charged by decentralized power sources — e.g. home solar panels — were the norm in the U.S., a gas shortage would be nearly meaningless, and there would be no central energy hub vulnerable to attack.
Renewables should be at the center of any push for energy security. Even the issues with the Texas power grid during February's freezing weather — though falsely attributed to wind power by many on the Right — were mostly due to issues with fossil fuels and private greed. Widespread adoption of small-scale solar power could actually have buffered the grid against the worst outcomes.

This would also be a great way to avoid the environmental and societal damage of pipeline leaks and spills, like the 2020 instance of more than a million gallons of gasoline spilling out of the Colonial Pipeline in a North Carolina town. While that's perhaps the worst pipeline incident in America's history, there's no shortage of competition, with significant damage to natural habitats and crucial water supplies.
And, as long as we're on the topic of pollution, it's worth pointing out that, if we don't make a dramatic shift off of fossil fuels, climate change is going to get so much worse. They are the single greatest source pumping greenhouse gases into the atmosphere, adding energy to complex weather systems, and making freak incidents like February's polar vortex far more common and devastating.
So if you hate gas crises almost as much as you hate the gradual collapse of civilization as a shifting climate brings on natural disasters, disrupting food production and displacing communities around the world, then the obvious way forward is to treat fossil fuels as the evil that they are and to shift away from them as quickly as we possibly can.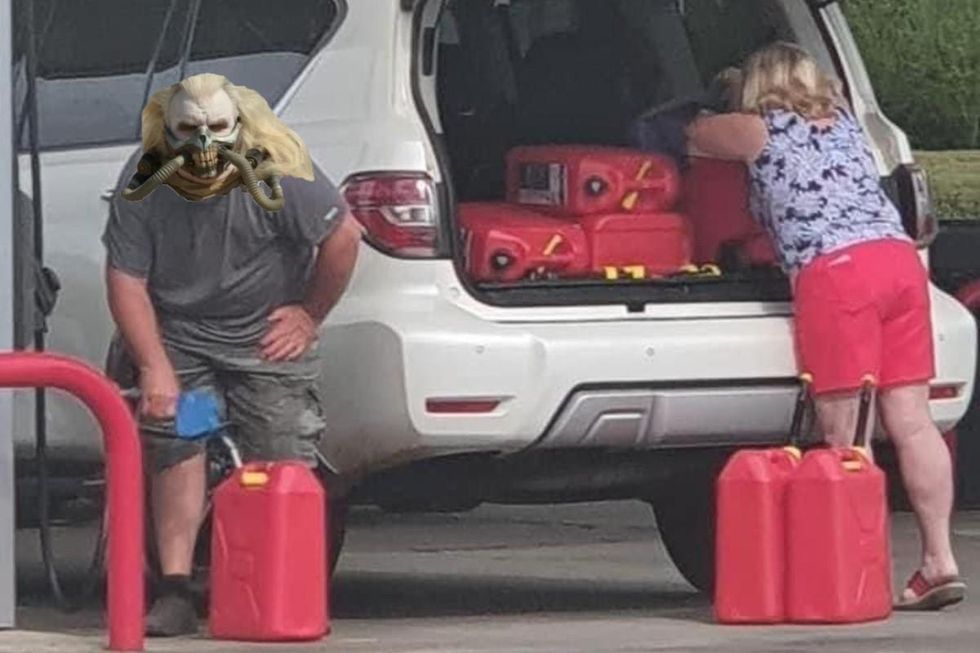 Or we can embrace our Mad Max future, let the hoarding virus take us, and start lining up to fill our buckets with guzzoline...

An unprecedented inauguration for unprecedented times.
After a mob attacked the Capitol on January 6th and over 400,000 U.S. deaths as a result of the pandemic, this year's inauguration is going to look a little different.
Crowds will be small or nonexistent, events will be moved online, and security will be tougher than ever. It will be a day of historic firsts, both good and bad.Some things will change, but the important things will stay the same. The Vice President and President will take the oath of office, and it will be the same oath it always is: An oath to "preserve, protect and defend the Constitution of the United States."
1. Minimal attendance
The actual swearing-in ceremony is the most important part of Inauguration Day. And for the most part, it will proceed normally. As dictated by the Constitution, President Biden will be sworn in at noon on January 20th. He will continue the tradition of being sworn in on the Capitol steps.
It'll be no less star-studded than usual, with Lady Gaga, Jennifer Lopez and Garth Brooks, among others, expected to perform. There will be the normal recitation of poems and prayers, all concluding with a speech from the newly inaugurated president.
However, instead of giving this speech to the crowd of hundreds of thousands that usually populate the National Mall on Inauguration Day, Biden will give his speech to around 1,000 people and more than 191,500 flags.
Instead of the usual 200,000 tickets distributed to members of Congress and passed out to their constituents, organizers released just over 1,000 tickets — one for each of the 535 members of Congress and one guest each.
To make up for the minimal attendance, the Presidential Inaugural Committee planted more than 191,500 American flags on the National Mall, meant to represent the American people who can't attend Biden's inauguration.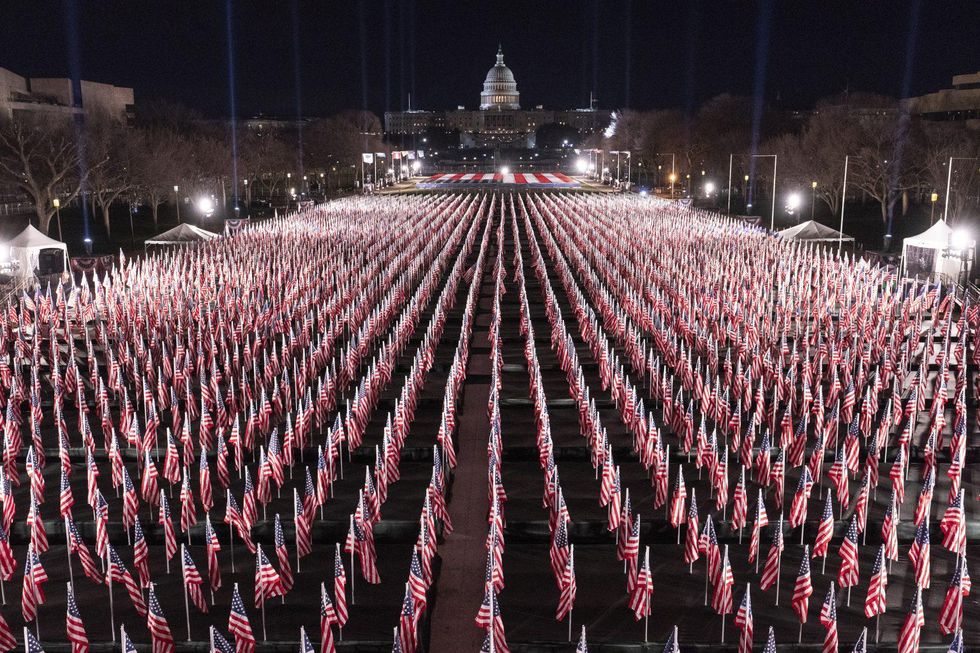 Flags are placed on the National Mall, with the U.S. Capitol behind them, ahead of the inauguration of President-elect Joe Biden and Vice President-elect Kamala Harris, Monday, Jan. 18, 2021, in Washington.AP Photo/Alex Brandon
2. Virtual inaugural events
Inauguration Day is usually packed with events, all of which are usually packed with people. On a normal inauguration day there is not only the swearing-in ceremony but also a luncheon with lawmakers, a parade through DC, and finally the inaugural ball held at the White House. In a year where so many Americans have died of the novel coronavirus, the inaugural committee has decided to change how these events will be held.
The Inaugural Luncheon is usually a grand affair where all the members of Congress gather in the capitol for a three course meal immediately after the swearing-in ceremony. The tradition began in 1953, but this year it has been cancelled entirely.
The next event is the inaugural parade where marching bands, first responders, military units, and other proud Americans accompany the new president in his historic march from the Capitol to the White House. There has been some sort of formal inaugural parade since 1809, when James Madison was inaugurated.
This year, the parade will go virtual. Joe Biden will still make the trip from the Capitol to the White House, but there will be no cheering crowds. Biden will get a presidential escort there, which will include representatives from every branch of the military, as well as the drumlines for the University of Delaware and Howard University — Biden's and Harris' alma maters. But the main event will be the virtual "Parade Across America," featuring performances from all 56 states and territories.
The final events of the day are usually the swanky inaugural balls. The city is usually taken over by both "official" and "unofficial" balls. Official ones are sponsored by the Presidential Inaugural Committee, and guarantee that the president and his spouse will show up. Normally the whole city is taken over by donors, supporters, and celebrities celebrating the new president.
This year, instead of an inaugural ball, there will be a primetime television event. The "Celebrating America Primetime Special" will be hosted by Tom Hanks and feature an impressive celebrity lineup. Demi Lovato, Justin Timberlake, Jon Bon Jovi, Ant Clemons, Bruce Springsteen, John Legend and Foo Fighters will all perform. And Kerry Washington, Eva Longoria, Kareem Abdul-Jabbar, José Andrés, Lin-Manuel Miranda and other big names will also be featured in some way.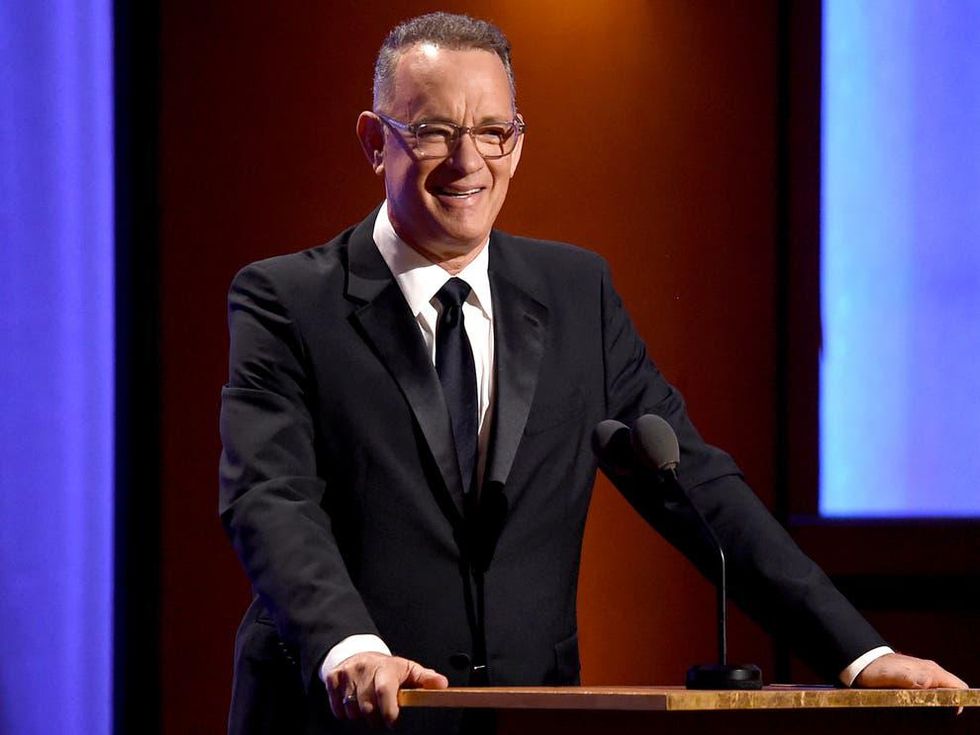 Tom Hanks to host televised inauguration special featuring Justin Timberlake and Demi Lovato.Getty Images
3. Historic moments
This inauguration will be particularly notable because of its historic firsts. Kamala Harris will be sworn in as the first woman, first woman of color, first Black American and first Asian American to be vice president. Harris' husband, attorney Doug Emhoff, will also make history as both the first male and first Jewish spouse of a vice president or president.
Joe Biden comes with his own first: He will be the oldest person ever sworn in as president at the age of 78. He will also be only the second Catholic President in our country's history.
Donald Trump is also making history on Inauguration Day–by not attending. Trump plans to fly to Mar-A-Lago the morning of the inauguration and will not attend the ceremony or welcome the Biden family to the White House. It has been 152 years since a President refused to attend his successor's inauguration.
The last president to refuse to attend was Andrew Johnson in 1869, and he was also an impeached, one-term president. Vice President Mike Pence will be in attendance for the inauguration, as will former presidents George W. Bush, Bill Clinton, and Barack Obama.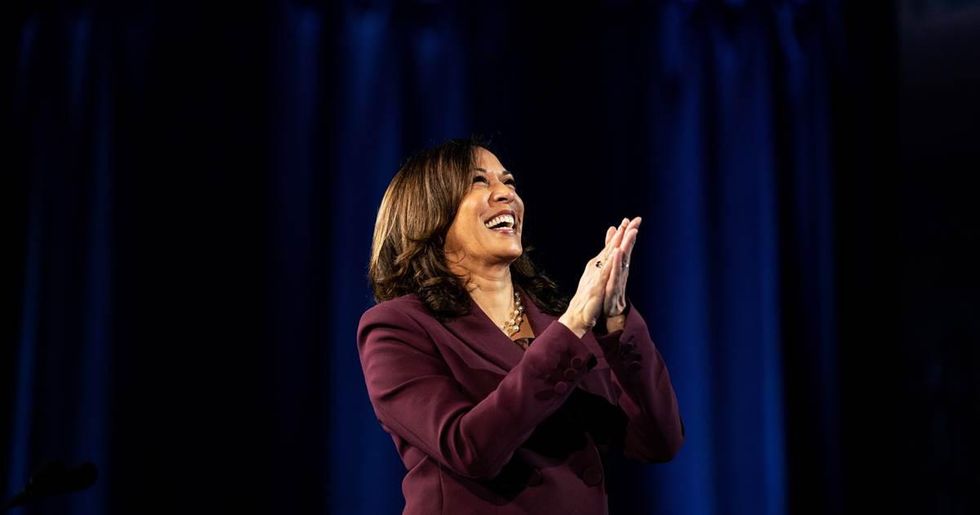 Kamala Harris accepts the Democratic nomination for as first Black female vice presidential candidate in Wilmington, Del., on Aug. 19.Erin Schaff / NYT via Redux file
4. Higher security
Inauguration security is always taken very seriously by the secret service, but after the riot that breached the capitol and delayed the election certification on January 6th, this inauguration will have unprecedented levels of security. The FBI has warned of threats to D.C., including to lawmakers and federal monuments, and all of Washington is well aware of the possibility of armed groups demonstrating in the District on Inauguration Day.
Inauguration viewers should expect a visible military presence, since a total of 25,000 National Guard troops are authorized to help secure the inauguration. There is also a seven-foot-high, unscalable, razor-wire fence encircling the Capitol.
Unlike usual inaugurations, several Metro stations are closed, a large portion of the city will be restricted for drivers, and a number of bridges that cross the Potomac River and Anacostia River will be closed.
There are also security checkpoints throughout the city. Those checkpoints have already resulted in several arrests, including a Virginia man who had fake inauguration credentials, a loaded gun, and more than 500 rounds of ammunition.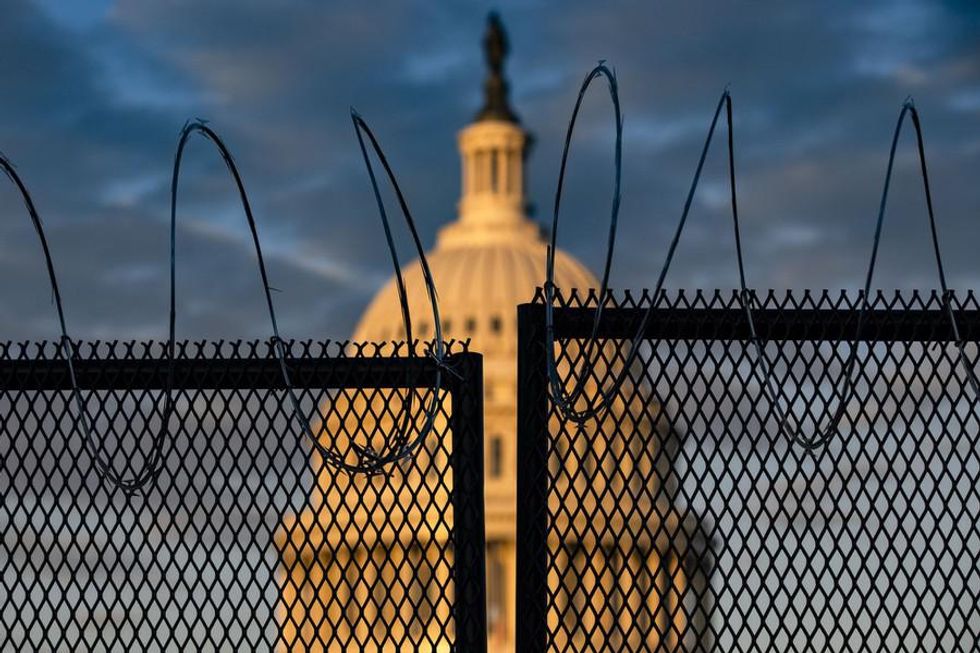 The U.S. Capitol is seen behind a fence with razor wire during sunrise on January 16, 2021.Samuel Corum / Getty
This will be an unprecedented Inauguration Day, but after seemingly countless months of "unprecedented times," what else could we possibly expect?
The future looks pretty grim.
It seems fitting that the Trump administration would go out with a bang. It also seems fitting that the bang would be unbridled white supremacy and blatant racism.

After the white supremacist insurrection at the Capitol, tensions have been high in anticipation of the January 20th Inauguration, with the whole country waiting on edge to see what how the transfer of power will go.
For a while, it looked like they'd have to drag Donald Trump out of the White House by his platinum wig. For a moment, it looked like there would be a coup. But the reality is much less dramatic but more insidious. Trump loyalists, it seems, are spending their last days seeping as much vitriolic rhetoric into the country (and presumably the White House floors judging by the news of a pre-Biden deep clean) as they possibly can.
Outgoing Secretary of State, Mike Pompeo, took to Twitter on his last full day in office to say, "Woke-ism, multiculturalism, all the -isms — they're not who America is. They distort our glorious founding and what this country is all about. Our enemies stoke these divisions because they know they make us weaker."
Woke-ism, multiculturalism, all the -isms — they're not who America is. They distort our glorious founding and what… https://t.co/aKWpDCy5iT

— Secretary Pompeo (@Secretary Pompeo) 1611066600
The image attached to the tweet reads: "Censorship, wokeness, political correctness, it all points in one direction — authoritarianism, cloaked as moral righteousness."

There's so much to unpack here.
The basic logic of his argument is hard to parse. From the tweet it seems that he believes that multiculturalism is a divisive tool used by "our enemies" to "distort our glorious founding" — though who he refers to and what our founding entails he does not specify.
The ensuing logic, however, makes claims that denounce authoritarianism and moral righteousness. In Pompeo's mind, multiculturalism somehow does not align with the individualism he thinks will save us from authoritarianism.
To pick apart the nonsense of his argument would be redundant, so it is instead easier to call it what it is: racist.
The tenuous thread of his logic rests on the shoulders of white supremacy. The narrative is familiar but no less frightening. Pompeo tells a short story of how our country was, and could be, so great if not for the threat of the encroaching "other" contaminating the nation's proverbial purity.
The ensuing language may be vague, but the purist sentiments of his rhetoric are clear. His focus on "multiculturalism" is a signpost that signals his issue is not just with the left, but with BIPOC communities.
Beneath his cacophony of buzzwords, the dangerous, fascist sentiments of the past four years are all encapsulated into a reminder that the Trump administration and the people who perpetrated the harm and violence of it does not stop with Trump.
In truth, the barely concealed violence of Pompeo's rhetoric is engrained so deeply into the fabric of the United States that he might be right: Despite its insistence to the contrary, the US has purported to be a multicultural nation but has always been ruled by white supremacy.

Though this country claims to be about diversity and inclusion, so much of its history points to the opposite. But this is not the argument Pompeo is making.
There are valid claims about how, occasionally throughout US history, multiculturalism and the famous "melting pot" end up diluting people's cultures into a vague shadow of what they used to be. Pompeo, as a descendant of Italian immigrants, is a direct result of the dilution of Italian culture for the mantle of whiteness that he is so secure inside.
However, Pompeo is not calling for a more nuanced understanding of race, culture, and ethnicity.
He's calling for the same thing Donald Trump called for that brought on the Capitol siege, the same thing that has allowed racism, xenophobia, and white supremacy to persist as ruling bodies of this country — a scapegoat.
His vague language is intentional. It invites dissatisfied, disaffeced white people to substitute their ideals and their issues for the distortions and divisions he mentions, while uniting them against "multiculturalism."
While similar rhetoric has been spouted by this administration in various forms, its usual targets are the general left, or progressives and democrats. The focus on "multiculturalism" bypasses the white liberals he could be appealing to for unity against the "divisions" in our country.
The invocation of "woke-ism," a convenient neologism he makes up to orchestrate this tweet, fabricates another giant to distract from the actual "isms" most people would turn to … like, racism.
In fact, just deleting the first two words of the tweet makes a different argument altogether. Yes, I do agree that "all the -isms" distort the ideal vision of the country, but we have different "isms" and different ideals.
What's most frightening about this sentiment is that Mike Pompeo reportedly has ambitions to run for President in 2024. His key to winning: taking over the MAGA mantle.
Pompeo's sentiments coupled with his ambitions serve as a reminder that Trump's legacy is not going away with a Biden Presidency.
Despite Biden's calls for "unity," Trump loyalists do not want unity between all Americans. They want the vitriolic energy that put them in power to persist so that they can stay in power.
I implore Biden then, to pull back his hands, to waste less time appealing to white supremacists and more time reaching towards the communities who (somewhat reluctantly for most) ensured his win.
So far, Biden has elected a historically diverse cabinet, one which seems to exemplify multiculturalism at its best. But to make it its best, it's important that we do not take multiculturalism to mean tokenization, but rather the active process of representation, celebration, and learning that it should be.
With the Democratic nomination essentially a toss-up between Bernie Sanders and Joe Biden, America's fear of electing competent, prepared women is prevalent.
This week, Senator Elizabeth Warren suspended her campaign in the 2020 presidential election.
The announcement arrived after a disappointing Super Tuesday for the progressive candidate, who failed to win her home state of Massachusetts. "I refuse to let disappointment blind me— or you—to what we've accomplished," Warren wrote. "We didn't reach our goal, but what we have done together—what you have done—has made a lasting difference. It's not the scale of the difference we wanted to make, but it matters—and the changes will have ripples for years to come."
Warren built a successful grassroots movement and, for much of the race, was a Democratic front-runner. She supports key issues like the Green New Deal and Medicare for All, and she mapped out proposals for affordable housing and free college for lower-income students. Her liberal policies earned her numerous comparisons to Bernie Sanders, but as Warren fell behind and her more moderate opponents, like Amy Klobuchar, Michael Bloomberg, and Pete Buttigieg, exited the race—each endorsing former Vice President Joe Biden—it became clearer that her participation might be splitting the progressive vote. Her choice to bow out for the sake of the country's future is honorable, but her departure makes the Democratic nomination a toss-up between Sanders and Biden as congresswoman Tulsi Gabbard trails behind significantly. That shouldn't be the case.
#ThankYouElizabeth ...for running an exceptional campaign. For knocking #Bloomberg out of the race. And for push… https://t.co/tHe1kfRbF8

— Peter Daou (@Peter Daou) 1583425541.0
Yes, Biden has decades of experience; he first became a senator in 1972, while Warren wouldn't be elected until thirty years later. Despite serving two terms as vice president, however, Biden failed to match Warren's sharp wit in debates—his muddled answers and seemingly inattentive performances spurred headlines like "Is Joe Biden OK?" Additionally, there's an ongoing list of allegations about his creepy behavior towards girls and women, for which he's never formally apologized.

When it comes to policy, Biden can be moderate to a dangerous degree. His stance on abortion has wavered throughout the years (to be fair, Warren was a Republican until the '90s), and he supported a constitutional amendment in the '80s that would have let states overturn Roe v. Wade. In the '90s, he voted against legalization of gay marriage, and later in the early '00s, he voted in favor of the Iraq War. Today, he opposes Medicare for All, would let states individually allow to legalize recreational marijuana, doesn't believe in abolishing ICE, and wouldn't bring U.S. troops home from overseas; Warren's stance on each of those issues is the opposite, which makes the trending #WarrenToBiden hashtag so disappointing.
Elizabeth Warren ethered Mike Bloomberg and John Delaney, two plutocrats with terrible policies who thought they co… https://t.co/jxOSe75jeN

— Adam Best (@Adam Best) 1583429691.0
Though Warren has generally kept her gender out of her campaign (aside from telling little girls that she's running for president because "that's what girls do"), much of Biden's sudden lead ahead of her can be accredited to sexism. Despite experience, Warren has proven time again and again that she's incredibly fit to be president; how has Biden become our most "electable" option?

Yes, Democrats need to unite to ultimately defeat Donald Trump. But we also can't risk electing a candidate who repeatedly appears mentally unwell, poses dangers to women, and doesn't have an aggressive plan to tackle the climate crisis. Thankfully, we have a viable candidate left with Sanders, but Biden shouldn't be the other choice. The U.S. deserves better than Biden, but it'll be hard to get there until we've overcome our fear of electing a woman.
Can the Democratic establishment get it right this time?
With the first Democratic primary still about eight months away, the Democratic party establishment appears prepared to throw all of their weight behind Joe Biden.

To hear MSNBC or CNN tell the story, Joe Biden has been the Democratic party's frontrunner since before he even declared his candidacy. Whether or not this is entirely true, however, is debatable. Misleading polls are being conducted and then misrepresented by many liberal news outlets as a means of solidifying Uncle Joe's frontrunner status early on in hopes of swaying voters toward the "more electable" candidate in the primaries. If Joe Biden can be made to look like he actually has the best chance of clinching the nomination or winning against Trump in a general election, then, voters will be more likely to vote for him as the safe bet.
IVN, or the Independent Voters Network, self-described as "a platform for unfiltered political news and policy analysis from independent-minded authors," has highlighted the biased nature of many political polls. IVN writer, Rudolpho Cortes Barragan reports:
"FiveThirtyEight, which is owned by ABC/Disney, functions as a sort of gatekeeper for polling, and polls are extremely important for candidacies. The public is told that polls judged as A+ by FiveThirtyEight are to be seen as real bellwethers of popular opinion. In reality, 'the polls' are manufactured to produce the results that the pollsters (and their corporate funders) want to see."
Barragan goes on to cite a recent Mammoth University poll as evidence. "The results showed Biden 9 percentage points ahead of Sanders," he writes, "but if you look closely you will see that more than 70% of the people polled are over the age of 50. Any honest person would be able to tell you that the 2020 electorate will be far younger than 50." The data is seldom presented within its full context on mainstream news outlets like MSNBC or CNN, and instills in voters a false sense of Biden's electability and props him up as the "safe" vote.
If this sounds eerily familiar, it's because the same thing happened in 2016. Hillary Clinton, like Biden, was prematurely propped up as the most electable candidate, even though an anti-establishment candidate like Bernie Sanders may have stood a better chance against Trump's "outsider" persona, which resonated with many voters (particularly across the midwest). This was proven in the wake of Trump's victory when analyses showed that many Bernie supporters either did not vote in the general election or jumped on the Trump ticket, preferring the radical change suggested by Trump's "drain the swamp" narrative over Clinton's years of experience as a politician.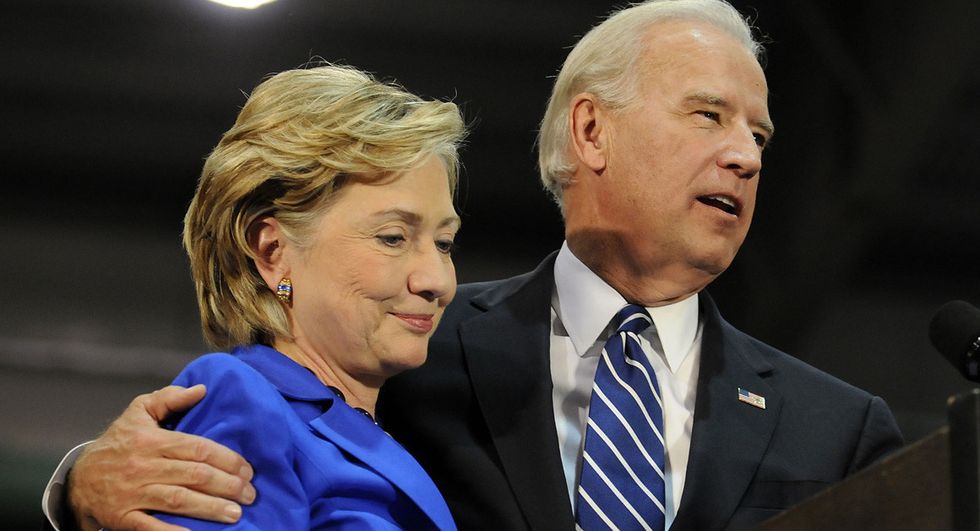 Joe Biden, like Clinton, is firmly rooted in the Democratic establishment. While Trump's approval rating has wavered over the last few years, hitting its low at 35% in 2017, it has remained around 40 to 45% — a number that should be alarming for Democrats going into 2020, as there have been only three single-term presidents since World War II.

Either way, the Democratic party and its voters must avoid making the same mistakes if there is any hope of preventing a Trump reelection. Poll manipulation was not the only issue in the 2016 election. The Democratic National Committee (DNC) was also exposed for unfairly tipping the scales toward Clinton in 2016, effectively rigging the primary against Bernie Sanders.
Donna Brazile, former interim chair of the DNC, revealed in her book, Hacks: The Inside Story of the Break-ins and Breakdowns that Put Donald Trump in the White House, the nefarious– although not technically illegal, according to US District Judge William J. Zloch, who dismissed a class action lawsuit against the DNC – actions of the Committee.
"Hillary would control the party's finances, strategy, and all the money raised," writes Brazile. "Her campaign had the right of refusal of who would be the party communications director, and it would make final decisions on all the other staff. The DNC also was required to consult with the campaign about all other staffing, budgeting, data, analytics, and mailings."
It's unclear whether the DNC's current chair, Tom Perez, will run an honest and fair ship as we approach the 2020 election cycle. Perez held the position of labor secretary during the Obama administration, and Biden publicly threw his support behind Perez during his campaign for DNC chair; whereas Sanders preferred Keith Ellison, who lost by a narrow margin. Only time will tell if Perez will tip the scales in Biden's favor due to their favorable history together, but the Democratic party is no stranger to nepotism, so Perez – especially in light of 2016 – should be watched carefully in the months to come.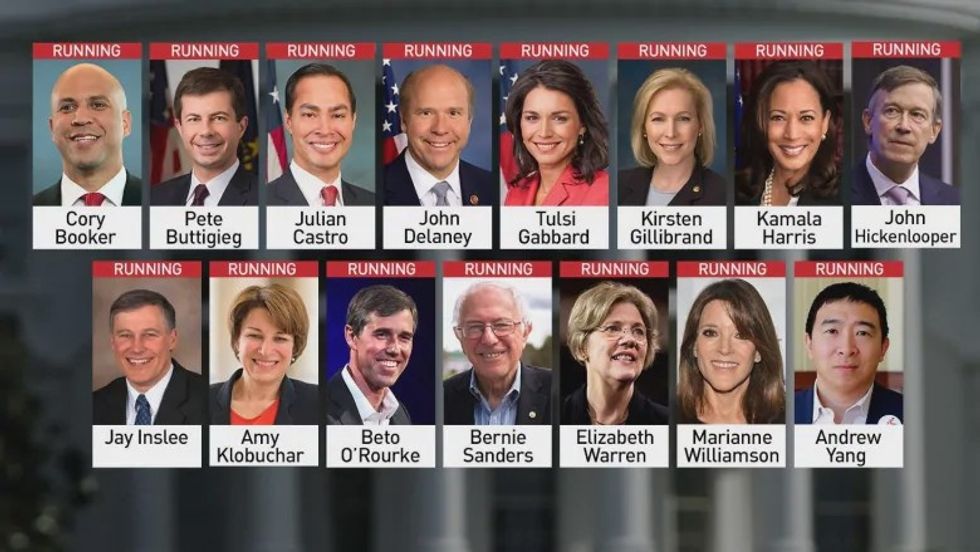 Even if the DNC does run a fair election this time around, electing Joe Biden would be a grave mistake. A mistake that the party already made last time around in the form of gifting the primary to Hillary Clinton. This election will not be one for tepid, center-of-the-road policies. We've already seen how an establishment centrist performs against Donald Trump. The Democratic party must embrace and adopt the progressive push to the left provided by candidates like Sanders and others if they have any hope of winning in 2020. Playing politics as usual will cost the Democratic party, and the nation, another four years of a Donald Trump White House.

Over the course of the evening, it became apparent the two frontrunners, Joe Biden and Bernie Sanders, aren't old dogs with new tricks.
Last night, the second round of Democratic debates came and went. Ten out of the twenty candidates who qualified for the debates were chosen at random to participate in the second half of NBC's nationally televised event. Of course, the goal for the Democratic Party is to take the Oval Office and hopefully the Senate.
Over the course of the evening, it became apparent the two frontrunners, Joe Biden and Bernie Sanders, are old dogs without any new tricks. Honestly, it'd be difficult to tell the difference between a clip of Senator Sanders debating in 2016 and 2019—maybe this time around, he's a little more tired. Joe Biden was alarming on the stage: He was ill-prepared, stumbled over his words, and leaned heavily on his smile. It's not that Biden had a terrible night' it's that he only had an okay night— which, for a frontrunner, is not a good sign. There were only three people anyone should be excited to hear from: Kamala Harris, Pete Buttigieg, and Marianne Williamson.
#LetYangSpeak
Between the two debates, candidate Andrew Yang spoke the least by a two-minute margin. During the three minutes he did speak, Yang introduced his Freedom Dividend policy. The Freedom Dividend Policy is a Universal Basic Income plan. All people over the age of eighteen would be eligible to obtain a basic income of a thousand dollars a month. Yang's policy is one of the few proposed that addresses an imminent threat: technology. If corporations like Amazon were heavily taxed, that'd free a lot more money for workers who are displaced due to automated jobs accomplished by AI.
If you look into Yang, he's a contender thanks to his reasonably successful grassroots campaign. Last night, Yang turned his campaign into the trending hashtag #LetYangSpeak. According to the candidate, his mic had been turned off multiple times throughout the evening. The only evidence available is footage of Yang attempting to get a word in but to no avail.
#LetYangSpeak Here's proof that @AndrewYang was attempting to speak, but his mic was cut off. Coincidences don't ex… https://t.co/cRhdujENfD

— AVWilhite20 (@AVWilhite20) 1561733609.0
In the video, he's speaking, loud enough for Joe Biden to hear him. Beyond that clip, there is no other evidence. If that were, in fact, true, then NBC would have a lot to answer for ah regarding their meddling in a primary debate.

Marianne Williamson, Be Still My Heart
Marianne Williamson sure made a name for herself last night. Her dramatic and chaotic delivery was a delight for many. Yet, she did not come to play games; she came to bring up points of contention and big ideas we need to tackle. According to her, "It's really nice if we've got all these plans, but if you think we're going to beat Donald Trump by just having all these plans, you've got another thing coming. He didn't win by saying he had a plan. He won by simply saying 'Make America Great Again.'" She's right, like she was right about a lot of things: Williamson thoughtfully addressed the need for reparations, slammed ageist rhetoric, and exclaimed of love over hate.
Although her delivery was off-kilter to many, Williamson should not be underestimated for her flowery language; she explained:
"I have had a career not making the political plans, but I have had a career harnessing the inspiration and the motivation and the excitement of people. Masses of people. When we know that when we say we are going to turn from a dirty economy to a clean economy, we're going to have a Green New Deal, we're going to create millions of jobs, we're going to do this within the next 12 years, because I'm not interested in just winning the next election, we are interested in our grandchildren. Then it will happen."
Many Americans never imagined Donald Trump would be our president, but here we are. Williamson's bold statements and captivating delivery about her hopes and dreams for this country have the potential to capture the American imagination. Sure, she may give off the spiritual energy of a wine mom who likes crystals, but why does that discredit her abilities? Remember, the hippies of our nation began revolutions.
Marianne Williamson: I Will 'Harness Love' To Defeat President Donald Trump | NBC Newswww.youtube.com
Yes, We Just Witnessed a Murder

Kamala Harris came prepared last night. Over all the ruckus, Harris reprimanded her fellow candidates with her rehearsed one-liner: "America does not want to witness a food fight; they want to know how we're going to put food on their table."
She continued to command the evening by confronting Joe Biden on his record. Harris challenged the former VP, asserting:
"I'm going to now direct this at Vice President Biden, I do not believe you are a racist, and I agree with you when you commit yourself to the importance of finding common ground. But I also believe, and it's personal— and I was actually very—it was hurtful to hear you talk about the reputations of two United States senators who built their reputations and career on the segregation of race in this country. And it was not only that, but you also worked with them to oppose busing.
"And, you know, there was a little girl in California who was part of the second class to integrate her public schools, and she was bused to school every day. And that little girl was me."
Kamala Harris Confronts Joe Biden On Race | TIMEwww.youtube.com
Biden, who was once a spirited debater, floundered in his response. He clarified that he supported busing, but on the state level. Harris clapped back, recounting how in her hometown of Berkeley, California, busing was not enforced. She utilized the anecdote to explain why The Civil Rights Act of 1964 and the Voting Rights Act of 1965 were crucial to this country, which is why we need to ratify the Equal Rights Amendment.

Biden was given thirty seconds to respond. He vouched for his record, reasserting that he always supported Civil Rights, before cutting himself off, saying, "— anyway, my time is up. I'm sorry." Biden caused the most damage to himself, as he failed to successfully defend himself.
Sometimes, You Just Can't Get it Done
Pete Buttigieg was another candidate with a breakout performance. The South Bend, Indiana Mayor may be young, but he's had skin in the game for seventeen years. Buttigieg is a veteran, a politician, a polyglot, and a gifted orator. He also made history last night as the first openly gay candidate to participate in a primary debate.
On the topic of immigration, he broke down the hypocrisy of the Christian-aligning Republican Party. Buttigieg did not hold back, proclaiming:
"The Republican Party likes to cloak itself in the language of religion. We should call hypocrisy, and for a party that associates with Christianity to say it is okay to suggest that God would smile on the division of families at the hands of federal agents, that God would condone putting children in cages has lost all claim to ever use religion language again."
The South Bend native also candidly addressed his failure to diversify his city's police force, noting, "I couldn't get it done." He went on to explain the pain his city is experiencing due to the devastating death of a local black man, Eric Logan. Logan was shot and killed by a white police officer. The officer did not have his body camera on at the time of the incident. Buttigieg unpacked how he could not take a position on the matter until the investigation is complete.
The mayor's transparency was received favorably and for a good reason. We need a president who doesn't spread fake news.
Stop Name Dropping
Joe Biden name-dropped Obama almost as frequently as he did Trump. Biden's attempts to piggy-back off the former President's accomplishments highlighted the reason Biden why was only able to make it into the Oval Office as a running mate instead of president: He is not our future. While Biden is a respected Washington staple, his vision for our country is dated and boring. It doesn't capture the America we live in today. After Harris' takedown, it's apparent that Biden cannot justify his unfavorable past.
Maybe California Senator Eric Swalwell was right when he told Biden to finally "pass the torch" to the next generation. Biden slyly smiled and said, "Not yet." However, if last night proved anything, it's that he should've let go of it a long time ago.