"A tree is best measured when it is down," the poet Carl Sandburg once observed, "and so it is with people." The recent death of Harry Belafonte at the age of 96 has prompted many assessments of what this pioneering singer-actor-activist accomplished in a long and fruitful life.
Belafonte's career as a ground-breaking entertainer brought him substantial wealth and fame; according to Playbill magazine, "By 1959, he was the highest paid Black entertainer in the industry, appearing in raucously successful engagements in Las Vegas, New York, and Los Angeles." He scored on Broadway, winning a 1954 Tony for Best Featured Actor in a Musical – John Murray Anderson's Almanac. Belafonte was the first Black person to win the prestigious award. A 1960 television special, "Tonight with Belafonte," brought him an Emmy for Outstanding Performance in a Variety or Musical Program or Series, making him the first Black person to win that award. He found equal success in the recording studio, bringing Calypso music to the masses via such hits as "Day-O (The Banana Boat Song)" and "Jamaica Farewell."
Harry Belafonte - Day-O (The Banana Boat Song) (Live)www.youtube.com
Belafonte's blockbuster stardom is all the more remarkable for happening in a world plagued by virulent systemic racism. Though he never stopped performing, by the early 1960s he'd shifted his energies to the nascent Civil Right movement. He was a friend and adviser to the Reverend Doctor Martin Luther King, Jr. and, as the New York Times stated, Belafonte "put up much of the seed money to help start the Student Nonviolent Coordinating Committee and was one of the principal fund-raisers for that organization and Dr. King's Southern Christian Leadership Conference."
The Southern Poverty Law Center notes that "he helped launch one of Mississippi's first voter registration drives and provided funding for the Freedom Riders. His activism extended beyond the U.S. as he fought against apartheid alongside Nelson Mandela and Miriam Makeba, campaigned for Mandela's release from prison, and advocated for famine relief in Africa." And in 1987, he received an appointment to UNICEF as a goodwill ambassador.
Over a career spanning more than seventy years, Belafonte brought joy to millions of people. He also did something that is, perhaps, even greater: he fostered the hope that a better world for all could be created. And, by his example, demonstrated how we might go about bringing that world into existence.
With the Democratic nomination essentially a toss-up between Bernie Sanders and Joe Biden, America's fear of electing competent, prepared women is prevalent.
This week, Senator Elizabeth Warren suspended her campaign in the 2020 presidential election.
The announcement arrived after a disappointing Super Tuesday for the progressive candidate, who failed to win her home state of Massachusetts. "I refuse to let disappointment blind me— or you—to what we've accomplished," Warren wrote. "We didn't reach our goal, but what we have done together—what you have done—has made a lasting difference. It's not the scale of the difference we wanted to make, but it matters—and the changes will have ripples for years to come."
Warren built a successful grassroots movement and, for much of the race, was a Democratic front-runner. She supports key issues like the Green New Deal and Medicare for All, and she mapped out proposals for affordable housing and free college for lower-income students. Her liberal policies earned her numerous comparisons to Bernie Sanders, but as Warren fell behind and her more moderate opponents, like Amy Klobuchar, Michael Bloomberg, and Pete Buttigieg, exited the race—each endorsing former Vice President Joe Biden—it became clearer that her participation might be splitting the progressive vote. Her choice to bow out for the sake of the country's future is honorable, but her departure makes the Democratic nomination a toss-up between Sanders and Biden as congresswoman Tulsi Gabbard trails behind significantly. That shouldn't be the case.
#ThankYouElizabeth ...for running an exceptional campaign. For knocking #Bloomberg out of the race. And for push… https://t.co/tHe1kfRbF8

— Peter Daou (@Peter Daou) 1583425541.0
Yes, Biden has decades of experience; he first became a senator in 1972, while Warren wouldn't be elected until thirty years later. Despite serving two terms as vice president, however, Biden failed to match Warren's sharp wit in debates—his muddled answers and seemingly inattentive performances spurred headlines like "Is Joe Biden OK?" Additionally, there's an ongoing list of allegations about his creepy behavior towards girls and women, for which he's never formally apologized.

When it comes to policy, Biden can be moderate to a dangerous degree. His stance on abortion has wavered throughout the years (to be fair, Warren was a Republican until the '90s), and he supported a constitutional amendment in the '80s that would have let states overturn Roe v. Wade. In the '90s, he voted against legalization of gay marriage, and later in the early '00s, he voted in favor of the Iraq War. Today, he opposes Medicare for All, would let states individually allow to legalize recreational marijuana, doesn't believe in abolishing ICE, and wouldn't bring U.S. troops home from overseas; Warren's stance on each of those issues is the opposite, which makes the trending #WarrenToBiden hashtag so disappointing.
Elizabeth Warren ethered Mike Bloomberg and John Delaney, two plutocrats with terrible policies who thought they co… https://t.co/jxOSe75jeN

— Adam Best (@Adam Best) 1583429691.0
Though Warren has generally kept her gender out of her campaign (aside from telling little girls that she's running for president because "that's what girls do"), much of Biden's sudden lead ahead of her can be accredited to sexism. Despite experience, Warren has proven time again and again that she's incredibly fit to be president; how has Biden become our most "electable" option?

Yes, Democrats need to unite to ultimately defeat Donald Trump. But we also can't risk electing a candidate who repeatedly appears mentally unwell, poses dangers to women, and doesn't have an aggressive plan to tackle the climate crisis. Thankfully, we have a viable candidate left with Sanders, but Biden shouldn't be the other choice. The U.S. deserves better than Biden, but it'll be hard to get there until we've overcome our fear of electing a woman.
It's time we stop acting like the leading Democratic candidate is the only old guy who's ever had a heart attack.
Whoever your pick might be in the 2020 Presidential Election, there's an overarching issue that's been largely prominent: the age of the Democratic front-runner, Bernie Sanders.
At 78, Sanders would be the oldest elected president in the country's history (a title currently held by Trump). The topic of his health became more hotly debated after he suffered a heart attack last October, resulting in him having two stents inserted. Though he bounced back to give one of his best debates yet that very same month, critics have been quick to cite Sanders' declining health as a hindrance to his electability. The backlash is getting even louder as Sanders claims he won't divulge his comprehensive health records. "We have released a detailed medical report, and I'm comfortable on what we have done," he said this week during a CNN town hall.
Sanders' campaign has released letters from three doctors who all asserted the senator is in good health. "I do not see a reason why he would not be able to function effectively in a high stress job," said Dr. Mary Ann McLaughlin, director of cardiovascular health and wellness at Mount Sinai Heart in New York. Why are Sanders' opposers so adamant that his health will fail him in office?
Yes, the senator is the oldest candidate in the race, but not by much: Michael Bloomberg and Joe Biden are 78 and 77 respectively, while Sanders' fellow progressive Elizabeth Warren is 70—the same age as Trump when he was elected. The health of Bloomberg, Biden, and Warren hasn't been scrutinized nearly as much as Sanders'. Sure, he might be the only one of the bunch who's suffered a heart attack, but that alone shouldn't be a disqualifier; notable politicians including President Dwight D. Eisenhower, President Lyndon Johnson, and Vice President Dick Cheney all proceeded with lengthy, successful careers in office despite suffering heart attacks early on.
A heart attack should not render an otherwise healthy candidate unfit for presidency, and Sanders' campaign has offered enough proof of his well-being. Our country's entire history has been predominantly dictated by old white men—why make an exception for someone who can actually instigate radical change?
Statistical anomalies in previous elections point to frightening vulnerabilities in how votes are tallied
In 2012, Mitt Romney was declared the winner of the GOP's Iowa caucus by a margin of just eight votes.
That result was announced at 1:30 AM on Caucus night, but two weeks later there was a different result. The Republican Party of Iowa had performed a recount of the votes and Rick Santorum—a candidate broadly considered too far outside the mainstream to stand a chance in the general election—was revealed as the actual winner. By that point of course it was far too late. Romney had already gotten the media attention that comes with winning, and had capitalized on that sense of momentum to achieve a solid victory in the New Hampshire primary.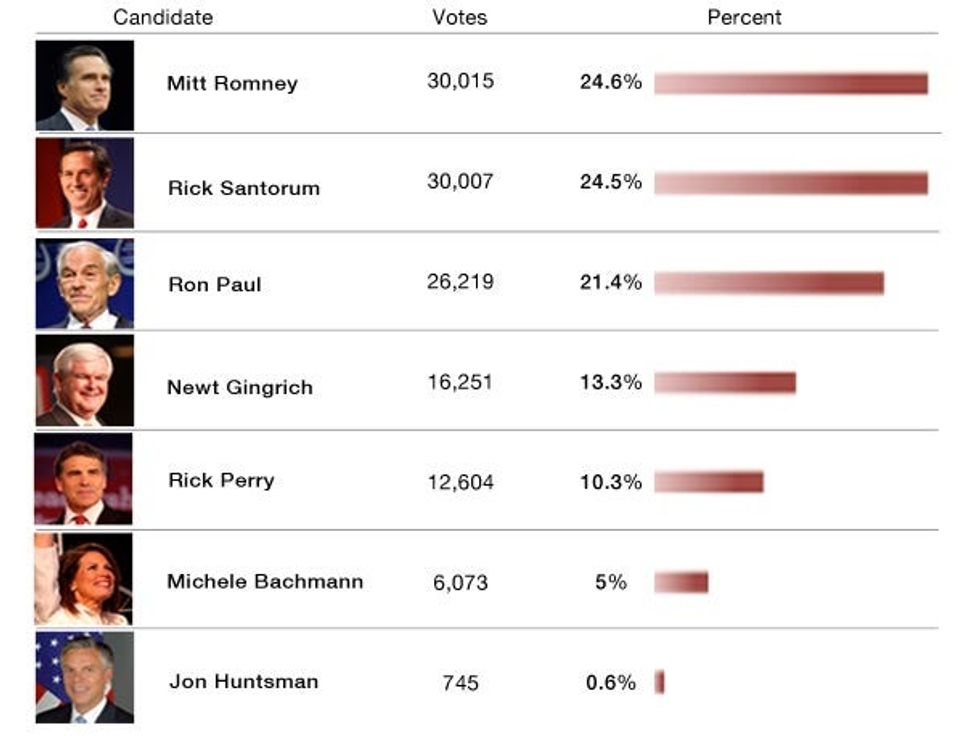 Business Insider
If that sounds familiar, that's because there is currently a "recanvassing" under way in Iowa to reassess the results of a contest that will once again be decided by a very slim margin. Though Bernie Sanders managed a clear victory in the popular vote, Iowa's elaborate system for awarding "State Delegate Equivalents" at each caucus location (to then be converted to the actual delegate count that determines the Democratic party's nominee), has resulted in a near-tie between Senator Sanders and former South Bend Mayor Pete Buttigieg.

The official winner may not be announced for days or weeks—or it may never be known at all. In the mean time, Pete Buttigieg declared himself the winner on Caucus night, and has been treated as such by much of the media. With Sanders looking more and more like the frontrunner, Buttigieg is seen as much more palatable to moderate general election voters, and many powerful donors and party insiders would much rather he get the nomination. With that in mind, the chaos in Iowa—particularly the faulty app and the release of partial results that seemed to favor Buttigieg—has already sparked speculation of party corruption and election rigging for Sanders voters holding on to memories of the DNC's favoritism toward Hillary Clinton in 2016, but it may be more instructive to consider the model of the 2012 Republican primaries.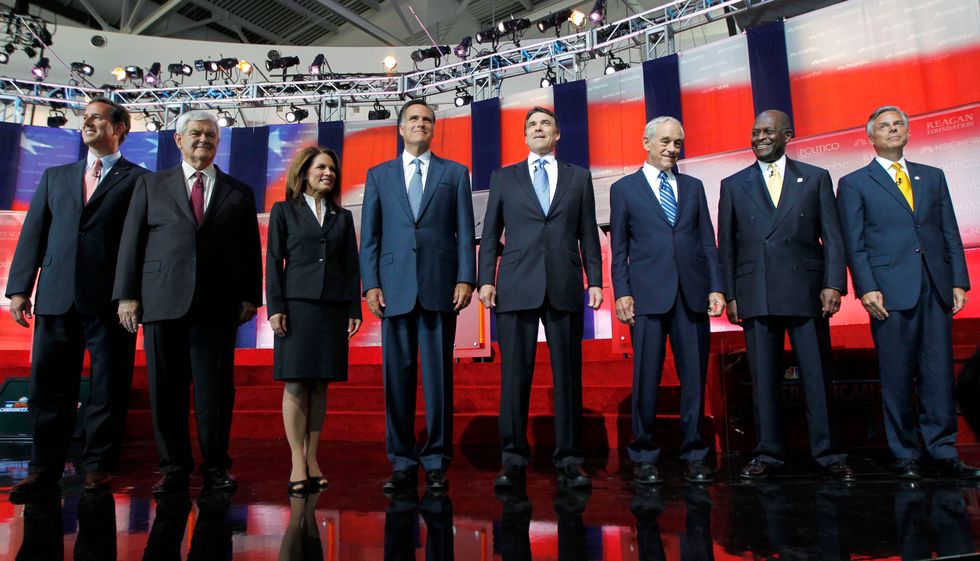 AP
2012 was not a simple year for Republicans in the way 2016 was for Democrats. Much like the 2020 field of Democratic candidates, there was not a presumptive nominee, but rather a wide field of contenders with centrists—Mitt Romney and Jon Huntsman—struggling against the enthusiastic support for more extreme candidates like Rick Santorum, Newt Gingrich, and Ron Paul. Polling seemed to swing wildly, from one candidate to the next until—according to some accounts—the RNC tipped the scales toward the man considered the most electable (read: bland and inoffensive) candidate.

The case of bias for Romney is as elaborate and detailed as every budding conspiracy theory about Acronym, Shadow Inc., and the new "Voter Protection Director" for the Nevada State Democratic Party—especially considering the contentious events of the Nevada Democratic Party state convention in 2016. Likewise, the overwhelming variety of those details is evidence—depending on your perspective—of either how insidious the whole plot was, or of the depths of its adherents' delusion.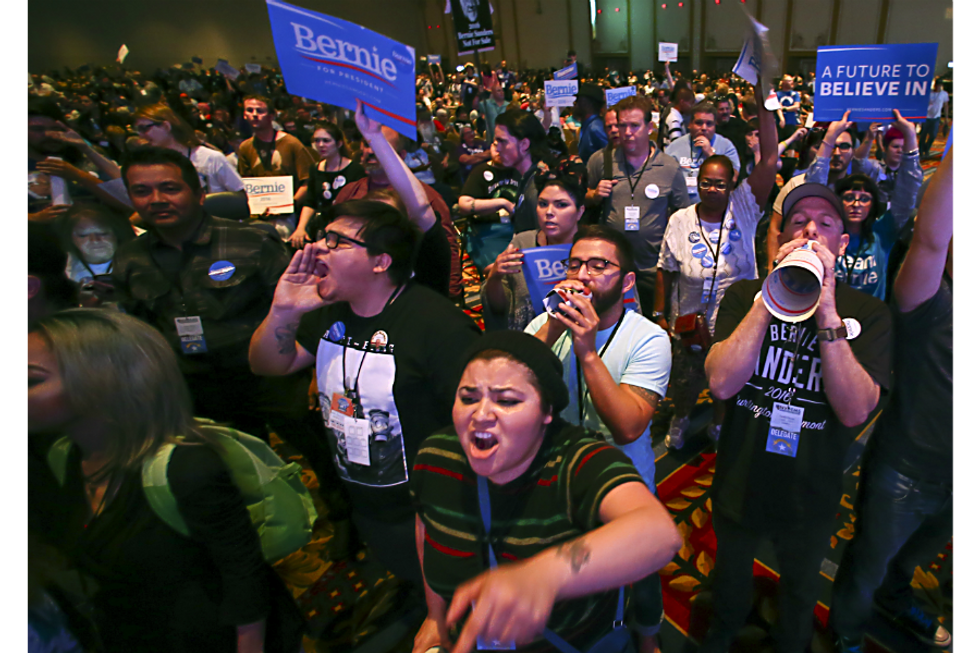 Chase Stevens/AP
For a start, there were a variety of issues in that year involving states attempting to increase their influence on the process by ignoring the traditional schedule for primaries and caucuses, skipping ahead of other states. The RNC was conflicted about how to handle that tactic, but many voters felt that the resulting schedule favored Romney's candidacy by allowing states where he polled well to vote earlier, further emphasizing the sense of building momentum. That much was acknowledged as a problem even at the time, but there are other issues that remain murkier. Was the miscount in Iowa intentional? Did the RNC combine fundraising with Romney's campaign too early? Did they pad Romney's delegate count to prevent a brokered convention? Most worryingly of all, were votes flipped to Romney in state primaries that lacked a paper trail?
Whatever the confusion in Iowa, the caucus system is at least public and relatively easy to monitor. But primaries that are carried out with all electronic voting machines are a black box, and the state parties run the show with little oversight. Unlike a federal election, primaries are fundamentally under the purview of political parties. They can choose their nominees however they like. They have chosen a roughly democratic system for a variety of reasons (to build enthusiasm, test candidates' campaign skills, and avoid voter alienation) but if they wanted to undermine the integrity of that process in order to ordain the candidate they see as standing the best chance in the general election, there would be little to stop them. According to two statisticians, Francois Choquette and James Johnson, that is exactly what happened in 2012.

Choquette and Johnson, 2012
When Choquette and Johnson analyzed vote totals out of hundreds of precincts, they discovered a strong tendency for voters in larger precincts to favor Mitt Romney more than did voters in smaller precincts. These results have been criticized as attributable to demographic differences between precincts, but when researchers looked at results out of precincts that kept paper records of voting, that tendency disappeared. Likewise in Utah—where Romney was always expected to win by a wide margin—the results showed no shift in preference toward Romney based on the size of the precinct. The trend was so distinct in competitive precincts with no paper trail that Choquette and Johnson were unable to account for it as a result of chance or any factor other than deliberate fraud. According to their work, Romney received approximately a 7% bump in the most populous precincts in multiple states as a result of votes flipped from other candidates—allowing him to secure the nomination handily.
Choquette and Johnson's evidence was brought to court in a lawsuit filed by a third statistician at Witchita State University. Beth Clarkson works in the university's National Center for Advanced Materials Performance, and was inspired by Choquette and Johnson's research to investigate similar anomalies in Kansas's 2014 general election—larger precincts trending toward Republican candidates. She sued to gain access to more detailed records in order to build a statistical model that could shed light on the question of fraudulent vote flipping. Unfortunately Clarkson's efforts were stymied by Kansas Secretary of State Kris Kobach, who argued that releasing the time-stamped records could somehow violate voter anonymity.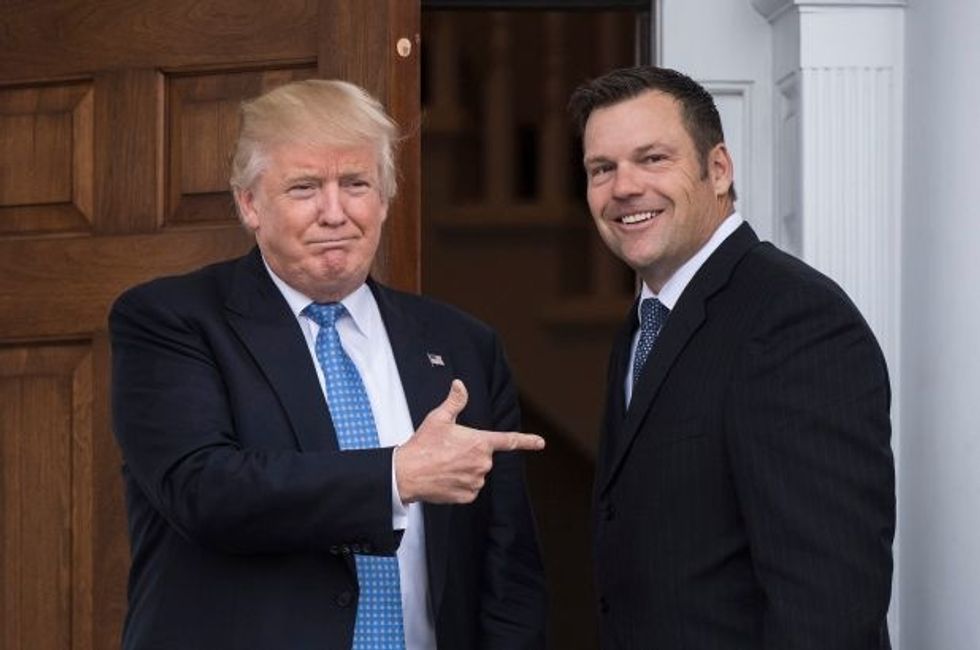 Kris Kobach with Donald Trump
You may recognize Kris Kobach as perhaps the greatest enemy of unbiased elections in recent American history. Kobach is the man whose voter fraud commission pushed the false narrative of millions of fake voters in support of discriminatory voter ID laws, and whose apparent political and white-supremacist motivation for adding a citizenship question to the national census resulted in the Supreme Court rejecting the change—which would have led to dramatic under-counts of immigrant populations, and a shift in congressional districts that would disproportionately benefit the Republican party. While he was able to halt Clarkson investigation, many have credited her lawsuit as being instrumental in the push for recently enacted legislation which now requires post-election audits in Kansas. Reached for Comment, Clarkson admitted that this was a step in the right direction, though she was "not impressed" with the audit techniques being utilized.
Overall, Clarkson seems pessimistic about the fidelity and security of our elections, saying that there is still a lot of potential for fraudulent vote counts, "anytime there's no way to check a paper record." This does include several races in the Democratic primaries, though the New Hampshire primary taking place today is utilizing paper ballots, which leave less room for tampering. Nationally, there has been a push to move toward that model, but for those of us who will be casting votes on electronic machines, Clarkson advocated that, where possible, voters check their electronic vote against the paper record to ensure their vote was recorded correctly. And for all voters, Clarkson had a reminder to check your voter registration online in advance of every election. With recent voter purges Clarkson says there have been many cases "of people being surprised when they arrive at the polls to vote and find out, 'Oh, they don't have me down as a registered voter.'"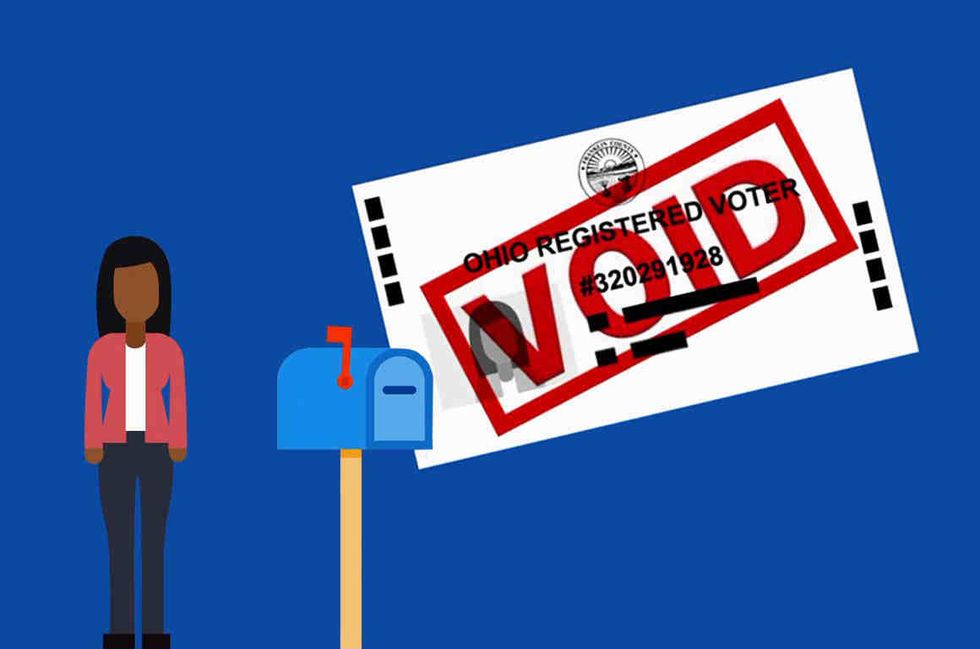 ACLU
Beyond that, electronic voting remains so opaque and vulnerable, all we can do is continue pushing for paper-based voting systems and remind our nation's political institutions—as the primary process continues through New Hampshire and beyond—that we are watching them; that we will not take any irregularities lightly.
Amy Klobuchar ate salad with her comb and then made her aide clean it.
Prior to their official half-endorsement of Amy Klobuchar as the "Democrats' Best Choice For President," The New York Times covered another side of the Minnesota senator. "Senator Amy Klobuchar was hungry, forkless and losing patience," wrote political reporters Matt Flefenheimer and Sydney Ember.
"An aide, joining her on a trip to South Carolina in 2008, had procured a salad for his boss while hauling their bags through an airport terminal. But once onboard, he delivered the grim news: He had fumbled the plastic eating utensils before reaching the gate, and the crew did not have any forks on such a short flight.
What happened next was typical: Ms. Klobuchar berated her aide instantly for the slip-up. What happened after that was not: She pulled a comb from her bag and began eating the salad with it, according to four people familiar with the episode.
Then she handed the comb to her staff member with a directive: Clean it."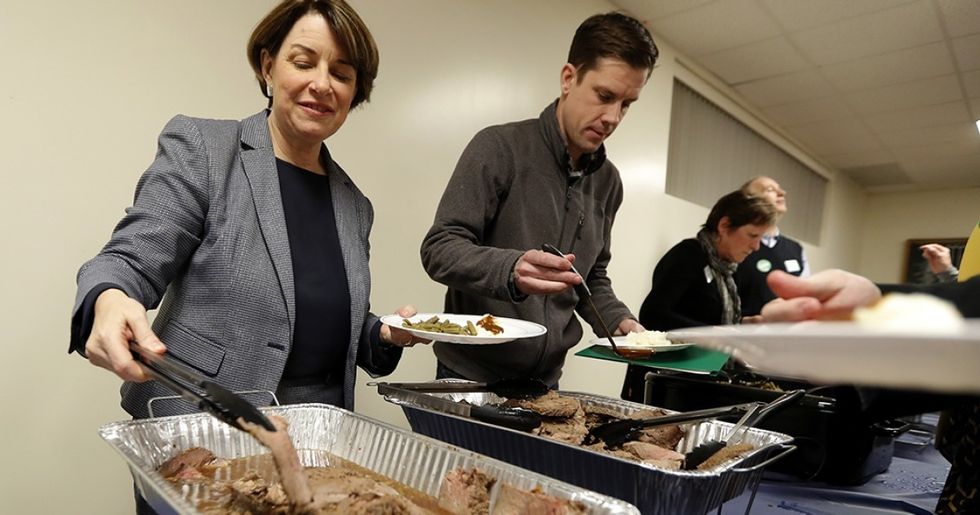 Washington Examiner
Flefenheimer and Ember's deep dive into Klobuchar's campaign team reads more like a copypasta than an account of real events; but alas, Klobuchar herself even seemed to lowkey brag about her history of mistreating her staff. "Am I a tough boss sometimes? Yes," Klobuchar said during a CNN Town Hall in February 2019. "Have I pushed people too hard? Yes. But I have kept expectations for myself that are very high. I've asked my staff to meet those same expectations. The big point for me is that I want the country to meet high expectations."

The CNN Town Hall audience may have cheered for that line, but voters don't seem to be "eating the salad," proverbially speaking. Klobuchar has consistently polled near the very bottom of people's choices for Democratic primary candidate, with recent polls placing her just over 3%. In other words, The New York Times' endorsement of Amy Klobuchar is strange considering the fact that she's basically unelectable.
But while, statistically speaking, pretty much nobody actually likes Amy Klobuchar, her behavior has struck a chord with a specific demographic on Reddit.
For context, while the overall Reddit community leans white, male, and liberal, many political figures' most ardent supporters use Reddit as a gathering space for promoting their candidate of choice. From the quarantined r/The_Donald with its 785k members (Russian bots included) to r/SandersForPresident with 380k, almost anyone can find their favorite presidential pick on Reddit. Even r/Tulsi has over 17k people who want Tulsi Gabbard to be president for some reason.
And then we have r/AmyKlobuchar. With 147 total members, roughly seven of whom seem to be online at any given time, the truly incredible thing about Amy Klobuchar's subreddit isn't its minimal user base. It's the fact that pretty much everything posted there is ironic.
The most upvoted post on the entire sub is titled "Amy Klobberchar" and contains a meme recounting a fictional incident wherein Amy Klobuchar threw a stapler at a staffer. In fact, many of the posts in r/AmyKlobuchar hone in on Klobuchar's history of staffer abuse, depicting Klobuchar firing unpaid interns and stepping on people's necks.In another top post on the sub titled "Why I am voting for Amy," a user lists off reasons including, "She is abusive towards her staff. We need a fighter, not a wimp," and, "I like the taste of boot."
The same New York Times article that covered the salad incident included a leaked email that Klobuchar has sent to her staffers regarding the things people said about her on Twitter: "We are becoming a joke and it is making me a joke."
As it turns out, Klobuchar's prophecy was self-fulfilling. By continually treating her staff like garbage, Klobuchar invoked the attention of a small but vocal demographic of roughly 147 people who don't like seeing low-paid interns treated like garbage.
Perhaps much more importantly, though, to most of the American electorate, Amy Klobuchar still doesn't matter.
The revolution will not be Tweeted, but its agenda can be.
Can a tweet save the world? No. Is it a public record of your intolerance of unjust systems in the world? Sure, if anybody reads it among the white noise of Twitter rage. Protest movements in the digital age are tricky; hacktivism, or hashtag activism, has been critiqued as an ineffective and tokenizing way to virtue signal in the name of social justice while actually being armchair activists. Meanwhile, nonviolent protests like marches, boycotts, and strikes are critiqued for being too passive to ever enact real change. On the other end of the spectrum are volatile reactionaries who want to tear down the system and begin from scratch–even if they have no actionable plans to create a viable replacement.
So what are we supposed to do? More to the point, what are we supposed to believe? A patient and open-minded look at both sides of any issue is guaranteed to point out one commonality: Everybody has the wrong idea about the opposing side. When it comes to social movements that create a better future, there are some basic, prevailing myths that only distract people from the real problems at hand. Ask activists, historians, and political science analysts, and they agree that you shouldn't fall for the following misconceptions when fighting for a better world:
1. Myth: Nonviolence Is Ineffective
Historically speaking, this simply isn't true. When two researchers from the United States Institute of Peace conducted a study of nearly 330 major violent and nonviolent campaigns "targeting incumbent regimes and foreign military occupations," they concluded that "nonviolent efforts were twice as likely to achieve their goals." They wrote, "The majority succeeded against authoritarian governments, when even peaceful protests could have fatal consequences. The ousters of Augusto Pinochet in Chile, Ferdinand Marcos in the Philippines, Zine el-Abidine Ben Ali in Tunisia, Yahya Jammeh in Gambia, Bashir in Sudan and Abdelaziz Bouteflika in Algeria are only a handful of cases in which mass nonviolent force stripped power from despots." Furthermore, another study in 2011 looked at 323 civil resistance campaigns around the world between 1900 and 2006, concluding that nonviolent campaigns were successful in 53% of cases, compared to violent ones' success rate of 26%. Additionally, only 4% of violent revolutions ended up in a "functioning democracy," compared to 42% of non-violent regime changes.
So radical violent action, whether that be in the form of paramilitary groups or self-appointed vigilantes who want to burn down the Establishment, is statistically not as likely to produce change as collective nonviolent protest.
2. Social Media Makes Protests More Effective
With that being said, there is a degree of truth to the allegation that social media creates lazy activists. More specifically, however, social media encourages engagement in social issues (i.e. sharing an article, liking a tweet, and maybe hurling insults at the opposing side), which is different from collective action. While Facebook, Twitter, and Instagram allow people to express their displeasure at existing policies, the most social media can do is mobilize people to agree on a unified agenda and a set of actions.
The problem, of course, is that many online participants don't end up following through with in-person plans, thus there's no unity where it counts: on the ground, at the march, or holding up signs. Furthermore, analysts Maria J. Stephan and Adam Gallagheremphasize the importance of "durable organizations" and "long-term planning," and in the fast-paced, immediate gratification of social media platforms like Twitter, responses can often be reactionary and short-term, which doesn't even begin the work of effective protest.
3. Myth: You Need to Have a Massive Amount of People
This is half-true, but it's mostly misunderstood. Effective nonviolent protests gain traction and grow into massive movements when their tactics get them noticed–even if that doesn't involve a large amount of people. As evidenced by the progression of the Egyptian occupation of Tahrir Square and the Serbian student protest group, Otpor (translated as "Resistance!"), a large following of people don't mark the beginning of a movement but rather it's a sign that a movement's worked. Srdja Popovic, leader of Otpor, reflected on the overthrow of war criminal Slobodan Milošević, "All successful movements come with a very low entry bar. You need to offer people the chance to do something meaningful, and – crucially – to get away with it. In Chile, against Pinochet, they drove at half speed: not illegal, very low risk, pretty funny, nothing the cops can do. It's about doing something neat, and living to tell everyone." He added, "We had to go out and listen. Get the real people, rural people, not so clever-clever people, behind us. Build a movement. We did, but it took us five years." Resistance from within a system is more effective to create change than external opposition.
4. Myth: It's a Business
Popovic coins one of their best tactics "laughtivism." Making people laugh not only gets attention, but it alleviates tension from living within fraught social realities. From graffitiing pictures of the corrupt men in charge to spreading the movement's message through public pranks, nonviolent movements have gained global traction through being human and showing a sense of humor.
Because the American people deserve to know
With less than a month left until the Iowa caucuses officially kick off primary season, it seems like we've spent the last decade slowly whittling away at an endless list of candidates.
Many voters have already seen their favorite contenders drop out of the race. Others have yet to figure out which person on a crowded debate stage best represents their interests. Obviously there are a number of axes on which you can compare the candidates, and countless articles that can help you navigate their differing economic policies, their stances on health care, or their various approaches to foreign policy. If those are the factors by which you judge a candidate, you should have no problem finding what you need to make up your mind. People like me are not so lucky.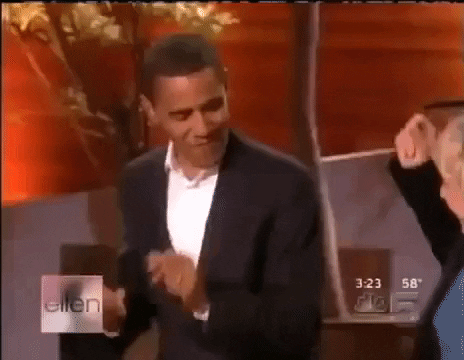 I have always been a single issue voter—consistently casting my ballot for the best dancer. In 2008 and 2012, I had an easy time of it. Barack Obama's blend of smooth and corny dance moves struck a perfect balance for my sensibilities, easily winning out over Mitt Romney's "Gangnam Style" convulsions, or John McCain's high-intensity robot. 2016 presented a more difficult choice. I nearly didn't vote at all, but ultimately decided that Hillary Clinton's stiff Whip and Nae Nae represented the lesser of two evils when considered against Donald Trump's apocalyptic rendition of "Hotline Bling."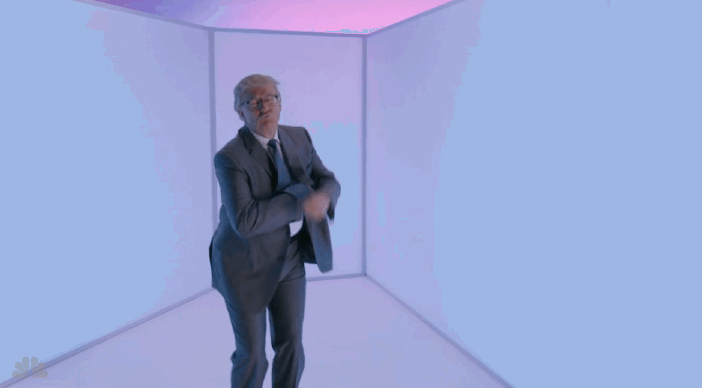 Sadly, some 60 million voters didn't see what I did, and made the wrong call. I won't let that happen again. The American people deserve to see every candidate dance before they go to the polls. Until the DNC finally listens to wisdom and converts one of their debates to a dance off, I've compiled this list so that you can make an informed decision.
Elizabeth Warren
Warren dancing at her rally tonight 💃🏼 https://t.co/c2QBzPGsH1

— Behind 2020 (@Behind 2020) 1578458031.0
We'll get the top-tier candidates out of the way first. Senator Elizabeth Warren has nothing to hide. She has been the most upfront, transparent candidate when it comes to her big, structural dancing. And while it may not be everyone's first choice in style, you can not fault her fun-aunt-at-a-wedding energy. The latest example of her eclectic blend of fist pumping and hula dancing comes from last night's Brooklyn rally with—recent dropout and competent dancer in his own right—Julian Castro. She probably just needs a couple more glasses of zinfendel from the open bar before she really loosens up.
Bernie Sanders
Bernie Sanders is surprisingly spry. You might not expect a man in his 70s with heart problems to cut a rug, but Bernie is not your average senior citizen. He has the energy of a man half his age, and the timeless consistency of his dancing allows him to keep up with his young supporters.
Joe Biden
Former vice president Joe Biden dances exactly as you'd expect—slow, old fashioned, and "sweet" in a way that's uncomfortably intimate.
Andrew Yang
"Not left. Not right. Forward!" - @AndrewYang #YangGang #Yang2020 https://t.co/7UcY9OG9to

— Will🔥🛍️YangGang Pink🧢🔥 (@Will🔥🛍️YangGang Pink🧢🔥) 1565920883.0
Silicon Valley entrepreneur Andrew Yang has more than enough spring in his step to keep up with any roomful of middle-aged women on the dance floor. His universal basic dance moves aim to remind us that we all share one dance floor.
Tulsi Gabbard
Congressional representative for Hawaii Tulsi Gabbard doesn't exactly dance—she dance-fights. Just as with her approach to debates or to the war on terror, her Capoeira moves may be a bit more aggressive than some voters want.
Amy Klobuchar
#BREAKING: Amy Klobuchar performs ancient, centrist war-dance to stoke fear in the hearts of her more radical oppo… https://t.co/EFEoA3JXOE

— MSDNC (@MSDNC) 1569102792.0
Minnesota Senator Amy Klobuchar is known for her no-nonsense pragmatism. She strives not to make any promises she can't keep, so she will appear to be the adult in the room...but her dancing tells a different story. Klobuchar dances with the energy of a happy toddler who could enter full-blown tantrum mode at any moment.
Marianne Williamson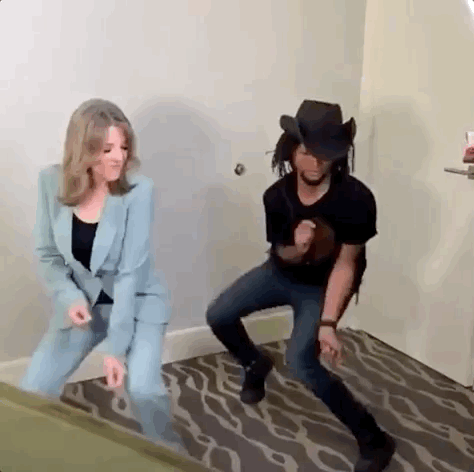 You may be surprised to find that spiritual guru Marianne Williamson is still in the race, but once you see her dance moves, you'll be surprised she isn't the front runner. She is as one with the music as she is with the vibrations of the universe.