"A tree is best measured when it is down," the poet Carl Sandburg once observed, "and so it is with people." The recent death of Harry Belafonte at the age of 96 has prompted many assessments of what this pioneering singer-actor-activist accomplished in a long and fruitful life.
Belafonte's career as a ground-breaking entertainer brought him substantial wealth and fame; according to Playbill magazine, "By 1959, he was the highest paid Black entertainer in the industry, appearing in raucously successful engagements in Las Vegas, New York, and Los Angeles." He scored on Broadway, winning a 1954 Tony for Best Featured Actor in a Musical – John Murray Anderson's Almanac. Belafonte was the first Black person to win the prestigious award. A 1960 television special, "Tonight with Belafonte," brought him an Emmy for Outstanding Performance in a Variety or Musical Program or Series, making him the first Black person to win that award. He found equal success in the recording studio, bringing Calypso music to the masses via such hits as "Day-O (The Banana Boat Song)" and "Jamaica Farewell."
Harry Belafonte - Day-O (The Banana Boat Song) (Live)www.youtube.com
Belafonte's blockbuster stardom is all the more remarkable for happening in a world plagued by virulent systemic racism. Though he never stopped performing, by the early 1960s he'd shifted his energies to the nascent Civil Right movement. He was a friend and adviser to the Reverend Doctor Martin Luther King, Jr. and, as the New York Times stated, Belafonte "put up much of the seed money to help start the Student Nonviolent Coordinating Committee and was one of the principal fund-raisers for that organization and Dr. King's Southern Christian Leadership Conference."
The Southern Poverty Law Center notes that "he helped launch one of Mississippi's first voter registration drives and provided funding for the Freedom Riders. His activism extended beyond the U.S. as he fought against apartheid alongside Nelson Mandela and Miriam Makeba, campaigned for Mandela's release from prison, and advocated for famine relief in Africa." And in 1987, he received an appointment to UNICEF as a goodwill ambassador.
Over a career spanning more than seventy years, Belafonte brought joy to millions of people. He also did something that is, perhaps, even greater: he fostered the hope that a better world for all could be created. And, by his example, demonstrated how we might go about bringing that world into existence.
The refugee crisis hasn't gone anywhere. But news outlets and political leaders everywhere are ignoring it—and xenophobia is making it worse.
Around 2015, the so-called European refugee crisis was topping every newspaper headline. Reports of the 5.2 million refugees pouring in from Syria and other war-torn countries that year led to mass calls for mobilization to create infrastructure and support systems for displaced peoples. The photo of Alan Kurdi, the drowned three-year-old who provided a name and face to the crisis, sparked international acknowledgment and inspired humanitarian activists all over the world.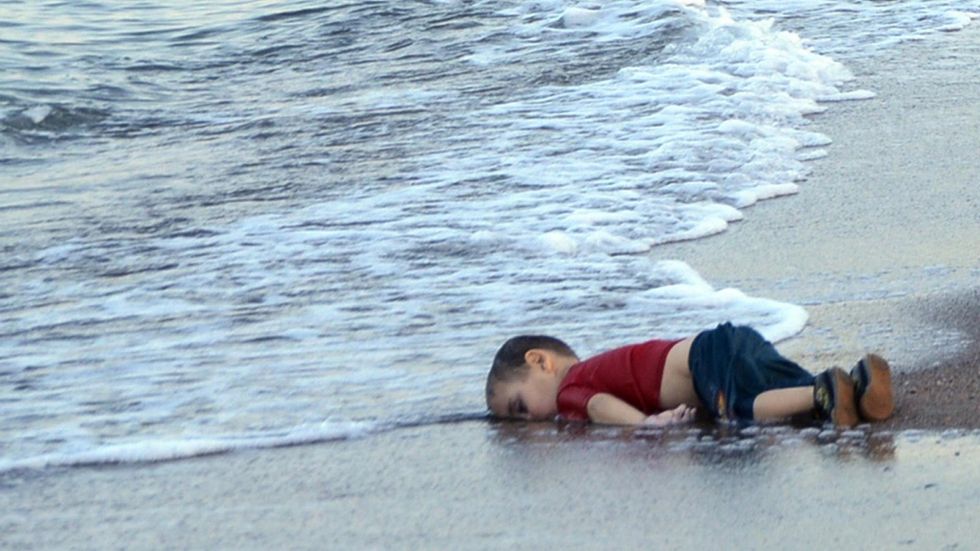 Alan Kurdi, via Medium
But that was four years ago. What has happened to those 5.2 million since then?

Firstly, there are a lot more than 5.2 million now. According to the UN, as many as 63.5 million people have had to flee their homes because of conflict since World War II; and today, roughly eight thousand people per month arrive in Greece, Italy, and Spain from Syria, Guinea, Algeria, and neighboring countries. These numbers are staggering; the lives they describe are almost impossible to imagine. But each figure corresponds to individual experience and a body that likely has crossed countless miles of ocean to arrive on European shores. Though it is impossible to generalize their stories, the majority of these people are currently stranded in liminal places like refugee camps or living as undocumented citizens without access to rights, living wages, and other protections.
According to the Aegean Boat Report, around 20 boats have arrived on the Greek island of Lesvos alone in February 2019, carrying a total of 791 people. Lesvos's Moria Camp holds somewhere between eight to ten thousand refugees; it was initially designed to hold ten. Many have been there for over half a decade, and the conditions in the camp are becoming more and more unlivable by the day.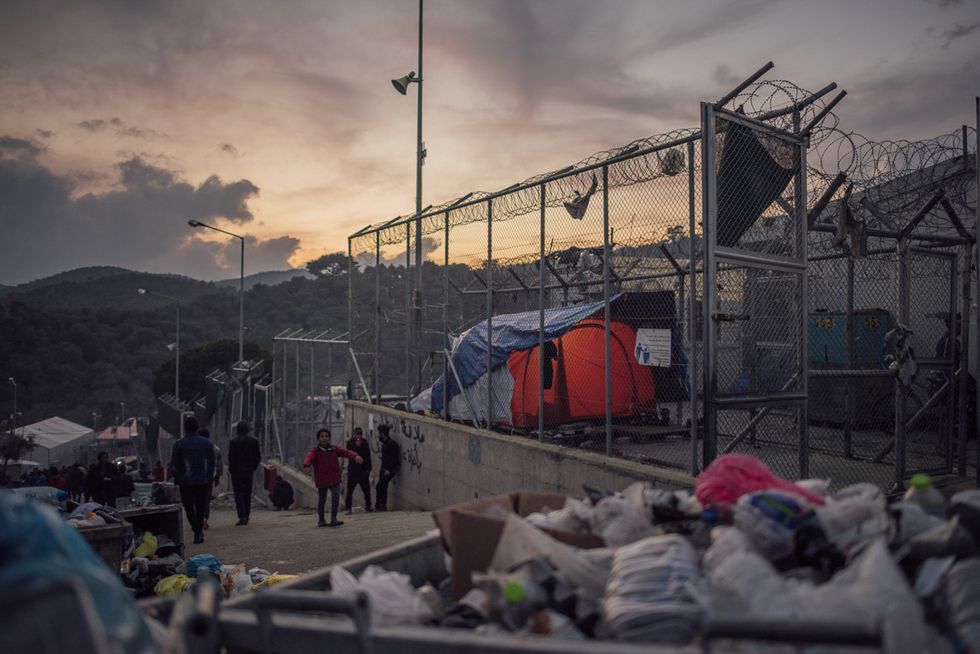 Moria Camp, via Al Jazeera
Many refugees go through hell and back to get there. Left with no choice but to flee violence and unlivable conditions, many spend thousands of dollars on hiring a smuggler who could carry them across the sea. The journey is treacherous—smugglers sometimes have deals with authorities or even pirates, and recent reports have revealed that the journey is more dangerous than ever before, with 1,600 to as many as 2,730 people dying at sea in 2018. The UNHCR released a report which argued that although the official number of migrants crossing the Mediterranean fell last year, this was likely due to "reductions to search and rescue capacity coupled with an uncoordinated and unpredictable response to disembarkation." This in turn, "led to an increased death rate as people continued to flee their countries due to conflict, human rights violations, persecution, and poverty." As the world forgets, the little structure and safety netting that does exist inevitably falls apart.

The news is a strange beast. Some stories can dominate for months and fade out so suddenly it's almost like they never happened; particularly shocking acts of individual or random violence can consume headlines while systematic, long-term horrors can fade away, having lost their ability to capture audiences' attention. With countries like South Sudan, Yemen, and Afghanistan steadily experiencing mass exoduses for years and years at a time, and with the inundation of tragic stories and gory photographs from Syria, it's easy for ongoing horrors to slip underneath an ocean of facts and figures that seem too overwhelming to address.
It's also easy for governments to shirk off responsibility for taking in refugees, seeing as technically they are stateless and, therefore, are not protected by any citizenship rights. Though the Universal Declaration of Human Rights guarantees basic protections for all people on earth, it does not specify which countries are responsible for providing these protections.
But every political decision manifests in lived experiences. For example, when migrants arrive on the shores of Lesvos, they are sometimes met with volunteers who provide water and transportation to the camps. Families and individuals are assigned at random to tents, which are crammed next to each other, creating unlivable conditions.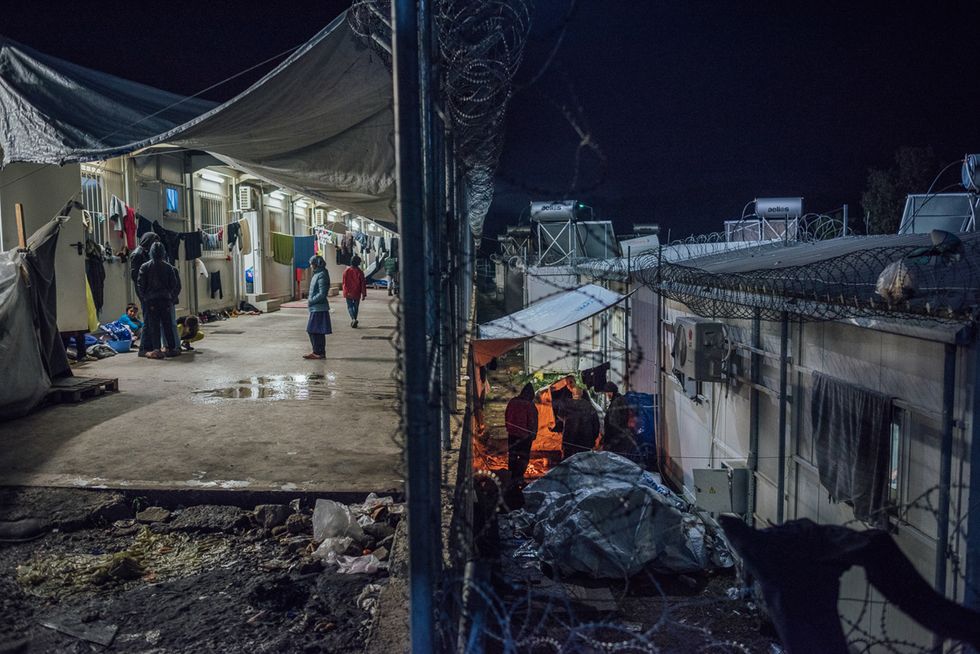 Image via aljazeera.com
Lesvos, in particular, has an extensive volunteer population, but overall aid groups often work as band-aids, failing to heal the sources of a larger issue and failing to structure a pathway forward. Instead, aid groups and refugees languish on Lesvos, in the grey area of statelessness and global amnesia. NGOs are gradually shifting their focus to working with refugees and locals to develop long-lasting relationships and skills, which can propel migrants forward into new lives.

But in light of the antipathy many locals hold towards newcomers, and also because of the trauma, language barriers, or other struggles that migrants face, the process of adjustment is challenging and will require individualized attention, patience, and cohesive efforts. Reports reveal that the majority of refugees fleeing severe conflicts will have vestiges of trauma; the IRC reported high levels of depression and PTSD among refugees across the board.
A 2011 Oxford University study found that the best way for refugees to move forward is through integration into life in their new countries. Solutions lie in treating the wound at its source, addressing xenophobia, and fighting for fair opportunities to education, jobs, healthcare, and other vital structural support systems. On the other hand, stranding migrants in places like Lesvos—where they live in unsanitary and dangerous conditions, surrounded by strangers who may also be experiencing trauma, with no idea of if or when they will be able to leave—is a product of a collective worldwide amnesia, a refusal to see what is happening in real time.
Long-term, slow-moving challengers are not foddered for breaking news. Particularly massive floods of refugees might pique the interest of a world leader; an artist might draw attention to the crisis through an installation in a busy city; but always, the cycles of violence and erasure continue as the world gets caught up in shinier, brighter topics. But remembering and acknowledging what is happening is the first step to moving in a new direction.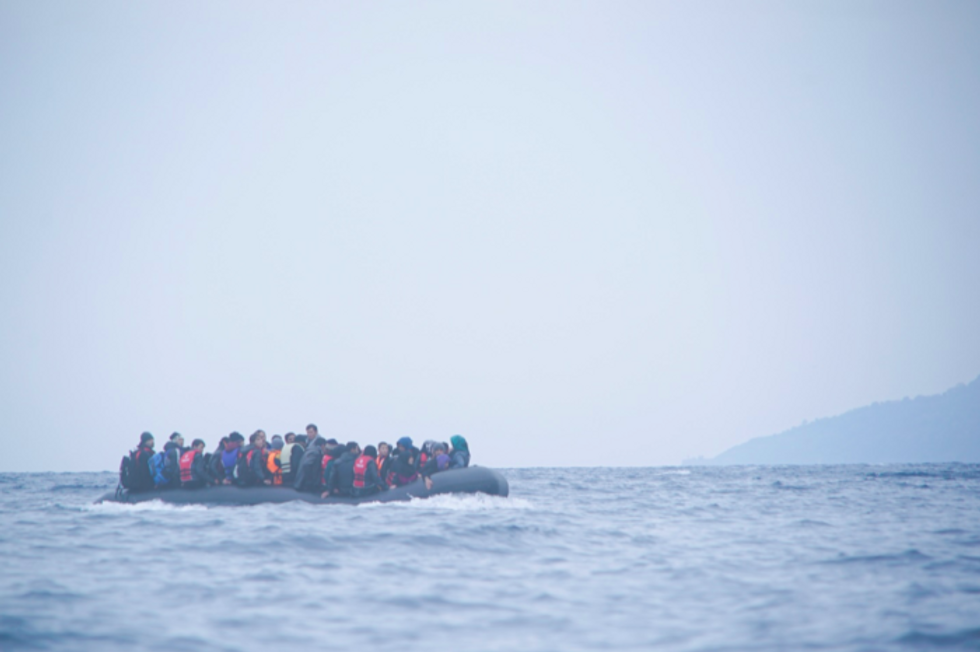 Image via Oxfam Novib Academy
---
Eden Arielle Gordon is a writer and musician from New York City.
The cost of higher education has been steadily increasing over the past four decades and that's not changing
Universities and other advanced schools of learning seem to be raising their prices at an alarming rate. Higher education costs have ballooned over 538% since 1985. To put this in perspective, healthcare has increased more than 286% and the consumer price index has gone up 121%. That means education costs are over four times what they were thirty years ago.
No wonder people are complaining. But with these price increases come a greater quality and a better educational experience than what was to be had twenty or thirty years ago. Whether college is a better overall experience than before is individual and subjective.
However, campuses are making improvements. They are getting bigger, more diverse and more academically expansive. Let's take a look at some of the positive changes you will be getting for your extra money.
High tech coursework
There were computers and technology thirty years ago, but nothing like today. You can visit a lecture in person or watch from a distant location online. You can watch it at a later time which suits your schedule. Online classrooms foster better communication with students and teachers.
Entire projects can be done online without the need for paper products. Teaching can be done in different and more effective ways. Technology has offered better ways to read, write and compute. Business, trades and manufacturing have embraced technology and are ever changing. Universities offer exposure and application of these technologies to their coursework and future profession.
Better food service
On campus dining has gotten more elegant and healthier. There are better choices and fresher produce. Canned and fried foods aren't as prevalent as they once were. It's common to have a fully stocked salad bar at every meal. Universities cater to those with special dietary needs.
Culturally diverse cuisine can be enjoyed right on campus. Wider menu choices are a norm. You can still choose to be unhealthy, but you have many more options than before. Satellite cafeterias serve those on the outer edges of campus. Some are even open to and frequented by the public. Gone are the cliché tales of miserable dorm food. These improvements cost more money.
Upgraded housing
Many universities or surrounding areas offer student housing which is on or close to campus. You get quick access to classrooms, school facilities, and sporting events in just a short walk. It's so much more fun when you can enjoy college living with your peers and not have to drive all over to get to your classes. Facilities have improved and now offer a higher standard of living.
Living communally can mean increased safety. Students don't have to risk driving through traffic to get to classes. Students live among each other and not the general public. They can look out for each other and be better aware of unwelcome intruders.
Yes, these improvements are part of why costs have risen. But these upgrades are investments to ensure that present and future students will have a beautiful place where they love to live. Better dormitories, expanded libraries and refurbished athletic centers attract and retain students.
Increased diversity
Campuses offer a more diverse student body and faculty than before. Your college experience will be much richer with exposure to fellow students and academics from different cultural and racial backgrounds. Learning together with people who don't look like you or sound like you encourages cooperation, collaboration and innovation.
Research shows diversity in education produces higher academic achievement and promotes better relationships between different cultures. A diverse, well-educated public is better for business, international relations, and national security. Plus, it's fun getting to know different cultures and different experiences. You will inevitably become more worldly, more open-minded, and more sensitive to other cultures.
Better support services
Campuses now offer a wider range of support services. Students can get help with financial aid and student loans. Tutoring services for students challenged by their new coursework can be obtained through the schools. Counseling services, job placement assistance, even assistance with finding housing can be facilitated by the university. It's no longer uncommon for a campus to have its own health clinic or urgent care facility.
There are more people in our country than there were thirty years ago. It stands to reason that with more people come more students and a greater need for higher education. With this demand comes an increase in the need to renovate and expand academic facilities and programs.
This is always going to result in increased costs. The cost of college is definitely inflated more than it necessarily needs to be. However, the increase in and of itself is to be expected with time. If you are old enough to have children attending college, you will notice that their college experience will be much more diverse and multi-faceted. So is that worth the increased costs?
Whether you agree or disagree doesn't mean you are going to like shelling out all that money every year, or that news of an increase is going to make you cheer for better quality. They say you get what you pay for. Do you think college is worth the money? Let us know in the comments!