Dall-E Mini, the AI-powered text-to-image generator has taken over the internet. With its ability to render nearly anything your meme-loving heart desires, anyone can make their dreams come true.
DALL-E 2, a portmanteau of Salvador Dali, the surrealist and Wall-E, the Pixar robot, was created by OpenAI and is not widely available; it creates far cleaner imagery and was recently used to launch Cosmpolitan's first AI-generated cover. The art world has been one of the first industries to truly embrace AI.
The open-sourced miniature version is what's responsible for the memes. Programmer Boris Dayma wants to make AI more accessible; he built the Dall-E Mini program as part of a competition held by Google and an AI community called Hugging Face.
And with great technology, comes great memes. Typing a short phrase into Dall-E Mini will manifest 9 different amalgamations, theoretically shaping into reality the strange images you've conjured. Its popularity leads to too much traffic, often resulting in an error that can be fixed by refreshing the page or trying again later.
If you want to be a part of the creation of AI-powered engines, it all starts with code. CodeAcademy explains that Dall-E Mini is a seq2seq model, "typically used in natural language processing (NLP) for things like translation and conversational modeling." CodeAcademy's Text Generation course will teach you how to utilize seq2seq, but they also offer opportunities to learn 14+ coding languages at your own pace.
You can choose the Machine Learning Specialist career path if you want to become a Data Scientist who develops these types of programs, but you can also choose courses by language, subject (what is cybersecurity?) or even skill - build a website with HTML, CSS, and more.
CodeAcademy offers many classes for free as well as a free trial; it's an invaluable resource for giving people of all experience levels the fundamentals they need to build the world they want to see.
As for Dall-E Mini, while some have opted to create beauty, most have opted for memes. Here are some of the internet's favorites:
There's no looking back now, not once you've seen Pugachu; artificial intelligence is here to stay.
CULTURE
The Seven Strangest Collections in the World
It's amazing what people will hold onto.
At some point or another we've all had an older relative, maybe an uncle or a grandparent, implore us to start collecting stamps or rare coins. It's always the same dubious story about how these collectibles will appreciate in value over the years. Maybe they will. Maybe they won't. Either way, this doesn't really seem like a determining factor of why we, as a species, find it necessary to hoard ostensibly useless objects.
I have two theories. For some, I assume collecting things alleviates the anxiety of everyday life, much like any other hobby. It's something to pour oneself into. For others though–and I assume this is the case for more serious collectors–it's an attempt to capture and preserve a specific time or place. Think about how anal action figure collectors are about keeping their figurines in mint condition, leaving them in their plastic containers for years and years. Collecting at its most fundamental seems like a battle against time, a decision to push back against temporal erosion.
This is all a very long-winded way of saying people collect things because of nostalgia. Everyone feels various degrees of nostalgia. This is a fairly obvious point. That said, what people feel nostalgic for gives great insight into who they are as human beings. With that in mind, we've decided to list off some of the strangest collectibles we've stumbled across in order to give you an idea of how varied people's nostalgia truly is. Time moves in the same direction for everyone. It's what you hold onto that makes you who you are.
Quack Medical Devices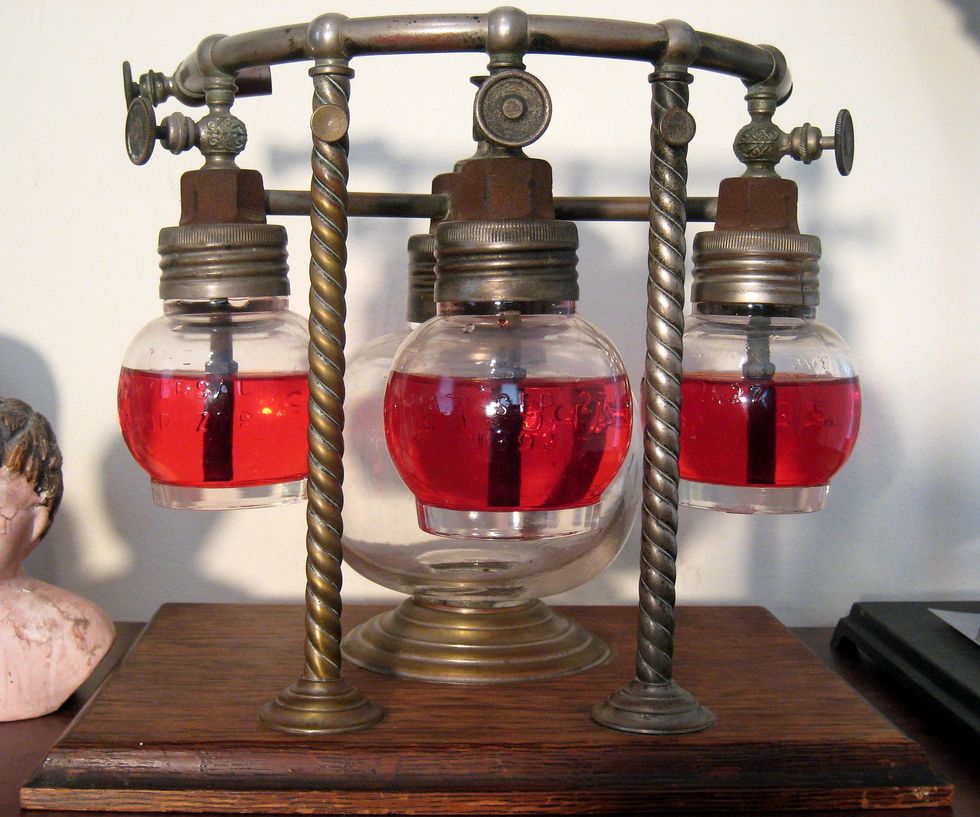 Mysterious potions used to address a variety of medical ailments
Are you into medicine but not into science? Well, have I got the collector's item for you. Whether you want your head bumps measured by a robot phrenologist or you want to get your shoes fitted via x-ray, there's a whole slew of collectors dealing in medical quackery. These collections, some of which are already in museums, stand as a testament to the fallibility of scientific progress.
Toilet Paper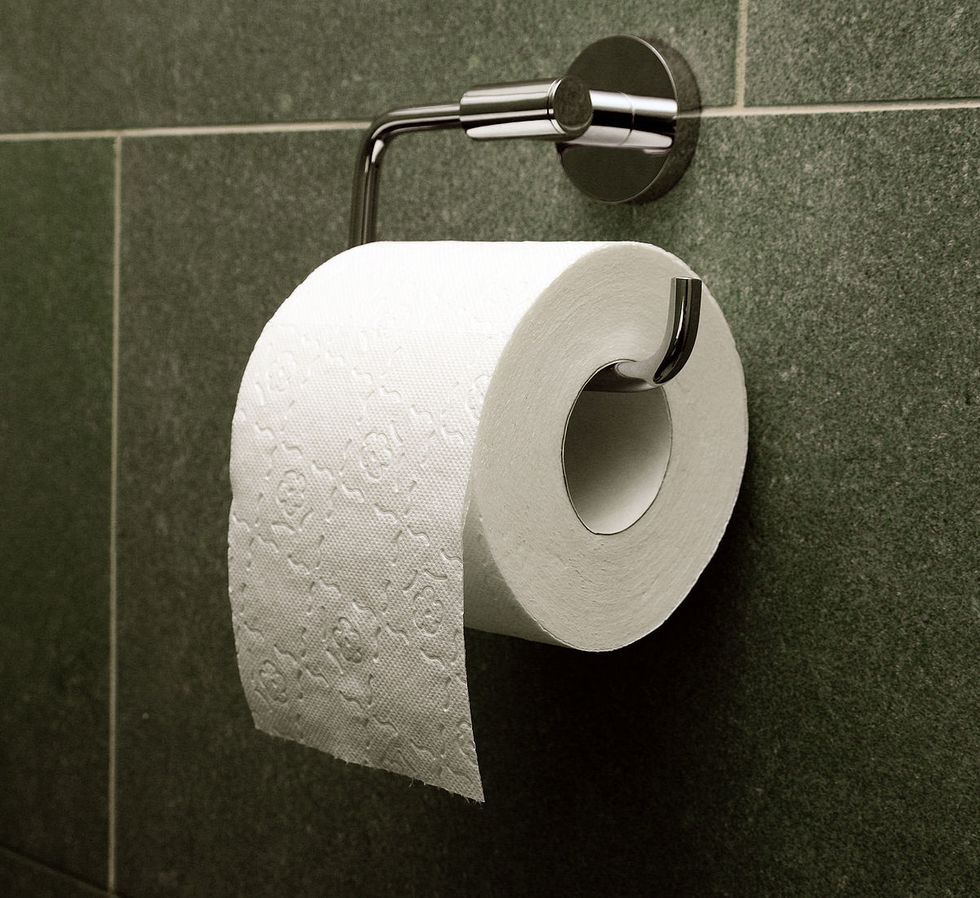 Just a standard roll
If you're like me, your first thought was Oh jeez, is there some creep out there collecting used toilet paper? Don't panic! None of the toilet paper in Flo and Rich Newman's collection has been used. The collection does, however, sport 900 types of toilet paper from six continents. They didn't always collect TP, however. At first, the Newman's collected antiques, but they found themselves too concerned with the monetary value of their collection. In Flo's words, they "wanted to collect something useless."
Celebrity Hair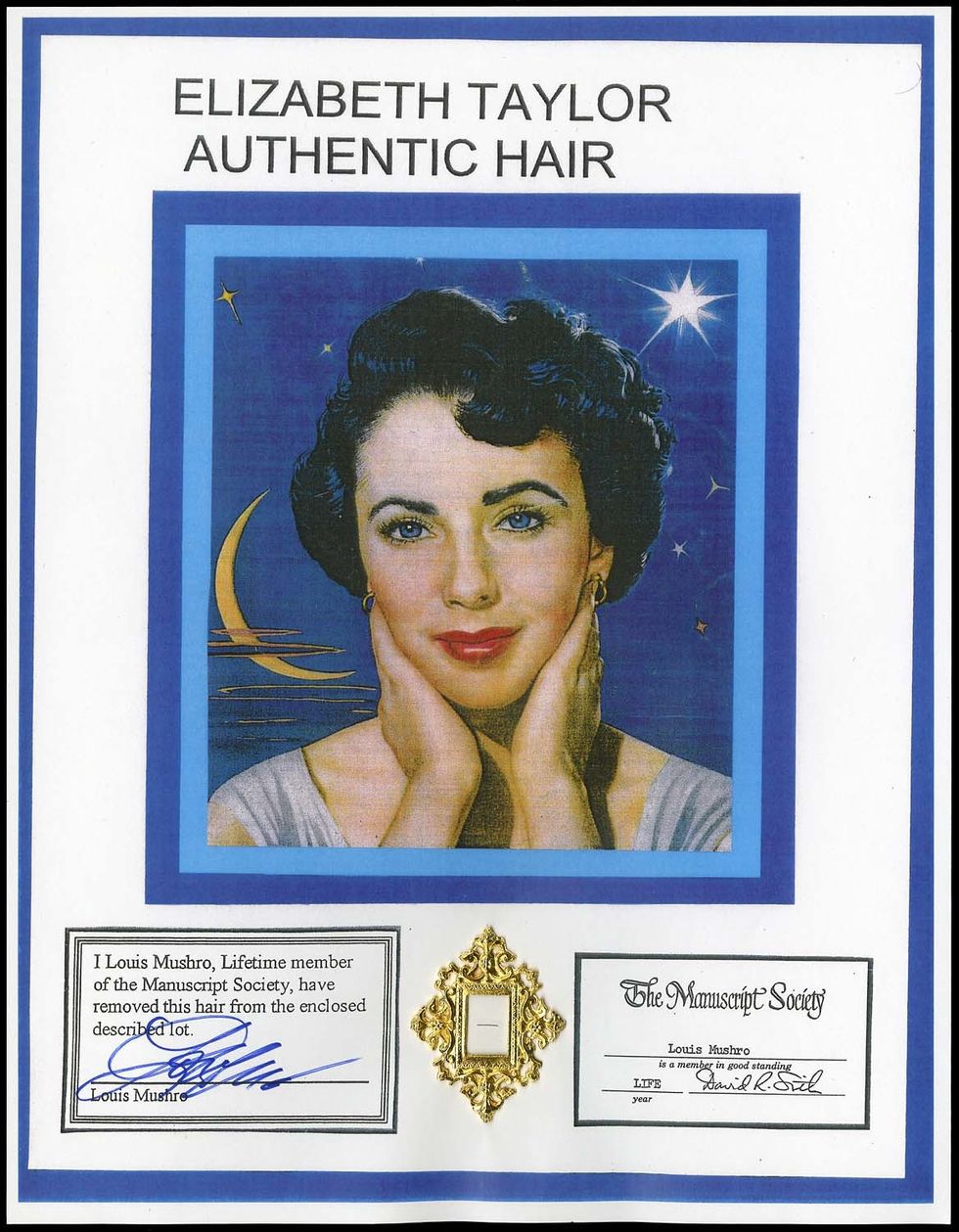 Elizabeth Taylor's hair even comes certified!
It there a better way to preserve the memory of meeting your favorite celebrity than stealing a lock of his or her hair? Probably. Still, this is a thing people do. Whether they use the hairs for voodoo or these collectors are trying to clone their celebrity crushes remains to be seen. No one has to do this, and it's certainly very creepy, but maybe some famous people would be flattered to be part of such a collection.
Toenail Clippings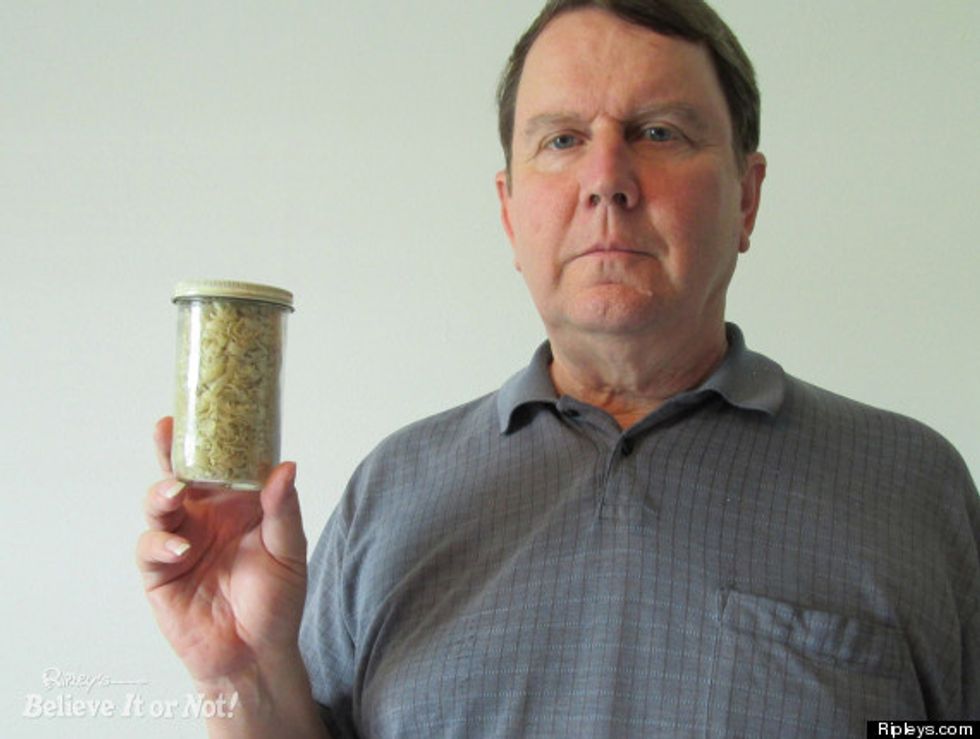 Richard Gibson, with his jar of toenails.
Ripley's Believe It or Not
Yes, really. If you think Quentin Tarantino has a foot fetish, check out Richard Gibson, who has kept every toenail he's clipped since 1978 in a jar. His collection is well into the thousands and is probably the most nauseating thing on the list. Why Richard? Why?
Belly Button Fluff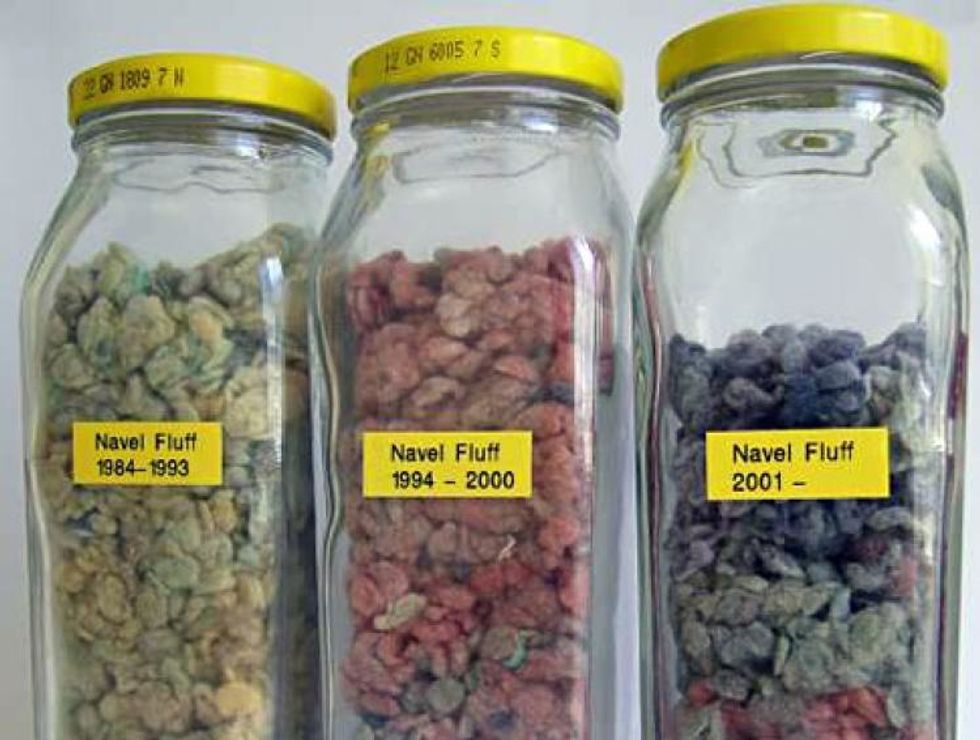 Graham Barker's meticulously organized belly button lint
Okay, remember when I said the last one was weird? Graham Barker, as certified by the folks at Guinness, has the largest collection of belly button lint in the world. His collection reportedly weighs around 22 grams and is sectioned into jars by decade. It's impossible to tell what Barker hopes to gain by keeping this lint. This collection has sparked an addendum to my theories about why we collect things. I think some people are just insane.
Traffic Cones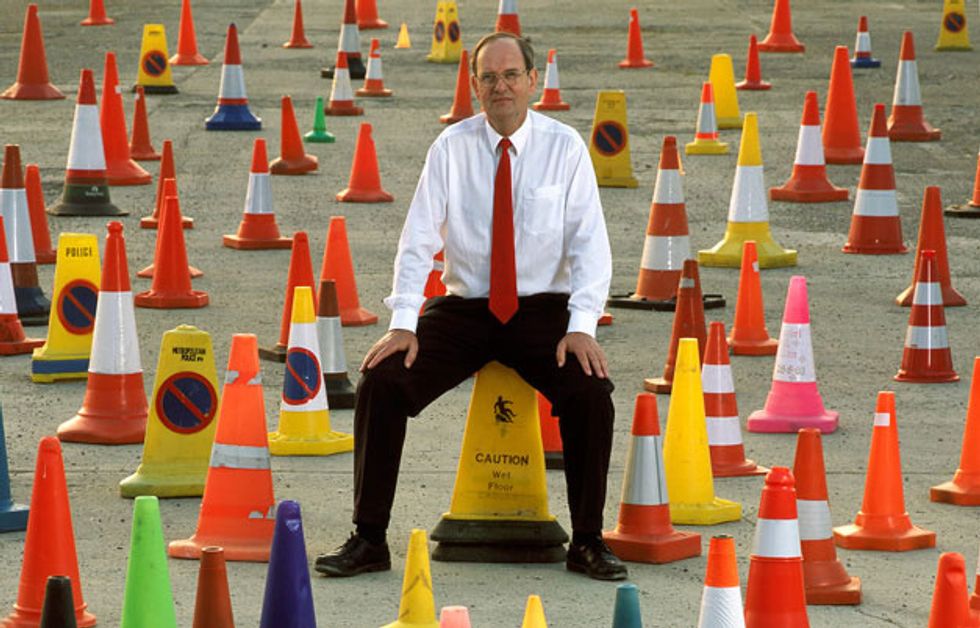 David Morgan, with a few of his salvaged traffic cones
David Morgan has collected over 500 traffic cones. A certifiable nutcase, Morgan says he "feels bad for the cones" when he sees them sitting alone in the street. When he sees one, he reportedly takes it home and gives it a hot bath before storing it in his garage with the rest. A retiree, Morgan spends most of his time tending to cones and adding to his collection. His obsession with cones leads Morgan to lead a solitary life.
Chicken-Related Items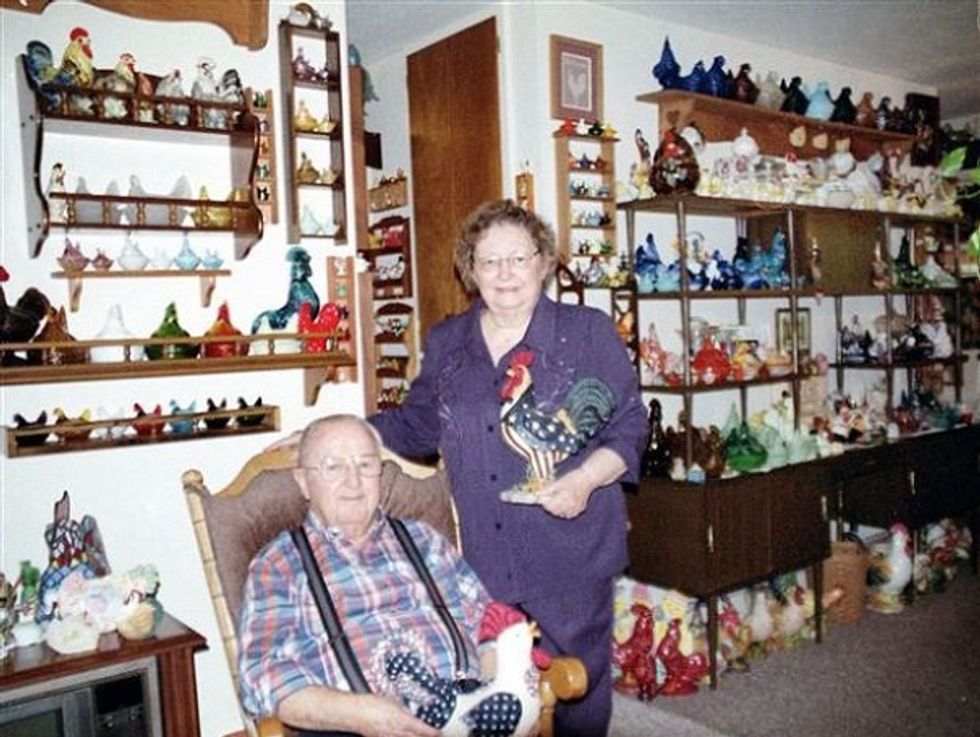 ​The Dixon's love chicken-themed paraphernalia 
This is the least specific collection on the list, but Joann and Cecil Dixon's entire house is full of over 6,500 individual pieces of chicken-related knick-knacks. They've got plates, Christmas ornaments, clocks, bowls, statuettes and more. They're currently in the Guinness Book of World Records for what is possibly the most niche award ever given. Some people just love chicken.