Dall-E Mini, the AI-powered text-to-image generator has taken over the internet. With its ability to render nearly anything your meme-loving heart desires, anyone can make their dreams come true.
DALL-E 2, a portmanteau of Salvador Dali, the surrealist and Wall-E, the Pixar robot, was created by OpenAI and is not widely available; it creates far cleaner imagery and was recently used to launch Cosmpolitan's first AI-generated cover. The art world has been one of the first industries to truly embrace AI.
The open-sourced miniature version is what's responsible for the memes. Programmer Boris Dayma wants to make AI more accessible; he built the Dall-E Mini program as part of a competition held by Google and an AI community called Hugging Face.
And with great technology, comes great memes. Typing a short phrase into Dall-E Mini will manifest 9 different amalgamations, theoretically shaping into reality the strange images you've conjured. Its popularity leads to too much traffic, often resulting in an error that can be fixed by refreshing the page or trying again later.
If you want to be a part of the creation of AI-powered engines, it all starts with code. CodeAcademy explains that Dall-E Mini is a seq2seq model, "typically used in natural language processing (NLP) for things like translation and conversational modeling." CodeAcademy's Text Generation course will teach you how to utilize seq2seq, but they also offer opportunities to learn 14+ coding languages at your own pace.
You can choose the Machine Learning Specialist career path if you want to become a Data Scientist who develops these types of programs, but you can also choose courses by language, subject (what is cybersecurity?) or even skill - build a website with HTML, CSS, and more.
CodeAcademy offers many classes for free as well as a free trial; it's an invaluable resource for giving people of all experience levels the fundamentals they need to build the world they want to see.
As for Dall-E Mini, while some have opted to create beauty, most have opted for memes. Here are some of the internet's favorites:
There's no looking back now, not once you've seen Pugachu; artificial intelligence is here to stay.
HidePosts
4 Ways to Meet People IRL
Making new friends as an adult can be hard, but we've got a few tips to help expand your social circle
At some point you reach that mythic age known as "adult". Sadly, you discover the ease with which friendships formed when you were younger seems to have escaped you. You might have a group of friends from university or high school, and a few friends from the jobs you've had. But, what are you supposed to do if you want to meet friends now? You could always go back to school, but I'm assuming you don't have 100k and two years of free time?
First, let's examine why it was easier to make friends when you were younger. Sure, cell phones might be the reason you can't make new friends at a bar. But people tend to be looking down on their phone because they either don't want to speak to strangers, or don't know what to say to a stranger if a conversation were to occur. The real reason friendships were easier to make in schoolis you had an initial reason to get to know somebody. You were reading the same book, working on the same problem set, or had the same boss. So with that in mind, let's look at fun, grownup options to have reasons to speak to strangersin the real world, unplugged and off-line.
1. Outdoor workout groups:
There's no limit to the number of workout classes on offer. They can be great for workouts, but not as great for building connections with other class participants. This is because they're designed to create a connection between you and the instructor, not you and the other participants. However, there are a ton of great free workout groups that meet up in public spaces and bang out the workout, and they're usually free. My personal favorite is The Rise. They have chapters in a bunch of cities, and the concept is the same. Volunteers get people together in the morning before work for runs, circuit training, and sometimes Yoga. Trust me, the first time someone challenges you to a no holds barred push up competition, a friendship is formed! Look around though, most cities have some kind of a version of this.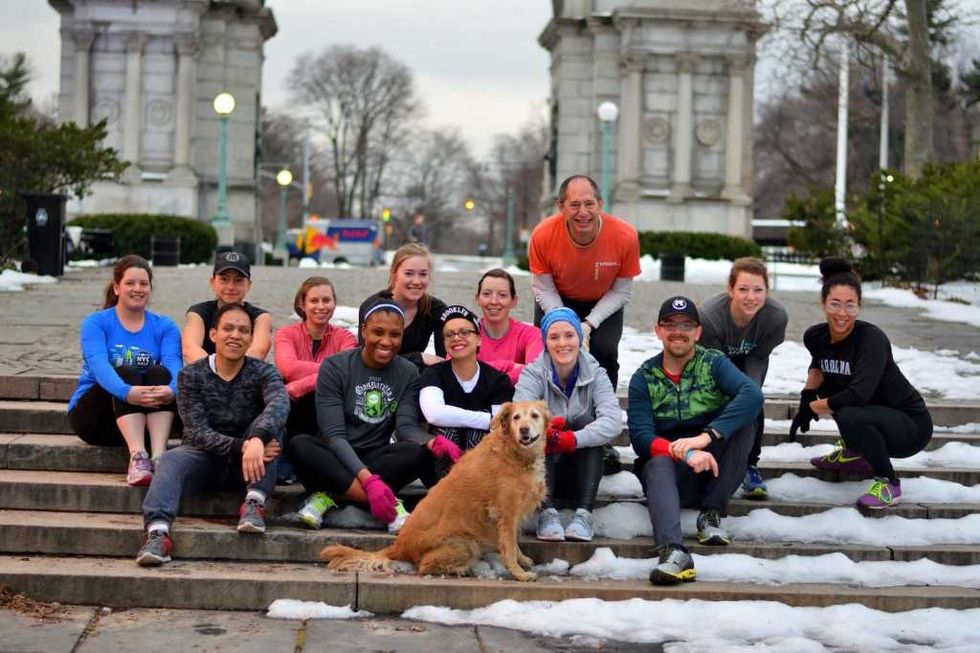 The Rise workout group meets in Prospect Park www.therisenyc.org
2. Interest groups:
This requires a certain amount of self-reflection, but whatever you're into… there's a group for that.. Are you into rock climbing? There's a meetup for that. Do you want to get into rock climbing, or at least pretend to be into rock climbing, or at least go and talk about rock climbing? You can still go! If you're interested in something slightly more intellectual, there are many interest groups you can join in on.. My personal favorite is Young People in Foreign Policy. No, you don't have to be a diplomat to join. Or be particularly young. All you need is strong opinions or be willing to listen to people with strong opinions.Listen to a paneled of informed experts talk about the future of the European Union for an hour, then be handed a glass of wine at the following event.I assure you, you'll be able to make a new friend. (Or a lifelong enemy!)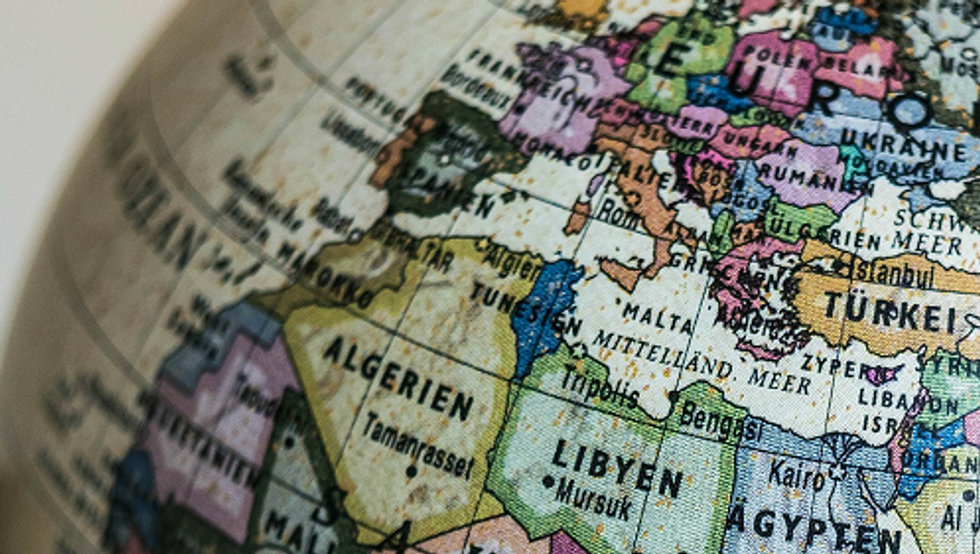 Chapters across the Globeypfp.org
3. Alumni Clubs:
If you went to college,even if you didn't graduate, you can join an alumni club in your city. What's great about these groups, is they tend to attract people from the 22 year old right of school to the 75 year old who has been coming to these events since the Carter administration. My college, for example, has book clubs, a lecture series, and a general networking event this month alone. Trust me, your school probably has something as well.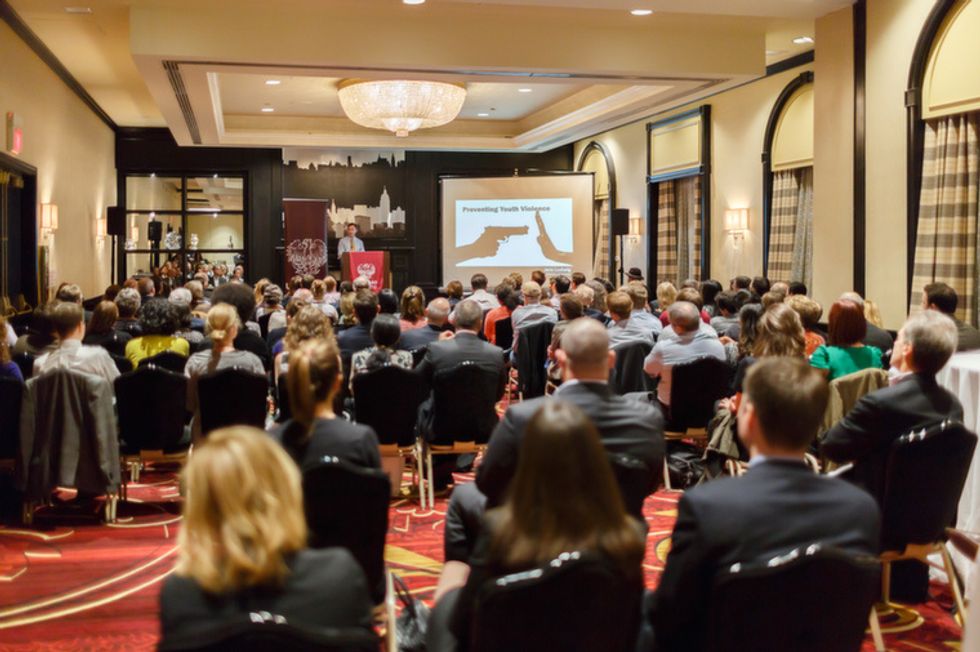 Lecture are always followed by mingling and usually winenyc.uchicagoalumni.org
4. Take a Class:
You don't have to go and get an entire masters degree just to recreate the fun of making class friends. Anytime you have a given topic to discuss you're more easily able to make a connection. If you fail, you still learned something. New York City has an ocean of options to choose from but some of the best are offered by the 92nd Street Y.. Want to get less terrible at painting? Find out what Bridge is? Create ceramic art for all of your relatives instead of buying them something. The 92nd Street Y has all that, and potentially new friends to boot.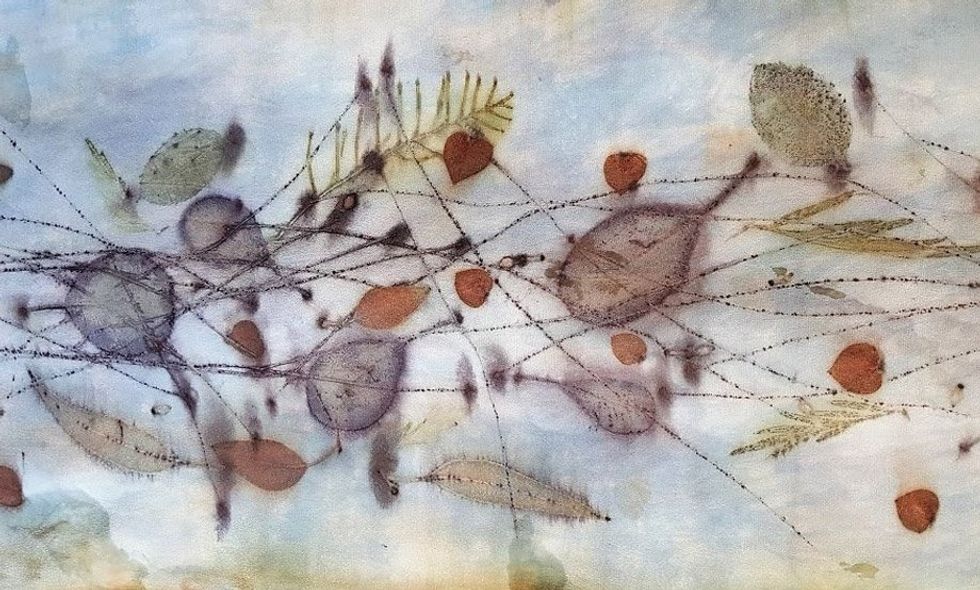 Did you know you could learn to make botanical leaf prints on silk fabric?
www.92y.org/classes
Tired of going out to bars and being just one more person staring at your phone? Stop going to bars, have something to look at other than your next drink.