"A tree is best measured when it is down," the poet Carl Sandburg once observed, "and so it is with people." The recent death of Harry Belafonte at the age of 96 has prompted many assessments of what this pioneering singer-actor-activist accomplished in a long and fruitful life.
Belafonte's career as a ground-breaking entertainer brought him substantial wealth and fame; according to Playbill magazine, "By 1959, he was the highest paid Black entertainer in the industry, appearing in raucously successful engagements in Las Vegas, New York, and Los Angeles." He scored on Broadway, winning a 1954 Tony for Best Featured Actor in a Musical – John Murray Anderson's Almanac. Belafonte was the first Black person to win the prestigious award. A 1960 television special, "Tonight with Belafonte," brought him an Emmy for Outstanding Performance in a Variety or Musical Program or Series, making him the first Black person to win that award. He found equal success in the recording studio, bringing Calypso music to the masses via such hits as "Day-O (The Banana Boat Song)" and "Jamaica Farewell."
Harry Belafonte - Day-O (The Banana Boat Song) (Live)www.youtube.com
Belafonte's blockbuster stardom is all the more remarkable for happening in a world plagued by virulent systemic racism. Though he never stopped performing, by the early 1960s he'd shifted his energies to the nascent Civil Right movement. He was a friend and adviser to the Reverend Doctor Martin Luther King, Jr. and, as the New York Times stated, Belafonte "put up much of the seed money to help start the Student Nonviolent Coordinating Committee and was one of the principal fund-raisers for that organization and Dr. King's Southern Christian Leadership Conference."
The Southern Poverty Law Center notes that "he helped launch one of Mississippi's first voter registration drives and provided funding for the Freedom Riders. His activism extended beyond the U.S. as he fought against apartheid alongside Nelson Mandela and Miriam Makeba, campaigned for Mandela's release from prison, and advocated for famine relief in Africa." And in 1987, he received an appointment to UNICEF as a goodwill ambassador.
Over a career spanning more than seventy years, Belafonte brought joy to millions of people. He also did something that is, perhaps, even greater: he fostered the hope that a better world for all could be created. And, by his example, demonstrated how we might go about bringing that world into existence.
WORLD
September Time Capsule: A Look Back in History
What's happened in September throughout history? A lot.
Liberty Project Time Capsule: A look back in history at what's happened this month throughout time.
September 1, 1939— At 5.30 a.m., Hitler's armies invaded Poland beginning World War II in Europe. During the invasion, which lasted one month and five days, there were 66,000 casualties, 133,700 wounded, and 694,000 captured.
September 2, 1666— The Great Fire of London (pictured above) began in the house of King Charles II's baker on Pudding Lane near London Bridge. Over the next three days, the fires raged, destroying most of London. Miraculously, fewer than twenty people are reported to have died in the fires.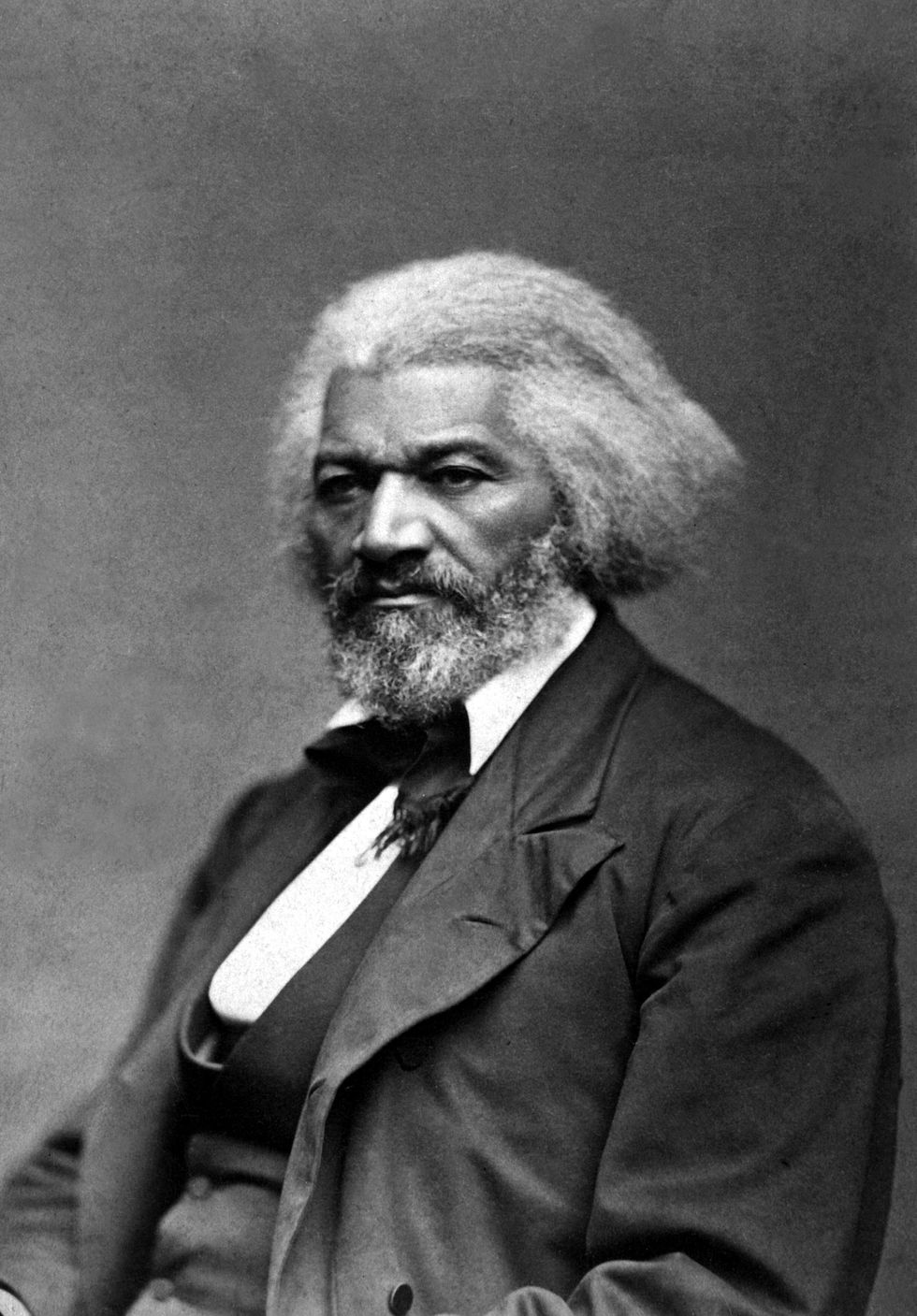 September 3, 1838— In his second attempt to escape slavery, Frederick Douglass boarded a train in Baltimore disguised as a free black sailor. Twenty-four hours after embarking on his journey — in which, he wrote in his autobiography, "Minutes were hours, and hours were days during this part of my flight" — Douglass arrived in New York where he came under the protection of the Underground Railroad.
September 4, 1609— Henry Hudson "discovered" Manhattan. On the same day, nearly two-hundred years later, the city of Los Angeles is founded by the Spanish Governor of California, Felipe de Neve. The original name was El Pueblo de la Reina de Los Angeles (The Town of the Queen of the Angels).
September 5, 1997— Mother Teresa died in Kolkata, India at age 87, where she had lived her life serving those in extreme need — including lepers, the homeless, and the poorest of the poor — through the organization she founded, the Missionaries of Charity. "The most terrible poverty is loneliness, and the feeling of being unloved," she said.
September 8, 1974— A month after resigning the presidency in disgrace as a result of the Watergate scandal, Richard Nixon was granted a full pardon by President Gerald R. Ford for all offenses committed while in office. "It could go on and on and on, or someone must write the end to it," Ford said. "I have concluded that only I can do that, and if I can, I must."
September 9, 1776— The Continental Congress gives our country the name by which we are now known, renaming the United Colonies, The United States.
September 11, 2001— The worst terrorist attack in U.S. history occurred as four large passenger jets were hijacked then crashed, killing nearly 3,000 people. "U.S. Attacked," reads the New York Times coverline the following day. "Hijacked jets destroy Twin Towers and hit Pentagon in day of terror."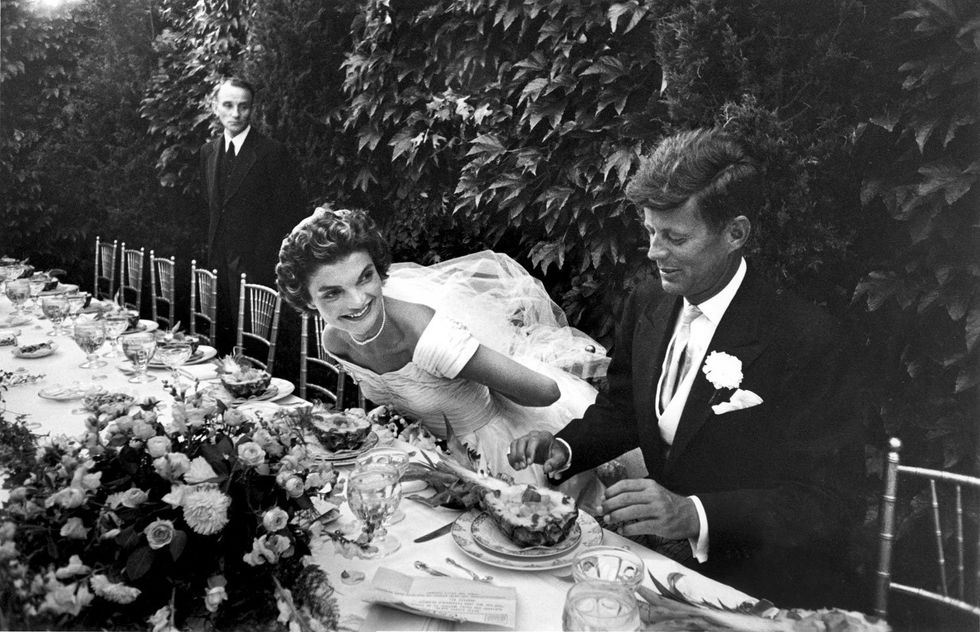 September 12, 1953— In the social event of the season, future president John F. Kennedy, 36, married Jacqueline Bouvier, 24. There were so many guests, it took the couple two hours to greet all of them in the receiving line.
September 14, 1927— Dancer Isadora Duncan was killed in a freak accident when her long scarf became caught in the spokes of a car wheel in which she was riding in Nice, France, strangling her. The same day, fifty-five years later in 1982, Grace Kelly died when her car her car plunged off a winding mountain road in Monte Carlo.
September 16, 1620— The Mayflower departed from England's shores with 102 passengers and a small crew, reaching Provincetown, Massachusetts on November 21st.
September 19, 1893— After two decades of campaigning by the Women's Christian Temperance Union, New Zealand became the first country to grant women the right to vote.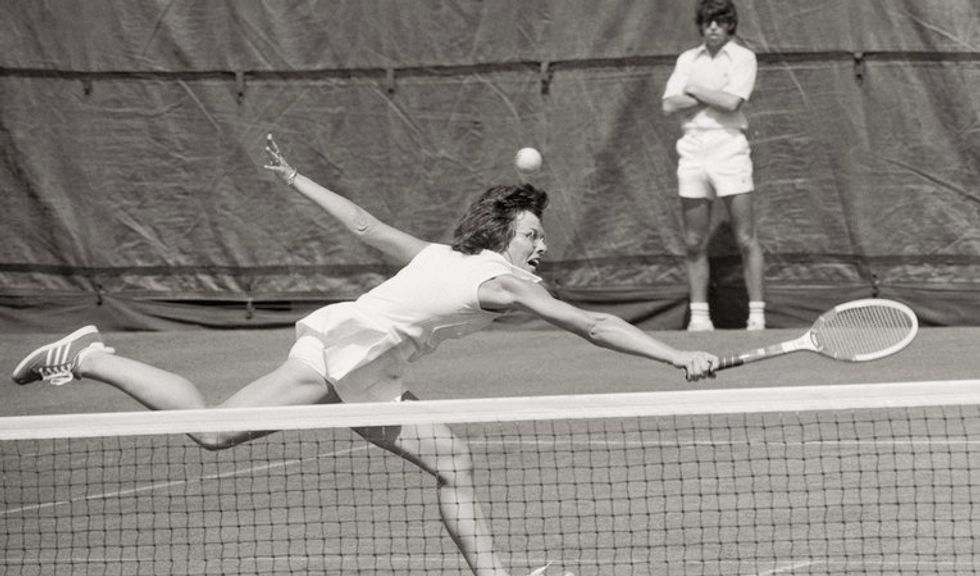 September 20, 1973— At the Houston Astrodome, 55-year-old tennis player Bobby Riggs is defeated in three straight sets by 29-year-old Billie Jean King in the much-hyped "Battle of the Sexes." "Ever since that day when I was 11 years old, and I wasn't allowed in a photo because I wasn't wearing a tennis skirt," Billie Jean King said, "I knew that I wanted to change the sport."
September 25, 1690— The first single and only edition of America's first newspaper, Publick Occurrences Both Foreign and Domestick, appeared in Boston, Massachusetts. The paper was intended to be published monthly, "or, if any Glut of Occurrences happen, oftener." Four days later, on September 29, the paper was shut down by British authorities.
September 30, 1955— Actor, heartthrob, and Rebel Without a Cause, James Dean, died in a head-on collision in California while driving his brand-new Porsche 550 Spyder. He was 24.