Dall-E Mini, the AI-powered text-to-image generator has taken over the internet. With its ability to render nearly anything your meme-loving heart desires, anyone can make their dreams come true.
DALL-E 2, a portmanteau of Salvador Dali, the surrealist and Wall-E, the Pixar robot, was created by OpenAI and is not widely available; it creates far cleaner imagery and was recently used to launch Cosmpolitan's first AI-generated cover. The art world has been one of the first industries to truly embrace AI.
The open-sourced miniature version is what's responsible for the memes. Programmer Boris Dayma wants to make AI more accessible; he built the Dall-E Mini program as part of a competition held by Google and an AI community called Hugging Face.
And with great technology, comes great memes. Typing a short phrase into Dall-E Mini will manifest 9 different amalgamations, theoretically shaping into reality the strange images you've conjured. Its popularity leads to too much traffic, often resulting in an error that can be fixed by refreshing the page or trying again later.
If you want to be a part of the creation of AI-powered engines, it all starts with code. CodeAcademy explains that Dall-E Mini is a seq2seq model, "typically used in natural language processing (NLP) for things like translation and conversational modeling." CodeAcademy's Text Generation course will teach you how to utilize seq2seq, but they also offer opportunities to learn 14+ coding languages at your own pace.
You can choose the Machine Learning Specialist career path if you want to become a Data Scientist who develops these types of programs, but you can also choose courses by language, subject (what is cybersecurity?) or even skill - build a website with HTML, CSS, and more.
CodeAcademy offers many classes for free as well as a free trial; it's an invaluable resource for giving people of all experience levels the fundamentals they need to build the world they want to see.
As for Dall-E Mini, while some have opted to create beauty, most have opted for memes. Here are some of the internet's favorites:
There's no looking back now, not once you've seen Pugachu; artificial intelligence is here to stay.
The Nobel Prize committee has the chance to signal a better future for a prize with a fraught past.
I have almost reached the regrettable conclusion that the Negro's great stumbling block in his stride toward freedom is not the White Citizen's Counciler or the Ku Klux Klanner, but the white moderate, who is more devoted to "order" than to justice; who prefers a negative peace which is the absence of tension to a positive peace which is the presence of justice — Dr. Marin Luther King Jr. "Letter From Birmingham Jail" 1963
Nominations have been announced for the 2021 Nobel Peace Prize.
Among notable nominees are Ivanka Trump's husband Jared Kushner, politician and voting rights activist Stacey Abrams, and the Black Lives Matter movement. Depending on your political biases, you likely find at least one of those nominations offensive, though it should be noted that the list of nominees is long, and anyone can be nominated.
In this case, Black Lives Matter was nominated by Petter Eide, a member of Norway's parliament. As for Jared Kushner, he was nominated along with former Special Representative for International Negotiations Avi Berkowitz — the famed Harvard law professor, Trump sycophant, and defense attorney for O.J. Simpson and Jeffrey Epstein. Kushner and Berkowitz played central roles in brokering the Abraham Accords declaring, "Peace, Cooperation, and Constructive Diplomatic and Friendly Relations" between the US, Israel, Bahrain, and the UAE.
The Abraham Accords: The PR of the 'peace deals' | The Listening Post www.youtube.com
At face value many Americans would no doubt see the negotiation of a peace deal as more legitimate grounds for nomination than a protest movement that sparked violent confrontation with police and counter protesters around the country in 2020. And, if we look at the history of the Peace Prize, there is a sense in which they would be right — the prize has often been awarded for superficial diplomatic theater rather than the real and often messy work of addressing injustice.

The Fraught History of the Nobel Peace Prize
In 1928, Secretary of State Frank Kellogg received the prize for getting all the world's major powers to officially, meaninglessly renounce war...shortly before Hitler took power in Germany. Another Secretary of State, Henry Kissinger, was selected by the Nobel Committee for negotiating a cease fire with Vietnam in 1973 — the same year it was revealed that he had masterminded a secret carpet bombing campaign in Cambodia, which is credited with giving rise to the genocidal Khmer Rouge.
More recently, in 2009, Barack Obama was given the Peace Prize just for being elected president — in a move Obama acknowledged as premature. And in 2020, Donald Trump's son-in-law and his buddy Avi were nominated for the award for arranging "peace" between nations that were never at war — with a substantial arms deal thrown in for good measure.
To put it bluntly, it would make nearly as much sense for Jared Kushner to win the Nobel Peace Prize as it did for a number of other recipients with dubious claims to peace work. By contrast, in 1948 the Nobel committee chose not to award anyone — rather than acknowledge Mohandas Gandhi's work in pushing for Indian independence from Britain.
Historically the committee has often erred on the side of the powerful — rewarding hollow and hypocritical displays of diplomacy over the controversy that tends to arise around grassroots struggles. So while it may be unlikely that Kushner and Berkowitz will receive the peace prize, neither would it really be surprising.
But with Black History Month kicking off, it's worth articulating not just why their diplomacy is underwhelming, but why the Black Lives Matter movement deserves recognition for advancing the global fight against injustice.
No Justice, No Peace
While extensive efforts have been made to paint the Black Lives Matter movement as violent, anti-White, and at the political fringes, in reality it is the largest and most racially diverse protest movement in American history. And considering the thousands of demonstrations that have taken place, involving many millions of individuals, the relative lack of violence from the protesters is much more worthy of note than a handful of dramatic scenes.
Compared to the January 6th Trump rally, where a crowd of around 30,000 spawned a violent insurrection — which was handled with kid gloves by the police and led to five deaths — the 15 million plus who participated in BLM marches in 2020 were remarkably peaceful. The same cannot be said for far too many of police who patrolled those marches and gave proof to the brutality that inspired them.
A compilation of videos that captures how police officers incite violence. How are they responding to protests ag… https://t.co/7rBOh3OHMP

— Simran Jeet Singh (@Simran Jeet Singh) 1590893613.0
And though regrettable incidents of arson and violence have undeniably taken place in connection with BLM demonstrations, the alternative was not "peace."

What is often overlooked in discussions of peace is the reality of social and political injustice as among the most prevalent forms of violence on Earth. When millions of people, targeted through no fault of their own, are systemically dehumanized — their lives and their contributions devalued and their opportunities for life, liberty and pursuit of happiness both deliberately and incidentally truncated for centuries — that is violence that destroys lives on another scale altogether.
For Black Americans that obviously means slavery and its aftermath, as well as segregation and the continued legacies of practices like redlining. But it also means a so-called "war on drugs" that treats addiction as a crime rather than an illness and disproportionately targets and locks up Black Americans, depriving too many children of their parents.
It means racist police procedures like Stop and Frisk, as well as the implicit (and often explicit) racial biases of the officers themselves. It means making it nearly impossible for people convicted of felonies within this unjust, racist system to live within the bounds of the law, depriving them — as well as millions of Black Americans who haven't been convicted of anything — of the right to participate in democracy and change the system that treats them so cruelly.
And none of this even covers the immense wealth inequality that makes life harder for almost all Americans — though, again, the harm is leveled disproportionately against Black Americans. All of these ordinary and unacceptable aspects of American life are violence — "the negative peace which is the absence of tension."
They destabilize communities, families, and individual lives. And that violence came to a head in June, following the horrific killing of George Floyd by a Minneapolis police officer over a suspected counterfeit $20 bill.
While far from the only evidence of systemic racism in America, the murder of unarmed Black men, women, and children by police and by racist vigilantes who — more often than not — are allowed to walk free, is perhaps its most blatant and disgusting expression.
And the names of the slain — Ahmaud Arbery, Breonna Taylor, Tamir Rice, Trayvon Martin, Freddie Gray, Philando Castille, too many more to mention — have become rallying cries.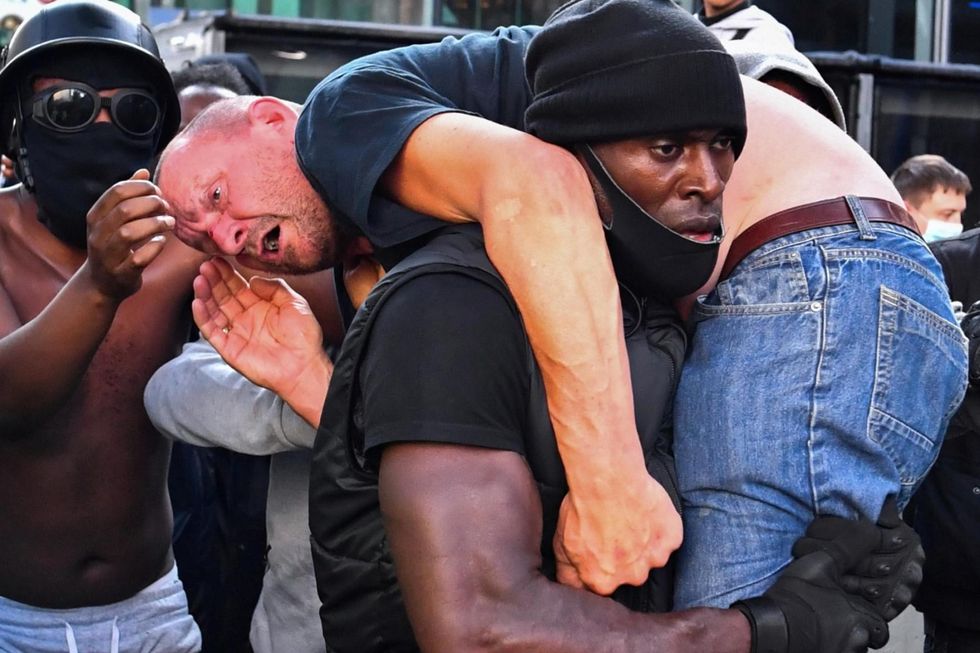 A Black Lives Matter protester carrying a counter protester to safety in London
With all the domestic resistance the protests met from people who insist on spitting "all lives matter!" (as if fighting for the value of Black lives implied otherwise) and "blue lives matter!" (as if the safety of police officers depends on their ability to shoot unarmed Black men, women, and children without consequence), it would be easy to lose sight of how much support the movement has received overseas. While the movement was started in America, the impact has been global.

"Injustice Anywhere Is a Threat to Justice Everywhere"
The reality of living as a dehumanized minority in a bigoted society is sadly all too common in the world. And while not everywhere is as bad in this respect as America, the recognition sparked protests of solidarity and of common cause around the world.
Like the civil rights movement of the 1960s, Black Lives Matter has continued the fight for America to live up to its promise. Because right now "the land of the free" is home to a carceral state where more people are imprisoned than anywhere else on Earth, and citizens are killed by police at a higher rate than in any comparable nation.
Because the systems that were deliberately set up to keep newly freed Black citizens oppressed following the Civil War were never truly purged — have been covertly bolstered and supplemented ever since.
That is not peace. Only a stable form of violence.
A cartoon from the 1960s My father wasn't beloved by America. In 'Letter From Birmingham Jail,' he responded to 8… https://t.co/ygwaqnWoO9

— Be A King (@Be A King) 1611017549.0
In 1964 the Nobel committee opted not to side with power. It was the same year the FBI sent a harassing letter to Dr. Martin Luther King Jr., urging him to commit suicide.

He was considered by FBI director J. Edgar Hoover — and many others in positions of power within the American government — to be an enemy of the state. There is even reason to believe that these forces were directly involved in his 1968 assassination.
His protest movement was disruptive to the normal order of American life that most white Americans were content to maintain. Many balked at the idea that it could be called peaceful. But the Nobel committee selected him for the honor of the Nobel Peace Prize. It was a serious signal that the world was watching how America handled peaceful dissent.
Did that make a difference in passing the voting rights act of 1965? Who can say? But the Nobel committee has a similar opportunity this year.
What Black Lives Matter has been fighting for in recent months is the "positive peace" King spoke of as "the presence of justice." With that in mind — and with some uncertainty remaining as to how a decentralized, leaderless movement of millions can receive an award — the Nobel committee should take seriously the option of selecting Black Lives Matter.
Martin Luther King Jr. Nobel Peace Prize Acceptance Speech www.youtube.com
There are no doubt many nominees whom the committee could select for the Peace Prize — including Jared Kushner. And some who would even be worthy — including Stacey Abrams.

But the significance of acknowledging a grassroots fight for justice that was centuries in the making (in a nation which — for all its flaws — continues to shape culture around the world) is too powerful to deny.
Keep reading...
Show less
For too long we've been told that "Black" politics would scare away moderates
First thing's first: I need white people to stop treating Stacey Abrams like their savior.
Deification, a form of dehumanization, strips a person of their humanity and turns them into a symbol. By overhyping Stacey Abrams, white people assert their goodness on the back of a Black woman, trying to be woke by association.
While Abrams deserves much praise, we cannot continue to place superhuman expectations upon her. We also cannot act like she was solely responsible for discovering a secret to turning Georgia blue. The reality is that Stacey Abrams worked tirelessly alongside other dedicated organizers to address the voter suppression Black people have been fighting in Georgia for decades.
So why haven't democratic politicians done this before? Obama did, campaigning at a grass roots level and counting on disenfranchised voters. But he was Obama, people might say, of course Black people will vote for him. The "Black vote" in political discourse is treated as an ineffable mystery and often discarded as impossible to count on. Black people just don't vote, politicians say, then focus their attention elsewhere.
So when the Black vote (alongside other BIPOC demographics such as the historic voter turnout of Indigenous populations in Arizona) undoubtedly delivered the 2020 election to the Democrats, then did the same for the House in the Georgia run-offs, everyone was talking about Stacey Abrams in a way a little too reminiscent of how the dad talked in Get Out.
But the election results revealed that Black voters are in fact the key to the Democratic Party's success. When is the Party going to start acting like it?
All through the election year, Democrats were convinced that playing it safe was the key to defeating Trump.
By electing Biden as the nominee instead of more "radical" Democratic candidates like Bernie Sanders or Elizabeth Warren, the DNC were adamant that the game plan was to appeal to white moderates — which meant not scaring them away.
So while Biden picked Harris, a biracial Black and Indian woman, as his Vice President, their campaign strategy was to hover around the center and appeal to white voters who somehow just weren't sure who to vote for yet.
Meanwhile, the country was going through a period of major racial protest. Black Lives Matter protesters spent the summer appealing for an end to police brutality, for legislative protection, for defunding the police and reexamining the carceral system in light of its racist roots.
And though there were some tweets and statements from major Democratic politicians in response to the murder of George Floyd, as well as that super embarrassing thing with the Kinte cloths, the sentiment remained that actually addressing the demands of protestors would be too risky and scare away the nice white voters.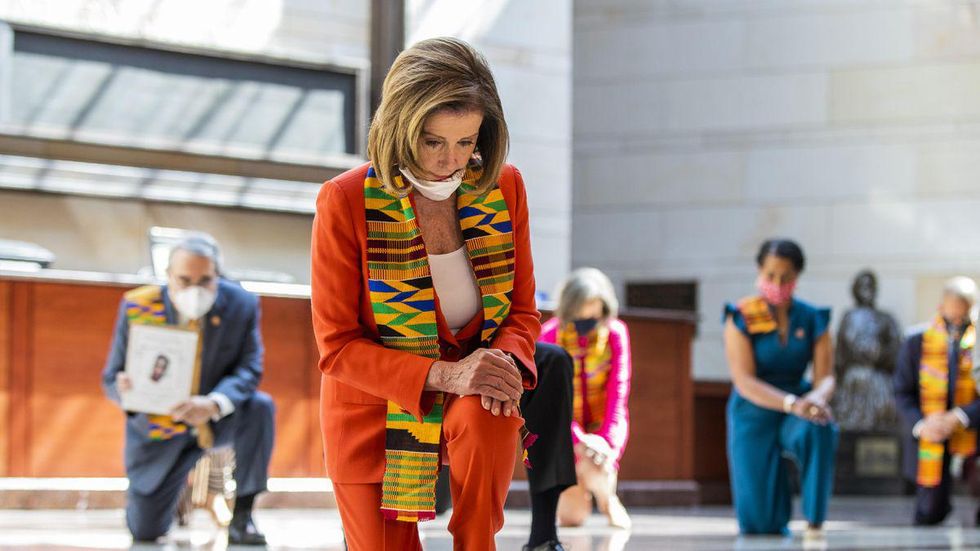 Nancy Pelosi taking a knee in a Kinte cloth for BLM apparently? Whose idea was this?
Well, the nice white voters went for Trump.

Exit polls showed that 58% of white voters voted for Trump — an increase from the 2016 election. And while Trump made percentage gains with Black men, Black people overwhelmingly voted for Biden. And in key cities in key states, Black voters having the agency to vote in the presidential election and in the Georgia Senate races was instrumental in the Democratic wins.
The numbers speak for themselves. In his election speech, Biden even thanked Black voters for being instrumental to his victory. But Biden's main message was one of healing — not for marginalized groups who suffered most under the Trump presidency, but for … "the soul of America"?

Biden's speech seemed to focus on restoring party communication, going back to his comfortable place in the center and telling us (while invoking Langston Hughes in his references to "dreams deferred") to join him.
For many Black voters, moving to the center looks like regression. Again, the Democratic rhetoric was one that appealed to white moderates, to appease their concerns and placate their nerves after a year of proverbially "difficult" conversations and "reckoning."
But for Black Americans, the most difficult thing is being constantly gaslit — being told by a party which claims to care about us that fighting for our concerns (read: our lives) is too much, too difficult, too frightening.
In response to the calls to defund the police, many major Democrats were quick to dismiss the movement. Biden himself said that he did not want to defund the police. "I support conditioning federal aid to police based on whether or not they meet certain basic standards of decency and honorableness," he said instead, again appealing to vague notions of morality rather than actionable policy.
Even Black politicians took up this rhetoric. South Carolina Representative and major Civil Rights activist James Clyburn said that "nobody is going to defund the police," and that "police have a role to play." His plea was against "sloganeering," claiming that pleas like "Defund the Police'' would undermine the movement and lose the election.
Barack Obama said something similar (thanks, Obama): "If you believe, as I do, that we should be able to reform the criminal justice system so that it's not biased and treats everybody fairly, I guess you can use a snappy slogan, like Defund the Police, but, you know, you lost a big audience the minute you say it."
These sentiments are the work of years of conditioning that expects Black people to acquiesce to white audiences, to settle for banal "reform" and "slow, steady change" instead of radical action. They are examples of respectability politics and tone policing that reinforce the idea that Black folks are a liability, harming our own progress by scaring away potential allies.
But we're tired of it.
In the wake of the dismissal of BLM slogans, many major progressives also spoke out. Representative Ilhan Omar responded to Obama's comment in a tweet, saying: "We lose people in the hands of police. It's not a slogan but a policy demand. And centering the demand for equitable investments and budgets for communities across the country gets us progress and safety."
We lose people in the hands of police. It's not a slogan but a policy demand. And centering the demand for equitabl… https://t.co/fh8ftnTR7t

— Ilhan Omar (@Ilhan Omar) 1606872699.0
Her response points out the danger in the quick dismissal by these politicians: too focused on how the slogan sounds, they fail to address the policy changes it calls to action and continue to support a system of policing which currently exists in a fundamentally oppressive structure. Reform is not enough, complete restructuring and radical change is the only answer.

Most Black Americans do not have the privilege of not understanding this. And, after delivering the election to Biden and the Senate, we want recognition.
We want to no longer be the big scary thing that Democrats are afraid of. We want to be taken seriously, and we want our demands to be met, our communities to be prioritized, and our people to stop dying at the hands of the state.
Black voters do not appear magically to deliver democracy if white people click their heels, repost an infographic, and say, "Stacey Abrams" in the mirror three times. The Black Vote is a collection of diverse, real people who are tired of being treated like a liability, a threat to the party they have always been loyal to.
It's time the party returned the favor — pointing out the obvious transgressions of the (soon) past administration will not be enough. With a blue senate, Biden has the opportunity to be bold, to enact real change for the communities who showed up for him, despite his own flaws and a year spent turning his back to us for the sake of white voters who did not.
Keep reading...
Show less
The former adult film star is the subject of a GoFundMe campaign for the demolition, but is she really the most deserving?
Long before he wreaked havoc across the United States and the world at large, Donald Trump inflicted his horrors on Atlantic City, New Jersey.
In that case it was a string of failed casinos financed with high-interest junk bonds that he was never going to be able to pay off. Their collapse and the tremendous ten-figure debt he took away from them in the early 1990s was, at the time, Donald Trump's most public and embarrassing scandal.
It's a record he has since broken on numerous occasions — losing reelection, allowing over 300,000 Americans to die of a virus that other countries successfully contained, being associated with Rudy Giuliani — but the scars of Trump's early failure still mark Atlantic City. Where they haven't been rebranded or demolished, his massive, shuttered buildings have stood disused and dilapidated.

For Donald Trump it may be enough to have his name scraped and scrubbed from these decrepit shells. But for the citizens of Atlantic City they stand as stark reminders of how one wealthy, arrogant man helped to topple the local economy.
The tower of the Trump Plaza Hotel has been a particular problem in recent years. In its disintegrating state it became a hazard to public safety, with chunks of its crumbling façade falling to the street below. There is a bright spot on the horizon, however.
Atlantic City's Revenge: Blowing Up Trump's Casino For Charity | The Beat With Ari Melber | MSNBC www.youtube.com
This year the city has finally begun demolition on this piece of Donald Trump's legacy, with a pyrotechnic finale scheduled for February. The opportunity to push the button imploding the hotel's stripped-bare tower is being offered in auction, with proceeds going to the Boys' and Girls' Club of Atlantic City.

Atlantic City Mayor Marty Small has said that he hopes to raise "at least a million dollars," noting that he's "a pretty ambitious guy." Currently the bidding stands at around $60,000, but it will remain open until January 19th — one day before Trump will be forced to relinquish the presidency to Joe Biden. A live auction among the highest bidders will follow on the 29th.
But should the privilege of erasing this blight — and publicly humiliating Donald Trump — really belong to the wealthiest person with a grudge against the soon-to-be-former president? Surely there's someone with a more legitimate claim to that honor.
That's what former adult film star Zoe Britton thought when she heard about the auction last Thursday. Britton tweeted the suggestion to crowd-fund a bid for her friend Stephanie Clifford — AKA Stormy Daniels — to push the button that topples Trump Plaza Hotel. Daniels enthusiastically signed onto the idea, adding the detail that the button should be modeled after a toadstool — a reference to her infamous description of the president's genitals.
@ejeancarroll @realDonaldTrump This is hands down the best idea ever! I also want to commission the button to be shaped like a toadstool 🍄

— Stormy Daniels (@Stormy Daniels) 1608415328.0
The concept has since become a reality with a GoFundMe campaign that has so far raised a little over $1,700 to award the responsibility for that symbolic implosion to Stormy Daniels. But is she really the most worthy candidate?

For anyone who has somehow remained unaware of Daniels' history with Trump, the former adult film star had an (alleged) affair with Donald Trump in 2006. Back then he was merely the star of The Apprentice, and famous for being a rich assh**e and the basis for Biff Tannen's arc in Back to the Future Part II, and reportedly invited Daniels to dine with him when the two met at a charity golf tournament.
What (allegedly) followed from there was a whirlwind romance involving Shark Week, a periodical spanking, a promised role on Celebrity Apprentice, and a grudging resignation to physical intimacy. But the real drama is in the aftermath.
Several years after their (alleged) affair ended, Daniels reportedly shared details of her relationship with Donald Trump with a gossip magazine. Contrary to his enthusiastic attitude toward previous tabloid affairs, Donald Trump apparently didn't want his tryst with Daniels to be publicized. Michael Cohen, his personal lawyer at the time, intervened to squash the story — though rumors of the (alleged) affair were still published in Life & Style that October.
Not long after, Daniels reports that a man approached her in a parking lot with instructions to "leave Trump alone." Daniels had her young daughter with her at the time, and recalls the man saying "That's a beautiful little girl — it'd be a shame if something happened to her mom," before leaving them. That was in 2011, but the fallout was far from over.
EXCLUSIVE - Stormy Daniels Details Sex with Donald Trump www.youtube.com
In October of 2016 — shortly before the 2016 election, and around the time of the infamous Hollywood Access "grab 'em by the p***y" tape — Fox News reporter Diana Falzone allegedly wrote an article on the affair that the outlet chose to shelve. Secretly Michael Cohen had arranged to pay Stormy Daniels $130,000 to keep her quiet — in violation of campaign finance law.

In January of 2018, rumors of the affair surfaced anyway. In the meantime, Donald Trump had become president. Stormy Daniels initially denied them — supposedly at the behest of her then-lawyer Keith Davidson, who may or may not have colluded with Michael Cohen to bury that story as well as the (alleged) Karen McDougal affair.
When Daniels eventually acknowledged the (alleged) affair and began sharing the sordid details, she became a target of Donald Trump's most ardent and unhinged supporters. She has received numerous death threats and was even arrested on flimsy charges by some politically-minded police in Ohio.
In short, Stormy Daniels' life was thrown into chaos by that brief, regrettable (alleged) affair with Donald Trump. And as a result of her coming forward, the scandal occupied America's attention for perhaps as long as any in Trump's tenure.
The legal issues that ensued eventually motivated Michael Cohen to renounce his longtime loyalty to Trump. He even went on to be a cooperating witness against Trump, offering congressional testimony that the president was a "con man" and a "racist" who had committed illegal acts of obstruction and self-dealing while in office.
In short, Stormy Daniels contributed perhaps as much as anyone in the last four years to the efforts to expose Donald Trump as the pathetic fraud that he is. And she has suffered for it.
On one hand, that seems like a strong case for letting Daniels push that momentous and possibly-toadstool-shaped button. But if she really wanted to, she could use some portion of the reported $800,000 advance on her memoir Full Disclosure to make a more serious bid.
On top of that, aren't their others who might be more deserving? Others who have done more to take Trump down, or who have suffered more as a result of his cruelty?
The honor could go to one of contractors Trump has put out of work, or one of the family's he tore apart at the border. It could go to any student who was bilked by Trump University, or any resident of Atlantic City who suffered the consequences of Donald Trump's financial recklessness.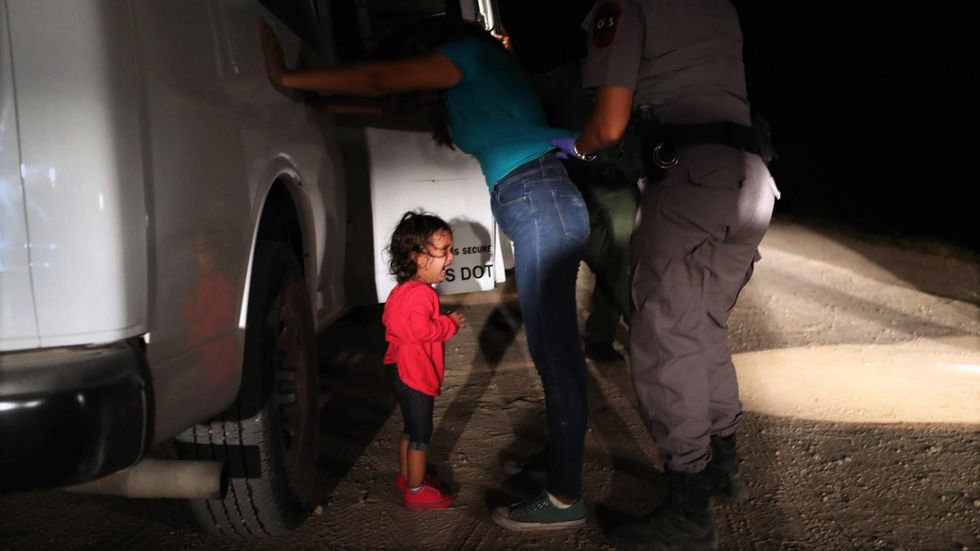 A child crying as a border official searches her mother in TexasJohn Moore
It could go to E. Jean Caroll or any of the dozens of other women who've accused the president of sexual misconduct, or to Stacey Abrams, Gretchen Whitmer, or Martin Gugino. Or It could go to any of the loved ones of the 318,000 Americans who have died of COVID so far this year...

In the end, the people who deserve the honor of destroying one of Donald Trump's monuments to his own ego may outnumber even the numerous vanity projects on which he's plastered his name. But the best way to honor all of them is not through some symbolic bit of dramatic catharsis. It's by erasing the corrosive legacy Donald Trump has left on our government, our discourse, and our democratic institutions.
Unfortunately, that will take a lot more than the push of a button.
Keep reading...
Show less
How are activists supposed to "speak truth to power" if they're not allowed to be in the rooms where power lives?
One half of the duo Run the Jewels, the Atlanta-based rapper is known for his outspoken support of progressive candidates like Bernie Sanders and policies like Medicare for All, legalization of cannabis, and demilitarizing the police. He has advocated for voters not to let their support be taken for granted—to ask for something in return for their votes. But now he's coming under fire from Twitter for meeting with Georgia governor Brian Kemp.
The meeting took place on Wednesday in the Governor's office in the state capitol building, and images were of the two men talking and shaking hands were promptly shared through the governor's official Twitter account. This prompted a predictable backlash that quickly led "Killer Mike" to be a trending topic on the site.
Various tweets attacked the meeting as just a "photo op" or as "legitimizing" the sitting governor of one of the largest states in the US. Others accused Killer Mike of angling for a media position as the political Black man who will sit down with conservatives.
Killer Mike attempting to brand himself as the Reasonable Negro™ by meeting with a white man who stole an election… https://t.co/PDJ6XRVYLG

— Abolish the Police, NOTHING LESS! (@Abolish the Police, NOTHING LESS!) 1599742094.0
Maybe there's some truth to one or both of those complaints. After all, this isn't the first time Killer Mike has come under fire for meeting with the other side. Back in 2018 the "Ooh La La" rapper filmed a segment with NRATV advocating for black gun ownership as a defense against racist violence.
Killer Mike later apologized and noted that his comments had been deceptively edited and deliberately posted to coincide with the March for Our Lives demonstration (despite having been filmed the week before). But what about this meeting with Brian Kemp? Does Killer Mike owe another apology to his political allies for meeting with "the enemy?"
Killer Mike And Joy Reid Go One-On-One | AM Joy | MSNBC youtu.be
First of all, it's important to note that Brian Kemp is, indeed, a bad guy. In 2018, while serving as Georgia's secretary of state, Kemp oversaw the gubernatorial election in which he was competing against Democrat Stacey Abrams. Is it fair to attribute the improper purging of hundreds of thousands of Georgians from the states voter rolls ahead of the election to his desire to win? Absolutely.

Kemp chose not to recuse himself in order to avoid the appearance of corruption and deliberate voter suppression. As a result, he must take ownership for the misconduct that likely led to his narrow victory over Abrams. Everyone saying that he stole that election is right to call him out—whatever his claims of innocence. It's very possible that Stacey Abrams should be the governor right now. But she's not.
In addition, Kemp has badly mishandled Georgia's pandemic response and has done his best to undermine abortion rights in his state. But does any of that mean he's not in power?

When Kemp's victory was certified by Georgia's top election official, that "legitimized" him in a way that no photo op ever could. That legitimized his power over Killer Mike's community—the power to hurt and also the power to listen to activists like Killer Mike and actually help.
If we believe in speaking truth to power, doesn't that mean getting into the rooms where power lives? Doesn't progress require more than having some good ideas?
Well my 86 yr old Aunt who actually risked her life in B Ham and Selma was proud and called me courageous. Umma le… https://t.co/EnGoPjttmy

— Killer Mike (@Killer Mike) 1599745100.0
As Killer Mike himself has said, "only time will tell" whether Governor Kemp will take on board any of what they discussed about how to improve the lives of Georgia's Black citizens with improved access to education and government contracts. But Killer Mike did what he could to push in that direction, and did not go out of his way to make Brian Kemp look good in the process.

Yes, he posed for some pictures, but he kept an appropriate amount of social distance, wore a shirt laying out the steps of political activism ("Plot, Plan, Strategize, Organize, Mobilize"), and his familiar smile was missing from his face. In its place was a look of stoic conviction. He wants to believe that Governor Kemp might take these issues seriously—even if hope is hard to come by.
Some of my issues: "Blacks In Ga" having more than 2% of state contracts while making up 35% of the state. Black m… https://t.co/D10ZP1y12Y

— Killer Mike (@Killer Mike) 1599744240.0
As is often the case in this country, a figure from the political left can never do anything right. When they stand firm on policy issues, they are said to be impractical and uncompromising and kept away from the Democratic establishment that makes deals with the other side. Then, when a leftist figure sits down with the other side, they're treated as a traitor to the Democratic establishment.

There is no winning in this system for someone with Killer Mike's politics. That's why he has to keep fighting.
Keep reading...
Show less