Dall-E Mini, the AI-powered text-to-image generator has taken over the internet. With its ability to render nearly anything your meme-loving heart desires, anyone can make their dreams come true.
DALL-E 2, a portmanteau of Salvador Dali, the surrealist and Wall-E, the Pixar robot, was created by OpenAI and is not widely available; it creates far cleaner imagery and was recently used to launch Cosmpolitan's first AI-generated cover. The art world has been one of the first industries to truly embrace AI.
The open-sourced miniature version is what's responsible for the memes. Programmer Boris Dayma wants to make AI more accessible; he built the Dall-E Mini program as part of a competition held by Google and an AI community called Hugging Face.
And with great technology, comes great memes. Typing a short phrase into Dall-E Mini will manifest 9 different amalgamations, theoretically shaping into reality the strange images you've conjured. Its popularity leads to too much traffic, often resulting in an error that can be fixed by refreshing the page or trying again later.
If you want to be a part of the creation of AI-powered engines, it all starts with code. CodeAcademy explains that Dall-E Mini is a seq2seq model, "typically used in natural language processing (NLP) for things like translation and conversational modeling." CodeAcademy's Text Generation course will teach you how to utilize seq2seq, but they also offer opportunities to learn 14+ coding languages at your own pace.
You can choose the Machine Learning Specialist career path if you want to become a Data Scientist who develops these types of programs, but you can also choose courses by language, subject (what is cybersecurity?) or even skill - build a website with HTML, CSS, and more.
CodeAcademy offers many classes for free as well as a free trial; it's an invaluable resource for giving people of all experience levels the fundamentals they need to build the world they want to see.
As for Dall-E Mini, while some have opted to create beauty, most have opted for memes. Here are some of the internet's favorites:
There's no looking back now, not once you've seen Pugachu; artificial intelligence is here to stay.
Historically, fewer than 10% of all presidential vetoes have been overturned, or 106 in total.
On Tuesday, the House of Representatives voted 245-182 to overrule Donald Trump's declaration of national emergency regarding immigration at the U.S.-Mexico border. Trump declared a national emergency on February 15 in hopes to redirect up to $8 billion from military funds and the Treasury to fund a border wall. While unprecedented, the tactic could theoretically manipulate the Constitution's funding laws to successfully bypass Congress and allow a sitting president to reallocate funds without congressional permission. Even though the House passed the resolution to terminate the declaration of emergency, Trump has vowed to veto the resolution if it should make it to his desk. So how can Congress overrule a veto, and how rarely is it done?
When a president vetoes a bill, Congress can only override the veto by taking a second vote in both chambers and passing the bill with a two-third majority in both houses. Historically, fewer than 10% of all presidential vetoes have been overturned, or 106 in total. The last time Congress over-ruled a veto was October 11, 2000, when Bill Clinton's bill Energy and Water Development Appropriations.
The rarity of a veto override is attributed to the bipartisan conflict of each chamber of Congress. For example, in 2000, the Republicans held a majority in both the Senate and the house when they overruled the sitting Democrat president. The current Congress is divided between a Democrat-lead House (235-199) and a Republican-led Senate (53-45). Achieving a two-thirds majority in both chambers of Congress is simply unlikely when they are led by separate parties.
As for the resolution to overrule Trump's national emergency, the Senate is set to vote on the resolution before March 18. Since it's a privileged measure, no filibustering is allowed; only a majority will pass or defeat the resolution. The crux of the matter is whether enough Republican Senators can be swayed to vote with the Democrats. As of Friday, three Republican Senators have vowed to to do so: Susan Collins of Maine, Lisa Murkowski of Alaska, and Thom Tillis of North Carolina. Only four more would be needed to send the resolution to Trump, assuming all Democrat Senator voted with their party. According to Five Thirty Eight, if Trump vetoes the measure, then both chambers of Congress are short of the votes needed to override (50 short in the House and 20 short in the Senate).
Thom Tillis wrote an op-ed for The Washington Post explaining his position to vote against party: "As a U.S. senator, I cannot justify providing the executive with more ways to bypass Congress," Tillis explained. "As a conservative, I cannot endorse a precedent that I know future left-wing presidents will exploit to advance radical policies that will erode economic and individual freedoms."
Prior to the House vote, Speaker Nancy Pelosi addressed House Republicans, "Is your oath of office to Donald Trump or is it to the Constitution of the United States? You cannot let him undermine your pledge to the Constitution."
Meg Hanson is a Brooklyn-based writer, teacher, and jaywalker. Find Meg at her website and on Twitter @megsoyung.
The term is typically used to refer to a whole person, not a person's legal status, and so it therefore implies that the person themselves is not a viable human being, thus not entitled to any human rights protections.
The word "illegal" has become a buzzword in modern immigration discourse, a common way of describing someone who has crossed the border into America without papers.
The term is typically used to refer to a whole person, not a person's legal status, and so it therefore implies that the person themselves is not a viable human being, thus not entitled to any human rights protections.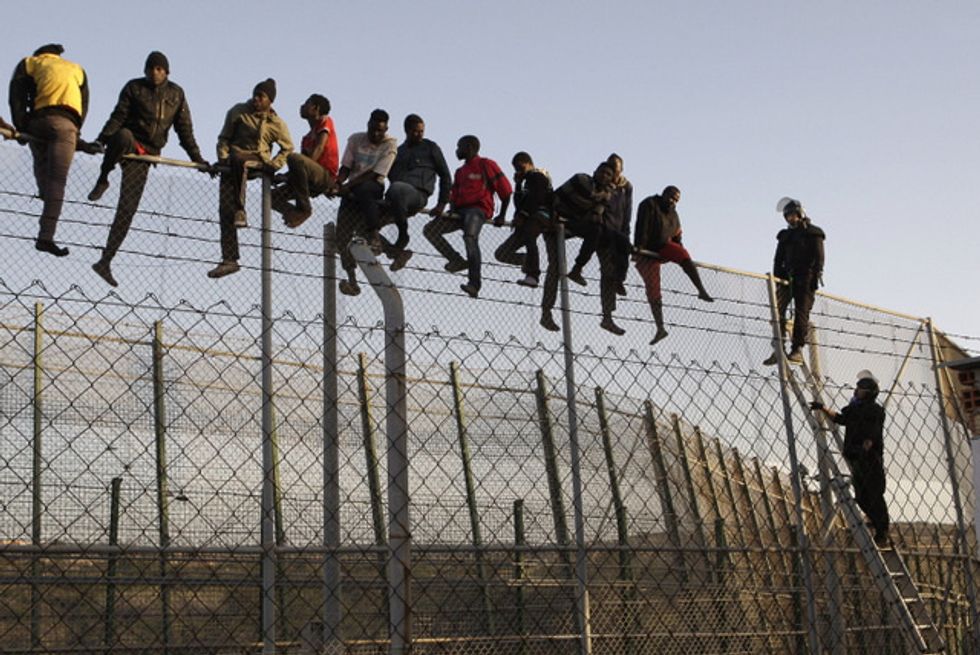 Image via thoughtco.com
The term "illegal immigrant" was first coined to describe Jews fleeing during the second world war. "How can a human being be illegal?" asked the writer and Holocaust survivor Elie Wiesel, pinpointing the contradictory nature of the term. In 2017, journalist Maria Hinojosa riffed on Elie Wiesel's description of illegality, stating that "Because once you label a people 'illegal,' that is exactly what the Nazis did to Jews.' You do not label a people 'illegal.' They have committed an illegal act. They are immigrants who crossed illegally. But they are not an illegal people."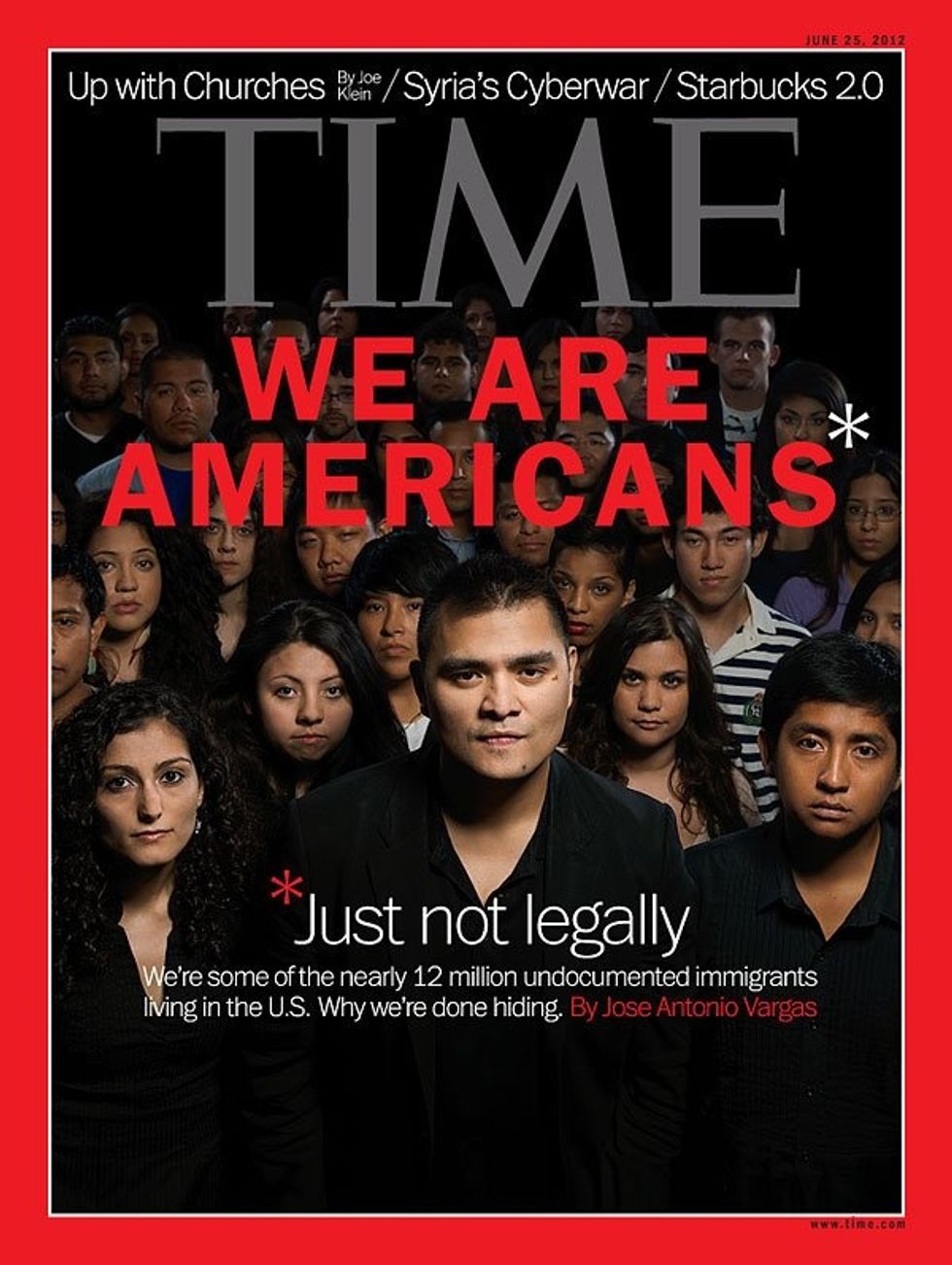 Image from Time
Being labeled as illegal has severe consequences for those who fall under the term's shadow. An "illegal" immigrant cannot demand raises or report human rights abuses at work. Undocumented immigrants face the double pressure of fear of being sent back to where they came from and fear of being 'found out' in their new nation.

The majority of migrants labeled as "illegal" are actually doing work for low wages, and provide services while demanding nothing in return. In practice, their work is similar to mass incarceration, which keeps whole segments of the population out of sight while they perform unpaid labor and are unable to exercise their civil rights.
In the novel Dear America: Notes from an Undocumented Citizen, the Filipino journalist Jose Antonio Vargas outlines the unique stresses and pains that come with living as an undocumented civilian. "This book is about homelessness," he writes, "not in a traditional sense, but the unsettled, unmoored psychological state that undocumented immigrants like me find ourselves in. This book is about lying and being forced to lie to get by; about passing as an American and as a contributing citizen; about families, keeping them together and having to make new ones when you can't. This book is about constantly hiding from the government and, in the process, hiding from ourselves."
Vargas, a successful reporter, came to the US at eight and discovered he was undocumented at age 11; what followed were decades of trying to hide his status until he finally spoke out and became one of the most famous undocumented citizens in the public eye.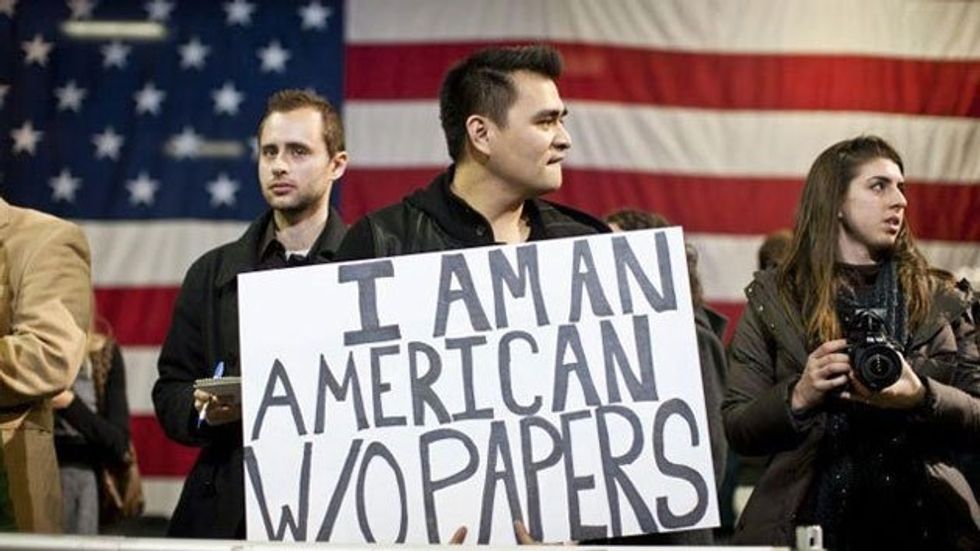 Image via Mother Jones
Every single migrant's story is different, and for many people, speaking out is not an option. Many people have to work, to support families or relatives at home, and cannot risk "coming out" as illegal like Vargas.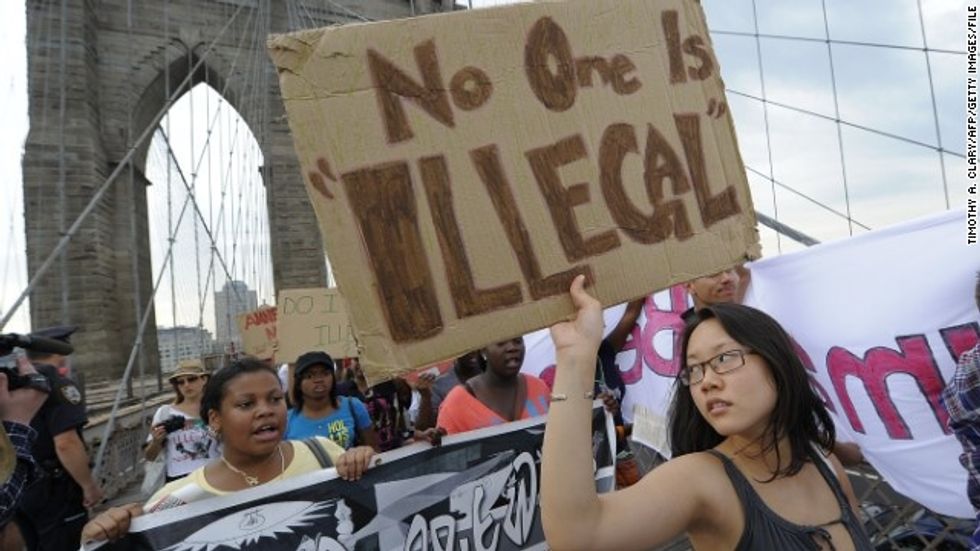 Image via CNN.com
Studies have found that undocumented immigrants—especially those of Latinx descent—are especially at risk of mental health disorders due to the unique combination of trauma and secrecy that often plagues their journeys to the United States. As Warsan Shire writes in her stunning poem Home, "how do the words / the dirty looks / roll off your backs / maybe because the blow is softer / than a limb torn off." Although living in an America that calls them "illegal" is preferable to remaining in their native countries, many migrants have written about the psychological impacts of living in constant fear, and of being "found out" on American soil.

Bigotry and xenophobia may be better alternatives than the violence that many migrants faced at home, but defining groups of people as "illegal" is a convenient way to strip human beings of their humanity, the very thing that lies at the heart of the United Nations' Declaration of Human Rights. Peoples who are in flux are especially at risk of getting lost, as official laws refuse to help them; outside of the light of official regulations, people are quite literally disappearing, slipping into the cracks between policy and legal protection.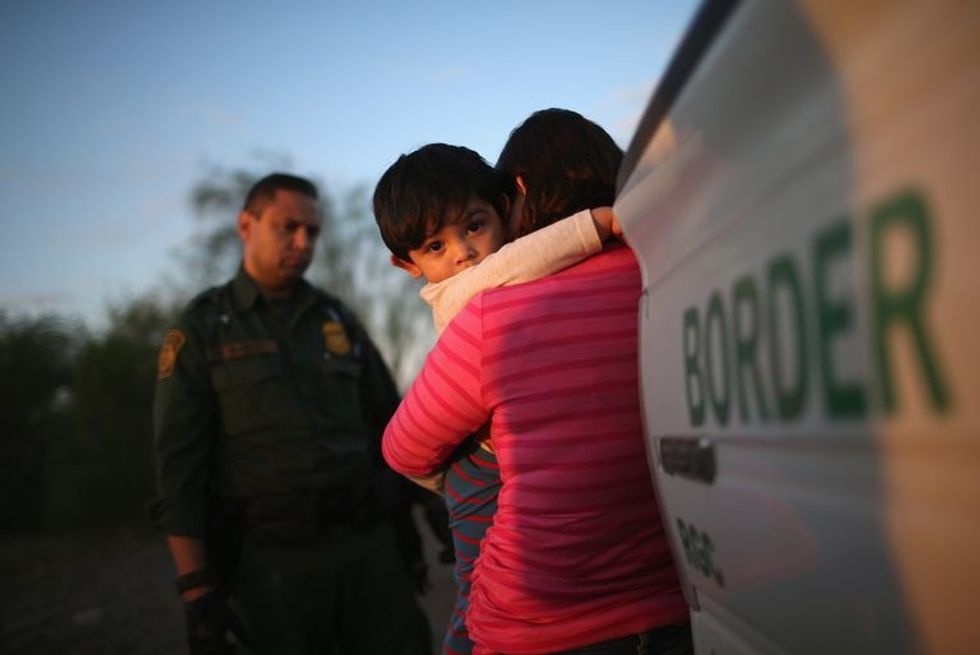 Image via thoughtco.com
Keeping people in the subterranean realms of the criminal justice system or beneath the umbrella term of "illegal," is the result of a cycle that relies on many elements that work to perpetuate it. Xenophobia is one of the important steps that keep this cycle in place. A pervasive distrust of foreigners is a way of creating divisions and continuing cycles of disadvantage. Human rights abuses happen when human beings become faceless, anonymous, and stripped of recognition and legal protection. Rejecting and silencing people because they are so-called "illegal" even if it is not consciously spoken, is a way of selectively subjugating certain voices.
Of course, America has never been open to all migrants. This nation has a history of drawing non-white migrants to it when it needed labor—such as with the Chinese in California during the building of the railroads in the 19th century—and sending them home via acts like the Chinese Exclusion Act once the work was completed. This nation has a history of silencing certain groups, making it so they have no chance to even take a crack at the American dream.
Everyone is allowed to use language to express their beliefs—that's one foundational premise of the American experiment that everyone can agree on (though of course in practice it gets more complicated). Language is always political, and the word "illegal" carries powerful implications that it should at least be understood, not thrown around as an abstract umbrella term.
---
Eden Arielle Gordon is a writer and musician from New York City. Follow her on Twitter at @edenarielmusic.