We've all been there. You were gifted a dumb present that you'll never in a million-zillion years ever use and you're too polite to tell anyone any differently. It sits at the bottom of your drawer for months, then years. And when you finally feel like enough time has passed, you can throw it out in good conscience.
A return is almost always out of the question. Plus, gift givers don't often include a return receipt, and we all know we wouldn't dare ask for one. I'd rather admit to a crime than confess I don't like a gift - how insulting to the gifter's sense of aesthetics.
And-hey, I have limited drawer space. Who can keep these unwanted gifts for six months when there isn't any space for them? I hate clutter, and unwanted gifts are just that.
This year, I am making an effort to swiftly remove any unwanted gifts from my house without hurting anyone's feelings…and potentially benefiting others. As the old saying goes, one man's trash is another man's treasure. And thank goodness for that.
From the The Guardian:
"According to research published this week by the consumer body, one in four people (24%) received an unwanted or unsuitable gift for the Christmas of 2021. Meanwhile, a separate study by the personal finance comparison site Finder said £1.2bn was wasted on unwanted Christmas gifts each year."
Come to terms with the fact that you will never use that gift and follow these quick tips to offload those unwanted gifts:
Donate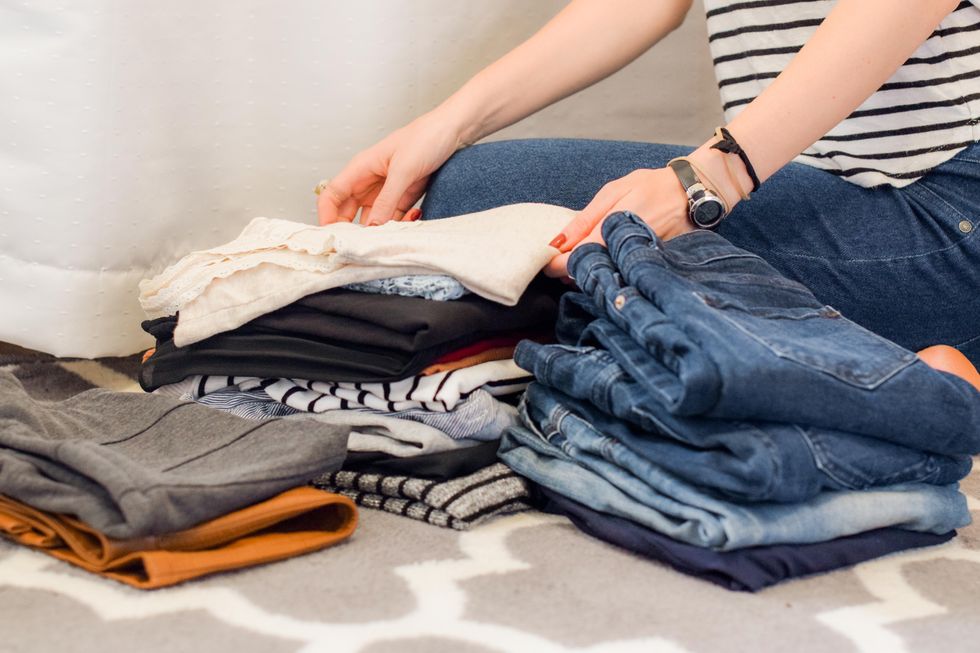 Sarah Brown via Unsplash
The most obvious choice for those unwanted pairs of mud-green sweat socks and that same fluffy robe you get every year from your Aunt Judy is to donate them. Just round up everything you don't want and Google the donation center closest to you.
This is also a fantastic excuse to purge your closet of that pile of stuff you've been meaning to get rid of. A few bags of give-away-clothes will get your spring cleaning out of the way early.
Sell Them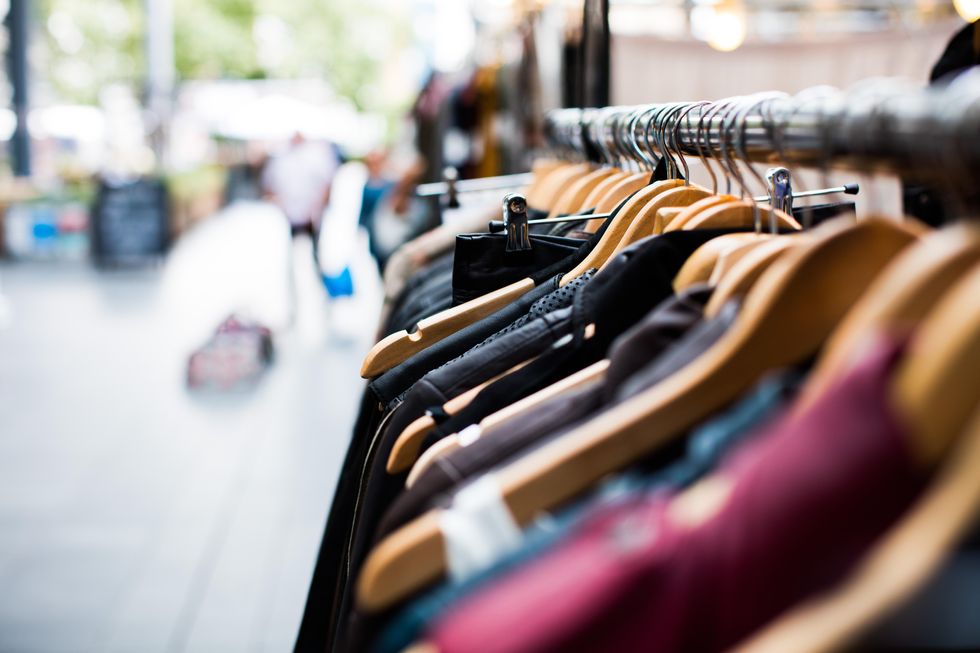 Artificial Photography via Unsplash
Resale websites are all the rage right now. If you got a pair of pants that don't fit or a sweater that isn't your style, resell them on a website dedicated to just that. Sites like Poshmark, Mercari, and DePop are known for selling those trendy pieces of clothing you barely used.
Thrifting has never been hotter. Hop on the trend while people are constantly perusing sites for the hottest deal. Then reward yourself for being so virtuous, by dropping the cash on some fabulous things you'll actually wear!
Re-Gift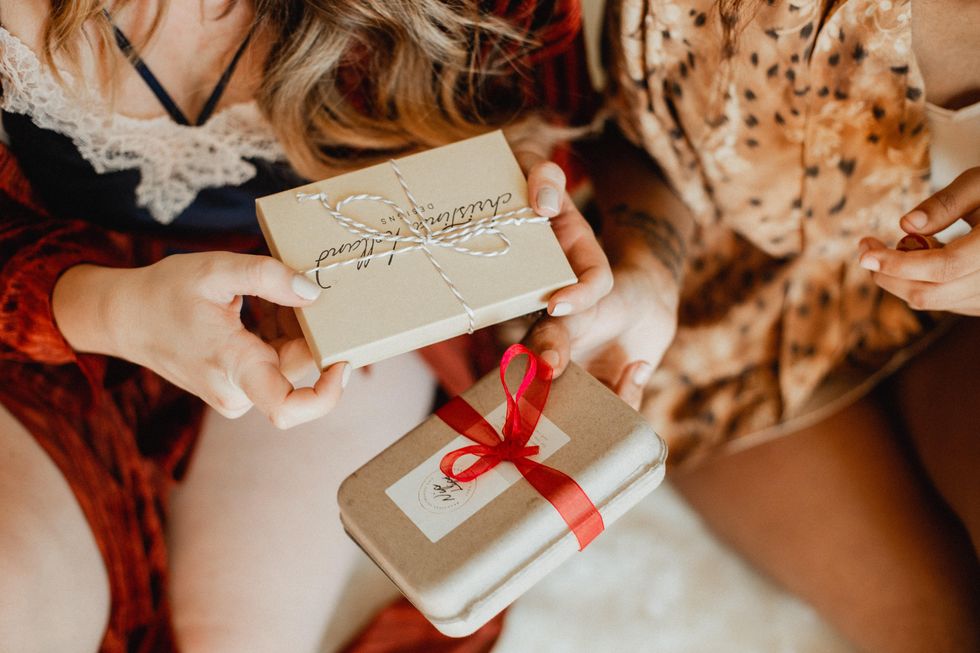 Jackie S via Unsplash
If you got something that you think one of your friends or family can benefit from, why not give it to them? There's no shame in revealing that it was a gift and you don't want it anymore…as long as you aren't re-gifting to the person who gave it to you!
Or, keep the gifts to re-gift at a later date. You never know when you're going to need a last minute gift. You'll thank yourself later.
Attempt a Return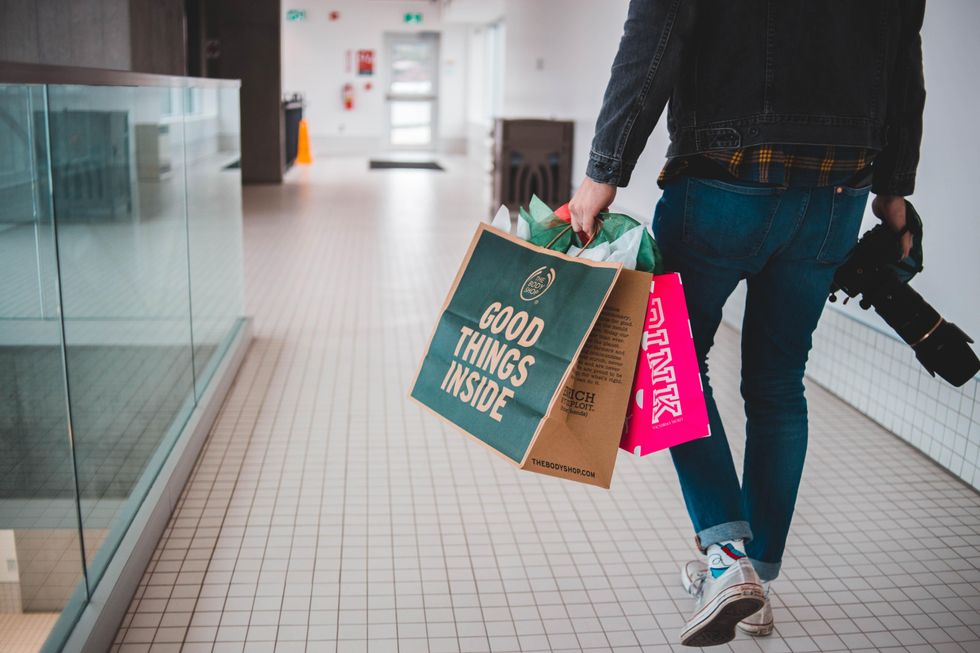 Erik McLean via Unsplash
If your item still has a tag, you can make a valiant effort to return to the store. If you can make your case, many stores won't want to fight you on it. They may be forgiving and grant you store credit at the very least.
Dennis Hof won his bid for Nevada Assembly District 36 last night, despite having died three weeks ago.
Midterm elections are often considered a referendum on a sitting administration's progress—a collective report card graded by the people. Early numbers from this year's elections suggest a substantial and possibly record increase in voter turnout, which has been historically low in non-presidential voting years. It's not surprising, given the turbulent political climate, that candidates from both parties continued to campaign at full speed up until the final hours. Yet despite an election cycle that saw blatantly racist attack ads, felony accusations, and threats of violence, the one surefire road to victory has been apparent for years: death.
Outlandish as it may seem, at least nine dead people have been elected to public office since 1962—six in the last 20 years alone. The latest, Dennis Hof, whose body was discovered last month after the legal brothel owner had celebrated at a campaign-and-birthday party, claimed victory in Nevada last night. Prior to his death, the 72-year-old had been celebrating with friends Heidi Fleiss, Ron Jeremy, and Joe Arpaio.
Ballots Beyond the Grave: Deceased People Who Have Won Elections
Rep. Clement Miller (CA, 1962; airplane accident)

Reps. Nick Begich (AK) and Hale Boggs (LA, 1972; airplane accident)

Gov. Mel Carnahan (MO, 2000; plane crash)

Rep. Patsy Mink (HI, 2002; viral pneumonia)

Sen. James Rhoades (PENN, 2008; car accident)

Sen. Jenny Oropeza (CA, 2010; cancer)

Sen. Mario Gallegos (TX, 2012; liver disease)

Dennis Hof (NV, 2018; cause of death not yet reported)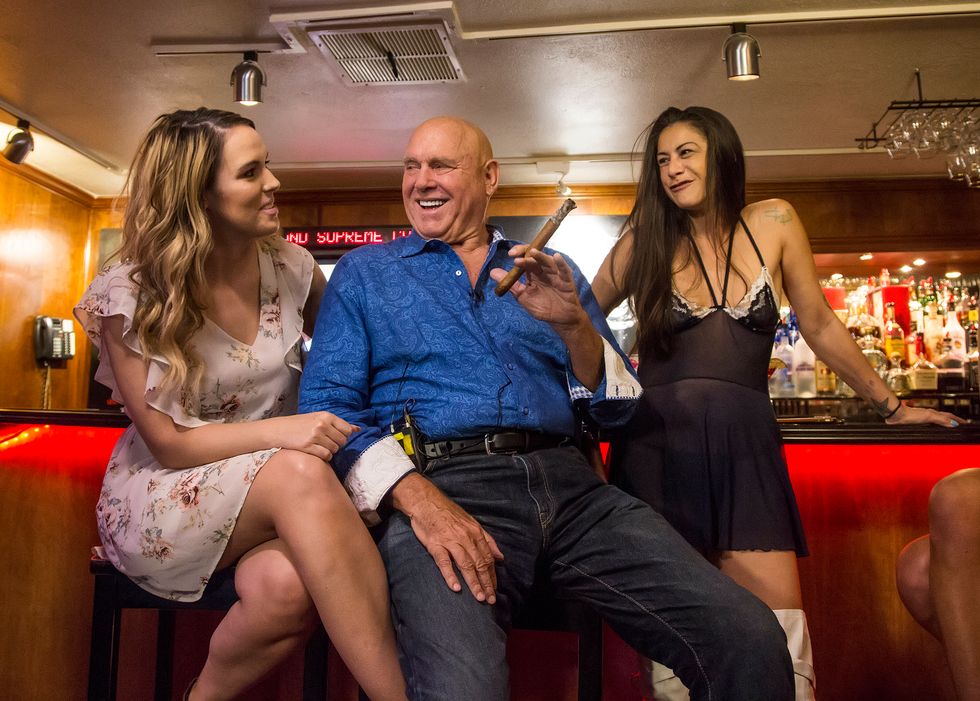 The Nevada Independent
Hof ran for office as a self-proclaimed "Trump Republican" and stated that the president's 2016 win ignited his own desire for a career in politics. Similarities between the two run deep. Hof gained fame as a reality star on the long-running HBO documentary series Cathouse, which captured life at the Moonlite Bunny Ranch, one of several legal brothels owned and operated by Hof. In 2015, he published a memoir titled "The Art of the Pimp," a clear homage to Trump's "The Art of the Deal." In it, Hof included a psychological profile by psychotherapist Dr. Sheenah Hankin, which categorizes Hof as a narcissist who abused the sex workers he employed.
Among the issues he championed were immigration reform, a repeal of Nevada's 2015 Commerce Tax, and a campus carry law that would allow concealed-carry permit holders to bring their weapons onto Nevada college and university campuses. He was endorsed by Roger Stone and Grover Norquist. In the 2018 primary elections, Hof beat incumbent James Oscarson by a mere 432 votes. Because he died within 60 days of the upcoming election, Hof remained on the ballot, though signs were posted at polling sites notifying voters of his death.
It seems as though these issues matter more than electing a living person to citizens of the 36th Assembly District. In fact, a 2013 study by Vanderbilt University found that, in lower-level elections, voters are most likely to elect the candidate with the highest name recognition.
The 36th Assembly District, which spans Clark, Lincoln, and Nye counties, has long been a GOP stronghold. Hof defeated Democrat Lesia Romanov, a first-time (living, breathing) candidate and lifetime educator who works as assistant principal of an elementary school for at-risk children. Romanov was impelled to run for office by a desire for common-sense gun reform following the mass shooting in Parkland, Florida. Yet, too many of her constituents, upon discovering she was running against Hof, she became a de facto advocate for women, including "survivors of sex trafficking and exploited and abused brothel workers," according to NBC News. Romanov was among many women running for office in hopes of making Nevada's legislature the first to hold a female majority in the country.
As The Washington Post reported in 2014, there hasn't been an election with a dead person on the ballot in which the dead person lost. It's hard to determine what's more damning for American democracy: that voters are so divided that they're more likely to vote for a dead person than cross party lines or that they've been voting that way for years. At the same time, one might argue that giving Hof's seat to a living Republican (as appointed by county officials, according to state law) is a better outcome than if it'd gone to Hof himself, considering his history of sexual abuse allegations. The most preposterous indictment of the American political system is that although deceased candidates have been elected before, now the electorate could seemingly ask itself—in all seriousness—whether a dead serial abuser makes a better candidate than a living one. And no one seems to know the answer.
Transgender rights are human rights.
While the media is focused on which party will serve as the majority in the House and Senate after the midterm elections, voters in 37 states also have the opportunity to vote on more than 150 statewide measures. Important issues like marijuana, voting rights, fracking, abortion rights, and trans rights, are all on the table this election.
One of the most vital midterms measures is Massachusetts' question 3, a measure that could repeal the state's landmark 2016 transgender rights law. The law was an important milestone in the battle for much-needed protections for the transgender community, ensuring individuals could use public restrooms and locker rooms according to their gender identity, and generally exist in public spaces without fear of discrimination. It was passed with almost 90% support in the state senate and over 75% support in the Massachusetts House of Representatives, signed into law by Republican Gov. Charlie Baker, and widely celebrated by a large range of LGBTQ+ business and civil rights groups, as well as New England's five major sports teams.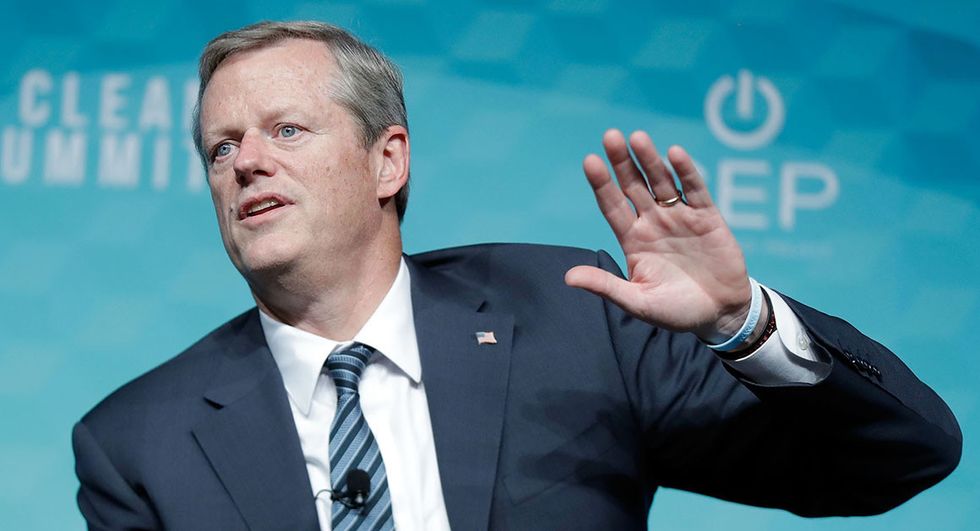 Governor Charlie BakerPolitico
The initiative to repeal this law is not the result of a movement by the people of MA, but rather the consequence of concerted efforts by a small, right-wing, Christian organization called the Massachusetts Family Institute and their allied organization Keep MA Safe. These critics say the law is "ripe for abuse," and could be taken advantage of by sex offenders entering women's bathrooms and dressing rooms with the aim of assaulting and harassing women and children. Debby Dugan, the chairwoman of Keep MA Safe, wrote in a Boston Globe piece last month that, "The way this law is written, an attempt to block someone who self-identifies as belonging in a women's locker room, dressing room, or bathroom — including convicted sex offenders — could result in penalties of up to a year in prison, and fines of up to $50,000 for multiple offenses."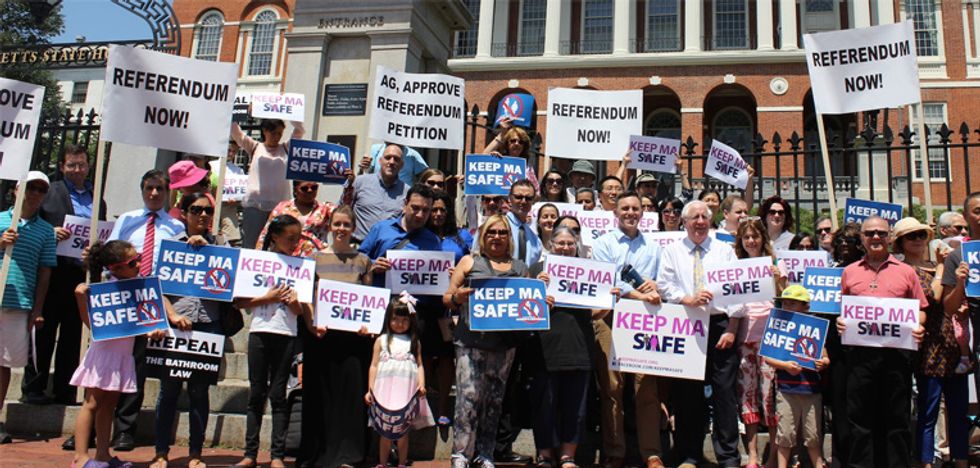 Nation Builder
The law was written with the expectation of this argument from the opposition, and includes a provision by directing Attorney General Maura Healey, who wrote that if, "an employee of a public accommodation has reasonable grounds to believe that a person, regardless of gender identity, is engaged in improper or unlawful conduct, they should do whatever they would normally do to address the situation, including asking the patron to leave or calling security or law enforcement." This means a person will not be legally liable for discrimination if they intervene in a suspected sexual assault, as long as they had reasonable cause to believe intervention was necessary.
Despite this, critics tend to frame the conversation as though the law protects offenders from legal consequences. But as Justice Healey wrote, "This new law does not provide any protections for someone who engages in improper or unlawful conduct, whether in a sex-segregated facility or elsewhere, nor does it provide a defense to criminal charges brought against someone engaged in unlawful conduct." Also, as many supporters of the law have pointed out, if someone had the intention of doing something unlawful in a public restroom, it is unlikely they would be deterred by gendered bathrooms in the first place.
It's difficult to believe that the people behind Keep MA Safe are actually concerned about the safety of Americans, given the lack of evidence that there is any correlation between assaults and trans rights laws, and the ample evidence that the trans community is constantly at risk of violence and harassment. The sex offender centered argument is a thinly veiled excuse for bigotry, as assault and harassment, regardless of the spaces they occur in, are illegal in the state of Massachusetts, and this law does nothing to change that. Additionally, the anti-discrimination law has been endorsed by the Massachusetts Chiefs of Police Association and the Massachusetts Coalition Against Sexual Assault and Domestic Violence.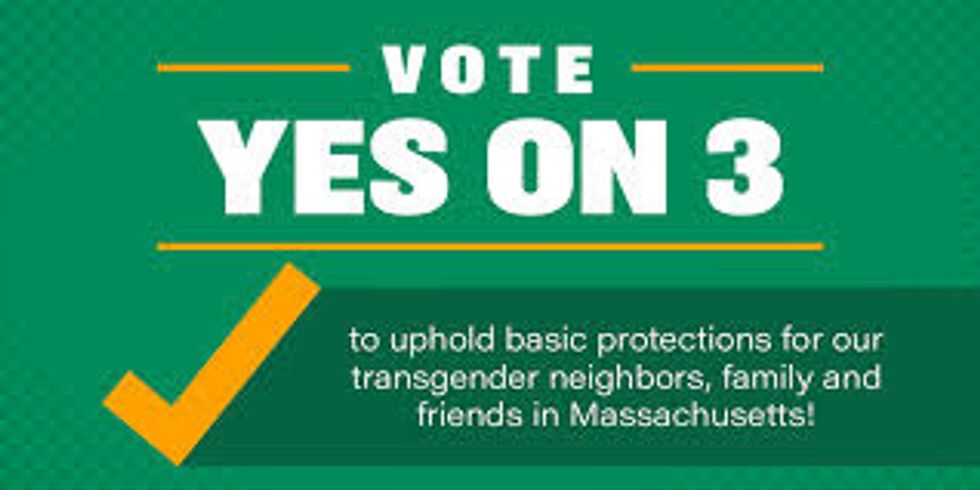 Healey's office noted that in the 18 other states with transgender anti-discrimination laws, reports of "improper assertion[s] of gender identity have been exceedingly rare." In June, Rep. Joe Kennedy III told Boston.com that there is "not one single incident that they can point to of any sort of assault or danger that's taken place as a result [of the law]". Researchers at the Williams Institute — a think tank at the UCLA School of Law that focuses on sexual orientation and gender identity law — backed up Kennedy's assertions, announcing that they found no correlation between the passage of the 2016 law in Massachusetts and any change in the "number or frequency of criminal incidents in restrooms, locker rooms or changing rooms."
According to Logan Nelson, a transgender Massachusetts resident, the assertion that sex offenders may pretend to be transgender is absurd. "All I want to do is f*cking pee. The claim that sex offenders will pretend to be transgender is just wildly offensive and inaccurate. You can't 'pretend' to be transgender. Wearing different clothing doesn't make you transgender. The whole thing is essentially just an attack and there has been no aggression from the trans community that warrants this. All it is, is a hate infused attack. And of course, trans women of color already have the highest mortality rate in the trans community, so this is forcing them even further into extinction."
While it is clear that the law does not offer any protection for sexual assailants or others who would seek to act unlawfully, it does offer vital protections for Transgender individuals. The National Center for Transgender Equality reports that "more than one in four trans people has faced a bias-driven assault, and rates are higher for trans women and trans people of color." Additionally, the Human Rights Campaign has reported 22 deaths due to fatal violence against transgender people in 2018 so far, most recently the death of Ciara Minaj Carter Frazier on Oct. 3. Despite these harrowing statistics, the Trump administration has made discrimination against the transgender community a part of their agenda, aiming to define gender based on anatomy at birth and exclude non-cisgender individuals from legal protections.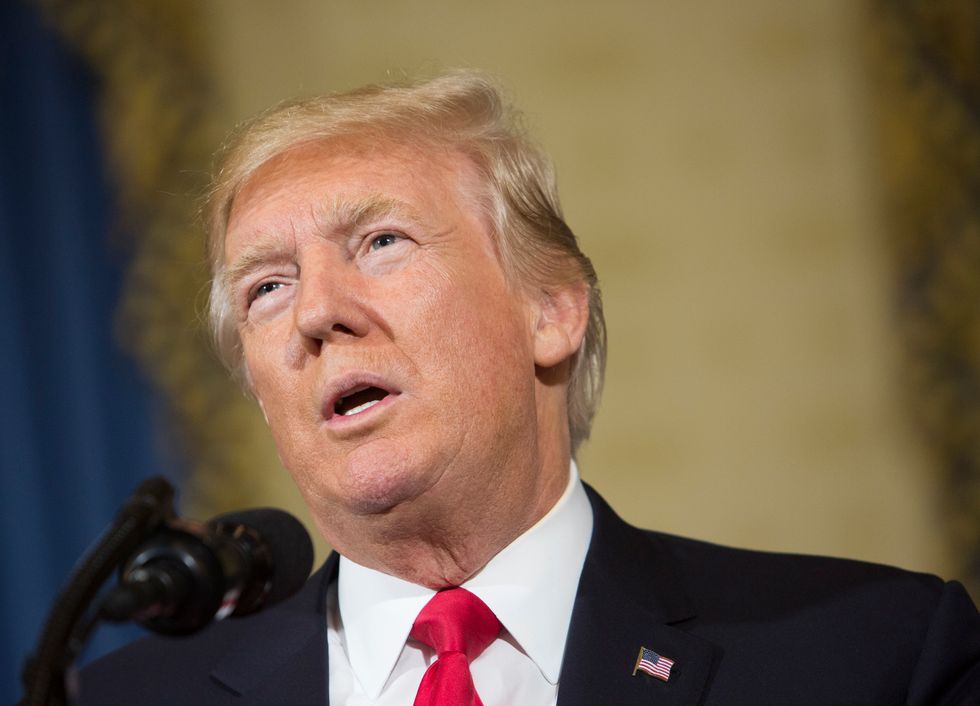 Fortune
In part because of Trump's harmful rhetoric, even if Massachusetts voters vote to keep the law, there is much work to be done in terms of providing transgender individuals with the rights and protection they deserve. As Mr. Nelson went on to say, "I'm not gonna stop using the bathroom. You know, cause I'm a human being who has to shit sometimes. And even without question 3, I still feel unsafe in bathrooms. I always have. Part of the trans experience is not having your rights respected or heard until they're in question. I have always felt unsafe and I will continue to. All this Question 3 stuff does is highlight the fact that Americans don't want transgender people to exist, that there are so few of us that the 'majority' (cisgender women and girls, men) matter more, and that there is zero education and cultural competency training in regard to gender in politics, the education system, and in popular culture."
While there is alway more work to be done in protecting trans Americans from systemic discrimination and violence, the outcome of Massachusetts vote on question 3 will have heavy implications for the rest of the country. If the referendum is successful in repealing the law — an unprecedented outcome in measures of this nature — supporters say a dangerous precedent could be set for other, less-liberal states where laws against discrimination on the basis of gender identity have been passed. In an America where division is actively encouraged by the President, it is important now more than ever to safeguard the legal protections of at risk communities. While we urge Massachusetts voters to vote "yes" on question 3, it's equally important for all Americans to continue to work to be better allies to the entire LBGTQ+ community.
Brooke Ivey Johnson is a Brooklyn based writer, playwright, and human woman. To read more of her work visit her blog or follow her twitter @BrookeIJohnson.
The President vilifies immigrants as the midterms approach.
On Thursday Nov. 1st, President Trump released a political ad that accused Democrats of plotting to help murderers and criminals invade the country.
The ad is a flagrantly manipulative and fear mongering move, a new low in Trump's inflammatory closing argument of the GOP's midterm campaign.
It is outrageous what the Democrats are doing to our Country. Vote Republican now! https://t.co/0pWiwCHGbh https://t.co/2crea9HF7G

— Donald J. Trump (@Donald J. Trump) 1541017087.0
The video — produced by Trump's campaign — features Luis Bracamontes, a Mexican immigrant who returned to the United States after being deported, and was then convicted of killing two California deputies. Bracamontes is shown with a chilling smile, saying, "I'm going to kill more cops soon," meanwhile, a caption flashes across the screen that reads "Democrats let him into our country. Democrats let him stay." The video then goes on to show footage of people crossing the border as menacing music plays. The screen then reads, "Who else would Democrats let in?" The spot is not only a clear attempt at sowing fear, but also rife with misinformation, as Bracamontes was actually originally deported by a democrat, Bill Clinton, and let back in by a Republican, George W. Bush.

After posting the video, Trump told reporters he would deploy 15,000 troops to the southern border to repel a caravan of central American immigrants, which is still hundreds of miles away. He also suggested that these troops could fire on the migrant caravan if rocks or stones were thrown, a claim that contradicts Official Department of Defense regulations, which state, "deadly force is justified only when there is a reasonable belief that the subject of such force poses an imminent threat of death or serious bodily harm to a person." Additionally, Trump repeatedly implied to reporters that there are Middle Eastern individuals hiding amongst the caravan, but later said, "There's no proof of anything. There's no proof of anything. But there could very well be."
In the wake of all of this troubling rhetoric surrounding immigration, Trump claimed Thursday that he would sign an executive order "next week" aimed at limiting immigrants ability to seek asylum in the United States. These developments come on the heels of Trump's recent assertion that he aims to repeal the 14th amendment, which automatically grants citizenship to children born in the United States.

This recent rise in anti-immigration rhetoric is yet another example of the President's willingness to exploit racial divides to falsely inflate his power and the cause of the Republican midterm campaign. It's clear that the Trump administration has chosen to scapegoat and villify central American immigrants in an attempt to counteract
rising enthusiasm
about democratic candidates in the midterm elections. The question is, will voters succumb to Trump's scare tactics, or see it as the manipulative and divisive rhetoric that it is?
Brooke Ivey Johnson is a Brooklyn based writer, playwright, and human woman. To read more of her work visit her blog or follow her twitter @BrookeIJohnson.