If they were actually generous, they wouldn't be billionaires.
Don't you love to see a story about someone giving back?
Not every wealthy person is a miser. Some of the richest people on Earth recognize how lucky they are and choose to share the wealth.
Just look at Amazon's Jeffy B.—or Jeff Bezos, as his friend's call him—who recently donated $100 million to food banks to help America get through the coronavirus. Wowie! So much money, and he's just giving it away!
It's a lot more than you and I and several large families put together will ever give to charity, because it's more than we are likely to earn in our entire lifetimes! It's more money than you could fit in the trunk of your car in stacks of $100 bills!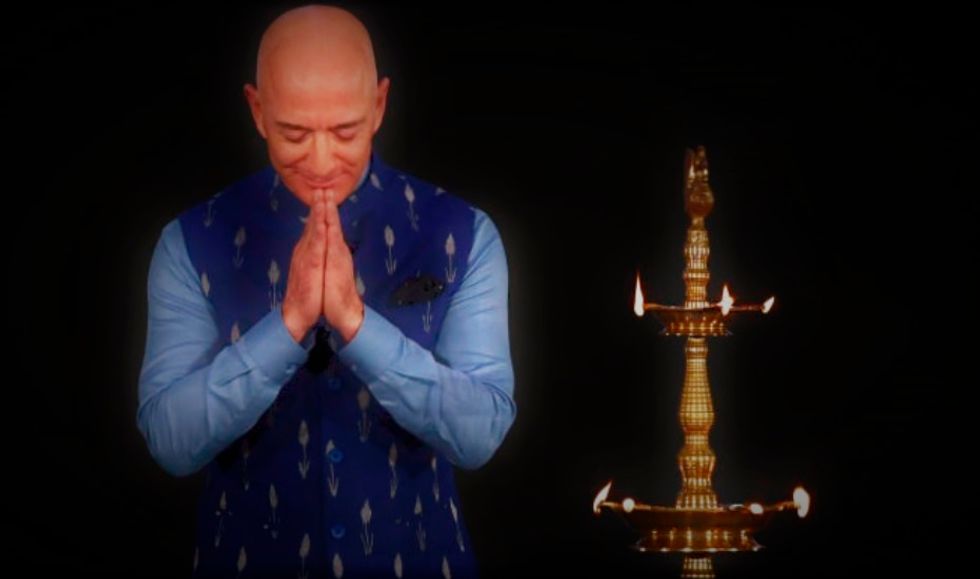 If you had that much money in a basic savings account, you and me and those several families could easily live off the interest alone! Actually, it's kind of more money than any one person could ever need or even spend on anything normal.
Sure, if you want to travel the world on a yacht, eating meals off the shaved heads of a series of world leaders, you could spend it all pretty easily. But if you just want to have a happy, comfortable life, $100 million isn't much better than an $80,000 salary.
So why don't people like Bill Gates, Jeffy B., Warren Buffett, Michael Bloomberg, Elon Musk, Charles Koch, or any of the Walmart Waltons just give away their riches and go down in history as the person who ended world hunger? At an estimated cost of $30 billion a year, each of them could feed the world's hungry for between one and five years. Or they could end homelessness in America for between two and eight years.

They could even keep a few hundred million so they could continue hunting supermodels for sport. And imagine how much those millions of people could improve their lives if they weren't constantly struggling to feed themselves or find a place to sleep.
It must not be that simple... Because if private greed was the only thing holding back transformational change, governments could have snatched up all that wealth with some steep taxes and made the world a better place. There has to be some reasonable explanation for why these people don't just give it all away…
In this series we will look at a number of prominent myths around philanthropy, including the notions that billionaires' "wealth" is substantially different than money, that their private foundations do a lot of good, and that they are patrons of the arts.
Previously we debunked the idea that charity is better than "government handouts," but today we'll look at the question of whether it's even possible for a billionaire to be generous.
The Myth:
The billionaires must know something we don't about these issues, because they're clearly smart, and would solve them if it was that easy. Just look at how much they give away! They aren't being stingy!
Why It's Wrong:
They absolutely are being stingy.
Let's look back at that $100 million donation from Jeff Bezos. At an estimated net worth of $165 billion—even after his mega-billion-dollar divorce—that "generous" sum constitutes about 0.06% of his wealth. To put that in perspective, if you had a $15,000 car, another $1,500 sitting in a bank account, and you had zero debt (lucky you), this would be the equivalent of giving $10 to charity.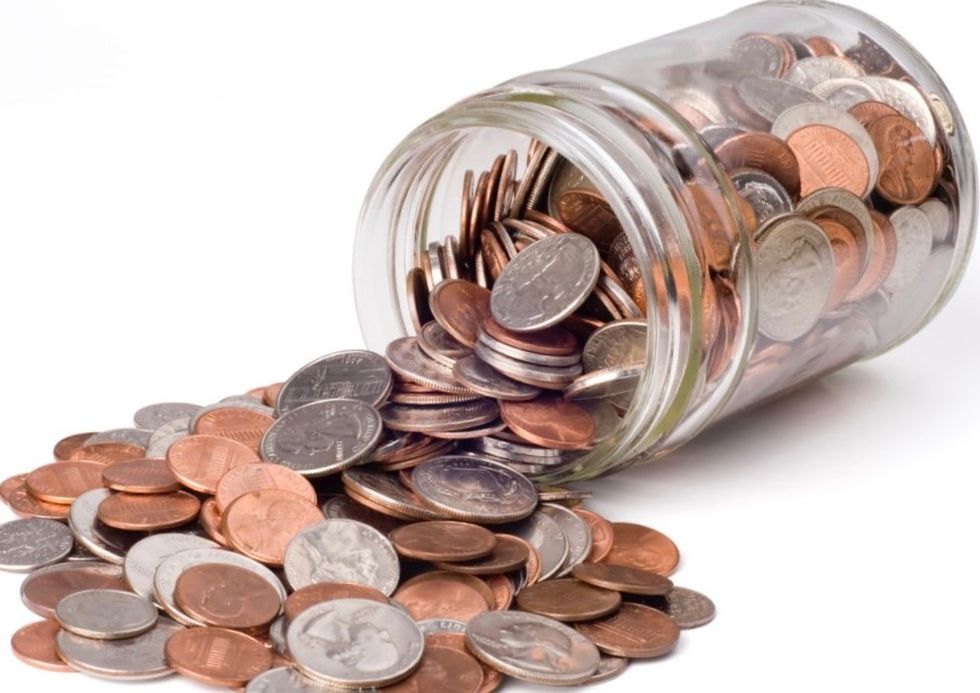 Why didn't CNN cover your swear jar donation?
It's nice and all, but it's hardly worthy of a flock of journalists rushing to tell the world about your incredible selflessness. And actually, it's much worse than that—because if you lost 99% of what you had, you'd be flat broke. If Jeff Bezos did the same, he'd still have more money than the 10 richest a**holes you've ever met.

Likewise, Bill Gates, Warren Buffett, and other "good" billionaires who have pledged to give away half of their wealth somehow still seem to get richer every year. They give away a tidy sum here and there to earn some fawning PR, all while their investments in companies that underpay their workers and destroy the environment earn them way more money than they hand out.
Everyone knows that large sums of money in a stable economic environment can easily be grown—as Uncle Phil put it on Fresh Prince, "my money makes money." But when your inordinate stacks make you further stacks on stacks on stacks, giving money away in dribs and drabs like this is entirely meaningless.
It may help some people, but it doesn't cost you anything you will even notice. It's like having a hole in your pocket that occasionally drops a few dimes on the street. Whoever is on the receiving end might appreciate those dimes, but you will literally never notice they're gone.
Billionaire Taxes
To see through the myth of billionaire generosity, you just need to look at how they reacted when they were worried that their vast fortunes might actually become appreciably less vast.
Last fall, when Elizabeth Warren looked like a contender for the Democratic nomination for president, she boosted her proposed tax on wealth over a billion dollars from 3% to 6%, and that was a bridge too far for Bill Gates who said, "I'm all for super-progressive tax systems," he said:
"I've paid over $10 bilion in taxes. I've paid more than anyone in taxes. If I had to pay $20 billion, it's fine. But when you say I should pay $100 billion, then I'm starting to do a little math about what I have left over … you really want the incentive system to be there and you can go a long ways without threatening that."
Elizabeth Warren tweets an open invitation to Bill Gates to discuss her wealth tax www.youtube.com
To clarify Warren's plan, wealth between $50 million and $1 billion would only be taxed at a 2% rate—barely touching that first billion dollars. At the time, Bill Gates was worth $106 billion. He's gotten richer since then (because that's what billionaires do...even in 2020) and is now estimated to have just shy of $110 billion. If he'd been taxed at Warren's proposed rate, he'd now be down to about $103 billion (poor guy).

Considering the stock market grows an average of around 7% each year, he could pay that 6% tax and still rake in about $1 billion each year with some basic investments. That's enough money to buy about 4400 average American homes...each year...without spending any of your original investment...
If all these numbers are starting to hurt your head, that's because you don't have the brain disease that billionaires suffer from. It's how they got to where they are. All they think about is their money—how they can use it, and how they can make more of it.
Even the ones who support slight increases in their taxes just want to quell the masses and obscure the fact that they are all ripping us off. It's the same motivation that leads them to give away some money here and there—it makes them look like good guys, and it soothes their neglected, battered consciences.
The less cautious among them aren't even interested in going that far. Michael Bloomberg spent over $1 billion not on charity but on trying to buy the Democratic nomination because if Sanders or Warren had gotten elected it would have cost him several billion dollars each year. What's the cost of his public humiliation on a national stage compared to that.
The Ultra-Wealthy Rule Over Us
These people aren't satisfied simply with having more money than anyone could reasonably spend in a hundred lifetimes. They always want more, because more money is more power; power to sway politics to their singular will, manipulate the media, and to be the absolute arbiter of which causes are "worthy," and which will continue to be underfunded and ignored.
That "incentive system" that Gates mentioned has nothing to do with quality of life at the billionaire level. Working hard to earn more money doesn't change how these people eat, where they live, how their children are educated, how often they go to the doctor…
If we taxed wealth over $1 billion at 100%—just took it all away—food banks could just have that $100 million on hand without waiting for a billionaire to be in a good mood, and Jeff Bezos' actual quality of life would be unchanged. He'd still have his last billion dollars to spend on daily baths in endangered animal parts. Yet he clings to his insane level of wealth because it allows him to be an oligarch, and to be worshipped for his generosity (without ever losing a cent).
"Generosity" for billionaires has nothing to do with how much they want to help. It's based entirely on how much they want to be praised.
I'm moving $1B of my Square equity (~28% of my wealth) to #startsmall LLC to fund global COVID-19 relief. After we… https://t.co/TtdU7W4SWk

— jack (@jack) 1586289859.0
There are possible exceptions of course. Twitter CEO Jack Dorsey recently "donated" $1 billion to COVID-19 relief—which is almost 28% of his net worth. So if he does that a couple more times he won't even be a billionaire anymore… except that he "donated" that money to Start Small Fund—his private, "donor-advised" LLC that doesn't have to disclose its financials.

Surely though, this sort of private "charitable" foundations must do a lot of good for the world, right? We'll take a look at that myth in our third installment.
With Donald Trump preparing to crack down on social media, Mark Zuckerberg is echoing Trump's sentiments
Last week two of Donald Trump's tweets attacking mail-in voting were flagged by Twitter as inaccurate, with a link to clarifying information.
Predictably, President Trump did not take the note well and is now preparing to sign an executive order with the purpose of cracking down on social media companies. In a move that strikes at the very foundation of the Internet, the new order will seek to give the federal government authority over how these platforms moderate user content.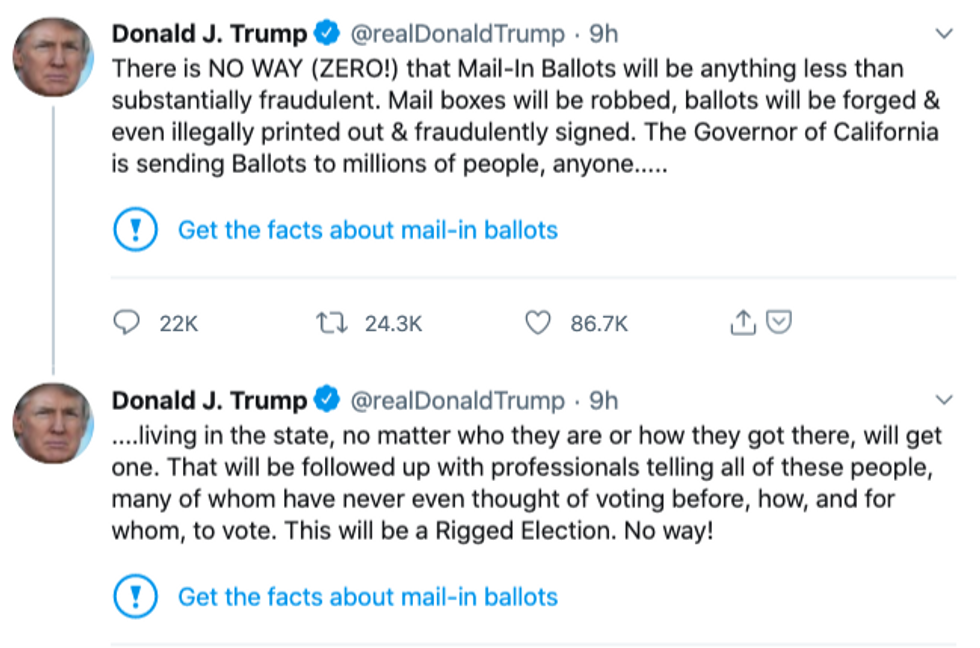 The idea is that Internet platforms receive broad immunity from government regulation with the assumption they are acting in good faith and not attempting to enforce a particular ideology. So if the Trump administration claims—as they have in a draft of the new order—that social media companies are "invoking inconsistent, irrational, and groundless justifications to censor or otherwise punish Americans' speech," then they can justify stepping in to interfere.

Trump has even suggested that he may use his authority to shut down social media platforms like Twitter. It remains to be seen how far reaching this petty retaliation will actually be, or how much Twitter really needs to fear President Trump's latest tantrum, but that hasn't stopped Facebook CEO Mark Zuckerberg from trying to set his company apart as the "free expression" platform that doesn't need government controls because it won't interfere with Trump and his ilk saying whatever they want. As he put it in an interview with CNBC's Andrew Ross Sorkin, "Compared to some of the other companies, we try to be more on the side of giving people a voice and free expression."
It's a nice sentiment if you ignore the fact that it has nothing to do with the topic at hand. It's only relevant in that it echoes some of the language and ideas that the Trump administration and other reactionary figures in American politics have been using to attack anyone who tries to curtail their dishonesty.
Facebook CEO Mark Zuckerberg: Social networks should not fact-check politicians www.youtube.com
Did Twitter's decision to add a link with clarifying information at the bottom of Trump's misleading tweets do anything to limit anyone's free expression? Did it interfere with Zuckerberg's stated principle that "people should be able to see what politicians say?" Of course not, and Zuckerberg's implied suggestion that Twitter is attempting to be an "arbiter of truth" prompted a response from Twitter CEO Jack Dorsey, who defended the company's decision to to "point out incorrect or disputed information about elections." While it's worth critiquing what Twitter gets things wrong in its efforts to regulate the platform, what their action did in this case—and what it was plainly intended to do—was to mitigate the harm of misinformation being spread for the purposes of undermining the electoral process.

But the fact that the whole situation enraged Donald Trump and kick-started his move against social media companies means that it's time for Zuckerberg to prostrate himself and emphasize Facebook's minimal, hands-off approach to fact-checking, noting that his company has "a program where we work with independent fact checkers."
He didn't mention that those "independent" fact-checkers include Check Your Fact, a subsidiary of the reactionary "news" outlet The Daily Caller, which is infamous for platforming biased, misleading, and white-nationalist material. This is emblematic of Facebook's approach to the political scandals it has dealt with since the 2016 election. Zuckerberg has consistently tried to play both sides of the political aisle in a way that is self-serving and incompatible with a genuine fight against disinformation—particularly in an era when Donald Trump is the head of one of those parties.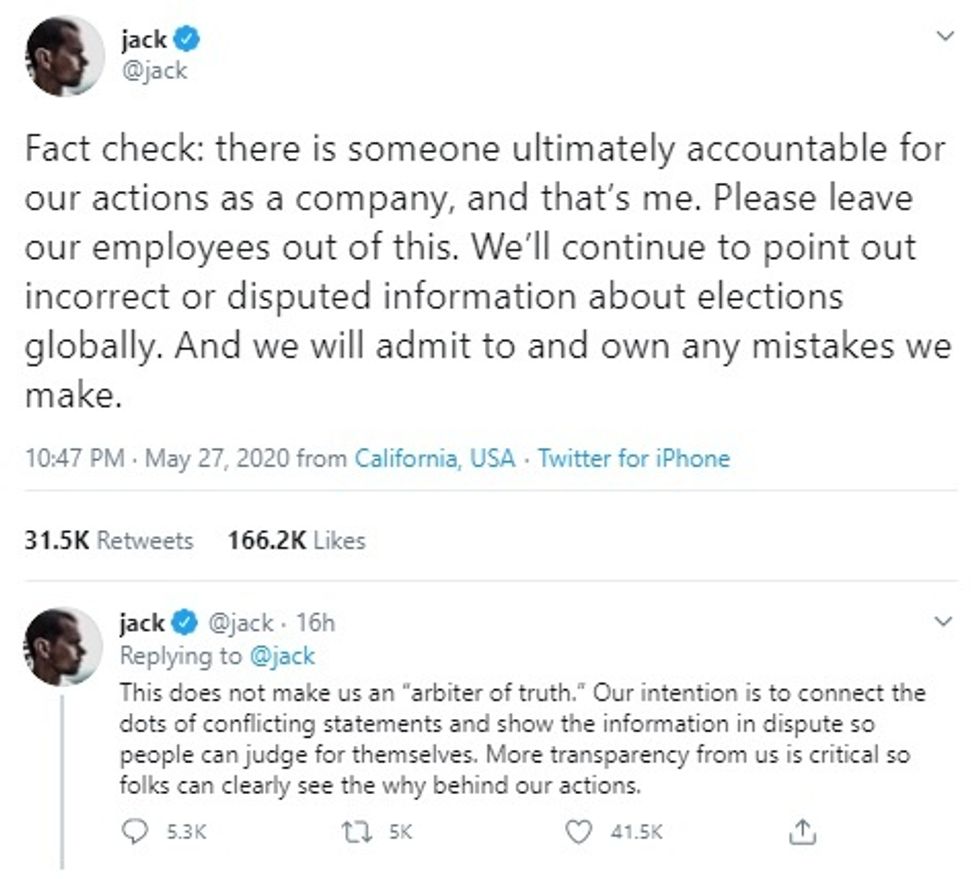 This is in keeping with Zuckerberg's established disinterest in monitoring the deceitful content on his company's website. He prefers to allow lies to exist on Facebook and Instagram—and particularly in political ads on Facebook—and to let "the media" sort it out because, as he put it, "political speech is the most scrutinized speech already, by a lot of the media." This obviously ignores the reality that Facebook and other social media platforms control which aspects of "the media" people are exposed to, favoring what keeps people engaged—which is to say, the most sensational content coming from the perspective they already agree with.

Zuckerberg is resistant to the idea that this algorithmic curation of content makes his company accountable for the dangerous, manipulative, and hateful misinformation that it helps to spread. Instead, he says he wants to focus on only catching "the worst of the worst stuff." While we can blithely hope that this approach can at least prevent another Facebook-incited massacres like the recent genocide in Myanmar, it certainly makes it easy for figures like Donald Trump to skirt the truth.

From Facebook's perspective, however, this is part of the advantage. Along with being far easier and cheaper for them to enforce, it allows them to draw a contrast between themselves and other social media companies so that Donald Trump will direct the brunt of his wrath elsewhere. As long as Republicans remain in power in the federal government, it will be in Mark Zuckerberg's interest to play nice with their lies about Joe Biden and Ukraine and their fear-mongering about the terrifying threat of accessible voting.
So if Trump's new executive order calls out "freedom of expression" and claims that social media companies "hand-pick the speech that Americans may access and convey," then Zuckerberg will respond by selling Facebook as "one of the tech companies that is the most protective of giving people a voice and free expression" with "a special deference to political speech."
As long as it remains within a certain gray area of distortion, it's clearly good for Facebook's business to allow powerful figures like Trump to spread as much dishonesty as they like.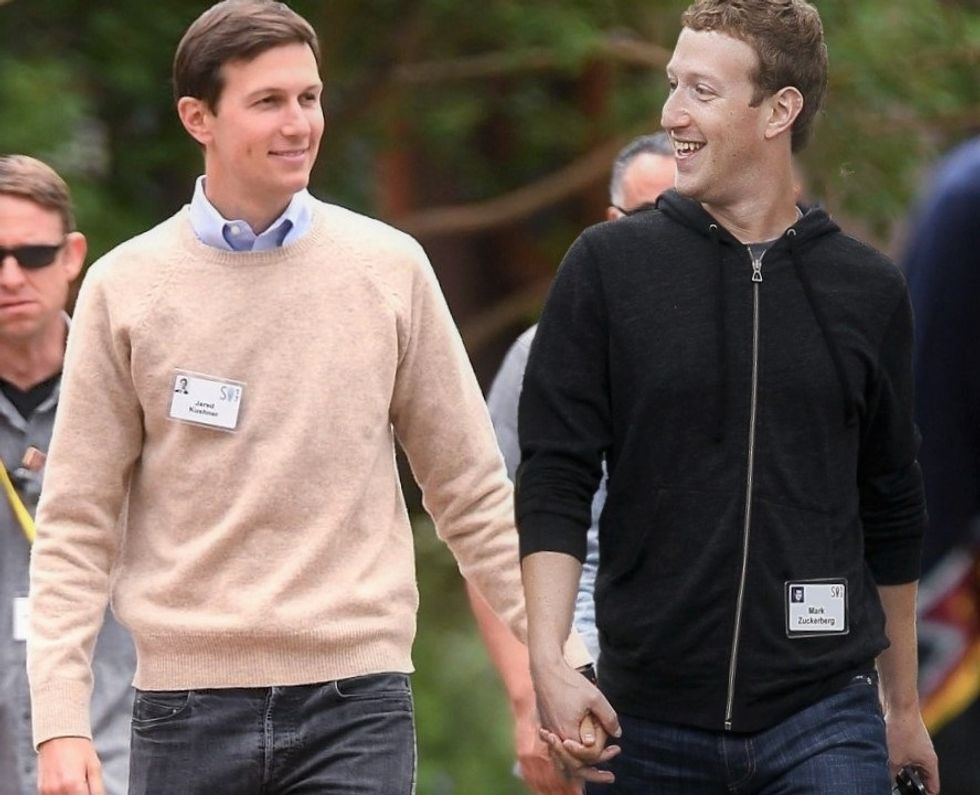 "We are merely exchanging long protein strings. If you can think of a simpler way, I'd like to hear it."Photoshop
Then again, maybe this is all too harsh. Maybe Zuckerberg has a purer motive for wanting to charm the president with this talk. Maybe he senses that—within Trump's inner circle—he has a kindred spirit: someone with dead eyes and waxen skin who could offer him the kind of connection he's been seeking ever since he reinvented digital friendship, someone with whom he could fuse into a single, soulless entity known simply as Jark Kushkerberg. Keep the dream alive, Mark.

Keep reading...
Show less