"A tree is best measured when it is down," the poet Carl Sandburg once observed, "and so it is with people." The recent death of Harry Belafonte at the age of 96 has prompted many assessments of what this pioneering singer-actor-activist accomplished in a long and fruitful life.
Belafonte's career as a ground-breaking entertainer brought him substantial wealth and fame; according to Playbill magazine, "By 1959, he was the highest paid Black entertainer in the industry, appearing in raucously successful engagements in Las Vegas, New York, and Los Angeles." He scored on Broadway, winning a 1954 Tony for Best Featured Actor in a Musical – John Murray Anderson's Almanac. Belafonte was the first Black person to win the prestigious award. A 1960 television special, "Tonight with Belafonte," brought him an Emmy for Outstanding Performance in a Variety or Musical Program or Series, making him the first Black person to win that award. He found equal success in the recording studio, bringing Calypso music to the masses via such hits as "Day-O (The Banana Boat Song)" and "Jamaica Farewell."
Harry Belafonte - Day-O (The Banana Boat Song) (Live)www.youtube.com
Belafonte's blockbuster stardom is all the more remarkable for happening in a world plagued by virulent systemic racism. Though he never stopped performing, by the early 1960s he'd shifted his energies to the nascent Civil Right movement. He was a friend and adviser to the Reverend Doctor Martin Luther King, Jr. and, as the New York Times stated, Belafonte "put up much of the seed money to help start the Student Nonviolent Coordinating Committee and was one of the principal fund-raisers for that organization and Dr. King's Southern Christian Leadership Conference."
The Southern Poverty Law Center notes that "he helped launch one of Mississippi's first voter registration drives and provided funding for the Freedom Riders. His activism extended beyond the U.S. as he fought against apartheid alongside Nelson Mandela and Miriam Makeba, campaigned for Mandela's release from prison, and advocated for famine relief in Africa." And in 1987, he received an appointment to UNICEF as a goodwill ambassador.
Over a career spanning more than seventy years, Belafonte brought joy to millions of people. He also did something that is, perhaps, even greater: he fostered the hope that a better world for all could be created. And, by his example, demonstrated how we might go about bringing that world into existence.
This Could Actually Work...
Petition for the Establishment of the Ronald Reagan Super-Presidency
I think every Rational Person can agree that half of this country has lost its damn mind—and I'm not talking about the Good Half! It's time we forced the Elites in this country—again, not the good ones—to pay their fair share! If they really think that we should raise the top marginal tax rate—which affects everyone equally!—they should prove it by putting their unearned billions of dollars to good use.
By establishing the official, fully-funded position of RONALD REAGAN SUPER PRESIDENCY, Jeff Bezos, Bill Gates, George Soros, and Warren Buffett will be demonstrating a commitment to start being patriotic and working to MATA—Make America Truly Amazing. For only a quarter of a billion dollars each, they can create a new Executive Position that would have some Real, Actual Power in this country—unlike the regular presidency that, a lot of people don't realize, was basically RUINED by Obama, and doesn't let you do anything without a bunch of Very Partisan, Very Crooked judges getting in the way.
With that in mind, the following are the enumerated powers and privileges that the Super-President would wield:
1)The Super-Presidency, Super-President and all Derivatives are always Capitalized, and should actually be in ALL-CAPS as often as possible, because He—not to be sexist, but who are we kidding?—deserves our respect.
2)Upon unanimous selection by everyone on Cable News and the Met Gala guest list—who are generally Snooty Jerks, but will make the right call on this one, because it's Important—the Super-President shall be awarded A BILLION DOLLARS, up-front, no questions asked. Not that he needs it. I mean, even being qualified for this kind of position probably means He's already a Billionaire (but there's obviously no need to look too closely into His finances).
3)He will have his own social-media platform that's like Twitter, but with more Free Speech and fewer Haters. It will be called the Super-President's, Listen Up, Time To E-learn Respectfully—or SPLUTTER for short.
4)Everyone on cable news has to say one flattering thing about the Super-President every day, unless they want to be officially CANCELED, and de-platformed from SPLUTTER, or possibly executed—we'll work out the details later.
5)Once a week, He gets to force someone who's been rude to Him to APOLOGIZE or, again, be de-platformed/executed.
6)Once a month he gets a full Military Parade, with real Hollywood military weapons and vehicles like you see in the movies, and a lot of really Handsome Generals straight from central casting. And also a free tour of Universal Studios.
7)Once a year, His official title will be amended to reflect his achievements. Like, say that Billion Dollar bonus gives him the momentum he needs to quickly become the richest man in the world—as long as a Close Associate vouches over the phone and has a different name (though some overlap in the names is no big deal), we won't need to check too closely—then His official title will be lengthened to THE RONALD REAGAN SUPER-PRESIDENT, _ _ _ _ _ _ _. _ _ _ _ _, THE RICHEST AND THEREFORE SMARTEST MAN IN THE WORLD. And if he wants to replace the part about Reagan with his own name, that's also allowed—it's really just a place-holder.
8)He can have a Second Wife if he wants to, because He's EARNED it—unlike the regular president, who only gets one.
9)Free McDonald's for life, including if he wants to feed like a whole sports team, as long as they aren't Anthem-Kneelers.
10)His own version of the American flag with His name on it, and extra padding for flag-hugs.
11)It's a Lifetime Appointment, so He doesn't need to waste his time on re-elections, and He can never be IMPEACHED OR WITCH-HUNTED OR LYNCHED.
12)Rallies whenever He wants, and also Meetings for very High-Level, Important deals with very Handsome and Important Men, straight out of central casting.
Obviously this is way too much POWER to give to just anyone, so we better talk about the Requirements For Qualification, which are pretty tough, let me tell you, but should be no big deal as long as you're not a loser.
1)He should already be RICH, like really loaded, and not embarrassed to show it off, because that makes Him smart.
2)He should have gone to a really good school, like the Wharton School of Business, and any really established Jesuit School should be fine for undergrad. He also needs to have gotten really good grades, as verified by another call from a Close Associate with a BELIEVABLE name.
3)He has to resign from any Political Office He is currently holding, and can never hold another office, but there's obviously no Shame in it, because this is basically a PROMOTION, and we wouldn't want a politician-type having this much power in the first place—this is a job for a Real Man.
4)He has to pledge to Make America Truly Amazing
5)He should have made his Fortune in something Real and Important, like Real Estate or Branded Marketing.
6)He should definitely be tall, like at least 6'2"—not that we're getting out a tape measure.
7)He should be a truly great golfer, since most DEALS happen out on the links these days. Any plaque that lists Him as a Champion at a prestigious Club/Resort should be proof enough.
8)Must be a Real American, and no I will not explain.
9)He should be able to provide a Classy Venue for a really lavish Inauguration Party with just an amazing Chocolate Cake, and a bigger TV and Internet Audience than anyone ever.
10)He will probably already be very important and respected, as measured by how many times He's been on the cover of TIME magazine—at least 20.
11)Everyone should LOVE this guy, and he should be on record as loving them, too—the Blacks, Hispanics, the Jews, and especially the poorly educated (college these days is Ruining Kids anyway).
So, please sign here if you want these rich, Lefty Elites to pony up and give someone a REAL chance to fix this country. And if you don't sign, that means you hate America and you hate Trump. Oh, and feel free to nominate anyone you think might Qualify.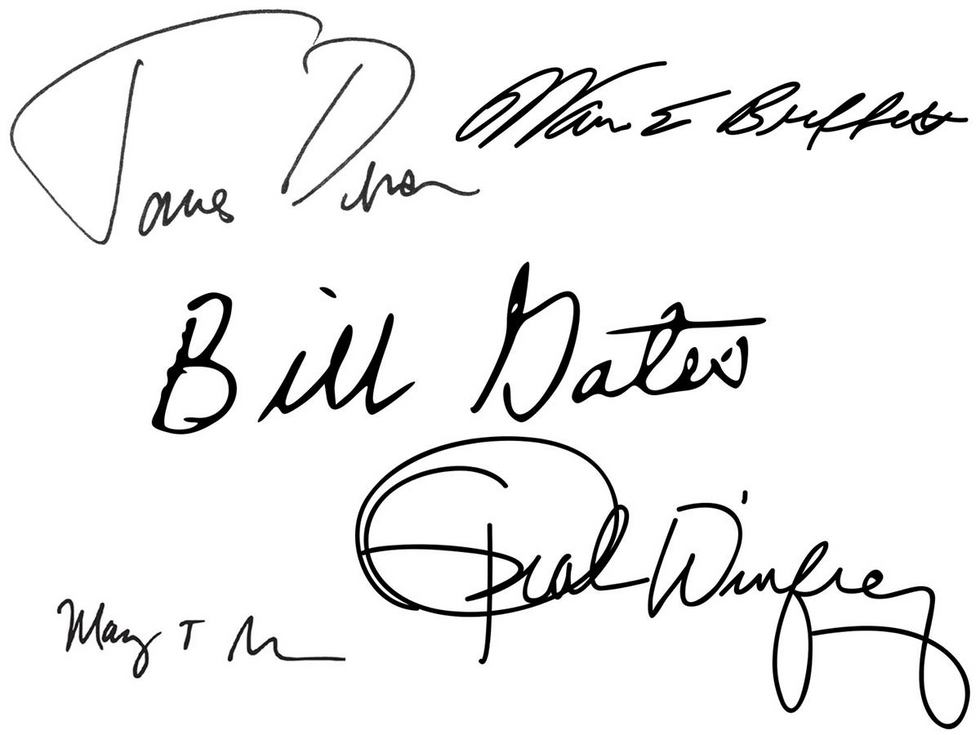 We're all getting something wrong when we view political correctness as fundamentally opposed to free speech.
Few issues have divided the nation further than the free speech vs. political correctness debate.
In addition to deepening the gap between conservatives and liberals, the debate tends to fracture the left, leading to dissent from the inside. This stems in part from the fact that many older liberals simply can't wrap their minds around the idea of political correctness.
Political Correctness: Censorship or Part of the Fight for Equality?
Critics of political correctness equate it to censorship, which they see as a threat to the all-American ideal of unbridled freedom. For most liberal millennials and Gen-Z kids, however, political correctness is about freedom, just of a different sort. It's really about shutting down hate speech and supporting marginalized communities.
Nowhere did this divide become clearer than in one of my lectures in college, a postmodernism class with a professor who I'd always seen as uniquely brilliant (and who also happened to teach a lesbian erotica class). She lost a lot of my respect when—as a white woman—she insisted that there was nothing really wrong with a white person saying the "n" word in solitude, prompting one of the few people of color in the class to raise her hand and ask: "Why are white people so desperate to say that one word?" The professor responded with a lecture about free speech and the insubstantiality of language, a response that felt misguided and totally out of touch.
This generational divide appeared again when prominent feminist and author Margaret Atwood published an op-ed critiquing the #MeToo movement. "My fundamental position is that women are human beings, with the full range of saintly and demonic behaviours this entails, including criminal ones," she wrote. "They're not angels, incapable of wrongdoing." In short, Atwood was critiquing the #MeToo movement for the same reason that many people critique political correctness. They feel that restricting one's language, or giving the benefit of the doubt to and prioritizing the voices of certain demographics, is infantilizing or threatening to other demographics' freedoms.
On the other hand, many young liberals understand that political correctness is an important part of the process of giving respect to groups that have been and are still systematically oppressed. This political correctness can take the form of prioritizing people of color's voices, or calling out offensive speech—even, or especially, when it's the product of ignorance, or when it's conducted out of earshot of the people it might hurt.
What Toni Morrison Knew: Political Correctness and Free Speech Can Be the Same Thing
What we all need to understand is that, among other things, the left's internal war over political correctness and free speech actually presents a chance for generations to learn from each other. Defenders of political correctness might realize that sometimes, accidentally offensive language can present a valuable educational opportunity—though this is definitely not always the case, and no one should be required to educate others about why they deserve basic respect.
Older proponents of free speech, for their part, can realize that political correctness, safe spaces, and the like ultimately come from places of compassion. At their core, they are efforts to achieve a more equitable world.
Perhaps it's too starry-eyed to imagine that older allies could learn from younger people who refuse to accept middle-of-the-road policies or veiled racism, but some older people have certainly embraced progressive worldviews. "Oppressive language does more than represent violence; it is violence; does more than represent the limits of knowledge; it limits knowledge," said Toni Morrison in a 1993 address about political correctness. Morrison, whose wisdom stretched far beyond the blind spots of her generation, was a supporter of what political correctness stands for, though not of the implications of that specific term. In a later interview, she added, "I believe that powerful, sharp, incisive, critical, bloody, dramatic, theatrical language is not dependent on injurious language, on curses. Or hierarchy."
In short, freedom of speech is not contingent on the ability to use offensive language. We can be free—in fact, we can only be free—when all of us are free, which will only happen when language that demonizes or injures certain groups is purged from acceptable discourse.
Ironically, the book we were discussing that day in my postmodernism class was Morrison's Beloved.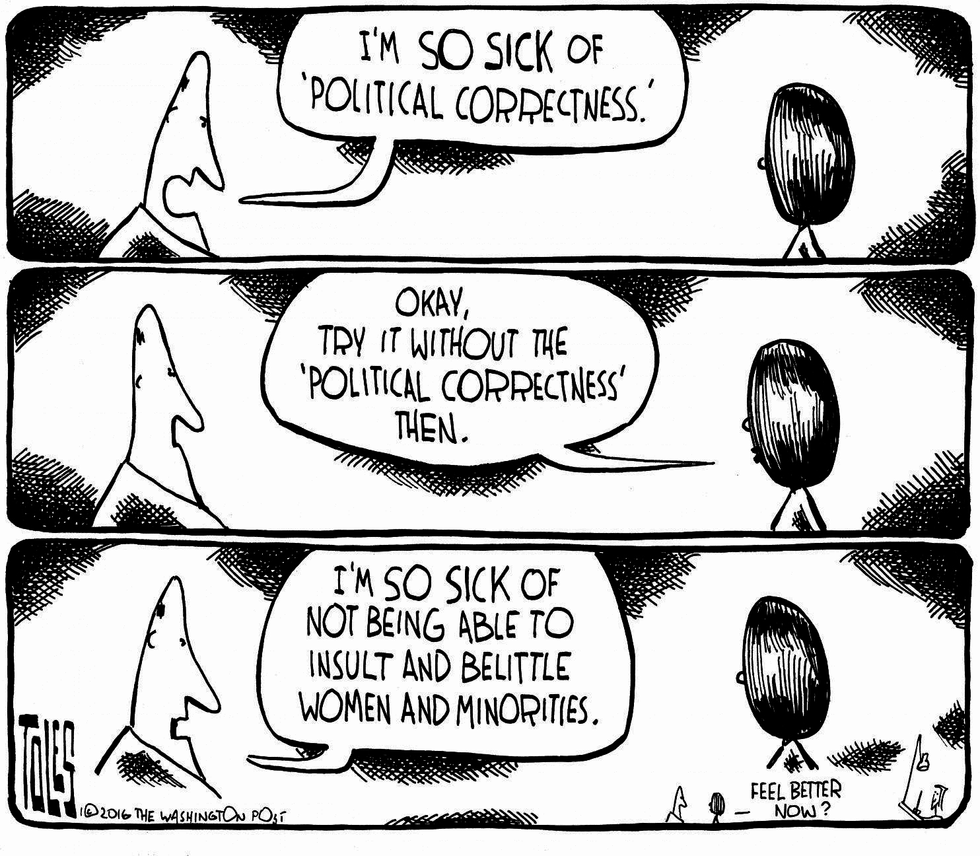 Image via the Washington Post