Dall-E Mini, the AI-powered text-to-image generator has taken over the internet. With its ability to render nearly anything your meme-loving heart desires, anyone can make their dreams come true.
DALL-E 2, a portmanteau of Salvador Dali, the surrealist and Wall-E, the Pixar robot, was created by OpenAI and is not widely available; it creates far cleaner imagery and was recently used to launch Cosmpolitan's first AI-generated cover. The art world has been one of the first industries to truly embrace AI.
The open-sourced miniature version is what's responsible for the memes. Programmer Boris Dayma wants to make AI more accessible; he built the Dall-E Mini program as part of a competition held by Google and an AI community called Hugging Face.
And with great technology, comes great memes. Typing a short phrase into Dall-E Mini will manifest 9 different amalgamations, theoretically shaping into reality the strange images you've conjured. Its popularity leads to too much traffic, often resulting in an error that can be fixed by refreshing the page or trying again later.
If you want to be a part of the creation of AI-powered engines, it all starts with code. CodeAcademy explains that Dall-E Mini is a seq2seq model, "typically used in natural language processing (NLP) for things like translation and conversational modeling." CodeAcademy's Text Generation course will teach you how to utilize seq2seq, but they also offer opportunities to learn 14+ coding languages at your own pace.
You can choose the Machine Learning Specialist career path if you want to become a Data Scientist who develops these types of programs, but you can also choose courses by language, subject (what is cybersecurity?) or even skill - build a website with HTML, CSS, and more.
CodeAcademy offers many classes for free as well as a free trial; it's an invaluable resource for giving people of all experience levels the fundamentals they need to build the world they want to see.
As for Dall-E Mini, while some have opted to create beauty, most have opted for memes. Here are some of the internet's favorites:
There's no looking back now, not once you've seen Pugachu; artificial intelligence is here to stay.
We're all getting something wrong when we view political correctness as fundamentally opposed to free speech.
Few issues have divided the nation further than the free speech vs. political correctness debate.
In addition to deepening the gap between conservatives and liberals, the debate tends to fracture the left, leading to dissent from the inside. This stems in part from the fact that many older liberals simply can't wrap their minds around the idea of political correctness.
Political Correctness: Censorship or Part of the Fight for Equality?
Critics of political correctness equate it to censorship, which they see as a threat to the all-American ideal of unbridled freedom. For most liberal millennials and Gen-Z kids, however, political correctness is about freedom, just of a different sort. It's really about shutting down hate speech and supporting marginalized communities.
Nowhere did this divide become clearer than in one of my lectures in college, a postmodernism class with a professor who I'd always seen as uniquely brilliant (and who also happened to teach a lesbian erotica class). She lost a lot of my respect when—as a white woman—she insisted that there was nothing really wrong with a white person saying the "n" word in solitude, prompting one of the few people of color in the class to raise her hand and ask: "Why are white people so desperate to say that one word?" The professor responded with a lecture about free speech and the insubstantiality of language, a response that felt misguided and totally out of touch.
This generational divide appeared again when prominent feminist and author Margaret Atwood published an op-ed critiquing the #MeToo movement. "My fundamental position is that women are human beings, with the full range of saintly and demonic behaviours this entails, including criminal ones," she wrote. "They're not angels, incapable of wrongdoing." In short, Atwood was critiquing the #MeToo movement for the same reason that many people critique political correctness. They feel that restricting one's language, or giving the benefit of the doubt to and prioritizing the voices of certain demographics, is infantilizing or threatening to other demographics' freedoms.
On the other hand, many young liberals understand that political correctness is an important part of the process of giving respect to groups that have been and are still systematically oppressed. This political correctness can take the form of prioritizing people of color's voices, or calling out offensive speech—even, or especially, when it's the product of ignorance, or when it's conducted out of earshot of the people it might hurt.
What Toni Morrison Knew: Political Correctness and Free Speech Can Be the Same Thing
What we all need to understand is that, among other things, the left's internal war over political correctness and free speech actually presents a chance for generations to learn from each other. Defenders of political correctness might realize that sometimes, accidentally offensive language can present a valuable educational opportunity—though this is definitely not always the case, and no one should be required to educate others about why they deserve basic respect.
Older proponents of free speech, for their part, can realize that political correctness, safe spaces, and the like ultimately come from places of compassion. At their core, they are efforts to achieve a more equitable world.
Perhaps it's too starry-eyed to imagine that older allies could learn from younger people who refuse to accept middle-of-the-road policies or veiled racism, but some older people have certainly embraced progressive worldviews. "Oppressive language does more than represent violence; it is violence; does more than represent the limits of knowledge; it limits knowledge," said Toni Morrison in a 1993 address about political correctness. Morrison, whose wisdom stretched far beyond the blind spots of her generation, was a supporter of what political correctness stands for, though not of the implications of that specific term. In a later interview, she added, "I believe that powerful, sharp, incisive, critical, bloody, dramatic, theatrical language is not dependent on injurious language, on curses. Or hierarchy."
In short, freedom of speech is not contingent on the ability to use offensive language. We can be free—in fact, we can only be free—when all of us are free, which will only happen when language that demonizes or injures certain groups is purged from acceptable discourse.
Ironically, the book we were discussing that day in my postmodernism class was Morrison's Beloved.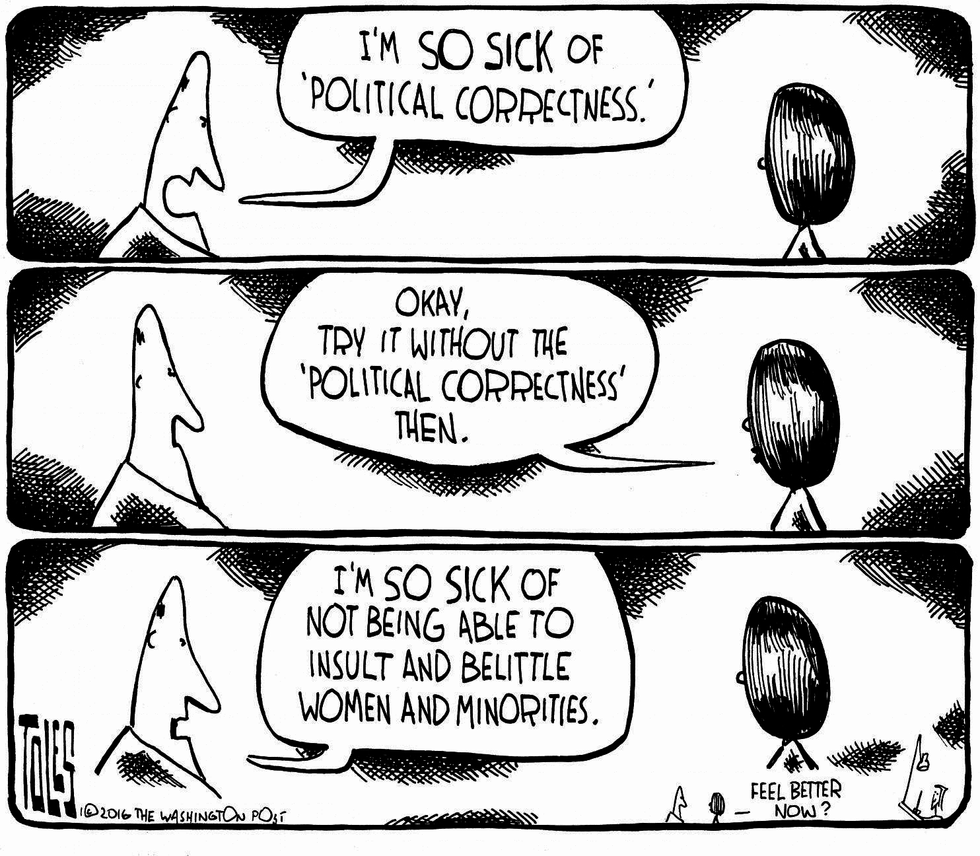 Image via the Washington Post
The meaning of freedom can vary from person to person, so what does it mean for all?
Freedom is a fundamental element of liberty; it's a concept, a value, and a feeling.
It's also an essential human requirement, and something most people agree is worth fighting for. But what does freedom really mean in our daily lives, and the lives of others? What does it require of us?

In 1941, Franklin D. Roosevelt explored these questions. Roosevelt – a master communicator (and frequent contributor to Liberty magazine) – delivered a State of the Union address to millions of Americans, as they gathered around radios in parlors and tenements, just as they had for his famous "fireside chats." In his familiar, reassuring voice he introduced the nation to a concept he called the Four Freedoms:
Freedom of speech and expression
Freedom of worship
Freedom from want
Freedom from fear
At the time, the country was reeling from depression and fearful of war. Roosevelt provided a powerful affirmation of shared values and a call to action to defend them. As freedoms were disappearing in Nazi-occupied Europe, Roosevelt reminded Americans that their commitment to freedom was the foundation for everything that would be asked of them in the coming years.
The Cost of Freedom
At the heart of Roosevelt's message is a curious paradox: the four freedoms are fundamentally at odds. Freedom of speech and worship involve only the individual, who makes a choice to act (or not), while freedom from want and fear requires society to take collective action, and for us to be responsible for one another. In fact, the freedom we enjoy as individuals is possible only in and through our community.
For most of us today, freedom represents doing what you want, when and how you want, without anyone interfering or stopping you. Freedom means you can be you. And it means you will let me be me. But freedom can't be absolute: it is not the absence of rules; and it is definitely not anarchy. Our freedom hangs in the tension between chaos and control, between I and us. With freedom comes responsibility: if we're allowed to do what we want, we're also responsible for what we do.
That's the catch.
If we accept a definition of freedom that allows everyone to be fully themselves, we should accept that there are some conditions that need to be met first. You can't be truly free if you're starving, or homeless, or sick. If we are to guarantee freedom, do we also need to guarantee all free people a level of basic well-being? That's a lot of responsibility.
Freedom For All?
Here in the "land of the free," we are often quick to celebrate the freedoms outlined by our founding fathers, while forgetting their original concept of freedom was reserved strictly for property-owning white men – women, slaves, and Native Americans, not so much. In many ways, America's unfinished history has been a process of giving more freedom to more people over time.
Freedom means different things to different people. But it also means different things to the same people at different times in their lives. And, like most big ideas, freedom depends on context.
Freedom can be all of these things and more
The bumper stickers are true – freedom isn't free. It's costly and valuable, and it should be treasured and kept safe. We honor our freedom when we enjoy it, celebrate it, and share it. What does freedom mean to you? The last day of school? The first day of school? Share your idea of freedom with us below.
What does an intern provide to a company and should they be paid for their work?
If you've ever searched for an internship, you know how rare it is to find one that's paid. Usually, the associated advertisements focus on how potential interns will benefit by working as part of the team at a top company, learning skills they'll use for the rest of their lives and networking with notable people.

However, some question the legitimacy of the gains from unpaid internships. Are students getting enough out of their internships if their bosses just choose to use them as secretaries and coffee runners? And how do unpaid internships contribute to income inequality? Let's examine a few aspects to keep in mind when considering whether or not interns should be paid.
Unpaid internships tolerated in ultra-competitive industries
A person who is trying to get his or her foot in the door and break into the entertainment industry or another extremely competitive field may reason that unpaid internships are not only common but also expected. That individual might think, "If I can just learn how things work at X Company, I'll have something great to put on my resume, and I might even get a job out of the experience. Considering those advantages, I'll figure out a way to get by without pay."
There's also the problematic reality that if a potential intern is unwilling to work for no pay, he or she can feel certain that dozens or even hundreds of other hopefuls would surely work hard without getting paid. Then, there's the assumption that if a person doesn't seize the chance to grab an unpaid internship, he or she might be completely out of luck since internships are so scarce and people are always willing to work for free.
Legal specifications to keep in mind
The stereotypical intern is someone dashing around from dawn until dusk, eagerly making copies and filling empty coffee cups for superiors. Although that dedicated individual might be making a strong impression regarding personal work ethic, those types of activities don't transfer to become future job skills. Some companies have taken bold stances and chosen to pay their interns, recognizing that they are assets to the team.
However, there have been instances where interns fulfilled duties that ended up being integral to a project's success, and they didn't receive a dime for their efforts. Many people do not realize that unpaid internships can result in lawsuits related to the Fair Labor Standards Act. There were two prolific cases associated with interns at Gawker and Fox Searchlight Pictures. Both argued because their duties were so integral to operations, they deserved payment.
According to legal rulings, unpaid internships have to occur in a primarily educational environment that benefits the intern. Also, the employer cannot take advantage of an intern and make that person do things that would necessitate a paid staff member receiving income for the work.
Unpaid internships highlight income inequality
People have also argued strongly that unpaid internships are luxuries for the economically fortunate. That line of thought makes sense, especially considering that many internships occur during the summer. That's a time when people who are not financially stable can't even consider applying for internships because they have to use that coursework-free season to make money that'll sustain them through upcoming semesters.
It raises the question of whether employers might be unintentionally preventing ideal candidates from applying for an internship because an unpaid option isn't financially realistic. Employers who offer paid internships bring a welcome element of equal opportunity to the internship candidate pool.
What must happen to help interns who take unpaid internships?
Indeed, paying interns or making them work for free is a decision that's up to employers. If they choose the latter, they must break the stereotype and reward worthy interns by letting them do things that'll genuinely benefit them in their future careers.
Of course, it would be feasible to assign interesting activities based on a person's prior performance. If someone characteristically shows up late and displays an obviously bored attitude while interning at a company, he or she would arguably not be a prime candidate for exciting and demanding responsibilities. On the other hand, when an intern manages time well, is inquisitive and otherwise meets or exceeds expectations, then the stage is set for bigger and greater things.
Also, employers need to consider that payment could be an incentive that helps them find the best, most highly motivated interns. If that happens, they might reduce hiring costs down the line because they can bring proven interns on board instead of having to dive blindly into the job market.
Hopefully, the influx of legal cases taken against companies that didn't pay interns for doing valuable work might inspire a change. Until then, it's up to interns to be assertive if they're continually only given menial duties during an internship. As long as they're performing well at a level that is at least as good as their peers, they can build a strong case that if payment is out of the question, they need to get educational ways to spend their time.
Keep reading...
Show less