"A tree is best measured when it is down," the poet Carl Sandburg once observed, "and so it is with people." The recent death of Harry Belafonte at the age of 96 has prompted many assessments of what this pioneering singer-actor-activist accomplished in a long and fruitful life.
Belafonte's career as a ground-breaking entertainer brought him substantial wealth and fame; according to Playbill magazine, "By 1959, he was the highest paid Black entertainer in the industry, appearing in raucously successful engagements in Las Vegas, New York, and Los Angeles." He scored on Broadway, winning a 1954 Tony for Best Featured Actor in a Musical – John Murray Anderson's Almanac. Belafonte was the first Black person to win the prestigious award. A 1960 television special, "Tonight with Belafonte," brought him an Emmy for Outstanding Performance in a Variety or Musical Program or Series, making him the first Black person to win that award. He found equal success in the recording studio, bringing Calypso music to the masses via such hits as "Day-O (The Banana Boat Song)" and "Jamaica Farewell."
Harry Belafonte - Day-O (The Banana Boat Song) (Live)www.youtube.com
Belafonte's blockbuster stardom is all the more remarkable for happening in a world plagued by virulent systemic racism. Though he never stopped performing, by the early 1960s he'd shifted his energies to the nascent Civil Right movement. He was a friend and adviser to the Reverend Doctor Martin Luther King, Jr. and, as the New York Times stated, Belafonte "put up much of the seed money to help start the Student Nonviolent Coordinating Committee and was one of the principal fund-raisers for that organization and Dr. King's Southern Christian Leadership Conference."
The Southern Poverty Law Center notes that "he helped launch one of Mississippi's first voter registration drives and provided funding for the Freedom Riders. His activism extended beyond the U.S. as he fought against apartheid alongside Nelson Mandela and Miriam Makeba, campaigned for Mandela's release from prison, and advocated for famine relief in Africa." And in 1987, he received an appointment to UNICEF as a goodwill ambassador.
Over a career spanning more than seventy years, Belafonte brought joy to millions of people. He also did something that is, perhaps, even greater: he fostered the hope that a better world for all could be created. And, by his example, demonstrated how we might go about bringing that world into existence.
Lukewarm activism by white women, what's new?
This summer she was met with severe backlash to an Instagram rant in which she claimed she, a white woman, had been unfairly criticized in the music industry for how she claimed her femininity. In one of the most cognitively dissonant statements of the year, Lana claimed that "there has to be a place in feminism for women who look and act like me."
Because almost all the women she was comparing herself to in the rant — whose record breaking places on the charts served as the impetus for her misguided manifesto — were Black women, it seemed like "women who look like" Lana meant white women. Yikes.

However, Lana was quick to come to her own defense. Instead of issuing any semblance of apology or recognizing the nuance in the criticism her letter received, she took to the comment section to dismiss any criticism that came her way.
After that, she made another post (that kind of made it worse) announcing her upcoming album and then kind of disappeared. Until now.
When announcing the release of her first single from her new album, Chemtrails over the Country Club, Lana did not take the opportunity to clear the air — but we didn't expect that. She didn't even take the opportunity to shut up, pivot, and never speak of her typewriter series again (they're still up on Instagram, albeit buried under months worth of pictures by now, though if I were her publicist I would have wrestled the phone from her hands to delete it by now).
Instead, she took the time to parade her "diverse" and "inclusive" friend group on her cover and write another nonsensical caption that pretty much amounts to: see? I'm not racist, I have Black friends.
"Yes there are people of color on this records picture and that's all I'll say about that," Lana says near the beginning of the comment, but, unfortunately, continues to say more. "I have always been extremely inclusive without even trying to. My best friends are rappers, my boyfriends have been rappers."

Lana's tokenization of the people of color in her life is … uncomfortable, at best. Beyond tastelessly parading her friend's life histories in front of the internet for the sake of her reputation, by mentioning "rappers," she equates Blackness with a genre of music and also engages in the fetishistic notion that romantic desire is proximal to inclusion.
And if you think it couldn't get worse, the caption continued. In reference to the comments she had received on her initial post, Lana thought to respond preemptively, saying, "Before you make comments again about a WOC/POC issue, I'm not the one storming the capital [sic]."
The invocation of the attempted coup in comparison to her own racism is a blatant attempt to decenter the conversation and dismiss the voices of those she claims to be so inclusive of.
Lana's convoluted caption is an example of the flimsy arguments white women dredge up to affirm their own innocence when criticized. Unfortunately, we've already seen so much of this in 2021, especially in response to the display of domestic terrorism at the Capitol (which was partly sponsored by a group named Women For America First).
Unsurprisingly, much of the peak white feminism that occurred in the aftermath of the Capitol riots came from self-proclaimed allies. It seems that a key proponent of white feminism is the desire to help … but only if it doesn't require any actual evaluation of the self or the systems that perpetuate oppression.

Karlie Kloss recently (read: finally) came under criticism for her hypocritical comments about the riots and the current administration over all.
Though often we conveniently forget, Karlie Kloss is married to Josh Kushner. Yes, of that Kushner family. Her in-laws are Jared Kushner and Ivanka Trump, who sit at the proverbial right hand of the President.
Yet, despite these very close ties to the current administration, Karlie has managed to remain largely unscathed in the public eye. But this is not a romantic comedy where a likable blonde woman has to navigate her husband's crazy family — this is not The Family Stone. This is real life. And the actions of her in-laws have consequences that she, due to her wealth, race, and proximity, is mostly exempt from actually feeling.
Yet, Karlie Kloss has built her whole brand around activism. So how does this work?
From founding an organization to teach girls STEM, being a vocal #girlboss and #feminist, and yes, posting that black tile on Instagram, Karlie makes sure to remind us that she quit being a Victoria's Secret angel to go to NYU because she's just so, like, passionate about women's empowerment.
But despite all this, the furthest she has gone to speak out against the current administration have been bland social media posts and hashtags. When she made a more direct statement after the Capitol riots, many were quick to point out her hypocrisy.
After being called out for tweeting, "Accepting the results of a legitimate democratic election is patriotic. Refusing to do so and inciting violence is anti-American," and promptly being told, "Tell your sister in law and brother law," Karlie responded with a self satisfied: "I've tried."
But her response did not satisfy anyone else.
karlie kloss has TRIED talking to her in-laws and she will NEVER GIVE UP. that's why she & josh bought a $23.5 mill… https://t.co/4VRayLgTi6

— #3 sisterwife but #1 in his heart (@#3 sisterwife but #1 in his heart) 1609991219
@karliekloss @overdressjen Guess ya didn't try hard enough bb https://t.co/PNplCPKW7y

— ✨ (@✨) 1610143645
Page Six reported that Ivanka Trump was "surprised" by Karlie's claims, going so far as to say that Karlie is political in public, but not so much in private, and one tweet said that Kloss was choosing to "enjoy the privilege that comes from being close to them and feign moral superiority while not even acknowledging the privilege."

People were also quick to point out that Kloss is not just willing to tolerate her in-laws, but has purchased a multi-million dollar home in Florida to live just blocks away from where they, and the current President, will be relocating after the inauguration (and impeachment?).
One of the more prominent people to call out Karlie for her purported attempts was Tavi Gevinson, founder of Rookie Magazine and actress soon to be starring in the Gossip Girl reboot (which I will now be watching).
In an Instagram story, Tavi called out Karlie for having "no real interest in using [her] political power so much as maintaining [her] watery 'feminist' liberal brand while protecting [her] liberal brand." She identified Kloss's actions as more than just the bad decisions of an individual, inconsequential celebrity but part of a culture that minimizes the harm of the current administration and the latent oppressive structures that it reveals.
By her relative silence against the Trump family and administration, Gevinson said Kloss has "help[ed] legitimize their bigotry by branding [them] as simply having different 'political views," dubbing Kloss a "Resistance Barbie" archetype.
In her takedown, Gevinson went deeper than Kloss's shallow white feminism into a critique of not just Kloss herself, but the systems which she helps perpetuate. "Thank you for showing that you can vote blue and still be a white supremacist sympathizer," Gevinson finished.

Tavi, who at the beginning of her career had her own share of criticism about earlier iterations of Rookie's white feminism, used those valid criticisms to transform her platform into a diverse resource for learning, growing, and accountability.
Kloss, despite the direct confrontations about her hypocrisy, has remained silent — both on the internet, and probably to her in-laws, except maybe to plan the interiors of their Mar-a-Lago homes.
The self aggrandizing brand of white feminism has only increased in cultural capital this year as white women applaud themselves for being allies, while doing very little except calling themselves allies. While BIPOC Americans risk being alienated or gaslighted by declaring their politics, white women get to benefit by using them as a virtue signal, a personality trait, or a brand.
Twitter had enough of this when Demi Lovato tweeted that her response to the Capitol riots was … to write a song.
THIS IS WHY I POST AS MUCH AS I DO. THIS IS WHY I CARE. THIS CANNOT HAPPEN ANY FUCKING MORE. I'm angry, embarrassed… https://t.co/WWAtVwVo83

— Demi Lovato (@Demi Lovato) 1609989247
While well-intentioned, there are more nuanced ways for musicians to go about political music and Demi's last effort, "Commander in Chief," proved maybe that's not her genre.

With lyrics like "If I did the things you do I couldn't sleep," the song wasn't just bad — filled with easy rhymes and surface level lyricism — but it felt more like an indulgence of the ego rather than an attempt to make a change. Demi was reassuring us, herself, and other lukewarm allies that feeling bad about injustice is enough.
Unfortunately, it's not.
In her recent tweet, she magnanimously inflated the effects of her social media activism, saying, "THIS IS WHY I POST AS MUCH AS I DO..." While Demi has famously used her platform to advocate for social causes, the immediate pivot to saying: "I'm in the studio working on something special after today's assault on democracy," centers her own status as an artist and activist over the larger issues of violence.
White feminism is most guilty of this: diluting down political movements to their personal impacts rather than societal effects. By centering not just white women, but the individual white woman, white feminism ignores the nuances of oppression and the context in which it happens.
Even while claiming to be "woke" or socially conscious, the need to center themselves often derails well-meaning white women into perpetuating the acts of oppression they claim to be against. This compulsion in itself is a symptom of a system which values and protects the innocence and feelings of white women, while using that protective mantle as a form of oppression.
Yet, white women benefit from that innocence in their daily lives — from Lana's misguided conception of herself as a victim of bad feminism while enacting it, or even the "daddy-hat girl/SoHo Karen" calling herself an "innocent child" after assaulting … an innocent Black child.
It's only been two weeks of 2021, and I'm already tired of it. But I'm sure there will be more to come. But until white women address the ways they benefit from the systems they purport to be allies against, I see no end in sight.
For the third installment of the Visionaries Project, we spoke to Sara Gozalo about capitalism, fighting ICE and the prison industrial complex, combating burnout as an activist, and her vision of a better world.
The Visionaries Project is a subsection of The Liberty Project dedicated to highlighting the lives, passions, and work of radical activists currently working towards social justice and liberation from oppression. We aim to uplift the perspectives of diverse voices working in media and activism today—and not just the faces who make headlines, but the real people on the ground every day, working towards their visions of a better world.
Sara Gozalo is an organizer currently based in New Orleans. Originally from Madrid, she describes herself as a "queer immigrant who believes in a world without borders and without jails, where everyone has the right to live in dignity." She currently works as a Unanimous Jury Specialist at the Promise of Justice Initiative, co-founded Students for Peace and Justice, and was formerly the Supervising Coordinator of the New Sanctuary Coalition and a member of the Worcester Global Action Network. We spoke with her about the insidiousness of capitalism, her work fighting ICE and the prison industrial complex, combating burnout as an activist, and her vision of a better world.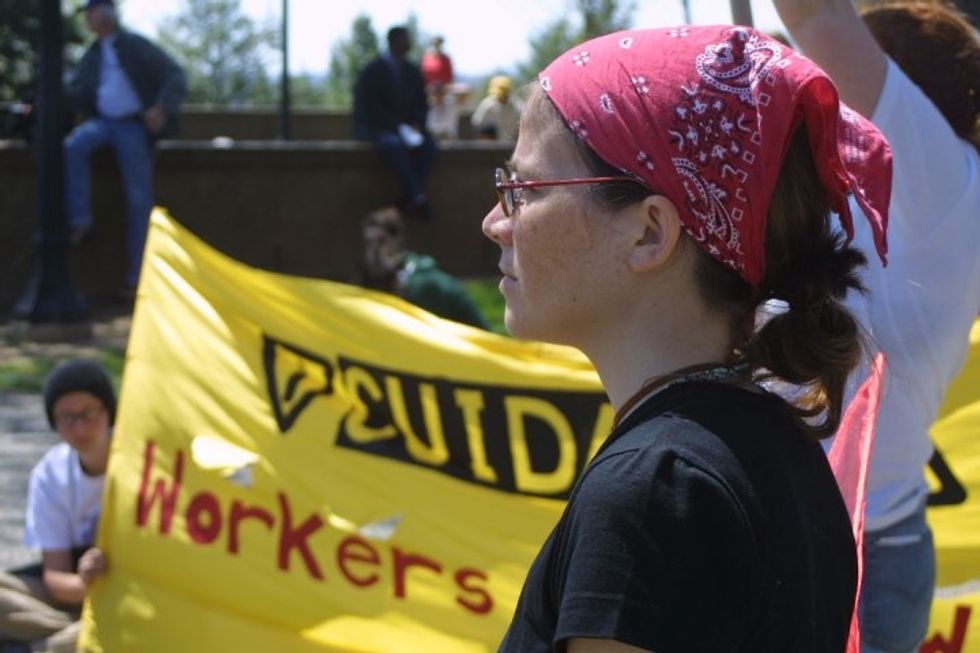 LIBERTY PROJECT: I was wondering if you could give an overview of your experience in activism and organizing.
SARA GOZALO: I have been organizing for a long time. I've only been organizing professionally for the past three and a half to four years, but I organized when I was at UMass against the war in Iraq. We did a lot of workshopping and teachings about free trade agreements, and how capitalism was destroying the planet.
It seems like that was such a long time ago, and we're still dealing with the same issues. I think that a lot of organizing is understanding that you're running a marathon, and it's never going to be a sprint. It's going to be a lot of small victories along the way, but you're going to fight the same issues constantly. That can be pretty demoralizing, but it also means you can never stop.
I come from a family that's very political. My dad is an attorney in Spain, and when he was a student he got arrested and kicked out of school for organizing against Franco during the dictatorship. My mom was always very political, and I remember hating that when I was a little kid.
While I was going through my own immigration case, I realized how hard it is for someone with a ton of privilege, and I started to look into what it was like for people who aren't as privileged. I got very involved in the immigration issue. Since I moved to New Orleans, I've seen the same patterns in the criminal justice system.
I think New Orleans brings these issues together. It has been very impacted in terms of climate change. Louisiana has the highest numbers per capita of incarcerated people [in the US], and one of the highest numbers of migrants in detention. The city brings everything together, and ties in all the different aspects that I have organized around in my life. In the end, it is important to remember that they're all related to each other.
Where are you at now?
I moved to New Orleans this summer. My wife was born and raised here. I'm working at the Promise of Justice Initiative, which is an organization that does a lot of criminal justice work.
It's clear that all these issues are very interconnected. Lately it seems that there's been a particular resurgence of anticapitalist sentiment, though that was always there…Is that affecting your organizing at all?
I have been organizing with these anti-capitalists since the late '90s. It feels like the "resurgence" has been a long time coming.
When we were organizing around the Iraq war in 2002 and 2003, we were very much organizing under the capitalist lens. Grassroots movements like Occupy and the movement for Medicare for All have ignited something even bigger now. It's become more mainstream.
The fight against capitalism is decades long, and its roots are in the people who are directly impacted, especially indigenous people all around the world. They have led that fight, because they know in their bodies what capitalism is doing to the world. I think it's important that now that conversation is part of western countries, especially the United States, which in many ways is the belly of the beast in terms of capitalism. Anti-capitalist organizing has been there forever; it just now feels like you can talk about it and people won't immediately discard you as someone crazy.
I want to make sure that [in spite of all the] now-mainstream groups that are taking this fight on—which is super important and necessary—we recognize how many people have been fighting this fight for so long and leading the efforts.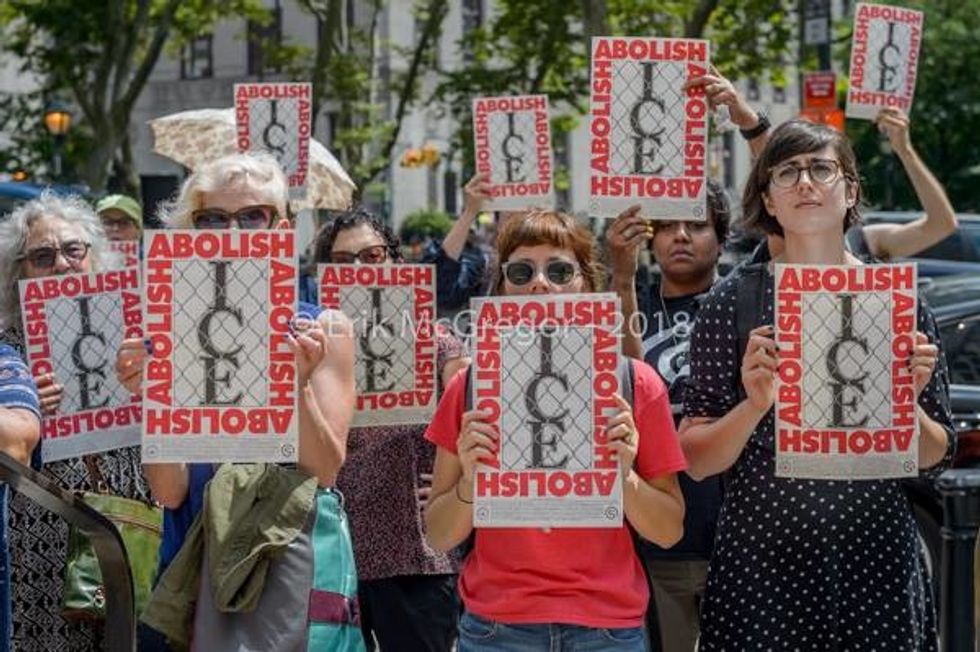 I first met you through New Sanctuary Coalition (an organization that provides legal support to immigrants in New York City). You were doing so much for them at once, and I was wondering what your reflections on that experience are.
NSC is one of the most powerful organizing groups that I have ever known, in terms of the numbers of people who are involved. Post-election, after Trump took power, it became very obvious that immigration was going to become one of the issues that he was going to attack the most. NSC grew because there are very concrete ways that people could get involved, and I think that is incredibly powerful. It's led by people who are directly impacted, but it really utilizes the number of people who want to fight alongside people who are directly impacted. That was a beautiful thing to see.
I've worked with other groups where there isn't a clear way for volunteers to get involved, and I think NSC recognizes that people can fight against the system with the support of others with more privilege. It's a great way to utilize the privilege that US citizens have. The [idea] that the people who are impacted lead, and you're showing up for solidarity—not to help or save anyone—is really important.
The accompaniment work, in particular, was hard for volunteers in that it was so boring, but it's such a good example of how much privilege US citizens have, and how important it is to show up and not feel like they're saving or leading. They're just standing in solidarity, which is an incredible exercise for everyone.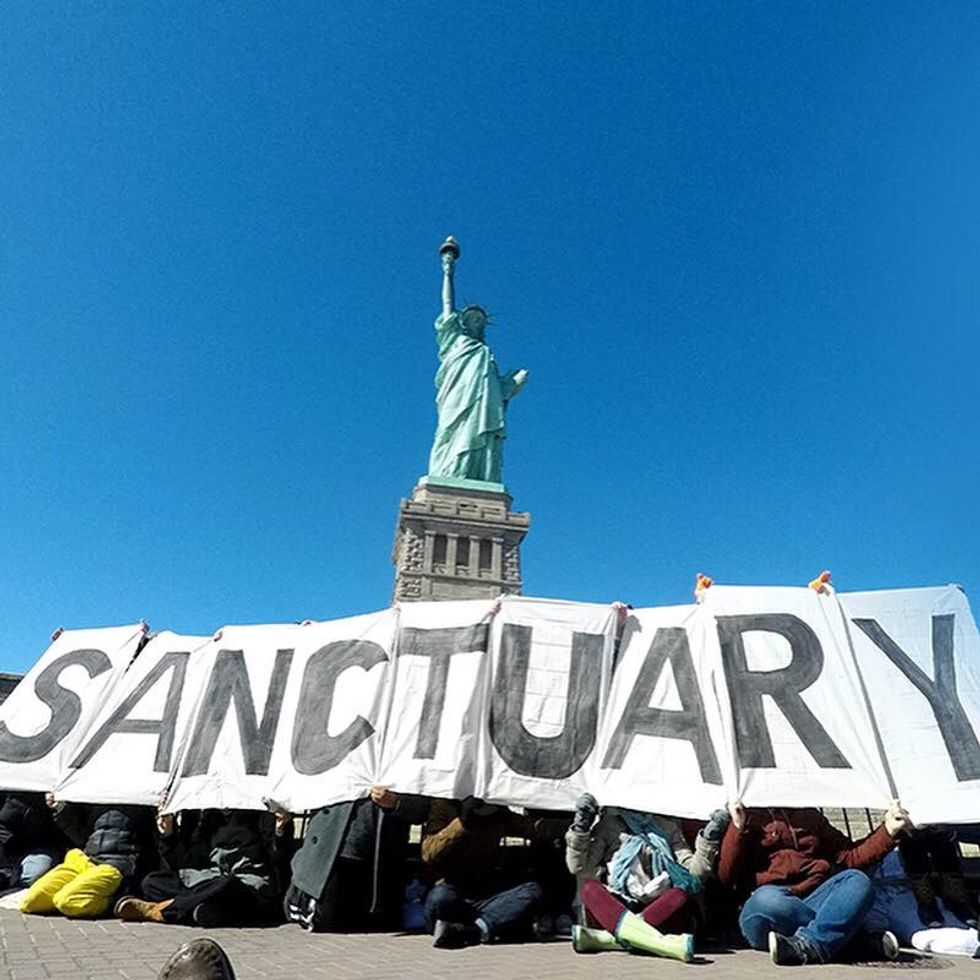 ignationsolidarity.net
It did feel at times overwhelming, which obviously leads to a lot of burnout and the sense of, oh my God, I am never doing enough, because everything is an emergency.
It felt at times that I was just pouring oil on the machine as opposed to throwing a wrench in it. For instance, if a judge said, I need an asylum application in three months as opposed to the year, we became so good at meeting those demands that it felt like in some way we were contributing to them.
I think that's a constant in organizing. There's a big difference between asking, what can you today to help a person who's going to be deported unless they show up with an asylum application, and what can you do to dismantle the system? Of course you're gonna support the person who's dealing with something today and not think in bigger terms, and so those were some difficult moments.
I don't have the answer. Maybe we need organizations that do more direct impact service work, and other organizations that only do the disruptive work; maybe that's the balance that we could work towards.
When I was leaving this summer, a lot of people finally went out on the streets, and people got arrested by the hundreds. I think that's the energy we need in the streets, while organizations like NSC do the day-to-day work that's helping people stay in the country and not be deported.
Activist Sara Gozalo from @NewSanctuaryNYC tells us about how they're working to empower immigrants during this dar… https://t.co/l1OK0TSFvA

— Jezebel (@Jezebel) 1541169069.0
Speaking of those larger systemic changes, are there any visions you have of changes that you would like to see happen on a large scale?
Yeah, so many.
First of all, we need to realign our belief system. Our bones, our insides, are so ingrained with this capitalist system of oppression. We make decisions on a daily basis that are informed by that upbringing. I admire Decolonize This Place and other groups that are really going to the roots of the problem, recognizing that unless we deal with those root problems, we're never going to affect systemic change.
For instance, we can't deal with climate change from a capitalist perspective. My friend was just fired for his job—which was to install solar panels—because they tried to unionize. We can't keep moving forward from the perspective of putting capital before humans and before the planet.
I really would like to see us having very honest conversations in which we start seeing, within ourselves and within our communities, how colonized we really are. We need to look at the root causes of the problem, if we really want to achieve any change that's going to make a difference, for our planet and for the survival of our communities everywhere in the world.
For instance, in Chile, I love to see the women who are protesting with everyone else and also bringing up the fact that the patriarchy is one of the biggest problems we have. Everything we see as an injustice has a root problem that's attached to racism and capitalism, and we need to address those, otherwise we're really not going to achieve the change that we want to achieve. Having these issues come into the light is an important step.
Women in South America sing against gender violencewww.youtube.com
I think I would like to see more compassion in our organizing. I think we're all very angry. We're all very quick to attack each other while not understanding that organizing is hard. Organizing is the hardest thing you can ever do, because there are no models for the world that we want. We have to reinvent the world.

Because we don't have those models, even nonprofits and some of the most progressive groups continue to replicate the systems of oppression that we are fighting against. [We need to ask], what does the world that we want look like, as opposed to fighting against something with means we learned from something we're fighting against.
I've read a lot about how organizations can replicate the systems they're trying to take down—people will be like, let's change ICE, but it really needs to be abolished, and I feel like that's symbolic.
I also really admire abolitionists; their clarity about what they're fighting for could be used by all nonprofits and all other organizing groups.
Do you have any advice as to how to keep going in this long fight?
In your struggle, you have to allow yourself to be led by the people who are directly impacted, because in a way, people who are directly impacted don't have the privilege of giving up. When you surround yourself with people who have to keep fighting, it helps you keep fighting.
I would say surround yourself with a supportive community, with people that you trust and people you can confide in and talk with when things get hard. And I would say be compassionate with yourself. You're going to make a lot of mistakes. That doesn't mean you're a terrible person. Everybody makes mistakes, and learning from those mistakes is the only thing you can do; don't beat yourself up so much that it paralyzes you.
And take breaks. I have been planting trees, I started a compost bin in my backyard, and I am learning how to plant vegetables. Putting your hands on the earth is actually incredibly therapeutic, and it brings everything back to what matters the most, which is life and sustainability and love for each other and our planet. When you bring it back to those core values of what really truly matters, then it allows you to breathe a little bit easier.
In the first installment of our Visionaries Project, we interview brilliant writer, activist, and horror buff Sherronda J. Brown.
The Visionaries Project is a new subsection of The Liberty Project dedicated to highlighting the lives, passions, and work of writers and activists currently working towards social justice and liberation from oppression. We aim to uplift the perspectives of powerful, diverse voices working in media and activism today—and not just the faces who make headlines, but the real people on the ground every day, working towards their visions of a better world.
As our first installment of the Visionaries Project, we're beyond honored to feature Sherronda J. Brown, an incredibly eloquent and brilliant journalist and activist currently doing vital work in the media sphere.
Where did you grow up? Was there an activism or writing background in your childhood?
I grew up in a small town called Tarboro in Eastern North Carolina. I don't have an activism background from my youth, but I have always been a writer. My mom still has a stack of little books I wrote as early as Kindergarten and first grade.
Can you tell me a little bit about how you got into writing and journalism?
I don't think writing was much of a choice for me. I think it's something that just lives in my bones and my fingertips. If I wasn't writing about systemic oppression and its multiple arms, I'd almost certainly be writing in some other capacity, probably in entertainment media or true crime. Definitely true crime. Hell, I might still do that one day.
My foray into journalism was more like being pulled into it. I have always shared my views on social media, specifically Facebook, and eventually people started to follow me and root for me. To my surprise, my words touched people. I wrote briefly for a now-shuttered, indie feminist website (for free!) while in college many years ago, but my presence in this world really became solidified when current Managing Editor at Black Youth Project (BYP), Hari Ziyad, gave my writing a home at RaceBaitR and later encouraged me to write for BYP as well. Then, the Deputy Editor position came along, and Hari encouraged me to take another step. The next step was Wear Your Voice (WYV), where I was promoted to Managing Editor by founder Ravneet Vohra before I even knew what hit me. And here I am. Other people recognized my talents and potential before I did. They knew I could do this before I even knew it was an option. Shout out to imposter syndrome, and shout out to the people who helped me get here.
How did you get involved with Wear Your Voice? What work do you do for it, and what's the publication about?
Lara Witt, the current EIC, posted a call for pitches on social media and I submitted a piece about an indie film I had been really impressed by, The Keeping Room. This was just after the release of Sofia Coppola's remake of The Beguiled, and I argued that The Keeping Room—while an imperfect film—succeeds where Coppola's film fails, specifically in her erasure of an enslaved Black woman character from the Civil War era South in order to ensure that the Confederate white women are seen as indisputable victims within the story, rather than cruel enslavers. The essay did very well, so much so that the writer and producer, Julia Hart and Jordan Horowitz, reached out to thank me. That was a surprise and, of course, hugely flattering. From that point, I continued to write for WYV as a freelancer, until I got the courage to ask Lara if she needed any editorial support. She advocated for me and helped me become a part of the team, beginning as a part-time Social Media Manager. I will always, always be so grateful to her for that, especially because WYV is such an amazing publication to work for. I now get to say that I serve as the Managing Editor of a bold magazine that wholly embraces me and gives QTBIPOC space to talk about our experiences without tone policing or censorship. It's incredibly rewarding and therapeutic work for me.
The bio for Wear Your Voice cites Kimberlé Crenshaw's definition of "intersectionality." How would you define intersectionality? Has your understanding of it changed over time?

A lot of people misunderstand or wrongly define intersectionality, and I suppose I used to do the same. Once upon a time, I thought of it as a literal intersection, with multiple roads meeting and touching at a particular point, with each road being a different aspect of a marginalized identity. So, one road would be Black, one would be woman, one would be queer, and so on, and they would intersect with each other. In this visual representation, the points where they intersect would be the nucleus, where all the layered oppressions one experiences are most concentrated, for lack of a better phrase.
Now, I understand how wrong I was. Because, for a queer Black woman, Blackness is never separate from woman, is never separate from queer, and so on. More specifically, Kimberlé Crenshaw developed this theory and coined this term thirty years ago for Black women to think and talk about how we experience misogynoir. Intersectionality is specifically for Black women's benefit, and Crenshaw herself has told us not to use it as a blanket term for thinking about oppressions.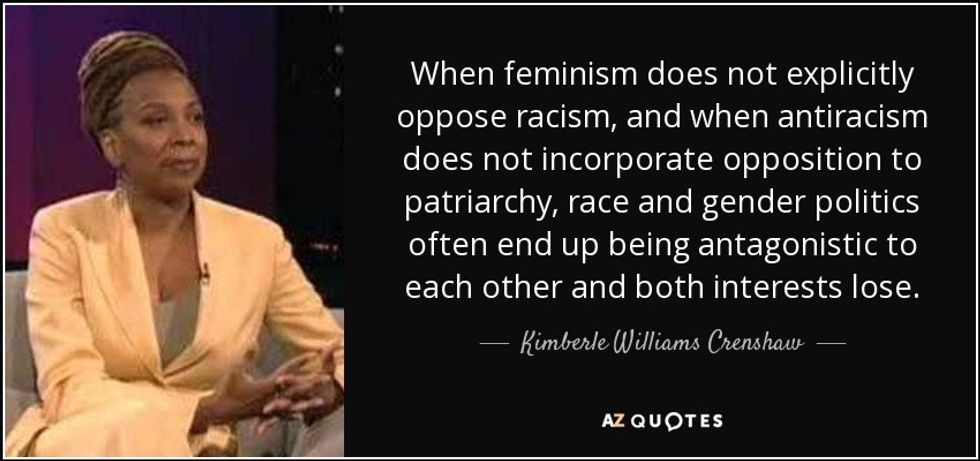 folekeafrica.com
What do you mean by "digital activist," as you say in your bio? What potential do you see in digital activism going forward?

It's funny, I didn't realize that I was a digital activist until someone told me I was. I guess, I didn't really understand the true impact that my words were making. One of my favorite anecdotes—or maybe it's a testimony—is from a woman who said that my writing helped her get her teenage daughter to stop bleaching her skin. That made my heart sink and sing at the same time. People reach out to me periodically to share how I've helped them to think about things from a new perspective and better understand how oppressive systems work and even how they have participated in and benefited from them. That's the best reward for me. A lot of people don't consider digital activism to be valid. People like me often get called "armchair activists" as an indictment of our supposed laziness, which is quite an ableist sentiment. There is tremendous value in digital activism, whether or not people are physically or mentally healthy and able enough to contribute to "boots on the ground" work, and I don't just say this because I consider myself one. Think about how much information gets shared across social media by marginalized people that might not otherwise be reported on by the mainstream media. Digital activism can and does enact change in its own way, and there are plenty of examples.
If you see yourself as a resource for awareness or inspiration for activists and radical thinkers, what would you recommend to others looking to get into the type of work you're doing?
I know this is easier said than done, but take the leap. Shoot your shot. Send that pitch email. Read other people's work, digest it, process it, live in it. And then, find the gaps. With any given subject, there's always someone who has already written about it, of course, but there are always things left unsaid, views left unexplored. No one person can tackle every possible angle. Find the gaps that other people inevitably leave in their work and fill them. Address the unaddressed. That is how writers can set themselves apart, in my opinion. That's what I really appreciate as an editor and a reader.
Are there any projects or current topics you want to promote?
We are currently wrapping up our Summer of Sex campaign at WYV, a series that highlights perspectives of QTBIPOC [Queer, Trans, Black, Indigenous, People of Color] on the subject of sex and the things surrounding it. The piece I contributed to this is rather personal, maybe more personal than anything else I've ever written. In it, I do what feels for me like heavy lifting on the subjects of unhealthy sex, asexuality, celibacy, and fawning as a trauma response, as all of these relate to my personal story and life experience. These are topics I rarely see talked about openly and I would like to see others engaging with them as well.
You describe yourself as a "reformed Blackademic." What was your experience in academia and why did you choose to move towards digital media?
I had no idea I would end up here. For a long time, I thought I would be an academic, and I had plans to pursue a doctorate. The bureaucracy and high pressure of the institution turned out to be something I wasn't cut out for, and I'm perfectly fine with that. I call myself a reformed Blackademic because stepping back from academia allowed me to see how elitism and inaccessibility can sometimes be a barrier to connecting with our own communities. If my work isn't accessible to those outside of higher education, then I don't think it's actually doing as much work as we might assume. This isn't to say that there isn't value in academic thought and high theory. Of course there is, and the things I learned while pursuing my degrees absolutely continue to inform my current work. I'm just more intentional about making my work accessible, as much as I can, and I will hopefully continue to make more progress in that arena through digital media.
What are your favorite writing projects or stories you've covered over the years?
My favorite projects are the ones that allow me to blend my passion for entertainment media with my radical, leftist, Black feminist, anti-capitalist philosophies. I'd say I'm currently most fond of my analysis of Thanos and his flawed Malthusian logic system about overpopulation and my laments on the unfortunate pattern of Black horror stories and Black time travel narratives that seem to only contemplate white violence as a constant fixture in our lives.
You've written a lot about your interest in horror and haunting narratives. Can you tell me a little bit about that?
I became interested in hauntings in grad school, in terms of how the ghosts of history continue to haunt our lives everyday and how we see those ghosts manifesting in oppressive systems, and these things often show up as literal ghosts in cinematic haunting narratives, like literally any film that uses a "Native American burial ground" as a way to convey danger and terror for white protagonists only to ultimately subdue the ghosts rather than truly acknowledge and hold accountable the violent white colonialism that created them.
Candyman (1992) is also a prime example with the vengeful ghost created from a lynching, and it is one of my personal favorites, despite it ultimately being yet another story of a frightened white woman being lusted after by a Black man. Choosing favorites is always difficult, because it changes every few years, and I love so many. Train to Busan (2016), Tigers Are Not Afraid (2017), Hereditary (2018), and The Babadook (2014) are some of my contemporary favorites, but Psycho (1960), The Exorcist (1973), Night of theLiving Dead (1968), and Invasion of the Body Snatchers (1956) are longevity faves.
When you say "new voices" in horror, I immediately think of Jordan Peele, of course, who has two amazing horror entries already, which are among my favorites as well, and is sure to bring us more. He's tapped Nia DaCosta to direct his Candyman "spiritual sequel" expected in 2020, and I am ecstatic about a Black woman directing such a huge mainstream horror film. It would be a dream to see more Black women, more queer folks, more trans folks, more disabled folks at the helm of these stories. I want to see people who have historically been largely relegated to monstrosities in horror giving us innovative tales that subvert the status quo and rattle us in new, challenging ways.
You write a lot of content that challenges hegemonic, white supremacist narratives and ways of reporting and understanding current events; for example, the idea that climate change is new/just beginning to show effect, or that BIPOC women's bodies haven't always been byproducts of white supremacist violence. What writers, sources, or strategies have helped you challenge these hegemonic narratives? What kind of anti-oppression work do you see coming to the fore and/or still needing to be done in terms of this?
My first piece of writing that went viral viral was "White Women In Robes" on my personal blog, werdbrew. It was a critique of The Handmaid's Tale's use of harms committed against BIPOC in a story that centers white women and white feminism's historical connections with white supremacy, among other things. Dorothy E. Roberts' "Killing the Black Body" greatly informed that piece of writing, and anything else I've written about the reproductive control of and expectations for Black people. I also carry Audre Lorde, Alice Walker, and Angela Davis with me daily, and the spirits of Harriet Tubman and Zora Neale Hurston. The voices of Patricia Hill Collins, Nina Simone, and Toni Morrison are always with me when I write about Black womanhood. Some more recent entries that have inspired me include Tressie McMillan Cottom's "Thick" and Sabrina Strings' "Fearing the Black Body," both amazing and important works. I just think Black women are so brilliant and so uniquely able to Illuminate ugly but necessary truths about our world. Black women are already doing crucial anti-oppression work, and always have been. People just need to listen.
"White supremacy is the ugliest thing I have ever seen—producing literal monstrosities—and its hideousness cannot b… https://t.co/wiLkhJBOYc

— 𝚂𝚑𝚎𝚛𝚛𝚘𝚗𝚍𝚊 𝙹. 𝙱𝚛𝚘𝚠𝚗 (@𝚂𝚑𝚎𝚛𝚛𝚘𝚗𝚍𝚊 𝙹. 𝙱𝚛𝚘𝚠𝚗) 1568832755.0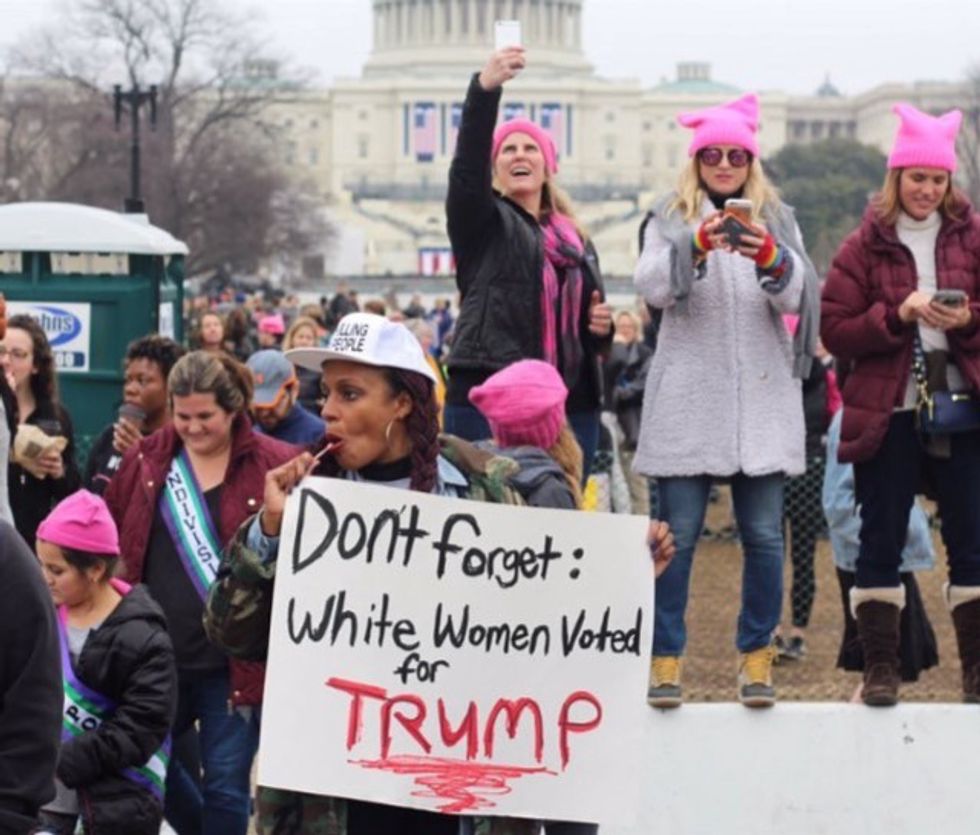 werdbrew.wordpress.com
You write that white dystopian narratives align with the "destruction of the dominant white society, the disruption of the white heteropatriarchal family unit, and the downfall of post-colonial civilization as a whole" in one of your reviews. What kind of disruption would you like to see, and are there any images of the future that you imagine seeing through and beyond this disruption?

That is the kind of disruption I like to see. In a perfect world, we would finally get to see all the remnants of white colonialism gone, but unfortunately that is not our reality. I don't mind at all that dystopian narratives involve this kind of destruction in the fantasy world, especially because the destruction of a society where white supremacists hold political, economic, and social power only creates possibilities for the rest of us. My issue is that these narratives—with the exception of The Girl With All The Gifts (2017)—never explore those new opportunities or acknowledge the fact that QTBIPOC already live in a dystopia in the real world.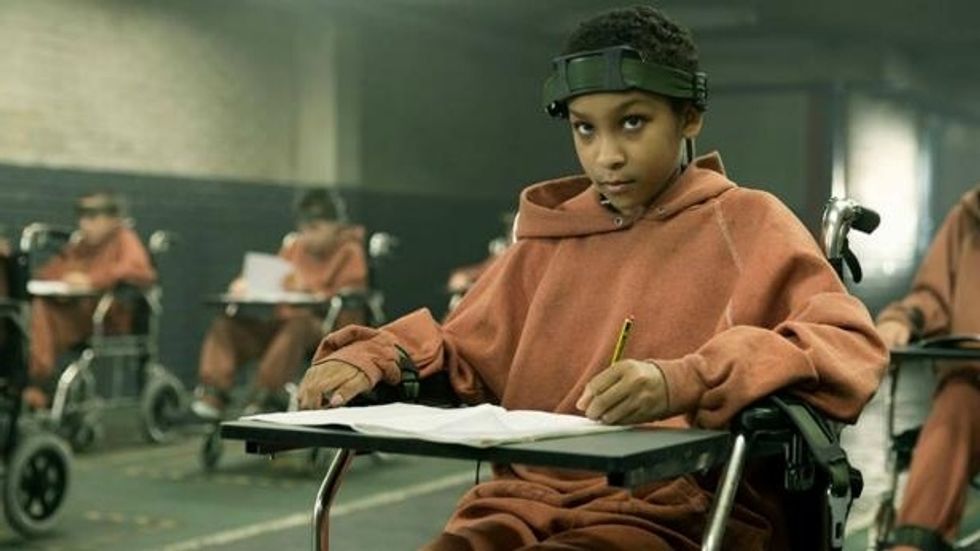 Still from "The Girl With All the Gifts"pressinfo.com
Are there any particular voices or groups you'd like to see highlighted in our current cultural moment?
I absolutely want more QTBIPOC voices. More fat, disabled, neurodivergent folks being heard and respected and humanized. More sex workers, more undocumented immigrants. I want to hear more from the younger generation, too. The people who get silenced the most are the ones who need to be elevated the most.
What's your everyday routine like? Where do you like to do your work or write?
I'm actually working to embrace my nocturnal nature these days, and I'm fortunate enough to have a career that allows me to do so. What are considered "normal" sleeping hours often serve as my writing time. Some of the best things I've written have come pouring out of me between the hours of 3 and 6 am. I'm either writing in bed or on the couch, and I always write on my phone. I sleep as best as I can, if I can, for a few hours and then I'm up and working again by noon. For BYP, I might be publishing in WordPress and/or desperately searching for good stock images of Black people. For WYV, I might be taking care of daily social media management duties, doing secondary edits or final checks on a piece before Lara publishes, creating graphics, and/or designing and sending out our weekly newsletter(s). For both publications, I might be hopping on a staff video or phone call, brainstorming new content, reading and catching up on the day's news so far, answering emails, evaluating pitches, responding to Slack messages, drafting calls for pitches, organizing my editorial calendar, conducting interviews, checking in with writers, and addressing anything else that requires my attention. The late afternoon and evening is when I rest, recharge, meditate, exercise, and eat. Sometimes, I will do some in-depth editing work on writers' drafts during this time, but mostly I don't start doing that kind of work until around midnight. Then, I plan for the next day/night. I admit, sometimes it's hard to keep track of what day it is.
You do a lot of challenging work. What do you do for fun, and to take care of yourself?
I'm proud to say that I'm much better about taking care of myself now than I used to be. For self-care, I watch horror game play on YouTube because I think it's more fun to watch other people do it—plus it's cheaper and less time-consuming. I spend quality time with friends virtually—ironically, all of my closest friends live far away. I SnapChat with my little sister. I take myself to 4 pm matinees in the middle of the week. I laugh with my co-workers. I support and mentor Black kids. I lift weights. I hit my heavy bag. I eat peanut butter fudge sorbet at 3 AM. I write happy things. I listen to podcasts and audiobooks about true crime, folklore, and history. I laugh at nonsensical memes. I block white people with dreadlocks. I drink plenty of water. I take selfies. I spend entire weekends naked, and I don't let myself work on Saturdays anymore.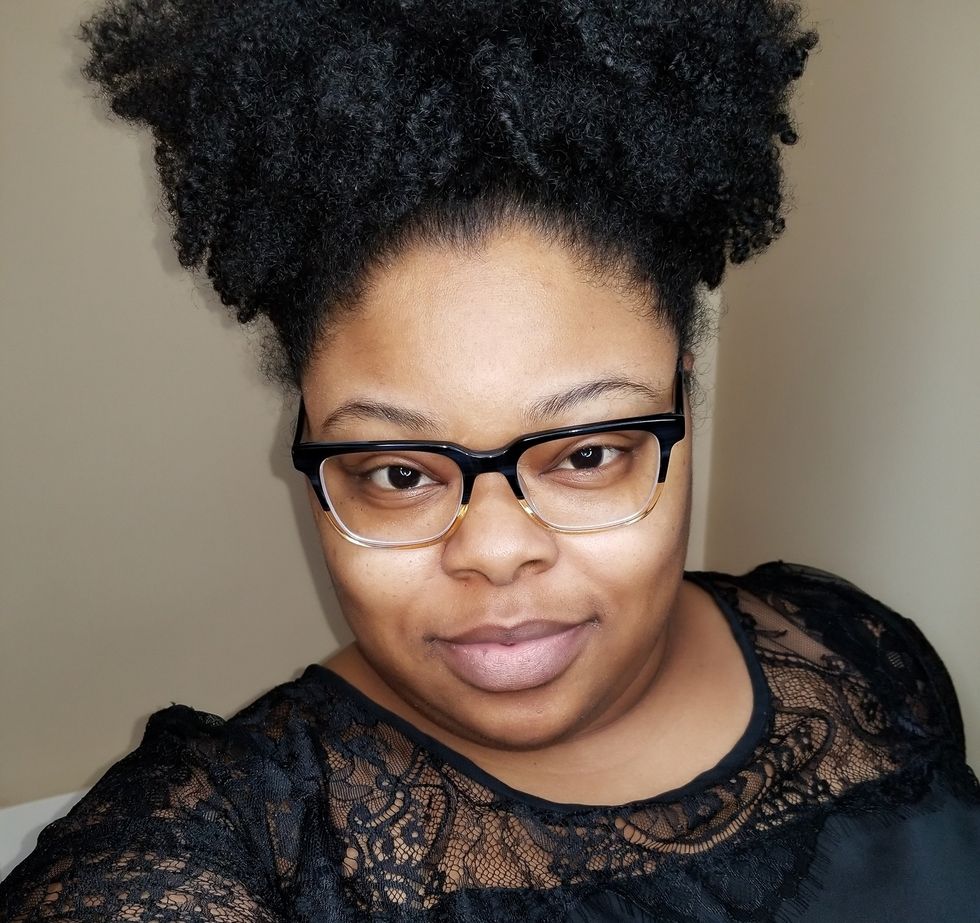 Want to be featured on The Visionaries Project, or want to nominate someone you think should be? Email us at [email protected] or message us on Twitter at @LibertyThis.

In 2019, the equivalency of knowledge and power is not just an adage, but a warning. However, an American public that stays defiantly informed can also turn knowledge into hope.
Author Isaac Asimov once said, "There is a cult of ignorance in the United States, and there has always been.
The strain of anti-intellectualism has been a constant thread winding its way through our political and cultural life, nurtured by the false notion that democracy means that my ignorance is just as good as your knowledge." In 2019, the equivalency of knowledge and power is not just an adage, but a warning. However, an American public that stays defiantly informed can also turn knowledge into hope.
Here are 10 books every (informed) American should read:
Travels with Charley: In Search of America by John Steinbeck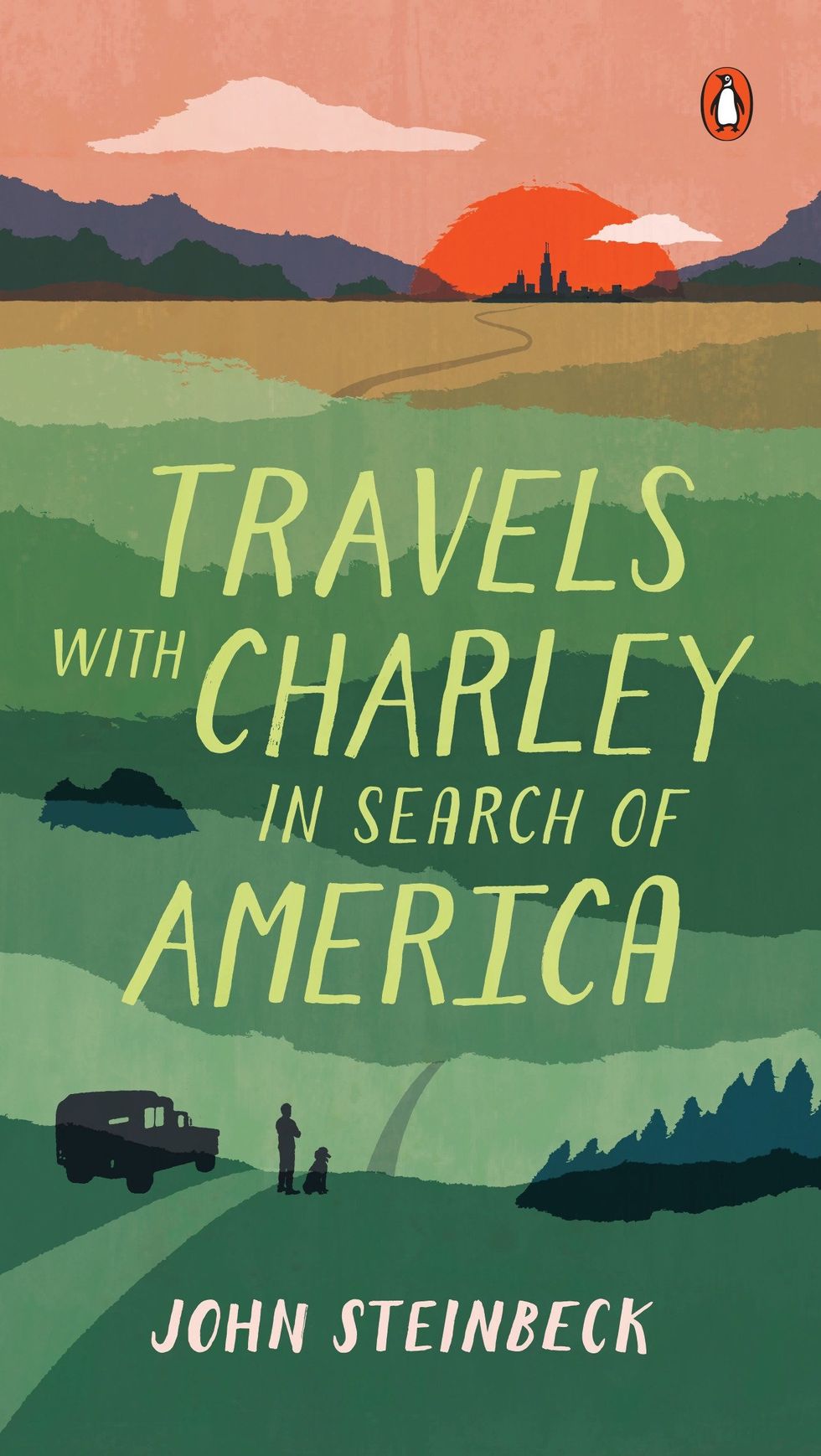 If you don't read the Steinbeck classics, The Grapes of Wrath and Of Mice and Men, you're doing yourself a disservice. But, if there's only one Steinbeck book you do make time for, make sure it's his autobiographical travel memoir of taking his lumbering RV and charismatic dog across America. He makes due with whatever conversation and company he finds, not driven by any great American ambition other than finding moments of connection in a diverse landscape.
Catch-22 by Joseph Heller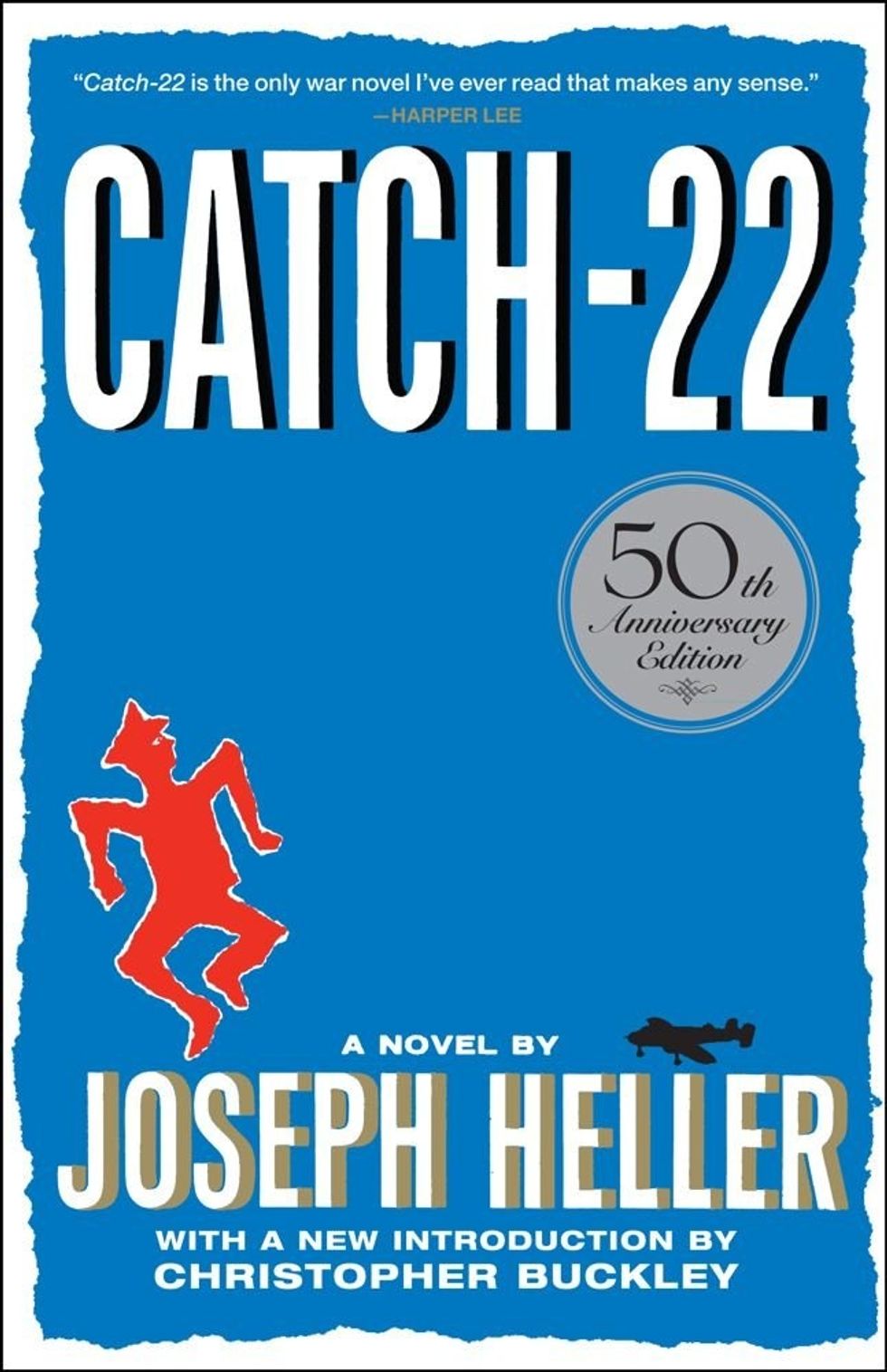 One of America's most loved authors, Heller's humor and biting observations capture the precarity of individualism in the face of war. The foundations of American cynicism and anti-war sentiment are encapsulated in the eponymous bureaucratic rule of Catch-22: "a man is considered insane if he willingly continues to fly dangerous combat missions, but if he makes a formal request to be removed from duty, he is proven sane and therefore ineligible to be relieved."
Frankenstein by Mary Shelley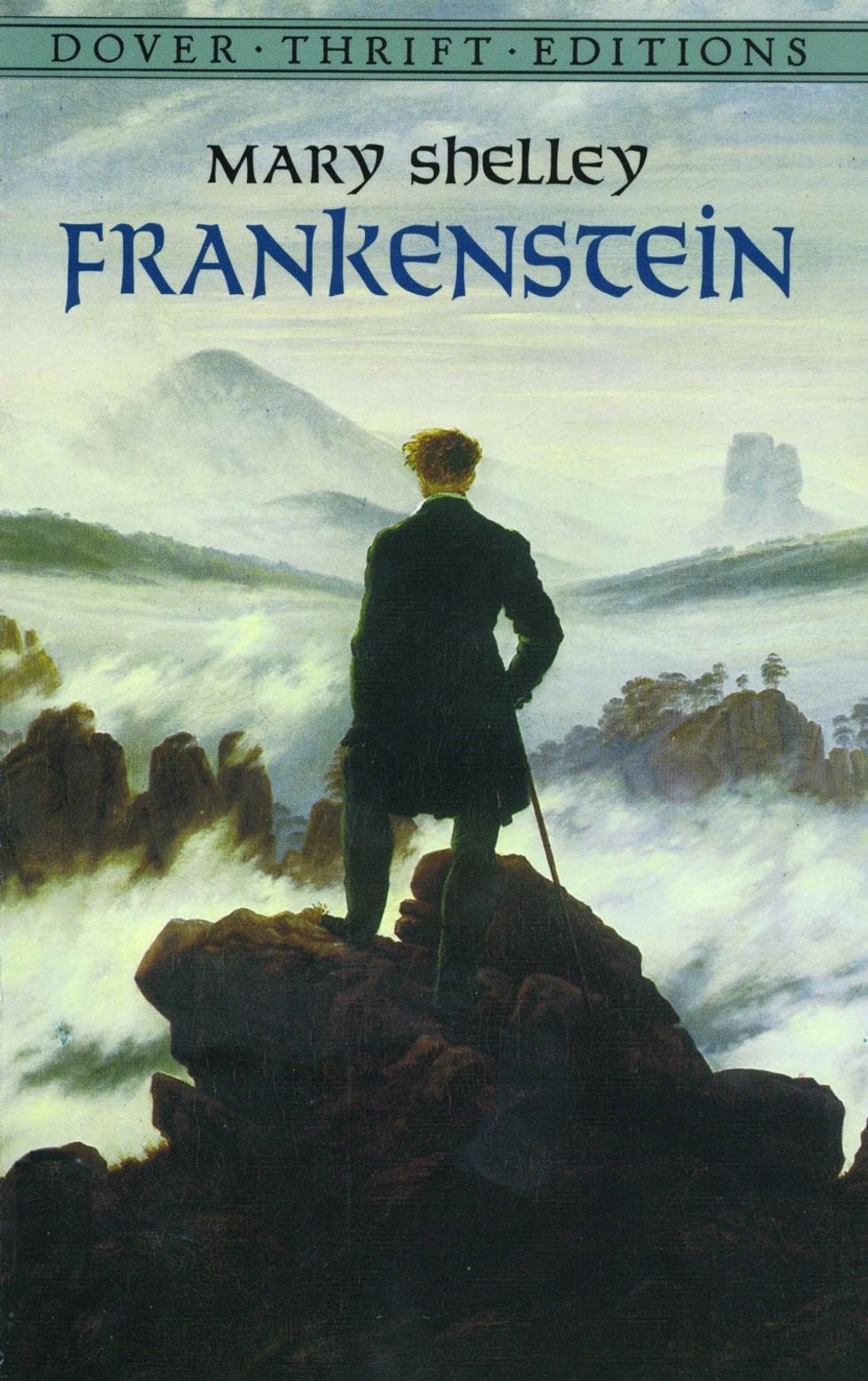 As much as the movie adaptations of Frankenstein's monster are icons in America cinema, the philosophical depths of the novel are sadly lost. Individuality and personal responsibility are two major burdens that neither creator nor creation are capable of managing well. There's also something to be said about the element of spectatorship that Shelley frames the novel with, as the story unfolds through a series of letters and switches narration like a mind-bending Black Mirror episode.
Between the World and Me by Ta-Nehisi Coates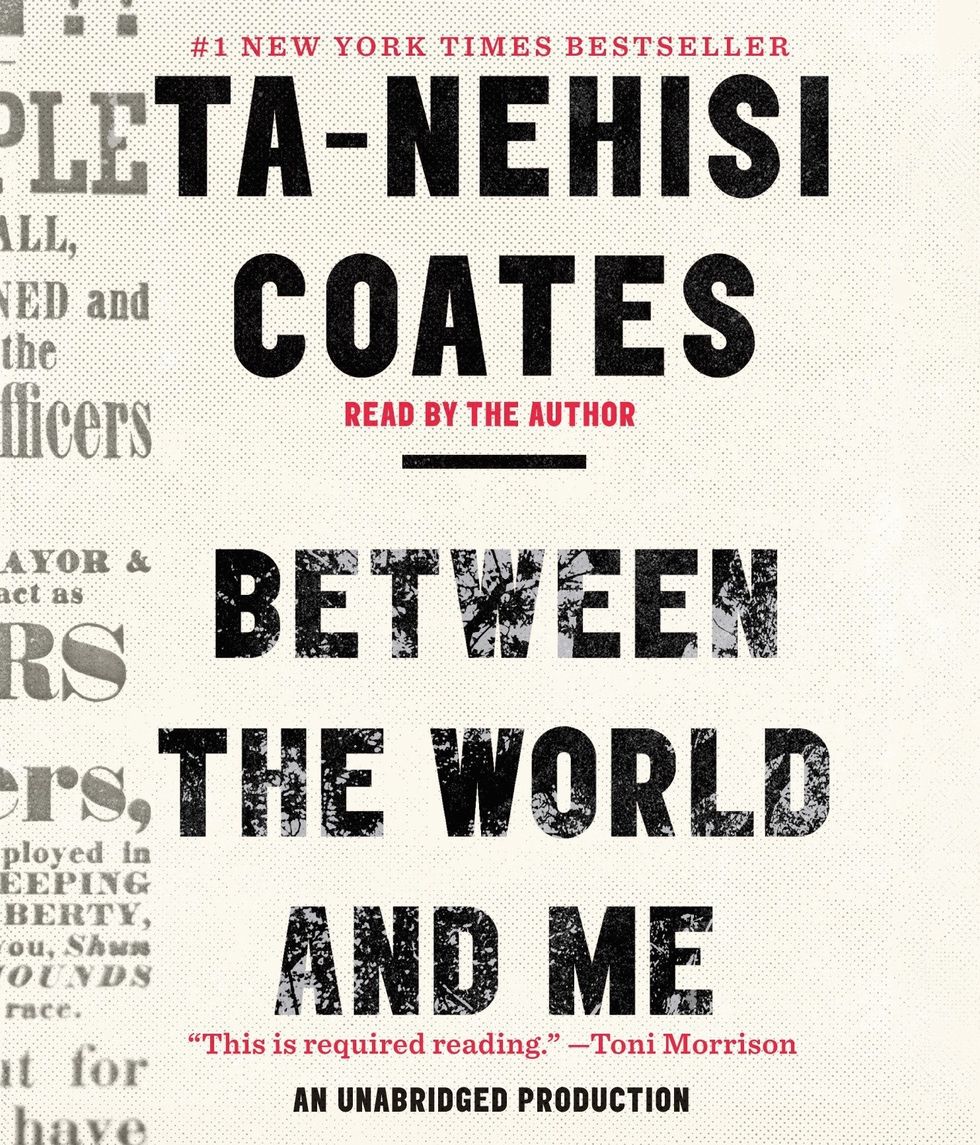 Coates manages to capture both the history and enduring tension of race relations in modern America in what Toni Morrison calls "required reading." Written as a letter to his son, Coates' writing is an alchemy of memoir, oral history, and calls to action. He aims to explore how "Americans have built an empire on the idea of 'Rae,' a falsehood that damages us all but falls most heavily on the bodies of black women and men...What is it like to inhabit a black body and find a way to live in it?"
The Hitchhiker's Guide to the Galaxy by Douglas Adams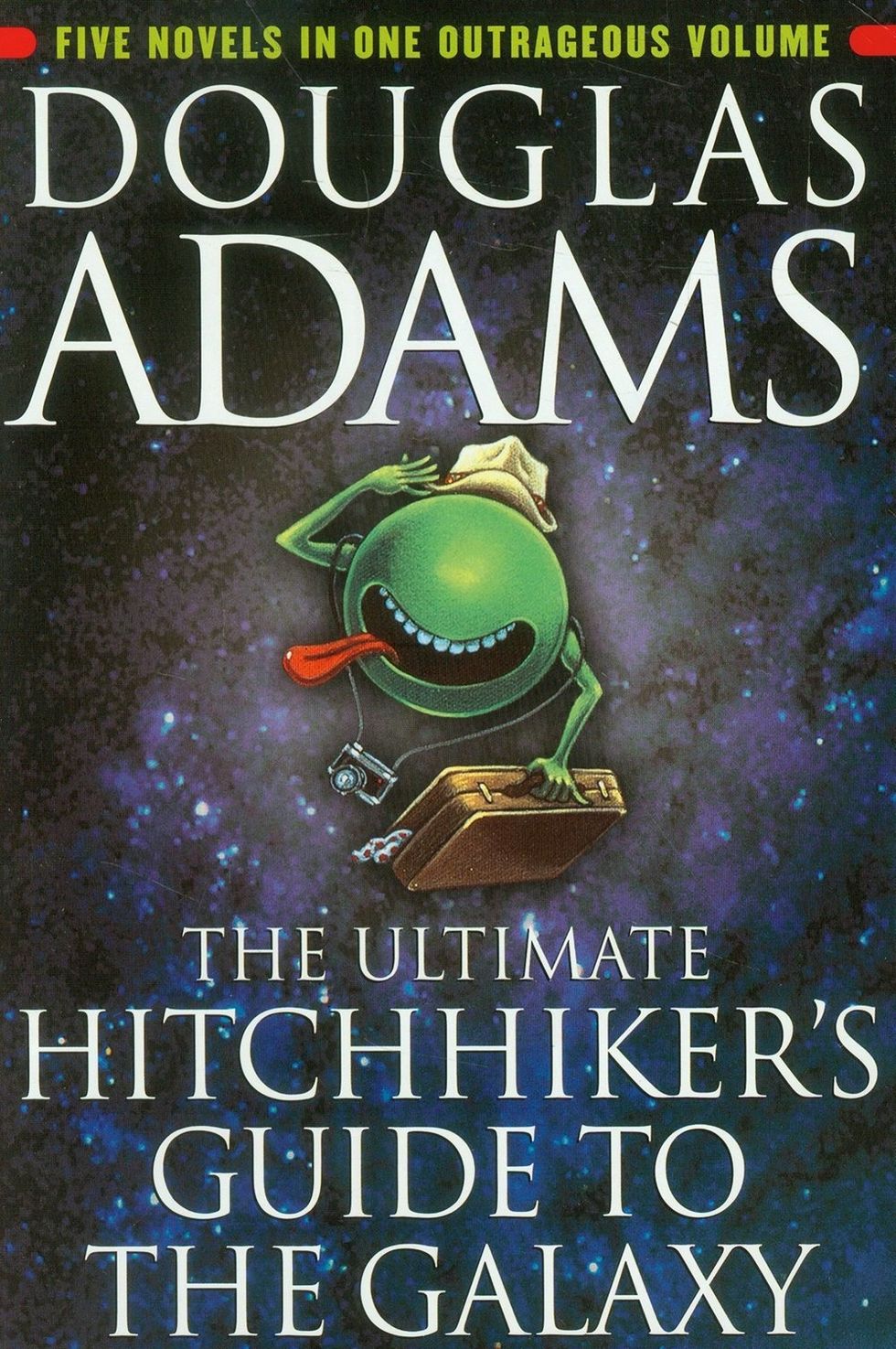 This classic fantasy adventure isn't a political science essay or a philosophical treatise, but the payoff is just as strong–if not stronger. Alienation, otherness, nihilism, and, above all, personal resilience take Arthur Dent through the galaxy after his home (along with the rest of earth) is destroyed one casual morning.
Ender's Game by Orson Scott Card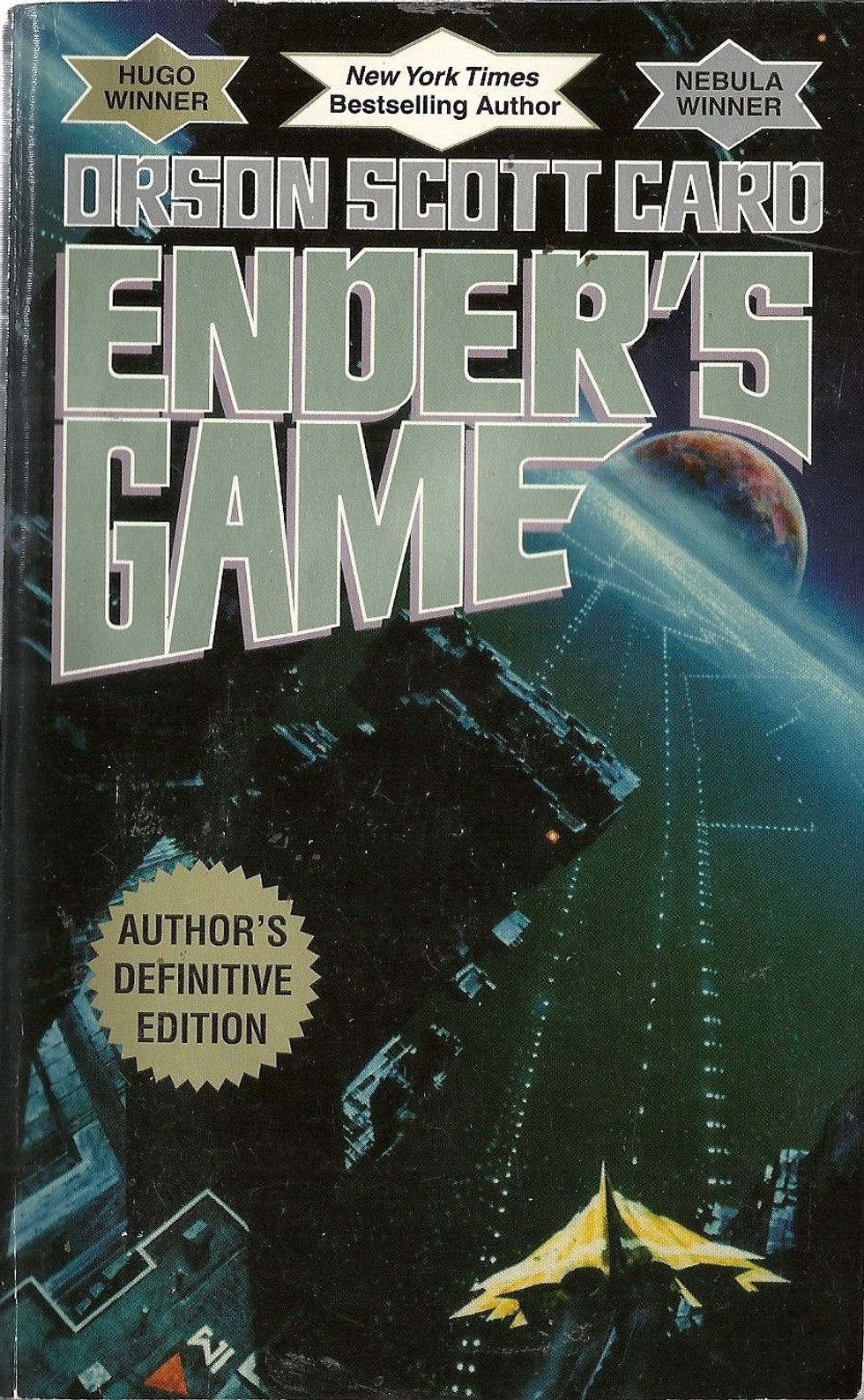 In the same vein, this sci-fi novel is like Machiavelli's The Prince retold as a dystopian space saga. The value of individual innocence in the face of the greater good is challenged. The series explores the moral boundaries of powerful men using innocents as weapons in a war they can't understand.
Bad Feminist by Roxane Gay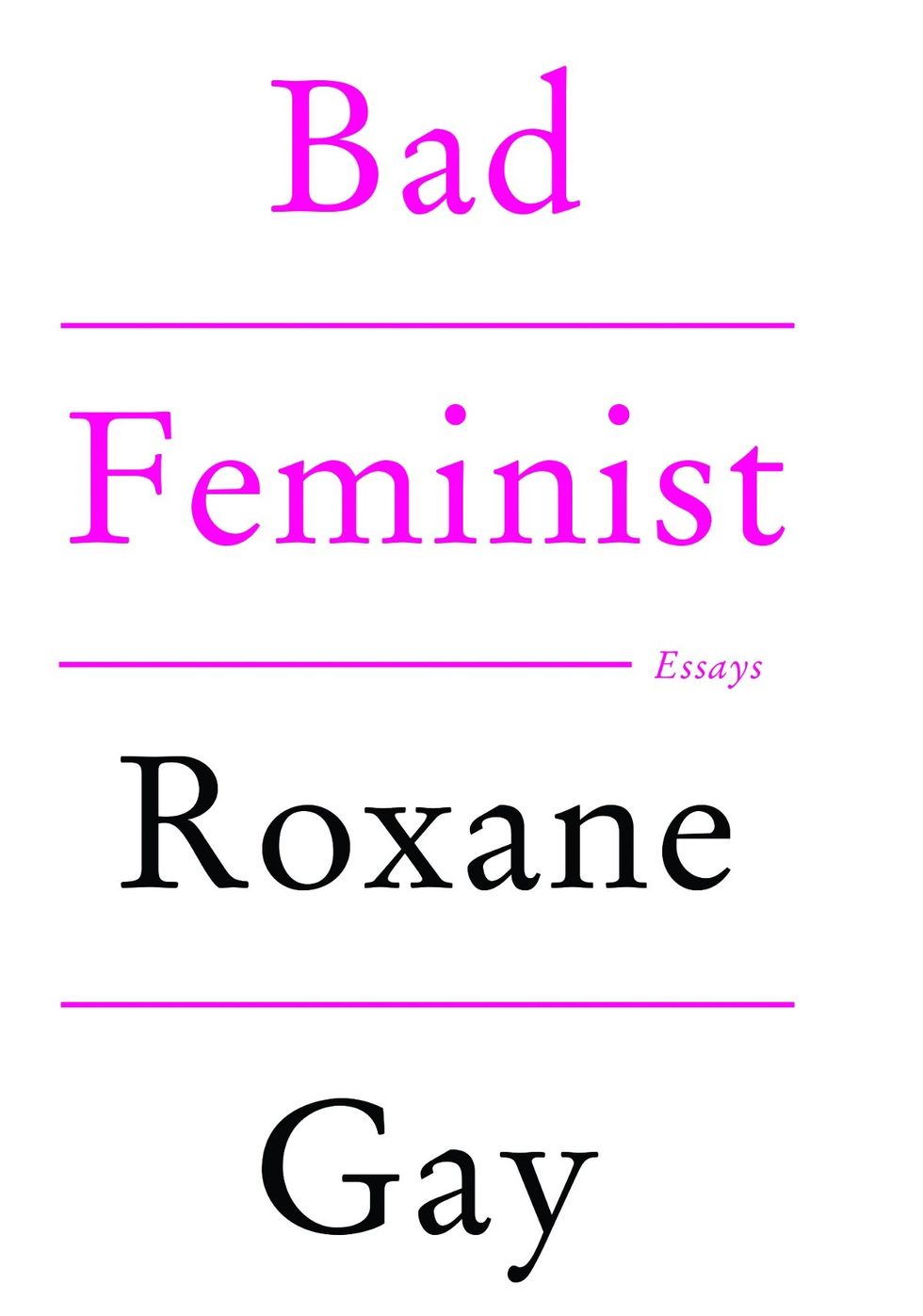 Gray's book of essays explores the contradictions inherent in what we understand modern "feminism" to mean. Mixing humor with sharp observation, Gay targets issues as banal as choosing pink as her favorite color as well as timelessly complex matters such as domestic abuse and abortion.
Fahrenheit 451 by Ray Bradbury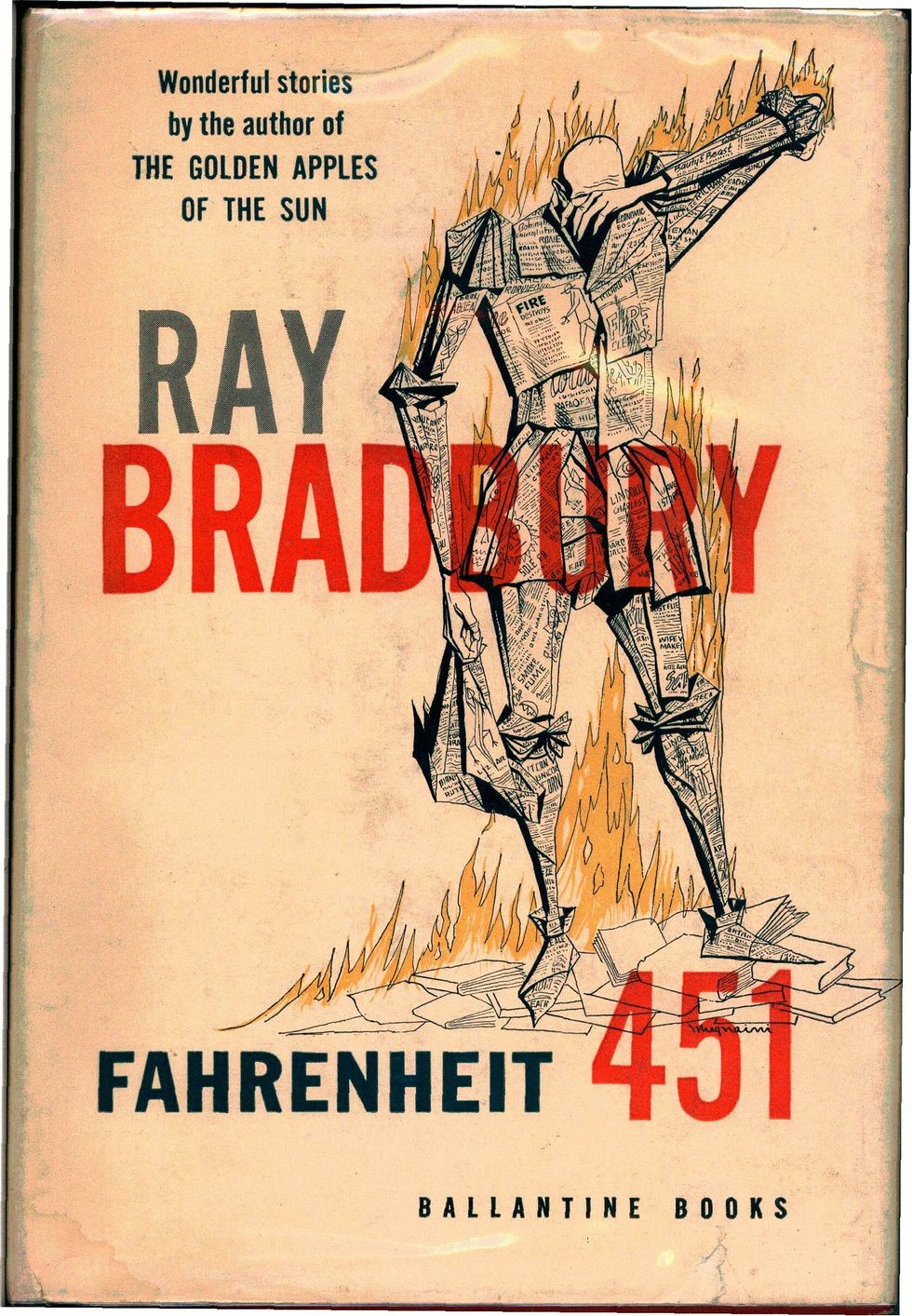 This one also gets named on every list of "books you need to read" because of its plain and eerie predictions of how dependent society will become on media for its opinions and worldview, as well as entertainment.
The Little Prince by Antoine de Saint-Exupéry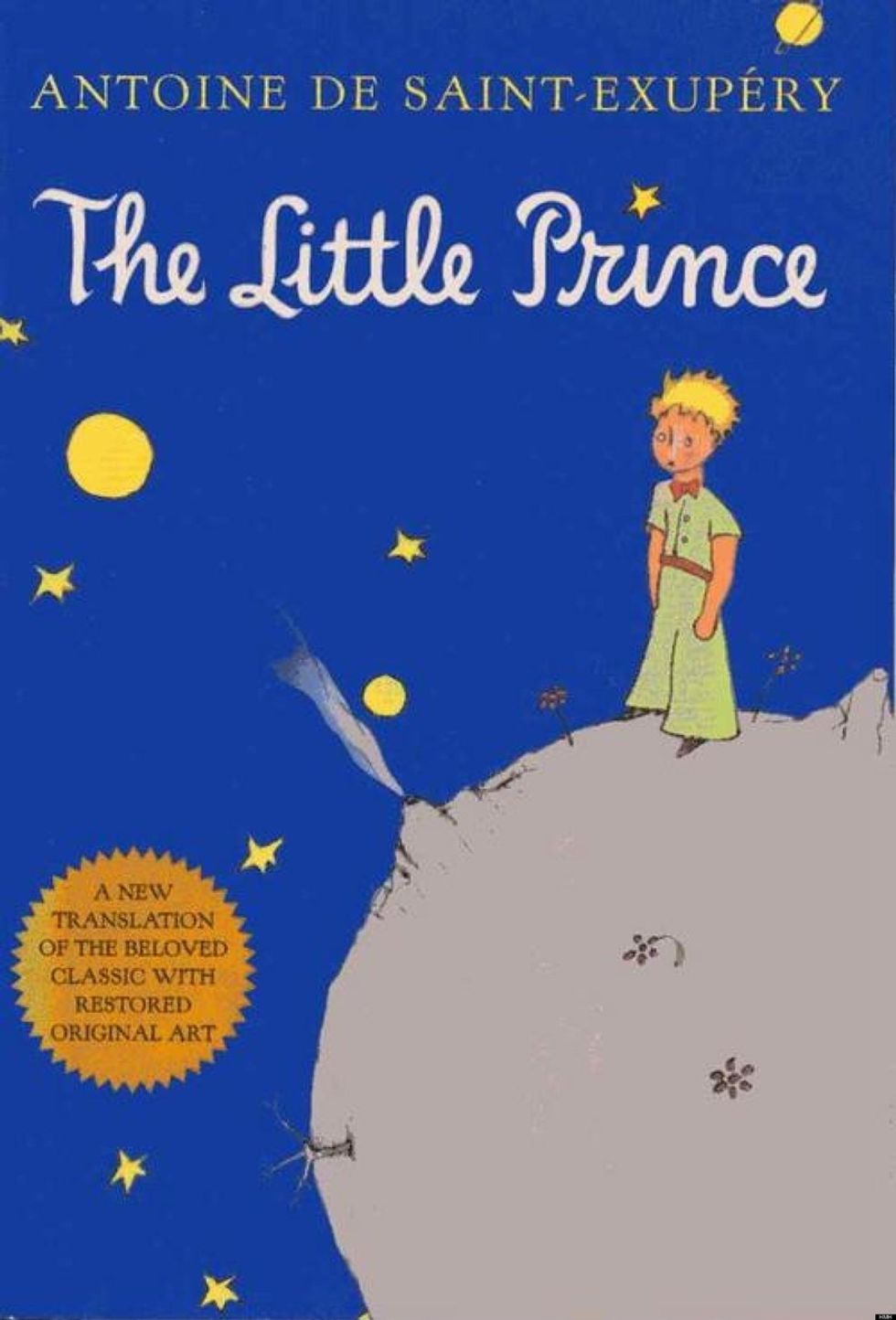 If you can't read the entire canons of solipsism, emotional psychology, and the art of satire, you can absorb the whimsical explorations of The Little Prince. Put simply, a boy prince journeys from planet to planet, each populated by a single adult. His conversations with each one create "a heartfelt exposition of sadness and solitude." Originally written in French, it's universally poetic.
1984 by George Orwell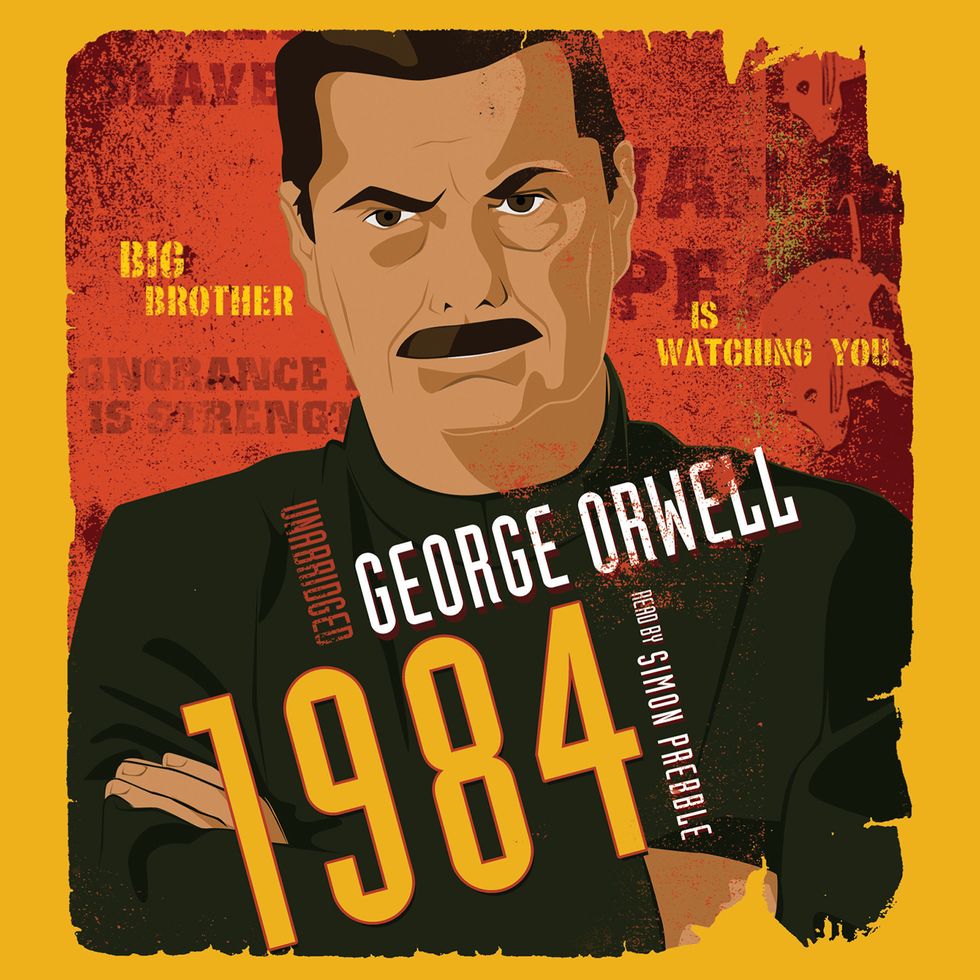 Knowing the references isn't enough with this classic; again, you have to read it for yourself in order to see dystopian America in your mind's eye. From the cognitive dissonance of war crimes to the contradictions of government propaganda, you need to come to your own conclusions about what an Orwellian future looks like.