Pogues frontman Shane McGowan was an ancient 65 when he died on November 30. Television producer Norman Lear was a youthful 101 when he left this realm on December 5. No doubt his zest for life kept him going for so long – and his zest for controversy.
Norman Lear's work was an integral part of American life in the second half of the 20th Century. Television programs like Maude, Sanford and Son, and The Jeffersons dragged television out of the 1950s and into the real world. As Variety states: "Lear's shows were the first to address the serious political, cultural and social flashpoints of the day – racism, abortion, feminism, homosexuality, the Vietnam war – by working pointed new wrinkles into the standard domestic comedy formula. No subject was taboo: Two 1977 episodes of All in the Family revolved around the attempted rape of lead character Archie Bunker's wife Edith."
All in the Family, which ran on CBS from 1971 to 1979, typified the clash of generations. Middle-aged bigot Archie Bunker – played by Carrol O'Connor – was a right-wing King Lear in Queens, raging at the radical changes in society. Archie didn't let ignorance get in the way of his opinions; once he argued that people who lived in communes were communists. The thing is, the old dog was actually capable of learning new tricks. Archie never evolved into any kind of saint. But over the nine seasons "Family" aired, experience taught Archie the benefits of listening to (and respecting) viewpoints far different from his own.
All in the Family was the jewel in Lear's crown, but don't forget the highly popular shows One Day at a Time (which featured Bonnie Franklin as a divorcee raising two daughters in the Midwest) and Mary Hartman, Mary Hartman (with Louise Lasser as the titular figure in a parody of soap opera conventions). Good or bad, Lear's work was never indifferent.
More recently, you may have heard about Lear's lively activism. His TV shows were themselves arguments for free and unfettered speech, and Lear supported a slate of liberal causes. In 1981 he founded People for the American Way. The organization's website describes the ways that PFAW has "engaged cultural and community leaders and individual activists in campaigns promoting freedom of expression, civic engagement, fair courts, and legal and lived equality for LGBTQ people."
Lear's life was a long and fulfilling one. In 1978 he was given the first of two Peabody Awards, the most prestigious award in television. "To Norman Lear," it reads, "...for giving us comedy with a social conscience. He uses humor to give us a better understanding of social issues. He lets us laugh at our own shortcomings and prejudices, and while doing this, maintains the highest entertainment standards."
A pioneer, a gadfly of the state, a mensch. To paraphrase a lyric from All in the Family's theme song, "Mister, we could use a guy like Norman Lear again."
50 years after M.L.K. was assassinated, his legacy continues to inspire. Who are the strongest voices fighting for his vision?
In the 50 years since Dr. Martin Luther King Jr.'s death, his legacy has only gained momentum as activists and everyday citizens fight against prejudicial policies that would scale back his vision of equality, rather than realize it. The March on Washington may be most commemorated for Dr. King's speech on August 28, 1963, but the determination of the Civil Rights Movement inspired even more than the 250,000 people who demonstrated in the nation's capital that summer. Dr. King declared, "Go back to Mississippi, go back to Alabama, go back to South Carolina, go back to Georgia, go back to Louisiana, go back to the slums and ghettos of our northern cities, knowing that somehow this situation can and will be changed."
True to his legacy of equality, Dr. King's passion touched people from all walks of life, from famous actors and politicians to scholars and everyday citizens. Here are 5 people whose aspirations were inspired by MLK:
1. Ineva May-Pittman, activist and NAACP member who marched with Dr. King:
"I just felt–free. With all these people from all across the country and the world, of all ethnicities, together–no incidents or anything, and everybody was friendly toward each other...Why can't this be, you know, all the time? So we had to come back and double our determination to try to make it be. And we still workin' on it."
2. Frankye Adams-Johnson, activist and teacher who marched with Dr. King:
"I felt that somehow we had achieved whatever this freedom meant, that it had been achieved there in Washington. We had marched, we had listened to speeches, and we had been moved by the great Martin Luther King, Jr." Reflecting on the summer of 1963, she says, "I envisioned that our quality of life as an African-American people … would be better for more of us than the handful that it is. I don't want to put a damper on celebrating and commemorating. But I will just say there's still so much more we need to be fighting for."
3. Forest Whitaker, actor:
"We followed him because he was holding your hope. The hope that your life would be full and complete with equality. There are few people in history who take that position that allows people to follow and change, who represent something powerful...He did it in this country and made people walk with him towards a better life. I think it's difficult for the next generation to see the things that happened before...So you have to continually, historically remind them and try to make them aware of what Martin Luther King was doing that we are all in this together. And that hope is alive today."
4. Barack Obama, 44th President of the United States:
"Dr. King was 26 when the Montgomery bus boycott began. He started small, rallying others who believed their efforts mattered, pressing on through challenges and doubts to change our world for the better A permanent inspiration for the rest of us to keep pushing towards justice."
5. Stevie Wonder, along with 80 other iconic figures, and the youth of today:
In commemoration of Dr. King's assassination in Memphis in 1968, musician Stevie Wonder created a powerful tribute to Martin Luther King that called upon figures from Apple CEO Tim Cook and London Mayor Sadiq Khan to Serena Williams and Paul McCartney. Most powerfully, he called for all Twitter users to post their own dedication to Dr. King and how he continued to inspire today's generation. He posted, "On April 4, 1968 at 7:05 p.m. central time, Dr. King's life was cut tragically short. 50 years later a need for his dream to be fulfilled is far greater than ever. Share your dream & post your own #DreamStillLives video. Spread love...spread hope"
On April 4th, 1968 at 7:05 p.m. central time, Dr. King's life was cut tragically short. 50 years later a need for h… https://t.co/XVJ9Gis9zp

— Stevie Wonder (@Stevie Wonder) 1522886700.0
Meg Hanson is a Brooklyn-based writer, teacher, and jaywalker. Find Meg at her website and on Twitter @megsoyung.

100 prominent French women have signed an open letter arguing that the #MeToo movement has gone too far.
The #MeToo movement, first sparked by allegations against Hollywood heavyweights like Harvey Weinstein, has shown Americans just how many of us are survivors of sexual violence. Not only did #MeToo empower women to talk about our experiences with abuse and harassment, but it also inspired many employers to work toward creating a safer, more equitable workplace.
Most Americans appeared to be receptive to this revelation, but apparently the same can't be said for the French. At least that's how it seemed after a group of 100 prominent French women signed an open letter in the French newspaper Le Monde in January of this year, calling the movement a "hatred of men and sexuality."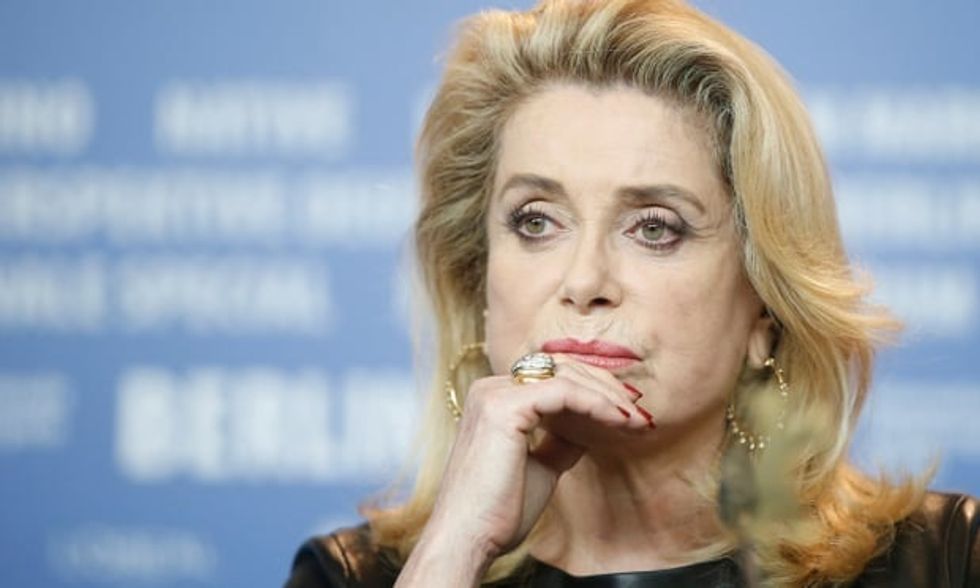 French actress Catherine DeneuveThe Guardian
On top of their claims that it's anti-men, these women noted that #MeToo attempts to make seduction shameful and frames women as "eternal victims." Among the co-signers were actress Catherine Deneuve, Catherine Millet, who authored a best-selling novel about sex, and conservative women like Elisabeth Lévy, editor of Causeur magazine.

Part of the letter reads: "As women, we do not recognize ourselves in this feminism, which goes beyond denouncing abuse of power and has turned into a hatred of men and of sexuality … Rape is a crime, but trying to seduce someone, even awkwardly, is not. Nor is being gallant a macho aggression ...
"It is the nature of puritanism to borrow, in the name of the supposed collective good, the arguments of the protection of women and of their emancipation to better chain them to their status as eternal victims; poor little things under the control of demonic phallocrats, like in the good old days of witchcraft."
It is here that I, as an American feminist, take issue with their fundamental misunderstanding of #MeToo — and survivorship.
For most of us in the United States, it's hard to find fault in something that feels so pure. Women live their lives with the awareness that there are men who want to hurt us. They're in our families, our friend groups, workplaces, and even among strangers. For many of us, it feels good to talk about our experiences and fears out loud.
The idea that asking to be treated better, to be seen as more than sexual objects for men to attempt to "conquer," turns us into perennial victims is absurd. The only thing that turns a woman into a victim is an abuser making the choice to harm her. In that vein, the only thing that makes women seem like we are always victims is the astounding prevalence of sexual violence, abuse, and harassment put upon us by abusers and a culture that excuses them.
This thinking also proposes that a fundamental aspect of femininity is being desired, while masculinity is inextricably tied to pursuit. This is a dangerous binary for women, and a limiting one for men.
When we expect that seduction is a natural part of how men interact with women, we place a massive burden upon women. Implying that men have some fundamental right to try to seduce us asks us to endure unwanted, inappropriate, and sometimes illegal sexual interaction. It places no responsibility upon men to control themselves or to even have empathy for the women they're trying to seduce. This type of thinking places more value upon men's right to seduce us than our right to feel safe and be treated as equals.
See, my husband has never had to worry about sexual harassment in the workplace. He's been working different jobs for 35 years, but he's never once considered how an outfit he is about to put on might cause his colleagues to sexually harass him. He's never worried that he might have to endure uncomfortable, inappropriate come-ons in order to keep his job.
In contrast, I've worried about these things in every male-dominated job I've ever had. In fact, my first experience with sexual harassment in the workplace happened when I was only 17 years-old. My boss was in his forties. I didn't report it or even tell my parents, because I believed it was normal for men to behave that way.
I'm far from alone. While there is a glaring need for more research in this area, one study determined that 81% of women have been sexually harassed. For generations, we have been taught — either overtly by our parents and teachers or implicitly through our own experiences — that being harassed is the price we pay for being in the workplace, school, or out in the world.
Teenage girls in school are groped, catcalled, and harassed by boys in classrooms and hallways. Sexist dress code policies imply that their bodies tempt boys into distraction, suggesting that boys simply cannot control themselves. Most women and girls have dealt with stalking, harassment, and sometimes even outright violence from strangers attempting to "seduce" them on the street.
The French women who wrote the open letter against #MeToo mention that many of the stories in this movement haven't featured an imbalance of power, as was the case with Harvey Weinstein. These French women make clear that they are against rape or men who abuse their power. But if you ask me, unwanted sexual attention from any man — whether he's your boss, classmate, or just a guy on the street — can feel like an abuse of power.
In our society, men, particularly white men, naturally hold positions of power over women. This begins with the fact that men are often physically larger and stronger; but, additionally, men are also more likely to be police officers, security guards, judges, and even legislators. So while the man or boy who harasses you may not necessarily hold formal power of you, he will likely evade prosecution due to the fact that he's part of a system designed to protect men.
Of course, there are exceptions to this rule of power when it comes to intersecting privileges. For instance, a white woman accusing a Black man of rape or violence holds an extraordinary amount of power. Despite the fact that 90% of rapes happen intra-racially (wherein the victim and perpetrator are of the same race), the disparaging stereotype that Black men are sexually violent toward white women has proven to be deadly for Black men and boys, resulting in staggering rates of wrongful convictions and vigilante violence.
Such was the case for Emmett Till, a 14-year-old boy who was accused of making sexual advances towards a white woman in 1955 and subsequently lynched. According to one historian, the white woman in question admitted in 2008 that she had lied about the boy touching her or talking suggestively. Of course, by then, it was decades too late.
Still, considering that the majority of sexual violence occurs between individuals of the same racial group, the men who choose to harm women generally hold more societal power than women do. This creates a scary world for women who wish to report their abusers or harassers.
Considering how likely men are to protect one another, asking the world to become a safer place for women doesn't present us as "eternal victims," as the French dissenters propose. It simply demands that women be treated as equal members of society, with the same freedoms to move through the world safely and free of harassment that men possess. And despite what the French #MeToo dissenters may have expected, the movement seems to have helped French women.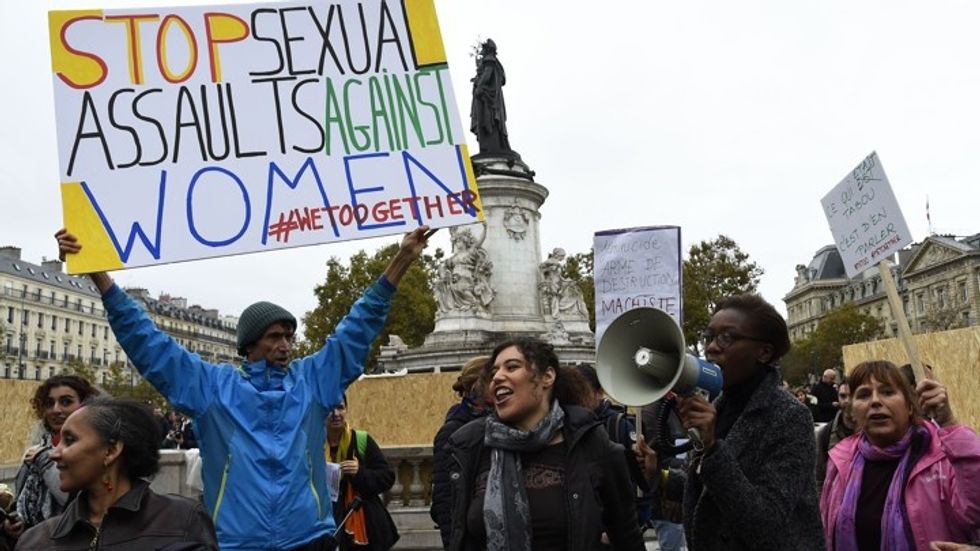 Protest in FranceThe Atlantic
According to a report by France24, "Reports of sexual violence surged between 23 and 30 percent in October 2017 from the year before...The increased number of complaints has been widely attributed to the movement for encouraging victims to speak out." France has also enacted a new law that makes street harassment illegal, which has led to the successful prosecution of a man who called a woman a "whore" on the street and groped her buttocks. The man was fined and was sentenced to time in jail, becoming the first person convicted for "sexist insults" in France.

None of this is to say that #MeToo is the end of romance, either. Rather, it proposes that men can do better than seducing women in a way that makes them feel scared or uncomfortable. After all, most men don't want to make women feel unsafe, and plenty understand that it's not "seduction" when you have to convince someone to want you — it's coercion.
Asking for equal access to work, schooling, and public spaces does not make us weak. In fact, standing up against the notion that men have the right to harass, assault, or even try to seduce us — awkwardly or not — is the epitome of strength, and it's sad that the French women who signed the letter don't understand that.
An honest reflection on race, inequality, and justice in America
February 26, 2018 will mark the six year anniversary of Trayvon Martin's death. His killer, George Zimmerman, was acquitted of all charges on July 13, 2013. The tale of unarmed black men being killed in America is one that seems to be never-ending. Stories of unarmed African Americans being gunned down at the hands of law enforcement circulate throughout the news cycle as frequently as weather updates. Trayvon became a martyr at only 17 years old. His death was the pinch that woke America up from the dream of "racial equality" that had been conjured with the election of our first Black president four years before his murder. The Dog-whistle-politics that stemmed from this case would've made Lassie's head explode. Right wing talking heads went as far as to blame Trayvon's death on the hoodie he was wearing. Some feel that had he not been wearing said hoodie that made him look "suspicious," Martin would still be alive today.
I was 24 when Trayvon's young life was taken from him. I didn't grasp the magnitude of the situation when it happened. Not because I didn't have sympathy for a life being lost, but because I didn't understand why so much emphasis was put on race. To me, Zimmerman was just another trigger happy hick with emotional issues. Plus, I had grown weary of my people automatically dubbing something as racist when the offender wasn't a minority. I wasn't that naive that I believed racism didn't still exist. I also didn't think that it would still be so obvious in 2012. I, too, rocked gently to sleep by the lullaby "Yes, We Can!" As more and more cases like Trayvon dominated the media, I started to run out of excuses as to why these killings weren't an offshoot of racist behavior.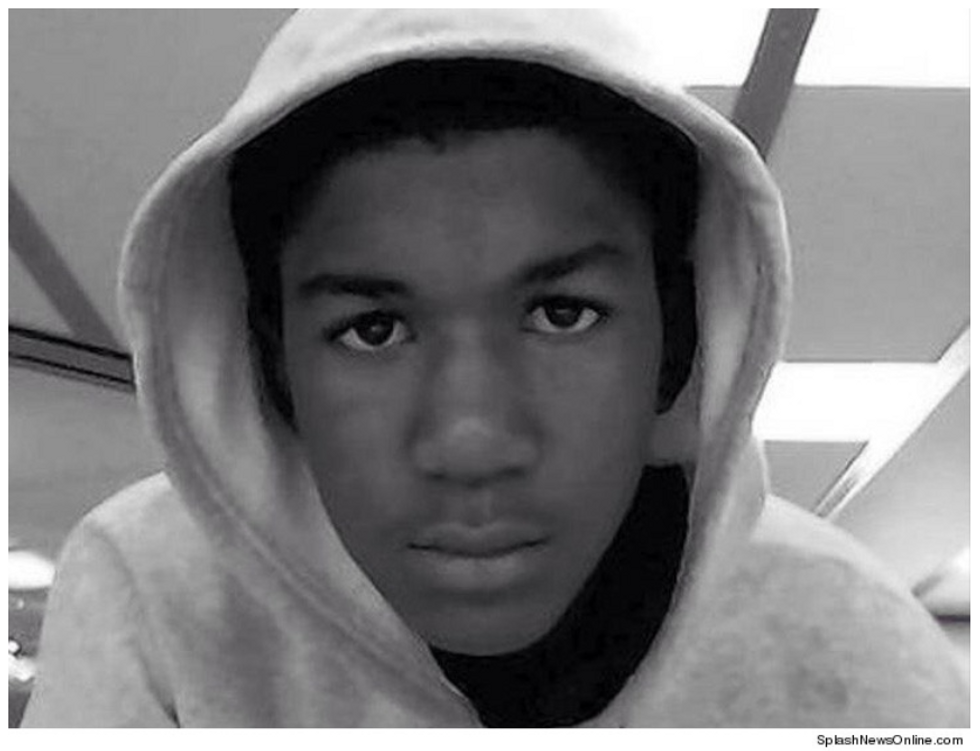 I could understand one or two every few years, but it was almost everyday I was hearing that a brother without any weapon was killed by a cop. I couldn't say that it was specific to one area either. These killings were happening in different parts of the country. Now at 30, I'm more aware that the scales of justice rarely tip in the favor of people who share the same skin color as myself. That coded language used to describe people of color is no longer encrypted. I find this sort of tension in my body whenever I'm in the presence of law enforcement even though I'm not doing anything illegal. I think about my contrasting mind state from the time when Trayvon was killed compared to now, and I ask myself "Why was I so disconnected from my blackness?"
At a certain age, I felt that being thought of as a Black person first and foremost was very limiting. The fact that I was black was obvious, but I did not feel it needed to be my primary identity. In my mind, I felt being connected to my blackness meant that I went around introducing myself like "Hi, I'm Dwayne! I'm Black! A pleasure to meet you!" My family is Black and we lived in a Black neighborhood. I enjoyed "Black" things like Hip-Hop music, soul food, and basketball. I had Black teachers all the way up until high school. In elementary school, they made us read poems by Langston Hughes and books by Lorraine Hansberry. During Black History Month, the students put on performances for the whole school. My "Black Card" had been validated a long time ago in mine eyes.
Fast Forward to Cardinal Spellman High School and suddenly I'm exposed to different cultures on a broader level. I'd been around black people my whole life, so I became fascinated with the idea of interacting with students from other ethnicities. I developed friendships and relationships with people from other races that I've maintained to this day. I still managed to fit in with the black students to an extent because I was the designated rapper, but not as much as I would've liked. Our common interests weren't in abundance. They were into the latest Jordans, 106 & Park, and going to the movies at Bay Plaza. I was into The Simpsons, Linkin Park, and perfecting the concept of being the Emo kid from the hood. I wasn't a jock, a troublemaker, class clown, or a Straight-A student. I was just Dwayne, an individual, not just another Black kid.
Unbeknown to me, I've experienced racism and racial profiling as an adult on various occasions. I say "unbeknown" because at the time I didn't think of it as such. I've been stopped by a police officer, frisked, and asked if I was on probation or parole. I remember visiting a friend who lived in a predominantly white neighborhood. I was stopped by a patrol car because according to them, one of the residents said there was a man in a hoodie that looked "suspicious" (There goes that word, again). I would visit my white friends and have dinner with their families. They were warm, inviting, and treated me like one of their children. Later, I would discover that they would use racial slurs towards Black people in casual conversation among each other. These slurs weren't directed towards me in particular, but the "bad ones." I was one of the "good ones."
I didn't get what made me so "different" in their eyes. Was it because I had gone to parochial school for a great portion of my upbringing? Was it because I was great at articulating myself? Was it the fact that I could speak Italian? I felt I was privileged being able to be in places that a lot of black people weren't. To me, I felt I had transcended race and I was being judged by the content of my character not the color of my skin. I was Dr. King's dream personified. I had encountered people who loved Black culture, but for some reason didn't love Black people the same way. I went from feeling like a king to a jester.
There will never be a time in this country when race and color won't be a factor. It's a sad reality that we don't want to embrace, but an honest one nonetheless. As a youth, I held firmly to this concept of being an individual first and a skin color second. I was conditioned to think that the darkness of your skin was not a restriction on your ability to succeed. Though that may not have been one hundred percent the case for me, it does not mean that it hasn't the case for others. Trayvon Martin would've turned 23 February third of this year. Racial profiling and devilish acts are reasons why he wasn't here to celebrate it. His story is another reminder of America's continuous misunderstanding and mistreatment of its people of color.
I no longer feel that being recognized as an African American man first is an attempt at marginalization. I cherish my blackness more than I've ever had before. I'm still an individual, but I am an individual that shares the plight of others who look just like me. We are far removed from slavery and Jim Crow in regards to time. However, the lingering effects are hovering over our nation like one big divisive black cloud. My experiences have led me to a sobering revelation. That revelation is that you may forget what you undoubtedly are, but there will be people and situations for better or worse that will remind you.
The meaning of freedom can vary from person to person, so what does it mean for all?
Freedom is a fundamental element of liberty; it's a concept, a value, and a feeling.
It's also an essential human requirement, and something most people agree is worth fighting for. But what does freedom really mean in our daily lives, and the lives of others? What does it require of us?

In 1941, Franklin D. Roosevelt explored these questions. Roosevelt – a master communicator (and frequent contributor to Liberty magazine) – delivered a State of the Union address to millions of Americans, as they gathered around radios in parlors and tenements, just as they had for his famous "fireside chats." In his familiar, reassuring voice he introduced the nation to a concept he called the Four Freedoms:
Freedom of speech and expression
Freedom of worship
Freedom from want
Freedom from fear
At the time, the country was reeling from depression and fearful of war. Roosevelt provided a powerful affirmation of shared values and a call to action to defend them. As freedoms were disappearing in Nazi-occupied Europe, Roosevelt reminded Americans that their commitment to freedom was the foundation for everything that would be asked of them in the coming years.
The Cost of Freedom
At the heart of Roosevelt's message is a curious paradox: the four freedoms are fundamentally at odds. Freedom of speech and worship involve only the individual, who makes a choice to act (or not), while freedom from want and fear requires society to take collective action, and for us to be responsible for one another. In fact, the freedom we enjoy as individuals is possible only in and through our community.
For most of us today, freedom represents doing what you want, when and how you want, without anyone interfering or stopping you. Freedom means you can be you. And it means you will let me be me. But freedom can't be absolute: it is not the absence of rules; and it is definitely not anarchy. Our freedom hangs in the tension between chaos and control, between I and us. With freedom comes responsibility: if we're allowed to do what we want, we're also responsible for what we do.
That's the catch.
If we accept a definition of freedom that allows everyone to be fully themselves, we should accept that there are some conditions that need to be met first. You can't be truly free if you're starving, or homeless, or sick. If we are to guarantee freedom, do we also need to guarantee all free people a level of basic well-being? That's a lot of responsibility.
Freedom For All?
Here in the "land of the free," we are often quick to celebrate the freedoms outlined by our founding fathers, while forgetting their original concept of freedom was reserved strictly for property-owning white men – women, slaves, and Native Americans, not so much. In many ways, America's unfinished history has been a process of giving more freedom to more people over time.
Freedom means different things to different people. But it also means different things to the same people at different times in their lives. And, like most big ideas, freedom depends on context.
Freedom can be all of these things and more
The bumper stickers are true – freedom isn't free. It's costly and valuable, and it should be treasured and kept safe. We honor our freedom when we enjoy it, celebrate it, and share it. What does freedom mean to you? The last day of school? The first day of school? Share your idea of freedom with us below.