Dall-E Mini, the AI-powered text-to-image generator has taken over the internet. With its ability to render nearly anything your meme-loving heart desires, anyone can make their dreams come true.
DALL-E 2, a portmanteau of Salvador Dali, the surrealist and Wall-E, the Pixar robot, was created by OpenAI and is not widely available; it creates far cleaner imagery and was recently used to launch Cosmpolitan's first AI-generated cover. The art world has been one of the first industries to truly embrace AI.
The open-sourced miniature version is what's responsible for the memes. Programmer Boris Dayma wants to make AI more accessible; he built the Dall-E Mini program as part of a competition held by Google and an AI community called Hugging Face.
And with great technology, comes great memes. Typing a short phrase into Dall-E Mini will manifest 9 different amalgamations, theoretically shaping into reality the strange images you've conjured. Its popularity leads to too much traffic, often resulting in an error that can be fixed by refreshing the page or trying again later.
If you want to be a part of the creation of AI-powered engines, it all starts with code. CodeAcademy explains that Dall-E Mini is a seq2seq model, "typically used in natural language processing (NLP) for things like translation and conversational modeling." CodeAcademy's Text Generation course will teach you how to utilize seq2seq, but they also offer opportunities to learn 14+ coding languages at your own pace.
You can choose the Machine Learning Specialist career path if you want to become a Data Scientist who develops these types of programs, but you can also choose courses by language, subject (what is cybersecurity?) or even skill - build a website with HTML, CSS, and more.
CodeAcademy offers many classes for free as well as a free trial; it's an invaluable resource for giving people of all experience levels the fundamentals they need to build the world they want to see.
As for Dall-E Mini, while some have opted to create beauty, most have opted for memes. Here are some of the internet's favorites:
There's no looking back now, not once you've seen Pugachu; artificial intelligence is here to stay.
Pursuing more lawsuits and investigations will never restore trust. Fixing our electoral system could.
Update: Enough electors have now cast their votes to make Joe Biden and Kamala Harris officially the next president and vice president of the United States.
Today in D.C. the 538 electors in the electoral college are casting the votes that will seal Joe Biden's victory as president-elect of the United States.

Still, President Donald Trump has yet to concede, and thousands of his supporters are gathering in the streets in protest of what they believe was a stolen election. Perhaps they're hoping for a groundswell of faithless electors to flip the Electoral College vote — unlikely as that may be.
Thousands of Trump supporters rally in Washington, D.C. to protest election results www.youtube.com
What's more surprising is that nearly two thirds of Republican legislators in the House of Representatives recently backed a legal case in which the state of Texas was suing four other states for the way they ran their elections. The case has since been roundly rejected by the Supreme Court.

Even the three Trump-appointees ruled that there was no basis to even consider it. But why did so many GOP politicians stick their necks out to back a case that was doomed to fail?
The answer is that their voters no longer trust American elections. With trust in the electoral system having dropped by nearly half among Republican voters — down to 36% from its 68% peak just before the election — these legislators are signaling to their base that they agree.
Look at Georgia Senator Kelly Loeffler. In her debate with challenger Raphael Warnock on December 6th, Senator Loeffler repeatedly highlighted the existence of "over 250" open investigations into possible issues with the election.
Does she actually think that the results of the election are likely to be overturned? It's possible, but what's more likely is that she's concerned about her own prospects in the upcoming runoff election.

She wants to signal to the voters who are threatening to abandon the GOP out of loyalty to Trump that she is on their side — that she, too, wants to reject the election results… But she still wants them to go to the polls in January.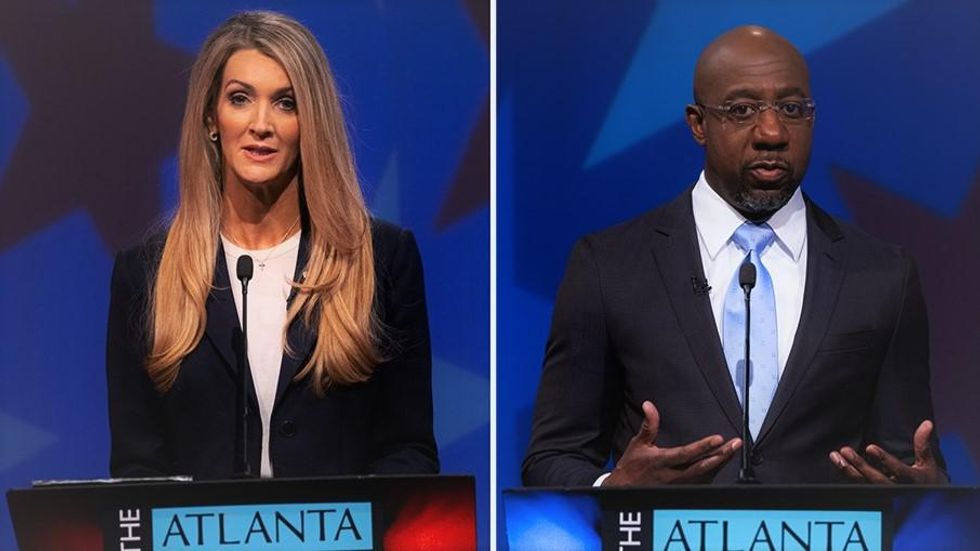 Loeffler Warnock debate
In many respects these lawsuits and the statements about investigations can be dismissed as political theater. But there is a real issue underlying them: American presidential elections are deeply messy and confusing.

It makes sense that voters don't trust our system, because our system is almost impossible to understand. Every state has its own rules for how votes can be cast, how they can be counted, and how the state's electors are distributed among the candidates.
Does your state allow drive-through polling or same-day registration? Does it use paper ballots or electronic voting?
Does it cut off mail-in ballots based on arrival date or postmark? Does it give all of its electors to the candidate that gets the most votes, or does it split them up — like Maine and Nebraska?
It would be silly to think that these differences don't affect the outcome of elections, so why shouldn't residents of a state like Texas scrutinize how other states run their elections? If we are all going to have to live with the result, don't we all have a stake in how voters are purged from the voting polls in Georgia?
The answer is that these differences are an inevitable consequence of the Constitution. All 50 states and the District of Columbia are granted sovereign control over how their electors are selected — with electors pledged to one presidential candidate or another.
In the past this meant that many states didn't rely on a popular vote at all. Instead, state legislatures decided which candidate they preferred and sent electors to Washington accordingly.
At this point every state allows its citizens to vote for their preferred candidate, but each state's election is so different, despite the fact that we all live with the results together. Is it any wonder people are confused and distrustful?
It doesn't help that the president and his supporters are casting further doubt on every aspect of the process, but that's hardly the only problem. The fact that every state has its own procedures and its own electoral apparatus multiplies the number of possible flaws in the system by 50 — technically 51, including DC.
This can only produce more confusion and distrust — more "Stop the Steal" protests and threats of violence. But there is good news: We can fix this.
The Constitution is not immutable. It is a living document, with an established process for changing and improving it. And while it's generally very hard to pass an amendment, if Donald Trump spent the remainder of his term in office pushing for an amendment to fix American elections, he could get enough bipartisan support — by killing the Electoral College.
Back in 2018 President Trump spoke out against the Electoral College in an interview with Fox & Friends. Democrats have long railed against the institution for having twice in the last 20 years handed the necessary 270 electoral votes to Republican candidates who lost the popular vote — the same thing nearly happened this year.

But those critics found an unlikely ally in one of the supposed beneficiaries of our current system. President Donald Trump argued in the interview that the Electoral College totally transforms the nature of the campaign, stating, "I would rather have the popular vote, because it's — to me, it's much easier to win."
President Trump Endorses National Popular Vote on Fox & Friends www.youtube.com
If he pushes to reform the system now — uniting his loyalists with Democrats — he could have the chance to prove that point in 2024. It would also be a way for him to leave an indelible, positive mark on the very fabric of our nation.

It would prevent a recurrence of the current confusion and distrust — with so many lawsuits in different states making room for uncertainty. But it would also eliminate a lot of other problems with our current system.
By establishing a federally controlled popular vote for the presidency, we could correct the fact that votes in different states are worth more than others — a vote in Texas is worth ⅓ of a vote in Vermont. We could even take the opportunity to introduce some other common sense reforms, like ranked choice voting and enfranchising voters in Puerto Rico and other territories — who have so far been subject to taxation without representation.
There are other ways to fix some of the problems with the electoral college, but none would be as effective and enduring in restoring trust in our elections as an amendment to the Constitution. By establishing a secure, unified, and straightforward electoral process for all American citizens — one person, one vote — Donald Trump could establish a lasting legacy for his 2016-2020 term.
And if he decides to run again in 2024, there would be no question about last minute rule changes or cheating in swing states. There would be one set of rules for the entire country. He would win or lose based on the simple reality of how many voters want him to be their president.
With so many politicians arguing that we need to pursue an endless string of confusing lawsuits involving hazy evidence, in order to "restore faith in the election process," it's time to look toward preventing this chaos and doubt in the future.
We don't need 51 separate, potentially vulnerable elections to pick one president. We need to kill the electoral college.
Keep reading...
Show less
Our broken electoral system makes the endless stress and confusion of razor-thin margins inevitable. But we can fix it.
The panic that enveloped the world on November 3, 2020 already feels like a bad dream.

Despite the best efforts of Bernie Sanders and others to prepare us for the inevitable chaos, the partisan divide between mail-in and in-person voting had the predictable effect last Tuesday.
As the in-person votes accumulated in several key states where mail-in totals were always going to be delayed, the sense that Donald Trump was outperforming expectations—and was likely to secure reelection—was pervasive.
Sen. Bernie Sanders Predicts How Trump Will React On Election Night www.youtube.com
The president's rhetoric—deriding mail-in voting and downplaying the threat of the deadly coronavirus pandemic—meant that his supporters were much more likely to turn out to polling places. Democratic voters, on the other hand, were more inclined to avoid the crowded public spaces of election day voting.

Considering the ongoing, unprecedented spike in COVID-19 cases in the US, that caution was well-placed. Nonetheless, it gave President Trump leeway to pretend that his apparent victory had somehow been tampered with.
That strategy may turn out to work, and Donald Trump could snatch a "legal" coup from the jaws of a clear electoral defeat. But if the election had been closer, this game would have been much easier for him to play. The uncertainty and the potential for a court case to disrupt the results—as happened in Florida in the 2000 election—could have taken over the country for weeks without any projected winner.
Instead, victory was declared for Joe Biden and Kamala Harris, and we got to experience the pristine beauty of Donald Trump's desperate legal team scrambling to give a press conference outside Philadelphia's Four Seasons…Total Landscaping.
The image of Rudy Giuliani spreading lies about fraudulent votes in front of a garage door in a random, grungy parking lot was priceless. The only thing better is the way he and his team unconvincingly pretended to have booked that spot—rather than the similarly-named luxury hotel—on purpose.
I could write jokes for 800 years and I'd never think of something funnier than Trump booking the Four Seasons for… https://t.co/HoNzSpDrlt

— Zack Bornstein (@Zack Bornstein) 1604804994.0
And that absurd, hilarious fumbling is all thanks to the fact that Joe Biden earned a resounding and unambiguous victory. Except… Did he?

The Election Results
At current count Joe Biden has received around 5 million more votes than Donald Trump, and that margin is likely to grow as millions of remaining votes are tallied.
His popular vote lead puts him roughly in line with Barack Obama's unequivocal defeat of Mitt Romney in 2012. Biden is also projected to win as many as 306 electoral college votes—the same number Donald Trump won in 2016, and well in excess of the 270 needed to secure the presidency.
While these figures fall short of most of the polling in the lead-up to the election—which predicted Biden securing closer to an 8% lead—it still sounds like a decisive result. Sadly that shortfall hurt down-ballot Democrats, who failed to take control of the Senate or strengthen their caucus in the House. That points to at least two years of divided, ineffectual governance while Americans face down multiple generation-defining crises.
Still, the fears of a Trump victory that loomed large as the first results came in now seem a little silly. Trump didn't really stand a chance, right?
I woke up this morning with a sense of dread that I can't shake. So I'm gonna put my doom spiral out there in hopes… https://t.co/nTkVxyJVbt

— Natalie Wynn (@Natalie Wynn) 1604988024.0
Sadly, no. While the number of Americans who turned out to reject Trump's hateful politics and failures of leadership outnumber their pro-Trump counterparts by a respectable margin, the growing sense that Biden's victory was inevitable and comfortable does not hold up to scrutiny.

As 2016 taught us, "millions more votes" is a meaningless achievement in our bizarre, antiquated system. In that presidential race Hillary Clinton won the popular vote by nearly 3 million votes, but the way electoral votes are apportioned to favor rural states resulted in Donald Trump winning 306 electoral votes and the presidency (later finalized as 304 due to faithless electors).
The Decisive States
At the time, a great deal of attention was paid to the fact that three states—Wisconsin, Pennsylvania, and Michigan—had narrowly handed Trump his win. Worth a total of 46 electoral votes (enough to flip the whole election), Trump's margin of victory in those states was less than 1%.
From a cohort of 138 million, 79,316 voters in those three states ended up making the decision for the entire country. It seemed like a slap in the face to the notion of Democratic elections. But it turns out that things were even more narrow in 2020.
While there are still votes being counted—and the specific figures could change as the final tallies come in—it looks likely that four states will go to Biden with a margin of less than 1%. And in the three states where counts are currently closest—Georgia, Arizona, and Wisconsin—Biden is ahead by a total of fewer than 50,000 votes.
If those three states had gone the other way—Arizona could still flip—Donald Trump would have secured their 37 electoral votes and been handed a second term as president. And that's exactly what would have happened if 0.03% of the 160 million Americans who voted had decided to stay home—or if half that number flipped to voting for Trump instead of Biden.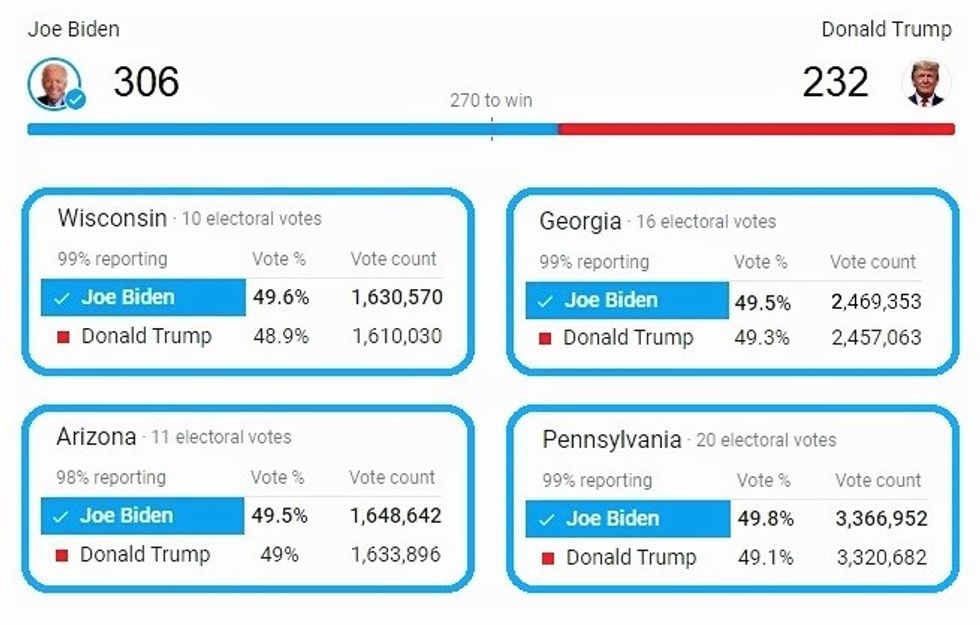 Projected final Electoral College Tally, with current vote counts in the four closest states.AP
And Donald Trump only needs to assemble enough flimsy evidence to cast substantial doubt on that tiny fraction of votes in order to conduct a coup.

To put things in perspective, the voters who ensured Joe Biden's victory are outnumbered by the average daily visitors to Disneyland (pre-COVID). Back in the '90s, all the voters who were decisive in expelling Trump from the White House could have fit inside Donald Trump's Atlantic City casinos—before those were all either shuttered or rebranded.
The number of voters who determined our leader during a pandemic are dwarfed by the number of people who have been killed by that pandemic in New York and Texas alone...
Even if you add Pennsylvania's 20 electoral votes to the mix, around 95,000 voters could have delivered Donald Trump a comfortable victory—with 292 electoral votes—just by staying home. Then they all could have gone to a game at Penn State's Beaver Stadium, with 10,000 seats left to spare.
The Problem With the Electoral College
Why is it possible—let alone familiar and expected—for the most powerful position on Earth, leading a nation of 330 million, to be assigned according to the will of a number of people who couldn't fill the seats at a college football game?
Our system, as it currently exists, makes these razor-thin margins unavoidable.
If the decision were between two disappointing moderates, that might not be such a terrifying prospect, but political polarization has made each election an inevitable battle between a far-right zealot and… a disappointing moderate.
States with more rural populations lean strongly Republican, while more urban states lean strongly Democratic. With the already swift rate of cultural progress in cities being amplified by the Internet's tendency to intensify everything, the backlash in rural areas that are more resistant to change is stark, and the divide is only growing.
Of course the populous in Democratic states significantly outnumber Republican states. In a democratic system that would mean that Republicans would have to shift their policies and their rhetoric to appeal to more people. But the electoral college cancels out the population difference—giving smaller states proportionally more sway.
As a result, Republicans can play more and more to their relatively small base of support, while Democrats attempt to build broad enough support to overcome their disadvantage. And this struggle ends up playing out in just a handful of "swing states" where opinions are fairly mixed.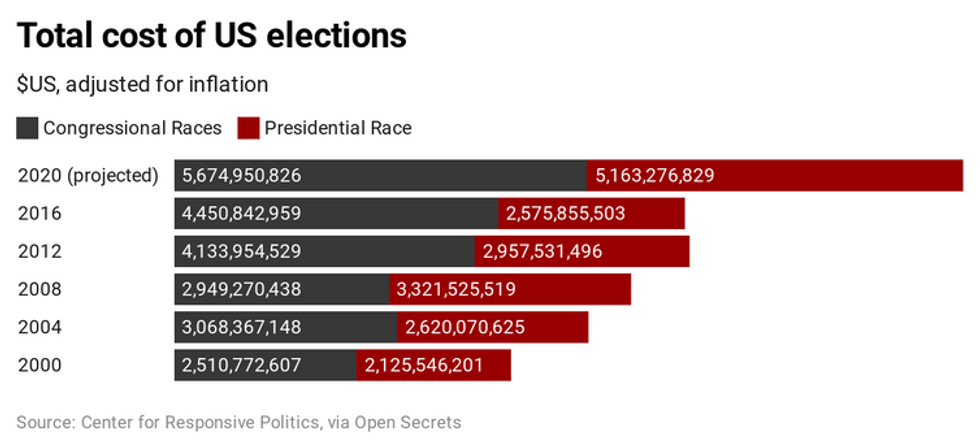 That's where candidates spend hundreds of millions of dollars, bombarding residents with attack ads, trying to sway the slim percentage of voters who aren't devoted to one side or the other. And the effect is to leave an increasing number of people disgusted with the whole political process.

This makes it exceedingly easy for misinformation or voter suppression efforts to become decisive. What if Trump donor Louis DeJoy had been even better at slowing down the mail in the lead up to the election? What if a "satirical" deepfake video of Hunter Biden had spread on Facebook, bolstering false claims of pedophilia? Would it have been enough to shift the vote by 1% in Arizona, Georgia, and Wisconsin?
In either case, as awful and as stressful as this election was, we shouldn't take the less-than-horrifying result as a sign that things are okay, or that the next election will be any better. As a nation we walk on a political knife's edge that's controlled by a fraction of the population of a few states.
The National Popular Vote Interstate Compact: A Possible Solution
If you don't live in one of those battleground states, you will never be in that tiny group of voters whose decision to vote or stay home determines the next four years for the rest of America. As long as we continue to allow the confusing, undemocratic, and unpopular Electoral College system to determine the outcome of presidential elections, candidates will ignore the needs of your state, because your vote won't count.
The good news is: There is a way out that doesn't avoids the nearly impossible process of passing a constitutional amendment.
The Electoral College and the National Popular Vote | One Detroit Clip www.youtube.com
States have the power to determine how their electoral votes are awarded. If a few more state legislatures in places like Texas—where each vote has roughly ⅓ the power of a vote in Vermont—signed onto the National Popular Vote Interstate Compact, we could render the Electoral college moot.

A winning number of electoral votes would go to whoever won the popular vote. Our next president would be determined by millions of Americans, rather than a few thousand people in Wisconsin.
Until then, we will keep walking the razor's edge.
Keep reading...
Show less
The shining light of American democracy—a beacon for the world—is actually a smoldering dumpster fire
American "Democracy."
Americans do not live in a democracy.
Right-wing pricks will tell you that's a good thing. They will say that America's founding father's—in their immense wisdom—established the United States as a Republic, not a democracy, specifically to avoid the danger of the unruly masses inflicting their tyrannical will on out-groups and minority populations.
Leaving aside the fact that these revered men did not generally believe in the humanity of women, Black people, native Americans, and presumably men with facial hair—and that democracy mostly frightened them with the possibility of the unwashed masses voting to take away their powdered-wig money—there were actually some nice ideas in there.

For instance, they enshrined some rights with the intention of preventing the kind of religious conflict and ideological oppression that had torn Europe apart for centuries. That's great and all, but they never enshrined any right to vote, and if their intention was to use the intermediaries of a representative republic to prevent a majority from monopolizing democratic power and inflicting hateful tyranny on a powerless minority of the population, there's some bad news...
The roots of America's democracy problem www.youtube.com
While our system has gotten more democratic in some ways—we now elect our senators through a direct popular vote, rather than having them selected by state legislatures—the consolidation of political power among a small percentage of wealthy elites has resulted in a powerful minority inflicting hateful tyranny on both the powerless majority and on truly oppressed out-groups.

It doesn't matter if most people don't want overpriced private healthcare, environmental degradation, regressive taxation, prohibitive abortion laws, immigrant concentration camps, and corporate overlords with the power to quash collective bargaining. The legislation that serves the interests of the wealthy and powerful—either directly, or by providing a distraction from the issues that actually affect our daily lives—is the legislation that consistently gets passed.
That's how the system is built at every level. As former president Jimmy Carter put it, we now live in an "oligarchy" where "unlimited political bribery" leads to "a complete subversion of our political system."
The Electoral College
The electoral college may be the most obvious example of how warped America's "democratic" institutions are. Each state was originally apportioned a number of electors based on their population of citizens, with each enslaved black person equal to 3/5 of a citizen. While those enslaved people would not be represented by the government, the men with the moral fortitude to treat them like subhuman cattle would be, and they believed that they deserved a louder voice because of all the human beings they owned.
Each state had the right to decide how its electors would be selected, either by popular vote or by state legislators; then those electors, though they had a "pledged" loyalty, could cast their vote for whoever they wanted to be president and have occasionally abandoned their pledges to vote for someone else.
The National Popular Vote v. the Electoral College [POLICYbrief] www.youtube.com
If that sounds like a frustrating board game where they made the rules excessively complicated as a substitute for making them, you know, work...you're starting to get the hang of it. Of course, nowadays we also have a national popular vote where we listen to what every voter wants—because every vote counts!—before turning our attention back to the electoral college and the handful of swing states where votes actually count.

In 40% of elections in this century the popular vote winner has lost the electoral college, and the will of the governed has been ignored in favor of some arcane rules written by men with syphilitic brain damage.
There is currently a push for states to embrace the National Popular Vote Interstate Compact, which would assign a winning number of electors to whichever candidate won the national popular vote and eliminate the familiar routine of candidates chasing each other around contested states and ignoring most of the country.
But while the compact is only a few large states away from going into effect, it seems unlikely that it will come into effect any time soon. Because while you might think that voters in Texas would resent the idea of their votes having less than 1/3 the power of voters in Vermont or Washington D.C., they have been sold on the idea that their interests are best served by the current incarnation of the Republican party—which is heavily favored by the electoral college—rather than a version that was forced to actually listen and adjust to the populace...
And even if the compact went into effect, it's there's a good chance that the Supreme Court's current, wildly conservative 6-3 majority—5/6 of whom were appointed by presidents who lost the popular vote—would overturn it.
Gerrymandering
Speaking of Texas and the disenfranchisement of voters, can you guess how many Left-wing congresspeople represent the famously liberal enclave of Austin?
If you guessed 1 out of 5, congratulations! If that's not what you guessed, you're probably pretty confused about why a city with a population under a million even has five congressional representatives (New York City, with a population of over 8 million, has 13 representatives in Congress), let why four of them are Republicans. The answer is gerrymandering.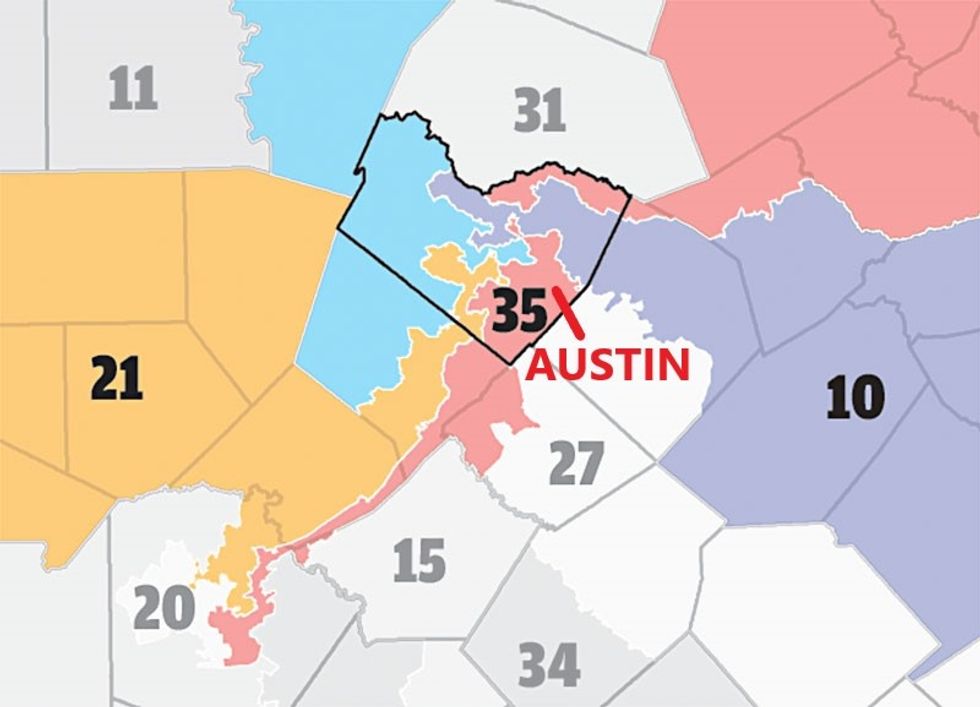 Named after some old-timey guy named Gerry, Gerrymandering is the ancient practice of reshaping the boundaries of a voting district into grotesque contortions according to partisan calculations. If you can pick your voters, you can make sure that the voters never pick someone you don't like.

One of the most common versions of this is known as "cracking and packing," where a population with politics you don't agree with—say, the liberals in Austin–is either split up and diluted into various conservative-leaning districts or carefully contained to one hyper-liberal district—as with Louisiana's 2nd district, which contains both Baton Rouge and New Orleans.
This is how the Republican party has maintained a stranglehold on power since the 2010 redistricting, despite representing a smaller and smaller portion of Americans. This is why Pennsylvania Democrats—who won a significant the majority of votes in state races in 2018—still ended up being the minority party in the state legislature.
Gerrymandering is why—despite more Americans preferring the generally inoffensive corporate milquetoasts of the Democratic party (e.g. Joe Biden)—to the greedy, hateful and even more corporate shills of the Republican party (e.g. Donald Trump) are still dominant at the level of state legislatures, and remain nationally competitive.
Citizens United
In 1886—fewer than 30 years after ruling that Black Americans couldn't be citizens in the Dred Scott case—the United States Supreme Court decided on dubious grounds that, if the 14th amendment insisted that formerly enslaved people counted as full people (effectively repealing the "3/5 compromise"), then rich people's companies should count as people too.
It was the only way to make sure that the kind of rich assh*les who used to treat Black people like subhuman cattle—as well as their northern counterparts—could still have way too much power. it meant they couldn't be held accountable for any crimes they committed or debts they incurred through their companies.
What Uber and Lyft don't want you to know about California's Prop 22. (For more info, read my thread:… https://t.co/17xj9CkMV7

— Adam Conover (@Adam Conover) 1604290482.0
Then, in 2010, the narrowly conservative Supreme Court ruled on the Citizens United case and endorsed that concept of personhood, with the addition that those corporate "persons" have as much freedom of speech as you or I—though, lacking mouths, they can only speak with their millions and millions of dollars.

That green, paper speech can be used to influence and manipulate political discussions to the preferences of the wealthy investors, meaning that companies like Uber and Lyft can fund advertisements that make it seem like their gig economy employees—"contractors"—would hate having health benefits and a minimum wage.
That's what's happening in California right now with the proposition 22 vote, where voters don't even know that the the deceptive "Yes on Prop 22" ads they're being fed are funded by massive corporations trying to rob their employees of those benefits.
The embrace of corporate money in political advertising is mirrored in the abandonment of public election funding in favor of big money donors. Increasingly, politicians only need to cater their messages to the ultra wealthy, and to the pet issues of their most devoted political bases—ignoring most citizens.
Voter Suppression
In another stunningly brilliant move by the Supreme Court (boy, wouldn't it be great if we could have placed three humane justices in the last four years...) in 2013 they gutted the voting rights act, ruling that the limitations on certain states to alter their voting systems without oversight were not necessary, because there hadn't been any racist alterations lately. In other news, if you haven't burned your hands on a baking sheet in while, you can probably throw out your oven mitts...
Since that time, those previously overseen states have closed over 1,600 polling places and instituted various discriminatory voter ID laws, as well as purging hundreds of thousands of voter registrations. Incidentally, when voter turnout is up, Democrats tend to perform better...
Education
In The Republic, Greek philosopher Plato (who was awful and ridiculous in many ways, but just leave that aside for now...) determined that strong universal education was fundamental to the functioning of society.
Without a proper education, individuals could not help to make informed decisions for their own interests and the general welfare of society. And if only some individuals are educated, there's nothing to stop those individuals from steering society—including education—to their own advantage.
Plato's best (and worst) ideas - Wisecrack www.youtube.com
Unfortunately, that is exactly what is happening with people like current Secretary of Education Betsy DeVos in charge of American schools. Arguing for "school choice" (and for the kind of religious establishment the founding fathers tried to prevent) they deprive free public schools of their already skewed funding (tied to property values, because...evil), encouraging parents to seek private schooling, which is often a great option for the wealthy, and often an inadequate insult for working class families.
How are people supposed to properly exercise their democratic rights if their massively underfunded schools never taught them the basics of America's political system? The answer is: They aren't.
People like Betsy DeVos benefit when most of the citizens don't know their rights or understand what has been stolen from them. People like Betsy DeVos—and Donald Trump, and Mitch McConnell—benefit from the fact that we don't live in a true Democracy, and from the fact that most Americans don't have the education to realize how much better things could be—how much better they are in countries with functioning Democracies.
People like you and me (assuming you aren't a multi-millionaire) benefit when enough of us vote to push back against the oligarchy and assert our preference for Democratic rule. And maybe—if we keep it up—we might even get it one day.
Keep reading...
Show less
Dennis Hof won his bid for Nevada Assembly District 36 last night, despite having died three weeks ago.
Midterm elections are often considered a referendum on a sitting administration's progress—a collective report card graded by the people. Early numbers from this year's elections suggest a substantial and possibly record increase in voter turnout, which has been historically low in non-presidential voting years. It's not surprising, given the turbulent political climate, that candidates from both parties continued to campaign at full speed up until the final hours. Yet despite an election cycle that saw blatantly racist attack ads, felony accusations, and threats of violence, the one surefire road to victory has been apparent for years: death.
Outlandish as it may seem, at least nine dead people have been elected to public office since 1962—six in the last 20 years alone. The latest, Dennis Hof, whose body was discovered last month after the legal brothel owner had celebrated at a campaign-and-birthday party, claimed victory in Nevada last night. Prior to his death, the 72-year-old had been celebrating with friends Heidi Fleiss, Ron Jeremy, and Joe Arpaio.
Ballots Beyond the Grave: Deceased People Who Have Won Elections
Rep. Clement Miller (CA, 1962; airplane accident)

Reps. Nick Begich (AK) and Hale Boggs (LA, 1972; airplane accident)

Gov. Mel Carnahan (MO, 2000; plane crash)

Rep. Patsy Mink (HI, 2002; viral pneumonia)

Sen. James Rhoades (PENN, 2008; car accident)

Sen. Jenny Oropeza (CA, 2010; cancer)

Sen. Mario Gallegos (TX, 2012; liver disease)

Dennis Hof (NV, 2018; cause of death not yet reported)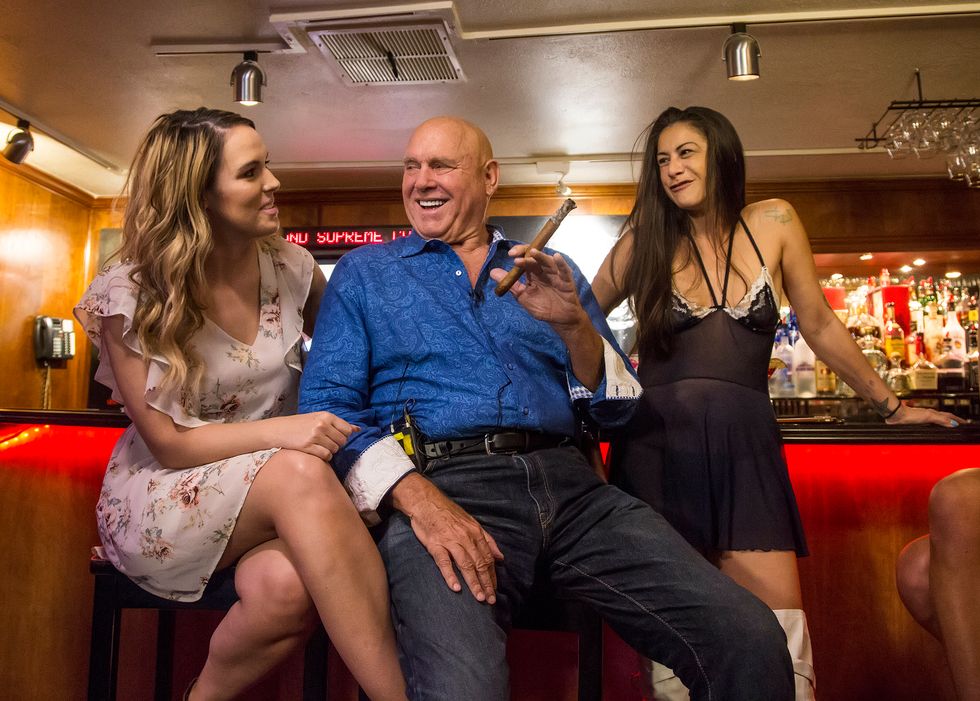 The Nevada Independent
Hof ran for office as a self-proclaimed "Trump Republican" and stated that the president's 2016 win ignited his own desire for a career in politics. Similarities between the two run deep. Hof gained fame as a reality star on the long-running HBO documentary series Cathouse, which captured life at the Moonlite Bunny Ranch, one of several legal brothels owned and operated by Hof. In 2015, he published a memoir titled "The Art of the Pimp," a clear homage to Trump's "The Art of the Deal." In it, Hof included a psychological profile by psychotherapist Dr. Sheenah Hankin, which categorizes Hof as a narcissist who abused the sex workers he employed.
Among the issues he championed were immigration reform, a repeal of Nevada's 2015 Commerce Tax, and a campus carry law that would allow concealed-carry permit holders to bring their weapons onto Nevada college and university campuses. He was endorsed by Roger Stone and Grover Norquist. In the 2018 primary elections, Hof beat incumbent James Oscarson by a mere 432 votes. Because he died within 60 days of the upcoming election, Hof remained on the ballot, though signs were posted at polling sites notifying voters of his death.
It seems as though these issues matter more than electing a living person to citizens of the 36th Assembly District. In fact, a 2013 study by Vanderbilt University found that, in lower-level elections, voters are most likely to elect the candidate with the highest name recognition.
The 36th Assembly District, which spans Clark, Lincoln, and Nye counties, has long been a GOP stronghold. Hof defeated Democrat Lesia Romanov, a first-time (living, breathing) candidate and lifetime educator who works as assistant principal of an elementary school for at-risk children. Romanov was impelled to run for office by a desire for common-sense gun reform following the mass shooting in Parkland, Florida. Yet, too many of her constituents, upon discovering she was running against Hof, she became a de facto advocate for women, including "survivors of sex trafficking and exploited and abused brothel workers," according to NBC News. Romanov was among many women running for office in hopes of making Nevada's legislature the first to hold a female majority in the country.
As The Washington Post reported in 2014, there hasn't been an election with a dead person on the ballot in which the dead person lost. It's hard to determine what's more damning for American democracy: that voters are so divided that they're more likely to vote for a dead person than cross party lines or that they've been voting that way for years. At the same time, one might argue that giving Hof's seat to a living Republican (as appointed by county officials, according to state law) is a better outcome than if it'd gone to Hof himself, considering his history of sexual abuse allegations. The most preposterous indictment of the American political system is that although deceased candidates have been elected before, now the electorate could seemingly ask itself—in all seriousness—whether a dead serial abuser makes a better candidate than a living one. And no one seems to know the answer.