"A tree is best measured when it is down," the poet Carl Sandburg once observed, "and so it is with people." The recent death of Harry Belafonte at the age of 96 has prompted many assessments of what this pioneering singer-actor-activist accomplished in a long and fruitful life.
Belafonte's career as a ground-breaking entertainer brought him substantial wealth and fame; according to Playbill magazine, "By 1959, he was the highest paid Black entertainer in the industry, appearing in raucously successful engagements in Las Vegas, New York, and Los Angeles." He scored on Broadway, winning a 1954 Tony for Best Featured Actor in a Musical – John Murray Anderson's Almanac. Belafonte was the first Black person to win the prestigious award. A 1960 television special, "Tonight with Belafonte," brought him an Emmy for Outstanding Performance in a Variety or Musical Program or Series, making him the first Black person to win that award. He found equal success in the recording studio, bringing Calypso music to the masses via such hits as "Day-O (The Banana Boat Song)" and "Jamaica Farewell."
Harry Belafonte - Day-O (The Banana Boat Song) (Live)www.youtube.com
Belafonte's blockbuster stardom is all the more remarkable for happening in a world plagued by virulent systemic racism. Though he never stopped performing, by the early 1960s he'd shifted his energies to the nascent Civil Right movement. He was a friend and adviser to the Reverend Doctor Martin Luther King, Jr. and, as the New York Times stated, Belafonte "put up much of the seed money to help start the Student Nonviolent Coordinating Committee and was one of the principal fund-raisers for that organization and Dr. King's Southern Christian Leadership Conference."
The Southern Poverty Law Center notes that "he helped launch one of Mississippi's first voter registration drives and provided funding for the Freedom Riders. His activism extended beyond the U.S. as he fought against apartheid alongside Nelson Mandela and Miriam Makeba, campaigned for Mandela's release from prison, and advocated for famine relief in Africa." And in 1987, he received an appointment to UNICEF as a goodwill ambassador.
Over a career spanning more than seventy years, Belafonte brought joy to millions of people. He also did something that is, perhaps, even greater: he fostered the hope that a better world for all could be created. And, by his example, demonstrated how we might go about bringing that world into existence.
The coronavirus pandemic provides cover for crass political maneuvering.
April 28th was the original date for New York State's primary election.
Last month Governor Andrew Cuomo announced that it would be postponed until June 23rd, but on Monday the state's Board of Elections removed Bernie Sanders from the ballot, effectively cancelling the presidential primary for New York voters.
Sanders had previously suspended his campaign but was staying on the ballot in remaining elections in order to increase his delegate count and his leverage in shaping the party's platform at the Democratic National Convention this summer. A similar strategy in 2016 helped Sanders to reduce the sway of unelected superdelegates on the party's nominating process. Unfortunately for voters who wanted to support that strategy, a state law signed earlier this year allowed the board to remove Sanders from the ballot.
The official reasoning is that the election process would undermine the state's efforts to combat the coronavirus pandemic, which has hit New York City harder than anywhere else in the country. Given the new infections that resulted from Wisconsin's primary election on April 7th, no one can blame officials for being concerned, but many had assumed that the state would simply shift to an exclusively mail-in ballot process.
Both of these rallies happened in New York City and now none of these people will get to vote in the primary, mysel… https://t.co/SIf3p8Kv82

— Carlo (@Carlo) 1588011358.0
A charitable interpretation would say that there wasn't enough time to coordinate such a large-scale task, but that's not the whole picture. Whatever the logistical challenges of providing safe voting access to the all of New York's voters, state officials have made it clear that this move also served to prevent an embarrassing result for their preferred candidate and to defend the party orthodoxy against the demands of the country's young progressive movement.

"What the Sanders campaign wanted is essentially a beauty contest that, given the situation with the public health emergency, seems to be unnecessary and, indeed, frivolous."
That was what Co-Chair Doug Kellner said during a live stream announcing the board's decision. It's unclear what he might have meant by the "beauty contest" comparison, though perhaps it was a reference to the fact that the candidate he prefers looks really bad right now. With an increasingly credible accusation of sexual assault leading the trending hashtags #DropOutBiden and #BidenDropOut on Twitter in recent days, establishment insiders who favor Joe Biden's candidacy have a vested interest in treating the nomination like it's already decided. Kellner voiced that sentiment bluntly, saying, "I think it's time for us to recognize that the presidential contest is over,"
Breaking: @CNN covers Tara Reade's accusations against @JoeBiden His campaign is over. What is the response from… https://t.co/ZHMFjjuJ8M

— Habiba Choudhury (@Habiba Choudhury) 1587842002.0
But it's not over. It's very rare for a candidate to have clinched the nomination this early in the process. Joe Biden could easily make up a face-saving excuse to drop out and make way for a candidate without his baggage. He is currently several hundred pledged delegates short of a majority, with nearly half the states still waiting to vote—Ohio's mail-in primary is taking place today. But even assuming that he stays in the race, the final delegate count remains a key way to shape the policy conversation at the convention. While Biden has a distinct lead over Sanders—to the point where even a major scandal like the Tara Reade allegations is unlikely to change the outcome—holding the election in some form would have allowed for New York's voter's to be heard.

As senior Sanders campaign advisor Jeff Weaver put it, "While we understood that we did not have the votes to win the Democratic nomination our campaign was suspended, not ended, because people in every state should have the right to express their preference. What the Board of Elections is ignoring is that the primary process not only leads to a nominee but also the selection of delegates which helps determine the platform and rules of the Democratic Party,"
New York, with its young, left-leaning electorate, represented Bernie Sanders' best remaining chance of adding to his delegate count. Now the Board of Election has undermined that chance and ensured that New Yorkers won't get a say at all. With a critical election coming up in November, and the future of our nation resting on our ability to oust Donald Trump, they found a surefire way to reinforce young voters' sense of distrust and dissatisfaction with the Democratic party establishment.
Statistical anomalies in previous elections point to frightening vulnerabilities in how votes are tallied
In 2012, Mitt Romney was declared the winner of the GOP's Iowa caucus by a margin of just eight votes.
That result was announced at 1:30 AM on Caucus night, but two weeks later there was a different result. The Republican Party of Iowa had performed a recount of the votes and Rick Santorum—a candidate broadly considered too far outside the mainstream to stand a chance in the general election—was revealed as the actual winner. By that point of course it was far too late. Romney had already gotten the media attention that comes with winning, and had capitalized on that sense of momentum to achieve a solid victory in the New Hampshire primary.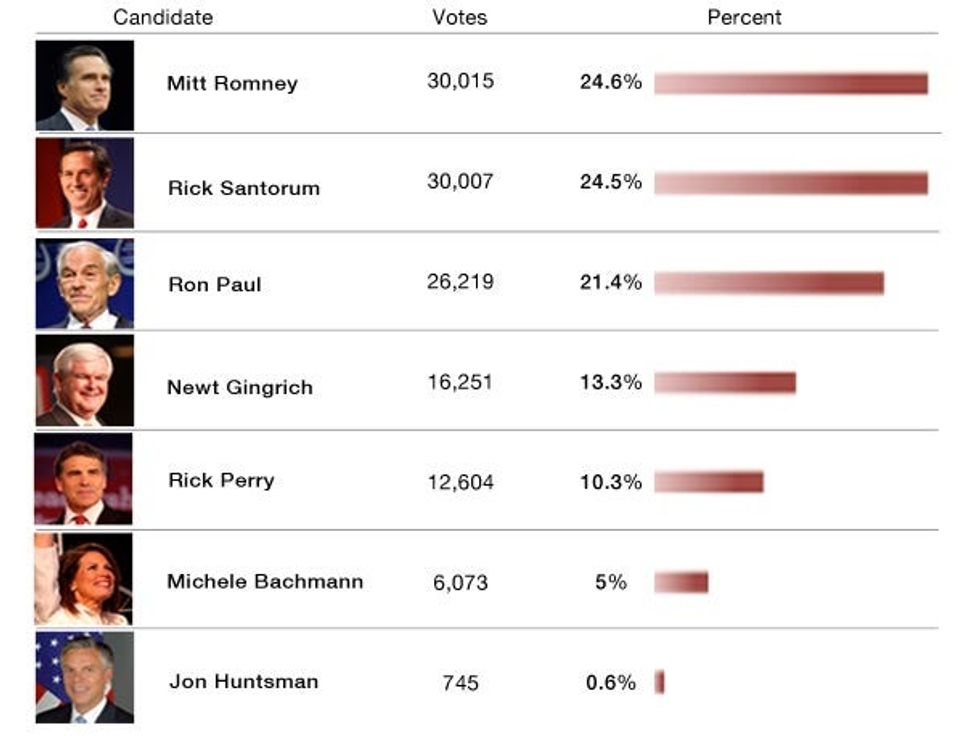 Business Insider
If that sounds familiar, that's because there is currently a "recanvassing" under way in Iowa to reassess the results of a contest that will once again be decided by a very slim margin. Though Bernie Sanders managed a clear victory in the popular vote, Iowa's elaborate system for awarding "State Delegate Equivalents" at each caucus location (to then be converted to the actual delegate count that determines the Democratic party's nominee), has resulted in a near-tie between Senator Sanders and former South Bend Mayor Pete Buttigieg.

The official winner may not be announced for days or weeks—or it may never be known at all. In the mean time, Pete Buttigieg declared himself the winner on Caucus night, and has been treated as such by much of the media. With Sanders looking more and more like the frontrunner, Buttigieg is seen as much more palatable to moderate general election voters, and many powerful donors and party insiders would much rather he get the nomination. With that in mind, the chaos in Iowa—particularly the faulty app and the release of partial results that seemed to favor Buttigieg—has already sparked speculation of party corruption and election rigging for Sanders voters holding on to memories of the DNC's favoritism toward Hillary Clinton in 2016, but it may be more instructive to consider the model of the 2012 Republican primaries.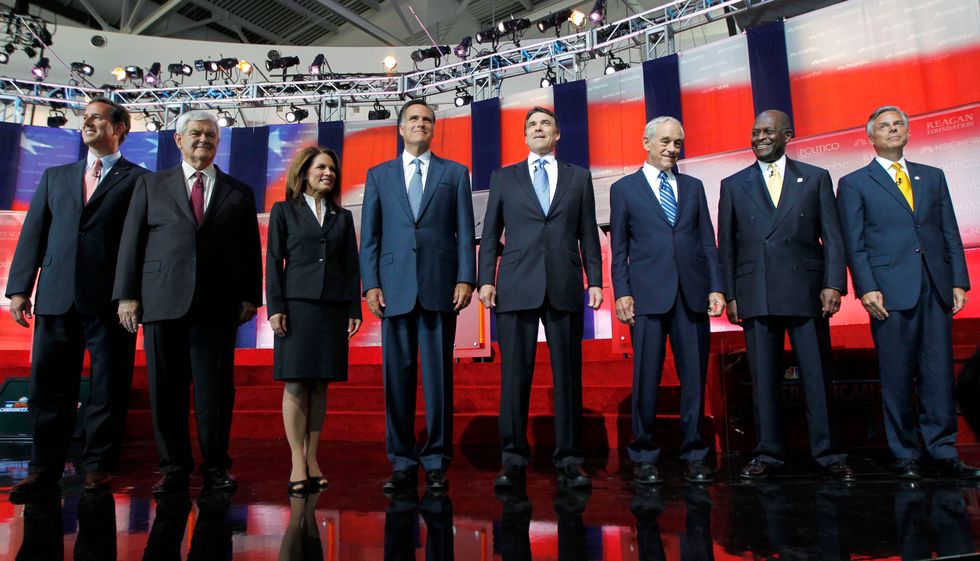 AP
2012 was not a simple year for Republicans in the way 2016 was for Democrats. Much like the 2020 field of Democratic candidates, there was not a presumptive nominee, but rather a wide field of contenders with centrists—Mitt Romney and Jon Huntsman—struggling against the enthusiastic support for more extreme candidates like Rick Santorum, Newt Gingrich, and Ron Paul. Polling seemed to swing wildly, from one candidate to the next until—according to some accounts—the RNC tipped the scales toward the man considered the most electable (read: bland and inoffensive) candidate.

The case of bias for Romney is as elaborate and detailed as every budding conspiracy theory about Acronym, Shadow Inc., and the new "Voter Protection Director" for the Nevada State Democratic Party—especially considering the contentious events of the Nevada Democratic Party state convention in 2016. Likewise, the overwhelming variety of those details is evidence—depending on your perspective—of either how insidious the whole plot was, or of the depths of its adherents' delusion.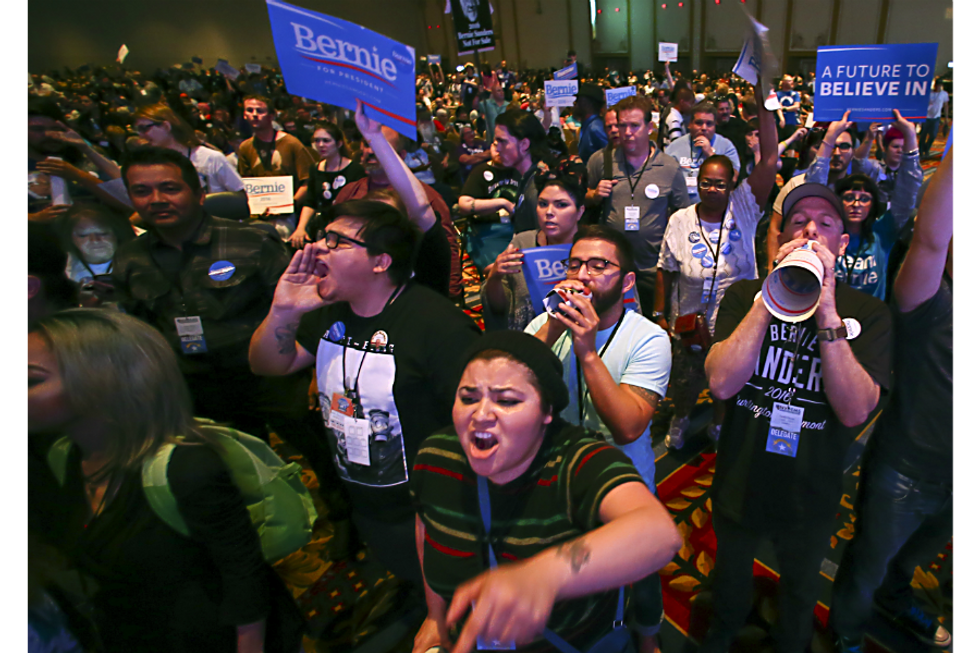 Chase Stevens/AP
For a start, there were a variety of issues in that year involving states attempting to increase their influence on the process by ignoring the traditional schedule for primaries and caucuses, skipping ahead of other states. The RNC was conflicted about how to handle that tactic, but many voters felt that the resulting schedule favored Romney's candidacy by allowing states where he polled well to vote earlier, further emphasizing the sense of building momentum. That much was acknowledged as a problem even at the time, but there are other issues that remain murkier. Was the miscount in Iowa intentional? Did the RNC combine fundraising with Romney's campaign too early? Did they pad Romney's delegate count to prevent a brokered convention? Most worryingly of all, were votes flipped to Romney in state primaries that lacked a paper trail?
Whatever the confusion in Iowa, the caucus system is at least public and relatively easy to monitor. But primaries that are carried out with all electronic voting machines are a black box, and the state parties run the show with little oversight. Unlike a federal election, primaries are fundamentally under the purview of political parties. They can choose their nominees however they like. They have chosen a roughly democratic system for a variety of reasons (to build enthusiasm, test candidates' campaign skills, and avoid voter alienation) but if they wanted to undermine the integrity of that process in order to ordain the candidate they see as standing the best chance in the general election, there would be little to stop them. According to two statisticians, Francois Choquette and James Johnson, that is exactly what happened in 2012.

Choquette and Johnson, 2012
When Choquette and Johnson analyzed vote totals out of hundreds of precincts, they discovered a strong tendency for voters in larger precincts to favor Mitt Romney more than did voters in smaller precincts. These results have been criticized as attributable to demographic differences between precincts, but when researchers looked at results out of precincts that kept paper records of voting, that tendency disappeared. Likewise in Utah—where Romney was always expected to win by a wide margin—the results showed no shift in preference toward Romney based on the size of the precinct. The trend was so distinct in competitive precincts with no paper trail that Choquette and Johnson were unable to account for it as a result of chance or any factor other than deliberate fraud. According to their work, Romney received approximately a 7% bump in the most populous precincts in multiple states as a result of votes flipped from other candidates—allowing him to secure the nomination handily.
Choquette and Johnson's evidence was brought to court in a lawsuit filed by a third statistician at Witchita State University. Beth Clarkson works in the university's National Center for Advanced Materials Performance, and was inspired by Choquette and Johnson's research to investigate similar anomalies in Kansas's 2014 general election—larger precincts trending toward Republican candidates. She sued to gain access to more detailed records in order to build a statistical model that could shed light on the question of fraudulent vote flipping. Unfortunately Clarkson's efforts were stymied by Kansas Secretary of State Kris Kobach, who argued that releasing the time-stamped records could somehow violate voter anonymity.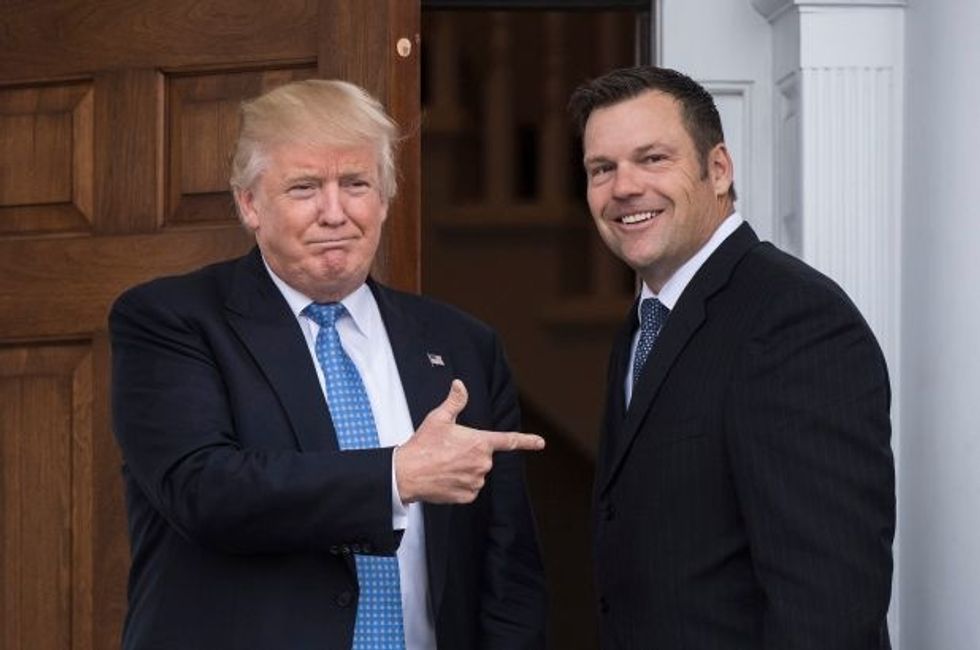 Kris Kobach with Donald Trump
You may recognize Kris Kobach as perhaps the greatest enemy of unbiased elections in recent American history. Kobach is the man whose voter fraud commission pushed the false narrative of millions of fake voters in support of discriminatory voter ID laws, and whose apparent political and white-supremacist motivation for adding a citizenship question to the national census resulted in the Supreme Court rejecting the change—which would have led to dramatic under-counts of immigrant populations, and a shift in congressional districts that would disproportionately benefit the Republican party. While he was able to halt Clarkson investigation, many have credited her lawsuit as being instrumental in the push for recently enacted legislation which now requires post-election audits in Kansas. Reached for Comment, Clarkson admitted that this was a step in the right direction, though she was "not impressed" with the audit techniques being utilized.
Overall, Clarkson seems pessimistic about the fidelity and security of our elections, saying that there is still a lot of potential for fraudulent vote counts, "anytime there's no way to check a paper record." This does include several races in the Democratic primaries, though the New Hampshire primary taking place today is utilizing paper ballots, which leave less room for tampering. Nationally, there has been a push to move toward that model, but for those of us who will be casting votes on electronic machines, Clarkson advocated that, where possible, voters check their electronic vote against the paper record to ensure their vote was recorded correctly. And for all voters, Clarkson had a reminder to check your voter registration online in advance of every election. With recent voter purges Clarkson says there have been many cases "of people being surprised when they arrive at the polls to vote and find out, 'Oh, they don't have me down as a registered voter.'"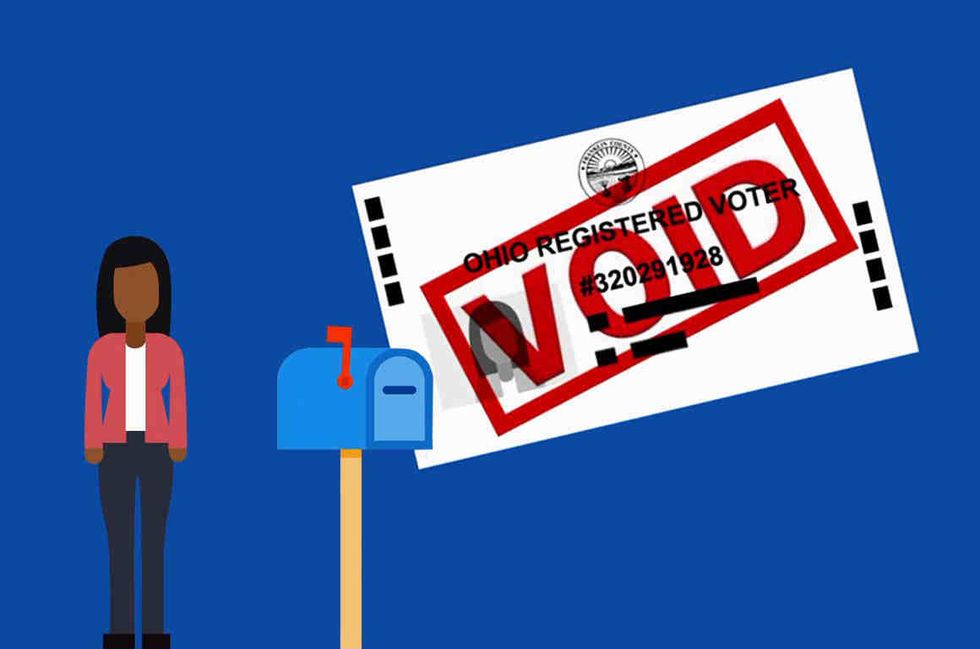 ACLU
Beyond that, electronic voting remains so opaque and vulnerable, all we can do is continue pushing for paper-based voting systems and remind our nation's political institutions—as the primary process continues through New Hampshire and beyond—that we are watching them; that we will not take any irregularities lightly.
The revolution will not be Tweeted, but its agenda can be.
Can a tweet save the world? No. Is it a public record of your intolerance of unjust systems in the world? Sure, if anybody reads it among the white noise of Twitter rage. Protest movements in the digital age are tricky; hacktivism, or hashtag activism, has been critiqued as an ineffective and tokenizing way to virtue signal in the name of social justice while actually being armchair activists. Meanwhile, nonviolent protests like marches, boycotts, and strikes are critiqued for being too passive to ever enact real change. On the other end of the spectrum are volatile reactionaries who want to tear down the system and begin from scratch–even if they have no actionable plans to create a viable replacement.
So what are we supposed to do? More to the point, what are we supposed to believe? A patient and open-minded look at both sides of any issue is guaranteed to point out one commonality: Everybody has the wrong idea about the opposing side. When it comes to social movements that create a better future, there are some basic, prevailing myths that only distract people from the real problems at hand. Ask activists, historians, and political science analysts, and they agree that you shouldn't fall for the following misconceptions when fighting for a better world:
1. Myth: Nonviolence Is Ineffective
Historically speaking, this simply isn't true. When two researchers from the United States Institute of Peace conducted a study of nearly 330 major violent and nonviolent campaigns "targeting incumbent regimes and foreign military occupations," they concluded that "nonviolent efforts were twice as likely to achieve their goals." They wrote, "The majority succeeded against authoritarian governments, when even peaceful protests could have fatal consequences. The ousters of Augusto Pinochet in Chile, Ferdinand Marcos in the Philippines, Zine el-Abidine Ben Ali in Tunisia, Yahya Jammeh in Gambia, Bashir in Sudan and Abdelaziz Bouteflika in Algeria are only a handful of cases in which mass nonviolent force stripped power from despots." Furthermore, another study in 2011 looked at 323 civil resistance campaigns around the world between 1900 and 2006, concluding that nonviolent campaigns were successful in 53% of cases, compared to violent ones' success rate of 26%. Additionally, only 4% of violent revolutions ended up in a "functioning democracy," compared to 42% of non-violent regime changes.
So radical violent action, whether that be in the form of paramilitary groups or self-appointed vigilantes who want to burn down the Establishment, is statistically not as likely to produce change as collective nonviolent protest.
2. Social Media Makes Protests More Effective
With that being said, there is a degree of truth to the allegation that social media creates lazy activists. More specifically, however, social media encourages engagement in social issues (i.e. sharing an article, liking a tweet, and maybe hurling insults at the opposing side), which is different from collective action. While Facebook, Twitter, and Instagram allow people to express their displeasure at existing policies, the most social media can do is mobilize people to agree on a unified agenda and a set of actions.
The problem, of course, is that many online participants don't end up following through with in-person plans, thus there's no unity where it counts: on the ground, at the march, or holding up signs. Furthermore, analysts Maria J. Stephan and Adam Gallagheremphasize the importance of "durable organizations" and "long-term planning," and in the fast-paced, immediate gratification of social media platforms like Twitter, responses can often be reactionary and short-term, which doesn't even begin the work of effective protest.
3. Myth: You Need to Have a Massive Amount of People
This is half-true, but it's mostly misunderstood. Effective nonviolent protests gain traction and grow into massive movements when their tactics get them noticed–even if that doesn't involve a large amount of people. As evidenced by the progression of the Egyptian occupation of Tahrir Square and the Serbian student protest group, Otpor (translated as "Resistance!"), a large following of people don't mark the beginning of a movement but rather it's a sign that a movement's worked. Srdja Popovic, leader of Otpor, reflected on the overthrow of war criminal Slobodan Milošević, "All successful movements come with a very low entry bar. You need to offer people the chance to do something meaningful, and – crucially – to get away with it. In Chile, against Pinochet, they drove at half speed: not illegal, very low risk, pretty funny, nothing the cops can do. It's about doing something neat, and living to tell everyone." He added, "We had to go out and listen. Get the real people, rural people, not so clever-clever people, behind us. Build a movement. We did, but it took us five years." Resistance from within a system is more effective to create change than external opposition.
4. Myth: It's a Business
Popovic coins one of their best tactics "laughtivism." Making people laugh not only gets attention, but it alleviates tension from living within fraught social realities. From graffitiing pictures of the corrupt men in charge to spreading the movement's message through public pranks, nonviolent movements have gained global traction through being human and showing a sense of humor.
Could her Democratic Debate win unseat frontrunner Biden?
The second night of the 2020 Democratic primary debates gave American voters a glimpse into the policies, platforms, histories, and personalities of 10 more candidates, all vying to stand out in a crowded 25-person race to challenge Donald Trump in the next presidential election. Following up a spirited debate the night before, during which Elizabeth Warren ran much of the show, the second showdown featured the party's two frontrunners, Joe Biden and Bernie Sanders. Biden and Sanders, however, were not the brightest shining stars on the stage by the end of the night. For many Americans, Thursday's debate served as a formal introduction to many of the other candidates in the race, some of whom made quite a name for themselves.
The general consensus, at least according to liberal-leaning media outlets, is that California Senator Kamala Harris won the debate. Harris was exceptionally poised and confident throughout the entire night, answering questions directly and succinctly—a refreshing break from the single-note catchphrasing, discursive meandering, and sometimes chaotic squabbling of many of her opponents.
At one point of heightened bickering (of which there were several), while nearly every other candidate was trying to yell over one another, Harris addressed her colleagues and competitors, reminding them that "Americans don't want to witness a food fight, they want to know how we're going to put food on their tables." She then seamlessly shifted the discussion back to the matter at hand: jobs. Although quick-witted and clever, sure, I would posit that this was not merely a quippy soundbite. It demonstrates a seemingly natural proclivity for leadership, as well as an ability to behave with cool diplomacy in the face of contentious disarray—all of which are traits one might call "presidential."
That, however, was not even the most defining moment of the night for Harris. About halfway through the debate, she aired her grievances with Joe Biden's sordid political relationship with civil rights. Harris addressed Biden directly and with candor. Instead of trying to smear the former vice president, she simply informed him that she was personally hurt by recent comments he made regarding his positive working relationships with now-deceased segregationists in the Senate.
"It was hurtful," Harris said to Biden, "to hear you talk about the reputations of two United States senators who built their reputations and career on the segregation of race in this country. And it was not only that—you also worked with them to oppose busing."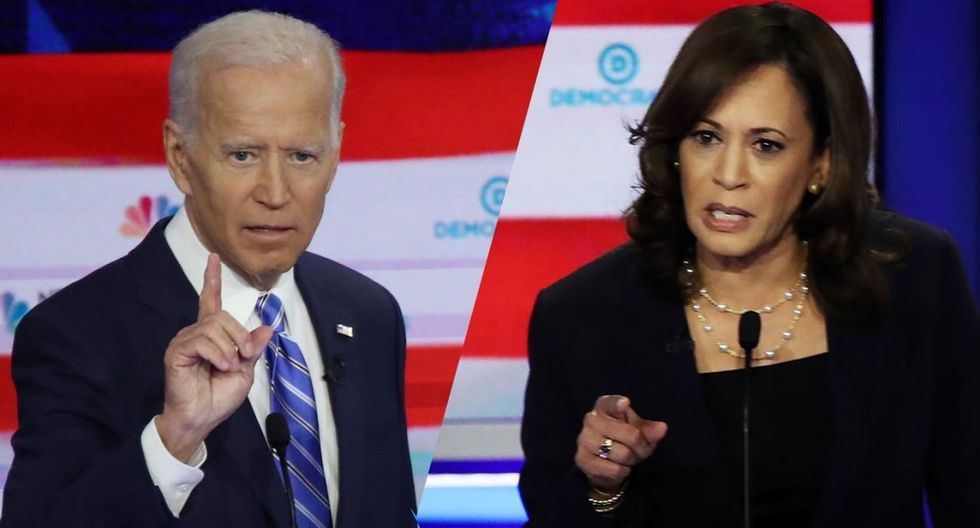 Yahoo News
She then went on to relay the story of a young girl in California being bused in order to integrate into public schools. "And that little girl was me," Harris concluded, "So I will tell you that on this subject, it cannot be an intellectual debate among Democrats. We have to take it seriously. We have to act swiftly,"

Even though he probably should have seen this coming, given the public outcry and a call from fellow Democratic primary hopeful, Senator Cory Booker, for an apology, Biden was clearly rattled by Harris' statements.
In short, he fumbled it. Instead of wielding an opportunity to mirror Harris' sincerity and take her concerns seriously, using the debate platform to finally make an apology, he doubled-down and condescendingly lectured (actually, his tone seemed, at least to this writer, to be teetering on the brink of scolding) Harris, stating that his stance on Civil Rights-era busing was about states' rights, not a tepid attitude towards racial equality.
"I did not praise racists," Biden retorted, "That is not true, number one. Number two, if we want to have this campaign litigated on who supports civil rights and whether I did or not, I'm happy to do that." The former vice president, however, still refuses to issue an apology.
In fact, upon hearing Cory Booker's initial call for an apology, he issued a statement outside of a fundraising event in Washington on June 19th, saying, "Apologize for what? Cory should apologize [...] He knows better. There's not a racist bone in my body. I've been involved in civil rights my whole career. Period."
Joe Biden, who has been the primary frontrunner for the Democratic primary nomination thus far, appears to be largely impenetrable in the face of criticism and scandal, despite being comparatively conservative among a pool of majority-progressive candidates. Only time will tell whether or not Harris has, indeed, finally found Biden's political Achilles Heel.
Either way, though, the first Democratic debate was all about Kamala Harris and the underdogs. In addition to Harris' impressive performance, Mayor Pete Buttigieg of South Bend, Indiana also stood out as intelligent, composed, and unflinching. And Andrew Yang, best known for his somewhat controversial platform of Universal Basic Income (giving every American citizen a monthly stipend of $1,000), also held his own—offering straightforward, no-nonsense, and logically sound answers, even if seldom few questions were directed at him.
A lot can happen between now and February 3rd when the first Democratic primary caucus is scheduled to take place in Iowa. And there will be plenty of chances for candidates to rise and fall in the meantime. If Thursday's debate is any indication of what's to come, however, it appears as if a paradigm shift may be on the horizon, with Senator Kamala Harris leading the charge.