"A tree is best measured when it is down," the poet Carl Sandburg once observed, "and so it is with people." The recent death of Harry Belafonte at the age of 96 has prompted many assessments of what this pioneering singer-actor-activist accomplished in a long and fruitful life.
Belafonte's career as a ground-breaking entertainer brought him substantial wealth and fame; according to Playbill magazine, "By 1959, he was the highest paid Black entertainer in the industry, appearing in raucously successful engagements in Las Vegas, New York, and Los Angeles." He scored on Broadway, winning a 1954 Tony for Best Featured Actor in a Musical – John Murray Anderson's Almanac. Belafonte was the first Black person to win the prestigious award. A 1960 television special, "Tonight with Belafonte," brought him an Emmy for Outstanding Performance in a Variety or Musical Program or Series, making him the first Black person to win that award. He found equal success in the recording studio, bringing Calypso music to the masses via such hits as "Day-O (The Banana Boat Song)" and "Jamaica Farewell."
Harry Belafonte - Day-O (The Banana Boat Song) (Live)www.youtube.com
Belafonte's blockbuster stardom is all the more remarkable for happening in a world plagued by virulent systemic racism. Though he never stopped performing, by the early 1960s he'd shifted his energies to the nascent Civil Right movement. He was a friend and adviser to the Reverend Doctor Martin Luther King, Jr. and, as the New York Times stated, Belafonte "put up much of the seed money to help start the Student Nonviolent Coordinating Committee and was one of the principal fund-raisers for that organization and Dr. King's Southern Christian Leadership Conference."
The Southern Poverty Law Center notes that "he helped launch one of Mississippi's first voter registration drives and provided funding for the Freedom Riders. His activism extended beyond the U.S. as he fought against apartheid alongside Nelson Mandela and Miriam Makeba, campaigned for Mandela's release from prison, and advocated for famine relief in Africa." And in 1987, he received an appointment to UNICEF as a goodwill ambassador.
Over a career spanning more than seventy years, Belafonte brought joy to millions of people. He also did something that is, perhaps, even greater: he fostered the hope that a better world for all could be created. And, by his example, demonstrated how we might go about bringing that world into existence.
Donald Trump clearly hates antifa. But what actually is antifa and why does it matter?
If you've watched Fox News recently, you have almost certainly heard the term "antifa" uttered with an air of sinister mystery and more than a hint of contempt, but what actually is it?
Antifa, pronounced "AN-tee-fuh," is short for antifascists. Antifa is not really an organization, as they have no leader, no hierarchy, and no regular meetings or gatherings. It is instead a left-wing political ideology that aims to eradicate fascism and white nationalism through the use of both nonviolent and violent direct action rather than policy reform. Essentially, they are a group characterized entirely by opposition to one thing: fascism.
Webster's Dictionary defines fascism as "a political philosophy, movement, or regime that exalts a nation and often a race above the individual and that stands for a centralized autocratic government headed by a dictatorial leader, severe economic and social regimentation, and forcible suppression of opposition." Most American's agree that fascism is a bad thing. It's regularly associated with bigotry and authoritarian dictators like Hitler. So why are we mad about anti-fascists? To understand that, we have to look at their history.
The History of antifa
The history of anti-fascism begins around the same time as the history of fascism. In 1932 Germany, a group called "Antifaschistische Aktion" formed in opposition to the rising Nazi party. It was a militant anti-fascist organization in the Weimar Republic started by members of the Communist Party of Germany (KPD), and it only existed from 1932 to 1933. Antifaschistische Aktion used their militant approach to develop a self-defense network for communities targeted by the Nazis. The group engaged in a series of direct actions meant to challenge the Nazis, including street brawls, but they were forcibly dissolved after Hitler's rise to power.
Around the same time, the British Union of Fascists (BUF), a Nazi-like political party, was gaining political power in the UK. But when the BUF attempted to lead a march through London in 1936, thousands of Jews and left-wing activists attacked the fascists and their police escorts, raining homemade bombs and rocks down on the parade. The BUF forces retreated and the anti-fascists celebrated victory in "the Battle of Cable Street." The event is still cited by antifa activists today.
The modern antifa movement finds its roots in London's Anti-Fascist Action (AFA). Founded in the UK in 1985 by a wide range of anti-racist and anti-fascist organizations, the AFA was a militant anti-fascist group. It was active in fighting far-right organizations, particularly the National Front and British National Party. They were particularly active in the punk scene, where they would often violently throw neo-Nazis out of punk shows.
A similar organization called Anti-Racist Action (ARA), also connected to the punk music scene, formed in America in the 80's. In the late 1980s and 1990s, ARA activists toured with popular punk rock bands in order to prevent white supremacists from recruiting at their shows. They would remove any neo-Nazi materials and forcibly remove anyone espousing neo-Nazi philosophies.
What does antifa look like today?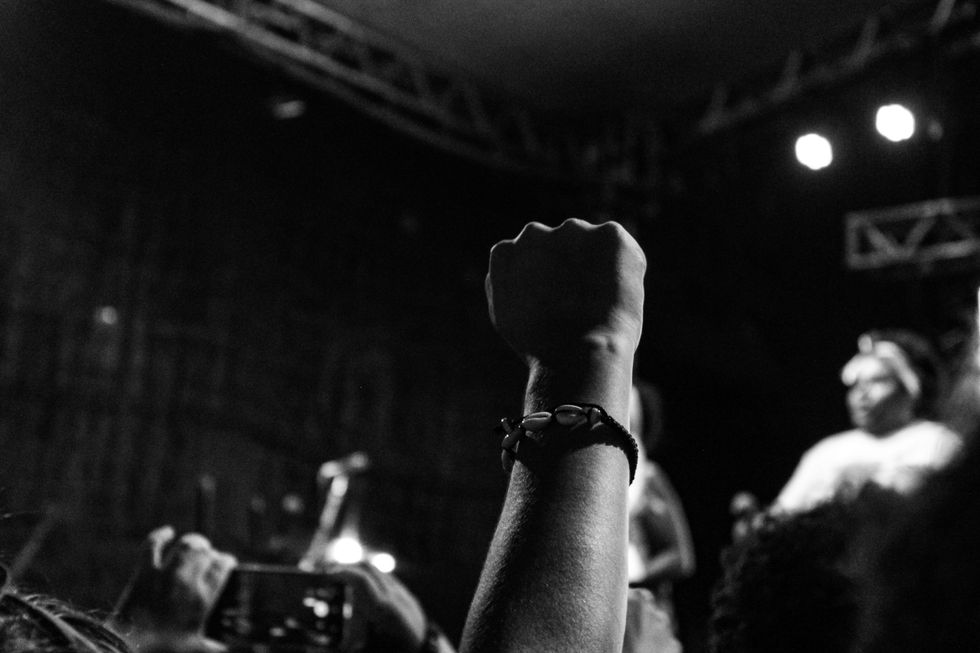 Photo by: Nayani Teixeira / Unsplash
Antifa is not an organization; it's an ideology, and as such, it is highly decentralized and localized. There are some specific local organizations, like Portland's Rose City Antifa, which was founded in 2007, but there's no national umbrella leadership or hierarchy. There is no uniform course of action for antifa, but they do tend to operate on one principle: Stopping fascism by any means necessary.

In The Antifascist Handbook, antifa historian Mark Bray writes, "The job of the anti-fascist is to make [fascists] too afraid to act publicly and to act as volunteer targets for their hate and attacks which might keep them from thinking about burning down the mosque in their neighborhood."
In order to intimidate "fascists," antifa uses a variety of tactics. Online, they use a technique called doxxing. They identify white supremacists and fascists and expose them online in an attempt to get them fired from their jobs and evicted from their apartments. Antifa also uses no-platforming or deplatforming, which involves denying fascists the opportunity to speak out in public by obstructing their events.
The tactic that makes most people nervous about antifa is their use of violence. Antifa generally seeks out fascists and racists and disrupts any and all rallies through violent confrontations. Antifa has been known to use sticks, fists, and projectiles, though they are almost never associated with guns.
In general, Antifa appear as counter-protesters, not protesters themselves. They look to events in history like the Battle of Cable Street, and claim that fascism can only be stopped by using violence. You can recognize antifa at a protest either from their logo—a red flag over a black flag—or sometimes from their use of black bloc strategy. The black bloc is where people dress in black and cover their faces in order to thwart surveillance and create a sense of equality among participants. Sometimes antifa members using this method try to operate as a "security force" for protesters.
Since Trump was elected in 2016, anti-fascist counter-protesters have become much more mainstream. Thousands of people protested at Donald Trump's inauguration, including some self-proclaimed anti-fascists. Memorably, after the inauguration, white-supremacist Richard Spencer was punched in the face by a black-clad protestor—and after the incident went viral on social media, Richard Spencer blamed it on antifa.
A few months later in August 2017, Antifa counter-protesters showed up at the "Unite the Right" rally in Charlottesville, Virginia and violently clashed with alt-right protesters. During the rally a neo-Nazi plowed into a crowd of counter protester, injuring dozens and killing one woman, Heather Heyer.
In March 2018, Richard Spencer canceled the remaining stops on his college speaking tour, releasing a tearful video in which he declared that "antifa is winning."
Coverage of antifa has gone up significantly during the recent racial justice protests. This summer, between May 24th and August 22nd, ACLED recorded more than 10,600 protests in all 50 states and Washington, DC. Most of the protests were about police brutality, and around 10,130 of them were peaceful. However the media has spent a lot of time on the approximately 570 protests that involved some form of violence. Donald Trump has repeatedly blamed the violence at protests on antifa, which has given the movement significant media attention.
Trump and his supporters have designated antifa as public enemy #1. He has mentioned antifa in 41 tweets and has credited antifa with all of the violence and looting of the Black Lives Matter protests, and even accused the 75-year-old man who was pushed over on camera by the police in Buffalo of being an "antifa provocateur."
Trump also declared via Twitter that he would designate antifa as a terrorist organization, despite the fact that he legally cannot declare any domestic group as a terrorist organization. Overall, he has given antifa a lot of attention without presenting any actual evidence of antifa involvement.
Are antifa responsible for protest violence?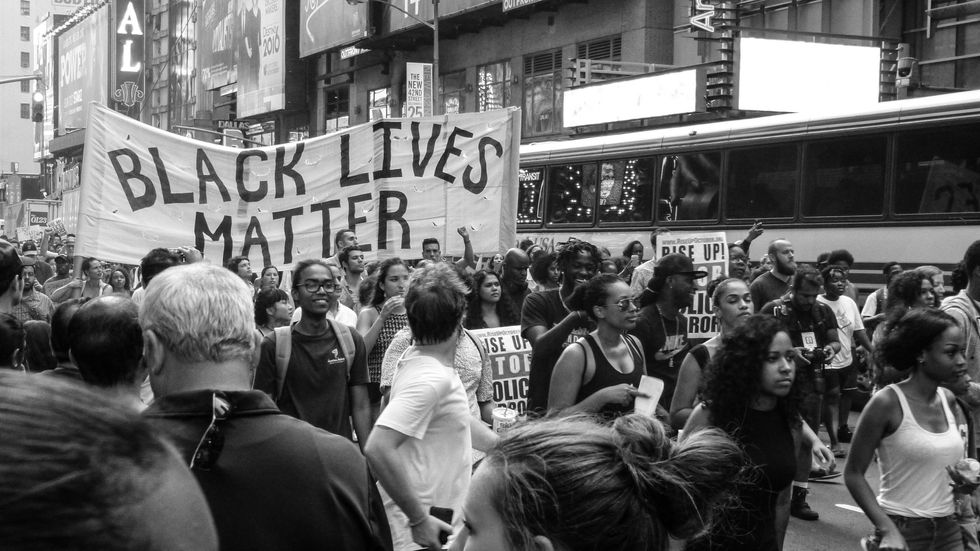 Photo by: Nicole Baster / Unsplash
Any group that believes that the ends justify the means should be viewed as a threat. That being said, so far there is no evidence that the violence at the racial justice protests is caused by antifa or even that it has been coordinated at all. Thousands have been arrested at the protests, but most are for misdemeanor charges such as breaking curfew. The few more serious offenses, including murder and throwing molotov cocktails at police vehicles, have resulted in federal charges. According to the Washington Post, there are roughly 80 federal charges stemming from the protests, but thus far there are no mentions of antifa in any of the court documents. However, the far-right "boogaloo" movement is tied to 4 of the offenders.

Seth Jones, an expert on terrorism at the Center for Strategic and International Studies, writes, "My conversations with law enforcement and intelligence officials in multiple US cities suggest that [though] antifa played a minor role in violence, the vast majority of looting appeared to come from local opportunists with no affiliation and no political objectives. Most were common criminals."
A May 31 memo from the FBI's Washington field office reported "no intelligence indicating Antifa involvement/presence" in DC protests. The Associated Press analyzed court records, employment histories, social media posts and other sources of information concerning the 217 people arrested May 29-31 in Minneapolis and DC, and found that almost all were local residents, and very few had any connection to any extremist organizations.
Even the Department of Homeland Security admits that most of the violence seems to be caused by local "violent opportunists" rather than extremists, despite the fact that a recent whistleblower claimed that DHS officials were directed to play up the threat presented by antifa to match the president's rhetoric.
Antifa has existed in some form in the United States since the 1980s, and they have never posed much of a domestic terror threat. In fact, the only known death caused by an antifa supporter happened a week ago, by a man who stated on Instagram that he was "100% antifa" but was not actually affiliated with any antifa group.
According to the Center for Strategic & International Studies (CSIS), between 1994 and 2020, there were 893 terrorist attacks and plots in the United States. Right-wing terrorist (Boogaloo, Sovereign Citizens, white supremacists, incels, etc.) attacks caused 335 deaths, while left-wing (extreme environmentalists, animal rights extremists, anti-capitalists, anarchists, etc.) attacks caused 22 deaths. Most importantly, antifa caused no known deaths.
Why Trump's antifa rhetoric should scare you.
Antifa is not responsible for the level of violence Trump claims, but it is a real extremist ideology that does use violence as a tactic. This fact has led Trump and his supporters to use it as a catch-all term for leftists in order to scare people on the right.
This is concerning for a number of reasons, and is somewhat—dare I say it—fascist. A defining feature of fascism is forcible suppression of the opposition and Trump is trying to use antifa to do exactly that.
Antifa doesn't have official membership, which gives Trump and his supporters a lot of leeway to dictate who is in "antifa" and who it isn't. If antifa includes anyone who is against fascism, it would likely include most Americans.
Trump's misapplication of the label "antifa" to include all left-leaning activists rather than limiting it to those who proactively seek physical confrontations has resulted in dangerous generalizations. He continues to paint a picture of this summer's protesters as a monolithic leftist group who desire nothing more than chaos.
In reality, racial justice protesters are very diverse. According to Pew Research, 59% are over 30, 42% live in the suburbs, and 17% lean Republican. The protesters are people from every walk of life who genuinely feel that police brutality and racial injustice are serious problems.
As long as antifa is a shadowy, amorphous group, it will continue to be used as a punching bag for the right. The lack of information about antifa has already given rise to various conspiracy theories regarding it. Some claim it is being funded by George Soros, who is somehow also a Nazi. Some even claim that Soros is sending out buses marked "Soros riot Dance Squad" full of antifa members intending to start riots.
Others falsely claim that the Democratic party is funding antifa and hiring paid agitators. These claims are quite obviously false, yet they spread like wildfire. One of the most concerning disinformation campaigns about antifa in recent memory was the twitter account @antifa_us, which encouraged violence at protests. The account was removed by twitter after it turned out to actually be operated by Identity Evropa, a white supremacist group.
By playing up the scale of the antifa threat, Trump has made antifa seem just as bad, if not worse, than other extremist groups. However, the statistics show us that this is simply not the case.
The anti-defamation league warns that "it is important to reject attempts to claim equivalence between the antifa and the white supremacist groups they oppose." They add that, "Right-wing extremists have been one of the largest and most consistent sources of domestic terror incidents in the United States for many years; they have murdered hundreds of people in this country over the last ten years alone. To date, there have not been any known antifa-related murders."
Antifa is extreme, and we should all condemn their use of violence—however rare it may be. But perhaps their cause is a worthy one. After all, it does seem awfully fascist to declare anti-fascists terrorists.
For more well-researched, unbiased information on today's biggest issues, follow Alexandra's Instagram account The Factivists.
In the first installment of our Visionaries Project, we interview brilliant writer, activist, and horror buff Sherronda J. Brown.
The Visionaries Project is a new subsection of The Liberty Project dedicated to highlighting the lives, passions, and work of writers and activists currently working towards social justice and liberation from oppression. We aim to uplift the perspectives of powerful, diverse voices working in media and activism today—and not just the faces who make headlines, but the real people on the ground every day, working towards their visions of a better world.
As our first installment of the Visionaries Project, we're beyond honored to feature Sherronda J. Brown, an incredibly eloquent and brilliant journalist and activist currently doing vital work in the media sphere.
Where did you grow up? Was there an activism or writing background in your childhood?
I grew up in a small town called Tarboro in Eastern North Carolina. I don't have an activism background from my youth, but I have always been a writer. My mom still has a stack of little books I wrote as early as Kindergarten and first grade.
Can you tell me a little bit about how you got into writing and journalism?
I don't think writing was much of a choice for me. I think it's something that just lives in my bones and my fingertips. If I wasn't writing about systemic oppression and its multiple arms, I'd almost certainly be writing in some other capacity, probably in entertainment media or true crime. Definitely true crime. Hell, I might still do that one day.
My foray into journalism was more like being pulled into it. I have always shared my views on social media, specifically Facebook, and eventually people started to follow me and root for me. To my surprise, my words touched people. I wrote briefly for a now-shuttered, indie feminist website (for free!) while in college many years ago, but my presence in this world really became solidified when current Managing Editor at Black Youth Project (BYP), Hari Ziyad, gave my writing a home at RaceBaitR and later encouraged me to write for BYP as well. Then, the Deputy Editor position came along, and Hari encouraged me to take another step. The next step was Wear Your Voice (WYV), where I was promoted to Managing Editor by founder Ravneet Vohra before I even knew what hit me. And here I am. Other people recognized my talents and potential before I did. They knew I could do this before I even knew it was an option. Shout out to imposter syndrome, and shout out to the people who helped me get here.
How did you get involved with Wear Your Voice? What work do you do for it, and what's the publication about?
Lara Witt, the current EIC, posted a call for pitches on social media and I submitted a piece about an indie film I had been really impressed by, The Keeping Room. This was just after the release of Sofia Coppola's remake of The Beguiled, and I argued that The Keeping Room—while an imperfect film—succeeds where Coppola's film fails, specifically in her erasure of an enslaved Black woman character from the Civil War era South in order to ensure that the Confederate white women are seen as indisputable victims within the story, rather than cruel enslavers. The essay did very well, so much so that the writer and producer, Julia Hart and Jordan Horowitz, reached out to thank me. That was a surprise and, of course, hugely flattering. From that point, I continued to write for WYV as a freelancer, until I got the courage to ask Lara if she needed any editorial support. She advocated for me and helped me become a part of the team, beginning as a part-time Social Media Manager. I will always, always be so grateful to her for that, especially because WYV is such an amazing publication to work for. I now get to say that I serve as the Managing Editor of a bold magazine that wholly embraces me and gives QTBIPOC space to talk about our experiences without tone policing or censorship. It's incredibly rewarding and therapeutic work for me.
The bio for Wear Your Voice cites Kimberlé Crenshaw's definition of "intersectionality." How would you define intersectionality? Has your understanding of it changed over time?

A lot of people misunderstand or wrongly define intersectionality, and I suppose I used to do the same. Once upon a time, I thought of it as a literal intersection, with multiple roads meeting and touching at a particular point, with each road being a different aspect of a marginalized identity. So, one road would be Black, one would be woman, one would be queer, and so on, and they would intersect with each other. In this visual representation, the points where they intersect would be the nucleus, where all the layered oppressions one experiences are most concentrated, for lack of a better phrase.
Now, I understand how wrong I was. Because, for a queer Black woman, Blackness is never separate from woman, is never separate from queer, and so on. More specifically, Kimberlé Crenshaw developed this theory and coined this term thirty years ago for Black women to think and talk about how we experience misogynoir. Intersectionality is specifically for Black women's benefit, and Crenshaw herself has told us not to use it as a blanket term for thinking about oppressions.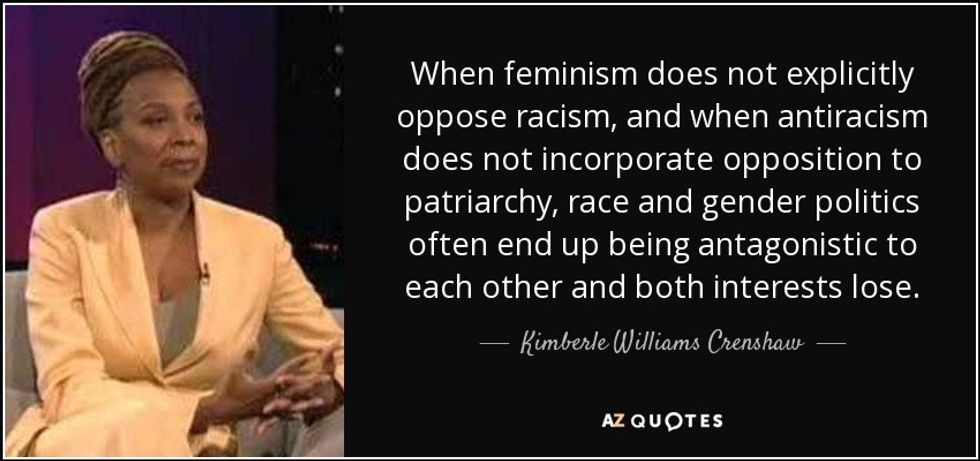 folekeafrica.com
What do you mean by "digital activist," as you say in your bio? What potential do you see in digital activism going forward?

It's funny, I didn't realize that I was a digital activist until someone told me I was. I guess, I didn't really understand the true impact that my words were making. One of my favorite anecdotes—or maybe it's a testimony—is from a woman who said that my writing helped her get her teenage daughter to stop bleaching her skin. That made my heart sink and sing at the same time. People reach out to me periodically to share how I've helped them to think about things from a new perspective and better understand how oppressive systems work and even how they have participated in and benefited from them. That's the best reward for me. A lot of people don't consider digital activism to be valid. People like me often get called "armchair activists" as an indictment of our supposed laziness, which is quite an ableist sentiment. There is tremendous value in digital activism, whether or not people are physically or mentally healthy and able enough to contribute to "boots on the ground" work, and I don't just say this because I consider myself one. Think about how much information gets shared across social media by marginalized people that might not otherwise be reported on by the mainstream media. Digital activism can and does enact change in its own way, and there are plenty of examples.
If you see yourself as a resource for awareness or inspiration for activists and radical thinkers, what would you recommend to others looking to get into the type of work you're doing?
I know this is easier said than done, but take the leap. Shoot your shot. Send that pitch email. Read other people's work, digest it, process it, live in it. And then, find the gaps. With any given subject, there's always someone who has already written about it, of course, but there are always things left unsaid, views left unexplored. No one person can tackle every possible angle. Find the gaps that other people inevitably leave in their work and fill them. Address the unaddressed. That is how writers can set themselves apart, in my opinion. That's what I really appreciate as an editor and a reader.
Are there any projects or current topics you want to promote?
We are currently wrapping up our Summer of Sex campaign at WYV, a series that highlights perspectives of QTBIPOC [Queer, Trans, Black, Indigenous, People of Color] on the subject of sex and the things surrounding it. The piece I contributed to this is rather personal, maybe more personal than anything else I've ever written. In it, I do what feels for me like heavy lifting on the subjects of unhealthy sex, asexuality, celibacy, and fawning as a trauma response, as all of these relate to my personal story and life experience. These are topics I rarely see talked about openly and I would like to see others engaging with them as well.
You describe yourself as a "reformed Blackademic." What was your experience in academia and why did you choose to move towards digital media?
I had no idea I would end up here. For a long time, I thought I would be an academic, and I had plans to pursue a doctorate. The bureaucracy and high pressure of the institution turned out to be something I wasn't cut out for, and I'm perfectly fine with that. I call myself a reformed Blackademic because stepping back from academia allowed me to see how elitism and inaccessibility can sometimes be a barrier to connecting with our own communities. If my work isn't accessible to those outside of higher education, then I don't think it's actually doing as much work as we might assume. This isn't to say that there isn't value in academic thought and high theory. Of course there is, and the things I learned while pursuing my degrees absolutely continue to inform my current work. I'm just more intentional about making my work accessible, as much as I can, and I will hopefully continue to make more progress in that arena through digital media.
What are your favorite writing projects or stories you've covered over the years?
My favorite projects are the ones that allow me to blend my passion for entertainment media with my radical, leftist, Black feminist, anti-capitalist philosophies. I'd say I'm currently most fond of my analysis of Thanos and his flawed Malthusian logic system about overpopulation and my laments on the unfortunate pattern of Black horror stories and Black time travel narratives that seem to only contemplate white violence as a constant fixture in our lives.
You've written a lot about your interest in horror and haunting narratives. Can you tell me a little bit about that?
I became interested in hauntings in grad school, in terms of how the ghosts of history continue to haunt our lives everyday and how we see those ghosts manifesting in oppressive systems, and these things often show up as literal ghosts in cinematic haunting narratives, like literally any film that uses a "Native American burial ground" as a way to convey danger and terror for white protagonists only to ultimately subdue the ghosts rather than truly acknowledge and hold accountable the violent white colonialism that created them.
Candyman (1992) is also a prime example with the vengeful ghost created from a lynching, and it is one of my personal favorites, despite it ultimately being yet another story of a frightened white woman being lusted after by a Black man. Choosing favorites is always difficult, because it changes every few years, and I love so many. Train to Busan (2016), Tigers Are Not Afraid (2017), Hereditary (2018), and The Babadook (2014) are some of my contemporary favorites, but Psycho (1960), The Exorcist (1973), Night of theLiving Dead (1968), and Invasion of the Body Snatchers (1956) are longevity faves.
When you say "new voices" in horror, I immediately think of Jordan Peele, of course, who has two amazing horror entries already, which are among my favorites as well, and is sure to bring us more. He's tapped Nia DaCosta to direct his Candyman "spiritual sequel" expected in 2020, and I am ecstatic about a Black woman directing such a huge mainstream horror film. It would be a dream to see more Black women, more queer folks, more trans folks, more disabled folks at the helm of these stories. I want to see people who have historically been largely relegated to monstrosities in horror giving us innovative tales that subvert the status quo and rattle us in new, challenging ways.
You write a lot of content that challenges hegemonic, white supremacist narratives and ways of reporting and understanding current events; for example, the idea that climate change is new/just beginning to show effect, or that BIPOC women's bodies haven't always been byproducts of white supremacist violence. What writers, sources, or strategies have helped you challenge these hegemonic narratives? What kind of anti-oppression work do you see coming to the fore and/or still needing to be done in terms of this?
My first piece of writing that went viral viral was "White Women In Robes" on my personal blog, werdbrew. It was a critique of The Handmaid's Tale's use of harms committed against BIPOC in a story that centers white women and white feminism's historical connections with white supremacy, among other things. Dorothy E. Roberts' "Killing the Black Body" greatly informed that piece of writing, and anything else I've written about the reproductive control of and expectations for Black people. I also carry Audre Lorde, Alice Walker, and Angela Davis with me daily, and the spirits of Harriet Tubman and Zora Neale Hurston. The voices of Patricia Hill Collins, Nina Simone, and Toni Morrison are always with me when I write about Black womanhood. Some more recent entries that have inspired me include Tressie McMillan Cottom's "Thick" and Sabrina Strings' "Fearing the Black Body," both amazing and important works. I just think Black women are so brilliant and so uniquely able to Illuminate ugly but necessary truths about our world. Black women are already doing crucial anti-oppression work, and always have been. People just need to listen.
"White supremacy is the ugliest thing I have ever seen—producing literal monstrosities—and its hideousness cannot b… https://t.co/wiLkhJBOYc

— 𝚂𝚑𝚎𝚛𝚛𝚘𝚗𝚍𝚊 𝙹. 𝙱𝚛𝚘𝚠𝚗 (@𝚂𝚑𝚎𝚛𝚛𝚘𝚗𝚍𝚊 𝙹. 𝙱𝚛𝚘𝚠𝚗) 1568832755.0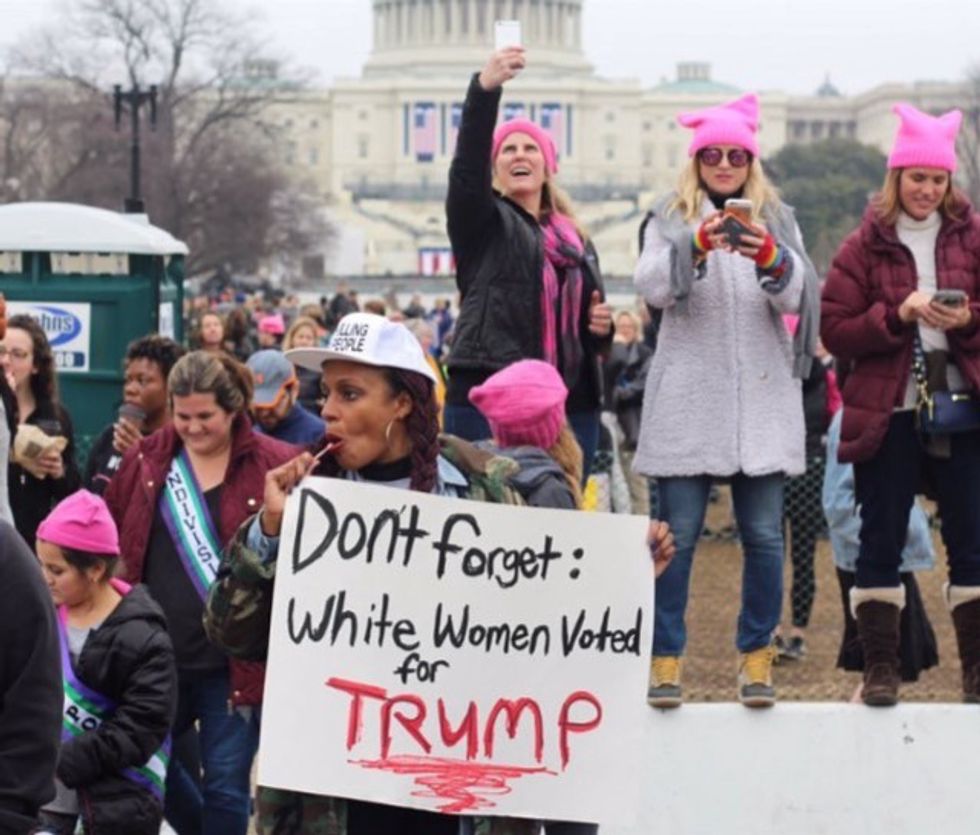 werdbrew.wordpress.com
You write that white dystopian narratives align with the "destruction of the dominant white society, the disruption of the white heteropatriarchal family unit, and the downfall of post-colonial civilization as a whole" in one of your reviews. What kind of disruption would you like to see, and are there any images of the future that you imagine seeing through and beyond this disruption?

That is the kind of disruption I like to see. In a perfect world, we would finally get to see all the remnants of white colonialism gone, but unfortunately that is not our reality. I don't mind at all that dystopian narratives involve this kind of destruction in the fantasy world, especially because the destruction of a society where white supremacists hold political, economic, and social power only creates possibilities for the rest of us. My issue is that these narratives—with the exception of The Girl With All The Gifts (2017)—never explore those new opportunities or acknowledge the fact that QTBIPOC already live in a dystopia in the real world.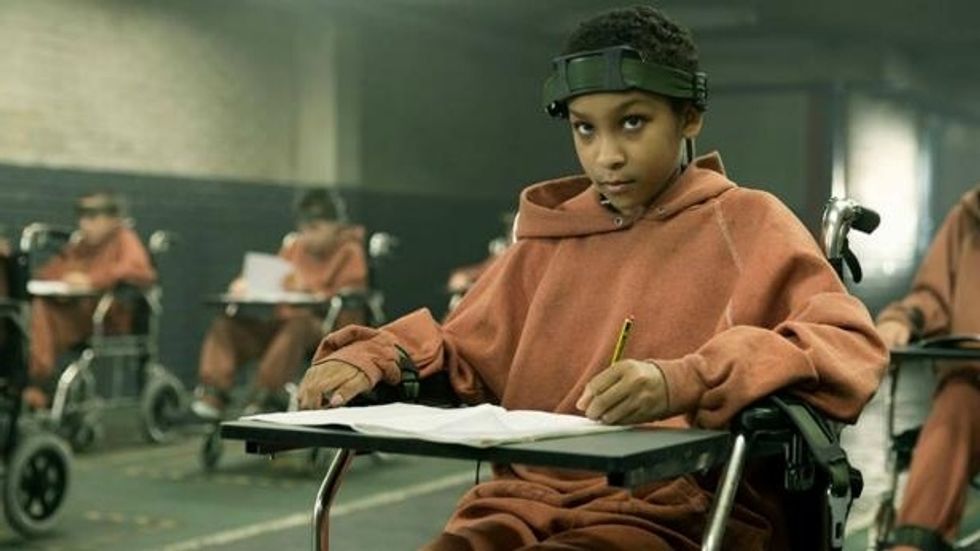 Still from "The Girl With All the Gifts"pressinfo.com
Are there any particular voices or groups you'd like to see highlighted in our current cultural moment?
I absolutely want more QTBIPOC voices. More fat, disabled, neurodivergent folks being heard and respected and humanized. More sex workers, more undocumented immigrants. I want to hear more from the younger generation, too. The people who get silenced the most are the ones who need to be elevated the most.
What's your everyday routine like? Where do you like to do your work or write?
I'm actually working to embrace my nocturnal nature these days, and I'm fortunate enough to have a career that allows me to do so. What are considered "normal" sleeping hours often serve as my writing time. Some of the best things I've written have come pouring out of me between the hours of 3 and 6 am. I'm either writing in bed or on the couch, and I always write on my phone. I sleep as best as I can, if I can, for a few hours and then I'm up and working again by noon. For BYP, I might be publishing in WordPress and/or desperately searching for good stock images of Black people. For WYV, I might be taking care of daily social media management duties, doing secondary edits or final checks on a piece before Lara publishes, creating graphics, and/or designing and sending out our weekly newsletter(s). For both publications, I might be hopping on a staff video or phone call, brainstorming new content, reading and catching up on the day's news so far, answering emails, evaluating pitches, responding to Slack messages, drafting calls for pitches, organizing my editorial calendar, conducting interviews, checking in with writers, and addressing anything else that requires my attention. The late afternoon and evening is when I rest, recharge, meditate, exercise, and eat. Sometimes, I will do some in-depth editing work on writers' drafts during this time, but mostly I don't start doing that kind of work until around midnight. Then, I plan for the next day/night. I admit, sometimes it's hard to keep track of what day it is.
You do a lot of challenging work. What do you do for fun, and to take care of yourself?
I'm proud to say that I'm much better about taking care of myself now than I used to be. For self-care, I watch horror game play on YouTube because I think it's more fun to watch other people do it—plus it's cheaper and less time-consuming. I spend quality time with friends virtually—ironically, all of my closest friends live far away. I SnapChat with my little sister. I take myself to 4 pm matinees in the middle of the week. I laugh with my co-workers. I support and mentor Black kids. I lift weights. I hit my heavy bag. I eat peanut butter fudge sorbet at 3 AM. I write happy things. I listen to podcasts and audiobooks about true crime, folklore, and history. I laugh at nonsensical memes. I block white people with dreadlocks. I drink plenty of water. I take selfies. I spend entire weekends naked, and I don't let myself work on Saturdays anymore.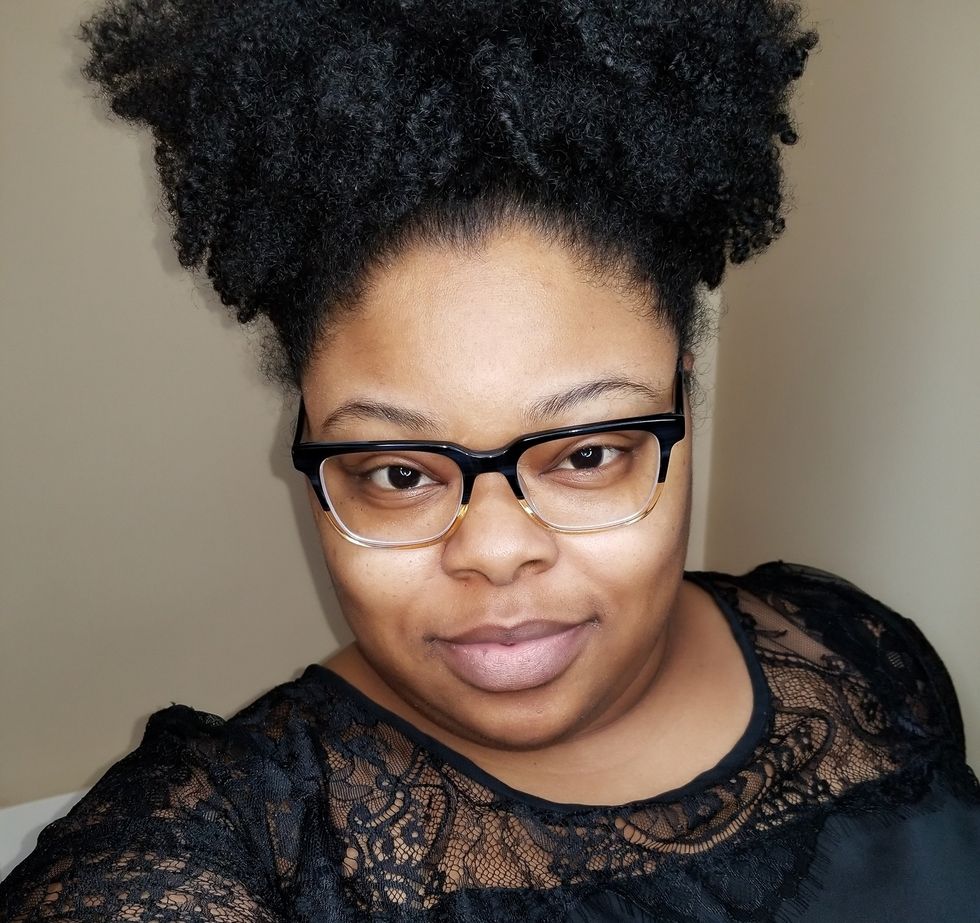 Want to be featured on The Visionaries Project, or want to nominate someone you think should be? Email us at [email protected] or message us on Twitter at @LibertyThis.

Epstein's lifestyle was unimaginably creepy, but it's indicative of a larger problem.
Jeffrey Epstein was found dead in his jail cell on Saturday, having been accused of sexual abuse by nearly 80 women.
He leaves behind a legacy of destructive opulence.
Epstein lived a lifestyle of unchecked consumption. The billionaire possessed a number of extravagant homes. His Manhattan townhouse allegedly cost $77 million and contained disturbing oddities—such as a hall full of fake eyes that were initially created for injured soldiers. It also contained a photorealistic mural that featured Epstein in jail, surrounded by prison guards, as well as a life-sized female mannequin that hung from a chandelier.
His private ranch was even more grandiose. At 10,000 acres, Zorro Ranch is a sprawling stretch of land, to which Epstein allegedly flew young girls, and where he abused them with the help of his supposed madam, Ghislaine Maxwell. The ranch was also a place where he attempted to impregnate hundreds of women in an effort to seed the human race with his DNA. This attempt was inspired by his distorted belief in transhumanism, a theory that the human population can be improved through artificial intelligence and genetic engineering.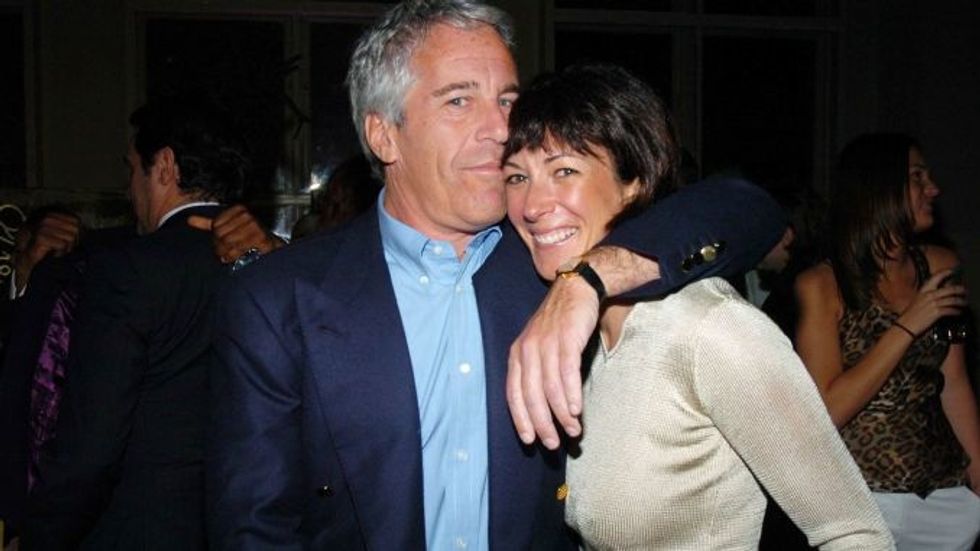 Image via BBC.com
The townhouse and the ranch paled in comparison to his primary place of residence—his private island. St. James Island is located in the U.S. Virgin Islands, and Epstein purchased it in 1998. According to a contractor, Steve Scully, Epstein possessed two private offices on the island, as well as a strange blue-and-white striped temple and a lagoon full of flamingos. The island was, allegedly, the location of a variety of heinous crimes and was casually called the "Island of Sin" and even "Pedophile Island" among some of Epstein's acquaintances.

Epstein had ties to countless businesses and money-making ventures, and he had a particularly fraught relationship with Victoria's Secret, a company that may have funneled models directly to him—and from which he may have embezzled millions. He had a circle of powerful friends that included Donald Trump, Kevin Spacey, Woody Allen, and Bill Clinton. He was also a serial liar, constantly fabricating relationships and insinuating himself into the scientific and political communities, including ingratiating himself with scientists by bankrolling their research. He is an example of the way that money can pave pathways and open doors for people with little to offer other than their purported fortunes and their charisma.
Between the bizarre decor of his homes, his interest in nefarious ideas like eugenics and cryogenics, and the suspicious circumstances of his apparent suicide in a Manhattan jail, Rolling Stone was right when it published the headline, "Conspiracy theories have gone mainstream."

Many of the conspiracy theories currently swirling around the Internet center around Epstein's relationship with Bill Clinton and Donald Trump, with #TrumpBodyCount and #ClintonBodyCount trending on Twitter and Trump himself tweeting about the Clinton conspiracy. Many others believe that Epstein faked the suicide, as the cameras in the jail cell stopped working at the time of his death.
With its tangled web of lies, the Epstein case is "the end of an information ecosystem that at least feints at asking questions before pretending to have the answers," according to Anna Merlan.
Is this the end, or just a step towards chipping away illusions and unearthing the corruption inherent to America's wealthiest class? After all, it's likely that there have been thousands of Epsteins before—billionaires in bed with politicians and scientific communities who abused women without consequence and who've funded false scientific research.
Maybe social media is, in its ugly, distorted way, finally bringing the dark money and covert alliances at the heart of America out into the light. Maybe next, the Internet could come for people like the Koch Brothers, the billionaires who paid millions to shut down climate change research.
Based on the nature of social media, though, it'll be a long time before we arrive at anything like the truth.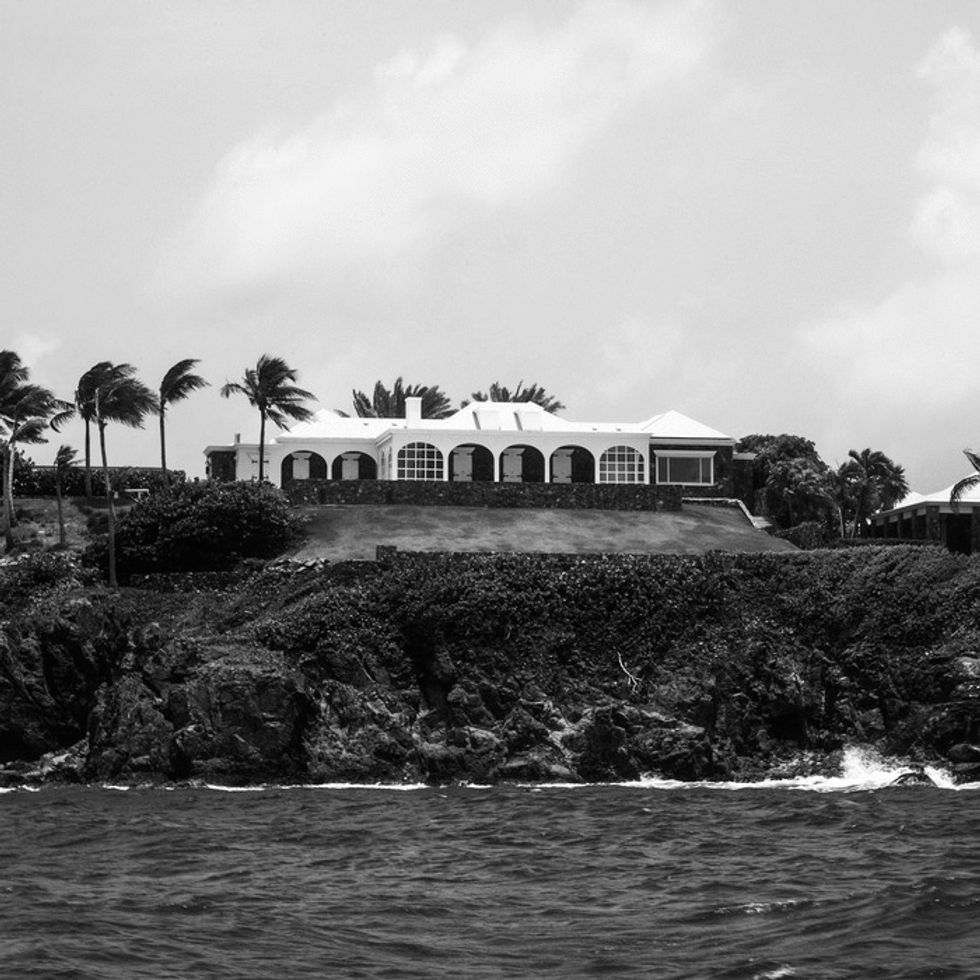 Little Saint James Island. Image via The Cut