In A Time Of Climate Anxiety, Dr. Ayana Elizabeth Johnson Is Paving A Hopeful Path Forward
With disasters like metal-melting, marine life-boiling heat waves across the Pacific Northwest, flash floods turning streets into rivers and subway stations into toxic lakes, wildfires in Oregon so intense they filled the New York skyline with a smoky haze. Then there's the ocean surface burning due to oil spills while companies are still trying to force oil pipelines through Indigenous lands. It's been especially difficult these days to feel hope for the future.

In a 2017 study by the American Psychological Association, researchers used the term "eco-anxiety" to describe the mental health impacts of climate change and its social and ecological consequences. Think: fatalism, chronic stress, fear, exhaustion, anger, depressive episodes, even violence. Honestly, how can you not feel that way when you doom-scroll through social media and watch the 24-hour news cycle of climate emergencies happening around the world?
Greta Thunberg, one of the youth movement's biggest voices, has talked about struggling with depression in the early years of her activism. This was brought on by her frustrations with the continued inaction of adults in positions of power. It's no surprise that the doomsday prep and emergency management industry is expected to grow by billions of dollars by 2025.
As much as we'd like to disconnect or look away, climate change and its many intersecting consequences — and the planet-damaging systems that got us into this situation — aren't going away any time soon. How, then, can we move through this collective anxiety we share about the future? How can we come together locally and globally to lessen the blows of environmental change, especially for our most vulnerable communities?
Dr. Ayana Elizabeth Johnson's tireless work as a marine biologist and climate policy advocate should be an example to us all of how to build a path forward together through education and collective action. Maybe you've heard of her, or at least heard of her work: She's written about racism as one of the biggest obstacles to stopping climate change, coastal and ocean conservation efforts across New York City (she's also a board member of the Billion Oyster Project), and how environmental justice is essential to the Black Lives Matter movement.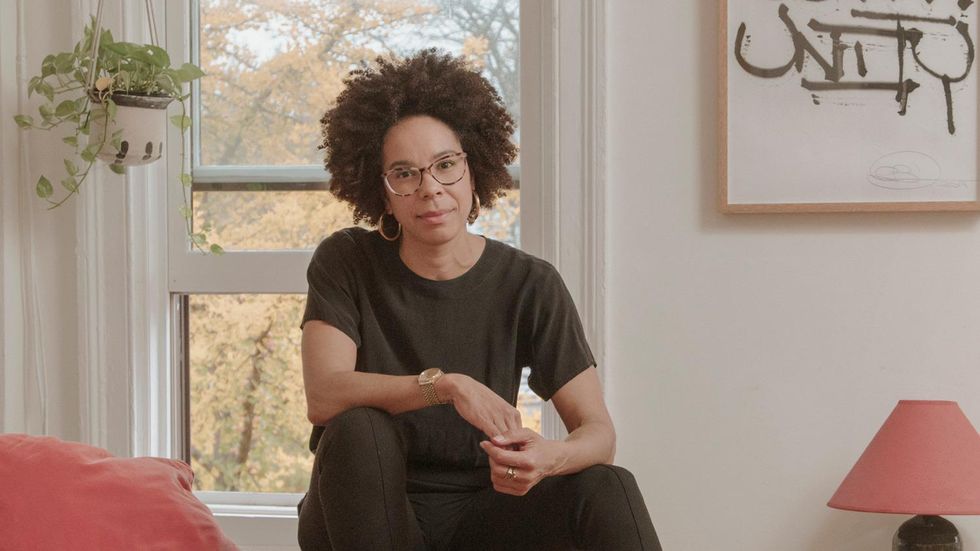 A co-founder of the coastal cities policy think tank Urban Ocean Lab, Dr. Johnson co-authored the Blue New Deal. This plan was released during Senator Elizabeth Warren's 2020 presidential campaign and would prioritize restoring America's ocean habitats and rebuilding coastal economies and communities impacted by warming oceans, pollution, and overfishing. Dr. Johnson's even discussed being a climate justice advocate with Billie Eilish.
But it's her current role as the co-host of Gimlet Media's podcast How To Save A Planet where Ayana's passion for climate change education and collective empowerment really shines. Episode subjects range from agriculture's greenhouse gas emissions to the history of wildfires and land management. Listeners' questions often take center stage. Think: Is the carbon footprint a helpful tool for measuring our individual action against climate change? Are electric cars really that much better for the environment? Does recycling actually make a difference? No environmental justice-shaped stone is left unturned.
Dr. Johnson, with the help of great guests including farmers, activists, and researchers, reframes these ongoing debates in a way that's refreshingly accessible. Listeners not only learn about topics left out of their science textbooks, but they gain a better understanding of how climate science terms and theories manifest in our day-to-day lives. She also covers what we may experience at our local level to big-picture changes in our regional and global ecologies as well as our economic and political systems.
Through Dr. Johnson's solutions-focused approach, the scary unknowns that tend to paralyze our discussions around climate change—and make us feel like none of our actions even matter—feel a little less scary. Dr. Johnson's intention, throughout this show and through all of her work, really, is not to shame people for not doing enough or fear-monger without offering a course of action. Instead, she engages with everyone, regardless of how much they know and their proximity to the climate movement, to build a better foundation of our environmental understanding, to challenge misinformation, and to inspire us to make change together.
The stories collected in the anthology All We Can Save: Truth, Courage, and Solutions For The Climate Crisis, which Dr. Johnson co-edited alongside Dr. Katharine Wilkinson, are urgent reading. Especially in this perpetual era of environmental calamity wherever we look. Poems about the Anthropocene share pages with stories of climate migration, Indigenous resistance, stories of communities of color fighting against systems of environmental racism, and motherhood during the climate crisis.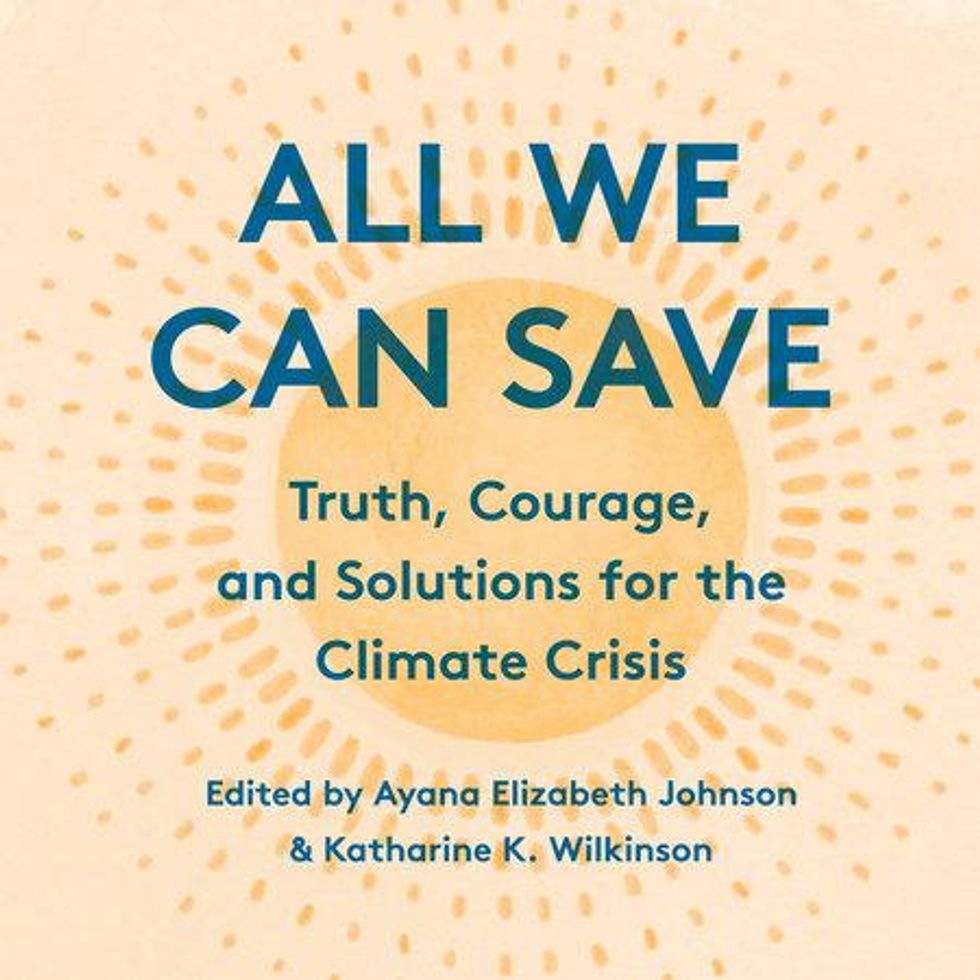 The collection uplifts just as much as it educates. Flip through each chapter and you'll find terms defined, statistics and insights marked for your attention, offering accessible entry points into looming threats and ongoing struggles that oftentimes feel beyond our comprehension.
In her chapter on mental health and the climate crisis, climate adaptation researcher Susanne C. Moser notes how "climate grief" has sprung up in many of us. Scholars define this as an attempt to process the traumatic effects of living on a changing planet marred by overwhelming impacts of natural disasters, and forced migration and displacement. But both Moser and Johnson call for resilience as opposed to giving into the fear. As Moser writes, "Burnt-out people are less effective people. Burnt-out people can become sick people...Burnt-out people aren't equipped to serve a burning planet."
We cannot predict the future. Already, climate change has defied our modeling and our expectations, impacting communities across the world in disproportionate ways. It's understandable to avoid thinking about it until the climate crisis ends up at your front door.
Those in power who strive to continually get away with the damage we've done want us to focus on everything that's gone wrong and want us to give up. But now, more than ever, we must educate ourselves, unite, build political power, help enact community-based change, close the gaps and mend the harmful systems that have impacted frontline communities for so long.
Dr. Ayana Elizabeth Johnson's ongoing climate advocacy is a reminder that all hope is not lost. Her work suggests that taking care of our bodies and minds is critical now more than ever.
So take a step back and breathe. Remember to celebrate victories and good news and treat yourself and each other with compassion. Listen to the marginalized communities who have been and continue to be most victimized by this climate emergency. Look to them for guidance and support their fight with the resources and tools you already have. As Dr. Johnson writes, together with Dr. Katherine Wilkinson: "Roll up your sleeves. Everyone has a role to play."
*
Eleonor Botoman is a critic and poet based in Brooklyn, New York, whose work has appeared in C Magazine, Artforum, Sunlight Press, Interiors Journal, BUST Magazine,The Mantle, and Dream Pop Journal. A former sketchbook librarian, she now studies in NYU's Experimental Humanities program. When she's not reading science fiction or visiting museums, she's working on her newsletter, Screenshot Reliquary.
Keep reading...
Show less
In a year marked by multiple consecutive crises, climate change remains more relevant than you may think.
2020 is a cursed year.

Unless you live under a rock, or you're Jeff Bezos, you're probably suffering from crisis overload. COVID-19 has killed over 160,000 Americans to date, and millions are still without jobs. The nationwide protests against police brutality have brought into sharp relief the racism endemic in our policing and in our society at large. We're worried about our safety and the safety of our families, about job security, or about how we're going to pay rent this month. With the election just months away, we're worried about the state of our democracy and whether it will withstand forces that threaten to dismantle it.
Remember climate change? If it's recently taken up less of your emotional real estate than it did in, say, February, I don't blame you. There's only so much crisis a person can take at one time. But unfortunately, despite whatever else is going on in the world, climate change continues its steady march toward the point of no return, which scientists say is about 15 years out.
Even though 15 years may as well be 15 centuries compared to the immediacy with which coronavirus has ravaged our country, there has never been a more urgent moment—nor a clearer opportunity—to fight for the radical climate reform necessary to combat it. But the window is small, and if we miss it, we may not get a better chance until it is too late.
Climate change in the 2020s: What impacts to expect youtu.be
For one, even though the past few months have shown a decrease in global carbon emissions, this is only a temporary effect of shuttered international borders and widespread economic shutdown. It's no victory, in other words.
In fact, this pandemic has given President Trump ample opportunity to ramp up the reversal of Obama-era environmental regulations in the name of restoring the economy. While we were distracted by his suggestion that injecting bleach could cure coronavirus, or that having his face carved in Mount Rushmore would be a "good idea," he was busy rolling back the crucial National Environmental Policy Act, which will accelerate federal approval for new power plants and pipelines. More recently, he lifted regulations on methane emissions.
His timing is as ironic as it is startling, given the fact that COVID is a respiratory disease. One study found that a person living in an area with high air pollution is 15 percent more likely to die from coronavirus than someone living in a less polluted area. It's well documented that Black Americans live disproportionately in high-polluted areas and also that they are more likely than whites to be essential workers. Taken together, these facts explain why Black individuals are about three times as likely to contract coronavirus as white people and about twice as likely to die from the infection.
Meanwhile, America's billionaires have profited over $600 billion since the start of the pandemic. Data shows that climate change follows the same trend, but on a global scale: The world's richest countries, the ones responsible for emitting the most greenhouse gases, have become about 10 percent richer as a result of global warming, whereas the world's poorest—the ones that contribute to the problem the least yet are hit hardest by the results—have seen their wealth decrease by 17-31 percent.
Many people make the mistake of believing that climate change is a purely scientific problem, but it is a deeply social one too. This pandemic has pulled back the curtain not only on inequalities that fuel our economy and systemic disregard for Black lives, but also how vastly unprepared we are to deal with disaster—disaster of the sort that, if climate change progresses unchecked, promises to become increasingly frequent and increasingly destructive, especially for BIPOC and low-income communities.
This is why the best proposals for combatting climate change go further and deeper than simply regulating carbon emissions (though that is paramount). Climate change touches American lives in many complex ways and requires an accordingly complex solution. For example, The Green New Deal—a nonbinding resolution spearheaded by Alexandria Ocasio-Cortez of New York and Ed Markey of Massachusetts—tackles unemployment, systemic racism, and healthcare on top of a transition to 100 percent renewable energy.
Past attempts at curbing carbon emissions have been largely unsuccessful due to lack of adequate public demand, a deep partisan divide that has pitted the health of humanity against the health of the economy (sound familiar?), and because of a few powerful oil companies with tentacles in Washington. But maybe, most crucially, these prior efforts to combat climate change have failed because we've never gotten the timing right.
The kinds of sweeping changes to our social and economic landscape that climate change requires don't happen when things are, ostensibly, going just fine. Our country's most radical policies were passed in the wake of devastation or of social unrest. Why should this moment be an exception?
While we're in the process of writing our new normal, we can't forget about climate change. The fight for climate justice is the fight for Black lives, is the fight for guaranteed healthcare, is the fight for a country that protects its citizens before it protects private industry. If the human toll of COVID-19 hasn't made clear why these things are necessary, I'm not sure anything will.
Keep reading...
Show less
Many of the Australia Zoo's most recent patients came from the severe bushfire.
According to CBS, nearly half a billion animals have died in the bushfires that are currently terrorizing Australia.
Australia is home to expansive, unique wildlife, as well as plenty of residents who are fighting to keep the beauty of their country intact. One famed family, the Irwins—of the late Steve Irwin—is taking major steps to help.
Terri, Steve's widow, took over the Australia Zoo after his death in 2006. Since then, she and the two Irwin children, Bindi and Robert, have continued their shared passion for wildlife conservation and environmentalism, which has only been amplified in the wake of the fires.
"With so many devastating fires within Australia, my heart breaks for the people and wildlife who have lost so much," Bindi wrote on Instagram, ensuring fans that the Zoo and the Irwin's home would be safe. "Our Wildlife Hospital is busier than ever though, having officially treated over 90,000 patients."
Below, check out some of the recent patients at the Australia Zoo that the Irwins have helped.
Climate despair is becoming so widespread that some people are losing their will to live. Is this the new normal?
If you're reading this, you probably know that the earth is not doing well. A 2018 UN report declared that we have 12 years to keep the global climate from rising more than 1.5 degrees, or we'll face catastrophic warming levels. Even knowing this, our worldwide carbon emissions have only continued to rise, with atmospheric CO2 reaching a record high at 417.4 ppm in May 2019.
In essence, we know the world is ending, we know why, and yet we have done nothing to stop it. In fact, things are getting worse.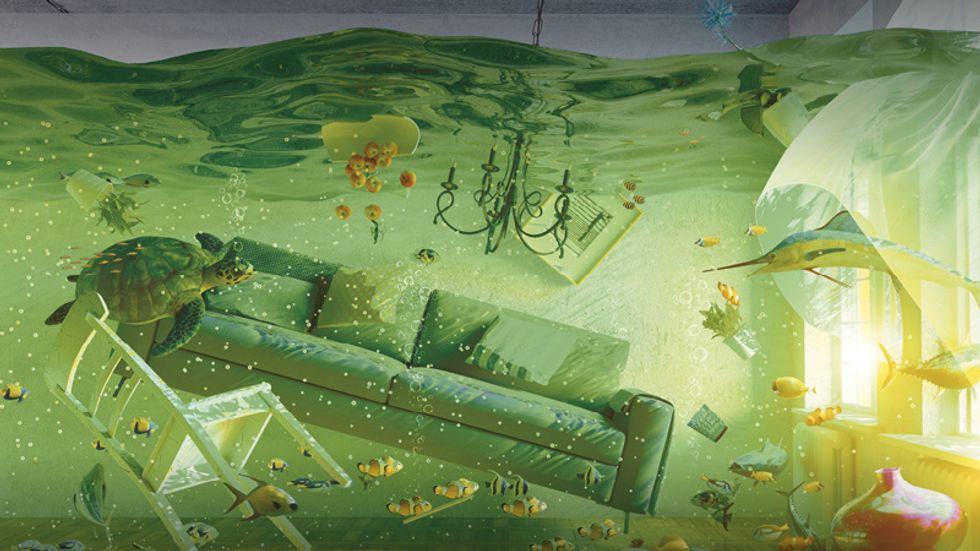 Image via blog.derby.ac.uk
The Argument for Despair
Faced with this truth, it's all too easy to slip into despair, and this is what's happening to people all over the world. A recent VICE article explored the mental health crises that many people are experiencing because of climate change. Known as "climate despair," sometimes called "eco-nihilism" or "human futilitarianism," chronic feelings of hopelessness about climate change are becoming all too common among those who have allowed themselves to fully comprehend the extent of the crisis.
For people who suffer from these feelings, it doesn't help that life appears to be continuing on as normal, while only a few of us seem to care that the world is burning down. This creates a sense of duality that can be even more painful than consciously accepting the reality of climate change, as it involves a deep suppression of pain and fear, which is then left to fester in the psyche. Living this "double life," according to Joanna Macy's essay "Working Through Environmental Despair," can be detrimental. "Awesome and unprecedented in the history of humanity, the awareness lurks there, with an anguish beyond naming," she writes.
This awareness can manifest in many ways; and often it has lead to depression or suicidal thoughts. Even therapists are having trouble knowing how to handle the looming specter of climate despair. Several people quoted in the VICE article described how their therapists attempted to trace their terror of climate change back to personal traumas, instead of acknowledging the validity of these fears.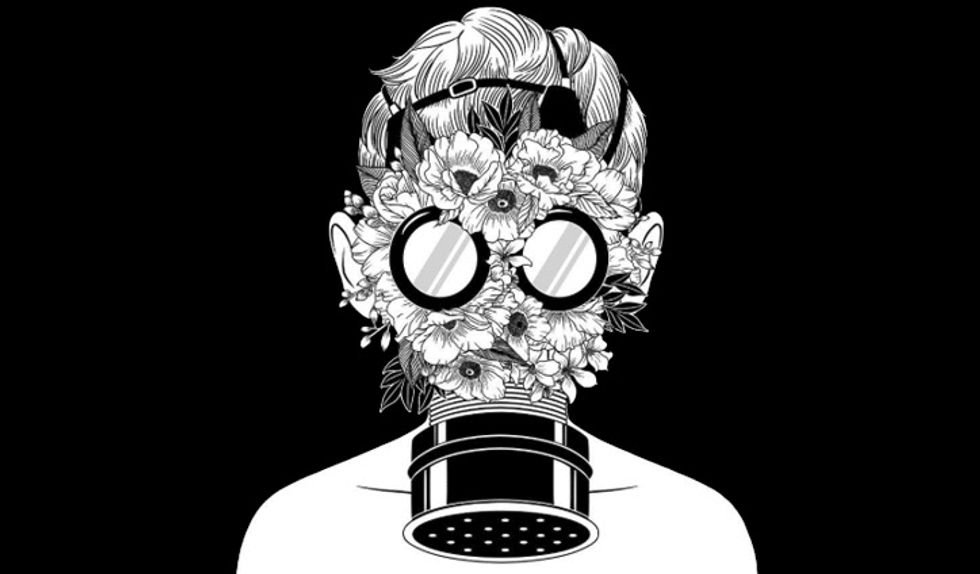 Image via Its Nice That
Children are just as vulnerable to these feelings as adults. As they watch governments refuse to act, kids are growing up in the world with little faith in the government or the adults around them, and with the knowledge that they've been born into a disaster they never asked for but have to deal with.

Greta Thunberg was one of these kids. She's spoken extensively about the feelings of despair that nearly paralyzed her as she became more and more aware of the climate crisis. "Before I started school striking, I was … so depressed and I didn't want to do anything," she once said.
But when she began to speak, as many of us know, she became one of the most outspoken and well-known climate activists in the world. According to Thunberg, this was not a choice. "I feel like dying inside if I don't protest," she said. For those suffering from climate despair, that feeling of dying inside is a familiar one. But Greta's inspiring actions contain seeds of hope, perhaps the best hope against climate despair.
The truth is that things are only hopeless if we don't take action. Conveniently, taking action might also be one of the best things we can possibly do to work through climate despair.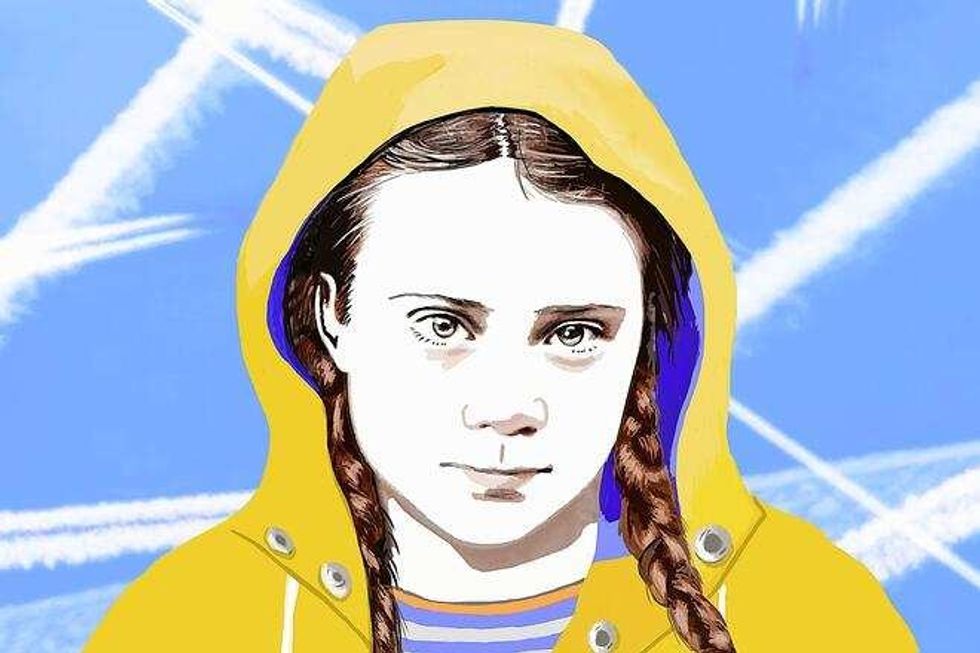 Image via Handelszeitung
Our Best Shot at Hope
Although they might be realistic responses to the threat of climate change, feelings of despair—when they aren't turned into action, or are suffered through in solitude— present a terminal danger to the climate movement, as they promote stagnation when what is truly needed is unity and protest.
This doesn't mean that we should deny the gravity of the situation. Action begins with admitting the problem, not stuffing it away under layers of performative normalcy. "Until we find ways of acknowledging and integrating that level of anguished awareness," continues Joanna Macy, "we repress it; and with that repression we are drained of the energy we need for action and clear thinking."
Still, the answer is also not necessarily to let oneself fall down a hole of hopelessness. Often, the doomsday-esque reports that are inundating the Internet and certain academic circles can be the opposite of productive. Sometimes, these reports are inaccurate, overly dramatized and apocalyptic. These alarmist articles that proclaim that we are all doomed often have the opposite effect, shaking people into complicity when the truth is that though things are really bad, there is definitely hope.
There is hope.
Though we won't be able to reverse climate change, it is possible to salvage so much of the world and to prevent the worst consequences of ecological decline. Human beings have mobilized massively before—we've split atoms and spread cell phones across the globe in less than a decade—and we can do it again. We have the technology, the money, and the capability: All we need to avert immediate crisis is the will and the public support to elect people into office who will take action.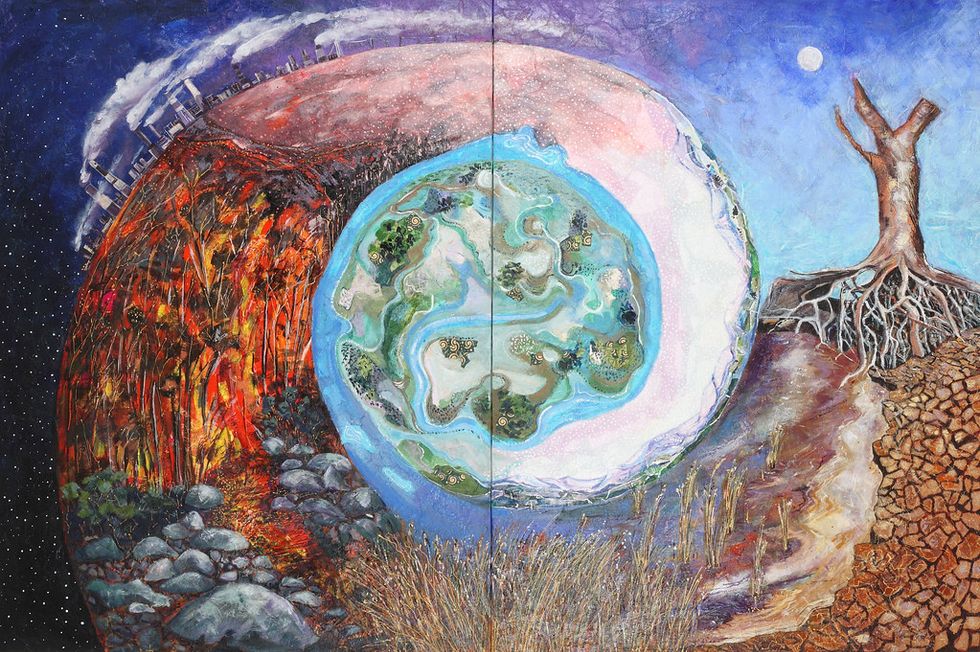 Image via Flickr
We have the resources to fight climate change. Many countries are instituting programs to reduce their carbon emissions. Small nations like Denmark and Belgium have successfully slashed their carbon emissions, and plans like the Paris Agreement are promising attempts at global change. What we need to do is fight, to spread awareness, to elect people into office who will take action, and to make it clear that we as a human race won't go down at the hands of an elite cult of carbon-worshipers determined to ruin all of our futures for the sake of their own fortunes.
Climate activism doesn't solely have to be a fight against something, though: it can be a fight for a better world. Though climate change is often painted as an entirely doom-and-gloom issue, some of the things that fighting it will combat it could actually benefit our whole society, healing some of the deep wounds that have caused our modern epidemic of mental illness, addiction, and loneliness.
According to Naomi Klein, author of This Changes Everything: Capitalism vs. The Climate, this impasse at the brink between oblivion and climate disaster presents an unprecedented opportunity for positive change. This crisis can be a beginning, not an ending, she argues: the beginning of a movement towards a more interconnected and compassionate world.
"Climate change—if treated as a true planetary emergency akin to those rising flood waters—could become a galvanizing force for humanity, leaving us all not just safer from extreme weather, but with societies that are safer and fairer in all kinds of other ways as well," she writes. "The resources required to rapidly move away from fossil fuels and prepare for the coming heavy weather could pull huge swaths of humanity out of poverty, providing services now sorely lacking, from clean water to electricity. This is a vision of the future that goes beyond just surviving or enduring climate change...It is a vision in which we collectively use the crisis to leap somewhere that seems, frankly, better than where we are right now."
This kind of future would require a paradigm shift, a complete departure from our current free-market model that glorifies isolated successes and prizes maximum consumption above all else. It would require that, among other things, we sacrifice our own desires for the good of everyone else.
We need to sacrifice the concept that the goal of life is to be able to pursue one's individual fortune to the highest level: And we have to acknowledge that we operate in an interconnected network, and must lift each other and our planet up, if we wish to continue to live on this earth.
The shift is already beginning. Organizations like Sunrise and Extinction Rebellion have emerged at the forefront of the fight against climate change; and artists are starting to wake up, too. But even if you don't have a massive platform or aren't going to protests, even just talking about the ecological crisis with others can ignite powerful chain reactions. Overall, probably the most meaningful thing you can do is work to elect officials who will make good on their promises to cut emissions and create a better world while doing it.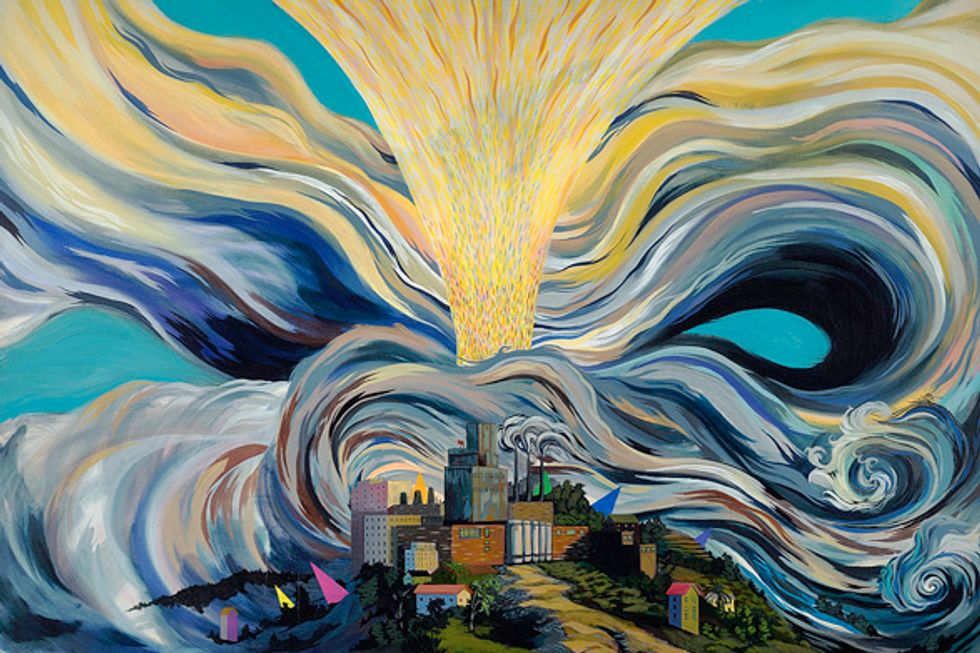 Image via Ethics and International Affairs
Where We Go From Here
Still, considering the amount of mobilization and effort that these changes require—and considering how determined major, extremely wealthy fossil fuel companies are to squander these efforts—it's extremely difficult to be hopeful all the time when it comes to the climate crisis. Plus we've already damaged some things beyond repair, and we've lost many people to the wildfires and hurricanes rooted in climate change; to name a few, the 79 people lost in California's Camp Fire, and the nearly 3,000 people who lost their lives in Hurricane Maria.
And so, as the VICE article proposes, to comprehend the full extent of the climate crisis, first we need to let ourselves grieve. We need to allow ourselves to grieve as we would in the face of any other tragedy—to comprehend the harm that we've done to our planet and to recognize and honor our feelings about it.
Once we recognize these feelings, we can begin to deal with them. As Macy continues, "To experience pain as we register what is happening to our world is a measure of our evolution as open systems. This is true not only from the perspective of systems science but from that of religion as well. How many mystics in their spiritual journey have spoken of the 'dark night of the soul'? Brave enough to let go of accustomed assurances, they let their old convictions and conformities dissolve into nothingness, and stood naked to the terror of the unknown. They let processes, which their minds could not encompass, work through them. It is in that darkness that birth takes place."

While it's important to embrace one's despair and grief regarding climate, it's equally important to view these feelings as starting points for a spiritual and political revolution, instead of hindrances that need to be suppressed. If we view climate as a consequence of evils we've always been peripherally cognizant of—like selfishness, greed, and the hypocrisy that plagues human society—then we can view the climate crisis as an opportunity to at the very least connect with other people who understand that we, collectively, cannot continue this way.
Through this lens, climate despair is far from an end point. Rather, it connects us to the world around us, and to other people who care enough to want to see a better future for everyone and everything. "As our pain for the world is rooted in our interconnectedness with all life, so surely is our power," writes Macy.
So if you're pained by climate change, good. That pain means you love something. That love means you're alive.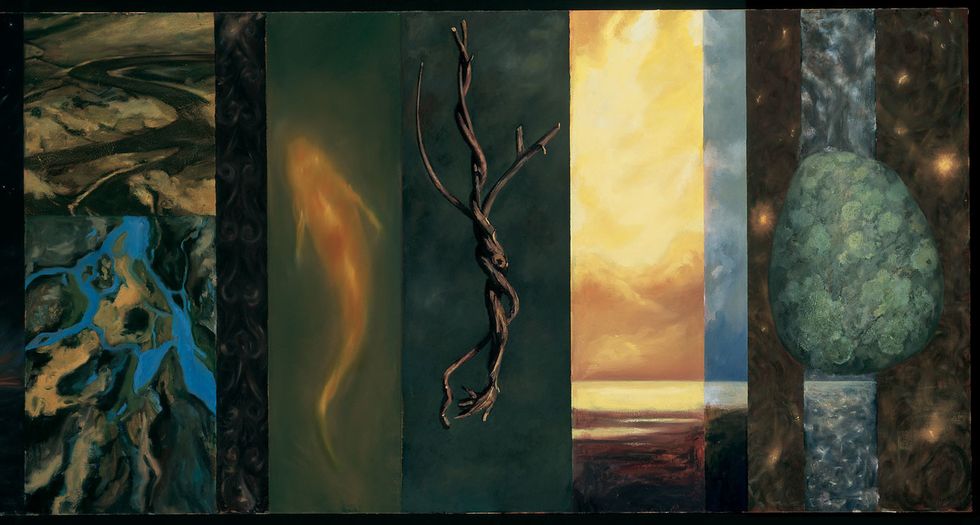 Image via Occidental Arts and Ecology Center