"A tree is best measured when it is down," the poet Carl Sandburg once observed, "and so it is with people." The recent death of Harry Belafonte at the age of 96 has prompted many assessments of what this pioneering singer-actor-activist accomplished in a long and fruitful life.
Belafonte's career as a ground-breaking entertainer brought him substantial wealth and fame; according to Playbill magazine, "By 1959, he was the highest paid Black entertainer in the industry, appearing in raucously successful engagements in Las Vegas, New York, and Los Angeles." He scored on Broadway, winning a 1954 Tony for Best Featured Actor in a Musical – John Murray Anderson's Almanac. Belafonte was the first Black person to win the prestigious award. A 1960 television special, "Tonight with Belafonte," brought him an Emmy for Outstanding Performance in a Variety or Musical Program or Series, making him the first Black person to win that award. He found equal success in the recording studio, bringing Calypso music to the masses via such hits as "Day-O (The Banana Boat Song)" and "Jamaica Farewell."
Harry Belafonte - Day-O (The Banana Boat Song) (Live)www.youtube.com
Belafonte's blockbuster stardom is all the more remarkable for happening in a world plagued by virulent systemic racism. Though he never stopped performing, by the early 1960s he'd shifted his energies to the nascent Civil Right movement. He was a friend and adviser to the Reverend Doctor Martin Luther King, Jr. and, as the New York Times stated, Belafonte "put up much of the seed money to help start the Student Nonviolent Coordinating Committee and was one of the principal fund-raisers for that organization and Dr. King's Southern Christian Leadership Conference."
The Southern Poverty Law Center notes that "he helped launch one of Mississippi's first voter registration drives and provided funding for the Freedom Riders. His activism extended beyond the U.S. as he fought against apartheid alongside Nelson Mandela and Miriam Makeba, campaigned for Mandela's release from prison, and advocated for famine relief in Africa." And in 1987, he received an appointment to UNICEF as a goodwill ambassador.
Over a career spanning more than seventy years, Belafonte brought joy to millions of people. He also did something that is, perhaps, even greater: he fostered the hope that a better world for all could be created. And, by his example, demonstrated how we might go about bringing that world into existence.
"President Kennedy never foresaw that the chickens would come home to roost so soon...Being an old farm boy myself, chickens coming home to roost never did make me sad; they always made me glad." -Malcolm X.
The attack on Capitol Hill was another example of how President Donald Trump has emboldened white supremacy. His term in office has given racism and fascism a bigger platform and an official advocate. He proved that, at his command, MAGA fanatics will assemble to do his bidding.
As the world watched the descent of democracy, many were appalled at the visual. This was an attempted coup two weeks before the inauguration of Joe Biden and Kamala Harris. News outlets and politicians questioned how we, as a country, got to this point. But for Black Americans, this has always been our country.
The violence witnessed on Capitol Hill was a scene all too familiar for Black people. The difference was that we weren't the direct targets. Trump's base has antagonized and threatened violence against Black people while law enforcement abuses its power when interacting with us. The confrontation between the two entities responsible for our oppression was unexpected, but not surprising.

Many Trump supporters and members of law enforcement are cut from the same cloth. In fact, many members of law enforcement voted for him. Their belief in excessive force under the guise of law and order gives them what they feel is the right to harm anyone who goes against their authority. They are loyal to a flawed system and a man that keeps them in power and not to the country and its citizens seeking progress and peace.
Throughout this presidency, both sides have pledged their allegiance to each other. MAGA supporters have backed the Blue Lives Matter movement. Police officers have demonstrated leniency when dealing with unruly Trump disciples at rallies and protests. Both believe they are the good guys trying to make things great again.
[shorcode-Newsletter-Embed]
Black people have had to do battle with both. We've had to listen to the various lies spewed about the Black Lives Matter movement from supporters of the president while fighting police brutality daily. The assault on Blackness was a cause that unified them. Black people have warned the world of the dangers these factions were capable of for years. Those claims fell on deaf ears, until yesterday when they turned on one another.

For many Black Americans, yesterday was the manifestation of this country's inability to address domestic terrorism. Peaceful protests and resistance against police brutality are viewed in the same light as the insurrection. The anarchy and mayhem that GOP pundits accuse BLM of inciting was a direct order from their leader.
Their ignorance and arrogance gave them the courage to lay siege to a government building. But if angry Black protesters attempted the same actions, many lives would've been lost.
The same reason why the police routinely kill Black people is the same reason why the police are routinely unprepar… https://t.co/Rc3yWRZ2PA

— Ibram X. Kendi (@Ibram X. Kendi) 1609964271
Suddenly, Trump supporters view themselves as oppressed. Their reign over the country is coming to a not so graceful end. Rather than humbly accepting defeat, they want to dismantle the establishment. The same establishment that helped empower them over the last four years.

Somehow this attack was yet another revelation for white Americans. Before Trump's election, the idea of police officers displaying a lack of regard for the lives of Black people was inconceivable to white Americans. The thought of parts of our government upholding systemic racism was unfathomable.
Last night, after a year of reckoning with the racism built into America's system, white Americans were forced to once again look at the enormous part white privilege plays in policing. But for Black people, it was simply a clear visual of America's decision on November 8, 2016, coming home to roost.
This Could Actually Work...
Petition for the Establishment of the Ronald Reagan Super-Presidency
I think every Rational Person can agree that half of this country has lost its damn mind—and I'm not talking about the Good Half! It's time we forced the Elites in this country—again, not the good ones—to pay their fair share! If they really think that we should raise the top marginal tax rate—which affects everyone equally!—they should prove it by putting their unearned billions of dollars to good use.
By establishing the official, fully-funded position of RONALD REAGAN SUPER PRESIDENCY, Jeff Bezos, Bill Gates, George Soros, and Warren Buffett will be demonstrating a commitment to start being patriotic and working to MATA—Make America Truly Amazing. For only a quarter of a billion dollars each, they can create a new Executive Position that would have some Real, Actual Power in this country—unlike the regular presidency that, a lot of people don't realize, was basically RUINED by Obama, and doesn't let you do anything without a bunch of Very Partisan, Very Crooked judges getting in the way.
With that in mind, the following are the enumerated powers and privileges that the Super-President would wield:
1)The Super-Presidency, Super-President and all Derivatives are always Capitalized, and should actually be in ALL-CAPS as often as possible, because He—not to be sexist, but who are we kidding?—deserves our respect.
2)Upon unanimous selection by everyone on Cable News and the Met Gala guest list—who are generally Snooty Jerks, but will make the right call on this one, because it's Important—the Super-President shall be awarded A BILLION DOLLARS, up-front, no questions asked. Not that he needs it. I mean, even being qualified for this kind of position probably means He's already a Billionaire (but there's obviously no need to look too closely into His finances).
3)He will have his own social-media platform that's like Twitter, but with more Free Speech and fewer Haters. It will be called the Super-President's, Listen Up, Time To E-learn Respectfully—or SPLUTTER for short.
4)Everyone on cable news has to say one flattering thing about the Super-President every day, unless they want to be officially CANCELED, and de-platformed from SPLUTTER, or possibly executed—we'll work out the details later.
5)Once a week, He gets to force someone who's been rude to Him to APOLOGIZE or, again, be de-platformed/executed.
6)Once a month he gets a full Military Parade, with real Hollywood military weapons and vehicles like you see in the movies, and a lot of really Handsome Generals straight from central casting. And also a free tour of Universal Studios.
7)Once a year, His official title will be amended to reflect his achievements. Like, say that Billion Dollar bonus gives him the momentum he needs to quickly become the richest man in the world—as long as a Close Associate vouches over the phone and has a different name (though some overlap in the names is no big deal), we won't need to check too closely—then His official title will be lengthened to THE RONALD REAGAN SUPER-PRESIDENT, _ _ _ _ _ _ _. _ _ _ _ _, THE RICHEST AND THEREFORE SMARTEST MAN IN THE WORLD. And if he wants to replace the part about Reagan with his own name, that's also allowed—it's really just a place-holder.
8)He can have a Second Wife if he wants to, because He's EARNED it—unlike the regular president, who only gets one.
9)Free McDonald's for life, including if he wants to feed like a whole sports team, as long as they aren't Anthem-Kneelers.
10)His own version of the American flag with His name on it, and extra padding for flag-hugs.
11)It's a Lifetime Appointment, so He doesn't need to waste his time on re-elections, and He can never be IMPEACHED OR WITCH-HUNTED OR LYNCHED.
12)Rallies whenever He wants, and also Meetings for very High-Level, Important deals with very Handsome and Important Men, straight out of central casting.
Obviously this is way too much POWER to give to just anyone, so we better talk about the Requirements For Qualification, which are pretty tough, let me tell you, but should be no big deal as long as you're not a loser.
1)He should already be RICH, like really loaded, and not embarrassed to show it off, because that makes Him smart.
2)He should have gone to a really good school, like the Wharton School of Business, and any really established Jesuit School should be fine for undergrad. He also needs to have gotten really good grades, as verified by another call from a Close Associate with a BELIEVABLE name.
3)He has to resign from any Political Office He is currently holding, and can never hold another office, but there's obviously no Shame in it, because this is basically a PROMOTION, and we wouldn't want a politician-type having this much power in the first place—this is a job for a Real Man.
4)He has to pledge to Make America Truly Amazing
5)He should have made his Fortune in something Real and Important, like Real Estate or Branded Marketing.
6)He should definitely be tall, like at least 6'2"—not that we're getting out a tape measure.
7)He should be a truly great golfer, since most DEALS happen out on the links these days. Any plaque that lists Him as a Champion at a prestigious Club/Resort should be proof enough.
8)Must be a Real American, and no I will not explain.
9)He should be able to provide a Classy Venue for a really lavish Inauguration Party with just an amazing Chocolate Cake, and a bigger TV and Internet Audience than anyone ever.
10)He will probably already be very important and respected, as measured by how many times He's been on the cover of TIME magazine—at least 20.
11)Everyone should LOVE this guy, and he should be on record as loving them, too—the Blacks, Hispanics, the Jews, and especially the poorly educated (college these days is Ruining Kids anyway).
So, please sign here if you want these rich, Lefty Elites to pony up and give someone a REAL chance to fix this country. And if you don't sign, that means you hate America and you hate Trump. Oh, and feel free to nominate anyone you think might Qualify.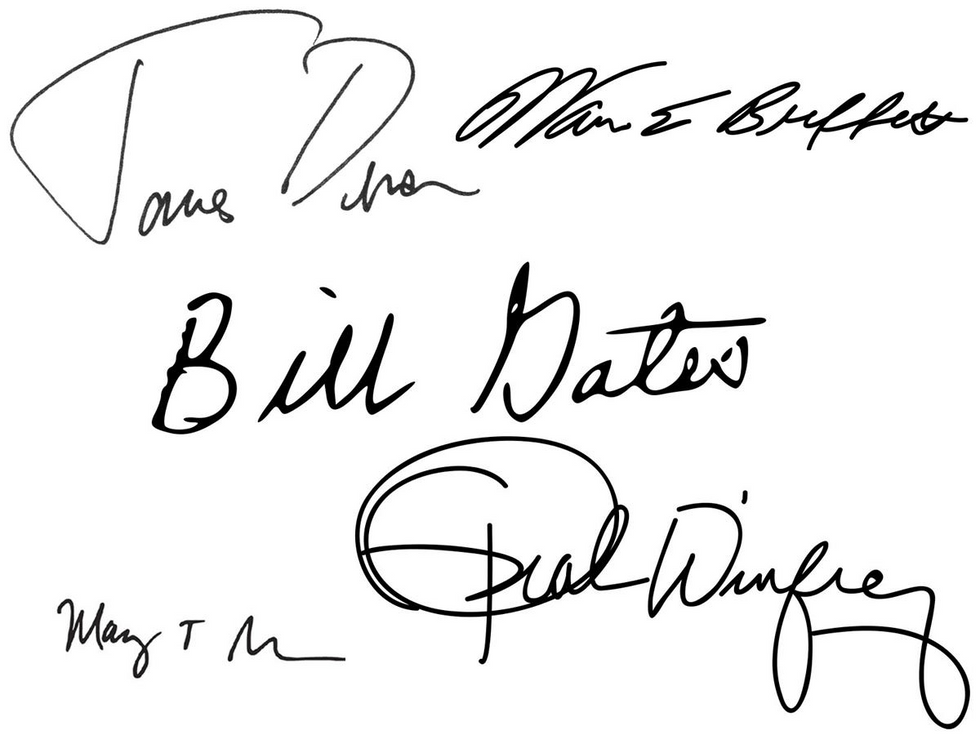 Donald Trump is the most innocent president of our time.
Amidst the House's mounting Trump impeachment inquiry, only one thing is 100% certain no matter what the facts end up being: Donald Trump is totally innocent.
We know this because he tells us on Twitter, and if there's one thing we can all agree on, it's that Donald Trump never lies (and even if he was pretty much lying 84% of the time, that's only to troll stupid people, and by that I mean college-educated democrats and people who can read).
So who cares if the Whistleblower's statement has been proven accurate in a line-by-line dissection? And who cares if the White House definitely tried to cover up the details of the Ukraine call. If Donald Trump says he didn't do anything wrong, well, he's the president so I believe him. So in celebration of how truthful and honest our President is, and how much I believe him no matter what he says or does, I've made a lot of 5 times that Donald Trump was completely innocent.
The Ukraine Call
If that perfect phone call with the President of Ukraine Isn't considered appropriate, then no future President can… https://t.co/QfHzQrLk7J

— Donald J. Trump (@Donald J. Trump) 1569597845.0