We looked for 2020 to be the year of Exodus from all of the strife of the previous decade(s). But, it seems that we might have to endure a few more plagues before we see the Promised Land.
2020 was supposed to usher in a decade of change and elevation. On December 31, 2019, personal and social resolutions were at the forefront of our minds as we collectively waited for midnight. For Black Americans exclusively, this was the hope that the atrocities from the 2010s in regards to race relations wouldn't accompany us. Still, it seems we've become more engrossed in the fight for our right to exist on several fronts.

The COVID-19 pandemic has caused an unprecedented paralysis in the world both economically and emotionally. Millions are without jobs, adequate health care, and engaged leadership. African Americans are the most impacted by the disease. As of June, there have been over 21,000 COVID-19 related deaths in the Black Community nationwide. Pre-existing health conditions and challenging living situations act as barriers preventing proper social distancing and protection/recovery. Though coronavirus is an unexpected nemesis for Blackness to combat, an old foe is still ever-present.
Currently, foreign and domestic protests and riots have erupted in response to the multiple deaths of unarmed Black men and women at the hands of law enforcement. The murder of George Floyd in Minneapolis, Minnesota, on Memorial Day has captured the world's attention. In an 8 minute and 46-second clip, America has yet another lifelong lasting image of an unarmed African American male screaming, "I Can't Breathe" - an unholy sequel to the video of Eric Garner uttering those exact words in 2014 as his life was brutally driven from his body.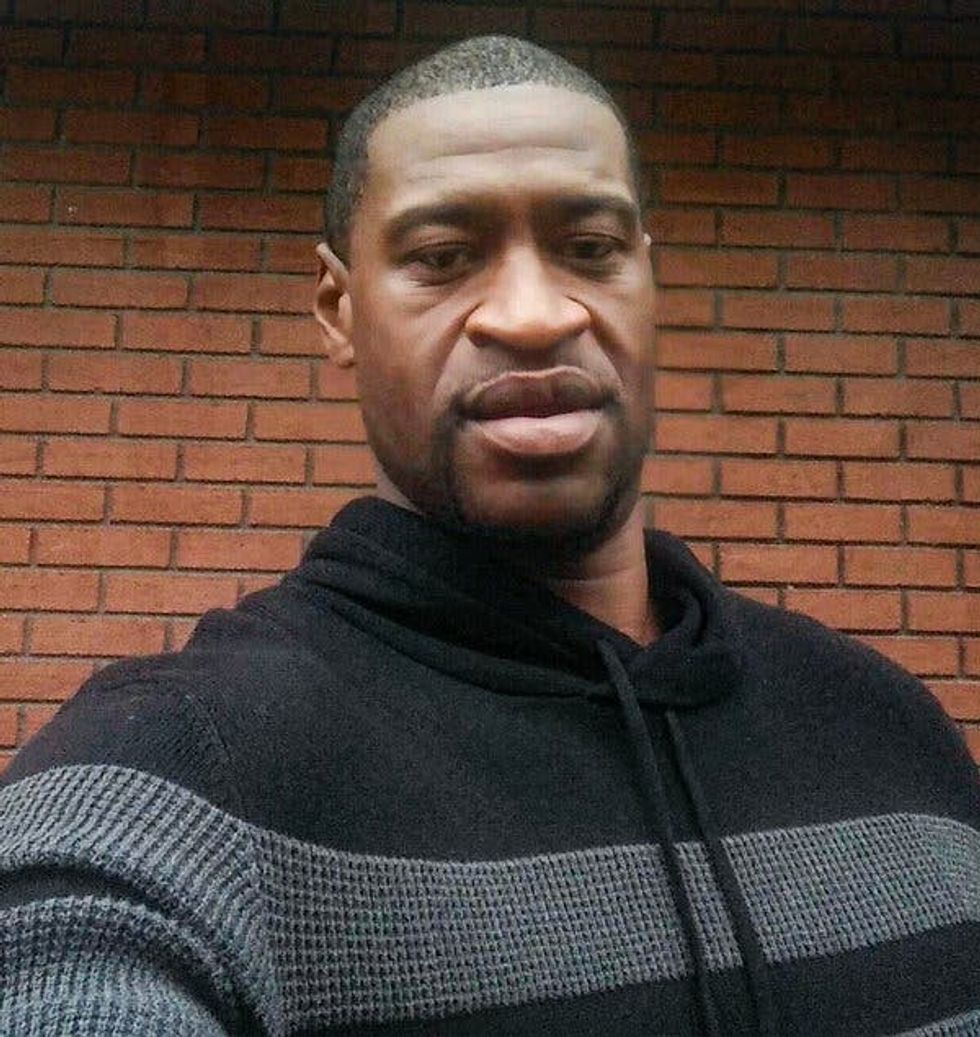 If Floyd's death was the explosion on a global scale, then Breonna Taylor's death was undoubtedly the fuse. Back in March, the 26-year-old Louisville EMT worker was fatally shot eight times when the Louisville Metro Police Department entered her home serving a no-knock warrant.

Overwhelming feelings of helplessness, anger and fear due to coronavirus, coupled with the recent murders at the hands of the authorities, have exacerbated our current temperaments. We are expected to adhere to the pleas of law officials and politicians to shelter in place and social distance when the particular cases of Floyd and Taylor indicate the antithesis of these requests when put into practice by the police.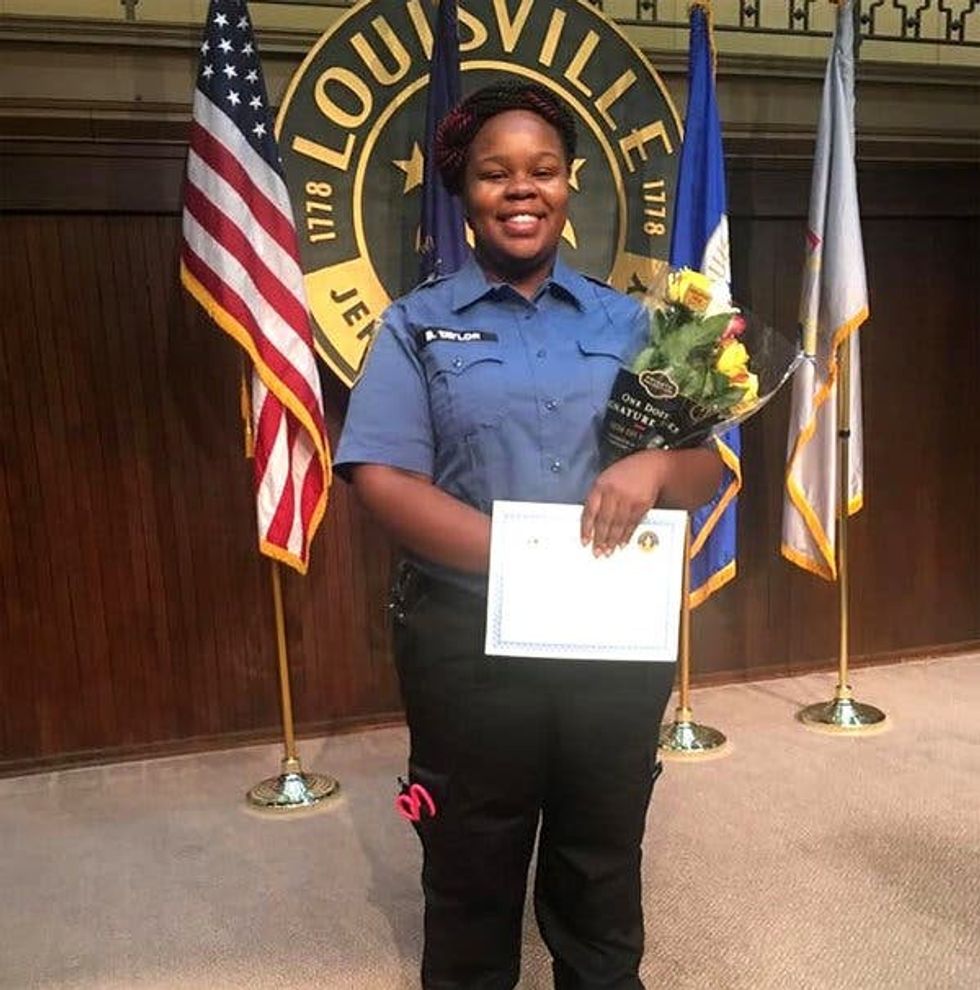 While dealing with a faceless adversary in COVID-19, African Americans remain engaged in an ongoing battle with a known opposition. Black people have become savants at juggling multiple issues of our survival. But balancing civil unrest and possible contagion simultaneously, and at this magnitude, is an ask that is too great - despite our resiliency.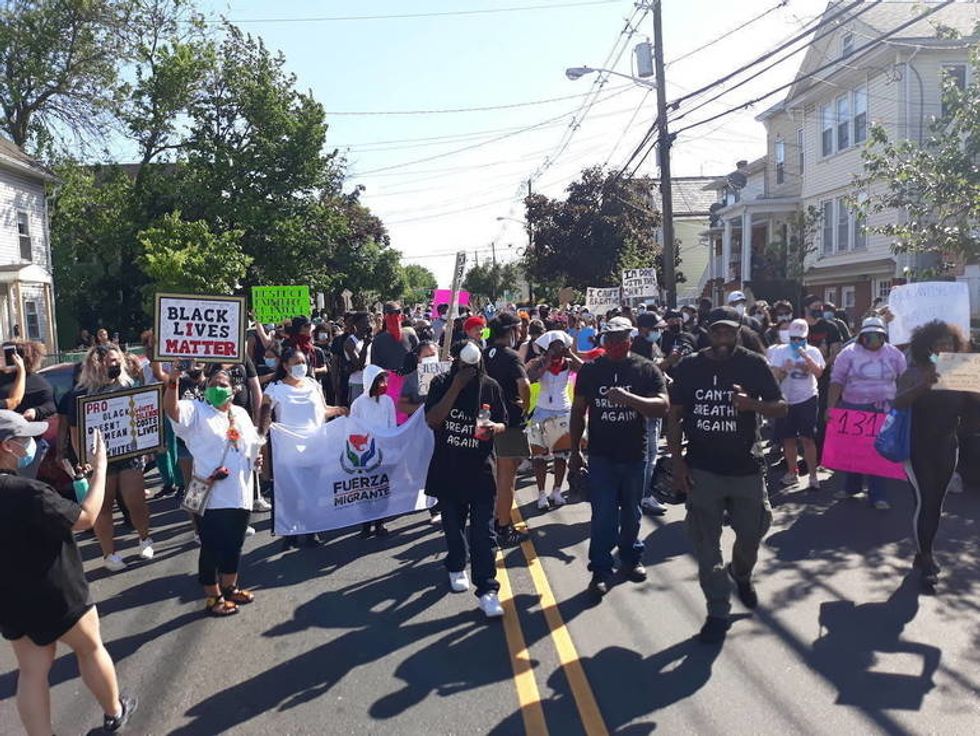 At the risk of further spreading coronavirus, the streets are running wild with rebellion. However, the sickness of racism, of injustice, is a pandemic that has been ever-present since this country's inception. We looked for 2020 to be the year of Exodus from all of the strife of the previous decade(s). But, it seems that we might have to endure a few more plagues before we see the Promised Land.

Dwayne "Deascent" Gittens is a Hip Hop artist, On-Air Personality, & Content Creator from The Bronx. Follow him on Instagram & Twitter @Deascent.
White people: We need to look to BIPOC leadership before participating in any anti-racist actions, online or otherwise.
As protests against racist police brutality continue across the United States and the world in the wake of the brutal murder of George Floyd, many people are taking to social media to share their support for the Black Lives Matter movement.
Posts shared across Instagram, Twitter, and Facebook include information on how to help protestors, how to financially contribute to black led organizations, how to protest safely in the face of police force, and how to be a better ally to the black community. Much of this is vital information that shows how helpful social media can be when harnessed for good.
Today, in another supposed show of support with the Black Lives Matter movement, a #BlackOutTuesday hashtag has begun to spread, particularly on Instagram. The hashtag is posted in combination with an entirely black square. Here is an example:
In theory, the idea is to so thoroughly occupy Instagram with this lack of content, as to make the movement impossible to ignore. Unfortunately, many black-identifying people of color have pointed out the folly of this hashtag. Notably, the danger of using the #BlackLivesMatter hashtag in combination with these posts buries vital information and activist posts that are exponentially more beneficial to the movement than an empty black square. Layla F. Saad, the best-selling author of Me and White Supremacy, posted the below video with the caption, "Hi all. For those taking part in the black out posts, please don't use the blacklivesmatter hashtag as it is actually muting/silencing this hashtag and important information that is being shared under that hashtag. Instead use #blackouttuesday. Thank you @ginaatinukeknight for this heads up."

Some are even questioning the intention of the hashtag, like singer-songwriter Kehlani, who posted on her Instagram story, "while i really do f*ck wit the intention behind the 'black out' something about its execution doesn't seem smart. we keep each other informed on here, we are each other [sic] news channels because we cannot trust the news. we cannot disappear for a day. secondly, now when you check the #BlackLivesmatter hashtag, it's no longer videos, helpful information, resources, documentation of the injustice, it's rows of black screens."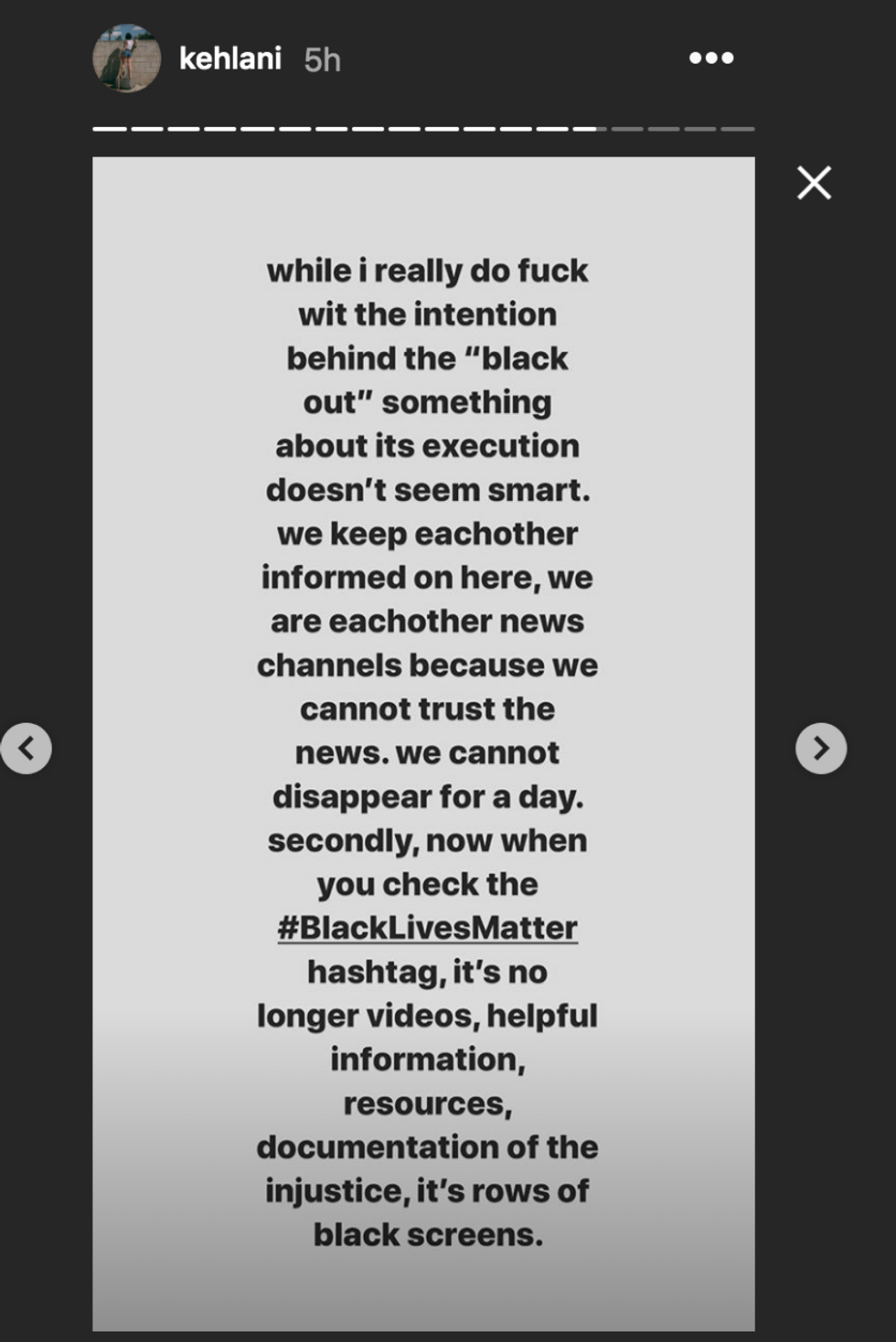 Supposedly, the original initiative was a music industry movement called #TheShowMustBePaused started by WOC music executives Jamila Thomas and Brianna Agyemang. According to The BBC, "All three major record labels have shared a message on social media promising 'a day to disconnect from work and reconnect with our community.' Employees have been given Tuesday off as 'a day of action,' intended to 'provoke accountability and change.'"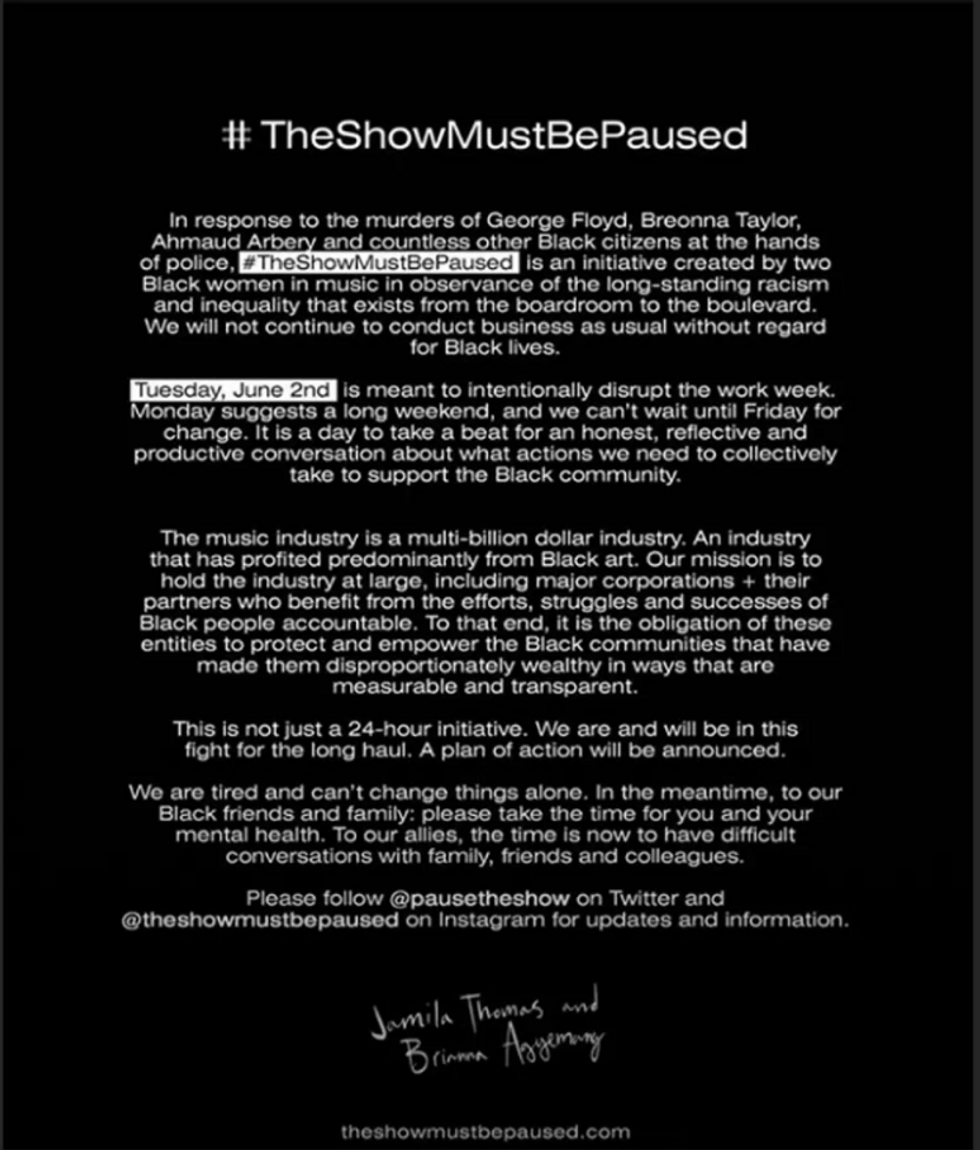 Many artists jumped on board, including Lady Gaga, who said, "[President Trump] holds the most powerful office in the world, yet offers nothing but ignorance and prejudice while black lives continue to be taken," she wrote. "He is fueling a system that is already rooted in racism, and racist activity, and we can all see what is happening."
But how exactly #TheShowMustBePaused became #BlackOutTuesday is unclear, but seeing as it does not seem to have been started by a BIPOC lead organization or BIPOC leader, it is our (white people's, in particular) responsibility to question it before participating. For one thing, simply posting a black square to Instagram is an incredibly easy action, even easier than reposting information or otherwise amplifying the voices of POC through social media. Before participating, ask yourself if you have decided to post your black square simply to assuage your own white guilt/feel like you're helping, or because you've genuinely been led to believe (by a POC) that your action is helpful to the movement. Instead of posting a black square, could you be taking more tangible steps? Could you be posting information for protestors, or suggestions of places to donate? Could you be holding yourself accountable for past racist actions? Could you be educating yourself on your own privilege? One also has to see how suspiciously close to censorship this action seems on the day after President Trump threatened the lives of protestors. Is now really the time to be quiet and remove ourselves from social media, or is it a time to be louder than ever?
If you do decide to participate in #BlackOutTuesday, at the very least, make sure you aren't using the #BlackLivesMatter hashtag, and as always, look to the leadership of POC before participating in any action, online or otherwise. Also, if you're white, consider giving the below post a thorough read.
Keep reading...
Show less
COVID-19 should not be a partisan issue.
Candace Owens, a right wing activist well-known for speaking out against anything any democrat does, took to Twitter today to share that she is actively spreading COVID-19.
Owens' tirade was triggered by an experience in Whole Foods in which her and her husband were asked to put on medical masks or otherwise cover their mouths. Apparently, Owens was unaware of D.C. Mayor Muriel Bowser's April 8 mandate requiring customers to "wear a mask or mouth covering" when shopping. According to Owens, this polite request to do her part in stopping the spread of a deadly virus is an indication that the country is "spiraling into tyranny."
Police enforcement @wholefoods? #coronavirus is spiraling into tyranny. https://t.co/EXA56c7ynJ

— Candace Owens (@Candace Owens) 1586893774.0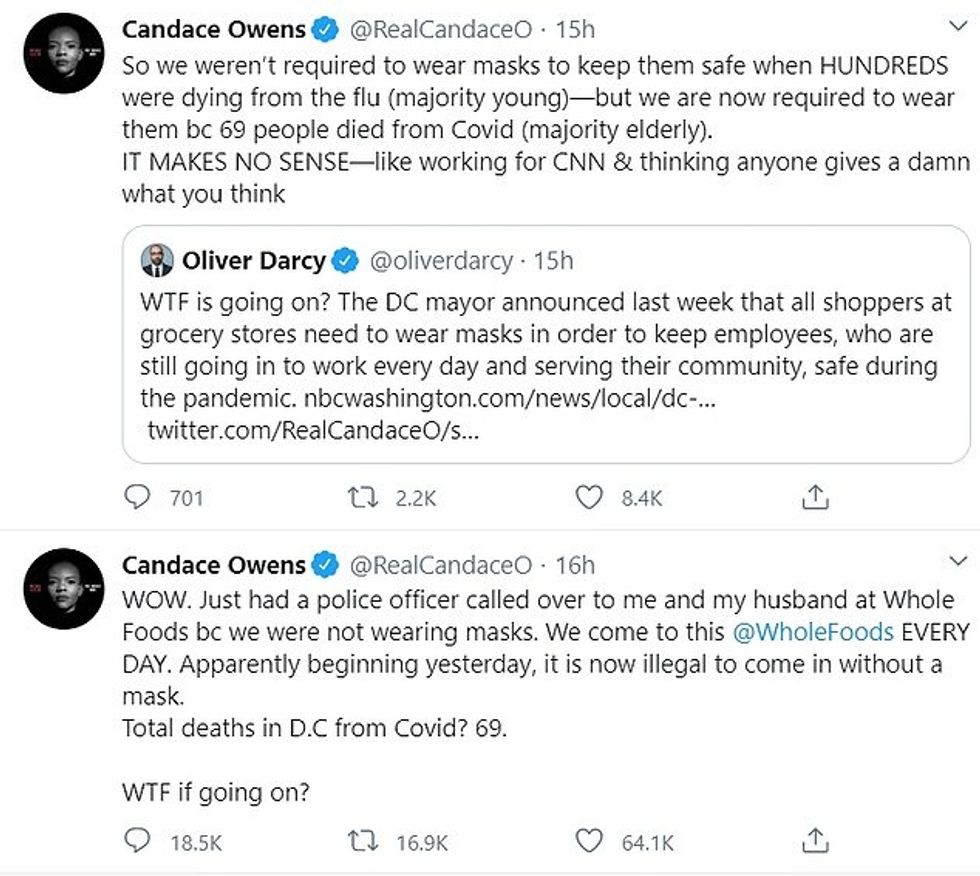 Owens said that she responded to the police officer by saying, "I don't have a mask. I haven't bought one."
She continued in the video, "I didn't race to buy toilet paper, I'm not a part of the corona crazies. I'm not a part of the tin foil hat, bunkering in my basement. I'm just living my life." The conservative activist went on to describe her and her husband being asked to hold their clothing up to their faces while shopping.
Owens' then went on to bemoan the coronavirus measures imposed in Washington DC, claiming there is "no empirical evidence to support the wearing of masks."

All of this would just be a matter of opinion (though one that seems rather insensitive to share at this time), if Owens didn't soon make it clear that mask-wearing isn't the only social distancing rule she is disobeying. She then began to tweet about the many times she had left the house recently for unnecessary reasons, each time risking spreading or contracting the deadly virus.
And to really clear my conscience, I'd like to also to confess that we stopped at the gas station to pick up propan… https://t.co/FmVvU7HqXQ

— Candace Owens (@Candace Owens) 1586966175.0
While Owens is correct that lockdown and social distancing is a nuisance, the selfishness of railing against restrictions put in place to save lives is truly astounding. Everyone agrees that it's a scary time in the United States, and we all know that it would be better if we could live our lives normally and run multiple unnecessary errands a day. Unfortunately, the reality is that we all have to work together to stay home and slow the spread of a deadly virus.
Of course, Owens isn't the first republican to treat social distancing as a nuisance or even as a democratic hoax. President Trump has implied that the Democrats are to blame for the flagging economy and even for the virus itself, all while threatening to reopen businesses well before experts advise. The fact that republicans have made COVID-19 a partisan issue only further points to the core ideology at the heart of the current administration: Selfishness.
Unfortunately, this is not some petty political issue we're talking about. If people like Owens continue to shirk social distancing rules, the cost will be measured in lives lost.
Keep reading...
Show less