We've all been there. You were gifted a dumb present that you'll never in a million-zillion years ever use and you're too polite to tell anyone any differently. It sits at the bottom of your drawer for months, then years. And when you finally feel like enough time has passed, you can throw it out in good conscience.
A return is almost always out of the question. Plus, gift givers don't often include a return receipt, and we all know we wouldn't dare ask for one. I'd rather admit to a crime than confess I don't like a gift - how insulting to the gifter's sense of aesthetics.
And-hey, I have limited drawer space. Who can keep these unwanted gifts for six months when there isn't any space for them? I hate clutter, and unwanted gifts are just that.
This year, I am making an effort to swiftly remove any unwanted gifts from my house without hurting anyone's feelings…and potentially benefiting others. As the old saying goes, one man's trash is another man's treasure. And thank goodness for that.
From the The Guardian:
"According to research published this week by the consumer body, one in four people (24%) received an unwanted or unsuitable gift for the Christmas of 2021. Meanwhile, a separate study by the personal finance comparison site Finder said £1.2bn was wasted on unwanted Christmas gifts each year."
Come to terms with the fact that you will never use that gift and follow these quick tips to offload those unwanted gifts:
Donate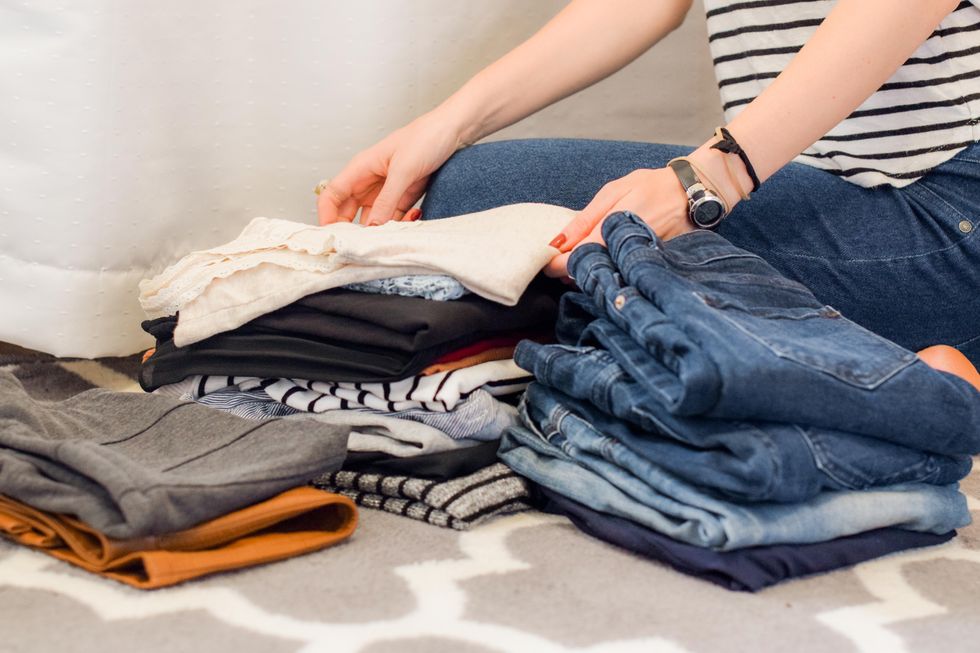 Sarah Brown via Unsplash
The most obvious choice for those unwanted pairs of mud-green sweat socks and that same fluffy robe you get every year from your Aunt Judy is to donate them. Just round up everything you don't want and Google the donation center closest to you.
This is also a fantastic excuse to purge your closet of that pile of stuff you've been meaning to get rid of. A few bags of give-away-clothes will get your spring cleaning out of the way early.
Sell Them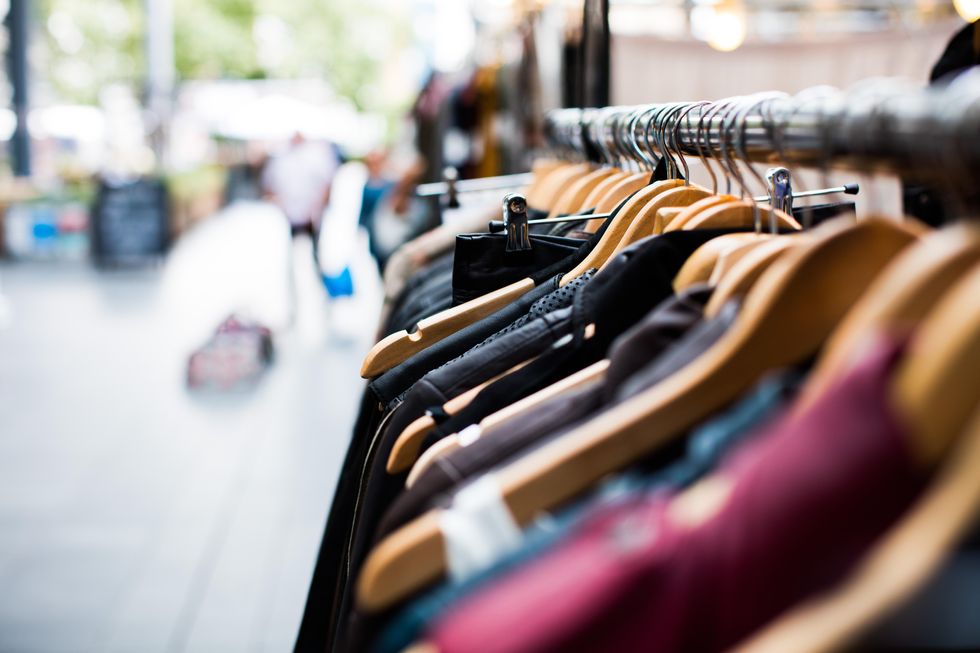 Artificial Photography via Unsplash
Resale websites are all the rage right now. If you got a pair of pants that don't fit or a sweater that isn't your style, resell them on a website dedicated to just that. Sites like Poshmark, Mercari, and DePop are known for selling those trendy pieces of clothing you barely used.
Thrifting has never been hotter. Hop on the trend while people are constantly perusing sites for the hottest deal. Then reward yourself for being so virtuous, by dropping the cash on some fabulous things you'll actually wear!
Re-Gift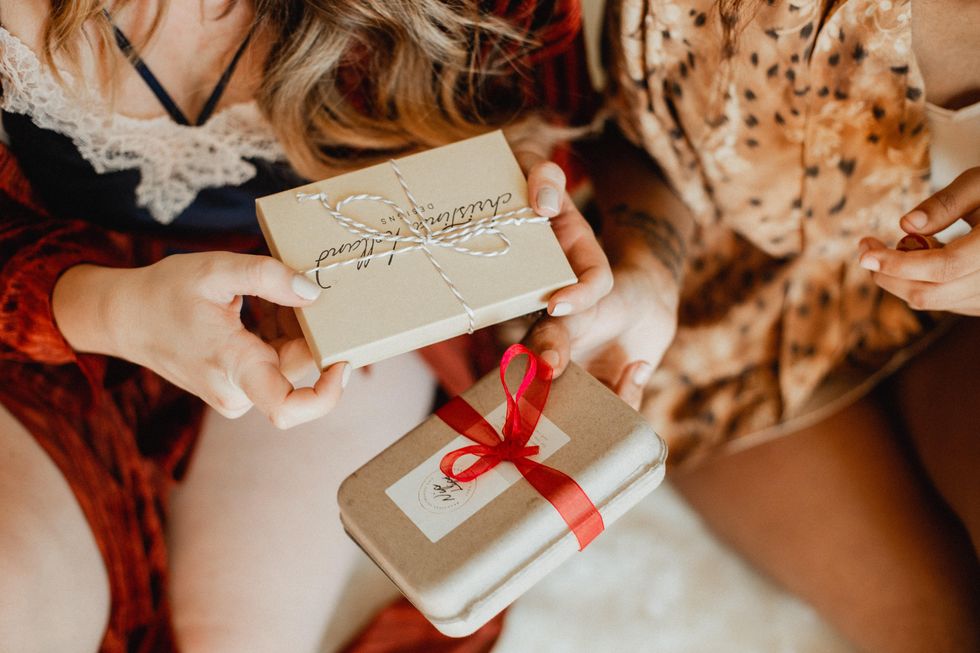 Jackie S via Unsplash
If you got something that you think one of your friends or family can benefit from, why not give it to them? There's no shame in revealing that it was a gift and you don't want it anymore…as long as you aren't re-gifting to the person who gave it to you!
Or, keep the gifts to re-gift at a later date. You never know when you're going to need a last minute gift. You'll thank yourself later.
Attempt a Return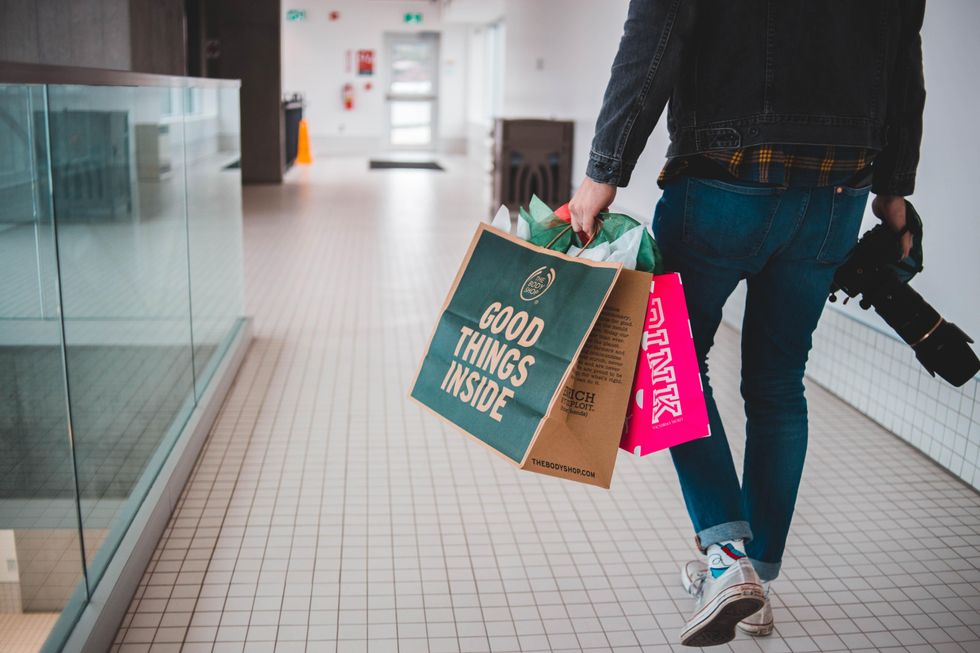 Erik McLean via Unsplash
If your item still has a tag, you can make a valiant effort to return to the store. If you can make your case, many stores won't want to fight you on it. They may be forgiving and grant you store credit at the very least.
We looked for 2020 to be the year of Exodus from all of the strife of the previous decade(s). But, it seems that we might have to endure a few more plagues before we see the Promised Land.
2020 was supposed to usher in a decade of change and elevation. On December 31, 2019, personal and social resolutions were at the forefront of our minds as we collectively waited for midnight. For Black Americans exclusively, this was the hope that the atrocities from the 2010s in regards to race relations wouldn't accompany us. Still, it seems we've become more engrossed in the fight for our right to exist on several fronts.

The COVID-19 pandemic has caused an unprecedented paralysis in the world both economically and emotionally. Millions are without jobs, adequate health care, and engaged leadership. African Americans are the most impacted by the disease. As of June, there have been over 21,000 COVID-19 related deaths in the Black Community nationwide. Pre-existing health conditions and challenging living situations act as barriers preventing proper social distancing and protection/recovery. Though coronavirus is an unexpected nemesis for Blackness to combat, an old foe is still ever-present.
Currently, foreign and domestic protests and riots have erupted in response to the multiple deaths of unarmed Black men and women at the hands of law enforcement. The murder of George Floyd in Minneapolis, Minnesota, on Memorial Day has captured the world's attention. In an 8 minute and 46-second clip, America has yet another lifelong lasting image of an unarmed African American male screaming, "I Can't Breathe" - an unholy sequel to the video of Eric Garner uttering those exact words in 2014 as his life was brutally driven from his body.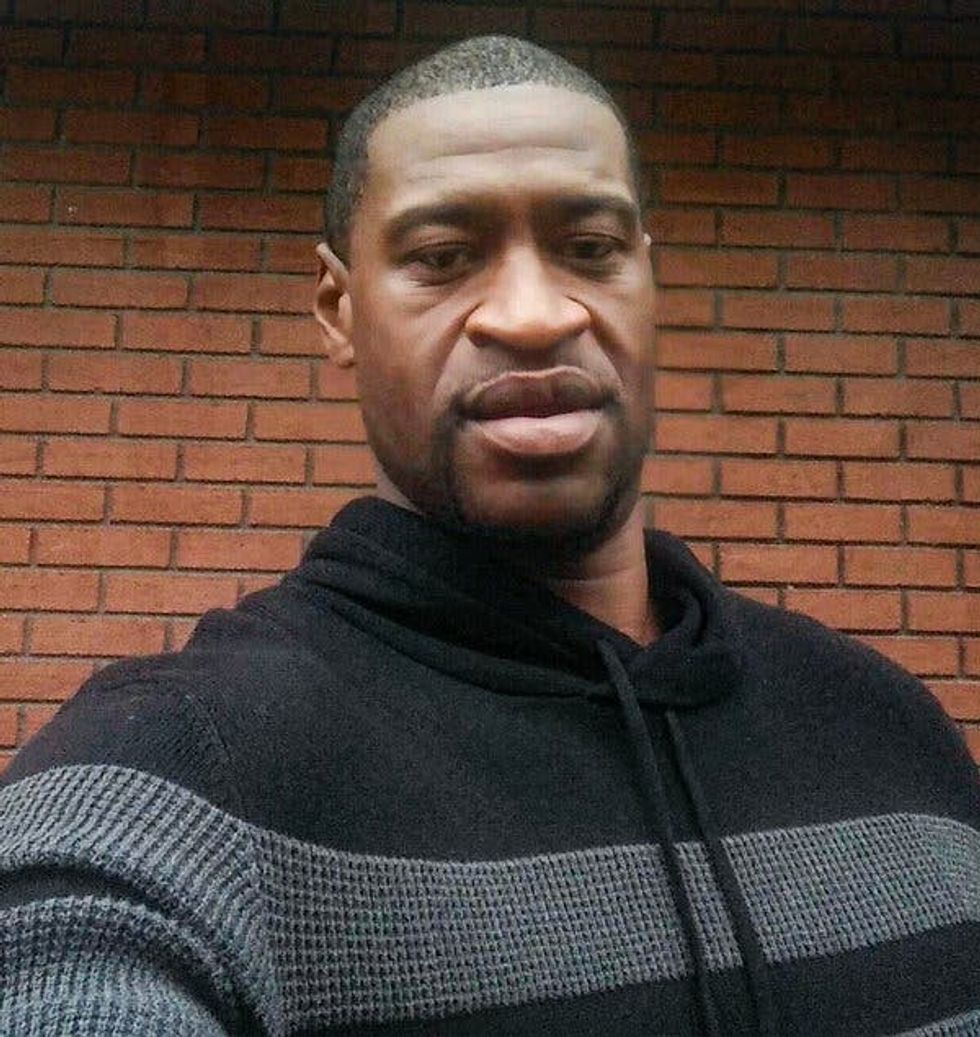 If Floyd's death was the explosion on a global scale, then Breonna Taylor's death was undoubtedly the fuse. Back in March, the 26-year-old Louisville EMT worker was fatally shot eight times when the Louisville Metro Police Department entered her home serving a no-knock warrant.

Overwhelming feelings of helplessness, anger and fear due to coronavirus, coupled with the recent murders at the hands of the authorities, have exacerbated our current temperaments. We are expected to adhere to the pleas of law officials and politicians to shelter in place and social distance when the particular cases of Floyd and Taylor indicate the antithesis of these requests when put into practice by the police.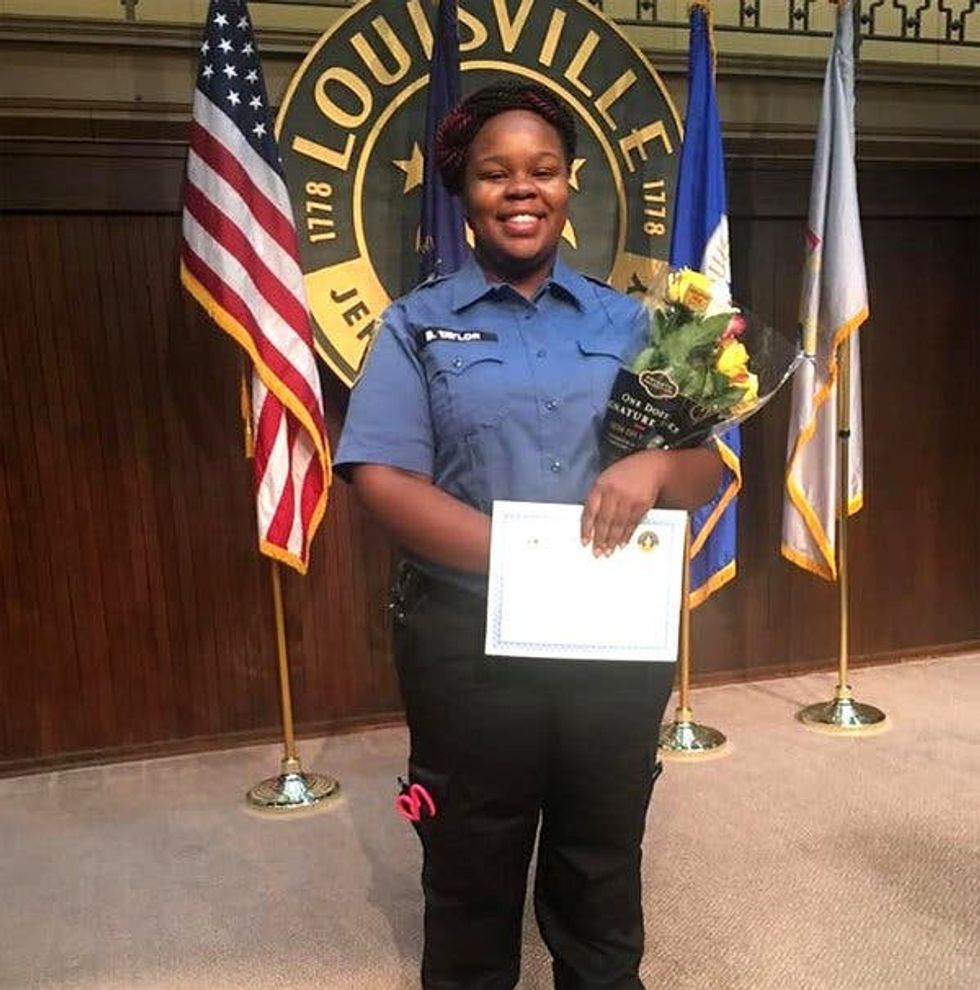 While dealing with a faceless adversary in COVID-19, African Americans remain engaged in an ongoing battle with a known opposition. Black people have become savants at juggling multiple issues of our survival. But balancing civil unrest and possible contagion simultaneously, and at this magnitude, is an ask that is too great - despite our resiliency.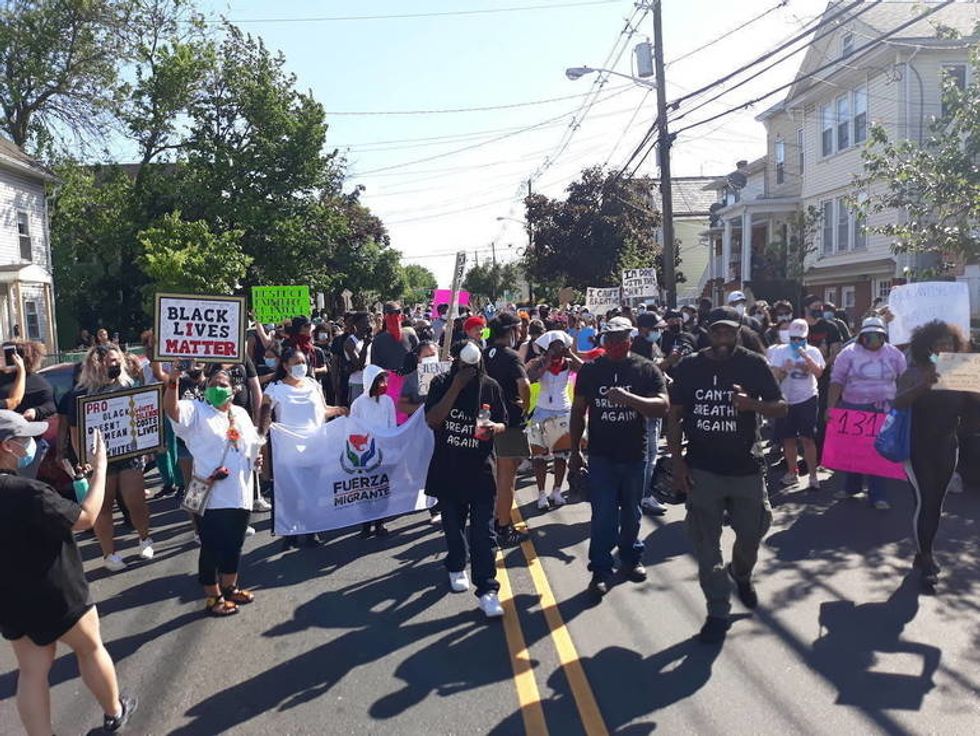 At the risk of further spreading coronavirus, the streets are running wild with rebellion. However, the sickness of racism, of injustice, is a pandemic that has been ever-present since this country's inception. We looked for 2020 to be the year of Exodus from all of the strife of the previous decade(s). But, it seems that we might have to endure a few more plagues before we see the Promised Land.

Dwayne "Deascent" Gittens is a Hip Hop artist, On-Air Personality, & Content Creator from The Bronx. Follow him on Instagram & Twitter @Deascent.
COVID-19 should not be a partisan issue.
Candace Owens, a right wing activist well-known for speaking out against anything any democrat does, took to Twitter today to share that she is actively spreading COVID-19.
Owens' tirade was triggered by an experience in Whole Foods in which her and her husband were asked to put on medical masks or otherwise cover their mouths. Apparently, Owens was unaware of D.C. Mayor Muriel Bowser's April 8 mandate requiring customers to "wear a mask or mouth covering" when shopping. According to Owens, this polite request to do her part in stopping the spread of a deadly virus is an indication that the country is "spiraling into tyranny."
Police enforcement @wholefoods? #coronavirus is spiraling into tyranny. https://t.co/EXA56c7ynJ

— Candace Owens (@Candace Owens) 1586893774.0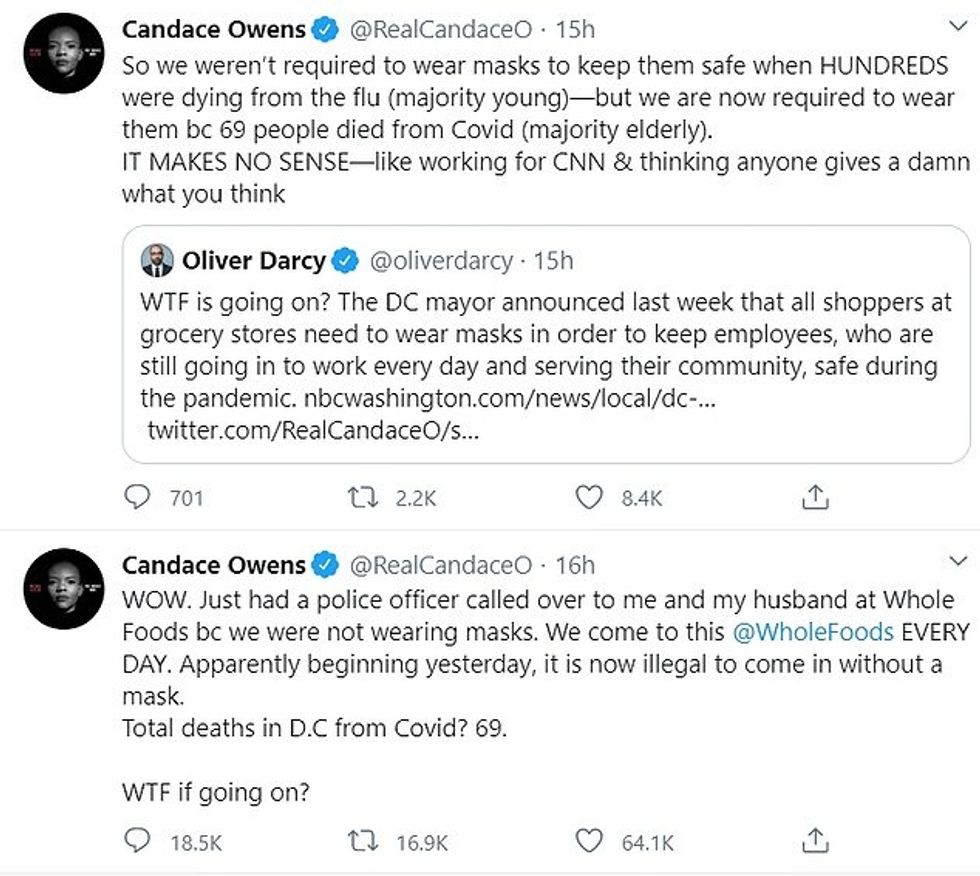 Owens said that she responded to the police officer by saying, "I don't have a mask. I haven't bought one."
She continued in the video, "I didn't race to buy toilet paper, I'm not a part of the corona crazies. I'm not a part of the tin foil hat, bunkering in my basement. I'm just living my life." The conservative activist went on to describe her and her husband being asked to hold their clothing up to their faces while shopping.
Owens' then went on to bemoan the coronavirus measures imposed in Washington DC, claiming there is "no empirical evidence to support the wearing of masks."

All of this would just be a matter of opinion (though one that seems rather insensitive to share at this time), if Owens didn't soon make it clear that mask-wearing isn't the only social distancing rule she is disobeying. She then began to tweet about the many times she had left the house recently for unnecessary reasons, each time risking spreading or contracting the deadly virus.
And to really clear my conscience, I'd like to also to confess that we stopped at the gas station to pick up propan… https://t.co/FmVvU7HqXQ

— Candace Owens (@Candace Owens) 1586966175.0
While Owens is correct that lockdown and social distancing is a nuisance, the selfishness of railing against restrictions put in place to save lives is truly astounding. Everyone agrees that it's a scary time in the United States, and we all know that it would be better if we could live our lives normally and run multiple unnecessary errands a day. Unfortunately, the reality is that we all have to work together to stay home and slow the spread of a deadly virus.
Of course, Owens isn't the first republican to treat social distancing as a nuisance or even as a democratic hoax. President Trump has implied that the Democrats are to blame for the flagging economy and even for the virus itself, all while threatening to reopen businesses well before experts advise. The fact that republicans have made COVID-19 a partisan issue only further points to the core ideology at the heart of the current administration: Selfishness.
Unfortunately, this is not some petty political issue we're talking about. If people like Owens continue to shirk social distancing rules, the cost will be measured in lives lost.