"A tree is best measured when it is down," the poet Carl Sandburg once observed, "and so it is with people." The recent death of Harry Belafonte at the age of 96 has prompted many assessments of what this pioneering singer-actor-activist accomplished in a long and fruitful life.
Belafonte's career as a ground-breaking entertainer brought him substantial wealth and fame; according to Playbill magazine, "By 1959, he was the highest paid Black entertainer in the industry, appearing in raucously successful engagements in Las Vegas, New York, and Los Angeles." He scored on Broadway, winning a 1954 Tony for Best Featured Actor in a Musical – John Murray Anderson's Almanac. Belafonte was the first Black person to win the prestigious award. A 1960 television special, "Tonight with Belafonte," brought him an Emmy for Outstanding Performance in a Variety or Musical Program or Series, making him the first Black person to win that award. He found equal success in the recording studio, bringing Calypso music to the masses via such hits as "Day-O (The Banana Boat Song)" and "Jamaica Farewell."
Harry Belafonte - Day-O (The Banana Boat Song) (Live)www.youtube.com
Belafonte's blockbuster stardom is all the more remarkable for happening in a world plagued by virulent systemic racism. Though he never stopped performing, by the early 1960s he'd shifted his energies to the nascent Civil Right movement. He was a friend and adviser to the Reverend Doctor Martin Luther King, Jr. and, as the New York Times stated, Belafonte "put up much of the seed money to help start the Student Nonviolent Coordinating Committee and was one of the principal fund-raisers for that organization and Dr. King's Southern Christian Leadership Conference."
The Southern Poverty Law Center notes that "he helped launch one of Mississippi's first voter registration drives and provided funding for the Freedom Riders. His activism extended beyond the U.S. as he fought against apartheid alongside Nelson Mandela and Miriam Makeba, campaigned for Mandela's release from prison, and advocated for famine relief in Africa." And in 1987, he received an appointment to UNICEF as a goodwill ambassador.
Over a career spanning more than seventy years, Belafonte brought joy to millions of people. He also did something that is, perhaps, even greater: he fostered the hope that a better world for all could be created. And, by his example, demonstrated how we might go about bringing that world into existence.
We need more Black films that aren't about pain
Sometime in the middle of June, seemingly overnight, bookmarks and highlights with titles like "Sharing Black stories" and "Celebrating Black Voices" emerged on streaming platforms.

While such branding efforts are usually reserved for Black History Month, these categories appeared as a response to the Black Lives Matter protests, which rippled through the industry in demands for more representation and recognition of Black people.
Streaming platforms responded by acquiring more Black content to feature prominently on their homepages, emphasizing their commitment to sharing and amplifying what they categorize as "Black Voices."
This seems like a good thing, a sign of progress. However, scrolling through the Black categories revealed more about Hollywood's gaze than about Black people — most of the showcased films could be separated into two categories: movies about slavery and movies about Civil Rights.
From Harriet and 12 Years a Slave to Selma or any other Martin Luther King biopic, most of the critically acclaimed films about "Blackness" seem to sensationalize Black suffering in order to offer a false sense of resolution and closure — as if racism began in slavery and ended with the March on Washington.
This false representation of Blackness in Hollywood perpetuates the idea that racism is a Black issue for Black people to deal with. It shows the horrors of slavery and Jim Crow eras as experiences of Black suffering, rather than white violence and complicity — all while cementing them in the past, where they can be ignored rather than confronted.
All this is at odds with the recent pushes for Americans to acknowledge how they are implicated in the country's deep-seated racist history.
Though film has the potential to excavate deep emotional truths about the current lives of Black folks, or imagine multiplicitous and dynamic futures, Hollywood is too obsessed with cataloguing Black trauma to realize that potential.
For film to truly be a resource for antiracism and an artform where everyone is represented, the powers that be in the academy need to reach beyond historical narratives and stereotypical caricatures and instead give their money and energy to new stories.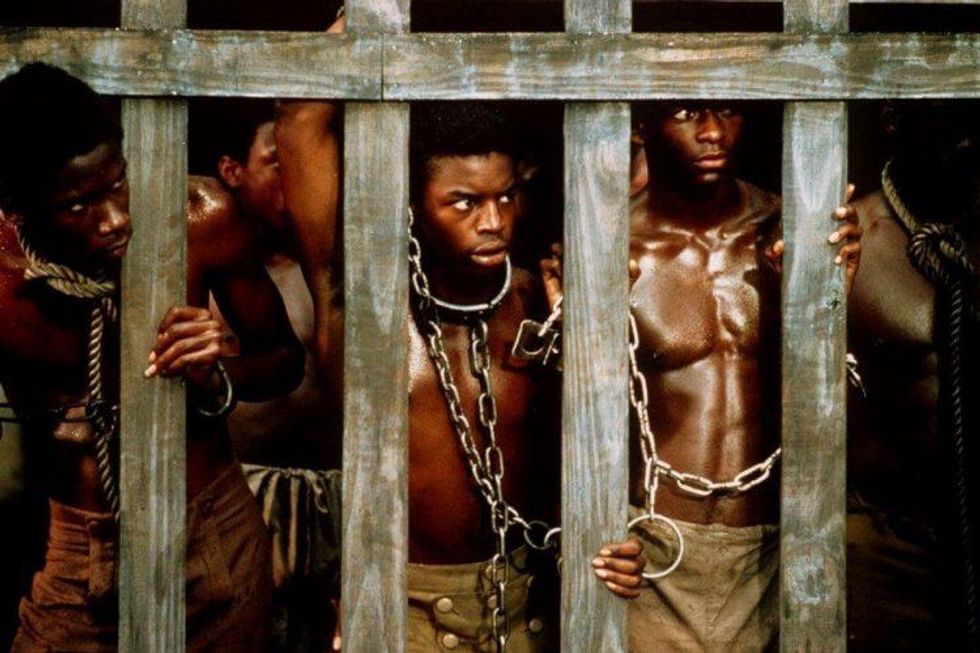 Roots
Voyeurism of Black Trauma

Sometimes I think there shouldn't have been any film about slavery after Roots.
The six-part, nine-hour mini series, based on Alex Haley's giant novel of the same name, premiered in 1977 and catalogued the cruelty endured by one slave, Kunta-Kinte, who refused to give up his name.
Though the story is iconic and a canonized part of the lexicon (often referenced in Black art and popular culture like multiple Kendrick Lamar songs), what is most famous about the movie adaptation are the scenes of violence — the whipping, the blood, the lacerations left on the skin.
In most film representations of enslaved people, there is a focus on the violence and cruelty experienced — from physical to sexual assault. While it is important to remember the intensity of the cruelty suffered under slavery, the Hollywood gaze often sensationalizes this violence, using it as plot or character development or to establish tropes. This creates a voyeuristic dynamic which is more objectifying than empowering.
Too often, this violence serves as a catalyst for some self-determined act of escape. Capitalizing on their anger, the enslaved person finally finds the strength to run away and free themselves. Not only is this narrative incredibly reductive of the psychological horrors of captivity (insinuating a kind of Kanye West-like philosophy), but it draws on actual pain and trauma in service of a contrived redemption story.
There is no worse offender than Quentin Tarantino's Django Unchained — a film which I firmly believe Tarantino wrote and directed just to cast himself vicariously saying the N-word even more times than he did in Pulp Fiction. A classic Tarantino revenge fantasy, the fact of slavery becomes the background and backstory to Tarantino's spectacle of blood, gore, and farce.
But there is no healing in this, no real redemption found in the execution of single characters without the confrontation of the institution. And yet, it's categorized as a "Black story" … not likely.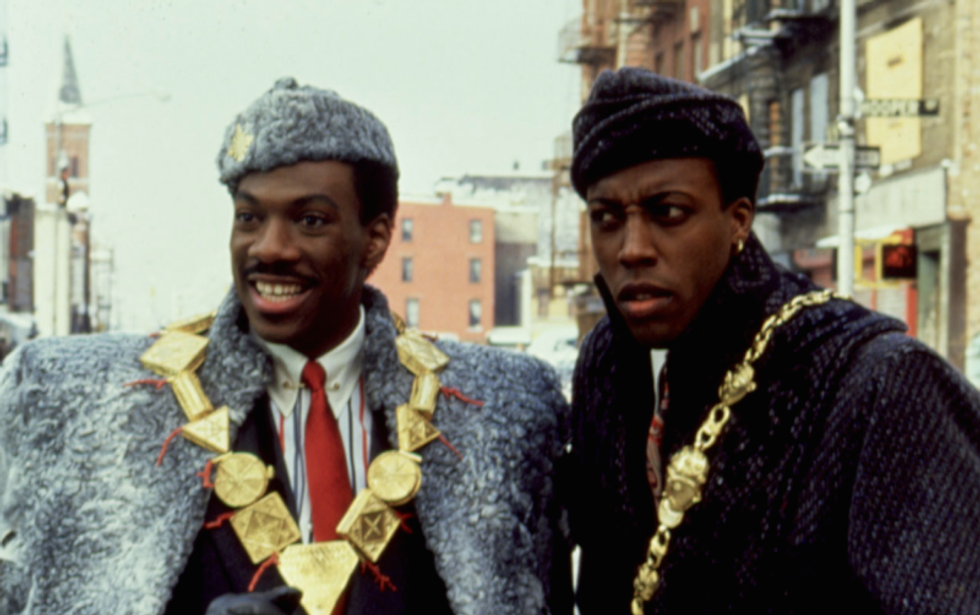 The Reign of Black Caricature

Most of the movies which fall outside of the slavery and civil rights categories still leave much to be desired: from biopics on famous athletes and musicians to outrageous slapstick comedies (like, White Chicks … really?), the leading roles Black people can play rest in pretty defined tropes.
For a while, in the late '80s to early-2000s, there was a high demand for Black, male comedians — largely attributed to the success of Eddie Murphy on SNL from 1980-1984, which paved the way for Chris Rock, the Wayans Brothers, and Keenan and Kel, amongst others.
However, while white male comedians could exist in a range of styles and did not all follow the same formula, the same was not true for Black comedians. When it comes to Black actors, often what works once is all that networks will invest in — so everybody had to be Eddie Murphy.
What ensued was a generation of comedy movies built on over-the-top caricatures of Blackness which now find themselves in these "Black Voices" categories; meanwhile, the creative vision behind the reductive characters are likely the work of white Hollywood executives, pumping out repetitive content they knew would sell.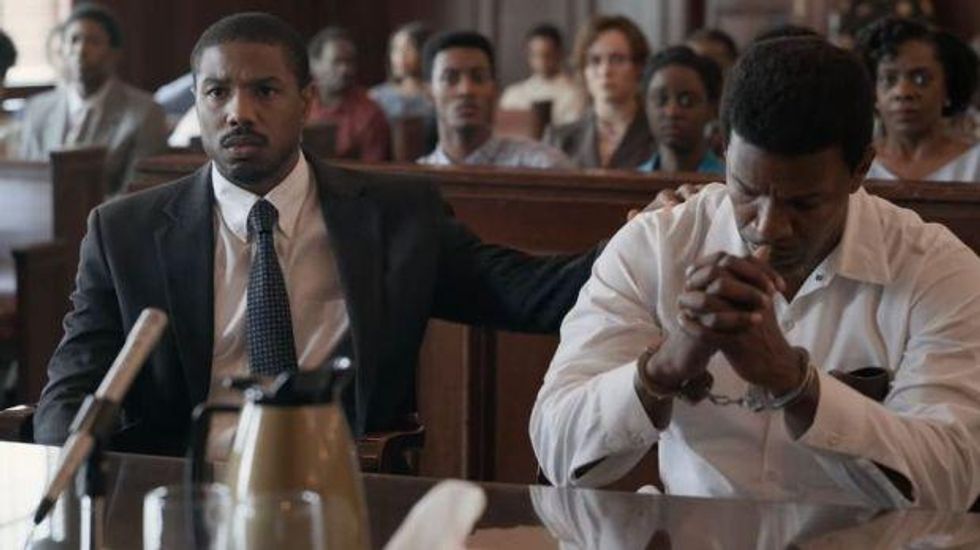 The New Age: Prison Movies

The recent attention to the atrocity of the prison industrial complex, especially after the success of the book The New Jim Crow and Ava DuVernay's documentary 13th, has spawned a new genre of Black trauma film: wrongful incarceration films.
In the last few years alone, there have been multiple adaptations of true-story accounts of Black men who were wrongfully imprisoned, then fought to prove their innocence.
From Just Mercy, starring Michael B. Jordan as Bryan Stevenson, the prominent lawyer and prison activist at the Equal Justice Initiative, to Brian Banks about the story of the former football player who was freed by the Innocence Project, these accounts are powerful, but they feel reiterative of the same tropes: Black man who finds his freedom through self-determination.
They also hinge too heavily on carceral tropes of guilty-versus-innocent instead of interrogating the project of prisons at large. Hollywood, in this way, likes to claim the label of righteousness and activism, while not really moving towards radical change.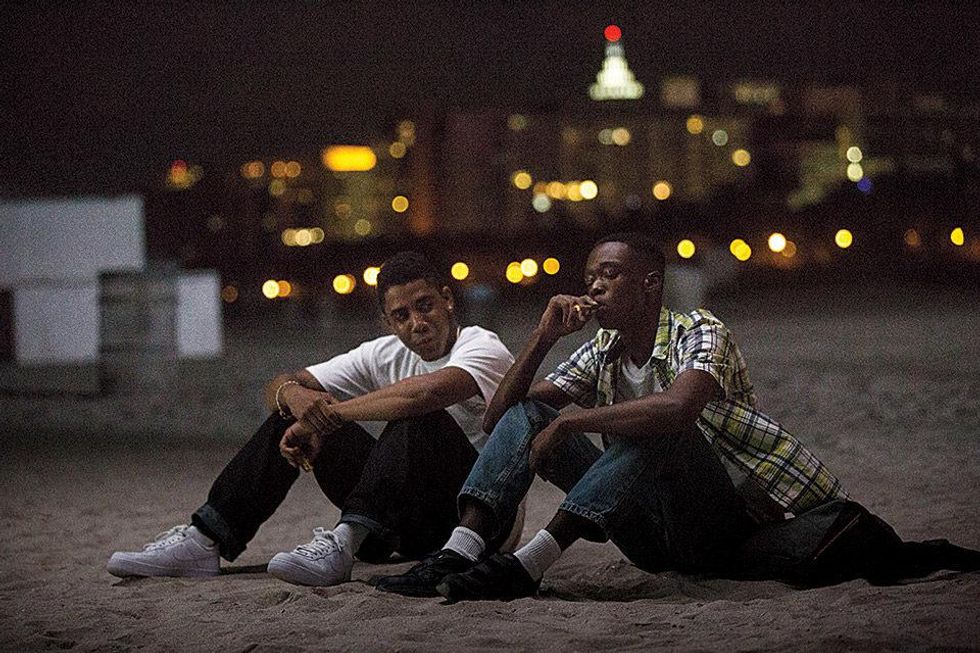 Academy Award winner, Moonlight, ushered in a new era in avant garde Black cinema
A Black Renaissance

The past few years, however, have been a sort of renaissance of Black storytelling in Hollywood.
The rise of Black-run production agencies like Lena Waithe's Hillman Grad Productions and Issa Rae's Hoorae Production Company has shown what a difference it makes when Black creatives are empowered both in front of and behind the camera.
With more Black people behind the camera, Black artists with unique viewpoints and more nuanced stories are now more likely to work with executives who understand them, and know how to support them.
In the past few years, the fruits of this renaissance have made big moves in the box office and at award shows. Films like Barry Jenkins's Moonlight and Jordan Peele's Get Out have become cultural staples, and major blockbusters like Black Panther have shown the buying power of Black audiences.
No more do Black stories have to fall into restrictive categories. No more are Denzel Washington and Will Smith the only ones who get cast in challenging, complex roles. New Black movies are more exploratory and expansive than ever — whether it's Beyonce's afrofuturist take on the Lion King in Black Is King or the upcoming intimacy of Malcom & Marie.
For true representation, Black movies cannot depend on the same canned narratives any longer, and Black people can't be the only ones watching them. Hollywood just needs to put faith in different narratives and trust that our stories are worth hearing.
Three months later with no justice in sight, Beyoncé calls out the Kentucky authorities for their lack of action.
On Sunday, Beyoncé posted an open letter to Kentucky's Attorney General Daniel Cameron imploring him to press criminal charges against three police officers involved in the fatal shooting of 26-year-old EMT Breonna Taylor in Louisville.
In the three months since Taylor's death, no actions have been taken. "LMPD's investigations have created more questions than answers," the singer writes. She demands that Cameron create more transparency in the investigation of the incident and prosecute the officers' misconduct, as well as the police force's "pervasive practices that result in the repeated deaths of unarmed Black citizens."
"Don't let this case fall into the pattern of no action after a terrible tragedy," she writes. "With every death of a Black person at the hands of the police there are two real tragedies: the death itself and the inaction and delays that follow it. This is your chance to end that pattern. Take swift and decisive action in charging the officers. The next months can not look like the last three."
Breonna Taylor was sleeping in her bed on March 13 when three armed police officers used a battering ram to enter her apartment to execute a "no-knock" warrant as part of a drug investigation. Taylor was shot at least eight times. The details of the event are hotly disputed, with claims that the officers did not identify themselves and executed the raid despite already having the main suspect of their investigation in custody. Taylor's family filed a wrongful-death lawsuit but continues to await justice.

The family publicly thanked Beyoncé in a statement issued by their attorney. "It has been more than three months since Breonna was murdered. Her killers are still in uniform. Meanwhile, Atlanta's mayor yesterday called for immediate termination of the officer who shot Rayshard Brooks, and criminal charges have been filed against police in Minnesota and Georgia. Here, we cannot even see an investigative file," they wrote.
Meanwhile, the Kentucky Attorney General's office has merely acknowledged the letter and refused to comment. In a Sunday night statement, they told CNN, "We are aware of the letter. As the letter makes requests related to the ongoing investigation involving the death of Ms. Breonna Taylor, we have no further comment."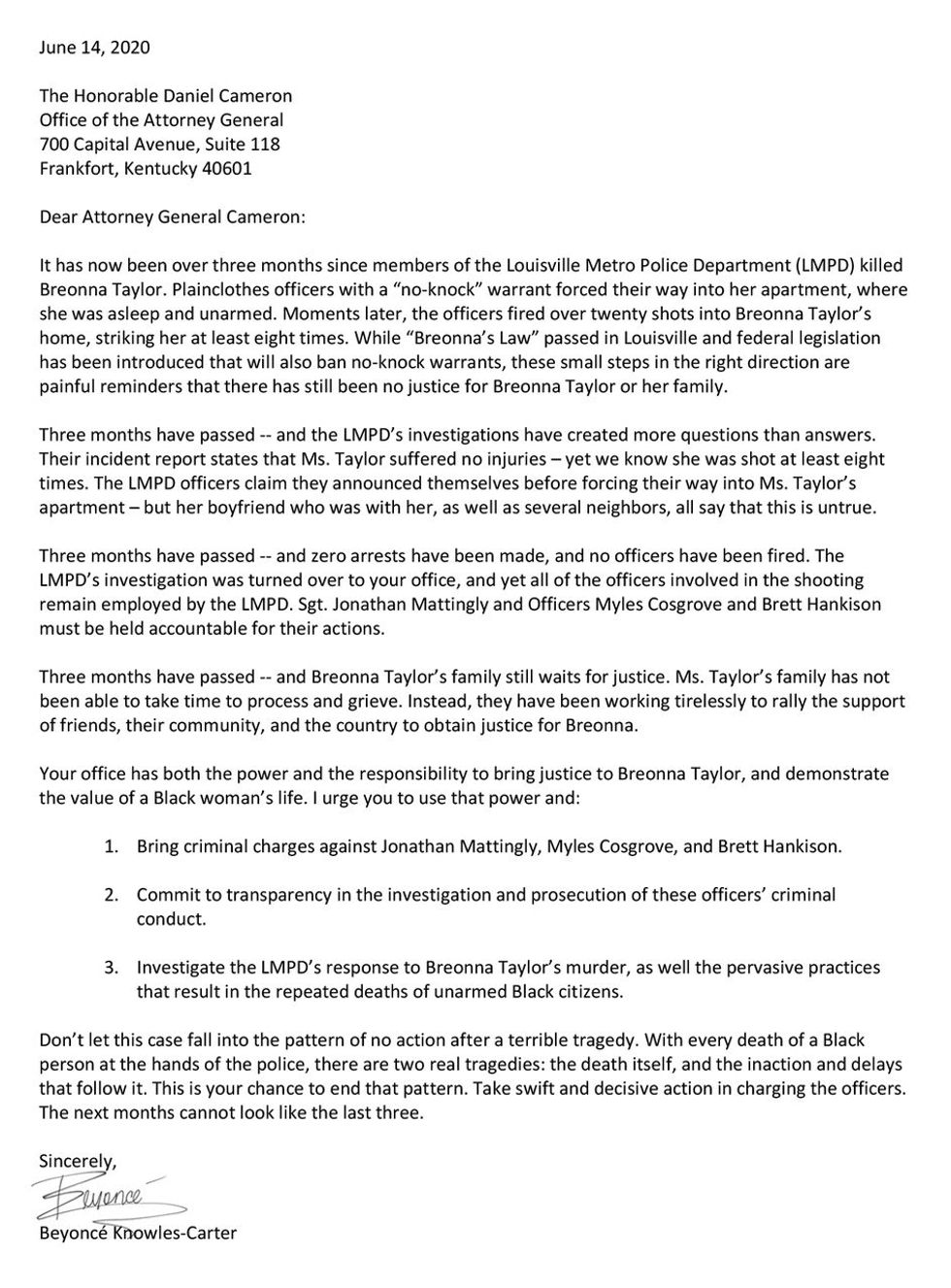 Beyonce.com
From Cardi B to Hamilton to Queen Bey herself, here are ten songs that have inspired and soundtracked the ascensions of female politicians and powerful women of the modern world.
If it wasn't clear from Alexandria Ocasio-Cortez's recent Twitter battle with Cardi B and Tomi Lahren, we're living in an era where politicians and musicians have the ability to influence each other on huge scales.
But music has long been a source of inspiration and power, especially for women or other people whose voices have been subjugated or silenced.
In honor of the newest class of women in Congress, and in celebration of women in politics in general, here's a list of ten songs that we think would make the perfect soundtrack to their ascensions, and might even inspire you to follow suit.
1. Cardi B – Best Life
Cardi B - Best Life feat. Chance The Rapper [Official Audio]www.youtube.com
Not only did Rep. Alexandria Ocasio-Cortez grow up in the same borough of New York as superstar Cardi B; she also tweeted the lyrics to her song Best Life, featuring Chance the Rapper.
I never had a problem showin' y'all the real me/ Hair when it's messed up, crib when it's filthy/ Way-before-the-de… https://t.co/SdojcZ9olh

— Alexandria Ocasio-Cortez (@Alexandria Ocasio-Cortez) 1542740838.0
The song's lyrics seem to align with Ocasio-Cortez's approach to communicating with her supporters, which has been radically honest and personal, as she frequently shares developments at work and at home via her Instagram stories. Though she was met with backlash from users who told her to "write intelligibly," Ocasio-Cortez's supporters cheered the reference.

Unabashedly outspoken and proud of their stratospheric rise to the top of their respective fields, Ocasio-Cortez and Cardi B are two women who seem to be on unstoppable paths—while determined to keep it real all the while.
2. Anaïs Mitchell – Why We Build the Wall
Anaïs Mitchell ft. Greg Brown - Why We Build the Wallwww.youtube.com
When folk singer Anaïs Mitchell penned "Why We Build the Wall" in 2006 for her concept album Hadestown, she never imagined that its lyrics—which retell the story of the Greek god of death Hades and his quasi-American capitalist hellscape—would become so relevant.

The song is a call-and-response narrative between Hades and his citizens, who work ceaselessly on a wall in exchange for the economic security that living in Hadestown provides. It contains lyrics like, "The wall keeps out the enemy / and the enemy is poverty / and we build the wall to keep us free / that's why we build the wall." Hadestown, which also tells the story of Orpheus and Eurydice, is coming to Broadway in the spring of 2019.
This song seems like it would make the perfect satirical rallying cry for Nancy Pelosi, who denounced Donald Trump's request for $5.7 billion to build his wall between the U.S. and Mexico after his speech on January 8th, two weeks in to what would become the longest government shutdown ever.
3. Aretha Franklin – Respect
Aretha Franklin - Respect [1967] (Original Version)www.youtube.com
Aretha Franklin passed away in August of 2018, but her legacy lives on within every woman who ever wanted to be treated with honor and—as perhaps her most iconic song repeats—R - E - S - P - E - C - T. (Hint: that's all of us).

Aretha's unforgettable voice soars above the song's infectious musical backdrop, coalescing to form a track that is alternatingly prideful and enraged, hopeful and world-weary. This song's message seems too vast to be contained to one politician or time period. It's a timeless sentiment that could change the world, if we'd only listen.
4. Ms. Lauryn Hill – Everything is Everything
Lauryn Hill - Everything Is Everythingwww.youtube.com
In June, recently-announced 2020 presidential candidate Kamala Harris posted a Spotify playlist as a homage to important black musicians of the 20th century. The third song on the playlist, "Everything is Everything" from the iconic The Miseducation of Ms. Lauryn Hill, echoes sentiments that Harris has proclaimed in her own speeches.

Its powerful lyrics, "Sometimes it seems / We'll touch that dream. But things come slow or not at all / And the ones on top, won't make it stop / So convinced that they might fall," seem like they could be a rallying cry for Harris, a politician campaigning on promises of "American values" and "not putting people in boxes."
Hill's message of everything is everything is a beautiful sentiment about the way that all people and all issues are interconnected and cannot be addressed independently, and she has long been a powerful voice for women of color.
Kamala Harris's work as a prosecutor is under scrutiny from leftists everywhere, but judging by her playlist, at least her music taste is up to par.
5. Lin-Manuel Miranda – Satisfied
Satisfiedwww.youtube.com
Female characters take the backseat to the titular protagonist of Lin-Manuel Miranda's Hamilton, but Angelica Schuyler's Satisfied is a show-stopper in a class of its own. Sung by the sister of Eliza, Alexander Hamilton's wife, it is a flashback to the night that they all met, when Angelica developed feelings for Alexander but decided she needed to set her sights on marrying someone richer.

Angelica, played by Renée Elise Goldsberry in the musical, spits some of the show's fastest bars and hits some of its highest notes in this virtuosic performance, which reveals the extent of her brilliance as well as the extent of her regret at not taking a chance on love.
It might be easy to dedicate this song to Hillary Clinton, whose tenacious determination to win the presidency and refusal to be satisfied with a mere first-ladyship (or Secretary of State position) does belie a similar ambition to Angelica's.
But Angelica, with her razor-sharp wit and social sensibilities, seems similar to some of Congress's outspoken freshmen members, such Ayanna Pressley, who has been an outspoken critic of Trump and many of his policies from her first moments on the House floor, running on the message "Change can't wait" with an urgency evocative of Angelica's intense drive.
6. Taylor Swift – Bad Blood
Taylor Swift - Bad Blood ft. Kendrick Lamarwww.youtube.com
Taylor Swift has had her fair share of beef with other artists, but until 2018 remained staunchly apolitical. But after Swift announced in an Instagram post that she "could not support Marsha Blackburn," the politician lashed out—provoking serious flashbacks to the time that Taylor Swift allegedly attacked Katy Perry over a feud involving backup dancers through her video, Bad Blood.

The stakes were slightly higher in this situation, and Blackburn still snagged the Senate seat in spite of the star's opposition.
"Of course I support women and I want violence to end against women," said Blackburn in response to Swift, who had also written that the politician's "voting record in Congress appalls and terrifies" her. Blackburn has been a supporter of Trump's border wall as well as his efforts to end Obamacare.
7. Questlove's Entire Michelle Obama Playlist
Michelle Obama's Musiaqualogy Vol 1 1964-1979 by Questlove
Michelle Obama's Musiaqualogy Vol 2. 1980-1997 by Questlove
Michelle Obama's Musiaqualogy Vol 3. 1997-2018 by Questlove
The musician Questlove of the band The Roots has created three 100-song playlists for Michelle Obama's Becoming book tour, and every song is worth putting on repeat. Entitled The Michelle Obama Musiaquology, it is a journey through time (and occasionally, space) filled with mournful, fierce, and empowering tracks—much like the biography it was designed to soundtrack.

Obama's Becoming is more about hope and unity than it is about politics and division, and so are most of the songs in this playlist. An exuberant melding of jazz, pop, and the occasional stylistic outlier, Questlove's compilation elevates voices of joy, pride, black power, and solidarity in an era in desperate need of them. Featuring icons ranging from Ella Fitzgerald to Kendrick Lamar, it's a survey of music throughout history that has given hope to those who need it most.
8. MILCK – I Can't Keep Quiet
MILCK - Quietwww.youtube.com
Newcomer MILCK's powerful composition became the anthem of the first Women's March, and since then, the artist has continued to release waves of meaningful music while maintaining a confessional and motivational social media presence.

The vulnerable and passionate song that made her famous could be an anthem for kids like Emma Gonzalez, speaking out against gun violence, and for all the other women who have spoken and will continue to reach out and fight for their beliefs.
9. Against Me! — True Trans Soul Rebel
Against Me! - True Trans Soul Rebel [ALBUM VERSION]www.youtube.com
In the shadows of the Trump administration's ban against transgender people in the military, this song is a reminder that trans people not only exist but will continue to fight.

Transgender politician Christine Hallquist did not win in the general Vermont elections for governor, but she did secure a spot in the 2018 Democratic primaries, the first time a transgender person has been nominated by a major party. And more transgender and LGBTQ people ran and won races in November 2018 than ever before, signaling an upswing of pride in spite of the Trump administration's anti-trans policies.
Against Me!'s True Trans Soul Rebel has long been an anthem for the transgender community, an outcry of pain against a world that constantly threatens them with erasure.
10. Beyoncé – Who Run the World (Girls)
Beyoncé - Run the World (Girls) (Video - Main Version)www.youtube.com
No list of songs for female politicians would be complete without Queen Bey's presence. This song is one of the crown jewels of feminist anthems, with its infectious beat pounding underneath Beyonce's velvety vocals and its iconic refrain. This one goes out to all the future female politicians, including the hopefully soon-to-be first female commander-in-chief.

With that, we welcome the 42 new female congresswomen, celebrate the women who came before them, and encourage all the women and trans people coming after to rise up and sing out. Listen to these songs enough and internalize their messages, and it could be you in those seats someday.
---
Eden Arielle Gordon is a writer and musician from New York City.
---