"A tree is best measured when it is down," the poet Carl Sandburg once observed, "and so it is with people." The recent death of Harry Belafonte at the age of 96 has prompted many assessments of what this pioneering singer-actor-activist accomplished in a long and fruitful life.
Belafonte's career as a ground-breaking entertainer brought him substantial wealth and fame; according to Playbill magazine, "By 1959, he was the highest paid Black entertainer in the industry, appearing in raucously successful engagements in Las Vegas, New York, and Los Angeles." He scored on Broadway, winning a 1954 Tony for Best Featured Actor in a Musical – John Murray Anderson's Almanac. Belafonte was the first Black person to win the prestigious award. A 1960 television special, "Tonight with Belafonte," brought him an Emmy for Outstanding Performance in a Variety or Musical Program or Series, making him the first Black person to win that award. He found equal success in the recording studio, bringing Calypso music to the masses via such hits as "Day-O (The Banana Boat Song)" and "Jamaica Farewell."
Harry Belafonte - Day-O (The Banana Boat Song) (Live)www.youtube.com
Belafonte's blockbuster stardom is all the more remarkable for happening in a world plagued by virulent systemic racism. Though he never stopped performing, by the early 1960s he'd shifted his energies to the nascent Civil Right movement. He was a friend and adviser to the Reverend Doctor Martin Luther King, Jr. and, as the New York Times stated, Belafonte "put up much of the seed money to help start the Student Nonviolent Coordinating Committee and was one of the principal fund-raisers for that organization and Dr. King's Southern Christian Leadership Conference."
The Southern Poverty Law Center notes that "he helped launch one of Mississippi's first voter registration drives and provided funding for the Freedom Riders. His activism extended beyond the U.S. as he fought against apartheid alongside Nelson Mandela and Miriam Makeba, campaigned for Mandela's release from prison, and advocated for famine relief in Africa." And in 1987, he received an appointment to UNICEF as a goodwill ambassador.
Over a career spanning more than seventy years, Belafonte brought joy to millions of people. He also did something that is, perhaps, even greater: he fostered the hope that a better world for all could be created. And, by his example, demonstrated how we might go about bringing that world into existence.
CULTURE
8 Places That No Longer Exist Due to Climate Change
Climate change is happening right now, and it's already destroying people's livelihoods.
Climate change is often framed as a problem of the future—something that "will happen" if we fail to act.
But the truth is that climate change is happening right now, and it's already destroying livelihoods. Climate change is the droughts, the hurricanes, the wildfires, and the floods that are occurring with increasing frequency. It's the extreme heat, which is debilitating to some but which others can easily drown out with air conditioning.
---
Climate change generally harms poor communities and communities of color far more than it harms the primary drivers of rising global temperatures, namely corporations and those who benefit from corporate success. Ironically, poor communities that contribute very little to climate change tend to be the ones who have to deal with its worst effects.

Still, climate change will come for us all one way or another—that much is clear. Climate change is even beginning to damage luxury hotels, infringing on the isolated worlds of the super-rich. Here are eight places around the world that are already disappearing because of climate change. Chilling harbingers of what's to come if we don't act, these places are also testaments to overconsumption and the brutal effects of humanity's utter lack of care for the planet and for our fellow humans.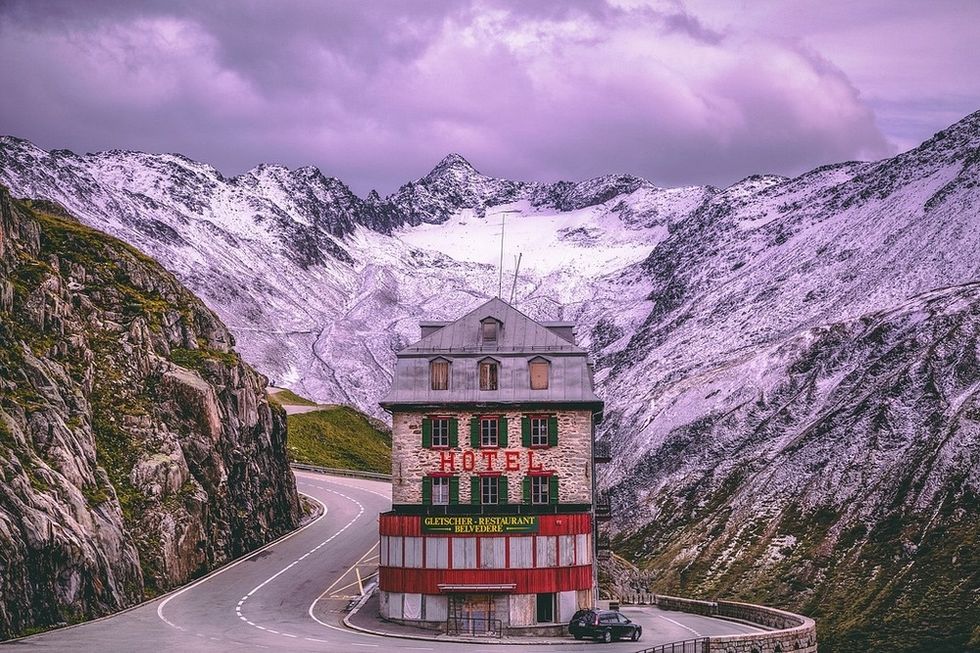 Hotel Belvedere
The Swiss Alps' magnificent Rhone Glacier once attracted visitors from across the globe. Many chose to stay at the glamorous Hotel Bélvèdere, which hosted the likes of Pope John XXIII and Sean Connery in its day. But the Rhone Glacier has been steadily retreating, losing almost a full mile in the last century. It's receded so much that the land on which the hotel stands is no longer secure, and so the hotel has been closed indefinitely. Today, it's boarded up, a relic of a long-gone world.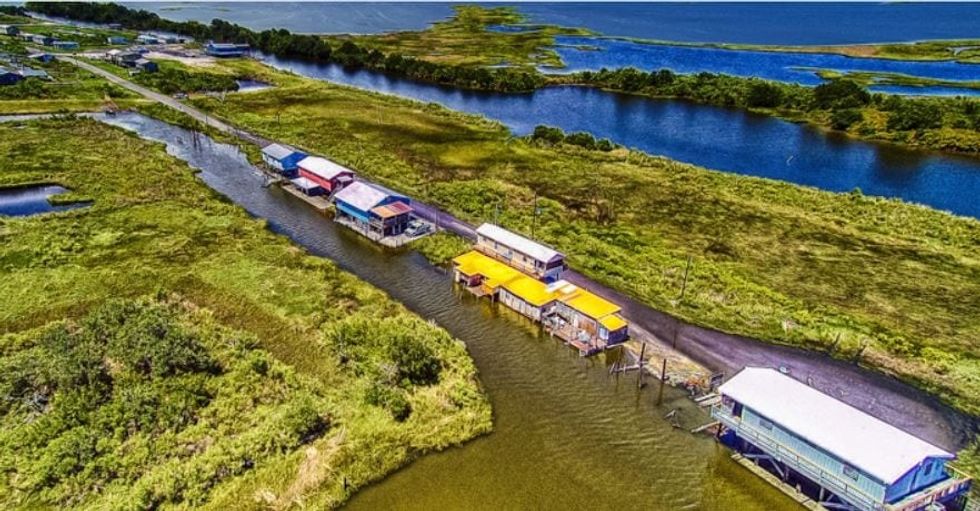 Isle De Jean Charles
Southeastern Louisiana's beautiful gothic island homes are now sinking into the sea. The island is home to many members of the Biloxi-Chitimacha-Choctaw and the United Houma Nation tribes, which have already lost 98% of their remaining land since 1955.
The island was heavily damaged by floods throughout the first decade of the 2000s, culminating in devastation after Hurricane Katrina. At the beginning of 2016, Louisiana was awarded a $96 million grant to move the island's inhabitants to higher ground. Those who lived on the island will be awarded either a house in a resettlement community located further north or funds to move somewhere else. Displaced tribe members are still mourning their lost homeland.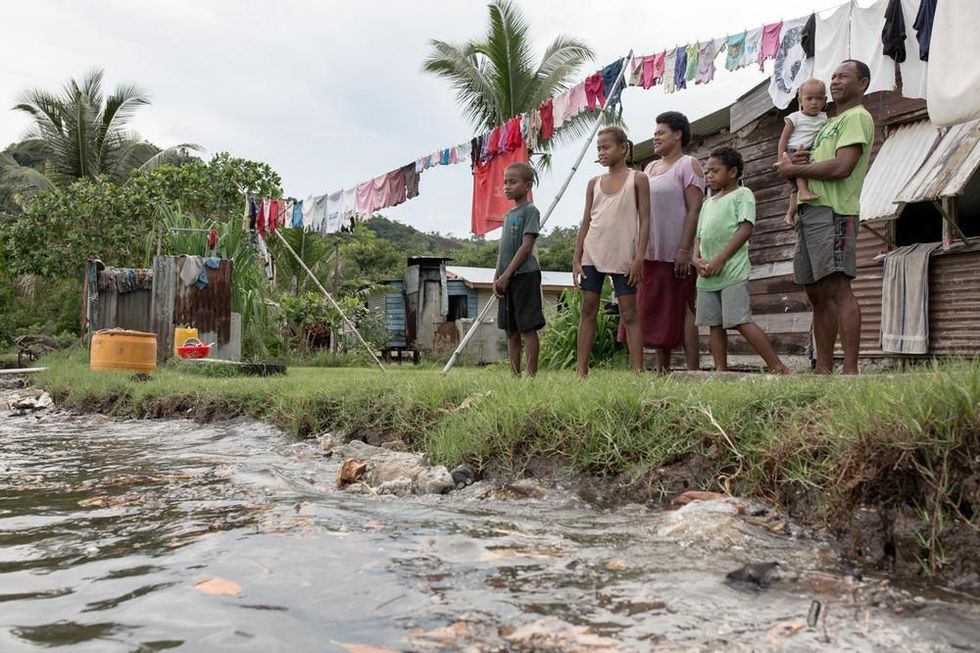 Vunidogoloa, Fiji
Climate change threatens to turn many tropical oases into underwater relics. One such place is Vunidogoloa, Fiji, a village that has been flooded because of climate change, forcing inhabitants to move to higher ground.
Since 2012, these villagers have been in the process of moving to higher land. There was a time when Vunidogoloa was a thriving community, but today, rising sea levels have increased levels of soil salinization, have worn away fields, and have eroded seawalls intended to stop the floods.
Painted as "the nation's first community to relocate because of climate change," the fates of the Vunidogoloa villagers are warning signs for us all.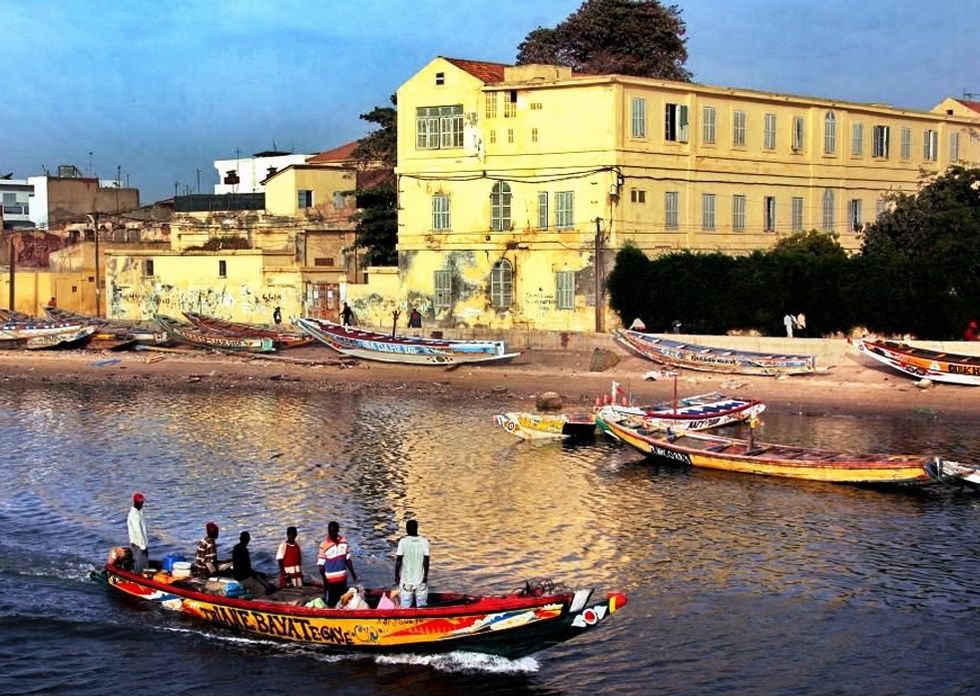 Saint-Louis, Senegal
Saint-Louis, Senegal was once a vibrant coastal city, but it's now being overtaken by the sea."Climate change has had a devastating impact on our city, destroying houses and key infrastructure," said Saint-Louis's mayor, Amadou Mansour Faye.
Out of the more than 100 million people live along the west African coast, "four million of those have been displaced, forced to live in temporary camps away from the shoreline," according to Sky News.
Flooding, shoreline erosion, and drought have heavily damaged Saint-Louis and many neighboring towns, seeding conflict, forcing thousands to flee to refugee camps, and provoking the rise of extremist groups.
Climate change "is a huge problem for developing countries because they don't have the resources to fight coastal erosion,"said Loïc Brüning, who researches the effects of climate change in Saint-Louis. "From Mauritania to Cameroon, all the shore is eroded. Whereas cities in the Netherlands have protected themselves because they have the knowledge and finances to do so."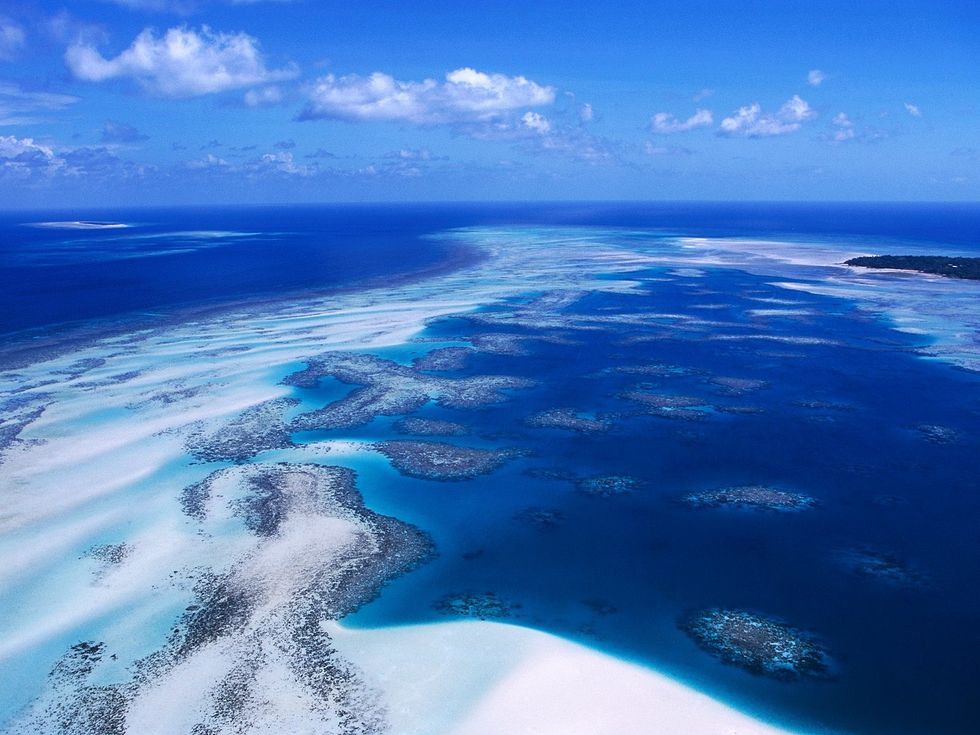 Australia Coral Reef
Australia's reefs are some of the most visually arresting examples of climate change available to us. While attention has been lavished on the dramatically decaying Great Barrier Reefs, many of Australia's western reefs are suffering too.
Heat stress from climate change led 90% of the reefs by Christmas Island to die or turn bleach-white in a 10 month period between 2015 and 2016. These reefs provided vital nourishment to many of the aquatic species living in these waters, and the reefs' deaths have contributed to a decline in food quality and health for many nearby humans.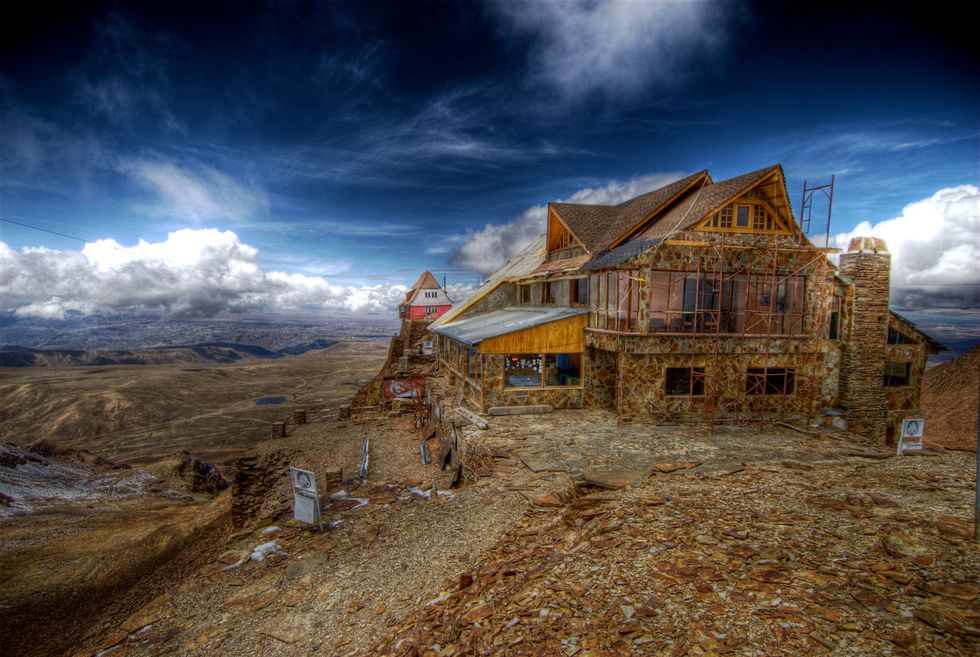 Chacaltaya Glacier and Ski Resort, Bolivia
This 18,000-year-old glacier began to melt around 1980, and in 2009 the glacier was completely gone due to climate change.
But Bolivia's Chacaltaya Glacier had been the home of Bolivia's only ski resort, which had been open since the 1930s. Located at 17,519 feet above sea level, the resort was long the world's highest ski resort, and its restaurant is still currently recognized as the highest restaurant in the world. Today, the once-thriving resort is maintained by two brothers who worked at the resort for decades. They maintain a place where visitors can still receive a hot meal, hence the location's continued recognition as the world's highest restaurant. The mountain resort, however, lies eerily abandoned, a foreboding warning sign of what's to come.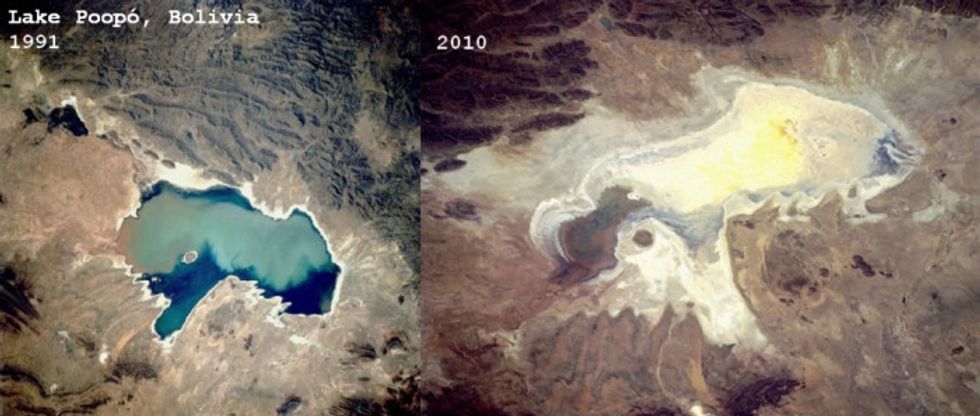 Lake Poopó, Bolivia
Lake Poopó dried up entirely in 2016 due to agriculture, mining, and climate change. Once Bolivia's second-largest lake, it had long been a vital resource for many communities that relied on it for food and sustenance. Nestled in the Altiplano Mountains at an altitude of 3,700 meters, it made mountainous areas habitable, but no longer.
Today, the lake has turned to a collection of salt-scarred marshes littered with bird skeletons and overwhelmed by scavenging beetles. Many scientists have cited its disappearance as a warning about the future consequences of climate change.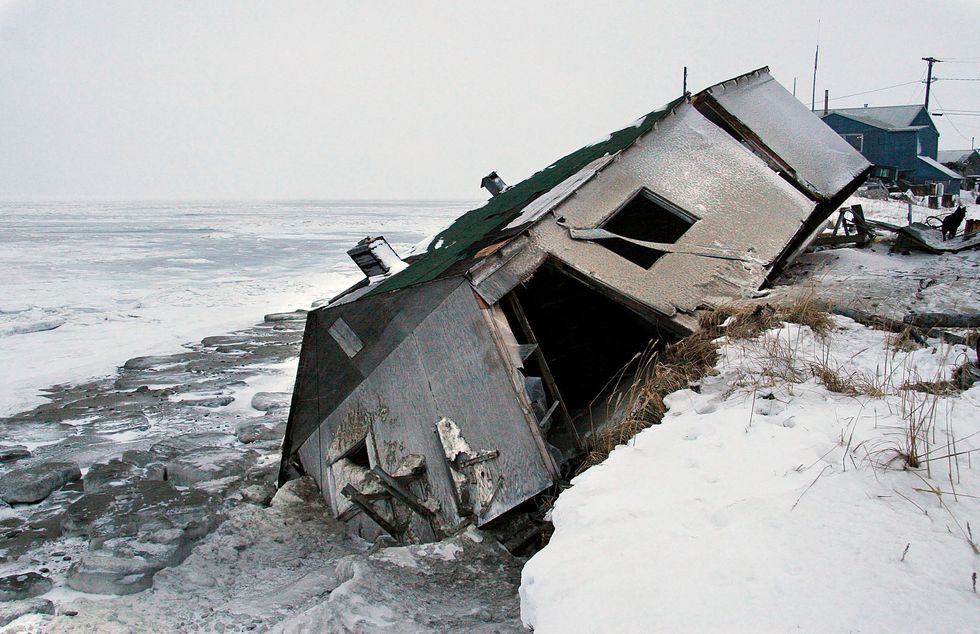 Shishmaref, Alaska
The village of Shishmaref, Alaska was built atop a sheath of ice, putting it at extreme risk as global temperatures rise. Climate change has already heavily impacted Shishmaref, as rising temperatures and melting floes have made the landscape all but uninhabitable.
As the world warms thanks to the 1,200 tons of carbon dioxide that humans pump into the atmosphere each second, Shishmaref is disappearing. It's one of 31 villages in Alaska that face extreme threats from erosion and climate change-related issues, according to a Government Accountability report. Things have gotten so bad in this village that in 2017, inhabitants officially voted to relocate, though they don't yet have the funds to do so.