Trump continues to alienate the U.S. from the global community by panning diplomacy for his own agendas.
Donald Trump singled out the United States before the entire international community at the G20 summit over the weekend. He was the only leader in attendance to refuse to sign a joint statement pledging a non-binding commitment to continue combating climate change.
After a strenuous, all-night negotiation in Buenos Aires, the world leaders issued a communiqué re-affirming that the Paris climate agreement "is irreversible" and vowing "full implementation" of its policies to "continue to tackle climate change, while promoting sustainable development and economic growth."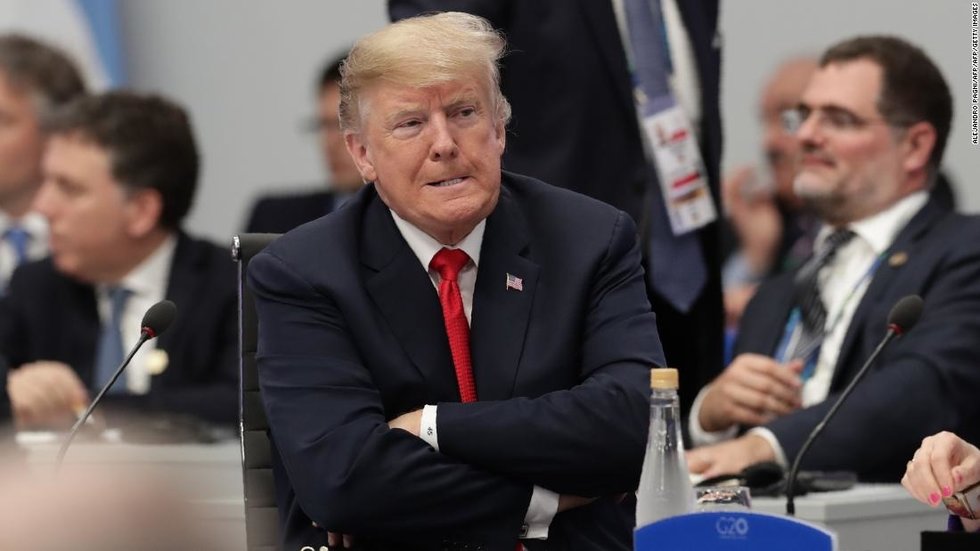 CNN
However, the summit was fraught with tensions over various countries' objections and demands, including Trump's refusal to budge on climate change or trade agreements. As such, world leaders struggled to pen a separate clause to account for Trump's "America First" stance. The communiqué reads: "The United States reiterates its decision to withdraw from the Paris Agreement, and affirms its strong commitment to economic growth and energy access and security, utilizing all energy sources and technologies, while protecting the environment."

In another compromise forced by Trump's intransigence, this year's G20 statement also shirked its usual promises to fight protectionism and uphold multilateral trading rules. The summit weakly acknowledged the "contribution" of the "multilateral trading system," despite the fact that it's "falling short" of its goals in trade growth and job creation. One European official present at the weekend's negotiations told NBC News, "There were moments when we thought all was lost."
At last year's summit, Trump shocked world leaders with his first refusal to join the consensus on climate and trade issues. He continued to alienate the U.S. from the international community over the summer. In June, the president refused to sign a joint statement on global economic policies from the G7 summit, even taking to Twitter to deride Canadian Prime Minister Justin Trudeau over the policies.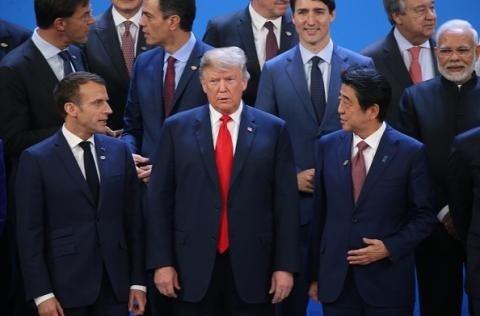 Newsweek - Getty Images
As a final act of belligerence, Trump stormed off the stage as the rest of the world leaders gathered for a photo to commemorate the end of a two-day effort in global solidarity. After shaking hands with Argentine President Mauricio Macri, Trump left Macri visibly confused on stage as he hastily left. Trump was audibly recorded telling an aide, "Get me out of here."

Reluctantly, he returned to the stage moments later to pose for group photos.
Hilarious moment Trump caught saying "get me out of here" at G20 Summit www.youtube.com
Meg Hanson is a Brooklyn-based writer, teacher, and jaywalker. Find Meg at her website and on Twitter @megsoyung.

70% of Americans believe climate change is real and 97% of climate scientists agree it's caused by human activities.
As fall descends on the United States every year, it happens: reports spread across news feeds that something scary is brewing in the Atlantic.
A reported tropical storm becomes a categorized hurricane making landfall, leaving us with flooding, destruction, and rising death rolls. The Facebook donate buttons proliferate, coastal friends are marking themselves "Safe," and inevitably in our current political climate, op-eds bemoaning the death sentence of climate change or denying its existence are shared on your timeline.
"Climate change" has become a buzzword and political bludgeon, but the fact is 70% of Americans believe it's happening, and 97% of climate scientists agree that it's caused by human activities. It's enough to embolden your friend's incessant need to tag his sweaty Instagram selfies with "#climatechange" for every day over 80 degrees in New York City.
That being said, is it possible to blame global warming as the reason behind Hurricane Florence being the second wettest storm behind Harvey? Or for Hurricane Michael's ranking as the third most powerful storm to ever hit the continental United States? There's also the question on everyone's mind—will we be seeing more destructive hurricanes every year?
The answers: Yes, yes, and it's complicated.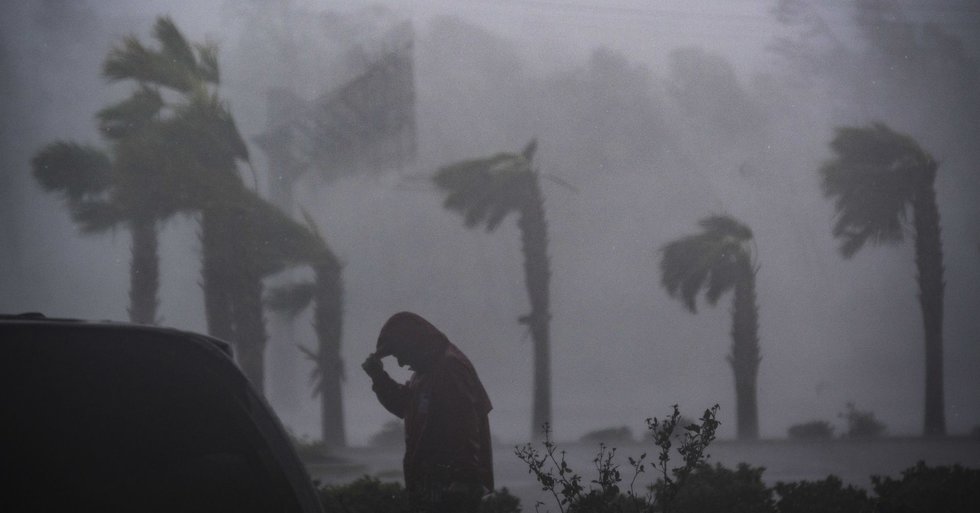 Category 4 Hurricane Michael makes landfall along the Florida panhandle.
Jabin Botsford, The Washington Post, Getty Images
Tropical cyclones, like hurricanes, are indeed affected by factors that climate change directly impacts like warmer air, warmer sea surface temperatures, and rising sea levels.

Warmer air contains more moisture than cooler air. Therefore, it makes sense that as the temperature of Earth's troposphere (the weather layer 5-10 miles above the ground) rises, the air can hold more water. This is happening across the globe. And when the air has more water… Yes, you guessed it: there's more rain. Average precipitation in the U.S. has been increasing, and heavier downpours are expected to increase across the country both in intensity and frequency (in the Northeast by a whopping 71%). This increased ability to hold onto moisture will affect hurricanes like Harvey and raise their ability to unleash massive loads of rain.
As for storm strength? Some scientific models project a 45-87% increase in the frequency of Category 4 and 5 hurricanes by 2100 if we continue along our rate of estimated global temperature increase. The warming of the ocean and higher sea levels are the main culprits here. By increasing the temperature of the sea surface, human activity can create hurricanes with 2-11% greater wind speeds that may deliver more damage when making landfall, and with sea levels expected to rise by 1-4 feet in the next 100 years, storm surges will only worsen intense coastal flooding. None of this is made better by reports that storms are slowing down, allowing them to inflict more damage for longer periods of time.
So, yes, the picture is bleak. But wait, there's more—what about the possibility of more storms in general, and more with greater ability to create massive damage? Take a breather, this is a nuanced question.
While there is evidence corroborating global warming causing wetter and stronger storms, the National Oceanic and Atmospheric Administration's research of storms over the past century and complex climate model projections for the future do not support the claim that climate change will lead to an increase in overall hurricane numbers in the Atlantic. In fact, there is some evidence that the number of hurricanes is actually decreasing.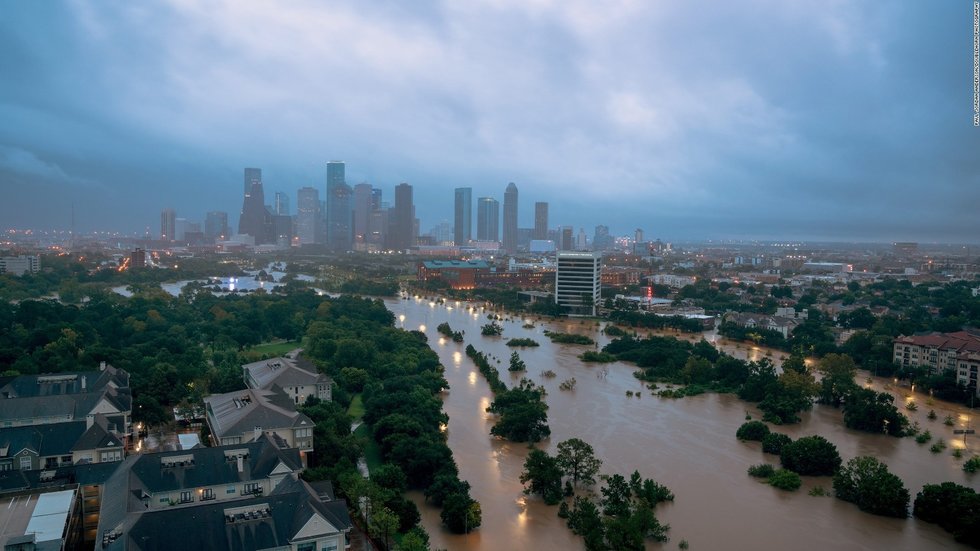 Hurricane Harvey aftermathCNN
It also gets murky when trying to blame the global crisis on the dramatic increase of hurricane-related costs. The statistics are pretty sobering: three of the five costliest U.S. hurricanes on record occurred last year alone. 2017's Hurricane Harvey is tied for the top spot with Hurricane Katrina (2005) at $125 billion in damages, Hurricane Maria comes after them at $90 billion, and Hurricane Irma rounds out the list at $50 billion (Hurricane Sandy in 2012 is no. 4 at $65 billion).

From those numbers alone, it's easy to become despondent. However, a large reason for the heightened costs of natural disasters is an increase in development along U.S. coastal populations. Americans across the board, and probably your retired parents sick of Minnesotan winters, are flocking to the coasts, whose population grew by nearly 35 million people between 1970 and 2010. Coastal counties made up nearly 40% of the last U.S. census, and this is only estimated to increase. Where there are more people, there are more houses and businesses in harm's way when a hurricane descends on the area. Climate change notwithstanding, storm-related costs would only grow in these places.
I'll admit, it's a bit of a respite to be able to blame something other than global warming on one part of the gloomy picture that is our world's climate future. Climate scientists agree that it's not accurate or compelling to blame individual storms or other weather events on climate change. There are many factors that affect how a hurricane plays out, including planetary orbits, factors local to the creation and path of the storm, as well as year-to-year variances in global weather patterns. The 1900s saw many terrible storms, including the deadliest in our history (by far) at the turn of the century.
However, when looking at overall trends around the world, the case is clear: climate change is happening and it's not going away. It's likely to make hurricanes more severe, unleashing more powerful wind, rain, and flooding.
Perhaps it's best to quote Michael Wehner, a senior staff scientist at the Lawrence Berkeley National Laboratory, who says it perfectly. "It's not: climate change flooded my house," he explained. "It's: climate change changed the chances of flooding my house."
Joshua Smalley is a New York-based writer, editor, and playwright. Find Josh at his website and on Twitter: @smalleywrites.
A U.N. panel recommends "rapid, far-reaching" overhauls to prevent global catastrophe by 2030.
When responding to a disaster, the last phase is containment. The latest report from the world's leading experts on global warming is urging world leaders and policy-makers that that time is now. In order to prevent the earth's temperature from rising any more than another .5 ˚Celsius over the next 12 years, "rapid, far-reaching and unprecedented changes in all aspects of society" are necessary.
The report is the latest from the UN's Intergovernmental Panel on Climate Change (IPCC), which draws from thousands of publications and reviews of data on climate changes to assess and measure "increases in global average air and ocean temperatures, widespread melting of snow and ice, and rising global average sea level." In the past five reports, the IPCC has gone from investigating if and to what degree global warming was taking place to finding it "unequivocal" that global warming was an ongoing disaster with a 5% chance of being caused by natural climate change and a 90% probability that society's emissions of greenhouse gases were perpetuating the damage.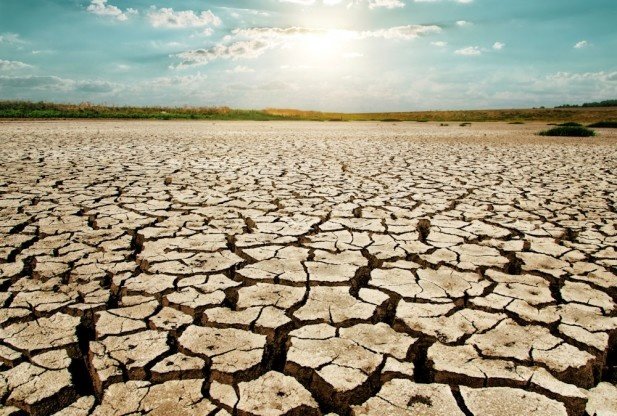 Environment and Human Being
Now, the IPCC is no longer concerned with spreading awareness or recommending practices to prevent damage from global warming, but to contain the coming destruction. The latest report cites that global temperatures are already 1 ˚C higher than in pre-industrial times; if temperatures rise more than 1.5 ˚C, environmental damages will put hundreds of millions of human lives at risk.

Furthermore, Earth's temperatures are expected to rise to the catastrophic 1.5 ˚C as early as 2030, unless "unprecedented changes" in transportation, agriculture, and energy are implemented. The IPCC's report verifies that carbon dioxide emissions have not been hampered by existing environmental policies, or lack thereof, recommending "rapid and far-reaching transitions" in society that leave some doubtful of its feasibility.
Skeptics include Glen Peters, research director of the Center for International Climate Research in Oslo, who stated, "Even if it is technically possible, without aligning the technical, political and social aspects of feasibility, it is not going to happen. To limit warming below 1.5 ˚C, or 2 ˚C for that matter, requires all countries and all sectors to act."
The rhetoric of environmentalism has been deemed alarmist and even fear-mongering in the past, but one reason skeptics remain unmoved could be due to a history of sanitized language. Phil Duffy, president of the Woods Hole Research Center, doubts not only the IPCC's radical changes but their words: "If you're expecting IPCC to jump up and down and wave red flags, you're going to be disappointed. They're going to do what they always do, which is to release very cautious reports in extremely dispassionate language."
Scientists involved in the IPCC hope that the newest report will counteract that history of apathetic fatalism, urging that the present risk should merit the global, united response it will take to scale back potential disaster. "It's a line in the sand and what it says to our species is that this is the moment and we must act now," affirmed Dr. Debra Roberts, co-chair of the IPCC's working group on climate impacts. "This is the largest clarion bell from the science community and I hope it mobilizes people and dents the mood of complacency."
---
Meg Hanson is a Brooklyn-based writer, teacher, and jaywalker. Find Meg at her website and on Twitter @megsoyung.
---
But plan to enact environmentally destructive policies anyway.
Amid the media frenzy surrounding Supreme Court nominee Brett Kavanaugh, you may have missed another recent development in the world of politics: the Trump administration's admission that climate change is real.
According to the Washington Post, "In public, President Trump and his deputies have downplayed or outright dismissed rising sea levels, more frequent droughts, and other effects of man-made global warming." Contrastingly, in a 500-page environmental impact statement released last week, the Trump administration projected that on its current course, the planet will warm seven degrees by 2100. According to scientists, that kind of increase in temperature would be disastrous; resulting in extreme heat waves, acidic oceans, and high sea levels.
But, shockingly, the report was not intended as evidence to support funding to combat climate change, but instead meant to defend President Trump's decision to freeze federal fuel efficiency standards for light trucks and cars built after 2020. The report asserts that though this policy would increase greenhouse gas emissions, the fate of the planet is already sealed and fuel efficiency standards make too small of an impact to be consequential.
Michael MacCracken, who was the senior scientist at the U.S. Global Change Research Program from 1993 to 2002, said, "The amazing thing they're saying is human activities are going to lead to this rise of carbon dioxide that is disastrous for the environment and society. And then they're saying they're not going to do anything about it."

The report states that the world would have to make massive cuts in carbon emissions to avoid this warming and that, "would require substantial increases in technology innovation and adoption compared to today's levels and would require the economy and the vehicle fleet to move away from the use of fossil fuels, which is not currently technologically feasible or economically feasible."
A rise of seven degrees Fahrenheit, or about four degrees Celsius, would exceed the goal set in the 2015 Paris Climate Agreement, from which Trump is withdrawing the United States. According to the Washington Post, "At those temperatures, scientists describe nothing short of catastrophe." The Guardian sums up the administration's argument well with, "You might as well argue that because you're going to die eventually, there's no reason not to smoke a carton of cigarettes a day."
Brooke Ivey Johnson is a Brooklyn based writer, playwright, and human woman. To read more of her work visit her blog or follow her twitter @BrookeIJohnson.

The super-rich are hoping inequality is here to stay, even after the apocalypse.
With the Atlantic hurricane season already underway, tens of millions of people are preparing grab bags and emergency kits and hoping that the next storm isn't the one that will take away their lives, their homes, or their resources. Yet, in spite of researchers' warnings suggesting that global climate change is increasing the likelihood that the next big storm, or the one after that, will wreak unavoidable devastation on those same millions, a much smaller group have no such anxieties. These people are not members of a doomsday cult, climate change 'skeptic' Super-PAC, or owners of exceptionally-developed spleens. They are a part of a far more elite class of mammals –– the super-rich –– and, as the storms rage ever harder on the rest of us, they've prepared emergency kits that have far more than a flashlight and a radio in them.
Keep reading...
Show less
Farmers and scientists want to use the dirt beneath our feet to save the air above our heads
The headlining culprit in climate change warnings is the collection of greenhouse gases entering the atmosphere that come burning fossil fuels. You might be surprised, then, to learn that agriculture's effect on the health of the Earth's safety blanket is nearly as large as that of greenhouse gases. Clearing forests for farmland, tilling fields, raising livestock and spraying herbicides and pesticides—all of these practices contribute to the rising CO2 levels in the air. Now, new studies have started to point to compost as a tool for improving farming practices and reducing agriculture's effects on the environment.
Keep reading...
Show less