On March 22nd, Senator Bernie Sanders and Elon Musk entered a debate over the fate of the world.

It began when Sanders published a very in-character tweet. "We are in a moment in American history where two guys — Elon Musk and Jeff Bezos — own more wealth than the bottom 40% of people in this country," he wrote. "That level of greed and inequality is not only immoral. It is unsustainable."
Elon Musk, the Tesla and SpaceX CEO who briefly surpassed Jeff Bezos in early 2021 to become the wealthiest man in the world, had a ready-made response. In a Tweet, he wrote, "I am accumulating resources to help make life multiplanetary & extend the light of consciousness to the stars."
@cleantechnica I am accumulating resources to help make life multiplanetary & extend the light of consciousness to the stars

— Elon Musk (@Elon Musk)1616304691.0
Sanders's reply remained laser-focused on his lifelong mission to fight income inequality on Earth. He wrote, "Space travel is an exciting idea, but right now we need to focus on Earth and create a progressive tax system so that children don't go hungry, people are not homeless and all Americans have healthcare. The level of inequality in America is obscene and a threat to our democracy."
Musk's starry-eyed statement has since faded into the ether of Twitter, but the context of this debate raises larger questions about futuristic technologies, the present-day interests and needs of humans on Earth, and the ongoing battle between them.
Billionaires dream of flying machines
As the Earth speeds towards irreversible climate disaster, many people's minds have naturally turned towards the stars. The distant, spinning nebulae and gleaming planets above us have long been idealized as potential escape routes for the unhappily earthbound.
But as the climate crisis grows more dire on Earth and space travel ramps up, thanks to ambitious patrons, some (like Elon Musk) have proposed that space may be our best shot at collective survival.
Famously, Musk founded SpaceX because he believed that NASA was not working hard enough to bring humans to Mars, and he feared that humanity is approaching its last chance to escape Earth before our planet becomes an uninhabitable hellscape.
His fellow Bernie Sanders nemesis Jeff Bezos has expressed similarly apocalyptic concerns. Bezos, who founded a rocket and aerospace travel company called Blue Origin in 2000, recently stepped down from his position as CEO of Amazon, claiming he planned on investing more time in his work with Blue Origin and his efforts to fight climate change.
Like Musk, Bezos aims to colonize space by investing ambitiously in new technologies that could help people reach the stars. And also like Musk, he fears for the future of civilization — and sees space as the place where these problems might be solved.
"Hundreds of years into the future, we will move all the polluting industries to space and other planets, where we have infinite resources for all practical purposes and Earth will only be (used for) light industries and residential," Bezos stated in a conversation with Amazon India chief Amit Agarwal in New Delhi.
This plan, which Bezos calls the New Inversion, is a long-term vision that would effectively move all pollution to the cosmos. "I would think, kind of [a] time frame of hundreds of years," Bezos added, reiterating that "we have to preserve this planet and we can do that using the resources of space."
The "space escape" as an escape route for the super-rich
Bezos, Musk, and their future-focused peers may claim that their plans to reach the stars are efforts to ensure a future for humanity, but their own reputations and vast fortunes have raised many questions about who this interplanetary future would actually serve.
At the moment, the future of space travel appears to be reserved for the super-rich — the sort of people who are already least affected by earthly calamities like climate change, despite unleashing the vast majority of the world's carbon emissions. For example, private spaceflight companies such as Axiom reportedly charge up to $55 million to send travelers into specially designed rooms located in the International Space Station.
It is likely that even if space travel begins to evolve in step with Moore's law (the theory that computers' processing power tends to double every two years), whatever world we build in the cosmos will remain reserved for the 1% for quite a long time. In this light, the futures preached by techno-prophets like Bezos and Musk start to look like thin cloaks for a kind of moon-eyed eugenics that would leave billions of people in the literal dust.
"The space barons are shrewdly — one might say cynically — tapping into our respect for astronauts and our idealism about what space represents," Ceridwen Dovey writes in The New Yorker. "They seem to be counting on us to be awestruck by whatever it is they do in space, and to overlook the fact that their motives are not exactly pure, nor are their methods of getting us there egalitarian."
Humans are drawn to mystery and beauty, and space is such a tantalizing frontier that it's difficult to completely write off billionaires' ambitious plans to penetrate it, even though we know their earthly work typically involves hoarding vast amounts of wealth while underpaying and mistreating masses of workers.
The ongoing battle between technological innovation and human-centered reform
Similar contradictions plague a multitude of existing plans to address climate change on Earth, and they are particularly endemic to plans broadcasted by corporate entities who have nothing to gain and everything to lose from substantial climate action.
For example, Jeff Bezos recently pledged $10 billion of his $188 billion net worth to the Bezos Earth Fund, yet his overall approach to climate and philanthropy has continuously come under fire.
First, there's the fact that despite all his talk of concern about climate change, Bezos's company continues to belch out carbon emissions, releasing around 51.17 million metric tons of carbon dioxide in 2019 – up 15% from the previous year despite various green pledges. The company has also been slammed with reports about its poor treatment of workers, and prior to the Capitol riots, Bezos also reportedly donated thousands of dollars to conservative politicians such as progressive disruptor-in-chief Mitch McConnell.
Then there's the fact that Bezos failed to donate more than roughly 0.1% of his net worth prior to his 2020 donations — and the latter comprised less than 8% of his vast net worth, a sum that, along with Musk's wealth, is equivalent to the collective wealth of the United States's poorest 40% of people.
The $10 billion Bezos did donate via the Earth Fund was also met with criticism, particularly from groups invested in climate justice. The vast majority of Bezos's donations went to established environmental organizations like the Environmental Defense Fund and World Wildlife Fund, most of which already possess endowments in the millions. Critics said that many of these contributions will never reach communities already subject to the worst effects of climate-caused floods, wildfires, pollution, and destruction, and many of their ultimate goals involve conserving an existing status quo rather than addressing interconnected crises like racism and economic inequality.
In a statement released in December, a group of community-focused NGOs called the Climate Justice Alliance released a statement in protest of Bezos's donations. It found that "less than a quarter of the first-round grants will go to intermediary funds that support thousands of grassroots communities cultivating solutions on the frontlines of the climate emergency. The inequities couldn't be more striking."
This could also be said of the work of many of the "Big Green" environmental groups, particularly those historically focused on conservation rather than human-focused social change. Conservation movements have historically been bound up with white supremacy, and a look at the bigger picture reveals that white supremacy created and perpetuates the conditions for climate change, itself is an inherently racist crisis.
Other billionaires and corporations' efforts have been subject to similar critiques. For example, Elon Musk recently launched a competition offering $50 million to whomever could invent the best carbon capture techniques. Carbon capture technology has long been an alluring yet elusive potential solution to climate change, and it has also been the recipient of generous funding.
Despite all this investment, no miracle technology with the ability to stop climate change has ever emerged, and waiting for one feels more and more like waiting for a doomsday savior who will never arrive.

False promises further threaten any chance of climate action
An April 2020 study from Lancaster University argues against promises that glorify miraculous technologies, because "overreliance on promises of new technology to solve climate change is enabling delay."
Hinging the solution of climate change on miraculous technological breakthroughs like ice-restoration, nuclear fusion power, massive carbon-eating machines, and extraterrestrial offshoring can "feed systemic 'moral corruption', in which current elites are enabled to pursue self-serving pathways, while passing off risk onto vulnerable people in the future and in the global South," say researchers Duncan McLaren and Nils Markusson, who encourage "cultural, social and political transformation" over placing hopes in instant solutions.
It seems that any genuine "cultural, social and political transformation" will not come directly from billionaires and massive corporations, who naturally often benefit most from current cultural, social, and political structures and hierarchies. Recent corporate efforts to combat climate change have been hollow and hypocritical; and many corporations are being accused of greenwashing as they release statements and pledges that appear to be commitments to fighting climate change but that are really efforts to deflect opposition.
A January 2021 report from the Sierra Club entitled "The Dirty Truth About Utility Climate Pledges" graded utility companies on their plans to cut emissions and transition to clean energy solutions and issued many failing grades to companies that have released "carbon neutral" pledges and similar statements. "
The infuriating truth is that many utilities are not only protecting their coal plants from retirement, but are also actively planning to build out climate destabilizing gas plants," said Mary Anne Hitt, who is the Director of Campaigns at the Sierra Club. "The consequences of allowing utilities to continue to delay the transition to clean energy will be particularly disastrous for low-income communities and communities of color."
Learning from the people and the planet
So where will change come from, if not rockets to stars or carbon pledges or the latest addictive inventions of Silicon Valley coders? Perhaps the answer is not above us but rather below our feet. Perhaps we have everything we need already here on Earth.
"We already have a safe and natural technology for carbon capture and storage (CCS)," writes Francis Seymour in a report for the Center for Global Development. It's called 'tropical forests.'"
We already have everything we need to transition to clean energy, and we already have enough food to feed the world's population. What is needed is a redistribution of wealth and resources — something billionaires, conservative politicians, and oil companies have fought against since climate change was exposed as a dangerous reality in the '80s.
Slowly but surely, the idea of wealth redistribution as an investment in fighting climate change is seeping into reality in the form of modern politics. Joe Biden's infrastructure plan will be paid for, in part, by taxing the super-rich. Still, there's a long way to go.
As things grow more dire, environmentalists increasingly view a cross-racial, cross-class movement as the only feasible solution to climate change. This framework, long supported by environmental justice movements and knitted into intersectional plans like the Green New Deal, sees the solutions to climate change as bound up with ending capitalism, racial injustice, and other interconnected global plagues.
The new vanguard of the climate movement also acknowledges how important Indigenous knowledge of land stewardship and conservation, frontline communities' understanding of environmental racism and the stakes of the climate crisis, and ongoing working class and BIPOC struggles for justice are to any just transition away from a fossil fuel-based economy.
Clearly, billionaires' expensive efforts to colonize space would be low on the priority list of any intersectional response to climate change.
Is there any place for space in the climate fight?
All this being said, it's unlikely that humans will ever totally abandon our desire to explore distant galaxies. Our desire to know the cosmos is as innate as our childhood desires to explore the deep green mysteries of the nearby woods. Fortunately, we don't have to write space exploration out completely in the fight for Earth.
Actually, Jeff Bezos wasn't wrong when he said space could be key to helping us fight climate change. NASA, the UN, and other organizations have consistently reported that some solutions to the climate crisis might be found through space-based technology capable of deepening our understanding of the climate crisis and providing key evidence of its effects.
For example, satellites can detect changing temperature levels, rising sea levels, and other factors that could be vital in the current global effort to halt warming at 1.5°C. On a more theoretical level, thinking about how alien civilizations may have responded to climate change could help us address our own situation.
It seems that for now, space travel's greatest contribution is its ability to help humans look back at Earth — either to measure its changes or to feel awed by what Carl Sagan called our "pale blue dot," as many astronauts have been when they viewed Earth from space and experienced the famous "Overview Effect." (Upon seeing the Earth from space, astronauts report a newfound sense of compassion for and responsibility to the planet and for the interconnected webs of life that live upon it).
Plus, the sheer ambition of the space race provides an excellent blueprint for the kind of effort it will take to actually address the climate crisis. All in all, there is room for space travel within a just transition to an ethical future.
But for now, it seems that the "light of consciousness," as Elon Musk put it, would be best directed towards Earth's living, breathing beings rather than towards a few billionaires and their efforts to further puncture the edges of our already damaged, airless, eternally silent atmosphere.
Lately, a lot of conversation has been bubbling up about the Senate filibuster.
It's been called a "Jim Crow relic" by former president Obama, and Mitch McConnell threatened to launch a "nuclear winter" if the Senate attempts to end it. Increasingly, Democrats want to end it completely. So what is it, and why does it matter so much?
What Is the Filibuster?
The filibuster is a political strategy used by the Senate to delay, and often kill, votes on bills. Traditionally, a filibuster would mean that the resisting senator would stand on the floor and speak, sometimes for days, against a certain legislative effort.
When a senator utilizes the filibuster, they can delay a vote as long as they wish to — unless three fifths of senators, currently 60 out of 100, vote to move forward.
Nowadays, senators aren't even required to speak in order to deploy this tactic—they can essentially sign a note and curtail almost any legislation using the filibuster. (There's also currently an exception to this rule called budget reconciliation that fast-tracks bills related to the federal budget and only related to the federal budget).
The Constitution does not include a filibuster. Instead, our founding document states that bills should only require simple majorities to pass, not supermajorities. Exceptions to this are impeachment charges, the expulsion of members of Congress, overriding presidential vetoes, and creating constitutional amendments.
The Founding Fathers were very clear: They did not want a minority party to be able to dictate what should be majority rule —and in fact were fearful of this outcome.
In its first iteration, the U.S. Senate reconciled debates by voting on whether to end debates, thus moving a bill to an actual vote.
This changed when in 1806, Vice President Aaron Burr argued that this process of voting on whether to vote (called the previous-question motion) was redundant, as it was rarely ever used, and so it was ended. Inadvertently, Burr created a loophole that made it theoretically possible for senators to infinitely delay votes — and hence, we have the glacially slow, perpetually blocked governmental body that we know today.
First of all, we have to understand what the filibuster is. It's ANY MEASURE that stops a vote. That's it. That's… https://t.co/x2BwFCig0u

— Michael Harriot (@Michael Harriot)1616550099.0
What Has the Filibuster Been Used for, and How Has It Evolved?
One thing that stands out about the filibuster: It has consistently been used to curtail the rights of Black Americans.
Once rarely used in policy decisions, the filibuster only came into frequent use during the Civil War era, when Southern states would often deploy it in defense of slavery and while blocking anti-slavery legislation.
John C. Calhoun, sometimes referred to as the "grandfather of the confederacy," was an important figure in developing the modern, common filibuster. "He did it for the express purpose of increasing the power of the slaveholding class," says Adam Jentleson, whose book Kill Switch details the rise of the modern Senate. "What he saw at this time — this was around the 1830s and 1840s — was that slaveholders and slave states were becoming steadily outpowered in Congress. And so, he knew that if majority rule was allowed to continue, slavery was going to end."
The filibuster was a solution to this issue and one of the reasons why the government remained incapable of simply ending slavery through democracy.
The filibuster was used throughout the 1800s and 1900s, with politicians challenging its legitimacy to various degrees without success. Woodrow Wilson edited it during WWI, after the Senate used it to stop him from arming ships against German U-Boats. With the help of public outcry, Wilson established Rule 22, which allows a two-thirds majority vote to invoke "cloture" — a rule that, essentially, limits filibustering to 30 hours.
From then on, the filibuster basically remained the same, though in 1975 the number of votes needed for a supermajority was changed to 60. Because earning a 60-vote majority is still quite difficult, the filibuster has remained an effective way for minority rule to block legislation.
Even after the Civil War, the filibuster was used to codify racial violence; for example, in 1922, the filibuster was used to defeat the Dyer Anti-Lynching Bill. Famously, the filibuster was also used to block civil rights legislation up until 1964. In protest of the Civil Rights Act, lawmakers filibustered for 57 days, until public pressure rose high enough for a supermajority to invoke cloture. Eventually, the supermajority necessary for cloture was changed to 60; but yet again, the filibuster remained firmly in place.
Since then, the filibuster has been used for various purposes on all sides of the political spectrum. It was the reason why George W. Bush couldn't overhaul immigration legislation and why Barack Obama couldn't pass climate legislation (or all that much of anything). It is the reason why bills still go to the Senate to die.
What Would Happen if the Filibuster Ended?
Without the filibuster, the Senate would be much more volatile than it is today. It's possible that massive amounts of legislation could pass — and then be reversed, should the Senate majority's political leanings change.
But Democrats have good reason to end the filibuster now (which is probably why Mitch McConnell is so scared). At the moment, Democrats want to enact a piece of voting rights legislation called the For the People Act. Among other things, the act would increase access to absentee voting, extend early voting, allow for same-day registration, and generally would make it easier for people to vote.
"In the wake of an unprecedented assault on our democracy, a never before seen effort to ignore, undermine, and undo the will of the people, and a newly aggressive attack on voting rights taking place right now all across the country, this landmark legislation is urgently needed to protect the right to vote and the integrity of our elections, and to repair and strengthen American democracy," the White House said in a statement.
Naturally, most Republicans hate the For the People Act as much as they hate the idea of getting rid of the filibuster. Their looming fear: The Democrat's proposed voting rights reforms could make it much easier for Democrats to hold onto power. As of now, the bill passed in the House but of course has no chance of passing in the Senate, thanks to the filibuster.
Without the filibuster, Democrats would also have a shot at passing significant voting rights reforms, climate legislation, stricter gun control laws, and immigration reforms. They would be able to achieve their goals of fighting student debt, taxing the super-wealthy, making healthcare more affordable, and more.
The vast majority of the American people want Washington to act to bring down gun violence. Voters elected a Democr… https://t.co/jraOwNAyGL

— Elizabeth Warren (@Elizabeth Warren)1616613409.0
Of course, the Democrats have an extremely slim majority in the Senate, and many Democratic senators are more centrist than progressive (see: Joe Manchin), meaning that achieving these goals would still require a serious fight even if the filibuster ended.

How Could the Senate End the Filibuster?
There are two ways the Senate could end the filibuster. 60 out of 100 senators could vote to end it, which will never happen in our current version of reality.
Or, senators could use a complex series of political moves sometimes referred to as the "nuclear option," which basically involves three steps: First, a senator objects to a cloture ruling. Then the presiding officer rules this objection out of order, and a simple majority of senators could then vote to overturn that ruling, thus "blowing up" traditional Senate policies.
This "nuclear option" has already been utilized across party lines. Democrats used it to confirm some of Barack Obama's nominees, and Republicans—led by Mitch McConnell—used it to confirm Donald Trump's Supreme Court nominees. (Yes, McConnell, now the world's biggest filibuster proponent, paused it so he could ram Supreme Court nominees through the system).
Actually ending the filibuster is a long shot, but Democrats know this may be their only chance to pass any significant social and political reforms. For his part, Joe Biden has not advocated for the end of the filibuster, but rather he supports the reinstitution of the "talking filibuster" — the "good old days" version of the filibuster where senators have to actually stand up and talk in order to obstruct the passage of a bill.
"It's getting to the point where, you know, democracy is having a hard time functioning," Biden told ABC.
Democratic senators Joe Manchin and Kyrsten Sinema also said they would not vote to end the filibuster, though Manchin did say he supports making it "more difficult to use," which many centrist-leaning Democrats see as a promising option.
Still, despite the odds, those who support ending the filibuster see it as a life-or-death issue, as it's quite possibly the only way to make true progress on inequality, gun control, healthcare, and other issues.
Currently, it seems that the Senate is hurtling towards a high-stakes battle for the future of the filibuster, with both sides ramping up their efforts to intimidate each other. McConnell's threats to initiate a "scorched-earth Senate" if the filibuster is abolished has only encouraged those who want to end the filibuster, as it's clear he's genuinely afraid and believes there is a chance it could end.
Senate Majority Leader Chuck Schumer has been repeating the phrase, "Everything is on the table" in response to questions about the fate of the tactic. Indeed, everything is on the table, including the state of our present and future. The question is whether or not we can learn from the past.
Climate change is happening right now, and it's already destroying people's livelihoods.
Climate change is often framed as a problem of the future—something that "will happen" if we fail to act.
But the truth is that climate change is happening right now, and it's already destroying livelihoods. Climate change is the droughts, the hurricanes, the wildfires, and the floods that are occurring with increasing frequency. It's the extreme heat, which is debilitating to some but which others can easily drown out with air conditioning.
Daily dose of RCP8.5 👇 But even more important: Poverty, inequality, bad governance, lack of energy access cannot… https://t.co/fGc8NIXKxo

— Roger Pielke Jr. (@Roger Pielke Jr.)1596804810.0
Climate change generally harms poor communities and communities of color far more than it harms the primary drivers of rising global temperatures, namely corporations and those who benefit from corporate success. Ironically, poor communities who contribute very little to climate change tend to be the ones who have to deal with its worst effects.

Still, climate change will come for us all one way or another—that much is clear. Climate change is even beginning to damage luxury hotels, infringing on the isolated worlds of the super-rich. Here are eight places around the world that are already disappearing because of climate change. Chilling harbingers of what's to come if we don't act, these places are also testaments to overconsumption and the brutal effects of humanity's utter lack of care for the planet and for our fellow humans.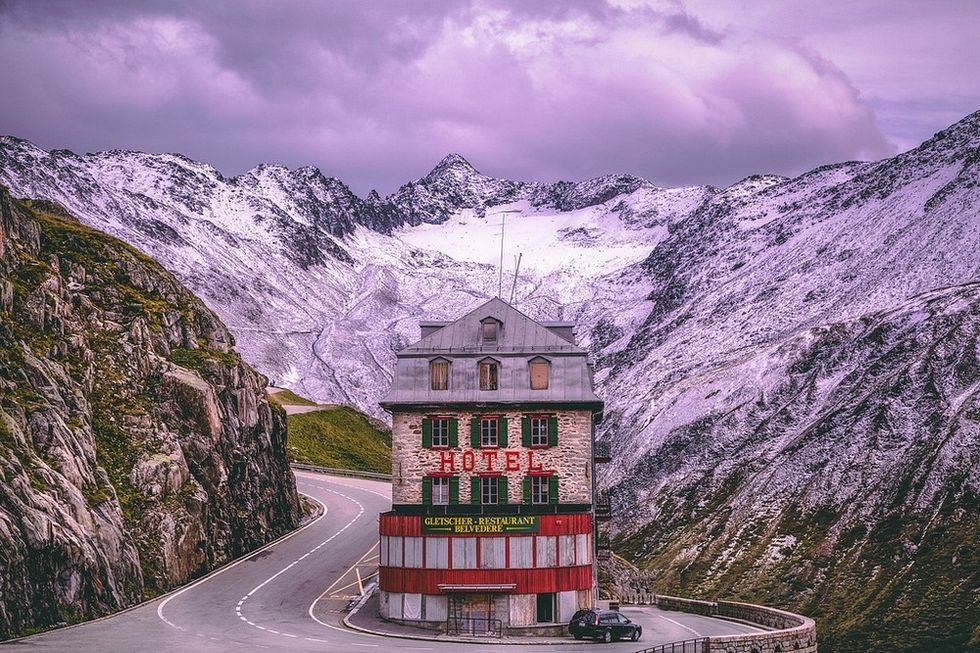 Hotel Belvedere
The Swiss Alps' magnificent Rhone Glacier once attracted visitors from across the globe. Many chose to stay at the glamorous Hotel Bélvèdere, which hosted the likes of Pope John XXIII and Sean Connery in its day. But the Rhone Glacier has been steadily retreating, losing almost a full mile in the last century. It's receded so much that the land on which the hotel stands is no longer secure, and so the hotel has been closed indefinitely. Today, it's boarded up, a relic of a long-gone world.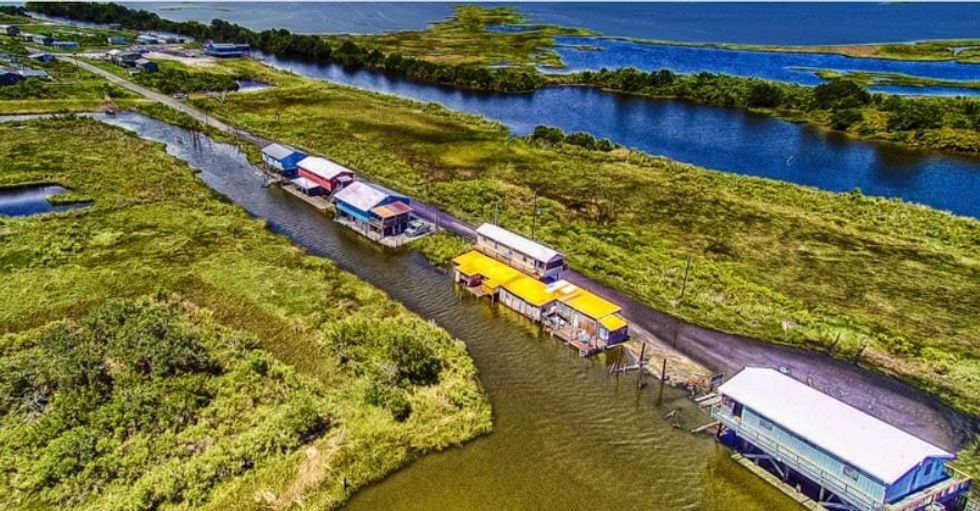 Isle De Jean Charles
Southeastern Louisiana's beautiful gothic island homes are now sinking into the sea. The island is home to many members of the Biloxi-Chitimacha-Choctaw and the United Houma Nation tribes, which have already lost 98% of their remaining land since 1955.
The island was heavily damaged by floods throughout the first decade of the 2000s, culminating in devastation after Hurricane Katrina. At the beginning of 2016, Louisiana was awarded a $96 million grant to move the island's inhabitants to higher ground. Those who lived on the island will be awarded either a house in a resettlement community located further north or funds to move somewhere else. Displaced tribe members are still mourning their lost homeland.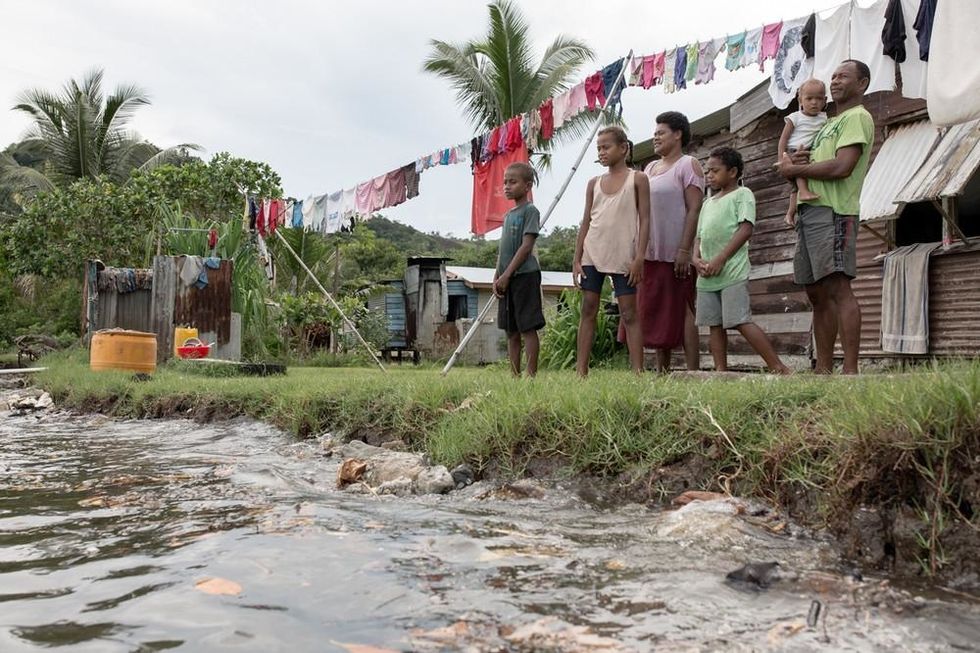 Vunidogoloa, Fiji
Climate change threatens to turn many tropical oases into underwater relics. One such place is Vunidogoloa, Fiji, a village that has been flooded because of climate change, forcing inhabitants to move to higher ground.
Since 2012, these villagers have been in the process of moving to higher land. There was a time when Vunidogoloa was a thriving community, but today, rising sea levels have increased levels of soil salinization, have worn away fields, and have eroded seawalls intended to stop the floods.
Painted as "the nation's first community to relocate because of climate change," the fates of the Vunidogoloa villagers are warning signs for us all.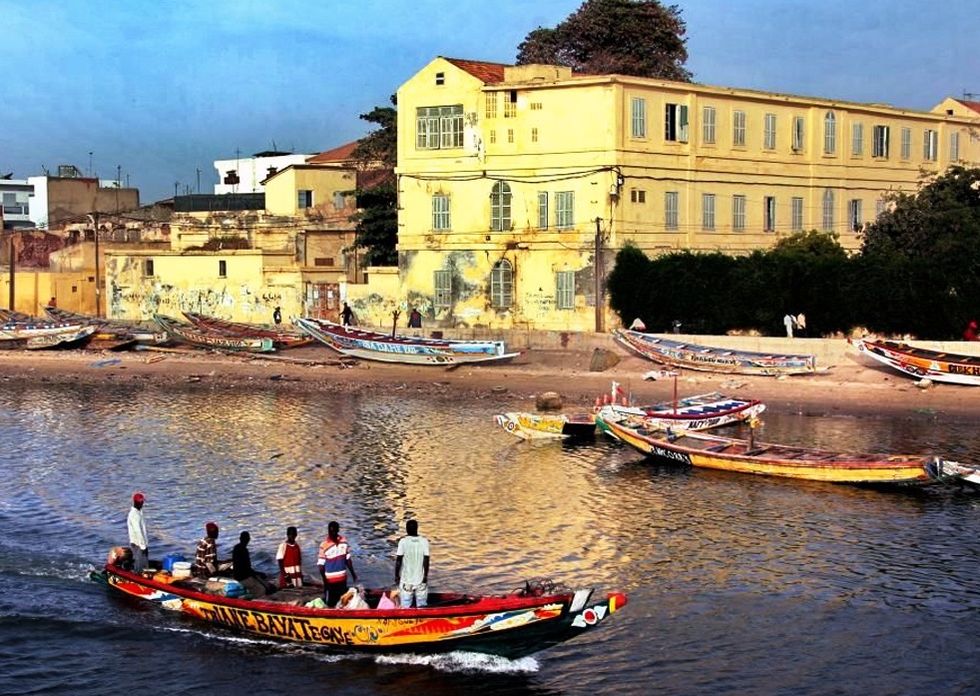 Saint-Louis, Senegal
Saint-Louis, Senegal was once a vibrant coastal city, but it's now being overtaken by the sea."Climate change has had a devastating impact on our city, destroying houses and key infrastructure," said Saint-Louis's mayor, Amadou Mansour Faye.
Out of the more than 100 million people live along the west African coast, "four million of those have been displaced, forced to live in temporary camps away from the shoreline," according to Sky News.
Flooding, shoreline erosion, and drought have heavily damaged Saint-Louis and many neighboring towns, seeding conflict, forcing thousands to flee to refugee camps, and provoking the rise of extremist groups.
Climate change "is a huge problem for developing countries because they don't have the resources to fight coastal erosion,"said Loïc Brüning, who researches the effects of climate change in Saint-Louis. "From Mauritania to Cameroon, all the shore is eroded. Whereas cities in the Netherlands have protected themselves because they have the knowledge and finances to do so."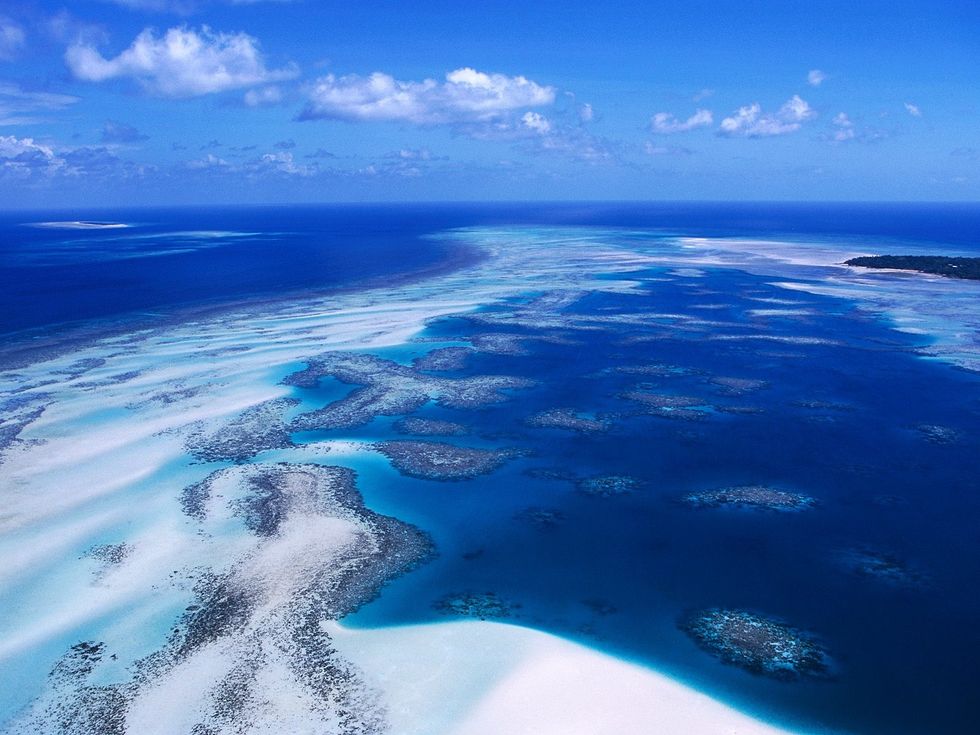 Australia Coral Reef
Australia's reefs are some of the most visually arresting examples of climate change available to us. While attention has been lavished on the dramatically decaying Great Barrier Reefs, many of Australia's western reefs are suffering too.
Heat stress from climate change led 90% of the reefs by Christmas Island to die or turn bleach-white in a 10 month period between 2015 and 2016. These reefs provided vital nourishment to many of the aquatic species living in these waters, and the reefs' deaths have contributed to a decline in food quality and health for many nearby humans.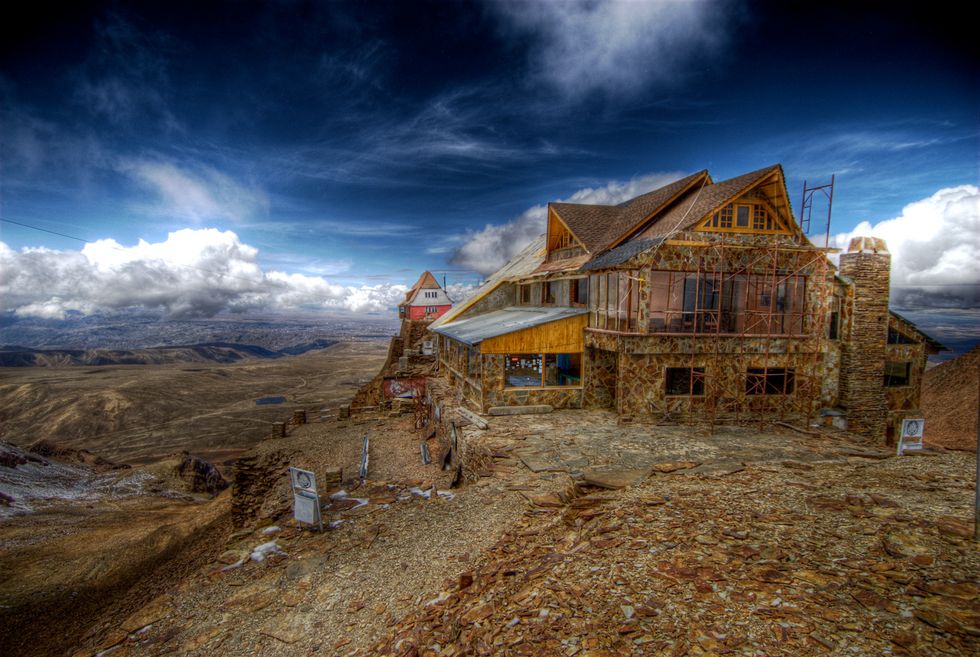 Chacaltaya Glacier and Ski Resort, Bolivia
This 18,000-year-old glacier began to melt around 1980, and in 2009 the glacier was completely gone due to climate change.
But Bolivia's Chacaltaya Glacier had been the home of Bolivia's only ski resort, which had been open since the 1930s. Located at 17,519 feet above sea level, the resort was long the world's highest ski resort, and its restaurant is still currently recognized as the highest restaurant in the world. Today, the once-thriving resort is maintained by two brothers who worked at the resort for decades. They maintain a place where visitors can still receive a hot meal, hence the location's continued recognition as the world's highest restaurant. The mountain resort, however, lies eerily abandoned, a foreboding warning sign of what's to come.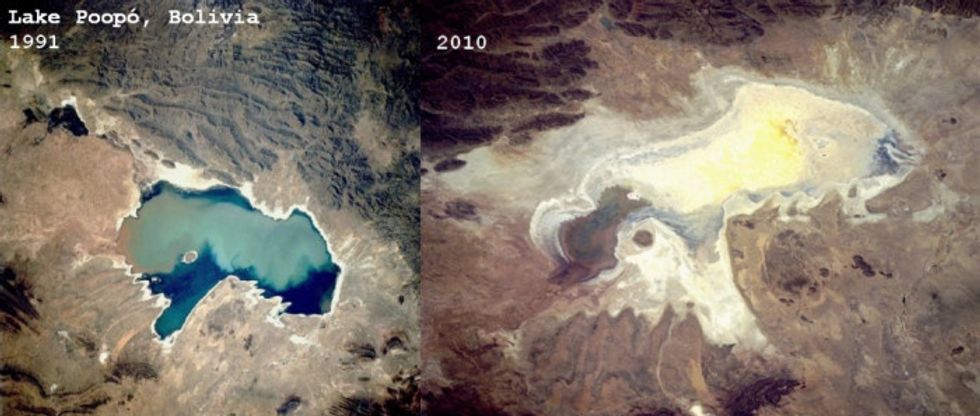 Lake Poopó, Bolivia
Lake Poopó dried up entirely in 2016 due to agriculture, mining, and climate change. Once Bolivia's second-largest lake, it had long been a vital resource for many communities that relied on it for food and sustenance. Nestled in the Altiplano Mountains at an altitude of 3,700 meters, it made mountainous areas habitable, but no longer.
Today, the lake has turned to a collection of salt-scarred marshes littered with bird skeletons and overwhelmed by scavenging beetles. Many scientists have cited its disappearance as a warning about the future consequences of climate change.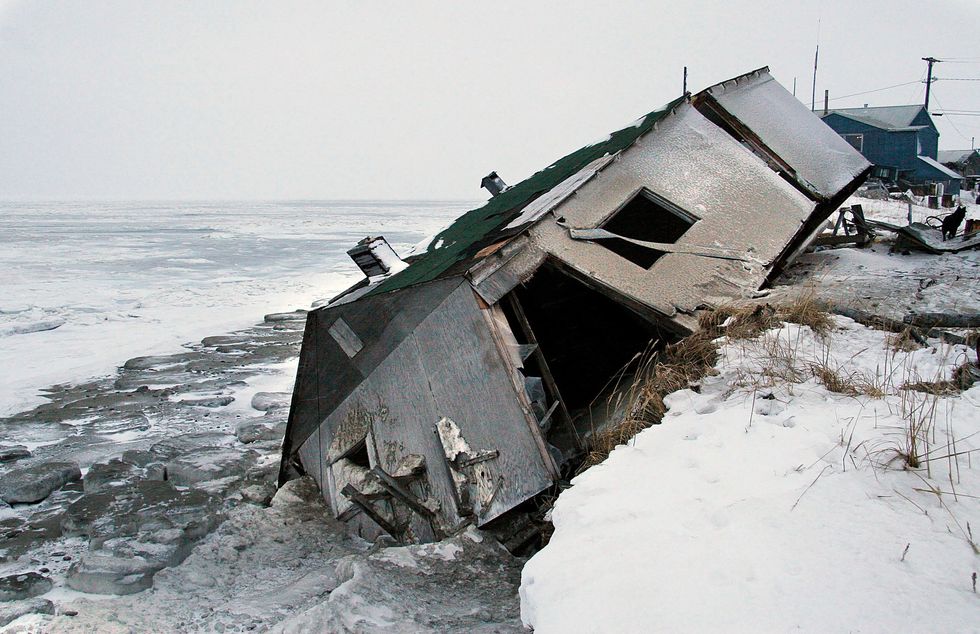 Shishmaref, Alaska
The village of Shishmaref, Alaska was built atop a sheath of ice, putting it at extreme risk as global temperatures rise. Climate change has already heavily impacted Shishmaref, as rising temperatures and melting floes have made the landscape all but uninhabitable.
As the world warms thanks to the 1,200 tons of carbon dioxide that humans pump into the atmosphere each second, Shishmaref is disappearing. It's one of 31 villages in Alaska that face extreme threats from erosion and climate change-related issues, according to a Government Accountability report. Things have gotten so bad in this village that in 2017, inhabitants officially voted to relocate, though they don't yet have the funds to do so.
The coastal town of Shishmaref, #Alaska is facing consequences of a warming 🌡️ #Arctic, including the loss of sea i… https://t.co/Dg0STzAmIL

— WWF Arctic Programme (@WWF Arctic Programme)1582121629.0
Check out the latest episode of Crossroads Cafe.
On the latest episode of Crossroads Cafe, I spoke with Amanda Quaid, a writer, actor, voice artist, and environmental activist whose work explores the joys and challenges of living in the modern world.

Our interview happened on November 7, the day Joe Biden was officially confirmed as the winner of the 2020 election. All around NYC there was a sense of buoyancy, and you might hear people screaming with glee in the background of the recording.
Biden ran, in part, on a campaign that stood in stark contrast to his predecessor's: He promised to treat the climate crisis with the urgency it deserves.
He also promised to prioritize the people who are most often harmed by climate change, which include poor communities and communities of color who are most often subject to environmental racism that takes the form of power plants, pollution, natural disasters, and an inability to flee crisis zones.
Activists are skeptical, knowing that facing the climate crisis with the urgency it deserves will require extreme action at a scale not seen since World War II. But on the other hand, the climate movement has gained massive grounds over the past few years, as it's connected with other movements and a collective vision for social change that's taken hold of people across the globe.
As an activist with Extinction Rebellion and a writer whose work explores climate change, Quaid is part of those movements. She is, among many things, the writer of the libretto for The Extinctionist, an opera that tells the story of a woman considering the morality of whether to have children in a world where devastating climate change is a reality.
Writing about climate change—an immense and complicated topic that often feels far-removed from daily life—is a challenge, but it may be more important than ever. When asked about the intersections between storytelling and climate, Quaid referenced Paul Kingsnorth's idea that we need new stories (or perhaps very old ones) in order to reimagine and heal our relationship with the land and ourselves.

Kingsnorth, like many of the writers we referenced in this podcast, is a harsh critic of what he calls the "myth of progress."
"Probably the central story of our culture — which I think has replaced a lot of the religious stories that used to be at the heart of our culture — is the story of progress," Kingsnorth said in an interview with Emergence Magazine.
"One of the dangerous things about the story of progress is that we don't think it's a story. We think it's the truth," he said. But to continue to progress, we've been sapping our planet's resources without giving anything back. Now, we're seeing the fallout in the form of natural disasters and a lack of natural resources that will only worsen exponentially if climate change continues unchecked.
"We need new kinds of myths as a culture," Quaid said, "because the ones that we've had, that I grew up with, that there was endless progress and that had to do with technology, and that we were separate from nature — All of that is a story that we tell ourselves," she said. But she believes storytellers can be part of the change.
Storytellers determine "the kinds of stories we tell ourselves about our place in the world," she said, and stories shape "the kind of stories that we tell ourselves about what progress looks like." And of course, storytellers "[shape] people's imaginations in a way, because if you can't really imagine it, you can't work towards it."

When asked what some of these new stories and myths might look like, Quaid mentioned a change in the way we think about the place and purpose and humanity itself, a shift towards seeing ourselves as part of nature rather than separate from it. In a world where many of us are taught that we're above animals and nature, and that we must constantly make progress while extracting and accumulating as much as we can, that's an extreme shift — one that will take new languages and new narratives to actualize.
Some of the answers lie in looking outside of ourselves and our human ideas of what constitutes progress and looking to nature (and by proxy, deeper into ourselves). "Working to change the way we talk about the more-than-human world…It's difficult when we don't have the language and all of our structures are built against it," says Quaid.
But in the era of COVID-19, which has sparked radical shifts and doubts about the way our world is currently run, perhaps we have an opportunity to "wake up to the fact that we are all so interconnected and interdependent on each other," she said. "It's not a new idea, but it's something that's viscerally come to the surface for me."
Now that we can see how "our systems really aren't built to sustain or support that…not yet," as Quaid said, perhaps we can start working towards building a world that can actually sustain all of us.
Writing about climate change is, of course, no easy feat, but it can be immensely powerful. In another essay, Klingsworth describes writing as a form of magic or alchemy, which, in turn, is an almost religious path.
"Words can burn their readers through transformation into some strange new vision. They can cast a spell. They can summon things: ideas, notions, images, other worlds. Other beings," he says. "In times like these, we are all in the process of transformation, and so is the world around us. The Great Work, the magnum opus, is the work we are all engaged in, whether we know it or not."
In my interview with Quaid, we spoke about many of the people who we feel are telling the stories we need — Joanna Macy and her Work that Reconnects, the novel The Overstory, and the Indigenous peoples who have long practiced this wisdom and who are leading the way in the fight for our future.
With her plays about talking clams, her librettos about the morality of life itself, and her deep sensitivity to the nuances of living, Amanda Quaid is certainly doing her part to contribute to the Great Work of our lives and the new stories that will shape the collective futures of all life on Earth. This conversation is a window into her process.
Listen to the full conversation below:
Keep reading...
Show less
Mackenzie Scott's charitable giving has exposed how stingy and selfish Jeff Bezos has been in a time of tremendous need.
Back in June, a representative for Amazon CEO Jeff Bezos reached out to nonprofit Feeding America to determine whether they could effectively channel his philanthropy.
A network of hundreds of food banks, the organization was providing crucial aid to the tens of millions of Americans who were then out of work. And they apparently impressed Bezos enough that he cut them a check for $100 million.
The fact that this sum constituted around 0.07% of Bezos' wealth at the time — the equivalent of an average American family giving about $65 to charity — didn't seem to figure in most of the headlines praising the donation. He was widely lauded for his generosity.
But by the time Thanksgiving rolled around, millions of Americans had experienced food insecurity for the first time in their lives, and Jeff Bezos had added around $70 billion to his 2019 wealth. So it's kind of like he did a tiny fraction of what was needed while profiting immensely off the crisis that was causing these problems in the first place… Hmm.
But just in case the issue wasn't already obvious, Bezos' ex-wife, novelist Mackenzie Scott, just stepped up to show him what philanthropy is supposed to look like. On Tuesday night Scott announced that she had donated more than $4.1 billion to nearly 400 charities in recent months, focusing on areas and issues closely connected to the COVID pandemic.
MacKenzie Scott says gave more than $4 billion to charity amid pandemic www.youtube.com
Compared to her remaining wealth of around $55 billion, it's a relatively paltry sum. But compared to the charity Jeff Bezos has provided to those dealing with the worst financial impact of the pandemic, it seems shockingly adequate.

In a blog post entitled "384 Ways to Help" Scott discussed her data-driven philanthropy, and wrote, "This pandemic has been a wrecking ball in the lives of Americans already struggling ... Meanwhile, it has substantially increased the wealth of billionaires." None more so than her ex-husband.
This is hardly the first time Scott has publicly humiliated her ex. She set a precedent for doing just that when they got divorced and she absorbed nearly $40 billion in Amazon shares in the largest divorce settlement in history.
She continued that tradition back in July when she signed the Giving Pledge, promising to give at least half of her wealth to charity in her lifetime. Initiated by Warren Buffett and Bill and Melinda Gates, the Giving Pledge is a campaign to encourage the super-wealthy to put some portion of their vast hoards to good use. Jeff Bezos has yet to sign on…
That same month, she announced that she had already given away around $1.7 billion to 116 charities. But Scott's latest announcement truly highlights what a stingy, greedy man Jeff Bezos has been.
While Americans have been facing an unprecedented rent crisis — with tens of millions living under the threat of eviction, and at least $70 billion in unpaid household rent — Jeff Bezos was making that amount of money for himself alone. And unlike Scott, he has held onto the vast majority.
That's not to say that he's kept every dollar he's made. Back in February, Bezos pledged $10 billion to a fund to fight climate change, with around $800 million in grants given out so far.
But the incredibly wasteful business model of direct-to-consumer hyper-convenience that has allowed him to amass so much money is incompatible with a serious approach to climate change. And Bezos' pledge came around a month after it was revealed that Amazon had threatened to fire employees who were pushing for more environmentally sustainable business practices.
Prior to that scandal, Jeff Bezos was recognized as one of the least charitable of the world's real-life dragons — sitting smugly on his hoard of gold and saying things like, "The only way that I can see to deploy this much financial resource is by converting my Amazon winnings into space travel."
But just in case there was any doubt what kind of man Jeff Bezos really is, Mackenzie Scott has now exposed him more effectively than Saudi phone hackers (or his girlfriend's brother) ever could. In one dramatic move, she gave away more than six times as much as he has in 2020, despite having less than one third his wealth.
Scott has given away nearly $6 billion so far in 2020. That's around 10% of her wealth, meaning that Jeff Bezos would need to give away more than $17 billion in the next two weeks just to match her generosity.
In reality, of course, neither of them are doing enough. They should both give away enough money to no longer be billionaires, because the concept of a billionaire is a disgusting insult in any world where homelessness and hunger are still rampant.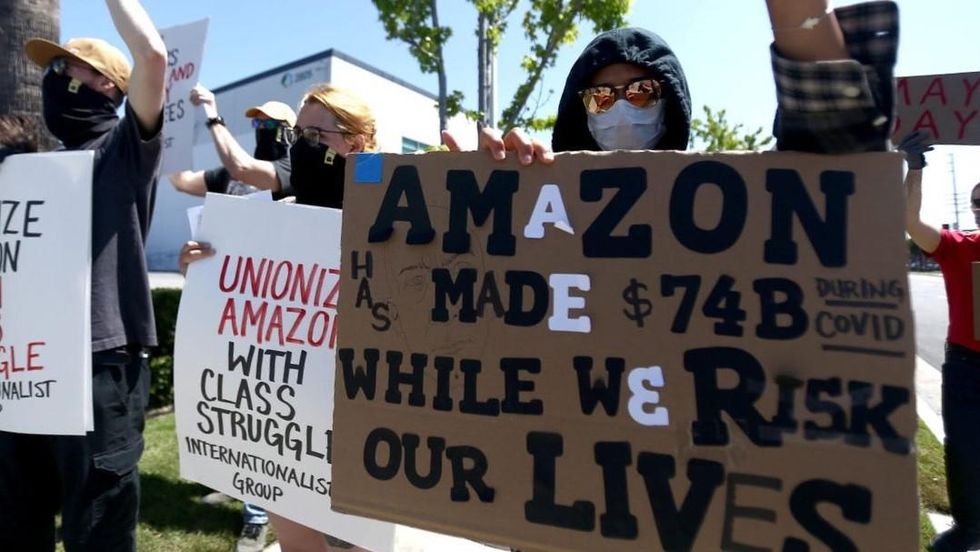 Amazon Workers striking in May
But what's even worse is that Jeff Bezos has amassed unheard-of riches by perfecting the very system of consumer capitalism that is ravaging the planet. What's even worse is that Amazon thrives while local businesses collapse around the country and wealth becomes consolidated in the hands of a few corporations. What's worse is the systematic way they squash efforts to unionize among their exploited workers.

What's even worse is a system of pro-billionaire propaganda, funded by corporate tax cuts, propagating the idea that the government's only role is to protect the interests of the wealthy. What's even worse than Jeff Bezos's failure to donate his wealth is a prevailing political discourse that treats the simultaneous growth of billionaires and homelessness as "meritocracy."
But, since Jeff Bezos is apparently incapable of feeling the shame that these practices should evoke in him, public humiliation is a nice consolation prize. So if Mackenzie Scott wants to continue absolving herself of wealth in gestures that undermine Amazon's pathetic PR bandaids, more power to her.
Keep reading...
Show less
Biden's new website is...nice.
It's been said many times: Leaving Trump behind feels like emerging from an abusive relationship, or perhaps renewing one's relationship with a former BFF (America) after she leaves her sh*tty man.
After all, Trump is a classic abuser. He gaslights, he lies, he cheats, and he is leaving behind an America with 200,000 people dead and more dying every day. He never admits his mistakes, creating a vicious cycle wherein he does something atrocious, gets a tan, and then shows up smiling with flowers (or in his case, a last-minute attempt to curry favor with the Black community by befriending several aging rappers).
Many Americans are still under his spell, and there's not much a lot of us can do about it. People in abusive relationships are often in denial about what's happening to them, and they often won't leave until they decide to. Shaming someone in an abusive relationship is rarely an effective way to get them out of it, as they've likely already been shamed many times.
Concerned friends and family can get into as many Facebook arguments with Trumpets as we want, but until they decide they deserve better and it's time to leave, there's really not too much we can do for them. All we can do is offer a safe place where they can run to, should they choose to escape. (Of course, we must remember that many Trumpers can be abusive as well).
Anyway, all this is to say that now we're finally kicking Trump out. America, we have decided to free ourselves. And we have the next few months to prepare for a new man to move in: Joseph Robinette Biden Jr.
Settling for Joe, Dreaming of Bernie
I know I'm not alone in saying that Joe Biden isn't my dream man. For a long time, I was hoping that Bernie Sanders would sweep me off my feet on an elderly white horse, a joint billowing from his hand. He would take me to the hospital where I would finally get my wisdom teeth removed for free thanks to Medicare For All, and then we would go to Jeff Bezos's house, demand a few billion dollars (just hand it over, Jeff, it'll save you a lot of time in court), and make a couple large donations to community organizers.
But alas, that was always a fantasy—and much like my childhood fantasy of dating Joe Jonas during his Camp Rock years, some things are simply not meant to be.
Now we have Joe Biden. I still don't know all that much about the man, relatively speaking, but I know he's not nearly as dangerous as Donald Trump. When I heard he was the nominee, I thought that if anything, he might just be a do-nothing type of politician who would have to be bullied by mass movements into taking any sort of action at all.
But at least, I hoped, he would clean up some of the mess Trump made during one of his many fits of rage. At least there would be no more 5 AM tweet storms. At least his gang of weird friends from Fox News would stop stealing from my fridge and destroying America's stature in the rest of the world's eyes.
But upon seeing Joe Biden's new website, I'm feeling something strange and unfamiliar. It's not quite butterflies, but it's close—perhaps the faint buzzing of the fly that ended Mike Pence.
The website looks...nice. It's been so long since a political platform showed up wearing a suit and holding flowers instead of brandishing a gun at me and threatening to demolish gay rights.

COVID-19
Scrolling through, I actually agree with most of what the website says. I mean, first of all, there's the COVID-19 plan. A COVID plan. A plan! It's not an Elizabeth Warren-level plan, sure, but it's still an actual plan with steps.

Trump had no plan. If anything, his plan was to keep golfing as he let COVID-19 keep raging across the country. States across the nation probably would've shut down again, over and over again each winter for years, because not every state is willing to just...let everyone catch COVID-19. This disease would have continued for another four years to forever. The death toll, the overcrowded hospitals…The nightmare would have gone on, and on, and on.

It's unclear as to whether Joe Biden will effectively stop COVID-19, but dammit, it's nice to know there is a plan–one that's comprised of actual words, to boot.
It's also incredibly relieving to hear someone say they will "ensure public health decisions are informed by public health professionals." This is like if you were dating some guy who's willing to let you lie on the couch bleeding out because he didn't feel like driving you to the ER, but then Joe Biden popped in and said the Uber is on its way. (Yeah, we can't quite expect affordable ambulances with a Biden healthcare plan, but I'll take what I can get).
Biden has promised to set up a Pandemic Testing Board and a U.S. Public Health Jobs Corps to mobilize community contract tracing. He's going to use the Defense Production Act. He's going to call on Congress to pass an emergency relief package and a "restart package" that helps businesses cover COVID-19 related costs. He's going to build infrastructure to prevent future pandemic threats. He's going to fund schools and small businesses.
And, incredibly, Biden's COVID-19 plan involves science. (How beautiful it is to hear that word: "science"...used correctly…)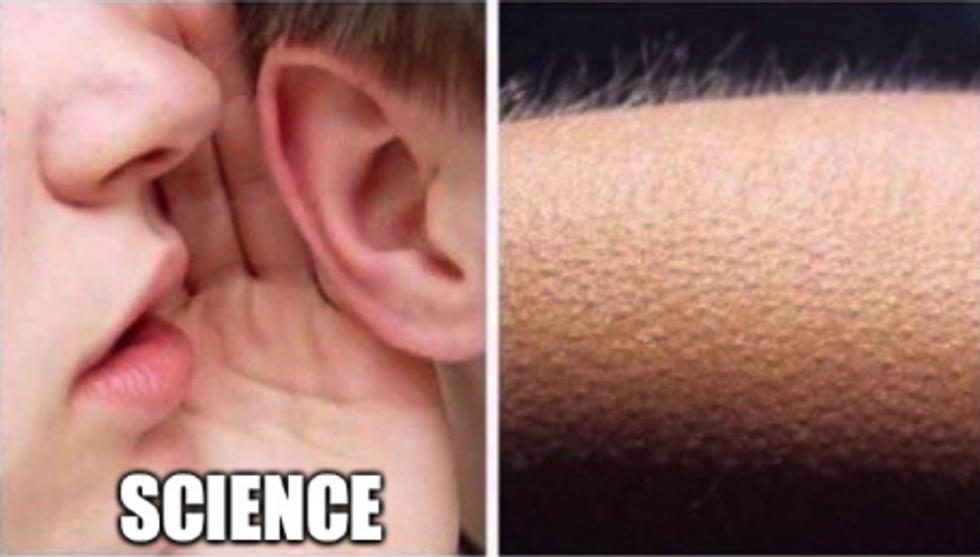 Climate Change
I've always had a type, and that type is musicians and/or climate activists. I didn't think Joe Biden was either, but his climate plan is music to my ears.
Biden knows climate change is an existential threat. He knows that the "current COVID-19 pandemic reminds us how profoundly the energy and environmental policy decisions of the past have failed communities" and "at this moment of profound crisis, we have the opportunity to build a more resilient, sustainable economy—one that will put the United States on an irreversible path to achieve net-zero emissions, economy-wide, by no later than 2050."
An irreversible path to net-zero emissions. Rejoining the Paris Climate Accord—and vamping them up. Creating millions of green jobs. Environmental Justice. Talk. Clean. Energy. To. Me.
True, these are fairly logical, necessary steps to that must be taken if we are to combat climate change, the paramount existential threat of our time, and it will take even more radical action to prevent irreparable destruction. It's sad that we have to celebrate someone doing the bare minimum, using basic logic, and practicing public decency, but here we are.
Maybe I've just gotten so used to preparing for hurricanes and wildfires and being treated like sh*t that I've lowered my expectations to subterranean bunker-levels. And maybe I am too naive.
It's probably naive to believe any of this will be possible or that any real change will happen with Biden. But given that the ex-president mostly communicated through all-caps rage-tweets, this is a nice change.
Economic Recovery
Biden also has an economic recovery plan. "The pandemic has also laid bare some unacceptable truths. Even before COVID-19, too many families were struggling to make ends meet and too many parents were worried about the economic future for their children," writes whoever wrote the copy for Biden's website.
"Laid bare": That's the phrase that every single one of my favorite journalists has used to describe the effects of COVID-19. Biden steals phrases from reputable journalists rather than from cracked-out Floridian moguls paying for rooms at Mar-A-Lago in order to gain favors from the president.
Wow, my expectations are really, really, really low. I mean, goddammit, the ex-president has failed at countless business ventures and has been bailed out time and time again. He's like Pete Davidson in this recent SNL sketch, who claims he's working on a "start-up" only for you to later find out that his "angel investor" is ghosting him.
Visiting Grandma - SNL www.youtube.com
Trump is a criminal who didn't even pay his taxes. He's literally Keith from this other SNL sketch (a not-so-subtle metaphor for Trump), and America is Ego Nwodim, somehow considering actually taking him back (until the cops show up).

Take Me Back - SNL www.youtube.com
Biden's economic plan promises to "provide state, local, and tribal governments with the aid they need so educators, firefighters, and other essential workers aren't being laid off." The plan also promises to "mobilize American talent and heart to build a 21st century caregiving and education workforce." He included carework and education—traditionally undervalued and under-recognized forms of essential work—in his economic plan.

Hopefully, with Jill Biden at the helm rather than Betsy DeVos, America's education and caregiving systems will improve so that more people of all genders have equal opportunities to ascend to the highest office in the land.
At the very, very least, there will be a dog back in the White House.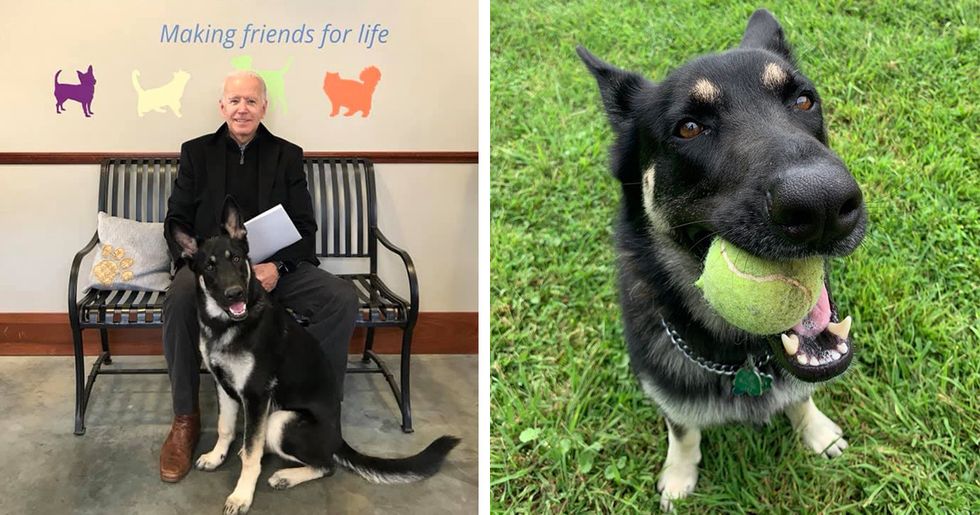 Joe Biden and his shelter dog, Champmymodernmet.com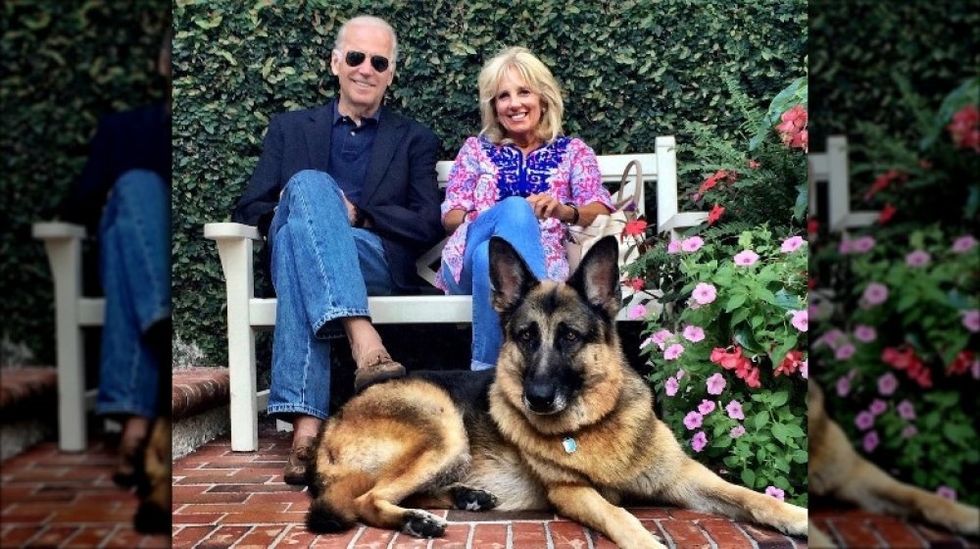 Joe and Jill Biden with their German Shepard, MajorFashion Model Secret
Racial Equality
Biden also has a plan to "mobilize across the board to advance racial equity in America." That's right: No more creepy, covert-but-kind-of-overt white supremacy implicit in the presidential platform.
Now, we have Kamala Harris, a Black and South Asian woman, as our VP! Sure, she might have a background in criminal prosecution, and representation doesn't equal reparations, but you know...it's still way, way better than that really disturbing "stand back and stand by" stuff we dealt with for four years.
There's an entire section on racial equality. There's a plan for police reform. We're doing the bare minimum rather than regressing at an exponential pace.
Let's not forget that racism is deeply ingrained in the fabric of America, and white people overwhelmingly voted for Trump. Also, this kind of change has been promised before, and we have been let down many times. There's a lot of work to do.
We aren't out of the woods yet—far from it. But for this one glowing weekend, the dense pines cleared and we saw a sky full of shooting stars. It didn't actually help anyone pay for their kids' food or clear their astronomical healthcare bills; but it's a promise and a chance to imagine that one day, we might make it out.
America Deserves Better
Joe Biden is not the patron saint of hope, equality, and change. In all honesty, it completely makes sense that a lot of people all along the political spectrum aren't excited about him. He's not exactly the guy of our dreams. And America does deserve better.
But hopefully, Joe Biden will be there over the next few years as we bind our wounds and heal the burns from our terrible spray tans. He'll give us time to get a couple makeovers, a la Tutar in the Borat sequel. He'll help us rebuild, and hopefully next time the election rolls around, we'll have found our footing as a strong, powerful nation that doesn't need a man at all.
Of course, many powerful villains remain. There's America's resident zombie-ghoul, Mitch McConnell, who has long been blocking Democrats' every effort to make real change. Even though the man is rotting from the inside out—perhaps his hatred has at last calcified into a visible plague?—we haven't been able to exorcise that particular demon yet. (Kentucky...we'll be ready to elect Charles Booker when you need us, but we can't help you until you help yourself).
And in truth, we will never heal until we learn to love ourselves, America. We can't rely on another old white man to fix us. We have to turn to our people, our communities, and mass movements. We have to decide what we want our future to look like, and go get it.
It's clear that it will take a lot more than a president-elect to wring out some of America's lingering, ongoing traumas. We'll need therapy, certainly, and a lot of it. Hopefully all those freshly legalized drugs will help with our collective depression.
At some point, we'll actually have to engage with the deep traumas and early childhood wounds that led us into these kinds of relationships in the first place. We have to confront the mistakes of our forefathers and foremothers, the slavery and colonization and colonialism that created the attachment issues and socio-psychological defects that drew us to men like Trump. We have to be the ones that change our lives in order to change our nation.
But that's a tall order, and we're all tired. So for now, I'm just going to keep gazing lovingly at the work of Biden's excellent web designer, who clearly knows how to pick a font and lay out an escape plan. I look forward to being mildly uninspired by Biden's administrative staff picks rather than openly horrified.
It's been a terrible time, America. For many of us, life has always been this way. But it's late-stage 2020; the status quo is no more, and anything is possible. If you told me I'd be writing a thirsty essay about Joe Biden's website in February 2020 I would have thrown my beer in your face then gone back to my awesome free concert (just kidding, I probably would've been right here on the Internet protected by net neutrality, but I digress).
Yes, I am pretty desperate right now, and I don't think I'm alone in that. But I have faith in the organizers that have been working tirelessly to get us here, and I believe if we keep fighting, organizing, and working towards change, we'll see a new world come to be.
For now, love is love, so I will continue to feel vaguely attracted to this website until climate change ends or I finally get my goddamned stimulus check.
Keep reading...
Show less
An aging naturalist got to a million followers faster than America's A-list sweetheart.
How many 94-year-olds do you follow on Instagram?
If the answer is less than one, then you are not one of the 4.7 million people who have already followed David Attenborough since he joined the platform last week.
Even more impressive, it took the acclaimed naturalist and television presented just 4 hours and 44 minutes to reach 1 million followers. That's the fastest anyone has gotten that many followers—a full 32 minutes faster than Jennifer Aniston achieved the same feat back in October of 2019—and she inaugurated her account with a full reunion photo of the Friends cast.
So how did a British broadcaster who has been stoically narrating nature documentaries for the entirety of recorded history manage to beat an A-list celebrity at what he calls "this new way of communication?" The answer is surprisingly simple: 1) By being David Attenborough and 2) By having something important to say.
The first part is just that everyone who knows who David Attenborough is loves David Attenborough. He may not be nearly as famous or recognizable as Jennifer Aniston, and he doesn't make headlines every time he comes within 10 miles of Brad Pitt, but there may not be another living figure who inspires as much warm devotion as David Attenborough—don't be surprised if he laps Bella Thorne's OnlyFans record next.

In the UK he is widely considered a national treasure—and with good reason. the rich tones of his soothing baritone have become synonymous with the natural world for millions who have watched the canonical versions of BBC's Life (Oprah who?) and Planet Earth (Sigourney what?) among countless other classic documentaries.
He has been working in broadcasting for more than 60 years—traveling the world to document its natural splendor. But as interesting as that work is, if you wouldn't gladly listen to him reading oatmeal recipes for at least that long, you need to have your ears checked.
His voice, along with his regal bearing when he appears on screen—bobbing majestically along with his words—lend him a tremendous talent for making information about the natural world both engaging and digestible. While his older brother, Richard Attenborough, won two Academy awards for his 1982 film Ghandi, in terms of legacy even that achievement can't compete with the refined power of David Attenborough's voice.
But—as Spider-Man's uncle famously said, "With great power comes great responsibility," and David Attenborough is doing his best to put his talents to good use with the time he has left. He joined Instagram not to invite his devoted fans to flock to him but to raise alarms about the state of our world.
Because with all his travels—to all seven continents on this little blue marble—he has witnessed the devastation that's already taking place: a devastation which will only accelerate unless we act quickly and painfully to stop it. Rather than continuing to deny that our gangrenous limb is killing us, it's past time to cut it off and begin the healing process.

If we don't take that kind of drastic measure to counter the political power of industry to continue destroying our planet, what we face is a world of rapidly worsening wildfires (yes, even worse than this year), droughts, hurricanes, crop failures, species extinctions, migrant crises, infectious disease events (again, even worse than this year), and resource wars.
While it's unlikely that Attenborough will live to see the worst of what's coming, he recognizes the existential threat that man-made climate change represents to the natural world, our civilization, and even our species, and he doesn't want to let any opportunity to address that problem go to waste.
That's why he got on Instagram in the days before the premiere of his new documentary, A Life on Our Planet. He has an important message to share. It's a message he recently delivered to Prince William, and it turns out it's a message that millions of others want to hear—as dark as it is.
David Attenborough: A Life on Our Planet | Official Trailer | Netflix www.youtube.com
David Attenborough has seen the horrifying ravages that human industry is wreaking on the natural world—the world that sustains us. He knows where our current trajectory leads—disaster—and he believes that he can see another path. In A Life on Our Planet, which will premiere on Netflix on October 4th, he lays everything out for us.

He's offering us his "vision for the future." All we need to do is listen and act. Sadly, if we continue voting for nationalist, pro-industry leaders like Donald Trump, Boris Johnson, Xi Jinping, and Jair Bolsonaro, we will never achieve the will to act on the global scale necessary to avoid a climate cataclysm that will cripple every nation on Earth.
So, after you watch Life on Our Planet—and allow Attenborough's soothing tones to make the whole disastrous mess seem a lot more real and little less overwhelming—please don't forget to vote.
Keep reading...
Show less
What does hope look like if our society is incapable of facing reality?
A 2020 study published in the journal Nature Climate Change shows that polar ice sheets are melting in line with "worst-case scenario" climate models.
In Antarctica and Greenland, melting ice sheets have been dumping hundreds of billions of tons of fresh water into the ocean each year, at a rate up to three times as fast as in recent decades.
This process not only raises water levels—causing dramatic increases in catastrophic storm surges—it alters the salinity, current dynamics, and acidity of the oceans in ways that have dire ecological and meteorological impacts. It is guaranteed to produce both predictable crises and unforeseen catastrophes. And nobody cares.
Why would they? We're in the midst of a global pandemic that is triggering an unprecedented economic crisis. It has caused food insecurity to affect millions more families than were already struggling, and may soon result in tens of millions of Americans losing their homes.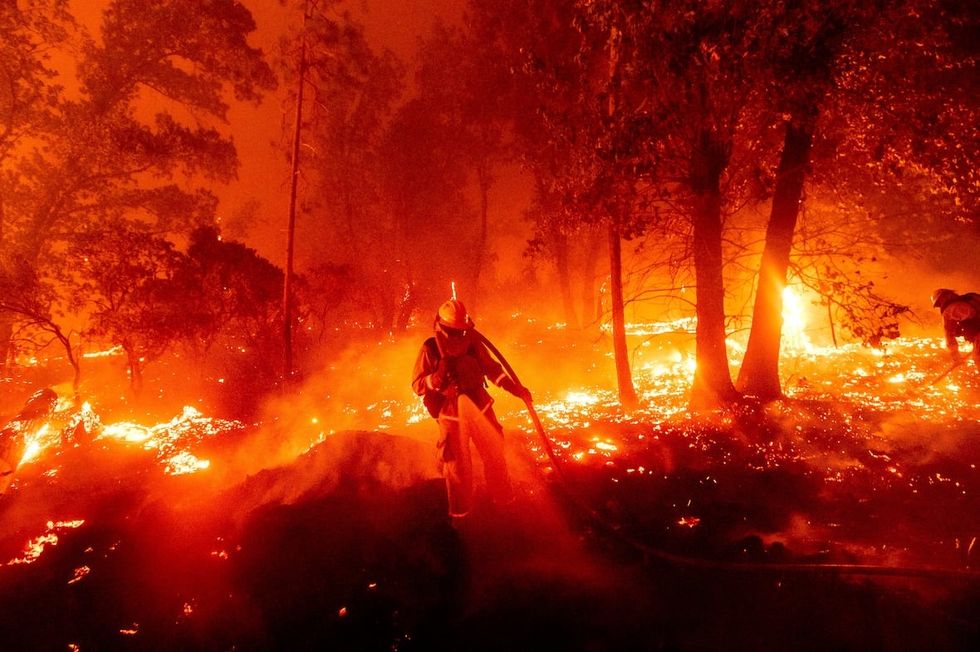 On top of that, California has faced another devastating wildfire season (including another "gender-reveal" gone wrong) amid a record-breaking heatwave and the now-familiar drought conditions, all while a tumultuous hurricane season in the Atlantic is producing powerful storms at a faster rate than in any year since we started keeping track.

The world—and the US in particular—has more pressing concerns than melting ice in 2020, don't we? Well, considering the fact that the "worst-case scenario" for climate change could bring about the collapse of civilization within 30 years, no we really don't.
We can't make the changes to avoid that scenario overnight. It will take years of change that will need to be done sooner, rather than later. Oh, and now scientists are advising the need for a new model of a worse worst-case scenario...
The COVID-19 pandemic has wreaked unforeseen havoc on our society, but it's really just a snapshot of the kind of devastation that climate change will inevitably bring about without the kind of transformational action that is beginning to seem impossible.
Congress can't agree to help people keep their homes during an unprecedented unemployment crisis. What chance do we have that they will stand up to lobbyists and big-business donors to restructure our economy into a sustainable model? Does it even matter how big the threat is? Does it matter that everything we're facing is only going to get worse?
Because not only will hurricanes, droughts, floods, heat waves, food shortages, wildfires, gradually get worse and worse as a result of climate change—until the crises of 2020 become a fond memory—but infectious diseases are likely to reach epidemic and pandemic levels more frequently.
With traditional food sources destroyed by weather events and the changing oceans—along with animals migrating due to deforestation—people will be exposed to more exotic animals, and non-human viruses will have more opportunity to make the leap.
With more and more heat waves reaching and exceeding body temperature for days at a time, microbes that can't currently survive inside our bodies will begin adapting into dangerous pathogens.
And with tens of millions of people being displaced by catastrophic weather events and conflicts arising from scarce resources—most of them forced into crowded conditions—infectious diseases new and old will spread more rapidly.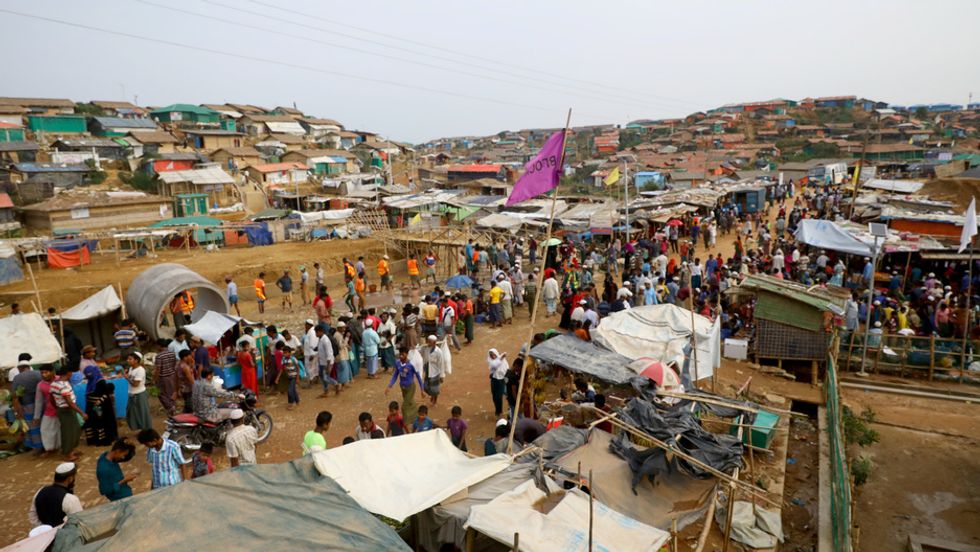 We will perpetually be dealing with some new epidemic. Some urgent disaster is always going to occupy our attention and energy while we continue to ignore the underlying, apocalyptic cause. And all of these problems will only make it easier for the rising strain of global fascism to demonize outsiders, and further isolate nations from the kind of international cooperation we so desperately need.

At what point are we expecting to have fewer "pressing concerns" than we have right now? In what idyllic future will we have the peace and security to start focusing on addressing the hazy, foundational threat that is likely to destabilize everything we know?
As a pandemic rages, America's two-parties continue to be incapable of cooperating to help the American people—of making the other side look good. Our aging, wealthy ruling class doesn't take threats facing younger generations and the working class seriously. And this familiar rot of a two-party stalemate is even more evident in the challenge of forming a consensus behind pragmatic, necessary action like Alexandria Ocasio Cortez's Green New Deal.
Instead of backing it, and favoring the long-term habitability of our only planet, people prefer to scoff at an imagined plan to steal their hamburgers. And corporate-owned media empires are happy to serve up the team-sports drama of it all while the end of everything we know rushes toward us. Meanwhile, the Pentagon is preparing for global societal destabilization.
The dynamics of American "democracy" under capitalism seem to be wholly incapable of saving us, and the structure of the military industrial complex will no doubt view the crises that arise from displaced people and global unrest as a series of nails to be handled by their ever-more-sophisticated hammers.
There is a famous quote of uncertain attribution that says that, within our system, "it is easier to imagine an end to the world than an end to capitalism." It's becoming increasingly easy to see that end to the world looming, while the armor protecting the forces of for-profit ecological ruination show no signs of weakening.
In astrophysics there is a concept known as the Fermi Paradox that questions why—if the conditions for producing intelligent life are not exceedingly rare—we do not see any evidence of other civilizations spread across the vastness of space.
The Fermi Paradox II — Solutions and Ideas – Where Are All The Aliens? www.youtube.com
There are various responses that may explain that observation, but among the most popular is the idea that civilizations just don't last. The forces of progress that allow creatures to develop technology like radio transmitters and spacecraft may lead inevitably to world-ending weapons or climate collapse.

Whether that's true throughout the universe, it seems increasingly to be the case for the only confirmed civilization in the Milky Way. For all our amazing advances, we remain stupid apes,—incapable of planning beyond next month, and constantly discovering new and clever ways to kill ourselves.
It's customary—in an article this dark—to end on a hopeful note. That makes sense. It's generally considered rude to actively ruin a stranger's day. But isn't it also rude to lie? Because I'm not convinced that there is any real hope for our civilization—not in the long run.
Sure, we can find some ways to delay and mitigate the damage. Pointing to 2050 as the likely end is probably overly pessimistic. If we do a surprisingly good job of adapting, legislating, and cooperating—and also get very lucky—we may have a couple good generations left.
In that case, most of the people reading this are likely to be dead of all the familiar causes before the total collapse of world order. Only our children or grandchildren—and however many generations after—will be forced to face the immense suffering of a new dark age.
That is the sad shade of fate that we should all be fighting for with desperate passion—because it's a hair shy of pure black void. Better than that, at this point, seems to be in the realm of fantasy.
We've already done so much irreversible harm. And the path we're on is so resistant to change. It would be wonderful—joyous—to be proven wrong, but the society and the way of life we know can't last. And there's no indication we'll be able to replace it in time.
Maybe our only realistic hope is to drastically lower our expectations. Short of saving the world as we know it, maybe we can keep portions of the planet habitable—maybe an enclave in the region around Colorado and another in the Mongolian steppe will hang onto less-than-hellish conditions. Maybe we need to start planning for the post-apocalypse.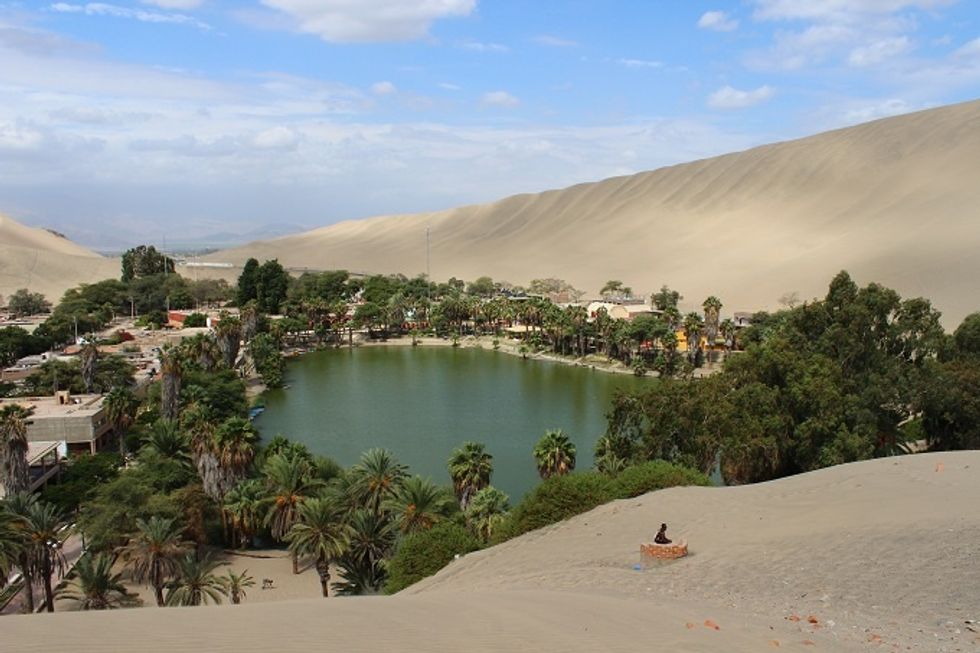 With preparation, little pockets around the world could maintain a lifestyle that's worth living for some sizable remainder of humankind—even if they have to do without most of the luxuries afforded by global stability—the electronics, transportation, medicines, supply chains, entertainment, and communication we take for granted.

A return to something closer to pre-industrial conditions is likely for survivors of the collapse, but maybe—for some fraction of the population—life won't become a living hell.
And maybe, somewhere out in the universe, there is an some alien species that has managed to survive the pitfalls of progress and achieve a sustainable, equitable, idyllic life. Maybe they're watching us, waiting to see how we handle ourselves—to see if we learn our lesson from this impending apocalypse—before they swoop in and share their utopia.
If we peer far enough into distant uncertainty, it's possible to conceive of something better after the end of Western Civilization—after likely billions of deaths and immeasurable suffering.
Does that count as hope? Is that enough to spit up the black pill of despair?
Earth Week NYC saw climate activists deftly pivoting from IRL to digital actions. Here's a look at how they did it.
Earth Week NYC wasn't supposed to look this way.
Just a month ago, climate activists were planning a massive in-person rally and a three-day sequence of curated protests in honor of the 50th anniversary of the first Earth Day. Earth Week NYC was meant to recapture the spirit of the first Earth Day celebrations, which took place in 1970 and brought nearly 20 million Americans into the streets, while uplifting the movement's modern and more intersectional demands.
Instead, most of the climate movement's energetic young activists—like most of the rest of us should be—are at home in their houses. But that hasn't stopped them from organizing. Over the past few weeks, a three-day event that was supposed to pull thousands into the streets shifted almost entirely online.
"The Earth Week NYC coalition switched to a fully digital strategy almost overnight once large gatherings were banned in the city," said Ted Bogin, a member of the youth-led climate organization Sunrise NYC. "We built a website, earthweeknyc.com, that allows anyone to fight for climate justice at home with tools and scripts for calling and emailing our elected representatives, among other ways."
Events and actions moved to Instagram, Facebook Live, Slack, and Zoom. In-person office visits turned into email blasts and telephone calls. In preparation, climate activists hosted digital community care workshops, drafted emails, and crafted mutual aid resources and teach-ins.
The themes of each day remained in place as planned. Earth Week NYC consisted of three themed days, each dedicated to a different aspect of climate action. The first day's theme was "Strike," the second day's was "Divest," and the third was "Vote."
On the first day, Earth Day, young organizers took to social media to post images of themselves holding signs, calling for a Green New Deal, a People's Bailout, and other climate and social justice actions. Some activists even banded together for a socially distanced banner drop in New York City.
On the second day, activists lobbied with Stop the Money Pipeline, an organization dedicated to ending Wall Street's support of fossil fuels. Participants were encouraged to make calls to the CEOs of BlackRock, JP Morgan, Chase, and Liberty Mutual, using scripts to request fossil fuel divestment. (One terrifying statistic kept appearing: Wall Street has poured $1.9 trillion into the fossil fuel industry since 2015).
On the third day, which centered around voting, lobbying, and teach-ins, the NYC coalition sent out toolkits full of lesson plans for teachers, asked people to fill out their censuses, and called on everyone to reach out to their representatives and to encourage their friends to vote for climate champions. Championed in part by Fridays for Future, the organization first inspired by Greta Thunberg, Friday's actions (like the rest of the week's) focused on the intersections between social justice and climate change and the vital importance of local, indigenous-led, people-powered action.

All of it was supplemented by a flurry of online activities, including a three-day, all-day live broadcast hosted by the Future Coalition. Featuring politicians like Elizabeth Warren and John Kerry, musicians like Jason Mraz, and hundreds of other superstar activists and musicians, the livestream was a rousing marathon, a display of unity in the face of a brutal pandemic and the looming reality of the climate crisis.
Despite activists' best efforts, the week still suffered from a sense of inevitable disjointedness. But the climate crisis, with all its intersecting forces and causes and consequences, has never been an easy or cohesive thing to fight.
Back in the 1970s, activists were fighting against visible consequences of environmental degradation—rivers in flame, birds falling from the sky—but now we fight against a more invisible but much more insidious monster: rising global temperatures and the inequity that created and continues to perpetuate them.
Still, today's climate activists are used to shifting strategies on a dime and fighting rampant misinformation as well as apathy and inequality.
"Our demands include a people's bailout, prioritizing and funding those who have been hit first and worst by COVID-19 and the current recession, including, but not limited to, Black, Latinx, Indigenous, and low-income communities," reads an op-ed by the Youth Climate Strike Coalition, published last month in Teen Vogue. Additional demands include a Green New Deal that transitions the economy to 100% clean energy by 2030 and the return of stolen Indigenous lands.
Careful not to praise clearing skies or temporarily lowered pollution, the modern climate movement is dedicated to addressing environmental racism and large-scale problems head-on. Gone are the days of recycling and individual guilt. Instead, the modern movement is about collective action in the face of global tragedy.
The climate movement is all about the intersections that tie all things together—the land, the people, the economy, and even the digital world. In a way, perhaps the modern climate movement is uniquely well-suited to online action. "As one of the social media coordinators for the Sunrise NYC hub, I've seen our channels swell in importance and reach as people isolated in their homes connect with us digitally," said Jon Kirsch, an organizer with Sunrise NYC. "It's been tremendously exciting seeing Earth Week NYC take shape the past few months." Perhaps the digital world, which thrives on connection, is an ideal vehicle for the modern climate movement.
Regardless, the movement will not be giving up anytime soon. Populist activists have always been up against shadowy, malicious powers, winning seemingly impossible battles and fighting for justice in the short and long term. Now, more than ever, most agree that change is imperative.
"New Yorkers have made their demands for Climate Justice heard, and the fight will continue on (digitally for now) after Earth Week," said Bluedorn. "Fighting for Climate Justice is more important in this moment than ever, as we fight to reimagine what a more just and equitable world can look like."
For more information and to get involved with the movement, visit https://www.earthweeknyc.com.
What can nature teach us about responding to two massive crises?
The mycelium is a type of fungi that thrives on decomposition.
Spores germinate and multiply, forming mushrooms that absorb nutrients and swallowing dead plants, devouring toxins and fostering the growth of new life. It's essentially the earth's life support system, the embodiment of regeneration.
What we need now is life support, and a mycelium of relief—a multifaceted plan that understands and utilizes our interconnectedness, which could save us or that could drive us to extinction. But one thing's for certain: Our divisions are killing us. We need to let the systems that no longer serve us decompose so that new realities can come to light.
Today, though, many of us are facing a peculiar polarity. We're isolated because of a pandemic that threatens all of humanity. Yet we have failed to rally together to fight it, and if anything, political divisions have deepened in recent weeks.
We've also failed to rally around another existential threat, a parallel—and far more severe—crisis that's been bubbling under the surface of our reality for decades. The climate crisis will wreak far more havoc than the virus has, costing many more lives and changing our world on a much vaster scale. It's already contributing to rising sea levels that are flooding cities. You can see it manifesting in the wildfires that smeared California and Australia these past few years, in the tsunami that eviscerated Japan in 2011, in the bad air quality that's decimating the lungs of people living in crowded cities, and in the waves of refugees fleeing conflicts sparked by droughts and other disasters. If a climate-related disaster were to hit an area affected by COVID-19 or another pandemic, the results would be apocalyptic beyond measure.
Neither COVID or climate have easy, immediate solutions, which is part of what makes them such vast, slippery issues. Both could, of course, be solved by scientific miracles—a vaccine or a superbly effective fossil-fuel devourer—but since we can't count on those inventions, then we have to rely instead on solutions that are much more difficult to define.
We have to rely on each other, and on policies that support our most vulnerable populations as well as our most powerful. Be it a virus or a wildfire, climate change and coronavirus do far more harm to frontline communities than they affect people who can work from home or who can live off their savings. While half of the population rests on their couches, another half scrounges to eat or pulls themselves off to another brutal shift at a grocery store or in a hospital. The coronavirus crisis has exposed the brutal divisions of American society, which allow some people to safely isolate while others face extreme poverty and instability.
These divisions are largely consequences of neoliberal capitalism, a driving force behind climate change. "Let's not lose sight of the root cause of this crisis: rampant capitalism. Capitalism has steamrolled this planet and its organisms, gouging out mountains, overexploiting fish stocks, and burning fossil fuels to power the maniacal pursuit of growth and enrich a fraction of humanity," writes Matt Simon. "Since 1988, 100 corporations have been responsible for 70 percent of greenhouse gas emissions."
No wonder the Earth is collapsing under our weight. But the solutions to coronavirus and climate change may just be intertwined, part of the same web of regeneration and redistribution that could lift us up and off of the edge of this cliff.
One such solution is outlined in the People's Bailout, a relief and recovery package designed by over 800 activist groups. The People's Bailout demands that Congress commit to five steps during their efforts to provide COVID-19 relief:
1. Health is the top priority, for all people, with no exceptions
2. Economic relief must be provided directly to the people
3. Rescue workers and communities, not corporate executives
4. Make a downpayment on a regenerative economy while preventing future crises
5. Protect our democratic process while protecting each other
In a world where the actual stimulus package that Congress passed provided $3 trillion of relief to major corporations (a check three times the size of Joe Biden's climate plan), all this seems far away.
But this is America, and this is humanity, and this is life, which should be an impossibility in itself. Despite our many mistakes, we have always built impossible things. We have created glorious temples and magnificent skyscrapers; we criss-crossed the world with roads; we sent men to the moon. We may not always act ethically or responsibly, but we have the power to build and we have the power to grow.
Now we are being forced to change. We have the choice to build a world that can sustain itself—for the good of not only the planet, but for the good of our own world, our own economies, our own selves.
We need plans that erode poverty and pollution and disease and convert them into new, creative solutions. Plans that start from below, from inside, from underground, from the communities that need them most, and that grow up and out towards the light. An alchemy of release and rebirth, starting from the soil and the sadness of isolation, upwards and outwards and eventually back outside, towards a future truly worth fighting for.
We need to have faith, even though it all seems impossible—because what's the alternative?
We can create a future of open fields and breathable air, of wind turbines and monthly checks that land like clockwork in our bank accounts, of fewer private jets and more bullet trains. That future seems further and further away with each devastating headline and each rising degree.
That the Earth exists at all—that we broke through the darkness, that some spore broke into the shape of life—is an impossibility in itself. Within each of us there is a longing to survive, to connect, and to heal.
In her book Parable of the Sower, Octavia Butler writes, "God is change." This pandemic has shown us that everything can change on a dime. Now the question is: What kind of change do we want? What are we choosing to worship during this time? And what role can each of us play in creating it?