Earth Week NYC saw climate activists deftly pivoting from IRL to digital actions. Here's a look at how they did it.
Earth Week NYC wasn't supposed to look this way.
Just a month ago, climate activists were planning a massive in-person rally and a three-day sequence of curated protests in honor of the 50th anniversary of the first Earth Day. Earth Week NYC was meant to recapture the spirit of the first Earth Day celebrations, which took place in 1970 and brought nearly 20 million Americans into the streets, while uplifting the movement's modern and more intersectional demands.
Instead, most of the climate movement's energetic young activists—like most of the rest of us should be—are at home in their houses. But that hasn't stopped them from organizing. Over the past few weeks, a three-day event that was supposed to pull thousands into the streets shifted almost entirely online.
"The Earth Week NYC coalition switched to a fully digital strategy almost overnight once large gatherings were banned in the city," said Ted Bogin, a member of the youth-led climate organization Sunrise NYC. "We built a website, earthweeknyc.com, that allows anyone to fight for climate justice at home with tools and scripts for calling and emailing our elected representatives, among other ways."
Events and actions moved to Instagram, Facebook Live, Slack, and Zoom. In-person office visits turned into email blasts and telephone calls. In preparation, climate activists hosted digital community care workshops, drafted emails, and crafted mutual aid resources and teach-ins.
The themes of each day remained in place as planned. Earth Week NYC consisted of three themed days, each dedicated to a different aspect of climate action. The first day's theme was "Strike," the second day's was "Divest," and the third was "Vote."
On the first day, Earth Day, young organizers took to social media to post images of themselves holding signs, calling for a Green New Deal, a People's Bailout, and other climate and social justice actions. Some activists even banded together for a socially distanced banner drop in New York City.
On the second day, activists lobbied with Stop the Money Pipeline, an organization dedicated to ending Wall Street's support of fossil fuels. Participants were encouraged to make calls to the CEOs of BlackRock, JP Morgan, Chase, and Liberty Mutual, using scripts to request fossil fuel divestment. (One terrifying statistic kept appearing: Wall Street has poured $1.9 trillion into the fossil fuel industry since 2015).
On the third day, which centered around voting, lobbying, and teach-ins, the NYC coalition sent out toolkits full of lesson plans for teachers, asked people to fill out their censuses, and called on everyone to reach out to their representatives and to encourage their friends to vote for climate champions. Championed in part by Fridays for Future, the organization first inspired by Greta Thunberg, Friday's actions (like the rest of the week's) focused on the intersections between social justice and climate change and the vital importance of local, indigenous-led, people-powered action.

All of it was supplemented by a flurry of online activities, including a three-day, all-day live broadcast hosted by the Future Coalition. Featuring politicians like Elizabeth Warren and John Kerry, musicians like Jason Mraz, and hundreds of other superstar activists and musicians, the livestream was a rousing marathon, a display of unity in the face of a brutal pandemic and the looming reality of the climate crisis.
Despite activists' best efforts, the week still suffered from a sense of inevitable disjointedness. But the climate crisis, with all its intersecting forces and causes and consequences, has never been an easy or cohesive thing to fight.
Back in the 1970s, activists were fighting against visible consequences of environmental degradation—rivers in flame, birds falling from the sky—but now we fight against a more invisible but much more insidious monster: rising global temperatures and the inequity that created and continues to perpetuate them.
Still, today's climate activists are used to shifting strategies on a dime and fighting rampant misinformation as well as apathy and inequality.
"Our demands include a people's bailout, prioritizing and funding those who have been hit first and worst by COVID-19 and the current recession, including, but not limited to, Black, Latinx, Indigenous, and low-income communities," reads an op-ed by the Youth Climate Strike Coalition, published last month in Teen Vogue. Additional demands include a Green New Deal that transitions the economy to 100% clean energy by 2030 and the return of stolen Indigenous lands.
Careful not to praise clearing skies or temporarily lowered pollution, the modern climate movement is dedicated to addressing environmental racism and large-scale problems head-on. Gone are the days of recycling and individual guilt. Instead, the modern movement is about collective action in the face of global tragedy.
The climate movement is all about the intersections that tie all things together—the land, the people, the economy, and even the digital world. In a way, perhaps the modern climate movement is uniquely well-suited to online action. "As one of the social media coordinators for the Sunrise NYC hub, I've seen our channels swell in importance and reach as people isolated in their homes connect with us digitally," said Jon Kirsch, an organizer with Sunrise NYC. "It's been tremendously exciting seeing Earth Week NYC take shape the past few months." Perhaps the digital world, which thrives on connection, is an ideal vehicle for the modern climate movement.
Regardless, the movement will not be giving up anytime soon. Populist activists have always been up against shadowy, malicious powers, winning seemingly impossible battles and fighting for justice in the short and long term. Now, more than ever, most agree that change is imperative.
"New Yorkers have made their demands for Climate Justice heard, and the fight will continue on (digitally for now) after Earth Week," said Bluedorn. "Fighting for Climate Justice is more important in this moment than ever, as we fight to reimagine what a more just and equitable world can look like."
For more information and to get involved with the movement, visit https://www.earthweeknyc.com.
What can nature teach us about responding to two massive crises?
The mycelium is a type of fungi that thrives on decomposition.
Spores germinate and multiply, forming mushrooms that absorb nutrients and swallowing dead plants, devouring toxins and fostering the growth of new life. It's essentially the earth's life support system, the embodiment of regeneration.
What we need now is life support, and a mycelium of relief—a multifaceted plan that understands and utilizes our interconnectedness, which could save us or that could drive us to extinction. But one thing's for certain: Our divisions are killing us. We need to let the systems that no longer serve us decompose so that new realities can come to light.
Today, though, many of us are facing a peculiar polarity. We're isolated because of a pandemic that threatens all of humanity. Yet we have failed to rally together to fight it, and if anything, political divisions have deepened in recent weeks.
We've also failed to rally around another existential threat, a parallel—and far more severe—crisis that's been bubbling under the surface of our reality for decades. The climate crisis will wreak far more havoc than the virus has, costing many more lives and changing our world on a much vaster scale. It's already contributing to rising sea levels that are flooding cities. You can see it manifesting in the wildfires that smeared California and Australia these past few years, in the tsunami that eviscerated Japan in 2011, in the bad air quality that's decimating the lungs of people living in crowded cities, and in the waves of refugees fleeing conflicts sparked by droughts and other disasters. If a climate-related disaster were to hit an area affected by COVID-19 or another pandemic, the results would be apocalyptic beyond measure.
Neither COVID or climate have easy, immediate solutions, which is part of what makes them such vast, slippery issues. Both could, of course, be solved by scientific miracles—a vaccine or a superbly effective fossil-fuel devourer—but since we can't count on those inventions, then we have to rely instead on solutions that are much more difficult to define.
We have to rely on each other, and on policies that support our most vulnerable populations as well as our most powerful. Be it a virus or a wildfire, climate change and coronavirus do far more harm to frontline communities than they affect people who can work from home or who can live off their savings. While half of the population rests on their couches, another half scrounges to eat or pulls themselves off to another brutal shift at a grocery store or in a hospital. The coronavirus crisis has exposed the brutal divisions of American society, which allow some people to safely isolate while others face extreme poverty and instability.
These divisions are largely consequences of neoliberal capitalism, a driving force behind climate change. "Let's not lose sight of the root cause of this crisis: rampant capitalism. Capitalism has steamrolled this planet and its organisms, gouging out mountains, overexploiting fish stocks, and burning fossil fuels to power the maniacal pursuit of growth and enrich a fraction of humanity," writes Matt Simon. "Since 1988, 100 corporations have been responsible for 70 percent of greenhouse gas emissions."
No wonder the Earth is collapsing under our weight. But the solutions to coronavirus and climate change may just be intertwined, part of the same web of regeneration and redistribution that could lift us up and off of the edge of this cliff.
One such solution is outlined in the People's Bailout, a relief and recovery package designed by over 800 activist groups. The People's Bailout demands that Congress commit to five steps during their efforts to provide COVID-19 relief:
1. Health is the top priority, for all people, with no exceptions
2. Economic relief must be provided directly to the people
3. Rescue workers and communities, not corporate executives
4. Make a downpayment on a regenerative economy while preventing future crises
5. Protect our democratic process while protecting each other
In a world where the actual stimulus package that Congress passed provided $3 trillion of relief to major corporations (a check three times the size of Joe Biden's climate plan), all this seems far away.
But this is America, and this is humanity, and this is life, which should be an impossibility in itself. Despite our many mistakes, we have always built impossible things. We have created glorious temples and magnificent skyscrapers; we criss-crossed the world with roads; we sent men to the moon. We may not always act ethically or responsibly, but we have the power to build and we have the power to grow.
Now we are being forced to change. We have the choice to build a world that can sustain itself—for the good of not only the planet, but for the good of our own world, our own economies, our own selves.
We need plans that erode poverty and pollution and disease and convert them into new, creative solutions. Plans that start from below, from inside, from underground, from the communities that need them most, and that grow up and out towards the light. An alchemy of release and rebirth, starting from the soil and the sadness of isolation, upwards and outwards and eventually back outside, towards a future truly worth fighting for.
We need to have faith, even though it all seems impossible—because what's the alternative?
We can create a future of open fields and breathable air, of wind turbines and monthly checks that land like clockwork in our bank accounts, of fewer private jets and more bullet trains. That future seems further and further away with each devastating headline and each rising degree.
That the Earth exists at all—that we broke through the darkness, that some spore broke into the shape of life—is an impossibility in itself. Within each of us there is a longing to survive, to connect, and to heal.
In her book Parable of the Sower, Octavia Butler writes, "God is change." This pandemic has shown us that everything can change on a dime. Now the question is: What kind of change do we want? What are we choosing to worship during this time? And what role can each of us play in creating it?
Billie Eilish, Jane Fonda, Leonardo DiCaprio, and more are all speaking out against the existential challenge of our time.
There's a lot of hypocrisy to many celebrities' purported support of climate change.
Much of their activism is just big talk, and many fail to use their wealth and power where it actually could make a difference, instead just showing their faces and airing their support for the climate movement when it's convenient, failing to spark legitimate large-scale change.
Keep reading...
Show less
How to save the earth while in quarantine.
Are you angry about the current state of the world and how COVID-19 is being handled by elected officials? Just wait until you hear about how they're handling the Earth.

This month, the Environmental Protection Agency basically late night FaceTimed all of the major corporations and oil companies in the United States and said, "Hey guys, I know this whole quarantine thing is rea–lly harshing your unlimited profit vibe, so here's a free pass to just like, pollute as much as you want–as a treat." Because the country is so wrapped up in navigating this corona chaos, the Trump administration has begun quietly undoing decades of protections against wide range environmental degradation without consequences. This is SUPER bad news, because not only does pollution worsen public health substantially, it also accelerates climate change, which is the chronic illness underlying coronavirus's acute symptoms.
Climate change is complicated. It's tied into pretty much every system of oppression you can imagine, and its sneaky nature proves hard to communicate because it affects communities in ways that aren't usually overt. There is no global warming mascot, no fire breathing antagonist that clomps up and down your neighborhood screaming, "THE END IS NIGH!" Rather, it shows up disguised as increased respiratory and water-born illnesses, reduced crop yield, and displaced refugees crossing borders— things that belong to other departments in the state house who are much more worried about the here and now than the then and there. Sometimes climate change declares itself like a rude dinner guest: barraging the world with floods, hurricanes, and fires. But as both the US president and the Prime Minister of Australia have attested, that's, like, totally unrelated—except it couldn't be more related.
So, how do we fight this beast with 1,000 heads? Where do we even start? And how the f*ck are we supposed to get anything done when there's a motherf**king GLOBAL PANDEMIC actively ruining all of our lives?
Here is some good news. One: We're all stuck at home, which gives us a lot of time to mess around on TikTok, but it also gives us a lot of time to learn something new. Two: it's Earth Month, which means that every environmental organization is running at 100mph trying to pump out as much radicalized educational content as possible. This is a very specific intersection in history in which you now have both the time and resources to go from a generally freaked out layperson to a radicalized and prepared activist. Knowledge is power, and if you know where to look, the Internet is just teeming with knowledge.
So, as you heat up that fourth box of Mac & Cheese, here are some ways you can learn to dismantle oppressive structures and tear down the establishment without even brushing your teeth.
READ
Congratulations! You opened a book today after staring at it for 2 weeks. Bonus points if it's written by a person with the first name Naomi.
1. This Changes Everything - Naomi Klein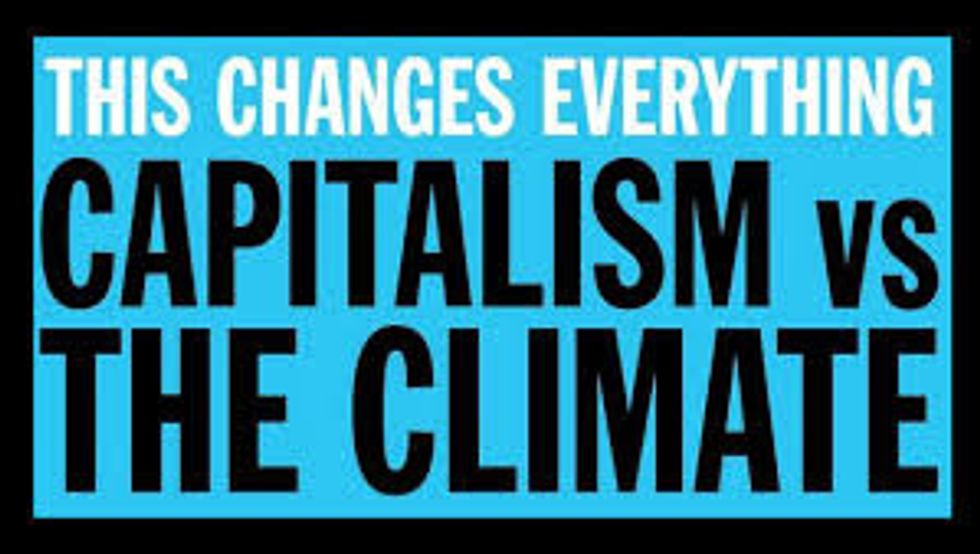 Naomi Klein has been researching the environment since way before it was "cool" and "sexy" to care about the Earth. This book examines the way that major corporations just literally vomit carbon dioxide into the atmosphere without nearly enough measurement or regulation.

2. Merchants of Doubt - Naomi Oreskes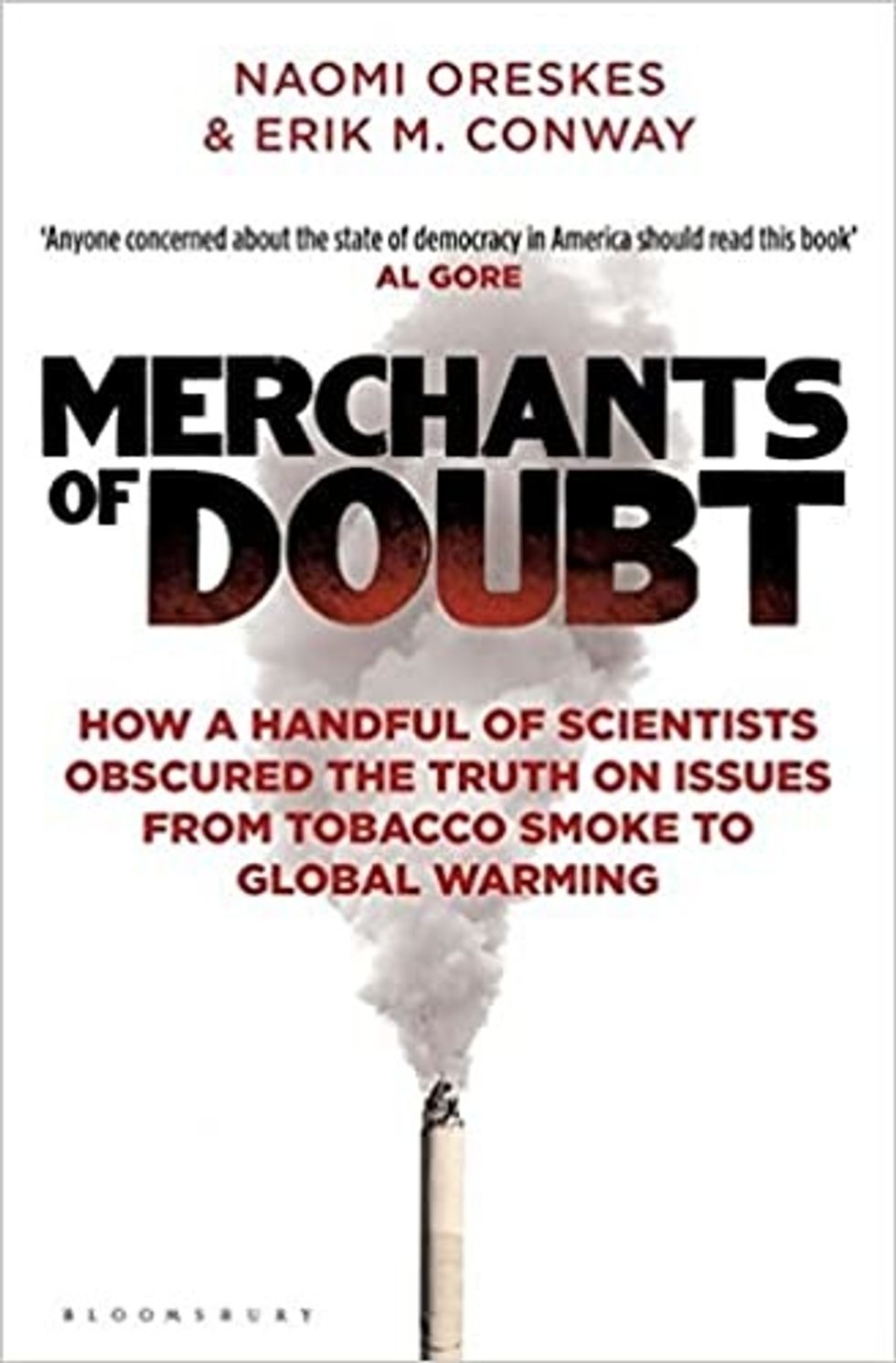 This book shows how the same guys that affected public opinion on cigarettes and health way back when are the same guys who are spewing misinformation about the climate crisis. This book will show you that climate change needs a public relations specialist just as much as any of the Kardashians.

3. On Fire: The Burning Case for a Green New Deal - Naomi Klein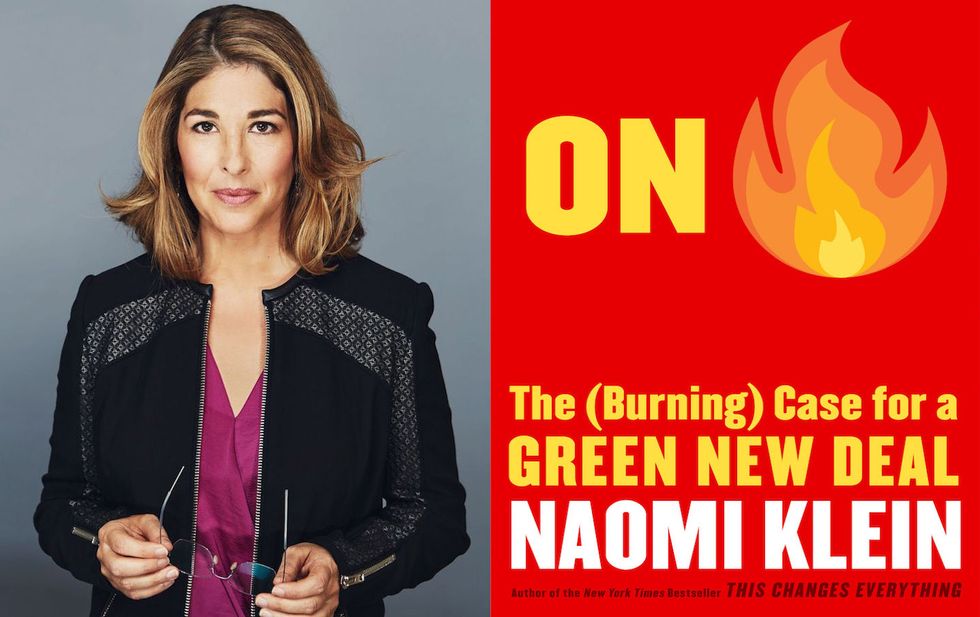 As our world starts to look like the meme of that dog saying, "This is fine," Naomi Klein delineates how the Green New Deal has the opportunity not only to save our planet, but the livelihoods of the people that inhabit it.

WATCH
If you're going to be laying in bed in a half-dissociative state, you may as well be learning something. Here are some documentaries that simultaneously ruined my life and radicalized me to make change.
1. An Inconvenient Sequel: Truth to Power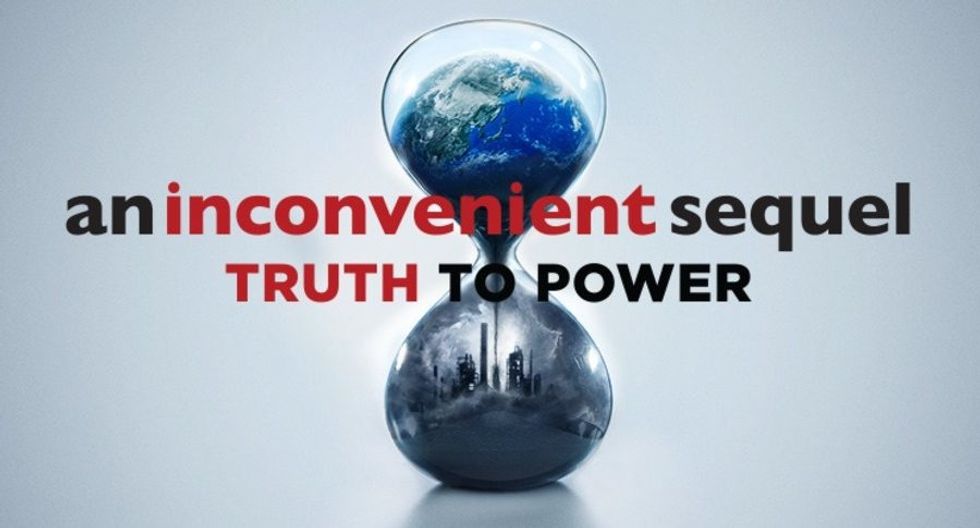 Ya boi, Al Gore, is BACK to remind us that change is possible and that it starts with us.
2. Chasing Coral
Chasing Coral | Official Trailer [HD] | Netflix www.youtube.com
I watched this movie while I was working at an aquarium and cried my way through the rest of my internship. This movie features childhood dreams, party boats, and a school bus-turned-education-mobile.

3. Before the Flood
Before the Flood Official Trailer #1 (2016) Leonardo DiCaprio Documentary Movie HD www.youtube.com
This is the movie that made me give up red meat and frat boys. Mostly red meat. Thanks Leo.

4. A Message From the Future
A Message From the Future With Alexandria Ocasio-Cortez www.youtube.com
This is a short video that explains what the future looks like with a Green New Deal. It may be due to the beautiful stop-motion painting that makes up the film, but if you ask me, the future looks BANGIN'.

5. Erin Brockovich
Erin Brockovich - Trailer www.youtube.com
THIS IS THE PINNACLE OF ECOFEMINIST CINEMA. JULIA ROBERTS IS A JUSTICE-SEEKING, LEOPARD PRINT-WEARING QUEEN.

JOIN
Joining a climate org helps makes the fight for the planet feel WAY less lonely and WAY more possible. Here's a list of climate orgs with local chapters across the U.S./World.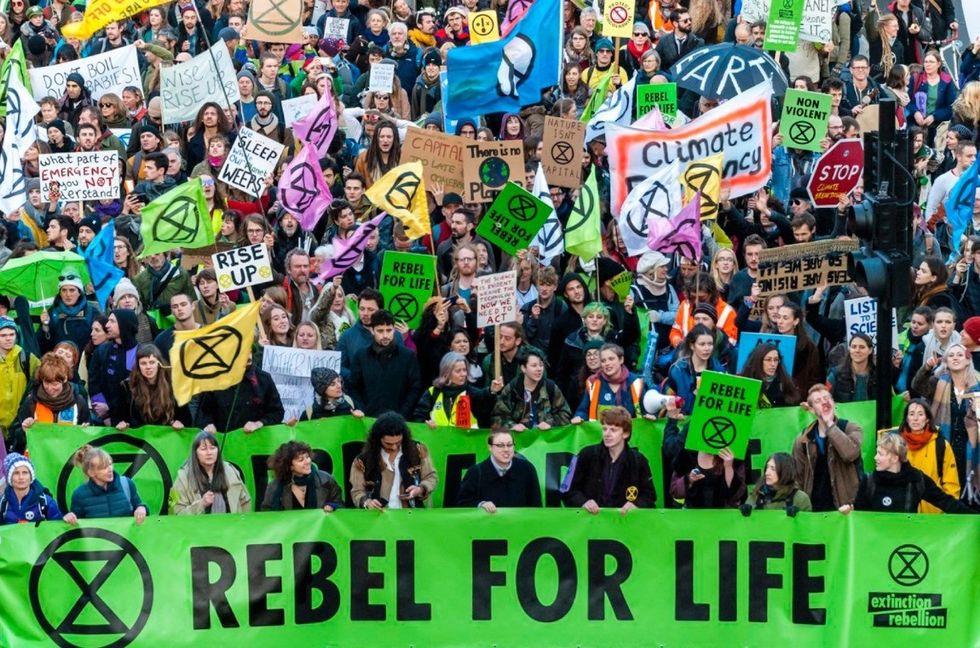 "Extinction Rebellion is an international movement that uses non-violent civil disobedience in an attempt to halt mass extinction and minimise the risk of social collapse."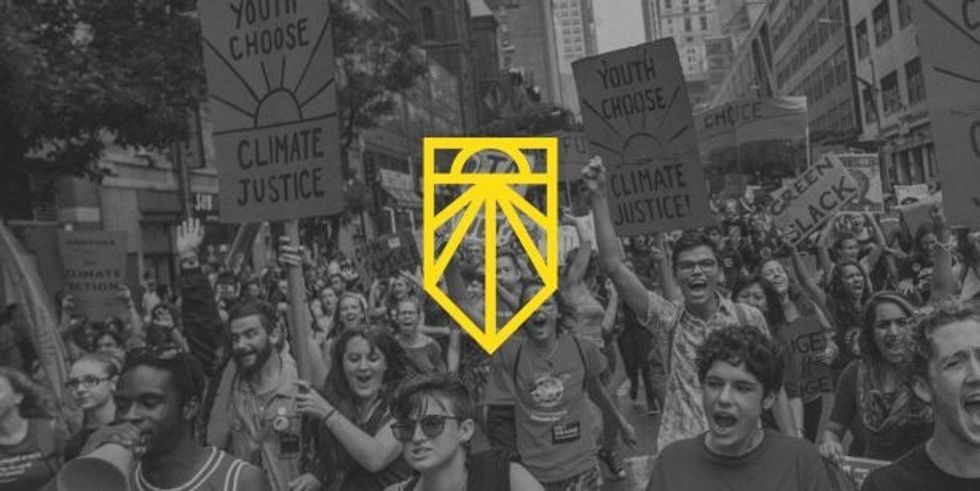 "WE ARE SUNRISE. We're building an army of young people to stop climate change and create millions of good jobs in the process."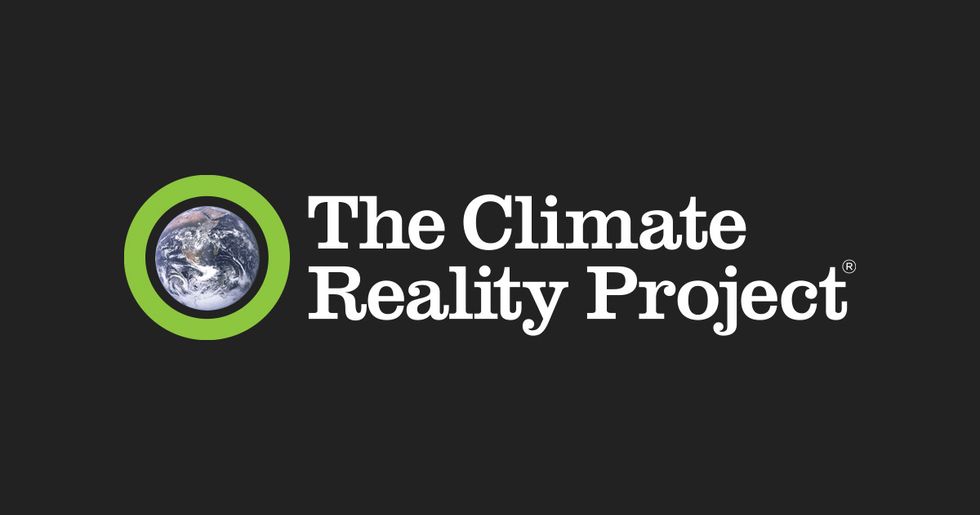 "Today, as Climate Reality, we're a diverse group of passionate individuals who've come together to solve the greatest challenge of our time. We are activists, cultural leaders, organizers, scientists, and storytellers committed to building a sustainable future together."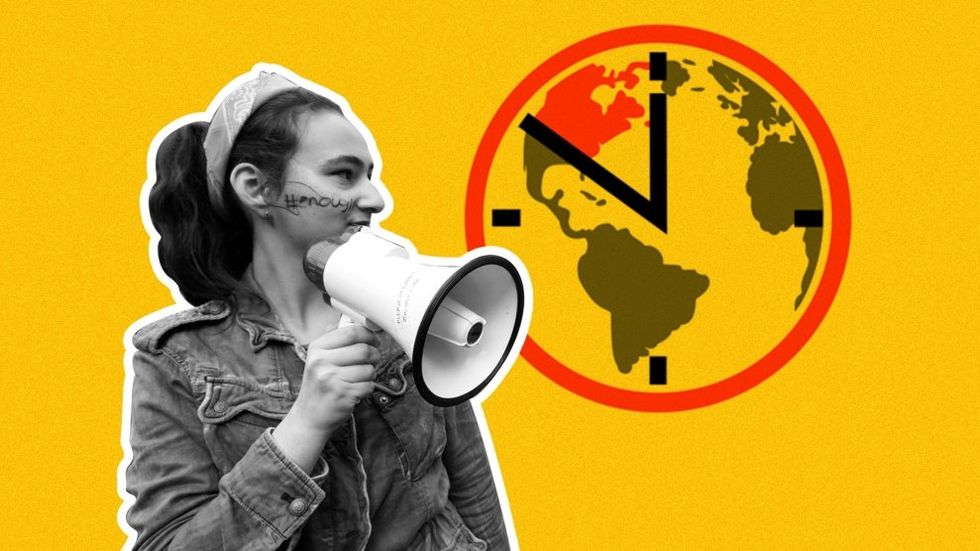 "Zero Hour is a youth-led movement creating entry points, training, and resources for new young activists and organizers (and adults who support our vision) wanting to take concrete action around climate change."


"CCL empowers everyday people to work together on climate change solutions. Our supporters are organized in more than 400 local chapters across the United States. Together we're building support in Congress for a national bipartisan solution to climate change."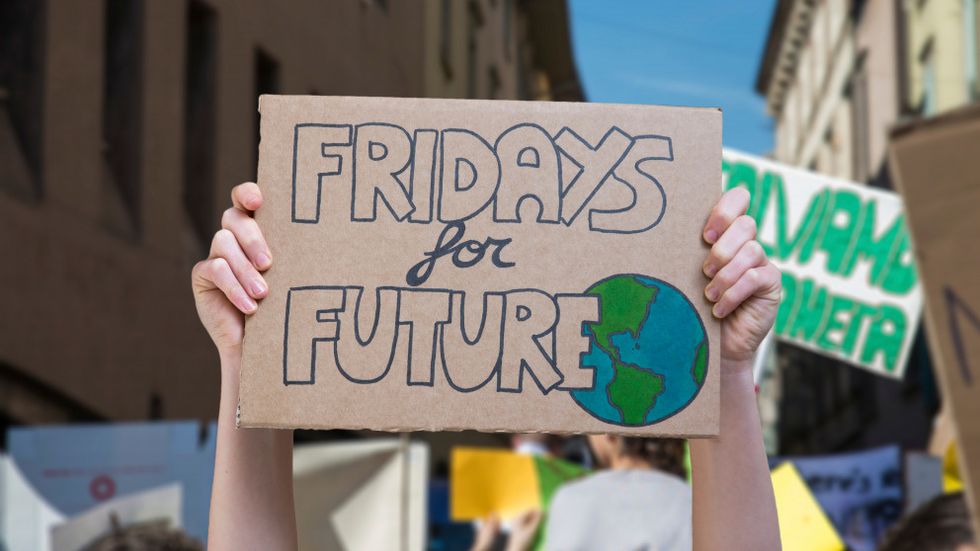 "#FridaysForFuture is a movement that began in August 2018, after 15 years old Greta Thunberg sat in front of the Swedish parliament every schoolday for three weeks, to protest against the lack of action on the climate crisis."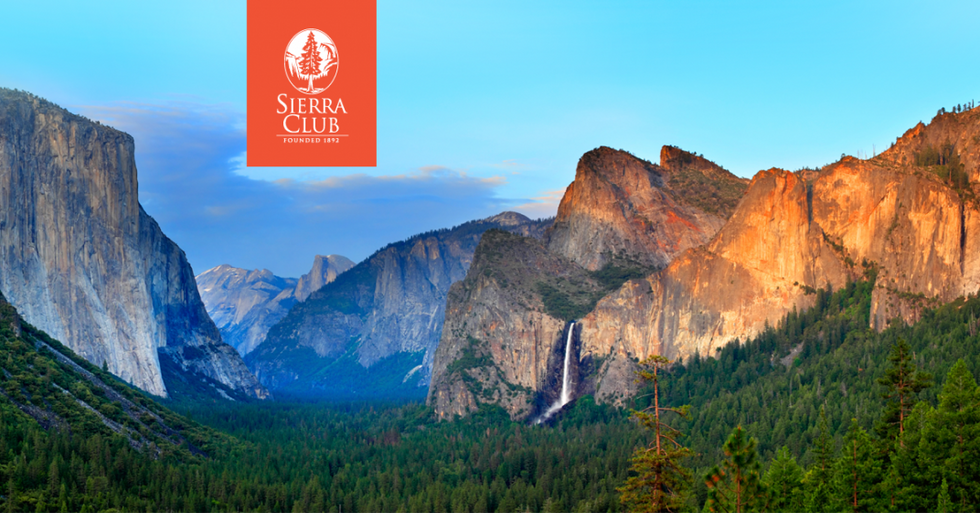 "The Sierra Club is the most enduring and influential grassroots environmental organization in the United States. We amplify the power of our 3.8 million members and supporters to defend everyone's right to a healthy world."



GET #LEARNT
Sure, you could attend a zoom training on how to increase email capture. Or, you could attend a zoom training on how to DESTROY CAPITALISM. Your choice.

From their website: "Through this campaign, Zero Hour will educate communities around the country and abroad about the systems of oppression that Zero Hour names as root causes of climate change in our platform, including Capitalism, Racism, Sexism, Colonialism, and how these systems intersect with the climate movement to form climate justice."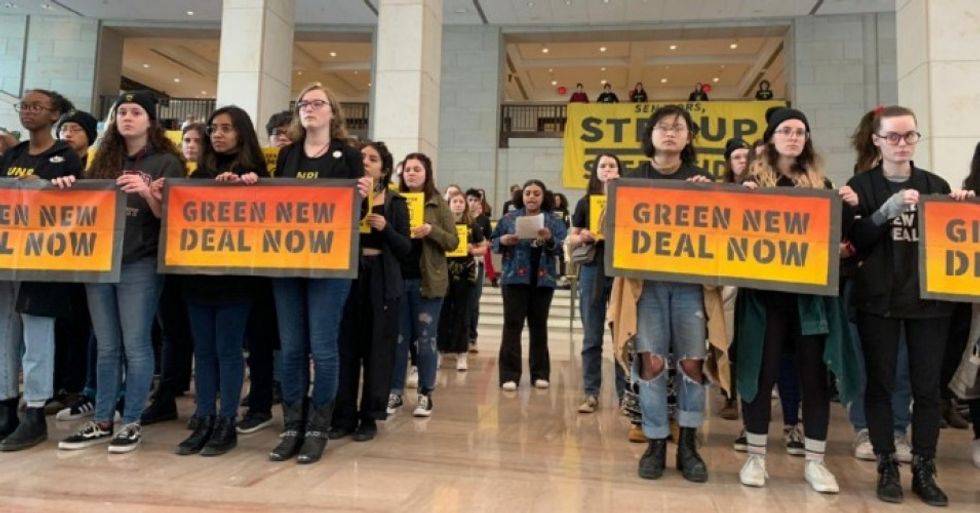 From their website: "Right now, as this pandemic sweeps our country, thousands of us are out of school and work, stuck at home. But instead of getting trapped, we're seizing this moment to become the leaders we need. Join us at Sunrise School: an online community where we're building the skills and power we need to confront the crises we currently face. At Sunrise School, you can:

Build connections with other young people who are freaked out about climate change, the coronavirus, and the state of our world.
Learn about the crises gripping our society and how to confront them.
Take action online and with small groups of others in your area while social distancing."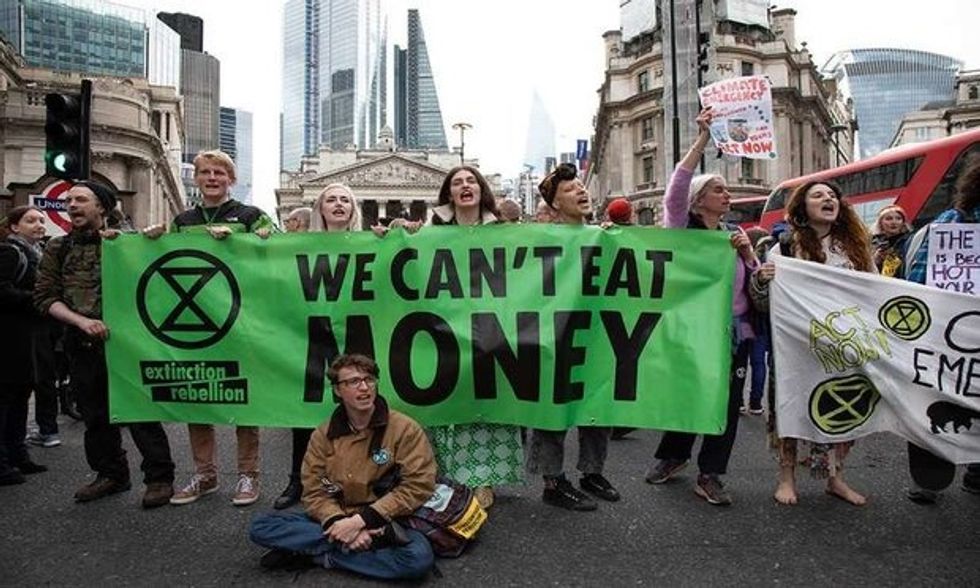 From their website: "As part of the response to coronavirus, Extinction Rebellion UK is offering AloneTogether, a Regenerative Rebellion built around:

Personal and community wellbeing
Mutual aid, community resilience, care and outreach
Actions and mobilisation
Tell the truth
Community democracy
We are still connected. We are #AloneTogether."
DO
Now that you've gleaned all of the materials to make you angry, it's time to act. Instead of giving yourself bangs or trying to put on a T-Shirt while doing a handstand, here are some actions you can do to impact the fate of the world.
1. Divest
In this era of "economic uncertainty," the last thing you want to think about is probably your investments, but one of the most powerful ways to bring about a just transition to renewable energy is to divest from fossil fuels. So if you partake in the capitalist crapshoot that is the stock market, it is possible to take any investments you may have had in oil/coal/natural gas and transition them to sustainable industries. An awesome resource for that is right here.
2. Grow Food
During WWII, victory gardens—which were planted in every available plot of land across the U.S.—produced around 40% of the fresh vegetables for the country. Citizens started their own grass-roots movement in the most literal sense of the word, and small-scale farming brought communities together in one of the most uncertain times in modern US history. Flash forward to today, when going to the grocery store feels like stumbling into the gates of Mordor, growing your own food ensures a cheap (read: free) healthy meal and a more intimate relationship to the natural processes that produce it. You could also start composting too, if you really wanted to get crazy. Here's a link to help you grow food from scraps.
3. Contact Elected Officials
Think about how many emails you get from Macy's or Oriental Trading and how annoying they are. Now think about how annoying 50,000 emails about your elected duty to protect the literal earth we live on would be. You can find your local elected officials here.
4. Virtual Strike
WE'RE TAKING TO THE STREETS! AND BY THE STREETS I MEAN OUR LAPTOPS! This year is the 50th anniversary of Earth Day, a day in which youth (and non-youth!) across the world were planning on flooding public places, disrupting the peace, and demanding that business NOT continue as usual. Now that business is most certainly not continuing as usual, the strikes are taking place virtually–with speakers, trainings and performances from all over the world. The demands remain the same, the delivery is just a little more socially distant. More info here.
Obviously, there are 85,000 other ways to get involved, fight the power, and save the planet. But, hopefully this millennial list will be just enough to open Pandora's sustainably sourced box and send you tumbling into the beautiful, chaotic, brave world of climate justice.
Welcome to the age of digital activism–don't forget to unmute your mic.
Interspiritual minister Chelsea MacMillan talks faith and healing in a time of tremendous change.
The Visionaries Project is a subsection of The Liberty Project dedicated to highlighting the lives, passions, and work of radical activists currently working towards social justice and liberation from oppression. We aim to uplift the perspectives of diverse voices working in media and activism today—and not just the faces who make headlines, but the real people on the ground every day, working towards their visions of a better world.
Rev. Chelsea MacMillan is the founder of the Brooklyn Center for Sacred Activism, the co-host of the podcast The Rising: Spirituality for Revolution, and a dedicated activist, community organizer, and "warrior for peace and change." She recently taught a course called "Reclaiming the Apocalypse," and her wisdom is invaluable in these times of crisis, and always. We spoke about the overlaps between religion and spirituality, collective healing, mutual aid during coronavirus, climate change, and more.
Find her at her Patreon and her website.
LIBERTY PROJECT: Did you grow up spiritual, or involved in activism?
CHELSEA MACMILLAN: I grew up in a really evangelical, conservative Christian family, but I rejected it pretty early on. My parents divorced when I was like ten or eleven, and that was around the time where I realized that being a Christian doesn't mean you're a perfect person. I was just woken up to a lot of hypocrisy. I started rejecting the exclusionary attitude of the churches that we went to, and I called myself an agnostic for a while. I started to question my epistemology without realizing it, wondering why I thought the way I did.
Then I started traveling the world in a performing group, and I had a lot of really intense, magical experiences that I think were mystical experiences. I remember feeling really connected to all people and all creatures everywhere, and I felt this sense of oneness. I definitely felt spiritual, though I didn't want to put it into any form.
Then I worked on staff at a place called the Omega Institute, which is a big retreat center in the Hudson Valley. I tried out different forms of Buddhist meditation and Earth-based practices and things that were vaguely pagan or shamanic, as well as more New Agey things. But I was always really impatient with the way that spiritual communities were in terms of what was happening in the world. I couldn't really accept the idea that we were all one and that we could "be the change we wish to see" while sitting on our yoga mats. The world doesn't reflect that. Yes, it's a spiritual truth, and I've experienced that feeling of oneness and connection, but I think it doesn't do any good to just sit here and believe that. We have to realize and actualize this belief.
During one of my summers at Omega, I learned about this interfaith seminary called One Spirit. I went there and was ordained as an interspiritual minister, and it was there that I learned about sacred activism. I actually took a class with Andrew Harvey, who basically coined the term "sacred activism." He was one of the only people really talking about how activists and spiritual folks needed to come together, because there's a shadow side to both of those groups.

And I realized...this is why I came here. This is what I've been looking for my whole life. Sacred activism is the idea that activism in itself is a sacred path, because all the great spiritual teachings tell us to live our lives with compassion.
I had also been going to a lot of activist meetings and circles and thinking that the people there really needed spirituality. Everybody was so caught up in blaming and shaming. No matter what your ideology is, rigid and dogmatic ideologies are harmful. That's what I had grown up with—but now I was with the liberals, and it was the same sh*t. It wasn't loving and wasn't accepting.
Along your journey to finding the place where activism meets spirituality, are there any experiences that stand out to you as particularly formative or that you feel set you on this path?
I did have a moment recently that confirmed for me why I'm on this path. This past October, Extinction Rebellion had a global week of rebellion. We started with actions at Wall Street and threw fake blood on the bull, and we did this dramatic die-in in front of the stock exchange.
We were also doing RebelFest in Washington Square Park, which felt like an example of realizing that you don't have to perform a direct action to be disruptive. Building community is disruptive, and feeding each other for free is disruptive, and doing art together is disruptive.
That week, I also took part in the Times Square takeover with XR. We shut down an intersection with this big bright green boat, and there were 13 of us who were glued and chained to it. My comrades and I were put in the tombs, which is where they take everyone who's been arrested, and there was a woman detoxing from heroin on the floor and a pregnant woman who totally should not have been in jail. It was a really intense experience, and I remember thinking—could I go to jail for longer? Would I be willing to go to prison for this cause?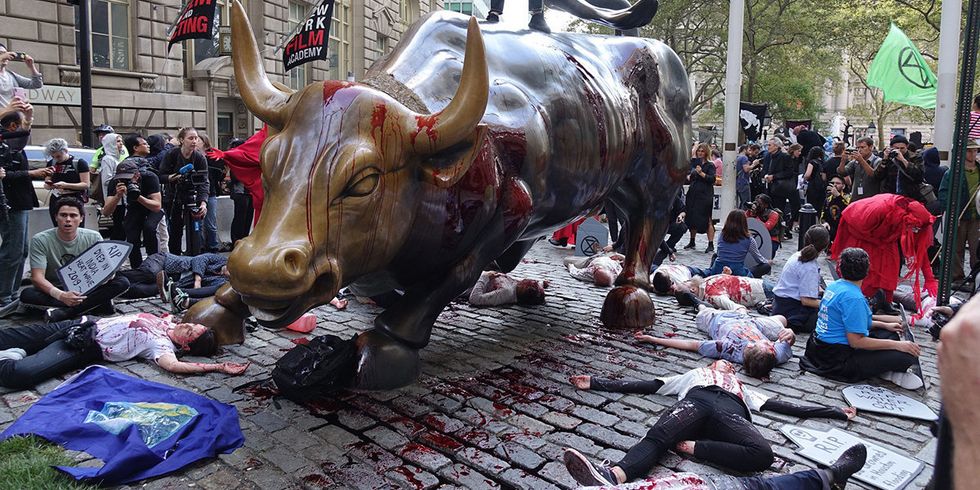 Wall Street
I was going through these ups and downs of feeling like I was losing my mind, and there was a moment where we all just were laughing at ridiculous things because...you lose all your power in there. You don't know [when] you're going to be let out; you're hungry and tired and dehydrated and dirty. And I was like… Could I do this more? Could I be here for months? Do I have it in me? I remember thinking, what am I called to do? How am I called to serve?

I thought of all the people who have inspired me like Dorothy Day and MLK and people who really followed that calling to make the world a better place. It's a spiritual calling.
I realized I do feel like I'm willing to sacrifice my life for building a more just and loving world. I was surprised to feel that in a moment of despair, but that's where I felt closest to God, spirit, or the great unknown. I felt like I was being called, and it felt very powerful.
What does your vision of a better world look like?
What excites me is thinking about the mystery, rather than coming up with the best plan for a bright new world. This requires us to be in the present and in the future and to bring the future into the present. When I think about a vision for the world, I ask questions like: How do I want it to feel? What does it look like, sound like, feel like?
I think what the future looks like is here now. I see it all the time. I see it with the current crisis, in the ways in which people have been jumping into action around creating and activating networks of mutual aid—and taking time to play with their kids, and rest and take walks in the park. I see it in places where we're really connecting with each other.
I think of a new world, or the future, as one in which we're taking care of each other, in which we're really connected. Can you imagine, if we really took care of each other? We wouldn't need housing justice. We'd already be doing it. We wouldn't let anybody not be cared for. We wouldn't have people going hungry, because we'd already be feeding each other.
It sounds a little overly simplistic to say all of that, but I think bringing things into the present and asking—what do we have that we want to grow?—actually helps us be more grateful for what we do have.
Humans have a limited capacity for understanding. We understand a lot and we're constantly innovating, and that's sort of what it means to be human—finding meaning—but we can't see the future, and we make mistakes. As soon as we have a plan for the future, it limits creativity and the emergence of something that can grow from the ways we're already connecting with each other and being with each other.
So many religions seem to boil down to this idea of compassion, and I'm definitely seeing that in responses like mutual aid. So in light of all your work, how have you been processing the current crisis? Are you seeing potential in it? I know you taught a workshop on the apocalypse—not that this is an apocalypse, but...
But we are! It's like a perfect example of the apocalypse. Apocalypse means "to lift the veil," and having this crisis is showing us how f*cked-up our medical system is and how f*cked up our whole economy is to rely on humans as capital. It's showing us how our leadership is broken, how so many people were living alone before this.
As a climate activist, we've wondered for a long time what can really change the momentum. It's so hard to make any change when there's such collective dedication towards keeping a system going, a system that is based on extraction and exploitation and corruption and domination and all of those things that are literally killing us and the planet. In XR we talk about stopping business as usual—well, here we are, and business is literally stopped.
It's my hope that it doesn't go back to normal. I don't want to go back to a world in which we're all hustling to make ends meet and we're working so hard and so long that we don't have time to connect to each other.
I do think it's showing us what's possible. All of the politicians and businesspeople have told us for a long time that it's not possible to stop the system and change it all in order to stave off the climate crisis—but we're doing it.
If the New York Times was reporting on the climate crisis as much as it's reporting on the coronavirus crisis… that could change things. If everyone was told that we have to stop using our cars and we have to stop doing this thing and taking flights and traveling for our safety and so we don't die…maybe we wouldn't have as big of a problem. The response we've been taking with coronavirus actually needs to happen with this climate crisis.
It all does seem like a wakeup call. Before this, it seemed like most of the people I know—even if they weren't plugged into the climate crisis—had the feeling that something unsustainable was going on, that something precarious was happening. And this does seem like a large planetary exhale to me.
We need to bow down and honor what's happening to us, to step back and see how enormous this shift is. It kind of takes my breath away. It's honestly the same feeling that I felt when I was sitting in jail.
It's interesting that you compare the feeling you're having in this crisis to the feeling of being in jail. Those both seem like moments of great change and shift. I keep seeing Octavia Butler's "God is change" quote everywhere and it feels like these moments could be related to that.
I love that quote. It's probably my favorite way to describe God.
I'm seeing all this in two ways: There's tragedy, but there's also growth that could be happening. It feels like if anything it's waking us up to the importance of community and the current lack of community. Even a lot of activism work doesn't seem to hone in on community or connection or rest and then there's so much burnout, and it feels like all this is kind of calling for a practice of rest and community-building.
I think it's so easy for humans to jump in and ignore all of our feelings and ignore connecting to each other, focusing on how we might fix this painful feeling, instead asking—what is this moment telling us? There's something beyond my comprehension happening right now.
It's easy for me to say that in times of crisis, people jump into action to help each other, because that's what I see in communities. But it's also true that there are people who get scared and hoard and only take care of their own.
I think every human has both responses possible in them, and this reminds me of a story that I read as part of my apocalypse research called Why the World Doesn't End by Michael Meade. He says there are three kinds of people in the world: There are the people who just only care for themselves and maybe their families, who in times of crisis will turn on their neighbor, and who are just trying to survive. Then there's a second group of people that really care about others and contribute to community and are attuned to other people's needs; but those people, under great stress, will also turn on their neighbor and contract and hoard and try to protect and defend themselves and their families.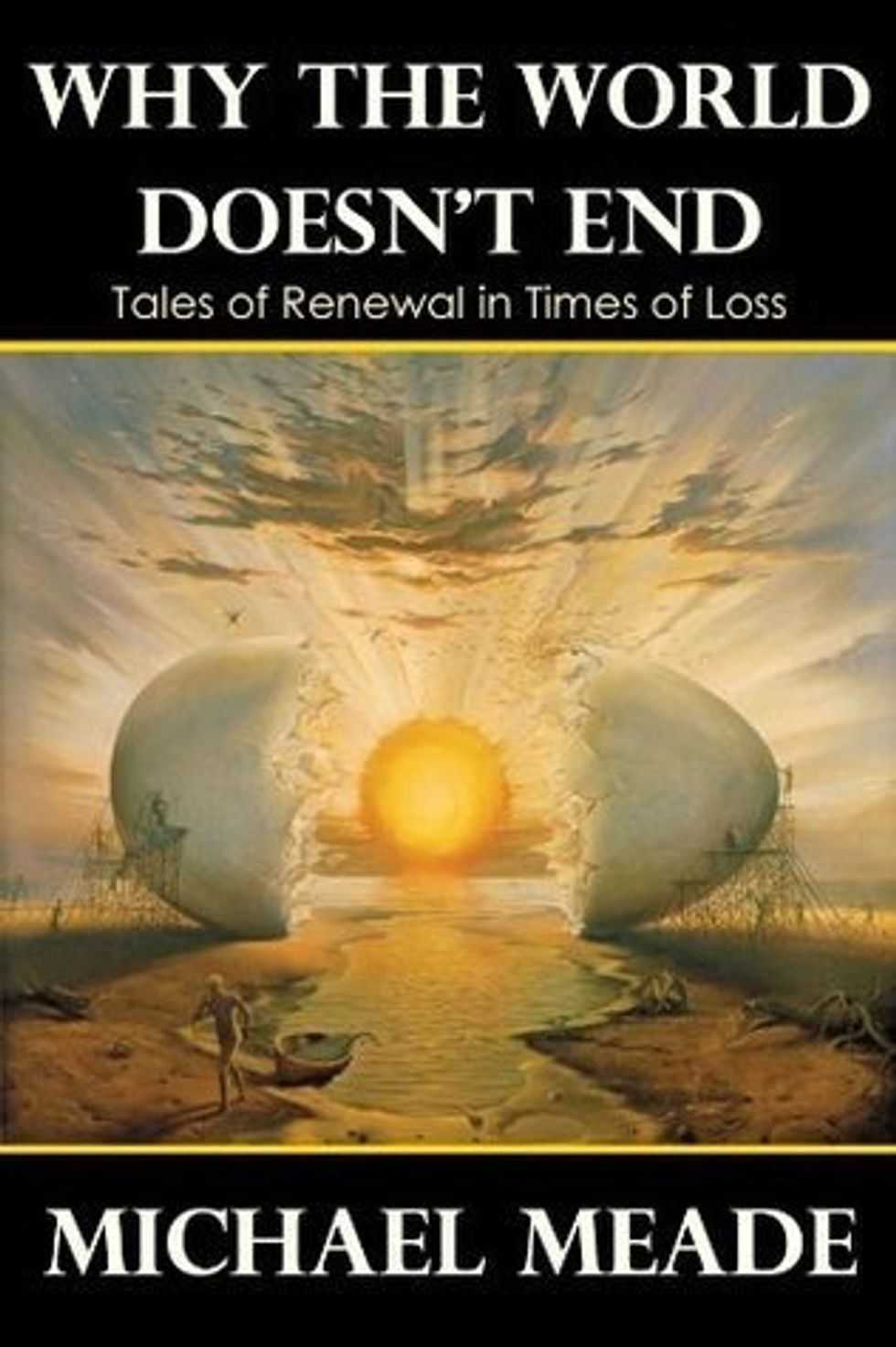 Goodreads
But then there's a third kind of person that in the midst of crisis will rise up and reach out when the impulse is to actually turn back in. I think that's what being a sacred activist is: someone who can be with the unknown and who can be with the vulnerability of reaching out in times of danger.

I think in order to be able to reach out, you have to rely on something other than yourself. You have to be able to rely on something, even if that's your community or if that's God or spirit or even the earth. You have to feel supported enough to reach out to others in a time of crisis.
I think that's been sticking with me. Who's going to be that third group of people?
Alright, I'm done on my soapbox. That's my sermon for today.
What do you suggest people dive into, if you're looking for a way to get involved at this time? I know you mentioned mutual aid.
XR has been plugging into neighborhood groups and existing networks of mutual aid. That could be taking care of your neighbors and seeing what they need or delivering meals to aging populations. Also there's something called The Leveler, a wealth redistribution tool that allows people to donate a certain amount of money to people who just lost their jobs.
But also...check in with people. Be with the feelings. XR has ramped up offerings for people to connect with each other and share their feelings and meditate. It's called "Extinction Resilience," and it'll pretty much be happening twice a week right now, and that's a great place to cultivate inner resilience.
Look on our works, ye mighty, and despair!
There is a saying that it is easier to imagine the end of the world than to imagine the end of capitalism.
Entrenched systems of power have established bulwarks against the kind of institutional reform that younger Americans have recently been pushing for. By controlling the political conversation through lobbying, control of mass media, regulatory capture, and authoring of legislation, the ultra-wealthy maintain the status quo in a way that makes changing it seem impossible. The problem is that change is desperately needed if we are going to maintain any semblance of civilization.
While political dynamics have become so rigid that the boundaries of what we can achieve begin to feel impenetrable, the COVID-19 pandemic has revealed that the vital structures of our society—a society that is superficially so robust—have been so weakened that a collapse in one form or another is inevitable. We are the world's superpower, yet faced with a slightly more contagious, slightly more lethal virus than the flu, we are powerless. How did it get to be this bad? How were we so blind to it?
To clarify, depending on the part of the country you live in, it could seem like I'm exaggerating. It may not seem "so bad," or like we're on the verge of collapse. Not long ago the president and many of his loyalists on Fox News and AM radio were still calling dire forecasts around the coronavirus a hoax. At the time it seemed reckless but not unhinged from current events—which were still largely unaffected. In much of the country there is little cause for alarm, so few people are doing much to change their behavior. That's about to change, and the areas hit worst will soon be making the dire choices that Italian hospitals were recently faced with—which patients are we going to hook up to ventilators, and which are we going to allow to die. We are already started on a path that leads to overflowing hospitals in every major city.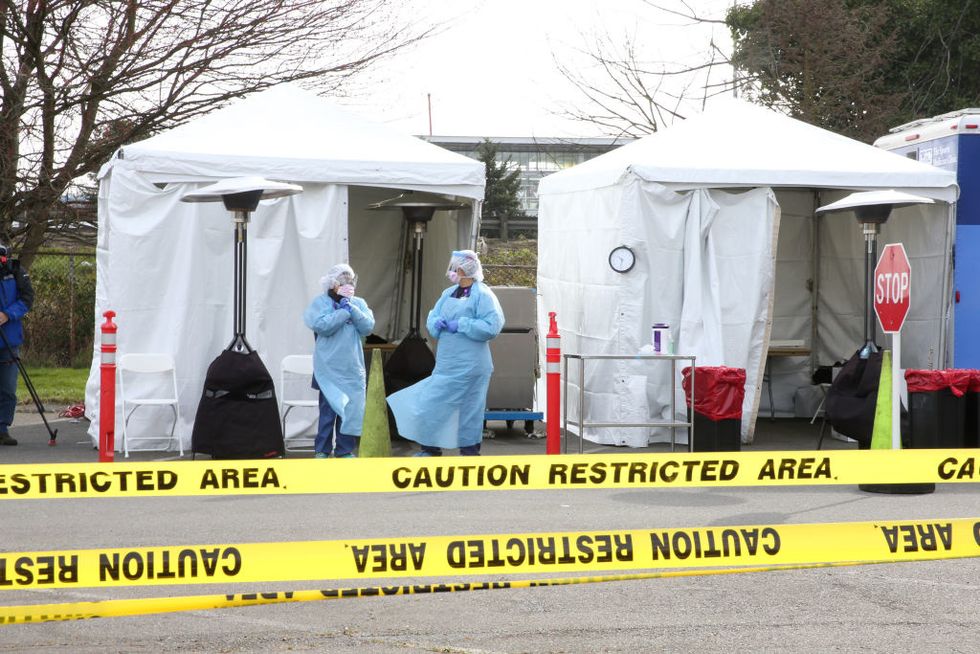 A makeshift testing facility in Seattle, Washington Getty Images
The problem is that our entire economy is set up around the same kind of short-term thinking that drive publicly traded corporations. The mentality that "government should be run like a business," leads to cost-cutting measures that only look to the current budget, with minimal consideration given to the kind of intermittent crises that we are bound to face—like a viral pandemic. If it's not particularly likely to happen before the next election cycle, it's better not to even worry about it. This is the kind of thinking that led Donald Trump's administration to push for cuts to the CDC and to disband their global health security team in 2018.

But the systemic issues go much deeper than that and started long before Trump took office. Trump and his ilk can't be blamed for the fact that the US has two hospital beds for every 1,000 citizens. Nor are they responsible for the fact that almost every aspect of America's critical infrastructure receives a near-failing grade from the American Society of Civil Engineers. This includes airport congestion—which has already become an issue with the current pandemic—and important shipping routes that we will rely on to maintain the movement of necessary goods as conditions around the country worsen.
Add to those issues the fact that we have a massive population of prisoners sharing tight quarters with poor sanitation, a substantial homeless population with no way to quarantine, a dearth of worker protections like paid sick leave, and it becomes hard to imagine how we'll get through this unscathed. And, of course, this is still ignoring the elephant in the room—a for-profit healthcare system that discourages millions of uninsured and underinsured Americans from seeking medical advice or treatment until it's too late.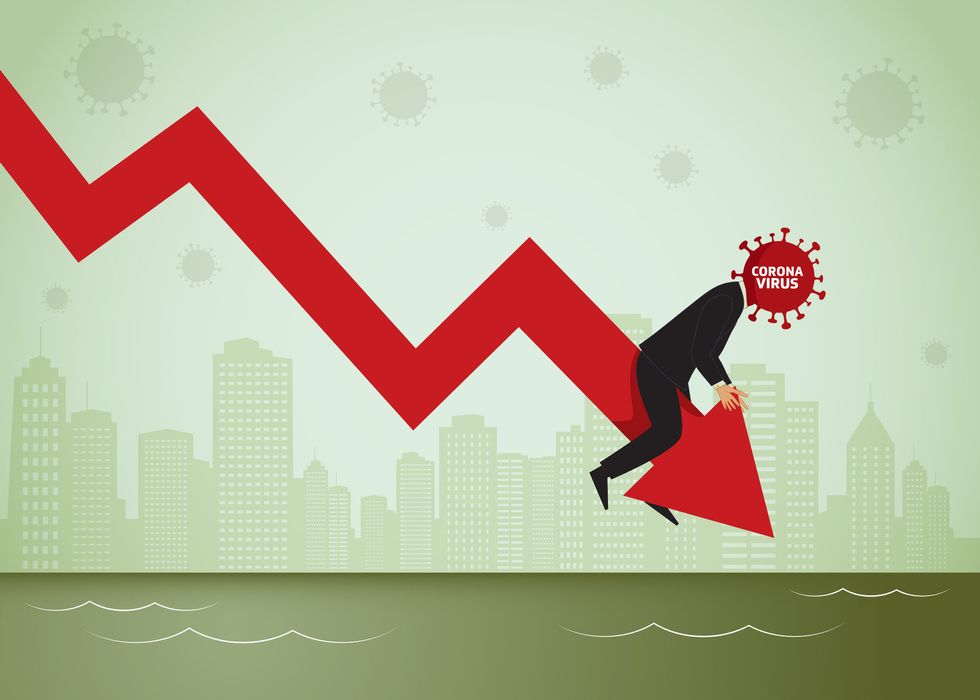 Getty Images
Meanwhile, the economic hardships imposed by the necessity of social distancing are being exacerbated by an economy that is heavily reliant on the whims of financial speculators who create an echo chamber of divestment that heightens every crisis. The stock market, in other words, is going crazy in the worst possible way. It's too soon to say how thoroughly the weaknesses in our system will be tested by the developing pandemic, but even in the best case scenario they are going to be strained to a terrifying extent.

Fortunately, there are efforts underway to shore up some of the most obvious breaking points so we can avoid complete societal collapse. They may turn out to be too little too late, but even if they get us through this current disaster, how long will it be before the next one hits? The best models of climate change predict that we are nearing an era that will be ruled by powerful natural disasters and refugee crises that will threaten economic stability and critical infrastructure and may heighten the threat of infectious diseases. Temporary, reactive measures cannot save us if the next crisis hits a little harder or when multiple crises overlap.
A strong social safety net like the one the US tried to develop under FDR would serve to mitigate the damage from this kind of crisis. But modern American politics has worked for decades—in an effort that became an object of worship under Ronald Reagan—to whittle the welfare state of the New Deal and the Great Society down to a fragile bare minimum.
We need to take seriously the voices of politicians like Bernie Sanders and Alexandria Ocasio-Cortez who have called for the kind of broad, sweeping legislation that stands a chance of upending the rigid political dynamics that maintain the status quo. The Green New Deal would be a good start. The alternative, one way or another, is the end of our civilization and the world as we know it.
Climate change activism has a whiteness problem and a class problem.
Climate change is inextricably linked to other systems of oppression, like neoliberal capitalism and colonization. But mainstream environmental movements have historically failed to recognize the roots of the climate crisis; and partly because of this, climate change activism has a whiteness problem and a class problem.

The movement's hypocrisy has grown harder to ignore as the climate crisis has intensified. Environmental racism has left poorer communities on the frontlines of unclean air and dangerous pipelines, while largely shutting their voices out of the decision and policy-making aspects of change.
The problem is rooted in the way environmental activism has traditionally been defined. Early environmental efforts (at least the ones that received the most funding) often focused on preservation and conservation of untouched land. These efforts existed in silos, painting the Earth as a childlike entity—as if the planet was separate and somehow lower than humans. This Earth was treated like an entity that required saving, and the saving was to be done by corporate firms and guilty consumers.
Even during these early times, many groups were actively fighting systemic oppression in conjunction with environmental activism, from Latino farmworkers protesting pesticides to Black students in Harlem fighting to oppose city garbage dumps in their communities. Still, over the next several decades, the mainstream environmental movement failed to realize that the climate crisis was not merely a matter of spoiled rivers and suffering polar bears. The climate crisis was seen as something separate from human life and separate from other social issues. Large "big green" corporations focused on promoting small changes that people could make on individual scales, as if "going green" could save us. We could all take shorter showers, take the bus instead of driving, purchase expensive organic products, and shut up—nevermind that the super wealthy have always used up far more resources and energy than their fair share.
A Crisis of Understanding
"Our economic system and our planetary system are now at war," writes Naomi Klein in This Changes Everything: Capitalism Vs. the Climate. "Or, more accurately, our economy is at war with many forms of life on earth, including human life. What the climate needs to avoid collapse is a contraction in humanity's use of resources; what our economic model demands to avoid collapse is unfettered expansion. Only one of these sets of rules can be changed, and it's not the laws of nature."
The climate movement will absolutely fail if it does not recognize the importance of its relationships with other social movements. The climate movement must stand in solidarity with organizations fighting for racial and class equity, for an end to the prison industrial complex and for reparations. It must stand in solidarity with people of color and particularly with Indigenous people, who have always been leading in the fight, and all climate movements must defer to leaders who are living on the front lines of the crisis.
If the climate movement continues to prioritize "an end to the climate crisis" over an end to capitalism, if the movement continues to languish in apocalyptic fears rather than paying attention to how climate actually affects people's lives, if the movement remains disconnected from actual life and the way that the climate crisis is already here for so many people around the globe, it will fail.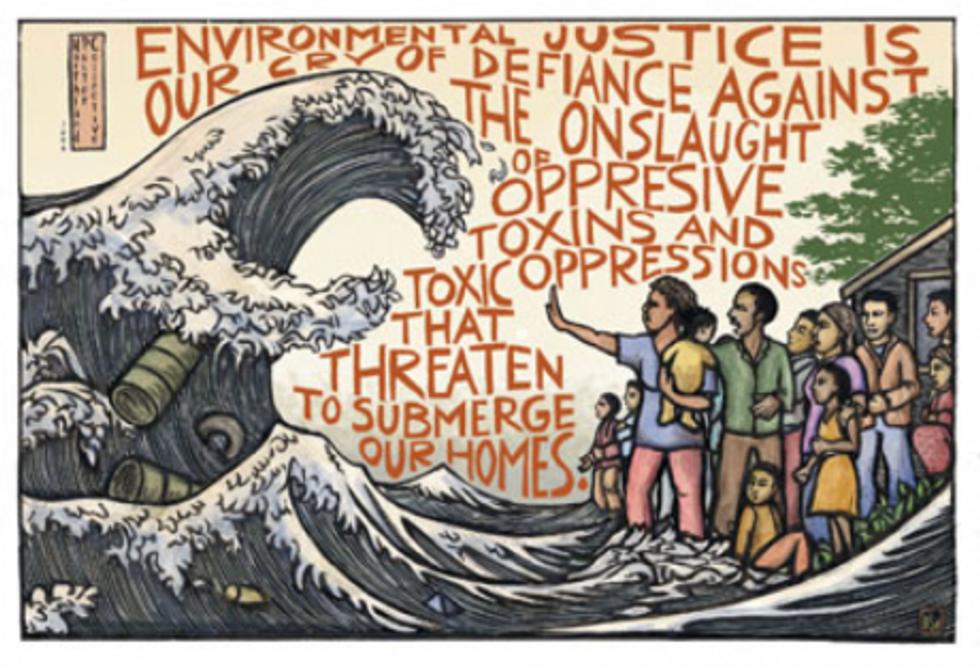 socialism.ca
Just as we humans cannot survive if we view ourselves as separate from the earth, we can't view the climate crisis as unrelated to other issues of inequality and systemic violence. We need to understand that, just as everything in nature relies on everything else—rivers flow into oceans, tree roots create an underlying network of communication that stretches through an entire forest—the movement to stop climate change is the movement to end relentless capitalism, which is also the movement to actually address the monetary inequalities that still exist because of America's legacy of colonization, slavery, and other violences.

The Future of Environmental Justice
Activist groups are waking up to this, at least theoretically. Groups like the youth organization Sunrise Movement have rallied around Alexandria Ocasio-Cortez's Green New Deal, a movement that aims to combine a massive reduction in carbon emissions with reforms that will make safe housing, affordable food, and health care available to everyone.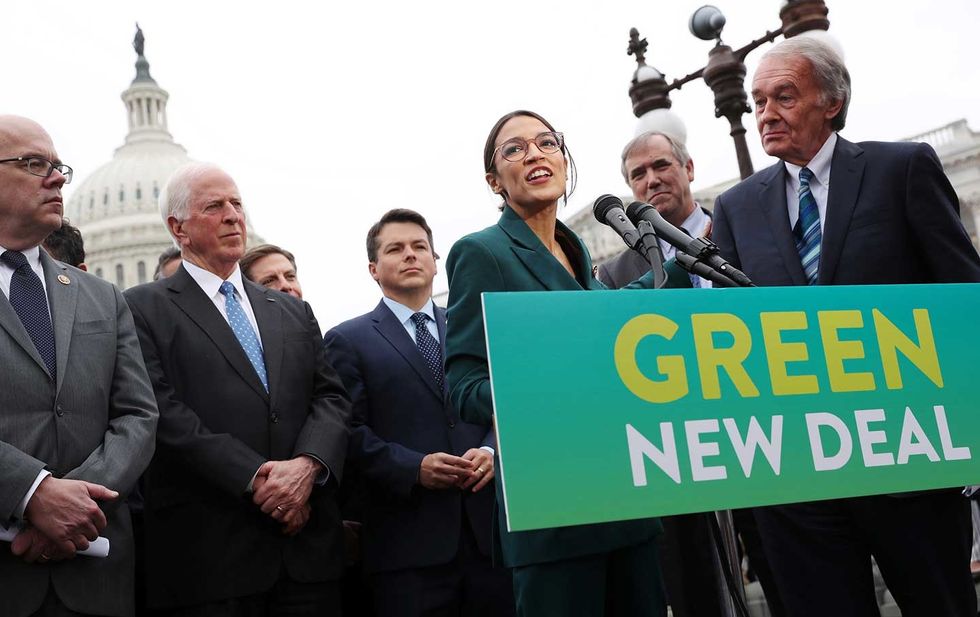 thenation
In some ways, Sunrise still suffers from the problems that have always plagued environmental groups: a pervasive level of whiteness and classism. But the movement has been discussing how to change this, initiating a hub restructure program and encouraging the development of smaller, more local groups that will facilitate local outreach. The next step is to put the voices of people who are already fighting for justice into power, people like the Indigenous climate activists who have been protecting the earth for centuries, often at great personal risk.

These are complex tasks that require deep thought and challenging conversations, but they are of the utmost importance. The environmental movement will fail unless it embraces its interconnectedness with all things–Embracing interconnectedness will only ever make us all stronger.
Climate change will inevitably result in tremendous change. If we somehow succeed in pulling the world back from the brink of climate disaster but fail to address other systems of oppression—if we merely keep the world as it is, favoring only the super-rich, allowing suffering on a massive scale despite the fact that we have the resources to address it—would the movement be a victory for anyone except those who were already winning?
His announcement that he will not be voting to allow witnesses in the impeachment trial has lasting implications for the country and the world.
Behold the arbiter of your future.
This is the Senator who has decided that there is no need to call witnesses in the impeachment trial of Donald Trump—a man who used his powers as president in a deliberate attempt to subvert the electoral process with the assistance of a foreign government. Lamar Alexander, a 79-year-old white man from Tennessee, has unilaterally determined that Donald Trump's crimes are not worthy of punishment from the only body with the capacity to hold him accountable. As a result, by the time you read this, Donald Trump will likely have already been acquitted and the impeachment will be over.
Alexander's claim—according to the statement released Thursday night—is that Trump's misdeeds have already been proven, and there's no need for the public spectacle of witnesses attesting to those misdeeds on national TV. He asserts that, while withholding military aide from Ukraine until they publicly announce an investigation into your political opponent may be a bad look, it doesn't rise to the "Constitution's high bar for an impeachable offense." And it is not the Senate's role "to remove the president from office and ban him from this year's ballot simply for actions that are inappropriate."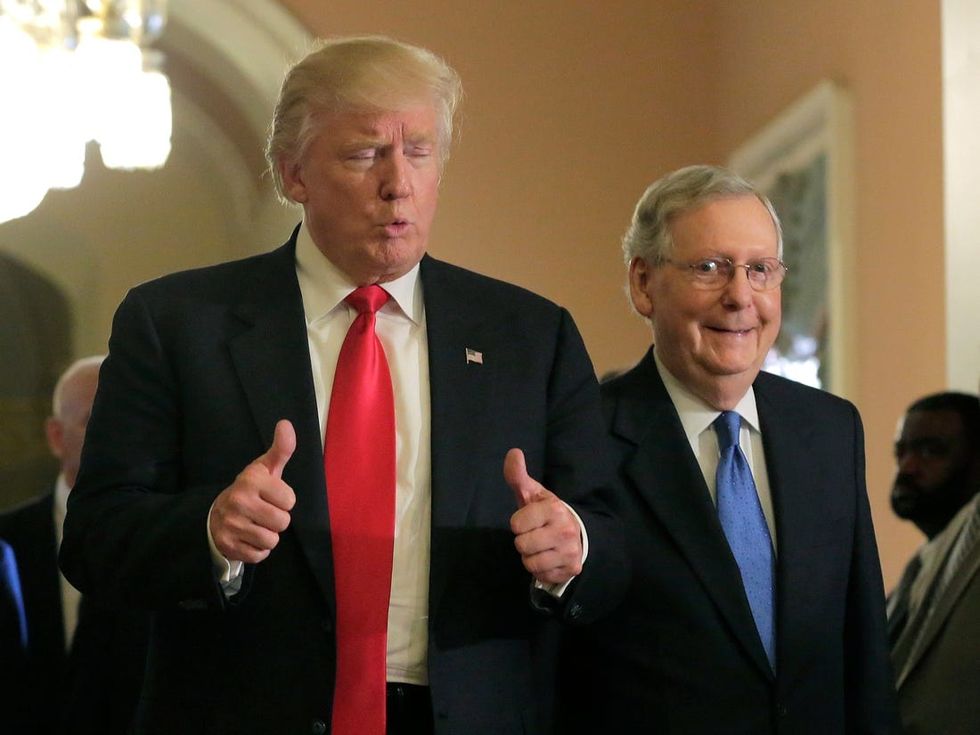 Joshua Roberts/Reuters
There is some truth to this statement, but it's a small truth that helps to conceal a much bigger lie. Granted, there are varying legal opinions on what constitutes "high crimes and misdemeanors," and there was essentially zero chance that the Senate's Republican majority was ever going to vote to remove Donald Trump from office. So why bother going through the motions of a legitimate impeachment trial—allowing new evidence and witness testimony? The answer lies in another portion of Alexander's statement: "Our founding documents provide for duly elected presidents who serve with 'the consent of the governed,' not at the pleasure of the United States Congress. Let the people decide." This, despite the fact that more than 70% of Americans wanted the impeachment trial to include witnesses.

And how should the people decide if there are facts and perspectives being deliberately withheld? That has been the explicit goal in Mitch McConnell's handling of the impeachment trial. Presumably, he knows what the Watergate hearings did to Richard Nixon's approval rating. Nixon resigned because the American people were exposed to who he truly was, and they turned against him. If not for those hearings, he would have remained popular. Likewise, according to a recent poll, 65% of Republicans consider Trump's interactions with Ukraine "normal presidential behavior." Consent is not truly consent if it is not informed.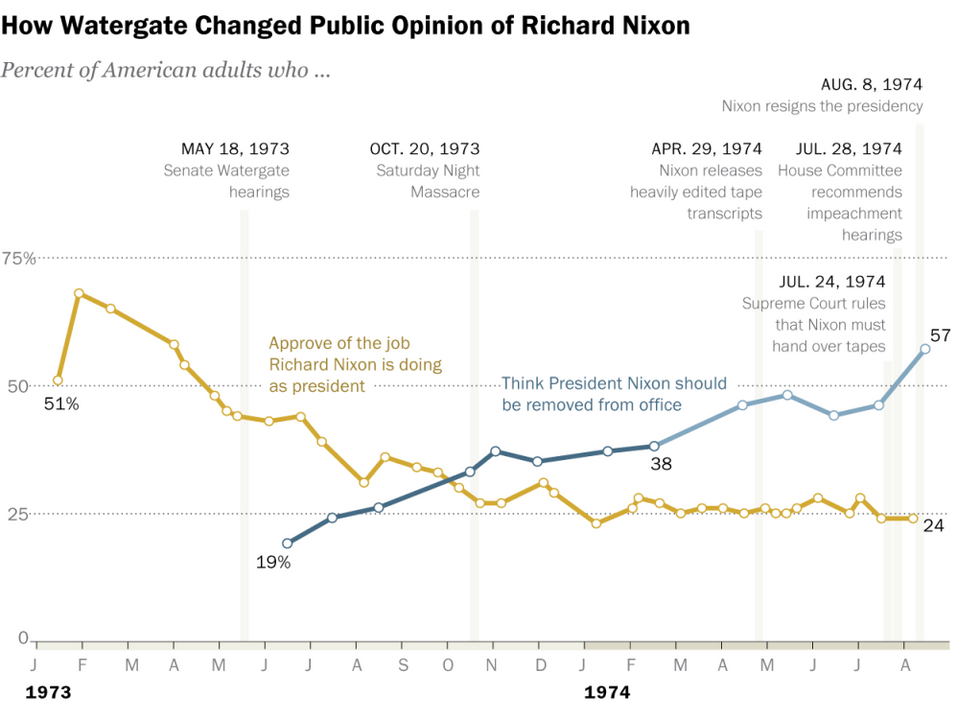 Pew Research Center
So while Lamar Alexander may be convinced that Trump acted inappropriately, without the spectacle of witness testimony, that is not the message many Americans are going to receive. They will hear that Trump has been exonerated. That impeachment was a nothing-burger and a distraction. And they probably won't read John Bolton's damning book. And Lamar Alexander knows that.

On Tuesday, Donald Trump will give his State of the Union address and will have ample opportunity to move the national conversation past his multiple deliberate attempt to interfere with the democratic process and to obstruct the various efforts to expose him—including instructions to "take out" a troublesome diplomat. Normal presidential behavior? He was trying to cheat in the election, and apparently—as long as your political party controls the majority in the senate—that's allowed.
Senator Alexander has cleared the way for the American people to carry on with normal life without truly confronting the corruption that defines Donald Trump's interactions with the world and everyone around him. He has made it increasingly likely that Donald Trump will continue to use the immense powers of the presidency to pursue personal and political ends at the expense of global stability, our democratic institutions, and a sustainable future. Lamar Alexander—along with 50 of his colleagues—will soon have effectively rubber-stamped election rigging.
But in his statement there is no indication that this choice has any significant ramifications. He is willingly obscuring the real stakes, partly out of party loyalty, and partly because his age makes those stakes abstract. He will be dead soon. Maybe not this year or the next, or even twenty years from now, but in comparison to the young membership of the Sunrise Movement—for instance—his thinking is fundamentally and frighteningly short-term.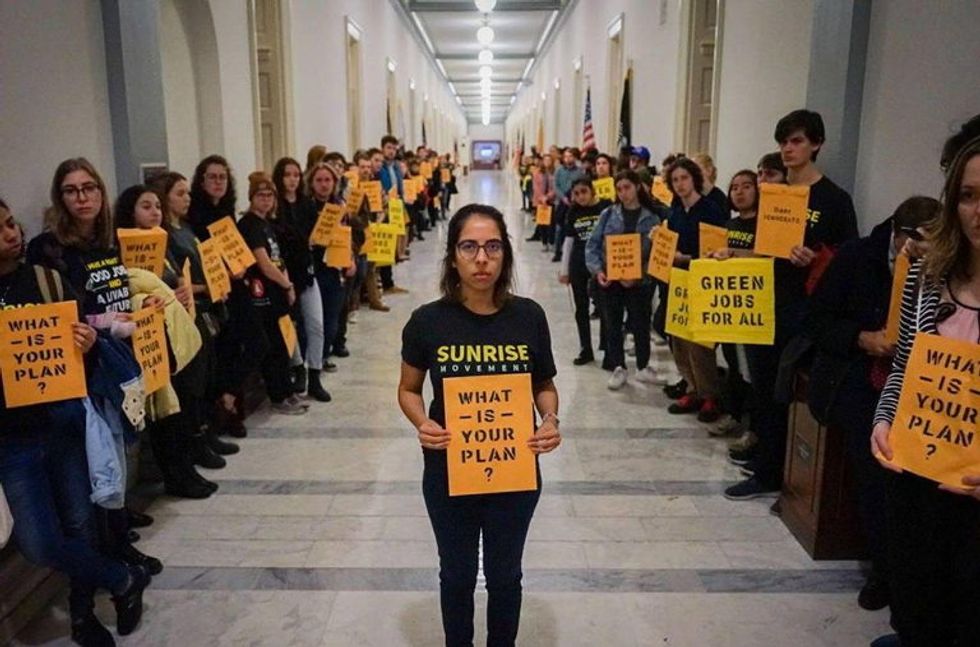 Lissy Romanow
If Donald Trump wins re-election in November, it will likely be the outcome of various efforts to leave Americans misinformed and disenfranchised and will almost certainly result in the United States fully abdicating our duty to address climate change—the "Chinese hoax"—with the urgent and intensive action it requires. And there will be many people to blame, but few who were as well-positioned to alter this horrific course of events as Senator Lamar Alexander.

So congratulations, sir. In your waning years you managed to ensure that American democracy and a livable climate are on their way out too. Way to go.
The decision to have children carries huge moral, financial, and ecological implications, but they aren't enough to dissuade us
Kurt Vonnegut once wrote of a discussion with friend and fellow author William Styron, in which they tried to determine what portion of the people on Earth have lives worth living.
The figure they arrived at was 17%—about one in six people.
On a good day I can tell myself that number must have gone up since then—that we've made progress in battling poverty and disease on a global scale. Maybe it's up to 20% or even 25% by now. On a bad day I'm certain that they were being far too optimistic and that things are bound to get worse.
In the coming decades humanity is guaranteed to face mounting ecological crises as a result of the pollutants we've already pumped into the atmosphere. This is likely to feed into current political trends toward nationalism, as tens and hundreds of millions of climate refugees are forced to seek safe haven around the world.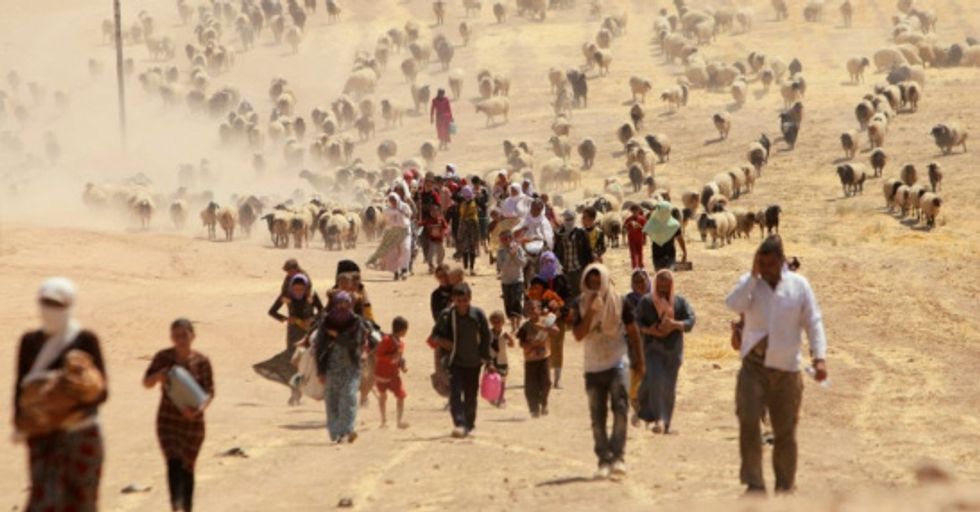 Reuters
Countries will seal up their borders and churn out propaganda about the inhuman hordes pounding at the gates—the crime, the diseases, the vermin. If we aren't careful, full-blown eco-fascism will take hold. The climate crisis will become a powerful excuse for state-sanctioned violence, oppression, and racism, and the coming generations will relive horrors that were supposed to be behind us. Those are the threats we face even if we defy current political trends and pass sweeping climate legislation—finally beginning the hard work of avoiding total ecological collapse.

Given the scale of the problem, the choices we can make at the individual level are inadequate, but still valuable. I cut out red meat, I avoid driving as much as possible, and I try not to buy a lot of stuff that I don't need. If millions of people made the same changes…it would probably be better than nothing. Of course the reality is that I still produce far more ecological damage than the average person on Earth. Some of that is unavoidable—a product of living in the US —but I can't deny that a lot of it is because of the way I live. There are certain things I don't want to give up. I travel. I eat dairy. And my wife and I are planning to have kids.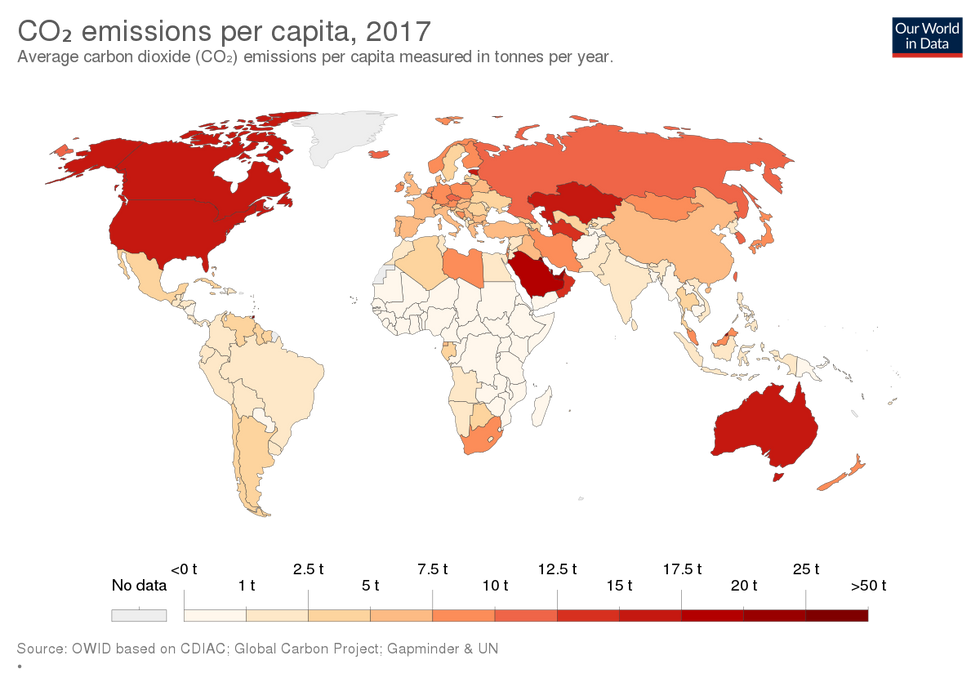 Whatever other decisions you make with your life, none are likely to have as much impact as deciding to create another life—another human to eat and travel and make imperfect decisions. Another human to wrestle with difficult questions and fear for the future. How can we justify the decision to force life on another person in a dark world? Another person whose life we can only try our best to make worth living. Another person who will, in many ways, add to the collective problems of humanity. I'm not going to claim that it's an easy decision to justify, and I don't fully expect to convince anyone who disagrees with our decision. As much as anything, this is an attempt to articulate a hazy justification for myself—and possibly to bolster my rationalization.

The aspect of being a parent that most excites me is the opportunity to reinvest in the future. After multiple decades of passionate concern for the planet—all while people with the power to effect positive change have done nothing—it's hard not to become a little jaded and complacent. Now that prominent political figures are finally pushing for the kind of societal transformation we need, I want to have a stake in fighting for a world that can sustain life beyond my death.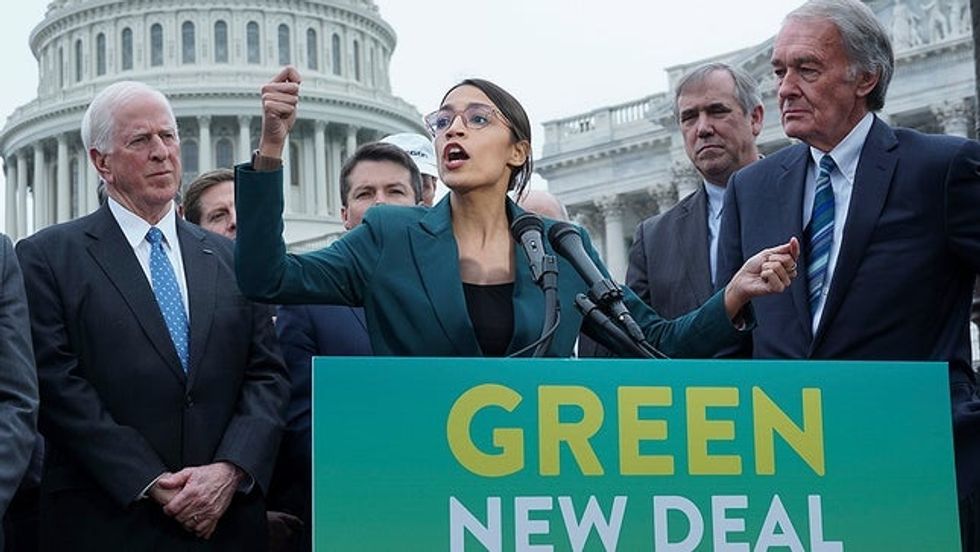 Stefani Reynolds
If I'm going to invest in that hope, I have to believe that—despite the ecological impact—it's still possible for a person to make the world a better place. And I want to believe that the people raised with care and love and positive intention are exactly what the future needs. Having a child—and caring for them, teaching them about our complicated and frightening and beautiful world—is a manifestation of that belief. I want the surprises and challenges that will come with parenting, and I want the pressure to contribute to something greater than myself—both in my personal life and my engagement with political change. I want a connection to the future of humanity that this fight is all about.

Of course, I can get all of that through adoption, and get it without forcing existence and the challenges of life on a brand new human. My wife and I do intend to adopt—or at least to be foster parents—down the line. But right now the window to have children of our own is closing. The financial burden of raising a child is so daunting that we would probably put it off for another decade if we could, but we can't. There are biological pressures that can't be ignored. Our bodies are getting older. The safest time to have kids will soon be behind us. If we could satisfy ourselves to raise adopted children, then we could wait until we reach some hypothetical state of readiness—prepared for the endless crises of raising a child. That state probably doesn't exist, but why is adoption not enough for us?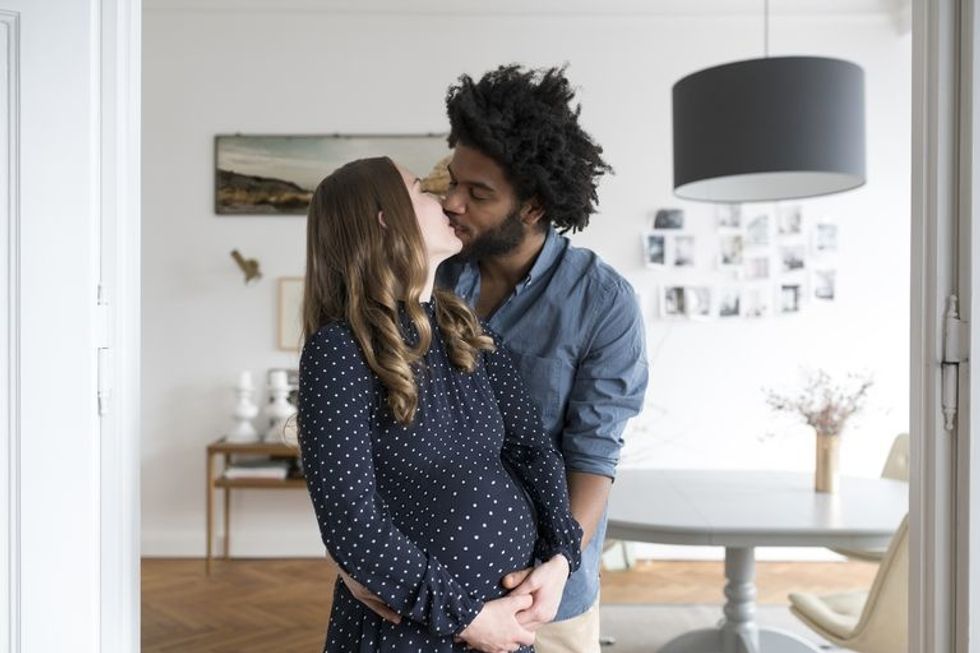 Getty Images
To suggest that the answer is anything but selfishness would be a lie; but, love is in some ways a selfish emotion. Being selfish for each other and selfish as a unit is part of what makes love worth all the pain and the effort we put into chasing it. We love what we are together, and we want good things for that union. We love us.
The bond and belonging between us is a strong comfort in a world that's dominated by so much loneliness. And as much as we believe that we could extend that bond to any child who needed to belong, there is something beautiful and exciting (and selfish) in the thought of using that bond to bring a new life into the world—a new person, autonomous and unique, but a person who embodies aspects of us both and of what we love about each other.
It's the idea of transforming what we are to welcome that new person into our bond. Life at its best is transformative and a little bit frightening. What could be more transformative and frightening than the process of pregnancy, birth, and parenthood? I can only be supporting staff in much of that process, but I'm still excited by the prospect.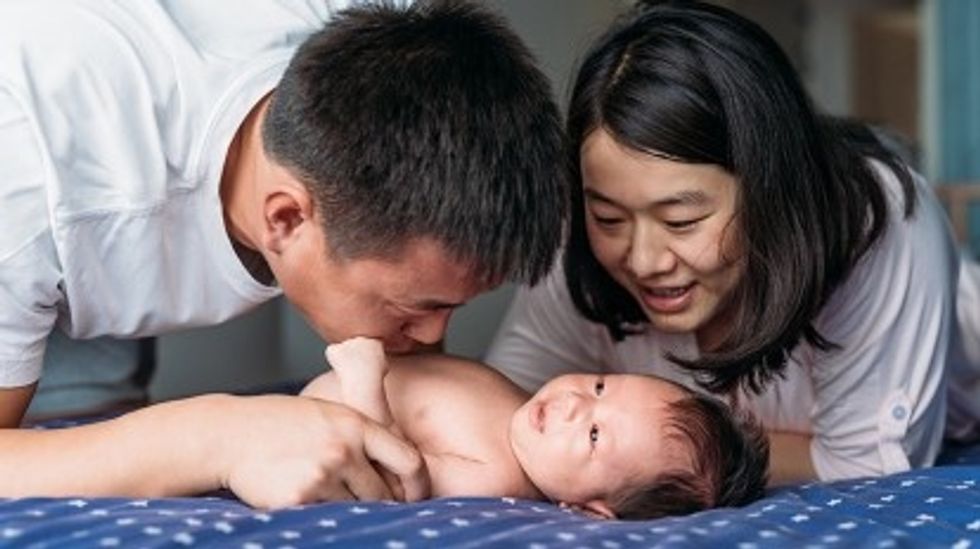 Maybe this is all just a muddled translation of my evolutionary function. That excitement might be a purely biological impulse. But there are limits to denying biology. At the base, biology drives everything we do. Regardless, at this point we are committed to having children of our own—or committed at least to trying. If it weren't such a common choice—if friends weren't choosing the same; if our families weren't also excited for us to pursue that selfish impulse—we would probably be shamed out of it. Instead, we just worry about being good parents while people with experience try to reassure us that the worry gets us halfway there.
The revolution will not be Tweeted, but its agenda can be.
Can a tweet save the world? No. Is it a public record of your intolerance of unjust systems in the world? Sure, if anybody reads it among the white noise of Twitter rage. Protest movements in the digital age are tricky; hacktivism, or hashtag activism, has been critiqued as an ineffective and tokenizing way to virtue signal in the name of social justice while actually being armchair activists. Meanwhile, nonviolent protests like marches, boycotts, and strikes are critiqued for being too passive to ever enact real change. On the other end of the spectrum are volatile reactionaries who want to tear down the system and begin from scratch–even if they have no actionable plans to create a viable replacement.
So what are we supposed to do? More to the point, what are we supposed to believe? A patient and open-minded look at both sides of any issue is guaranteed to point out one commonality: Everybody has the wrong idea about the opposing side. When it comes to social movements that create a better future, there are some basic, prevailing myths that only distract people from the real problems at hand. Ask activists, historians, and political science analysts, and they agree that you shouldn't fall for the following misconceptions when fighting for a better world:
1. Myth: Nonviolence Is Ineffective
Historically speaking, this simply isn't true. When two researchers from the United States Institute of Peace conducted a study of nearly 330 major violent and nonviolent campaigns "targeting incumbent regimes and foreign military occupations," they concluded that "nonviolent efforts were twice as likely to achieve their goals." They wrote, "The majority succeeded against authoritarian governments, when even peaceful protests could have fatal consequences. The ousters of Augusto Pinochet in Chile, Ferdinand Marcos in the Philippines, Zine el-Abidine Ben Ali in Tunisia, Yahya Jammeh in Gambia, Bashir in Sudan and Abdelaziz Bouteflika in Algeria are only a handful of cases in which mass nonviolent force stripped power from despots." Furthermore, another study in 2011 looked at 323 civil resistance campaigns around the world between 1900 and 2006, concluding that nonviolent campaigns were successful in 53% of cases, compared to violent ones' success rate of 26%. Additionally, only 4% of violent revolutions ended up in a "functioning democracy," compared to 42% of non-violent regime changes.
So radical violent action, whether that be in the form of paramilitary groups or self-appointed vigilantes who want to burn down the Establishment, is statistically not as likely to produce change as collective nonviolent protest.
2. Social Media Makes Protests More Effective
With that being said, there is a degree of truth to the allegation that social media creates lazy activists. More specifically, however, social media encourages engagement in social issues (i.e. sharing an article, liking a tweet, and maybe hurling insults at the opposing side), which is different from collective action. While Facebook, Twitter, and Instagram allow people to express their displeasure at existing policies, the most social media can do is mobilize people to agree on a unified agenda and a set of actions.
The problem, of course, is that many online participants don't end up following through with in-person plans, thus there's no unity where it counts: on the ground, at the march, or holding up signs. Furthermore, analysts Maria J. Stephan and Adam Gallagher emphasize the importance of "durable organizations" and "long-term planning," and in the fast-paced, immediate gratification of social media platforms like Twitter, responses can often be reactionary and short-term, which doesn't even begin the work of effective protest.
3. Myth: You Need to Have a Massive Amount of People
This is half-true, but it's mostly misunderstood. Effective nonviolent protests gain traction and grow into massive movements when their tactics get them noticed–even if that doesn't involve a large amount of people. As evidenced by the progression of the Egyptian occupation of Tahrir Square and the Serbian student protest group, Otpor (translated as "Resistance!"), a large following of people don't mark the beginning of a movement but rather it's a sign that a movement's worked. Srdja Popovic, leader of Otpor, reflected on the overthrow of war criminal Slobodan Milošević, "All successful movements come with a very low entry bar. You need to offer people the chance to do something meaningful, and – crucially – to get away with it. In Chile, against Pinochet, they drove at half speed: not illegal, very low risk, pretty funny, nothing the cops can do. It's about doing something neat, and living to tell everyone." He added, "We had to go out and listen. Get the real people, rural people, not so clever-clever people, behind us. Build a movement. We did, but it took us five years." Resistance from within a system is more effective to create change than external opposition.
4. Myth: It's a Business
Popovic coins one of their best tactics "laughtivism." Making people laugh not only gets attention, but it alleviates tension from living within fraught social realities. From graffitiing pictures of the corrupt men in charge to spreading the movement's message through public pranks, nonviolent movements have gained global traction through being human and showing a sense of humor.