Dall-E Mini, the AI-powered text-to-image generator has taken over the internet. With its ability to render nearly anything your meme-loving heart desires, anyone can make their dreams come true.
DALL-E 2, a portmanteau of Salvador Dali, the surrealist and Wall-E, the Pixar robot, was created by OpenAI and is not widely available; it creates far cleaner imagery and was recently used to launch Cosmpolitan's first AI-generated cover. The art world has been one of the first industries to truly embrace AI.
The open-sourced miniature version is what's responsible for the memes. Programmer Boris Dayma wants to make AI more accessible; he built the Dall-E Mini program as part of a competition held by Google and an AI community called Hugging Face.
And with great technology, comes great memes. Typing a short phrase into Dall-E Mini will manifest 9 different amalgamations, theoretically shaping into reality the strange images you've conjured. Its popularity leads to too much traffic, often resulting in an error that can be fixed by refreshing the page or trying again later.
If you want to be a part of the creation of AI-powered engines, it all starts with code. CodeAcademy explains that Dall-E Mini is a seq2seq model, "typically used in natural language processing (NLP) for things like translation and conversational modeling." CodeAcademy's Text Generation course will teach you how to utilize seq2seq, but they also offer opportunities to learn 14+ coding languages at your own pace.
You can choose the Machine Learning Specialist career path if you want to become a Data Scientist who develops these types of programs, but you can also choose courses by language, subject (what is cybersecurity?) or even skill - build a website with HTML, CSS, and more.
CodeAcademy offers many classes for free as well as a free trial; it's an invaluable resource for giving people of all experience levels the fundamentals they need to build the world they want to see.
As for Dall-E Mini, while some have opted to create beauty, most have opted for memes. Here are some of the internet's favorites:
There's no looking back now, not once you've seen Pugachu; artificial intelligence is here to stay.
Climate change is happening right now, and it's already destroying people's livelihoods.
Climate change is often framed as a problem of the future—something that "will happen" if we fail to act.
But the truth is that climate change is happening right now, and it's already destroying livelihoods. Climate change is the droughts, the hurricanes, the wildfires, and the floods that are occurring with increasing frequency. It's the extreme heat, which is debilitating to some but which others can easily drown out with air conditioning.
Climate change generally harms poor communities and communities of color far more than it harms the primary drivers of rising global temperatures, namely corporations and those who benefit from corporate success. Ironically, poor communities that contribute very little to climate change tend to be the ones who have to deal with its worst effects.

Still, climate change will come for us all one way or another—that much is clear. Climate change is even beginning to damage luxury hotels, infringing on the isolated worlds of the super-rich. Here are eight places around the world that are already disappearing because of climate change. Chilling harbingers of what's to come if we don't act, these places are also testaments to overconsumption and the brutal effects of humanity's utter lack of care for the planet and for our fellow humans.
The coastal town of Shishmaref, #Alaska is facing consequences of a warming 🌡️ #Arctic, including the loss of sea i… https://t.co/Dg0STzAmIL

— WWF Arctic Programme (@WWF Arctic Programme) 1582121629
The coastal town of Shishmaref, #Alaska is facing consequences of a warming 🌡️ #Arctic, including the loss of sea i… https://t.co/Dg0STzAmIL

— WWF Arctic Programme (@WWF Arctic Programme) 1582121629
Keep reading...
Show less
The Colonial Pipeline is up and running again, but the madness isn't over...
From May 7th through the evening of May 12th, America's largest supply network for gasoline, diesel, heating oil, and jet fuel was shut down.
As of Thursday morning it is back online, though it will take a while for the typical rate of delivery to resume.
Under normal circumstances, the Colonial gas pipeline network is responsible for moving more than 100 million gallons of fuel every day, transporting it from refineries in Texas all the way up to New York, with offshoots all along the eastern seaboard. That's around 45% of the fuel supply for the east coast.
But last week that network was shut down thanks to a ransomware attack from a group known as DarkSide. And, as a result, gas prices have been spiking, with the national average topping $3 a gallon for the first time in years.
Colonial Pipeline restarts operations, gas prices spike | WNT www.youtube.com
Predictably, a sense of panic has gripped the populace, particularly in some Southern states, where long lines have been forming for the pumps. More than a thousand gas stations were fully tapped, and many others started placing limits on how much their customers could buy.

If the hackers' purpose was to cause as much chaos as possible, this would all be a rousing success. But was that really their motivation, or are they after something else entirely?
Who Is DarkSide?
The more you look into them, the less they sound like a criminal gang. Rather, the data thieves at DarkSide give off the vibes of a tech startup, with promotional materials that talk about clients, affiliates, tech support, financial evaluations, and their sterling (criminal) reputation.
The organization is based somewhere in Eastern Europe, with roots in a Russian-language hacker forum, but early rumors that they have ties to Vladimir Putin and the Kremlin seem to be baseless. They claim to be independent of political ties, and that certainly matches their tactics.
According to their public statements, they always assess their target companies carefully — making sure they'll be able to afford a steep ransom payment — before striking. They also claim to have a principled stance against targeting companies in the fields of medicine, funeral services, or education, as well as non-profits and government entities.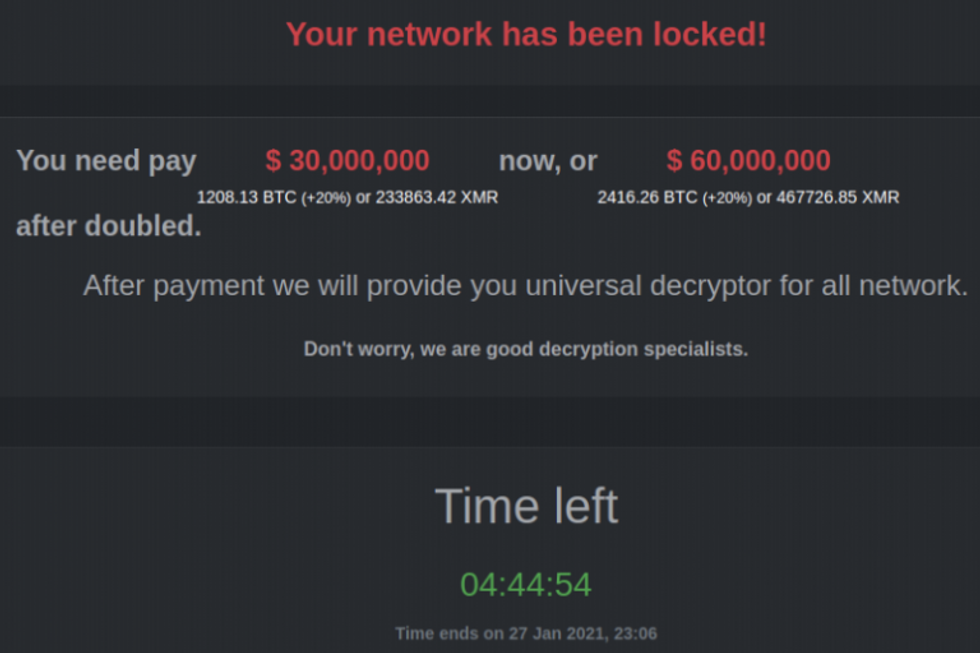 https://krebsonsecurity.com/2021/05/a-closer-look-at-the-darkside-ransomware-gang/
Whether this ethics code is truly based on a sense of morality, or if it's just a matter of avoiding the added scrutiny and bad press that would come with attacking a hospital is unclear, but it all comes across as very professional and corporate. They even "guarantee" the reliability of their service.

Since launching in August of 2020, they have advertised their services to other hackers and have grown quickly thanks to the systematized efficiency they provide. The only real difference between DarkSide and any rapidly emerging "disruptor" in the tech world is the specific service they provide.
Namely, once an "affiliate" (hacker) gains access to a company's data, DarkSide steals it, locks the company out with high-level encryption, and holds that information hostage until the company pays out. If their target is unwilling to pay a steep ransom, DarkSide starts leaking their data to a dedicated website, with notifications sent to the media, business partners, and customers.
It's a very businesslike approach that reflects a very businesslike set of priorities. As DarkSide themselves recently put it, "Our goal is to make money and not creating [sic] problems for society." They even promise to provide their target companies with information about how they were compromised, so they can patch holes in their security.
But if they're only after money, why did they target such an essential piece of America's energy infrastructure? If they don't want to create problems for society, uh...why did they?
Unforeseen Consequences
The short answer is that it was a mistake. For all the care they claim to put into their work, they overlooked certain details this time around and have caused bigger problems and invited more negative attention than they ever intended.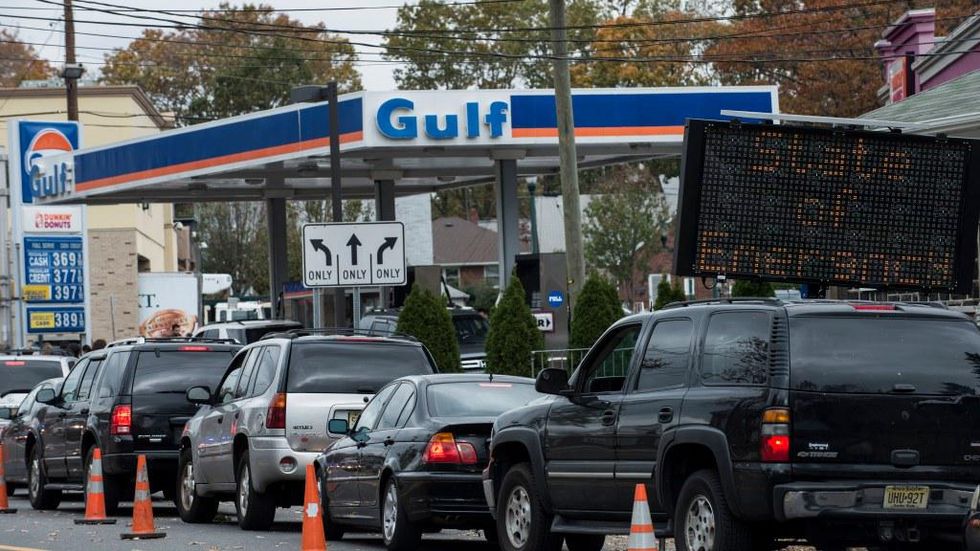 As any good corporation would in these circumstances, they have promised to do better in the future. They insist that, going forward, they will "introduce moderation, and check each company that our partners want to encrypt to avoid social consequences."

The longer answer is that America's energy infrastructure is particularly vulnerable. If DarkSide was only looking at Colonial Pipeline Company's financial bona fides, they may have missed how crucial that pipeline has become and how hacking one company's data — without even interfering with the pipeline directly — could cause so much chaos.
That wasn't always the case. Once upon a time the northeast did a lot of its own refining of oil shipped in from overseas, but the decades-long push to make America "energy-independent" has shifted consumption to local supplies of oil, and more than half of the northeast's refining capacity has been shut down.
As a result, we've been facing gas shortages just like those in the 1970s under Jimmy Carter...if you don't care to look past the surface. Even The New York Times has been throwing around "crisis in confidence" callbacks; but in truth, the similarities are practically non-existent.

Unlike the 1970s, when OPEC was deliberately strangling the oil supply, there really is no shortage of oil or even of gasoline. Oil is still being slurped up and refined into gasoline. Even the mechanics of the pipeline hadn't been affected directly by DarkSide's attack.
The only problem interfering with the pipeline — until it was resolved on Wednesday night — was that Colonial Pipeline Company's billing system had been knocked out. They couldn't get paid, so they stopped delivering to their customers.
It could still be delivered by truck, and the Biden administration even declared a state of emergency in order to relax regulations around that method of transport. And even if tanker trucks hadn't been an option — admittedly, there weren't enough drivers to meet demand — this was always understood to be a temporary situation.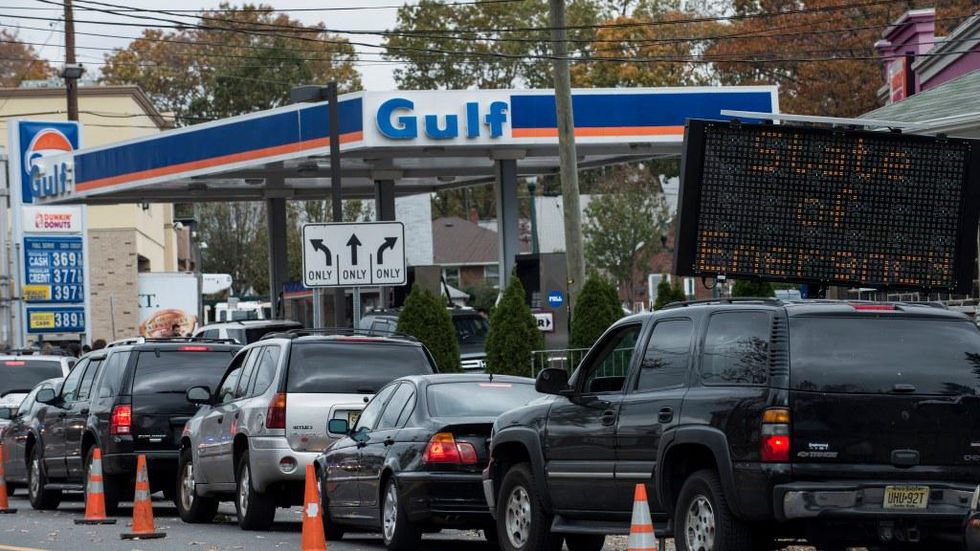 Because of the professionalism of the criminals involved, there was never a question of getting the pipeline — or the company's accounting system — up and running. It was just a question of whether it would take a few days or something in excess of a week.

It turned out that it took about five days to get the system back online, and it's expected to take several more to get it back up to 100%. In other words, a full tank of gas would probably have lasted most people through this "gas crisis" without sending gas prices skyrocketing. So what happened?
The Viral Gas Hoarders
People freaked out. Like the toilet paper debacle of 2020, what should have been a minor issue of supply chains adjusting to a new normal became a serious problem thanks to the selfish overreactions of the worst among us.
As soon as the news hit that there could be some minor shortages and a temporary price increase, the panic started. Images and videos of people filling car trunks and truck beds with plastic gas cans were outdone by the people filling plastic buckets, storage bins, and massive tote tanks.

Never mind the fact that many plastics will warp or dissolve in the presence of gasoline. These people weren't going to let a temporary shortage pass them by without panic-buying.
While perhaps the most iconic example — a video of a woman filling plastic bags with gasoline — turned out to actually be from 2019, the panic was real. And it was viral in more ways than one.
Let's say one person decides to fill an extra 20 gallons of standard gasoline containers at the pump. They take about twice as long as they usually would, and a small line of cars starts to form. Someone driving by sees that line and decides that this gas crisis thing must be real, and figures — even though they have more than half a tank — they should fill up now, before things get worse.

Next thing you know, that line of cars is spilling into the street, the gas station is starting to run low, and people are calling and texting friends and loved ones, sharing images of the gridlock on social media, encouraging others to take this "gas shortage" seriously and fill up any vehicles and containers they have. And so the virus of gas panic spreads…
A Long-Term Solution?

But now that there's light at the end of the tunnel for this temporary panic, how do we ensure that this kind of thing doesn't happen again? After all, if DarkSide had approached this with more malicious intent, it could likely have been much worse.
So how do we secure our critical energy infrastructure to prevent this kind of issue in the future? If we take it for granted that we probably can't change human nature enough to stop people from panicking and hoarding at the first sign of an issue, there are still a number of options.
For a start, we could mandate comprehensive cybersecurity for companies that provide critical services, preventing this kind of ransomware attack from happening in the first place. Or we could even nationalize pipelines so a profit motive and disrupted billing don't get in the way of delivering what people need.
But there will always be vulnerabilities in a system that relies on centralized infrastructure like pipelines. The most important solution is to wean ourselves off of fossil fuels altogether. If electric vehicles charged by decentralized power sources — e.g. home solar panels — were the norm in the U.S., a gas shortage would be nearly meaningless, and there would be no central energy hub vulnerable to attack.
Renewables should be at the center of any push for energy security. Even the issues with the Texas power grid during February's freezing weather — though falsely attributed to wind power by many on the Right — were mostly due to issues with fossil fuels and private greed. Widespread adoption of small-scale solar power could actually have buffered the grid against the worst outcomes.

This would also be a great way to avoid the environmental and societal damage of pipeline leaks and spills, like the 2020 instance of more than a million gallons of gasoline spilling out of the Colonial Pipeline in a North Carolina town. While that's perhaps the worst pipeline incident in America's history, there's no shortage of competition, with significant damage to natural habitats and crucial water supplies.
And, as long as we're on the topic of pollution, it's worth pointing out that, if we don't make a dramatic shift off of fossil fuels, climate change is going to get so much worse. They are the single greatest source pumping greenhouse gases into the atmosphere, adding energy to complex weather systems, and making freak incidents like February's polar vortex far more common and devastating.
So if you hate gas crises almost as much as you hate the gradual collapse of civilization as a shifting climate brings on natural disasters, disrupting food production and displacing communities around the world, then the obvious way forward is to treat fossil fuels as the evil that they are and to shift away from them as quickly as we possibly can.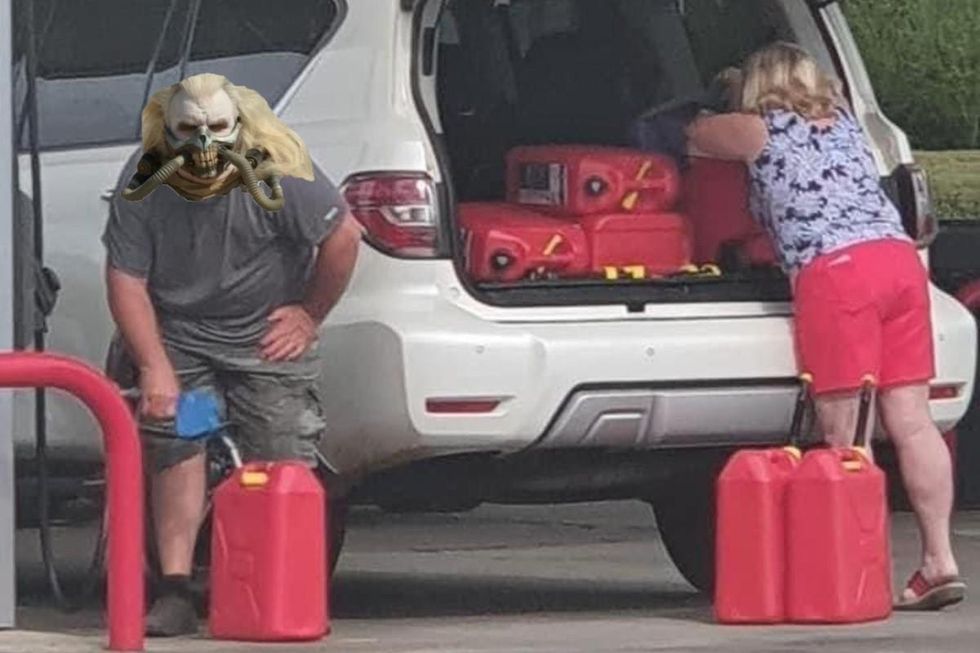 Or we can embrace our Mad Max future, let the hoarding virus take us, and start lining up to fill our buckets with guzzoline...

Keep reading...
Show less
Can one small YouTube channel heal the world? Probably not, but at least Climate Town is trying.
Rollie Williams is a lot of things: "dracula apologist," "guy who couldn't find a men's jumpsuit that fit him," "surprisingly big on billiards YouTube," and "happy just to be nominated."
But what he is, most of all, is a graduate student at Columbia University, studying Climate Science. And he's recently started putting his studies to good use, sharing his knowledge of the causes, consequences, and solutions to environmental degradation in an entertaining and informative series of videos on his YouTube channel, Climate Town.
Though he hasn't been working on Climate Town for long — the first of video went up in August of 2020 — his infrequent, high-effort videos, filmed around New York City on a shoestring budget supported by Patreon donations, have already started attracting some big views. Since Williams averages about one video a month, you can watch the entire repertoire in a little over an hour, but you'll come away from that hour with some insights that are likely to stick with you.
2 Minutes Of Fact-Checkable Climate Change Facts For Skeptics | Climate Town www.youtube.com
Because while jokes about Al Gore ("America's lamest cool guy") and shots of Williams in his underwear — fishing a laptop out of a pond — make Climate Town a lot more palatable and funny, the series is built on a foundation of solid research into the sordid history of environmental research and policy. And if you think you already know the dirty details of climate change, prepare discover entire new layers of filth.

Williams, with the help of "a ragtag team of climate communicators, creatives and comedians," goes deep into the receipts in these videos. He reveals how car companies, politicians, pundits, and oil companies have shaped America to serve their interests — with no regard for the irreversible damage they were doing to the Earth.
And that doesn't just include stuff like lobbying against climate legislation and spreading lies about how wind energy and the Green New Deal somehow caused the catastrophic power outages in Texas. Climate Town also picks apart some of the favorite band-aids a lot of us like to place our hopes in when staring into the gaping wound of humanity's impact on the planet.
Carbon Offsets! Can't we just buy our way out of climate change? www.youtube.com
It turns out that around 85% of carbon offsets don't do anything at all, the majority of your "carbon footprint" has nothing to do with what your individual activity, and most plastic recycling is (mostly) a lie. As nice as all of these concepts are, the reality is that they were all thought up as marketing gimmicks to shift the blame off of major corporations who might otherwise have been held responsible for the destruction of the earth.
It turns out that people don't love it when massively profitable companies ravage the planet, but what are they supposed to do? Be less profitable?
No, it's historically been much cheaper to convince people that individual action like recycling can solve the problem (even though that little recycling symbol doesn't belong on most plastics), or that the corporations involved are already doing enough to fix it (they're not).
So it's all hopeless, right? GM set out to create an America that was built around gas-powered cars, and they succeeded. And Exxon worked to infiltrate the first Bush administration, then undermined our shot at global climate cooperation.
The Time America Almost Stopped Climate Change | Climate Town www.youtube.com
They won; humanity lost; planet over, right? Well, as unpleasant as it is to hear about how close we've come in the past to avoiding our current problems, it's probably not quite that bad yet, and Climate Town videos always end with a note of optimism — with suggestions for how viewers can push for the kind of radical climate policy we're going to need if we want to save the world.

It remains to be seen if humanity has what it takes to clean up after ourselves, but looking at how we got here and how we can move forward is a necessary part of the massive, all-important struggle ahead of us. In a sane world, this kind of accounting would occupy most of our news and political media, as we prepare to face the defining crisis of our era.
But while the world might not be sane just yet, Climate Town is, and it makes the whole mess a little bit easier to digest.
Keep reading...
Show less
On March 22nd, Senator Bernie Sanders and Elon Musk entered a debate over the fate of the world.

It began when Sanders published a very in-character tweet. "We are in a moment in American history where two guys — Elon Musk and Jeff Bezos — own more wealth than the bottom 40% of people in this country," he wrote. "That level of greed and inequality is not only immoral. It is unsustainable."
Elon Musk, the Tesla and SpaceX CEO who briefly surpassed Jeff Bezos in early 2021 to become the wealthiest man in the world, had a ready-made response. In a Tweet, he wrote, "I am accumulating resources to help make life multiplanetary & extend the light of consciousness to the stars."
@cleantechnica I am accumulating resources to help make life multiplanetary & extend the light of consciousness to the stars

— Elon Musk (@Elon Musk) 1616304691.0
Sanders's reply remained laser-focused on his lifelong mission to fight income inequality on Earth. He wrote, "Space travel is an exciting idea, but right now we need to focus on Earth and create a progressive tax system so that children don't go hungry, people are not homeless and all Americans have healthcare. The level of inequality in America is obscene and a threat to our democracy."
Musk's starry-eyed statement has since faded into the ether of Twitter, but the context of this debate raises larger questions about futuristic technologies, the present-day interests and needs of humans on Earth, and the ongoing battle between them.
Billionaires dream of flying machines
As the Earth speeds towards irreversible climate disaster, many people's minds have naturally turned towards the stars. The distant, spinning nebulae and gleaming planets above us have long been idealized as potential escape routes for the unhappily earthbound.
But as the climate crisis grows more dire on Earth and space travel ramps up, thanks to ambitious patrons, some (like Elon Musk) have proposed that space may be our best shot at collective survival.
Famously, Musk founded SpaceX because he believed that NASA was not working hard enough to bring humans to Mars, and he feared that humanity is approaching its last chance to escape Earth before our planet becomes an uninhabitable hellscape.
His fellow Bernie Sanders nemesis Jeff Bezos has expressed similarly apocalyptic concerns. Bezos, who founded a rocket and aerospace travel company called Blue Origin in 2000, recently stepped down from his position as CEO of Amazon, claiming he planned on investing more time in his work with Blue Origin and his efforts to fight climate change.
Like Musk, Bezos aims to colonize space by investing ambitiously in new technologies that could help people reach the stars. And also like Musk, he fears for the future of civilization — and sees space as the place where these problems might be solved.
"Hundreds of years into the future, we will move all the polluting industries to space and other planets, where we have infinite resources for all practical purposes and Earth will only be (used for) light industries and residential," Bezos stated in a conversation with Amazon India chief Amit Agarwal in New Delhi.
This plan, which Bezos calls the New Inversion, is a long-term vision that would effectively move all pollution to the cosmos. "I would think, kind of [a] time frame of hundreds of years," Bezos added, reiterating that "we have to preserve this planet and we can do that using the resources of space."
The "space escape" as an escape route for the super-rich
Bezos, Musk, and their future-focused peers may claim that their plans to reach the stars are efforts to ensure a future for humanity, but their own reputations and vast fortunes have raised many questions about who this interplanetary future would actually serve.
At the moment, the future of space travel appears to be reserved for the super-rich — the sort of people who are already least affected by earthly calamities like climate change, despite unleashing the vast majority of the world's carbon emissions. For example, private spaceflight companies such as Axiom reportedly charge up to $55 million to send travelers into specially designed rooms located in the International Space Station.
It is likely that even if space travel begins to evolve in step with Moore's law (the theory that computers' processing power tends to double every two years), whatever world we build in the cosmos will remain reserved for the 1% for quite a long time. In this light, the futures preached by techno-prophets like Bezos and Musk start to look like thin cloaks for a kind of moon-eyed eugenics that would leave billions of people in the literal dust.
"The space barons are shrewdly — one might say cynically — tapping into our respect for astronauts and our idealism about what space represents," Ceridwen Dovey writes in The New Yorker. "They seem to be counting on us to be awestruck by whatever it is they do in space, and to overlook the fact that their motives are not exactly pure, nor are their methods of getting us there egalitarian."
Humans are drawn to mystery and beauty, and space is such a tantalizing frontier that it's difficult to completely write off billionaires' ambitious plans to penetrate it, even though we know their earthly work typically involves hoarding vast amounts of wealth while underpaying and mistreating masses of workers.
The ongoing battle between technological innovation and human-centered reform
Similar contradictions plague a multitude of existing plans to address climate change on Earth, and they are particularly endemic to plans broadcasted by corporate entities who have nothing to gain and everything to lose from substantial climate action.
For example, Jeff Bezos recently pledged $10 billion of his $188 billion net worth to the Bezos Earth Fund, yet his overall approach to climate and philanthropy has continuously come under fire.
First, there's the fact that despite all his talk of concern about climate change, Bezos's company continues to belch out carbon emissions, releasing around 51.17 million metric tons of carbon dioxide in 2019 – up 15% from the previous year despite various green pledges. The company has also been slammed with reports about its poor treatment of workers, and prior to the Capitol riots, Bezos also reportedly donated thousands of dollars to conservative politicians such as progressive disruptor-in-chief Mitch McConnell.
Then there's the fact that Bezos failed to donate more than roughly 0.1% of his net worth prior to his 2020 donations — and the latter comprised less than 8% of his vast net worth, a sum that, along with Musk's wealth, is equivalent to the collective wealth of the United States's poorest 40% of people.
The $10 billion Bezos did donate via the Earth Fund was also met with criticism, particularly from groups invested in climate justice. The vast majority of Bezos's donations went to established environmental organizations like the Environmental Defense Fund and World Wildlife Fund, most of which already possess endowments in the millions. Critics said that many of these contributions will never reach communities already subject to the worst effects of climate-caused floods, wildfires, pollution, and destruction, and many of their ultimate goals involve conserving an existing status quo rather than addressing interconnected crises like racism and economic inequality.
In a statement released in December, a group of community-focused NGOs called the Climate Justice Alliance released a statement in protest of Bezos's donations. It found that "less than a quarter of the first-round grants will go to intermediary funds that support thousands of grassroots communities cultivating solutions on the frontlines of the climate emergency. The inequities couldn't be more striking."
This could also be said of the work of many of the "Big Green" environmental groups, particularly those historically focused on conservation rather than human-focused social change. Conservation movements have historically been bound up with white supremacy, and a look at the bigger picture reveals that white supremacy created and perpetuates the conditions for climate change, itself is an inherently racist crisis.
Other billionaires and corporations' efforts have been subject to similar critiques. For example, Elon Musk recently launched a competition offering $50 million to whomever could invent the best carbon capture techniques. Carbon capture technology has long been an alluring yet elusive potential solution to climate change, and it has also been the recipient of generous funding.
Despite all this investment, no miracle technology with the ability to stop climate change has ever emerged, and waiting for one feels more and more like waiting for a doomsday savior who will never arrive.

False promises further threaten any chance of climate action
An April 2020 study from Lancaster University argues against promises that glorify miraculous technologies, because "overreliance on promises of new technology to solve climate change is enabling delay."
Hinging the solution of climate change on miraculous technological breakthroughs like ice-restoration, nuclear fusion power, massive carbon-eating machines, and extraterrestrial offshoring can "feed systemic 'moral corruption', in which current elites are enabled to pursue self-serving pathways, while passing off risk onto vulnerable people in the future and in the global South," say researchers Duncan McLaren and Nils Markusson, who encourage "cultural, social and political transformation" over placing hopes in instant solutions.
It seems that any genuine "cultural, social and political transformation" will not come directly from billionaires and massive corporations, who naturally often benefit most from current cultural, social, and political structures and hierarchies. Recent corporate efforts to combat climate change have been hollow and hypocritical; and many corporations are being accused of greenwashing as they release statements and pledges that appear to be commitments to fighting climate change but that are really efforts to deflect opposition.
A January 2021 report from the Sierra Club entitled "The Dirty Truth About Utility Climate Pledges" graded utility companies on their plans to cut emissions and transition to clean energy solutions and issued many failing grades to companies that have released "carbon neutral" pledges and similar statements. "
The infuriating truth is that many utilities are not only protecting their coal plants from retirement, but are also actively planning to build out climate destabilizing gas plants," said Mary Anne Hitt, who is the Director of Campaigns at the Sierra Club. "The consequences of allowing utilities to continue to delay the transition to clean energy will be particularly disastrous for low-income communities and communities of color."
Learning from the people and the planet
So where will change come from, if not rockets to stars or carbon pledges or the latest addictive inventions of Silicon Valley coders? Perhaps the answer is not above us but rather below our feet. Perhaps we have everything we need already here on Earth.
"We already have a safe and natural technology for carbon capture and storage (CCS)," writes Francis Seymour in a report for the Center for Global Development. It's called 'tropical forests.'"
We already have everything we need to transition to clean energy, and we already have enough food to feed the world's population. What is needed is a redistribution of wealth and resources — something billionaires, conservative politicians, and oil companies have fought against since climate change was exposed as a dangerous reality in the '80s.
Slowly but surely, the idea of wealth redistribution as an investment in fighting climate change is seeping into reality in the form of modern politics. Joe Biden's infrastructure plan will be paid for, in part, by taxing the super-rich. Still, there's a long way to go.
As things grow more dire, environmentalists increasingly view a cross-racial, cross-class movement as the only feasible solution to climate change. This framework, long supported by environmental justice movements and knitted into intersectional plans like the Green New Deal, sees the solutions to climate change as bound up with ending capitalism, racial injustice, and other interconnected global plagues.
The new vanguard of the climate movement also acknowledges how important Indigenous knowledge of land stewardship and conservation, frontline communities' understanding of environmental racism and the stakes of the climate crisis, and ongoing working class and BIPOC struggles for justice are to any just transition away from a fossil fuel-based economy.
Clearly, billionaires' expensive efforts to colonize space would be low on the priority list of any intersectional response to climate change.
Is there any place for space in the climate fight?
All this being said, it's unlikely that humans will ever totally abandon our desire to explore distant galaxies. Our desire to know the cosmos is as innate as our childhood desires to explore the deep green mysteries of the nearby woods. Fortunately, we don't have to write space exploration out completely in the fight for Earth.
Actually, Jeff Bezos wasn't wrong when he said space could be key to helping us fight climate change. NASA, the UN, and other organizations have consistently reported that some solutions to the climate crisis might be found through space-based technology capable of deepening our understanding of the climate crisis and providing key evidence of its effects.
For example, satellites can detect changing temperature levels, rising sea levels, and other factors that could be vital in the current global effort to halt warming at 1.5°C. On a more theoretical level, thinking about how alien civilizations may have responded to climate change could help us address our own situation.
It seems that for now, space travel's greatest contribution is its ability to help humans look back at Earth — either to measure its changes or to feel awed by what Carl Sagan called our "pale blue dot," as many astronauts have been when they viewed Earth from space and experienced the famous "Overview Effect." (Upon seeing the Earth from space, astronauts report a newfound sense of compassion for and responsibility to the planet and for the interconnected webs of life that live upon it).
Plus, the sheer ambition of the space race provides an excellent blueprint for the kind of effort it will take to actually address the climate crisis. All in all, there is room for space travel within a just transition to an ethical future.
But for now, it seems that the "light of consciousness," as Elon Musk put it, would be best directed towards Earth's living, breathing beings rather than towards a few billionaires and their efforts to further puncture the edges of our already damaged, airless, eternally silent atmosphere.
Lately, a lot of conversation has been bubbling up about the Senate filibuster.
It's been called a "Jim Crow relic" by former president Obama, and Mitch McConnell threatened to launch a "nuclear winter" if the Senate attempts to end it. Increasingly, Democrats want to end it completely. So what is it, and why does it matter so much?
What Is the Filibuster?
The filibuster is a political strategy used by the Senate to delay, and often kill, votes on bills. Traditionally, a filibuster would mean that the resisting senator would stand on the floor and speak, sometimes for days, against a certain legislative effort.
When a senator utilizes the filibuster, they can delay a vote as long as they wish to — unless three fifths of senators, currently 60 out of 100, vote to move forward.
Nowadays, senators aren't even required to speak in order to deploy this tactic—they can essentially sign a note and curtail almost any legislation using the filibuster. (There's also currently an exception to this rule called budget reconciliation that fast-tracks bills related to the federal budget and only related to the federal budget).
The Constitution does not include a filibuster. Instead, our founding document states that bills should only require simple majorities to pass, not supermajorities. Exceptions to this are impeachment charges, the expulsion of members of Congress, overriding presidential vetoes, and creating constitutional amendments.
The Founding Fathers were very clear: They did not want a minority party to be able to dictate what should be majority rule —and in fact were fearful of this outcome.
In its first iteration, the U.S. Senate reconciled debates by voting on whether to end debates, thus moving a bill to an actual vote.
This changed when in 1806, Vice President Aaron Burr argued that this process of voting on whether to vote (called the previous-question motion) was redundant, as it was rarely ever used, and so it was ended. Inadvertently, Burr created a loophole that made it theoretically possible for senators to infinitely delay votes — and hence, we have the glacially slow, perpetually blocked governmental body that we know today.
First of all, we have to understand what the filibuster is. It's ANY MEASURE that stops a vote. That's it. That's… https://t.co/x2BwFCig0u

— Michael Harriot (@Michael Harriot) 1616550099.0
What Has the Filibuster Been Used for, and How Has It Evolved?
One thing that stands out about the filibuster: It has consistently been used to curtail the rights of Black Americans.
Once rarely used in policy decisions, the filibuster only came into frequent use during the Civil War era, when Southern states would often deploy it in defense of slavery and while blocking anti-slavery legislation.
John C. Calhoun, sometimes referred to as the "grandfather of the confederacy," was an important figure in developing the modern, common filibuster. "He did it for the express purpose of increasing the power of the slaveholding class," says Adam Jentleson, whose book Kill Switch details the rise of the modern Senate. "What he saw at this time — this was around the 1830s and 1840s — was that slaveholders and slave states were becoming steadily outpowered in Congress. And so, he knew that if majority rule was allowed to continue, slavery was going to end."
The filibuster was a solution to this issue and one of the reasons why the government remained incapable of simply ending slavery through democracy.
The filibuster was used throughout the 1800s and 1900s, with politicians challenging its legitimacy to various degrees without success. Woodrow Wilson edited it during WWI, after the Senate used it to stop him from arming ships against German U-Boats. With the help of public outcry, Wilson established Rule 22, which allows a two-thirds majority vote to invoke "cloture" — a rule that, essentially, limits filibustering to 30 hours.
From then on, the filibuster basically remained the same, though in 1975 the number of votes needed for a supermajority was changed to 60. Because earning a 60-vote majority is still quite difficult, the filibuster has remained an effective way for minority rule to block legislation.
Even after the Civil War, the filibuster was used to codify racial violence; for example, in 1922, the filibuster was used to defeat the Dyer Anti-Lynching Bill. Famously, the filibuster was also used to block civil rights legislation up until 1964. In protest of the Civil Rights Act, lawmakers filibustered for 57 days, until public pressure rose high enough for a supermajority to invoke cloture. Eventually, the supermajority necessary for cloture was changed to 60; but yet again, the filibuster remained firmly in place.
Since then, the filibuster has been used for various purposes on all sides of the political spectrum. It was the reason why George W. Bush couldn't overhaul immigration legislation and why Barack Obama couldn't pass climate legislation (or all that much of anything). It is the reason why bills still go to the Senate to die.
What Would Happen if the Filibuster Ended?
Without the filibuster, the Senate would be much more volatile than it is today. It's possible that massive amounts of legislation could pass — and then be reversed, should the Senate majority's political leanings change.
But Democrats have good reason to end the filibuster now (which is probably why Mitch McConnell is so scared). At the moment, Democrats want to enact a piece of voting rights legislation called the For the People Act. Among other things, the act would increase access to absentee voting, extend early voting, allow for same-day registration, and generally would make it easier for people to vote.
"In the wake of an unprecedented assault on our democracy, a never before seen effort to ignore, undermine, and undo the will of the people, and a newly aggressive attack on voting rights taking place right now all across the country, this landmark legislation is urgently needed to protect the right to vote and the integrity of our elections, and to repair and strengthen American democracy," the White House said in a statement.
Naturally, most Republicans hate the For the People Act as much as they hate the idea of getting rid of the filibuster. Their looming fear: The Democrat's proposed voting rights reforms could make it much easier for Democrats to hold onto power. As of now, the bill passed in the House but of course has no chance of passing in the Senate, thanks to the filibuster.
Without the filibuster, Democrats would also have a shot at passing significant voting rights reforms, climate legislation, stricter gun control laws, and immigration reforms. They would be able to achieve their goals of fighting student debt, taxing the super-wealthy, making healthcare more affordable, and more.
The vast majority of the American people want Washington to act to bring down gun violence. Voters elected a Democr… https://t.co/jraOwNAyGL

— Elizabeth Warren (@Elizabeth Warren) 1616613409.0
Of course, the Democrats have an extremely slim majority in the Senate, and many Democratic senators are more centrist than progressive (see: Joe Manchin), meaning that achieving these goals would still require a serious fight even if the filibuster ended.

How Could the Senate End the Filibuster?
There are two ways the Senate could end the filibuster. 60 out of 100 senators could vote to end it, which will never happen in our current version of reality.
Or, senators could use a complex series of political moves sometimes referred to as the "nuclear option," which basically involves three steps: First, a senator objects to a cloture ruling. Then the presiding officer rules this objection out of order, and a simple majority of senators could then vote to overturn that ruling, thus "blowing up" traditional Senate policies.
This "nuclear option" has already been utilized across party lines. Democrats used it to confirm some of Barack Obama's nominees, and Republicans—led by Mitch McConnell—used it to confirm Donald Trump's Supreme Court nominees. (Yes, McConnell, now the world's biggest filibuster proponent, paused it so he could ram Supreme Court nominees through the system).
Actually ending the filibuster is a long shot, but Democrats know this may be their only chance to pass any significant social and political reforms. For his part, Joe Biden has not advocated for the end of the filibuster, but rather he supports the reinstitution of the "talking filibuster" — the "good old days" version of the filibuster where senators have to actually stand up and talk in order to obstruct the passage of a bill.
"It's getting to the point where, you know, democracy is having a hard time functioning," Biden told ABC.
Democratic senators Joe Manchin and Kyrsten Sinema also said they would not vote to end the filibuster, though Manchin did say he supports making it "more difficult to use," which many centrist-leaning Democrats see as a promising option.
Still, despite the odds, those who support ending the filibuster see it as a life-or-death issue, as it's quite possibly the only way to make true progress on inequality, gun control, healthcare, and other issues.
Currently, it seems that the Senate is hurtling towards a high-stakes battle for the future of the filibuster, with both sides ramping up their efforts to intimidate each other. McConnell's threats to initiate a "scorched-earth Senate" if the filibuster is abolished has only encouraged those who want to end the filibuster, as it's clear he's genuinely afraid and believes there is a chance it could end.
Senate Majority Leader Chuck Schumer has been repeating the phrase, "Everything is on the table" in response to questions about the fate of the tactic. Indeed, everything is on the table, including the state of our present and future. The question is whether or not we can learn from the past.
What does hope look like if our society is incapable of facing reality?
A 2020 study published in the journal Nature Climate Change shows that polar ice sheets are melting in line with "worst-case scenario" climate models.
In Antarctica and Greenland, melting ice sheets have been dumping hundreds of billions of tons of fresh water into the ocean each year, at a rate up to three times as fast as in recent decades.
This process not only raises water levels—causing dramatic increases in catastrophic storm surges—it alters the salinity, current dynamics, and acidity of the oceans in ways that have dire ecological and meteorological impacts. It is guaranteed to produce both predictable crises and unforeseen catastrophes. And nobody cares.
Why would they? We're in the midst of a global pandemic that is triggering an unprecedented economic crisis. It has caused food insecurity to affect millions more families than were already struggling, and may soon result in tens of millions of Americans losing their homes.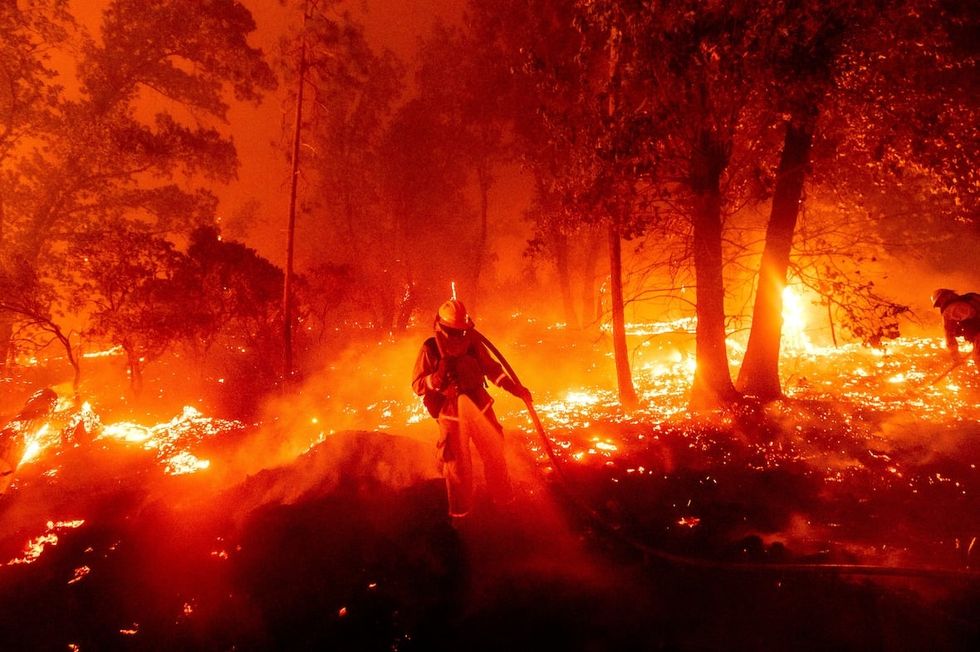 On top of that, California has faced another devastating wildfire season (including another "gender-reveal" gone wrong) amid a record-breaking heatwave and the now-familiar drought conditions, all while a tumultuous hurricane season in the Atlantic is producing powerful storms at a faster rate than in any year since we started keeping track.

The world—and the US in particular—has more pressing concerns than melting ice in 2020, don't we? Well, considering the fact that the "worst-case scenario" for climate change could bring about the collapse of civilization within 30 years, no we really don't.
We can't make the changes to avoid that scenario overnight. It will take years of change that will need to be done sooner, rather than later. Oh, and now scientists are advising the need for a new model of a worse worst-case scenario...
The COVID-19 pandemic has wreaked unforeseen havoc on our society, but it's really just a snapshot of the kind of devastation that climate change will inevitably bring about without the kind of transformational action that is beginning to seem impossible.
Congress can't agree to help people keep their homes during an unprecedented unemployment crisis. What chance do we have that they will stand up to lobbyists and big-business donors to restructure our economy into a sustainable model? Does it even matter how big the threat is? Does it matter that everything we're facing is only going to get worse?
Because not only will hurricanes, droughts, floods, heat waves, food shortages, wildfires, gradually get worse and worse as a result of climate change—until the crises of 2020 become a fond memory—but infectious diseases are likely to reach epidemic and pandemic levels more frequently.
With traditional food sources destroyed by weather events and the changing oceans—along with animals migrating due to deforestation—people will be exposed to more exotic animals, and non-human viruses will have more opportunity to make the leap.
With more and more heat waves reaching and exceeding body temperature for days at a time, microbes that can't currently survive inside our bodies will begin adapting into dangerous pathogens.
And with tens of millions of people being displaced by catastrophic weather events and conflicts arising from scarce resources—most of them forced into crowded conditions—infectious diseases new and old will spread more rapidly.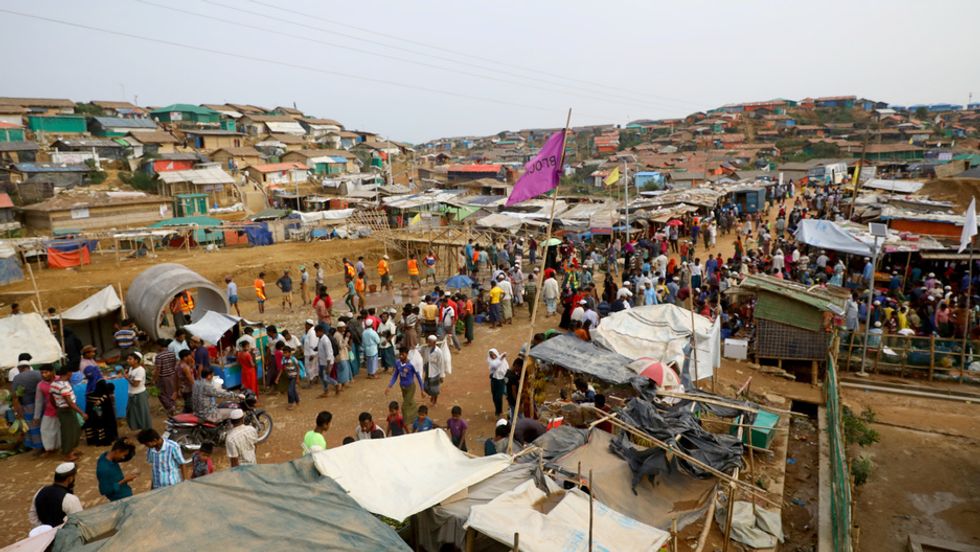 We will perpetually be dealing with some new epidemic. Some urgent disaster is always going to occupy our attention and energy while we continue to ignore the underlying, apocalyptic cause. And all of these problems will only make it easier for the rising strain of global fascism to demonize outsiders, and further isolate nations from the kind of international cooperation we so desperately need.

At what point are we expecting to have fewer "pressing concerns" than we have right now? In what idyllic future will we have the peace and security to start focusing on addressing the hazy, foundational threat that is likely to destabilize everything we know?
As a pandemic rages, America's two-parties continue to be incapable of cooperating to help the American people—of making the other side look good. Our aging, wealthy ruling class doesn't take threats facing younger generations and the working class seriously. And this familiar rot of a two-party stalemate is even more evident in the challenge of forming a consensus behind pragmatic, necessary action like Alexandria Ocasio Cortez's Green New Deal.
Instead of backing it, and favoring the long-term habitability of our only planet, people prefer to scoff at an imagined plan to steal their hamburgers. And corporate-owned media empires are happy to serve up the team-sports drama of it all while the end of everything we know rushes toward us. Meanwhile, the Pentagon is preparing for global societal destabilization.
The dynamics of American "democracy" under capitalism seem to be wholly incapable of saving us, and the structure of the military industrial complex will no doubt view the crises that arise from displaced people and global unrest as a series of nails to be handled by their ever-more-sophisticated hammers.
There is a famous quote of uncertain attribution that says that, within our system, "it is easier to imagine an end to the world than an end to capitalism." It's becoming increasingly easy to see that end to the world looming, while the armor protecting the forces of for-profit ecological ruination show no signs of weakening.
In astrophysics there is a concept known as the Fermi Paradox that questions why—if the conditions for producing intelligent life are not exceedingly rare—we do not see any evidence of other civilizations spread across the vastness of space.
The Fermi Paradox II — Solutions and Ideas – Where Are All The Aliens? www.youtube.com
There are various responses that may explain that observation, but among the most popular is the idea that civilizations just don't last. The forces of progress that allow creatures to develop technology like radio transmitters and spacecraft may lead inevitably to world-ending weapons or climate collapse.

Whether that's true throughout the universe, it seems increasingly to be the case for the only confirmed civilization in the Milky Way. For all our amazing advances, we remain stupid apes,—incapable of planning beyond next month, and constantly discovering new and clever ways to kill ourselves.
It's customary—in an article this dark—to end on a hopeful note. That makes sense. It's generally considered rude to actively ruin a stranger's day. But isn't it also rude to lie? Because I'm not convinced that there is any real hope for our civilization—not in the long run.
Sure, we can find some ways to delay and mitigate the damage. Pointing to 2050 as the likely end is probably overly pessimistic. If we do a surprisingly good job of adapting, legislating, and cooperating—and also get very lucky—we may have a couple good generations left.
In that case, most of the people reading this are likely to be dead of all the familiar causes before the total collapse of world order. Only our children or grandchildren—and however many generations after—will be forced to face the immense suffering of a new dark age.
That is the sad shade of fate that we should all be fighting for with desperate passion—because it's a hair shy of pure black void. Better than that, at this point, seems to be in the realm of fantasy.
We've already done so much irreversible harm. And the path we're on is so resistant to change. It would be wonderful—joyous—to be proven wrong, but the society and the way of life we know can't last. And there's no indication we'll be able to replace it in time.
Maybe our only realistic hope is to drastically lower our expectations. Short of saving the world as we know it, maybe we can keep portions of the planet habitable—maybe an enclave in the region around Colorado and another in the Mongolian steppe will hang onto less-than-hellish conditions. Maybe we need to start planning for the post-apocalypse.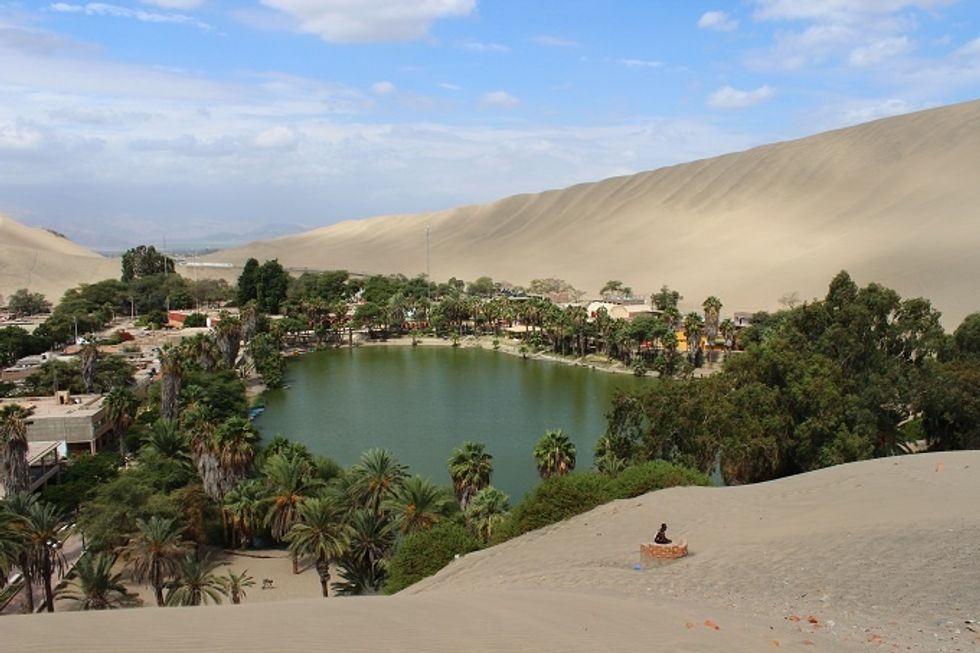 With preparation, little pockets around the world could maintain a lifestyle that's worth living for some sizable remainder of humankind—even if they have to do without most of the luxuries afforded by global stability—the electronics, transportation, medicines, supply chains, entertainment, and communication we take for granted.

A return to something closer to pre-industrial conditions is likely for survivors of the collapse, but maybe—for some fraction of the population—life won't become a living hell.
And maybe, somewhere out in the universe, there is an some alien species that has managed to survive the pitfalls of progress and achieve a sustainable, equitable, idyllic life. Maybe they're watching us, waiting to see how we handle ourselves—to see if we learn our lesson from this impending apocalypse—before they swoop in and share their utopia.
If we peer far enough into distant uncertainty, it's possible to conceive of something better after the end of Western Civilization—after likely billions of deaths and immeasurable suffering.
Does that count as hope? Is that enough to spit up the black pill of despair?