Reduce your carbon footprint for Thanksgiving and beyond
Are you worried about your carbon footprint this holiday season? There's a limit to how much the responsibility for climate change individuals can take when industry is the true locus of the damage, and governmental regulation is necessary to reign it in. Still, with all the travel and the piles of food piled on top of other piles of food, it's easy to see why some people are taking note of the waste and pollution that results from these annual occasions. Does that mean we should give up these rare chances to celebrate and share with far-flung relatives?
Most of us aren't interested in that option, so how do we balance all the positivity of the holidays against the shocking environmental impact they bring? There's a number of methods you can add to your holiday traditions to help minimize your carbon footprint. Hopefully some of these options will fit into your holiday plans and reduce any stress about your carbon footprint.
Travel Less or Travel Better

Whether you're celebrating Thanksgiving, Christmas, New Year's, or Hanukkah, travel is likely the biggest factor contributing to your carbon footprint, but there are a lot of ways you can minimize your impact. Obviously the best way to cut down is to stay local for some or all of the holidays. Many young people prefer to celebrate "Friendsgiving" in their transplant cities and set aside time for video calls with family, rather than trekking back to their hometowns. And if you just don't like your family, pointing to environmental concerns is a perfectly legitimate excuse.
If that's not an option for you—or if you really love your family for whatever reason—choosing buses and trains over cars and planes is always a plus, and selecting a location that is convenient to the greatest number of attendees can make a huge difference. And if you're thinking of travelling to New York City for the Christmas tree lighting or the New Year's Eve ball drop, don't. They're awful.
Get Cozy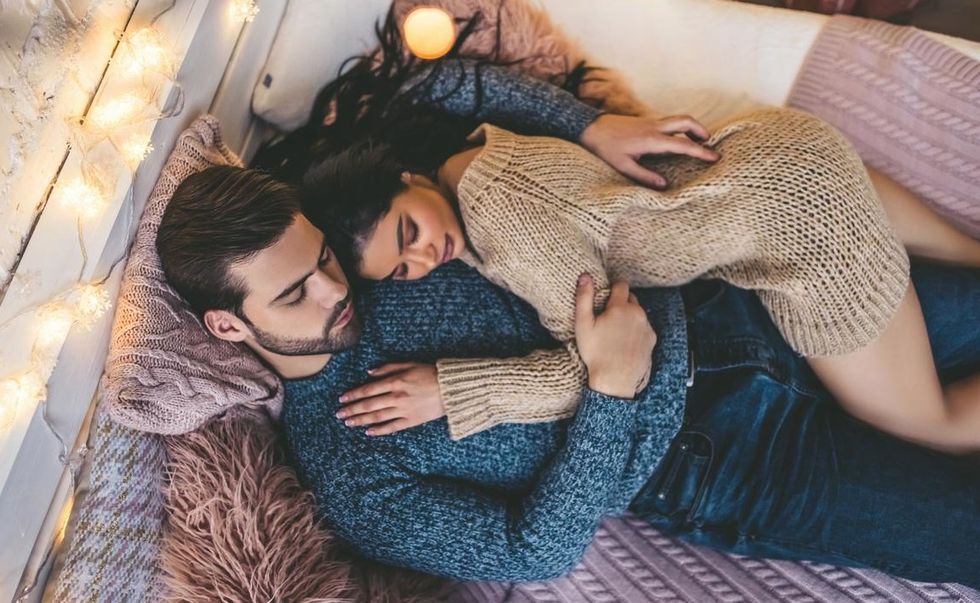 Winter heating is hugely wasteful. Any time you see icicles hanging off the side of a house or building, that's a clear sign of heat seeping out into the world. Insulation can go a long way to cutting down on both waste and costs, and signing up with an alternative energy provider like Green Mountain Energy can do a lot to minimize your impact, but there are other strategies that can help you do more while getting you into the holiday spirit, all of which can be summed up with two beautiful words: Get cozy.
Bundle up in your warmest sweater and a pair of thick socks. Share a blanket and some cocoa on the couch with your loved ones. Keep each other warm in one cozy room, rather than heating the whole house. A space heater can be a great way to cut down on your emissions and encourage your whole family to get a little closer.
Get Creative with Your Gifts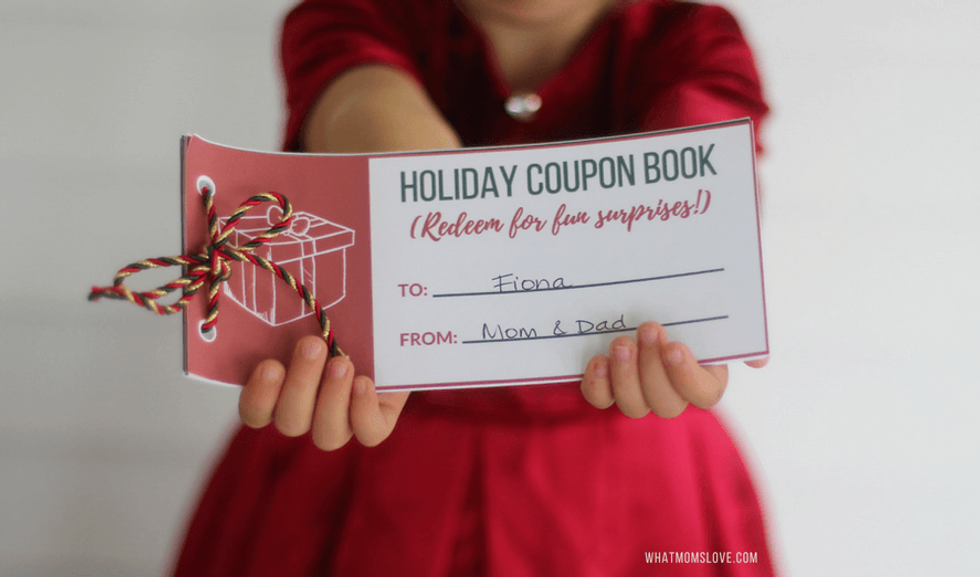 Green and eco-friendly gifts are a nice idea and can be really great if they're taking the place of a more wasteful purchase, but there is no ethical consumption under capitalism, and the waste that goes into the manufacture, shipping, and packaging of green-branded goods generally outweighs their benefits.
The greenest option is probably the one you haven't gotten away with since you were ten. A book of coupons for chores and favors doesn't cost you or the environment anything. But if you lack the courage to try pulling off a scam like that, there are some pricier experience-gifts that are a lot more eco-friendly—and a lot more memorable—than an solar-powered phone charger or a pair of pants made from bamboo. A gift card to a farm-to-table restaurant, a voucher for a massage, or just a donation to the Human Fund (or, you know, a real charity) are all great options that don't require wasteful wrapping. Alternatively, if you can make a gift yourself, you'll be a real hero.
Cut Down on Your Meat and Dairy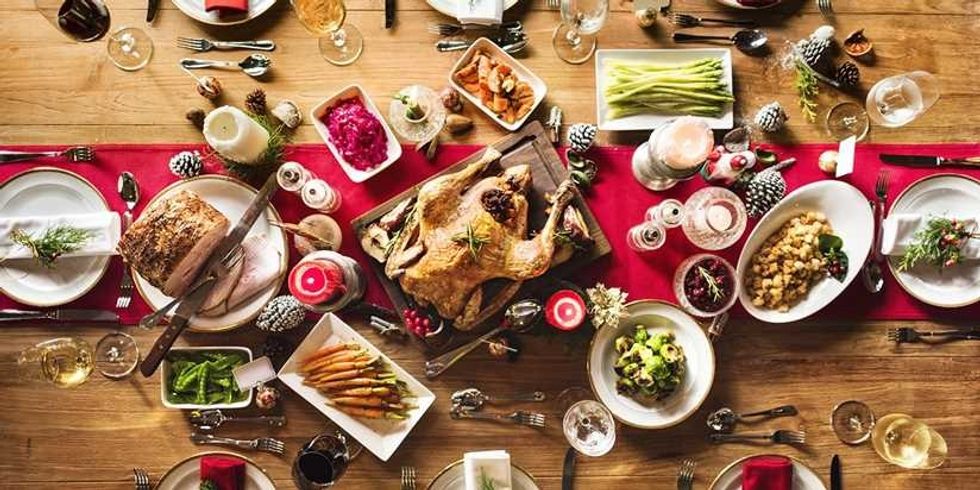 Okay, this is a big one. After travel, the food that we eat—and the food we throw away—are responsible for the largest portion of our carbon output. Meat is generally the biggest contributor, but red meat is particularly bad. So if you usually have a ham or a roast beside your turkey, cutting that out is a good move. And if you can cut out the turkey itself—or even just choose a smaller turkey—that's even better.
There are obviously other factors to consider, like the distance your food has to travel, and the amount of water that goes into its production, but you may not want to get your PhD before your next meal, in which case, cutting out meat is a simple and effective way to drastically reduce your carbon footprint. Meatless Mondays are an easy step that more people are taking these days, but if you're really concerned about your impact this holiday season, you can offset the added emissions from travel by cutting out meat for a few days, a week, or a month at a time.
If we made that kind of practice a part of our holiday traditions—cutting out meats for some portion of December—we could go a long way toward pairing back holiday emissions. With recent advances in meat alternatives from Beyond Meat and Impossible Foods, you might find the change easier than you would think. And if enough of us pick up the habit, the agricultural industry will have no choice but to shift toward more sustainable foods.
We're looking at you, ExxonMobil.
Gucci has announced that it wants to go carbon neutral.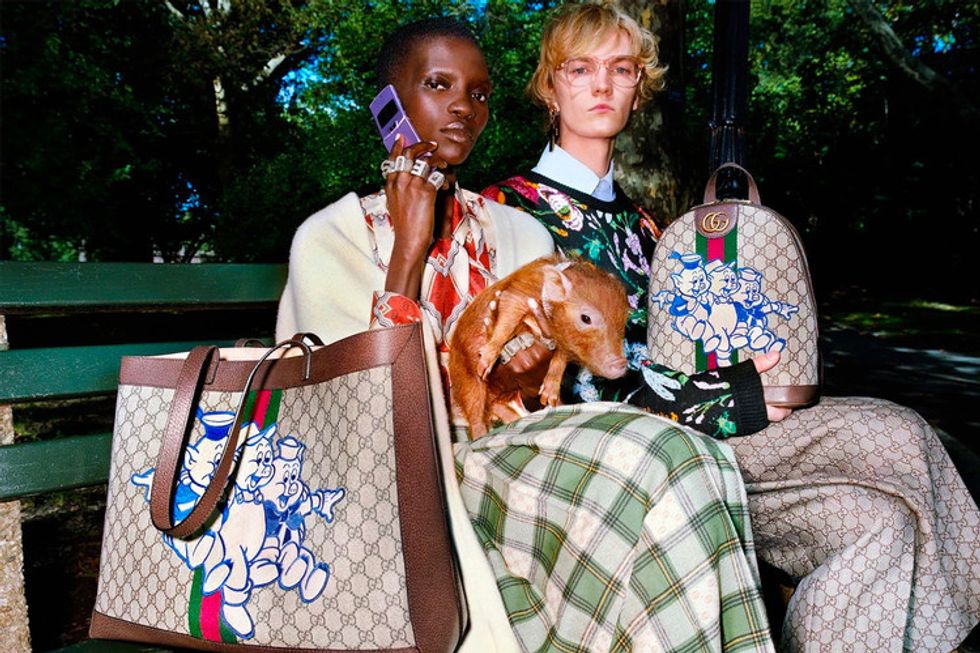 hypebeast.com
The company's CEO, Marco Bizzarri, just confirmed that the company will be purchasing carbon credits that cancel out the emissions of all the people who attend its upcoming Milan fashion show.

The high fashion brand has been working on their eco-friendliness for a while, launching a ten-year sustainability plan in 2018 and swearing off fur products the year prior.
Next up, the 100 fossil fuel companies that are responsible for 71% of the world's global emissions should go carbon neutral, shutting down or changing their product from fossil fuels to reusable energy.
Particularly, the 25 companies that are responsible for half of global emissions in the past three decades should consider offsetting their toxic effects (from selling a deadly substance that will kill us all, slowly and painfully) by paying a few trillion dollars in carbon credits and reparations to the communities they have destroyed.
It's great that eco-friendliness is fashionable now. It's awesome that high fashion companies are trying to go carbon neutral by buying carbon credits, even though carbon offsets are definitely not going to be enough to stop the climate crisis.
It would be even greater if ExxonMobil, Shell, BP, ConocoPhillips, Suncor, Saudi Aramco—and all the other companies bankrolling politicians that deny climate change, obfuscating decades of scientific research, and making it virtually impossible to stop climate change no matter how many models strut around in faux fur—would do the same.
The 16-year-old will take to Foley Square to spearhead a global strike on September 20.
Teen activist Greta Thunberg touched down on the shores of New York today after a two-week journey at sea, but her real journey has just begun.
The Swedish teenager rose to prominence last year with her "School Strikes for Climate," which have since sparked a worldwide movement. She's since become one of the leading faces in climate activism, representing young people's refusal to tolerate the ignorance of their elders.
Sixteen-year-old Thunberg has spent the past two weeks traveling to New York City via solar-powered yacht, which was chosen in order to avoid a carbon-heavy airplane flight. The journey—which was obsessively followed by activists and European media and much-maligned by critics—culminated with a landing on the shores of Coney Island, Brooklyn, and her final destination was a port off Lower Manhattan. She was welcomed by excited crowds of activists and fans.
Thunberg has a packed itinerary, which includes high-profile meetings with some of the world's most powerful officials. On Friday, September 20, she'll be leading a worldwide Climate Strike, and millions of people will be taking to the streets to call for aggressive global action on climate change. Find your local strike (or start your own) using this website.
Thunberg will be attending New York City's strike, which begins with a march in Foley Square and ends with a rally in Battery Park, where speakers, performers, and Thunberg herself will take the stage. If you want to be more involved in this event, NYC is having an art build on August 30 and 31, and the group Fridays for Future will be organizing other logistical actions in preparation for the strike. Also for NYC folks: Ethical Culture is hosting strike planning meetings every Wednesday from 6-8pm, and Greta herself will be striking each Friday, starting with a strike on Friday, 8/30 at Ralph Bunche Park outside of the United Nations from 11-2pm.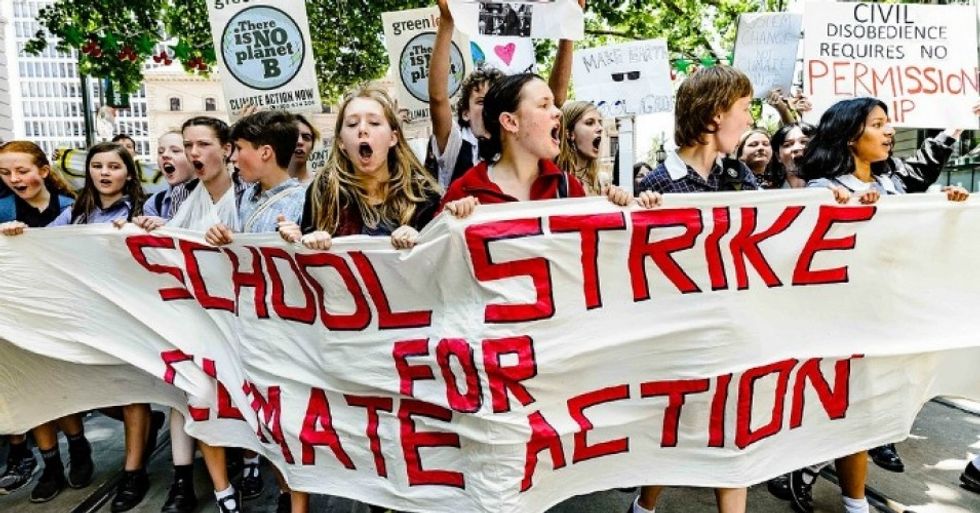 commondreams.org
Participants hope that mass action will influence several important upcoming climate meetings, which will be attended by Thunberg. The first will be the Youth Climate Summit at the United Nations in Manhattan on September 23rd. The next is the COP25 summit in Santiago, Chile, which takes place in December.

The young activist recently announced that she's taking a year-long sabbatical from school to focus on her activism. Her actions manifest the emotions and thoughts of many students who are asking, "What's the point in going to school and working towards our future if there is no future?"
As Thunberg put it in 2018, "We cannot solve the crisis without treating it as a crisis. You say you love your children above all else, and yet you're stealing their future in front of their very eyes."
Yet she's also resolutely hopeful. "It is still not too late to act," she reminded the European Parliament in a recent speech. "It will take a far-reaching vision, it will take courage, it will take fierce, fierce determination to act now, to lay the foundations where we may not know all the details about how to shape the ceiling. In other words, it will take cathedral thinking. I ask you to please wake up and make changes required possible."
Thunberg was nominated for a Nobel Peace Prize in 2018 for her work. She has mobilized millions of strikers around the world, and she's given hope and a sense of urgency to countless others. She also has been heavily criticized, mostly by conservative outlets and European nationalists. One British businessman even went as far as to Tweet, "Freak yachting accidents do happen in August…" She was also described as a "teenage puppet" by a member of Trump's transition team and a "prophetess in shorts" by a conservative French politician.
Many of these criticisms have taken on a misogynistic undertone, resembling those lobbed at another young, powerful female activist—Alexandria Ocasio-Cortez. This may not be incidental, since the kind of global structural overhaul that human survival requires necessitates a revamp of many patriarchal and conservative ideas based in traditional ways of doing things. "For climate skeptics … it was not the environment that was threatened, it was a certain kind of modern industrial society built and dominated by their form of masculinity," proposed one study that linked misogynistic comments about Thunberg and Ocasio-Cortez to toxic masculinity.

Thunberg, however, is not advocating for any particular shift in gender dynamics, nor any politician's agenda. Instead, she's all about ensuring human survival by adjusting our actions based on scientific fact.
As the Malitzia II sailed towards the New York City skyline, a banner reading "Unite Behind the Science" waved proudly above it. Unfortunately, the scientific consensus about the dire consequences of climate change hasn't been enough to mobilize humanity into acting. That has required one particularly outspoken teen activist, and New York City is lucky to have her here.
Each day, the Amazon loses over a football field of land to fire.
Right now, the wildfires in the Amazon forests are so massive they can be seen from space.
According to INPE, about a football field and a half of rainforest is being destroyed each day. Since Thursday, over 10,000 acres have been lost.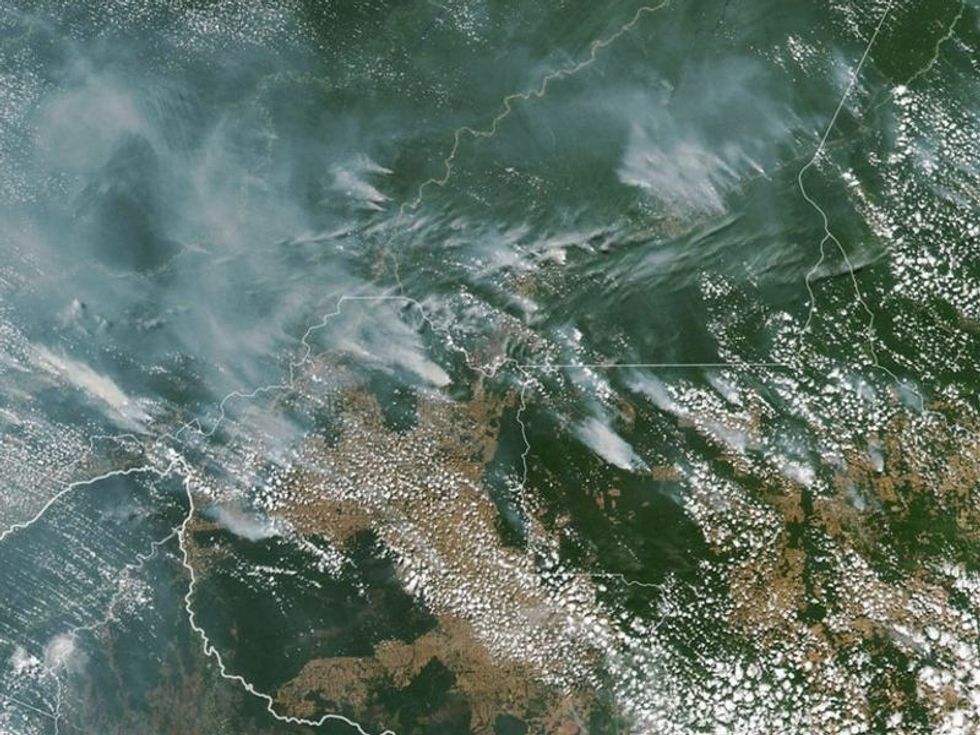 amazonwatch.org
Since January 2019, the number of forest fires in Brazil have grown by 80%. It's normal for wildfires to clear away the forest to make room for new growth, but these fires are happening at an unprecedented rate that scientists say is caused by human activity and the rising climate.

The destruction has also been exacerbated by the sentiments of Brazil's president, Jair Bolsonaro, who has been nonchalant when told that many of the fires are being caused by humans. Farmers are setting fire to the land in order to clear away indigenous forests, according to reports, and Bolsonaro has encouraged these actions with his anti-environmentalist sentiments.
In the name of development, Bolsonaro is endangering the entire world's future. The Amazon contains 40% of the world's rainforests, which are our best defense against a rising climate. Sometimes described as the planet's lungs, the Amazon rainforest provides around 20% of our world's oxygen and absorbs a quarter of the world's carbon. It also contains 10-15% of animal species, many of which are being incinerated along with ancient trees and rich biodiversity.
Indigenous peoples are on the front lines of these fires, as many of them live in or near the forests, but the loss of such a large portion of the Amazon will be damaging to the whole world.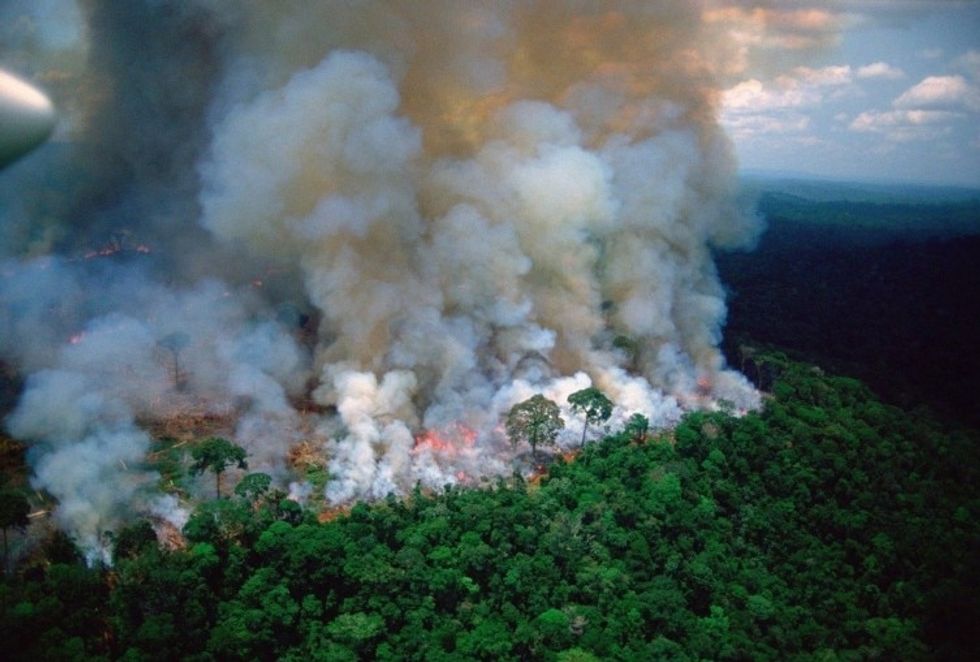 Image via India Today
Many people have asked about what they can do. Here are some actions you can take in response to the fires:

1. The main thing you can do to help out immediately with these forest fires is give money.
It's particularly important to give to organizations that work directly with indigenous people and those who know and live in the Amazon rainforest. Avoid major, corporatized organizations like the Red Cross.
Here are several organizations to give to:
*Protect and purchase rainforest land through rainforesttrust.org or the Rainforest Action
*Support indigenous communities through Amazon Watch or Survival International.
*Support arts, culture, and research about the Amazon through the Amazon Aid Foundation.
2. Unfortunately, even though donations will help, these wildfires will probably keep happening without massive political overhaul in Brazil. Contact your nation's Brazilian embassy to make your views heard. Here is a list of embassies in the US.
3. Sign this petition, being passed around by opponents of Bolsonaro and his policies.
4. Boycott beef and products made from rainforest trees. Check with the Rainforest Alliance to see whether the products you're buying are safe.
5. Switch your browser to Ecosia, which is run by an organization that plants trees based on searches—roughly one tree per 45 searches, to be exact. So far, it's planted over 65 million trees and has garnered good reviews from across the web.
6. To stop things like this from happening in the future (and to ensure that there is a future at all), you can also get involved in the fight against climate change and disaster capitalism.
Here are four ways to do that right now:
There are no quick fixes with regards to the deep-rooted problems that have caused this tragedy to happen. However, a worldwide shift in political sentiment towards environmentalism could be the start of the changes we need to see to stop this from growing even worse.
To keep the earth's temperatures from rising, serious changes need to happen over the next year and a half.
While Robert Mueller and Donald Trump dominate the public's attention, experts have quietly come to the consensus that we have around 18 months to stop the worst effects of climate change.
Last year, a study by the Intergovernmental Panel on Climate Change found that in order to prevent catastrophic warming, we need to cut carbon emissions by 45% by 2030. Today, political theorists believe that in order to achieve that goal, we must immediately begin implementing the political structures that will allow us to reach it.
At a reception for the Commonwealth foreign ministers, Prince Charles spoke out in support of climate action. "I am firmly of the view that the next 18 months will decide our ability to keep climate change to survivable levels and to restore nature to the equilibrium we need for our survival," he said.
'It's happening, it's now,' says U.S. government report on climate changewww.youtube.com
A Critical Time
So, why are the next 18 months so vital for the future of the earth's climate? During the next year and a half, a series of important political meetings and conventions will take place. On September 23, the UN will hold a special climate summit in New York, where attending countries are expected to present their emission-cutting plans. Then the UN's annual climate change summit, known as the COP25, will be held in Santiago, Chile in December 2019. Finally, the COP26 will take place at the end of 2020, most likely in the UK.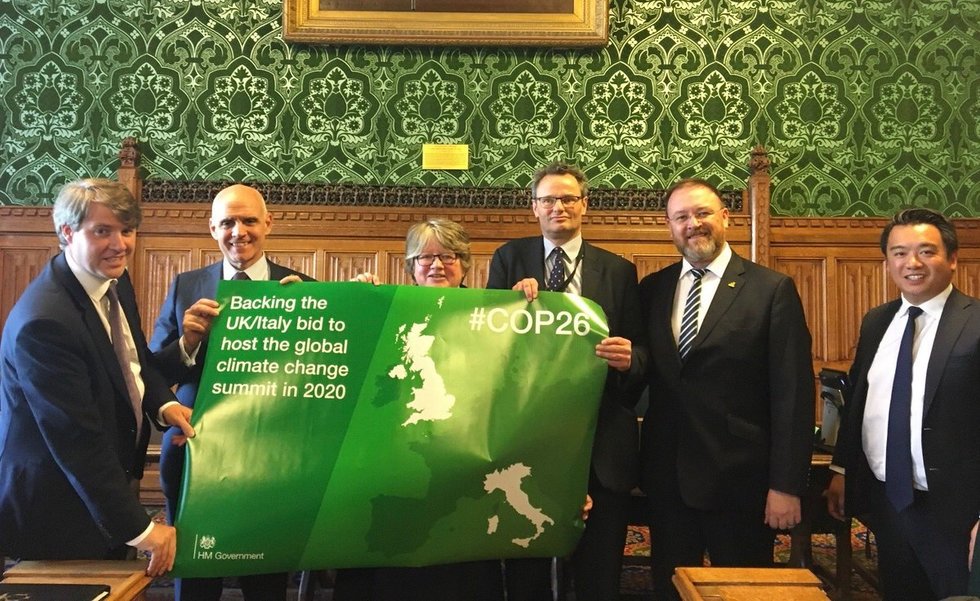 Image via Twitter
According to Environmental Secretary Micheal Gobe, the importance of these meetings cannot be understated. "We need at COP26 to ensure other countries are serious about their obligations and that means leading by example," he said. "Together we must take all the steps necessary to restrict global warming to at least 1.5C."

Depending on what happens at these meetings during the next 18 months, we could see plans like the Green New Deal set into motion. On the other hand, if a climate change denier remains in the US office, the UK summit could be the moment where the US formally withdraws from the Paris agreement (which proposed the bare minimum carbon emission cuts needed to prevent extreme consequences from climate change).
No Choice but Change
If these conferences fail to spark large-scale action, "we will have no chance of getting to a 1.5 or 2C limit," said Professor Michael Jacobs, a former climate advisor to the Prime Minister Gordon Brown.
There are several other conferences happening in the next year and a half, namely the Convention on Biological Diversity and the UN Convention on the Law of the Sea, both of which are expected to craft plans to protect our livelihoods. It's promising that all these conferences are occurring. Still, many fear that they will not push for action radical enough to meet the 1.5 degree goal.
If the goal is not met, the consequences will be unimaginable. More natural disasters (like the wildfires we're seeing right now in Alaska) would ravage coastlines and could destroy entire nations. Chronic refugee crises would ensue. Disease would flourish. One in four animal species would go extinct.
Judging by the current state of politics and carbon emissions (India is on track to overshoot its Paris Agreement goal by 60%), things are looking bleak. Fortunately, a rise in activism and protest—helmed by figures like Greta Thunberg and Alexandria Ocasio-Cortez—has drawn much needed political attention to the climate crisis. Still, it's not enough: In order to ensure a livable future for the earth, people around the world must come together and force their representatives and nations to listen to science and reason.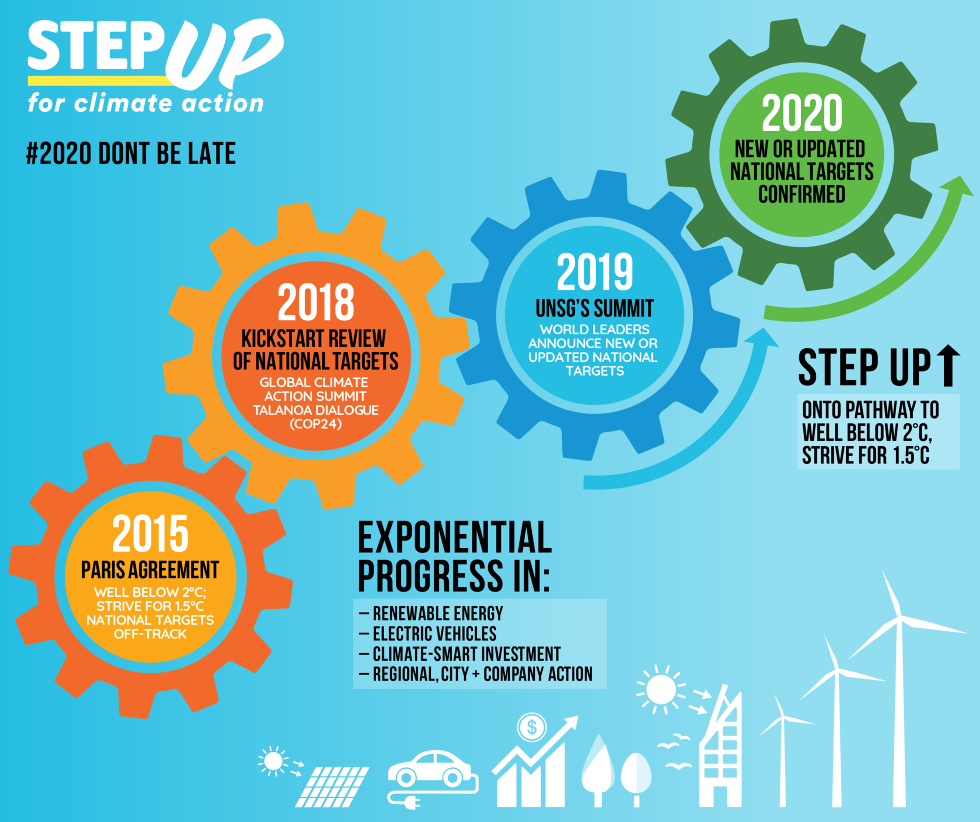 Image via World Economic Forum
Climate despair is becoming so widespread that some people are losing their will to live. Is this the new normal?
If you're reading this, you probably know that the earth is not doing well. A 2018 UN report declared that we have 12 years to keep the global climate from rising more than 1.5 degrees, or we'll face catastrophic warming levels. Even knowing this, our worldwide carbon emissions have only continued to rise, with atmospheric CO2 reaching a record high at 417.4 ppm in May 2019.
In essence, we know the world is ending, we know why, and yet we have done nothing to stop it. In fact, things are getting worse.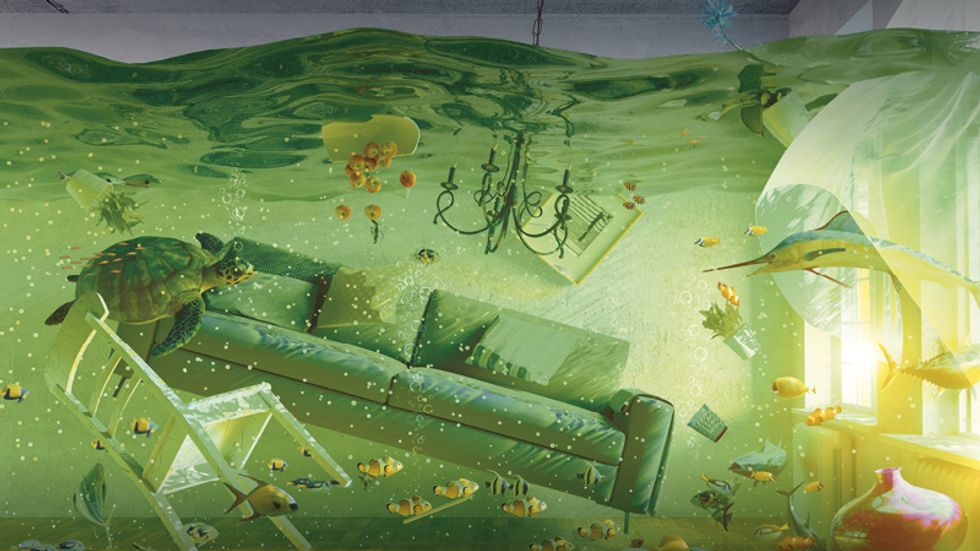 Image via blog.derby.ac.uk
The Argument for Despair
Faced with this truth, it's all too easy to slip into despair, and this is what's happening to people all over the world. A recent VICE article explored the mental health crises that many people are experiencing because of climate change. Known as "climate despair," sometimes called "eco-nihilism" or "human futilitarianism," chronic feelings of hopelessness about climate change are becoming all too common among those who have allowed themselves to fully comprehend the extent of the crisis.
For people who suffer from these feelings, it doesn't help that life appears to be continuing on as normal, while only a few of us seem to care that the world is burning down. This creates a sense of duality that can be even more painful than consciously accepting the reality of climate change, as it involves a deep suppression of pain and fear, which is then left to fester in the psyche. Living this "double life," according to Joanna Macy's essay "Working Through Environmental Despair," can be detrimental. "Awesome and unprecedented in the history of humanity, the awareness lurks there, with an anguish beyond naming," she writes.
This awareness can manifest in many ways; and often it has lead to depression or suicidal thoughts. Even therapists are having trouble knowing how to handle the looming specter of climate despair. Several people quoted in the VICE article described how their therapists attempted to trace their terror of climate change back to personal traumas, instead of acknowledging the validity of these fears.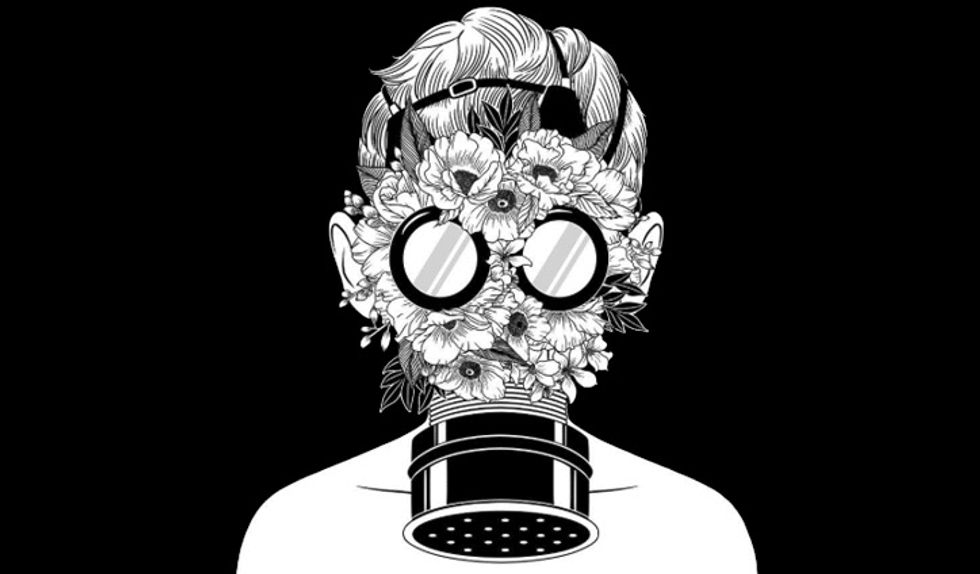 Image via Its Nice That
Children are just as vulnerable to these feelings as adults. As they watch governments refuse to act, kids are growing up in the world with little faith in the government or the adults around them, and with the knowledge that they've been born into a disaster they never asked for but have to deal with.

Greta Thunberg was one of these kids. She's spoken extensively about the feelings of despair that nearly paralyzed her as she became more and more aware of the climate crisis. "Before I started school striking, I was … so depressed and I didn't want to do anything," she once said.
But when she began to speak, as many of us know, she became one of the most outspoken and well-known climate activists in the world. According to Thunberg, this was not a choice. "I feel like dying inside if I don't protest," she said. For those suffering from climate despair, that feeling of dying inside is a familiar one. But Greta's inspiring actions contain seeds of hope, perhaps the best hope against climate despair.
The truth is that things are only hopeless if we don't take action. Conveniently, taking action might also be one of the best things we can possibly do to work through climate despair.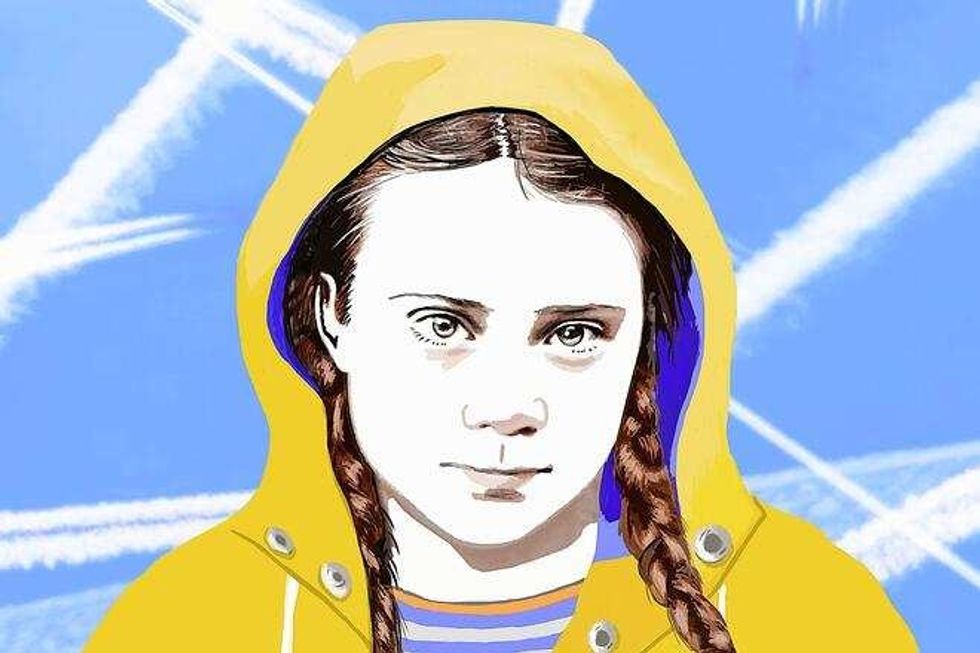 Image via Handelszeitung
Our Best Shot at Hope
Although they might be realistic responses to the threat of climate change, feelings of despair—when they aren't turned into action, or are suffered through in solitude— present a terminal danger to the climate movement, as they promote stagnation when what is truly needed is unity and protest.
This doesn't mean that we should deny the gravity of the situation. Action begins with admitting the problem, not stuffing it away under layers of performative normalcy. "Until we find ways of acknowledging and integrating that level of anguished awareness," continues Joanna Macy, "we repress it; and with that repression we are drained of the energy we need for action and clear thinking."
Still, the answer is also not necessarily to let oneself fall down a hole of hopelessness. Often, the doomsday-esque reports that are inundating the Internet and certain academic circles can be the opposite of productive. Sometimes, these reports are inaccurate, overly dramatized and apocalyptic. These alarmist articles that proclaim that we are all doomed often have the opposite effect, shaking people into complicity when the truth is that though things are really bad, there is definitely hope.
There is hope.
Though we won't be able to reverse climate change, it is possible to salvage so much of the world and to prevent the worst consequences of ecological decline. Human beings have mobilized massively before—we've split atoms and spread cell phones across the globe in less than a decade—and we can do it again. We have the technology, the money, and the capability: All we need to avert immediate crisis is the will and the public support to elect people into office who will take action.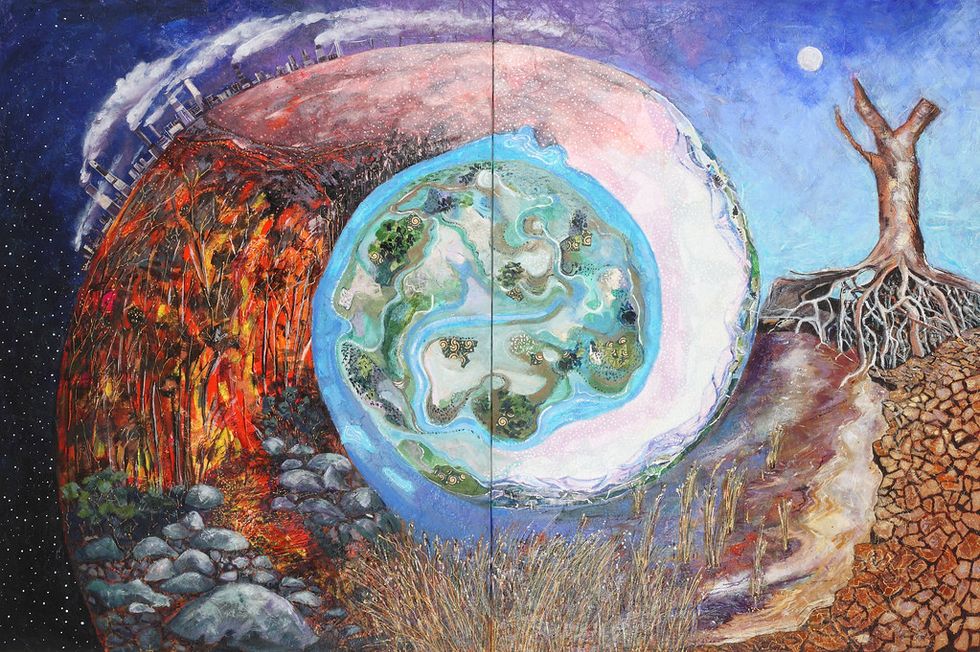 Image via Flickr
We have the resources to fight climate change. Many countries are instituting programs to reduce their carbon emissions. Small nations like Denmark and Belgium have successfully slashed their carbon emissions, and plans like the Paris Agreement are promising attempts at global change. What we need to do is fight, to spread awareness, to elect people into office who will take action, and to make it clear that we as a human race won't go down at the hands of an elite cult of carbon-worshipers determined to ruin all of our futures for the sake of their own fortunes.
Climate activism doesn't solely have to be a fight against something, though: it can be a fight for a better world. Though climate change is often painted as an entirely doom-and-gloom issue, some of the things that fighting it will combat it could actually benefit our whole society, healing some of the deep wounds that have caused our modern epidemic of mental illness, addiction, and loneliness.
According to Naomi Klein, author of This Changes Everything: Capitalism vs. The Climate, this impasse at the brink between oblivion and climate disaster presents an unprecedented opportunity for positive change. This crisis can be a beginning, not an ending, she argues: the beginning of a movement towards a more interconnected and compassionate world.
"Climate change—if treated as a true planetary emergency akin to those rising flood waters—could become a galvanizing force for humanity, leaving us all not just safer from extreme weather, but with societies that are safer and fairer in all kinds of other ways as well," she writes. "The resources required to rapidly move away from fossil fuels and prepare for the coming heavy weather could pull huge swaths of humanity out of poverty, providing services now sorely lacking, from clean water to electricity. This is a vision of the future that goes beyond just surviving or enduring climate change...It is a vision in which we collectively use the crisis to leap somewhere that seems, frankly, better than where we are right now."
This kind of future would require a paradigm shift, a complete departure from our current free-market model that glorifies isolated successes and prizes maximum consumption above all else. It would require that, among other things, we sacrifice our own desires for the good of everyone else.
We need to sacrifice the concept that the goal of life is to be able to pursue one's individual fortune to the highest level: And we have to acknowledge that we operate in an interconnected network, and must lift each other and our planet up, if we wish to continue to live on this earth.
The shift is already beginning. Organizations like Sunrise and Extinction Rebellion have emerged at the forefront of the fight against climate change; and artists are starting to wake up, too. But even if you don't have a massive platform or aren't going to protests, even just talking about the ecological crisis with others can ignite powerful chain reactions. Overall, probably the most meaningful thing you can do is work to elect officials who will make good on their promises to cut emissions and create a better world while doing it.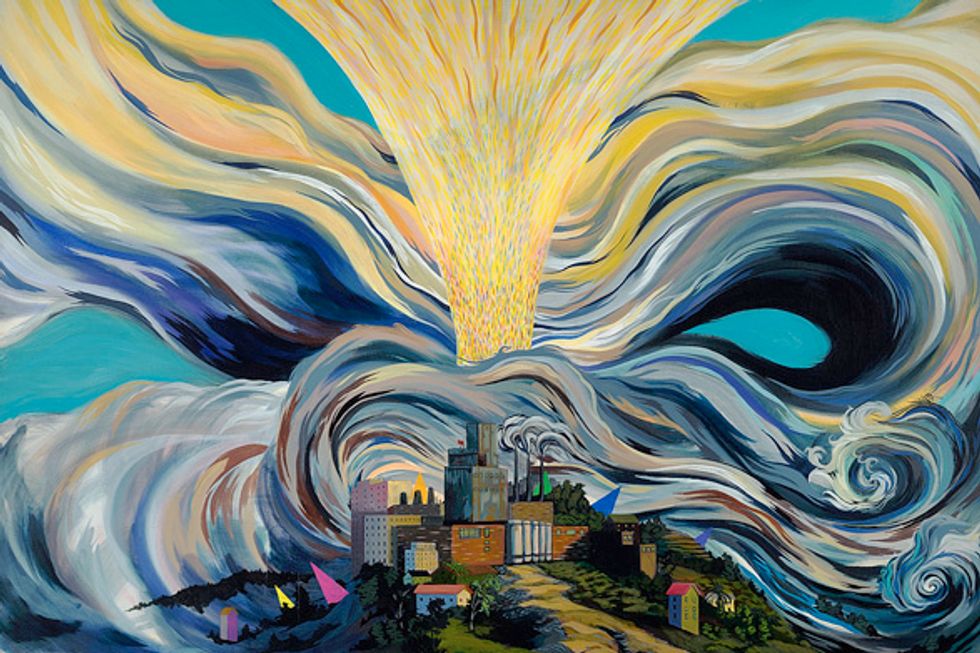 Image via Ethics and International Affairs
Where We Go From Here
Still, considering the amount of mobilization and effort that these changes require—and considering how determined major, extremely wealthy fossil fuel companies are to squander these efforts—it's extremely difficult to be hopeful all the time when it comes to the climate crisis. Plus we've already damaged some things beyond repair, and we've lost many people to the wildfires and hurricanes rooted in climate change; to name a few, the 79 people lost in California's Camp Fire, and the nearly 3,000 people who lost their lives in Hurricane Maria.
And so, as the VICE article proposes, to comprehend the full extent of the climate crisis, first we need to let ourselves grieve. We need to allow ourselves to grieve as we would in the face of any other tragedy—to comprehend the harm that we've done to our planet and to recognize and honor our feelings about it.
Once we recognize these feelings, we can begin to deal with them. As Macy continues, "To experience pain as we register what is happening to our world is a measure of our evolution as open systems. This is true not only from the perspective of systems science but from that of religion as well. How many mystics in their spiritual journey have spoken of the 'dark night of the soul'? Brave enough to let go of accustomed assurances, they let their old convictions and conformities dissolve into nothingness, and stood naked to the terror of the unknown. They let processes, which their minds could not encompass, work through them. It is in that darkness that birth takes place."

While it's important to embrace one's despair and grief regarding climate, it's equally important to view these feelings as starting points for a spiritual and political revolution, instead of hindrances that need to be suppressed. If we view climate as a consequence of evils we've always been peripherally cognizant of—like selfishness, greed, and the hypocrisy that plagues human society—then we can view the climate crisis as an opportunity to at the very least connect with other people who understand that we, collectively, cannot continue this way.
Through this lens, climate despair is far from an end point. Rather, it connects us to the world around us, and to other people who care enough to want to see a better future for everyone and everything. "As our pain for the world is rooted in our interconnectedness with all life, so surely is our power," writes Macy.
So if you're pained by climate change, good. That pain means you love something. That love means you're alive.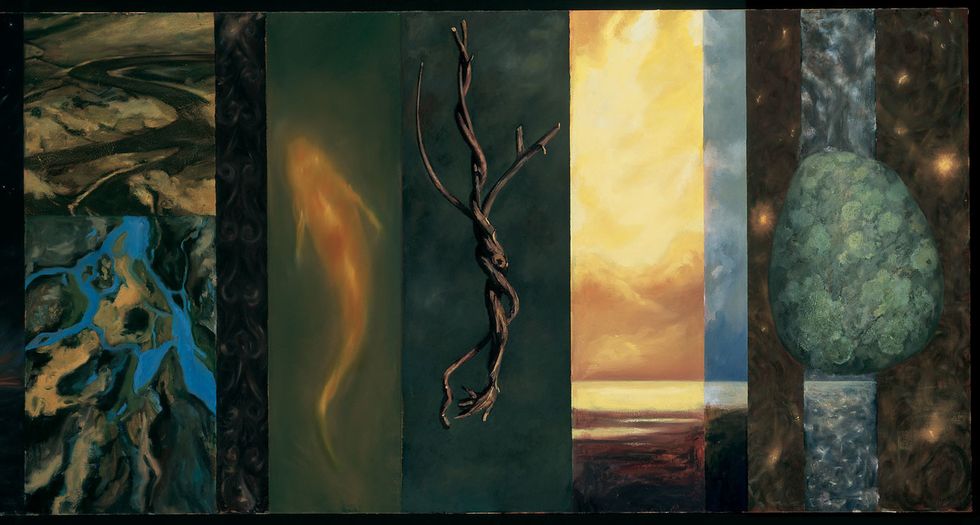 Image via Occidental Arts and Ecology Center
The world is both hotter and more overcrowded than ever before. Naturally, these things are intertwined.
World Population Day was established in 1989 by the United Nations Council in order to draw attention to population issues. Back then, the world's population stood at 5.198 billion. Thirty years later, there are 7.7 billion people in the world, with an estimated 360,000 more being born each day.
It's hard to think about overpopulation without thinking about climate change, which threatens the livelihoods of every single one of these new children.
Climate change's consequences have already begun to emerge, and needless to say, they will worsen exponentially if climate change continues at its current rate. Effects include rising sea levels, tens of thousands of heat-related deaths, polluted air, a spike in chronic illnesses, severe droughts, mass extinctions that ruin ecological systems and destroy agriculture, and many natural disasters such as hurricanes and wildfires that will devastate infrastructure and generate massive flows of refugees. We've already seen these things, in the devastating 2018 California wildfires, in hurricanes like Sandy and Maria, in the drought that was a root cause of the Syrian refugee crisis, and in so many other instances.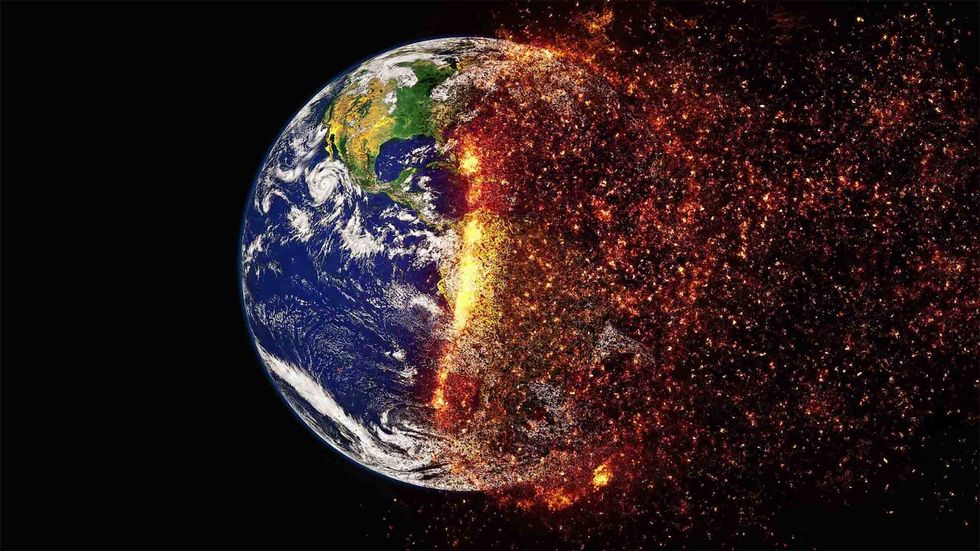 Image via Undark
These events are only the tip of the iceberg. A 2018 UN report announced that we have twelve years to reverse the worst effects of climate change; if we fail to essentially keep temperatures from rising above 1.5C, hundreds of millions of people will suffer the consequences.

Certainly, the vastness of our world's population is a root cause of this deadly warming. According to Business Today, "One of the greatest consequences of growing population, which is perhaps a great threat to our livelihood as well, is the quick depletion of natural resources." More people means more carbon burned, more resources consumed, more people falling through the cracks.
In a merely theoretical sense, it seems logical that humanity's population explosion would happen concurrently with exponential climate change and ecological disaster, because the way our population has grown is anything but natural.
Prior to the Industrial Revolution, human society followed a particular law: As populations grow, food supplies decrease, and so the population decreases, and the food supply increases. This is the same rule that keeps animal populations in check. However, since the dawn of industry, human beings have been producing more and more food and resources to support our burgeoning population, effectively placing ourselves at the top of the food chain, subsequently displacing animal populations, and decimating our natural resources.
Now, we are reaching a breaking point.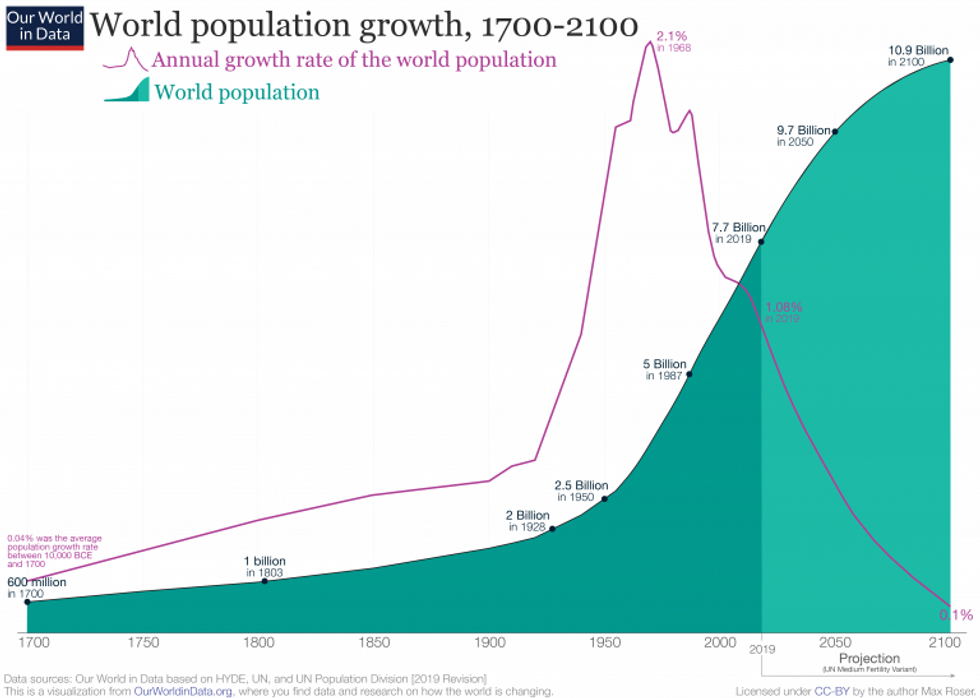 Image via MarketWatch
However, it's too simplistic to say that the amount of people in the world is directly proportional to the rate of climate change. It's true that the locations where the largest percentages of children are being born are the places that will be most severely damaged by the rising tides and hurricanes that are stemming from warming. According to Time Magazine, rapid population growth will only lock these nations into cycles of poverty, making it extremely difficult for these places to rebound from climate change's effects. However, these places are not the ones producing the majority of carbon emissions: That honor is reserved for developed countries, like the US.

The real cause of climate change is not overpopulation alone. It's the mentality that has allowed oil companies to grow into the massive corporations they are; and that has allowed Americans, who comprise 5% of the global population, to consume 25% of the world's resources, and that has allowed many childless couples in the US to consume far more resources than couples with children. That mentality has led us to accumulate endlessly without paying any heed to natural balances or equity.
Therefore, reducing the population is actually not the most important step that needs to be taken in order to combat climate change. This is because, according to Vox, it's not that the resources we have can't support a larger population: the US could successfully feed 400 million people simply by consuming locally what we are currently exporting. The problem is that we can't maintain the kinds of resource-guzzling, carbon-based lifestyles that we—and particularly, the extremely wealthy—have become accustomed to living. Simply reducing the number of people but not addressing our society's problem with carbon and consumption will have a negligible effect on the climate. In actuality, lower fertility rates can lead to higher GDP, as childless folks can accumulate more resources that they in turn spend on flights and other energy-guzzling activities.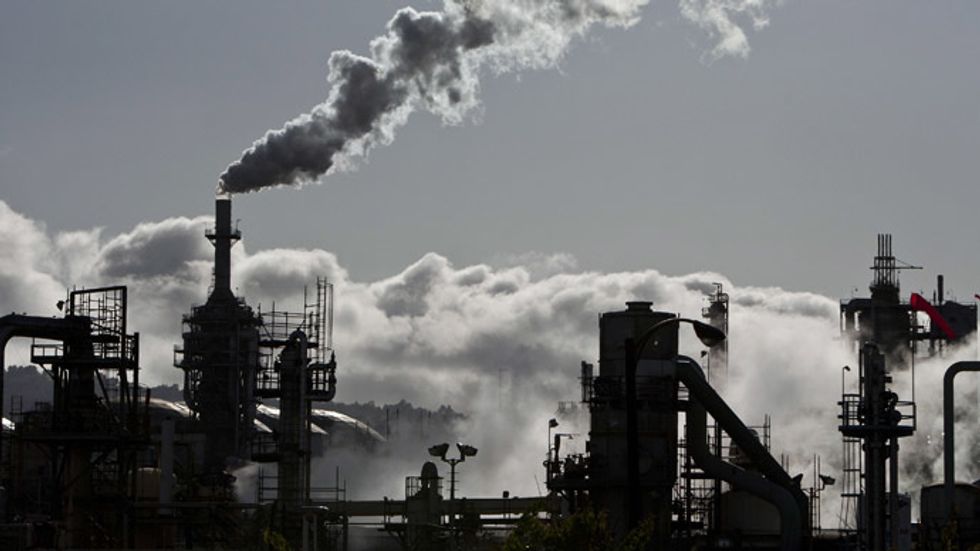 Image via RT.com
Though population control would help, it's far more important that we figure out how to re-distribute resources in a sustainable way, rather than wasting such a vast amount of resources like we do in America. In the end, slashing carbon emissions—and, concurrently, shifting our cultural obsession with accumulation and individualism to an emphasis on egalitarianism—is still by far the most important thing we can do for the climate.

Even so, having fewer children and making education and birth control more widely accessible would be hugely significant overall. Furthermore, deciding not to have a child is totally a viable, impactful way to combat climate change (and it's possibly even the ethical choice, given the ecological mess that new generations will find themselves involuntarily subjected to).
Because if we remain on the path we're on? The population will just continue to expand, hitting a projected 8 billion by 2050. Soon enough, natural disasters will result in the deaths of millions; more people will starve or die in refugee camps; and then, as water becomes undrinkable and the planet becomes too hot for any growing thing, that will be the end of this whole experiment called life.
Over the course of two hours, ten candidates employed Trump's name for applause and support a total of 35 times.
The first round of Democratic debates are underway. Ten out of the twenty candidates who qualified for the debates were chosen at random to participate in the first half of NBC's debate last night. The goal for the Democratic Party is obviously to take the Oval Office and hopefully the Senate, but for most of the candidates, last night seemed more like a bid for positions in Elizabeth Warren's cabinet. Straight from the get-go, Warren stood strong like she had nothing to prove and answered every question directed at her with poise and eloquence. Consequently, she may have won the evening. Although, a couple of lesser-known candidates also made their marks, most notably Julian Castro and Jay Inslee.

We Get it, You Speak Spanish
Beto O'Rourke, former representative for Texas, spoke in Spanish during his first response of the evening. Evidently, neither Cory Booker or Elizabeth Warren could maintain their poker faces during the surprising moment. Booker and Warren appeared humored and stunned by the skinny white guy's pandering.
To compete, Booker whipped out his Spanish, as well. Notably, the only Latinx candidate on stage, Julian Castro, did not speak in his family's native tongue until his closing comment, where he used his bilingual skills to celebrate the opportunity to represent his people.
Jimmy Kimmel?
Ok, when John Delaney, the Maryland Congressman, began speaking before the camera panned to him, did it sound to anyone else like Jimmy Kimmel was on stage? Unfortunately, Delaney is not as charismatic as the Jimmy Kimmel Live! host. He rubbed many the wrong way with his countless attempts to get a word in.
While it's crucial for the lesser-known candidates to elbow their way into the debate, Delaney came off as pathetic. At the end of the discussion about the separation of families at the border, Delaney tried to butt in a personal anecdote, disclosing, "My grandfather was actually separated from his family when he came to this country." Lester Holt rightfully moved on from the comment and switched to another pressing issue.
2020 Democratic Candidates Debate - Separated Grandfather www.youtube.com
Finally, when asked whether or not any of the candidates would choose to prosecute Trump after the Mueller Report, Delaney was indifferent. Out of all the references to Trump last night, this was the most important, because Trump could become the first president to be indicted after his term. Delaney claimed that everyday citizens don't care about Donald Trump breaking the law because it doesn't affect them. Although Delaney supports justice being served to criminals, he hypocritically proposed that Trump's indictment isn't a big enough concern to take up his time if he were president.
Yes, Women Care Too
While Washington Governor Jay Inslee had an overall good showing, his one big fumble occurred when he claimed to be the only one on stage to pass a reproductive rights act. Minnesota's Senator Klobuchar spoke for everyone when she interrupted Inslee, saying, "I just want to say there are three women up here that have fought pretty hard for a woman's right to choose, I'll start with that." The crowd gave Klobuchar resounding and deserved applause.
Recognition for the Trans Community

Early in the debate, San Antonio's finest, Julian Castro, highlighted an overlooked population that's affected by abortion restrictions: trans people. It was a standout moment for the former mayor.
Later on, Cory Booker piggybacked off Castro's sentiment. When Hawaii Representative, Tulsi Gabbard, was asked about her former dismissal of the LGBTQ community, she highlighted the work she's done for gay men and women since. Booker retorted that it's not enough:
"Look, civil rights is someplace to begin, but in the African-American civil right community, another place to focus was to stop the lynching of African-Americans. We do not talk enough about trans-Americans, especially African-American trans-Americans and the incredibly high rates of murder now."
Just like climate change is a national emergency and should be treated as such, so should the murder rates of trans people, especially POC trans people. Booker, as the only African-American candidate on stage, brought attention to historically under-represented issues.
Tulsi Gabbard Dunks on Tim Ryan

Army veteran Tusli Gabbard was the most googled candidate last night for good reason.
While she was one of the candidate who spoke the least, overall, she corrected and challenged Ohio Representative Tim Ryan when he asserted the troops should stay in Afghanistan longer to keep an eye on the Taliban.
Tusli Gabbard rips Tim Ryan over foreign policy www.youtube.com
Gabbard draws from her military experience to inform her non-interventionist position, and she memorably reminded Ryan that families want their children to finally come home, saying, "The Taliban was there long before we came in and will be there long before we leave. We cannot keep U.S. troops deployed to Afghanistan thinking that we are going to somehow squash this Taliban."
Ryan gustily clapped back, saying, "I didn't say squash them. When we weren't in there, they started flying planes into our buildings."
Gabbard corrected Ryan's outlandish error, notifying the Congressman, "The Taliban didn't attack us on 9/11. Al Qaeda did." While that should be common knowledge, Gabbard came out on top and successfully relayed her position on foreign policy, diplomacy, and war.
Castro Annihilates Beto
Besides Ryan and Delaney, Beto took the biggest L of the evening.
Throughout the night, O'Rourke failed to answer questions in an informed or committed fashion. For example, when discussion about immigration policies arose, Castro called out Beto for not supporting decriminalization of border crossing:
"Let's be very clear: The reason that they're separating these little children from their families is that they're using Section 1325 of that act, which criminalizes coming across the border, to incarcerate the parents and then separate them. Some of us on this stage have called to end that section, to terminate it. Some, like Congressman O'Rourke, have not."
Beto attempted to defend himself by explaining that he supports a complete rewrite of the bill, instead of just repealing Section 1325. He then tried to pivot by readdressing his support of asylum seekers. But asylum seekers are only a small portion of the immigrants affected (and now imprisoned) for attempting to cross the border.
Castro did not take the bait, putting an end to the exchange by suggesting, "You should do your homework on this issue."
Forget Trump

Among the ten candidates last night, eight referenced Trump in a total of thirty-five times. Over the course of two hours, candidates employed Trump's name for applause and support of their anti-Trump Democratic position.
The two candidates who refrained from name-dropping were Bill de Blasio and Elizabeth Warren. The two remained measured and composed throughout the evening, respectfully sticking to their ideas, raising concerns, and focusing on change.
While Elizabeth Warren did not have any quippy moments, she stood out as the strongest candidate, never wavering from her beliefs, policy ideas, or promises. Her comprehensive vision for America involves restructuring broken systems that don't work for the majority of citizens.
Although Warren shined, it's possible that the absence of other frontrunners, Joe Biden and Bernie Sanders, contributed to this. Only time will tell how the three will stack up agaisnt one another, but tonight we'll see how Biden and Sanders fare among hopefuls like Kamala Harris and Pete Buttigieg.
In 1971, the year "The Lorax" was published, scientists were just beginning to sound the alarm about climate change.
If you've somehow managed to successfully compartmentalize and ignore the fact that the earth is literally dying, perhaps this will jolt you out of your slumber: The tree that is believed to have inspired Dr. Seuss's iconic conservation-themed short story, "The Lorax," has fallen.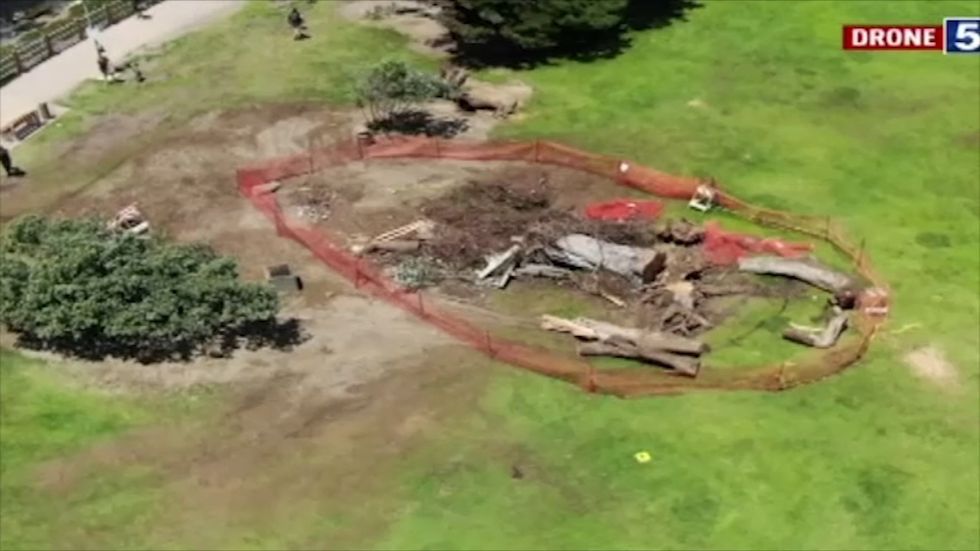 Image via ABC13
The tree in question was a Monterey Cypress, which grew without incident for 80 to 100 years in a La Jolla, California park until it keeled over suddenly on June 16. Dr. Seuss, whose real name was Theodor Seuss Geisel, could see the tree from the La Jolla apartment where he lived from 1948 until his death in 1991. It is believed that the cypress, with its curved trunk and abundant leaves, inspired the Truffala Trees that the Lorax in the story dedicates himself to defending—until a greedy factory owner cuts them all down, poisons the rivers, and fills the sky with smog. At the end of the story, the Lorax hangs his head and floats off into a tiny gap in the clouds, lamenting the death of his beloved forest and the creatures that called it home.

The Lorax- trailer www.youtube.com
In 1971, the year "The Lorax" was published, scientists were just beginning to sound the alarm about climate change. That year, a coalition of leading scientists reported significant risks from global climate change caused by human activity; by the end of the decade, scientific consensus identified global warming as the largest risk of the 21st century. Still, largely due to misleading reports from companies like Exxon, right-wing denialist think tanks, multi-million dollar denial campaigns, and bribes given to politicians by oil barons and investors such as the Koch Brothers, climate change was delegitimized, relegated to the back burner of public and political consciousness.

Flash forward to 2019, and the consequences of that corruption and ignorance are coming back to bite all of us. Wildfires, hurricanes, tsunamis, and droughts—each of which has catalyzed waves of refugees and deepened wounds of already existent economic disparity—are just a few of the visible consequences of climate change; and the worst is yet to come. Roughly 80,000 acres of forest disappear each day, with another 80,000 experiencing significant degradation. Plusm 1 million species are teetering on the brink of extinction.
If the loss of forests and biodiversity is not enough to chill you to the bone, the effects on humanity have been severe and will become unimaginably extreme if we continue at our current pace of unchecked destruction. Climate change threatens coastal cities with flooding, displaces millions, exacerbates health problems like infectious diseases, triggers asthma attacks, and destroys infrastructure and agriculture. It can cause mental illness and it disadvantages the most vulnerable, threatening communities and nations who lack the resources needed to bounce back from ecological disasters.
And even if you really don't give a shit about poor people, you're still not safe—for climate change will pose significant risks to financial markets, with food costs, insurance markets, and the mortgage industry all at risk. (For proof, just look at the millions of dollars in liability costs and subsequent bankruptcy faced by Pacific Gas and Electric after the 2018 California wildfires).
So in the shadow of all this horrifying information, it doesn't seem so far-fetched that the tree that inspired one of the greatest tales of environmental destruction has fallen. Sure, maybe there was something wrong with its roots, or maybe the excess of poison or smoke from the fires or the gas leaks or the plastic particles in the salt-choked rivers did it in. Or maybe the tree just gave up, realizing that the earth was no longer a place for growing things. Its death feels like the real-world embodiment of the Lorax floating away into the murky skies, looking sadly down on the scorched earth that used to hold thousands of trees.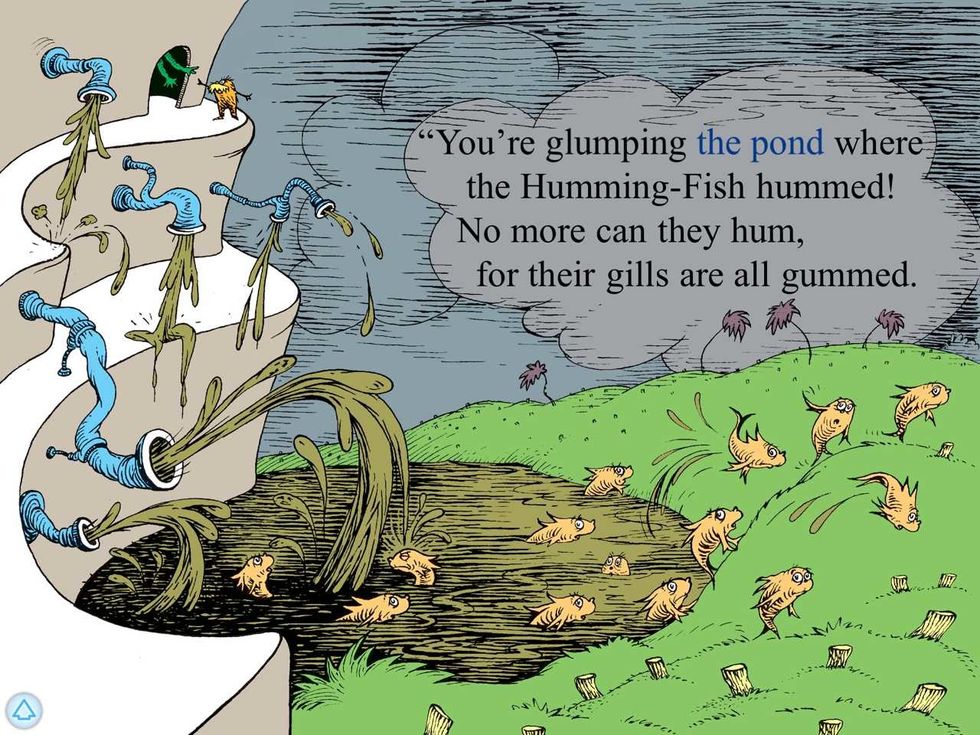 Image via techwithkids.com
Of course, the Seussian tale doesn't end with the Lorax's departure. It begins when the kid in the story gets the Once-ler to tell him what happened to the Lorax, and it ends when the Once-ler drops him a tiny Truffala tree seed. "UNLESS someone like you cares a whole lot, nothing is going to get better. It's not," says the old storyteller, imploring the kid (and by proxy, all readers) to try and do something, even if it starts with one seed.
In a world where Greta Thunberg—a sixteen-year-old playing hooky—is literally the most powerful voice in ecological activism, Dr. Seuss's message doesn't seem too starry-eyed. Small, improbable leaps of faith might be insignificant in themselves, but they can start waves of action that could be our best chance at launching the worldwide action needed to build a viable (and potentially more equitable) society.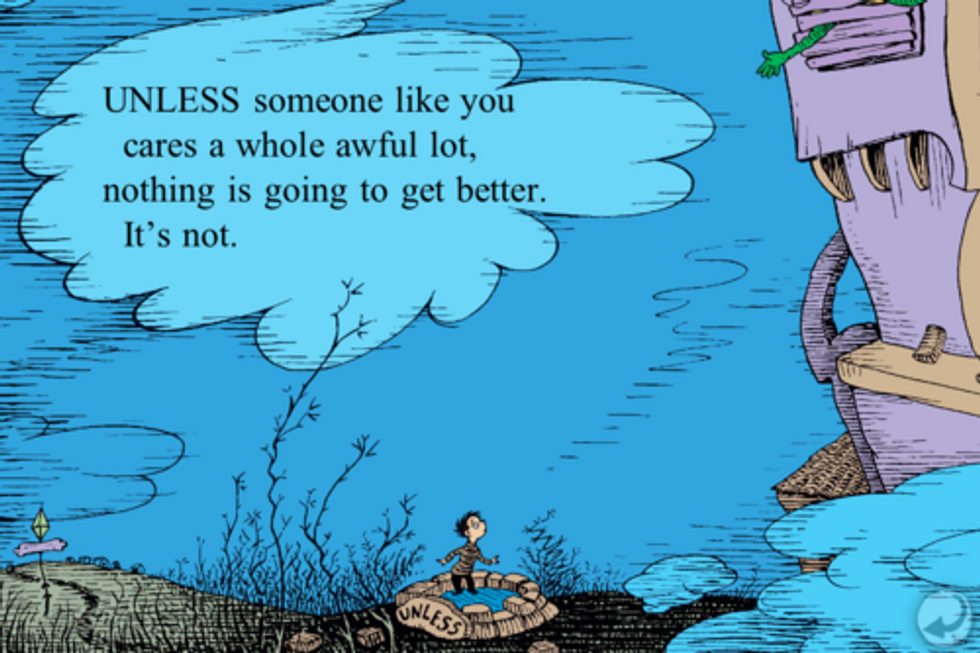 image via weheartit
This week, Rep. Alexandria Ocasio-Cortez and Senator Ed Markey will be proposing the most ambitious plan to fight climate change yet.
Recycle. Take shorter showers. Turn the lights off.

Over the past several decades, most of us have heard these diatribes repeated over and over, and have perhaps become numbed to these mantras, which promise that tiny droplets of collective action could potentially save the planet from environmental ruination.
It's true that small changes are important, and that each person contributes to the growing levels of waste and pollution that are killing our ecosystems and raising the planet's temperatures so dramatically that Manhattan-size gaps are forming in Antarctic ice. But it's also true that 71% of carbon emissions come from just 100 companies. It's also true that the scale of the crisis has grown unmanageable, and poses an unprecedented threat to human life.
That's where the Green New Deal comes in.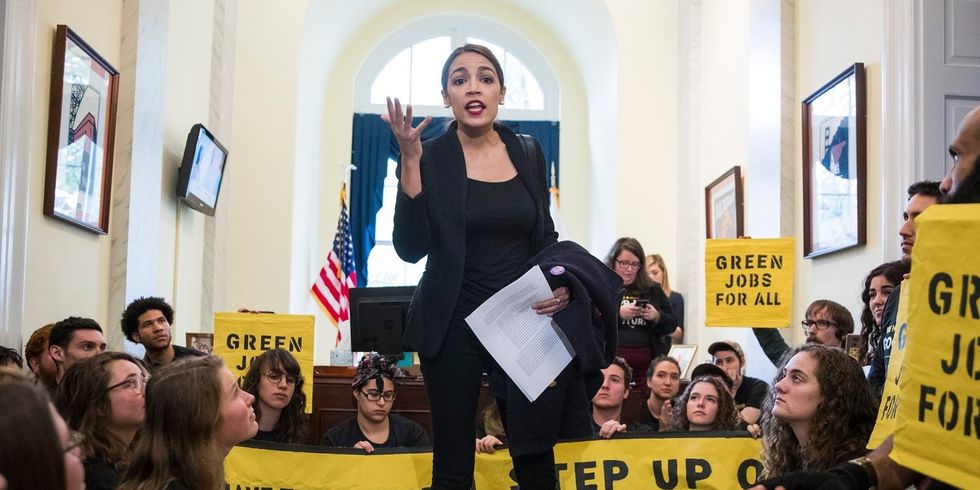 Image via The Intercept
"It's the only plan that matches the scale of the crisis," said Naomi Klein of the proposal, speaking on livestream yesterday night to thousands of activists tuning in across America. The livestream was hosted by the Sunrise Movement, a millennial-founded organization dedicated to supporting and fortifying the Green New Deal, especially as it's proposed in Congress in the coming week. Klein is the author of This Changes Everything, a book that argues that impending climate catastrophe actually presents an extraordinary opportunity to revamp the world's economic systems for the better. "I believe we were born for this moment," she told viewers.

Named after FDR's New Deal—which revolutionized the entire country on a tremendous scale, planting three billion trees and establishing hundreds of national forests in addition to catalyzing widespread economic, agricultural, and social reforms—the Green New Deal seeks to implant reforms on an equivalent scale in a time when it seems like there is no other option.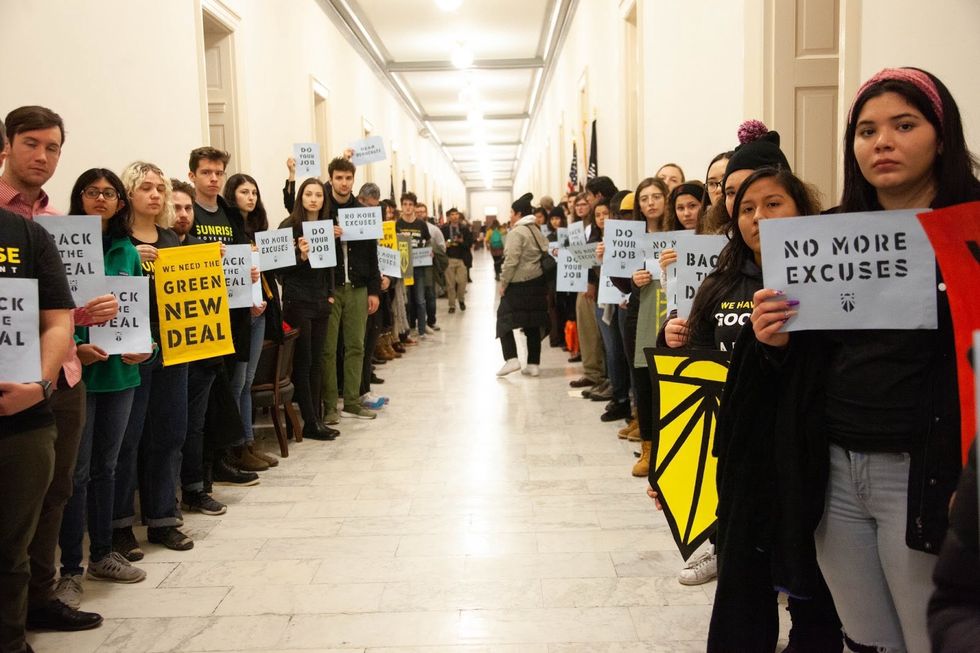 Image via Vice News
The plan has gone through several phases, but the one that's being proposed in Congress this week focuses on several fundamental points. First: achieve net-zero carbon emissions by 2030, and transition to renewable energy on a huge scale through initiatives like the creation of a nationwide electrical grid. Second: institute a living wage for all, in tandem with the creation of unlimited numbers of green jobs. These are the plan's main tenets, but its ideological aspirations stretch much further. It hopes to generate thousands of jobs in the form of start-ups and maintenance, and to start a wave of international trade in the renewable energy sector.

The original plan focused on a switch to 100% renewable energy by 2030, but a recent five-page draft obtained today by Bloomberg didn't mention this point, perhaps as a nod to moderates, though the omission is still subject to change. The draft proposes large-scale investment in green technology, the restoration of threatened lands, waste removal, and "massive growth in clean U.S. manufacturing, removing pollution byproducts and greenhouse gas emissions from that sector as much as technologically feasible."
The term "Green New Deal" is not a new one, though it has been going through different iterations since its inception. It was coined in a 2007 column by Thomas Friedman, and Barack Obama included it in his 2008 platform. Britain also took note, but a surge of Republican/Tory victories stymied its momentum.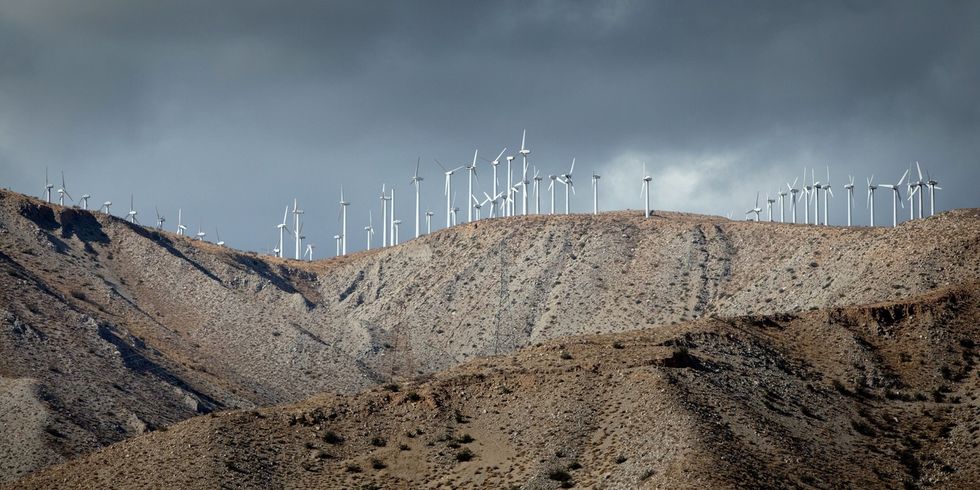 Image via theintercept.com
The GND has found new life in Representative Alexandria Ocasio-Cortez, the Bronx electorate whose rise to political success has been accompanied by widespread social media fame. Ocasio-Cortez showed up in person to support a Sunrise Movement sit-in in Nancy Pelosi's office, demanding the creation of a committee dedicated to developing and pushing the GND, and since then she has become one of its biggest proponents. Now she will be proposing it in Congress this week, alongside Massachusetts senator Ed Markey. The plan has also garnered support from Rep. Ayanna Pressley, as well as 2020 presidential candidates Kamala Harris, Cory Booker, and Bernie Sanders.

The Sunrise Movement began in 2015, when it was founded by climate activists Sara Blazevic and Varsini Prakash, and quickly gained momentum, taking notes from the heady drive of the 1963 civil rights protests of Birmingham, Alabama. Its founders gathered activists, reached out to politicians, and pulled together the finer points of the Sanders campaign and other recent social movements; the successful Pelosi sit-in was the product of months of organizing.
The movement is appealing in a narrative sense: the vision of young people fighting against bloated fossil fuel behemoths has a definite draw to it. There's also the fact that science says the fate of the entire world requires unprecedented global change over the next few years, otherwise catastrophes like Hurricane Sandy and the California wildfires will become the stuff of the everyday.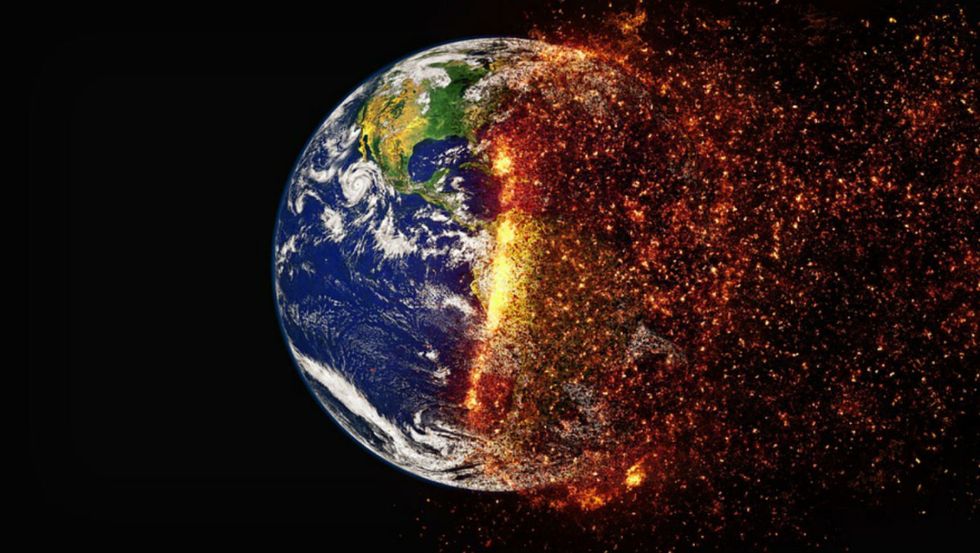 Image via theinsurgent.com
But the GND is still just an idea, and it could remain that way. Its lack of specific policy has been subject to criticism, though an official draft has yet to be unveiled, and conservative news sources have labeled it as a hoax, an amorphous idea without policy to back it.
While the GND might seem like an impossibly ambitious proposition, humans have revamped and reshaped the world before a hundred times over, and we are nothing if not creative and adaptive. We've created technologies that connect the globe and turned empty landscapes to highway-lined cities in a matter of years. Now—unless you like the idea of joining Elon Musk's exclusive Mars colony—it's time to turn all of our collective energies towards the future of the home we share.
70 leading Democrats have signed on in support so far, and momentum is building for its official proposition. The Sunrise Movement is planning on facilitating office visits to congress people across the country this week, as well as a rally in Washington on February 26th.
In an age of doomsday threats and constant headlines about plastic oceans and refugee crises facilitated by environmental droughts, the idea of a Green New Deal—something that could actually, genuinely make a difference that touches every aspect of life—seems like a light at the end of the tunnel. Now it's just a matter of getting there.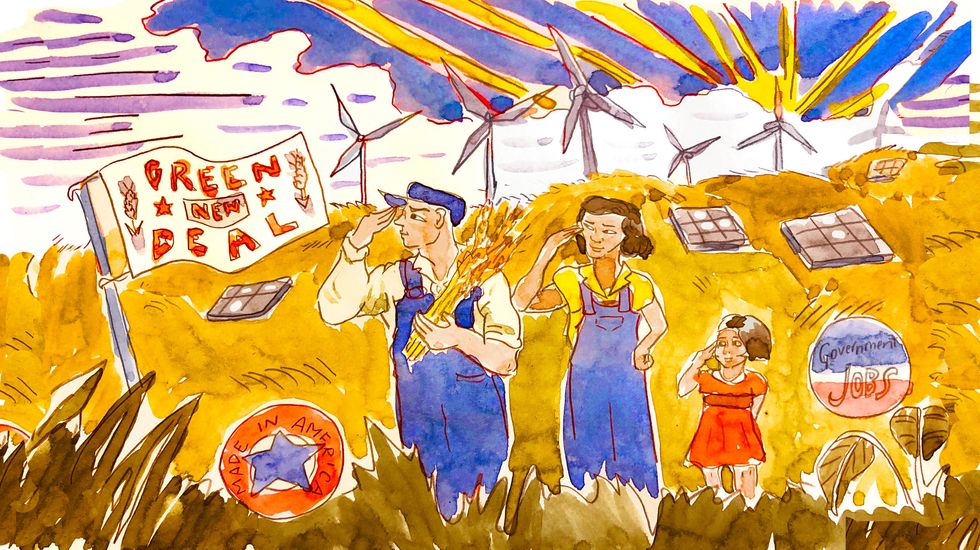 Image via radioopensource.org
Environmental crisis affects the poor and vulnerable at disproportionate levels; it catalyzes mental and physical illness, economic decline, and overall devastation. Irreparable damage has already been done—but the fight is not quite over yet, though time is running out.
---
Eden Arielle Gordon is a writer and musician from New York City. Follow her on Twitter at @edenarielmusic.

---