Catriona O'Dea
Catriona O'Dea, R.N., BSN, MBA
Catriona is an experienced registered nurse both in the US and Ireland. She has held many different roles in Healthcare in the Clinical, Medical Device and the Pharmaceutical industry. She is currently working as a Clinical Trials Nurse in oncology at Memorial Sloan Kettering Hospital in NYC.
She has worked at other renowned Medical Institutions such as St Vincent's Hospital, Dublin, NYU- Langone Medical Center, She earned her Bachelors Science Nursing from Trinity College Dublin and her MBA from National University, Galway, Ireland.
She lives in Manhattan where she is an active member of the Irish America community and enjoys music, travel and bold adventure.
"A tree is best measured when it is down," the poet Carl Sandburg once observed, "and so it is with people." The recent death of Harry Belafonte at the age of 96 has prompted many assessments of what this pioneering singer-actor-activist accomplished in a long and fruitful life.
Belafonte's career as a ground-breaking entertainer brought him substantial wealth and fame; according to Playbill magazine, "By 1959, he was the highest paid Black entertainer in the industry, appearing in raucously successful engagements in Las Vegas, New York, and Los Angeles." He scored on Broadway, winning a 1954 Tony for Best Featured Actor in a Musical – John Murray Anderson's Almanac. Belafonte was the first Black person to win the prestigious award. A 1960 television special, "Tonight with Belafonte," brought him an Emmy for Outstanding Performance in a Variety or Musical Program or Series, making him the first Black person to win that award. He found equal success in the recording studio, bringing Calypso music to the masses via such hits as "Day-O (The Banana Boat Song)" and "Jamaica Farewell."
Harry Belafonte - Day-O (The Banana Boat Song) (Live)www.youtube.com
Belafonte's blockbuster stardom is all the more remarkable for happening in a world plagued by virulent systemic racism. Though he never stopped performing, by the early 1960s he'd shifted his energies to the nascent Civil Right movement. He was a friend and adviser to the Reverend Doctor Martin Luther King, Jr. and, as the New York Times stated, Belafonte "put up much of the seed money to help start the Student Nonviolent Coordinating Committee and was one of the principal fund-raisers for that organization and Dr. King's Southern Christian Leadership Conference."
The Southern Poverty Law Center notes that "he helped launch one of Mississippi's first voter registration drives and provided funding for the Freedom Riders. His activism extended beyond the U.S. as he fought against apartheid alongside Nelson Mandela and Miriam Makeba, campaigned for Mandela's release from prison, and advocated for famine relief in Africa." And in 1987, he received an appointment to UNICEF as a goodwill ambassador.
Over a career spanning more than seventy years, Belafonte brought joy to millions of people. He also did something that is, perhaps, even greater: he fostered the hope that a better world for all could be created. And, by his example, demonstrated how we might go about bringing that world into existence.
Easter weekend reflections on the impact of COVID-19 and the global economic shutdown
Being Irish and growing up Catholic, Good Friday has lots of significance, a day of crucifixion, death, which then gives rise to the resurrection - victory over death! Love and hope conquering fear and dismay!
Let's not forget the Good Friday Peace agreement between Northern Ireland, the United Kingdom, and Ireland where arms were put aside after years of hate and warfare finally returned to a relatively stable existence. Ironically, Good Friday 2020 is touted as the day our death toll will peak, and not Easter Sunday as currently projected from the Washington State model.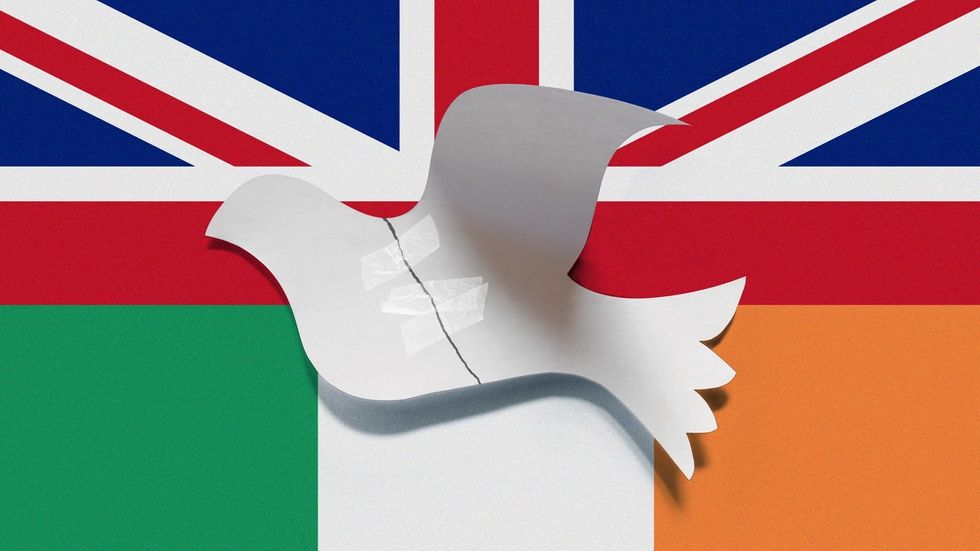 IGOR PETROV / FOCAL POINT / FLYDRAGON / SHUTTERSTOCK / THE ATLANTIC
As Dr. Fauci, the nation's leading expert on infectious diseases, said on Friday, this is "the end of the famous week". The death toll worldwide has surpassed 100,000. With 18,000 in the US - up 11,000 since last week.

These are not merely numbers, but lives - fathers, mothers, sons, daughters, friends, neighbors, our aged community, our most vulnerable. Such loss has shattered our communities as we struggle to find a dignified way to lay them to rest forever.
However, after such a devastating week we have seen progress. As a result of our concerted efforts to slow down the spread, a flattening of the curve is now visible. Fauci said that despite these small advancements, it's "not time to be pulling back." We must continue to wash our hands and maintain social distancing by wearing masks and keeping 6 feet between us when in public.
The decision to reopen the economy will be President Trump's biggest decision of his life. Asked what metrics he will use, he pointed to his head, which indicates that he'll be the one making this decision. He is hoping for a May 1st reopening, which gives rise to a difference between economic advisors and health advisors.
Trump aims to achieve this soon by creating an "Opening Our Country Taskforce" which he'll announce on Tuesday, April 14. It will be composed of prominent medical professionals and business leaders from across the US who will forge a bipartisan, united front to get the nation back on its feet.
Today the war rages against the "invisible enemy." Is Trump the Churchill of our time, rallying us to beat the enemy not by his rhetoric but by the things he is doing behind the scenes? Who are our enemies? Is it a microscopic virus? Is it our trusted organizations that were created by the US to protect us?
The Pandemic stopped the world. It stopped travel, shut down borders, and drove everyone off the streets into the enclaves of their homes. It caused a monumental shift in how business is done daily. Not to mention an upsurge in technology by students being taught online and employees working from home.
Some of these new mechanisms will remain long after the virus is gone. We may see a more self sufficient America with its own energy supply and a less reliance on China for production of our household items.
Another beneficial change is that great American corporations such as GM and Abbott Labs, are manufacturing needed supplies. Many companies large and small are bringing manufacturing back to the U.S. "Made in America" has a deeper resonance during this unsettling time.
The Pandemic has highlighted health disparities and exposed a wealth divide. Particularly hard hit is the African American community living in low income communities across New York, Milwaukee, Chicago, and New Orleans.
Black patients are disproportionately dying from COVID-19 which illuminates lack of resources and the medical challenges that black communities face every day. Now that this is highlighted America must funnel more funds and resources to support these vulnerable communities.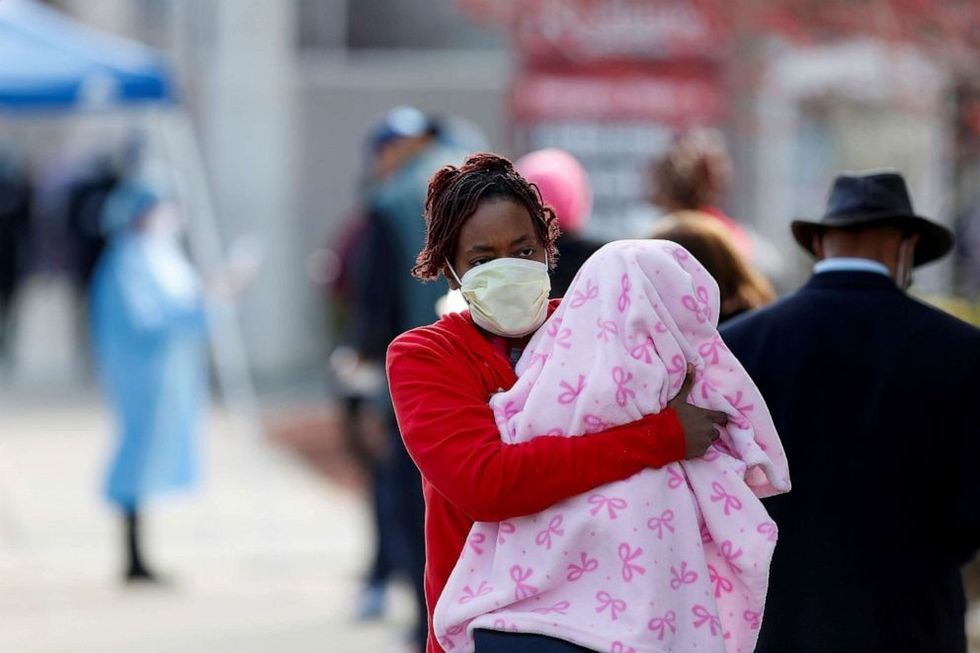 Joshua Lott/Reuters
There are numerous proposed roadmaps for reopening the economy, but antibody testing is getting the most attention. This past week, people who tested positive to COVID-19 are being asked to donate their plasma in order to help those with the disease. If we can get these tests out in plentiful supply we can see who may have been exposed to the virus but has resistance.

There's more availability of medical supplies and medications such as hydroxychloroquine. Two companies now have the go ahead to sterilize critical PPE such as masks and gowns that will be provided to critical areas very soon.
We are in uncharted water, no one knows what will happen when we return to work. Will there be a spike, a second wave? We can only rely on the data from the countries who have reopened before us and use this to create the models we have all become so familiar with over the past few weeks.
All this is to slow the spread and see the curve bending toward a hopeful May 1st opening of the economy.
How do we contextualize an unprecedented moment in American history?
As a healthcare worker with more than three decades of training and clinical work under my belt, I have a few thoughts about this moment in American history:
The Metaphor of War is Inaccurate
This is an undeclared war against the coronavirus. What healthcare workers are going through is war. With such strictly limited resources, we must apply wartime strategies to care for as many people as possible.
As our Mayor, Bill De Blasio, said in today's briefing, "this is a war with many-many fronts. The only way to get through it is to use our military, all HCP (Health Care Personnel). [To create] a national enlistment of all doctors and nurses and move them to areas of need as it arises around the country."
De Blasio is urging the president to enlist all doctors and nurses across America. Indeed, we're not only at war, we are on a battlefield.
In wartime, people hunker down together - especially those most vulnerable. Not so with this virus. Social distancing causes even the sick to care for themselves in isolation, as they check in with others by phone.
The "mask or no mask" question
On the streets and in grocery shops, neighbors in self protection mode aggressively condemn each other for not standing the mandatory 6 feet apart. After close to three weeks of social distancing, why only now are we being asked to wear non-medical masks when going outside.
As a nurse, when I hear the word droplets, I follow precautions, I wear a mask. Any health care worker who doesn't receive the flu vaccine is required by law to wear a mask from the beginning of flu season in October through May or June in all patient areas in the hospital - elevators, patient rooms, hallways, and in clinic.
However, during these perilous times and with supplies stretched thin, the medical field is our first priority. The public has been repeatedly asked to spare PPE (Personal Protective Equipment) for medical people.
Healthcare Workers Are To COVID-19 as Fireman and Police Were To 9/11
Doctors and nurses working frontline without proper PPE is like rushing into a burning building in a tee-shirt, jeans, and bare feet. Are we being asked to do something that was not asked of our firefighters on 9/11?
But every evening at 7pm in NYC, #Clappingforcarers erupts in a massive round of global applause. What a profoundly glorious acknowledgement of Health Care and Essential Workers. Walking home from my ten hour shift at an Upper East Side hospital, I stand on 3rd Ave overwhelmed with this outpouring of gratitude that brings tears to my eyes. I am in awe of how life affirming this is. And how many beautiful people are recognizing our bravery and duty to care.
s3.amazonaws.com
We Don't Know What We Don't Know
We don't know. We don't know how this virus works in the body . . . how long it takes an individual to fully recover and no longer shed it. We don't know when it will be safe to socialize again.
On Monday, the US Navy hospital ship Comfort sailed into the west side docks with 1,000 beds. As of Thursday, they've only filled 20 beds due to a tangle of military protocols and bureaucratic hurdles. Frustration is growing because this isn't relieving our overburdened hospitals at all.
But here's the don't-know-what-we-don't-know of it, the world's top researchers do not fully understand how this pathogen works although we're months into the existence of this virus.