"A tree is best measured when it is down," the poet Carl Sandburg once observed, "and so it is with people." The recent death of Harry Belafonte at the age of 96 has prompted many assessments of what this pioneering singer-actor-activist accomplished in a long and fruitful life.
Belafonte's career as a ground-breaking entertainer brought him substantial wealth and fame; according to Playbill magazine, "By 1959, he was the highest paid Black entertainer in the industry, appearing in raucously successful engagements in Las Vegas, New York, and Los Angeles." He scored on Broadway, winning a 1954 Tony for Best Featured Actor in a Musical – John Murray Anderson's Almanac. Belafonte was the first Black person to win the prestigious award. A 1960 television special, "Tonight with Belafonte," brought him an Emmy for Outstanding Performance in a Variety or Musical Program or Series, making him the first Black person to win that award. He found equal success in the recording studio, bringing Calypso music to the masses via such hits as "Day-O (The Banana Boat Song)" and "Jamaica Farewell."
Harry Belafonte - Day-O (The Banana Boat Song) (Live)www.youtube.com
Belafonte's blockbuster stardom is all the more remarkable for happening in a world plagued by virulent systemic racism. Though he never stopped performing, by the early 1960s he'd shifted his energies to the nascent Civil Right movement. He was a friend and adviser to the Reverend Doctor Martin Luther King, Jr. and, as the New York Times stated, Belafonte "put up much of the seed money to help start the Student Nonviolent Coordinating Committee and was one of the principal fund-raisers for that organization and Dr. King's Southern Christian Leadership Conference."
The Southern Poverty Law Center notes that "he helped launch one of Mississippi's first voter registration drives and provided funding for the Freedom Riders. His activism extended beyond the U.S. as he fought against apartheid alongside Nelson Mandela and Miriam Makeba, campaigned for Mandela's release from prison, and advocated for famine relief in Africa." And in 1987, he received an appointment to UNICEF as a goodwill ambassador.
Over a career spanning more than seventy years, Belafonte brought joy to millions of people. He also did something that is, perhaps, even greater: he fostered the hope that a better world for all could be created. And, by his example, demonstrated how we might go about bringing that world into existence.
We believe you: That speeding ticket really wasn't your fault.
Maybe you were driving two miles over the speed limit when an overzealous state trooper pulled you over. Maybe you were texting your grandma at a stop sign when the bright lights of the law appeared in your rearview mirror. Either way, we believe you, and we're on your side. Don't panic if you're hit with a traffic citation that charges you fees comparable to those of a monthly car payment on a luxury automobile. If you think your ticket is unjust, there are plenty of steps you can take to combat it. You might even save some cash. :
First: How Do You Want to Plead?
When the steam heat of frustration finally clears, turn your ticket over and check the paper for information on court dates and location. During your arraignment, the judge will ask whether or not you want to plead guilty or not guilty. It's worth mentioning that some judges will lower the fine immediately if you plead guilty, but certain states prohibit this practice. Be sure to look up your state's laws before you make a decision. The other option, is to plead not guilty. Even though you have a chance of lowering the fine by pleading guilty, the smart bet is to say you didn't do it. This is because, in most states, if the officer doesn't show up to defend his citation at the court proceeding, the judge will throw the ticket out. Police officers have busy schedules and busy lives. There's always a chance they don't have time to meet you in court. Unless you live in a state in which judges lower fines for guilty pleas, always plead not guilty. The odds are in your favor, and even if the officer shows up, you've managed to inconvenience him in the same way he inconvenienced you with an unfair ticket.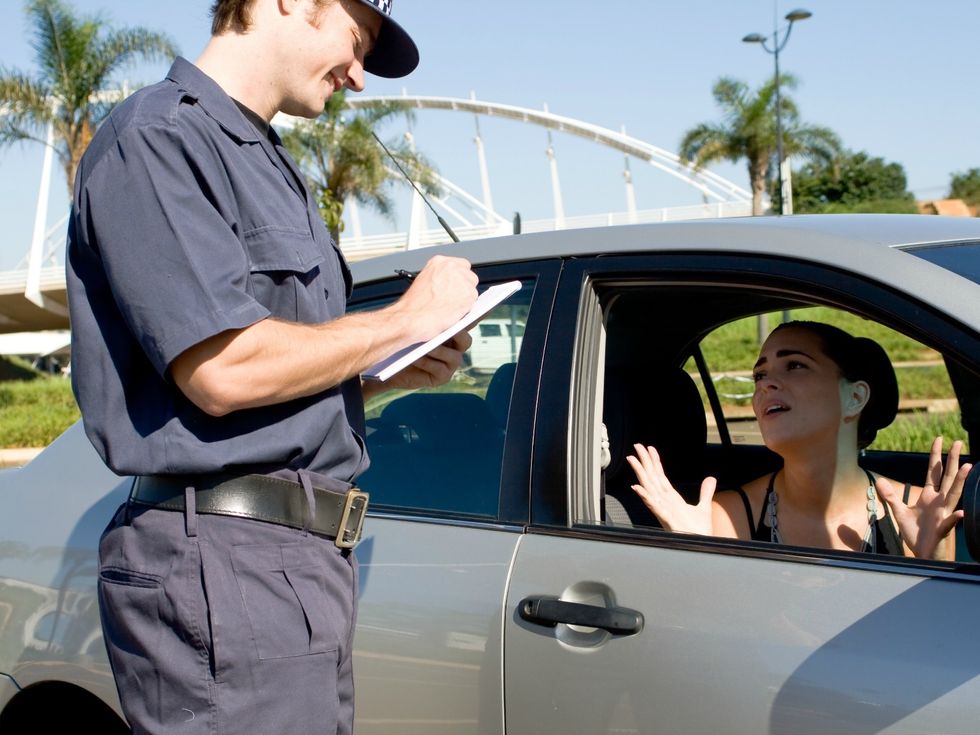 Pleading usually won't help
Second: Call a Lawyer
Now, assuming you've decided to plead not-guilty and the officer who issued the ticket actually shows up, it might be time to call in a lawyer. At this point, you have to ask yourself (and probably your lawyer) what kind of penalty am I facing? Is it just money? Could my license get suspended? The answers to these questions, as well as the severity of the punishment you could face should determine whether or not you should hire an attorney. If it's only a couple hundred dollar fine, you may have to just cut your losses, as any legal fees you have to pay will cut into the money you would have saved.

Third: Have Proof
If you've decided to go Perry Mason on your traffic ticket, question number three is: do you have the necessary legal proof to combat it? Now, the answer to this question doesn't have to be yes right off the bat. As in all criminal cases, the burden of proof falls upon the claimant. I.e. it's the state's responsibility to prove that you made a traffic violation, not your responsibility to prove you didn't. The degree to which officers must support their traffic citation varies from state to state, but make no mistake, even after getting a ticket, you are innocent until proven guilty. That said, you probably won't have any proof right away. You'll have to gather counter-evidence via discovery, i.e. using the government's evidence against them. Cross examining the police officer who ticketed you is also a useful way to get information and build your case. Another means of bolstering your defense is to claim your actions were justified in some way. Some examples of this are matter of fact conduct (proving to the judge you made an honest mistake), legally justified conduct (i.e. speeding to get to a hospital), and conduct to avoid harm (i.e. swerving to prevent a collision). Any of these defenses, when properly employed, can help you escape your fines. Talking to your lawyer can help you determine which route you want to take and whether or not your claim is defensible.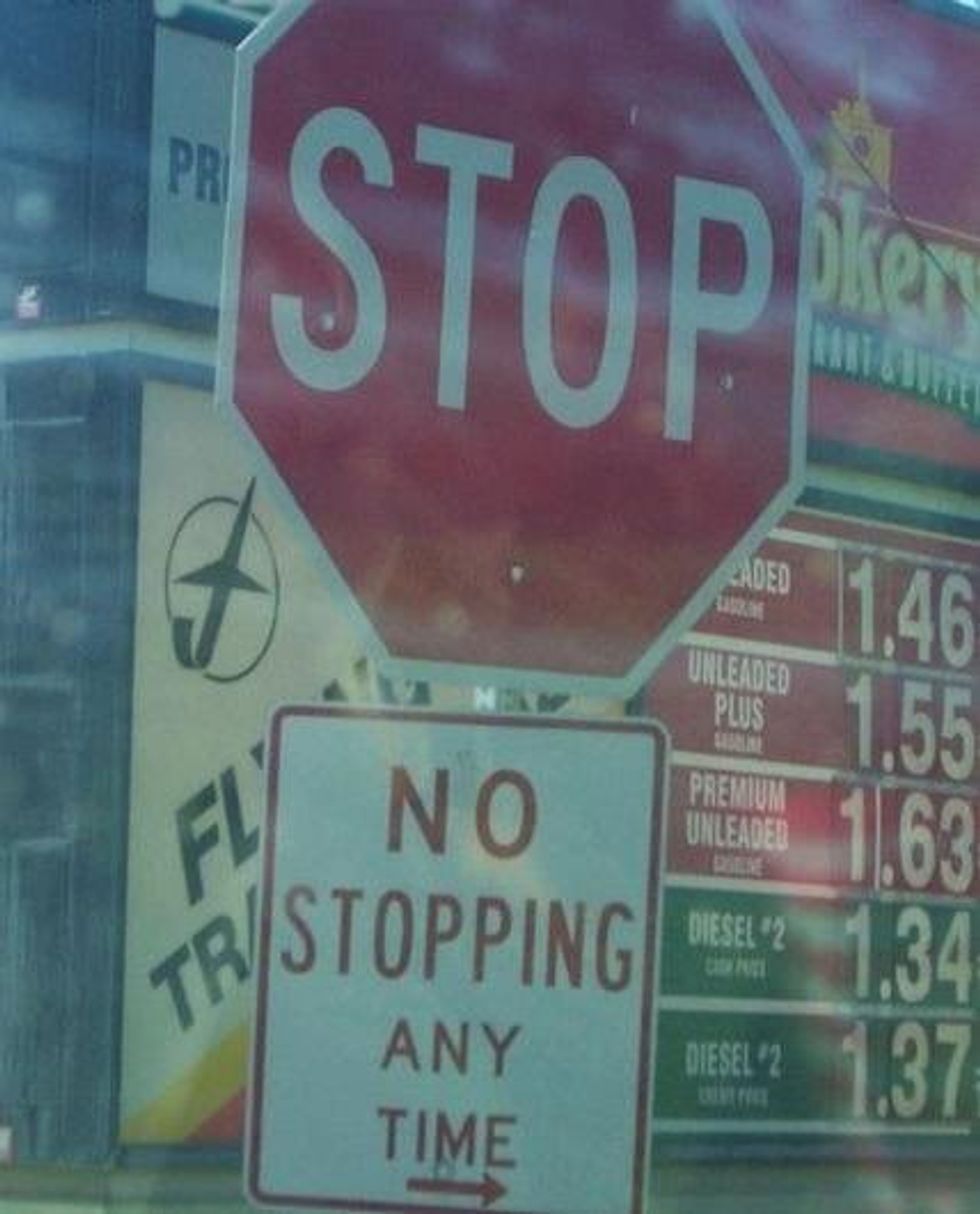 If you got pulled over for not following this sign, you'd be able to claim "matter of fact" conduct, as the sign makes no sense.
All that said, there is a litany of different ways in which a police officer can prove your guilt nowadays. Most have dash cams, and if they have videographic evidence of you breaking the law, your goose is probably cooked. With this in mind, it's good to take a second to think about whether or not you were really innocent or if you were just upset that you got caught. If the case is unwinnable, going to court can be a huge waste of time and money. On top of this, a disgruntled judge may even issue additional fines or penalties if you're proven guilty in court. This makes fighting a traffic citation a high risk, high reward type of scenario. If you're strapped for cash and can't afford to pay the ticket, it might be worth rolling the dice to see whether or not you can get it waived. If you're fighting the ticket out of a matter of principle, maybe take a second and do some quick tabulations to find out how much your pride is worth. No one talks about losing the trial when they take a traffic ticket to court, but it happens. If none of the defense information above can be applied to your specific situation, it's safe to assume you should probably just pay the fine and avoid court altogether.