"A tree is best measured when it is down," the poet Carl Sandburg once observed, "and so it is with people." The recent death of Harry Belafonte at the age of 96 has prompted many assessments of what this pioneering singer-actor-activist accomplished in a long and fruitful life.
Belafonte's career as a ground-breaking entertainer brought him substantial wealth and fame; according to Playbill magazine, "By 1959, he was the highest paid Black entertainer in the industry, appearing in raucously successful engagements in Las Vegas, New York, and Los Angeles." He scored on Broadway, winning a 1954 Tony for Best Featured Actor in a Musical – John Murray Anderson's Almanac. Belafonte was the first Black person to win the prestigious award. A 1960 television special, "Tonight with Belafonte," brought him an Emmy for Outstanding Performance in a Variety or Musical Program or Series, making him the first Black person to win that award. He found equal success in the recording studio, bringing Calypso music to the masses via such hits as "Day-O (The Banana Boat Song)" and "Jamaica Farewell."
Harry Belafonte - Day-O (The Banana Boat Song) (Live)www.youtube.com
Belafonte's blockbuster stardom is all the more remarkable for happening in a world plagued by virulent systemic racism. Though he never stopped performing, by the early 1960s he'd shifted his energies to the nascent Civil Right movement. He was a friend and adviser to the Reverend Doctor Martin Luther King, Jr. and, as the New York Times stated, Belafonte "put up much of the seed money to help start the Student Nonviolent Coordinating Committee and was one of the principal fund-raisers for that organization and Dr. King's Southern Christian Leadership Conference."
The Southern Poverty Law Center notes that "he helped launch one of Mississippi's first voter registration drives and provided funding for the Freedom Riders. His activism extended beyond the U.S. as he fought against apartheid alongside Nelson Mandela and Miriam Makeba, campaigned for Mandela's release from prison, and advocated for famine relief in Africa." And in 1987, he received an appointment to UNICEF as a goodwill ambassador.
Over a career spanning more than seventy years, Belafonte brought joy to millions of people. He also did something that is, perhaps, even greater: he fostered the hope that a better world for all could be created. And, by his example, demonstrated how we might go about bringing that world into existence.
His latest insanity involved claiming that the coronavirus is both "the common cold," and a bio-weapon designed by China.
There are few people in American media as reliably unhinged and distasteful as Rush Limbaugh.
But to many in his audience of more than 15 million weekly listeners, Limbaugh is a bastion of straight talk. Since the late 1980s, his brand of antisocial advocacy has twisted and infected the nation's political conversations.
What makes Limbaugh so compelling is that he never pulls punches or offers any deference to basic human decency. He will fight for the rights of smokers to choke a restaurant with clouds of thick smoke, will happily claim that Planned Parenthood is committing genocide against black Americans, and will never shrink from accusing Michael J. Fox of "exaggerating the effects" of Parkinson's disease with no evidence beyond the fact that Limbaugh himself can do a morbid pantomime of wild muscle spasms. To regular listeners, these unequivocal stances reflect Rush's willingness to stand up to the leftist authoritarians and the woke scolds of the world. He speaks truth to power… Unless of course Republicans control the levers of power, in which case Rush will speak in power's defense.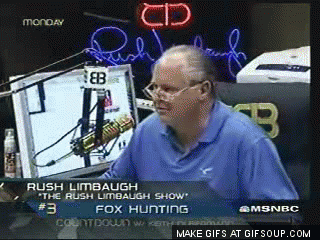 That was the case on Monday, when Rush managed to argue—in the span of a few minutes—that COVID-19 (colloquially known as the coronavirus) is both "the common cold," and "a Chicom laboratory experiment that is in the process of being weaponized." Chicom is a reference to China's ruling Communist party, whom Rush is accusing of deliberately manufacturing this new strain of virus as a form of biological warfare. But due to their incompetence or some nefarious ulterior motive that involves getting everyone only mildly ill, their biological weapon is—according to Rush—"the common cold."

As evidence of its mildness, Rush cites the low mortality rate—"98% of people who get the coronavirus survive." Of course, this would seem to undermine the sinister plot that Rush has espied through his omniscience, if not for his clever discovery of Chicom's co-conspirators: the mainstream media. "The drive-by media hype of this thing as a pandemic, as the Andromeda strain, as, 'Oh, my God, if you get it, you're dead.'"
There's no doubt that the media has a history of exaggerating the potential danger of emerging epidemics—ask anyone who had the Swine flu and shrugged it off. It makes for a gripping story to tell viewers that a new disease that's spreading is coming to kill them and their loved ones, but the famously pro-communist "drive-by" media is legitimately too distractible to really focus on overblowing a health crisis while also covering election drama, Megxit, Trump's pardons, and Harvey Weinstein. So if they are giving the coronavirus too much hype, it can only be part of an elaborate conspiracy with Xi Jinping and the Chinese government…but to what end?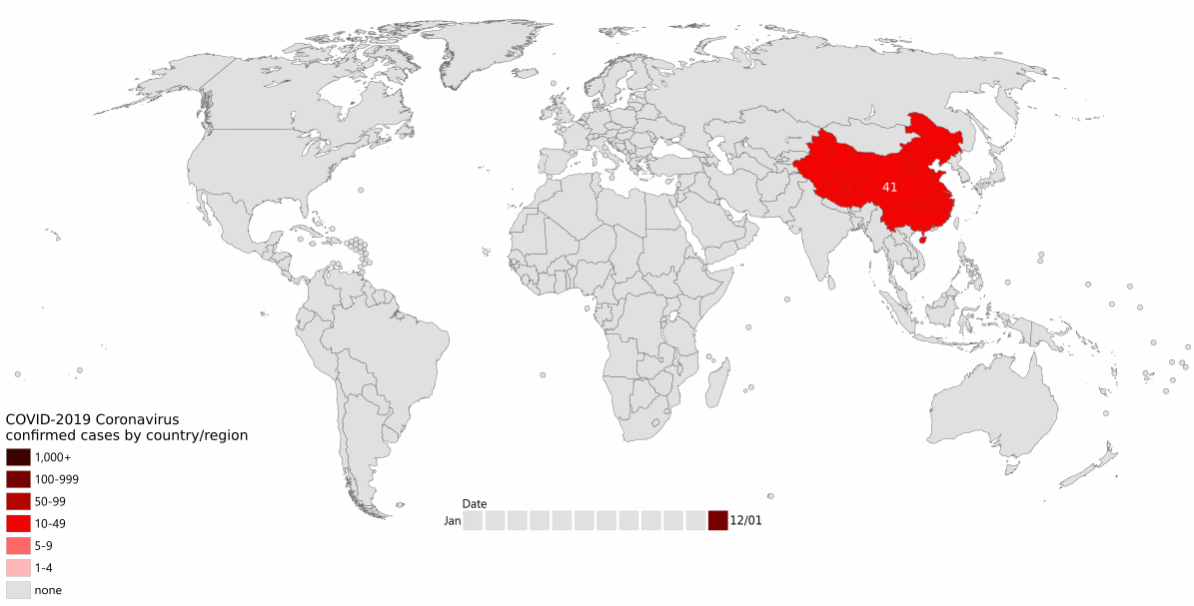 Wikimedia
As always, in times of uncertainty, we turn to Rush Limbaugh for the answer: "The way it is being weaponized is by virtue of the media, and I think that it is an effort to bring down Trump, and one of the ways it's being used to do this is to scare the investors, to scare people in business. It's to scare people into not buying Treasury bills at auctions. It's to scare people into leaving, cashing out of the stock market—and sure enough, as the show began today, the stock market—the Dow Jones Industrial Average—was down about 900 points, supposedly because of the latest news about the spread of the coronavirus."

Fascinating. Meanwhile the fact that nearly 3,000 deaths have occurred—with more than 80,000 confirmed cases and outbreaks spreading in Italy, Iran, South Korea, and Japan—must all be part of the hype. The fact that the virus is wildly contagious and not well understood is part of the hype. The facts that the entire city of Wuhan—with a population of over 11 million—is under strict quarantine and that containment measures throughout China are disrupting office work, manufacturing, and transportation is all part of a clever, convoluted plan to hurt the presidency of Donald Trump. The fact that tourism and travel have dropped off around the world, and that various companies have reported losses as a result of the virus and the measures taken to combat it, it's all just calculated to undermine President Trump's singular metric of success—the surging "economy" embodied in the stock market.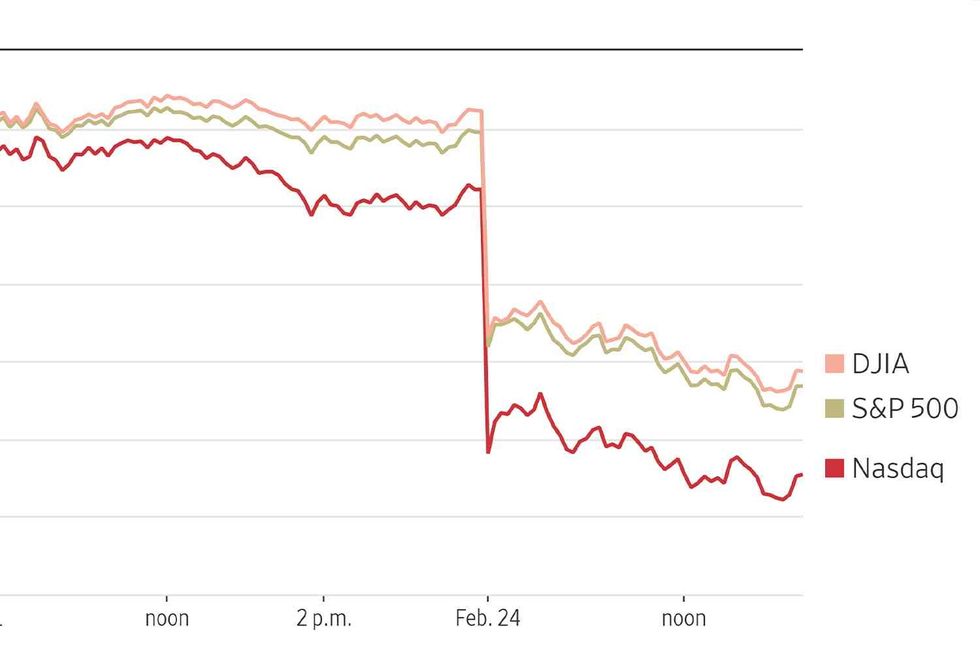 Because there can't possibly be anything wrong with structuring economic policy entirely around a foundation of volatile investor speculation and a faith in limitless corporate growth. No, the strategy would be perfect if it weren't for the forces of evil aligning against Donald Trump to control global events in a way that hurts his political chances. In that sense, it's only reasonable for President Trump to dangle military aid in front of foreign leaders in exchange for dirt and propaganda against his political rivals. It's the only way he can fight back!

This latest drama comes on the heels of Limbaugh's receipt of the Presidential Medal of Freedom during President Trump's State of the Union Address—an honor which Limbaugh pretended to be surprised by. Some people have criticized the decision to give such a prestigious award to the kind of man who would glibly invent conspiracies about Chinese bio-weapons and downplay the severity of a little-understood contagion. On the other hand, if anyone should know about the dangers of viral respiratory infections—and the deadly pneumonia that can result in people with compromised systems—it's surely Rush Limbaugh. He is, after all, currently being treated for stage four lung cancer and is unlikely to recover.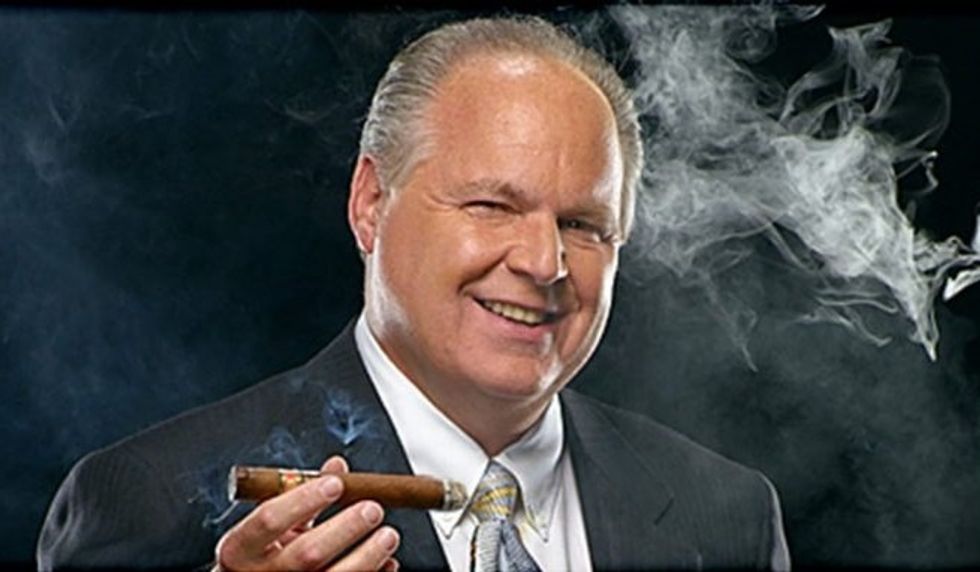 That last point is worth restating: Rush Limbaugh most likely will not be with us for much longer. It's an important thought to keep in mind when things seem bleak.

His announcement that he will not be voting to allow witnesses in the impeachment trial has lasting implications for the country and the world.
Behold the arbiter of your future.
This is the Senator who has decided that there is no need to call witnesses in the impeachment trial of Donald Trump—a man who used his powers as president in a deliberate attempt to subvert the electoral process with the assistance of a foreign government. Lamar Alexander, a 79-year-old white man from Tennessee, has unilaterally determined that Donald Trump's crimes are not worthy of punishment from the only body with the capacity to hold him accountable. As a result, by the time you read this, Donald Trump will likely have already been acquitted and the impeachment will be over.
Alexander's claim—according to the statement released Thursday night—is that Trump's misdeeds have already been proven, and there's no need for the public spectacle of witnesses attesting to those misdeeds on national TV. He asserts that, while withholding military aide from Ukraine until they publicly announce an investigation into your political opponent may be a bad look, it doesn't rise to the "Constitution's high bar for an impeachable offense." And it is not the Senate's role "to remove the president from office and ban him from this year's ballot simply for actions that are inappropriate."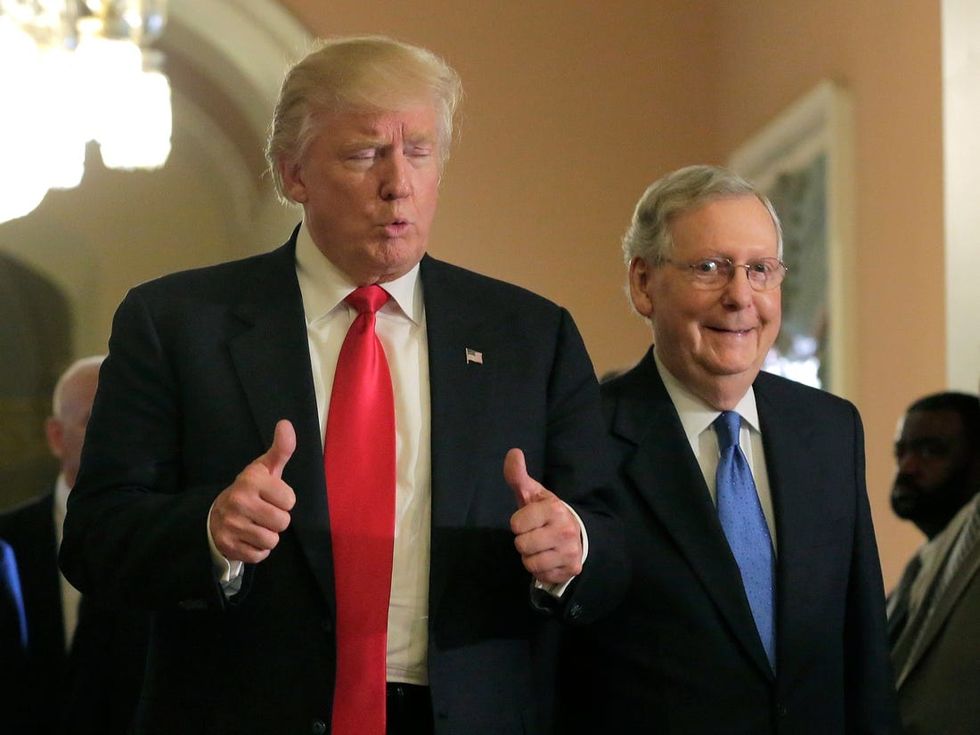 Joshua Roberts/Reuters
There is some truth to this statement, but it's a small truth that helps to conceal a much bigger lie. Granted, there are varying legal opinions on what constitutes "high crimes and misdemeanors," and there was essentially zero chance that the Senate's Republican majority was ever going to vote to remove Donald Trump from office. So why bother going through the motions of a legitimate impeachment trial—allowing new evidence and witness testimony? The answer lies in another portion of Alexander's statement: "Our founding documents provide for duly elected presidents who serve with 'the consent of the governed,' not at the pleasure of the United States Congress. Let the people decide." This, despite the fact that more than 70% of Americans wanted the impeachment trial to include witnesses.

And how should the people decide if there are facts and perspectives being deliberately withheld? That has been the explicit goal in Mitch McConnell's handling of the impeachment trial. Presumably, he knows what the Watergate hearings did to Richard Nixon's approval rating. Nixon resigned because the American people were exposed to who he truly was, and they turned against him. If not for those hearings, he would have remained popular. Likewise, according to a recent poll, 65% of Republicans consider Trump's interactions with Ukraine "normal presidential behavior." Consent is not truly consent if it is not informed.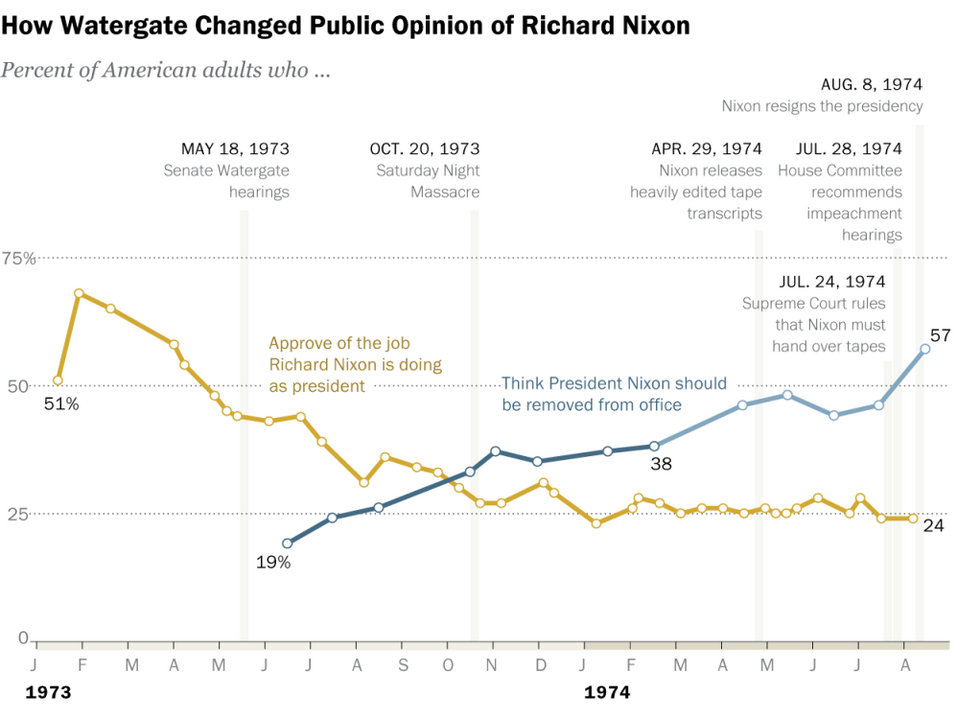 Pew Research Center
So while Lamar Alexander may be convinced that Trump acted inappropriately, without the spectacle of witness testimony, that is not the message many Americans are going to receive. They will hear that Trump has been exonerated. That impeachment was a nothing-burger and a distraction. And they probably won't read John Bolton's damning book. And Lamar Alexander knows that.

On Tuesday, Donald Trump will give his State of the Union address and will have ample opportunity to move the national conversation past his multiple deliberate attempt to interfere with the democratic process and to obstruct the various efforts to expose him—including instructions to "take out" a troublesome diplomat. Normal presidential behavior? He was trying to cheat in the election, and apparently—as long as your political party controls the majority in the senate—that's allowed.
Senator Alexander has cleared the way for the American people to carry on with normal life without truly confronting the corruption that defines Donald Trump's interactions with the world and everyone around him. He has made it increasingly likely that Donald Trump will continue to use the immense powers of the presidency to pursue personal and political ends at the expense of global stability, our democratic institutions, and a sustainable future. Lamar Alexander—along with 50 of his colleagues—will soon have effectively rubber-stamped election rigging.
But in his statement there is no indication that this choice has any significant ramifications. He is willingly obscuring the real stakes, partly out of party loyalty, and partly because his age makes those stakes abstract. He will be dead soon. Maybe not this year or the next, or even twenty years from now, but in comparison to the young membership of the Sunrise Movement—for instance—his thinking is fundamentally and frighteningly short-term.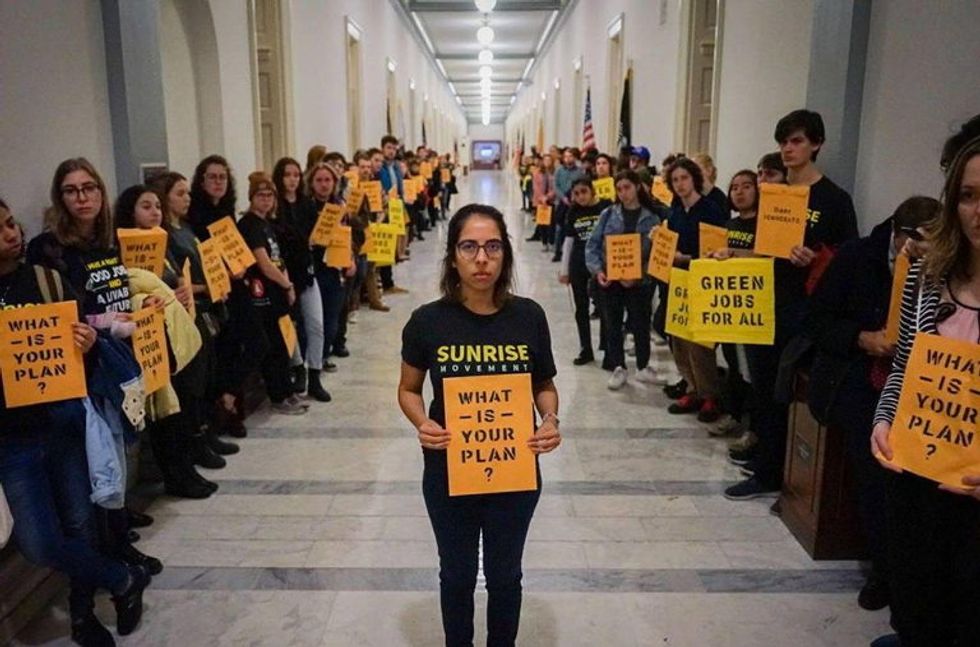 Lissy Romanow
If Donald Trump wins re-election in November, it will likely be the outcome of various efforts to leave Americans misinformed and disenfranchised and will almost certainly result in the United States fully abdicating our duty to address climate change—the "Chinese hoax"—with the urgent and intensive action it requires. And there will be many people to blame, but few who were as well-positioned to alter this horrific course of events as Senator Lamar Alexander.

So congratulations, sir. In your waning years you managed to ensure that American democracy and a livable climate are on their way out too. Way to go.
The Senator tweeted an awkward sports analogy about the Florida election recounts.
Like a dorky but enthusiastic Dad trying to connect with a teenage son he doesn't understand, Marco Rubio made an epicly bad sports analogy in a tweet about the vote recount in Florida.
Imagine if NFL team was trailing 24-22 but in final seconds hits a 3 pt kick to win. Then AFTER game lawyers for lo… https://t.co/4wV58OLrxo

— Marco Rubio (@Marco Rubio) 1542160106.0
He was consequently mocked by twitter users for calling a field goal "a three point kick," earning a number of responses that questioned the Senator's sports knowledge and the logic of the intended metaphor.

@marcorubio When you're Marco Rubio and you want to make a sports metaphor but don't know how to sport. https://t.co/kMWFbabB4K

— Marc Lombardi (@Marc Lombardi) 1542164444.0
Every announcer needs to use "3-point kick" this weekend. https://t.co/4vLoO17VHg

— Medium Happy (@Medium Happy) 1542165859.0
When your analogy is so god awful that "3 point kick" is the most coherent part. 3. Point. Kick. 🙄 https://t.co/qZWVqnRN2T

— Taylor Garrison (@Taylor Garrison) 1542166671.0
People are hung up on him calling it a "3-point kick" but what kind of score is 24-22? Did this team get 3 touchdow… https://t.co/TWkHwdQL3Q

— Jesse Pantuosco (@Jesse Pantuosco) 1542166340.0
In response, Rubio whined about the ridicule, somehow managing to go even further into the hole of lameness he dug for himself, essentially saying, "Haha no guys seriously I know about sport I love sport let's toss the ole pigskin haha go Dolphins!"

I am being roasted for '3 pt kick' tweet about election? Why? You think everyone who follows politics knows what a… https://t.co/48YjCd7MRM

— Marco Rubio (@Marco Rubio) 1542217743.0
Of course, this is not the first time Rubio has embarrassed himself in the realm of sports. How can any of us forget the iconic moment in his 2016 presidential campaign when he nailed a child in the face with a football?

Maybe if you stop trying so hard be athletic, Marco, you won't need to be so disciplined about hydration.
Marco Rubio Pauses Speech for Water Breakwww.youtube.com
Brooke Ivey Johnson is a Brooklyn based writer, playwright, and human woman. To read more of her work visit her blog or follow her twitter @BrookeIJohnson.