Pogues frontman Shane McGowan was an ancient 65 when he died on November 30. Television producer Norman Lear was a youthful 101 when he left this realm on December 5. No doubt his zest for life kept him going for so long – and his zest for controversy.
Norman Lear's work was an integral part of American life in the second half of the 20th Century. Television programs like Maude, Sanford and Son, and The Jeffersons dragged television out of the 1950s and into the real world. As Variety states: "Lear's shows were the first to address the serious political, cultural and social flashpoints of the day – racism, abortion, feminism, homosexuality, the Vietnam war – by working pointed new wrinkles into the standard domestic comedy formula. No subject was taboo: Two 1977 episodes of All in the Family revolved around the attempted rape of lead character Archie Bunker's wife Edith."
All in the Family, which ran on CBS from 1971 to 1979, typified the clash of generations. Middle-aged bigot Archie Bunker – played by Carrol O'Connor – was a right-wing King Lear in Queens, raging at the radical changes in society. Archie didn't let ignorance get in the way of his opinions; once he argued that people who lived in communes were communists. The thing is, the old dog was actually capable of learning new tricks. Archie never evolved into any kind of saint. But over the nine seasons "Family" aired, experience taught Archie the benefits of listening to (and respecting) viewpoints far different from his own.
All in the Family was the jewel in Lear's crown, but don't forget the highly popular shows One Day at a Time (which featured Bonnie Franklin as a divorcee raising two daughters in the Midwest) and Mary Hartman, Mary Hartman (with Louise Lasser as the titular figure in a parody of soap opera conventions). Good or bad, Lear's work was never indifferent.
More recently, you may have heard about Lear's lively activism. His TV shows were themselves arguments for free and unfettered speech, and Lear supported a slate of liberal causes. In 1981 he founded People for the American Way. The organization's website describes the ways that PFAW has "engaged cultural and community leaders and individual activists in campaigns promoting freedom of expression, civic engagement, fair courts, and legal and lived equality for LGBTQ people."
Lear's life was a long and fulfilling one. In 1978 he was given the first of two Peabody Awards, the most prestigious award in television. "To Norman Lear," it reads, "...for giving us comedy with a social conscience. He uses humor to give us a better understanding of social issues. He lets us laugh at our own shortcomings and prejudices, and while doing this, maintains the highest entertainment standards."
A pioneer, a gadfly of the state, a mensch. To paraphrase a lyric from All in the Family's theme song, "Mister, we could use a guy like Norman Lear again."
An honest look at volunteerism.
This past year, 62.6 million Americans did some form of volunteer work.
The 7.8 billion hours they spent helping those in need, translates into around 184 billion dollars worth of labor, or $23.59 an hour. These numbers are only in reference to charitable work done within the U.S. and doesn't include the work of organizations like the Peace Corps and Red Cross abroad. All things considered, the nonprofit sector makes up a two trillion dollar chunk of our economy, employing one in ten Americans. When looking at these figures, it may feel a bit strange to question whether or not volunteerism actually works. With that much money involved, how could it not? Still, despite the steady rise in our capacity to help, the world keeps churning out wars, genocides, and natural disasters at a seemingly unmatchable rate. In many of these regions, no matter how many volunteers go, the problems are never solved, just mitigated, a constant ebb and flow between destitute and a more manageable form of poverty.
Why does it feel as though we have more volunteers than ever, but the world isn't getting any better?
It's worth mentioning that our material comforts–the ones that make it possible for us to consider building schools in Uganda or digging irrigation ditches in India–were funded, and therefore made possible, by the same capitalistic policies that turned many parts of the world into the kinds of places that we send volunteers. Our contributions to global warming and our stubborn refusal to do anything about it, have already begun to have noticeable effects on the planet. Hurricanes, like the ones that struck Puerto Rico, are getting stronger. And while global warming isn't solely our responsibility, greed, both foreign and domestic, is the culprit behind our collective inaction. On top of this, the U.S. sells weapons to so many different countries, that if you were to point to a war-torn region on a map, it's almost a statistical certainty that American guns helped make it that way. In the same vein, nonprofit work is a livelihood for 10% of the country, and by virtue of existing in the same system as ExxonMobil and Lockheed Martin, runs into its own sort of capitalistic paradox.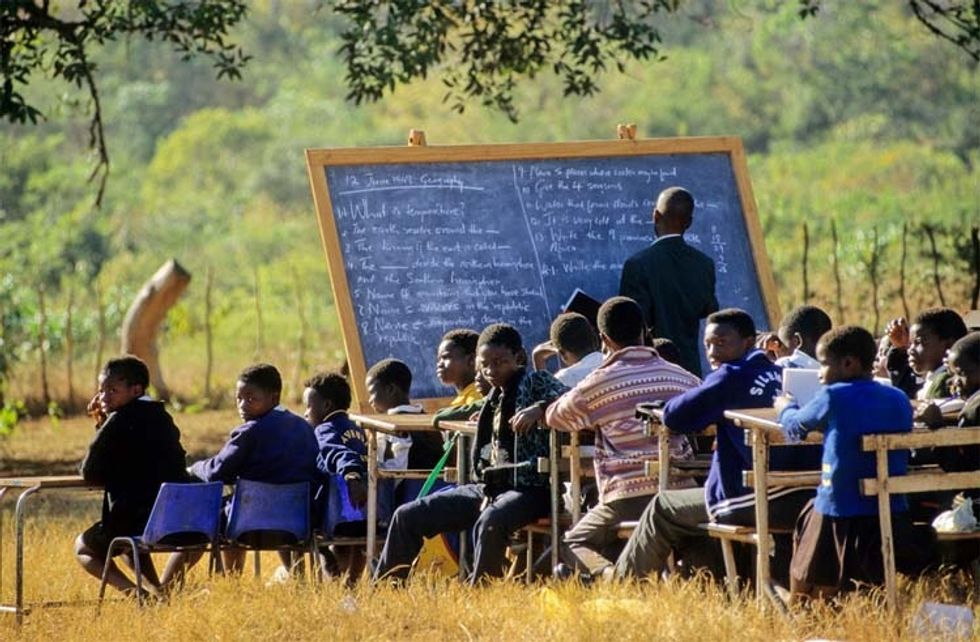 Peace Corps in South Africa
It's an incorrect assumption to think that just because charities don't sell anything, the nonprofit industry isn't manufacturing a product. It is.
Charities sell problems, along with the promise of solving them, to their donors. In turn, they use their donations to fund missions and pay employees. Even if an organization is run largely by volunteers, there are still huge costs associated with lodging and feeding those people. Unfortunately, there's a fundamental flaw in this business model. As a charitable organization fixes an issue, demand for their product goes down. For example, if a company sprouted up and its mission was to eliminate poverty in Philadelphia, after a certain point, helping people would become detrimental to the company's financial wellbeing.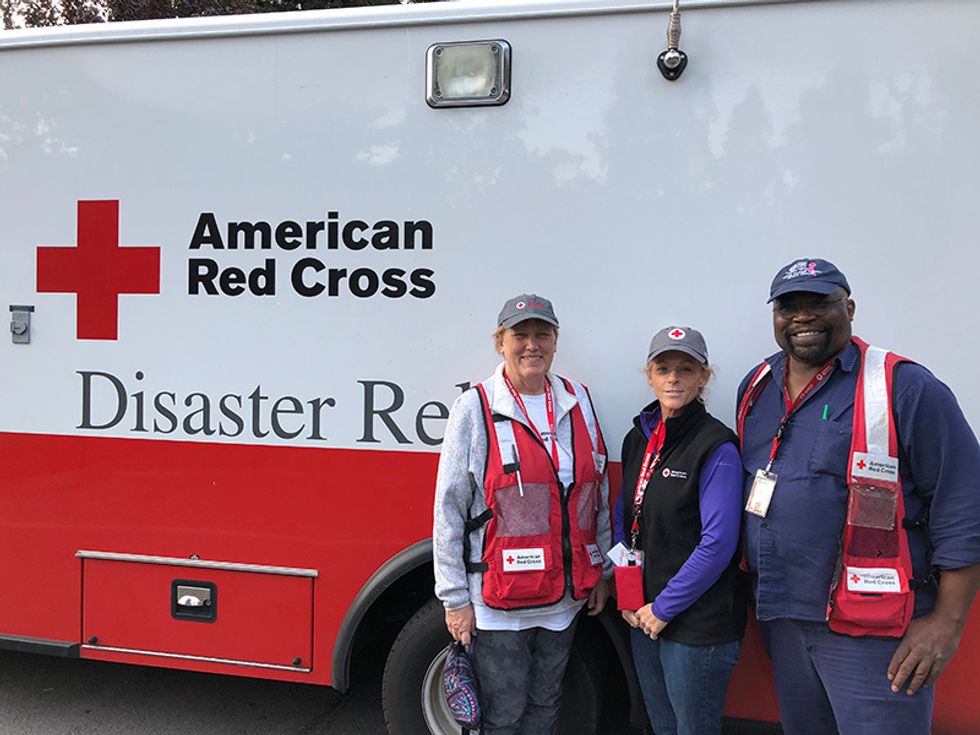 The American Red Cross
While microeconomics play a central role in charity's relative ineffectiveness, they're only part of the story.
A lot of this can be more accurately attributed to the way in which we treat volunteerism in our society. For many, volunteering has become more about the perceived psychological benefits of helping others than the actual work involved. It's easy to brush this sort of selfish altruism off by saying the "ends justify the means," but there's something deeply false about it. Many also see volunteerism as a means of padding their resume or college application, instead of something done out of basic human decency. Maybe this point of view is puerile. Maybe people need to see concrete payback for their hard work, but it feels icky, especially considering the ways in which other countries consider charitable giving a civic duty.

The many failings of the
American Red Cross
and the
Peace Corps
have been laid bare in recent years, but when considering the society that sustains them, these failures aren't particularly surprising. Still, our capacity to give without expecting anything back is part and parcel of what it means to be human. The purpose of this article isn't to indict the individual volunteer, but the system in which he volunteeers is corrupted. There is no shortage of plucky, wide-eyed folks who only want to help those who can't help themselves, and there's no doubt that volunteering is helpful. That said, in order to improve our efforts and create a more effective means of combating poverty, disease, and famine we need to take the time to examine our methods rather than blindly assuming that this is the best we can do. Sometimes critical self-analysis is the only way forward.