We've all been there. You were gifted a dumb present that you'll never in a million-zillion years ever use and you're too polite to tell anyone any differently. It sits at the bottom of your drawer for months, then years. And when you finally feel like enough time has passed, you can throw it out in good conscience.
A return is almost always out of the question. Plus, gift givers don't often include a return receipt, and we all know we wouldn't dare ask for one. I'd rather admit to a crime than confess I don't like a gift - how insulting to the gifter's sense of aesthetics.
And-hey, I have limited drawer space. Who can keep these unwanted gifts for six months when there isn't any space for them? I hate clutter, and unwanted gifts are just that.
This year, I am making an effort to swiftly remove any unwanted gifts from my house without hurting anyone's feelings…and potentially benefiting others. As the old saying goes, one man's trash is another man's treasure. And thank goodness for that.
From the The Guardian:
"According to research published this week by the consumer body, one in four people (24%) received an unwanted or unsuitable gift for the Christmas of 2021. Meanwhile, a separate study by the personal finance comparison site Finder said £1.2bn was wasted on unwanted Christmas gifts each year."
Come to terms with the fact that you will never use that gift and follow these quick tips to offload those unwanted gifts:
Donate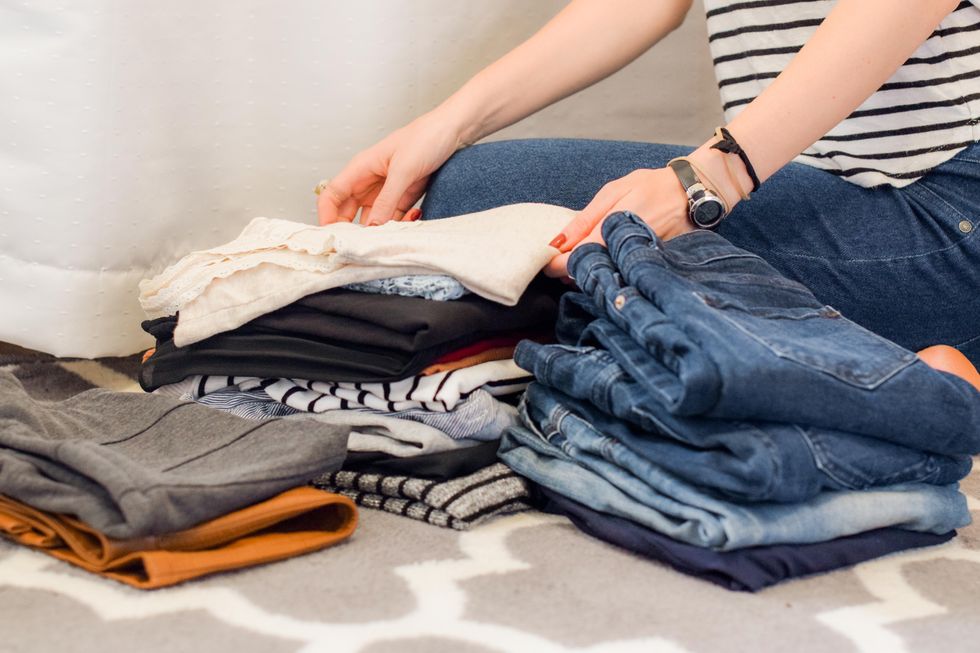 Sarah Brown via Unsplash
The most obvious choice for those unwanted pairs of mud-green sweat socks and that same fluffy robe you get every year from your Aunt Judy is to donate them. Just round up everything you don't want and Google the donation center closest to you.
This is also a fantastic excuse to purge your closet of that pile of stuff you've been meaning to get rid of. A few bags of give-away-clothes will get your spring cleaning out of the way early.
Sell Them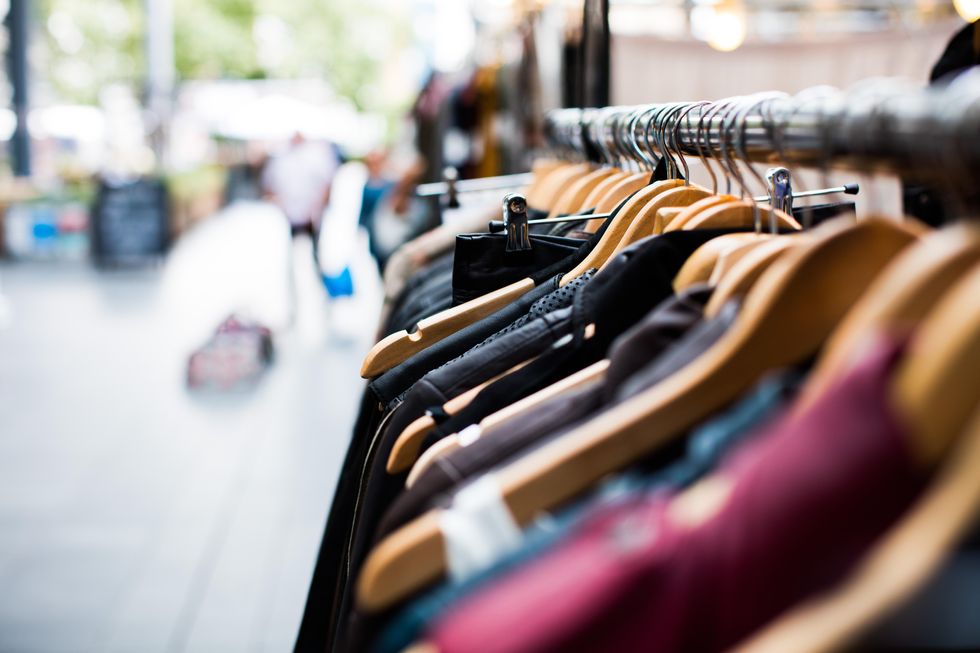 Artificial Photography via Unsplash
Resale websites are all the rage right now. If you got a pair of pants that don't fit or a sweater that isn't your style, resell them on a website dedicated to just that. Sites like Poshmark, Mercari, and DePop are known for selling those trendy pieces of clothing you barely used.
Thrifting has never been hotter. Hop on the trend while people are constantly perusing sites for the hottest deal. Then reward yourself for being so virtuous, by dropping the cash on some fabulous things you'll actually wear!
Re-Gift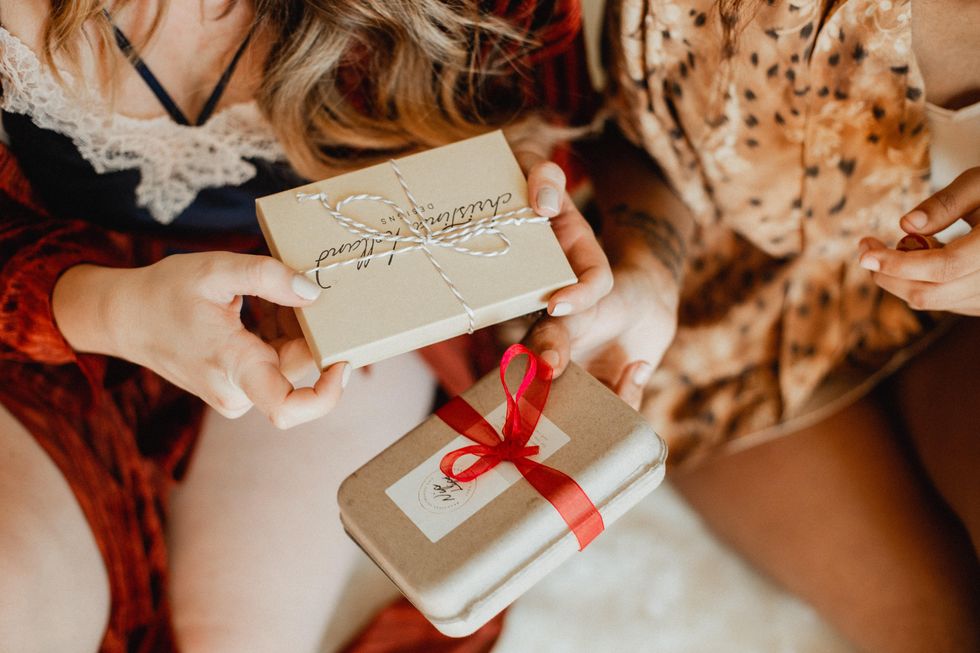 Jackie S via Unsplash
If you got something that you think one of your friends or family can benefit from, why not give it to them? There's no shame in revealing that it was a gift and you don't want it anymore…as long as you aren't re-gifting to the person who gave it to you!
Or, keep the gifts to re-gift at a later date. You never know when you're going to need a last minute gift. You'll thank yourself later.
Attempt a Return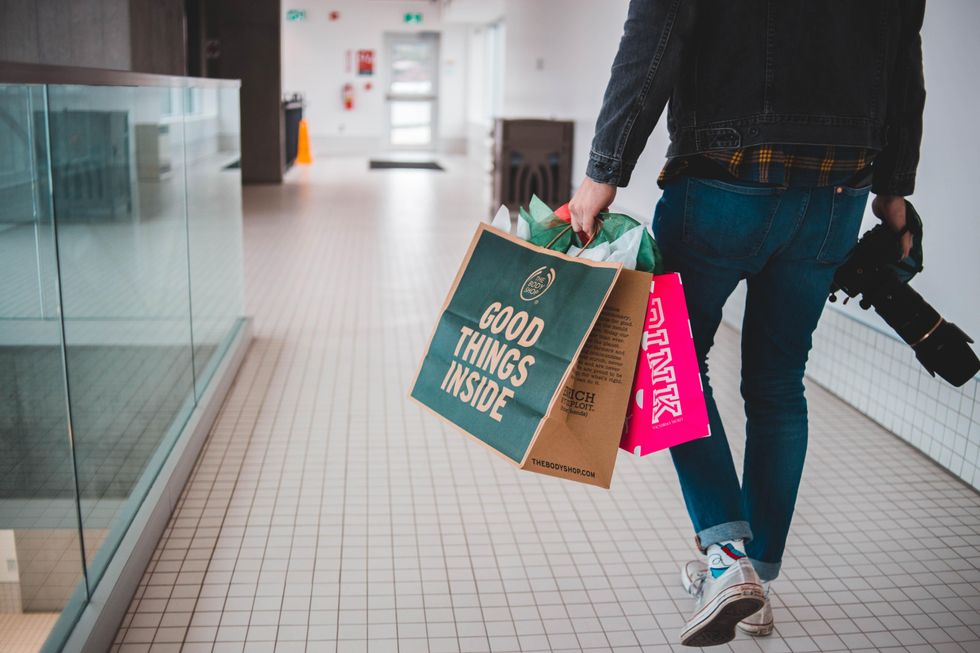 Erik McLean via Unsplash
If your item still has a tag, you can make a valiant effort to return to the store. If you can make your case, many stores won't want to fight you on it. They may be forgiving and grant you store credit at the very least.
Here's the best conspiracy theory you'll hear all day (among the many coming out of the White House): None of this is happening.

Everything since the 2016 presidential election is just b-roll for a parody movie about the American presidency. Our actual president is dancing with Annette Bening at state dinner. Our president is balancing the federal budget with common sense. Our American president is kicking ass on Air Force One.
Like most people these days, I rely on movies to feel anything close to a real emotion. When it comes to political fervor, most of my passion for democracy comes from watching movies about fictional presidents, preferably with excellent cinematography and unrealistically attractive actors who recite Aaron Sorkin lines in bold pant suits during dramatic "walk-and-talk" tracking shots. Who hasn't closed their eyes and pretended The West Wing's Martin Sheen was running America with his soft, uncular gaze?
But rather than analyze what that says about my and most Americans' civic values (or the fact that 96.5 percent of us don't give a f**k about democracy, according to a recent Yale study), I'm going to keep searching for the next great American president in my Netflix queue.
These are the best fictional American presidents (and their finest moments).
Biden, Obama, Bush, and Clinton were the four horsemen of the 2021 Inauguration.
Though the physical event was small — due to the enhanced security measures enacted in fear of violence or resistance against the transition of power, and the persisting pandemic — and more than 191,500 flags stood in place of the people that usually crowd the surrounding area, the event was filled with prominent guests and high profile performances, both in person and virtual.
The virtual portion of the day was a mixture of performances, speeches, and video compilations 'hosted' by Tom Hanks.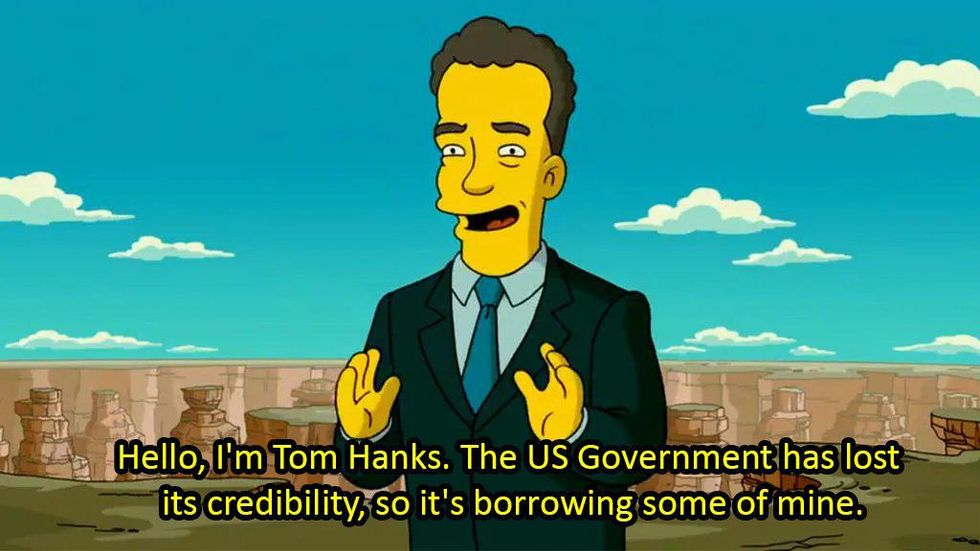 Just as the Simpsons predictedvia FOX
As part of the proceedings, former Presidents Barack Obama, George W. Bush, and Bill Clinton appeared in a video giving a joint speech, which had the vibe of a group project where you didn't get to choose your partners and you got stuck with some kids you neither knew or liked.

The three most recently joined forces to volunteer to take the COVID-19 vaccine when it was first approved, and like an aged boyband, they came back for one night only, streamed live across America.
In their video, the three ex-presidents congratulated President Joe Biden and stressed the importance of peaceful transitions of power, ostensibly trying to lead by example in a show of bipartisan unity while making a point about the noticeably absent President Trump (who was on his way to Mar-a-Lago with his crying conspirators/children).
The message of the former presidents came alongside Biden urging for "unity" in his Inaugural address.
But what does this mean?
From the beginning of his Inauguration speech, Biden declared his presidency one of "history and hope. Of renewal and resolve." Referring to the historic nature of his cabinet and Kamala Harris's historic position as Vice President, Biden's self-congratulatory remarks also stir up questions.
The intentionally indefinite rhetoric asks: "hope" of what, and for whom? "Renewal" of what? Leaving an era defined by the slogan "Make America Great Again," it feels dangerous to tie a Presidency to the idea of some vague longing.
The politics of nostalgia allow the romanticization of a past which has always had as many problems as the present, if not more. Biden's emphasis on having a Presidency inspired by his predecessors refers to the presidency of Obama, but also to the other two horsemen of the inauguration apocalypse and the Founding Fathers … who we all know were flawed at best.
The desire to appeal to the American mythos reduces the oppression inculcated into US democracy to a footnote in the story — despite the fact that those institutions of inequality are prominent today.
Biden proclaimed that "the American story depends not on any one of us, not on some of us, but on all of us. On 'We the People' who seek a more perfect Union. This is a great nation and we are a good people."
… is that true?
While I would like to believe it, and perhaps there is room for more optimism and benefit of the doubt in an inaugural address than I'm accustomed to in life, moralizing the United States as a good nation filled with good people perpetuates the myth of American exceptionalism and allows for complacency.
We could be good people in a great nation, but the overpowering institutions of oppression and violence that we are socialized into make it easier to not be.
Biden did acknowledge that there is work still to be done, but it is dangerous to position the work of progress as a choice, rather than an imperative.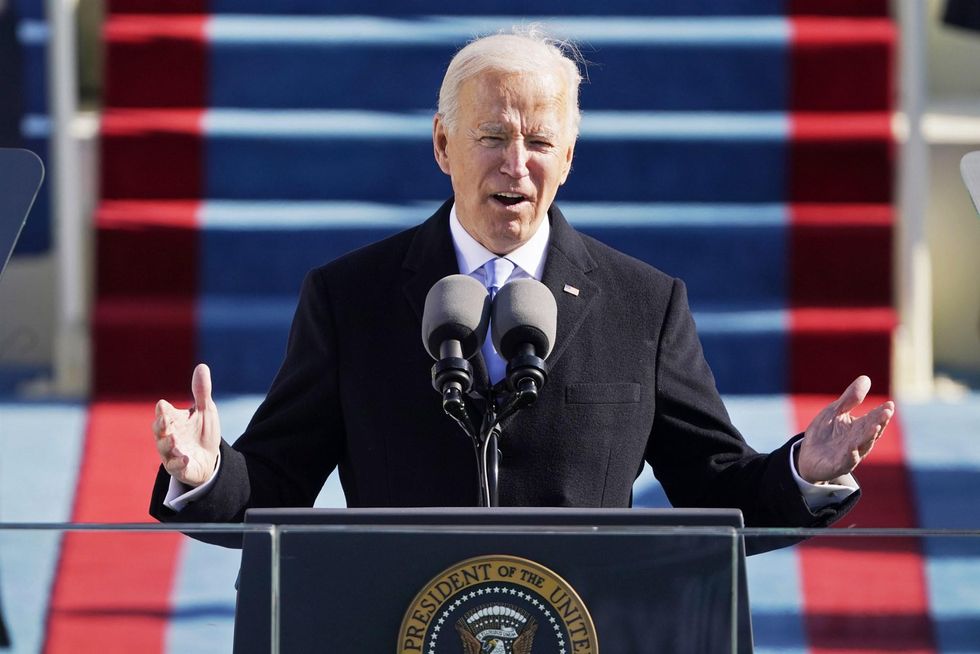 We did it, Joevia CNBC
Biden's Path to Progress:

Biden's path to progress is simple: unity.
In one of the most pivotal passages of his speech, he said: "Speaking of unity can sound to some like a foolish fantasy. I know the forces that divide us are deep and they are real. But I also know they are not new. Our history has been a constant struggle between the American ideal that we are all created equal and the harsh, ugly reality that racism, nativism, fear and demonization have long torn us apart. The battle is perennial. Victory is never assured."
In this moment, Biden acknowledged the history of oppression in the United States and the deep-rooted divisions in its present. However, the proverbial good vs. evil dichotomy that he uses is a convenient scapegoat. It is easy to say that there are two sides of people, torn apart by outside forces, that just need to meet each other in the middle. But this is not how division in America has played out.
Progress in America cannot be a meeting in the middle of two forces with equal power, because that's not what the political and social landscapes look like. The forces of "racism, nativism, fear and demonization" have not "torn us apart" — those forces have separated and othered marginalized communities and excluded them from the American ideal.
Therefore, it is not the collective acceptance of the idea of "unity" that will heal the country, it is a commitment by the privileged to root out the divisive forces within themselves.
Unity and healing must happen as a result of progress, not at the expense of it. Biden's rhetoric leaves too much room for regression. But we must not pause to soothe the egos of white supremacists — their goals are not our goals. Biden's path to unity needs to look like accountability, not acquiescence.
In a recent tweet, activist Bree Newsome stated that "The only path toward 'unity' is one that dismantles white supremacy." Anything else would be a continuation of the same structures that "resulted in the Civil War, Jim Crow, the Trump era & the insurrection that occurred two weeks ago. "
There is no way forward without confronting whiteness— how it came to be a sociopolitical construct here, how it re… https://t.co/CAULWCruwH

— Bree Newsome Bass (@Bree Newsome Bass) 1611189052
Many are feeling the gaps in Biden's rhetoric that could allow for placid and ultimately unsatisfying "progress" and citing the urgent importance of moving forward, rather than back to some fabled better days of a pre-Trump era.
...but what if he said "I cannot be a president for all. I will not serve white supremacy. I will not serve hatred.… https://t.co/1H0JTIPZqV

— adriennemareebrown (@adriennemareebrown) 1611163169
The pre-Trump era created conditions for the Trump era. The current violence is not some aberration or some strange glitch in the matrix. It is a direct consequence of previous failures to root out the insidiousness of whiteness at the root of the United States.
The Problem With Moderation:
The shifting nature of Biden's address — his willingness to talk about the fact of American institutionalized oppression and speak out against white supremacy, but inability to articulate the deep internal work that we all have to do for progress — does not present a progressive pillar to build the next four years on.
It builds one that reflects his whole career: willing to inch towards "slow progress," but more concerned with moderation than radical change.
But moderation is not the way to establish real change. Moderation allows for complacency and, as Newsome articulated, "the 'return to normalcy' narrative is a call to settle for surface-level displays of civility diversity in the aftermath of Trump's brutish behavior without any real push for systemic change."
Even in the highest offices of the two-party government lie dangerous white supremacists who incited the riots alongside Trump and remain loyal to the MAGA following — so if bipartisanship looks like coalescing into an agreeable union that includes and validates those beliefs, I don't want it.
Instead, change has to look like examining the conditions within ourselves and our society which gave those people their platforms and amend those with an eye towards accountability.
The idea of "accountability" has been thrown around so much this election that it has become diluted. Accountability has to be active. It has to not just acknowledge the past, but use those acknowledgments to work diligently towards a new future.
While it's hard to predict how much Biden's speech was well-crafted rhetoric and how much was commitment to action, the prominent performativity of the ex-President's club does not bode well for radical change.
Rather, it signals a clinging onto old ideas of respectability and camaraderie between the powerful and a persistence of the same structures that allowed for the past violence to carry themselves into the future. It confirms that Trump's most egregious act was disrupting the illusion American exceptionalism, which has been long held up by mythology and militarism.
But that disruption was necessary. And it is with those new eyes that we are more critical of Bush, Clinton, Obama, and the entire systems that elected them We have to be.
#SaveTheUSPS? Budget cuts and reforms have made it difficult for the Post Office, a beloved American institution to do its job.
The United States Post Office is under attack.
Direct attacks from the president, COVID-19, government failure to provide aid, and a radical new postmaster general have all contributed to what's shaping up to be a veritable disaster for American mail—one that might have consequences for the upcoming November election.
The Postal Service's Opponents: COVID-19, Trump, DeJoy, and Money
2020 has been extremely difficult for most people and businesses, and the USPS, which reported a $3 billion loss in the last three months, is no difference. Democrats proposed giving the postal service $25 billion in aid as part of their latest coronavirus stimulus package, which stalled to a standstill in Congress due to partisan divides. Without significant aid, the USPS has suffered intensely during the COVID-19 pandemic—and so have its customers.
In addition to the fact that the postal service provides necessary services to millions across America every day–and it is now responsible for delivering vital products to Americans trying to social distance and end this pandemic–it will be responsible for perhaps the most important job ever: carrying the millions of mail-in ballots that are sure to be cast in 2020 to the appropriate destination.
More Americans than ever before are projected to vote by mail in the 2020 election, largely due to the coronavirus pandemic. Some polls have shown that Trump's supporters are more likely to vote in person, whereas Democrats are more likely to vote by mail, while others show that there is no partisan divide between who votes by mail and who does not.
Still, many of Trump's opponents, who fear he is attempting to sabotage the election by shutting down the postal service and forcing people to choose between their health and democracy, are terrified.
The postal service has, therefore, found itself an unwitting political punching bag.
President Donald Trump has never hid his disdain for the Post Office. Recently, he's begun to argue that voting by mail—the safest way to vote during COVID-19—will lead to fraud.
Americans Fight for the Post Office & Obama Speaks Out | The Daily Social Distancing Showwww.youtube.com
This claim has been proven false, but of course Trump doesn't care. Still, it's clear that the postal service could easily manage an election if it was allowed to continue as it had been for over 200 years. "If — and that's a big IF — allowed to do its work, the US Postal Service can easily handle the surge of mail that might result from 150 million Americans choosing to vote by mail this fall rather than vote in person," writes Jesse Jackson for the Chicago Sun Times. The postal service normally handles around 500 million letters per day.
The problem is that the postal service is not being allowed to do its work. COVID-19 was incredibly difficult, but the postal service was able to keep things somewhat under control until Louis DeJoy entered the scene.
Louis DeJoy, Postmaster General
At the center of all this is Louis DeJoy, who was appointed the new postmaster general in June. Notably, DeJoy, a multimillionaire, is a top GOP donor and was the chairman of fundraising for the Republican National Convention last year.
Since he was appointed, DeJoy has made some changes. His "reforms," all imposed without any public consultation or discussion with employees, include cutting hours, reducing overtime, and removing mail processing equipment. The USPS also recently announced that it will not treat ballots as priority mail without first-class postage.
In short, DeJoy's "reforms" are slowing down the mail.
Over the past few months, the Post Office has reported delays in receiving prescription medications and other necessary goods, delays that have increased thanks to DeJoy's new policies.

The Post Office's sudden decline has also already harmed elections, with some voters in Wisconsin and Michigan never receiving the absentee ballots they requested in advance and with New York postal service employees rejecting ballots that did not have the appropriate postage.
Postal service employees themselves are extremely confused by the "reforms." "If you asked me a month ago [if] the postal service handle an influx of mail-in ballots, I would have said, 'We've been through two world wars and a depression, we've been doing this for more than 200 years,'" said Mark Dimondstein, president of the American Postal Workers' Union, to The Guardian. "Now, I'm not so sure."
Trump's administration has already announced that they want to privatize the Post Office, selling it off to private companies. DeJoy—who has million-dollar investments in competitors to the Post Office—has a reason to support these plans.
Democrats are attempting to take action. Nancy Pelosi recently called lawmakers back to the House to vote on legislation dedicated to protecting the postal service. They're currently voting on the Delivering America Act, which bans changes to the post office implemented after January 1st, 2020.
Democratic leaders are also calling on DeJoy to testify in court, demanding an explanation for the "sweeping and dangerous operational changes at the Postal Service that are slowing the mail and jeopardizing the integrity of the election."
What Can We Do?
With #SaveTheUSPS and #SaveThePostOffice trending on Twitter recently, the hashtag needs to become a movement.

"Citizens should be mobilizing pressure across the country, with demonstrations at Post Offices in support of the service, with calls to legislators demanding action, with pressure on state and local election officials to provide the resources needed for more drop-off boxes, more hours of early voting, more polling places," continues Jackson.
It's a great time to stage protests and call legislators, who need to know the people's opinions. While civilian contributions alone won't save the Post Office (only government stimulus packages or pocket change from Jeff Bezos could do that), concerned citizens can still do our part to show the postal service that we stand with them by buying Post Office merchandise, sending letters, and rallying to support our democracy by fighting voter suppression.