"A tree is best measured when it is down," the poet Carl Sandburg once observed, "and so it is with people." The recent death of Harry Belafonte at the age of 96 has prompted many assessments of what this pioneering singer-actor-activist accomplished in a long and fruitful life.
Belafonte's career as a ground-breaking entertainer brought him substantial wealth and fame; according to Playbill magazine, "By 1959, he was the highest paid Black entertainer in the industry, appearing in raucously successful engagements in Las Vegas, New York, and Los Angeles." He scored on Broadway, winning a 1954 Tony for Best Featured Actor in a Musical – John Murray Anderson's Almanac. Belafonte was the first Black person to win the prestigious award. A 1960 television special, "Tonight with Belafonte," brought him an Emmy for Outstanding Performance in a Variety or Musical Program or Series, making him the first Black person to win that award. He found equal success in the recording studio, bringing Calypso music to the masses via such hits as "Day-O (The Banana Boat Song)" and "Jamaica Farewell."
Harry Belafonte - Day-O (The Banana Boat Song) (Live)www.youtube.com
Belafonte's blockbuster stardom is all the more remarkable for happening in a world plagued by virulent systemic racism. Though he never stopped performing, by the early 1960s he'd shifted his energies to the nascent Civil Right movement. He was a friend and adviser to the Reverend Doctor Martin Luther King, Jr. and, as the New York Times stated, Belafonte "put up much of the seed money to help start the Student Nonviolent Coordinating Committee and was one of the principal fund-raisers for that organization and Dr. King's Southern Christian Leadership Conference."
The Southern Poverty Law Center notes that "he helped launch one of Mississippi's first voter registration drives and provided funding for the Freedom Riders. His activism extended beyond the U.S. as he fought against apartheid alongside Nelson Mandela and Miriam Makeba, campaigned for Mandela's release from prison, and advocated for famine relief in Africa." And in 1987, he received an appointment to UNICEF as a goodwill ambassador.
Over a career spanning more than seventy years, Belafonte brought joy to millions of people. He also did something that is, perhaps, even greater: he fostered the hope that a better world for all could be created. And, by his example, demonstrated how we might go about bringing that world into existence.
The attempted coup that took place at the Capitol building on Wednesday was equal parts terrifying and hilarious.
In times of crisis and chaos, it's important to keep a clear head and stay on top of the facts.
It's important to acknowledge that this was an unprecedented breach of security that could easily have been avoided and that it resulted in the deaths of at least four people.
But once you've processed the horror that entails, it's equally important to allow yourself a break from the tension and anxiety. Now and then it's essential to look at things from a different angle and just laugh at the absurdity.
Wednesday's attack on Capitol Hill was a great reminder of that lesson. Amid images of fascists and white supremacists taking over the Capitol building to disrupt the functioning of the federal government, chase legislators into hiding, and delay the confirmation of Joe Biden's clear victory over Donald Trump — waving the confederate flag, smashing things, stealing things, and generally getting away with it — there was also an abundance of clownish, hilarious behavior.
Some of the absurdity involved people being intentionally funny, while some of it displayed a raw, natural talent for being obliviously laughable. But all of it provided potent relief from the sense of American democracy falling to a movement of delusional bigots led by a petty conman (though that's still a disturbing possibility).
So as we move forward and focus on action to ameliorate the risk of further violence — anti-coup protests, impeachment, the 25th amendment — it's worth looking back at some of the highlights of absurdity that sprouted from Wednesday's waking nightmare.
At any rate, with all this absurdity, you have to laugh...or cry...or both, simultaneously while huddled in your closet.
"President Kennedy never foresaw that the chickens would come home to roost so soon...Being an old farm boy myself, chickens coming home to roost never did make me sad; they always made me glad." -Malcolm X.
The attack on Capitol Hill was another example of how President Donald Trump has emboldened white supremacy. His term in office has given racism and fascism a bigger platform and an official advocate. He proved that, at his command, MAGA fanatics will assemble to do his bidding.
As the world watched the descent of democracy, many were appalled at the visual. This was an attempted coup two weeks before the inauguration of Joe Biden and Kamala Harris. News outlets and politicians questioned how we, as a country, got to this point. But for Black Americans, this has always been our country.
The violence witnessed on Capitol Hill was a scene all too familiar for Black people. The difference was that we weren't the direct targets. Trump's base has antagonized and threatened violence against Black people while law enforcement abuses its power when interacting with us. The confrontation between the two entities responsible for our oppression was unexpected, but not surprising.

Many Trump supporters and members of law enforcement are cut from the same cloth. In fact, many members of law enforcement voted for him. Their belief in excessive force under the guise of law and order gives them what they feel is the right to harm anyone who goes against their authority. They are loyal to a flawed system and a man that keeps them in power and not to the country and its citizens seeking progress and peace.
Throughout this presidency, both sides have pledged their allegiance to each other. MAGA supporters have backed the Blue Lives Matter movement. Police officers have demonstrated leniency when dealing with unruly Trump disciples at rallies and protests. Both believe they are the good guys trying to make things great again.
[shorcode-Newsletter-Embed]
Black people have had to do battle with both. We've had to listen to the various lies spewed about the Black Lives Matter movement from supporters of the president while fighting police brutality daily. The assault on Blackness was a cause that unified them. Black people have warned the world of the dangers these factions were capable of for years. Those claims fell on deaf ears, until yesterday when they turned on one another.

For many Black Americans, yesterday was the manifestation of this country's inability to address domestic terrorism. Peaceful protests and resistance against police brutality are viewed in the same light as the insurrection. The anarchy and mayhem that GOP pundits accuse BLM of inciting was a direct order from their leader.
Their ignorance and arrogance gave them the courage to lay siege to a government building. But if angry Black protesters attempted the same actions, many lives would've been lost.
The same reason why the police routinely kill Black people is the same reason why the police are routinely unprepar… https://t.co/Rc3yWRZ2PA

— Ibram X. Kendi (@Ibram X. Kendi) 1609964271
Suddenly, Trump supporters view themselves as oppressed. Their reign over the country is coming to a not so graceful end. Rather than humbly accepting defeat, they want to dismantle the establishment. The same establishment that helped empower them over the last four years.

Somehow this attack was yet another revelation for white Americans. Before Trump's election, the idea of police officers displaying a lack of regard for the lives of Black people was inconceivable to white Americans. The thought of parts of our government upholding systemic racism was unfathomable.
Last night, after a year of reckoning with the racism built into America's system, white Americans were forced to once again look at the enormous part white privilege plays in policing. But for Black people, it was simply a clear visual of America's decision on November 8, 2016, coming home to roost.
The term is typically used to refer to a whole person, not a person's legal status, and so it therefore implies that the person themselves is not a viable human being, thus not entitled to any human rights protections.
The word "illegal" has become a buzzword in modern immigration discourse, a common way of describing someone who has crossed the border into America without papers.
The term is typically used to refer to a whole person, not a person's legal status, and so it therefore implies that the person themselves is not a viable human being, thus not entitled to any human rights protections.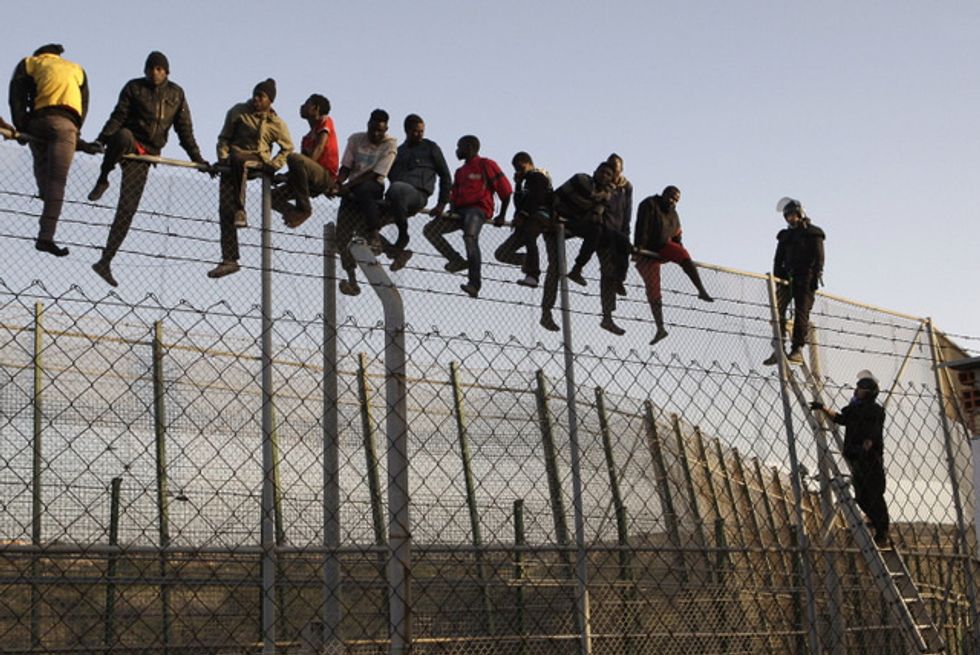 Image via thoughtco.com
The term "illegal immigrant" was first coined to describe Jews fleeing during the second world war. "How can a human being be illegal?" asked the writer and Holocaust survivor Elie Wiesel, pinpointing the contradictory nature of the term. In 2017, journalist Maria Hinojosa riffed on Elie Wiesel's description of illegality, stating that "Because once you label a people 'illegal,' that is exactly what the Nazis did to Jews.' You do not label a people 'illegal.' They have committed an illegal act. They are immigrants who crossed illegally. But they are not an illegal people."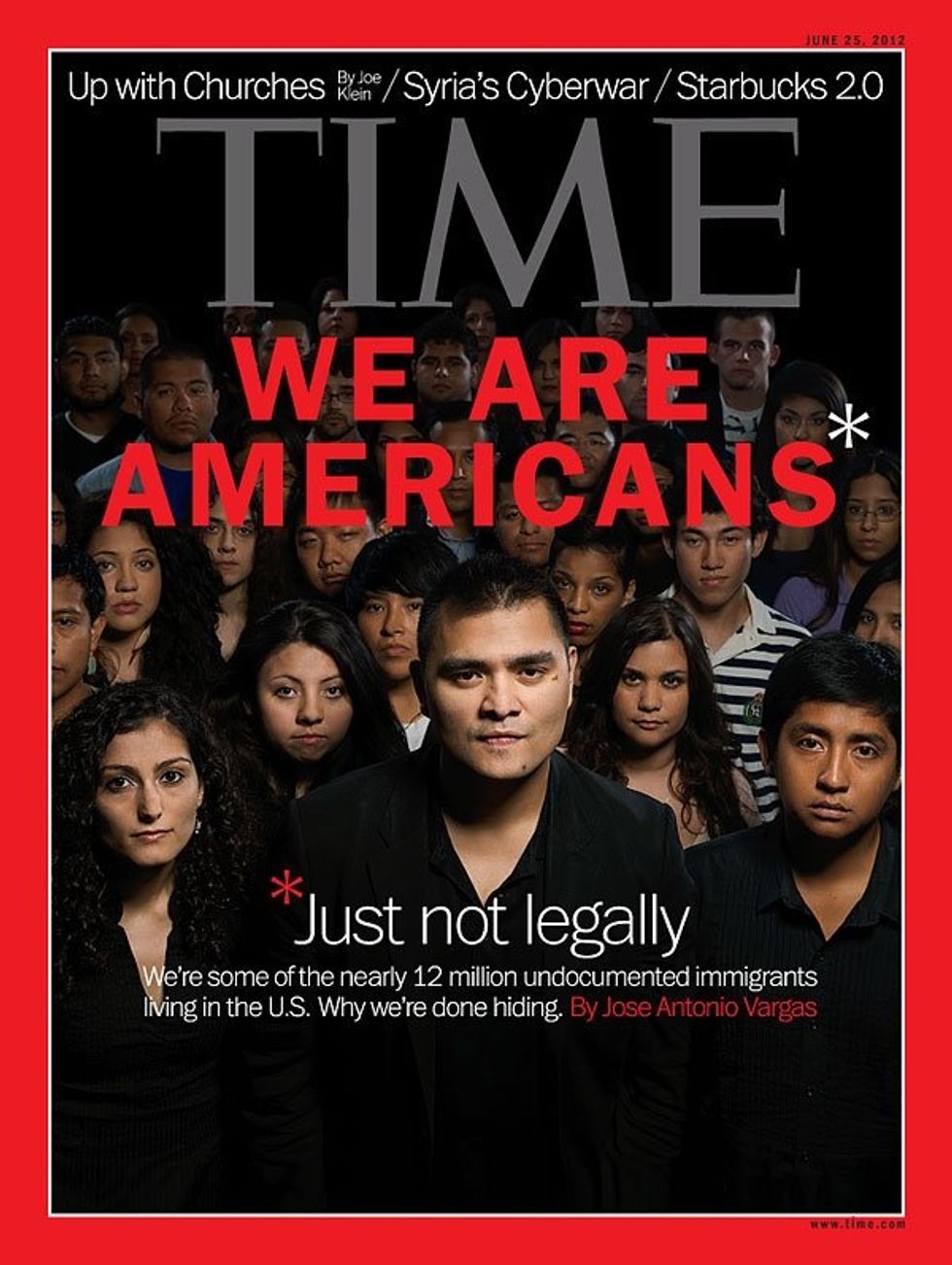 Image from Time
Being labeled as illegal has severe consequences for those who fall under the term's shadow. An "illegal" immigrant cannot demand raises or report human rights abuses at work. Undocumented immigrants face the double pressure of fear of being sent back to where they came from and fear of being 'found out' in their new nation.

The majority of migrants labeled as "illegal" are actually doing work for low wages, and provide services while demanding nothing in return. In practice, their work is similar to mass incarceration, which keeps whole segments of the population out of sight while they perform unpaid labor and are unable to exercise their civil rights.
In the novel Dear America: Notes from an Undocumented Citizen, the Filipino journalist Jose Antonio Vargas outlines the unique stresses and pains that come with living as an undocumented civilian. "This book is about homelessness," he writes, "not in a traditional sense, but the unsettled, unmoored psychological state that undocumented immigrants like me find ourselves in. This book is about lying and being forced to lie to get by; about passing as an American and as a contributing citizen; about families, keeping them together and having to make new ones when you can't. This book is about constantly hiding from the government and, in the process, hiding from ourselves."
Vargas, a successful reporter, came to the US at eight and discovered he was undocumented at age 11; what followed were decades of trying to hide his status until he finally spoke out and became one of the most famous undocumented citizens in the public eye.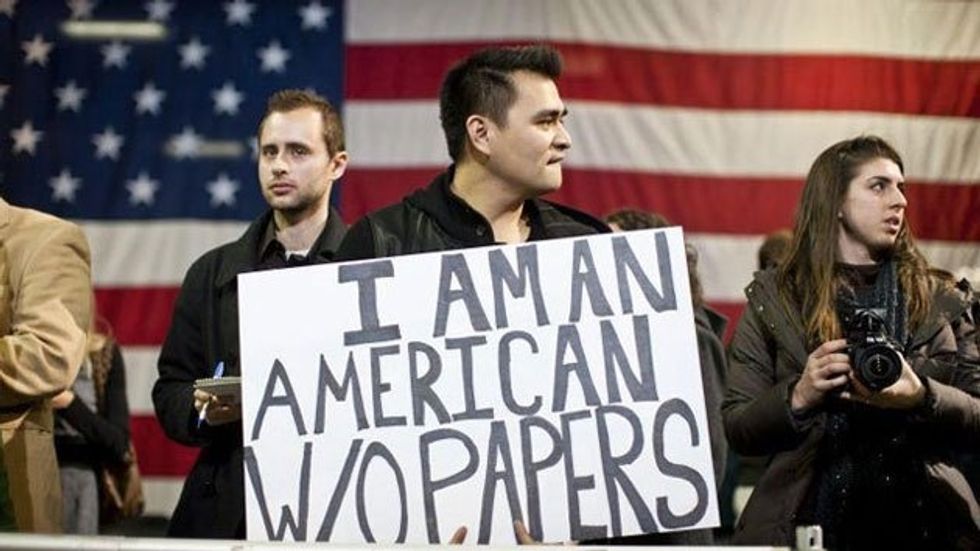 Image via Mother Jones
Every single migrant's story is different, and for many people, speaking out is not an option. Many people have to work, to support families or relatives at home, and cannot risk "coming out" as illegal like Vargas.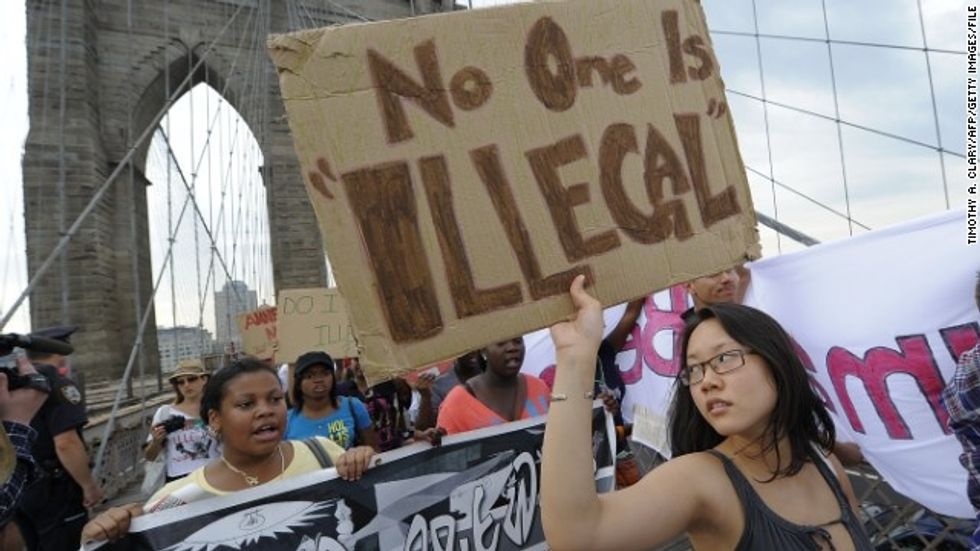 Image via CNN.com
Studies have found that undocumented immigrants—especially those of Latinx descent—are especially at risk of mental health disorders due to the unique combination of trauma and secrecy that often plagues their journeys to the United States. As Warsan Shire writes in her stunning poemHome, "how do the words / the dirty looks / roll off your backs / maybe because the blow is softer / than a limb torn off." Although living in an America that calls them "illegal" is preferable to remaining in their native countries, many migrants have written about the psychological impacts of living in constant fear, and of being "found out" on American soil.

Bigotry and xenophobia may be better alternatives than the violence that many migrants faced at home, but defining groups of people as "illegal" is a convenient way to strip human beings of their humanity, the very thing that lies at the heart of the United Nations' Declaration of Human Rights. Peoples who are in flux are especially at risk of getting lost, as official laws refuse to help them; outside of the light of official regulations, people are quite literally disappearing, slipping into the cracks between policy and legal protection.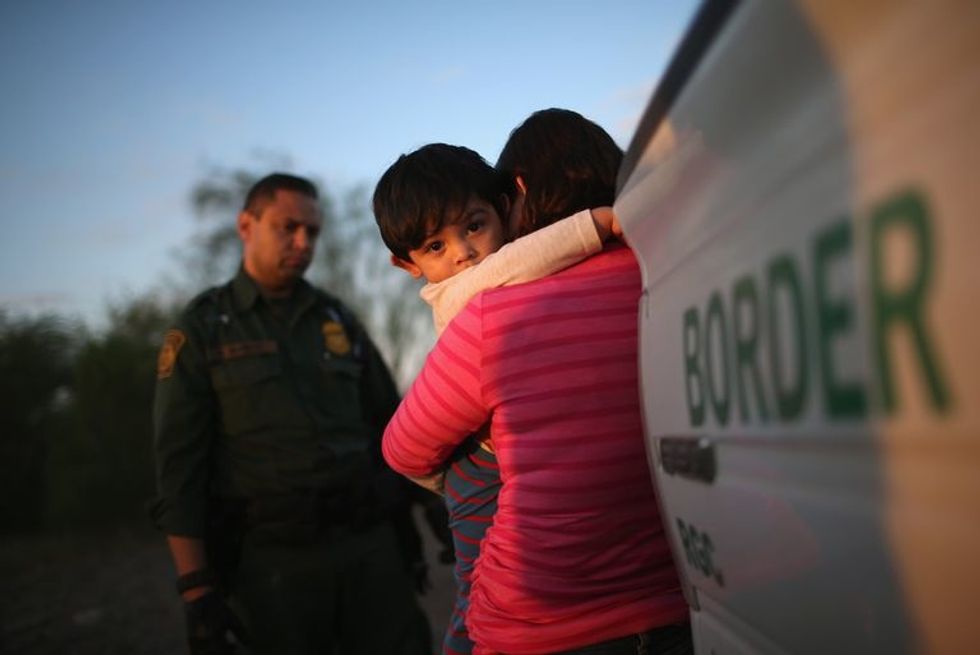 Image via thoughtco.com
Keeping people in the subterranean realms of the criminal justice system or beneath the umbrella term of "illegal," is the result of a cycle that relies on many elements that work to perpetuate it. Xenophobia is one of the important steps that keep this cycle in place. A pervasive distrust of foreigners is a way of creating divisions and continuing cycles of disadvantage. Human rights abuses happen when human beings become faceless, anonymous, and stripped of recognition and legal protection. Rejecting and silencing people because they are so-called "illegal" even if it is not consciously spoken, is a way of selectively subjugating certain voices.
Of course, America has never been open to all migrants. This nation has a history of drawing non-white migrants to it when it needed labor—such as with the Chinese in California during the building of the railroads in the 19th century—and sending them home via acts like the Chinese Exclusion Act once the work was completed. This nation has a history of silencing certain groups, making it so they have no chance to even take a crack at the American dream.
Everyone is allowed to use language to express their beliefs—that's one foundational premise of the American experiment that everyone can agree on (though of course in practice it gets more complicated). Language is always political, and the word "illegal" carries powerful implications that it should at least be understood, not thrown around as an abstract umbrella term.
---
Eden Arielle Gordon is a writer and musician from New York City. Follow her on Twitter at @edenarielmusic.