Dall-E Mini, the AI-powered text-to-image generator has taken over the internet. With its ability to render nearly anything your meme-loving heart desires, anyone can make their dreams come true.
DALL-E 2, a portmanteau of Salvador Dali, the surrealist and Wall-E, the Pixar robot, was created by OpenAI and is not widely available; it creates far cleaner imagery and was recently used to launch Cosmpolitan's first AI-generated cover. The art world has been one of the first industries to truly embrace AI.
The open-sourced miniature version is what's responsible for the memes. Programmer Boris Dayma wants to make AI more accessible; he built the Dall-E Mini program as part of a competition held by Google and an AI community called Hugging Face.
And with great technology, comes great memes. Typing a short phrase into Dall-E Mini will manifest 9 different amalgamations, theoretically shaping into reality the strange images you've conjured. Its popularity leads to too much traffic, often resulting in an error that can be fixed by refreshing the page or trying again later.
If you want to be a part of the creation of AI-powered engines, it all starts with code. CodeAcademy explains that Dall-E Mini is a seq2seq model, "typically used in natural language processing (NLP) for things like translation and conversational modeling." CodeAcademy's Text Generation course will teach you how to utilize seq2seq, but they also offer opportunities to learn 14+ coding languages at your own pace.
You can choose the Machine Learning Specialist career path if you want to become a Data Scientist who develops these types of programs, but you can also choose courses by language, subject (what is cybersecurity?) or even skill - build a website with HTML, CSS, and more.
CodeAcademy offers many classes for free as well as a free trial; it's an invaluable resource for giving people of all experience levels the fundamentals they need to build the world they want to see.
As for Dall-E Mini, while some have opted to create beauty, most have opted for memes. Here are some of the internet's favorites:
There's no looking back now, not once you've seen Pugachu; artificial intelligence is here to stay.
The attempted coup that took place at the Capitol building on Wednesday was equal parts terrifying and hilarious.
In times of crisis and chaos, it's important to keep a clear head and stay on top of the facts.
It's important to acknowledge that this was an unprecedented breach of security that could easily have been avoided and that it resulted in the deaths of at least four people.
But once you've processed the horror that entails, it's equally important to allow yourself a break from the tension and anxiety. Now and then it's essential to look at things from a different angle and just laugh at the absurdity.
Wednesday's attack on Capitol Hill was a great reminder of that lesson. Amid images of fascists and white supremacists taking over the Capitol building to disrupt the functioning of the federal government, chase legislators into hiding, and delay the confirmation of Joe Biden's clear victory over Donald Trump — waving the confederate flag, smashing things, stealing things, and generally getting away with it — there was also an abundance of clownish, hilarious behavior.
Some of the absurdity involved people being intentionally funny, while some of it displayed a raw, natural talent for being obliviously laughable. But all of it provided potent relief from the sense of American democracy falling to a movement of delusional bigots led by a petty conman (though that's still a disturbing possibility).
So as we move forward and focus on action to ameliorate the risk of further violence — anti-coup protests, impeachment, the 25th amendment — it's worth looking back at some of the highlights of absurdity that sprouted from Wednesday's waking nightmare.
At any rate, with all this absurdity, you have to laugh...or cry...or both, simultaneously while huddled in your closet.
Keep reading...
Show less
"President Kennedy never foresaw that the chickens would come home to roost so soon...Being an old farm boy myself, chickens coming home to roost never did make me sad; they always made me glad." -Malcolm X.
The attack on Capitol Hill was another example of how President Donald Trump has emboldened white supremacy. His term in office has given racism and fascism a bigger platform and an official advocate. He proved that, at his command, MAGA fanatics will assemble to do his bidding.
As the world watched the descent of democracy, many were appalled at the visual. This was an attempted coup two weeks before the inauguration of Joe Biden and Kamala Harris. News outlets and politicians questioned how we, as a country, got to this point. But for Black Americans, this has always been our country.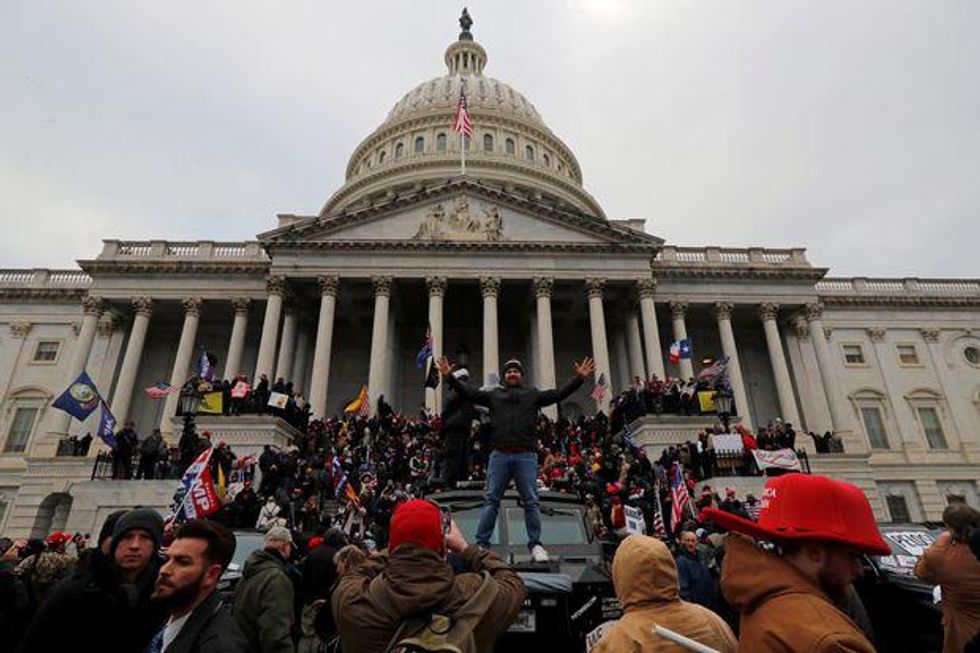 Terrorists takeover Capitol Hill
The violence witnessed on Capitol Hill was a scene all too familiar for Black people. The difference was that we weren't the direct targets. Trump's base has antagonized and threatened violence against Black people while law enforcement abuses its power when interacting with us. The confrontation between the two entities responsible for our oppression was unexpected, but not surprising.

Many Trump supporters and members of law enforcement are cut from the same cloth. In fact, many members of law enforcement voted for him. Their belief in excessive force under the guise of law and order gives them what they feel is the right to harm anyone who goes against their authority. They are loyal to a flawed system and a man that keeps them in power and not to the country and its citizens seeking progress and peace.
Throughout this presidency, both sides have pledged their allegiance to each other. MAGA supporters have backed the Blue Lives Matter movement. Police officers have demonstrated leniency when dealing with unruly Trump disciples at rallies and protests. Both believe they are the good guys trying to make things great again.
[shorcode-Newsletter-Embed]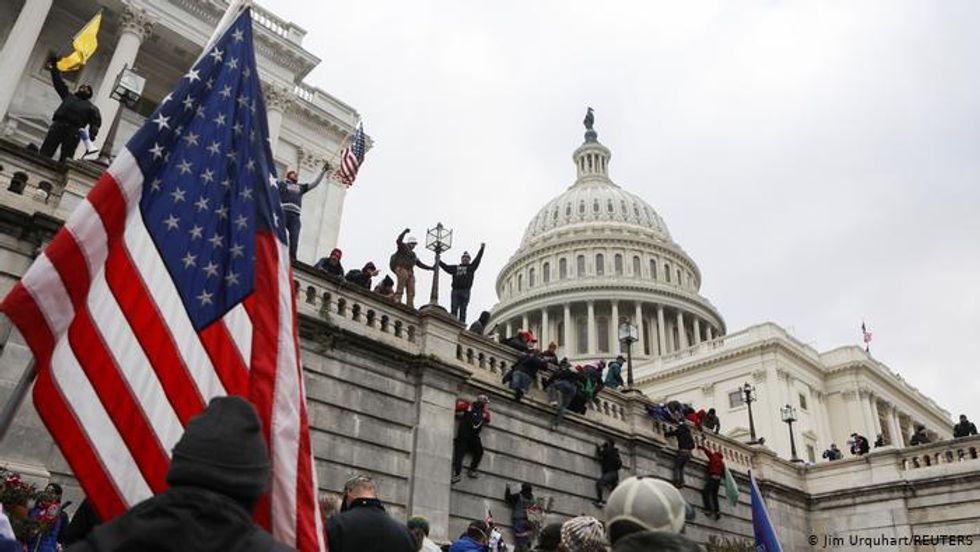 Trump supporters scaling the Capitol Building
Black people have had to do battle with both. We've had to listen to the various lies spewed about the Black Lives Matter movement from supporters of the president while fighting police brutality daily. The assault on Blackness was a cause that unified them. Black people have warned the world of the dangers these factions were capable of for years. Those claims fell on deaf ears, until yesterday when they turned on one another.

For many Black Americans, yesterday was the manifestation of this country's inability to address domestic terrorism. Peaceful protests and resistance against police brutality are viewed in the same light as the insurrection. The anarchy and mayhem that GOP pundits accuse BLM of inciting was a direct order from their leader.
Their ignorance and arrogance gave them the courage to lay siege to a government building. But if angry Black protesters attempted the same actions, many lives would've been lost.
The same reason why the police routinely kill Black people is the same reason why the police are routinely unprepar… https://t.co/Rc3yWRZ2PA

— Ibram X. Kendi (@Ibram X. Kendi) 1609964271.0
Suddenly, Trump supporters view themselves as oppressed. Their reign over the country is coming to a not so graceful end. Rather than humbly accepting defeat, they want to dismantle the establishment. The same establishment that helped empower them over the last four years.

Somehow this attack was yet another revelation for white Americans. Before Trump's election, the idea of police officers displaying a lack of regard for the lives of Black people was inconceivable to white Americans. The thought of parts of our government upholding systemic racism was unfathomable.
Last night, after a year of reckoning with the racism built into America's system, white Americans were forced to once again look at the enormous part white privilege plays in policing. But for Black people, it was simply a clear visual of America's decision on November 8, 2016, coming home to roost.
Keep reading...
Show less
Kanye West's presidential campaign might be a consequence of a manic episode that deserves sympathy and understanding, but if Kanye gains traction, he has the potential to hurt all of us.
Since he announced his presidential campaign on July 4th, Kanye West has been the subject of endless press, headlines, and speculations—both about his mental health and his ability to harm American democracy.
We must now realize the promise of America by trusting God, unifying our vision and building our future. I am runni… https://t.co/MySzN3vjIB

— ye (@ye) 1593909493.0
West's campaign has been a labyrinth of twists and turns from start to finish. After he posted the initial announcement of his campaign on Twitter (and garnered millions of likes and an endorsement from Elon Musk), he described his platform as "anti-abortion" and "anti-vaccination" in a Forbes interview.

West, who has previously expressed support for Donald Trump, appears to be running on his own platform, which he calls "The Birthday Party," "because when we win, it's everybody's birthday," he said.
Though he launched his campaign after the filing deadline in many states, he paid the $35,000 fee to appear on the ballot in Oklahoma and appears to be encouraging people to vote for him, and he seems to be campaigning seriously.
The problem here is that we also have one of the most important elections of all time coming up, and we can't rule out the chance that Kanye's candidacy might present a potential threat to Joe Biden's campaign.
A Tumultuous Rally Leads Kim Kardashian to Call for Grace and Understanding
After an emotional campaign rally in South Carolina, Kanye wrote a series of tweets which led many people to worry about his mental health. West openly discussed his daughter North West and told the world that he and Kim considered aborting her until Kanye received a sign from God through his laptop. "My screen went black and white. And God said, 'If you f–k with my vision, I f–k with yours' … And I called my girlfriend and said, 'We're going to have this child,'" West said. He also maligned Harriet Tubman and said she "never actually freed the slaves, she just had them work for other white people."
Kim Kardashian followed up West's announcement with a call for privacy and compassion.
"As many of you know, Kanye has bi-polar disorder," she wrote. "Anyone who has this or has a loved one in their life who does, knows how incredibly complicated and painful it is to understand…" She continued, "I understand Kanye is subject to criticism because he is a public figure and his actions at times can cause strong opinions and emotions. He is a brilliant but complicated person who on top of the pressure of being an artist and a black man, who experienced the painful loss of his mother and has to deal with the pressure and isolation that is heightened by his bi-polar disorder. Those who are close with Kanye know his heart and understand his words some times do not align with his intentions.
"Living with bi-polar disorder does not diminish or invalidate his dreams and his creative ideas, no matter how big or unobtainable they may feel to some. That is part of his genius and as we have all witnessed, many of his big dreams have come true.
"We as a society talk about giving grace to the issue of mental health as a whole, however we should also give it to the individuals who are living with it in times when they need it the most. I kindly ask that the media and public give us the compassion and empathy that is needed so that we can get through this. Thank you for those who have expressed concern for Kanye's well being and for your understanding."
West then tweeted an apology to Kim:
Kardashian West reportedly flew out to Wyoming for an emotional visit with Kanye following the rally and statement. Tabloids report that their marriage is on the rocks. According to People, the couple has flown to a private resort in the Caribbean to focus on their marriage. "They've decided to travel together so they can be away in private," said a source, "and Kardashian is 'exhausted'." Reportedly politics is off the table for this last-ditch effort to save their marriage.

The Complexities of Discussing Kanye's Bipolar Disorder
West's bipolar disorder has been public knowledge for a while now, and many believe this presidential campaign is a result of a manic episode. Certainly West deserves infinite compassion during episodes, as does anyone struggling with mental illness. "No jokes right now," wrote singer Halsey on Twitter. "I have dedicated my career to offering education and insight about bipolar disorder and I'm so disturbed by what I'm seeing. Personal opinions about someone aside, a manic episode isnt [sic] a joke. If you can't offer understanding or sympathy, offer your silence."
And Nylah Burton wrote, "Having a 'laugh' about how he expresses himself still perpetuates ableism, even while West is incredibly wealthy and famous. And ableism affects people with much less privilege than him."
The situation is, all in all, extremely nuanced. "When Kanye says terrible things about our heroes and about Black people in general, those comments hurt, especially for Black women," writes Jenn M. Jackson for Teen Vogue. "We have to be clear, though, that racism, bigotry, misogynoir, and other hateful language are not related to mental illness." This is, Jackson says, a "both/and" moment: a time where "we must both recognize the complex nature of mental health in Black communities and in society at-large. We must also protect those who are most vulnerable to harm."
The Importance of November: We Need to Take All Campaign Threats Seriously
Over the past few weeks, lawyers with GOP ties have helped West get his name on the ballots in various states. In Colorado, former Republican Congressional candidate Matthew Zielinski helped West qualify for the ballot, and a similar pattern keeps playing out. In Wisconsin, a GOP strategist and lawyer named Lane Ruhland attempted to deliver West's signatures (apparently he was about a minute too late).
All this GOP support for Kanye has prompted concern that his campaign might be an effort to draw voters away from Joe Biden, rumors which West refused to deny.

In a text message correspondence with a Forbes journalist on Thursday, West was confronted with the fact that he's only filed enough paperwork to appear on eight ballots, which will not be enough to bring him to the Oval Office. When asked if his aim was to siphon votes from Joe Biden, West wrote, "I'm not going to argue with you." When asked again, he said, "I'm not denying it; I just told you."
After the quotes aired, West tweeted, "THE GOAL IS TO WIN." Yesterday, Trump appeared to be unfazed by West. "I like Kanye very much," Trump said yesterday. "No, I have nothing to do with him getting on the ballot. We'll have to see what happens."

Even non-viable third party candidates can present threats to major candidates. (Trump won by only 22,000 votes in Wisconsin).

Kanye deserves compassion and understanding—but also, bipolar disorder doesn't force people to run dangerous campaigns. We also all deserve to see Trump ousted this November. So while Kanye's mental illness should be discussed with nuance and grace, his campaign needs to be shut down, lest we be faced with another four years of disaster.
Keep reading...
Show less
The term is typically used to refer to a whole person, not a person's legal status, and so it therefore implies that the person themselves is not a viable human being, thus not entitled to any human rights protections.
The word "illegal" has become a buzzword in modern immigration discourse, a common way of describing someone who has crossed the border into America without papers.
The term is typically used to refer to a whole person, not a person's legal status, and so it therefore implies that the person themselves is not a viable human being, thus not entitled to any human rights protections.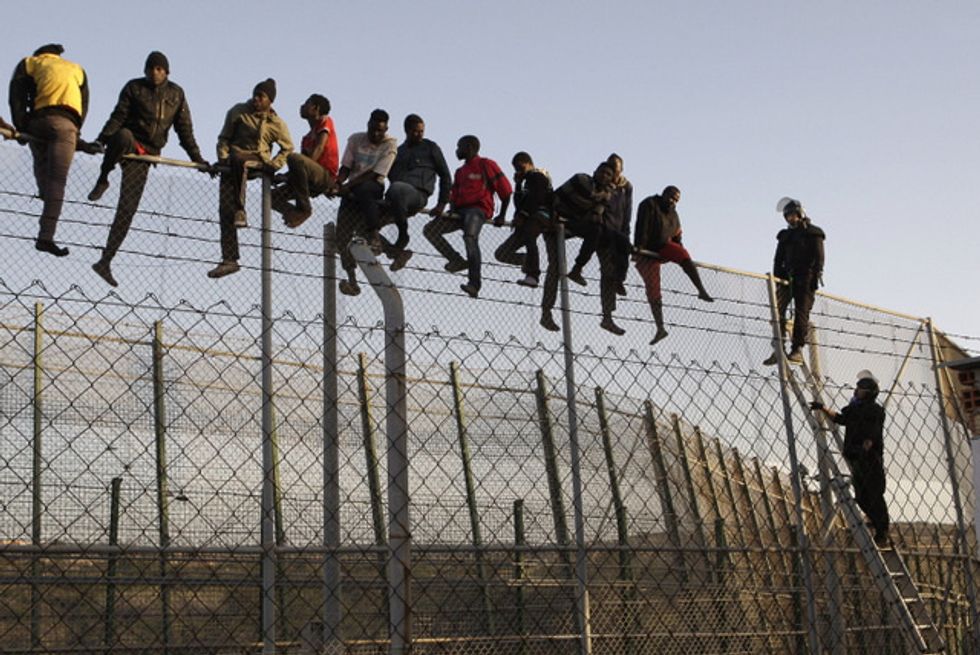 Image via thoughtco.com
The term "illegal immigrant" was first coined to describe Jews fleeing during the second world war. "How can a human being be illegal?" asked the writer and Holocaust survivor Elie Wiesel, pinpointing the contradictory nature of the term. In 2017, journalist Maria Hinojosa riffed on Elie Wiesel's description of illegality, stating that "Because once you label a people 'illegal,' that is exactly what the Nazis did to Jews.' You do not label a people 'illegal.' They have committed an illegal act. They are immigrants who crossed illegally. But they are not an illegal people."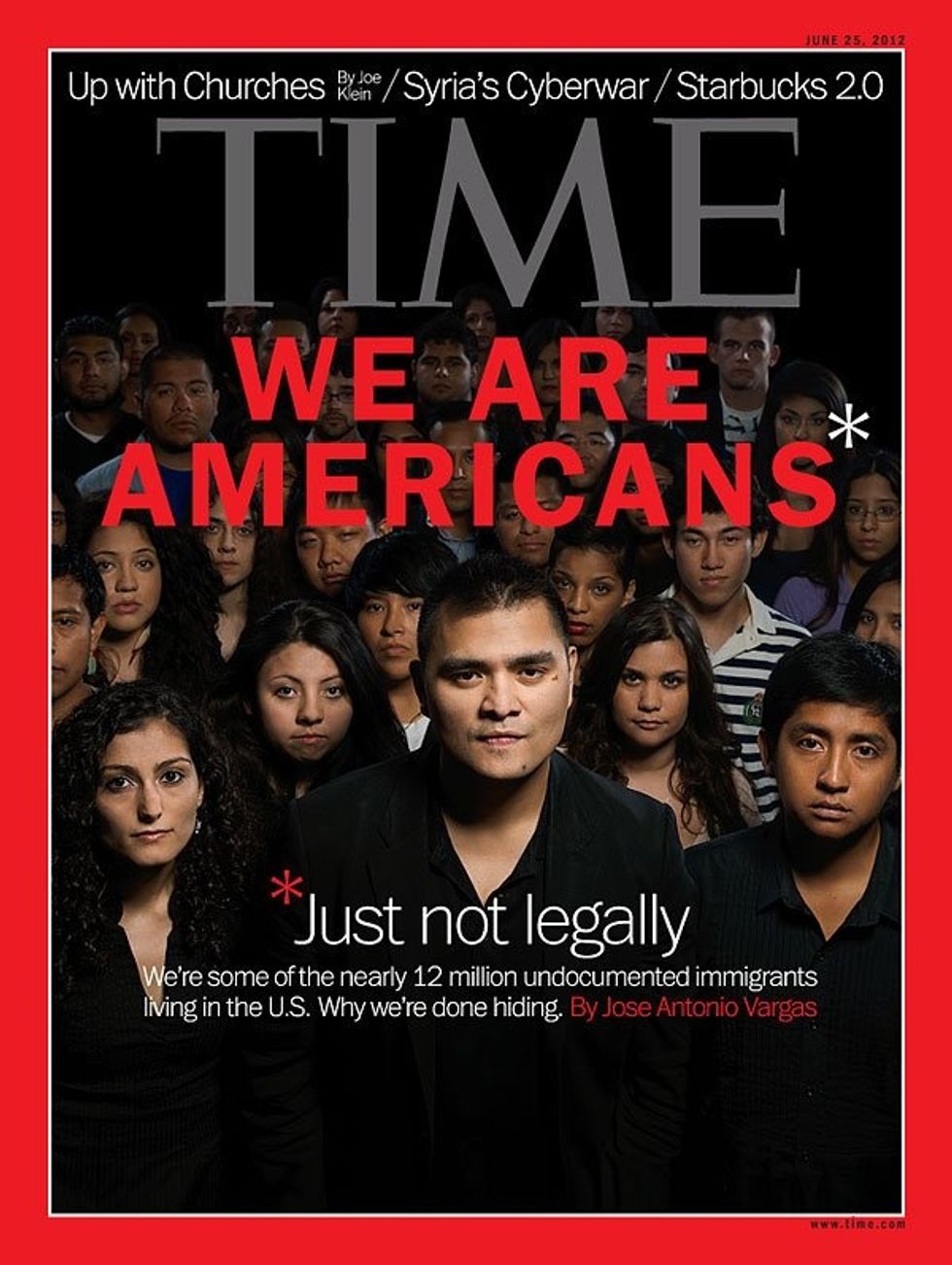 Image from Time
Being labeled as illegal has severe consequences for those who fall under the term's shadow. An "illegal" immigrant cannot demand raises or report human rights abuses at work. Undocumented immigrants face the double pressure of fear of being sent back to where they came from and fear of being 'found out' in their new nation.

The majority of migrants labeled as "illegal" are actually doing work for low wages, and provide services while demanding nothing in return. In practice, their work is similar to mass incarceration, which keeps whole segments of the population out of sight while they perform unpaid labor and are unable to exercise their civil rights.
In the novel Dear America: Notes from an Undocumented Citizen, the Filipino journalist Jose Antonio Vargas outlines the unique stresses and pains that come with living as an undocumented civilian. "This book is about homelessness," he writes, "not in a traditional sense, but the unsettled, unmoored psychological state that undocumented immigrants like me find ourselves in. This book is about lying and being forced to lie to get by; about passing as an American and as a contributing citizen; about families, keeping them together and having to make new ones when you can't. This book is about constantly hiding from the government and, in the process, hiding from ourselves."
Vargas, a successful reporter, came to the US at eight and discovered he was undocumented at age 11; what followed were decades of trying to hide his status until he finally spoke out and became one of the most famous undocumented citizens in the public eye.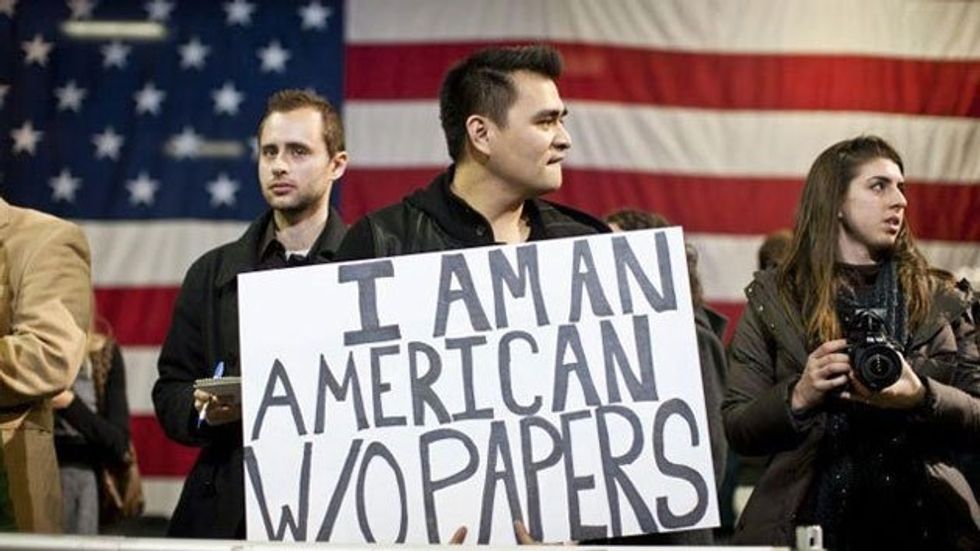 Image via Mother Jones
Every single migrant's story is different, and for many people, speaking out is not an option. Many people have to work, to support families or relatives at home, and cannot risk "coming out" as illegal like Vargas.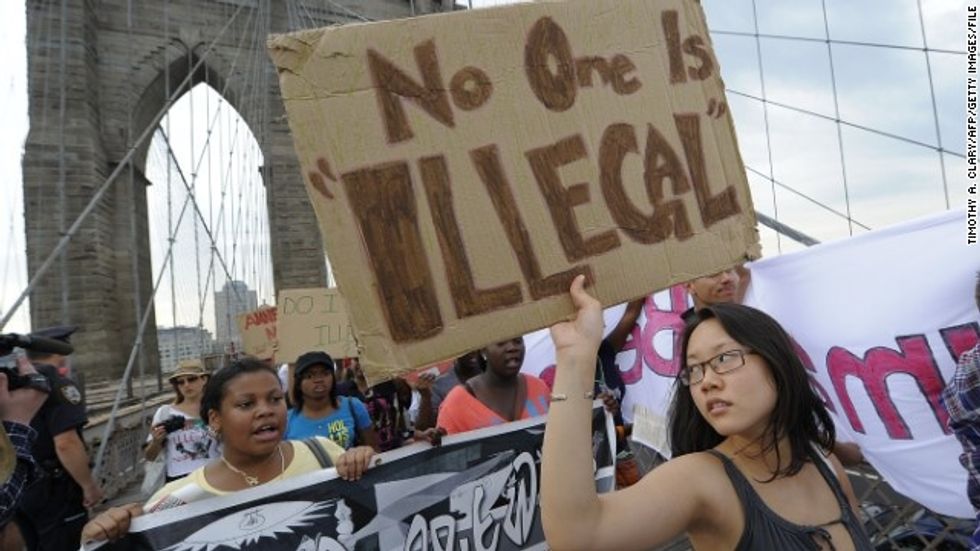 Image via CNN.com
Studies have found that undocumented immigrants—especially those of Latinx descent—are especially at risk of mental health disorders due to the unique combination of trauma and secrecy that often plagues their journeys to the United States. As Warsan Shire writes in her stunning poem Home, "how do the words / the dirty looks / roll off your backs / maybe because the blow is softer / than a limb torn off." Although living in an America that calls them "illegal" is preferable to remaining in their native countries, many migrants have written about the psychological impacts of living in constant fear, and of being "found out" on American soil.

Bigotry and xenophobia may be better alternatives than the violence that many migrants faced at home, but defining groups of people as "illegal" is a convenient way to strip human beings of their humanity, the very thing that lies at the heart of the United Nations' Declaration of Human Rights. Peoples who are in flux are especially at risk of getting lost, as official laws refuse to help them; outside of the light of official regulations, people are quite literally disappearing, slipping into the cracks between policy and legal protection.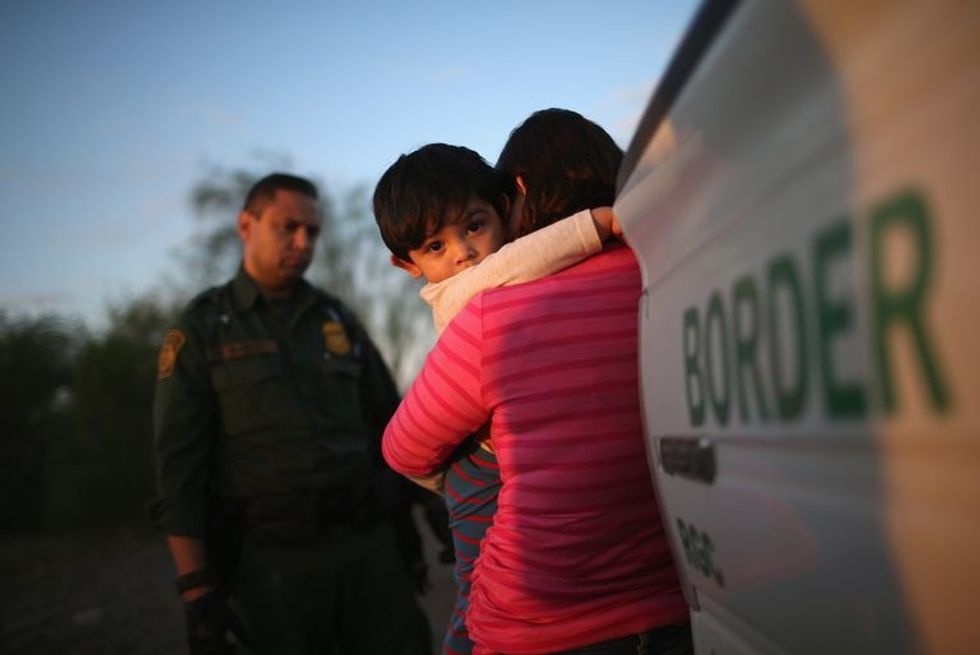 Image via thoughtco.com
Keeping people in the subterranean realms of the criminal justice system or beneath the umbrella term of "illegal," is the result of a cycle that relies on many elements that work to perpetuate it. Xenophobia is one of the important steps that keep this cycle in place. A pervasive distrust of foreigners is a way of creating divisions and continuing cycles of disadvantage. Human rights abuses happen when human beings become faceless, anonymous, and stripped of recognition and legal protection. Rejecting and silencing people because they are so-called "illegal" even if it is not consciously spoken, is a way of selectively subjugating certain voices.
Of course, America has never been open to all migrants. This nation has a history of drawing non-white migrants to it when it needed labor—such as with the Chinese in California during the building of the railroads in the 19th century—and sending them home via acts like the Chinese Exclusion Act once the work was completed. This nation has a history of silencing certain groups, making it so they have no chance to even take a crack at the American dream.
Everyone is allowed to use language to express their beliefs—that's one foundational premise of the American experiment that everyone can agree on (though of course in practice it gets more complicated). Language is always political, and the word "illegal" carries powerful implications that it should at least be understood, not thrown around as an abstract umbrella term.
---
Eden Arielle Gordon is a writer and musician from New York City. Follow her on Twitter at @edenarielmusic.