When I got my labrador retriever, PJ, I was warned that the breed was very food-driven. I was as prepared as I could be for him to be a chewer and stocked up on as many chew toys as we could.
Unfortunately, the toys weren't always enough for PJ--I came home to some chewed up socks and baseball caps on a few occasions. It was an annoyance, but I thought it was probably due to separation anxiety, so it was hard to be mad at him. Plus, it only happened sporadically, and PJ never actually ingested any of it, so I never thought it was an issue that would have needed veterinary help.
But then, when PJ was 8 years old, I came home after being out for a few hours to find three of my dish towels chewed up and almost completely eaten. PJ refused to eat his dinner that night or breakfast the following day, which wasn't like him at all. He was in obvious physical distress, so we called his vet, who advised we take him to the emergency clinic.
The emergency clinic performed an endoscopy but wasn't able to get all the dishtowel material out, as it had started moving into his stomach. The material had broken down into strings of fabric, which could be very dangerous if they were to get tangled in the intestines. The only option left was stomach surgery to remove all of the material. Thankfully, the surgery was a success- they removed all the fabric.
I was so relieved that PJ was going to be okay. But not so relieved when I saw the vet bill. With all the anesthesia, x-rays, hospital overnight costs, and surgery, it cost about $8k. I really regretted not having pet insurance when I was hit with such a steep bill. I looked into it after and found it super confusing, we had no idea which provider to choose.
I was telling my fellow dog-parent friends about the ordeal, and that's when one of them recommended Pumpkin. It's a pet care provider, but different. When I looked it up, I found it so welcoming and we were able to learn all about pet insurance without getting a headache.
Pumpkin wants to empower pet parents to afford the best veterinary care available, access the best preventives on the market, and be able to make informed decisions about the lifelong health and wellbeing of their pets.
Their plans focus on preventative care just as much as emergency and protective care. So even if your dog is young and healthy, you can help ensure protection against other conditions all the way into his later years. PJ recovered quickly, but you just never know what other health issues could come up.
Pumpkin's add-on preventive care pack fully covers 3 yearly essentials on every vet's list: annual wellness exams, vaccines, and lab tests to detect parasites & dangerous diseases they cause. It really takes care of your pet, not just when they get ill but helps you ensure your pet stays healthy.
Check out this screenshot below from Pumpkin's website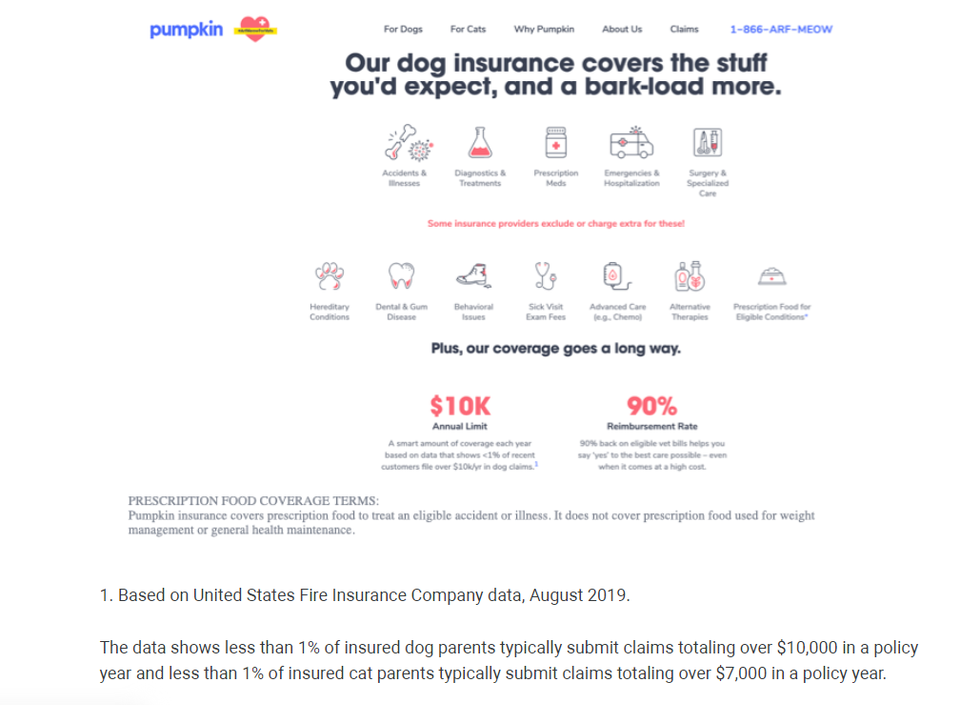 Pumpkin even highlights the aspects of pet insurance that catch most people out, like comparing what's covered and what's not, what's in the fine print, waiting periods & discounts. They are so confident in their plan that they even compare them against other pet insurers on their website so you can make an informed decision. This was what made us go for Pumpkin, the website was so clear and informative.

I found that Pumpkin plans offered so much for a great price. After the cost of PJ's surgery, I'm seriously thinking about signing up to Pumpkin, to help give PJ the longest and healthiest life and protect his future health. I'm excited to get the process started, and we already feel relieved knowing I'm taking the steps to keep him safe.
Pumpkin ensures he will have help getting the best healthcare and prevention plan, so we can go back to spoiling him with toys and treats.
UPDATE: Take charge of your pet's health! Follow this link to get started today!
Pumpkin Company Info: Pumpkin Pet Insurance policies do not cover pre-existing conditions. Waiting periods, annual deductible, co-insurance, benefit limits and exclusions may apply. For full terms, visit pumpkin.care/insurancepolicy. Products and rates may vary and are subject to change. Discounts may vary and are subject to change. Pumpkin Insurance Services Inc. (Pumpkin) is a licensed insurance agency, not an insurer. Insurance is underwritten by United States Fire Insurance Company, a Crum & Forster Company and produced by Pumpkin. Pumpkin receives compensation based on the premiums for the insurance policies it sells. For more details visit pumpkin.care/underwriting-information. Pumpkin Preventive Essentials is not an insurance policy. It is offered as an optional add-on non-insurance benefit. Pumpkin is responsible for the product and administration. For full terms, visit pumpkin.care/customer agreement. Pumpkin Preventive Essentials is not available in all states. Paid endorsement - Pumpkin Insurance Services, Inc. is responsible for this advertisement.