My co-workers and I would always joke about what it was going to be like when we'd have to get back into our old beauty habits and see people in the office again. Working from home gave us a free pass to let some of our typical routines slide...
When I got the email from my boss saying we were slated to go back to the office next month, I thought sure - no big deal! I can easily get myself back to glowing in weeks.
I started back into my skin routine, but as I got up close and personal in the mirror I noticed something that was going to take a lot more care and time -- my hair.
The damage. The breakage. The out-of-control frizz. I was constantly throwing my hair up in a ponytail for Zoom meetings, not even realizing the toll my at-home dye experiments had taken over the past year. My hair was practically unrecognizable.
I immediately called one of my girlfriends and she said she went through the exact same thing, but she'd had great luck using K18, a leave-in treatment designed to heal hair at the molecular level with biotechnology.
I go back to work next week! How could an at-home mask possibly fix all this? But then she told me it only took four minutes and she saw results instantly.
I ordered the K18 Leave-In Molecular Repair Hair Mask before I even hung up the phone with her.
My mask was delivered right to my door and I got started immediately. The instructions were clear and the steps seemed easy to follow.
Once I finished shampooing in the shower, I made sure to skip the conditioner and gave my hair a thorough towel-dry.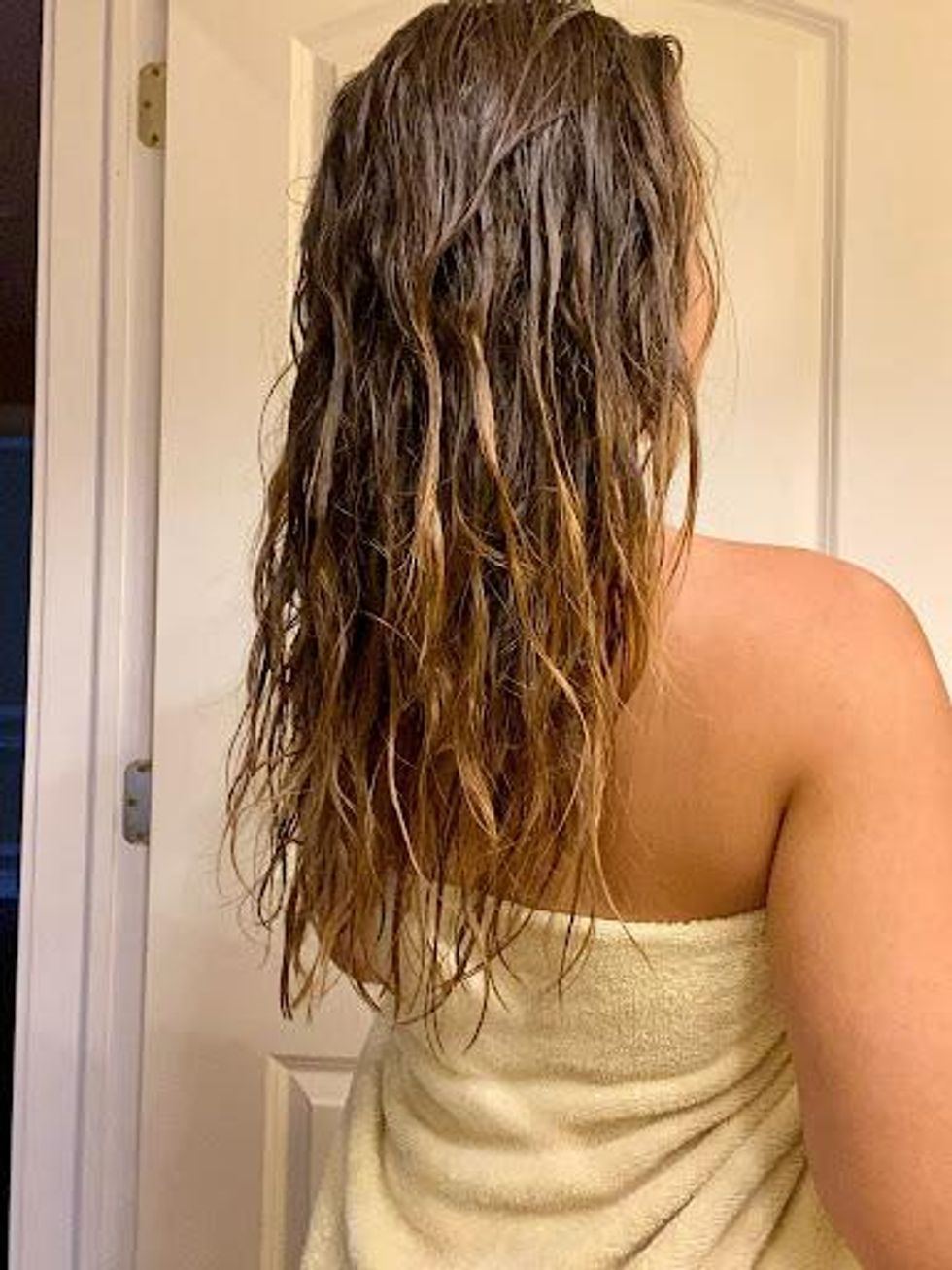 Next, I added one pump (about a dime size) of the K18 mask to start with and planned on adding a few more since my hair is traditionally thick and pretty long. K18 comes with about 50 doses in the bottle and after using consecutively for 4-6 washes, you only need to use it after every 3-4 washes.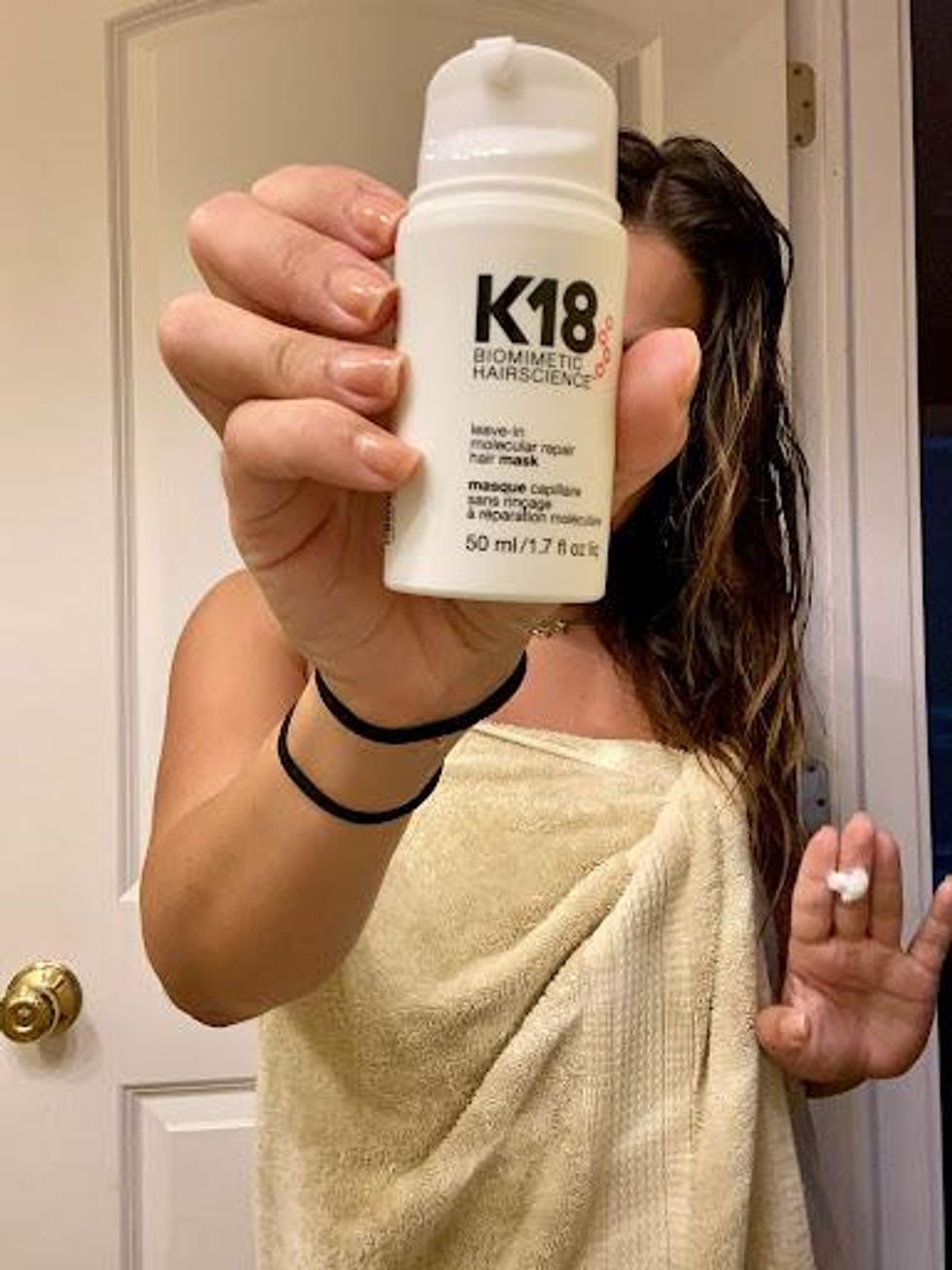 I worked the first pump in from roots to ends, and then went ahead and added two more pumps, repeating the same process again. PSA - don't add all pumps at once. You'll end up with some product-heavy sections (a little goes a long way) and you want to make sure you're adding it all in evenly.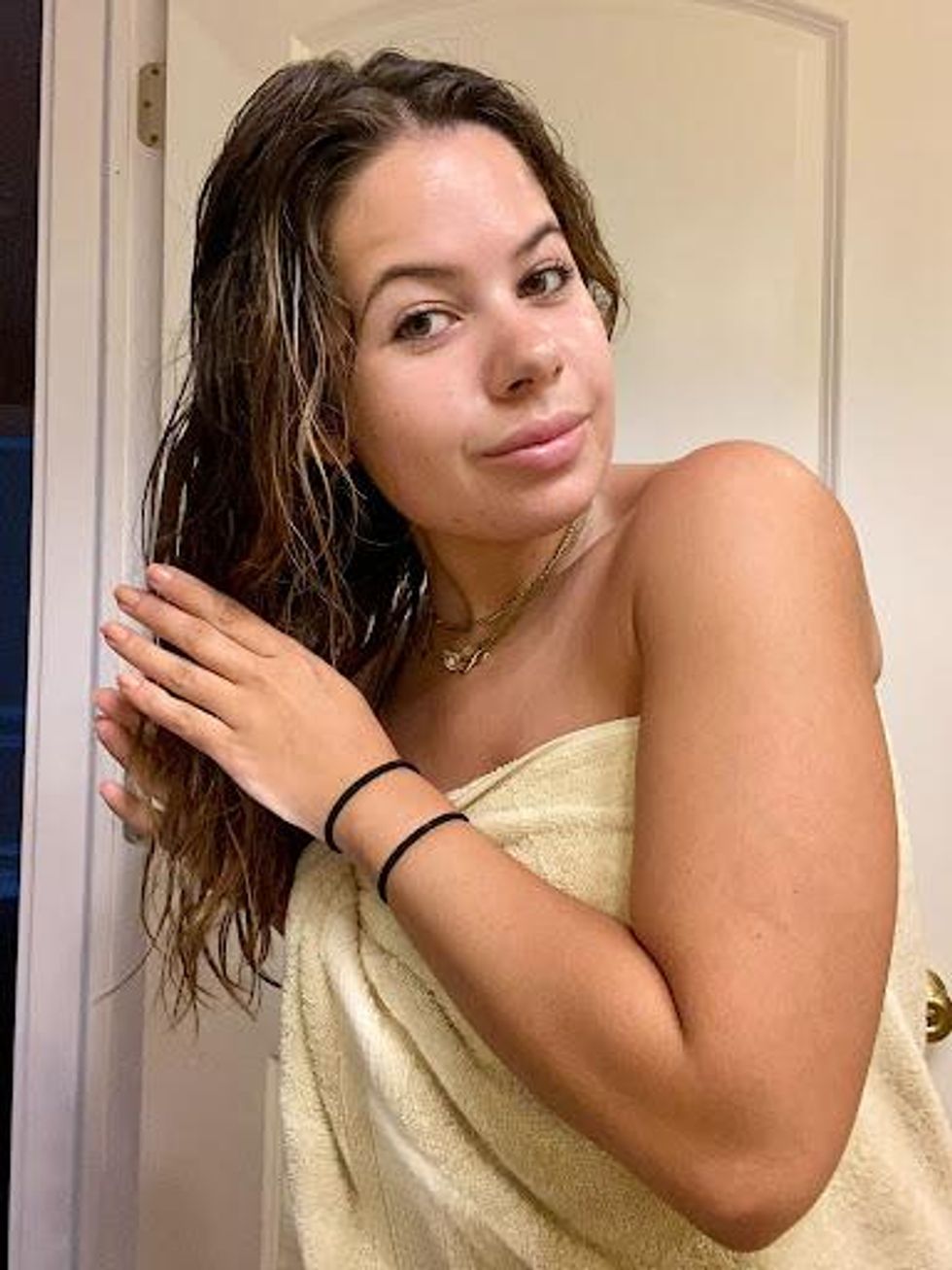 Once I distributed it all evenly, I set a timer for four minutes. Since I didn't need to rush back into the shower to rinse out the mask like other brands require, I took my time getting ready. I brushed my teeth, moisturized, and even changed into my outfit for the day.
After the four minutes, I got to blow-drying and styling just as I would any other day! My brush ran through my hair way smoother than it typically would.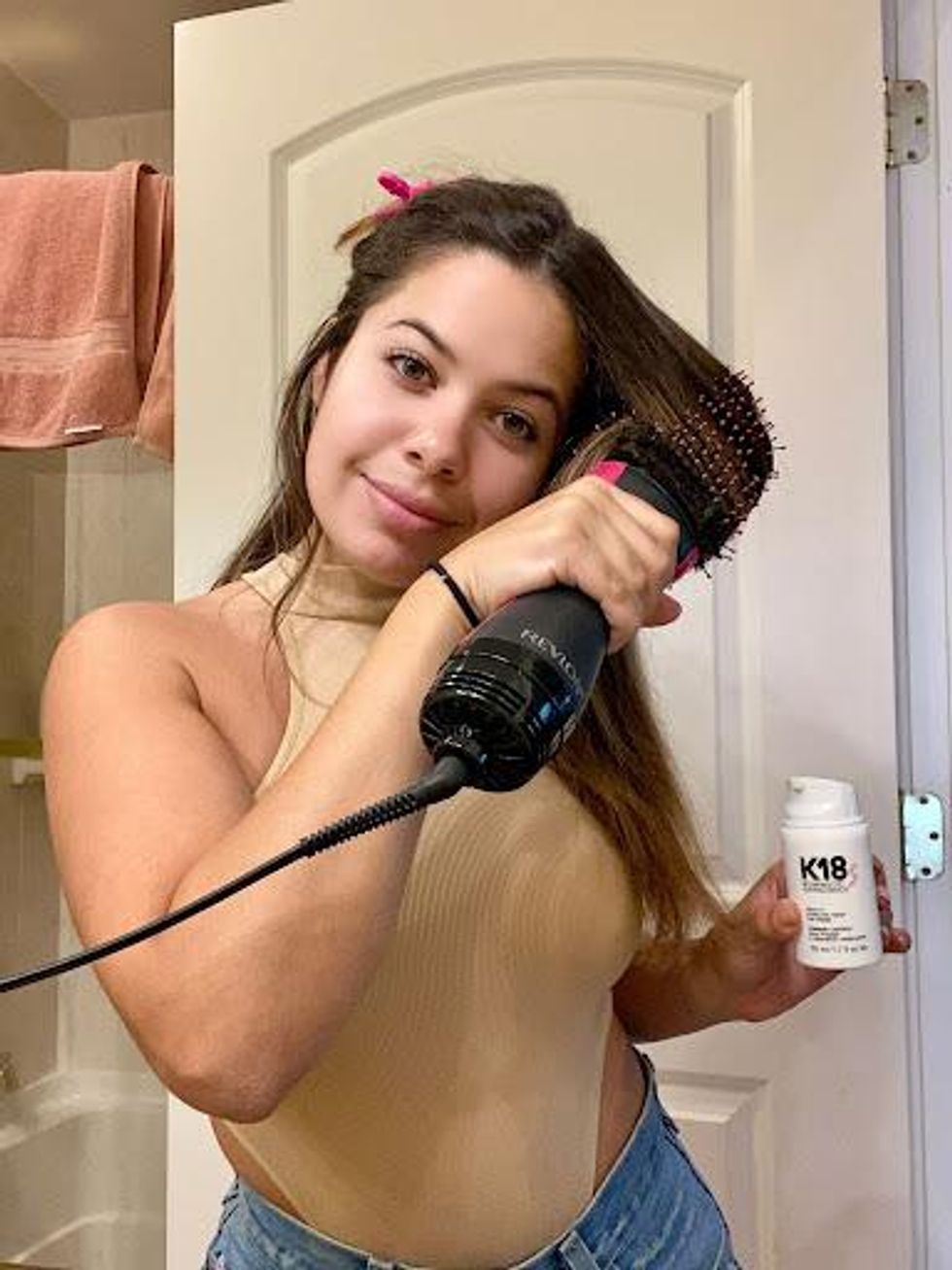 Once I finished styling, I couldn't believe the difference K18 made on my hair. The mask reversed all the damage I had put my hair through this past year leaving it stronger, silkier, and healthier. My hair felt better than it did before I even started working from home!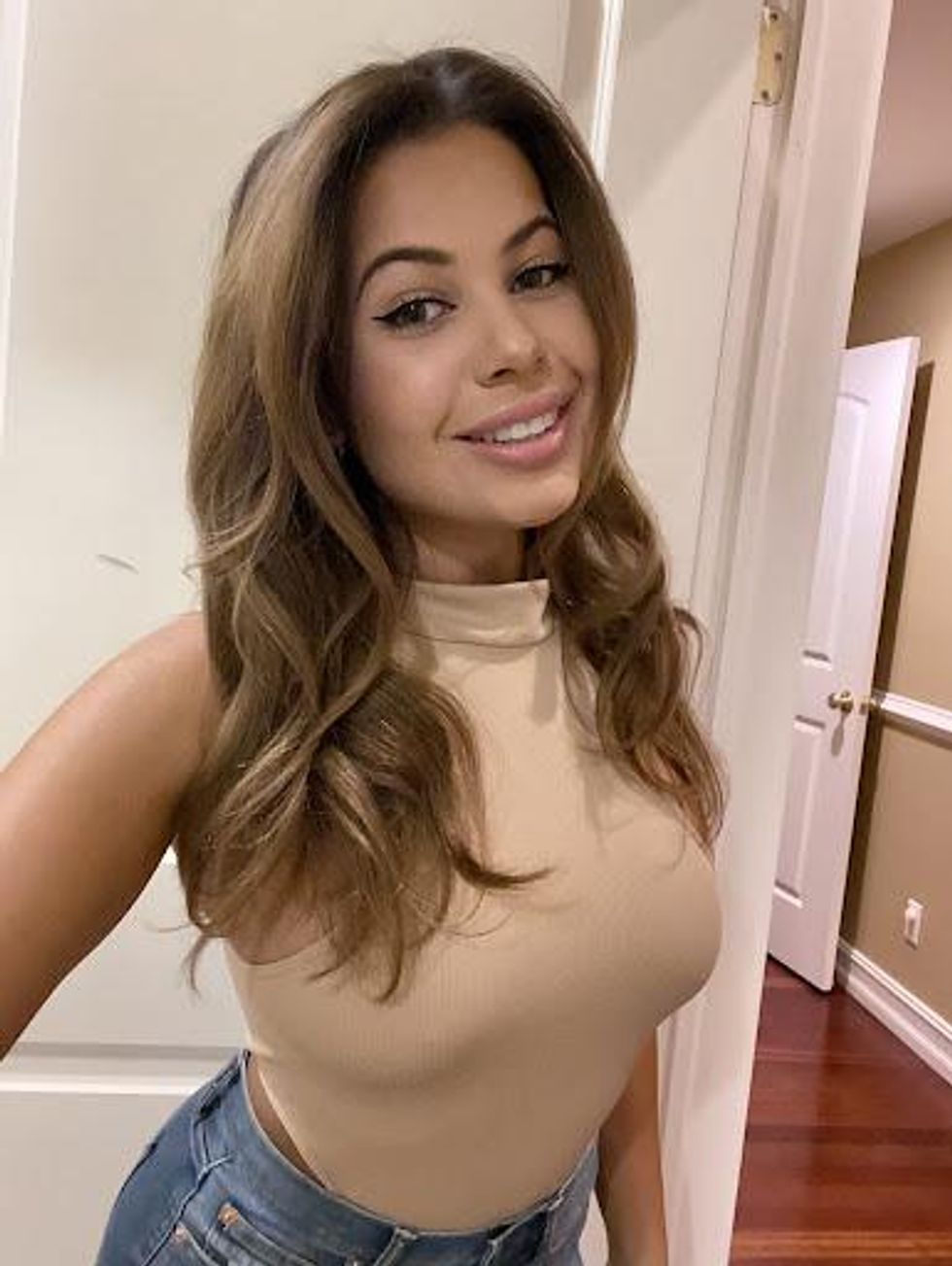 The results seriously speak for themselves. After using the K18 Leave-In Molecular Repair Hair Mask one time I could tell it was repairing my hair from the inside out.
No more hiding my hair - I was going to go back to work better than ever.